Canoeing the Elk River and Thelon Rivers
from Damant Lake to Eyeberry Lake
into the Thelon Game Sanctuary in
Canada's North West Territories
So six of us, Nestor Lewyckyj, Peter Lewyckyj, Bohdan Lewyckyj, Alexandra (Olesia) Lewyckyj, Roman Poluha, and Paul Jarymowycz did a 3-week canoe trek from Damant Lake on the Elk River to Eyeberry Lake on the Thelon River. We had originally planned to canoe much further than that, to portage the Thelon Canyon and to canoe deep into the Thelon Game Sanctuary, but strangely enough, the weather was so fine, that we ended up taking our time, not pushing it, and we enjoyed it immensely. These photos and videos (links to You Tube) chronicle our trip.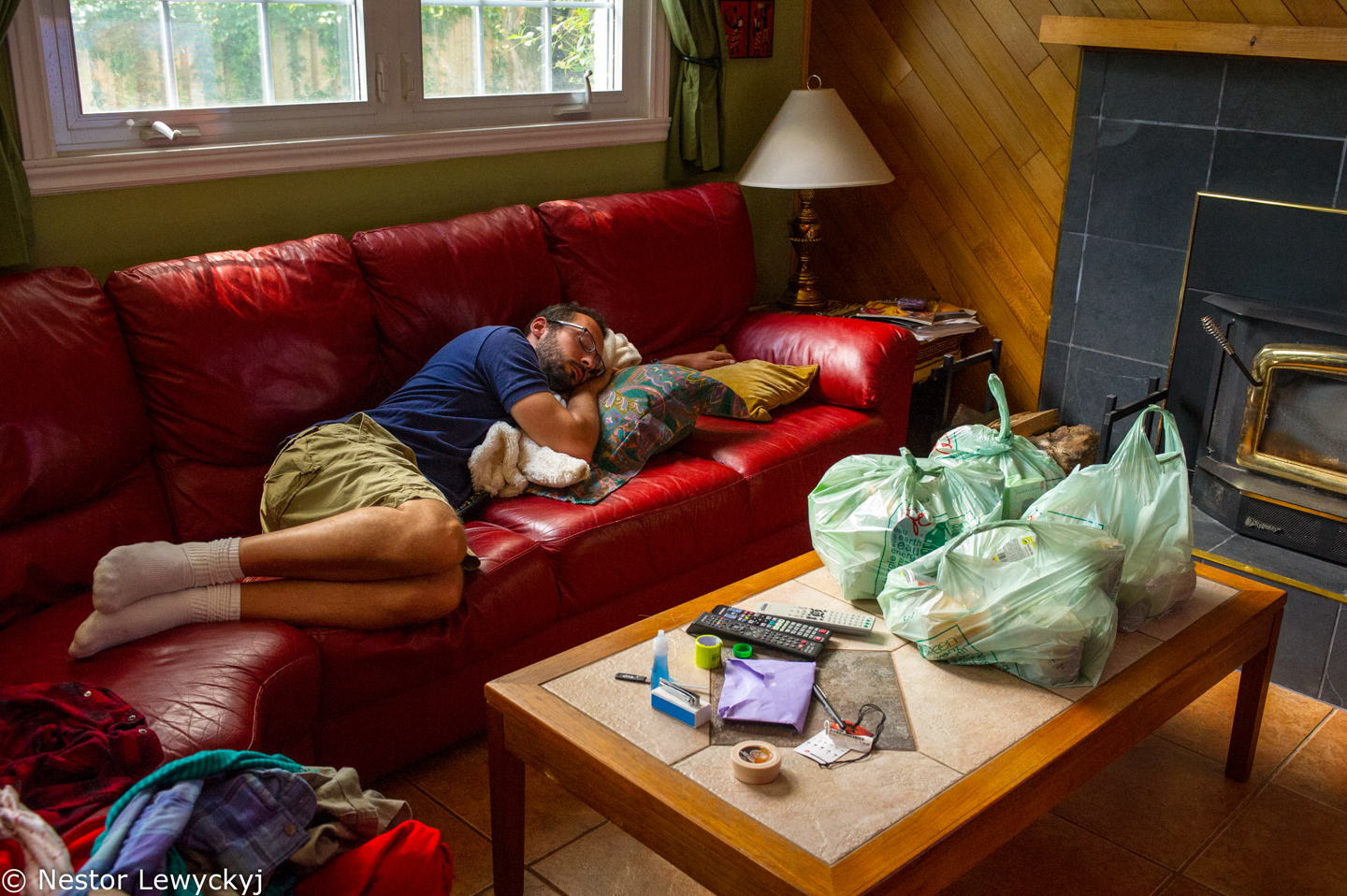 Paul and Olesia had been to a 2-week scout camp just before our trip so they were tired. After sorting out and packaging their daily bags of Gorp, Paul was just too tuckered out and fell asleep on our couch.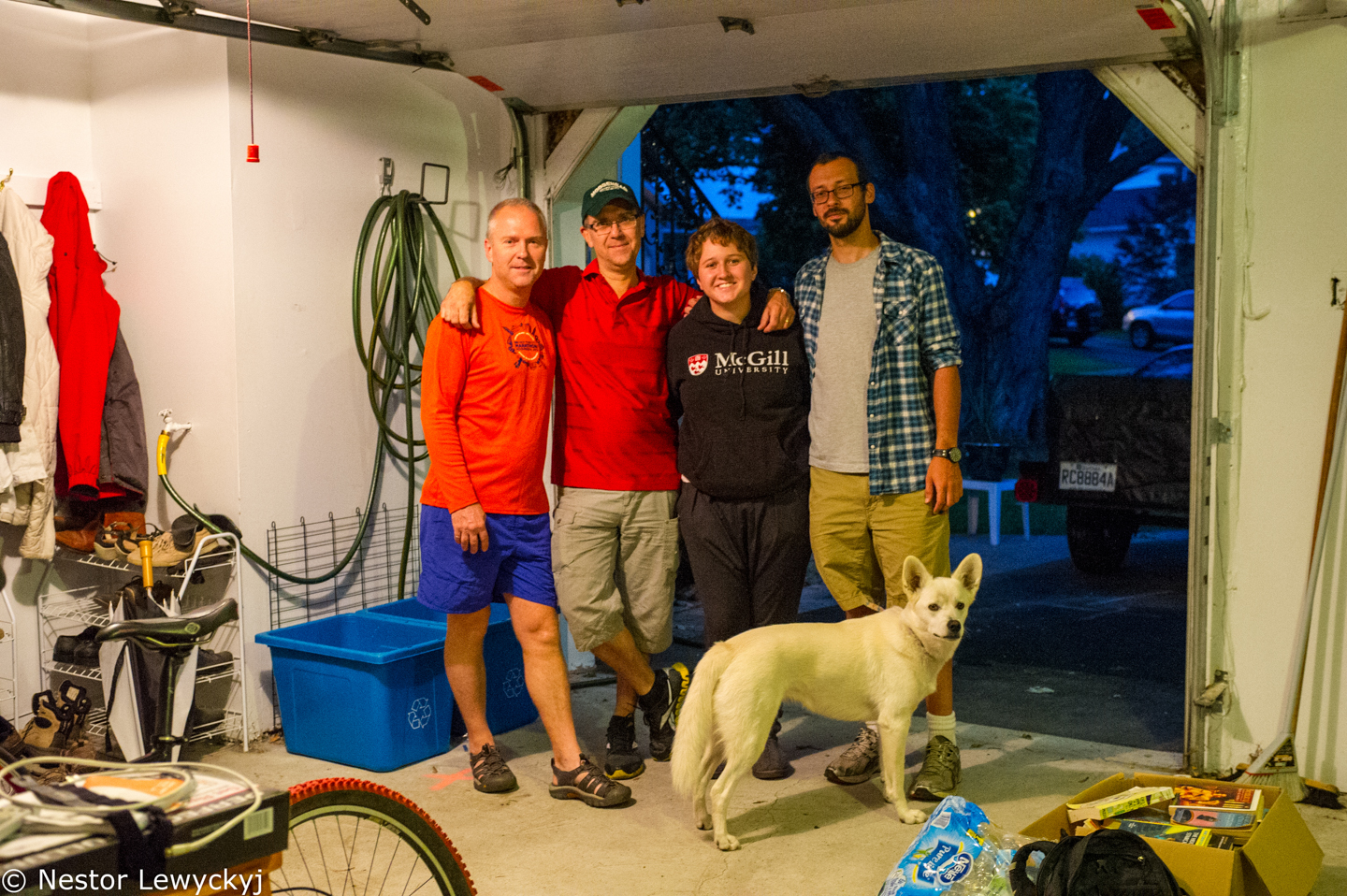 This was our departure shot at 05:00 in our garage. We would be picking up Roman in Ottawa, and joining up with Bohdan in Sudbury. He was driving north from Toronto. Our journey would be about 4,100 kilometres from Montreal to Stony Rapids in Northern Saskatchewan, 55 hours of driving and we were going to do it around the clock with rotating drivers. We did it in 2010 and it was tough then. It was even tougher this time.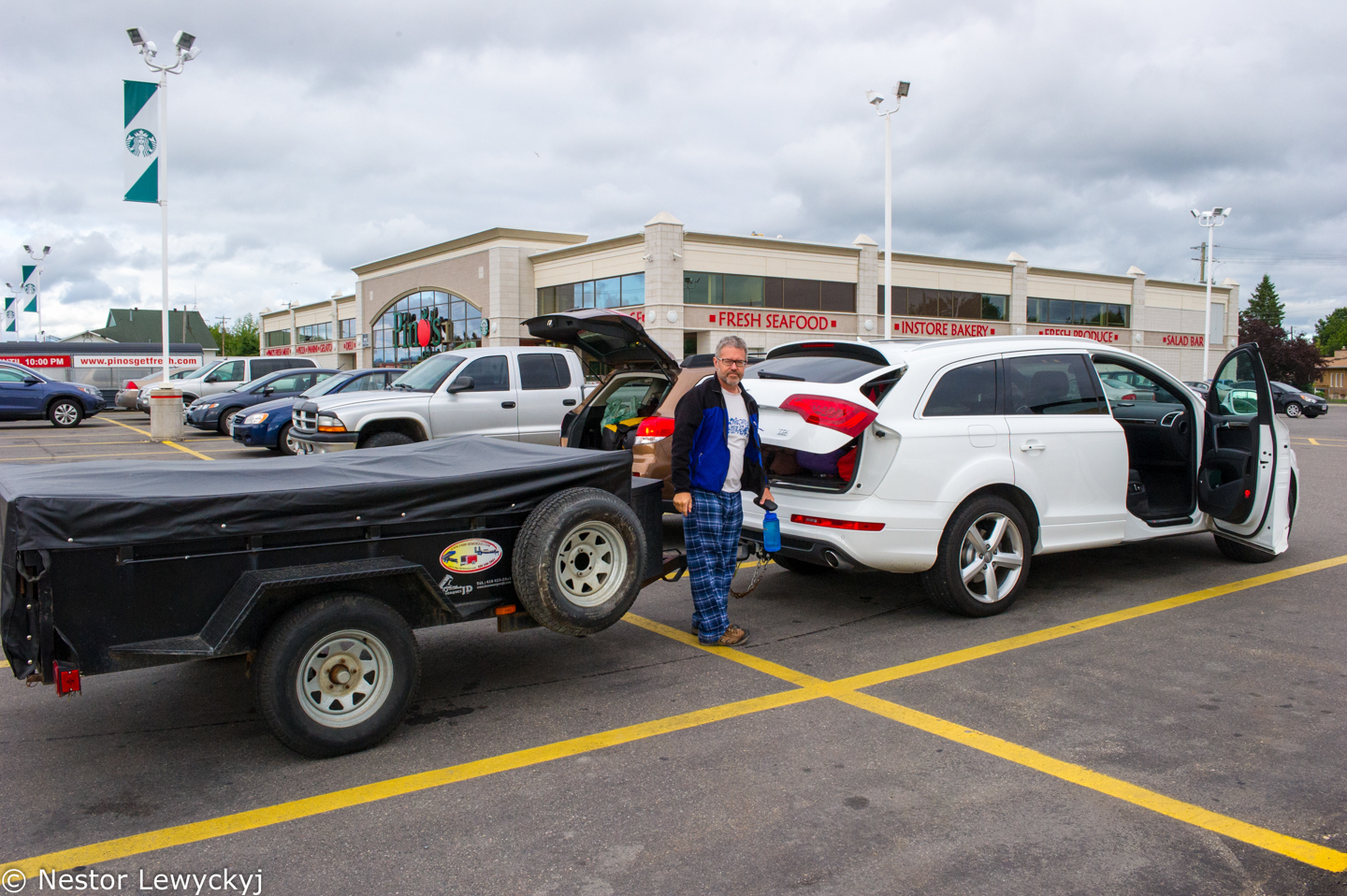 This was in Sudbury already, stopping for some food and drink. Bohdan's Subaru is the brown car with the hatch open just behind my Q7. We split up into two sets of three people.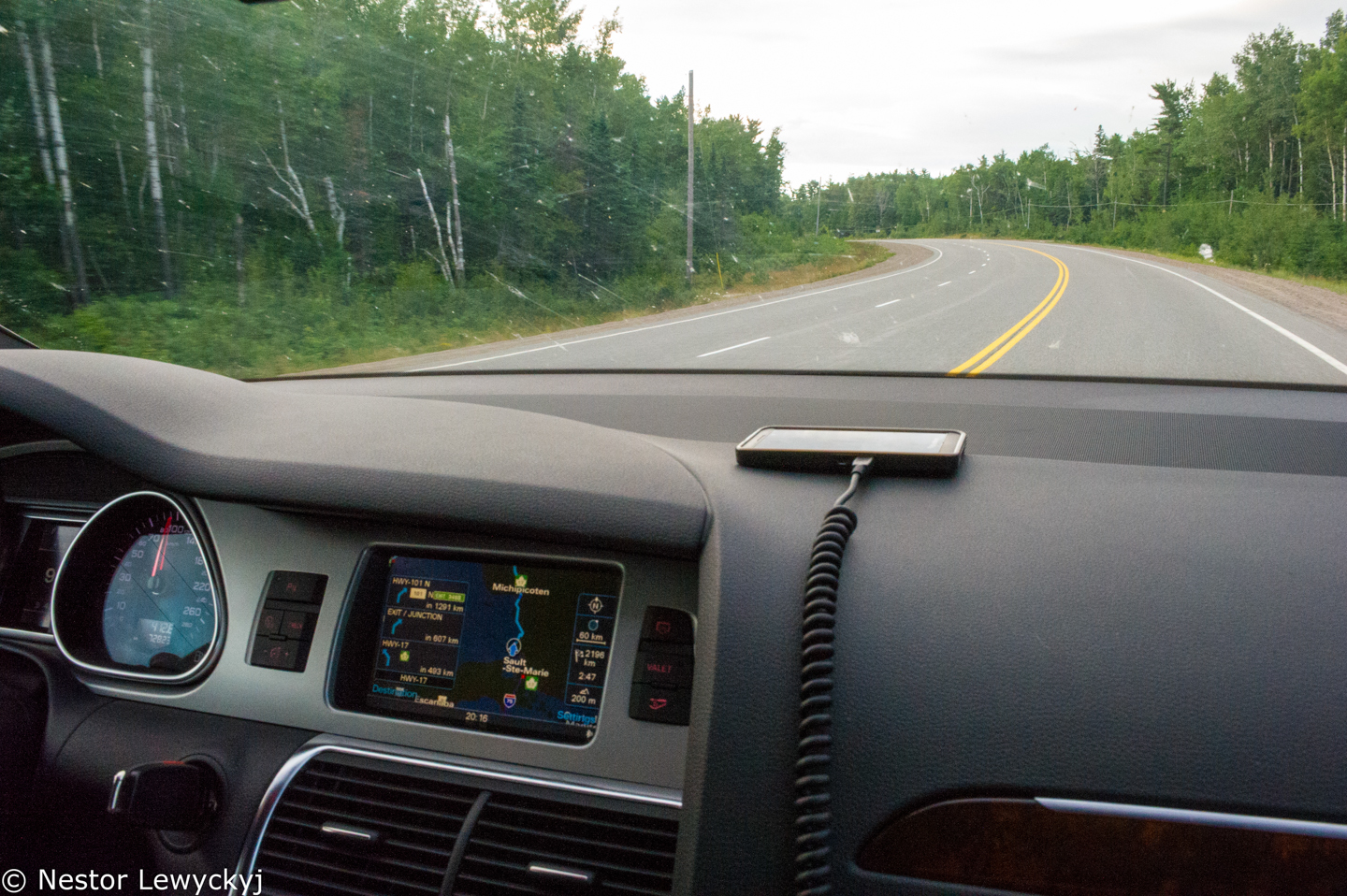 Heading north from Sault-Ste-Marie to do the long drive over the top of Lake Superior. Like in 2010, we would be doing this drive at night.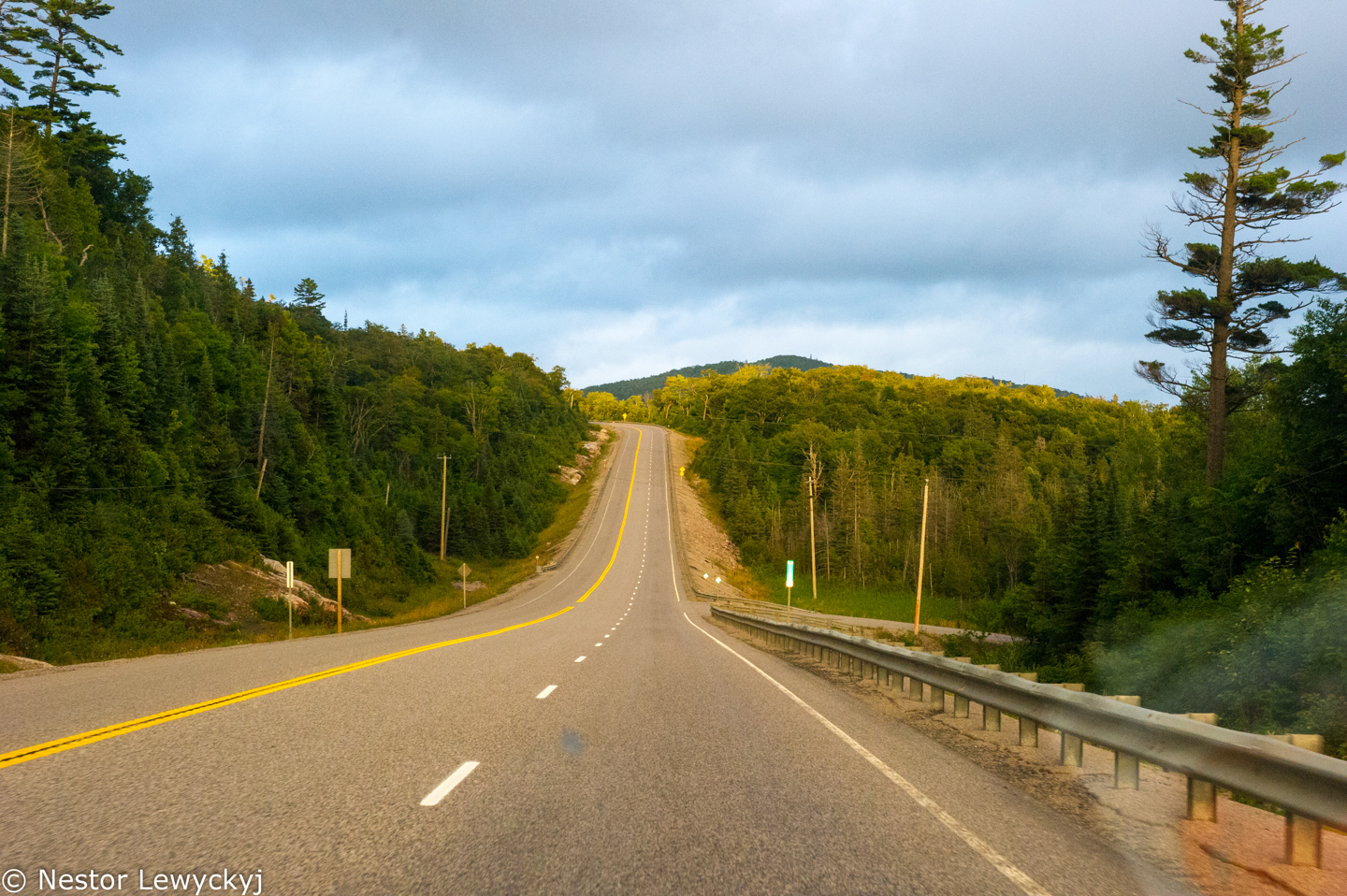 It's not a bad road, with places to pass every 10 kilometres or so. We did not see a lot of traffic.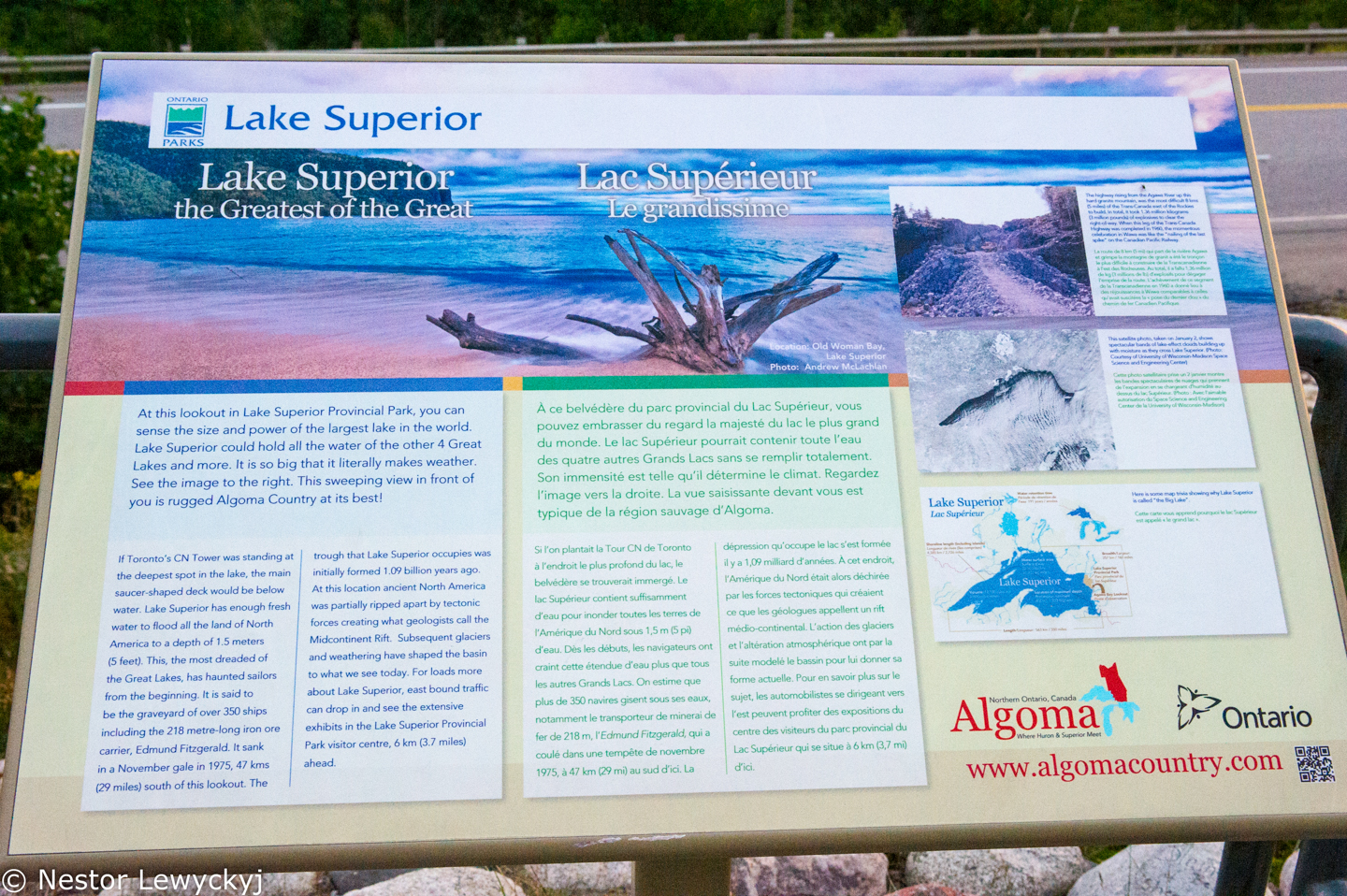 This is the sign at the first look out over the mighty Lake Superior. You have to look at a map to realize how huge it is. It's almost an inland sea. We stopped here for a while marvelling the site, glowing red in the sunset.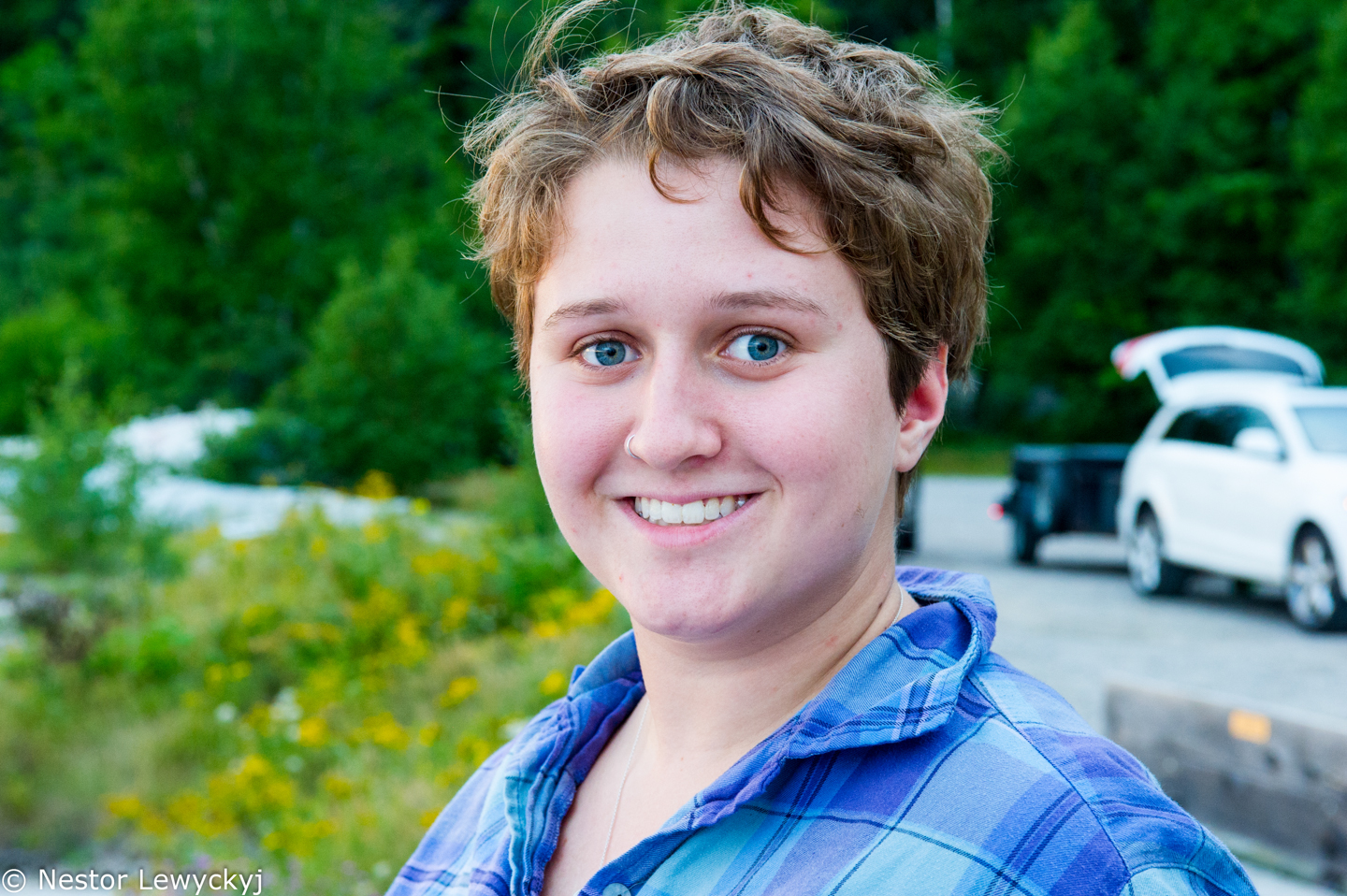 Olesia's hobbit shot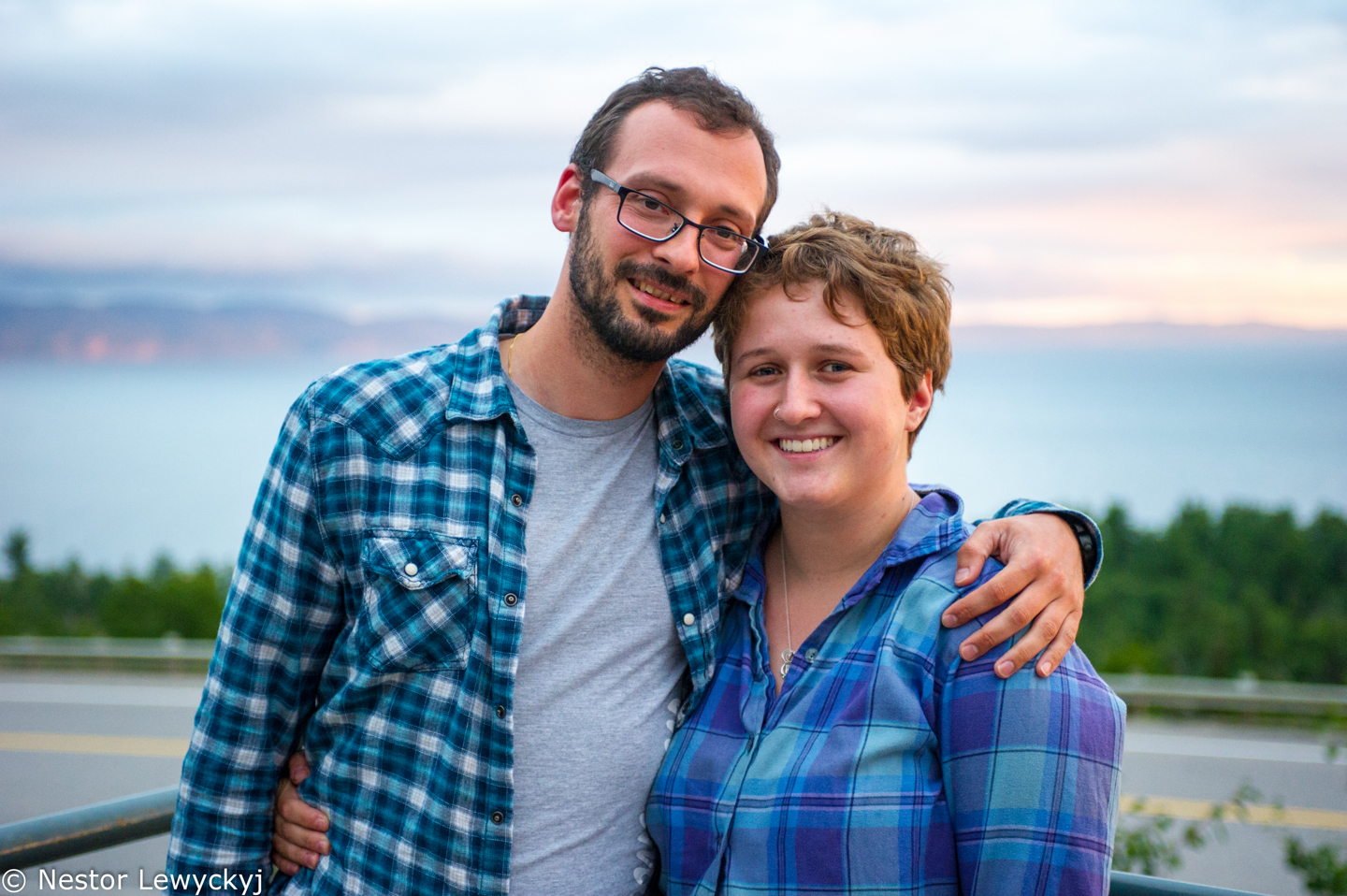 The flannel partners...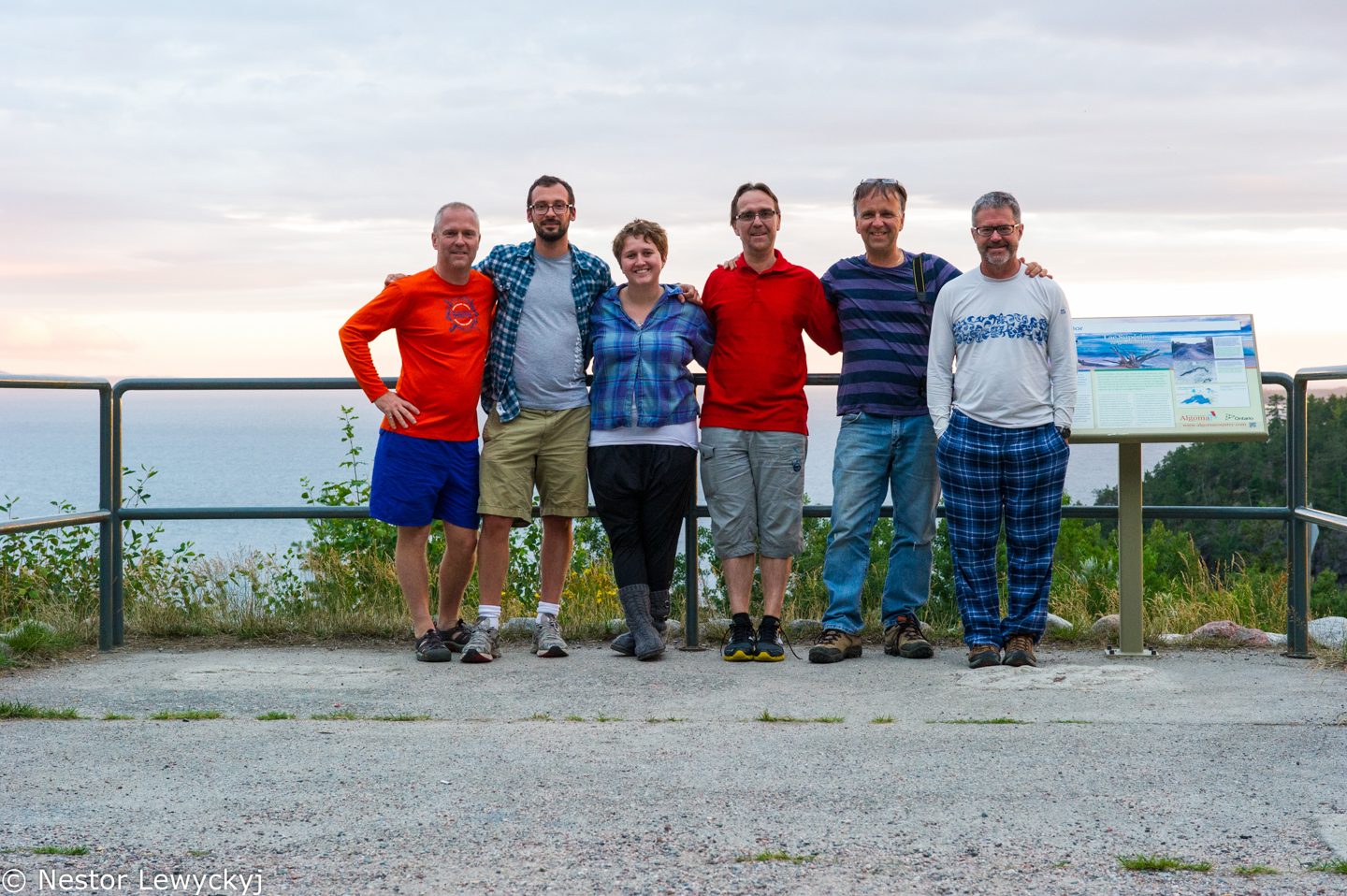 Our first full group shot with Lake Superior in the background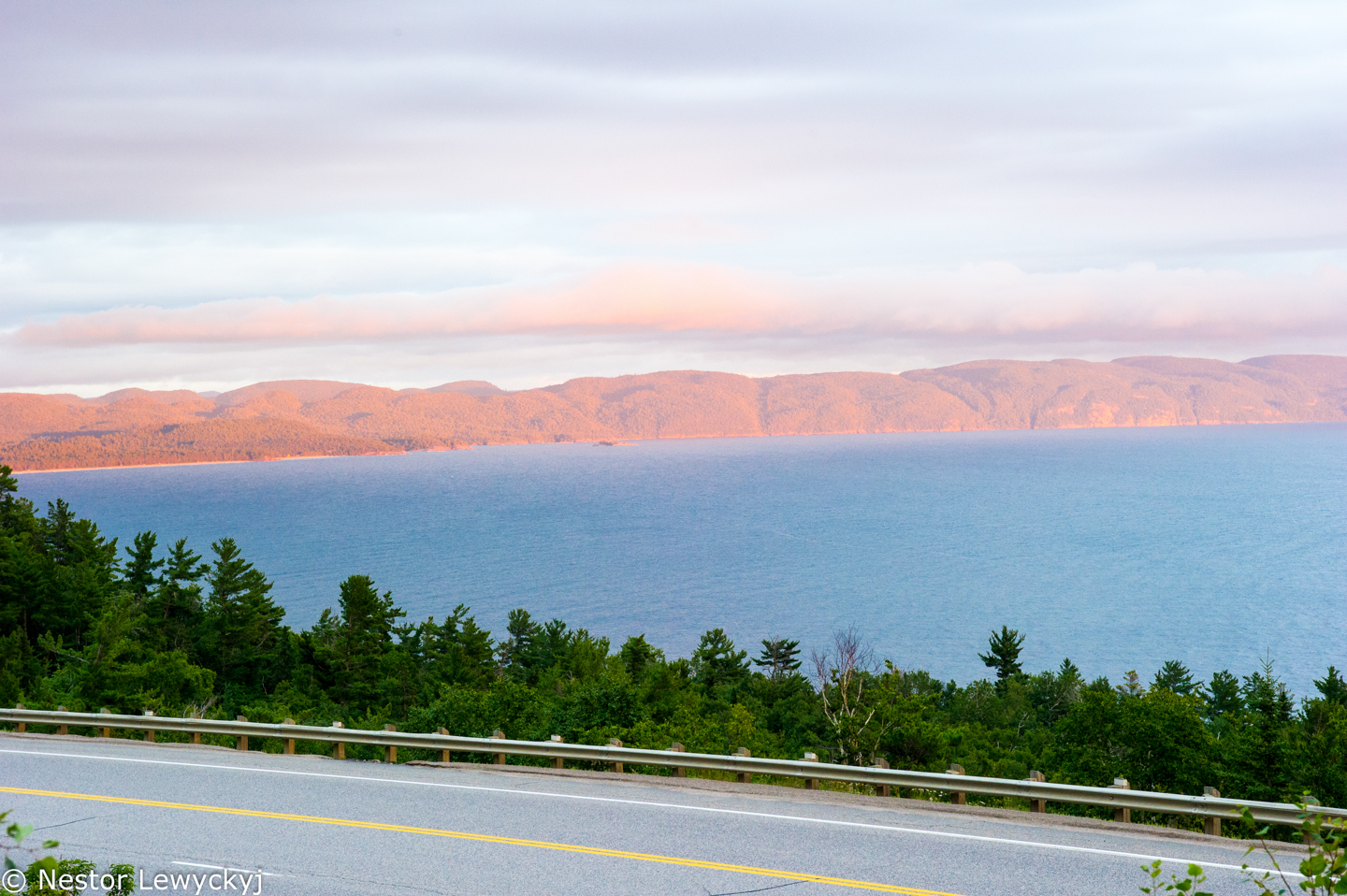 It was a beautiful sunset and it was good to stop knowing that we would be driving all night over the top of the lake towards Thunder Bay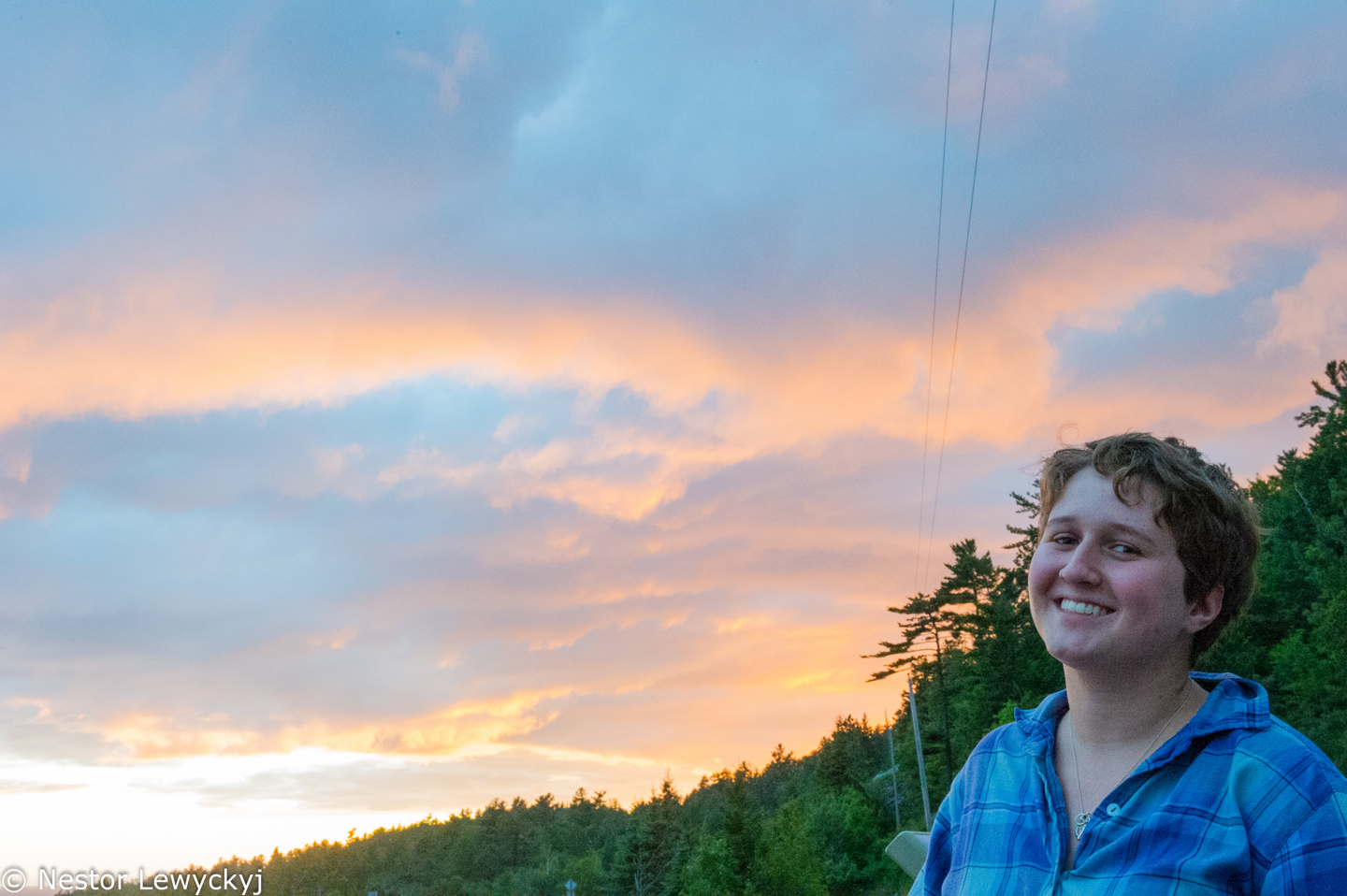 The sky was just on fire that night, full of possibilities!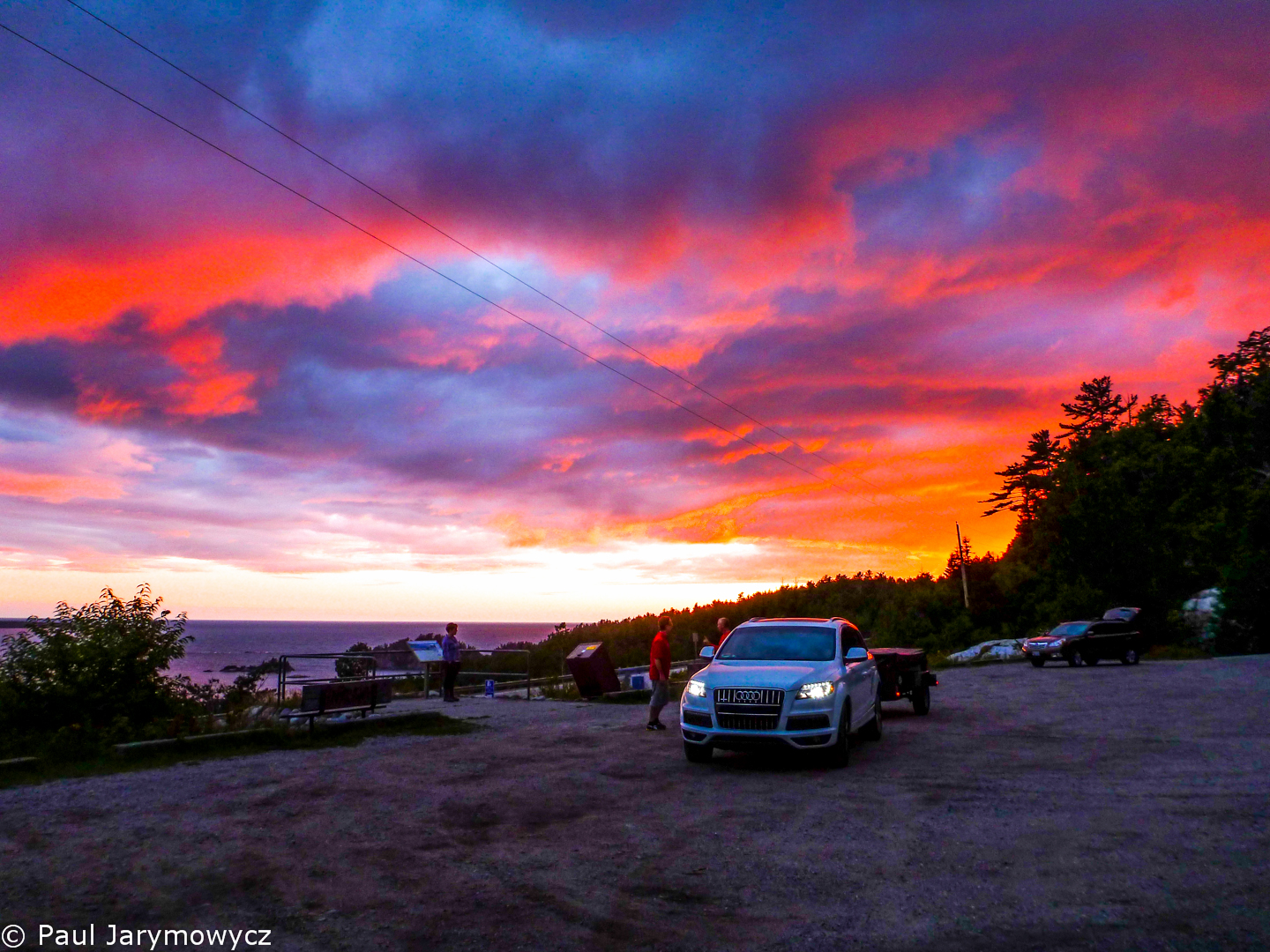 Paul's camera caught the last flaming glow of the sun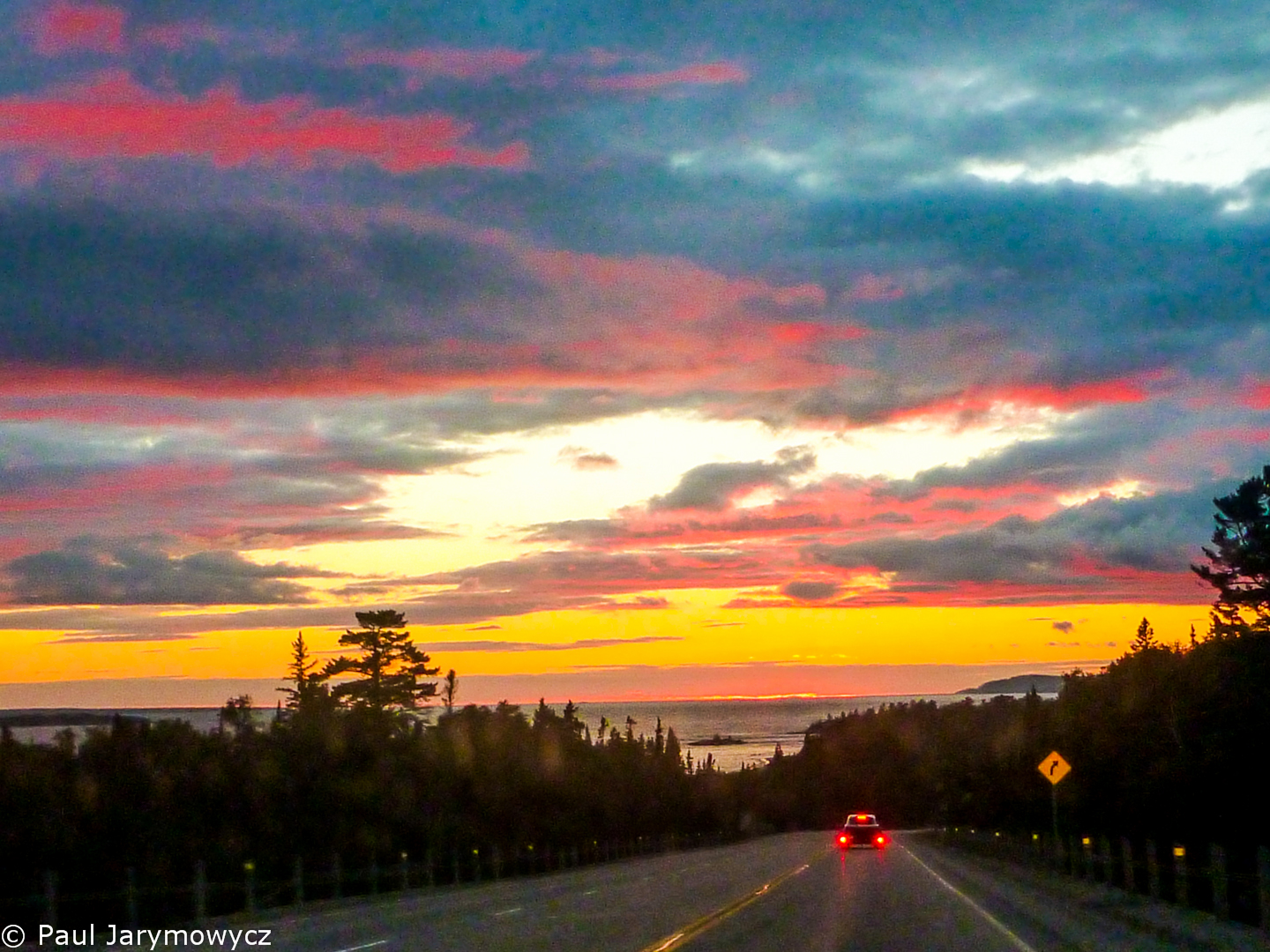 And off we went, driving north and over the top of Lake Superior towards Thunder Bay, and beyond!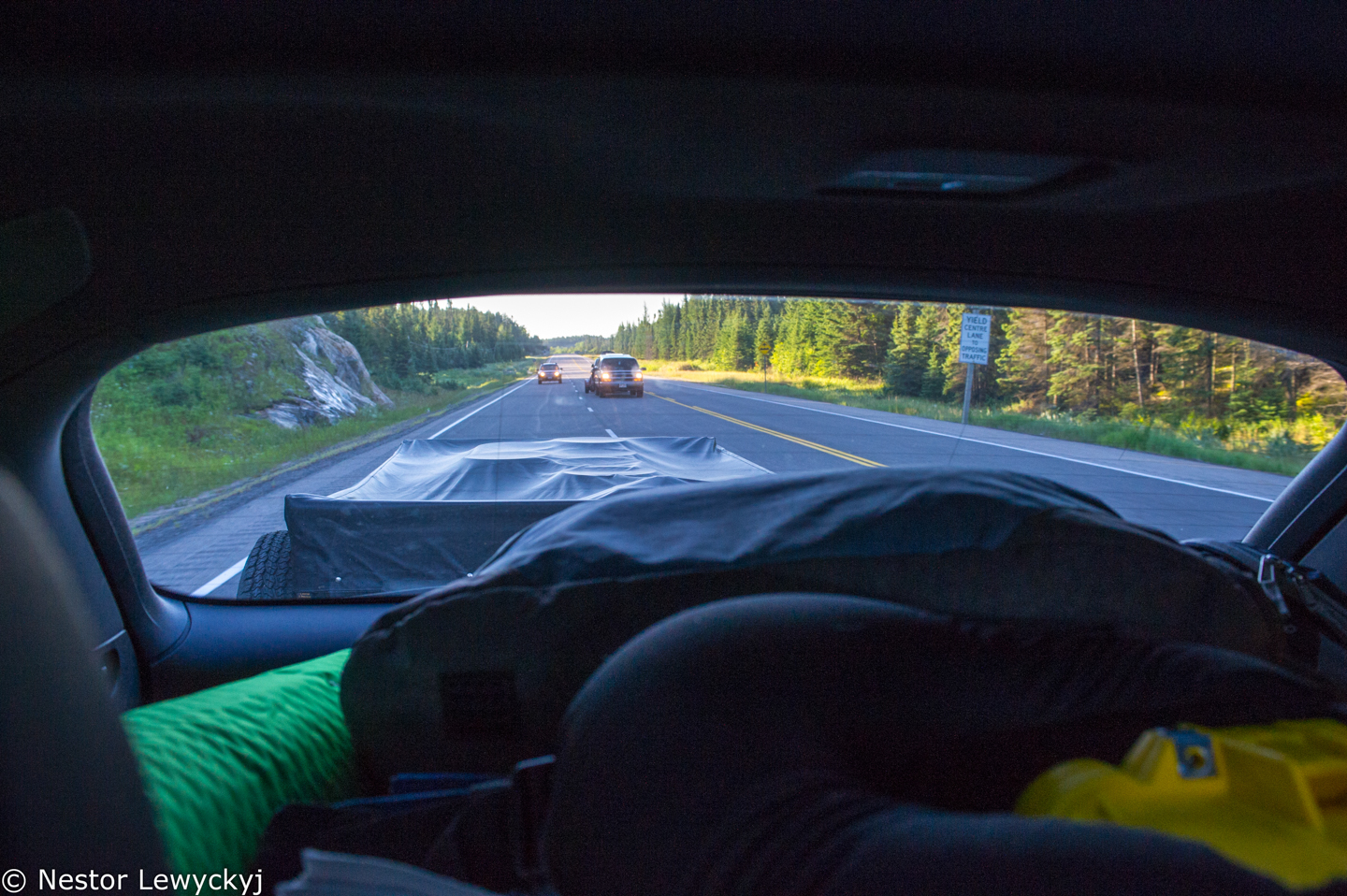 This was the view out my back. My trailer with it's new custom made snap-on cover (very nice!) with Bohdan following in his Subaru Outback.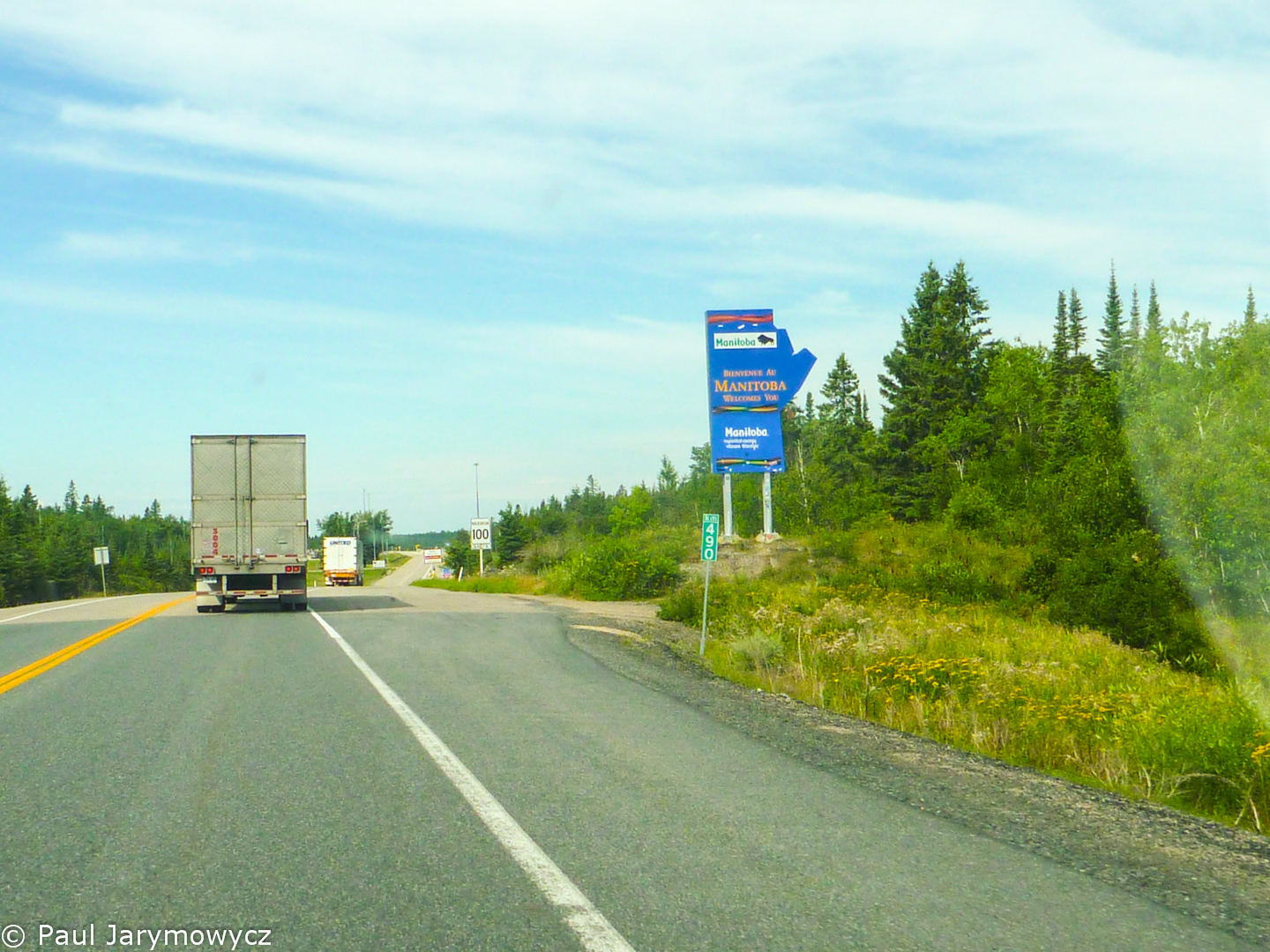 Entering Manitoba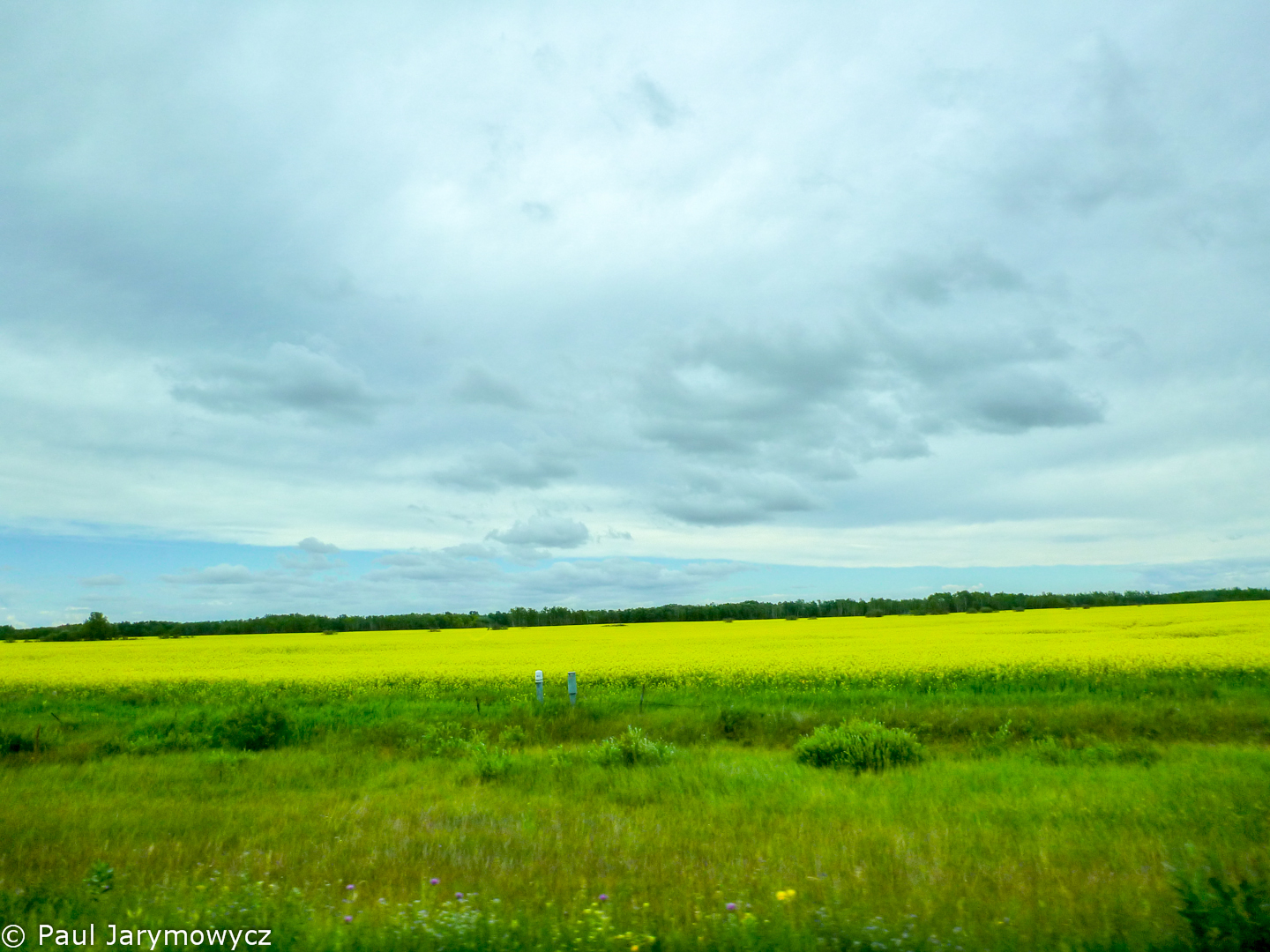 The ubiquitous Canola fields of Saskatchewan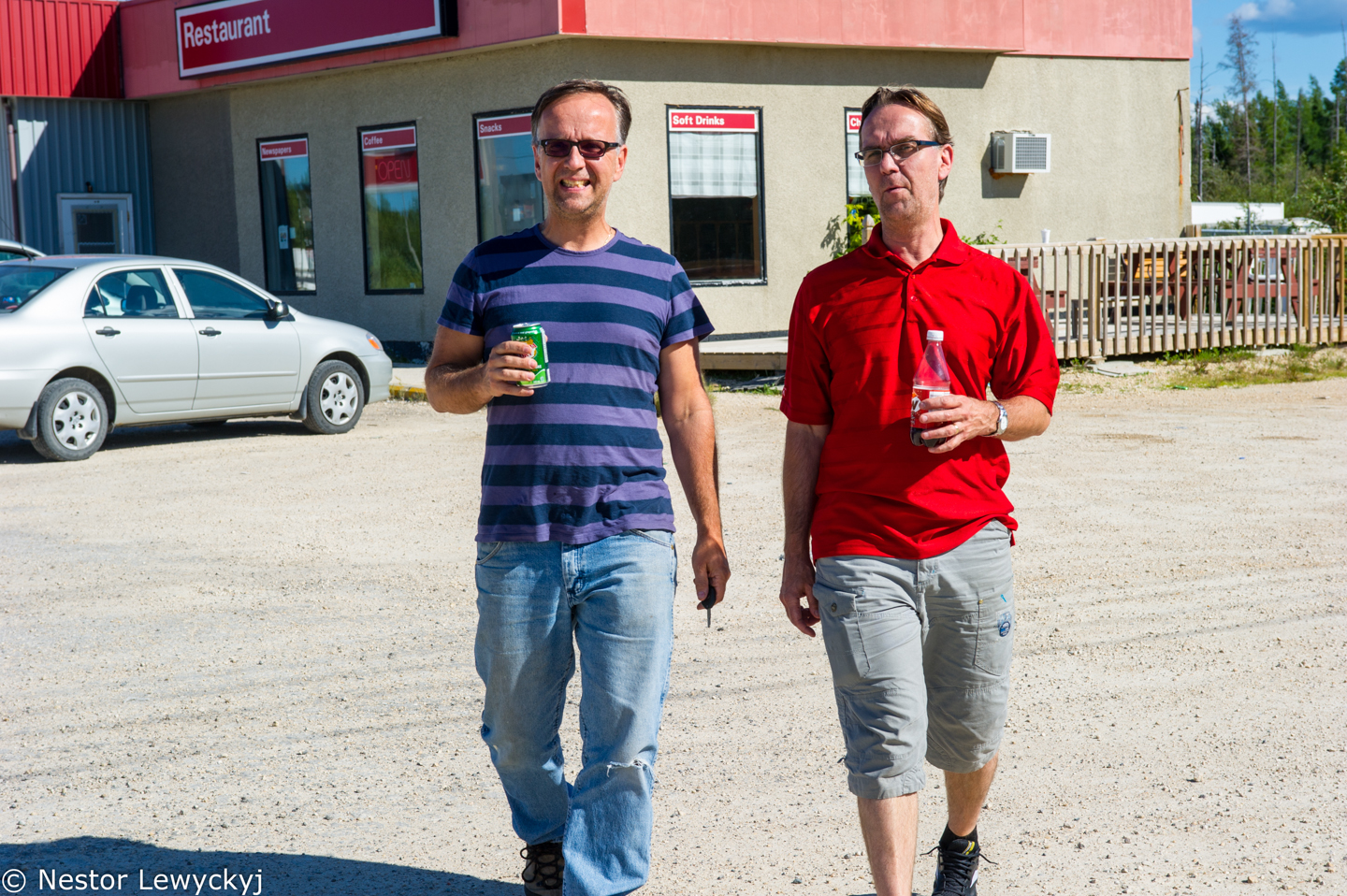 I think this was where the 39 meets the 10, well north of The Pas in Northern Manitoba. We stopped here for lunch, which was like hamburgers and fries. It's really tough to get good food along the way. Impossible to get something like a salad.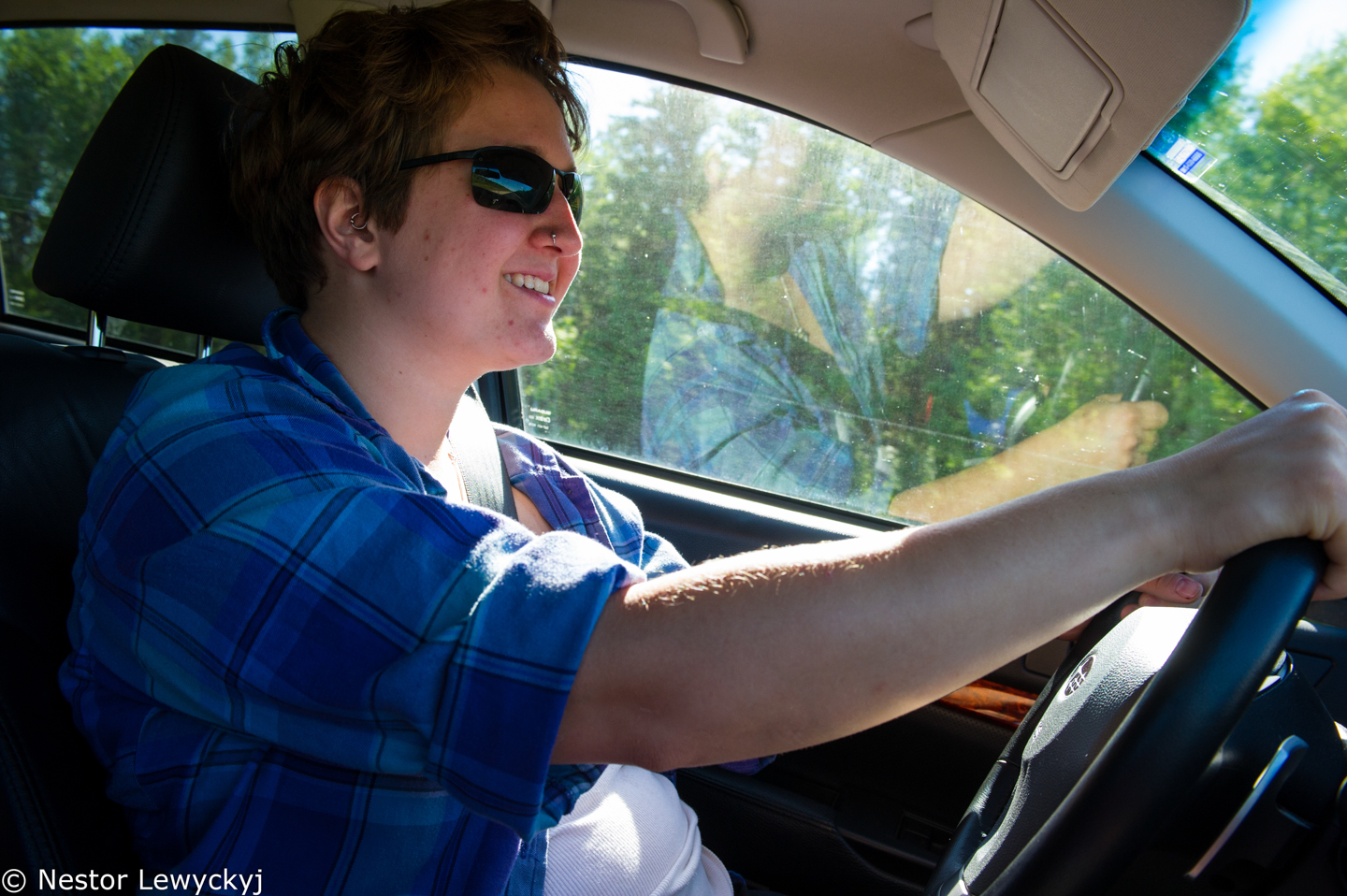 Olesia gladly took her turn at driving the Subaru, and I kept her company on that leg of the trip.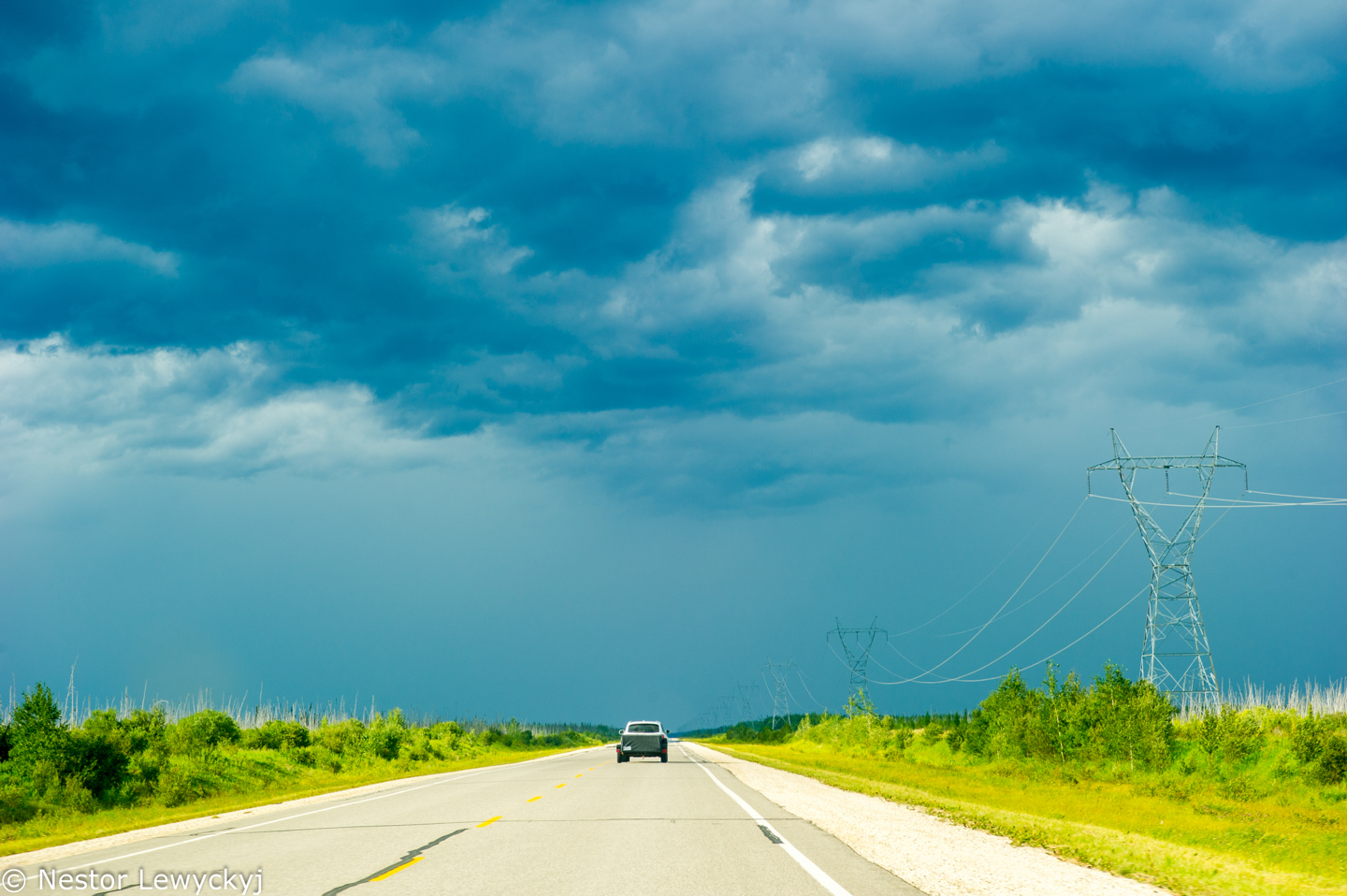 We had great weather on the first leg of the drive, but driving into Saskatchewan, it was threatening rain.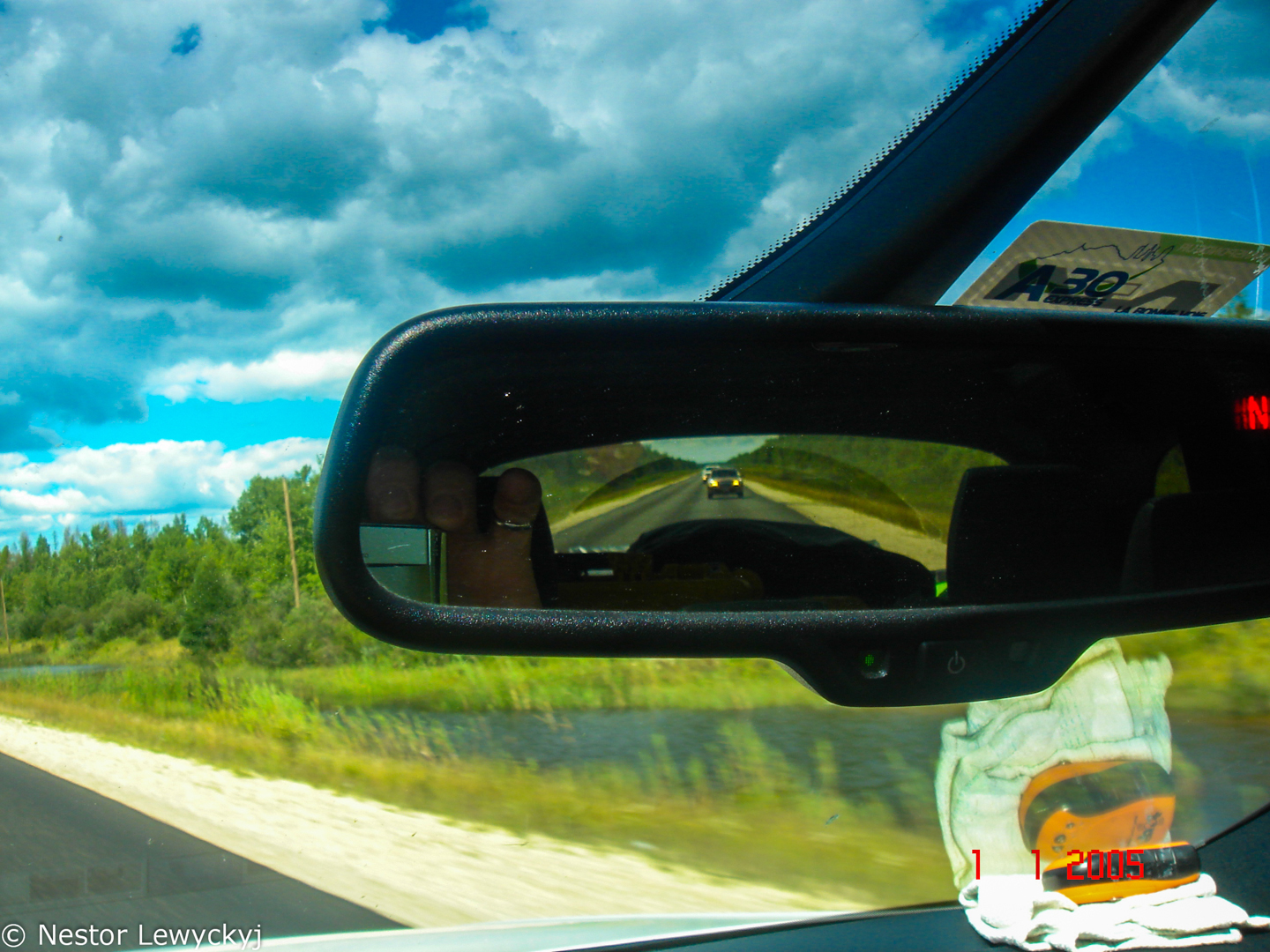 Bohdan following us......
Finally arrived in Points North Landing, about 400 kilometres of gravel road north of La Ronge. This was the last place to get fuel, food, and shelter. It is a staging area for a lot of mining and resource companies. They have a full cafeteria, rooms, fuel, repair facilities, a landing strip and water landing facilities. We ate here and took fuel and rested. 200 more kilometres on BAD road until Stony Rapids, the end of our drive!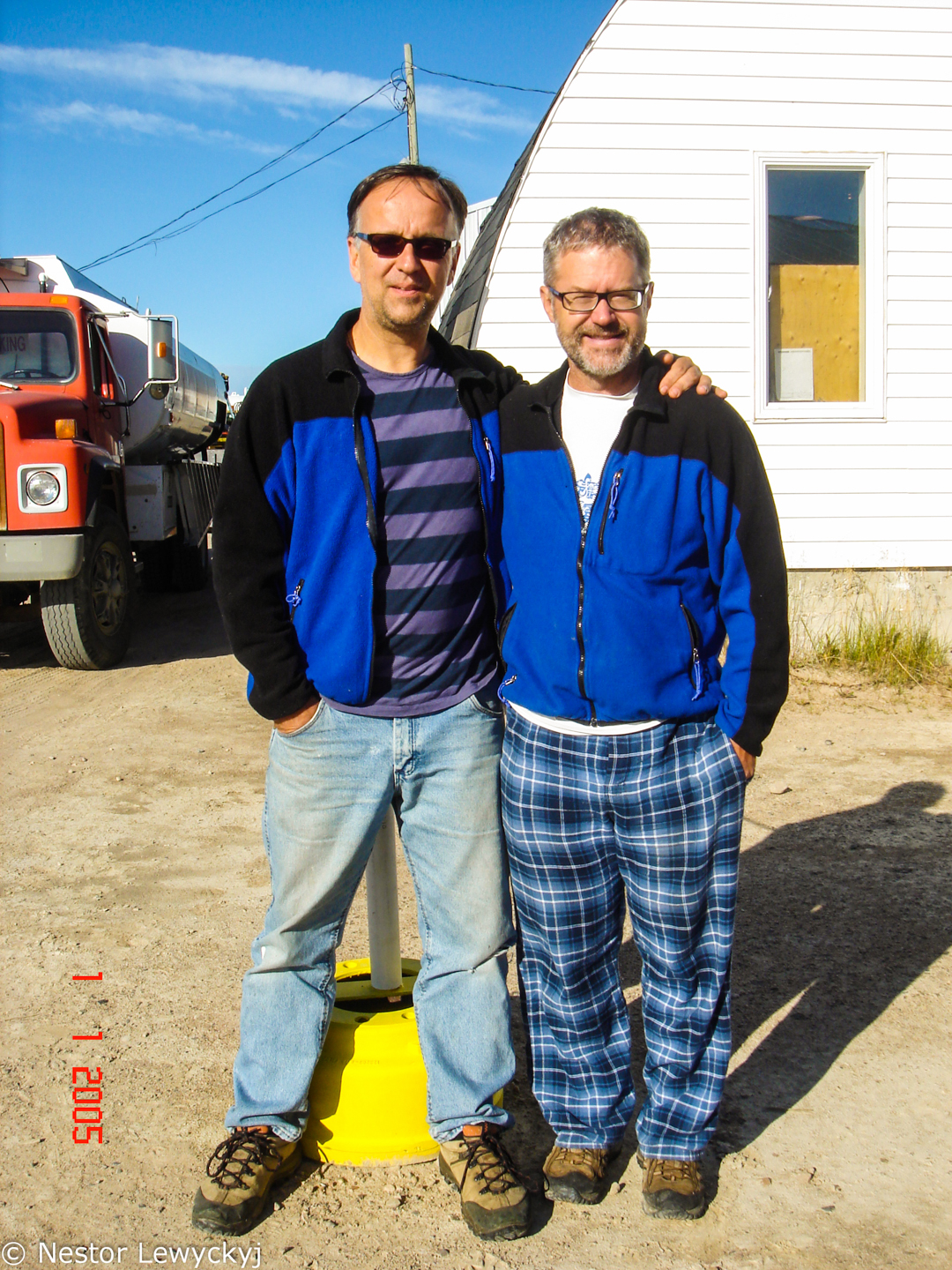 Seems like a lot of people were wearing flannel. Roman and Danio bonding....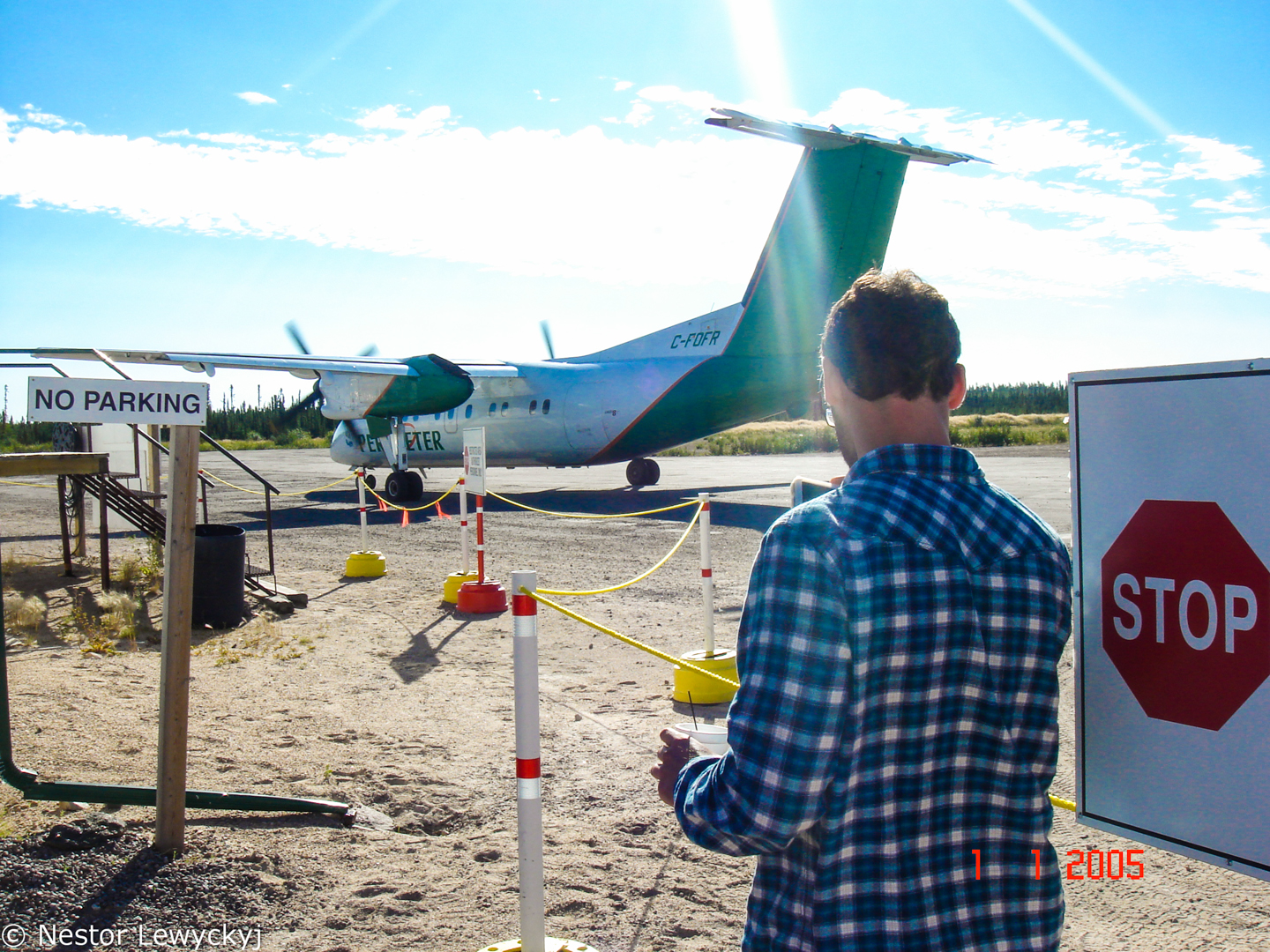 Paul watching a deHavilland Dash 8 taxi out. Paul has his pilot's license, so he has this thing for planes. Who doesn't?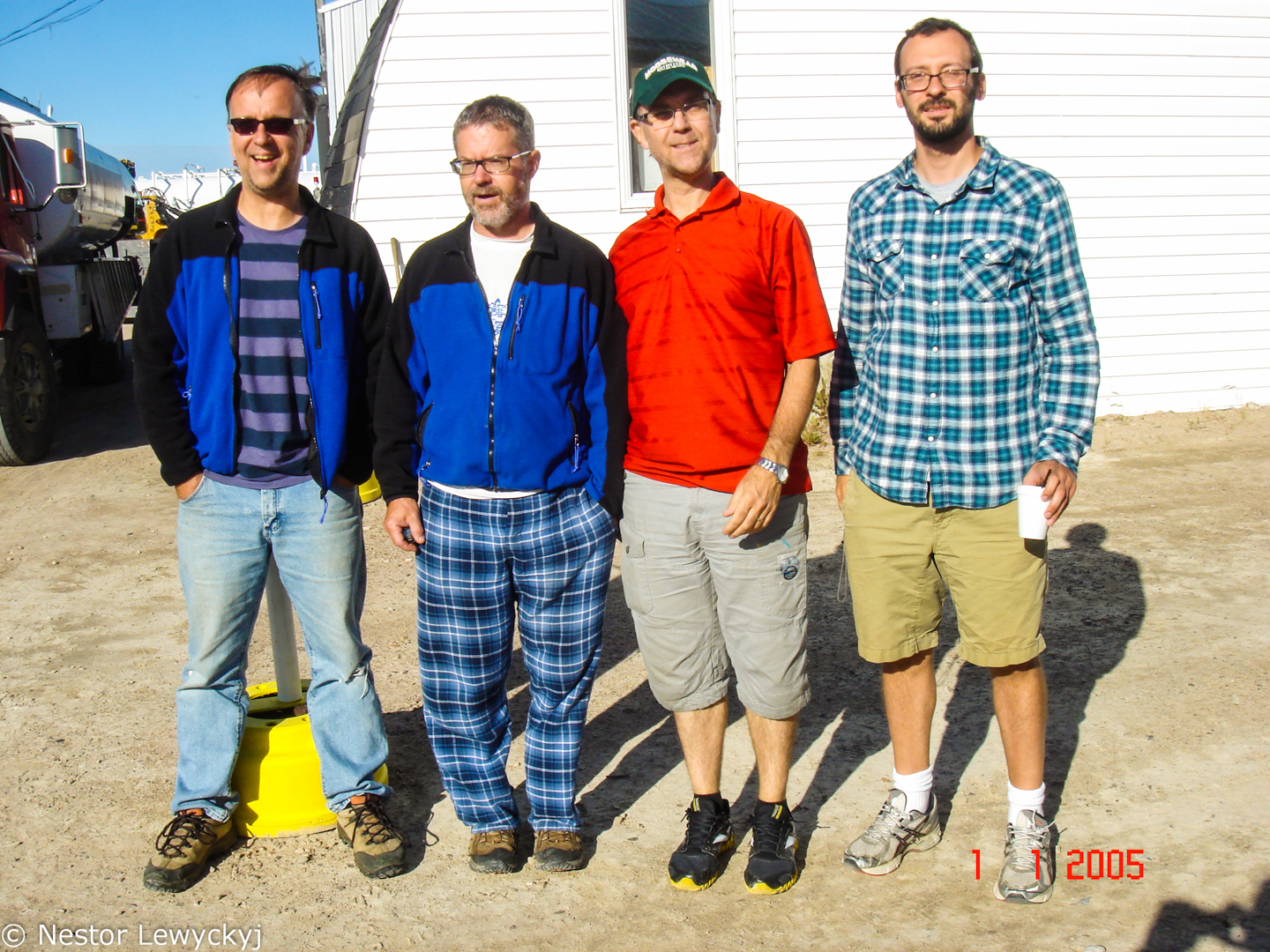 Ok, seriously. Who would date these guys???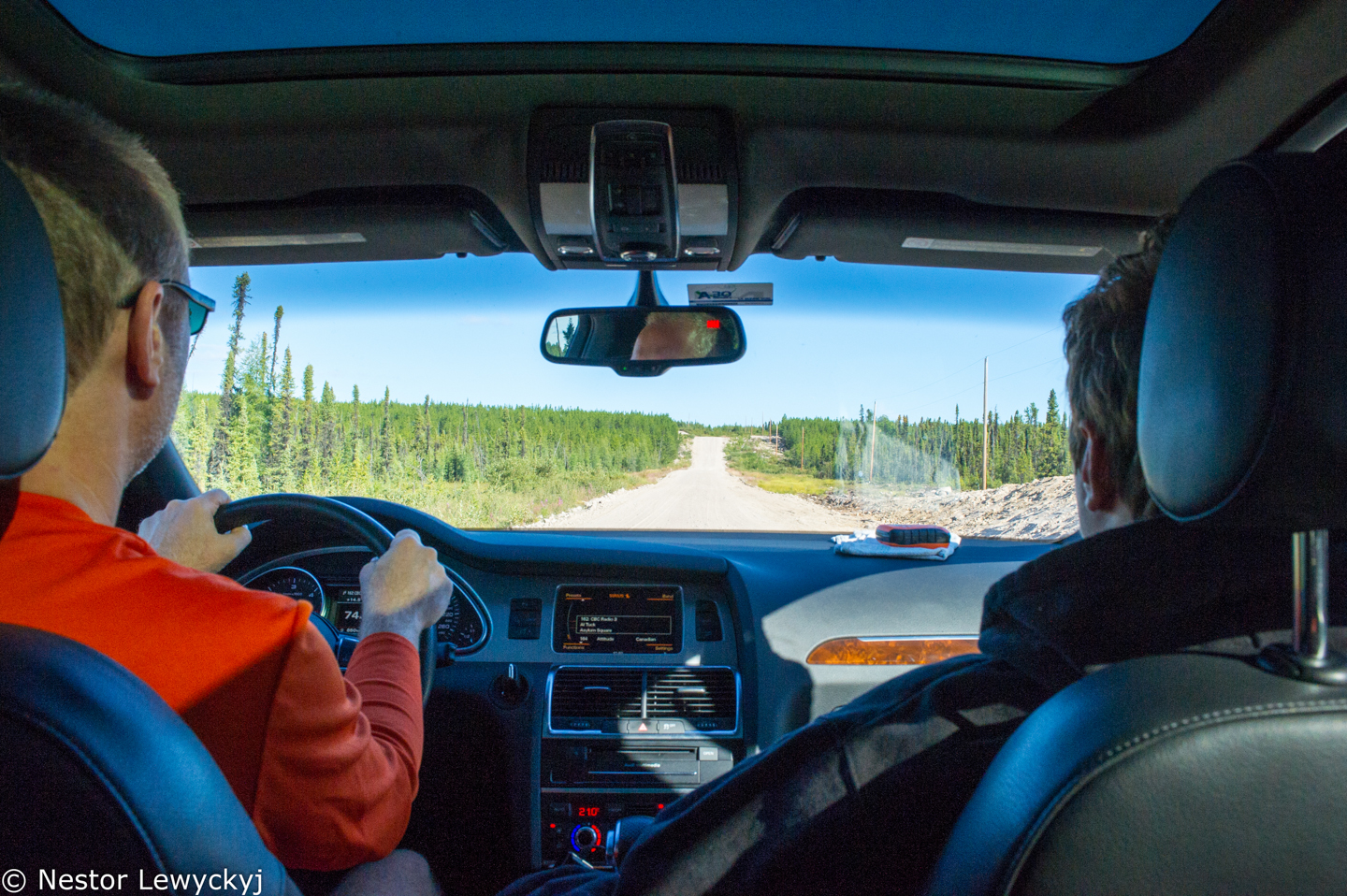 Doing that 200 kilometre rough gravel road drive from Points North Landing to Stony Rapids. It took us a bit less than 4 hours this time, better than the 5 hours it took in 2010. The road has been improved in spots, where the worst section were. Its still very rough, with very little traffic. If you get into trouble you are on your own!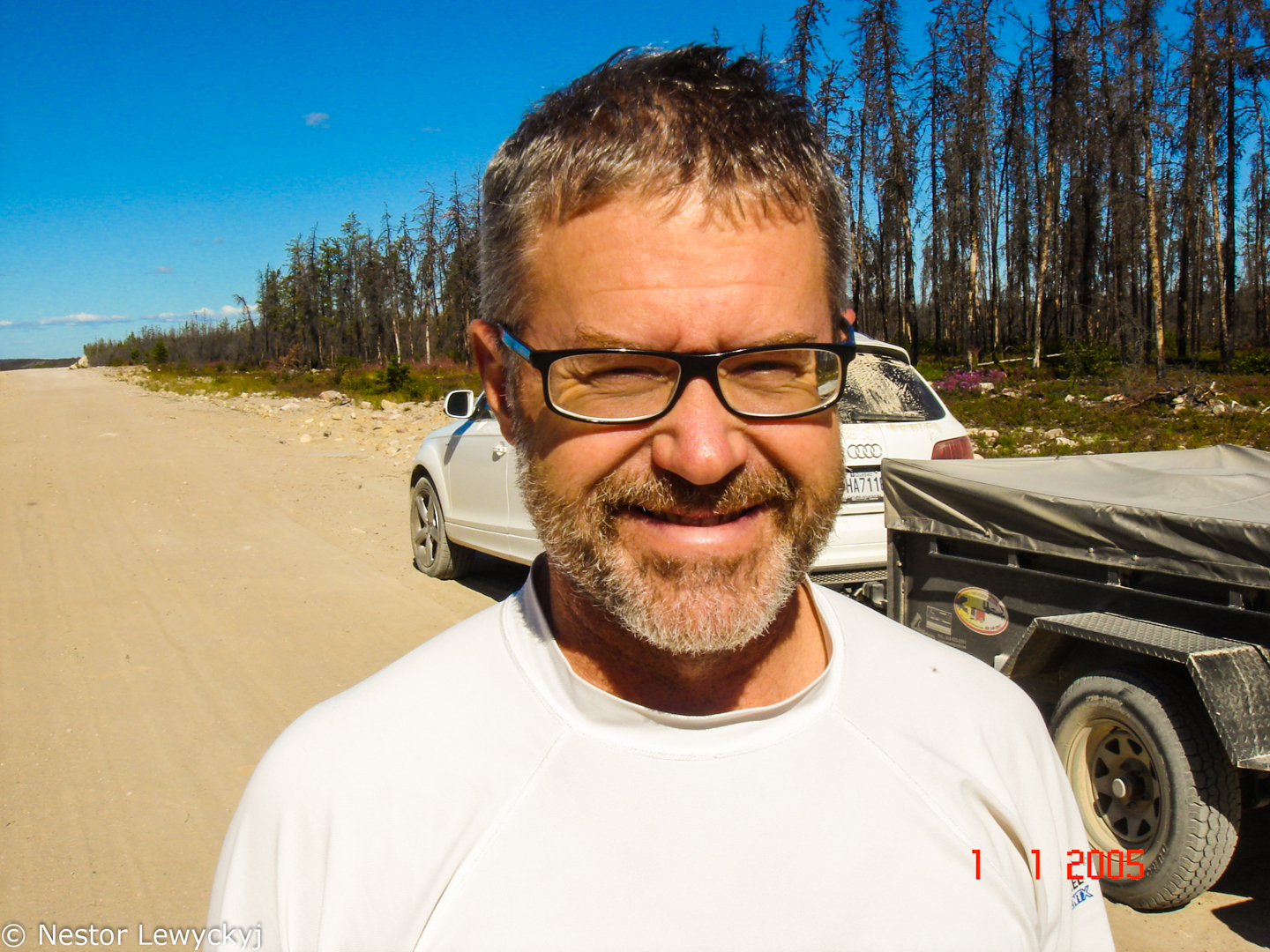 Roman was just happy to get out of the car for a while. We stopped to take a look at an old burn.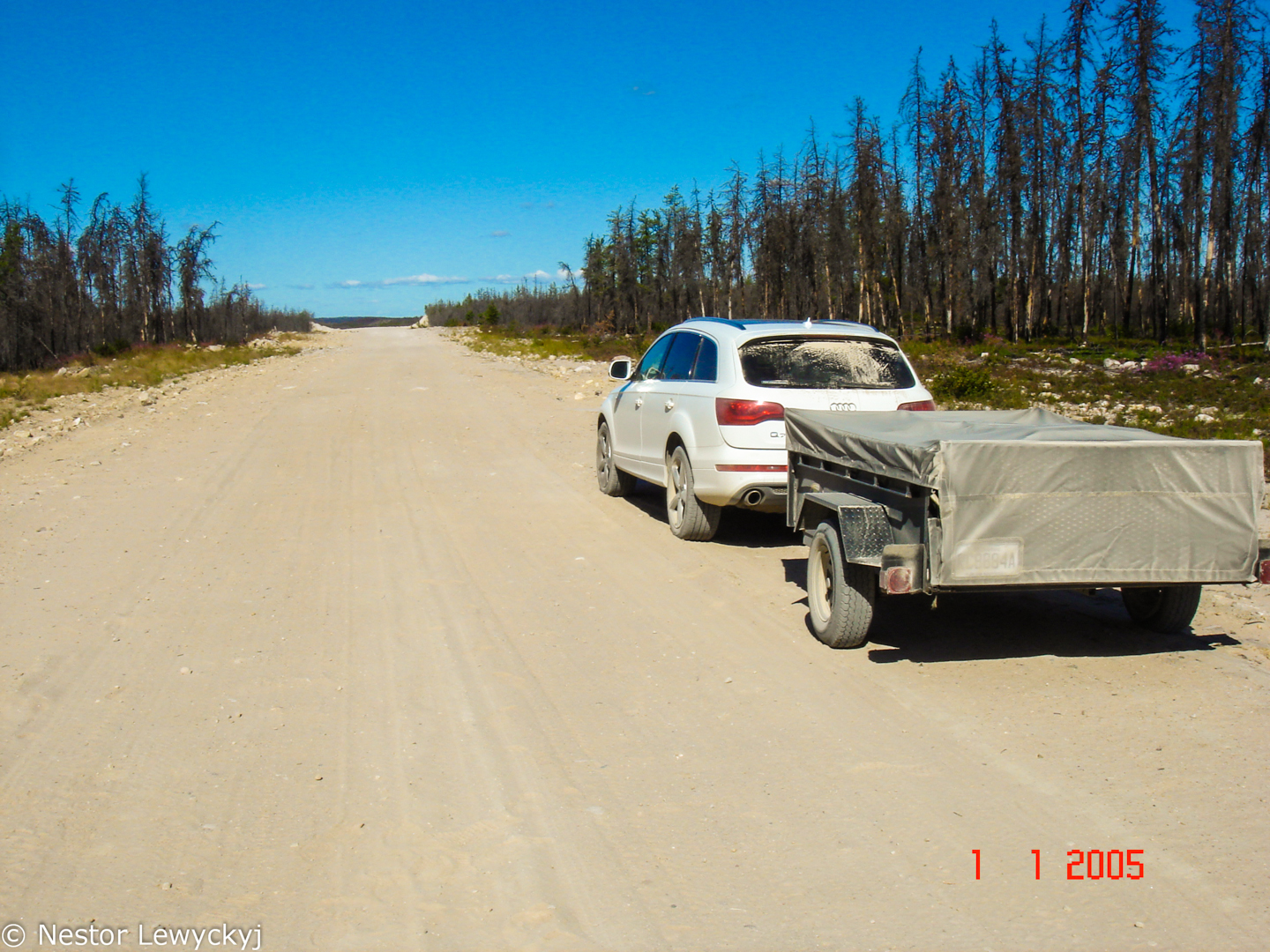 This is a good view of the Q7 and our trailer with the custom made snap-on cover. We were driving pretty much due north, and we were getting up there. The trees were getting noticeably smaller and north-like. The terrain was sand and gravel. This is probably at about 58°North latitude.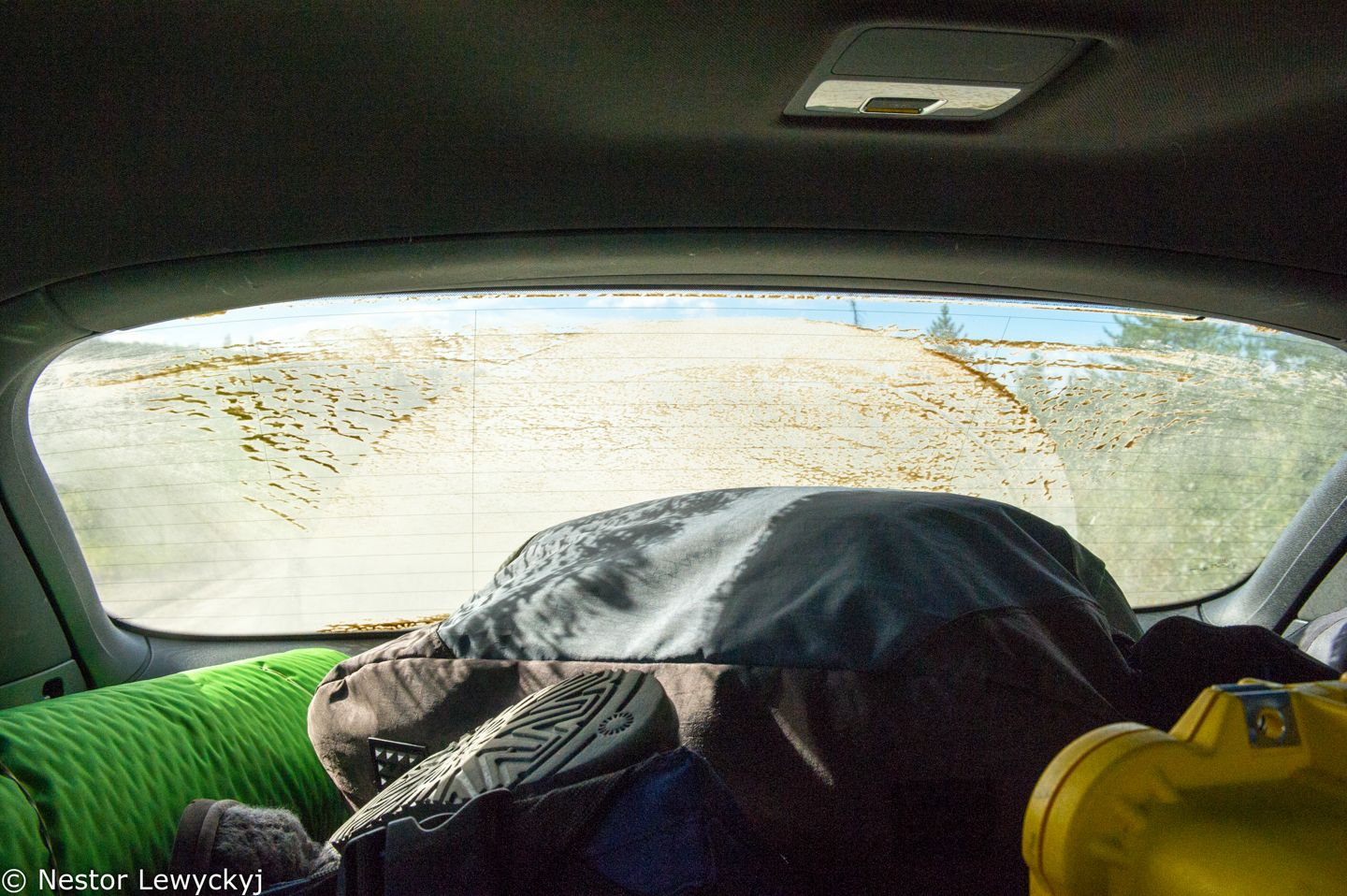 Everything was getting VERY dusty out there!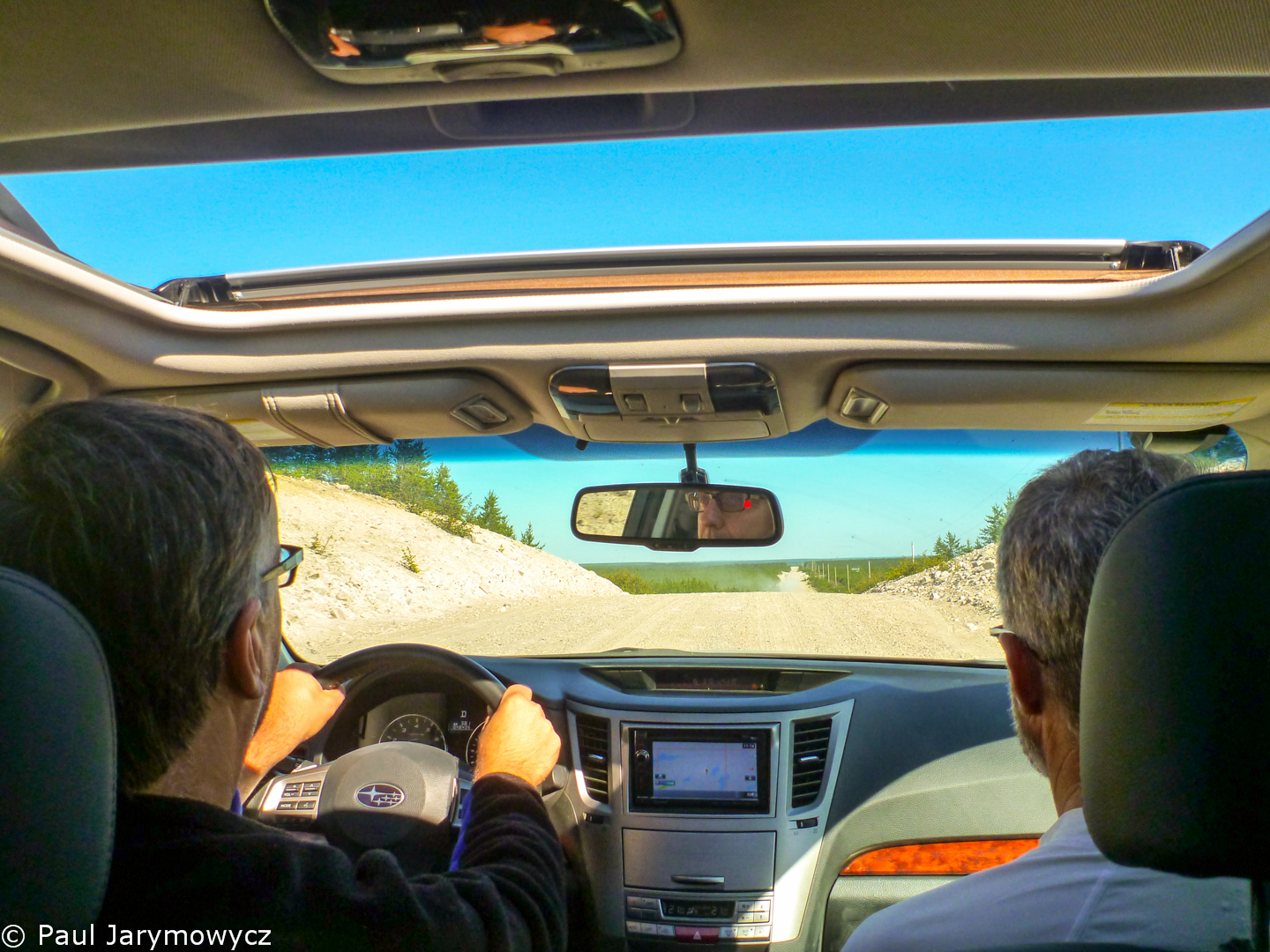 The view from Bohdan's car on that last bit of road to Stony Rapids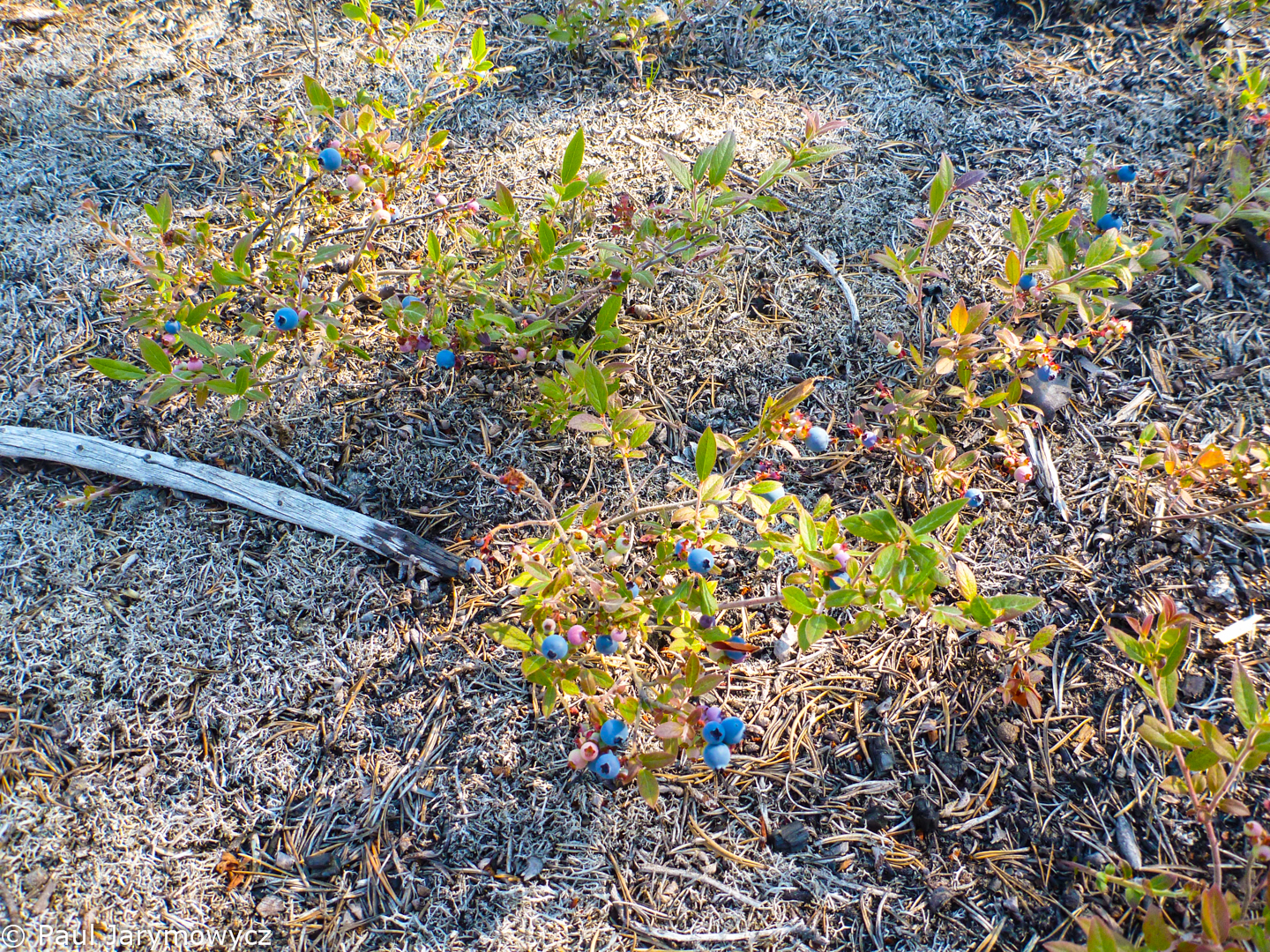 Blueberries were well into season. We tried some and they were very good.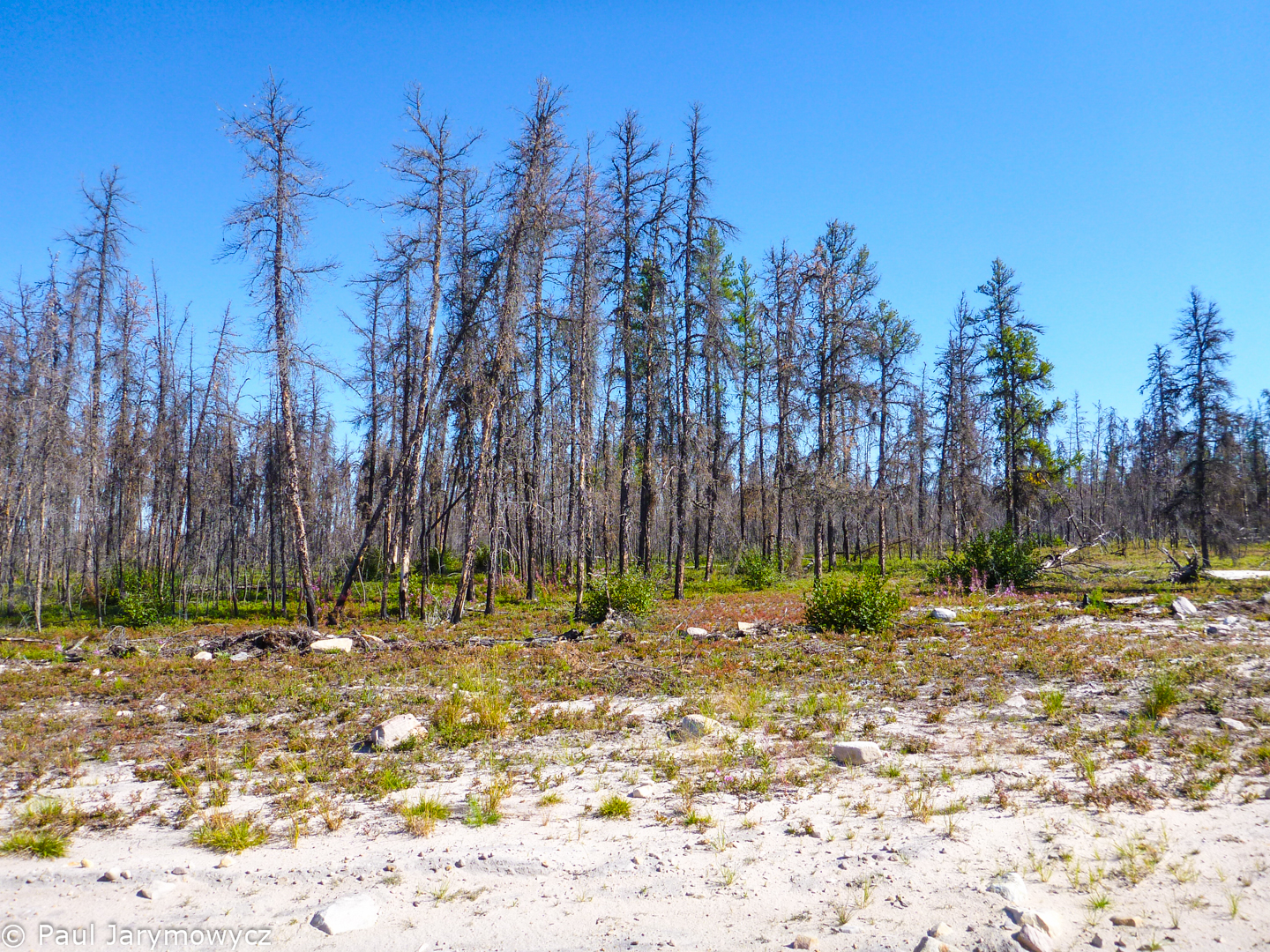 A forect recovering fro ma fire, probably a number of years ago. It takes a long time for the forest to start growing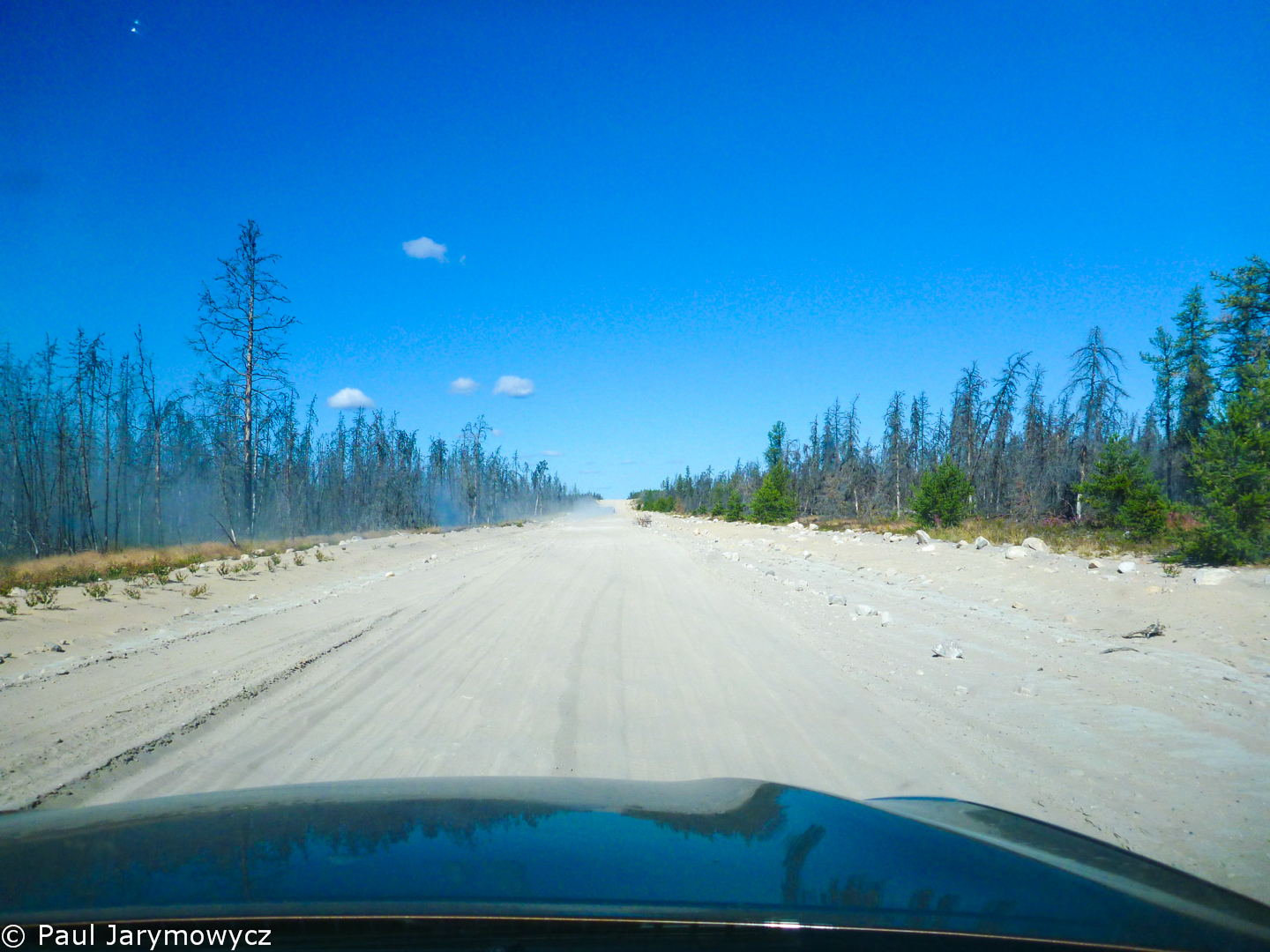 You can see tha tthe road is not built wiht drainage in mind. In a rain storm, you would have a foot of water in spots.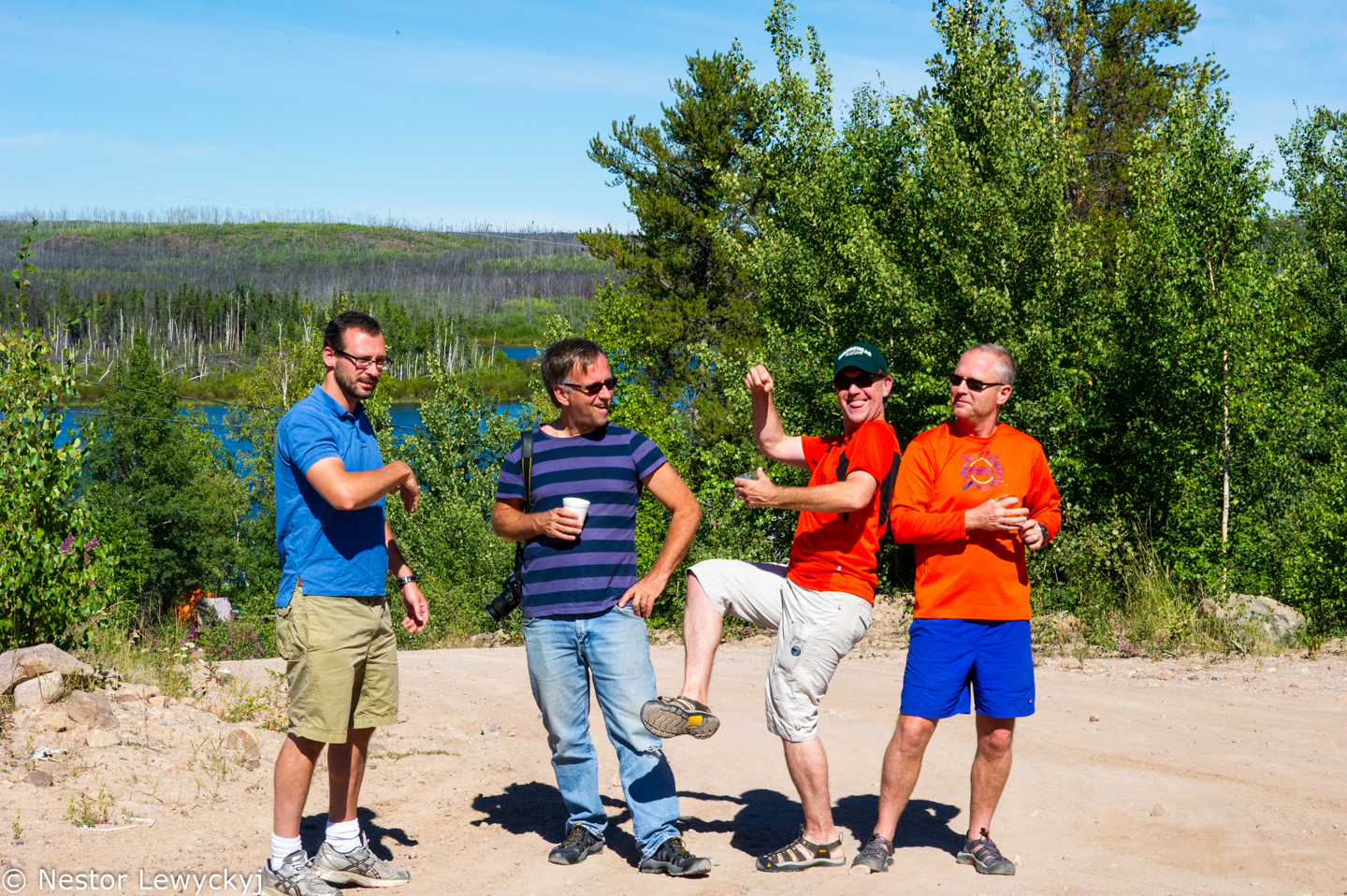 Horsing around already in Stony Rapids, the afternoon that we arrived there. I think that we had dipped into the Jack Daniels some already. Actually, looking at the picture, that is an absolute certainty...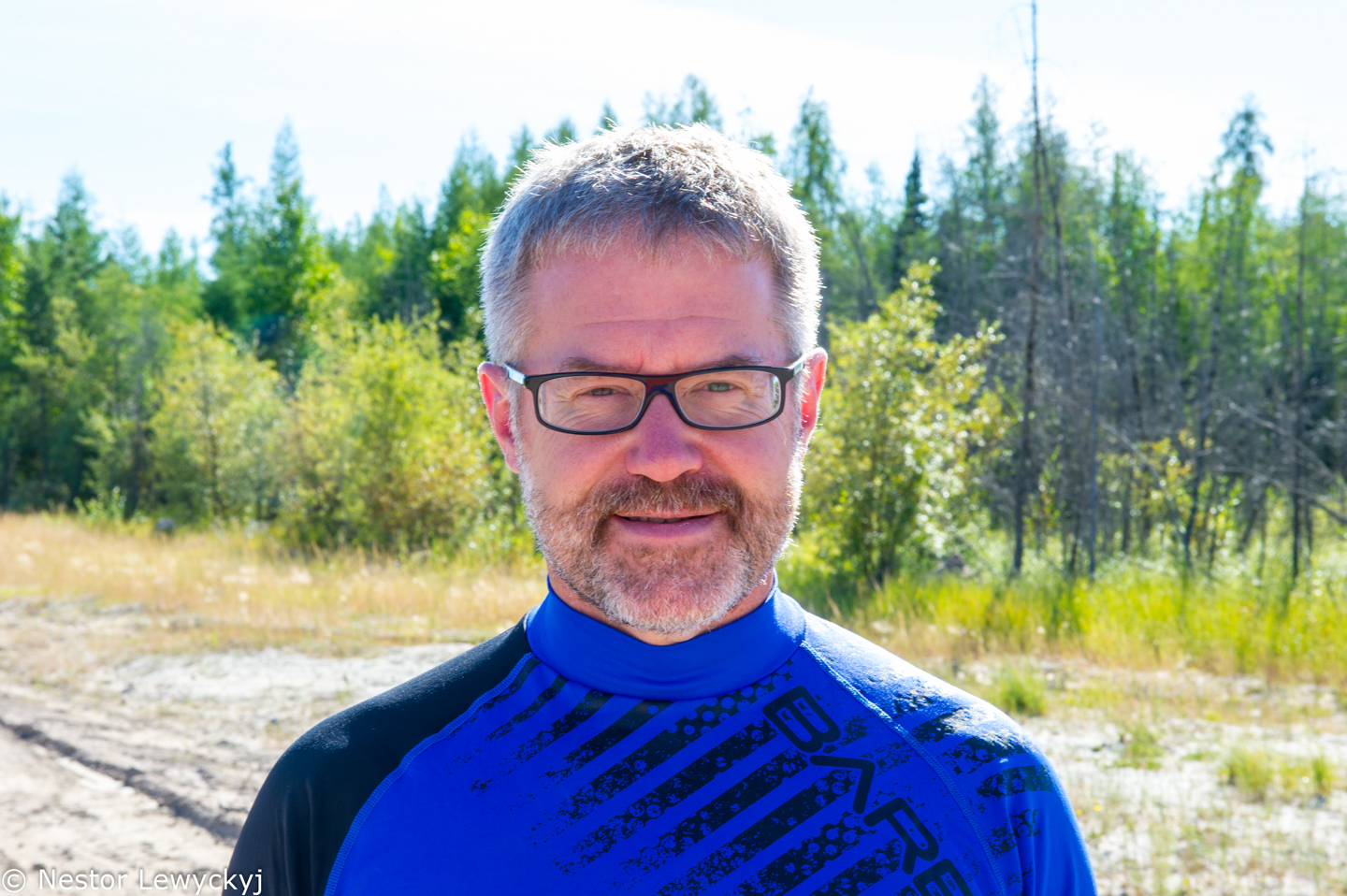 Roman with his professional paddling wear...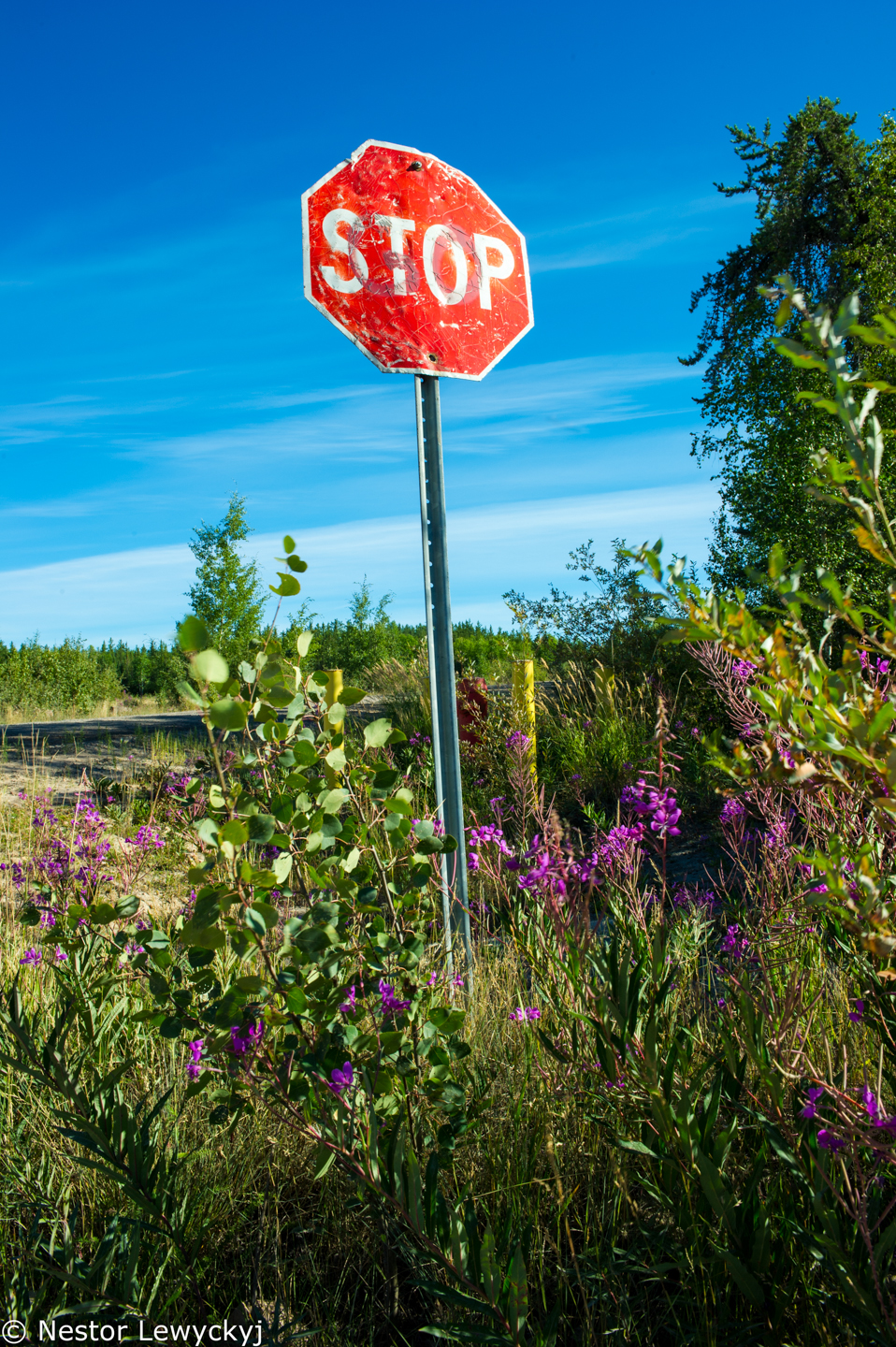 Not too many street signs in Stony Rapids. Those that are there, get a lot of attention.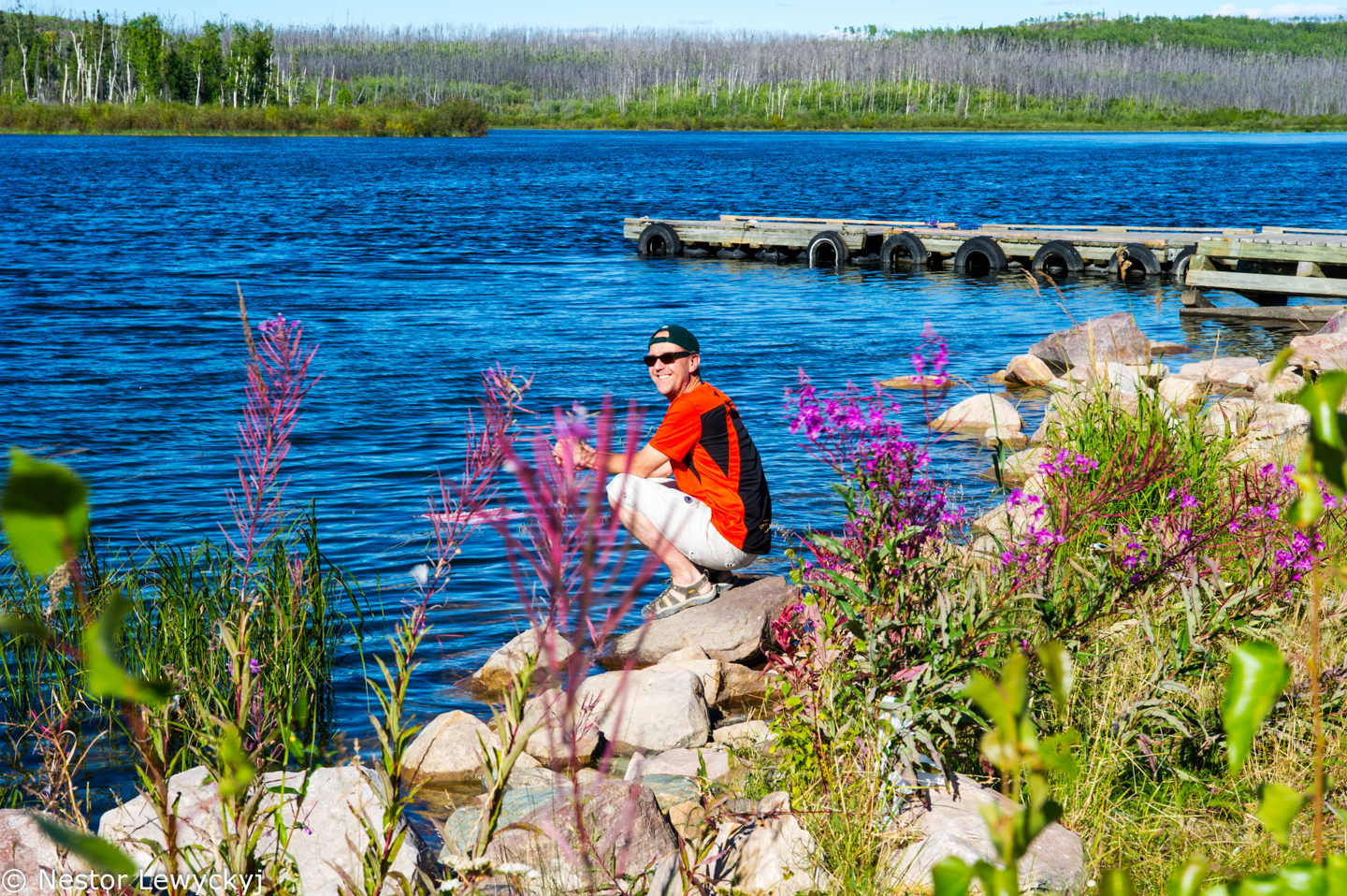 Peter on the shore of the Athabasca River that flows from east to west through Stony Rapids, all the way into Alberta. Our Twin Otter float plane would be taking off from this water the next day. There was a lot of anticipation in the air.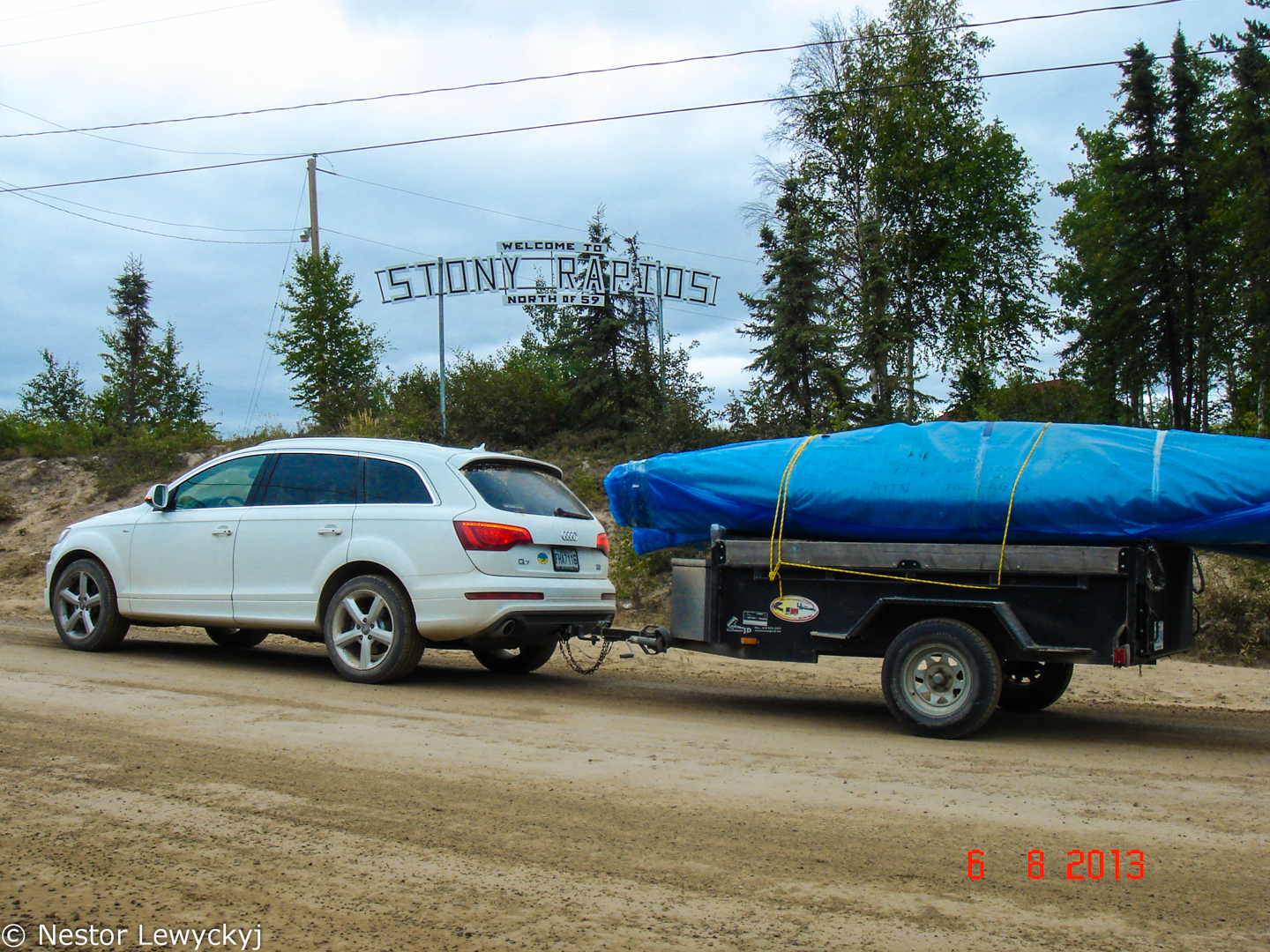 The next day we went to the local transport company yard where Tundra Tom had shipped our 3 canoes. We picked them up and brought them down to the docks where our twin Otter would be picking them up. We stopped at the town sign to get a shot. We were now north of the 59th parallel.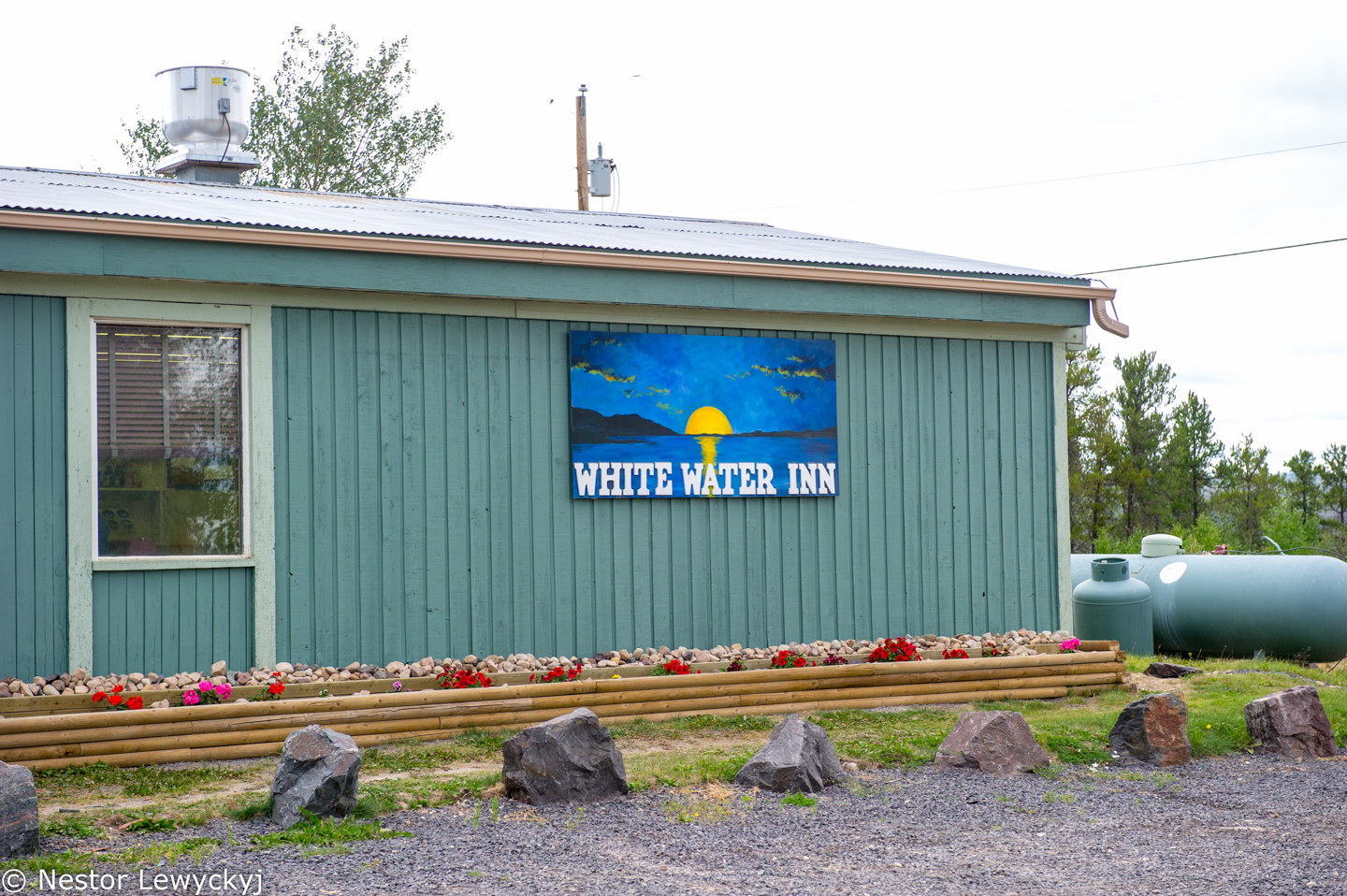 The White Water inn, where we also stayed in 2010. The owner, Eddy White, is very nice and treated us very well. Bohdan had a flat tire upon our return and Eddy helped us out a lot. If life ever finds you in Stony Rapids, you have to stay here. If you take the option, they give you breakfast and dinner, with a pack lunch if you ask for it. The one truth about the north, or any out-of-the-way place, is that people are much friendlier and more helpful than in the city. It may sound like a cliché, but people have to rely more on one another and by default, they end up being more helpful.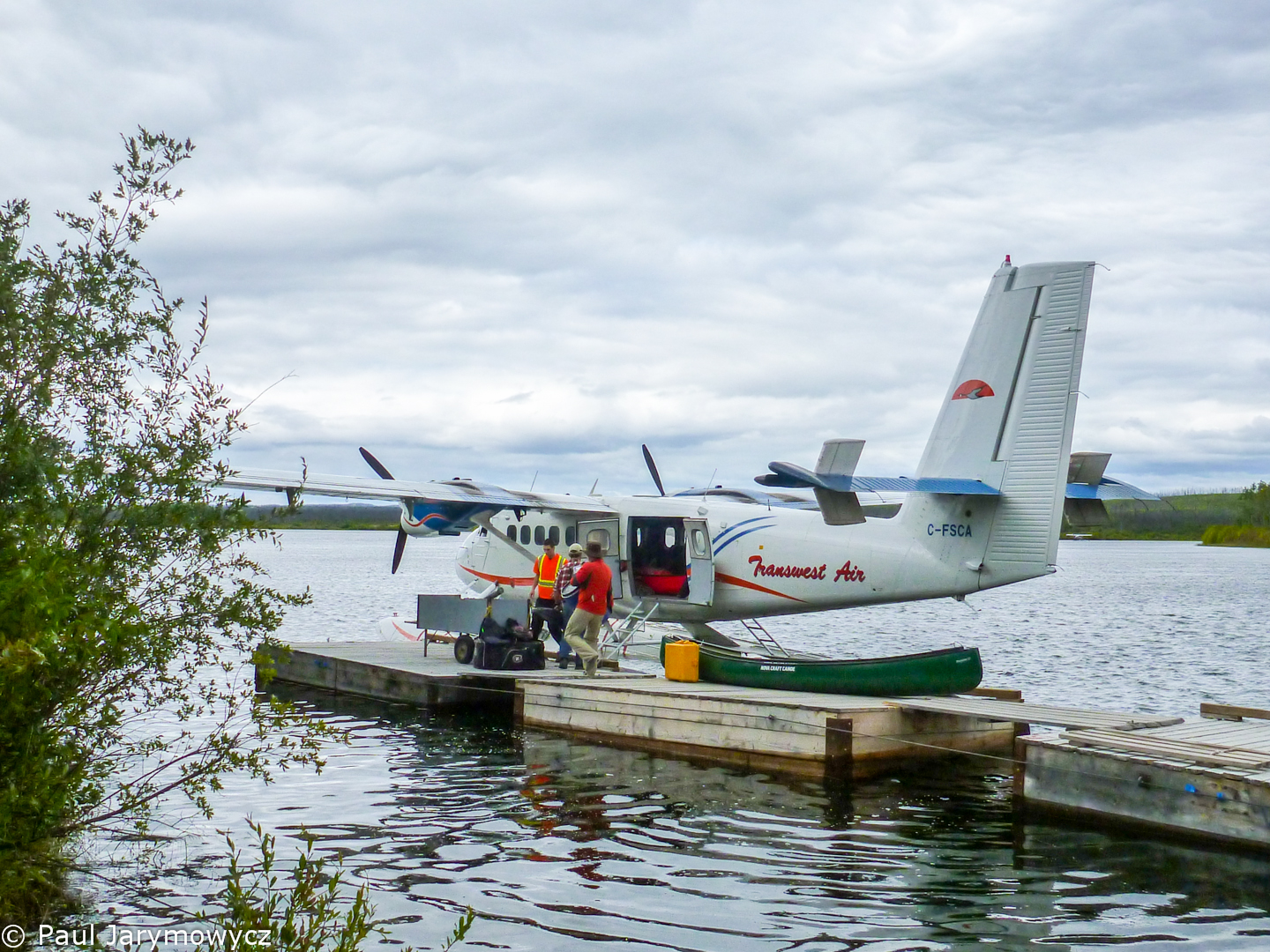 Packing up the Twin Otter for the flight north to Damant Lake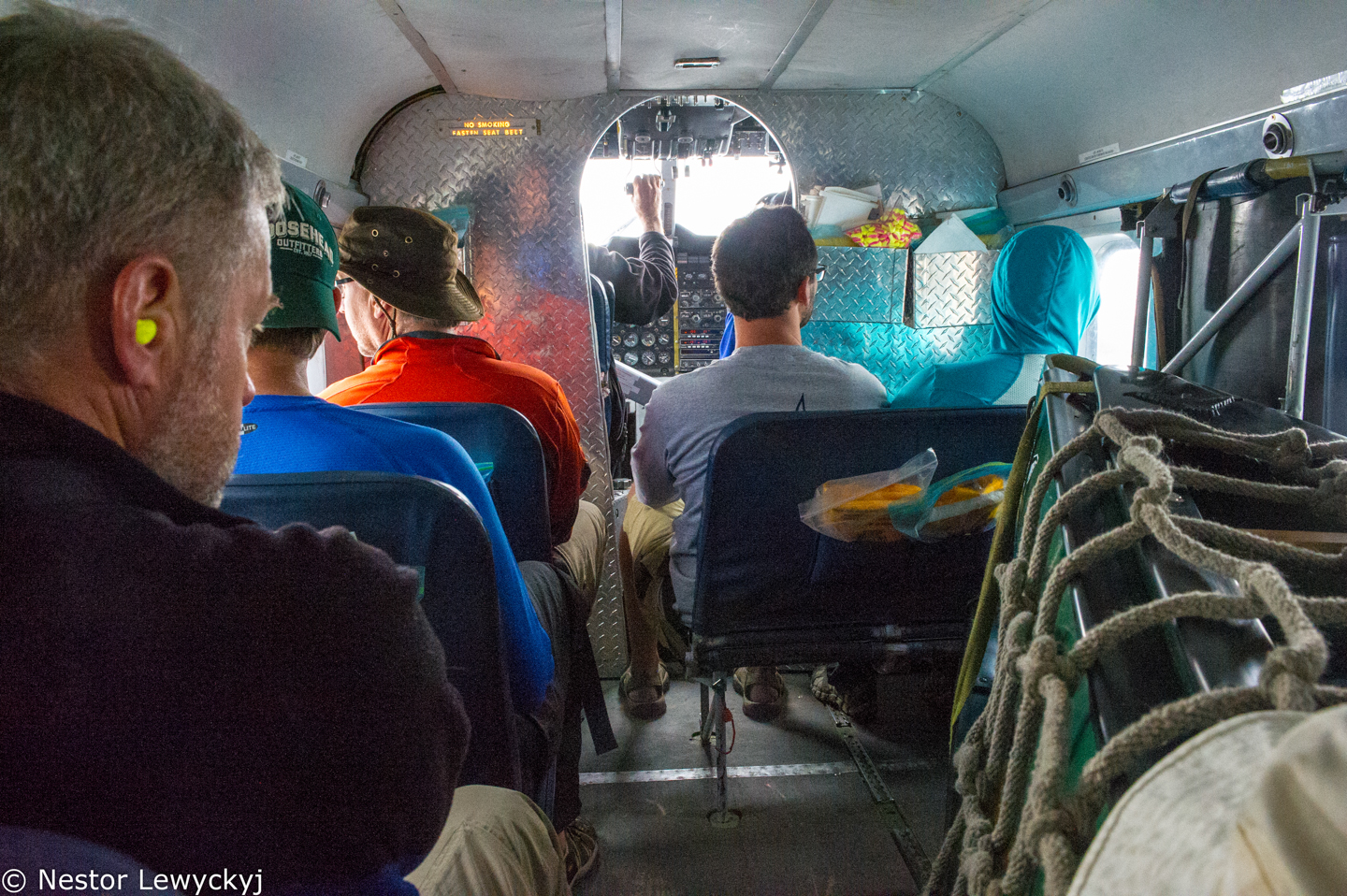 This is us in the Twin Otter. It took the 6 of us, all of our gear, and 3 canoes, seen on the right side. Although we had two 17' and one 16' canoe (2 of them nested) there is room for three 17' canoes. There is something so exciting, and exhilarating about waiting for your float plane to take off. The beginning of a great adventure. I will never get over that feeling! Note that the co-pilot, seated on the right side (always), has a GoPro camera set up behind his head.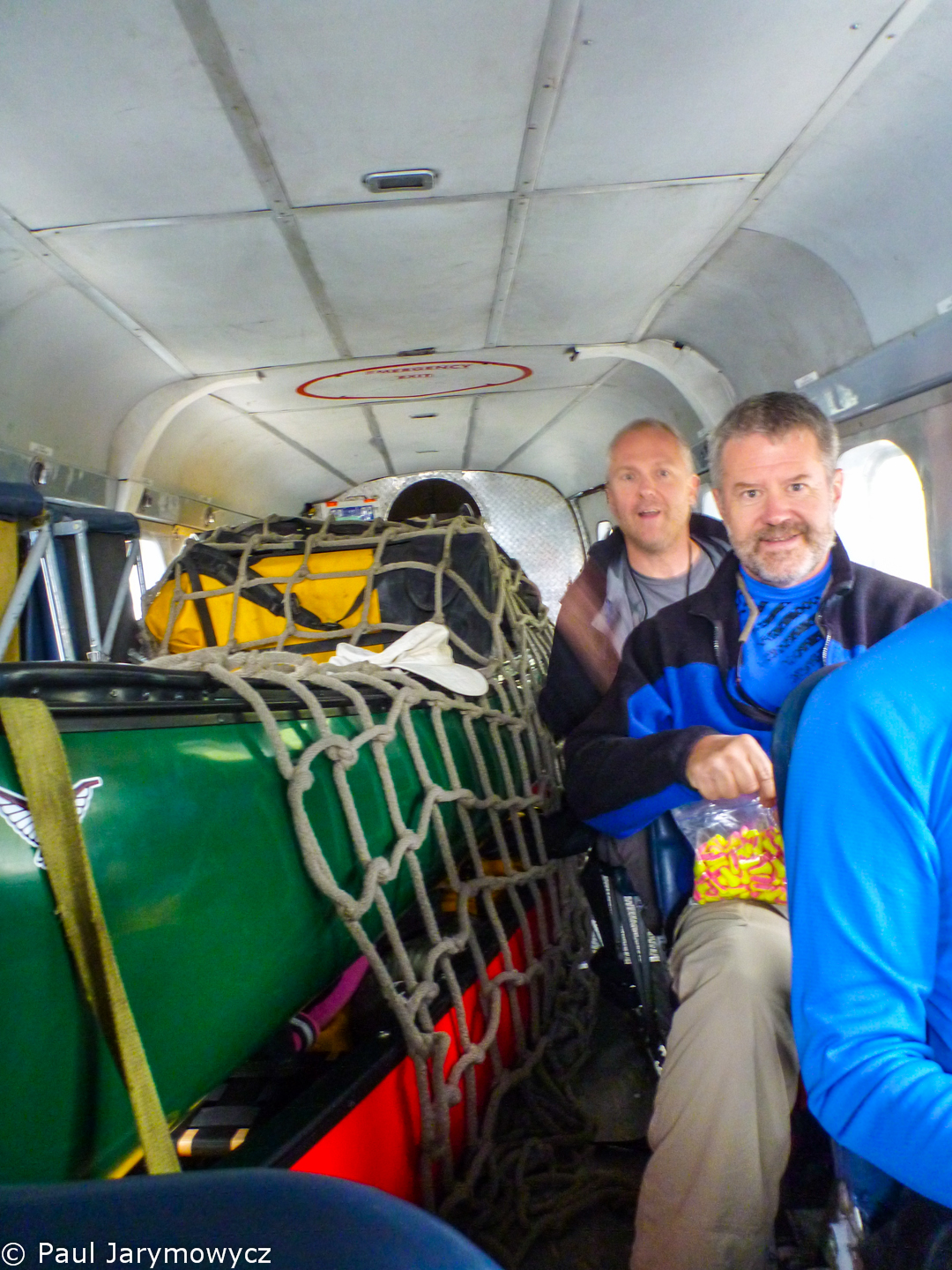 You can clearly see all of our gear and the 3 canoes on one side, and us on the other. It's only about an hour flight, perhaps a bit more, so its not too bad. Plus they fly at only a few thousand feet so you get great views of the terrain. Roman is holding a bag of ear plugs, always welcome on these flights!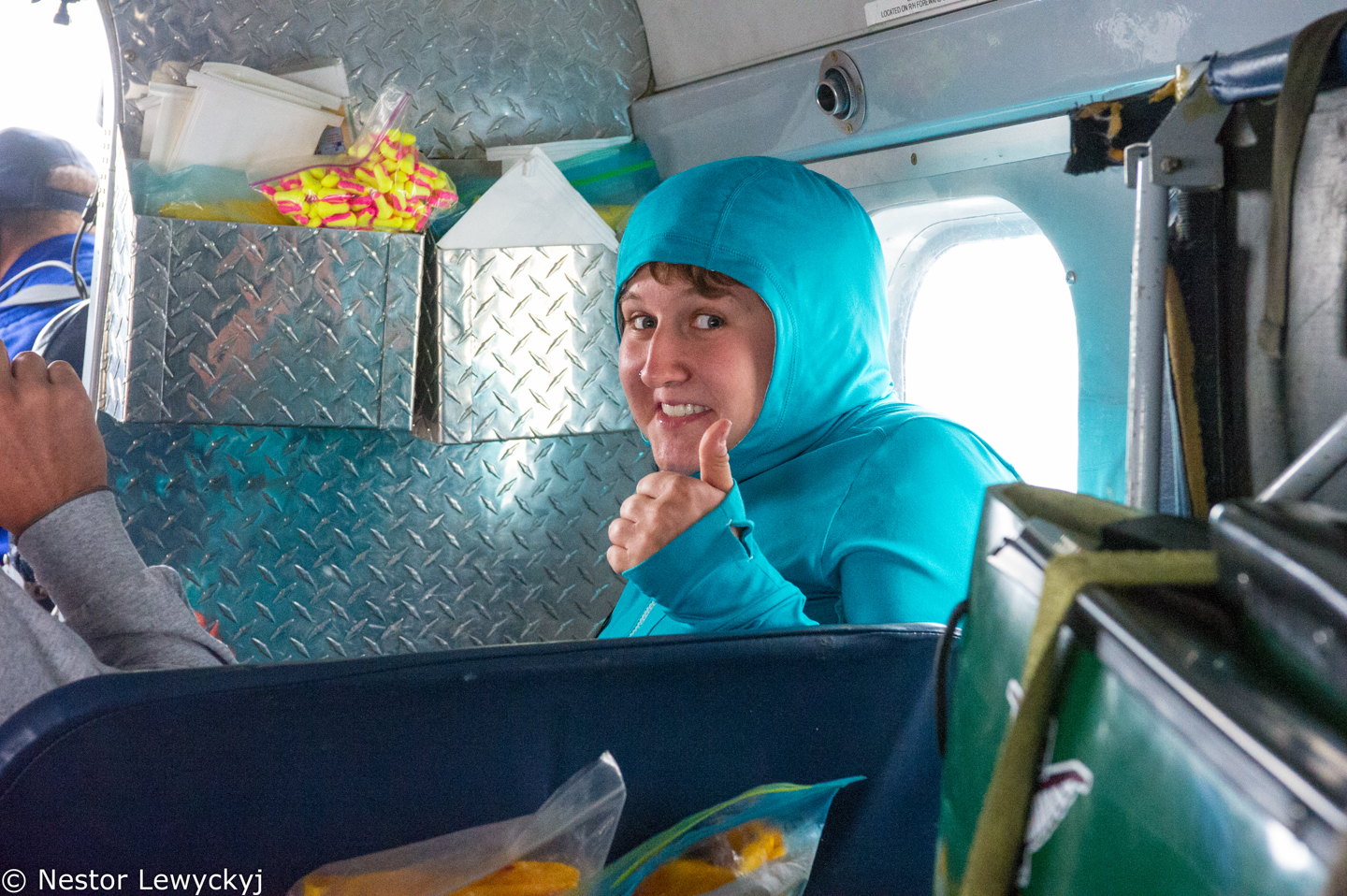 Olesia was nervously ok, but the flight back 3 weeks later was much rougher, and her stomach enjoyed that one much less.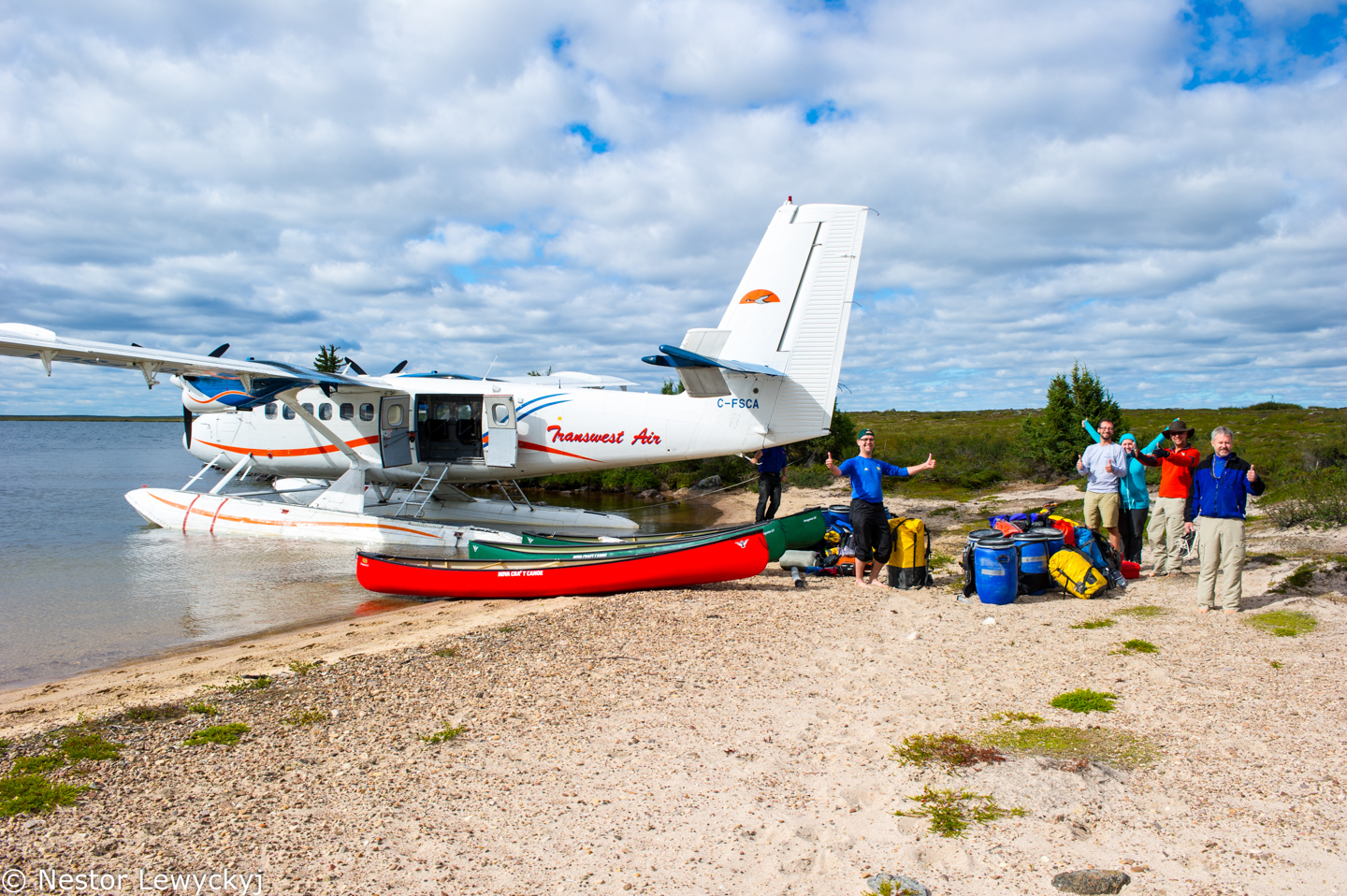 The pilot from Transwest Air, Bob, was absolutely wonderful. He was a farmer from Manitoba who did this part time. He was probably in his early 60's. He took very good care of us and was very sensitive to our needs. He landed us exactly where we wanted to be and gave us some great pointers. It was too bad that he was not our pilot on the way back.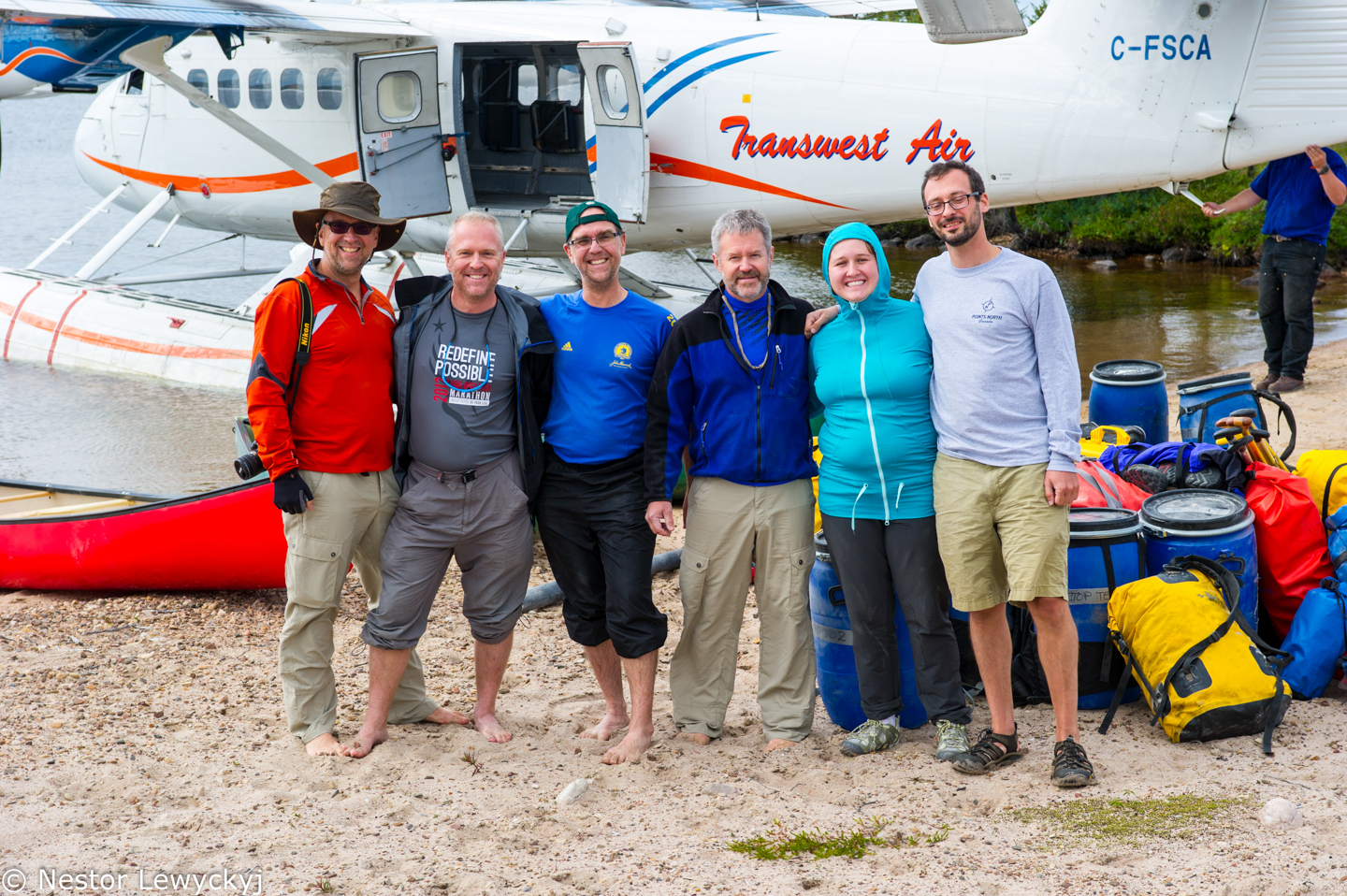 Bob graciously took this group shot of us before he set off back to Stony Rapids. He had flown us about 250 kilometres due north of Stony Rapids, landing on the very northern part of Damant Lake. We all helped out in the task of unloading the plane. It's not easy manoeuvring the canoes out of the Twin Otter. The start of the Elk River was only a few kilometres north of us at this point.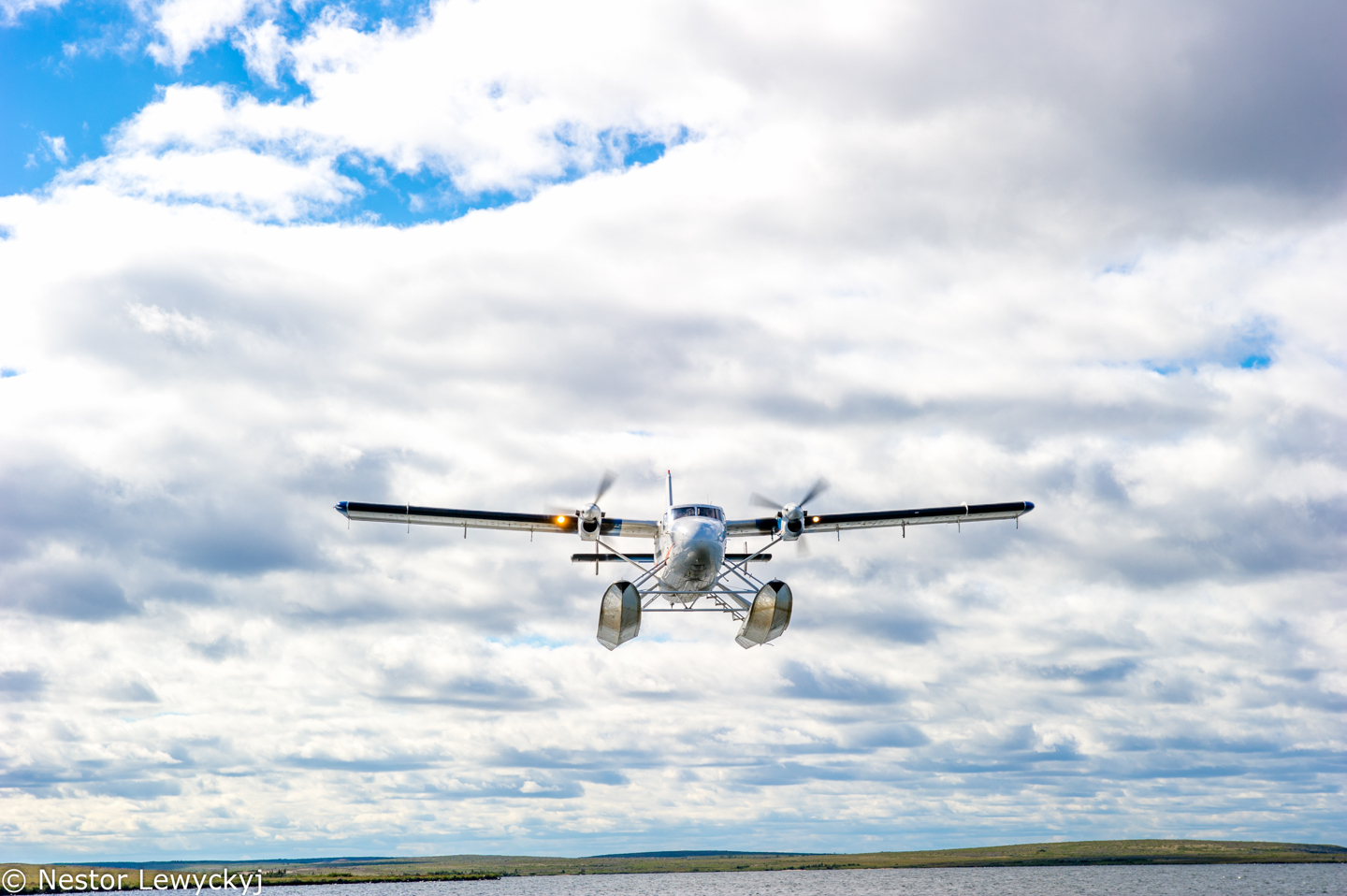 The co-pilot was piloting the plane on take off. They had taxied out onto the lake from the beach to do their pre-flight checks. He then gunned the engines and took off towards our right and circling counter clockwise but never getting very high. We then realized why! He did a full circle and then buzzed us over the landing beach. I realized what was happening and dropped to one knee and let my motor drive whirl on the camera. Lots of fun!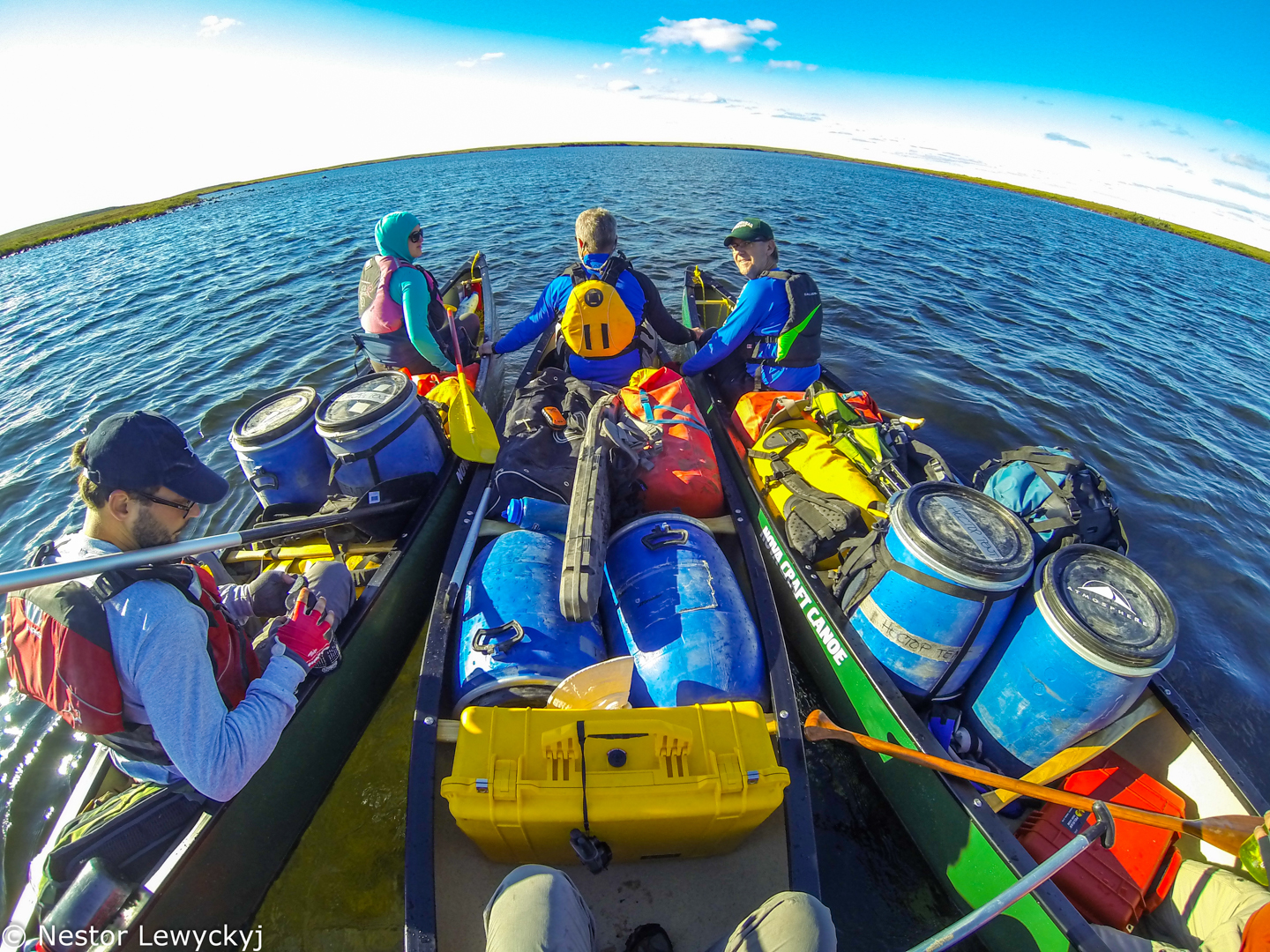 Our first day our on the water. You can see how heavily packed we were. It took us a couple of days to figure out the optimal packing sequence. By the third day all of the blue drums were lying down, giving the canoes a much needed lower centre of gravity. The weather the first few days was unbelievable, warm, dry, with a nice wind. The bugs were non-existent!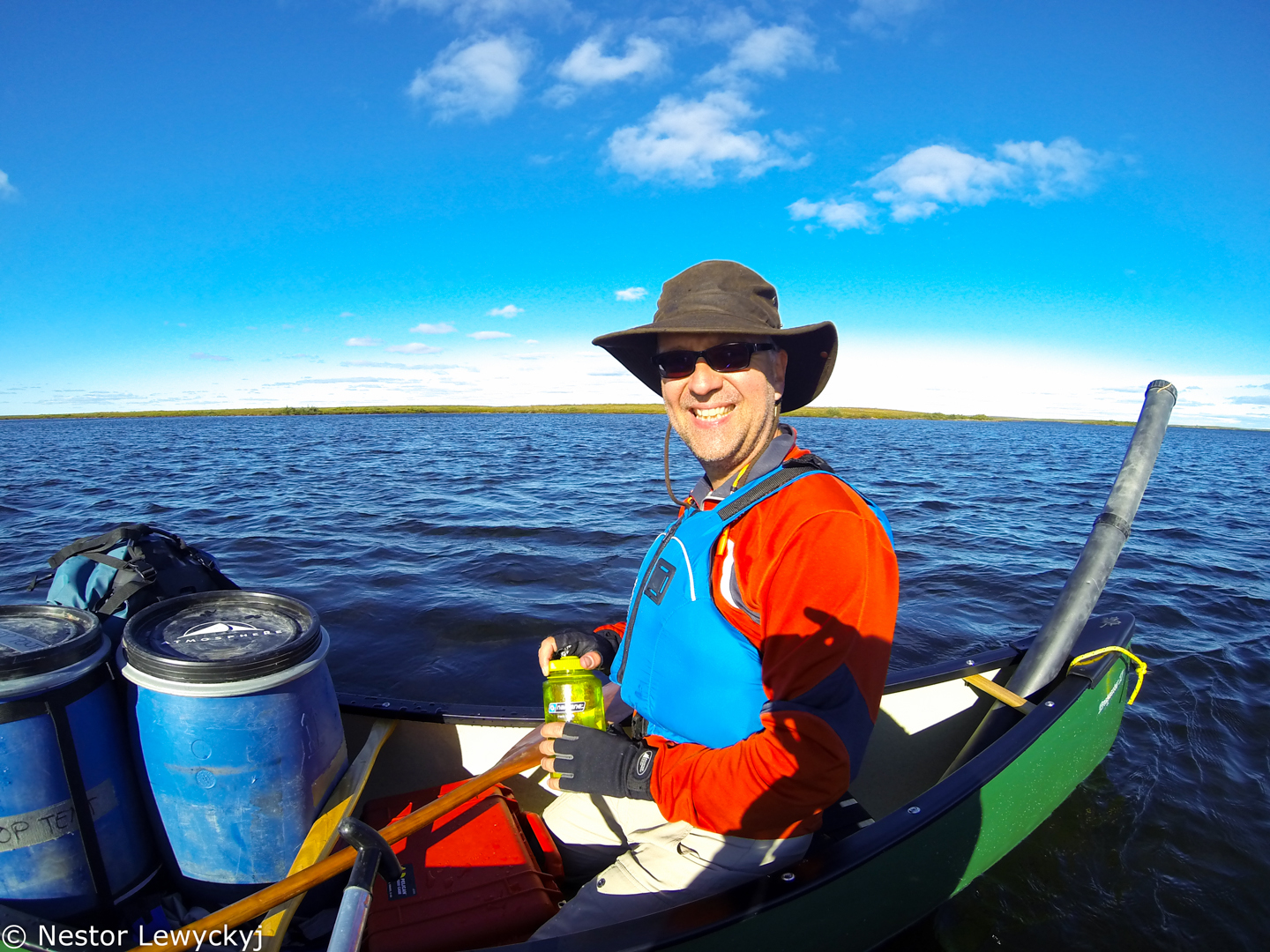 Bohdan was really enjoying the weather that first day. There was so much promise in the air.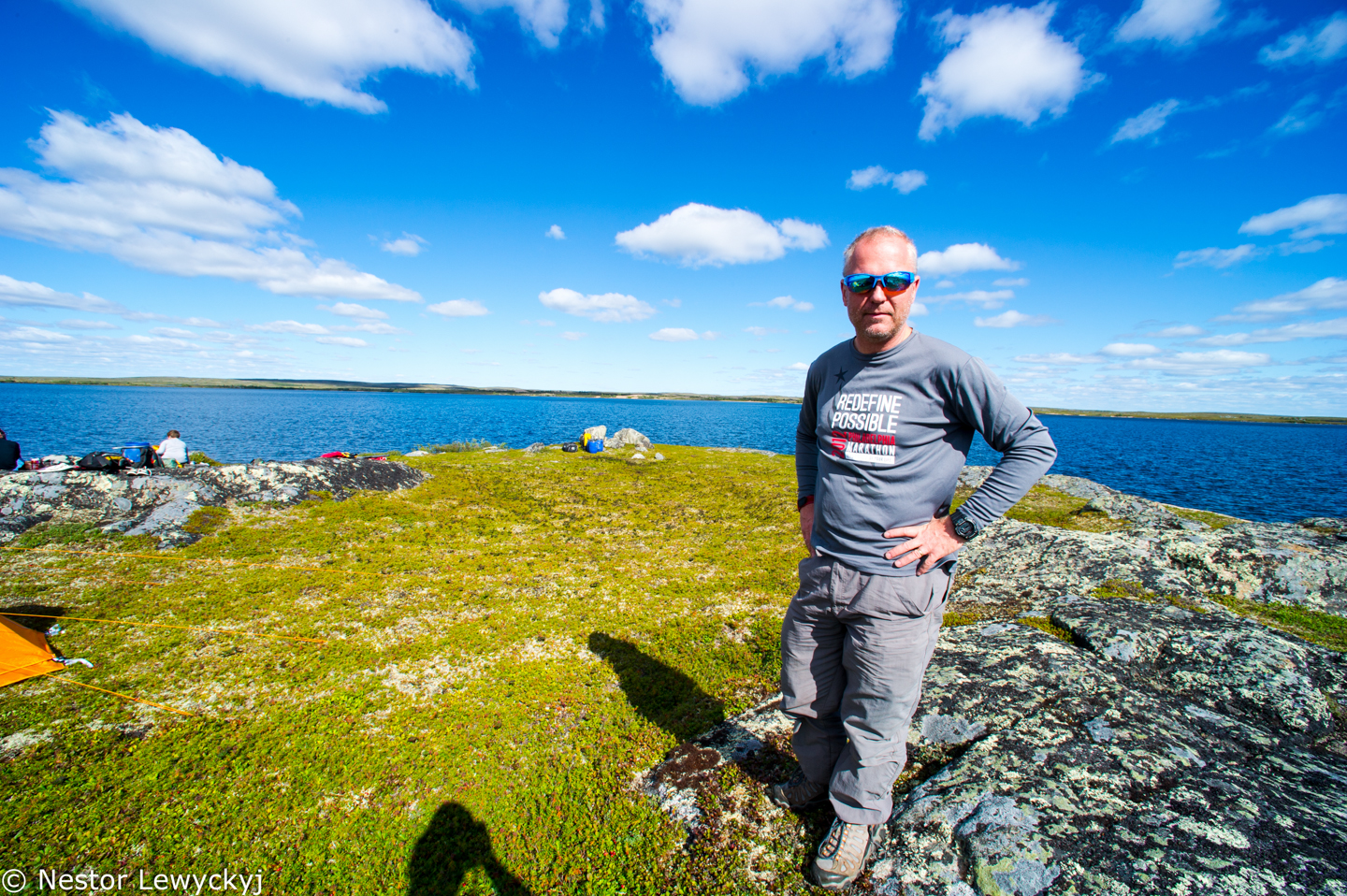 This was our first tent site of the trip. Nice and high off of the water, nice breeze, no bugs!!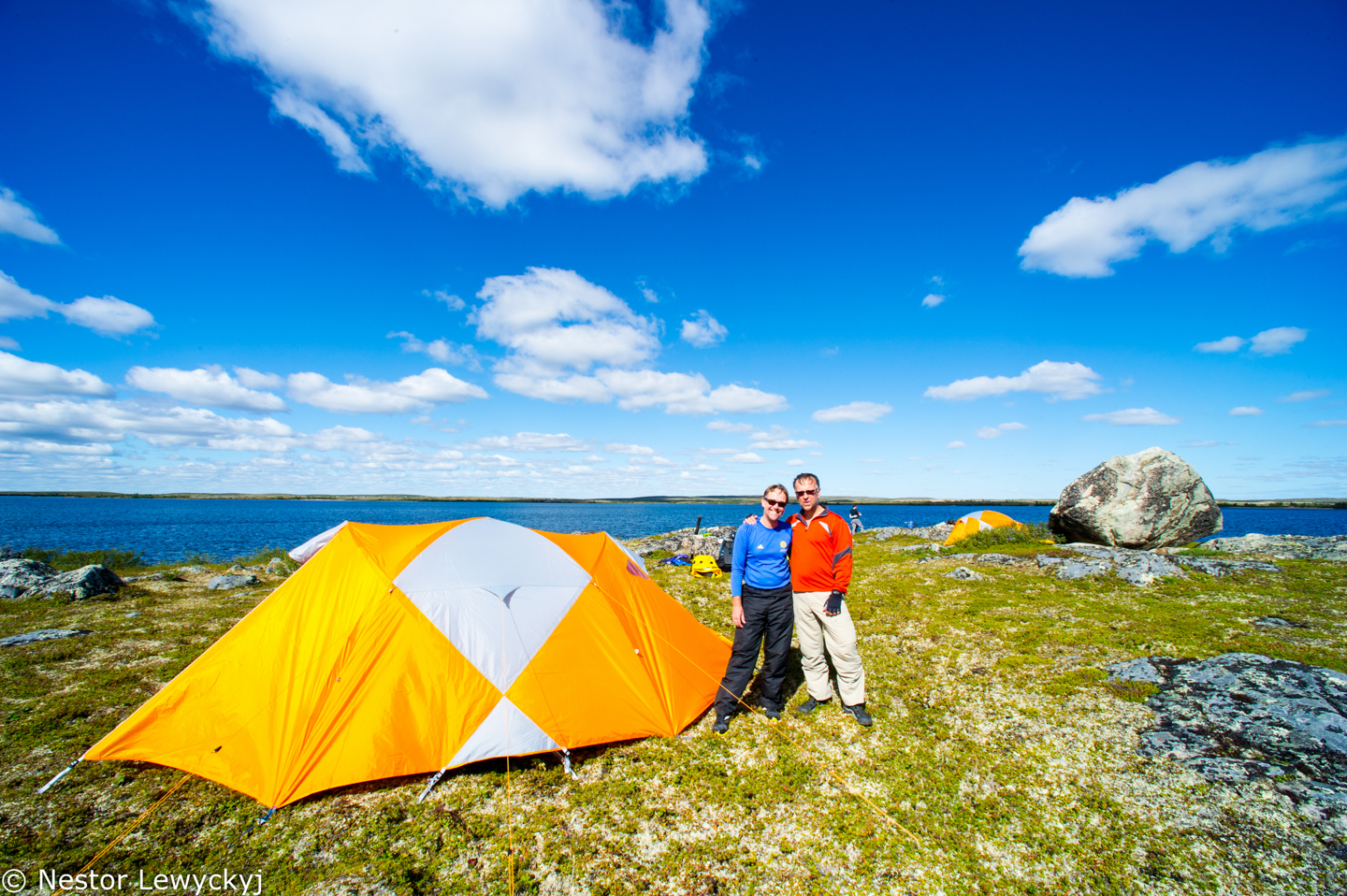 Bohdan and Peter both enjoyed the spot.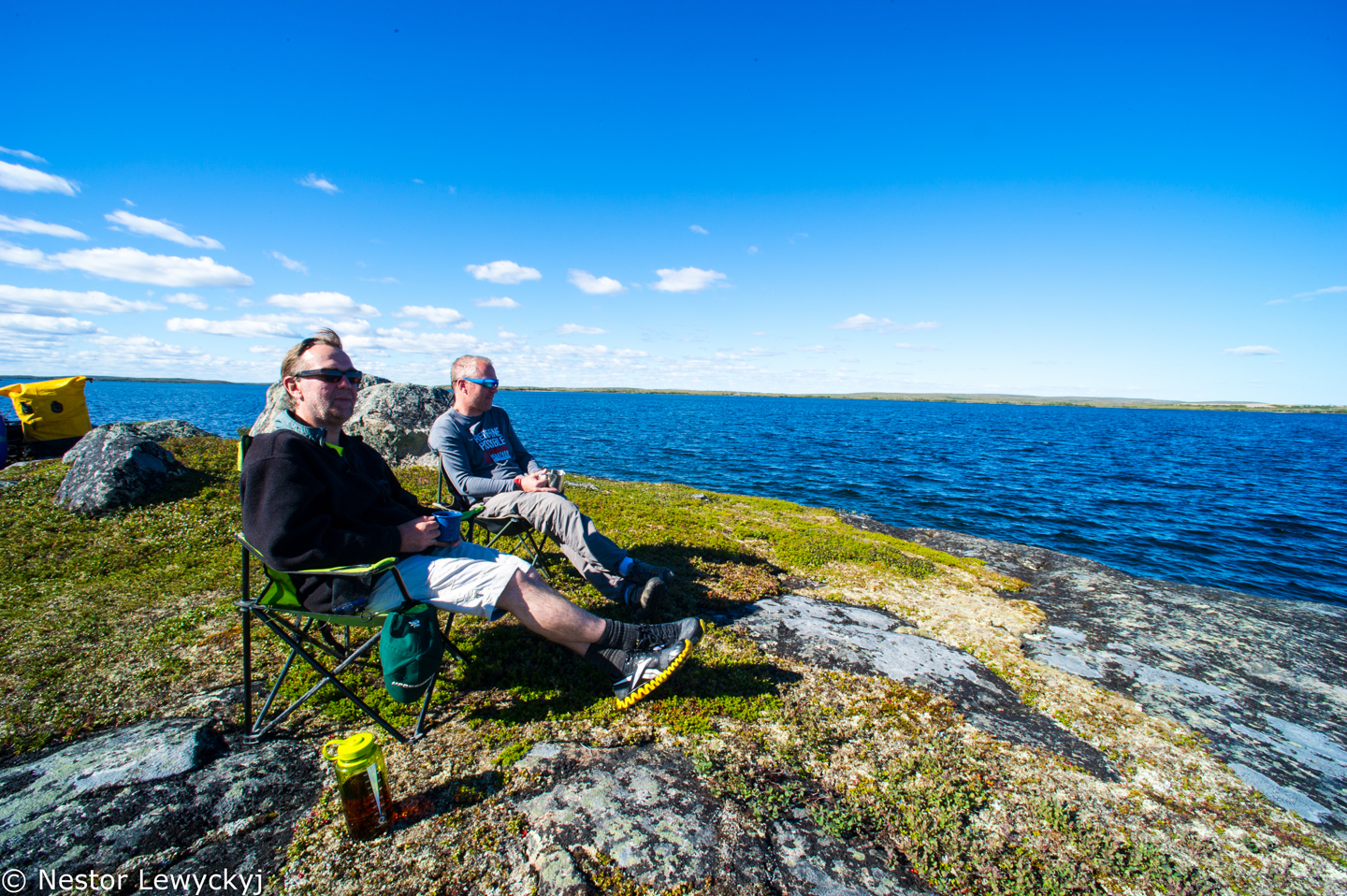 Relaxing in the afternoon sun. Remember to bring your folding chairs. They are absolutely indispensable. You absolutely need them!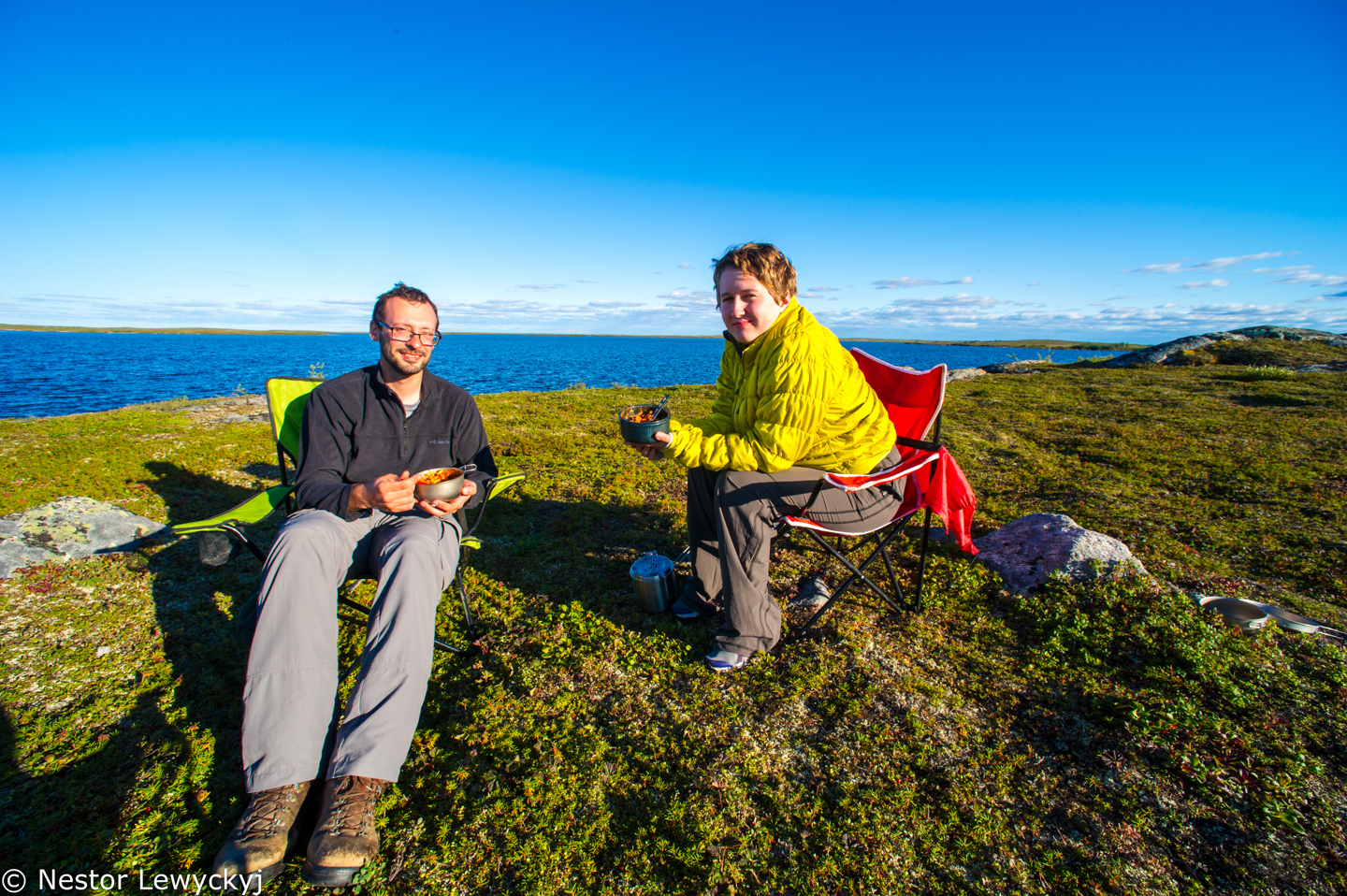 Paul and Olesia enjoying dinner.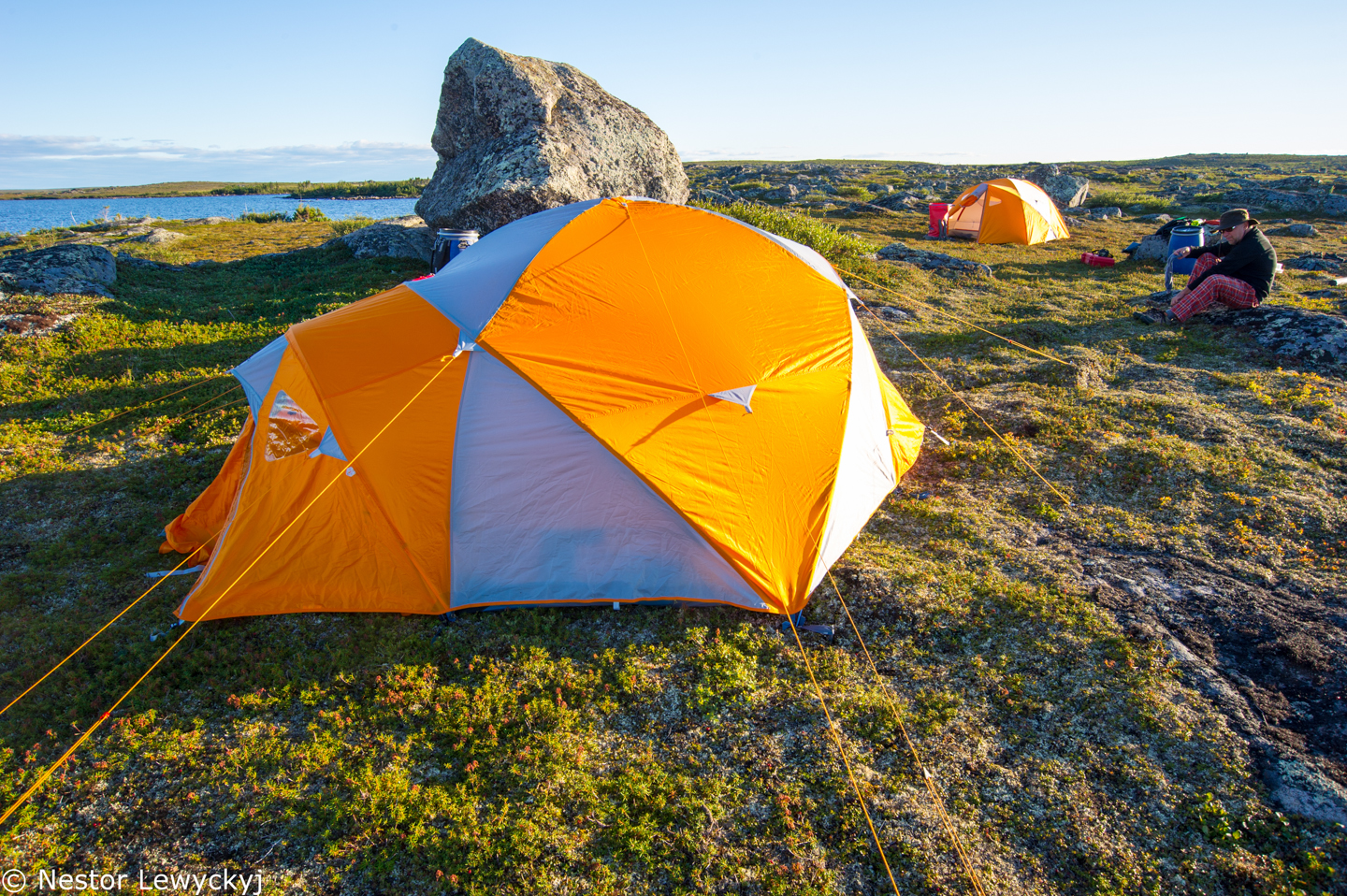 My brand new Nunatak tent from Mountain Equipment Coop. This was my second one. Olesia and Paul were using my original one on this trek. They are great tents!!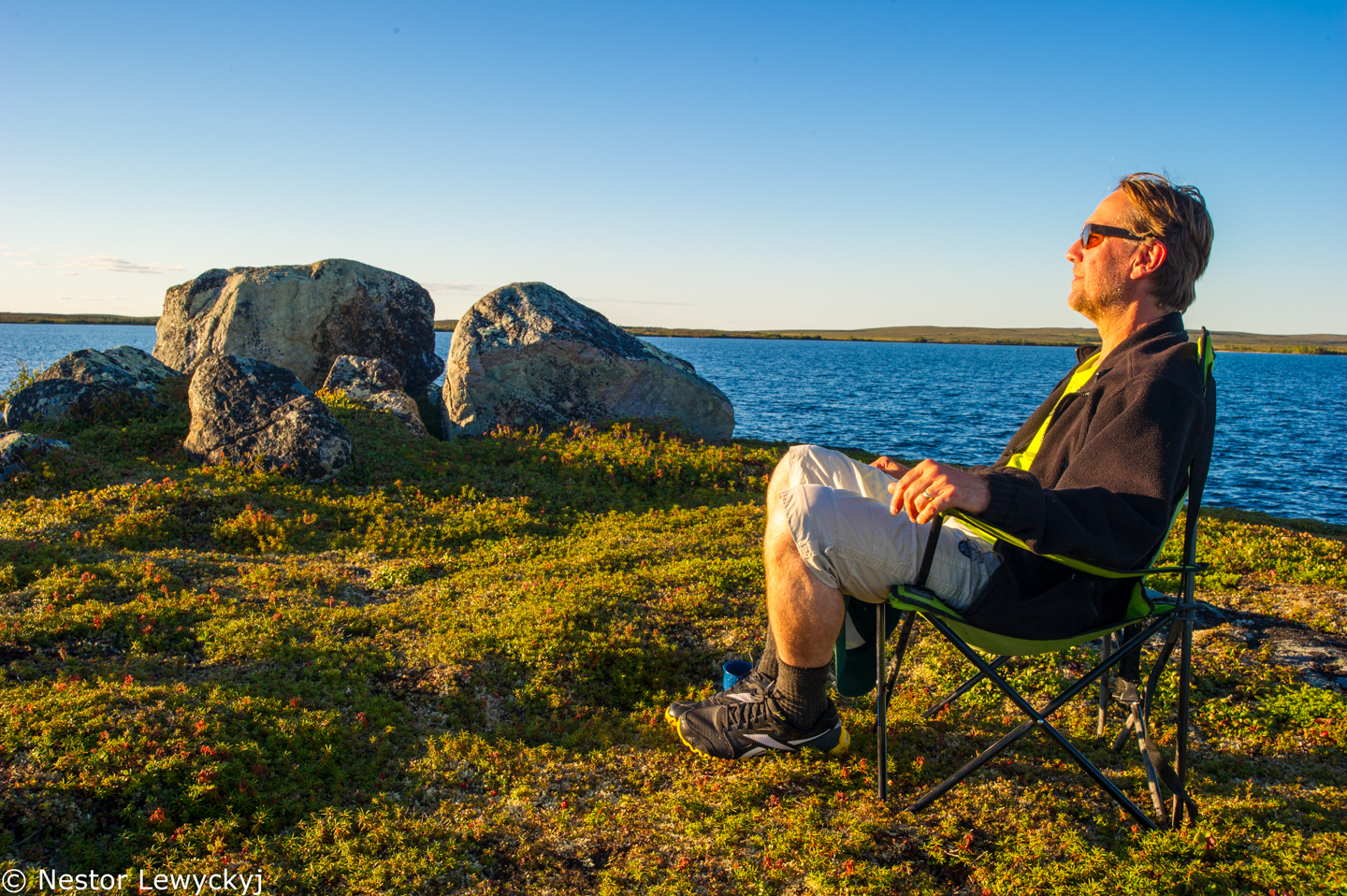 Peter was enjoying the late afternoon sun. This far north, the sun is always low on the horizon so the light is always a warm yellow. As you can tell, it pervades the photographs.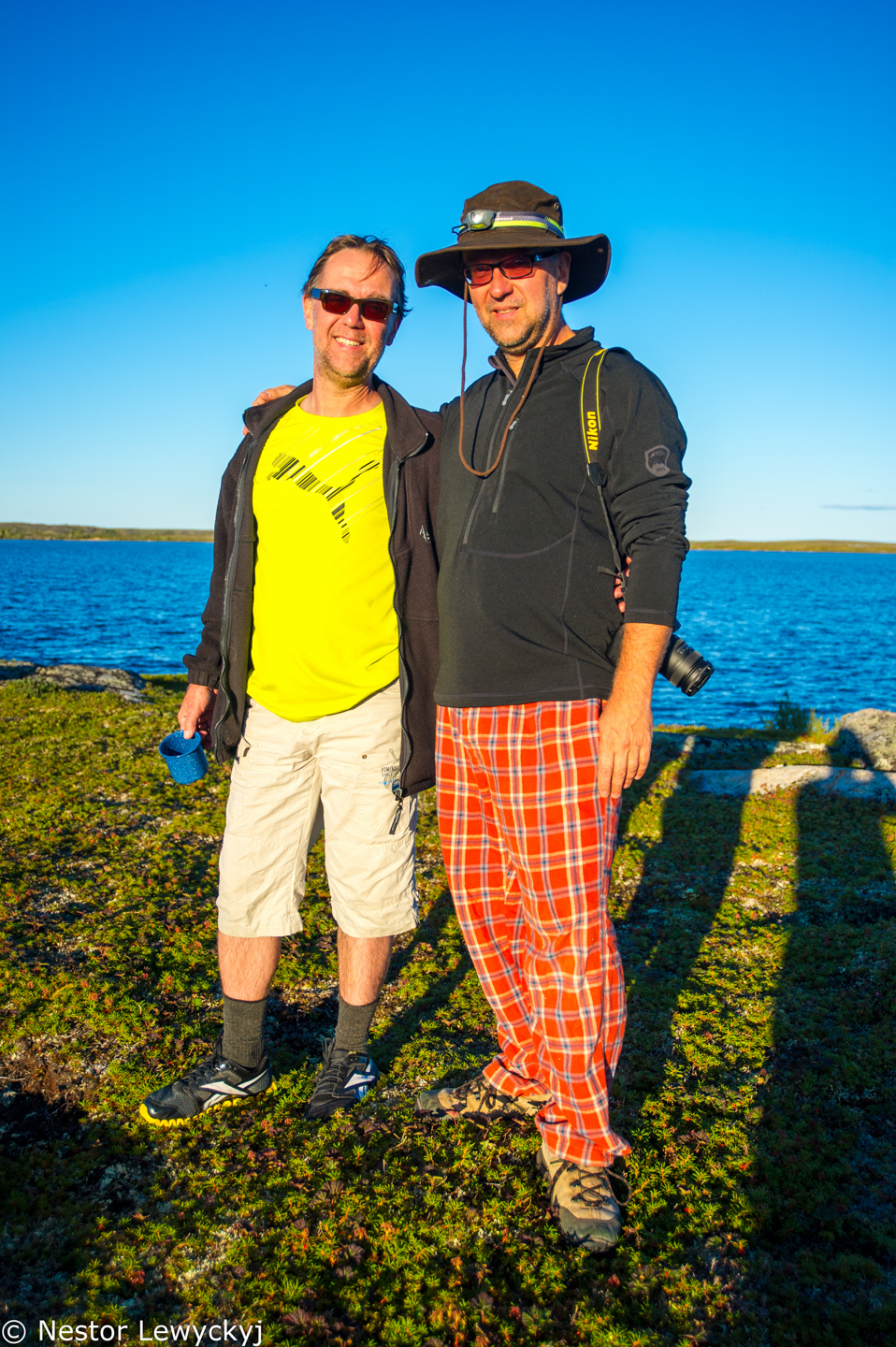 Evening flannel pants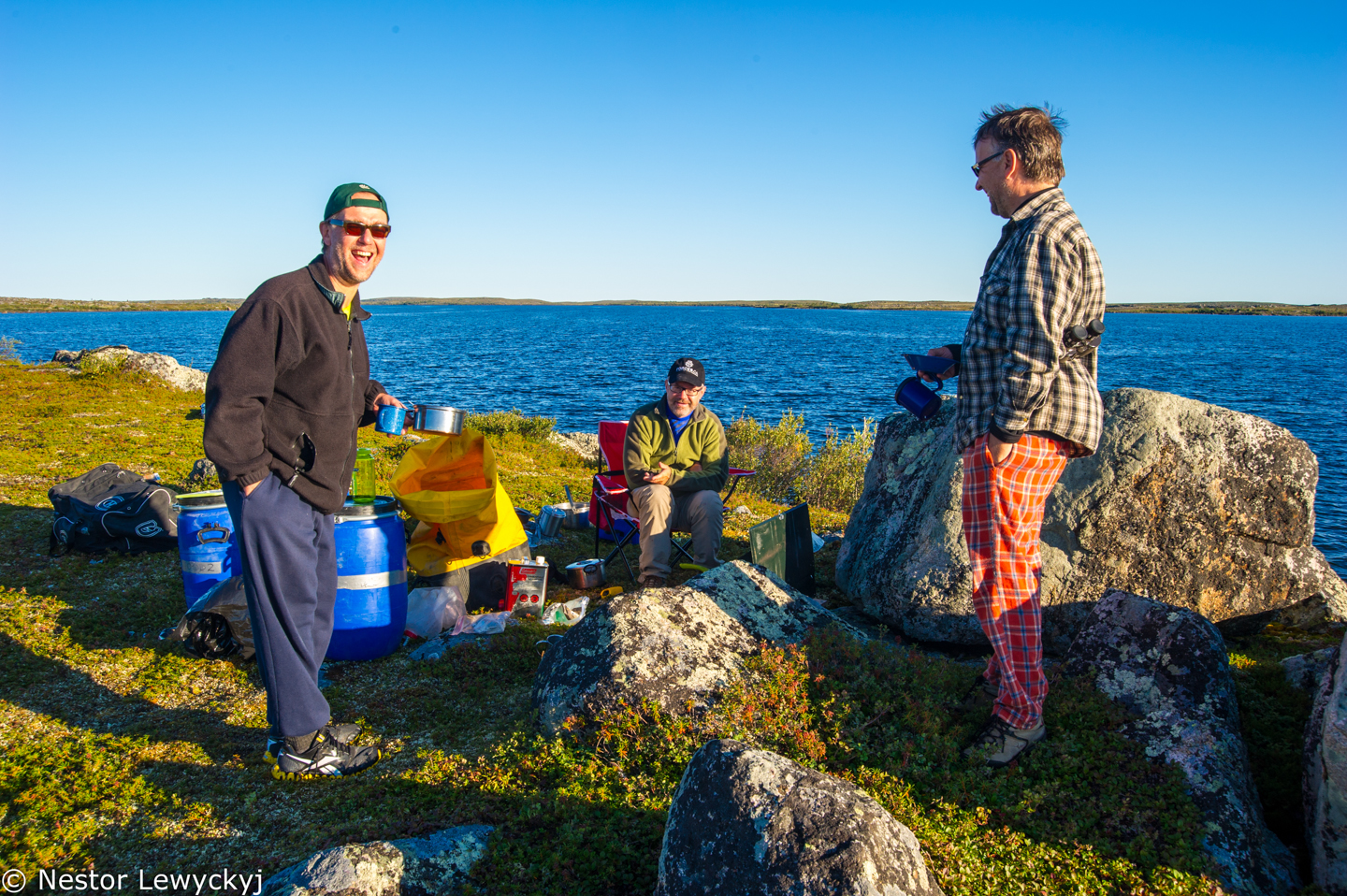 Morning, and Roman making us breakfast!!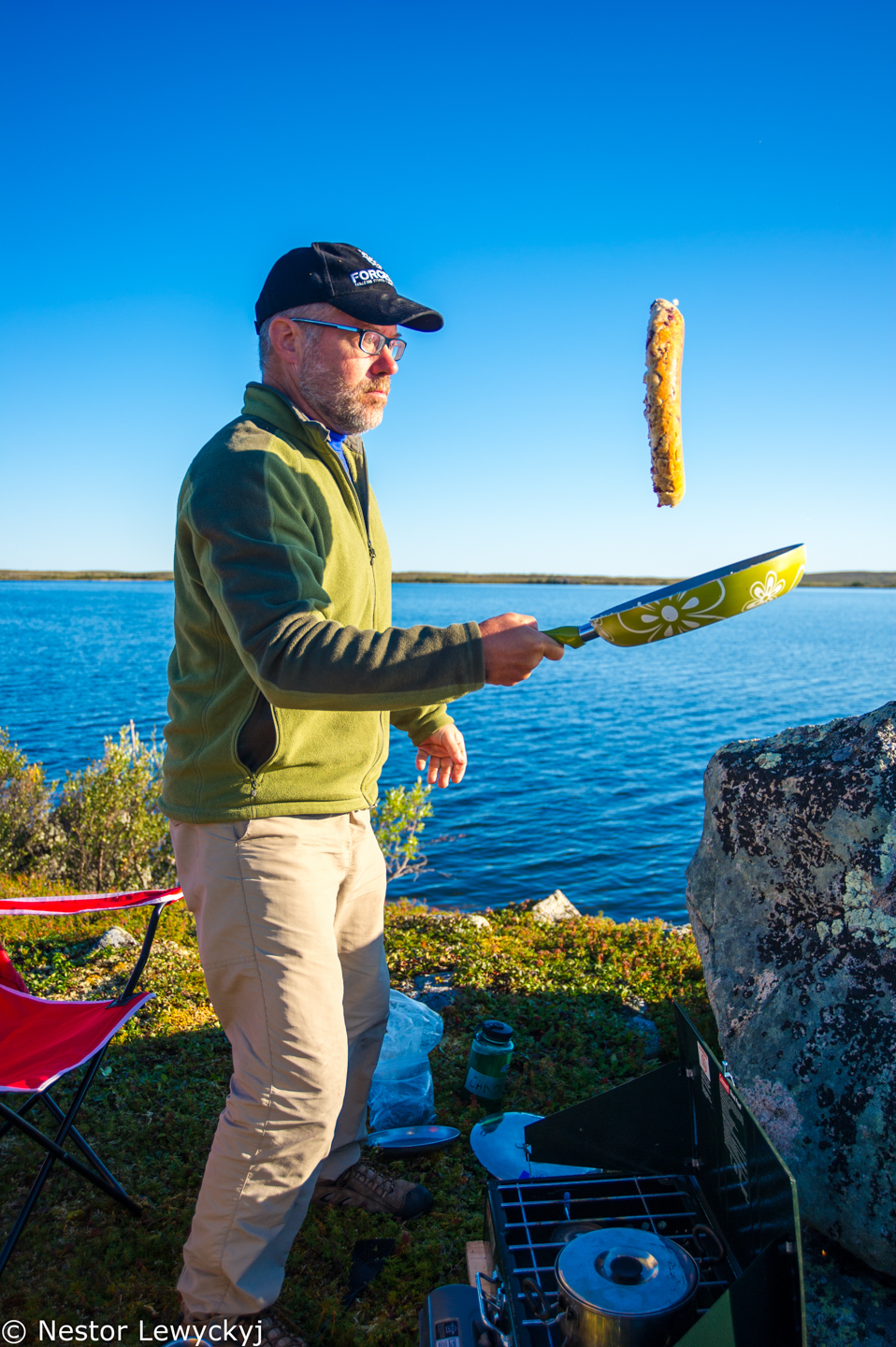 Flipping the bannock!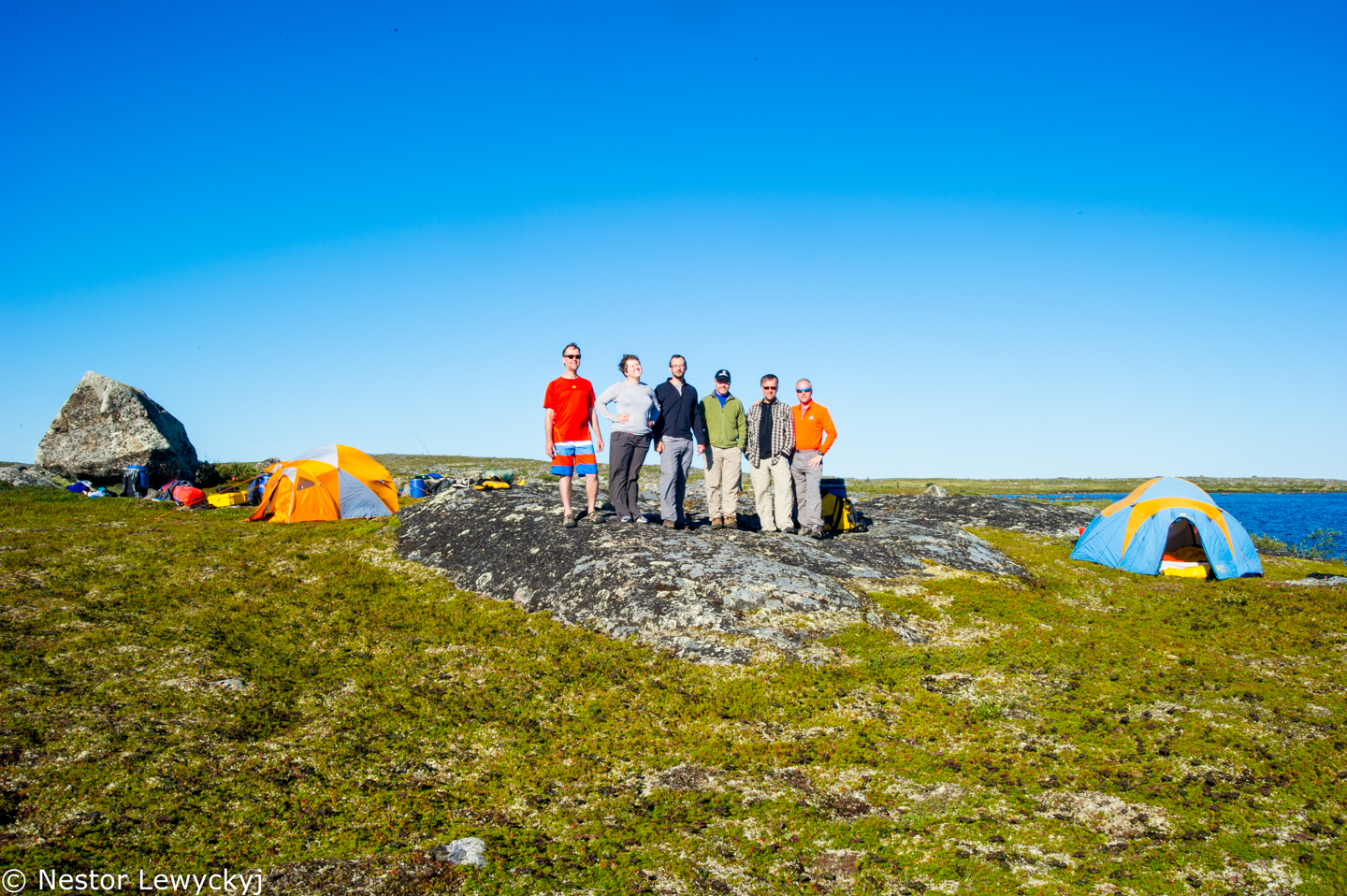 Our first group shot out on the Barren Grounds.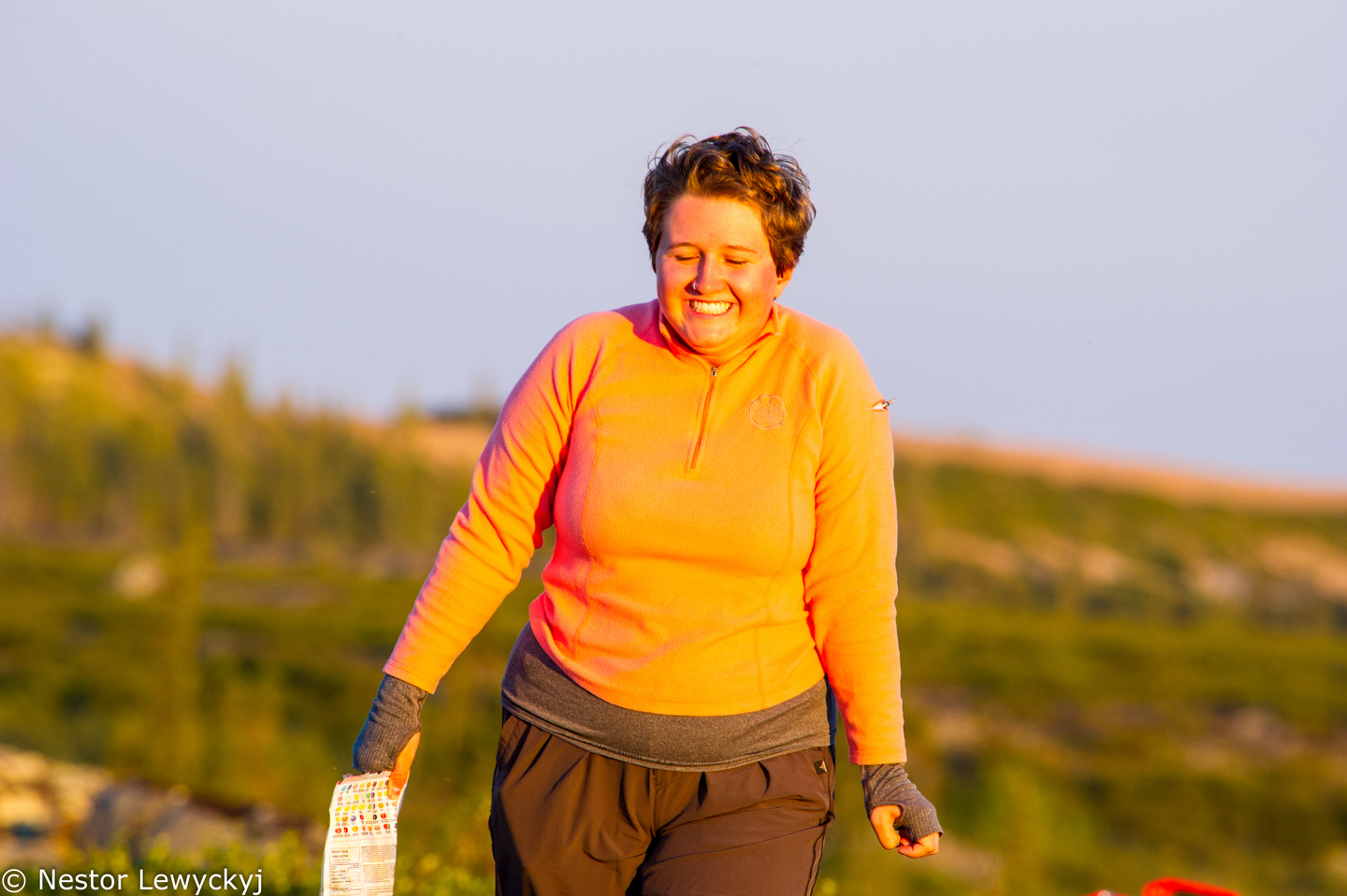 We had gorgeous sunsets those first few days, and they always give of such nice light.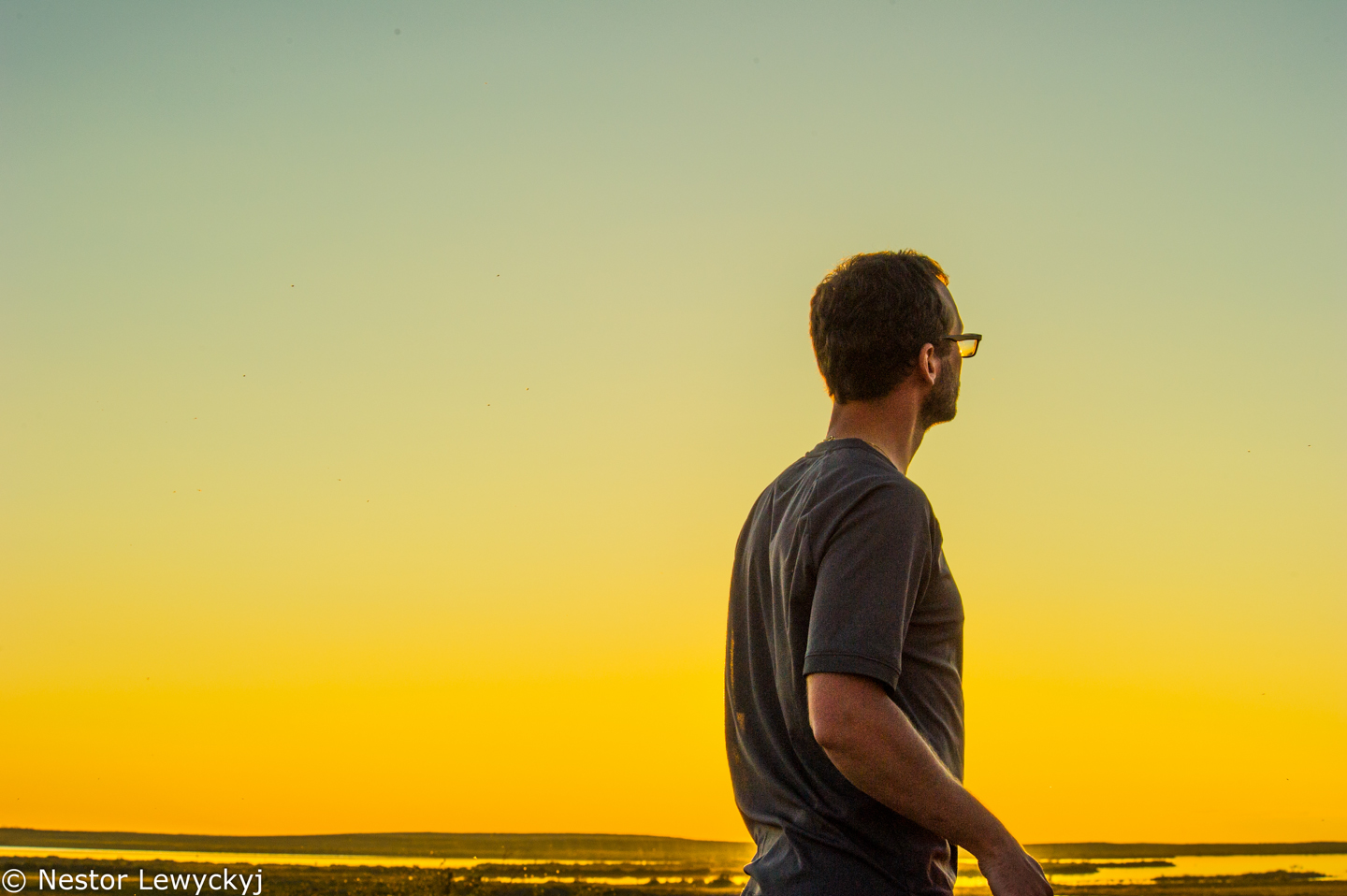 Paul, with the setting sun behind him.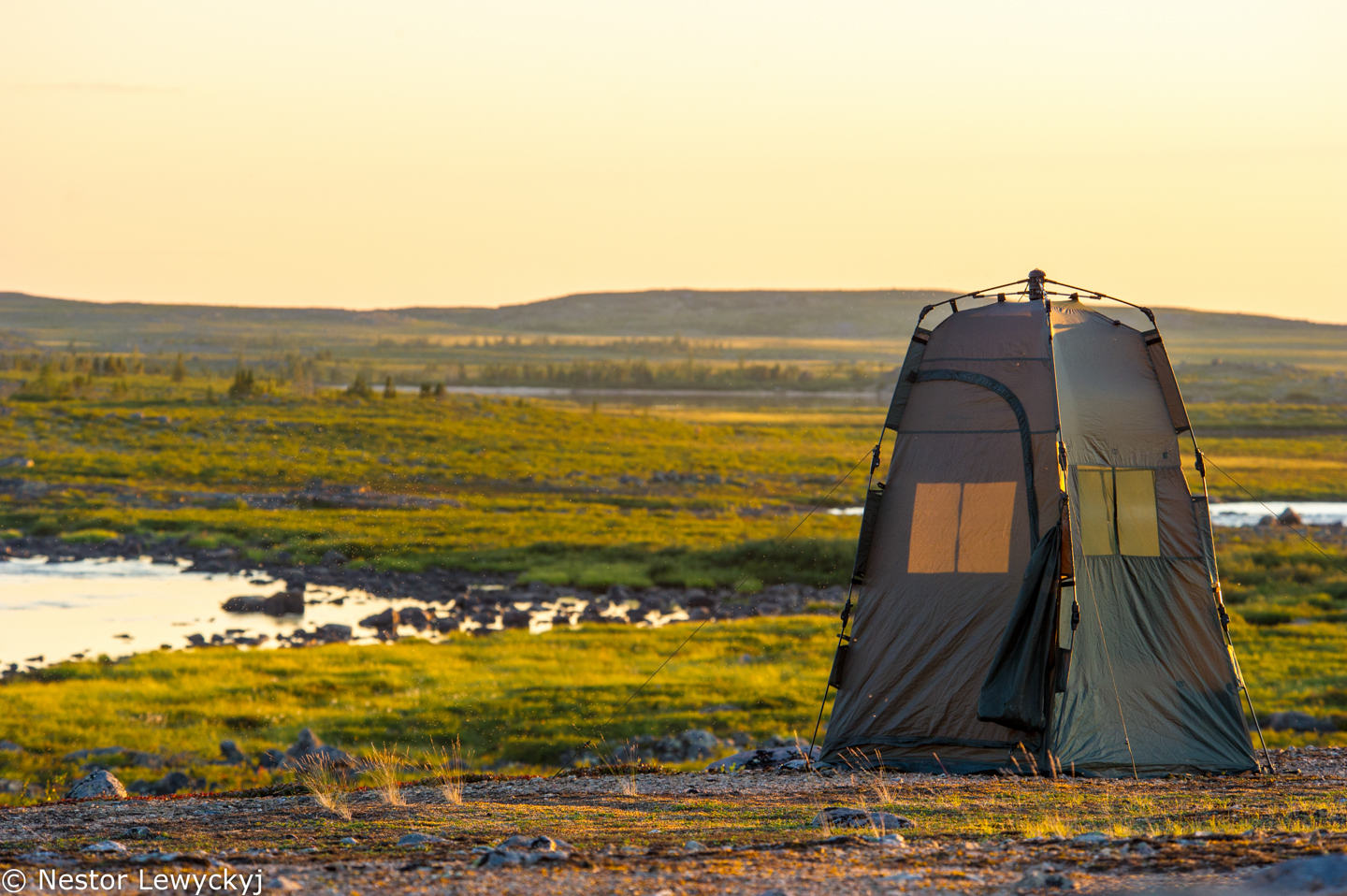 And I strongly recommend a toilet tent. You can find them online. Black flies don't bite when they are in an enclosure. Trust me. You will appreciate having this thing. So will your privates!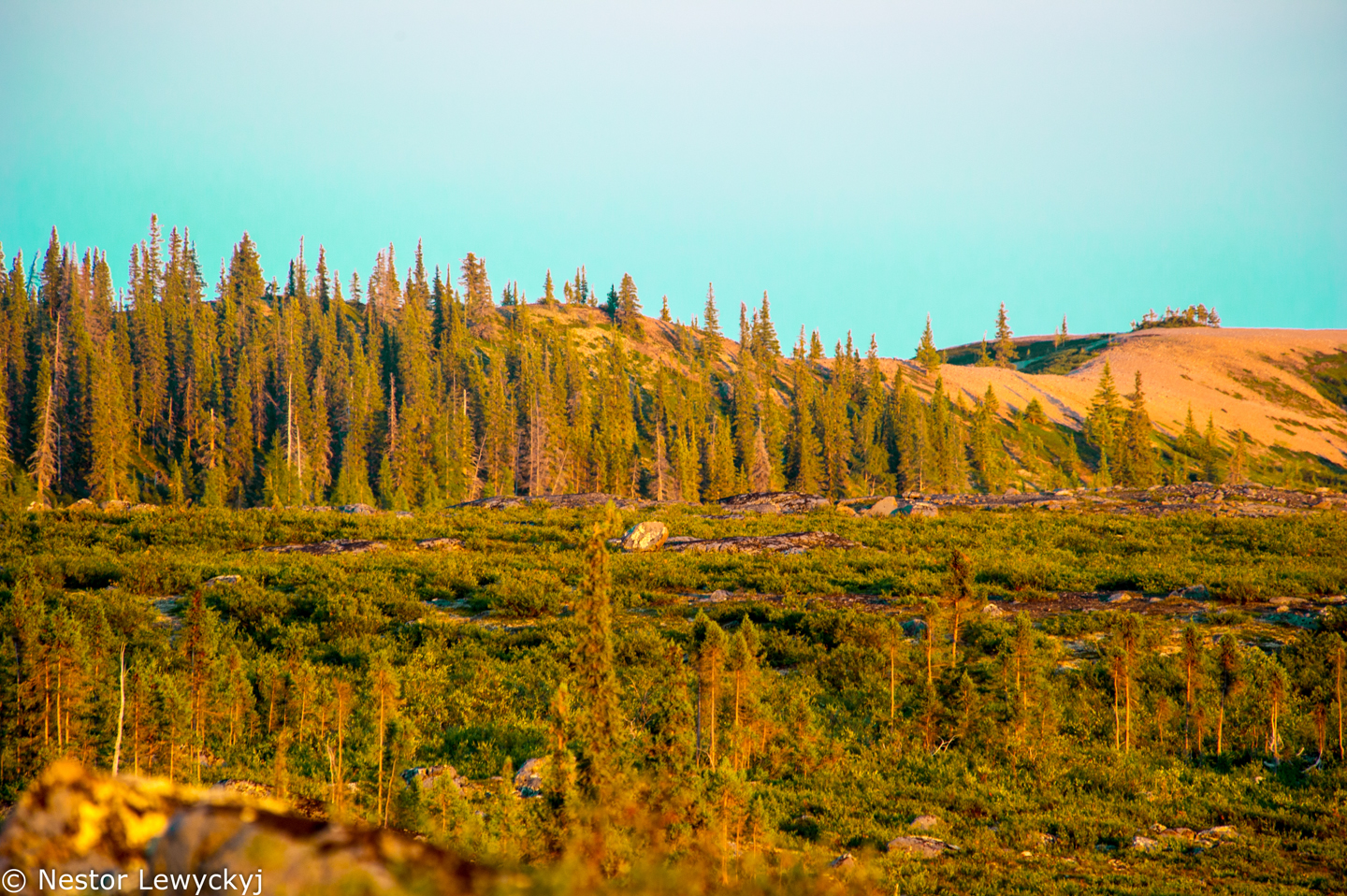 There was a large esker behind us that night. Eskers usually mean wildlife as the sandy gravel thaws in the summer time (unlike the rest of the terrain which is permafrost) and makes for great place for burrows for wolves and other den animals. They are also great places to get a good view from.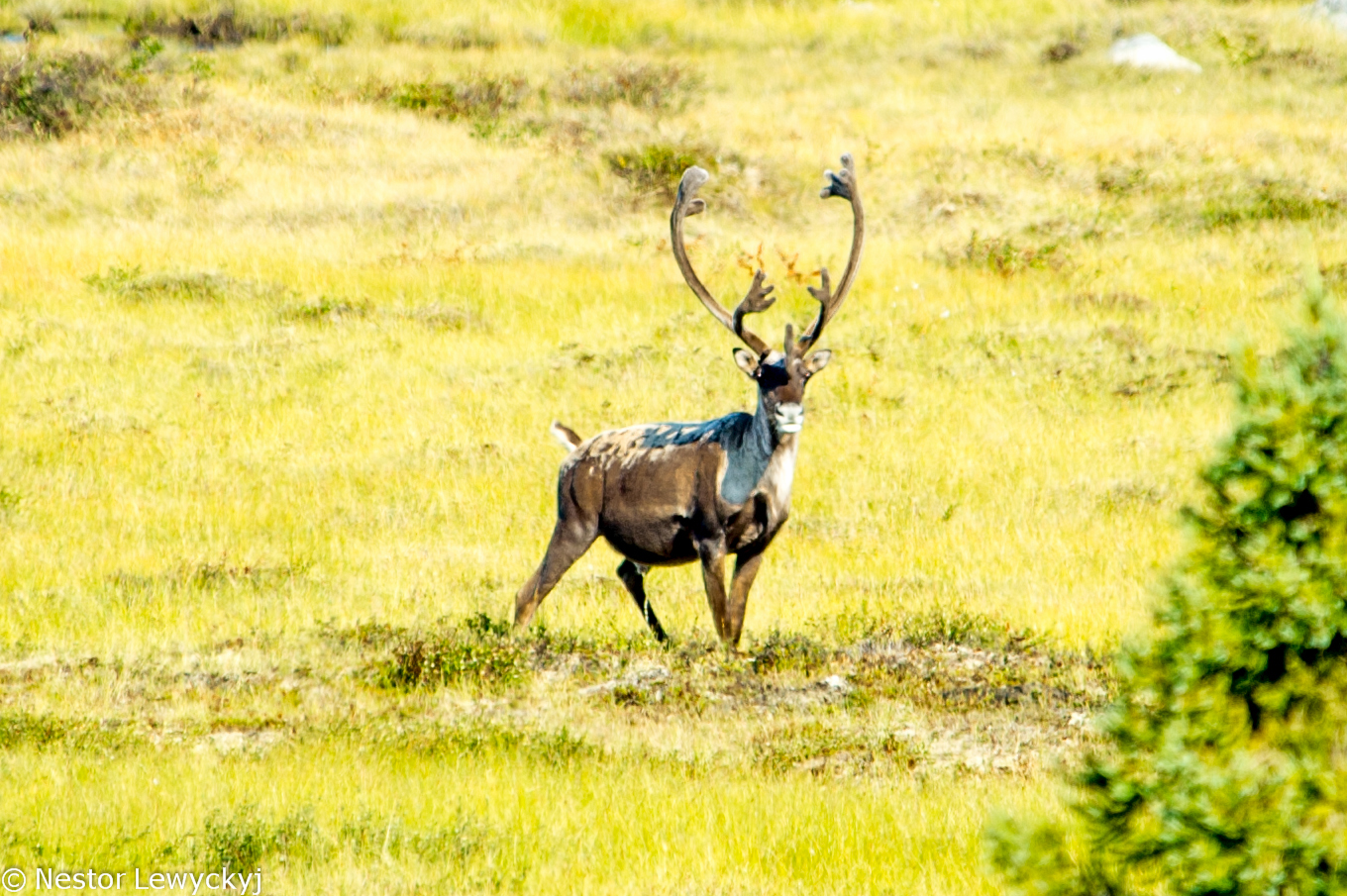 These caribou came to within a 100 metres of our tents in the late afternoon.
We saw caribou almost every day of our trip, especially along the Elk River.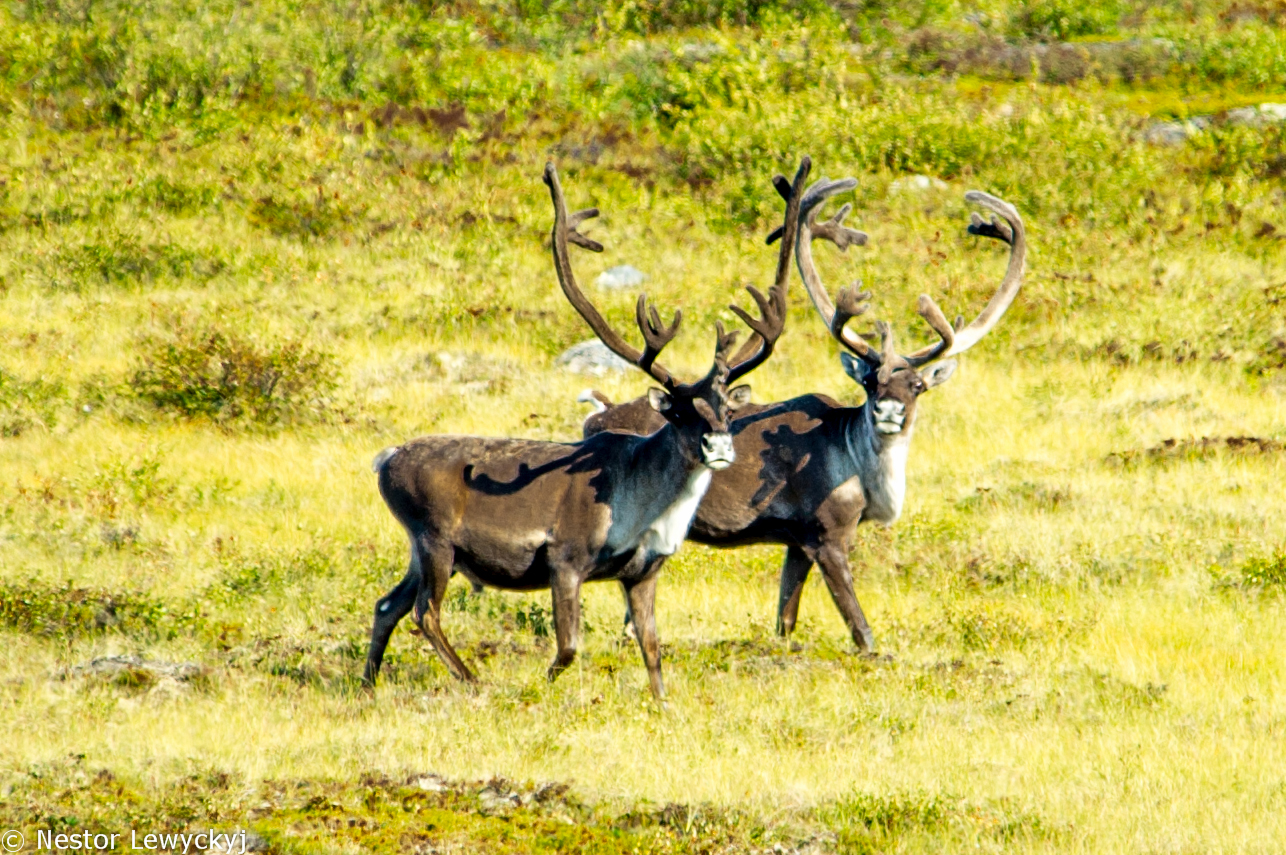 It was great having them within photo range with my 400mm telephoto Nikkor lens.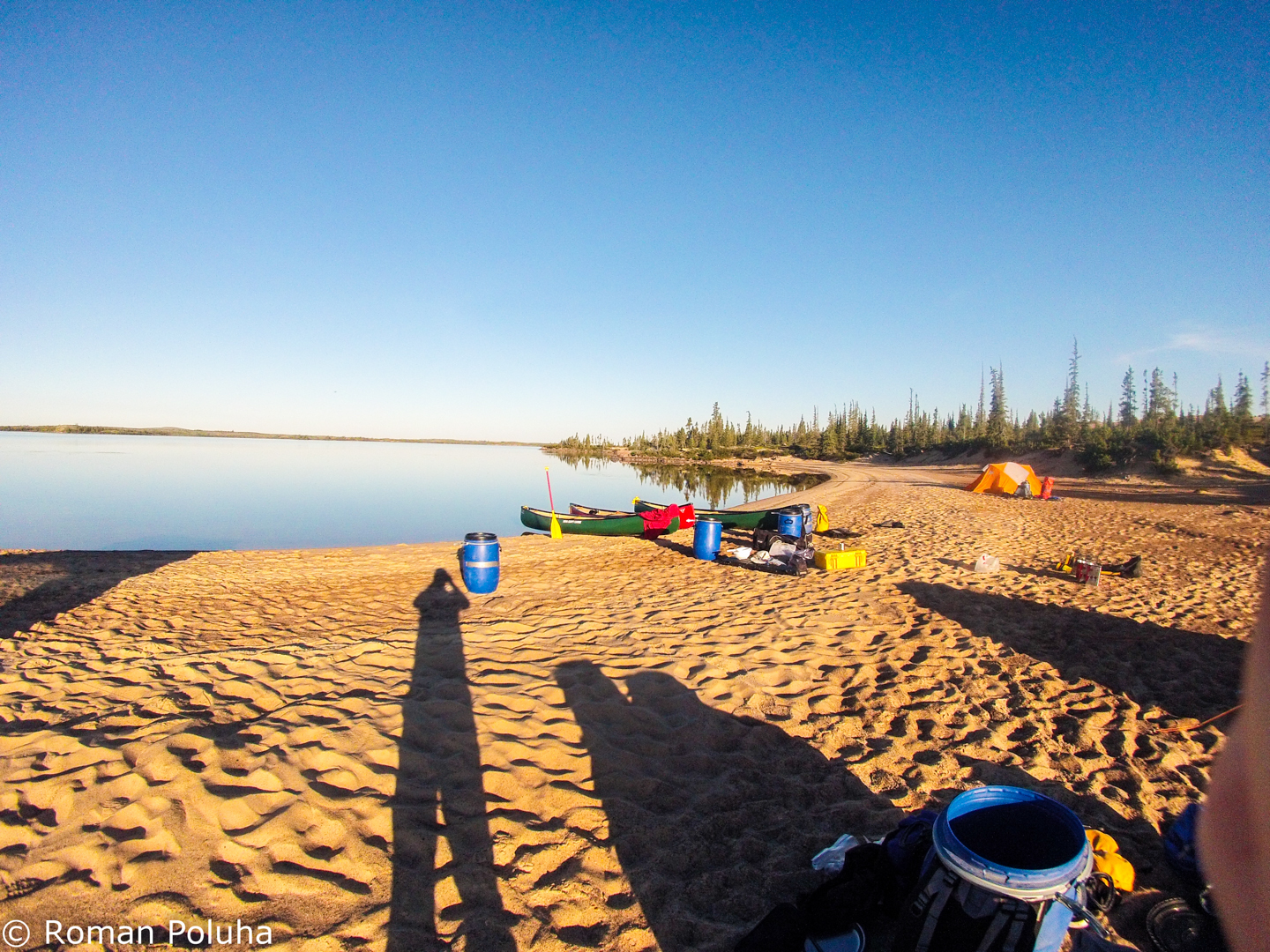 We had very little wind those first few days. Note how calm the water is in this bay in the late afternoon sun.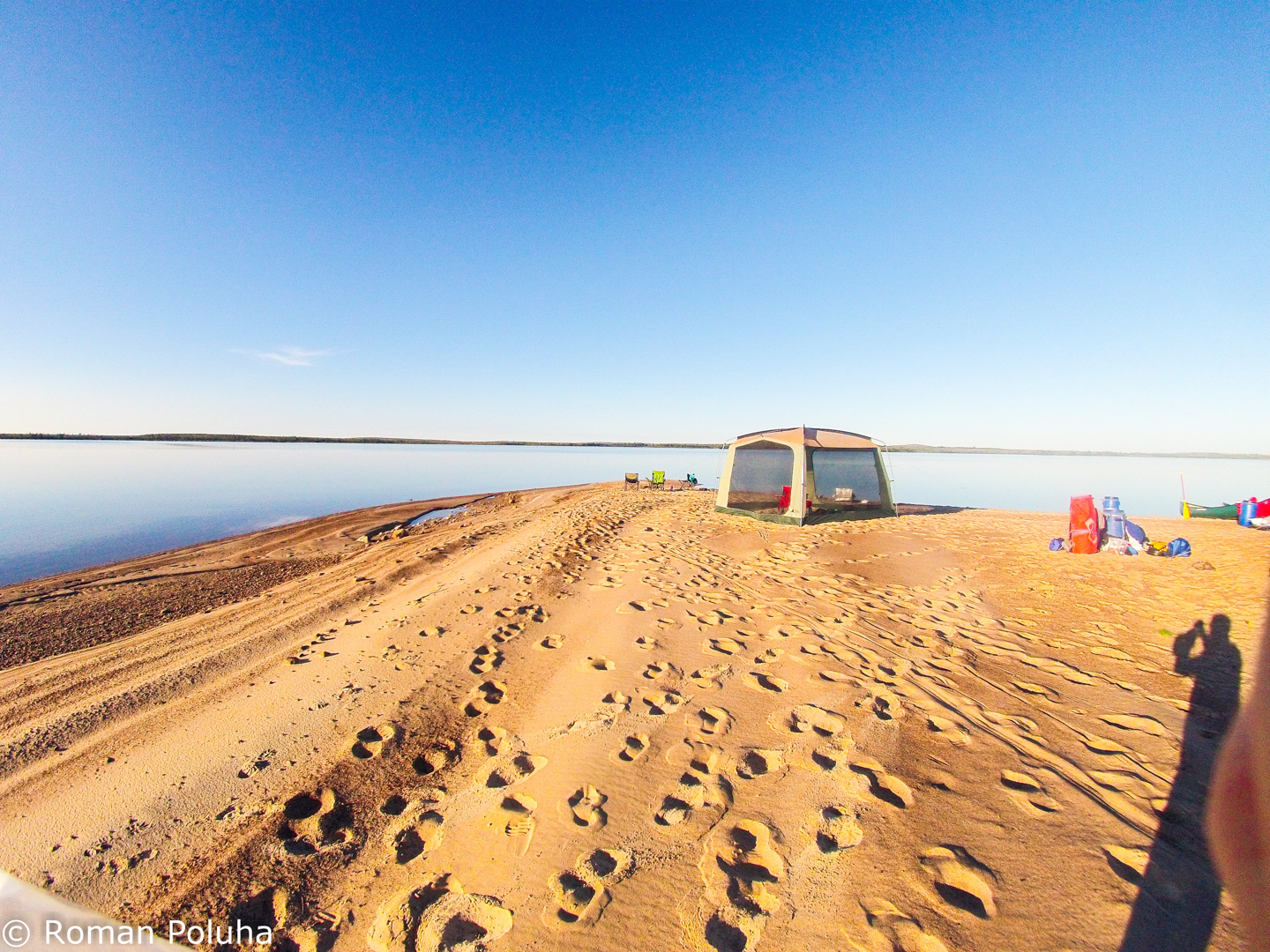 This was a really nice spot on a sand bar. In early July, this would have been under water.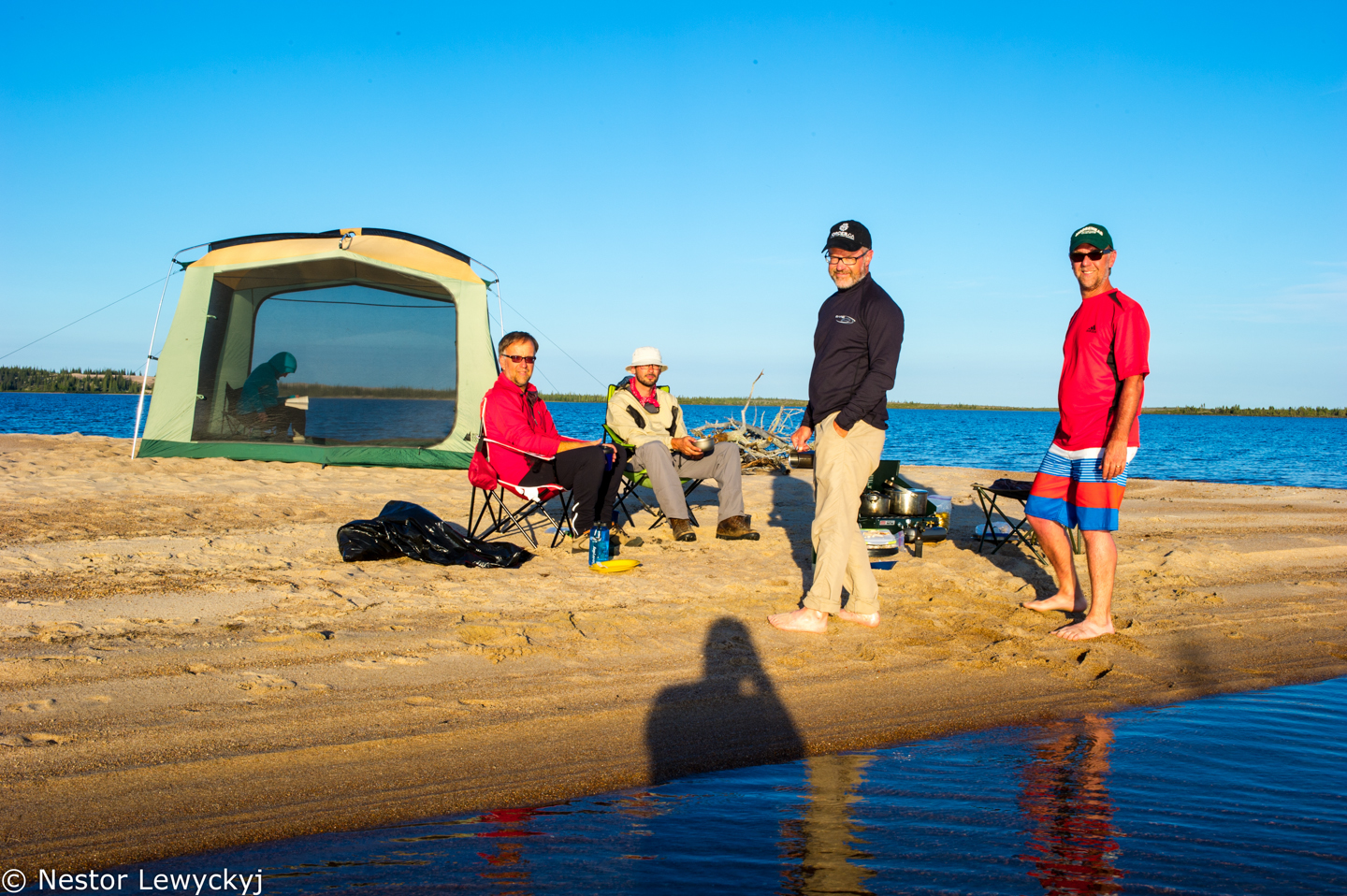 Dinner is cooking, while Alex, naturally, is reading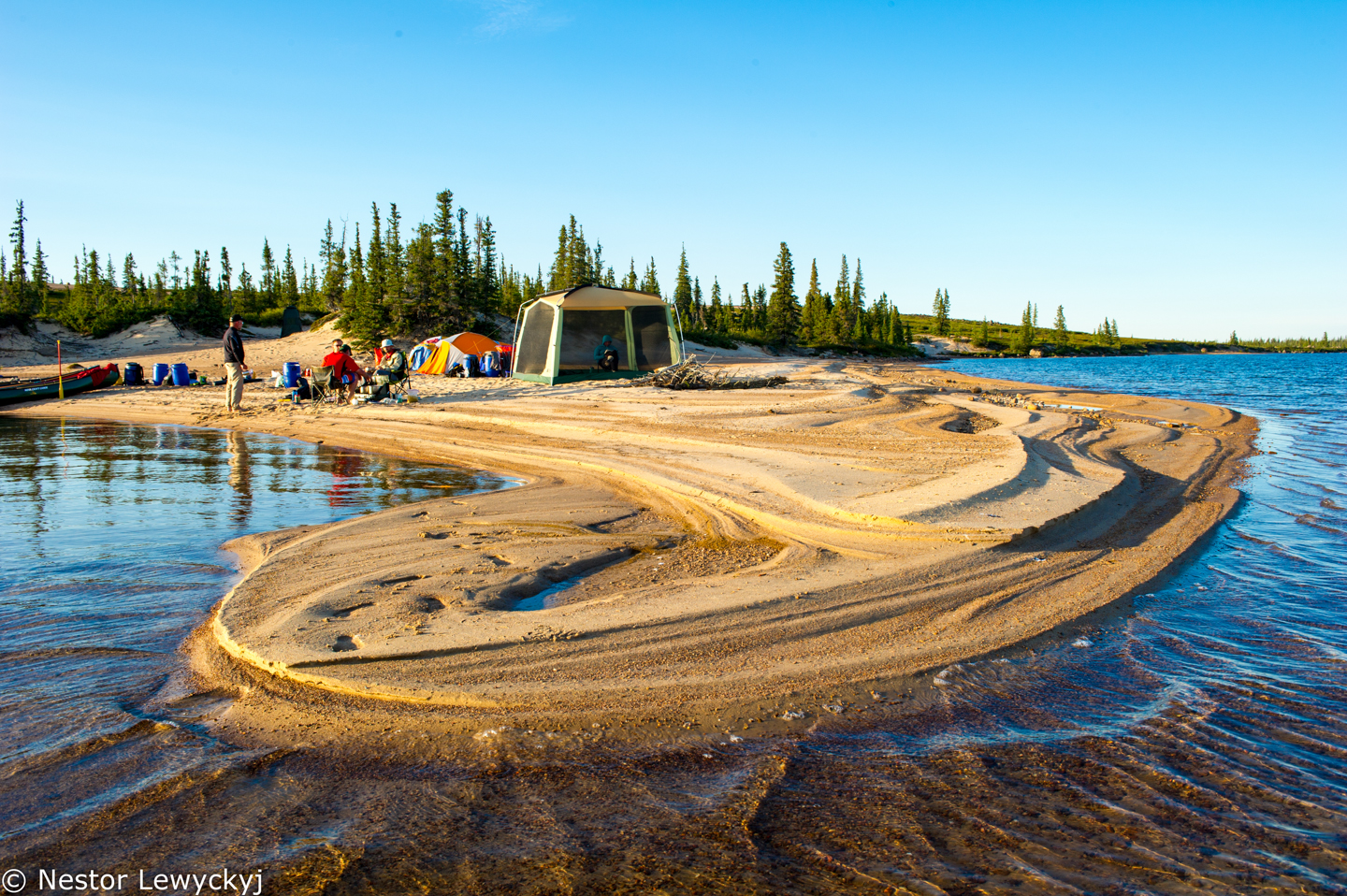 The receding water can cut some interesting lines in the sand.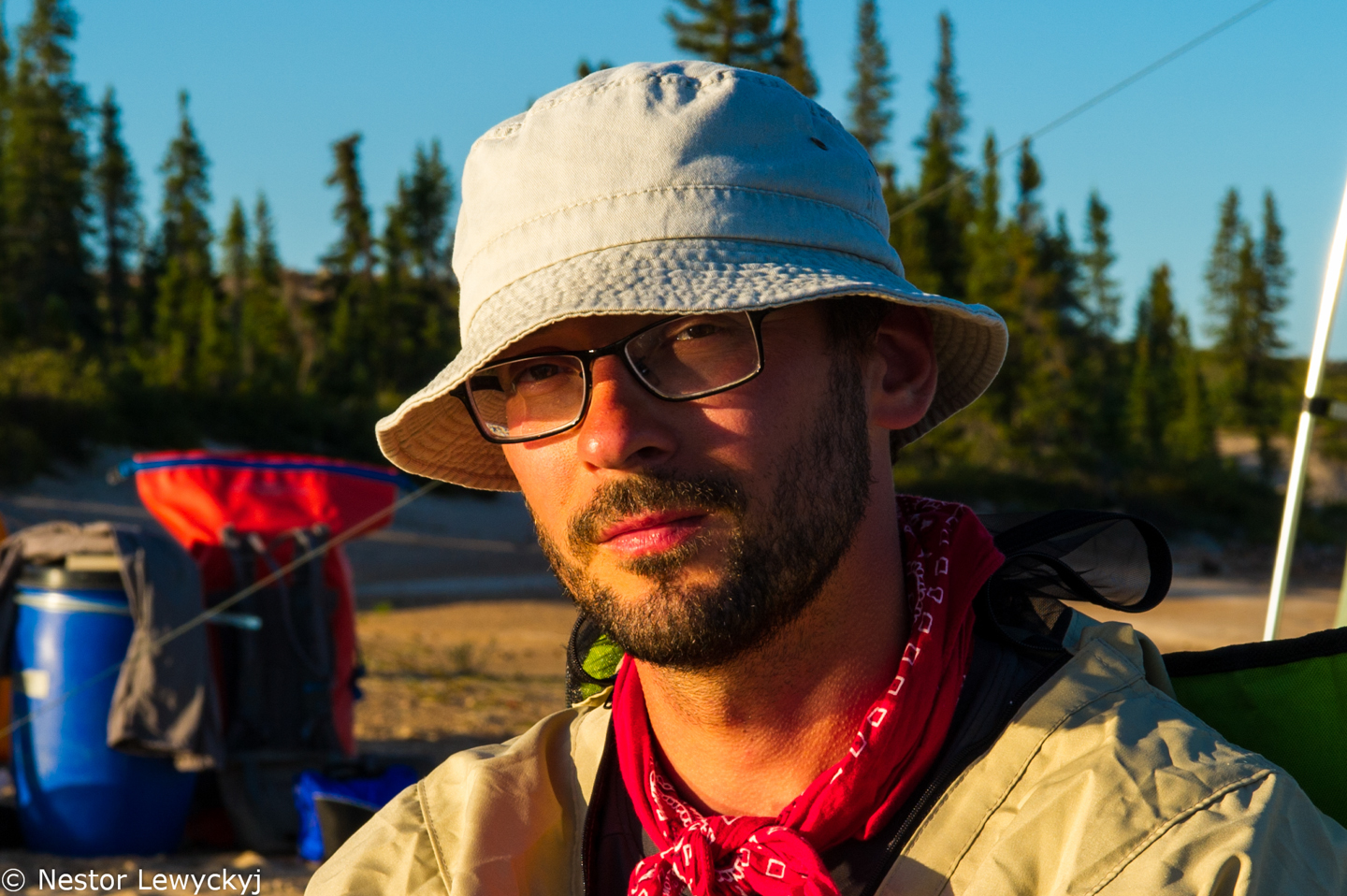 Paul already getting burnt in the sun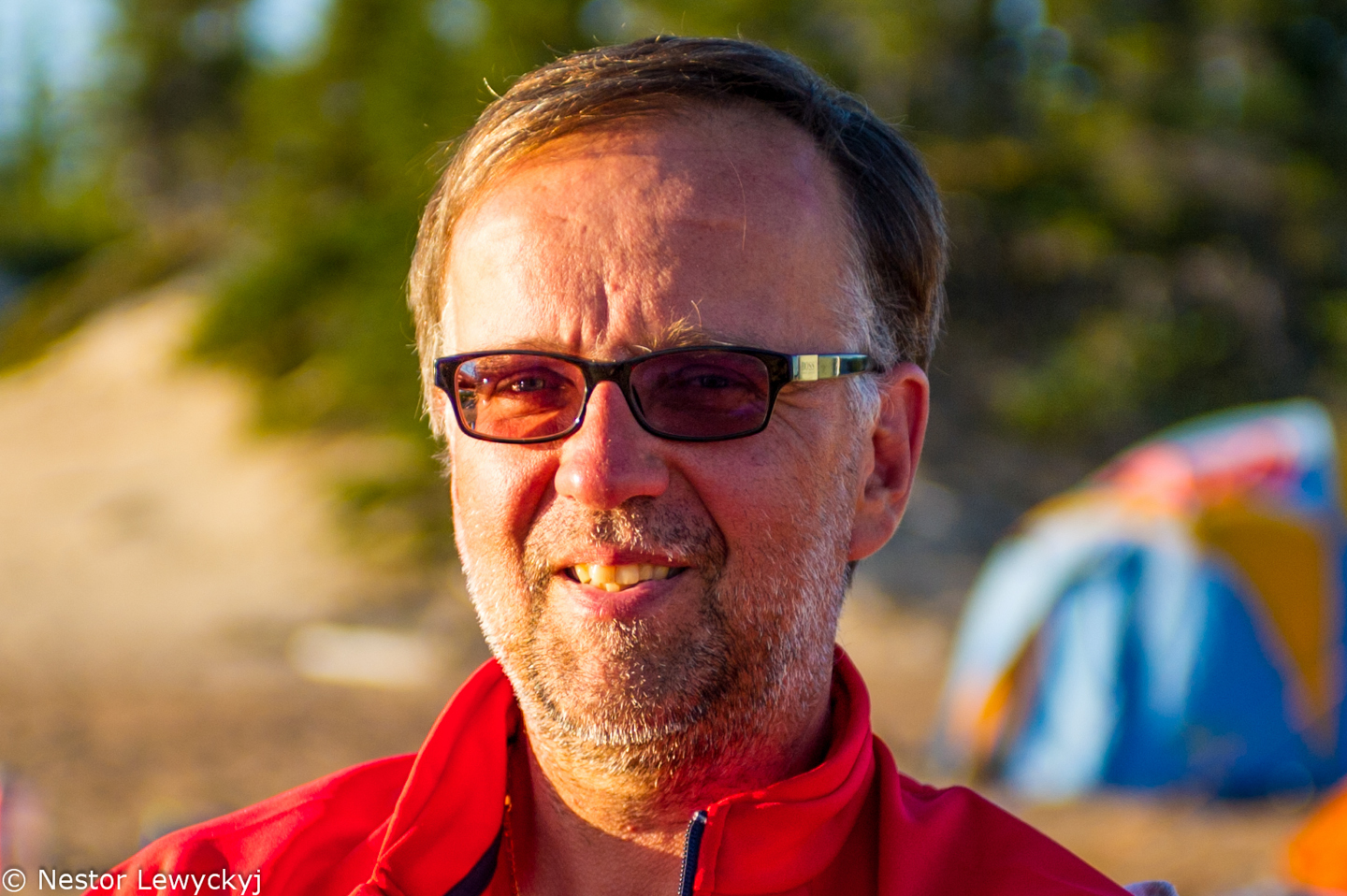 None of us shaved during the trip so we al looked like hockey players during the playoffs, including Bohdan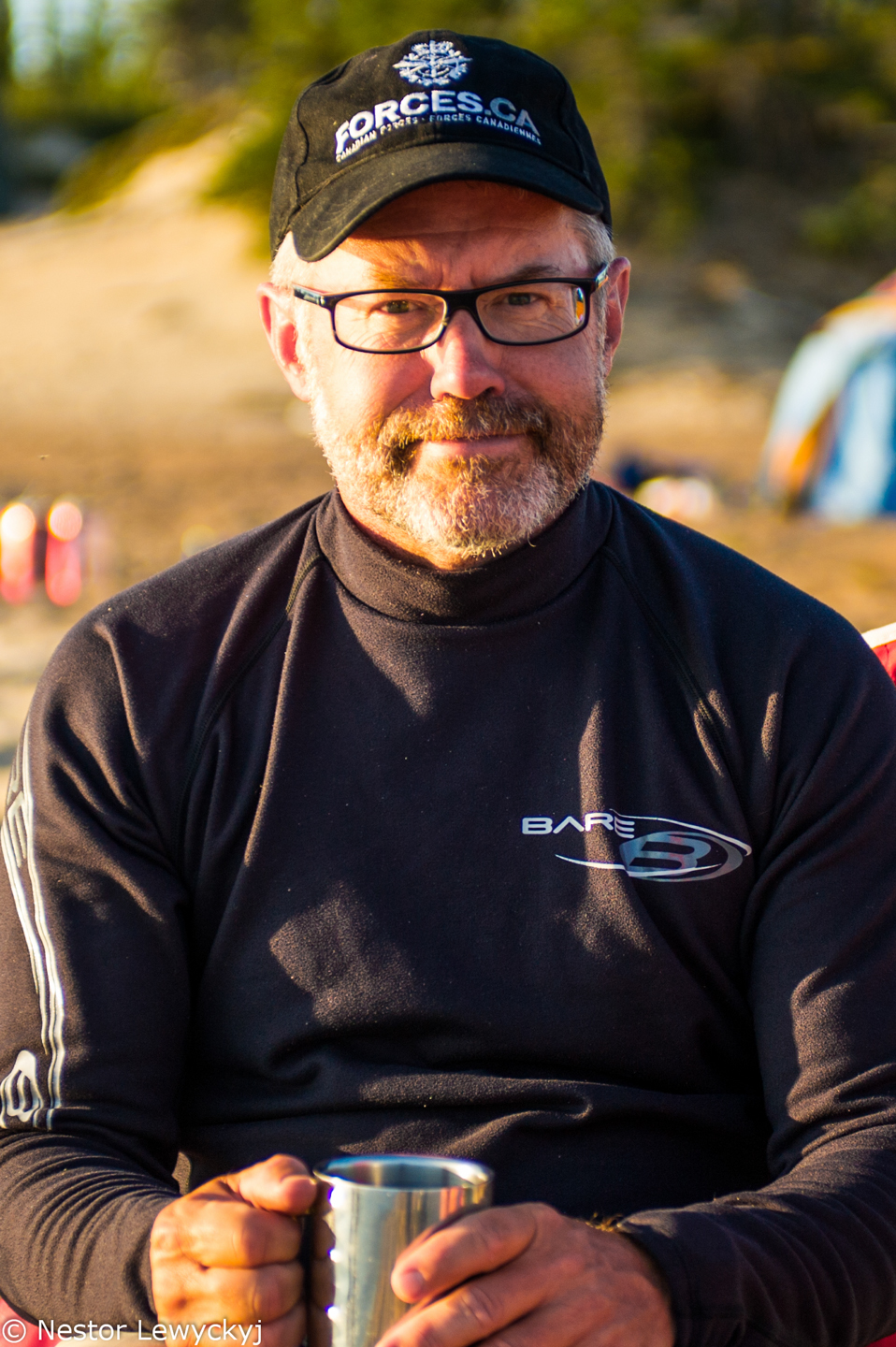 We brought a lot of tea with us, which was a staple in the evening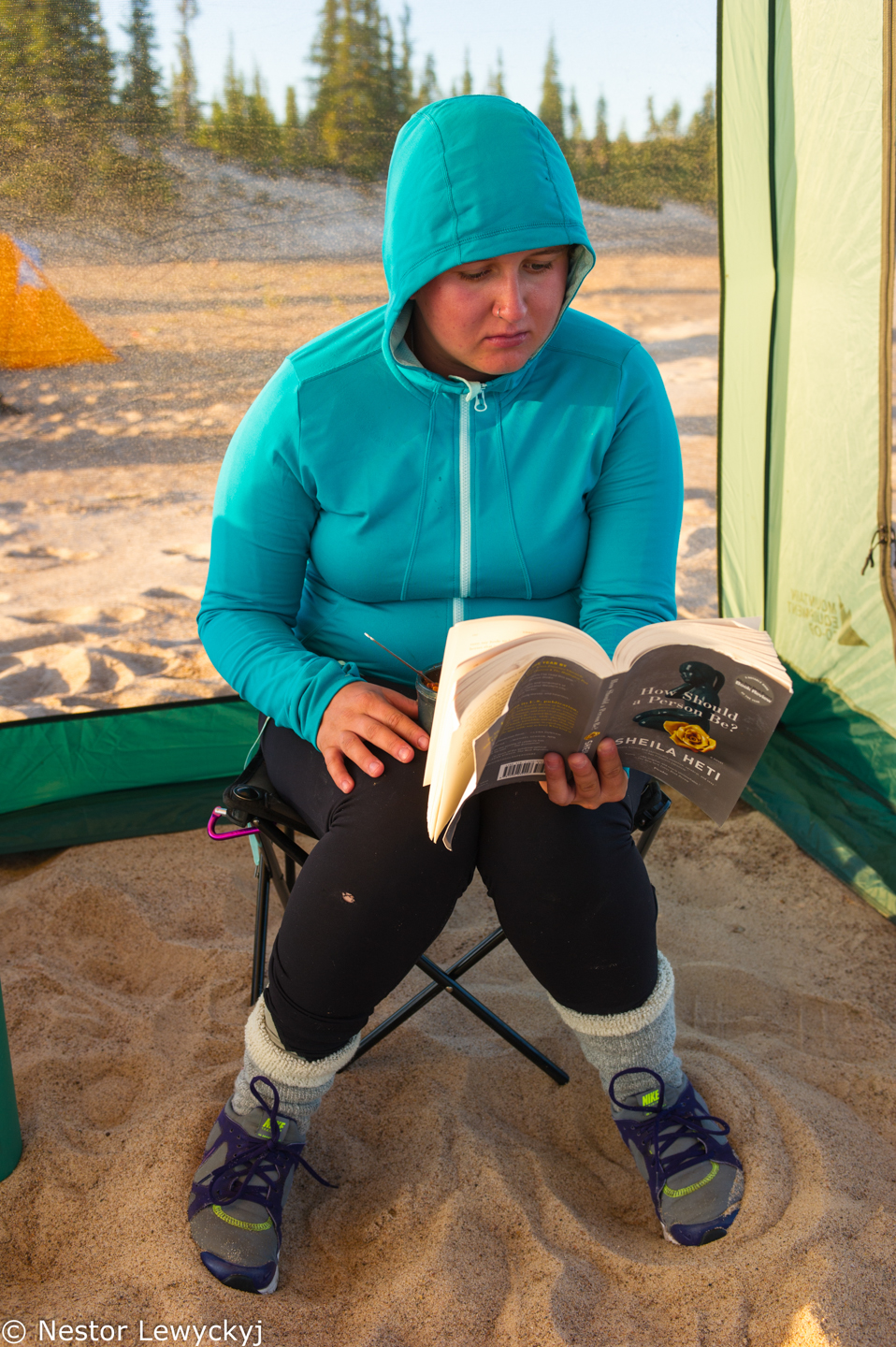 Alex, uh, reading!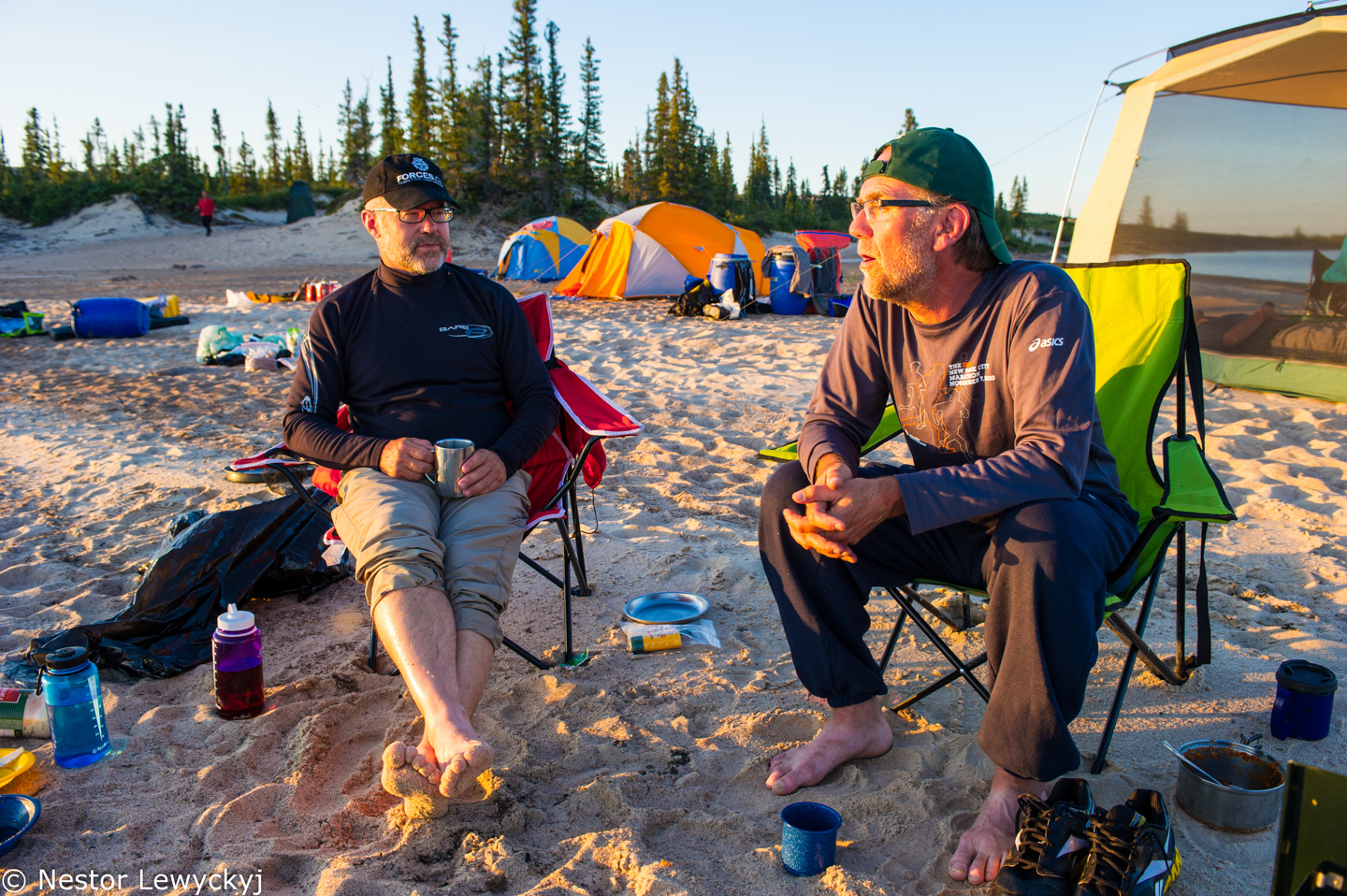 We had quite the leisurely trip, so there was lots of time for talking, catching up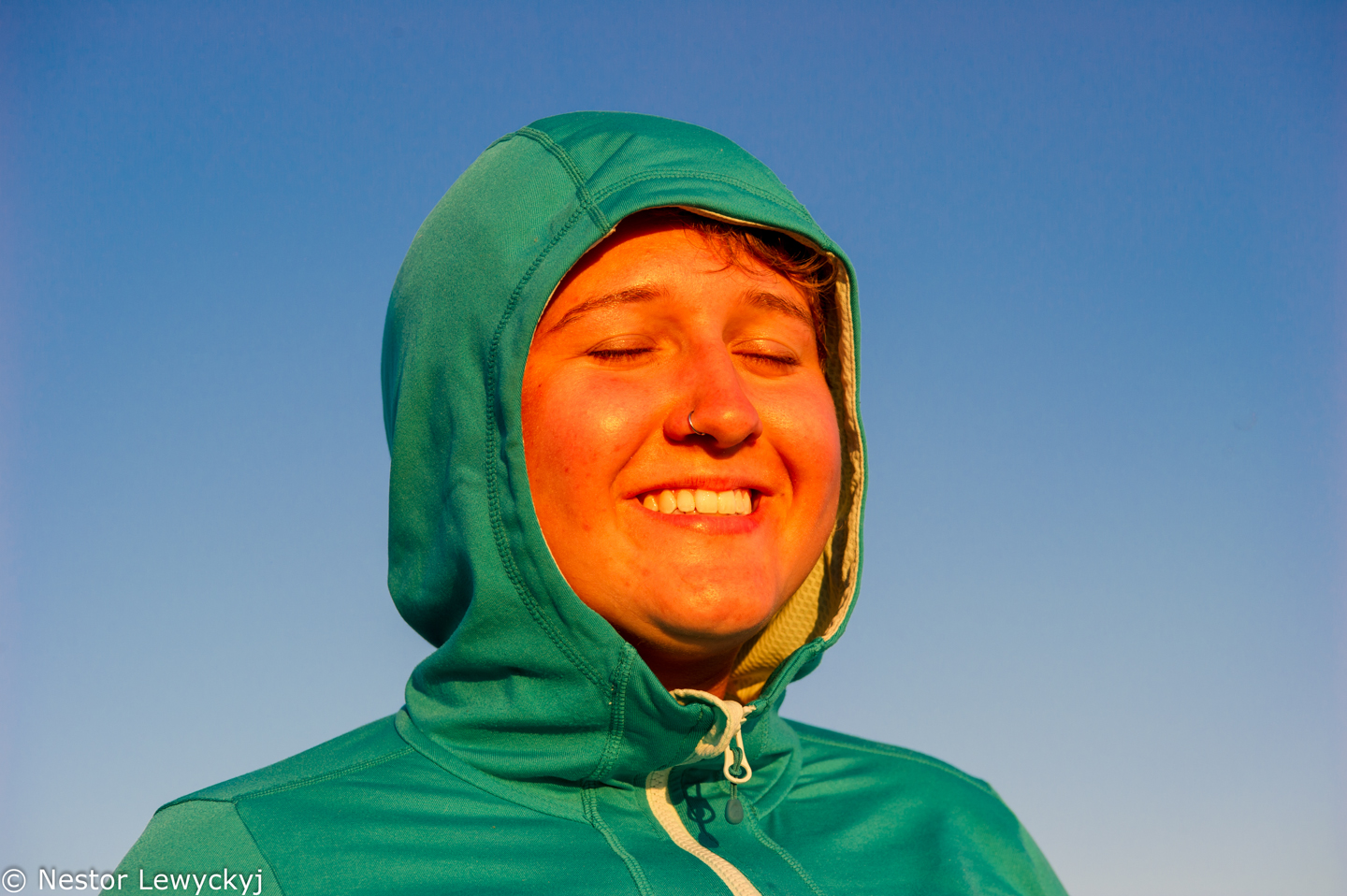 But the light is different up there. Part of it is the angle of the sun, part of it is that there are no mountains to hide the low sun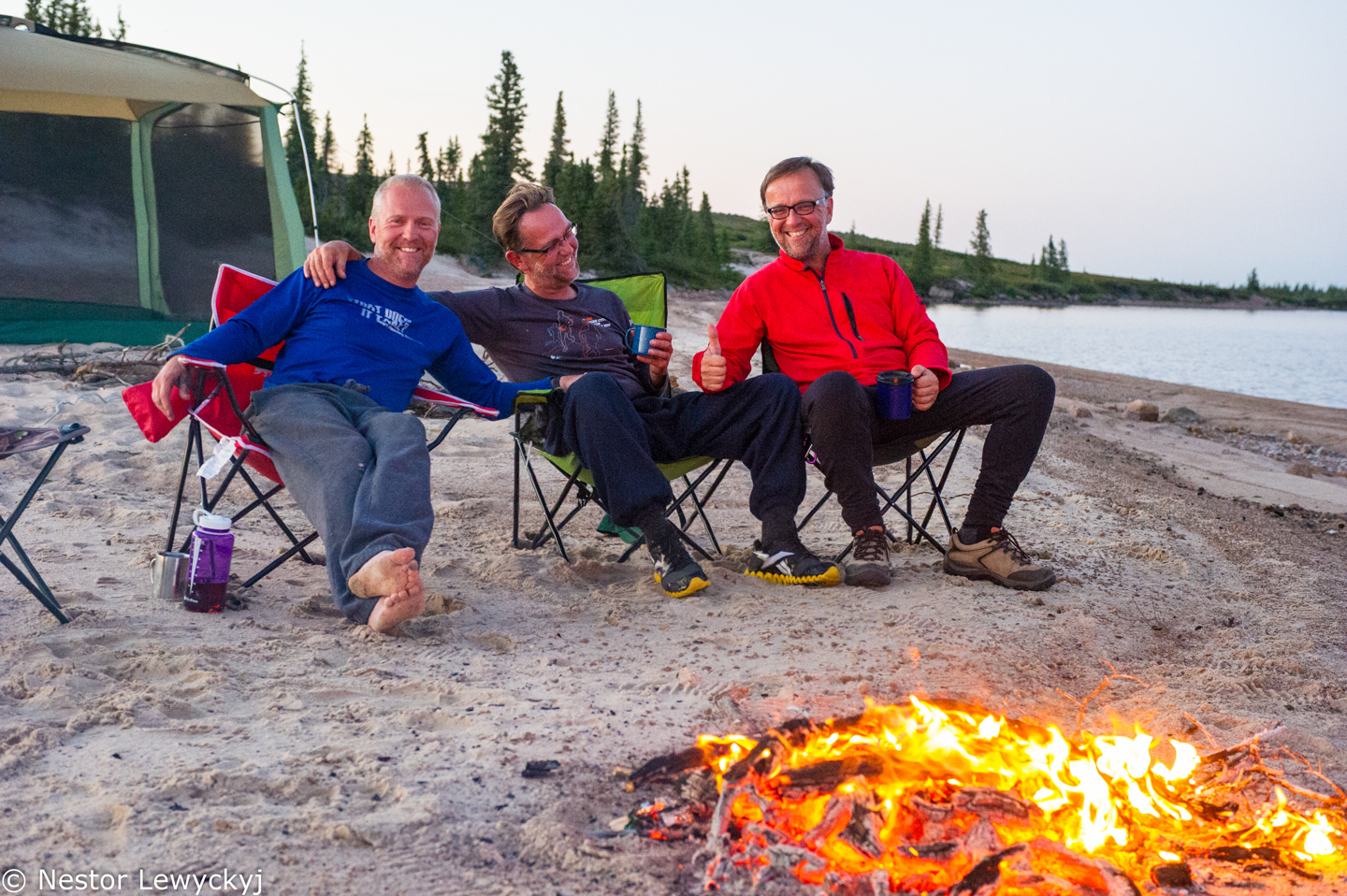 The 3 brothers horsing around. Unfortunately, the fourth, Wolodymyr, could not join us. That is probably Jack Daniels in our cups, which goes a long way to explain the picture....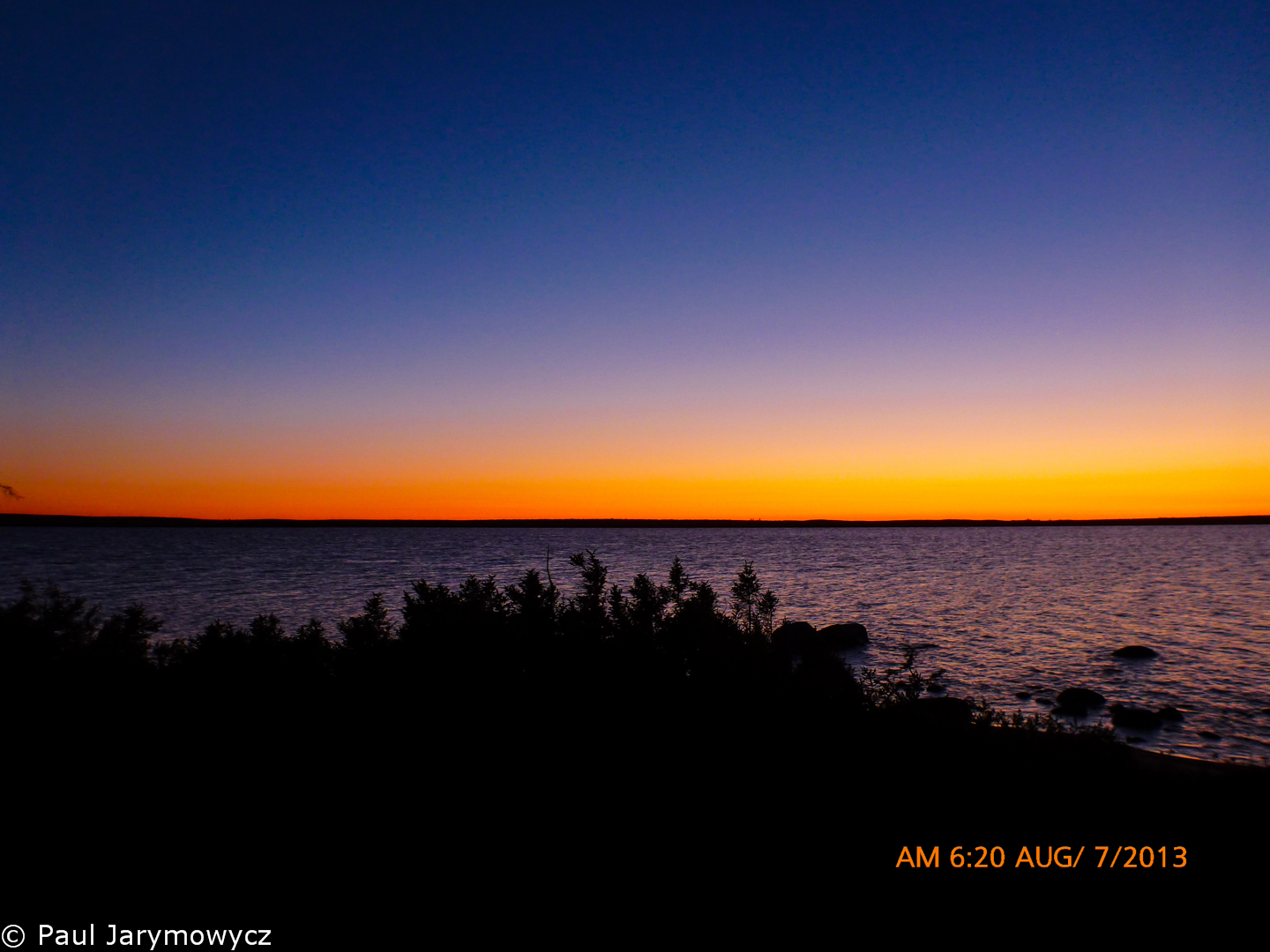 We had a beautiful sunset that day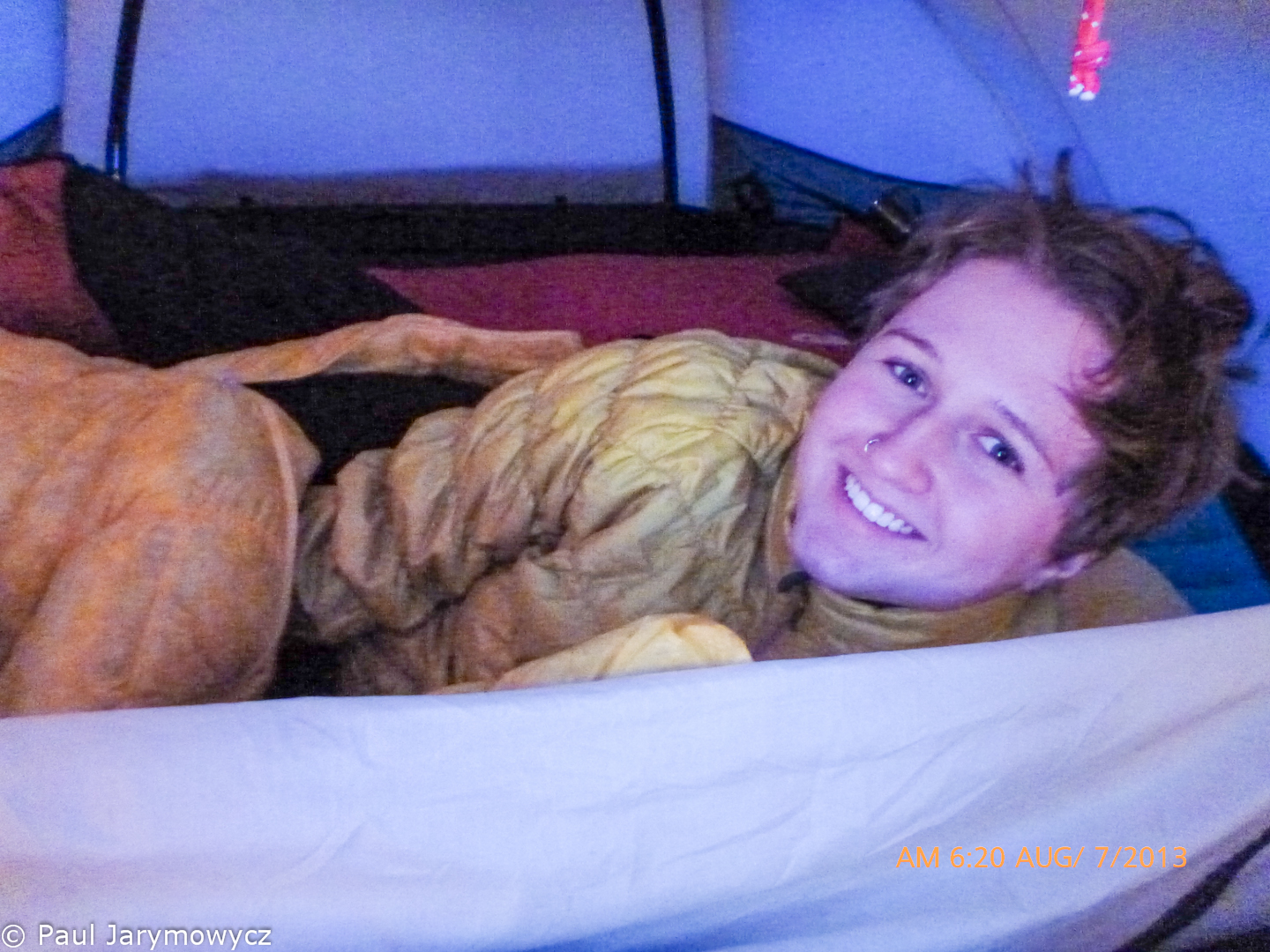 Alex getting ready for bed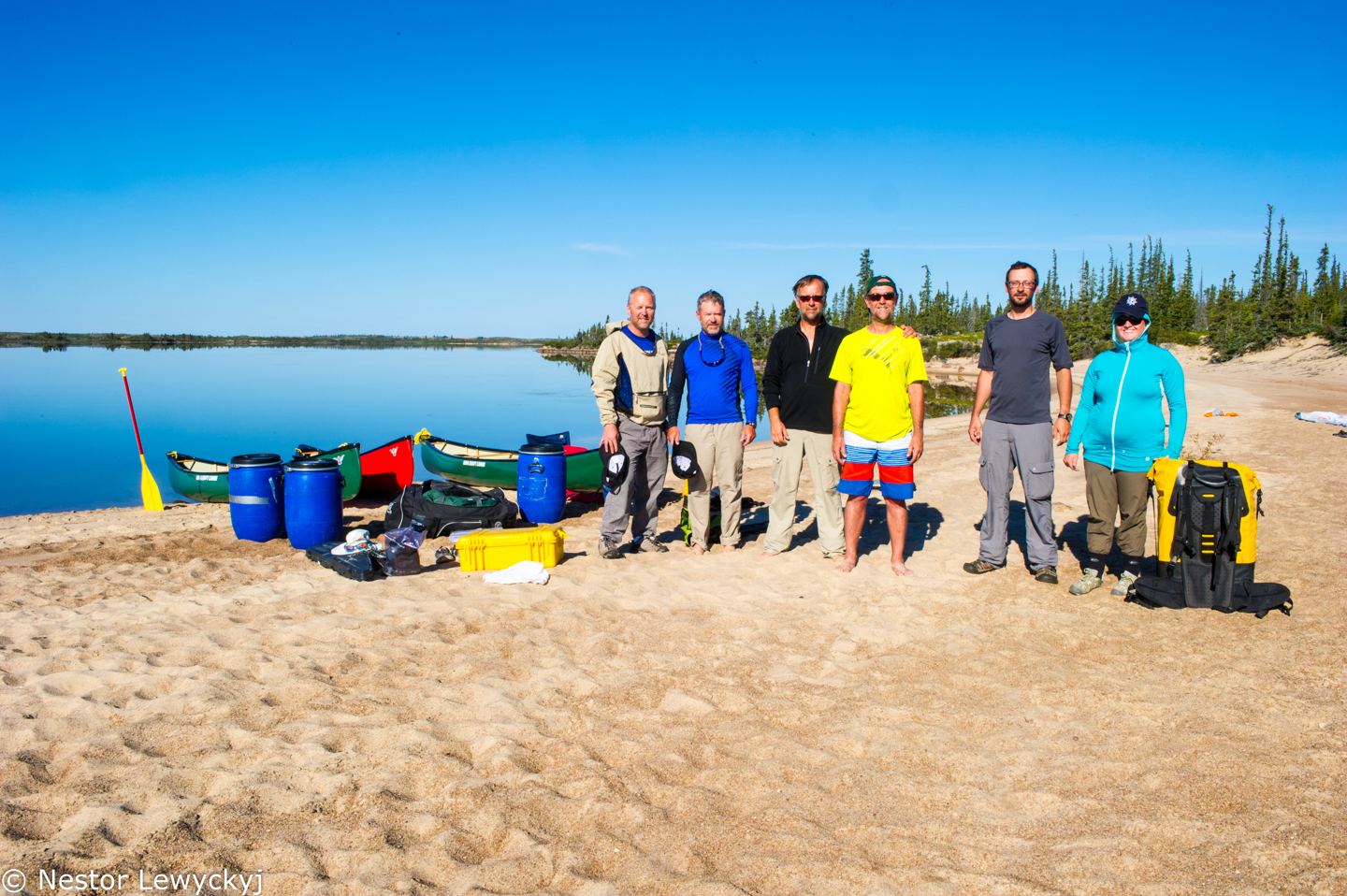 Squinting in the morning sun. We had AMAZING weather the first few days!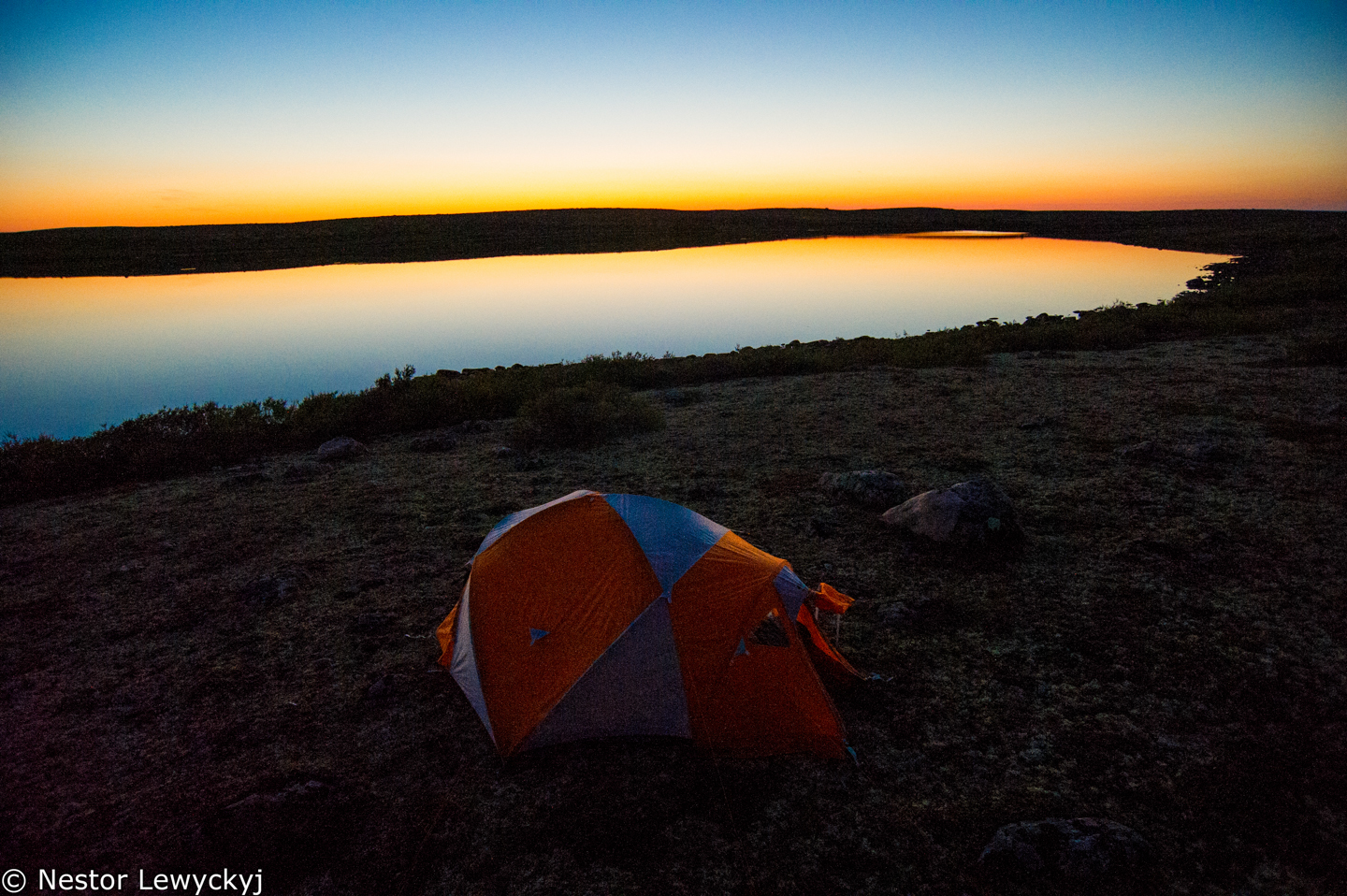 My tent in the last light of the day, by the Elk River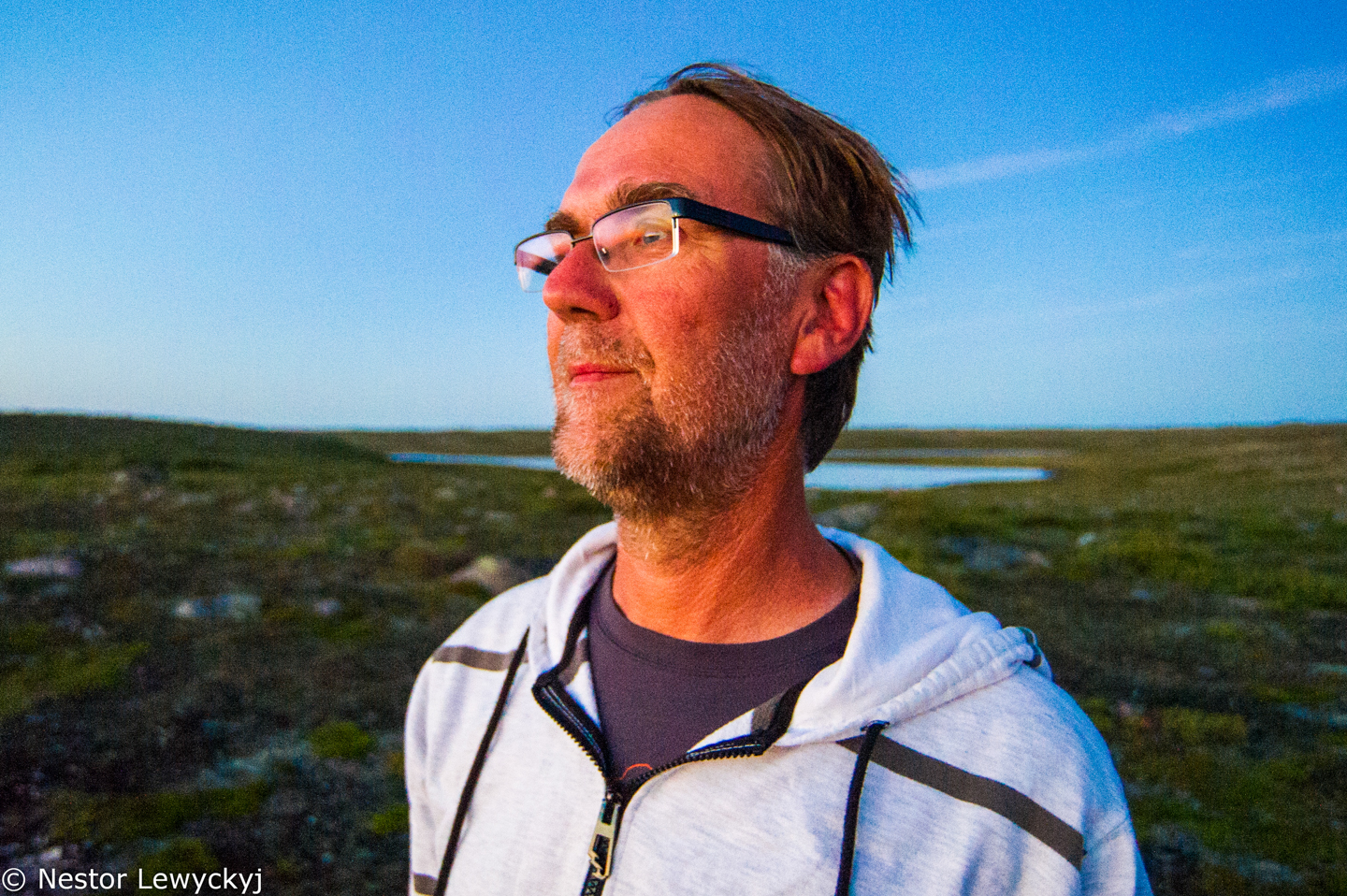 Peter in the setting sunlight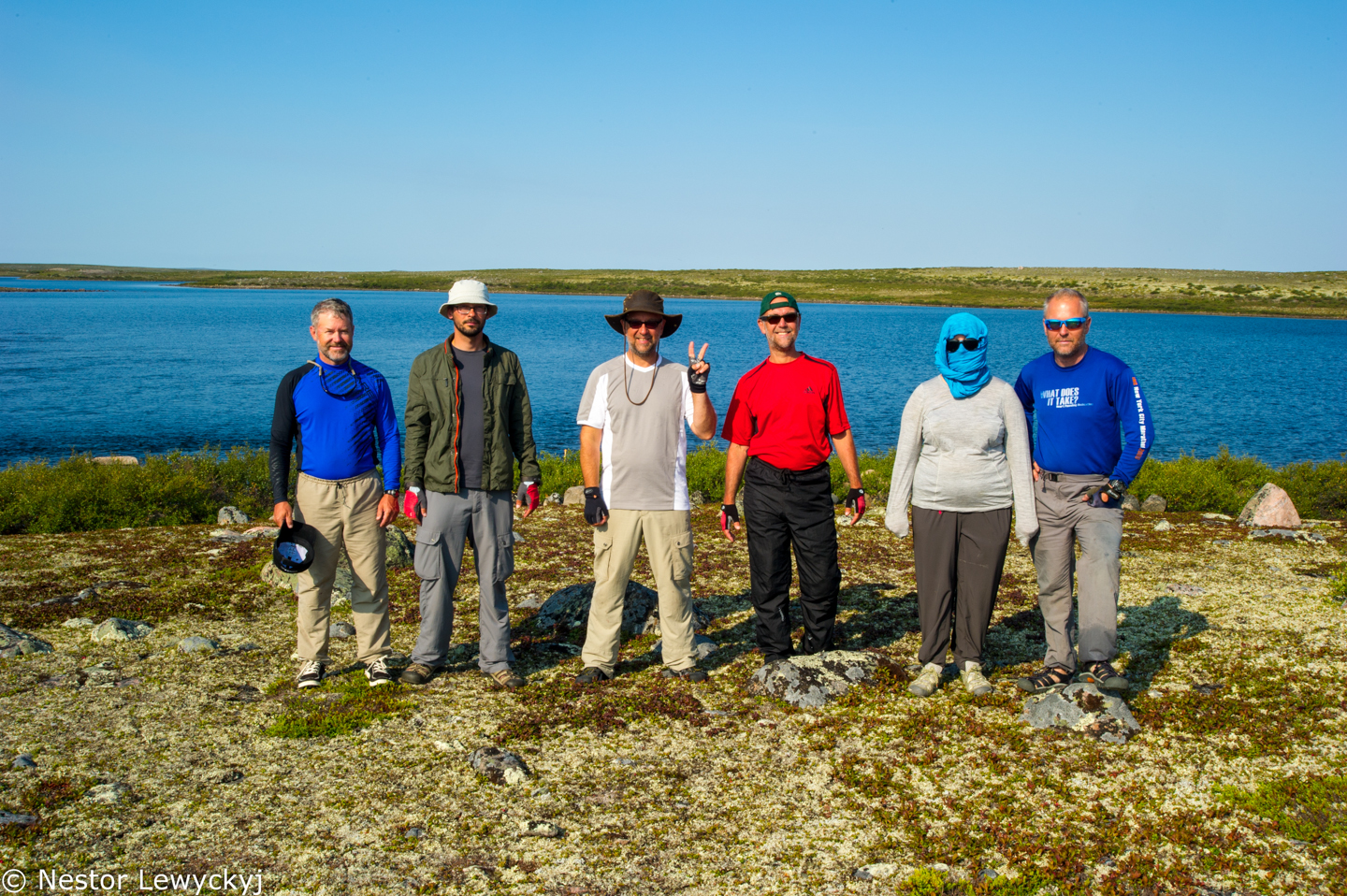 Olesia was getting burnt by the relentless sun so she started covering herself out. The whole first week was absolutely amazing. It was hot, light wind, constant sun without any clouds in the sky, and no bugs. It was hard to believe. I told all of the newcomers that this was NOT common up here. It helped that it was August was well. Last time in 2010 we were out in July and it was much buggier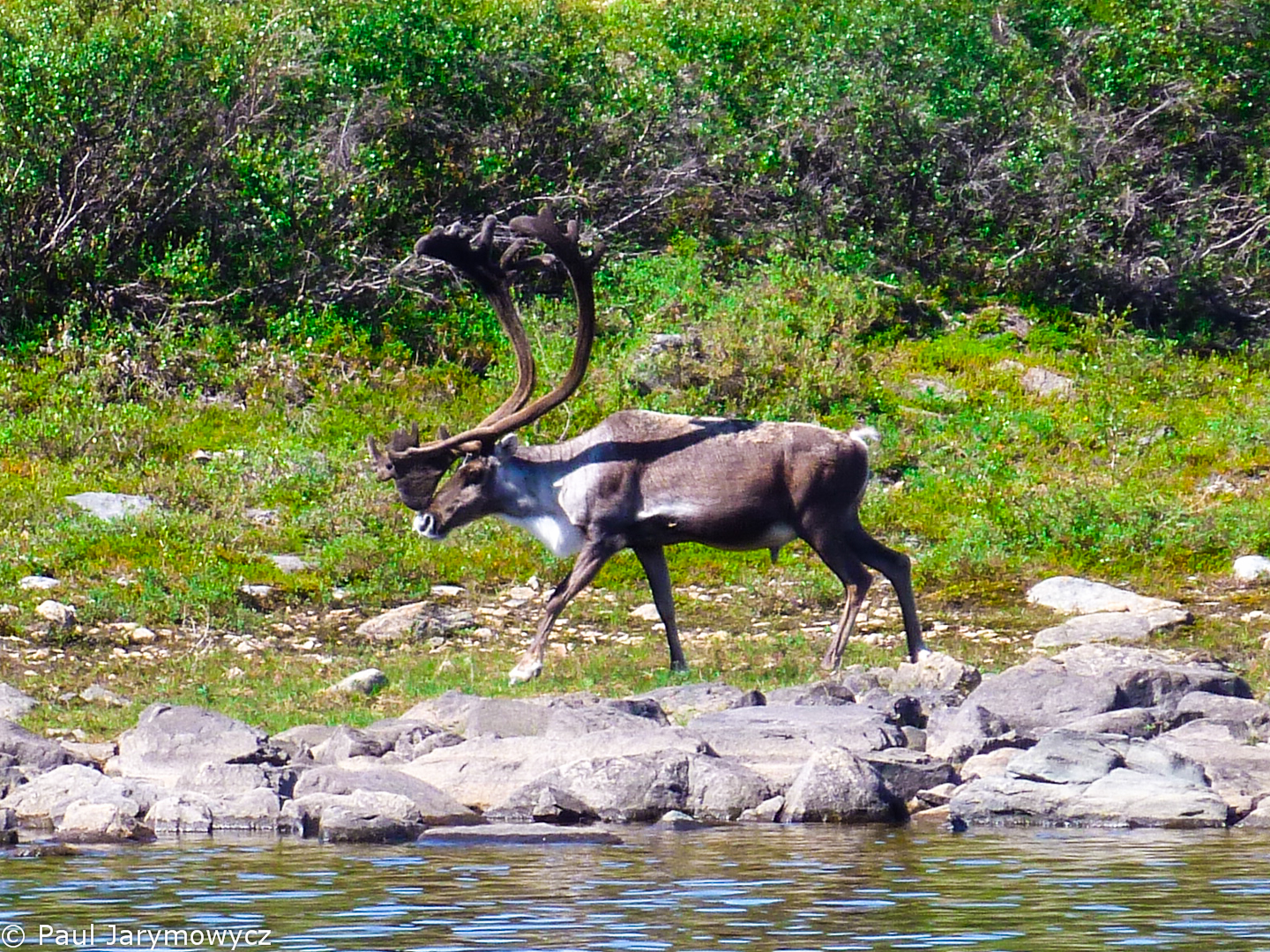 We saw this guy right at the shoreline and Paul had his waterproof camera out. The size of their horns is impressive!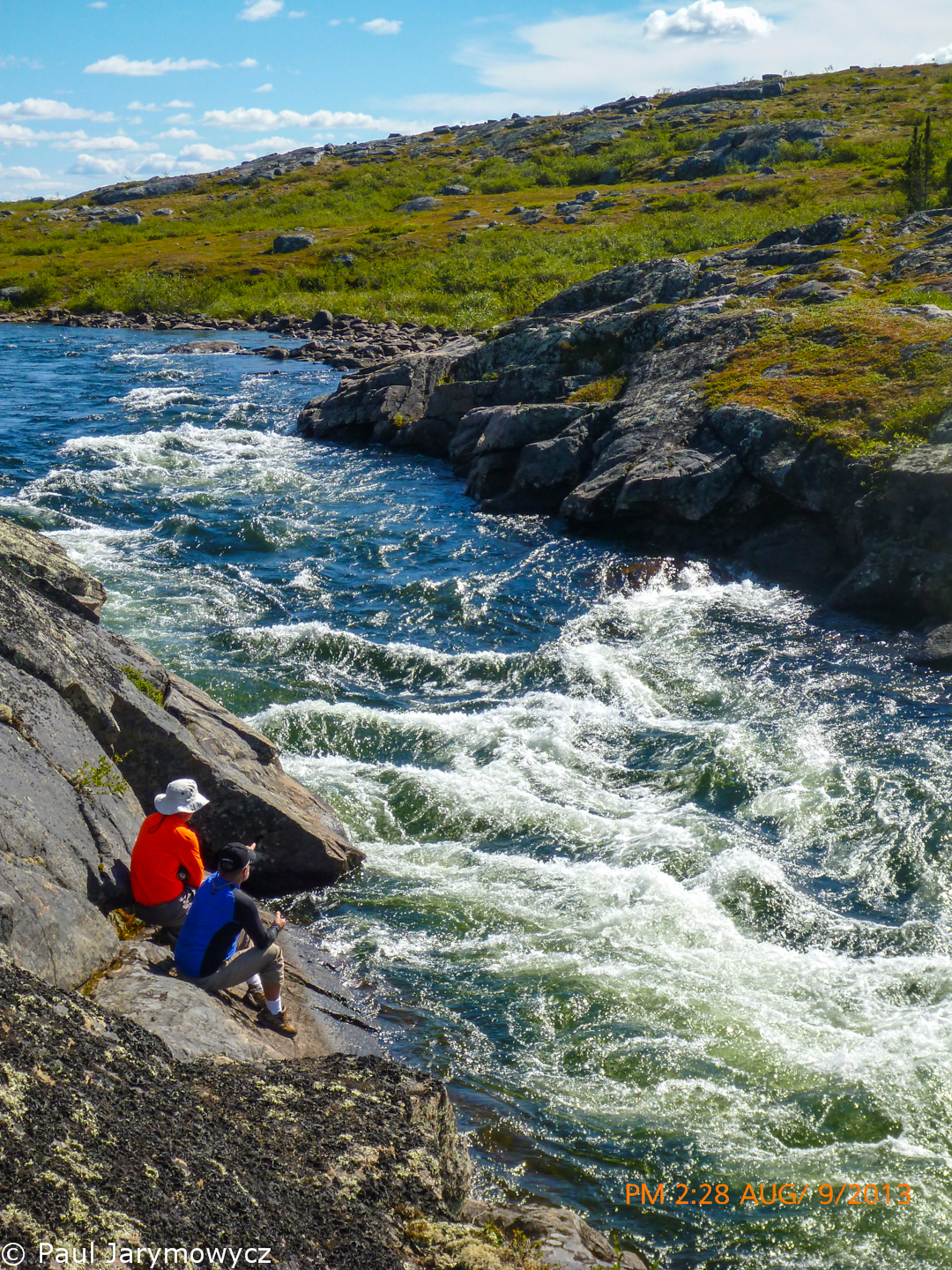 Trying to find the best line with Roman. This is the chute that we ran in empty canoes and filmed in the videos labelled 6 and 7 on the You Tube links.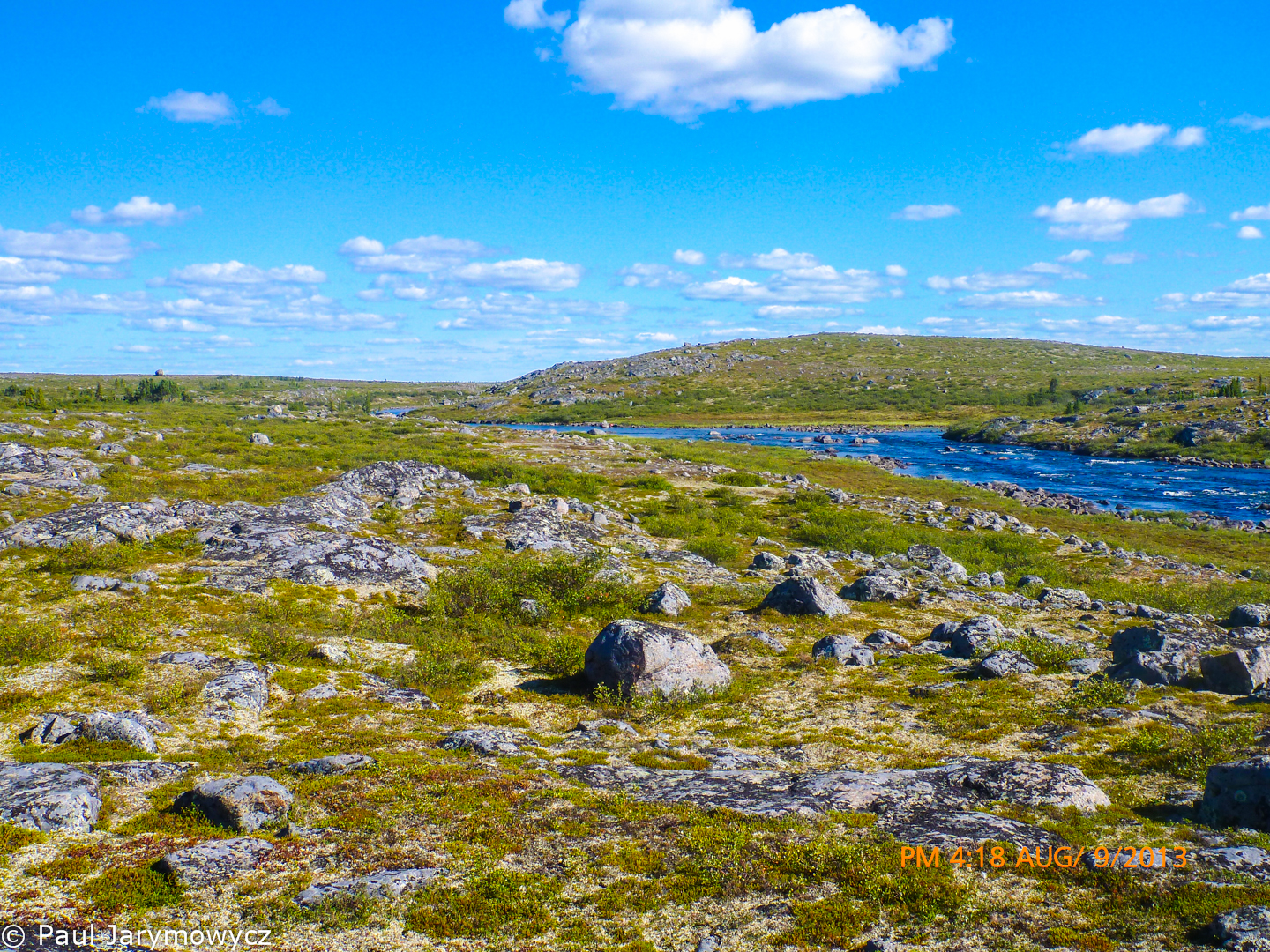 This is a good of the long 'S' shaped rapid that blends into a series of swifts that takes you to Granite Falls and the confluence with the Thelon River. We portaged this 3 years ago, but decided to line parts of it and run the rest this year. It was a lot of fun. We dunked one canoe but did not lose any gear.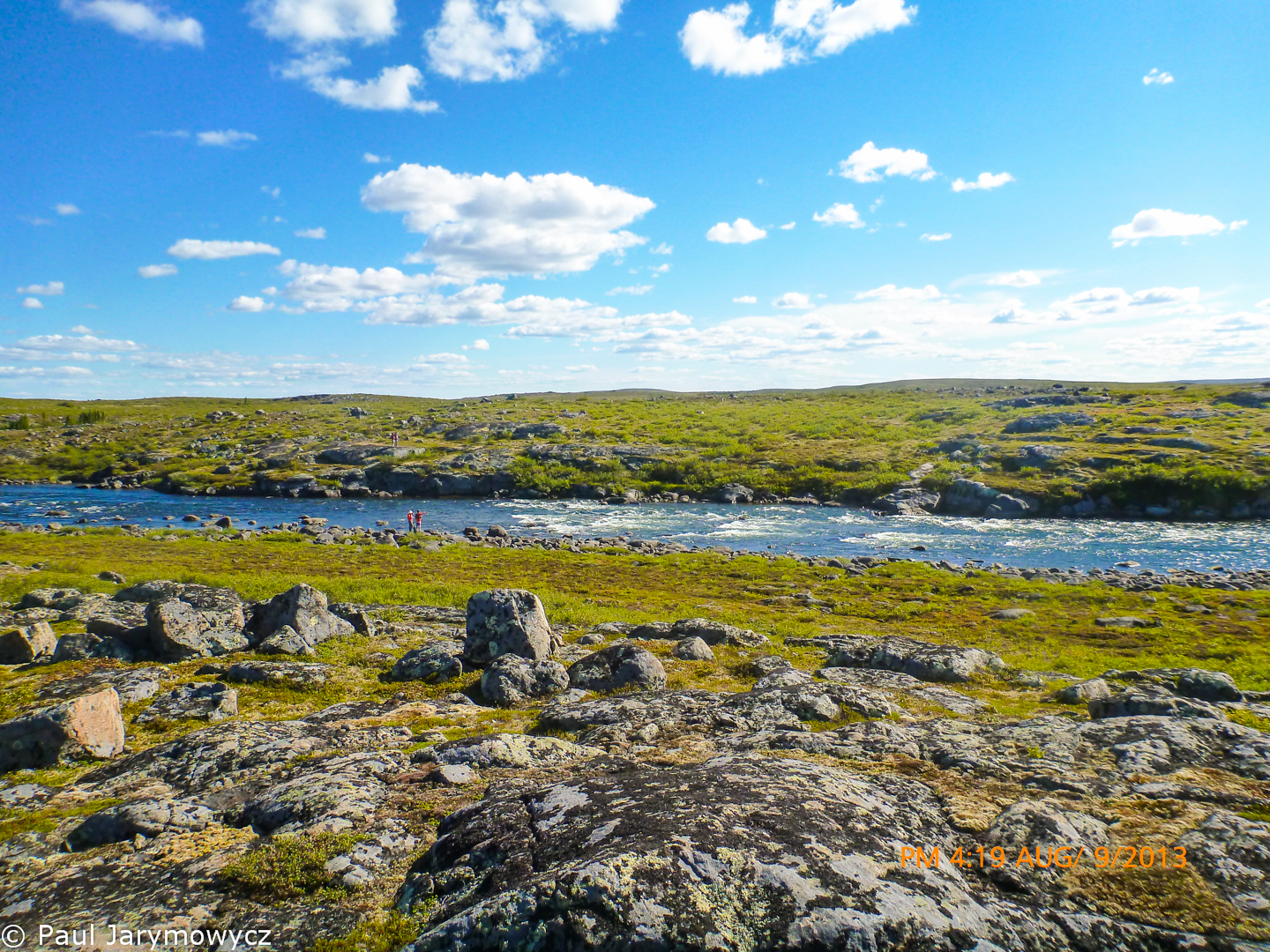 Scouting out both sides of a rapid before Granite Falls.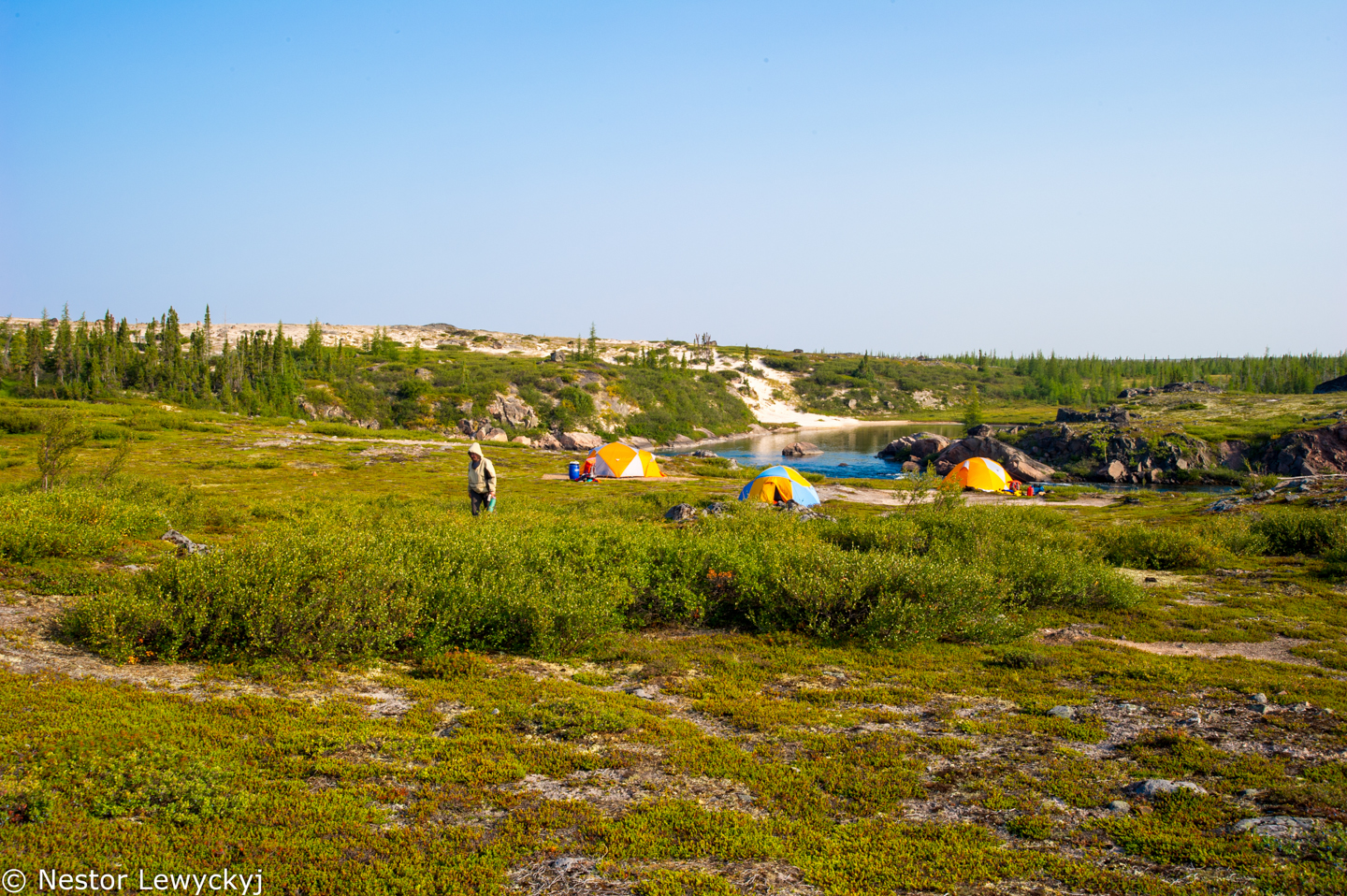 Our camp site at Granite Falls. Below this long cascade, cut into pink granite, the Northeast flowing Elk meets the Thelon coming in from the West. After this confluence the Thelon takes a big turn due North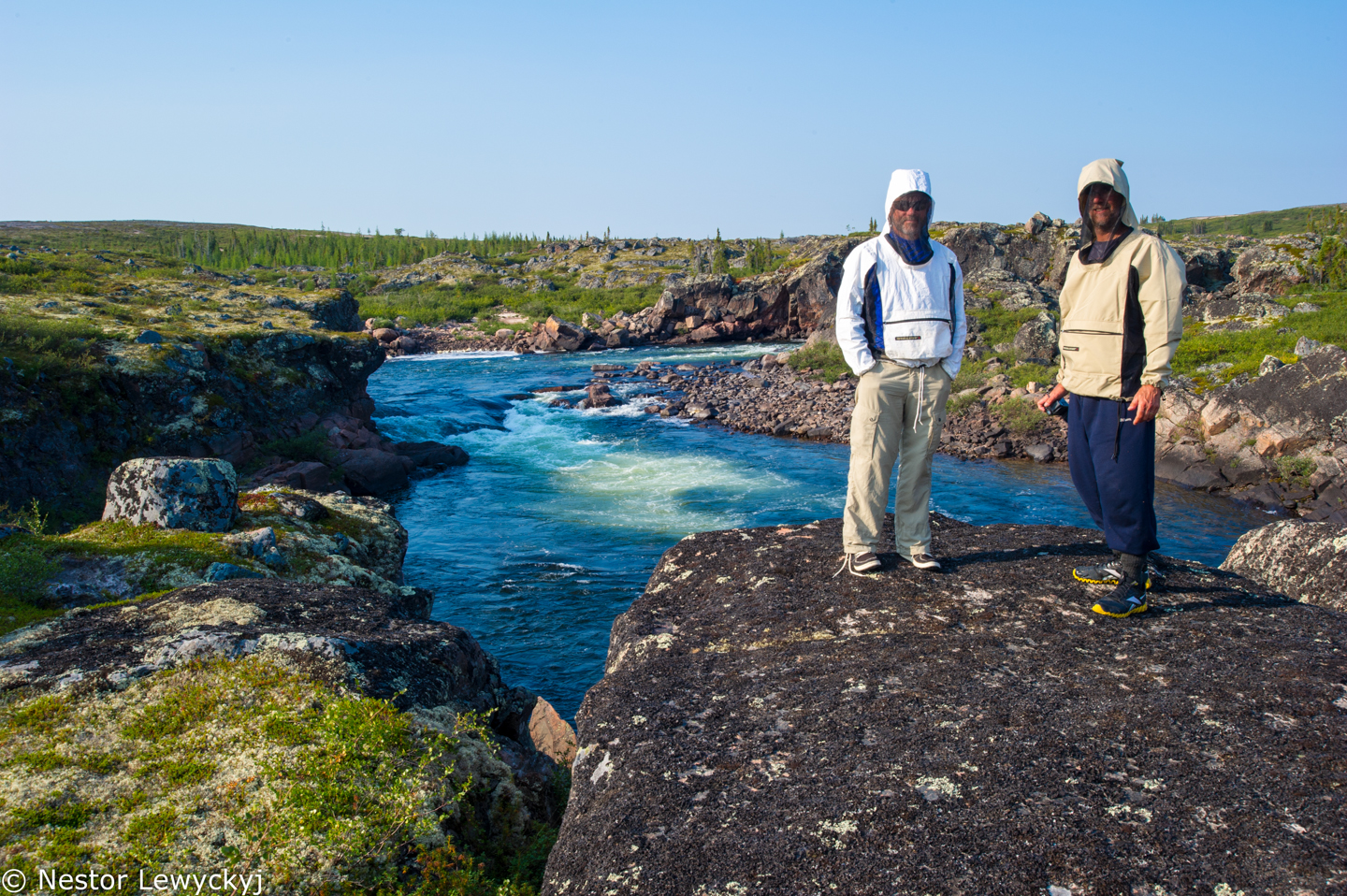 We took some shots the following morning before we left, and the bugs were starting to come out. Granite Falls represents the last of the Pre-Cambrian shield that we were going to see. The terrain after this is flatter, with less relief, more tundra-like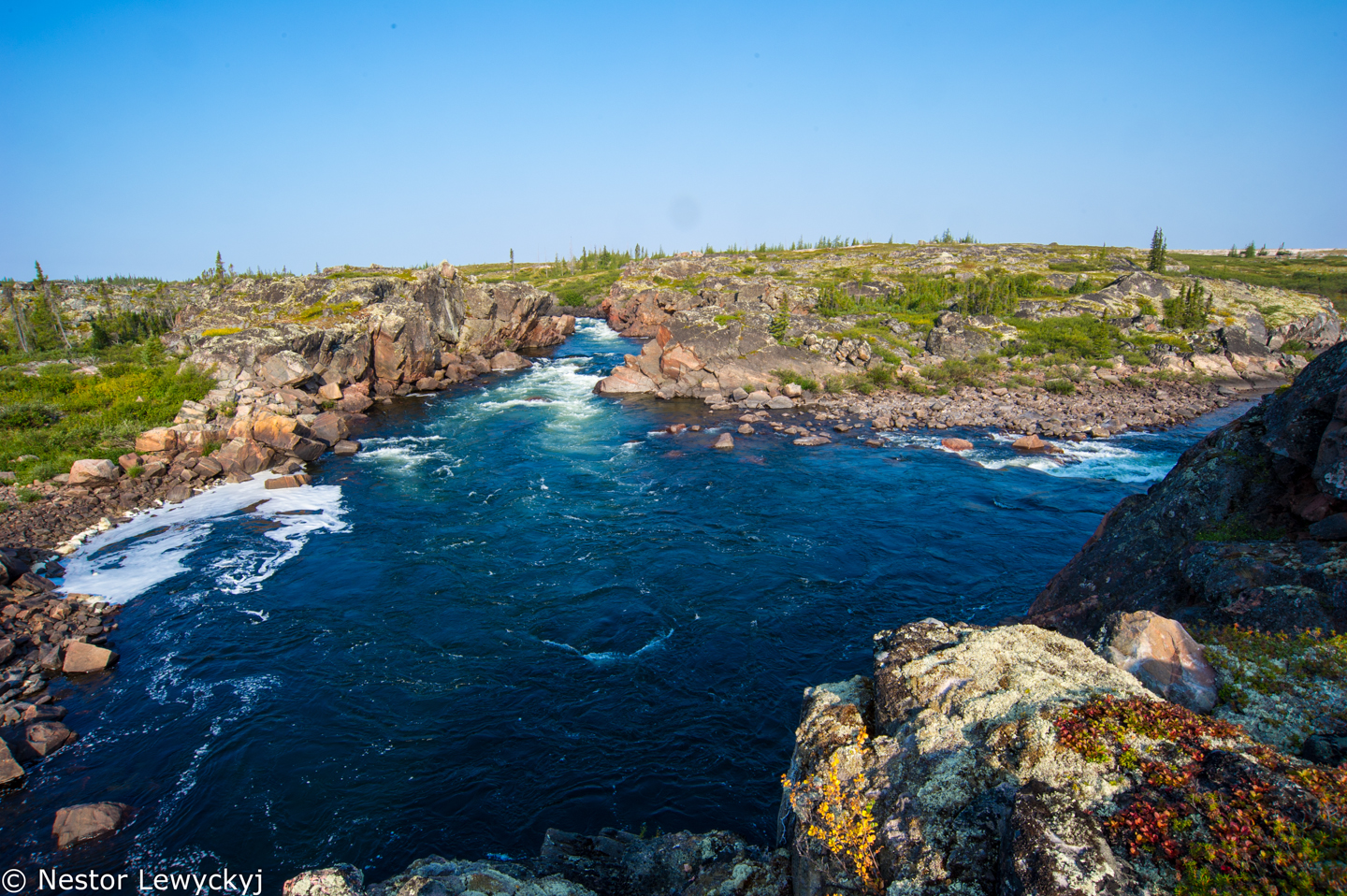 You can say that the Elk River flows off the Canadian Shield as it races to meet the larger Thelon River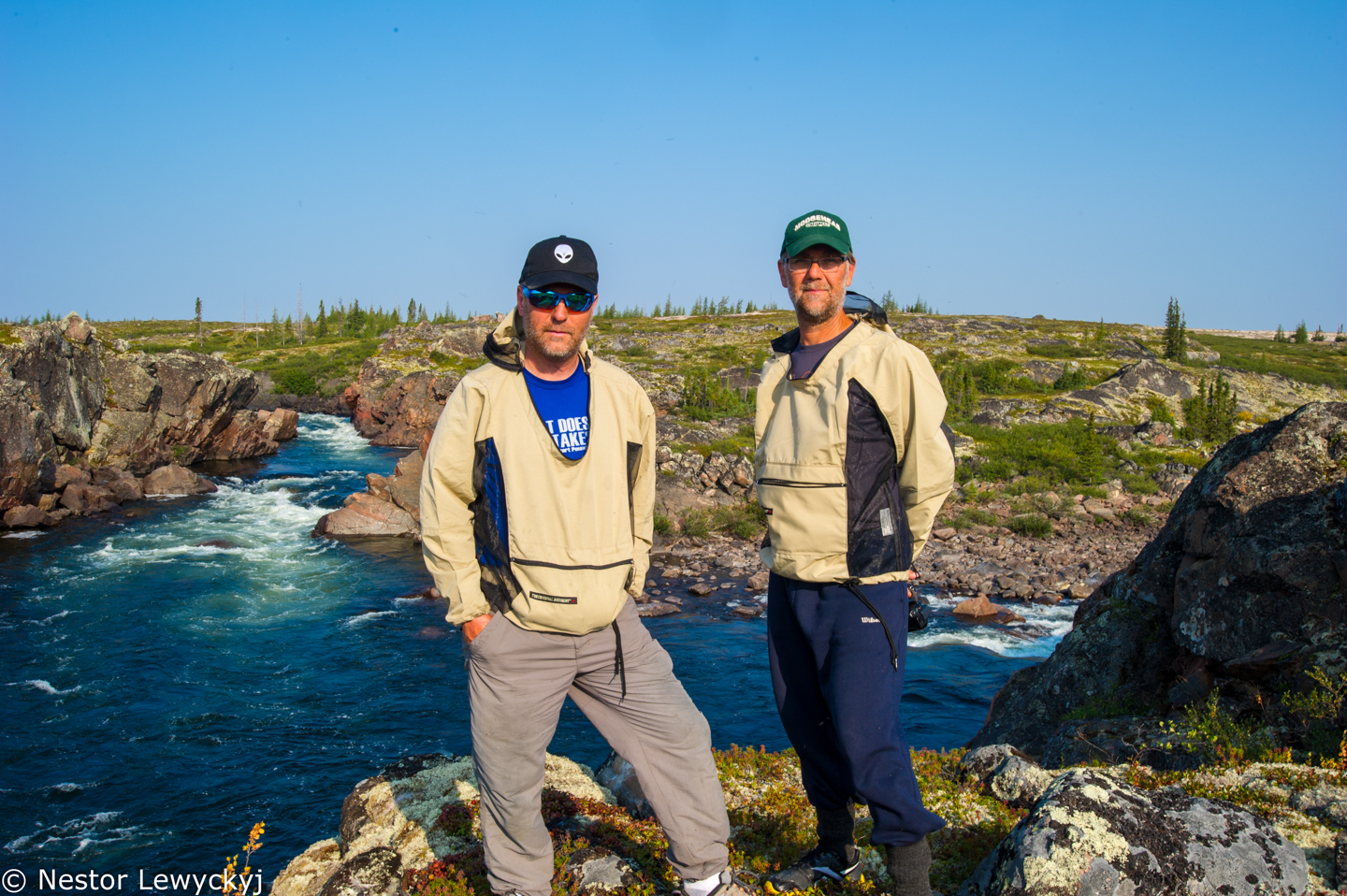 Me with my Alienware hat. They made great gaming computers before Dell picked them up. I bough mine right after the acquisition. It's still a great machine!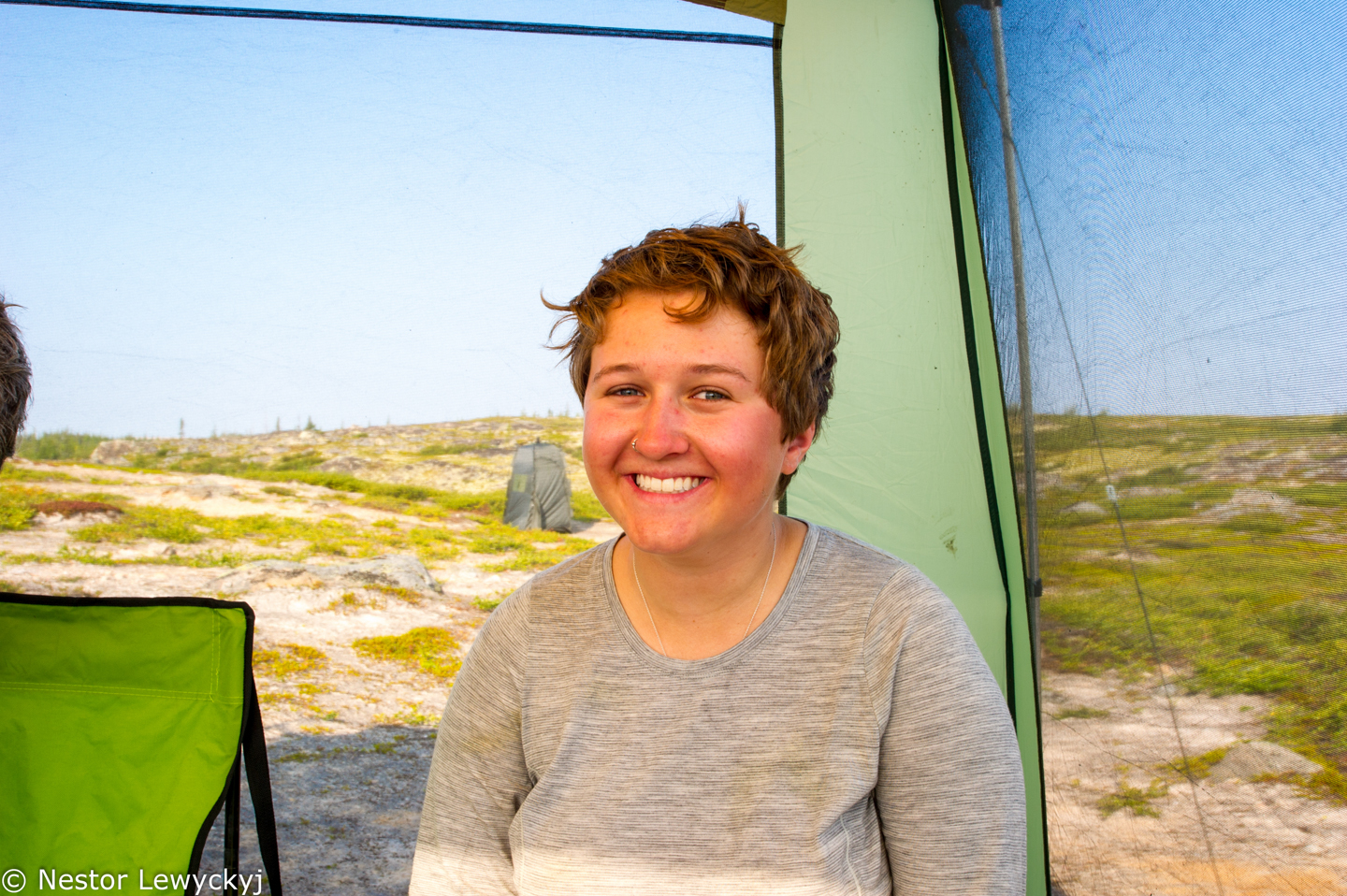 With the bugs coming out, the bug tent was a great sanctuary. Having one is a necessity out there, if you want to be able to sit around and talk. I have seen people canoeing in pairs, and having a bug tent, just for two poeple.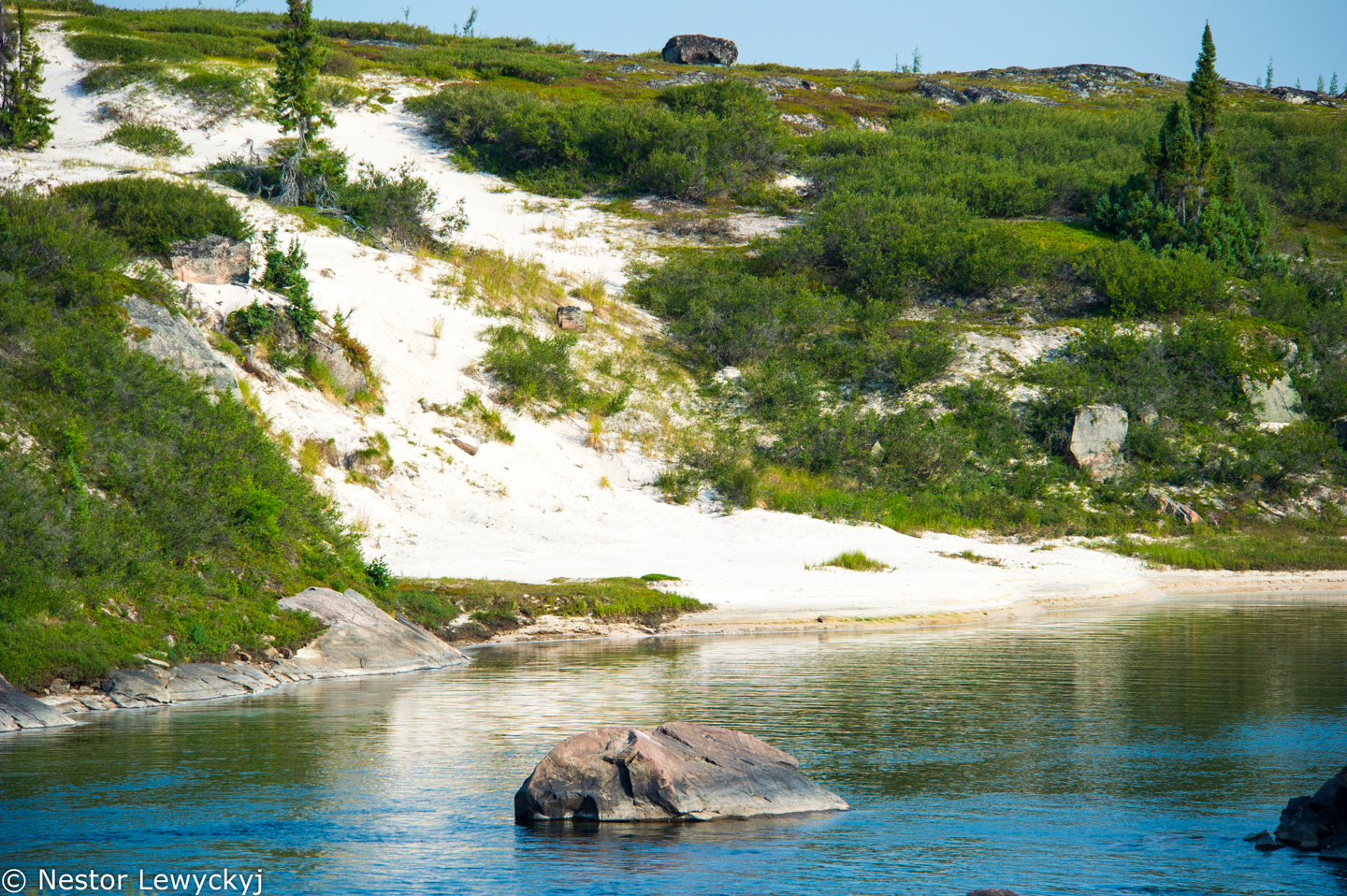 There is a remarkable amount of sand in the barrens. It seems counter intuitive, but its all over the place. There are spots that look more like deserts then tundra. but then again, the barrens do not get a lot of rain. They are often considered northern deserts even though they are very wet. the yjuts don't get a lot of rain or snow. Everything just freezes up in the winter!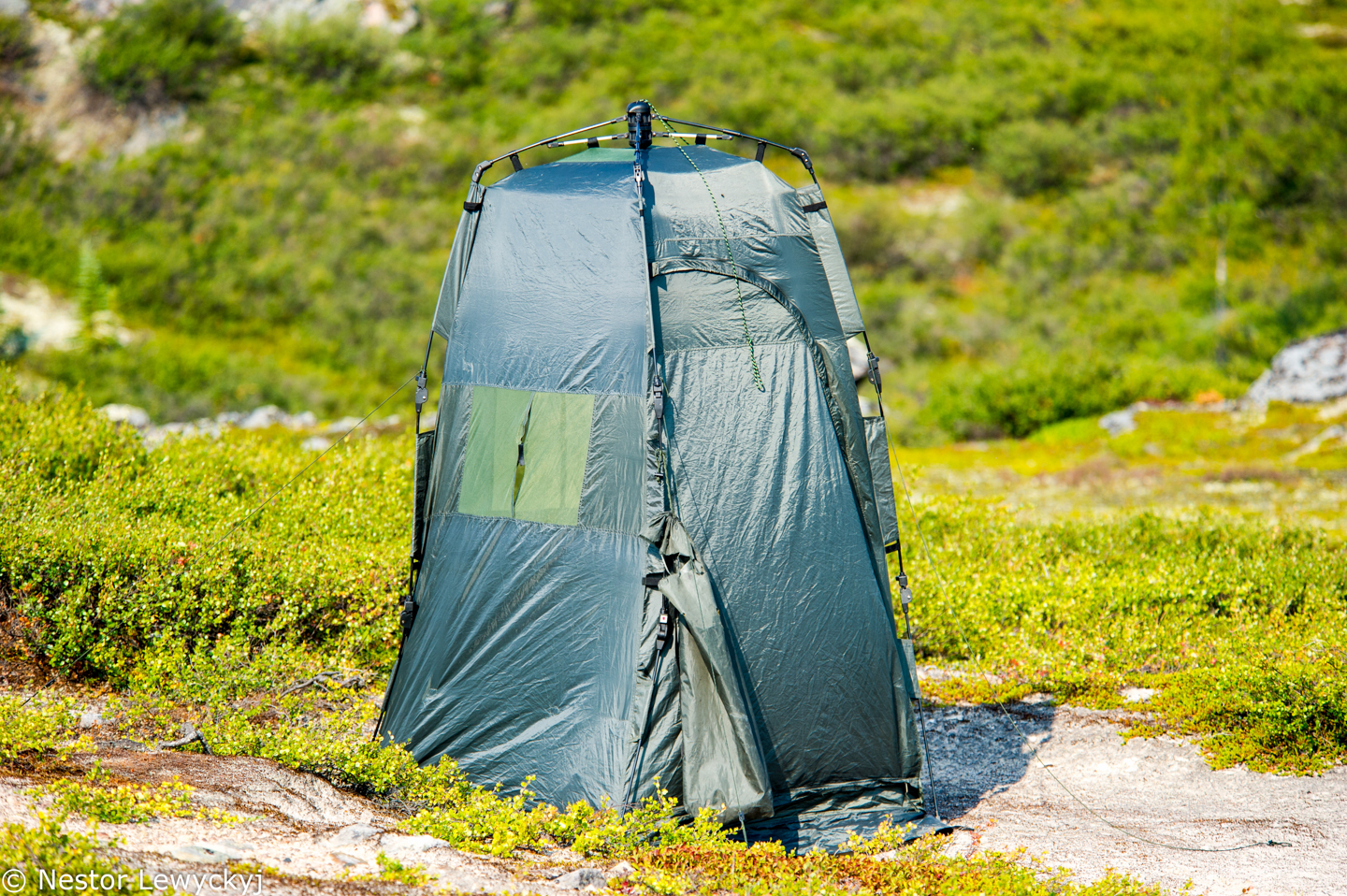 Another view of our toilet tent at the Granite Falls camp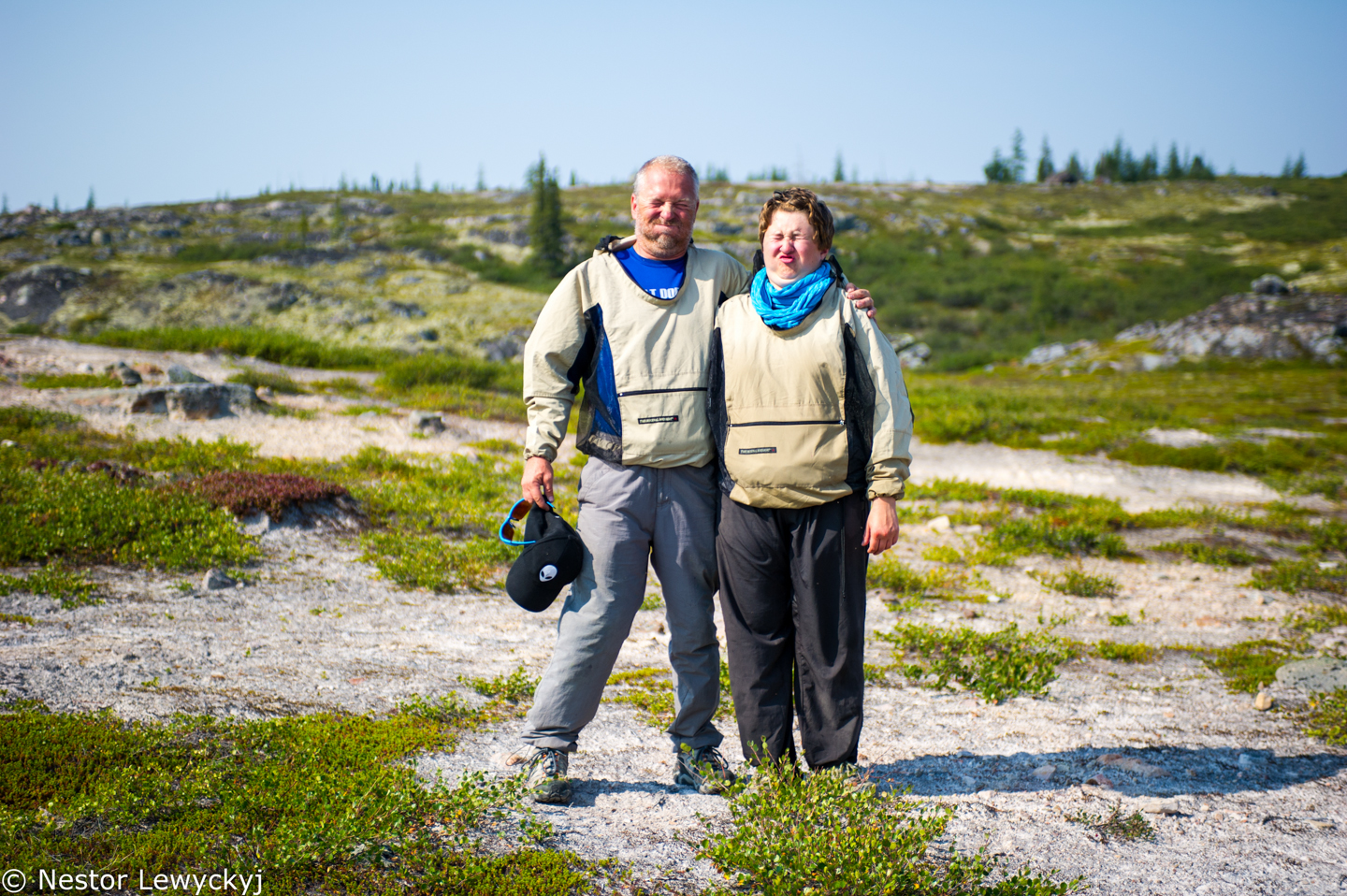 Alex and I horsing around on her 21st birthday.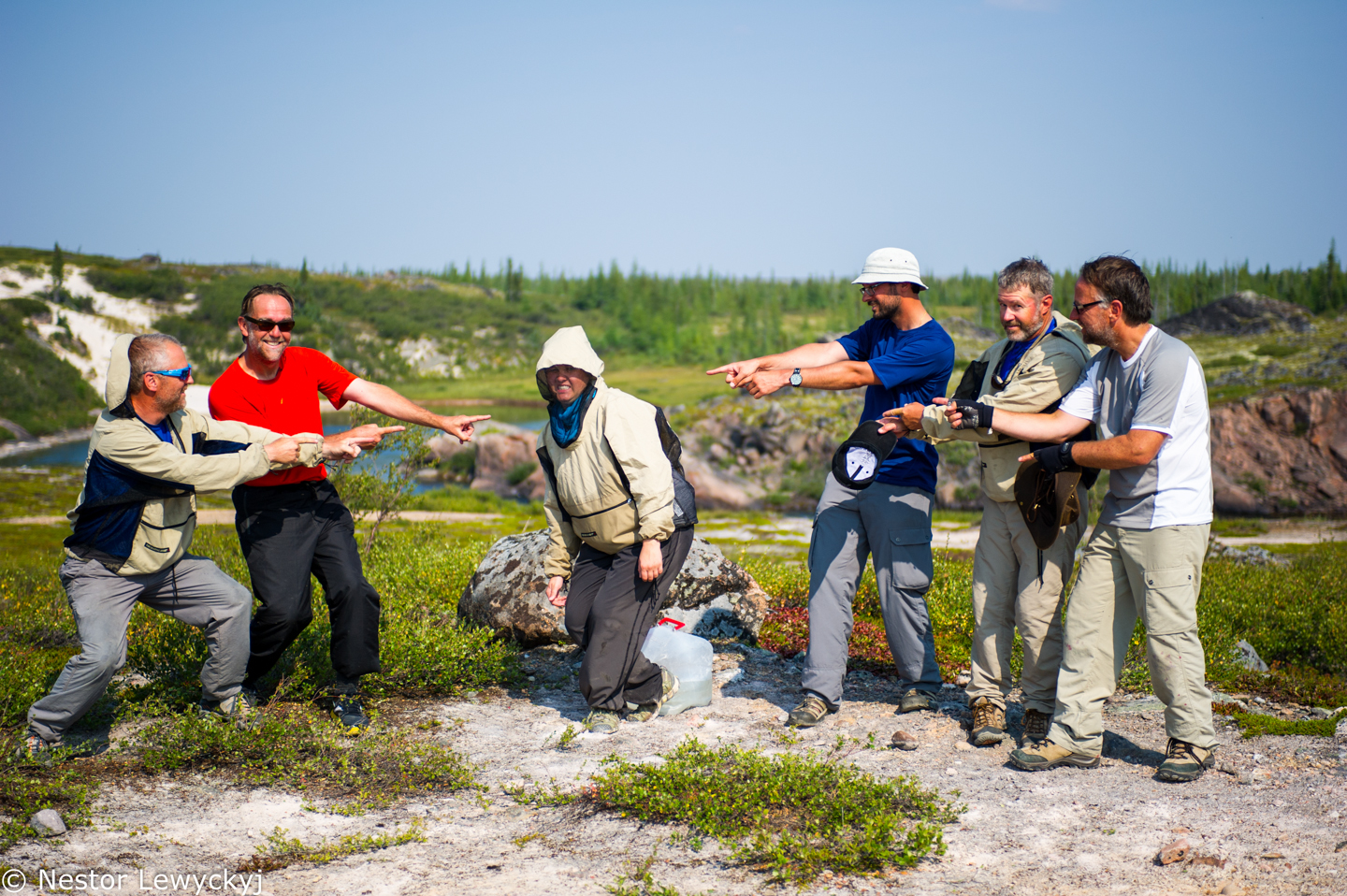 Alex's birthday shot in the morning...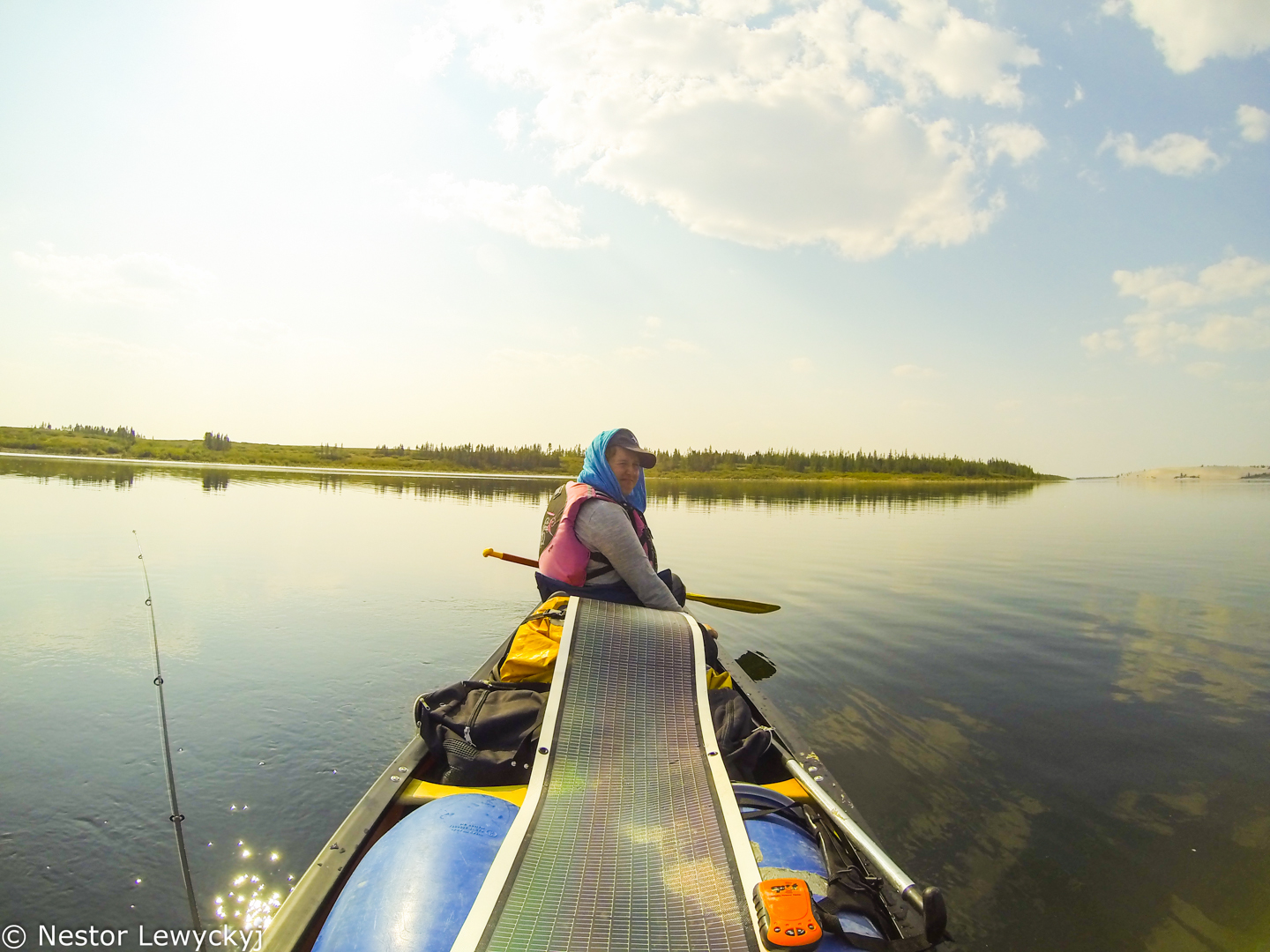 We had a lot of electronic gear, GPS, Sat Phone, cameras, phones, GoPro's, etc. I was using a flexible solar panel to try and top off batteries at night. I used the panel to recharge a small 12-volt battery which would then charge up the other devices through a small inverter or directly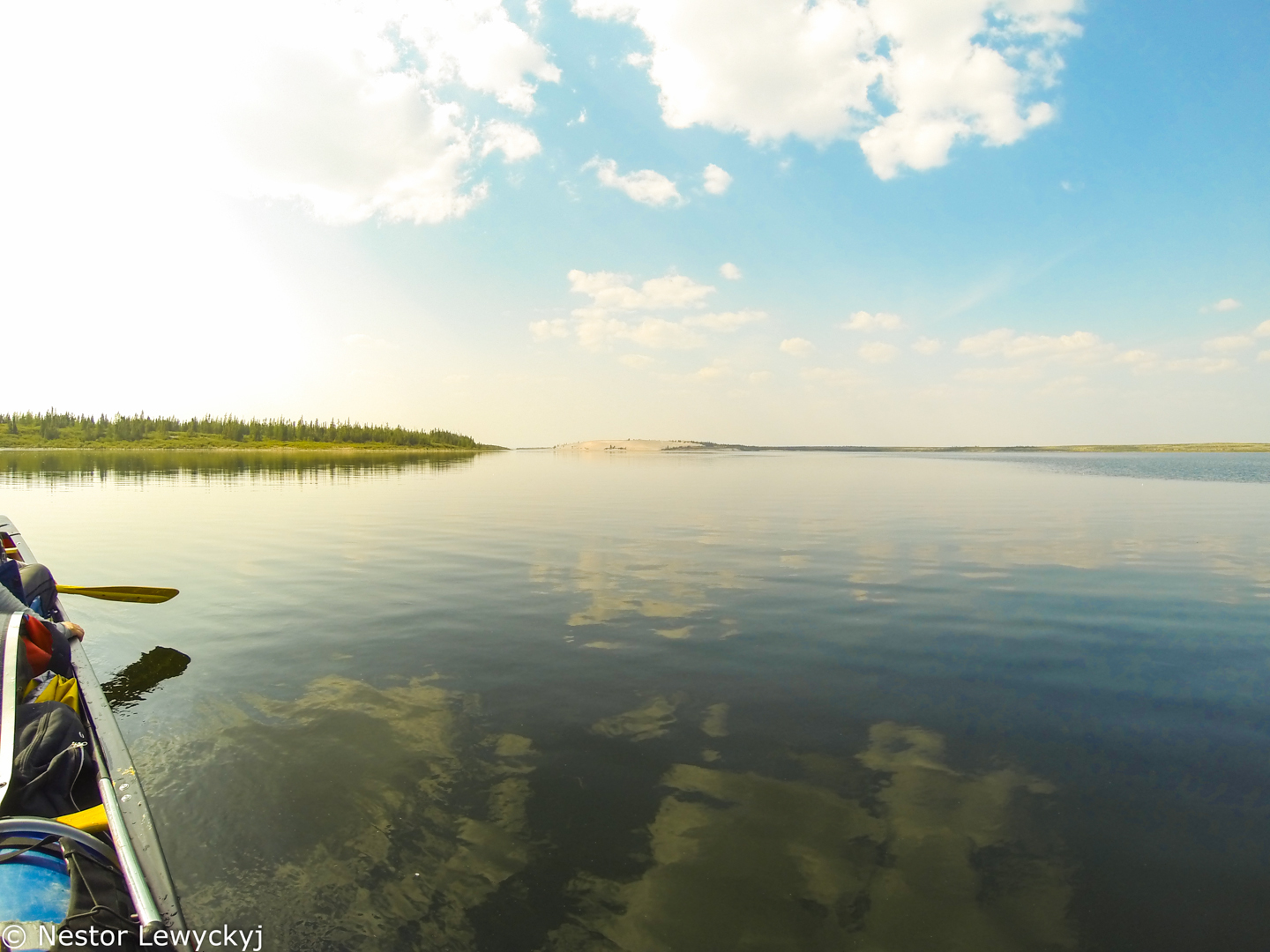 Up ahead is a large esker with amazing sand that we canoed by. You see more of it in one of the videos.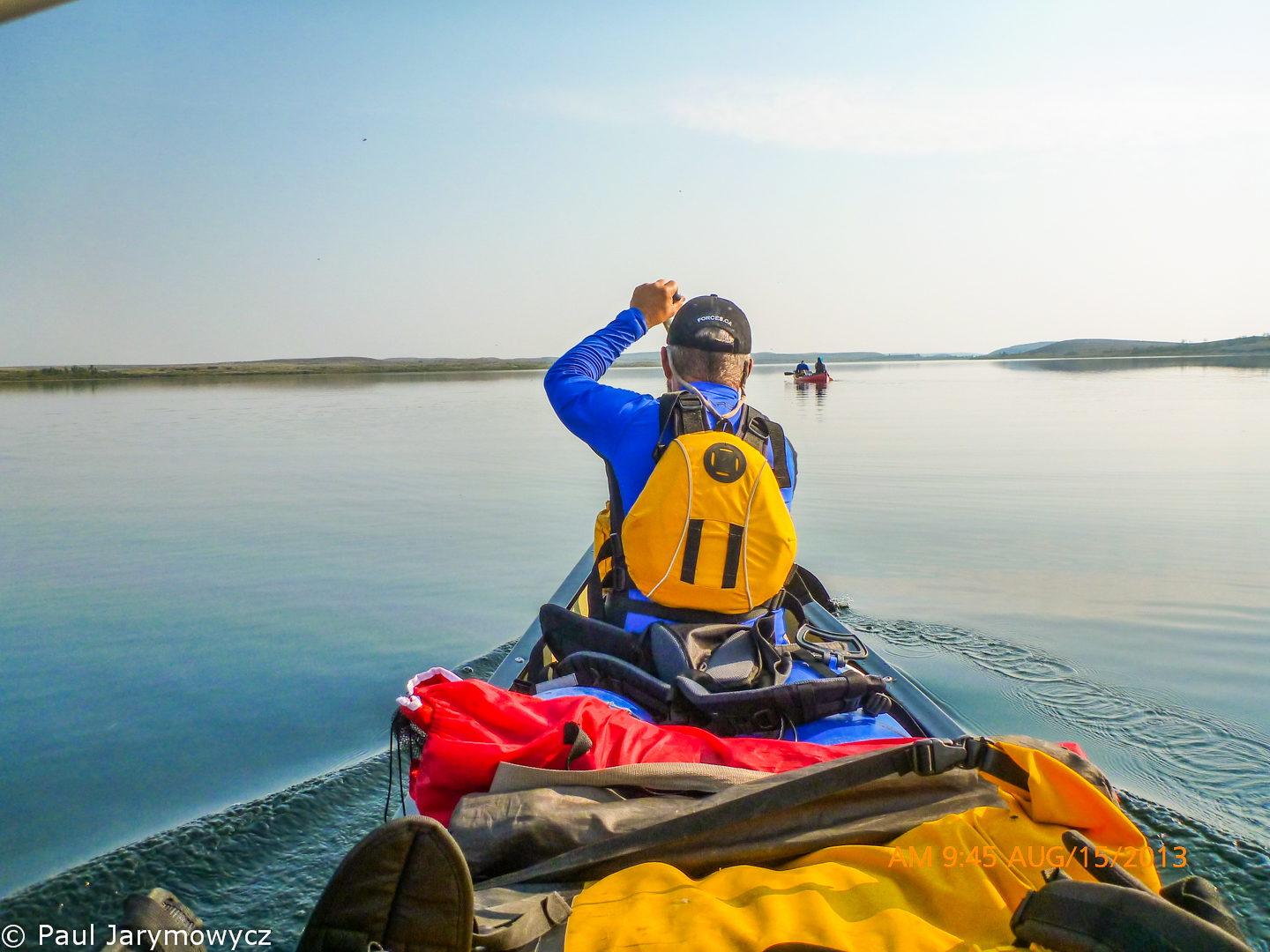 Even lower down on the Thelon we had amazing weather with very few bugs. It was wonderful paddling!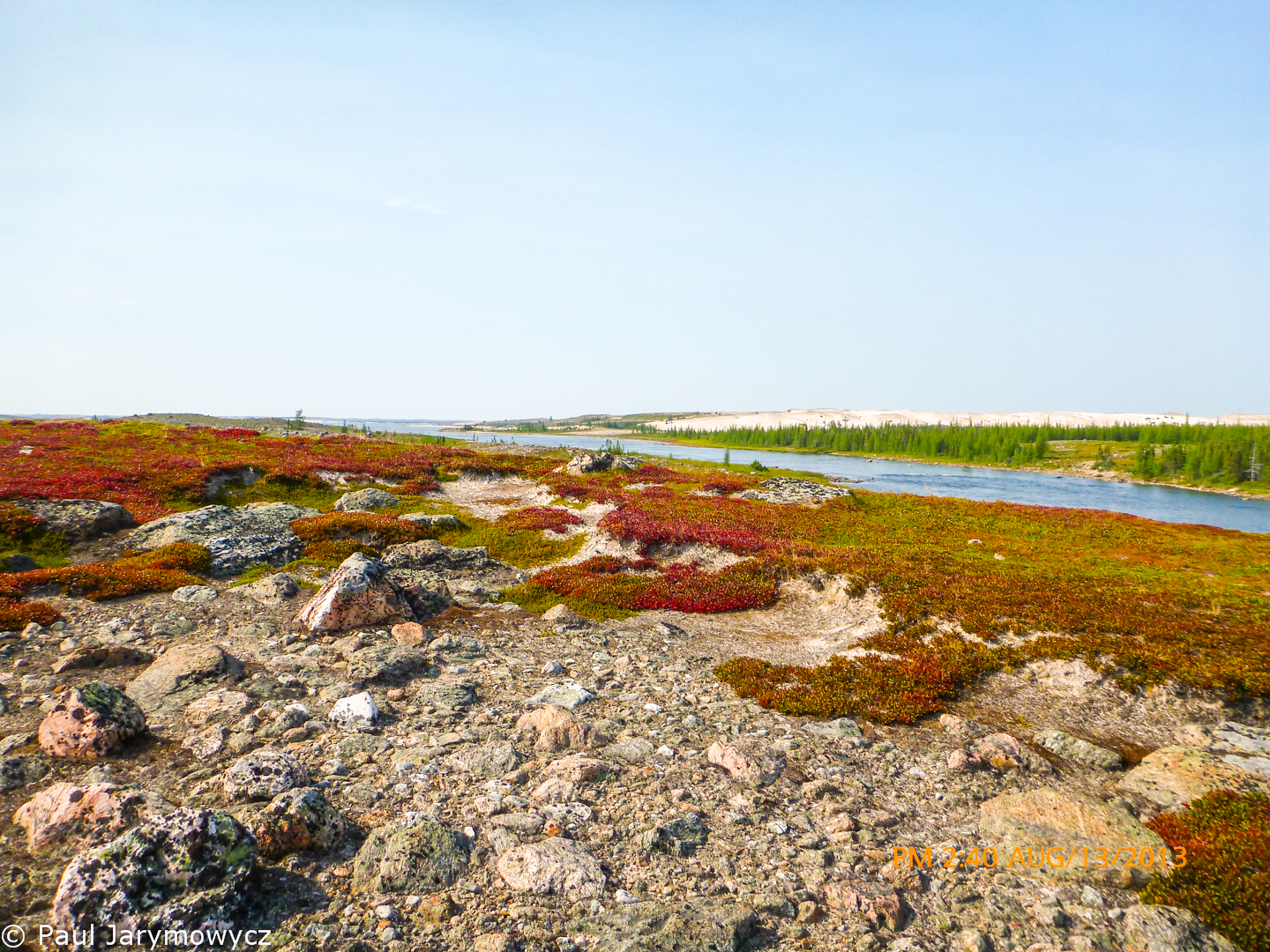 The tundra was starting to turn to its traditional fall colours. Summers are very short.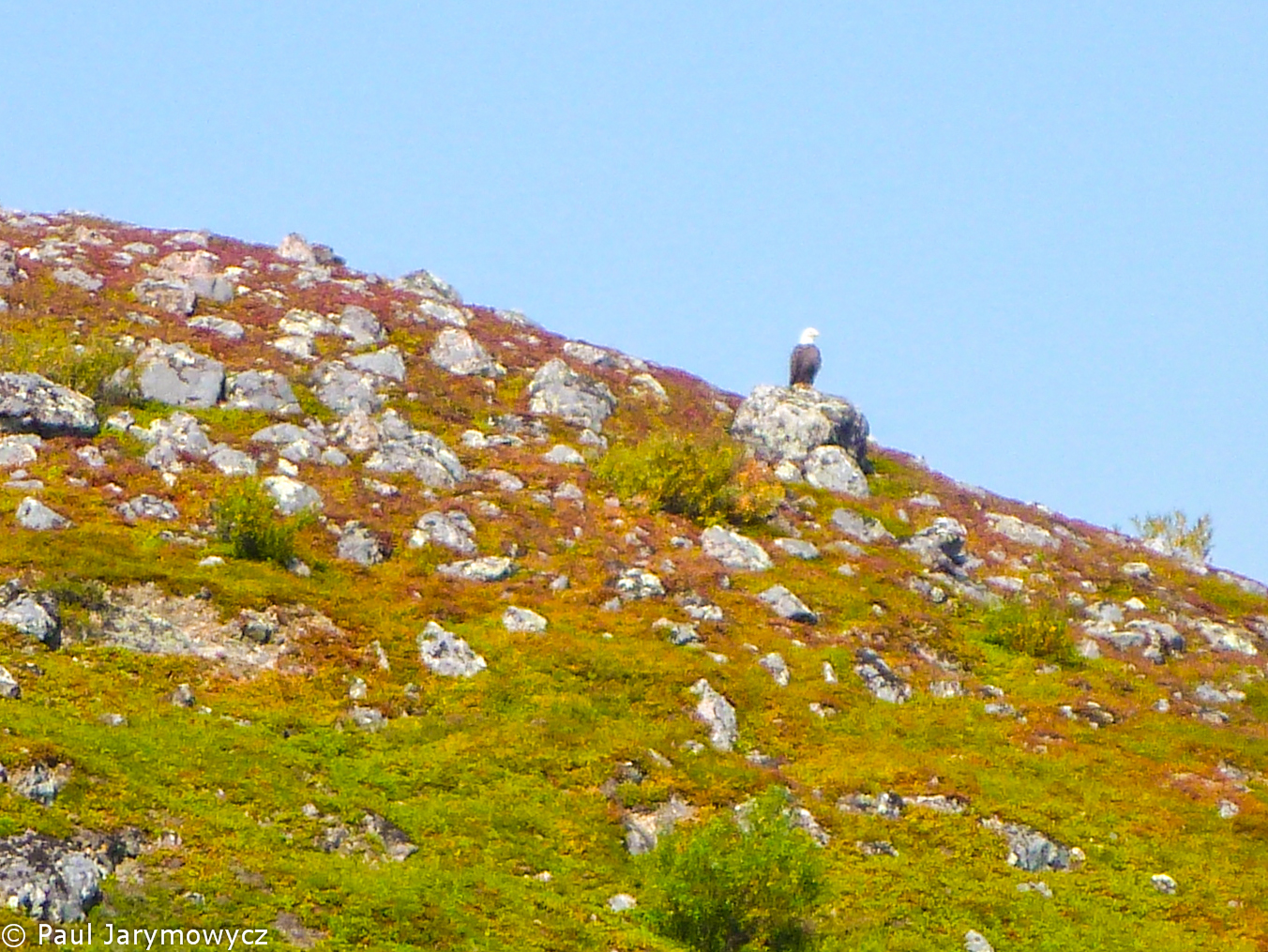 Bald eagle. We saw a few of them. They eat mainly fish but will pick at anything they find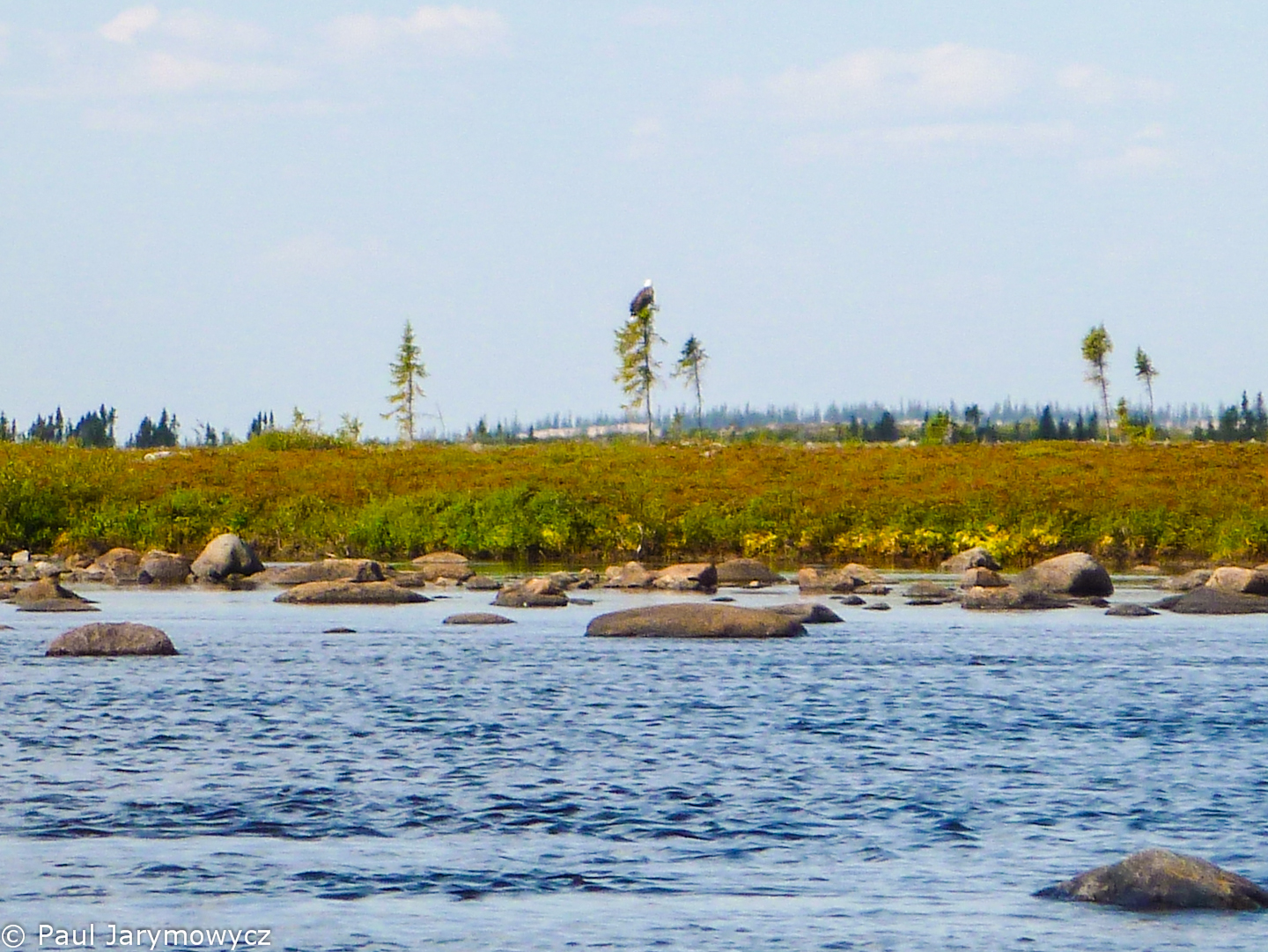 It's strange to see such a big, impressive bird sitting in such a scrawny tree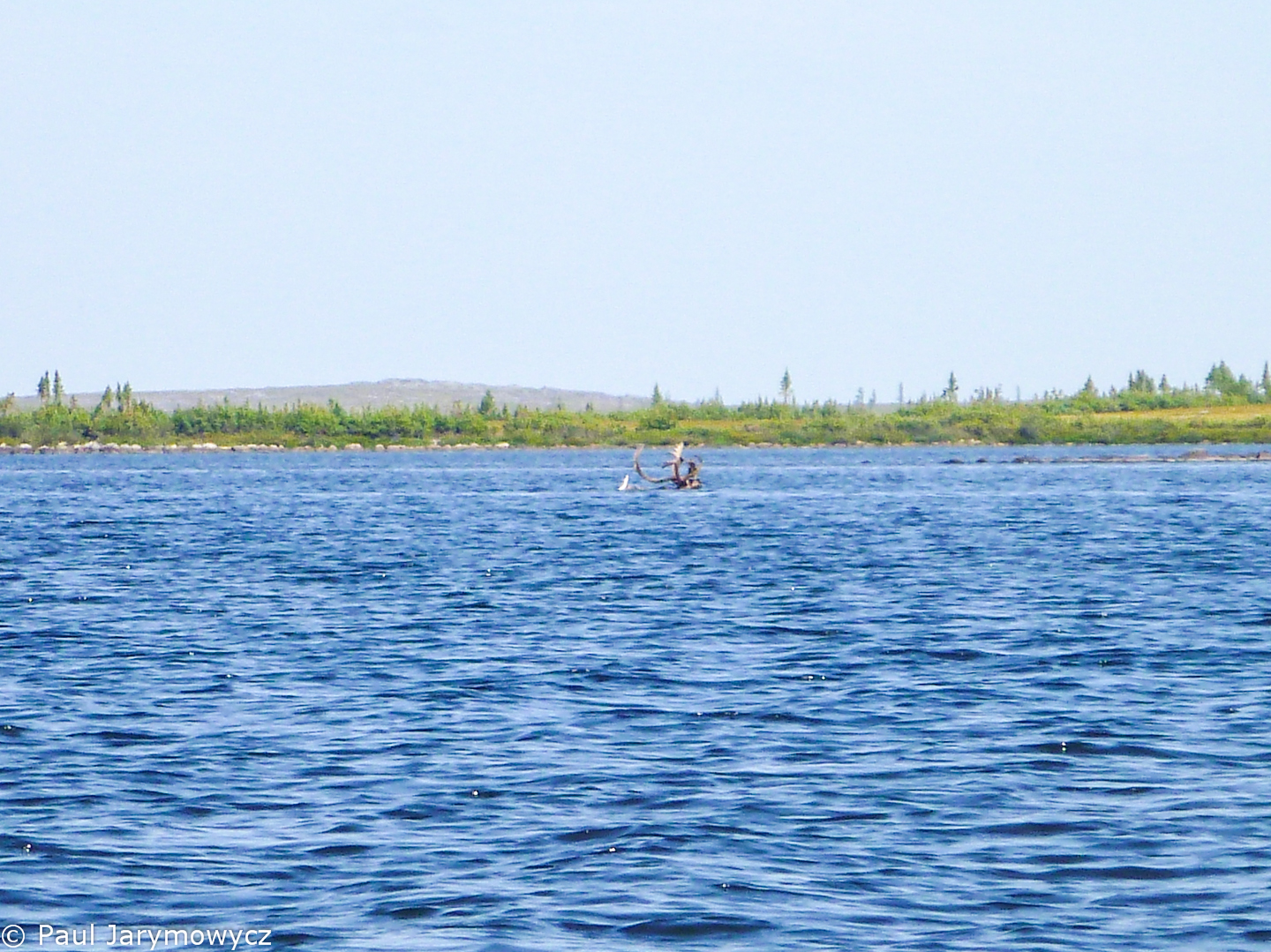 A caribou swimming across the Thelon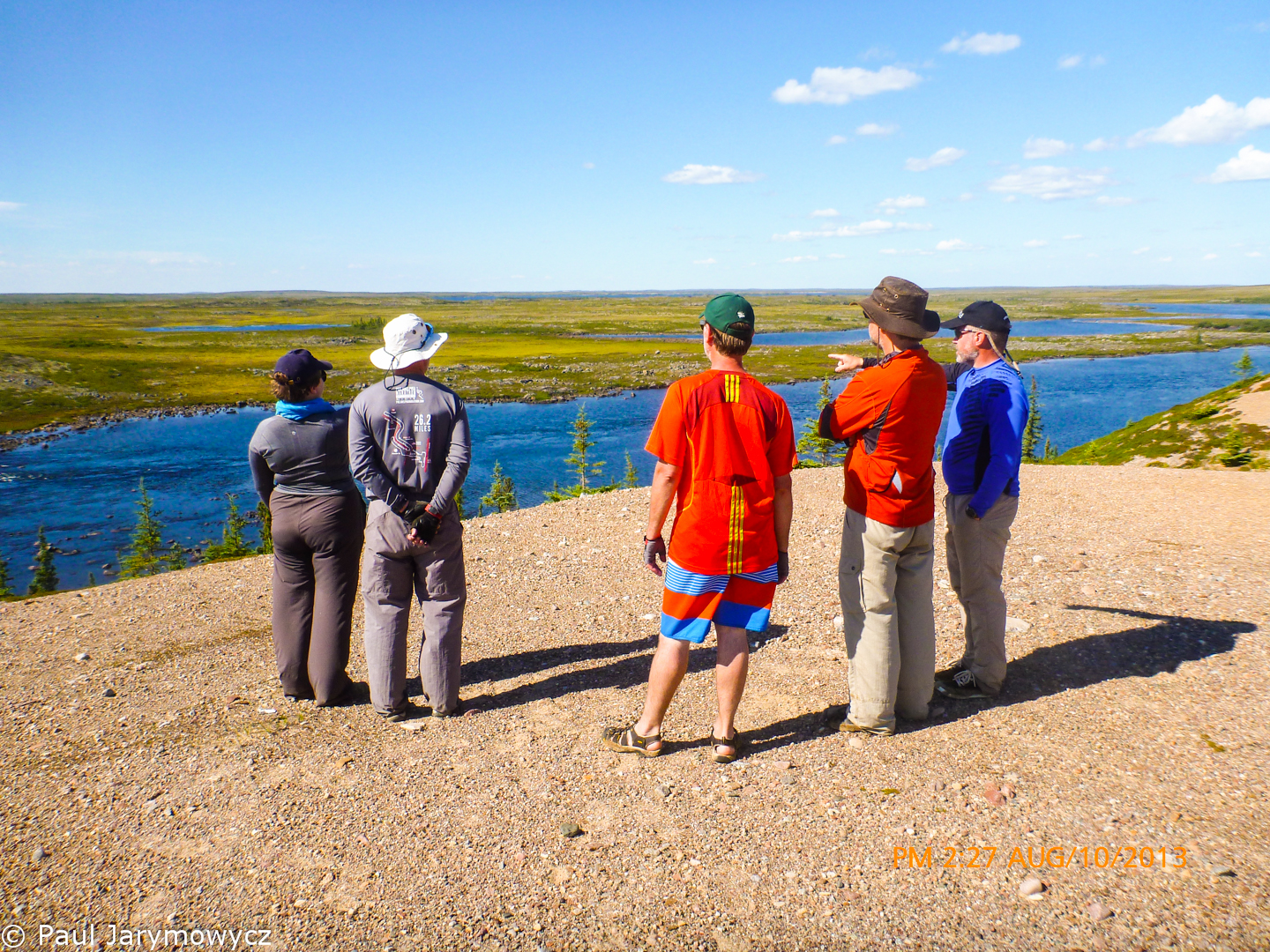 We scramble up one of the large eskers on the south side of the Thelon for some very nice views.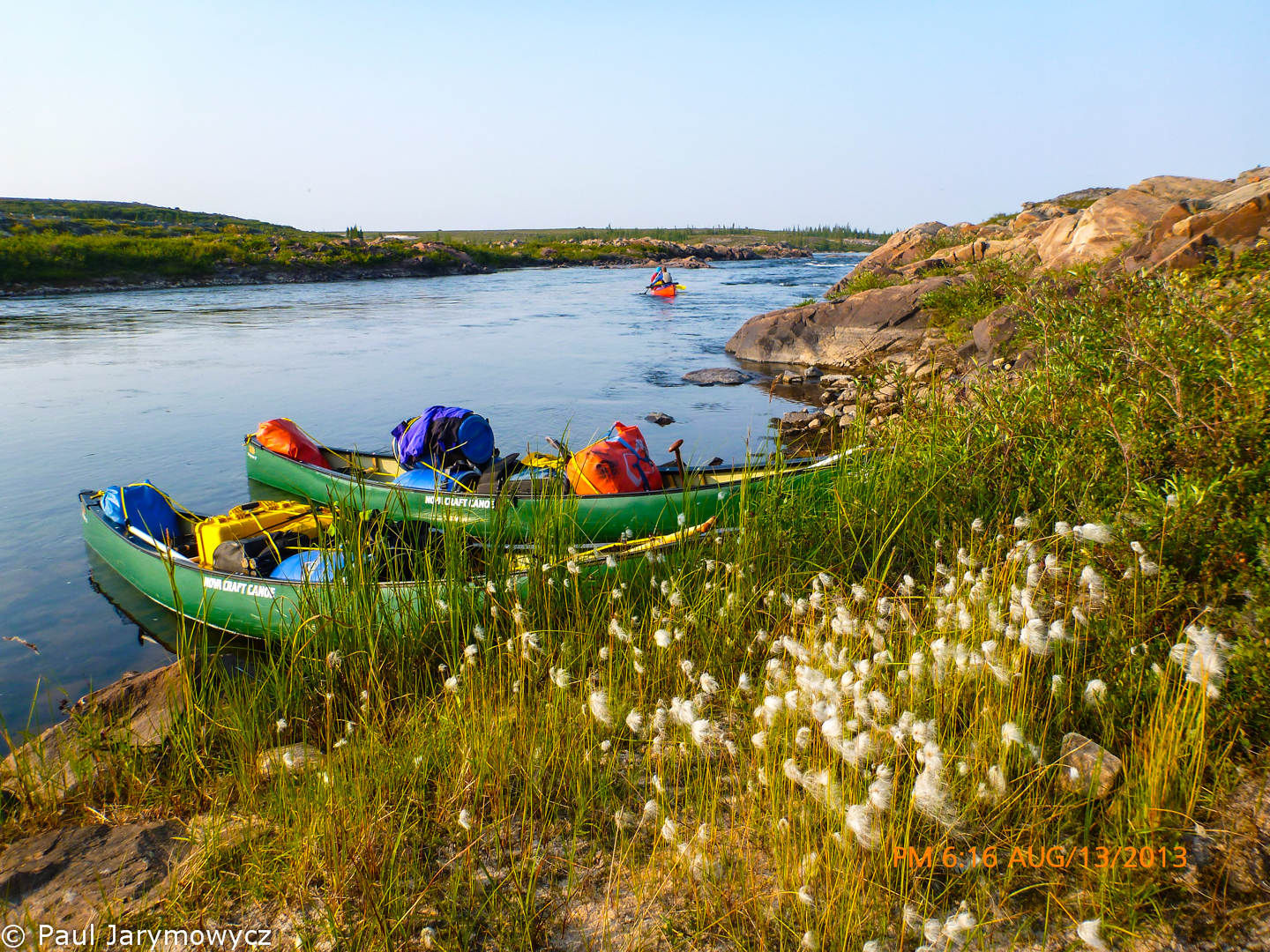 Olesia and I leaving after one of our portages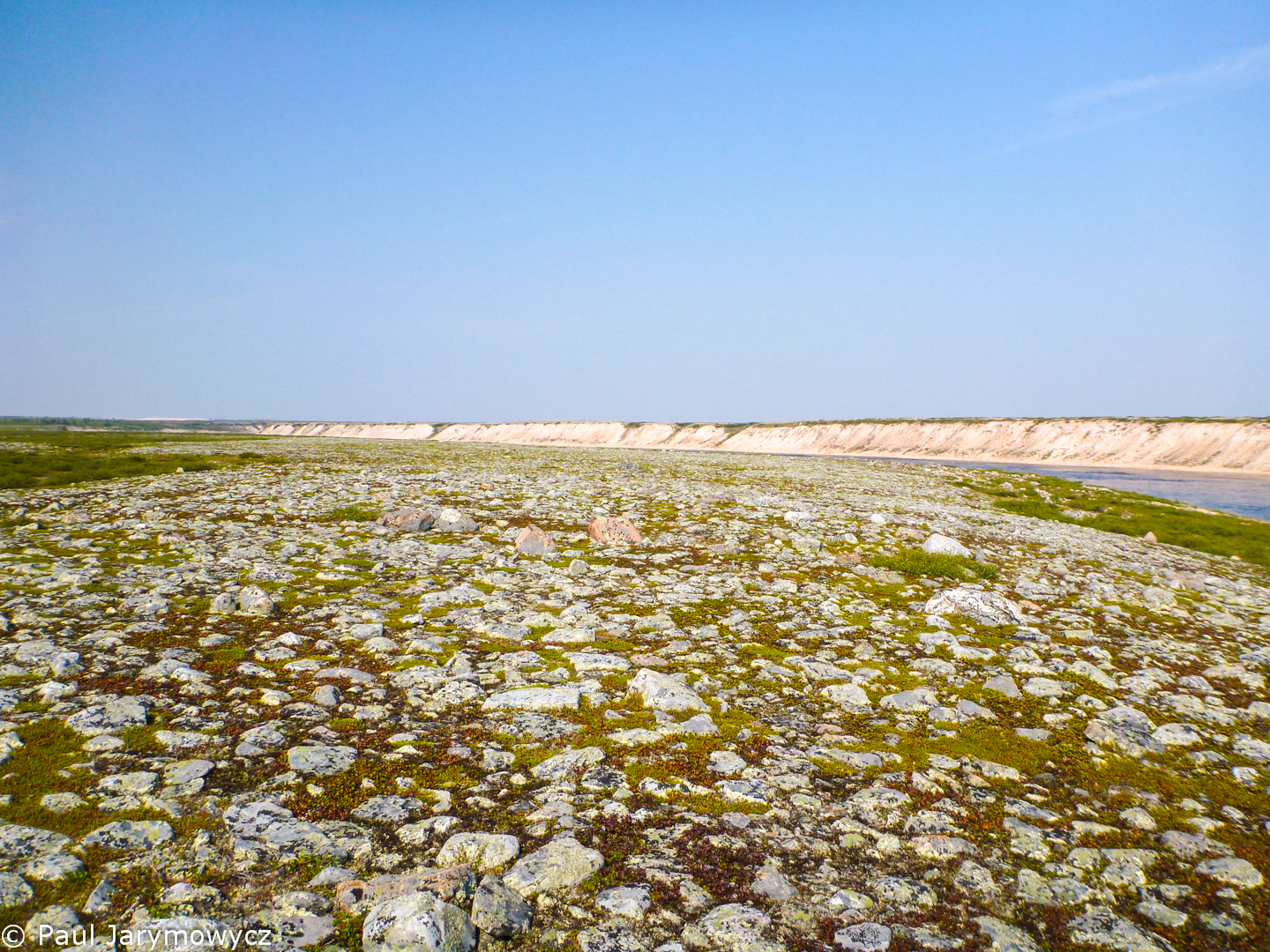 There are spots where the banks of the Thelon rise up very high, on the outside of large curved in the river. We assume that the spring ice must push and build these shores up over the centuries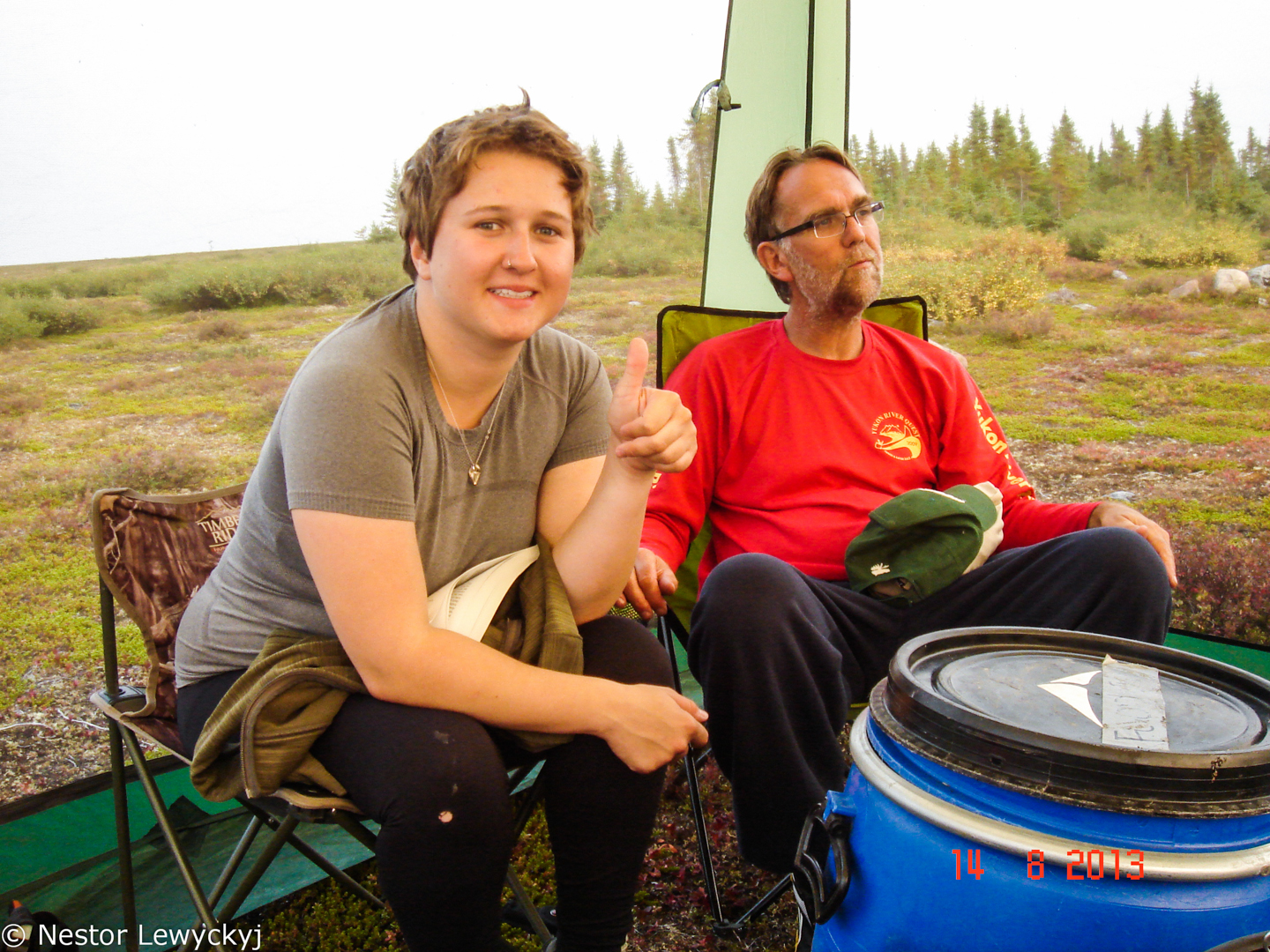 Olesia feeling good in the bug tent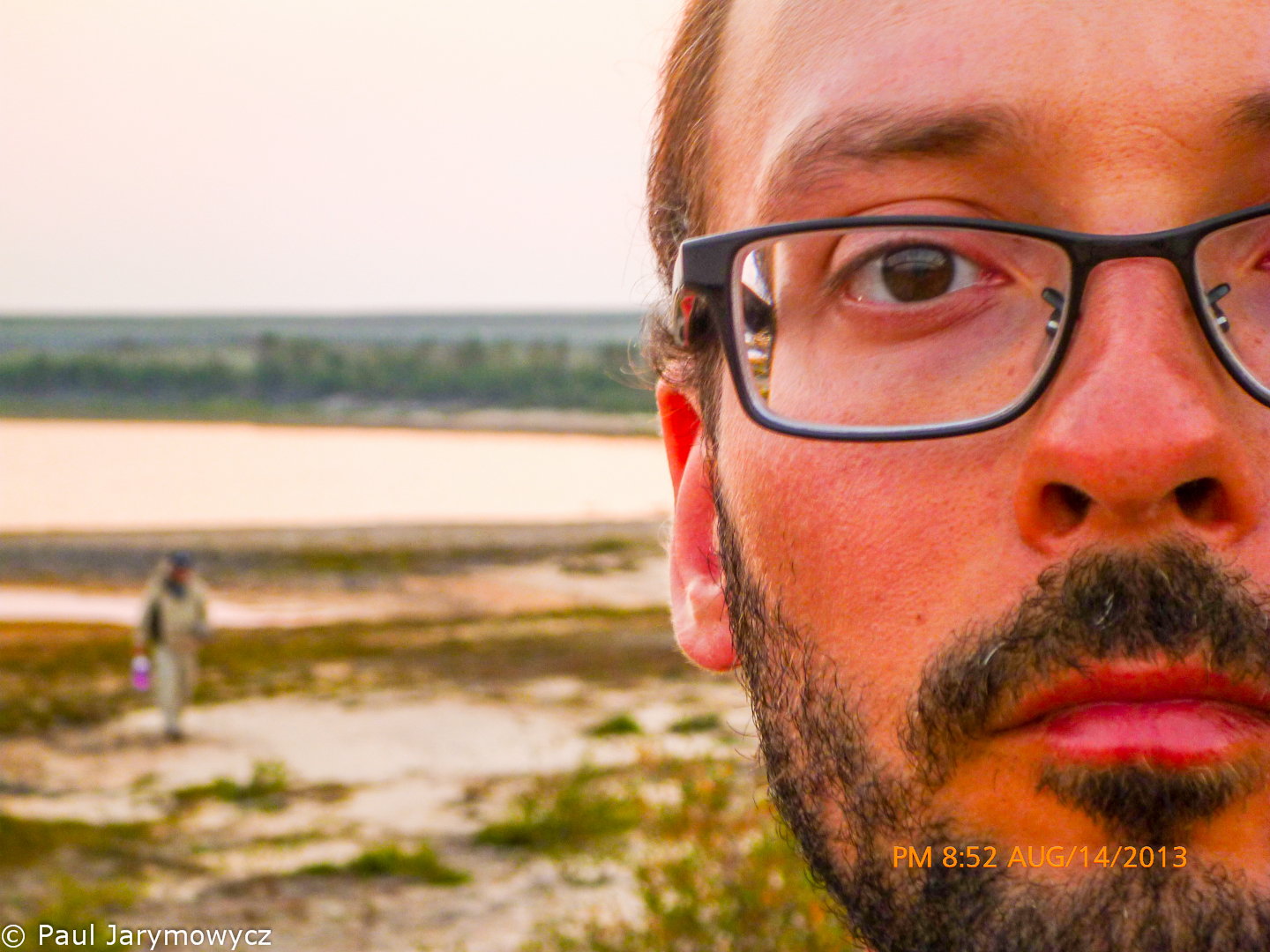 Paul's selfie in the setting sun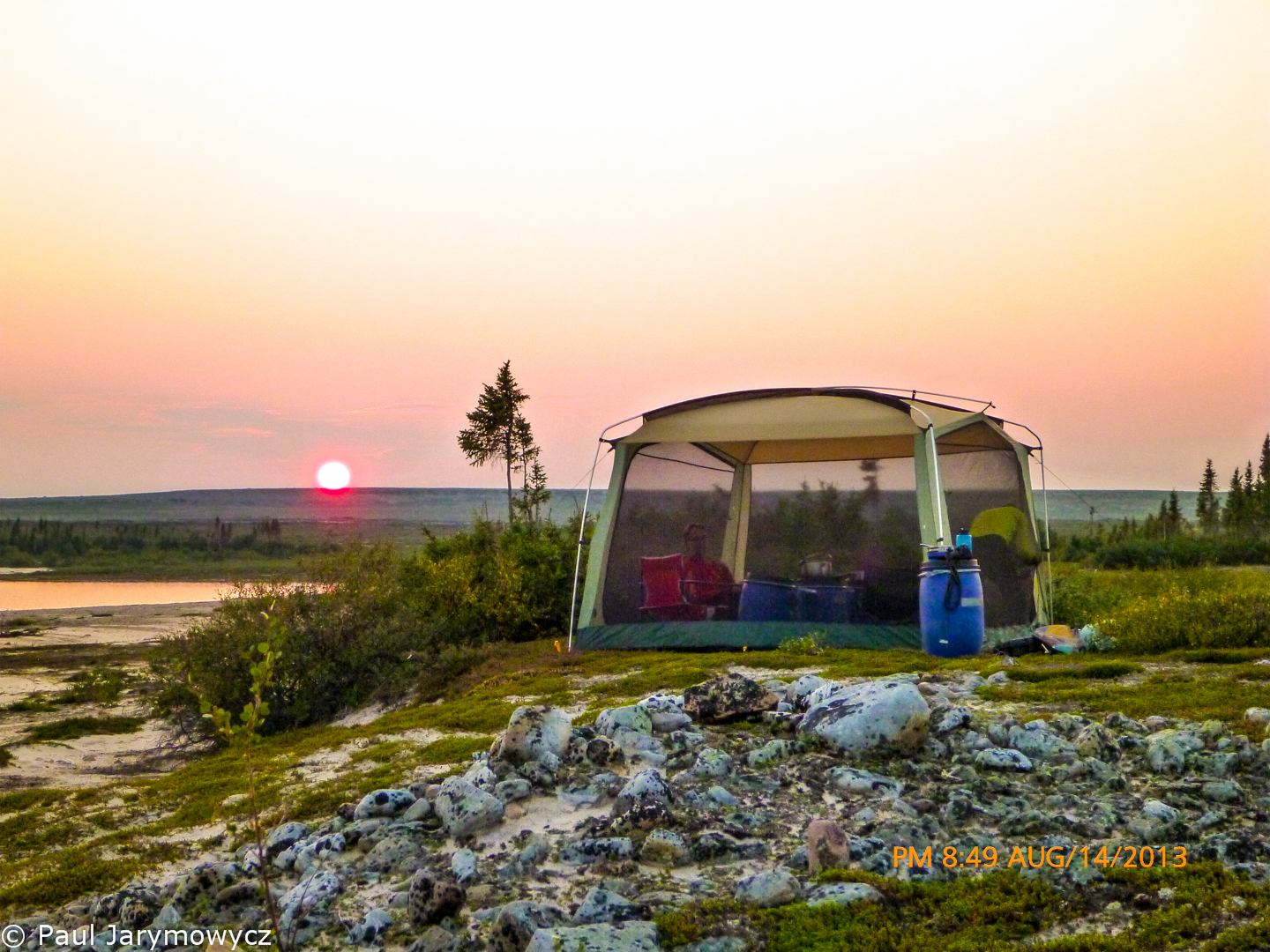 Relaxing in the bug tent and our spirits were high!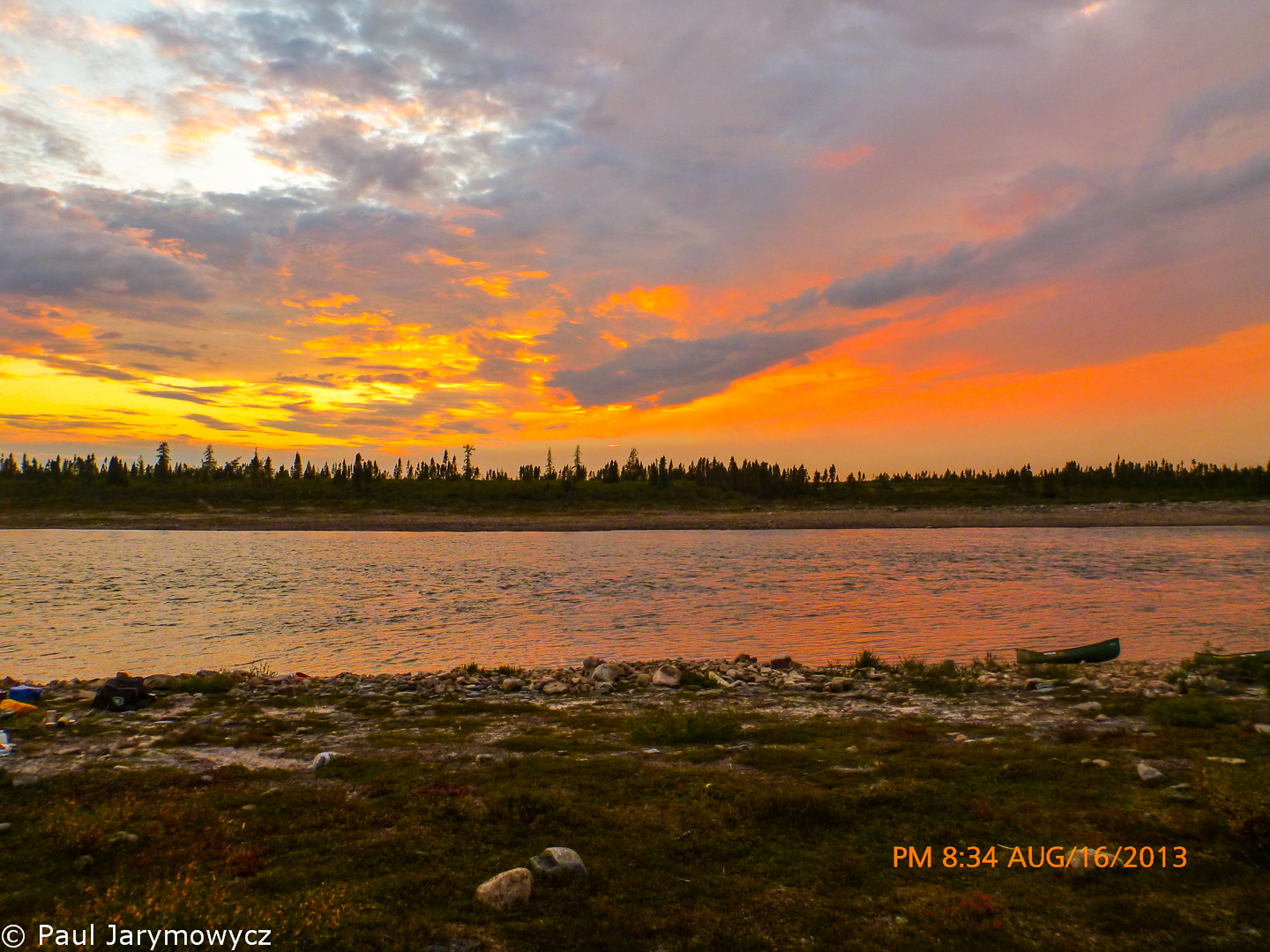 We had many amazing sunsets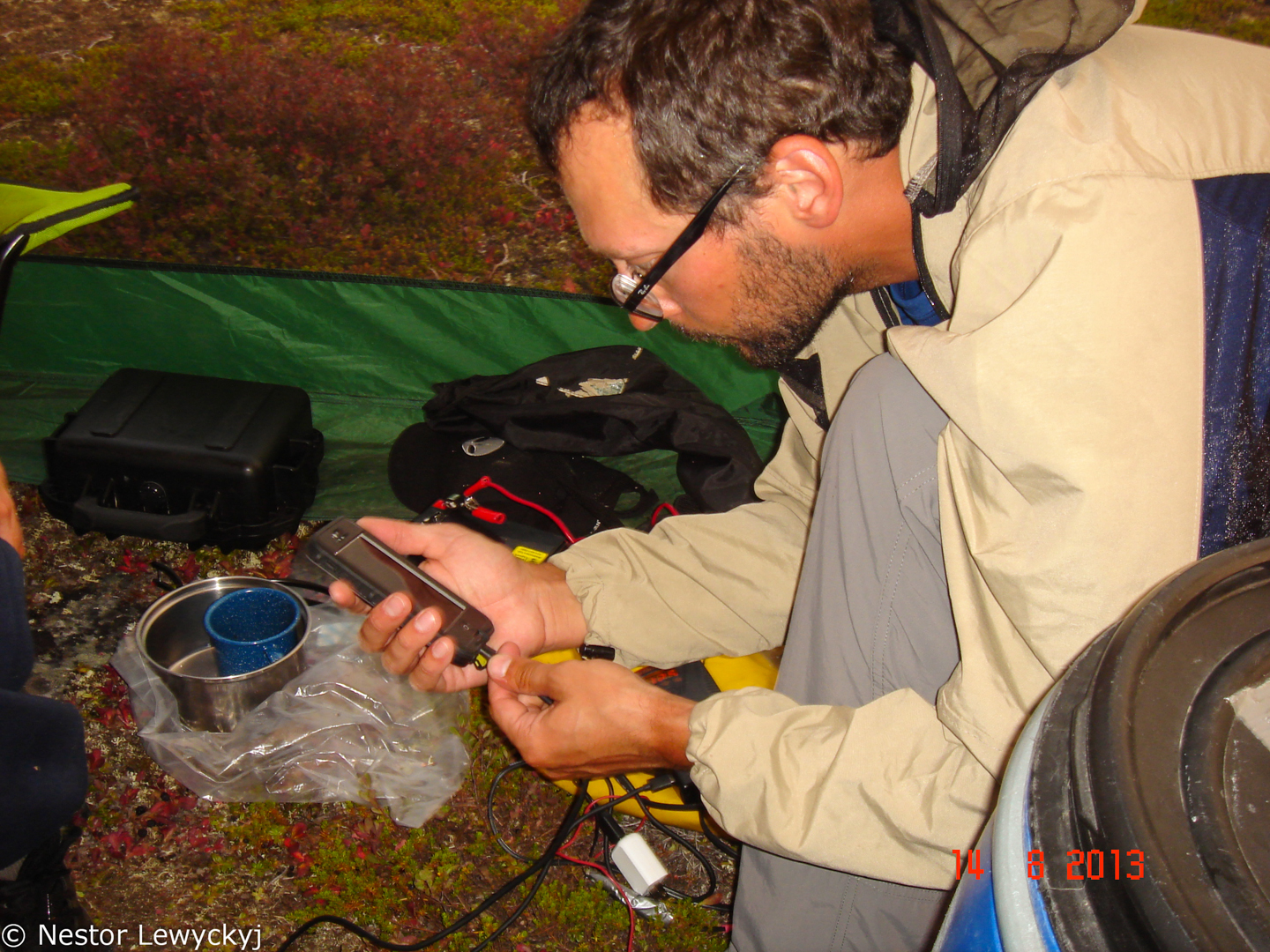 Paul charging up his phone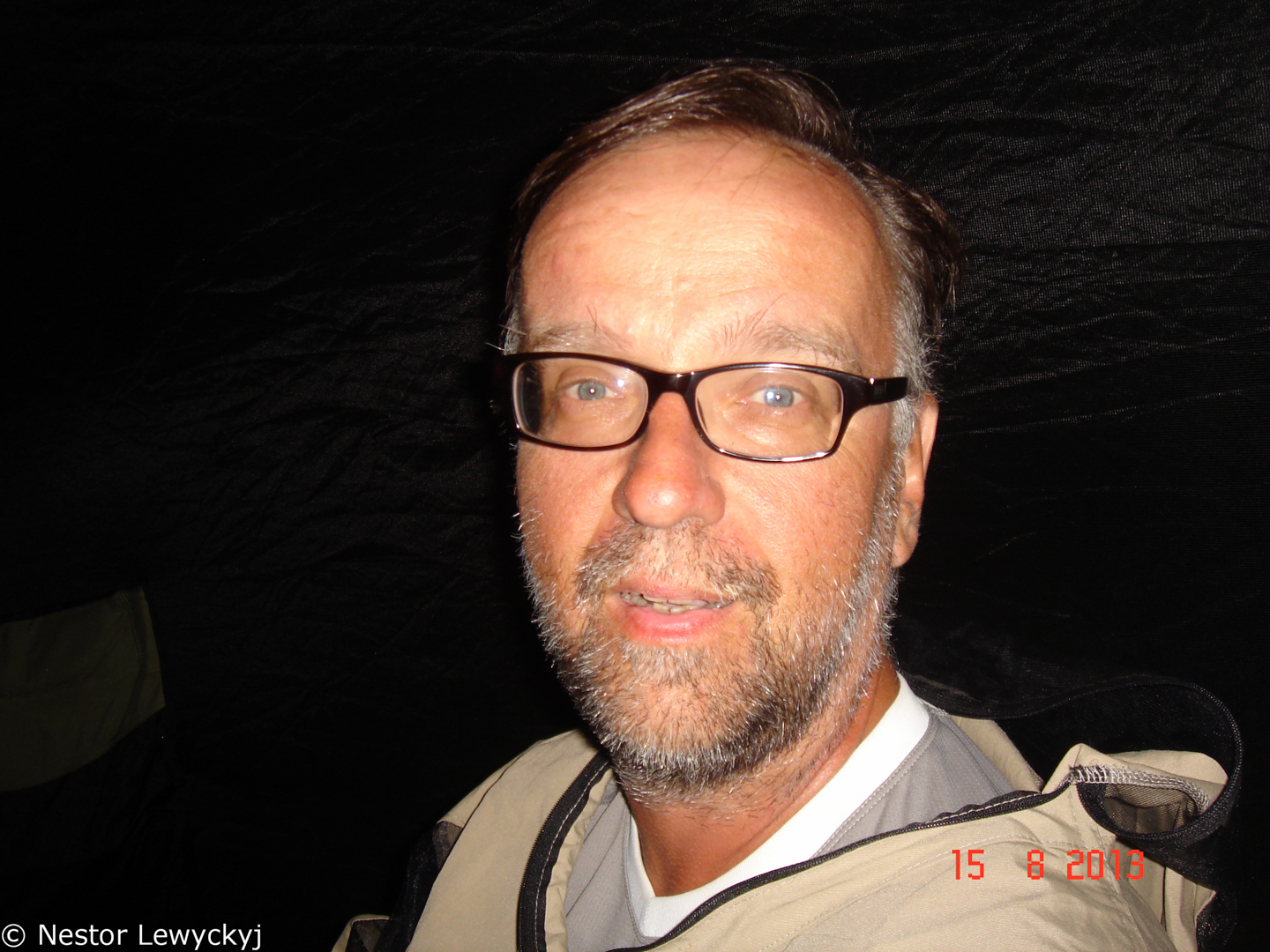 Some shots with a flash in the bug tent.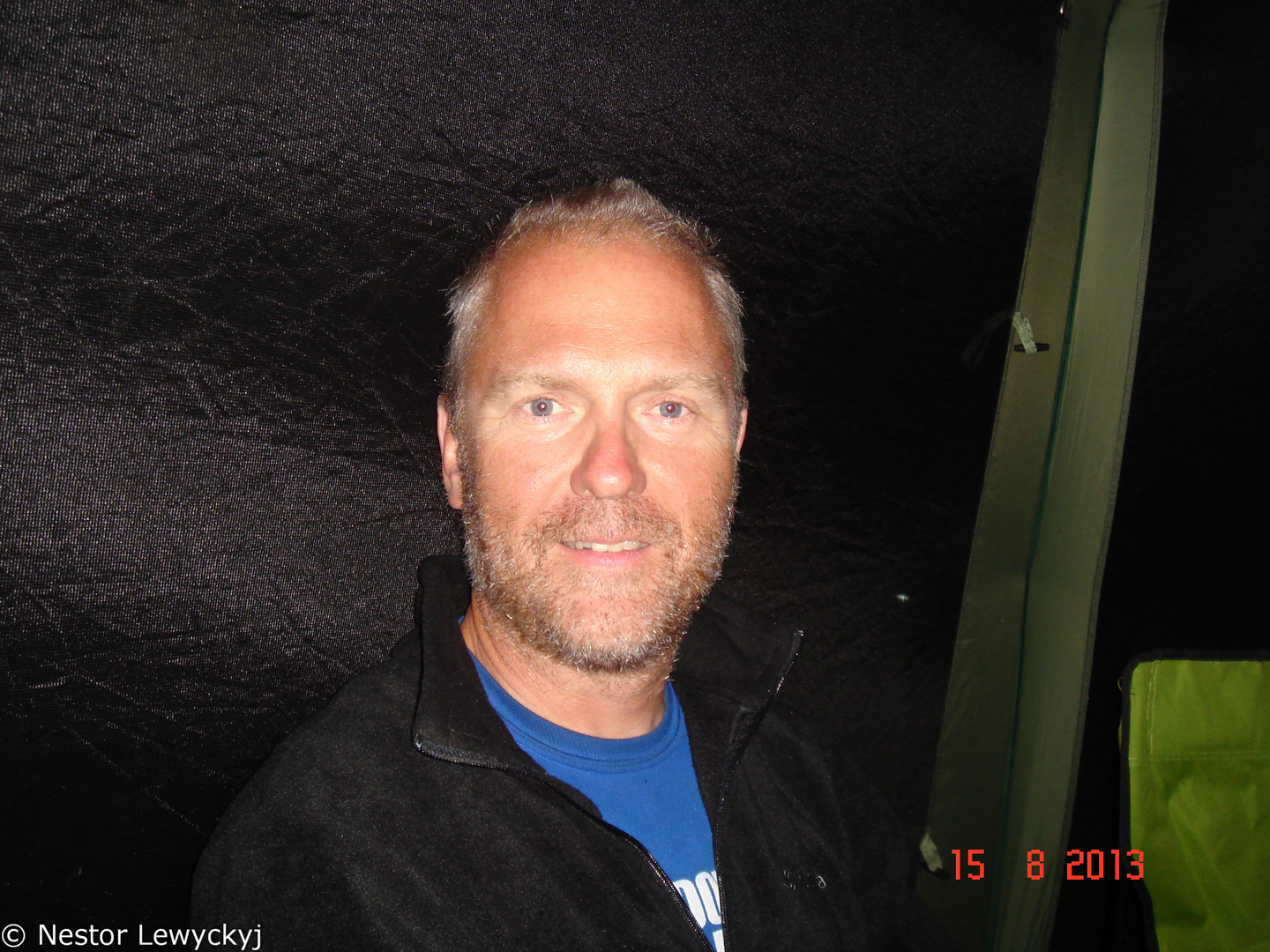 The beard was coming along on me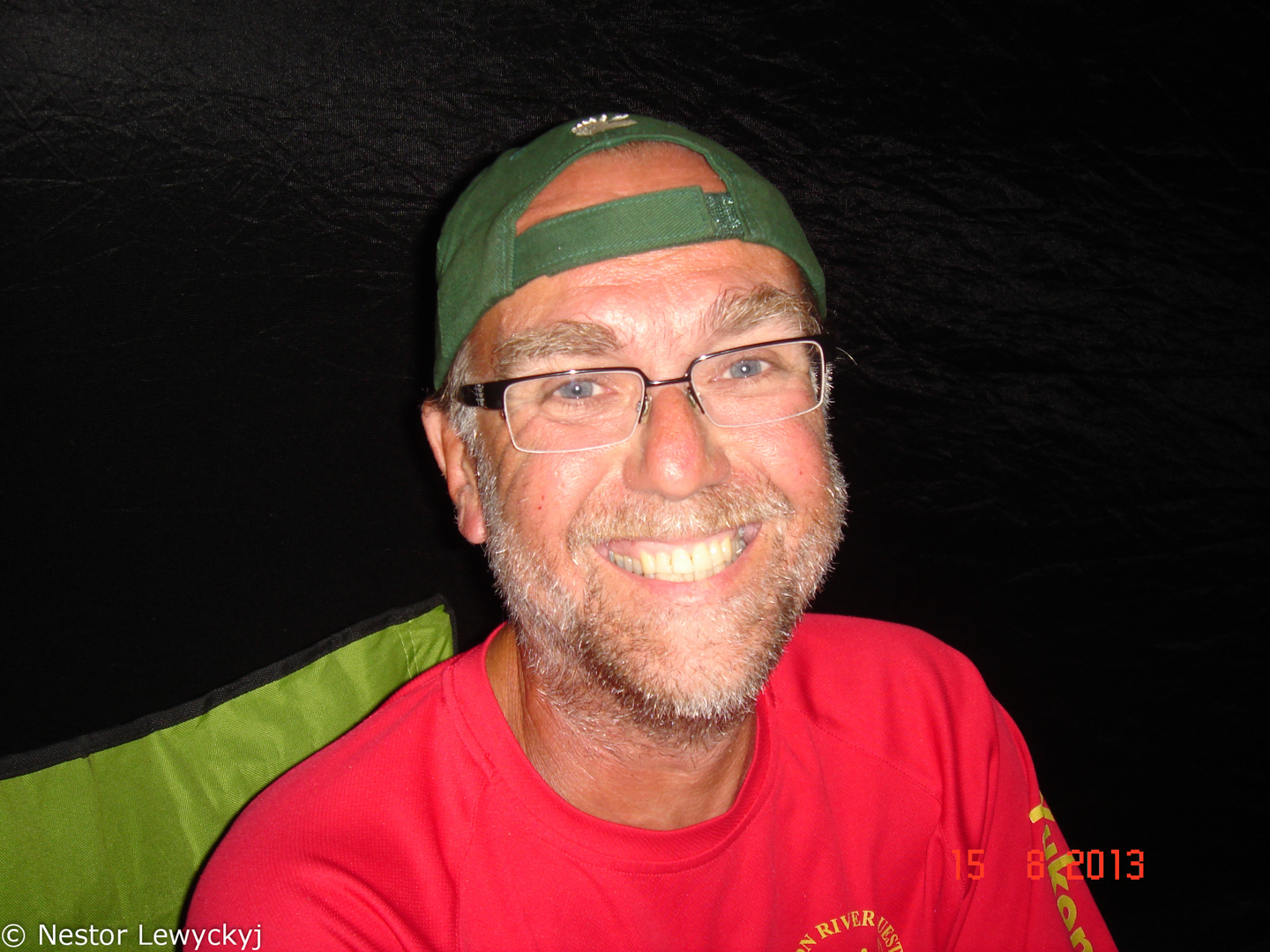 Peter never seemed to have a problem smiling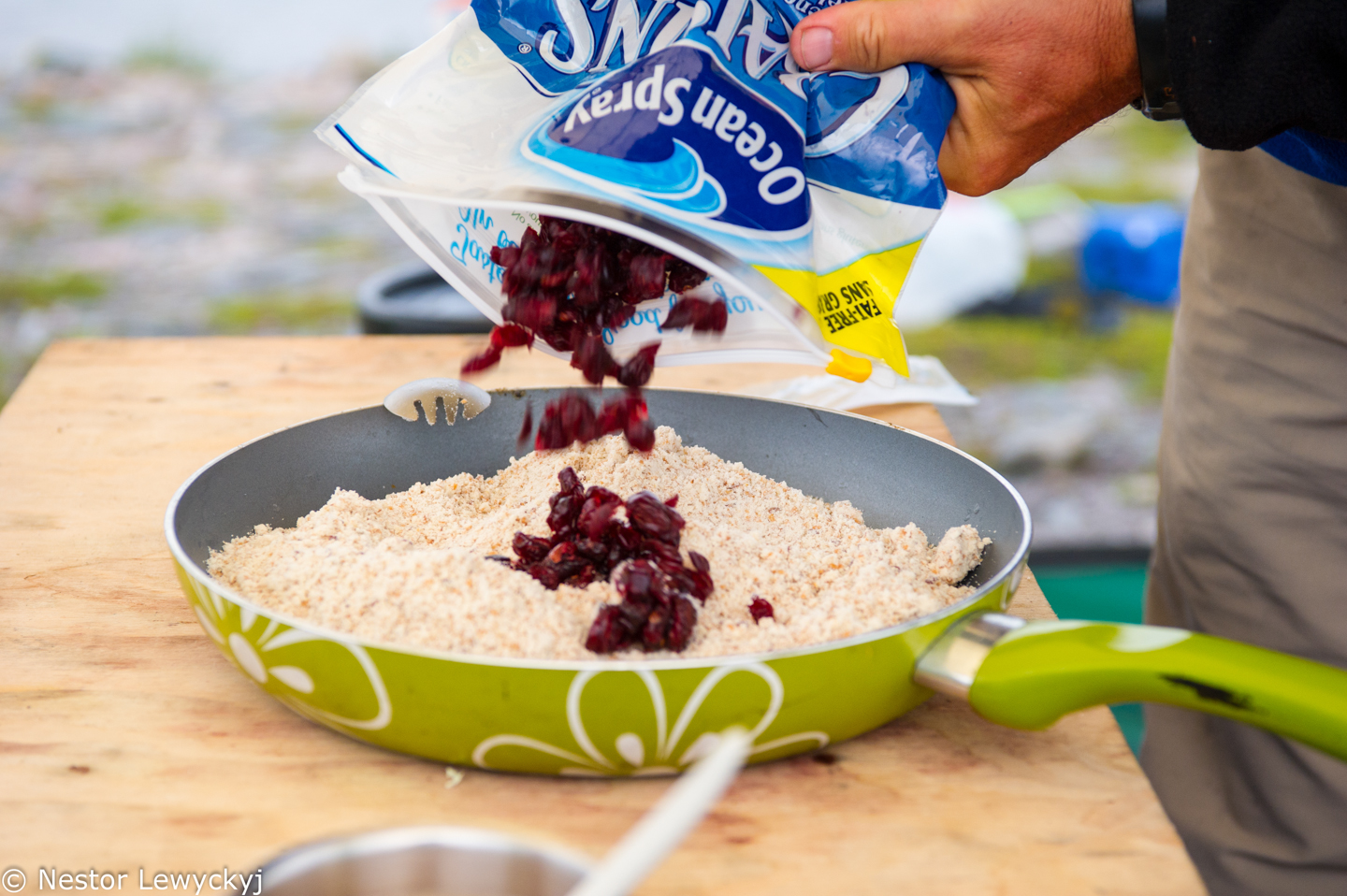 Craisins for the morning bannock!!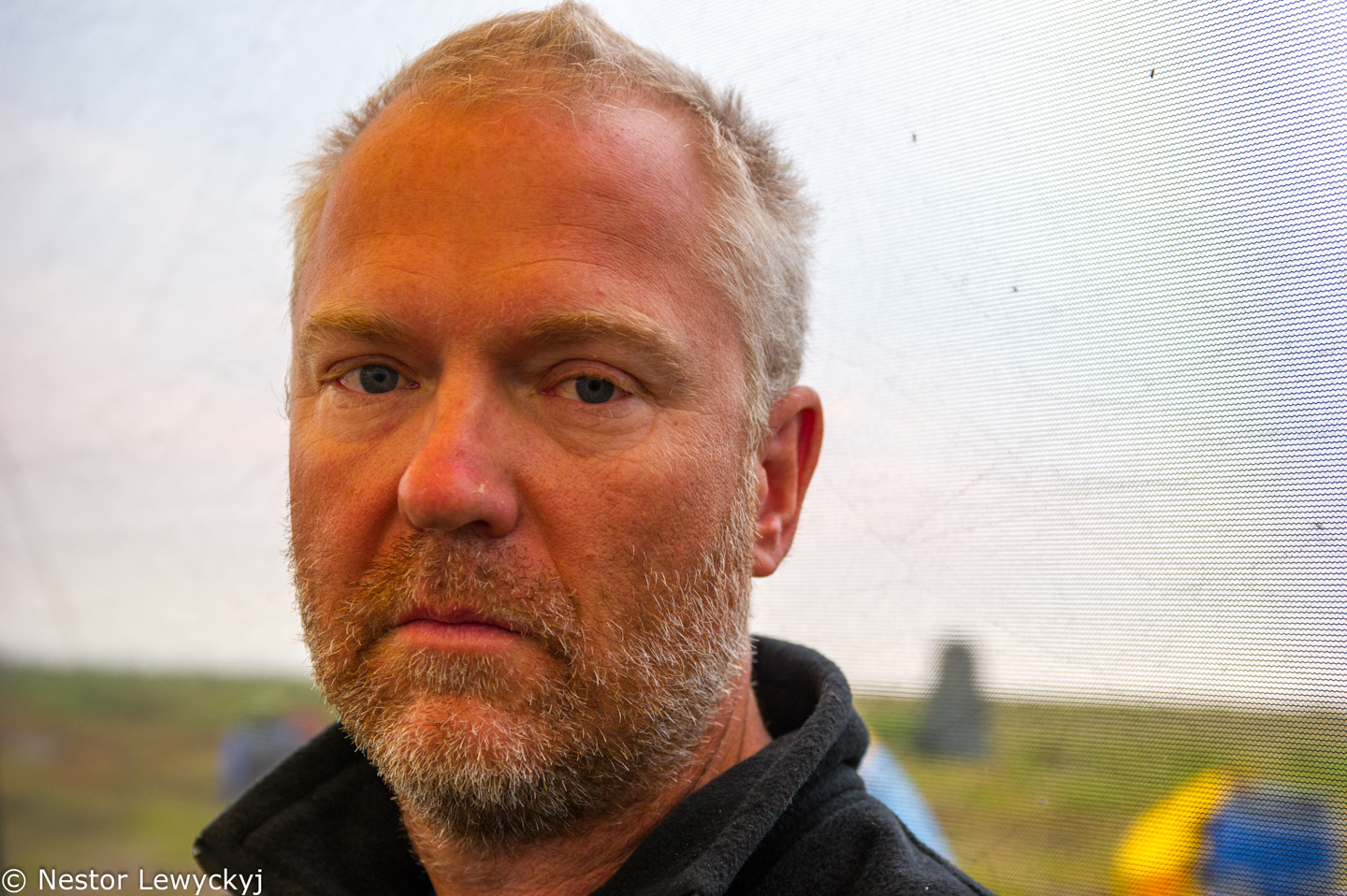 But sometimes the strain of the trip would show. Not that it was a bad thing. It`s just that we did not always look our city-best! Plus my beard was getting really grey! When did THAT happen?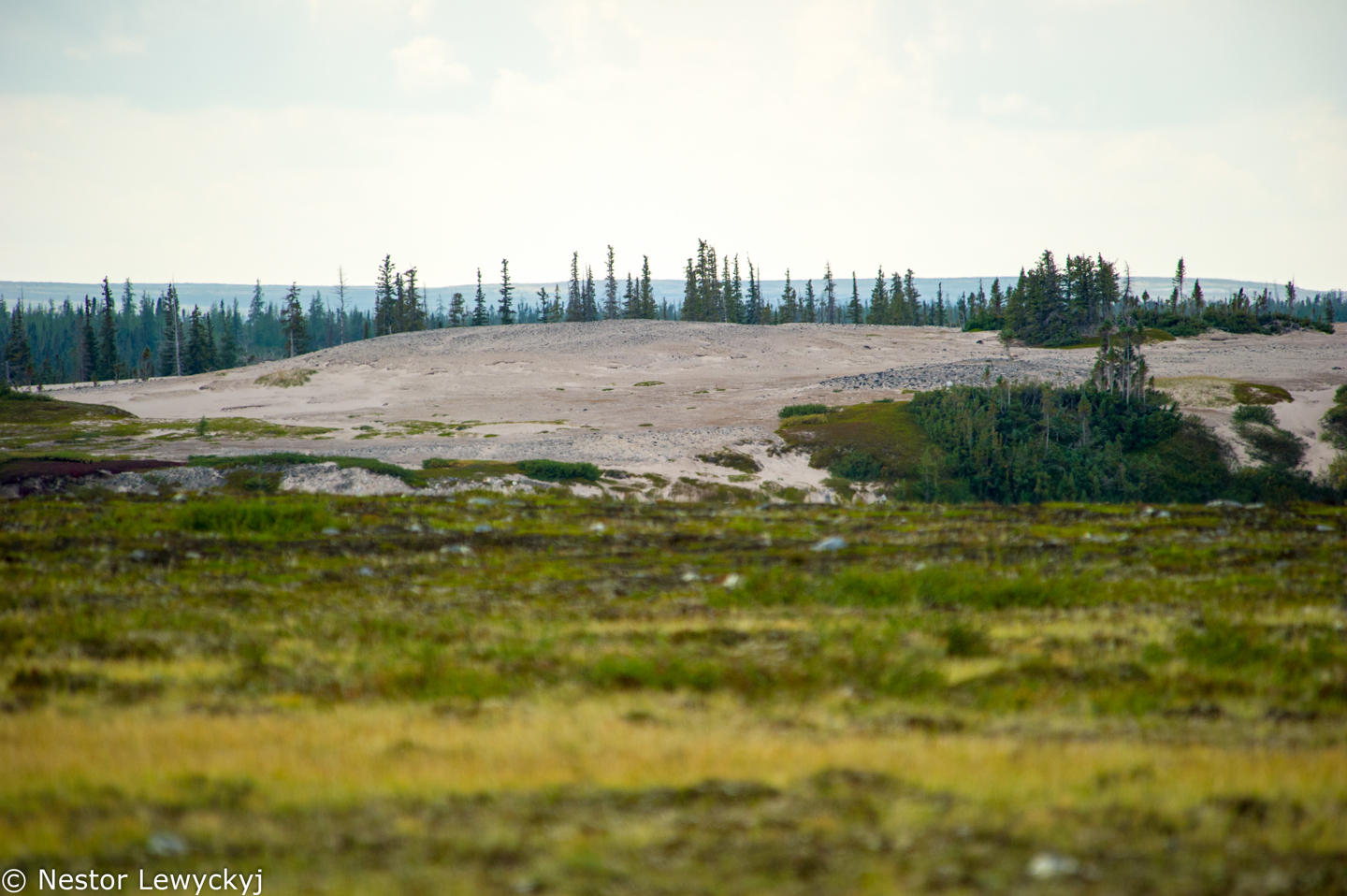 There are a lot of eskers on the Elk and Thelon Rivers. If you have time, explore as many as you can. There is often wildlife in the area.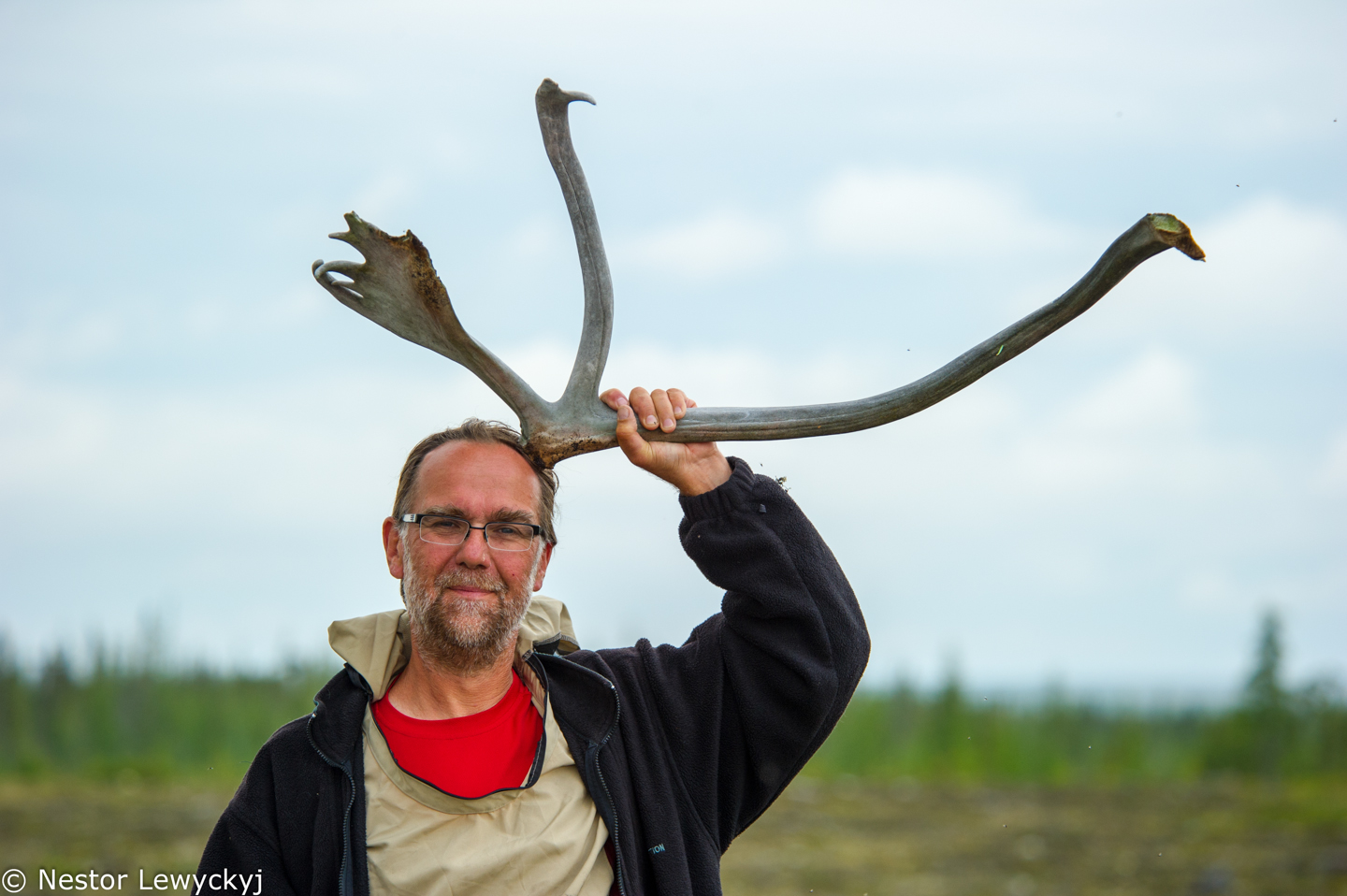 Like the ever-elusive and dangerous one-antlered Peter!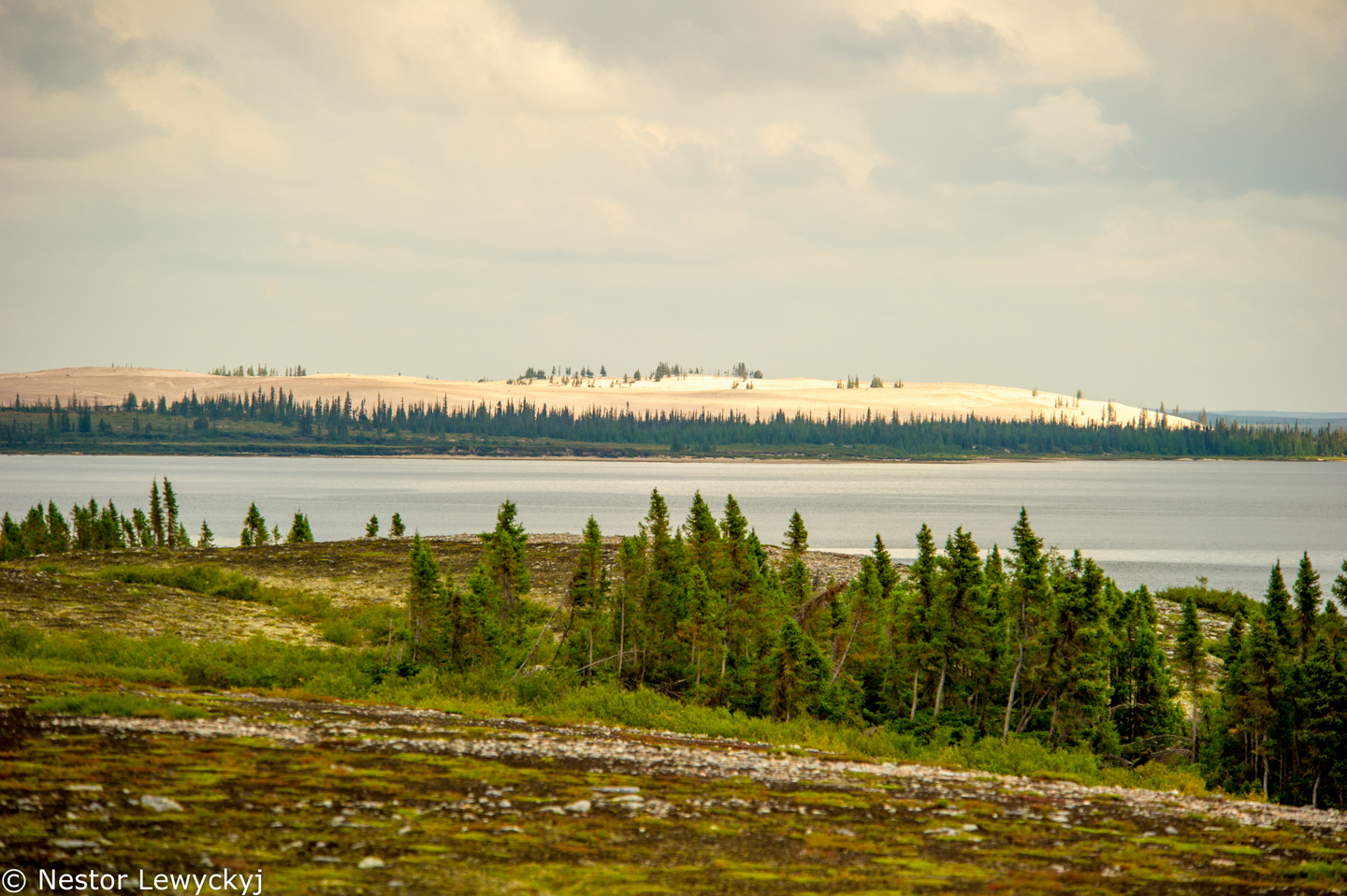 Eskers, eskers, and more eskers. Some of them are very long and have very deep, white sand, so very little can grow on them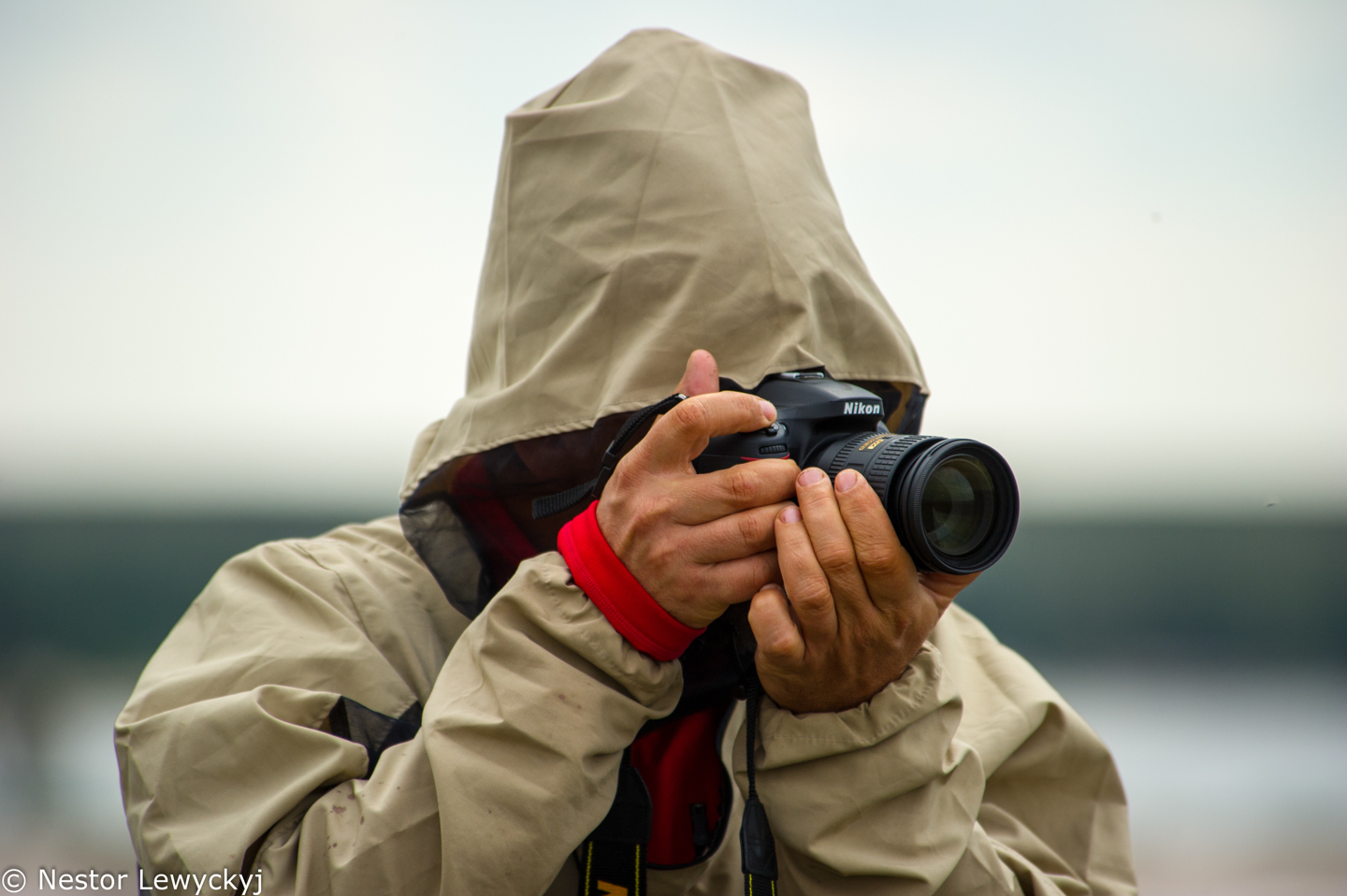 The bugs were worse lower down on the Thelon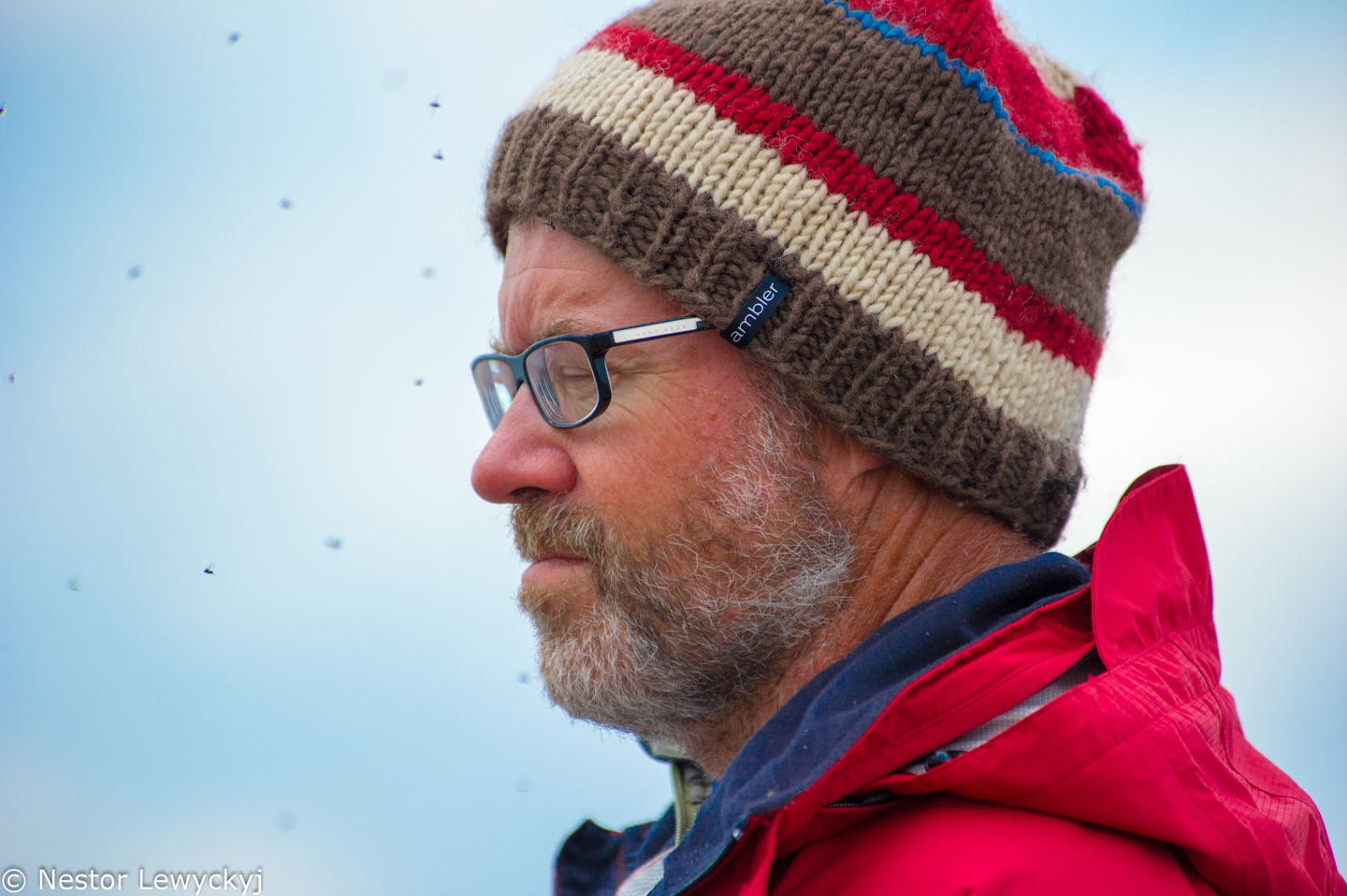 Roman was trying to ignore them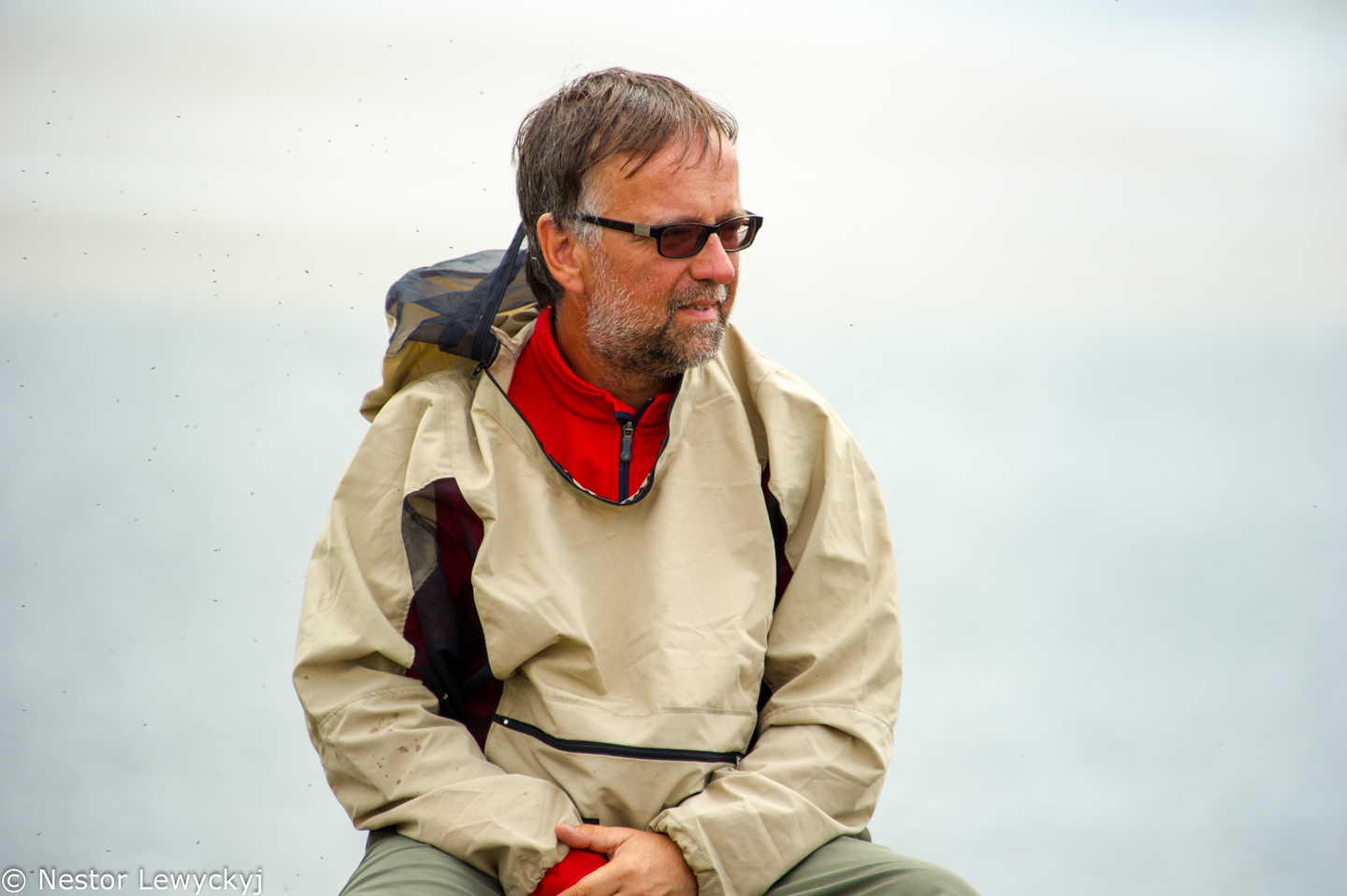 With even a small breeze, they disappear because black flies fly poorly in the wind. But when the wind dies down, or you start walking with the wind, watch out! Bug shirts, like the one worn by Bohdan above, are essential for your trip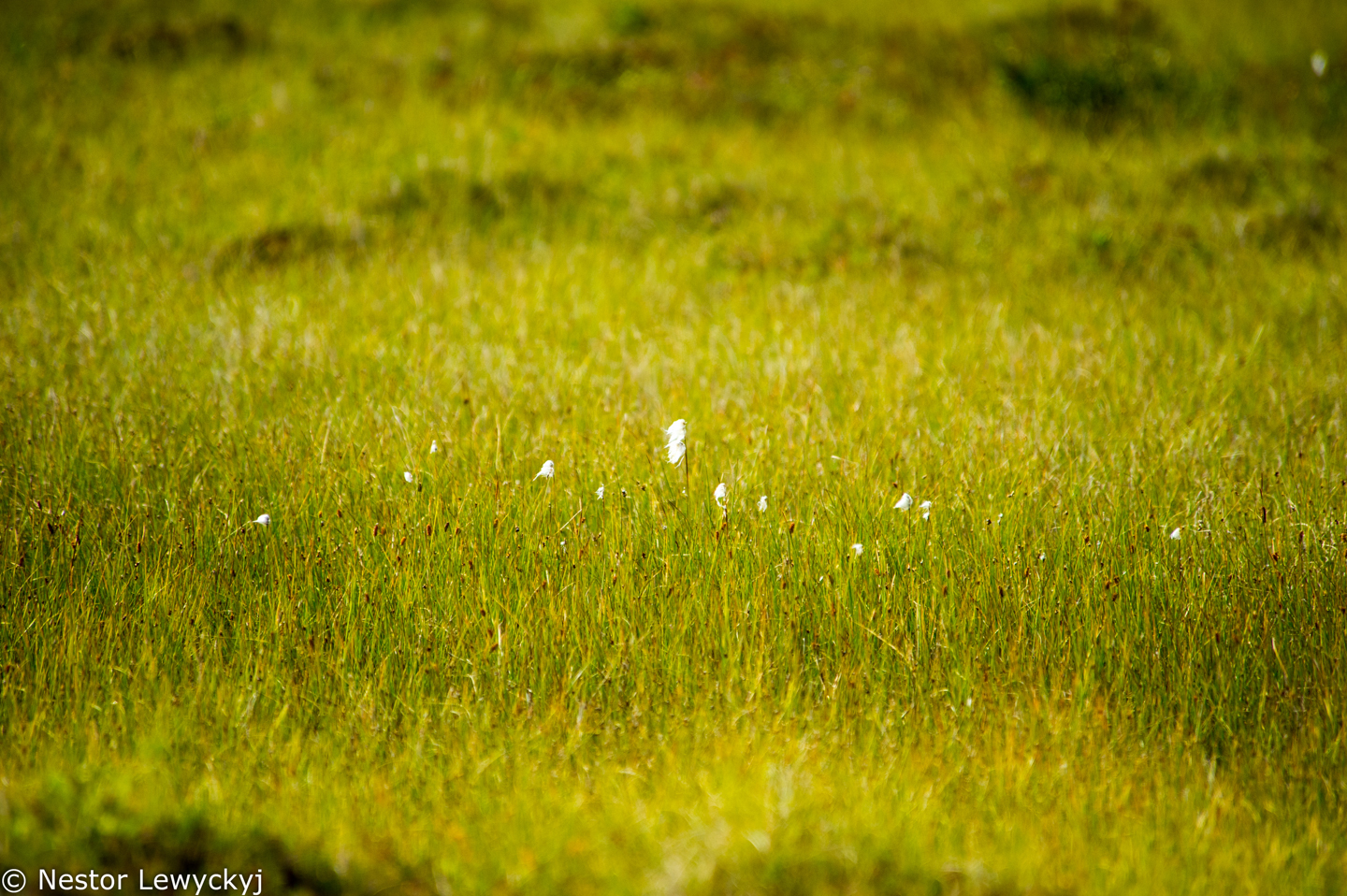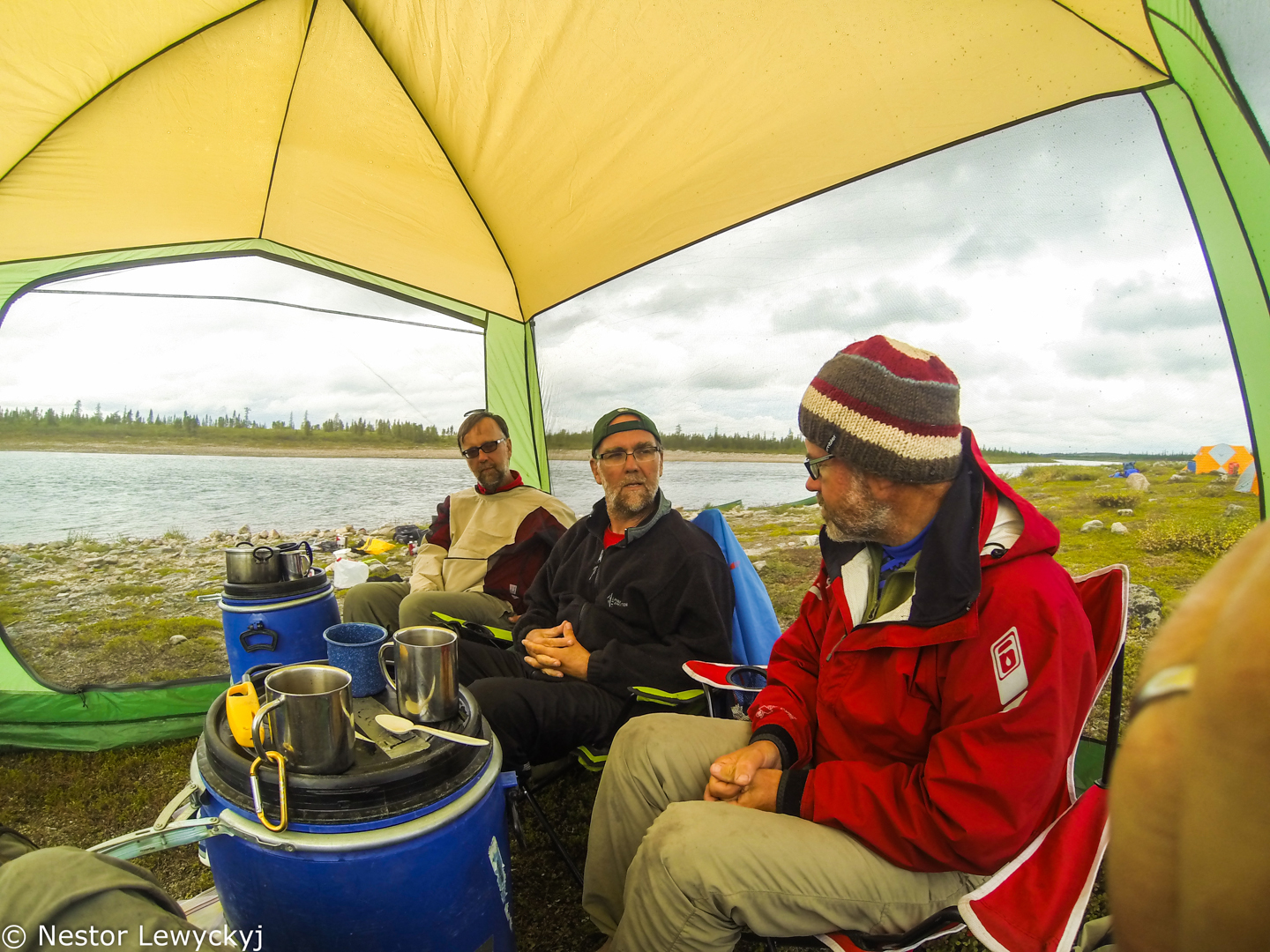 Even though the weather had cooled off some, we decided to spend 2 days at this bend in the Thelon River.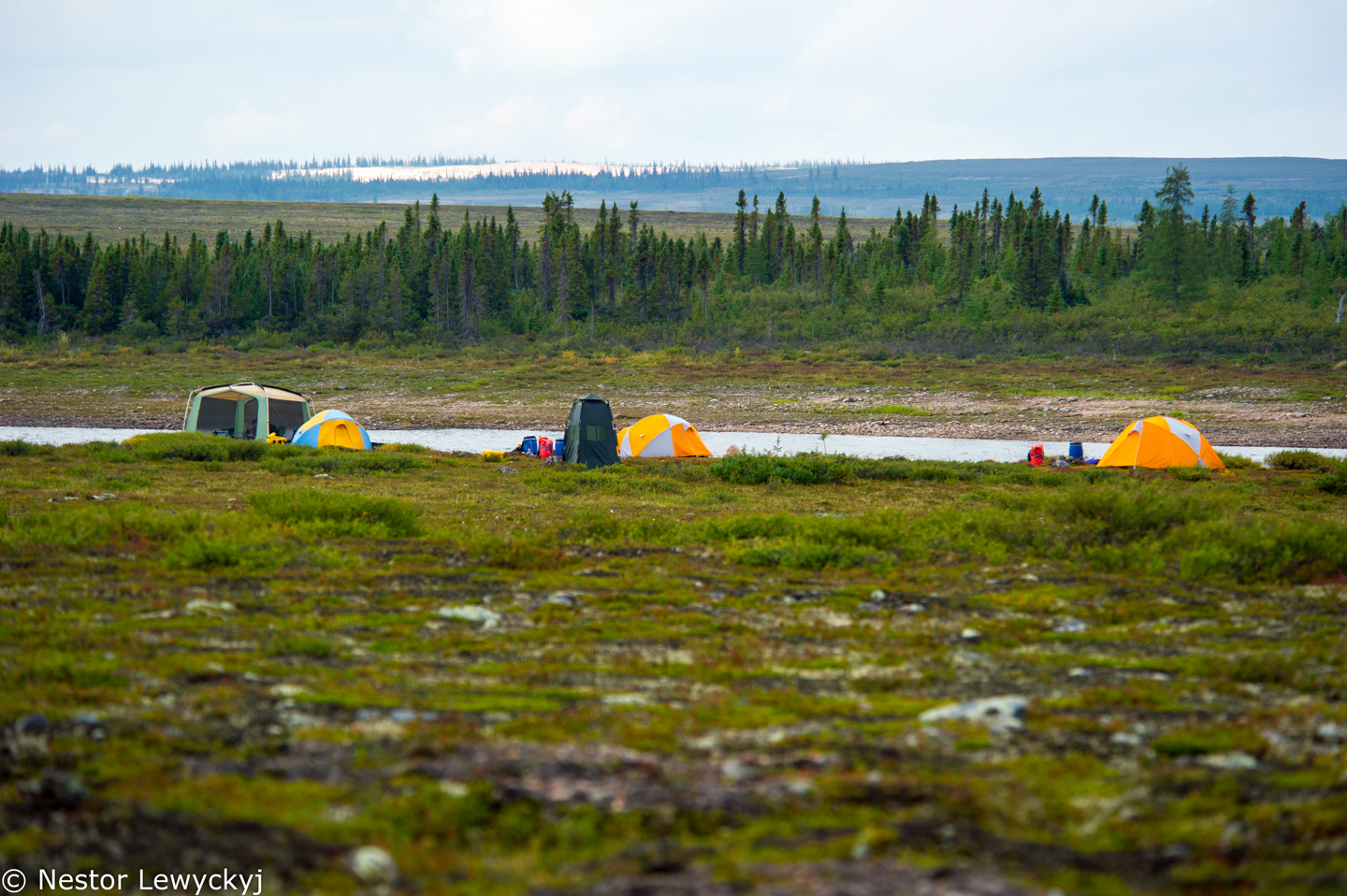 It was a good place to camp. This view shows how this far north, well above the tree line, trees survive only where there is no permafrost. This is along eskers, by the river, etc. The trees still grow very slowly and never achieve a significant height
We spent that day playing a LOT of Scrabble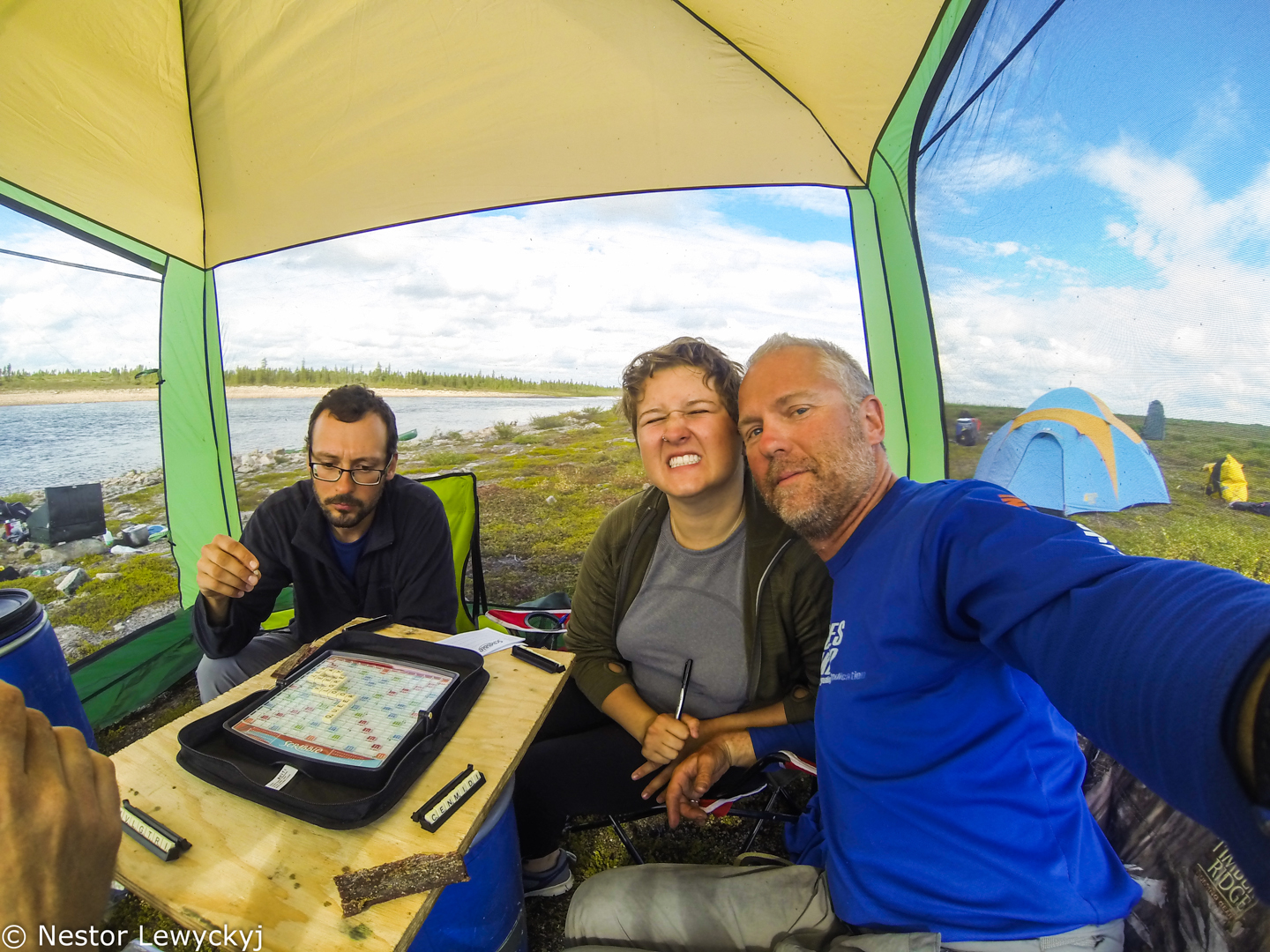 And that was a lot of fun!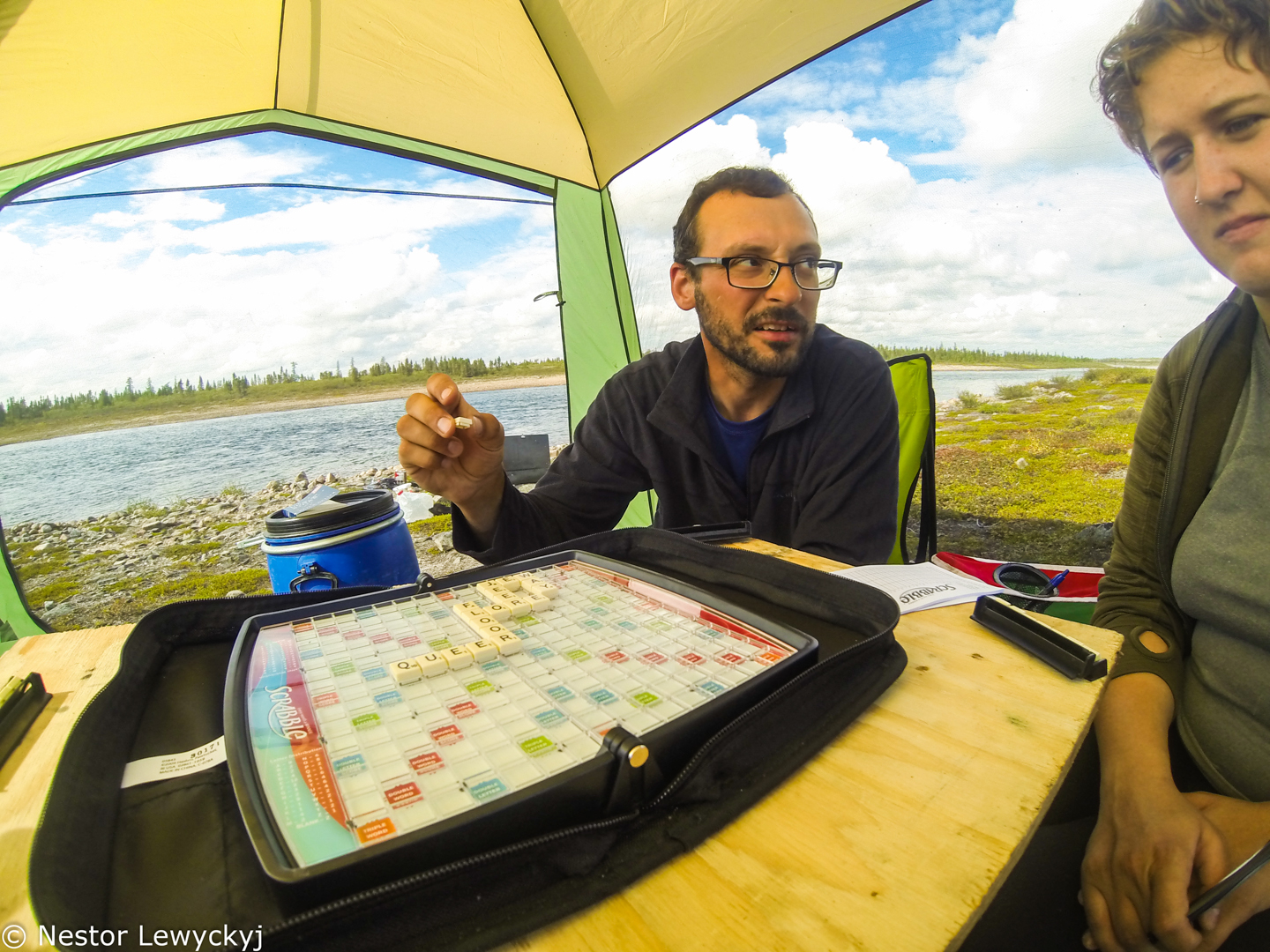 Even though some of us took the game very seriosuly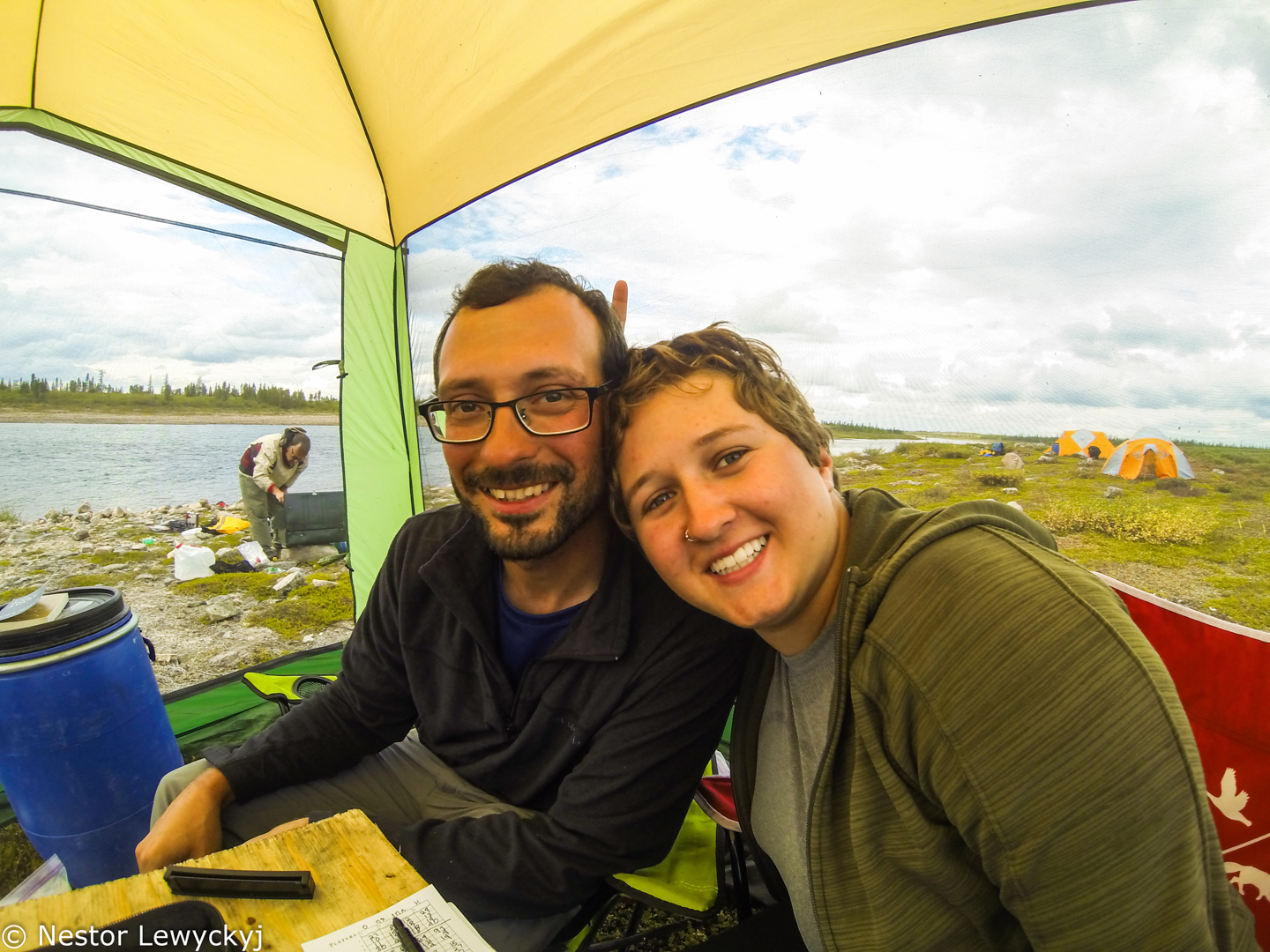 We usually made up afterwards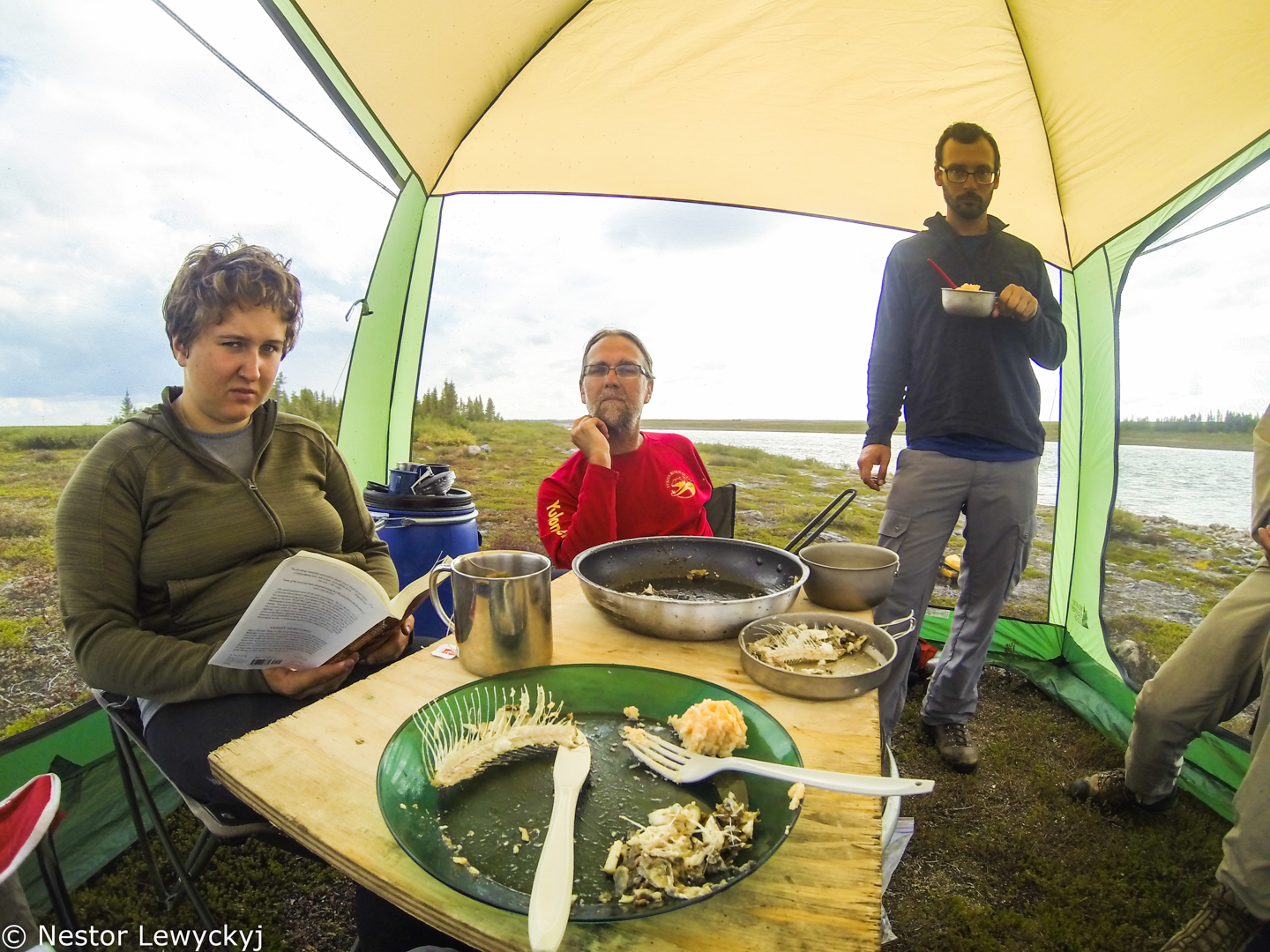 Reposing after a dinner of Arctic Grayling and mashed potatoes. Yummy!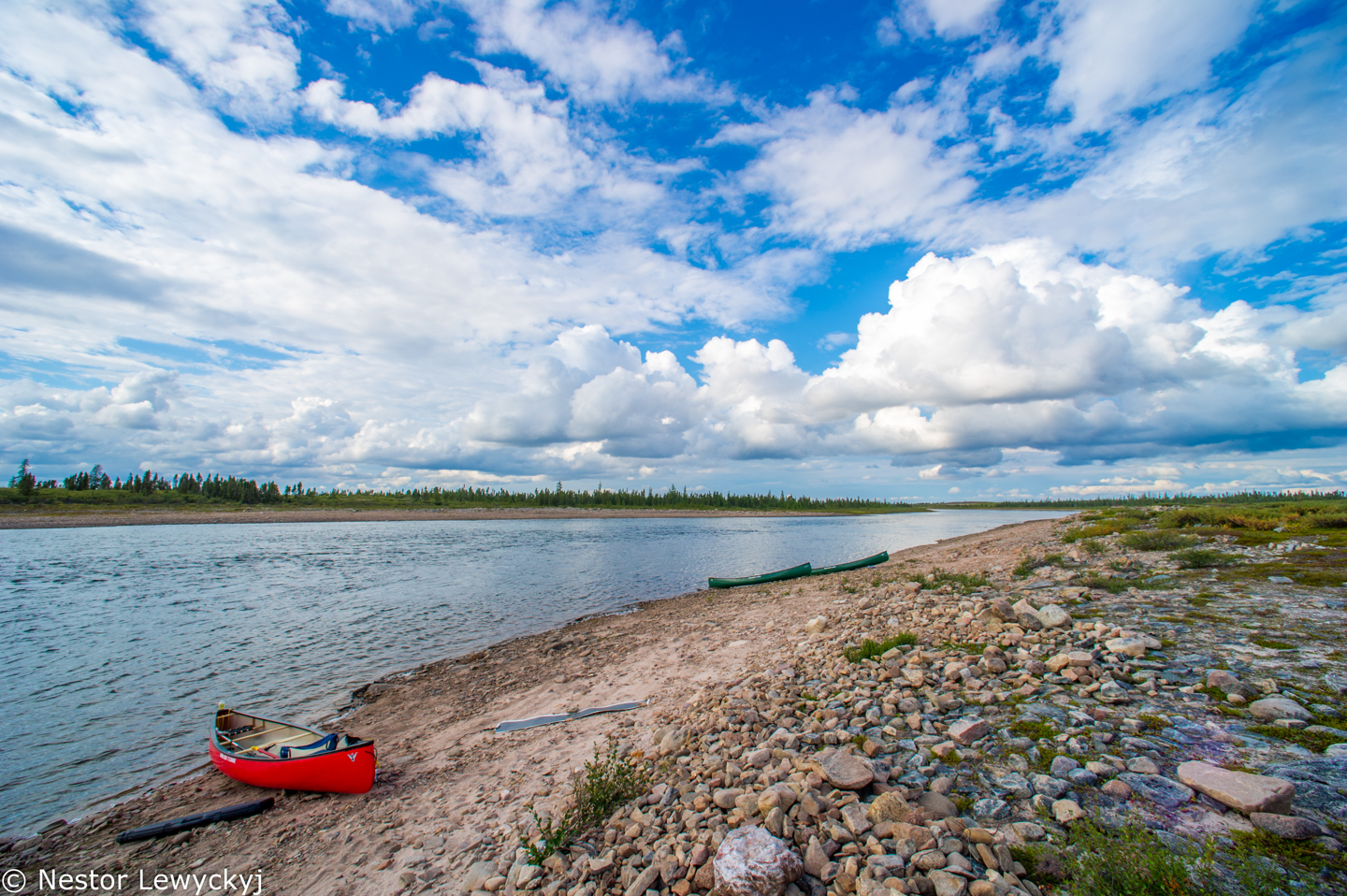 The Thelon was very well organized on this section, flowing quite swiftly, exactly the kinds of waters that Arctic Grayling like to hang out in.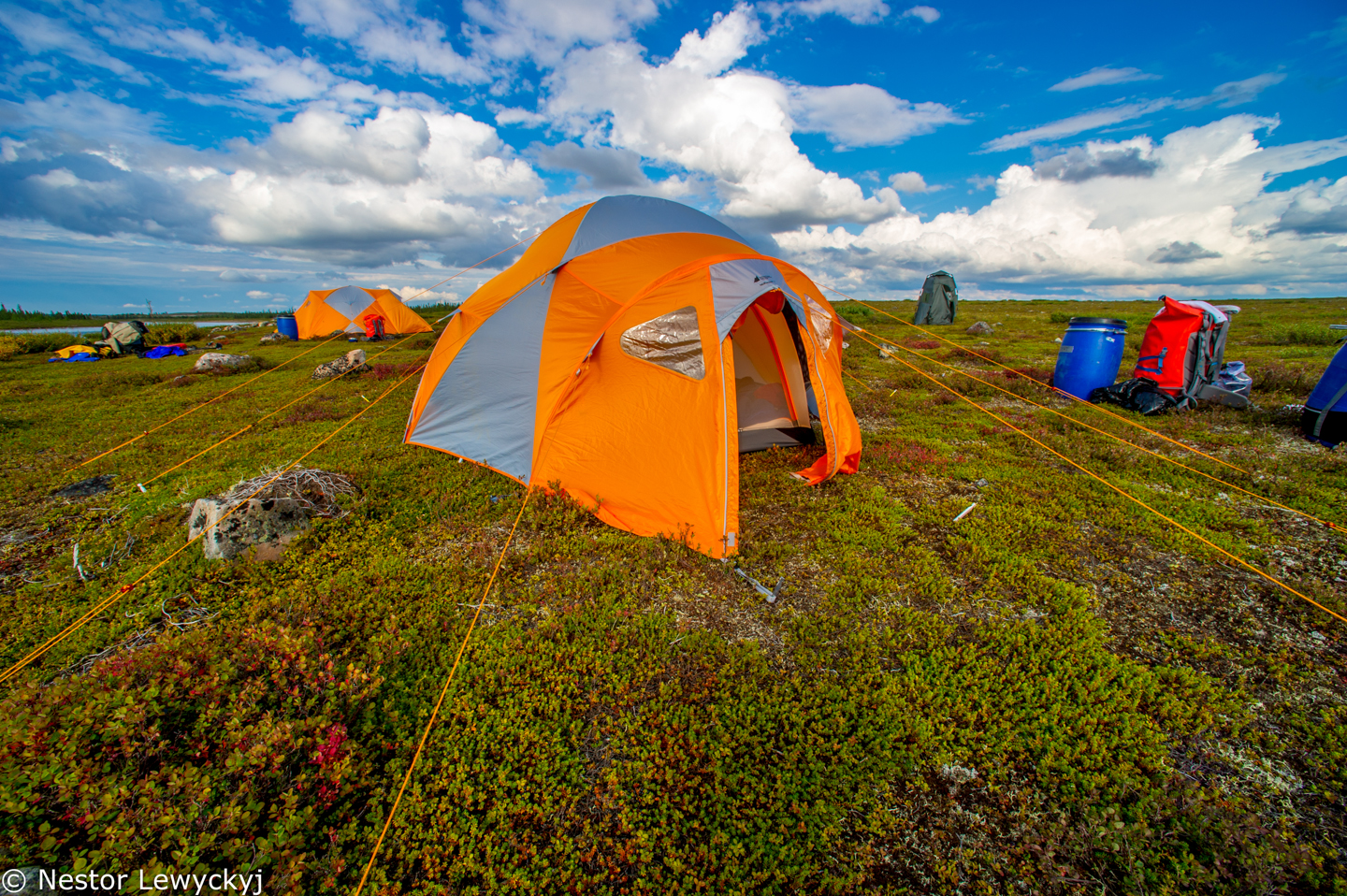 Given how windy it can be at times on the barren grounds with nothing to break the wind, I used every guideline every night on my tent. The last thing you want to have to do is run outside when a storm hits and try and reinforce your tent. I like setting it up right every time.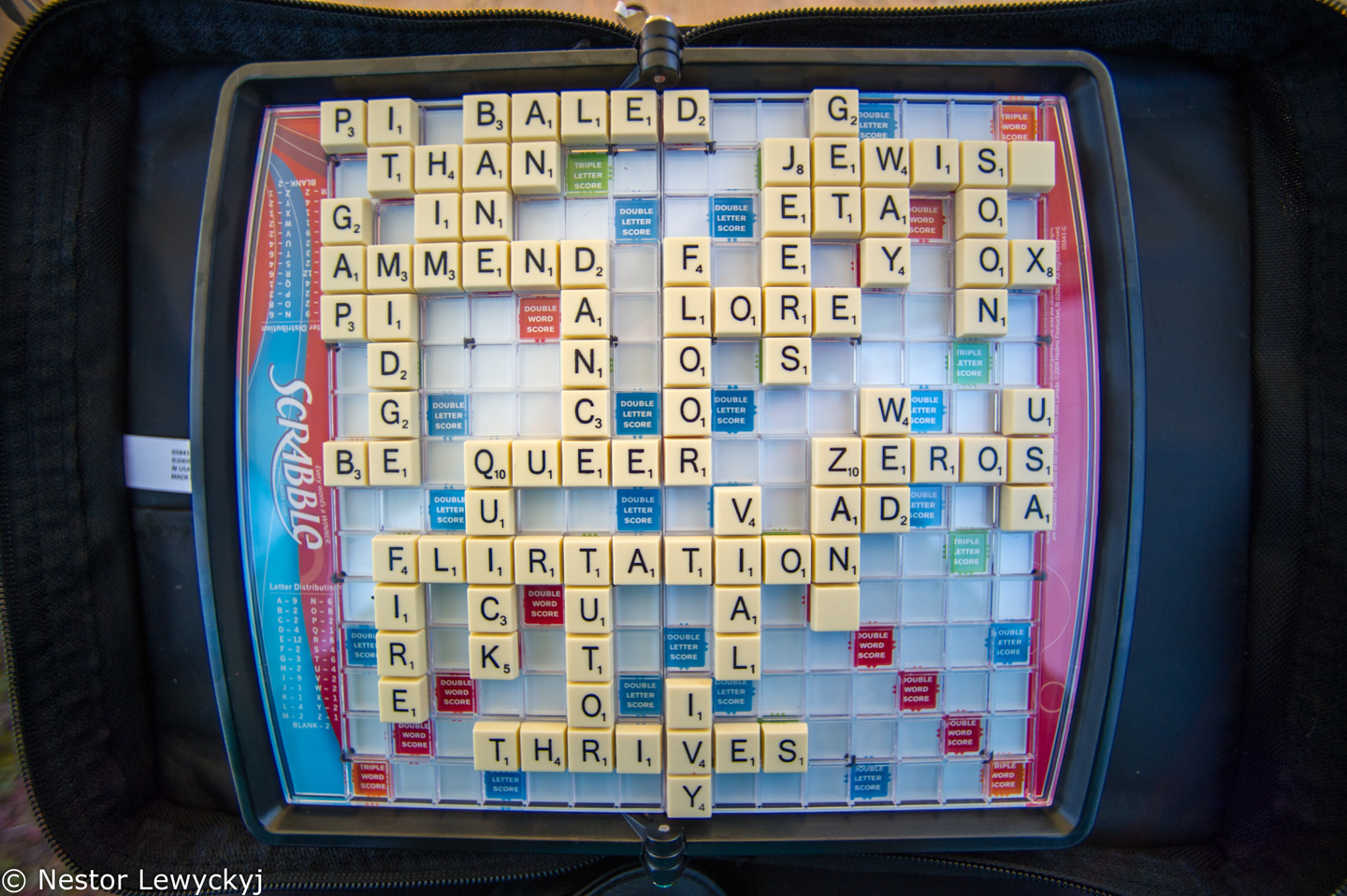 Some of the Scrabble boards were rather well developed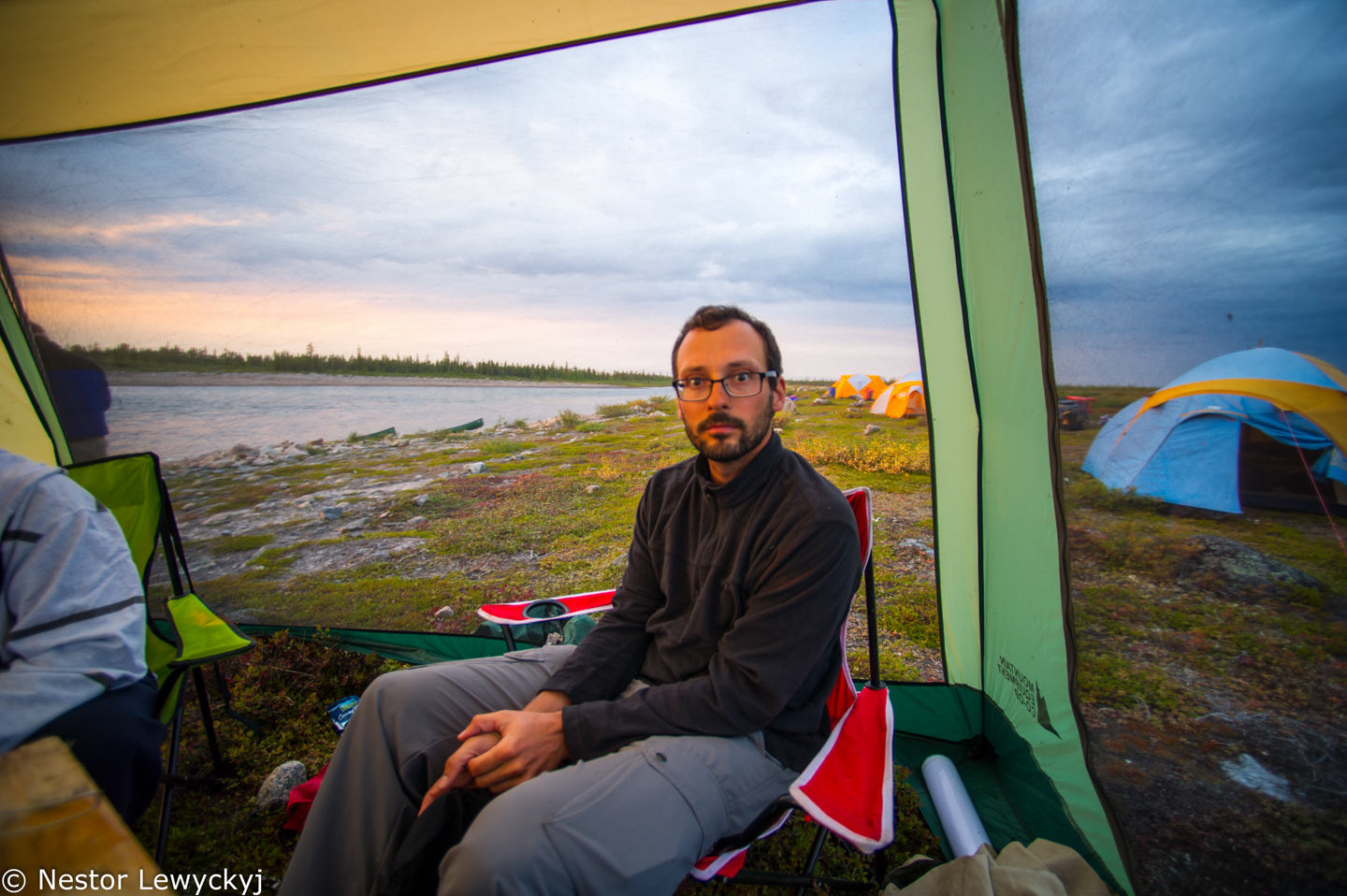 By early evening we would normally be getting sleepy even though it stays light out until very late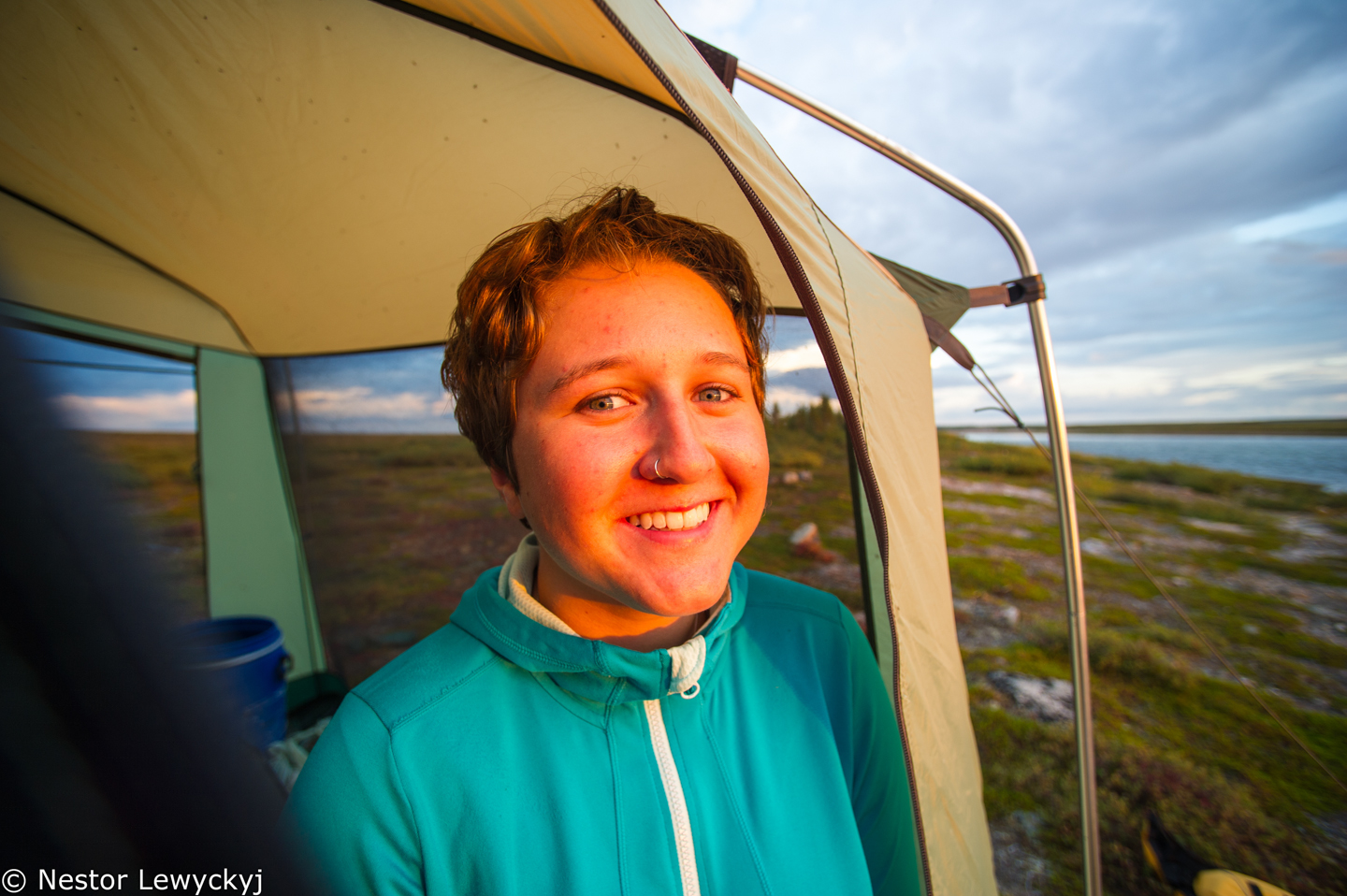 Alex catching the setting sun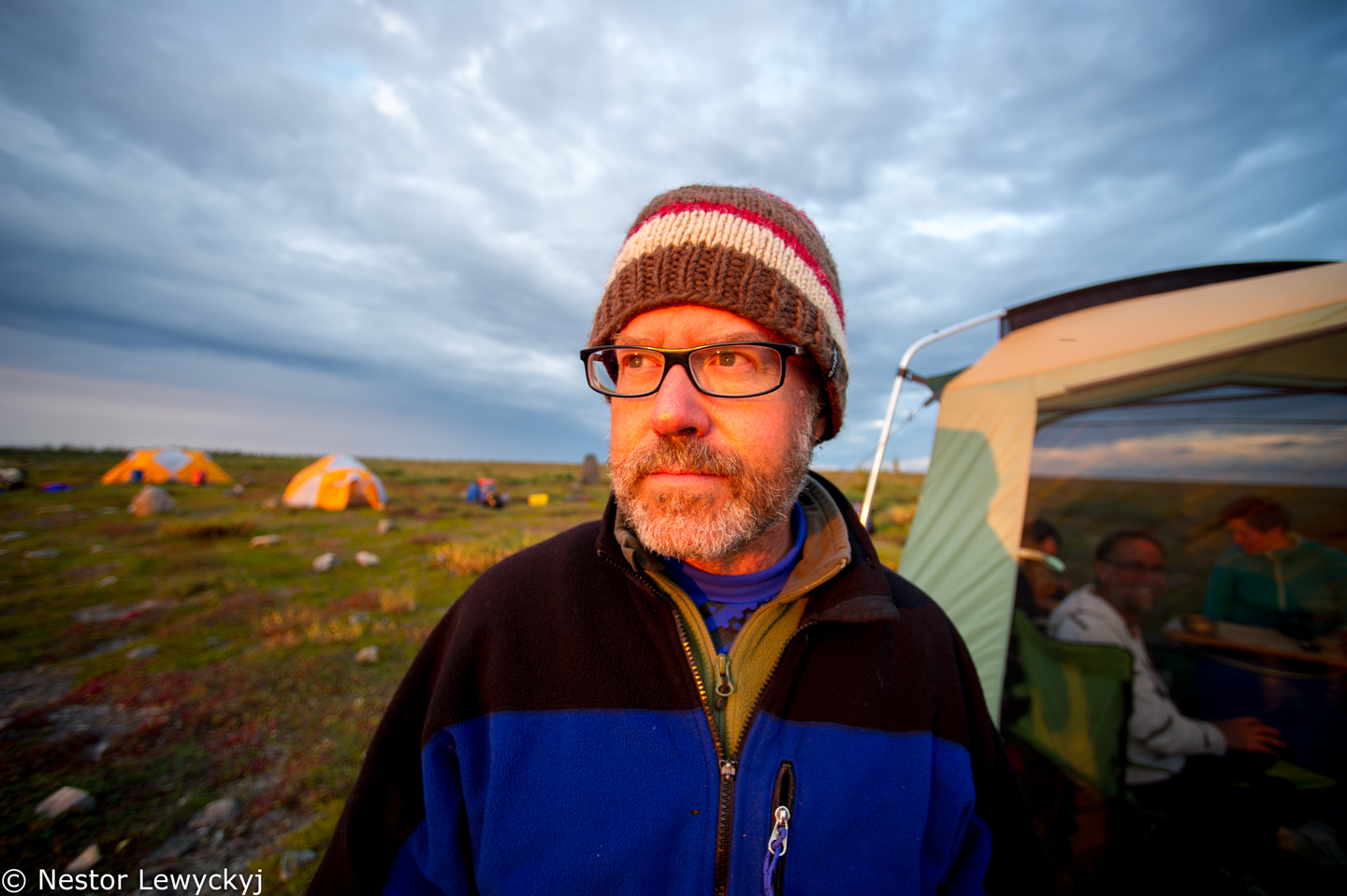 It normally cooled of substantially in the evening, even if the day was hot. Again, much more like a desert climate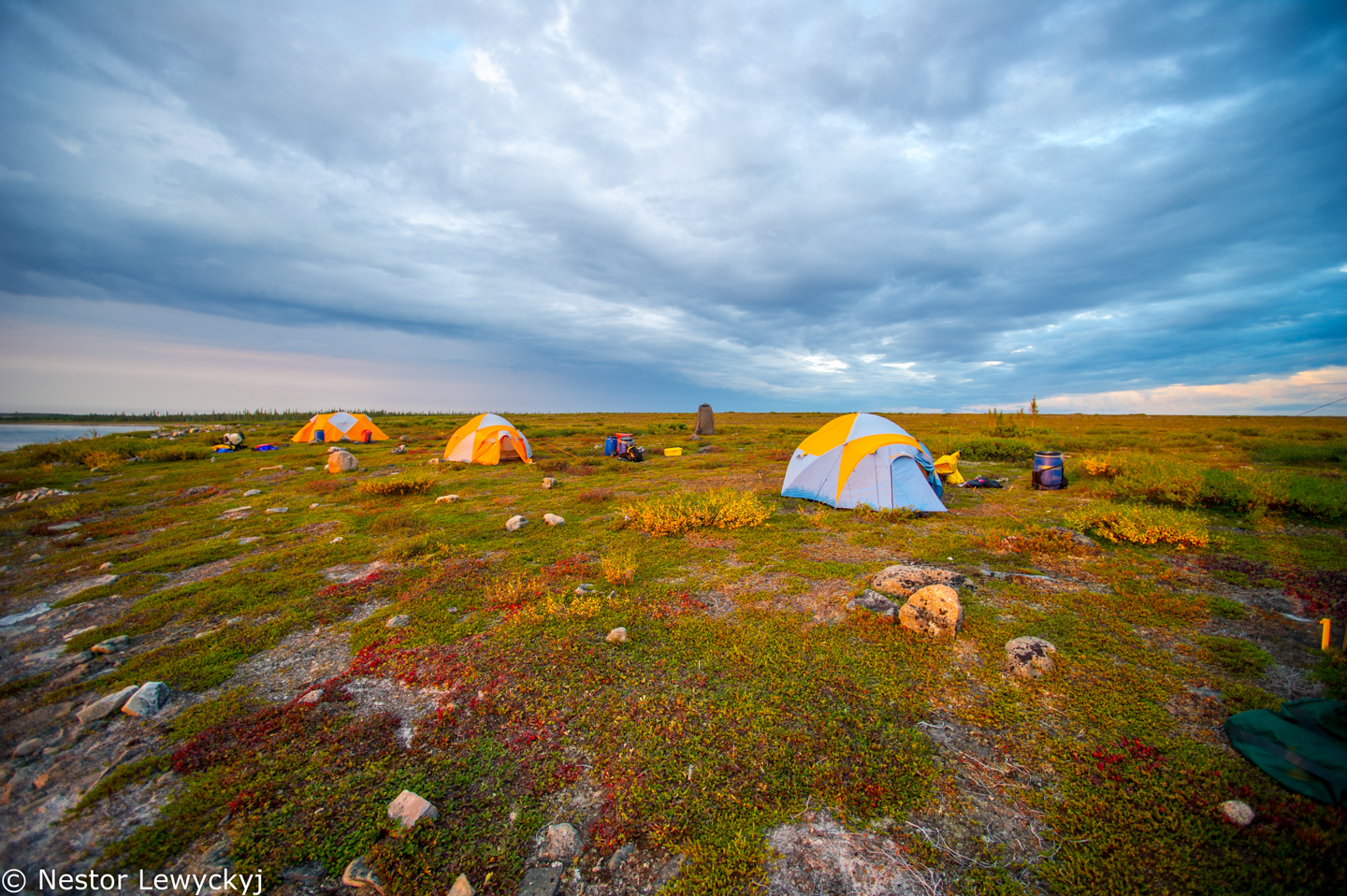 A good view of our camp lay out from the bug tent. The toilet tent was usually located a bit of from the camp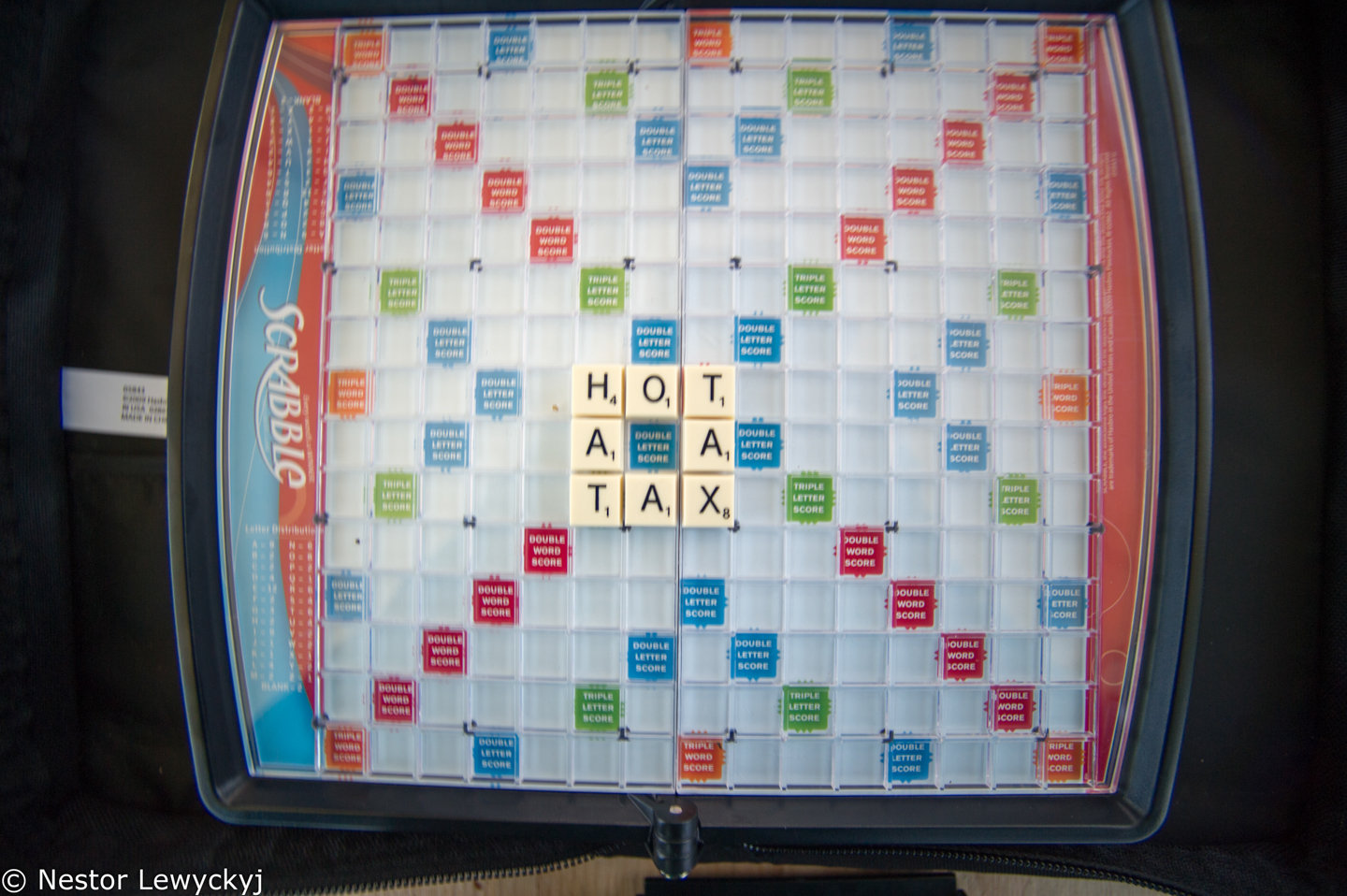 A weird Scrabble start
Which caused a fair bit of consternation for Alex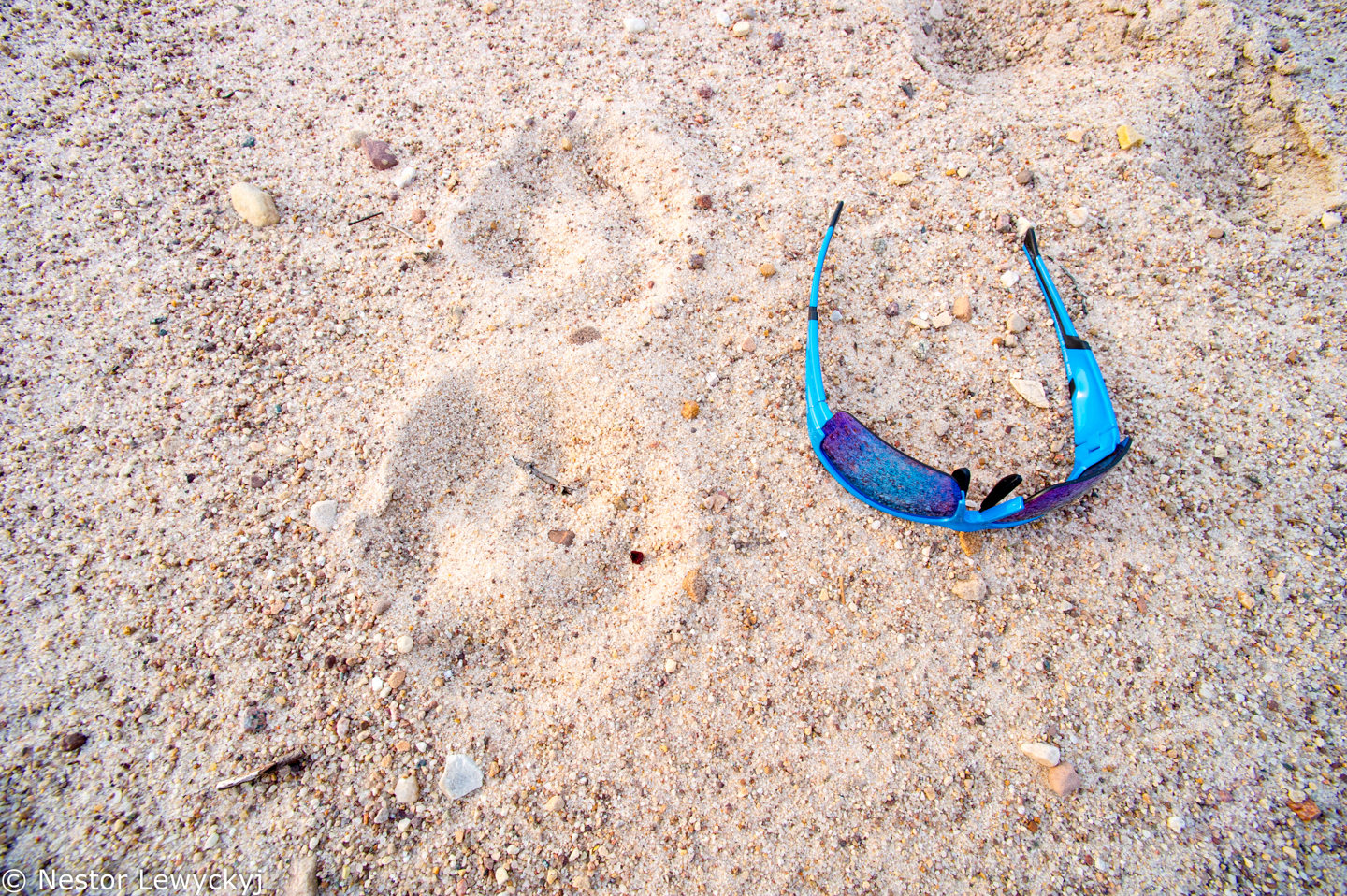 A set of wolf prints in the soft sand with my sun glasses for scale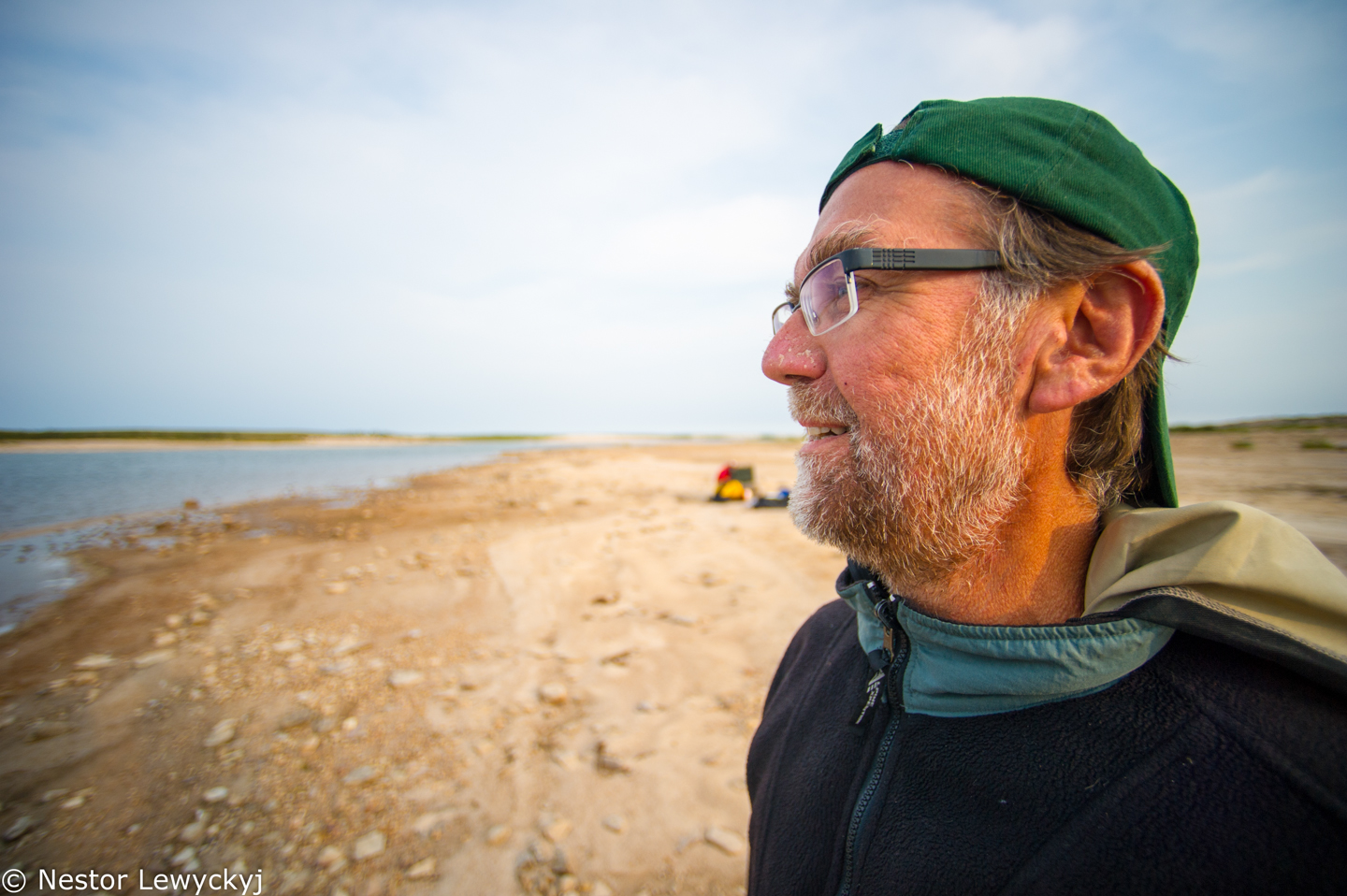 With the sun and the dry air, our skin took a bit of a beating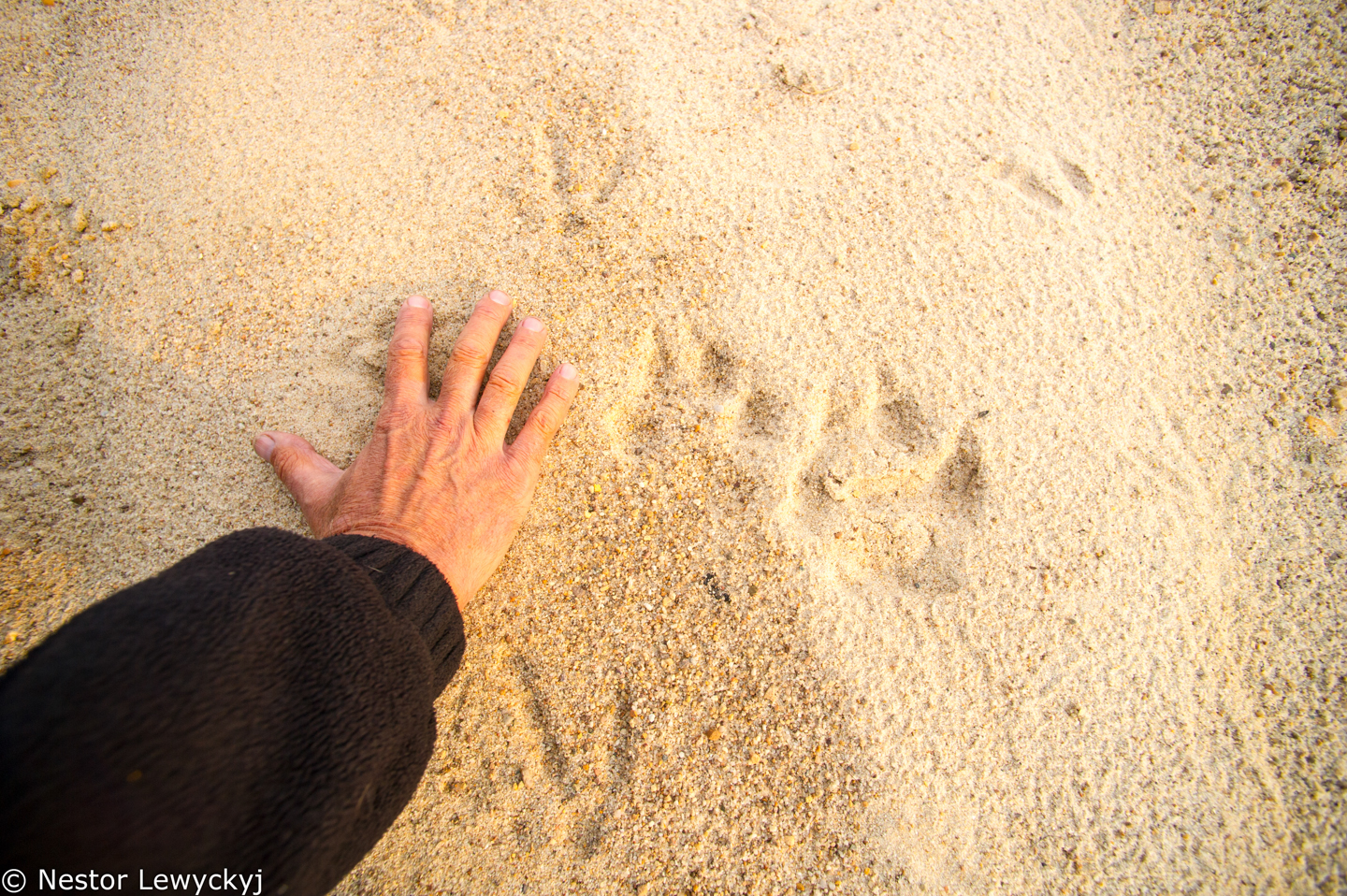 A wolf print and some sea gull prints with peter's hand for scale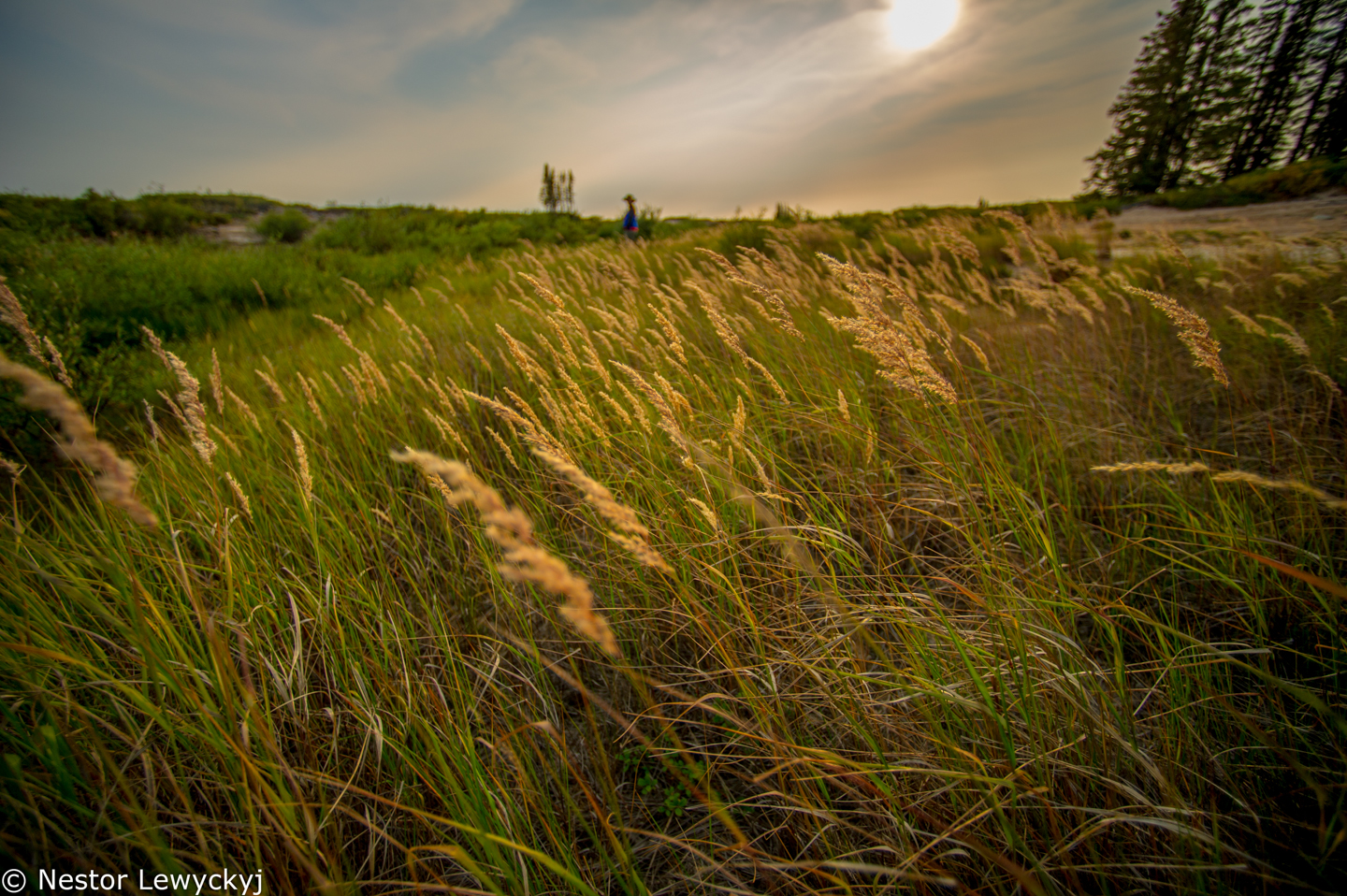 At this camp site, there was a small stream that flowed through a small marshy valley. It had its own little ecosystem because it was wet, and protected from the wind. We explored it for a while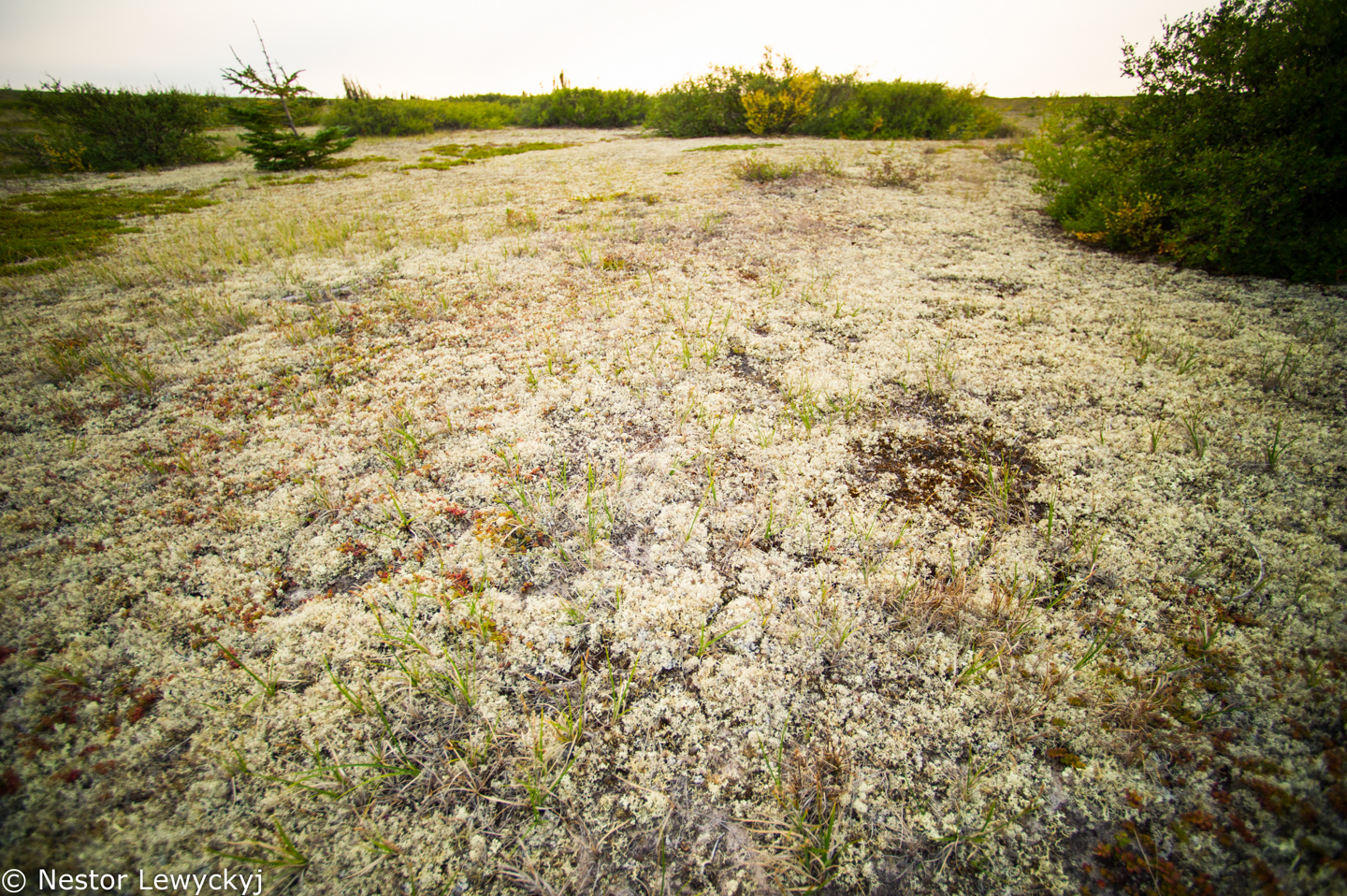 Lichen, what caribou subsist on. Areas like these are often called Lichen Forests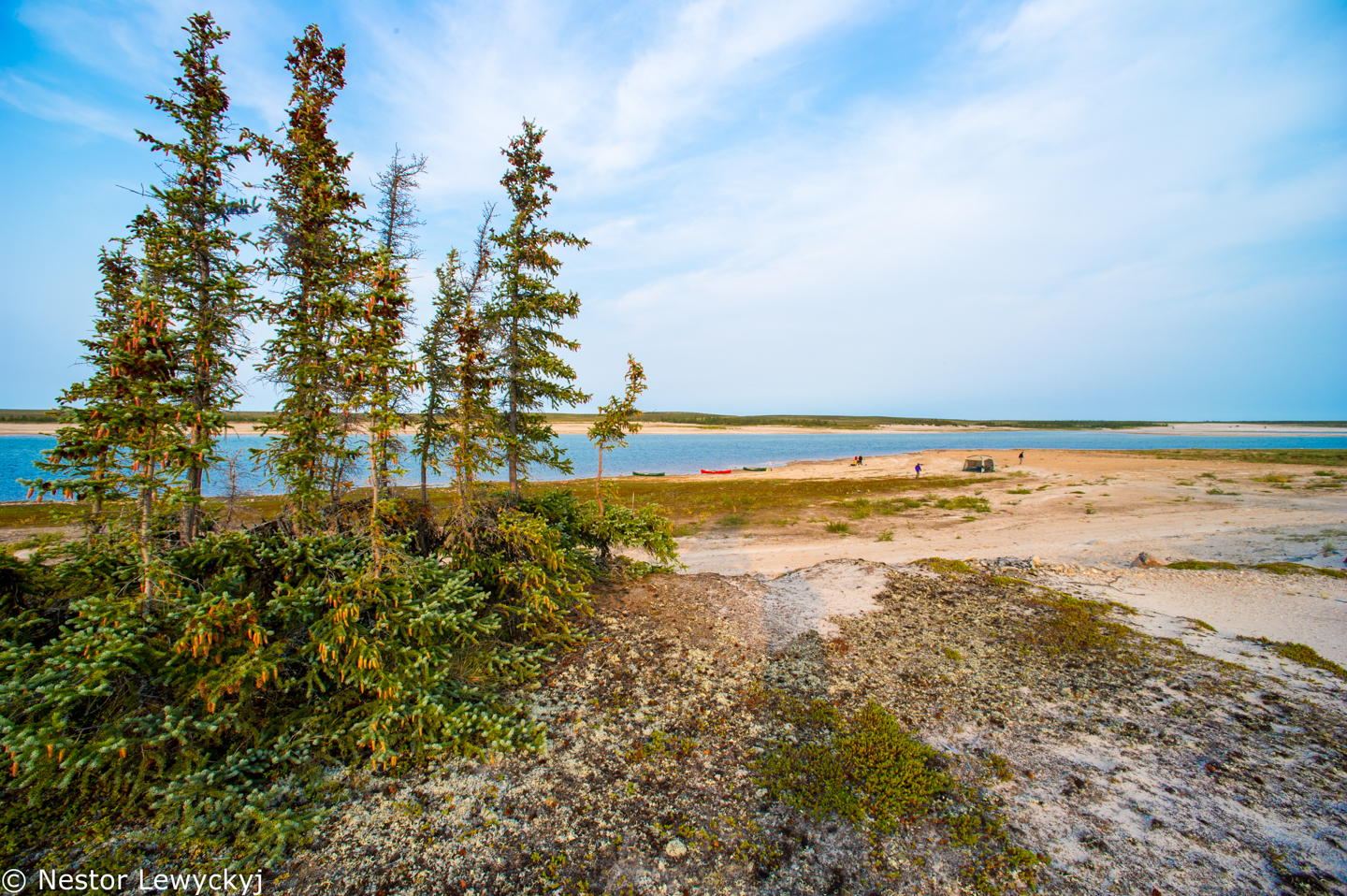 We camped rather high up from the river that night, leaving the bug tent down below. It was a very nice spot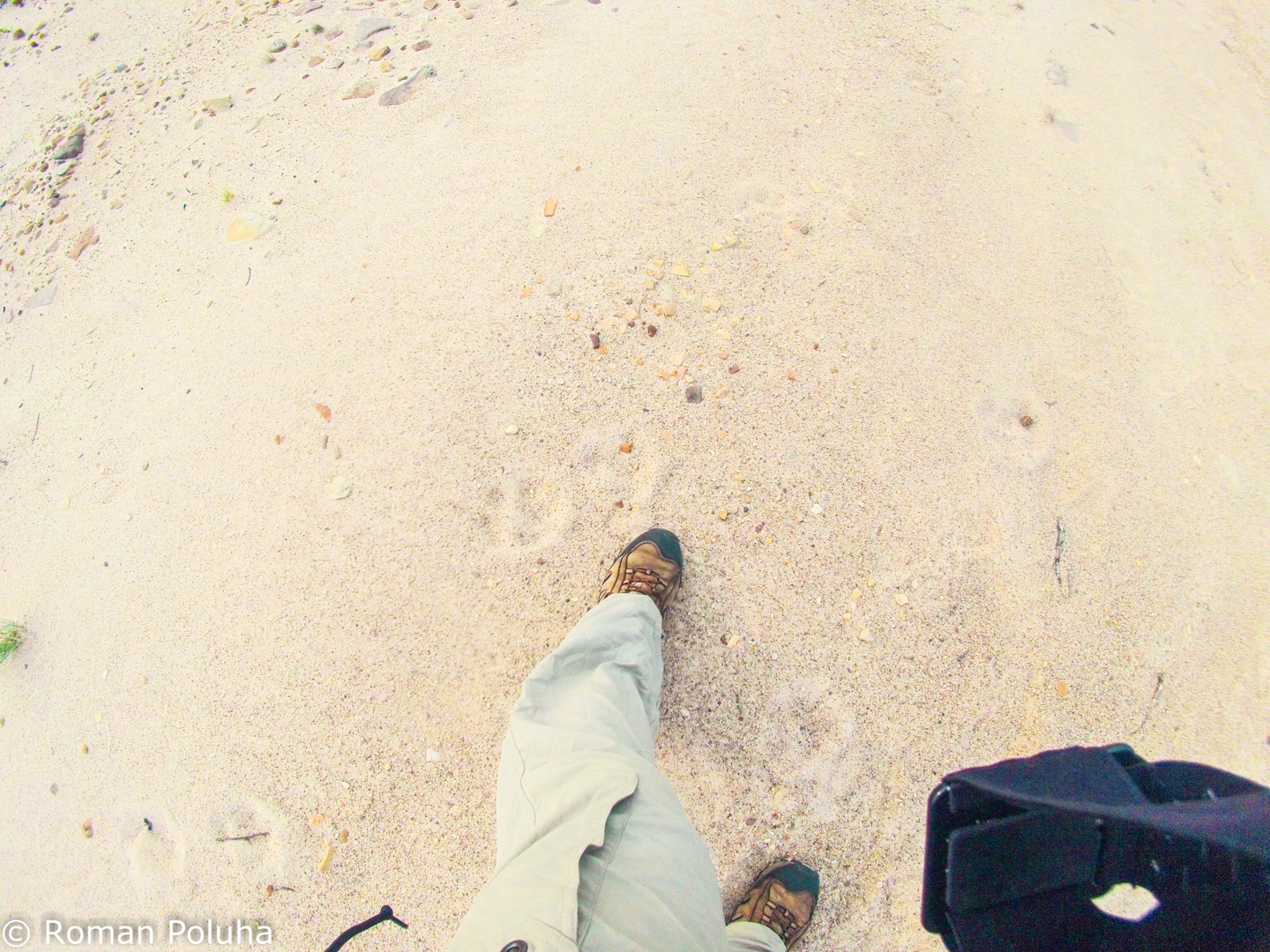 More wolf prints, with Roman's feet for scale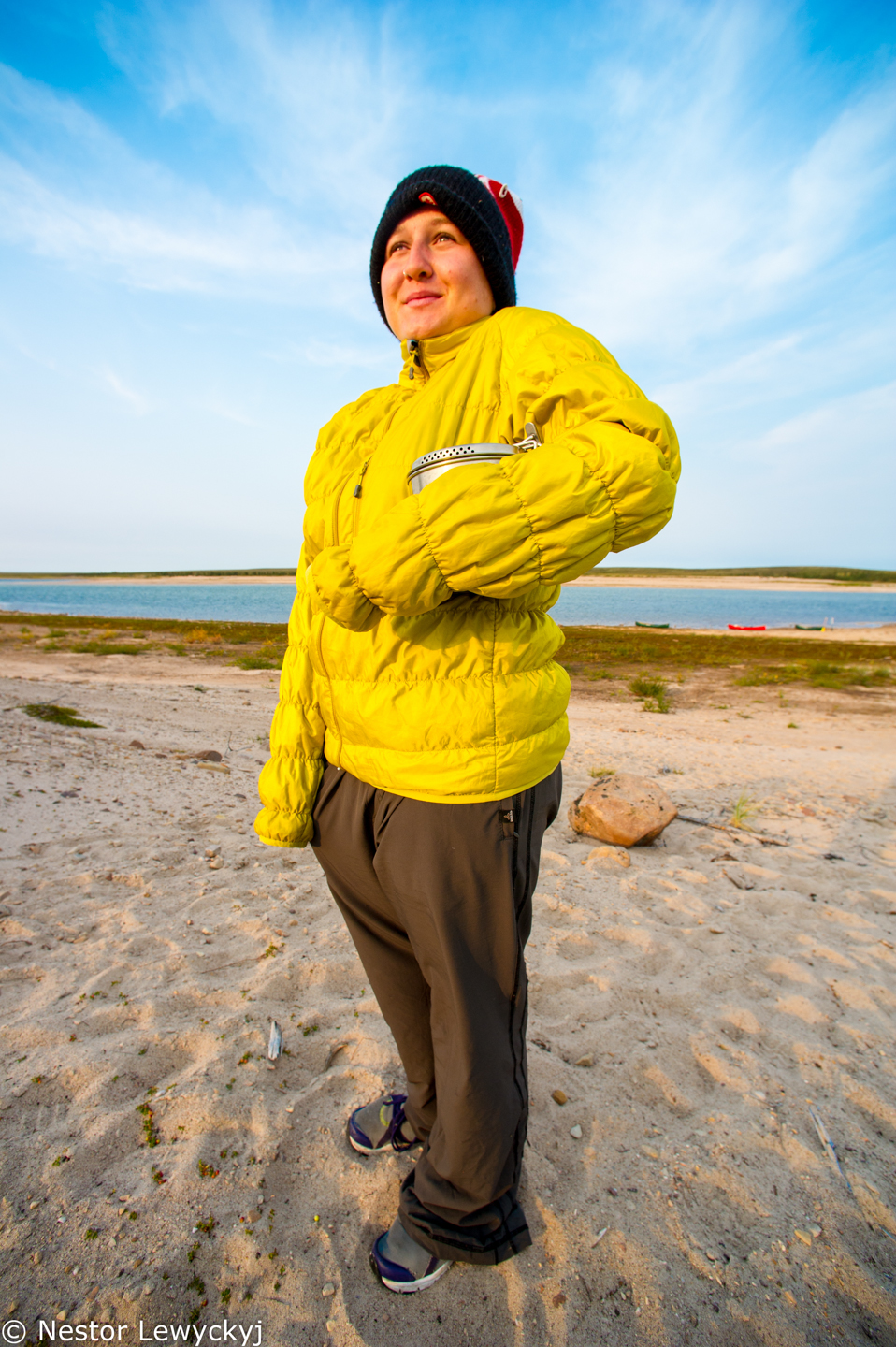 Alex really liked her light down jacket that she picked up specifically for this trek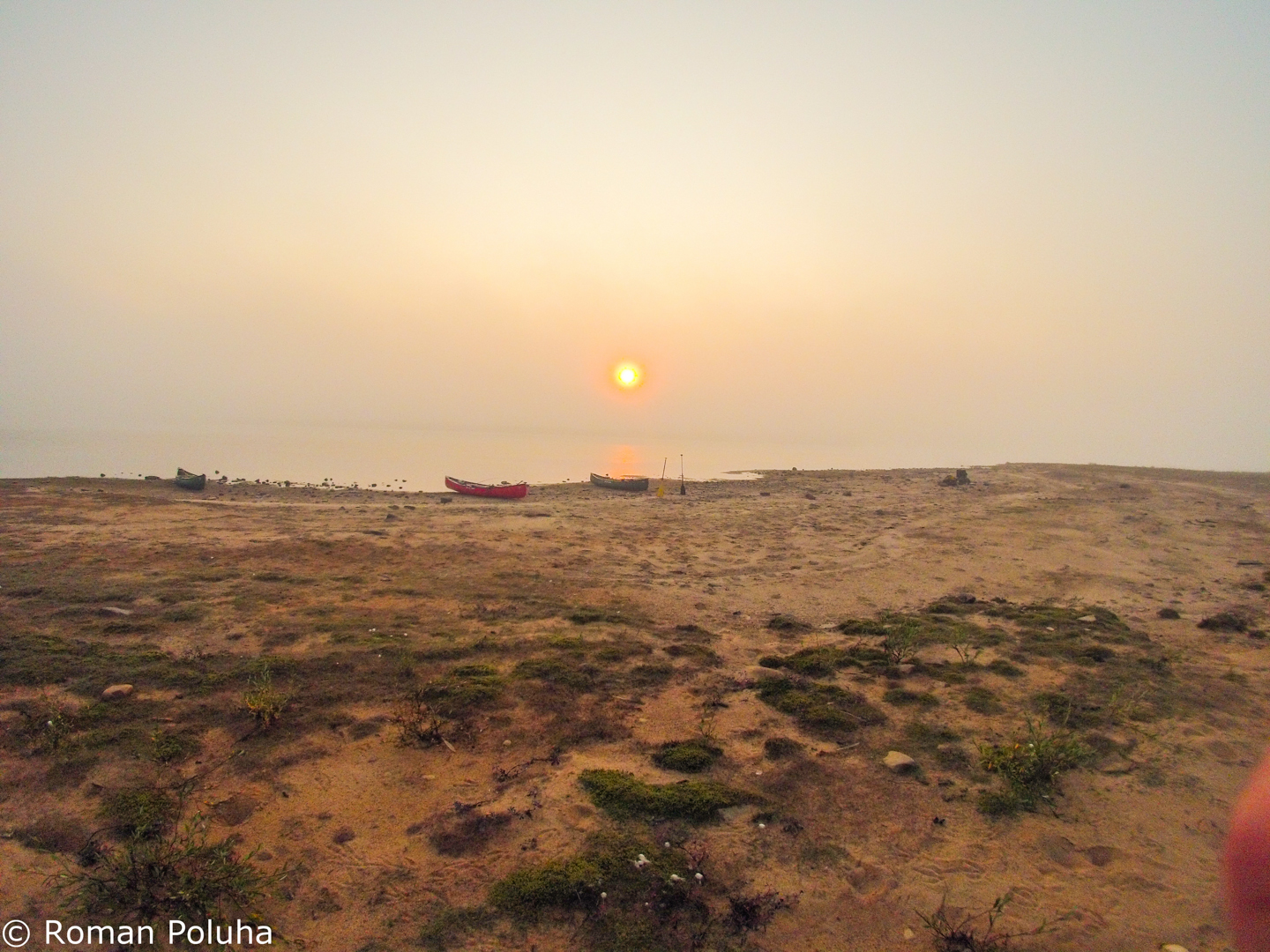 Some of the beauty of the setting sun was due to forest fires much further south and west of us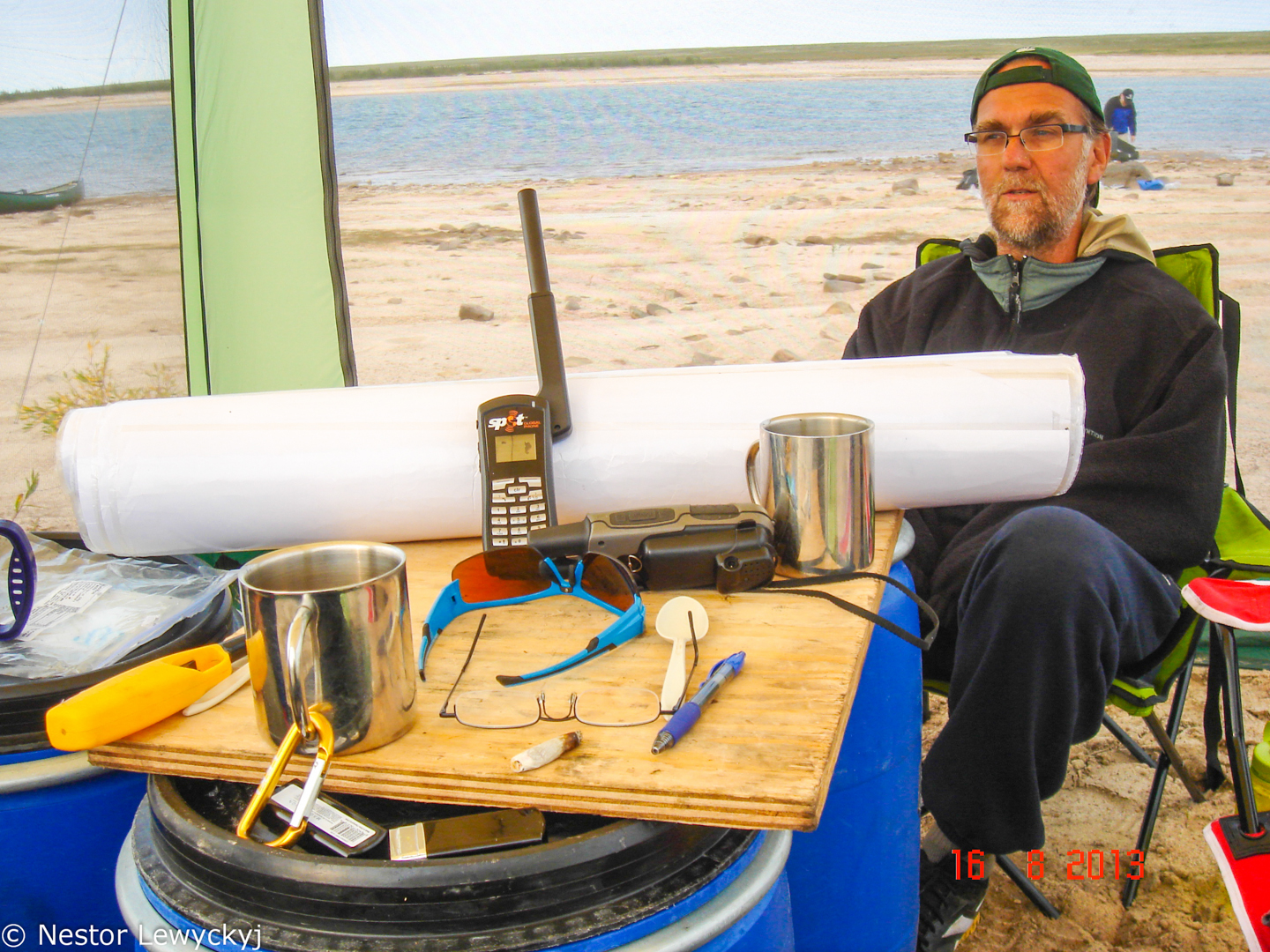 This far north, and this remote (literally hundreds of kilometres from anything or anyone) you want to make sure that you are well equipped. I had bought a satellite phone from Spot on the GlobalStar network. it worked well for us.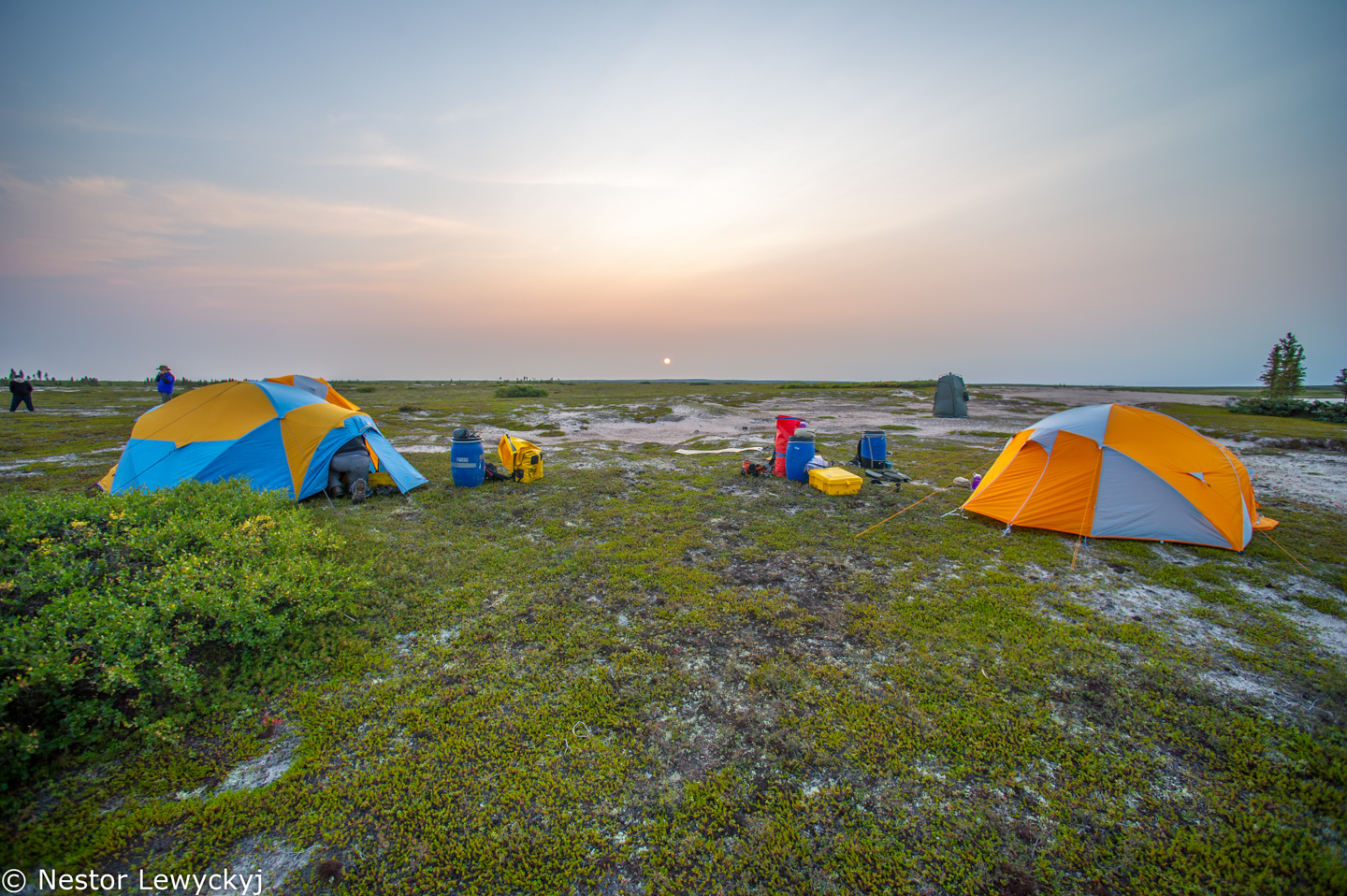 The weak setting sun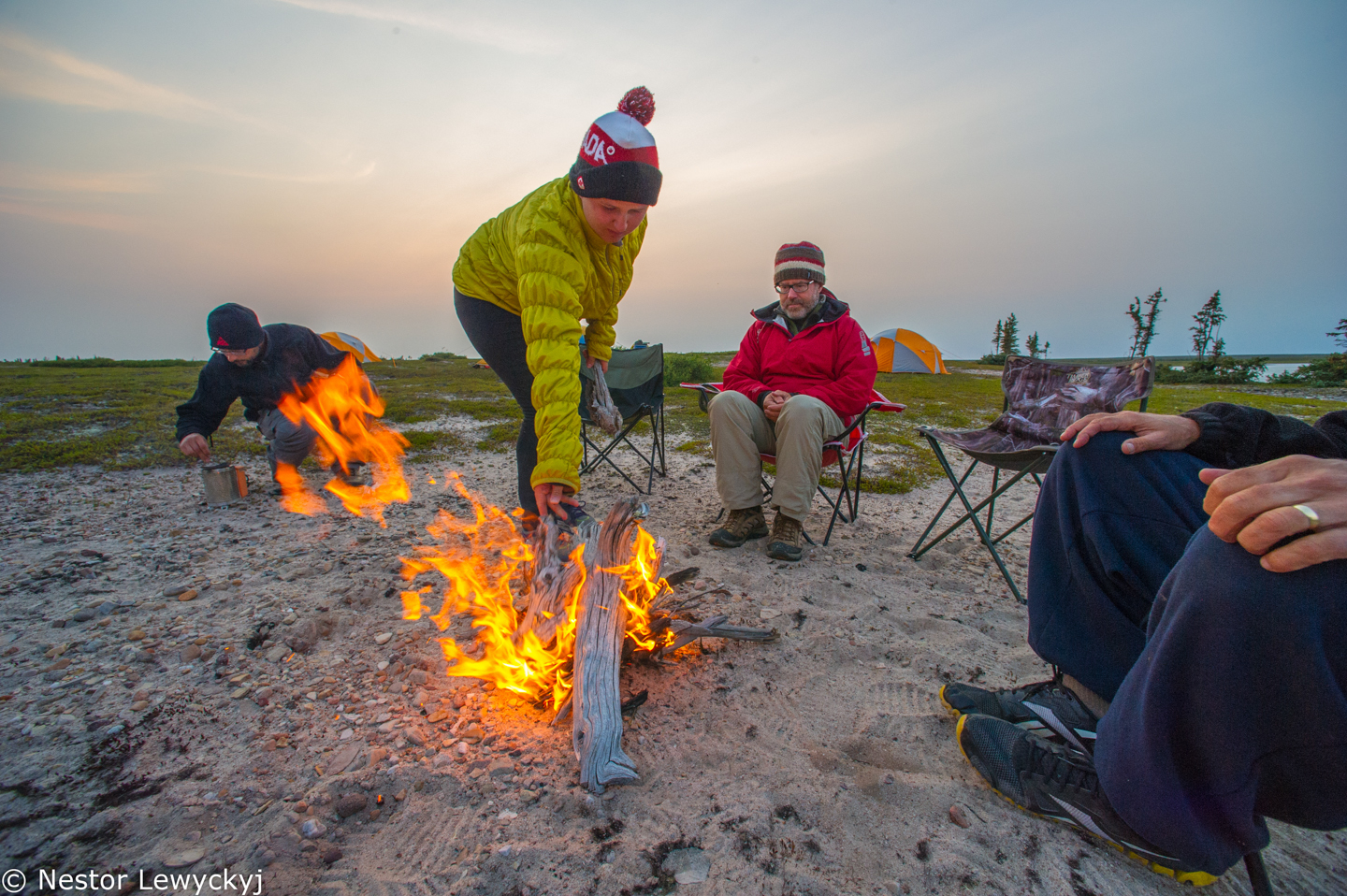 It was nice to have some driftwood to burn. It was cold after the sun set. In the background, Paul was setting up his BioLite stove. It burns bits of wood and uses a thermocouple set up to generate 5 volts through a USB connector to charge up your phone and pother electronic devices. plus you can cook on it! Very clever!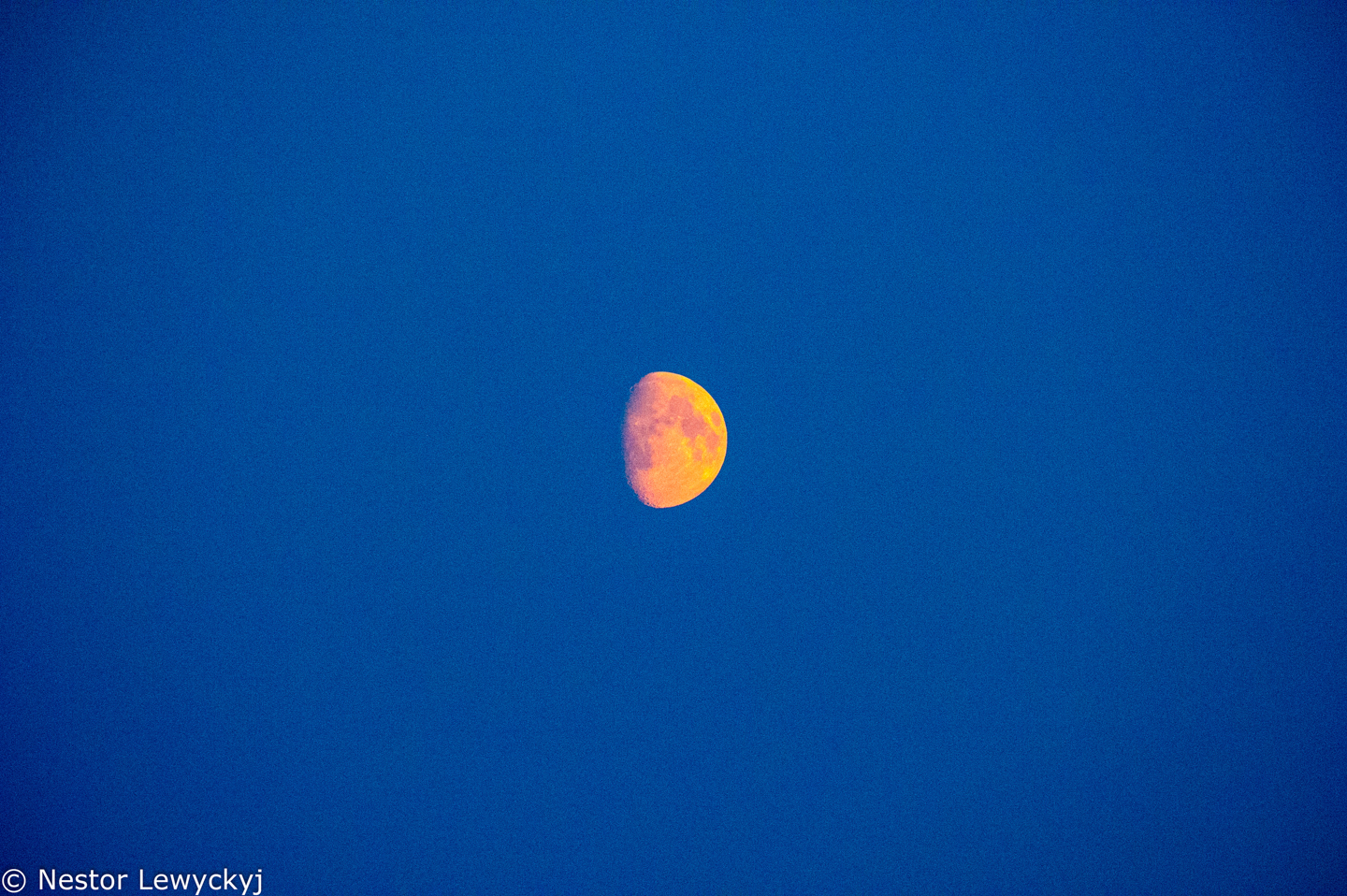 A beautiful moon came out for us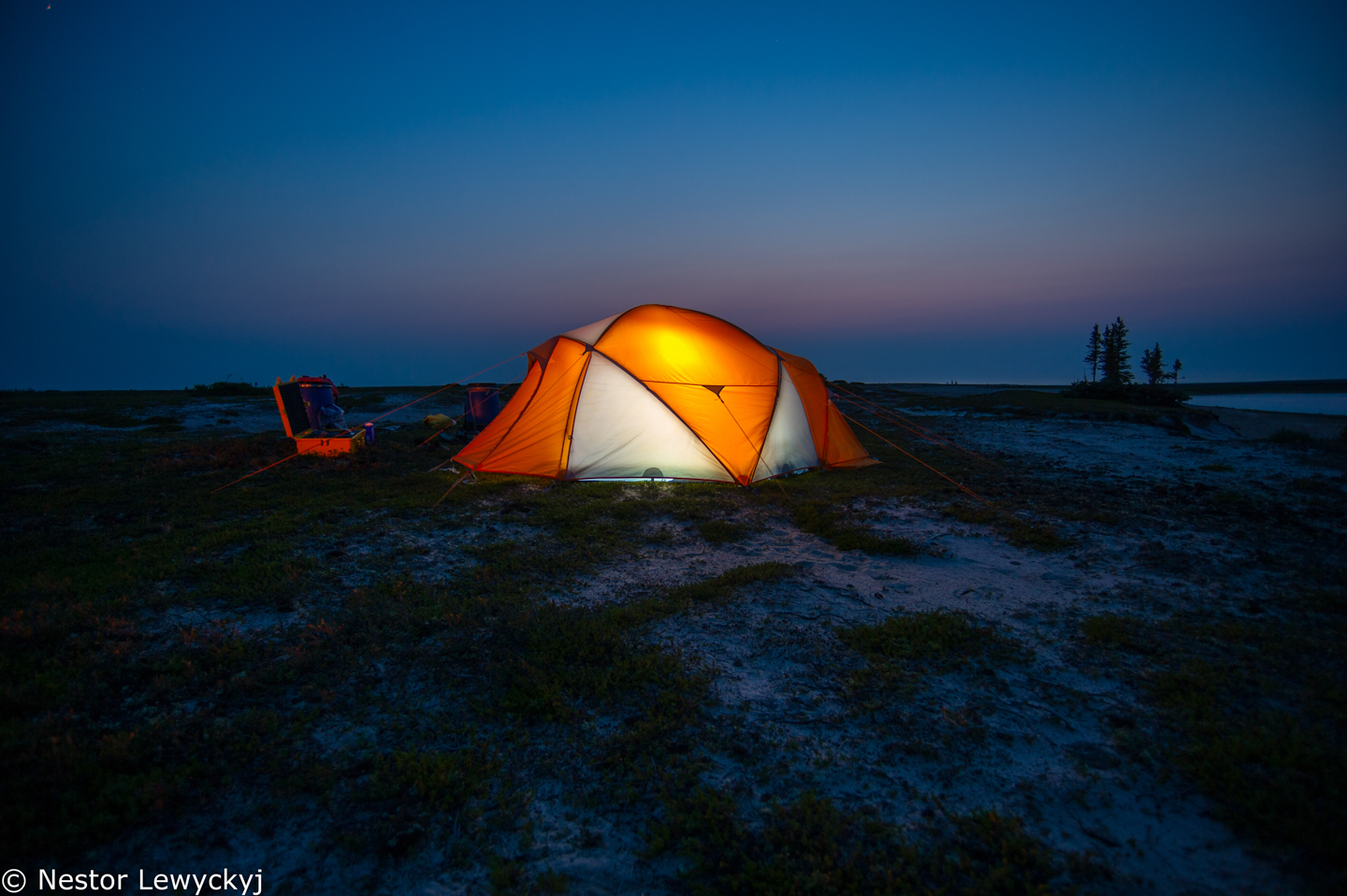 My glowing tent, with Roman inside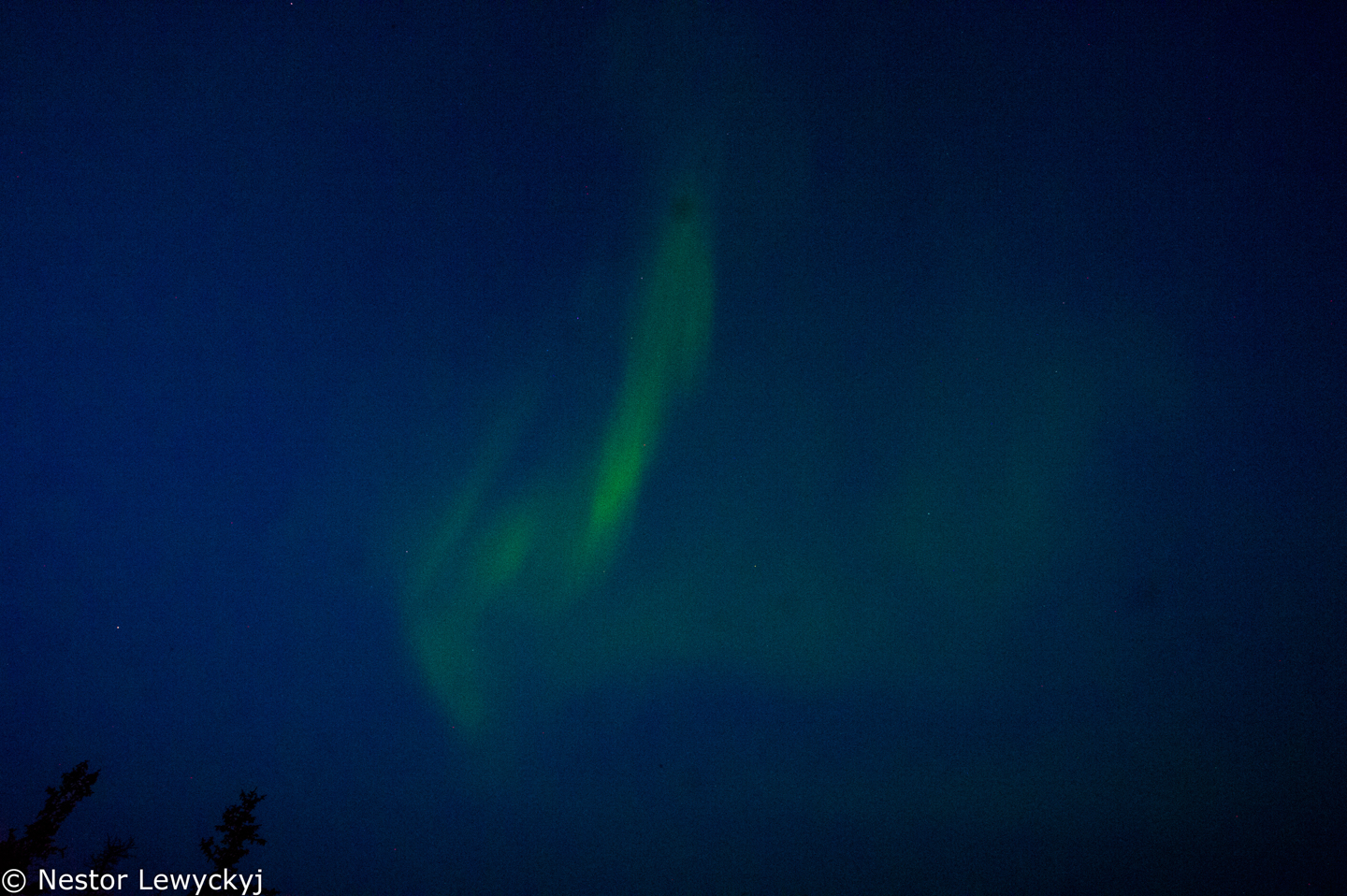 We even had some Northern lights, but even in August, at this latitude, it gets dark too late for good Northern lights. You either have to go further south, or be here in September or even later, but that is when freeze up happens!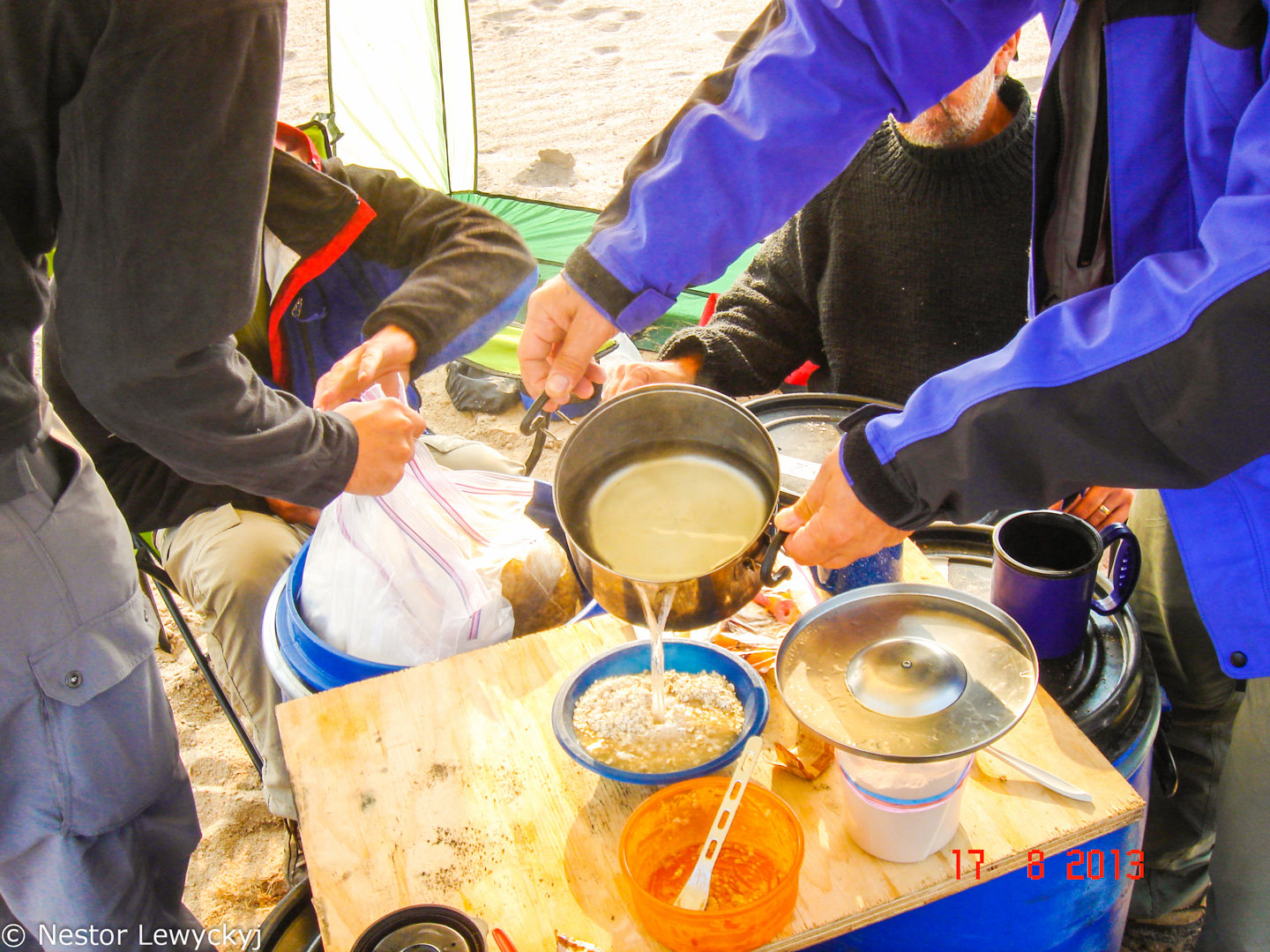 Morning oatmeal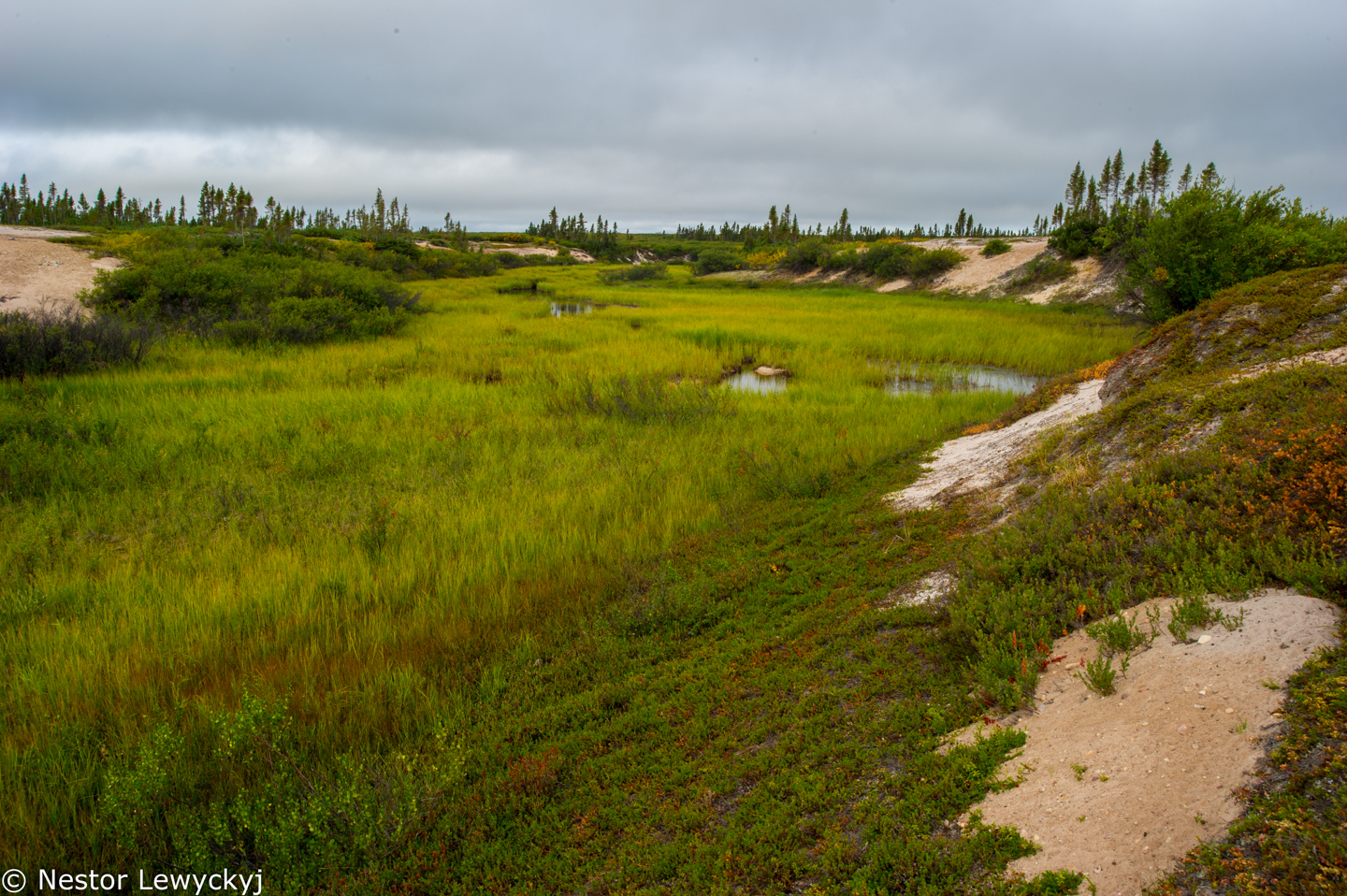 This was that small stream oasis that we explored the next morning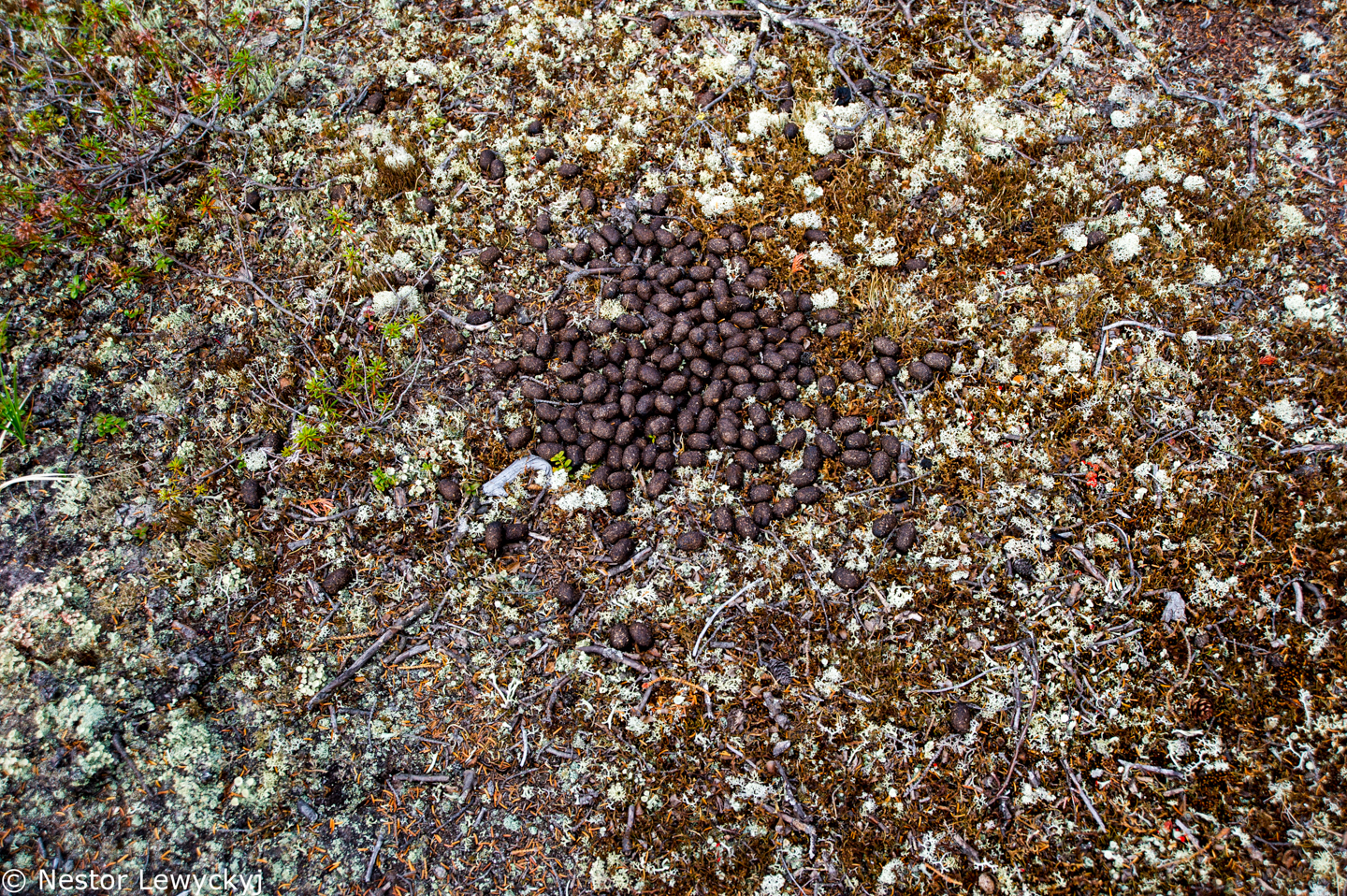 Moose poop!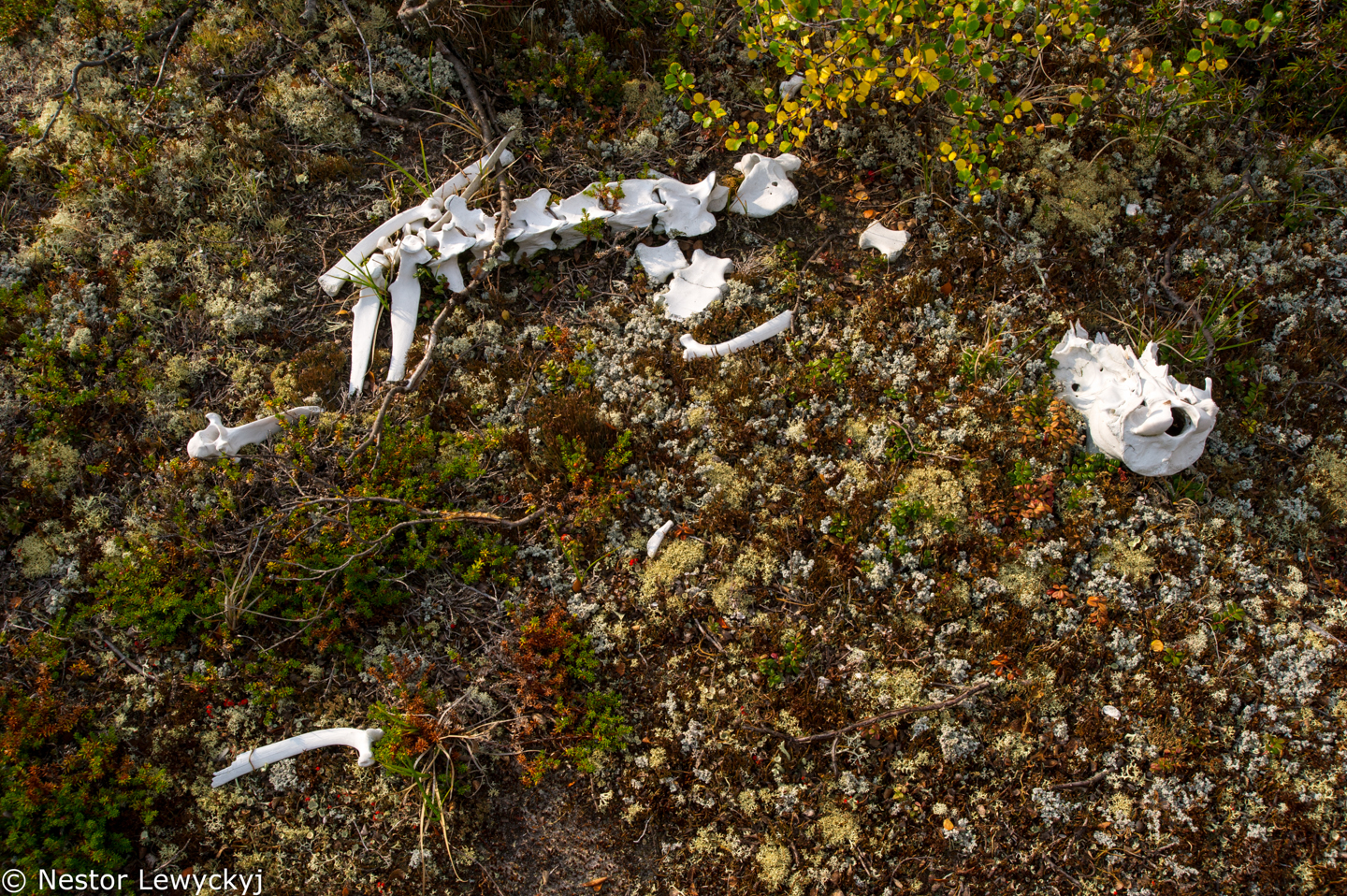 Caribou bones, we think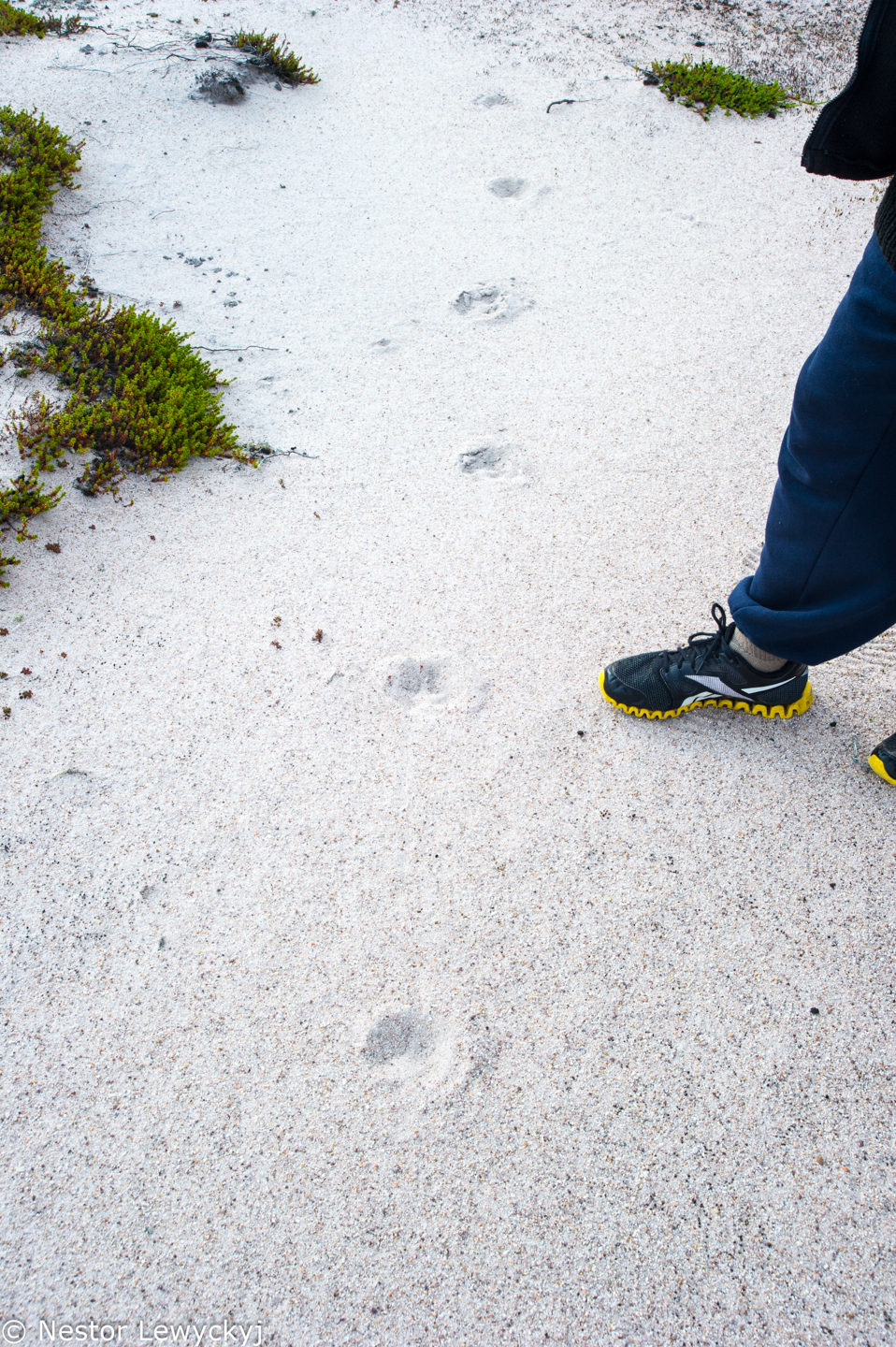 More wolf tracks. This spot had many of them but tough to say how long ago they were made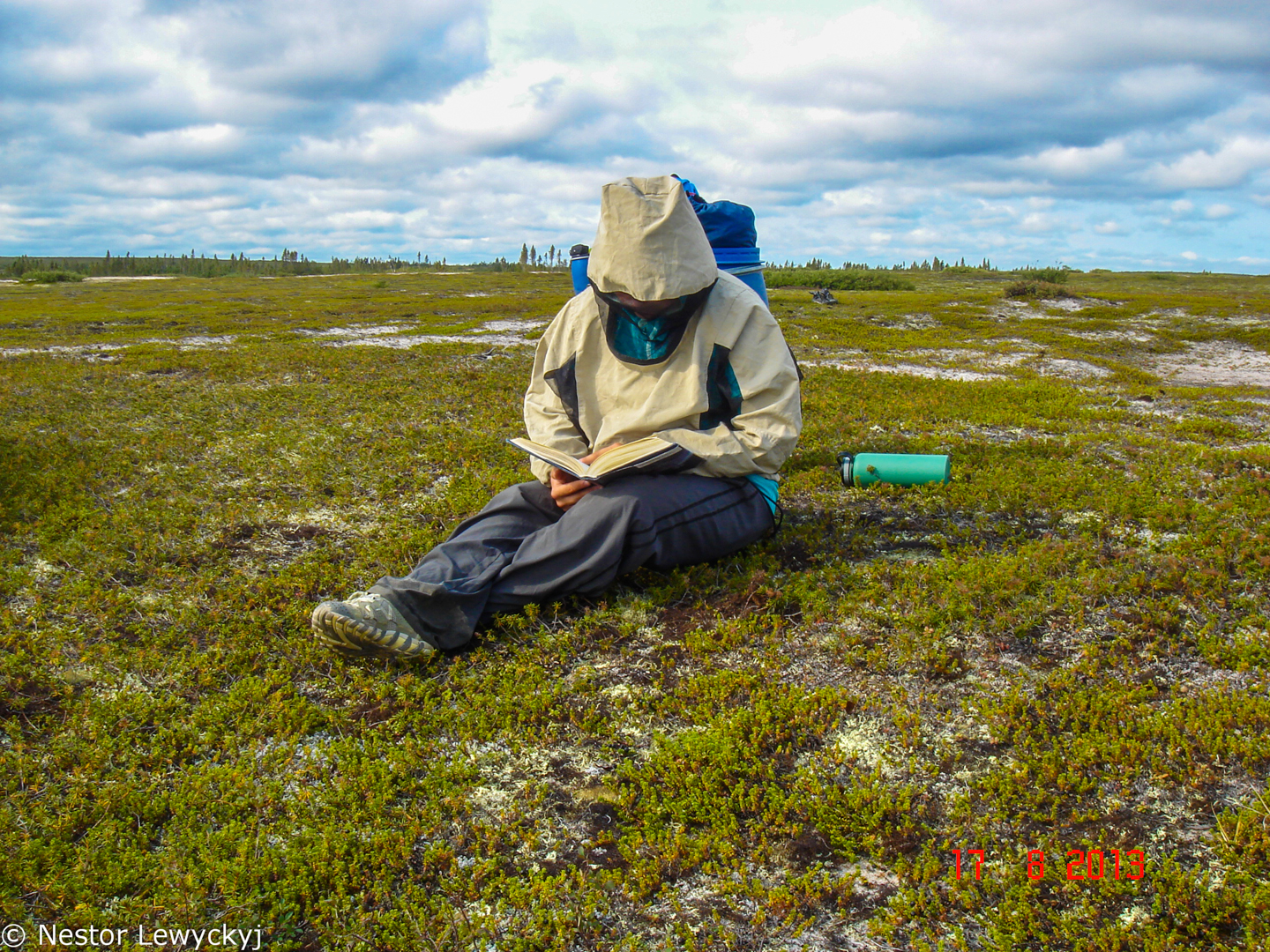 Any time, any place! Alex waiting for Paul to finish packing up their tent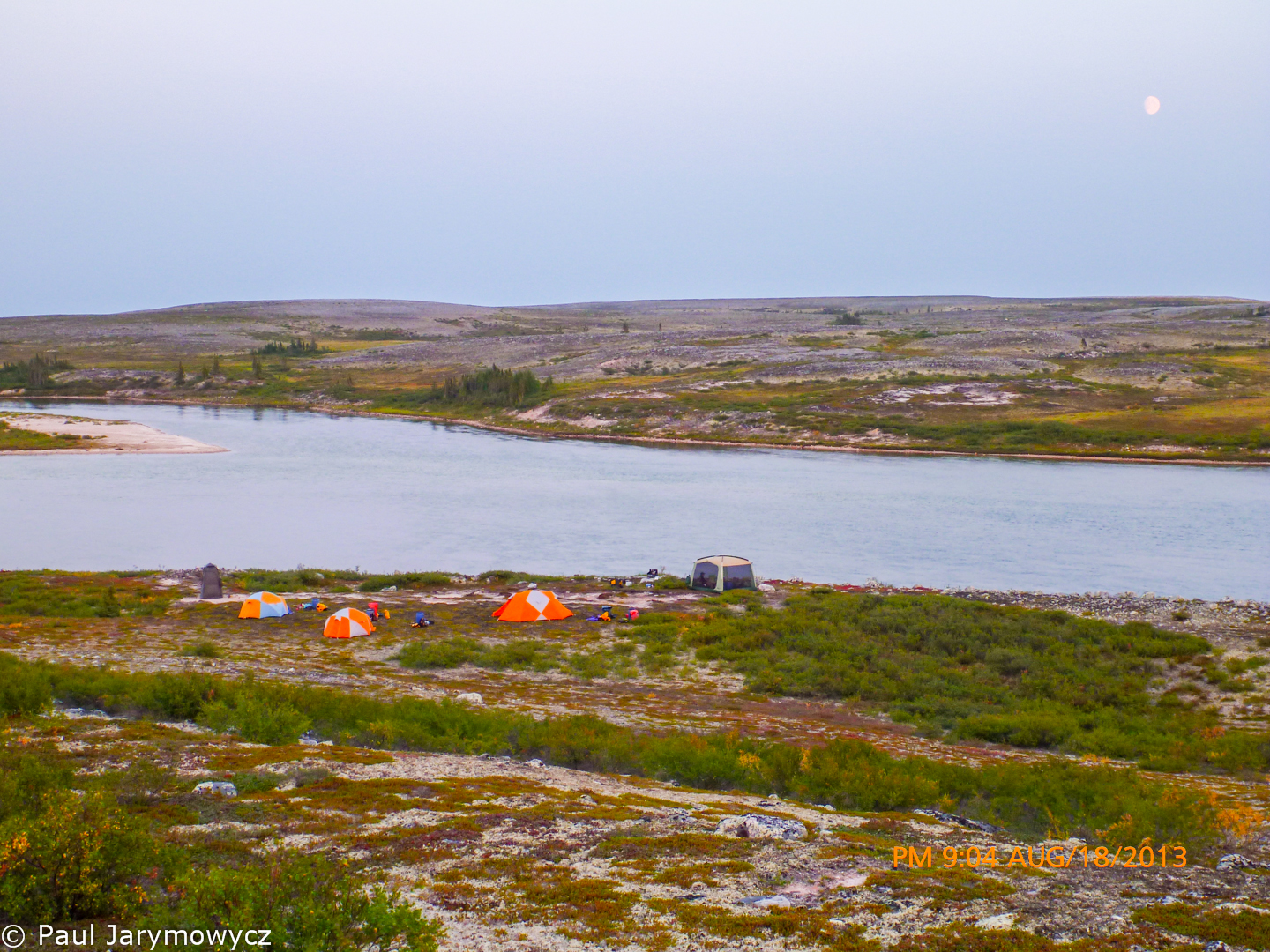 A good view of our camp on the second-to-last night out on the Thelon River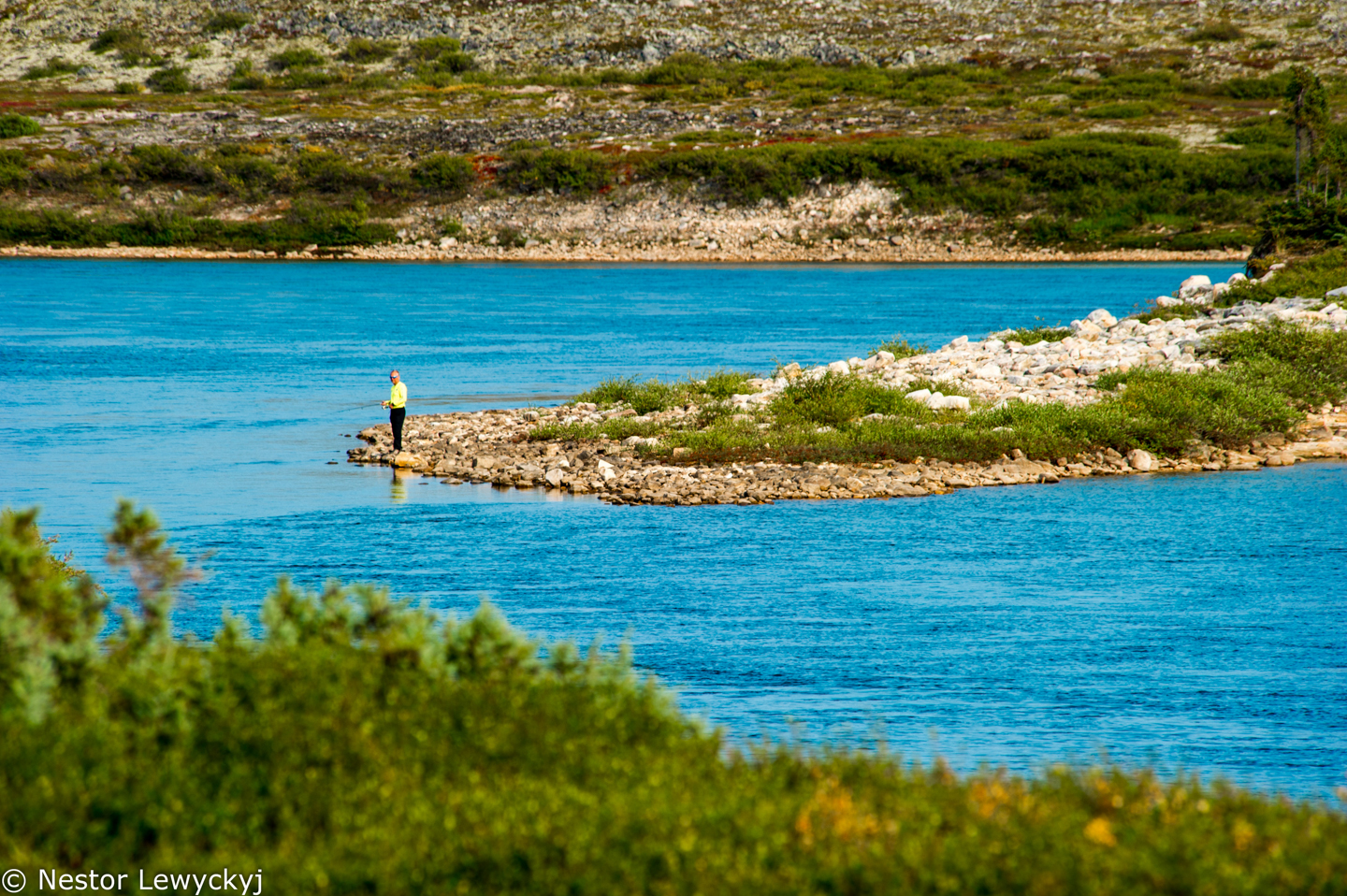 Me trying to catch some Grayling, but this was not the best spot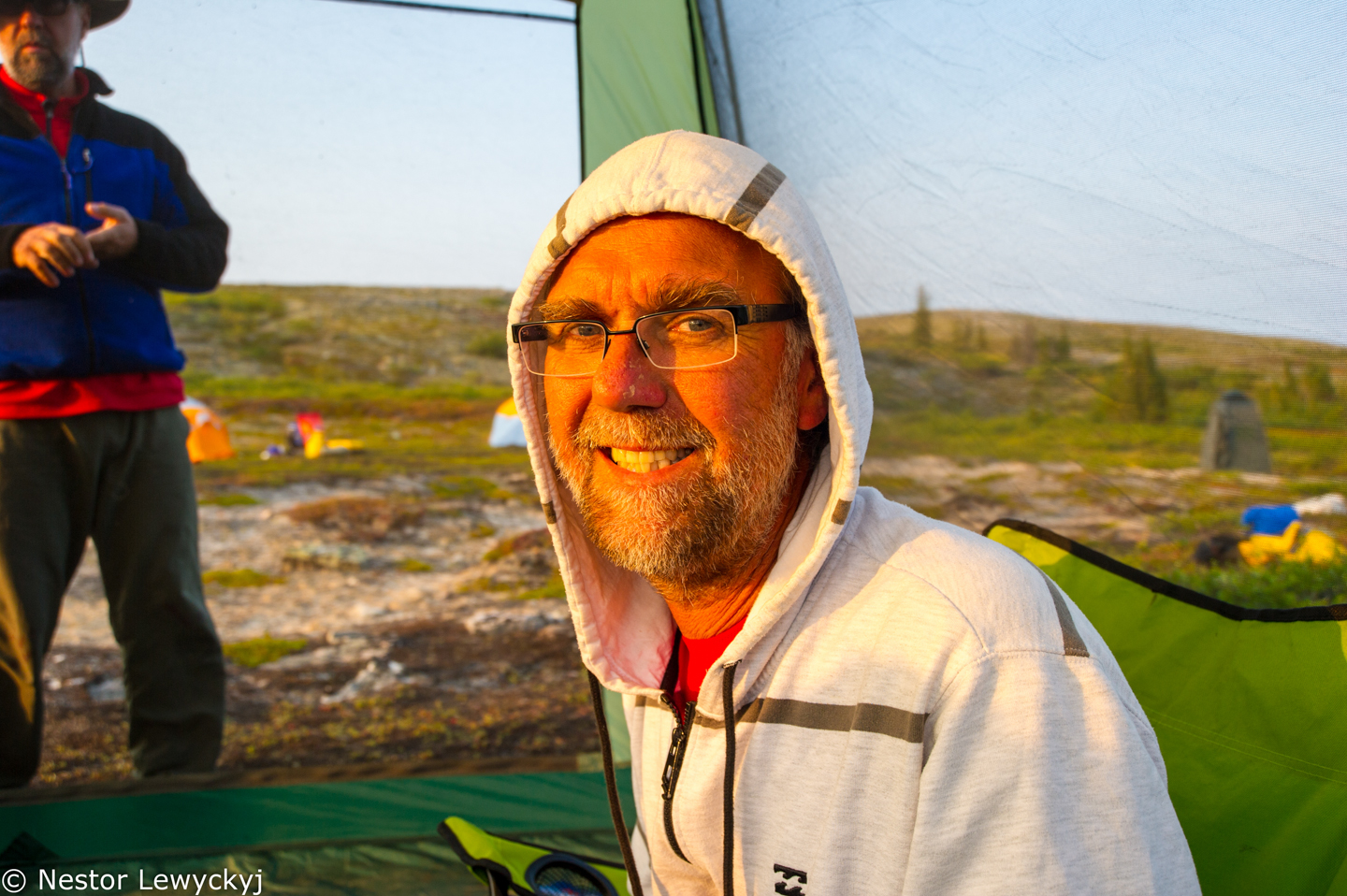 Guy from the hood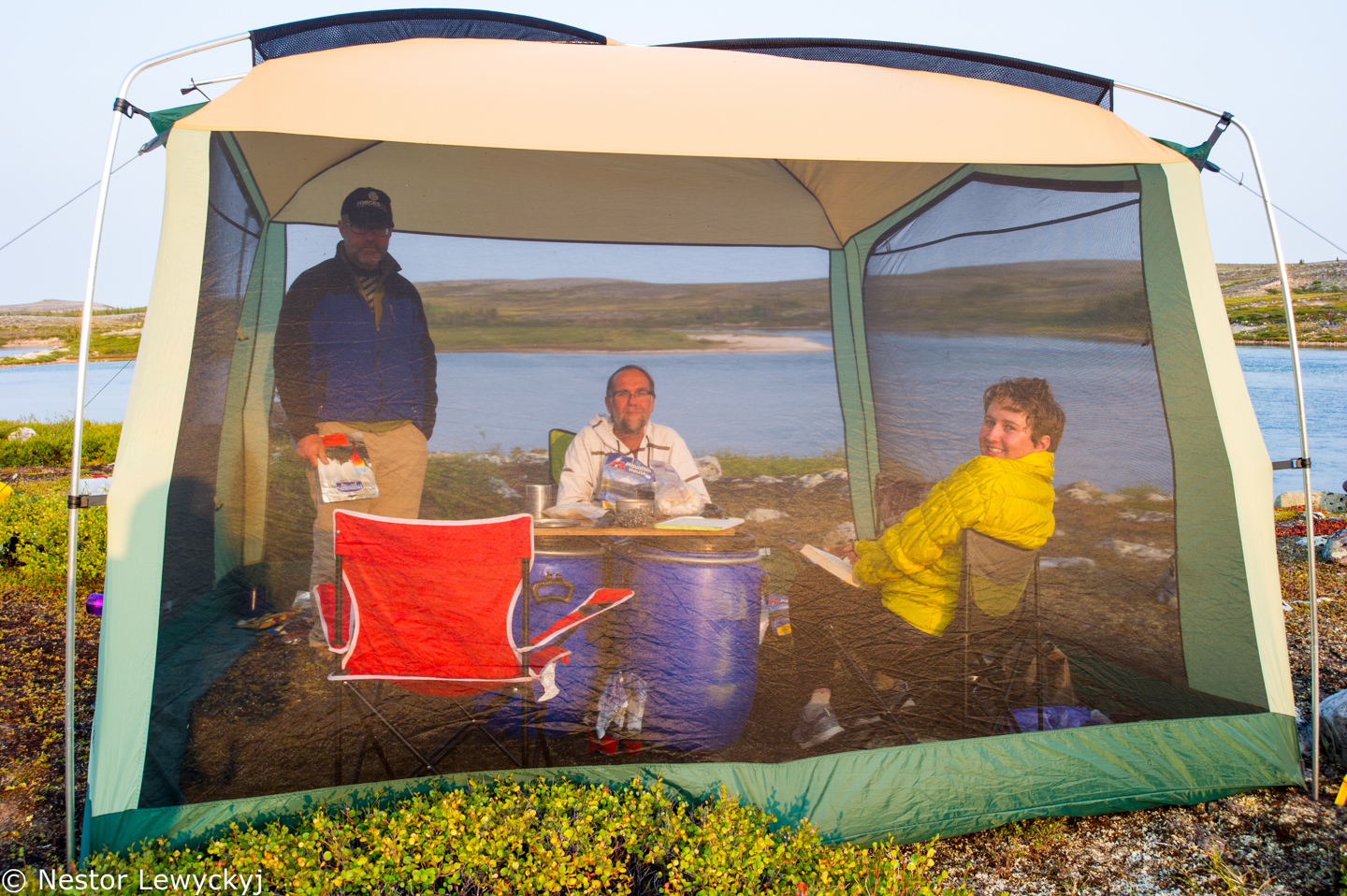 Our sanctuary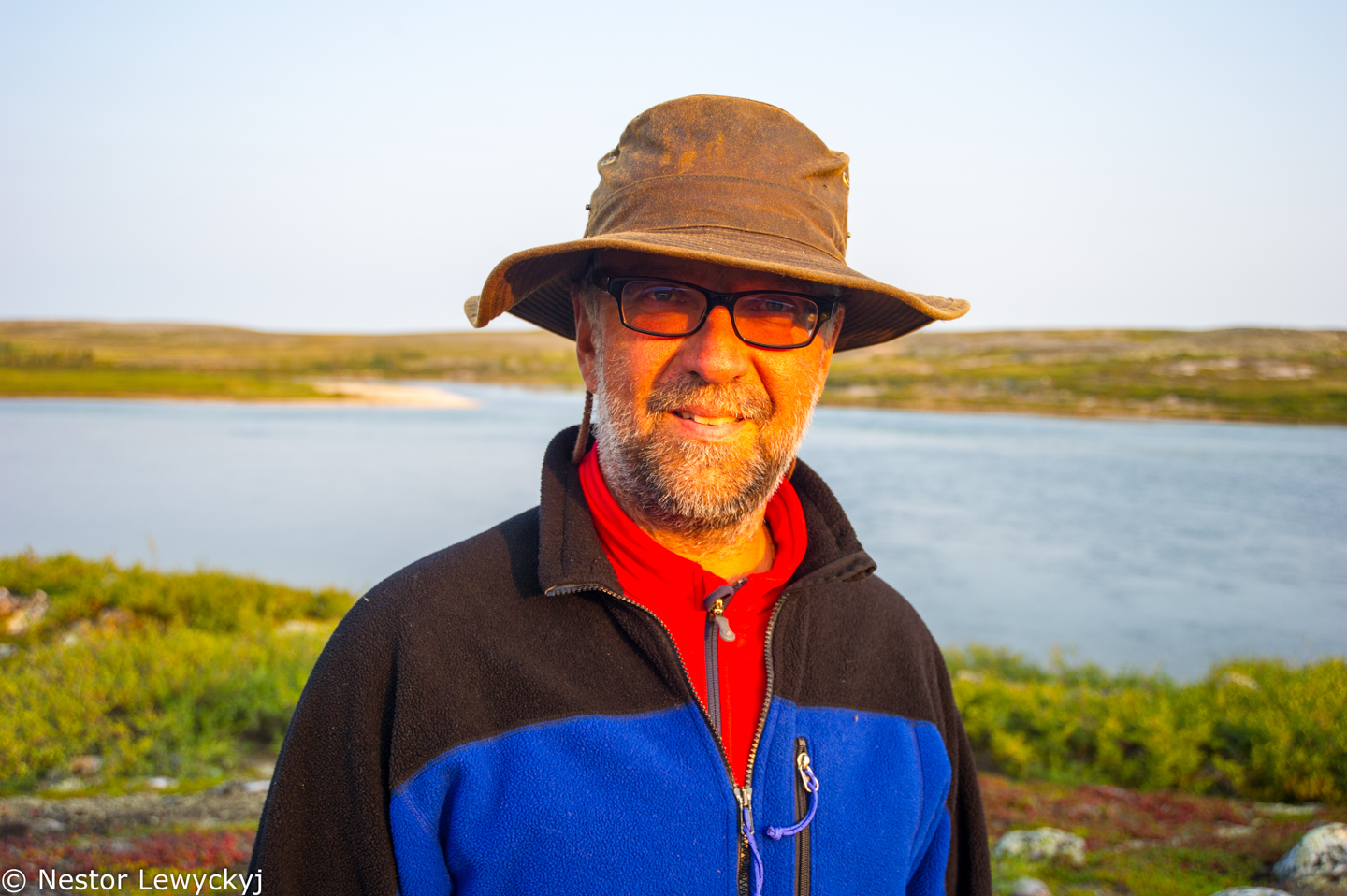 Bohdan had a great hat along for the trip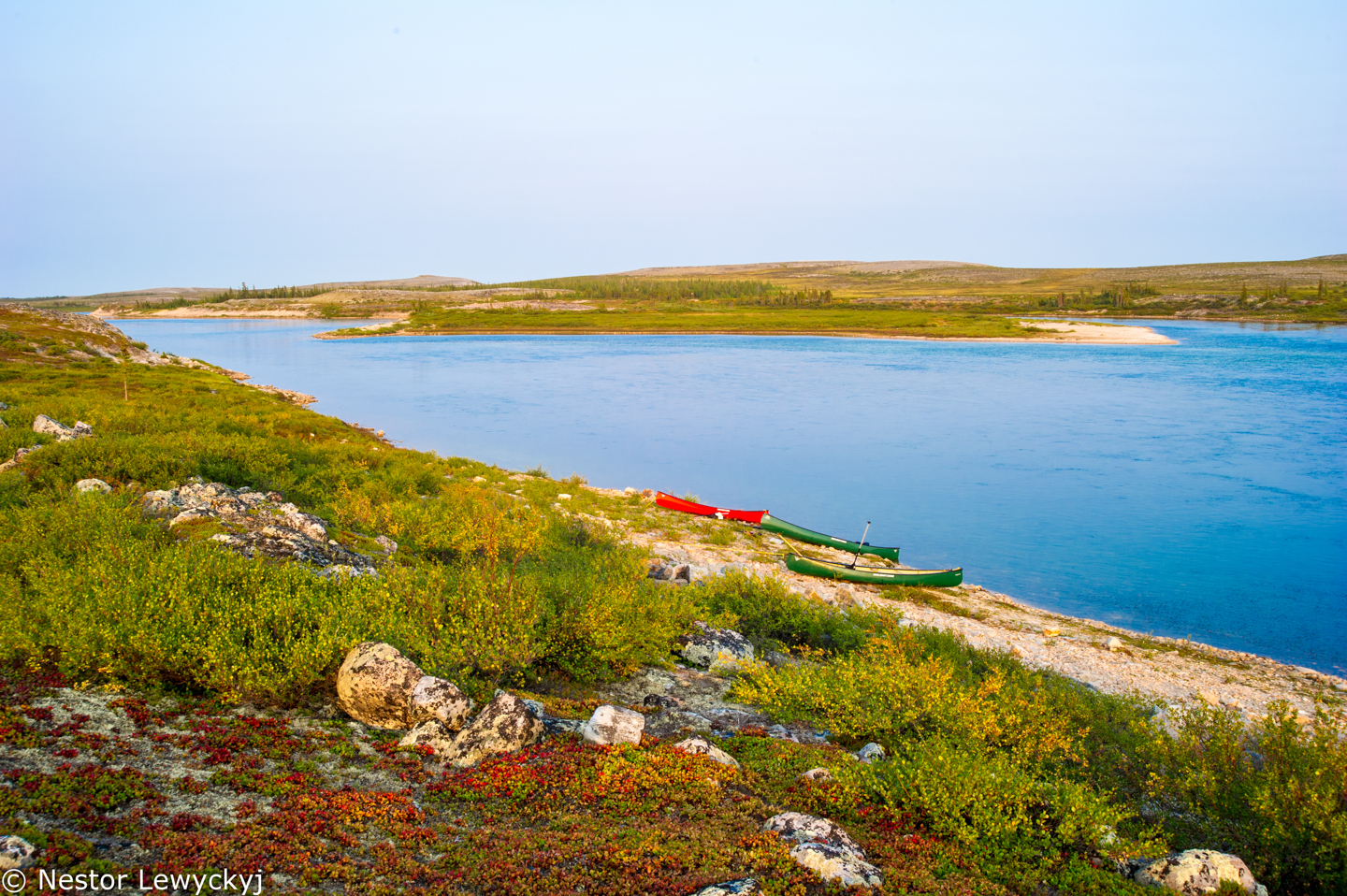 The tundra was starting to turn fall colours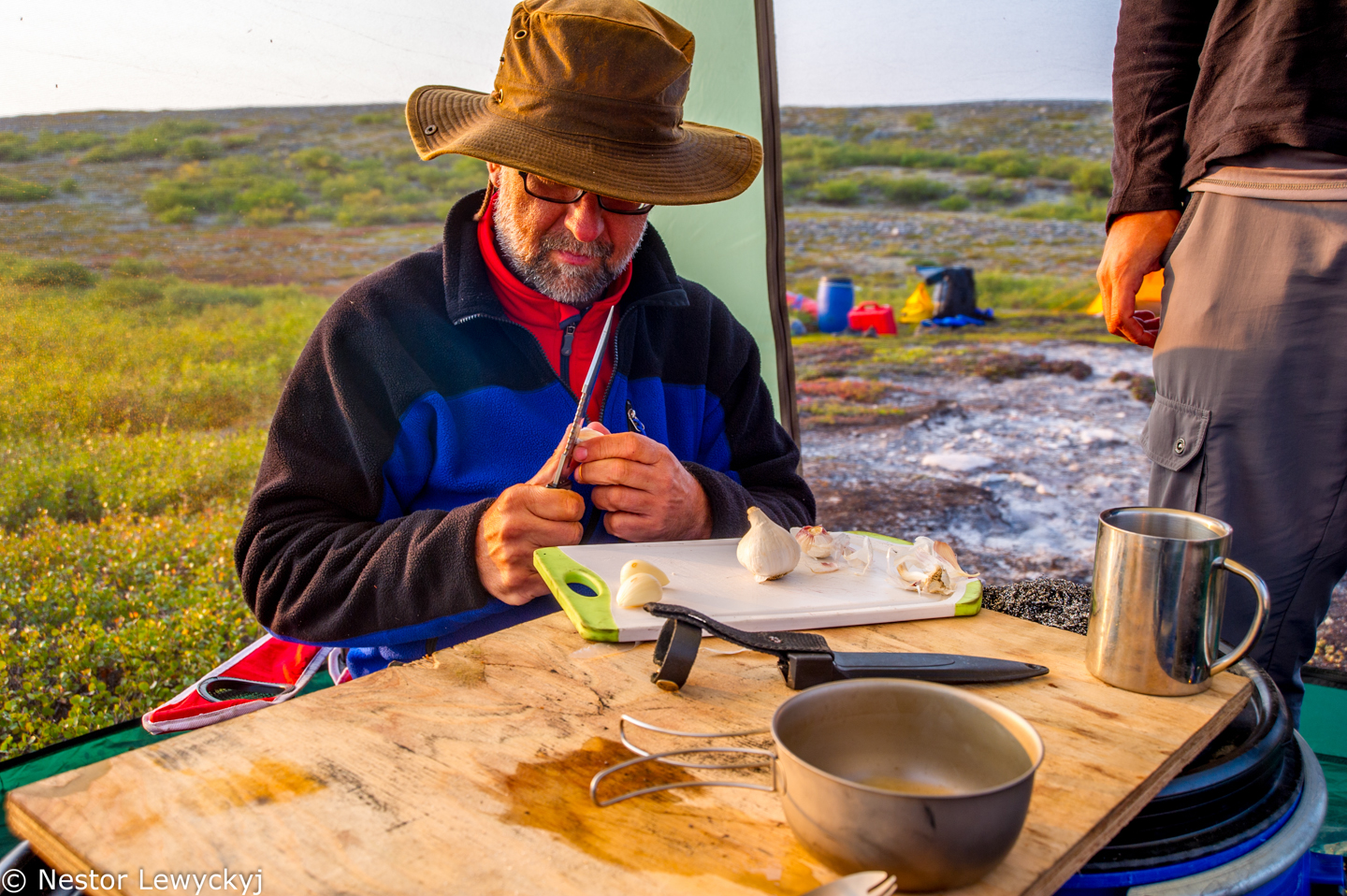 Fresh garlic! We had lots of it and it lasted us throughout the trip. We also had fresh ginger and onions. This made the fish meals always amazing-tasting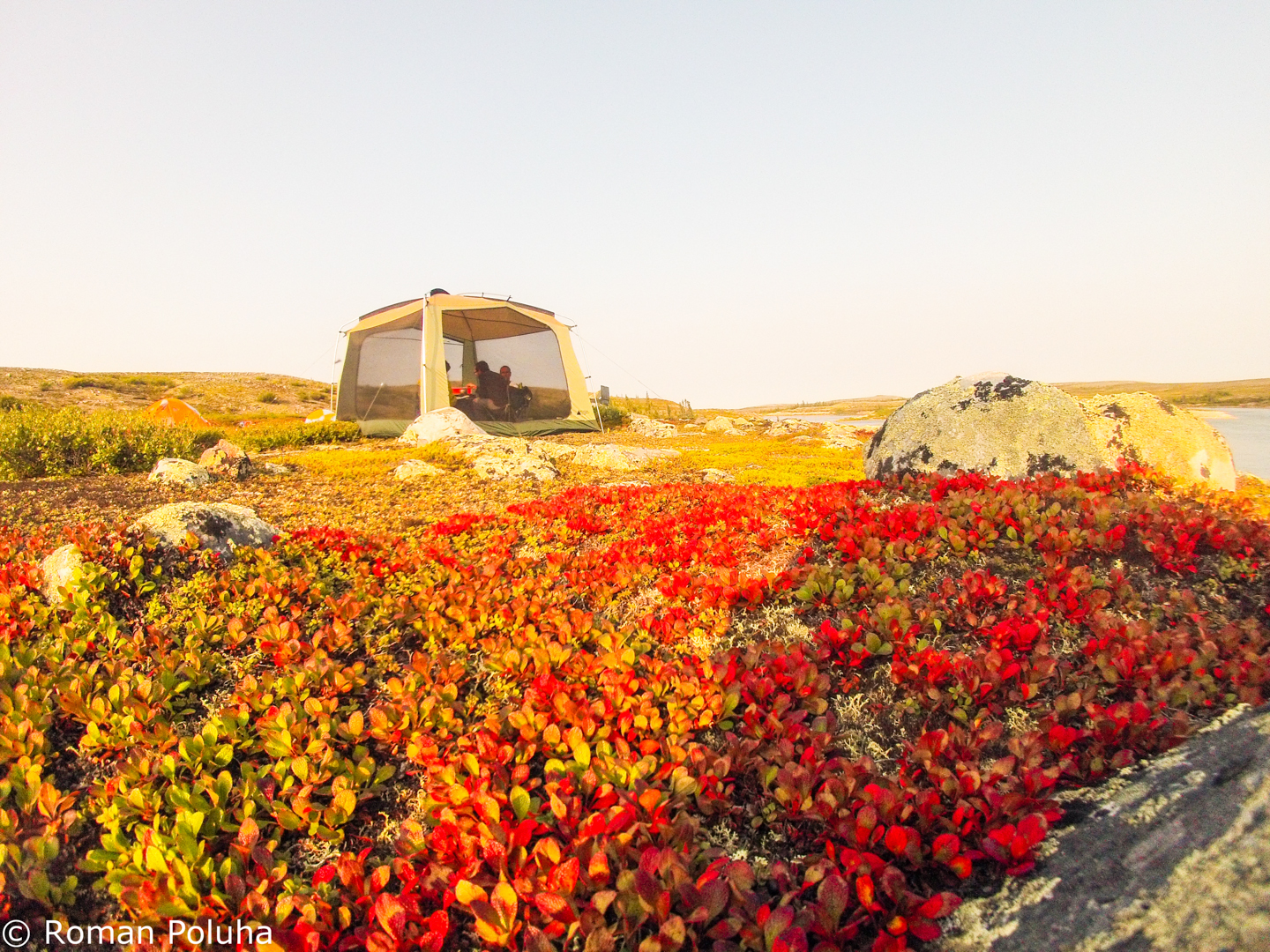 Roman caught some of the amazing colours of the tundra on his GoPro camera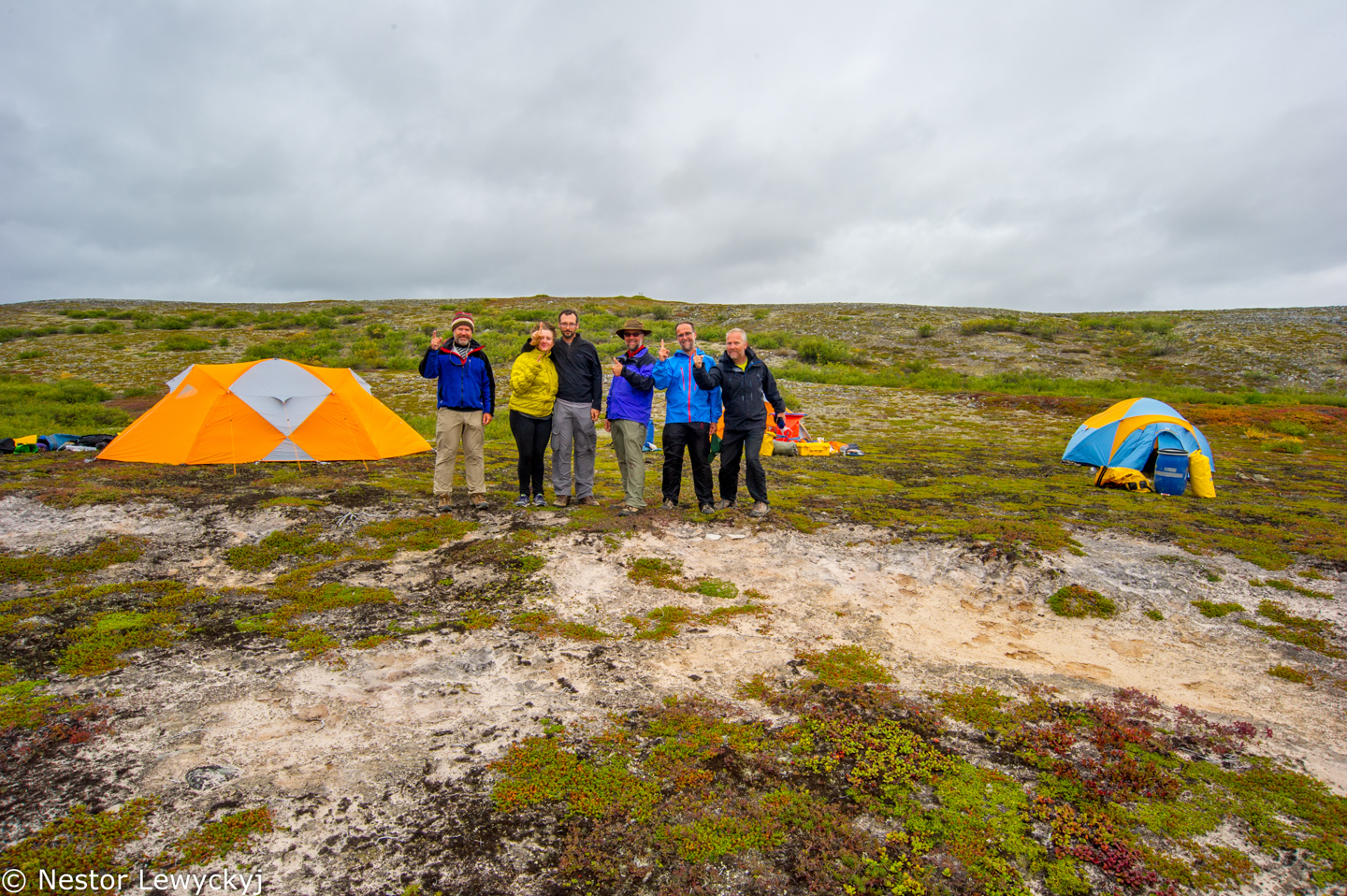 If I am not mistaken, we are signalling that we had 1 more night left out on the tundra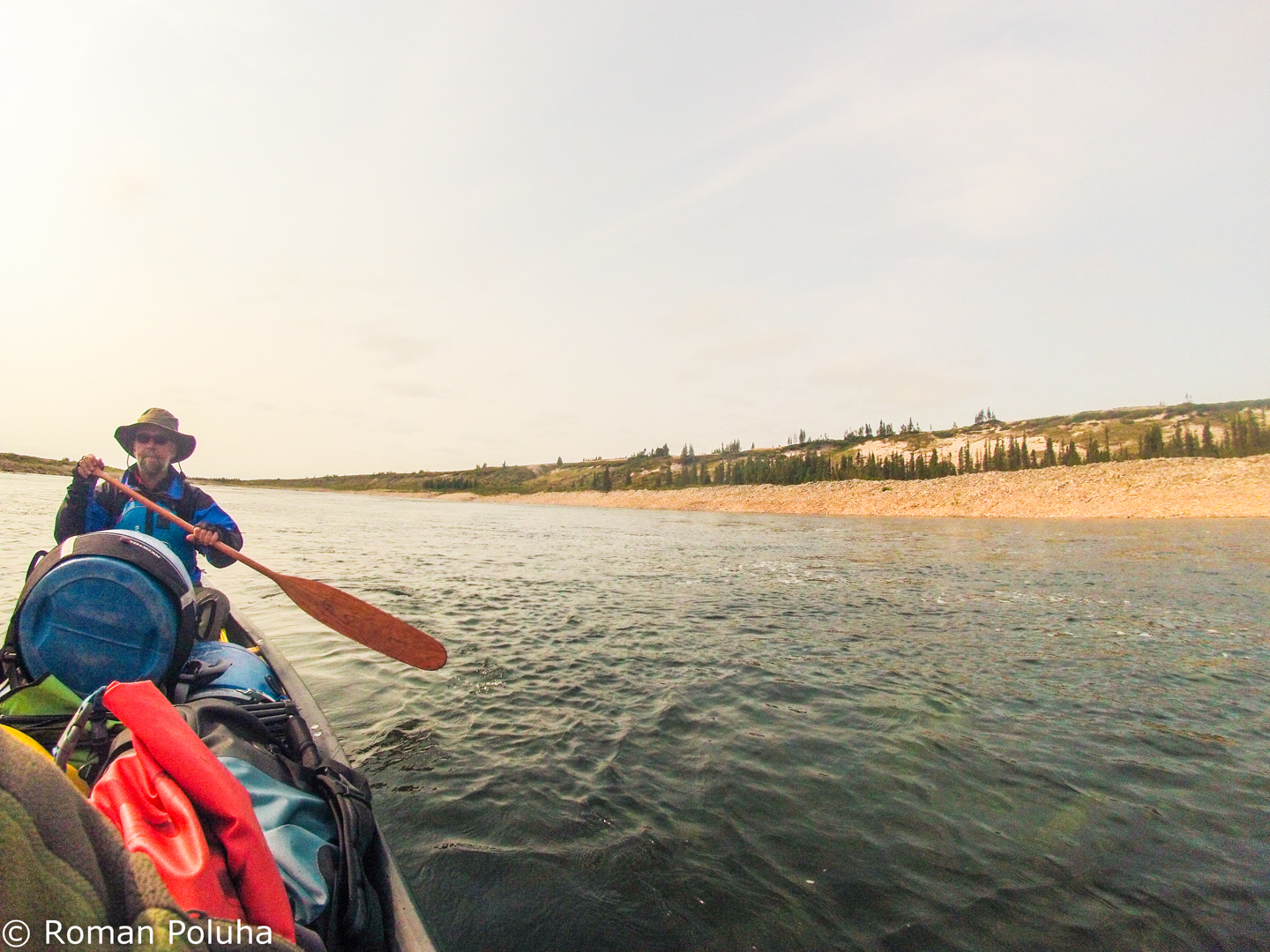 Bohdan in the stern of the canoe with Roman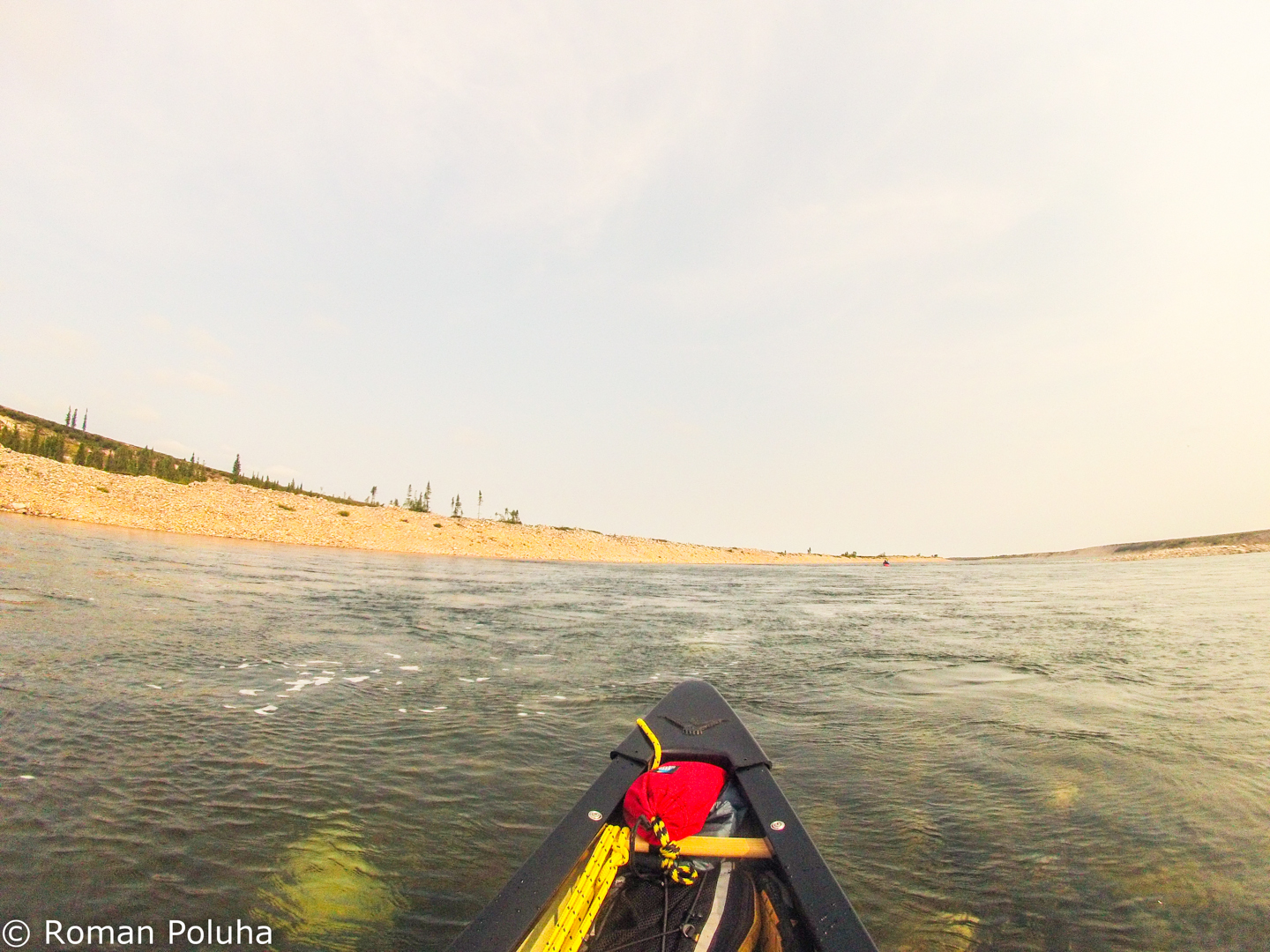 A swift on the Thelon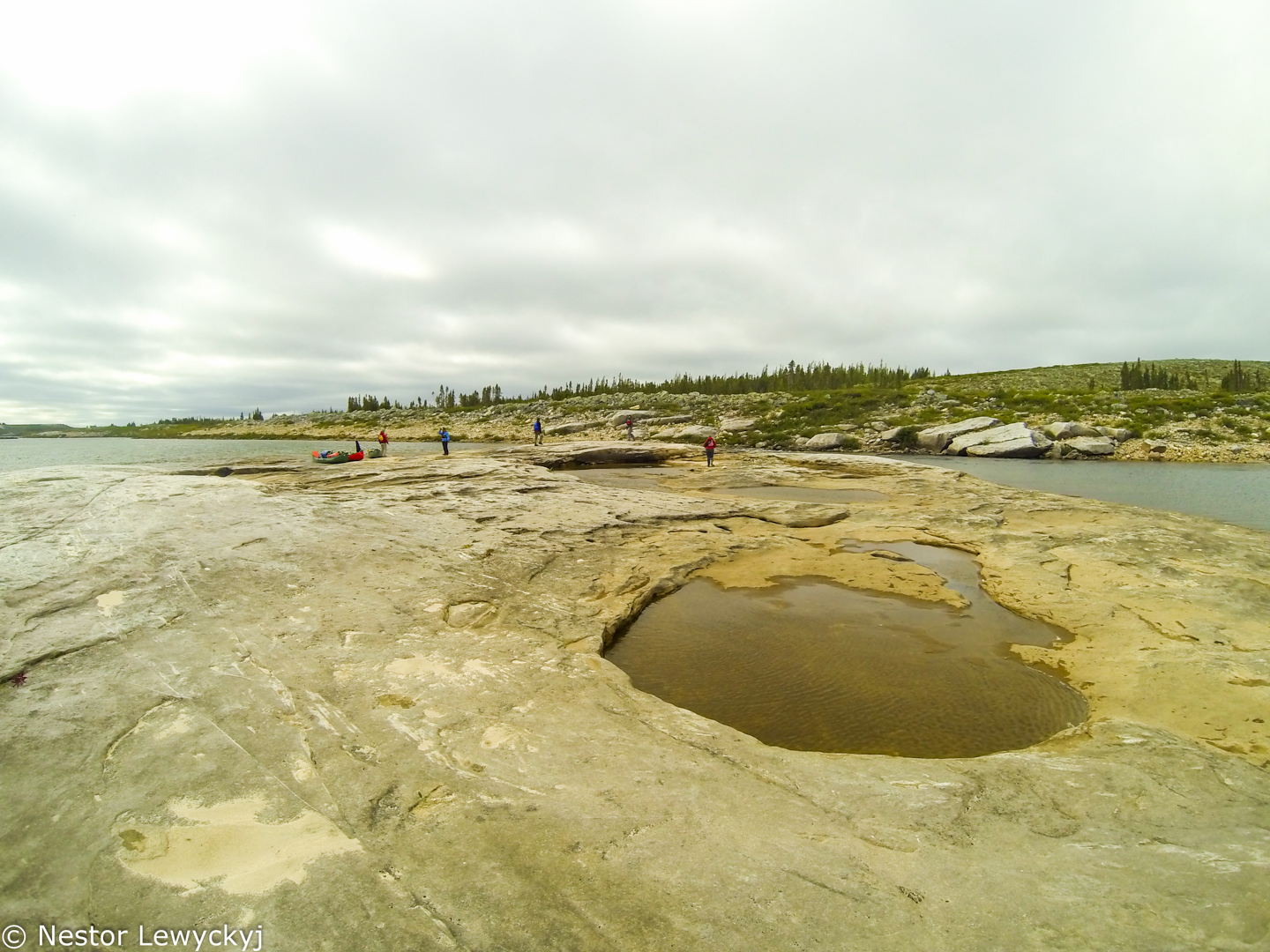 This was an interesting spot where Roman and I got into some trouble in 2010. But that was in July and the water levels were much higher, so much so that it took us some time to recognize the place. changing water levels really change how a any spot on the river looks. It makes a huge difference not only in how the river looks, but how it canoes.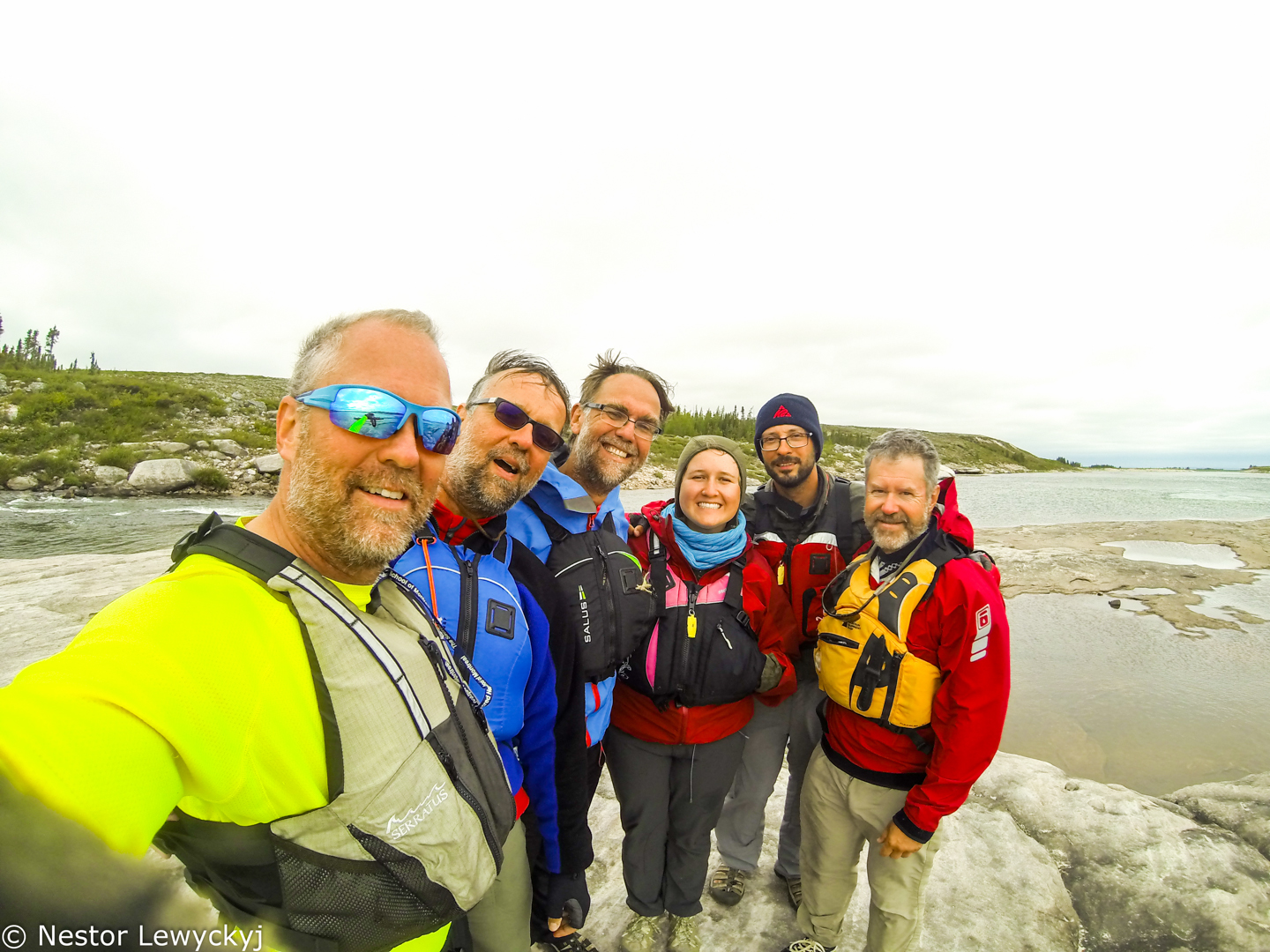 A selfie group shot at that spot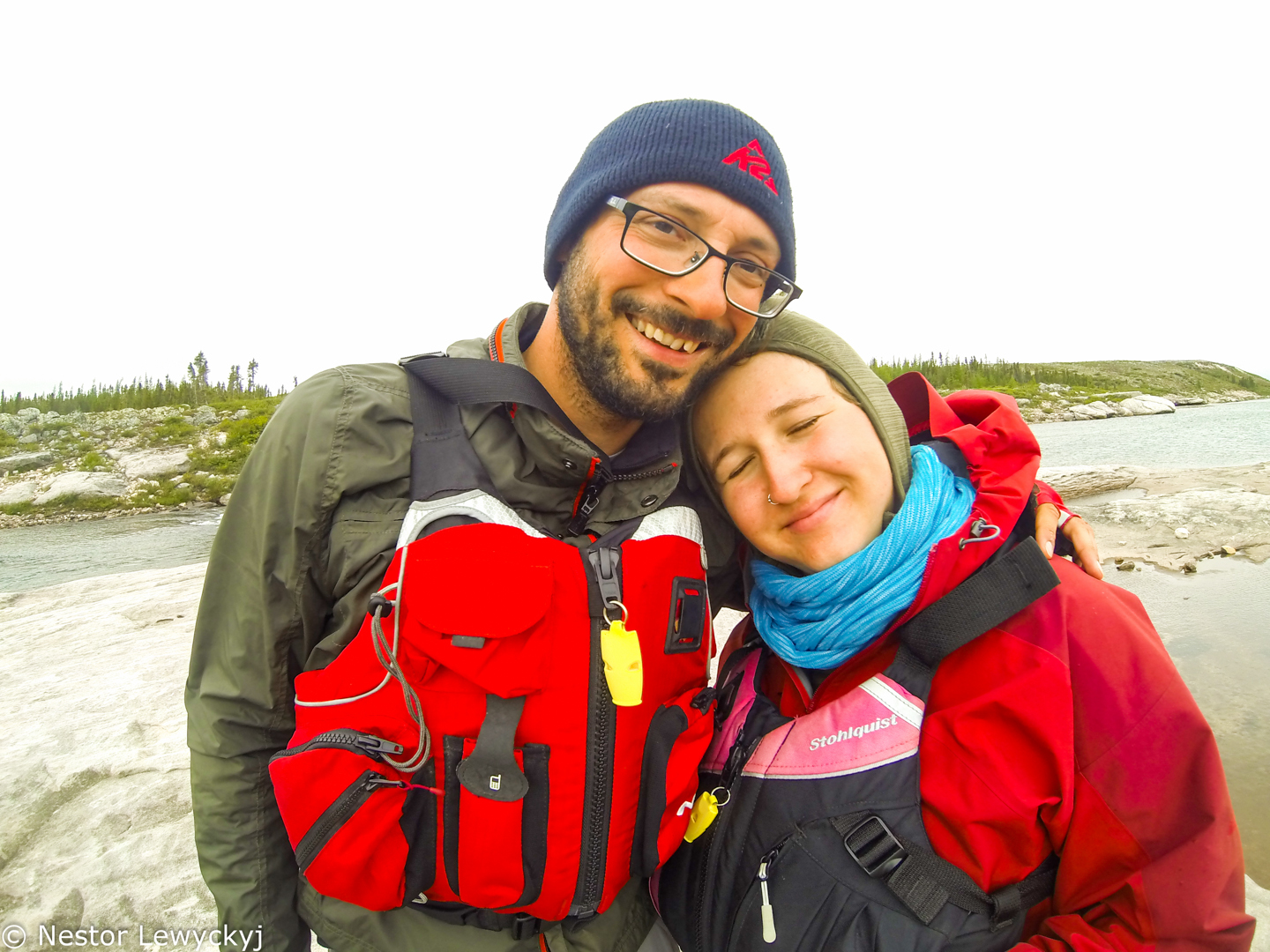 Alex and Paul were enjoying experiencing the challenge together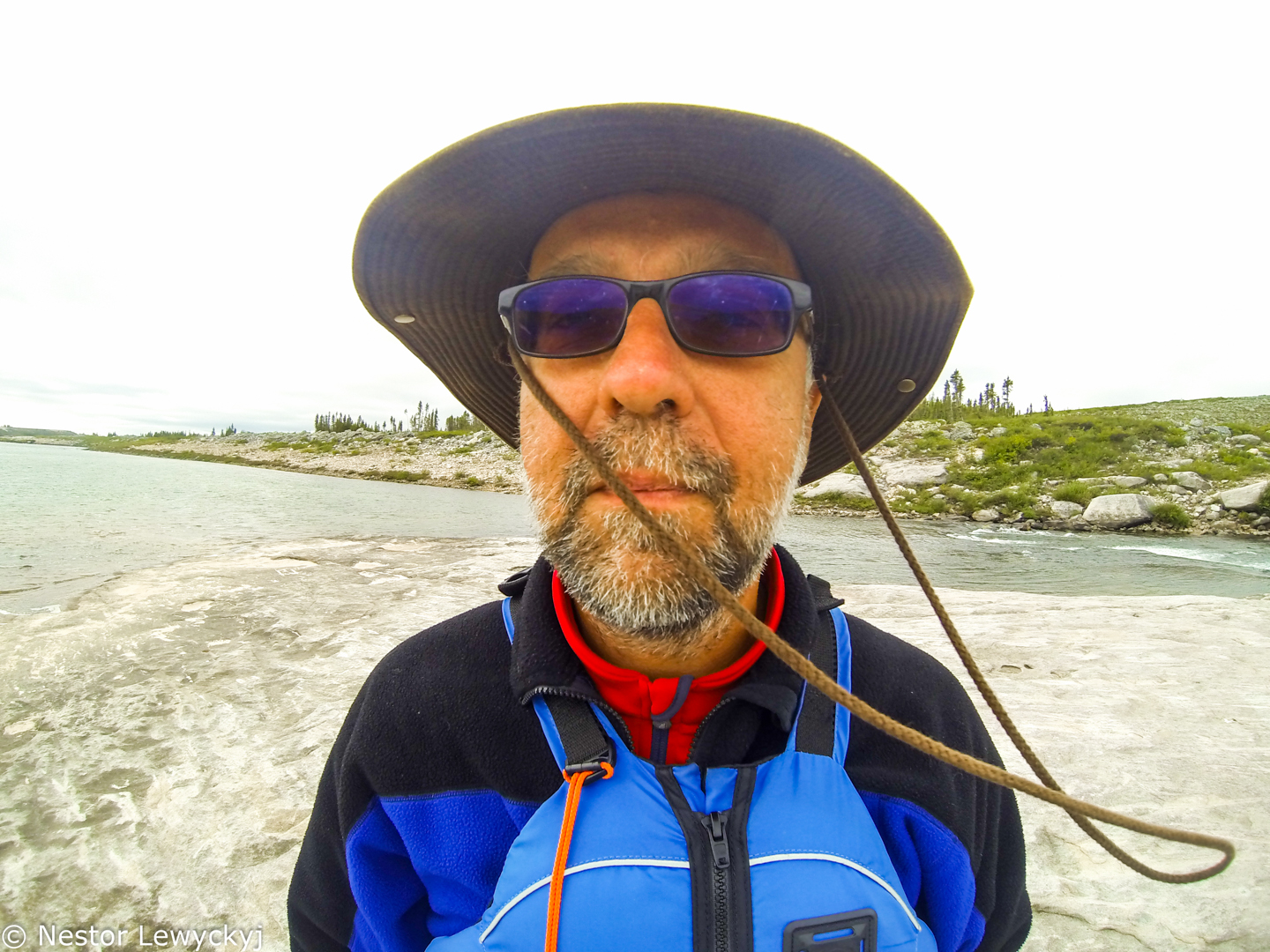 And man, all of our beards are getting rather grey.......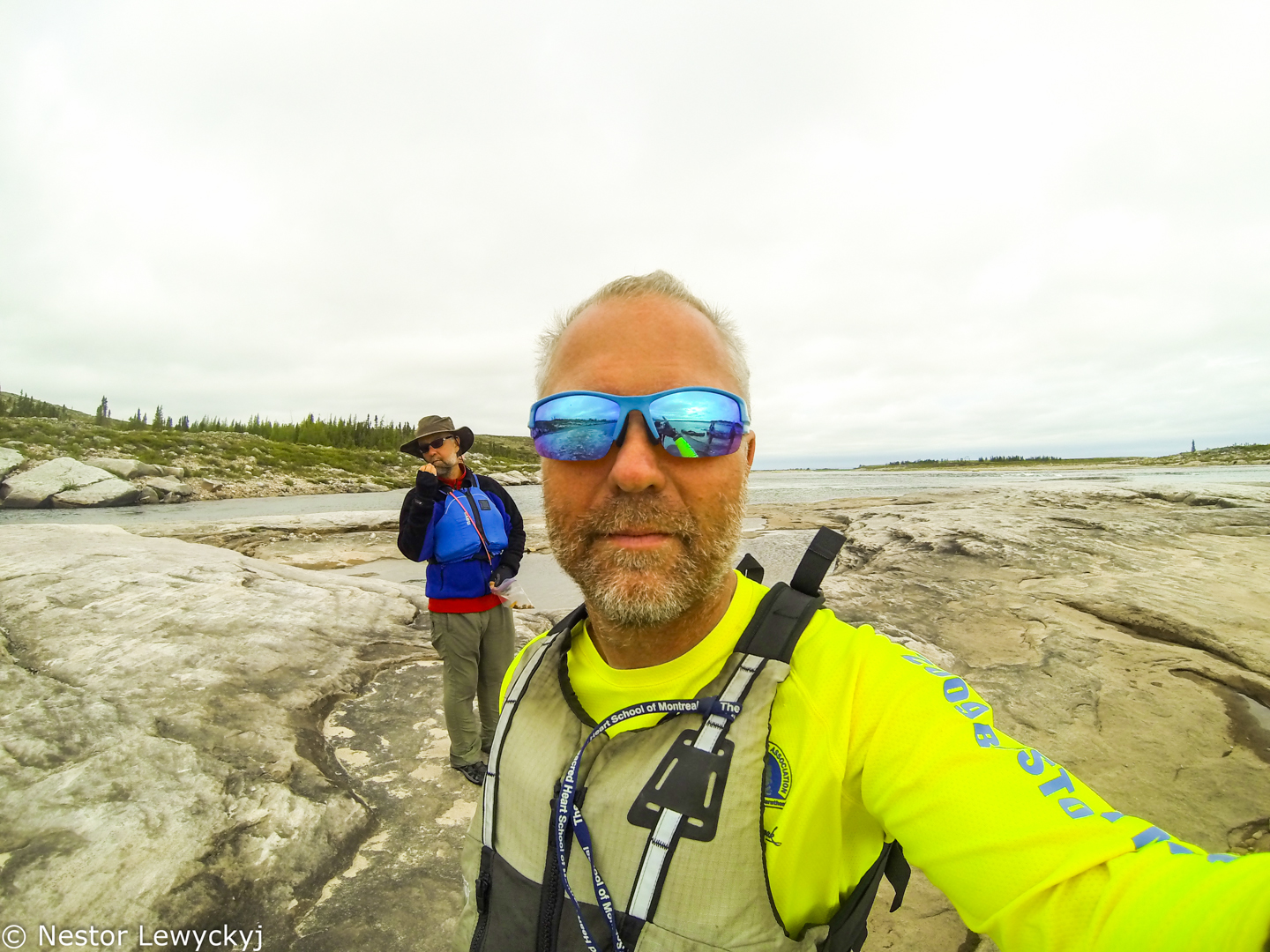 Including mine!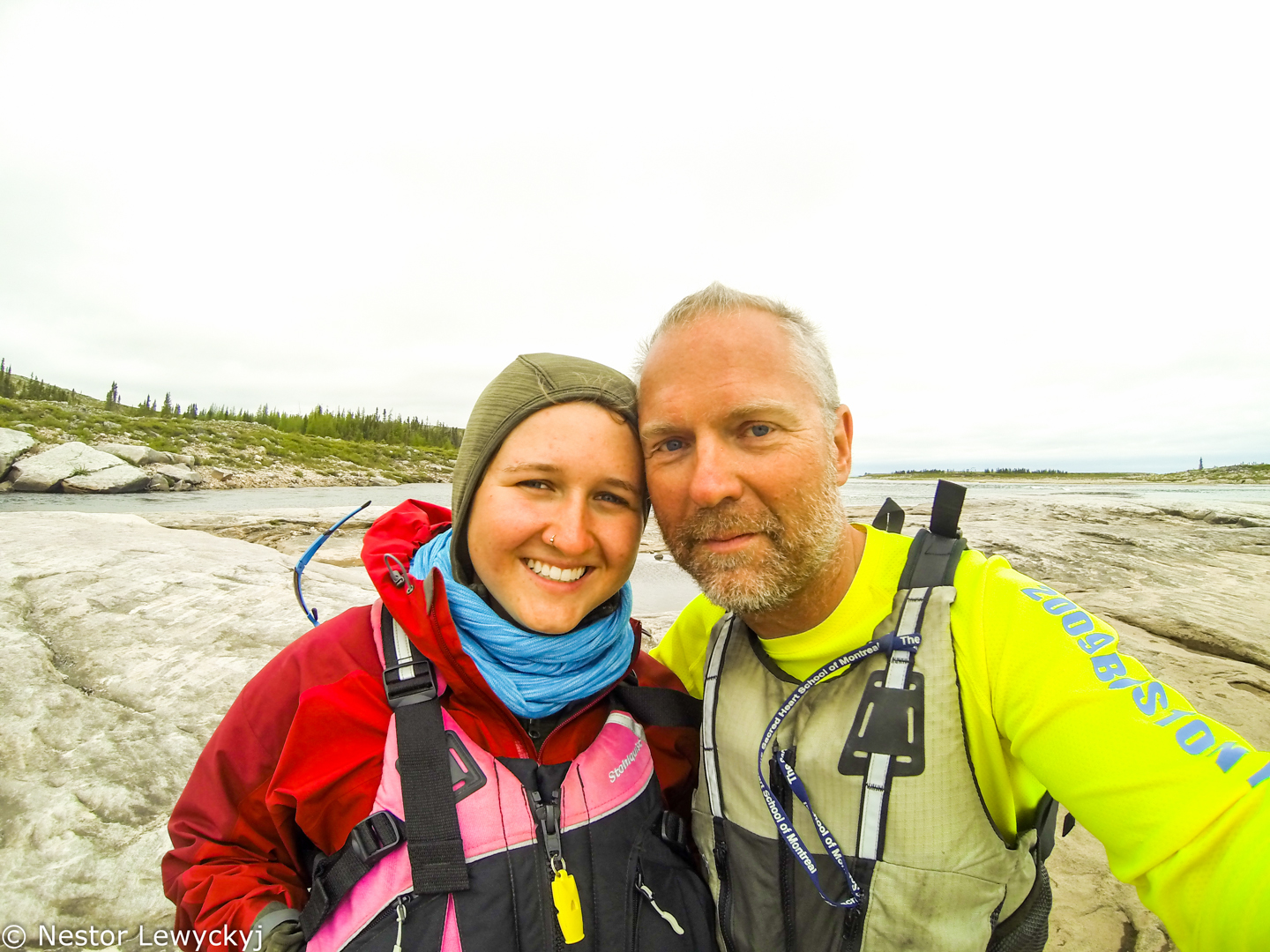 Alex and I. I love this shot.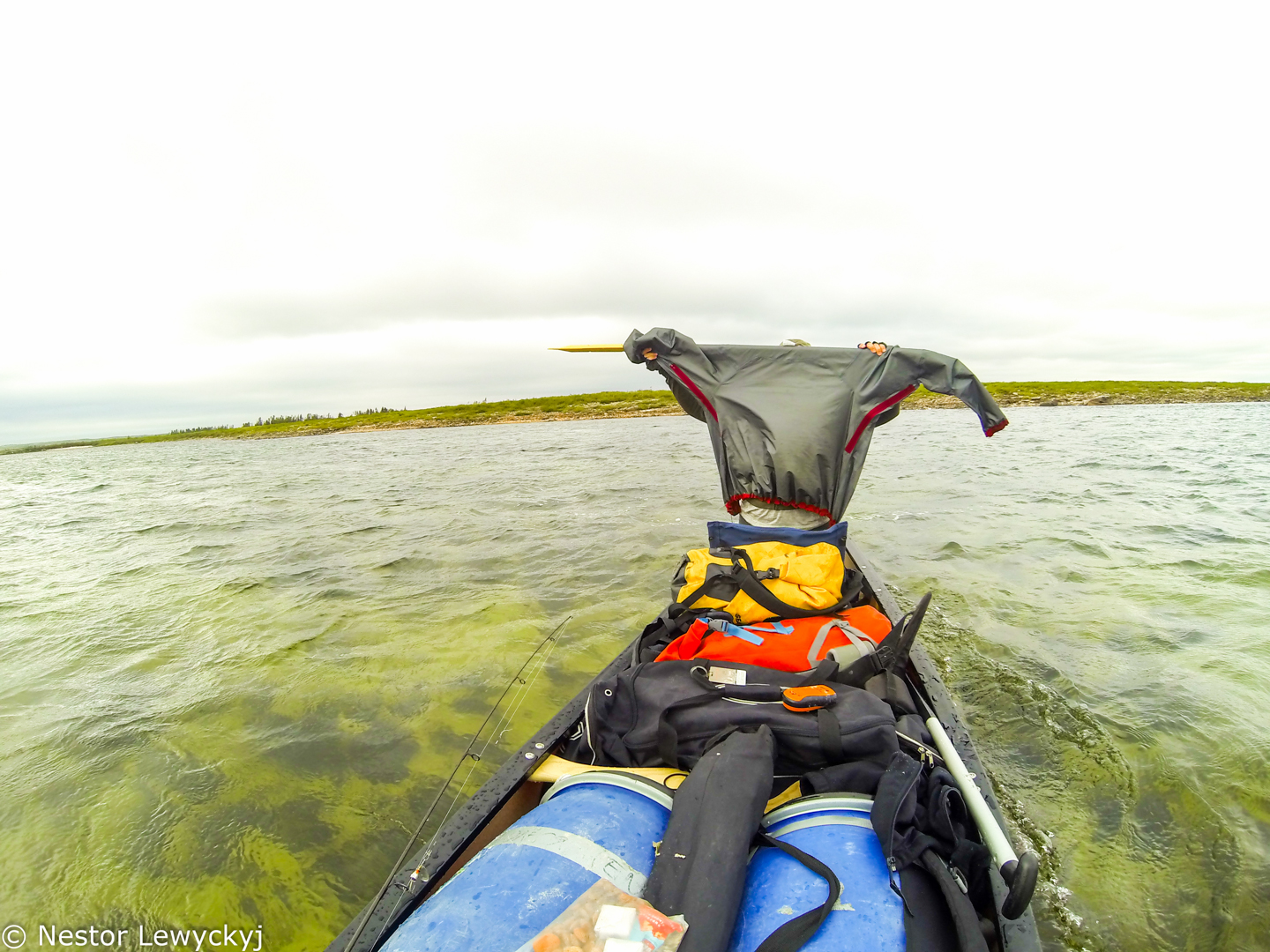 We had a stiff wind paddling out to Eyeberry Lake. Alex was trying to rig up a small sail to help us along.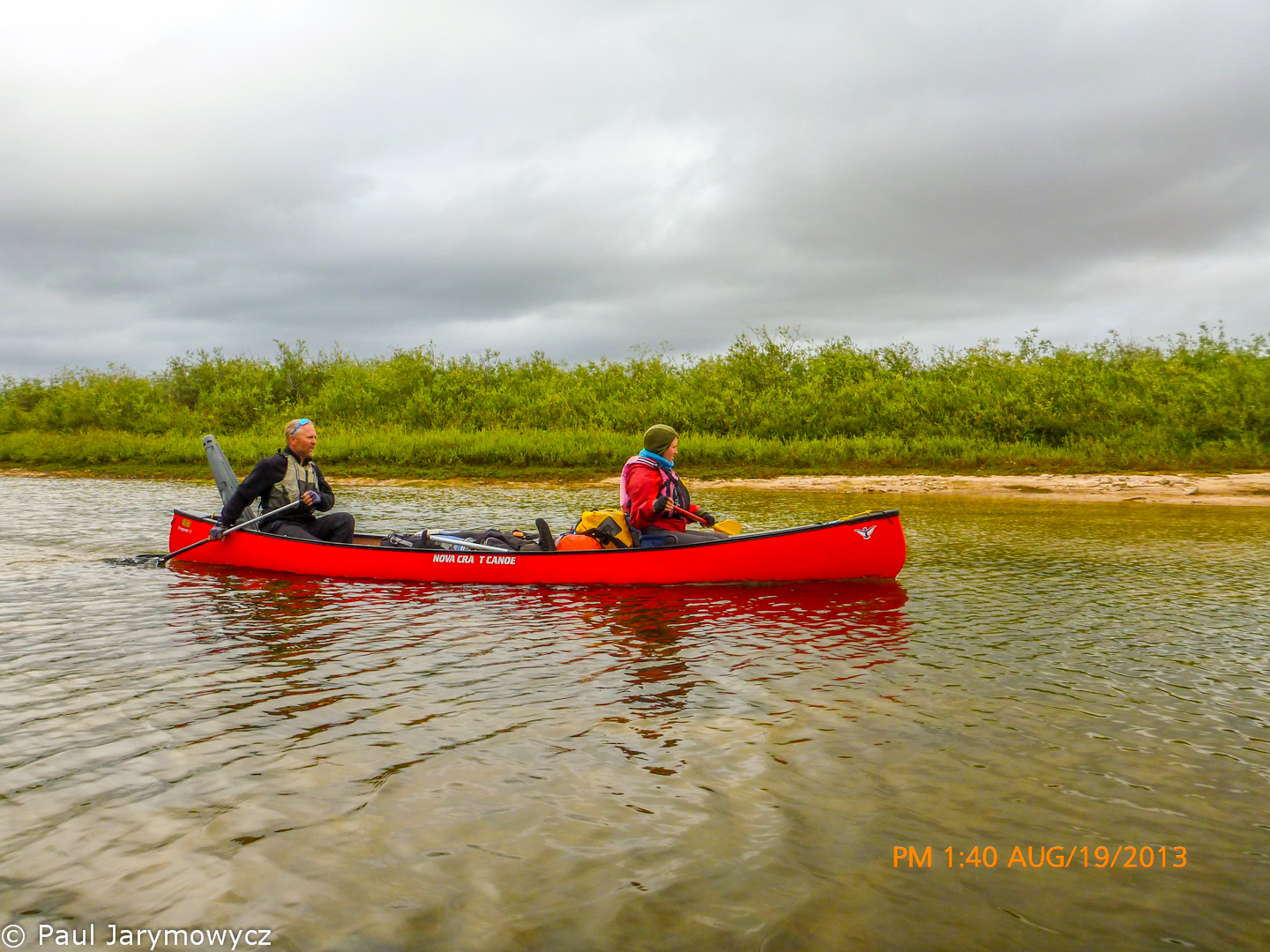 Meandering through one of the small channels as we approach Eyeberry Lake. We left the main channel of the Thelon and decided to approach the lake from the south where it breaks up into a number of channels. It was fun, but there was a wind rising and some of that was tough with very shallow water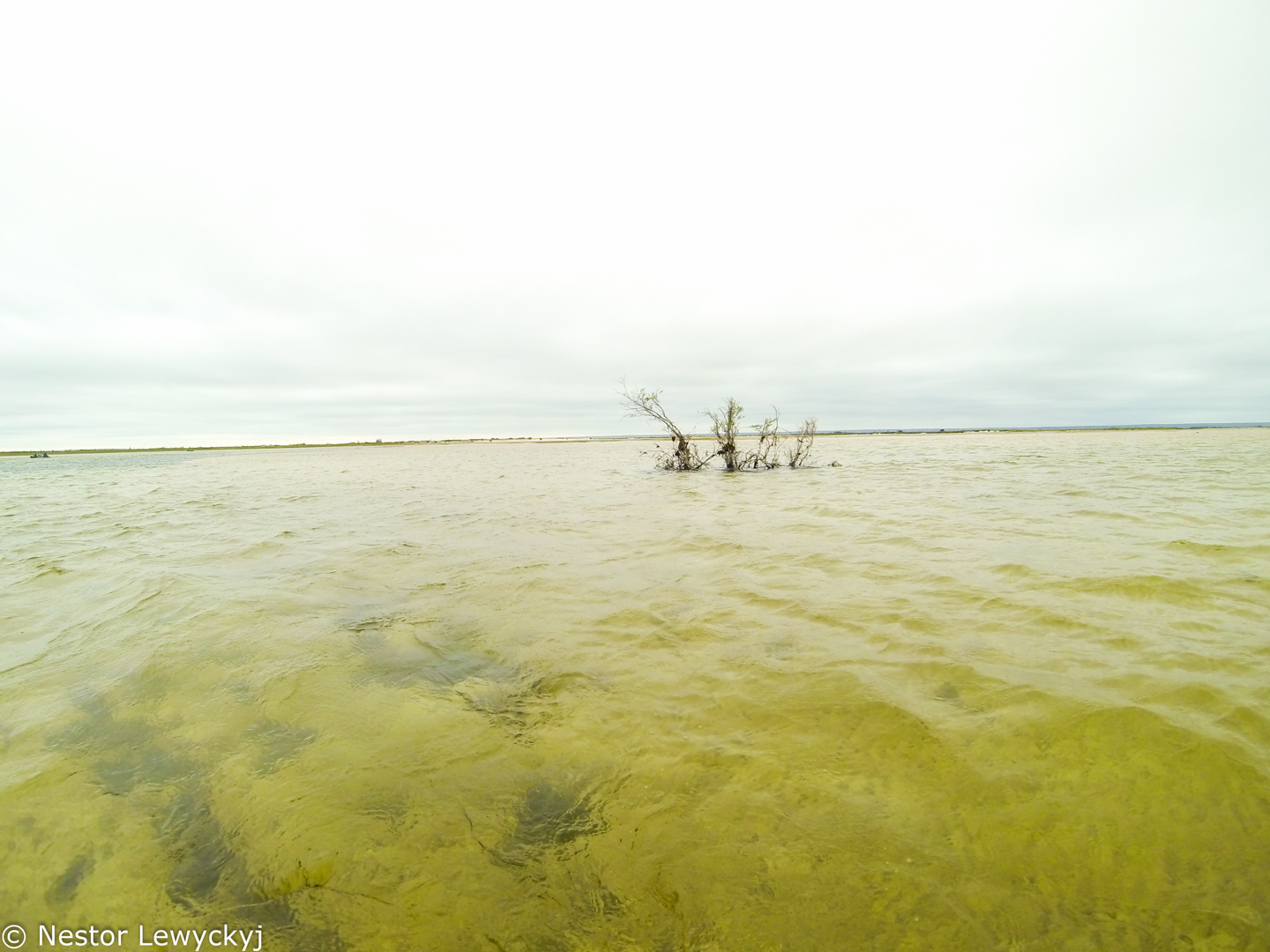 The southern end of Eyeberry Lake is very shallow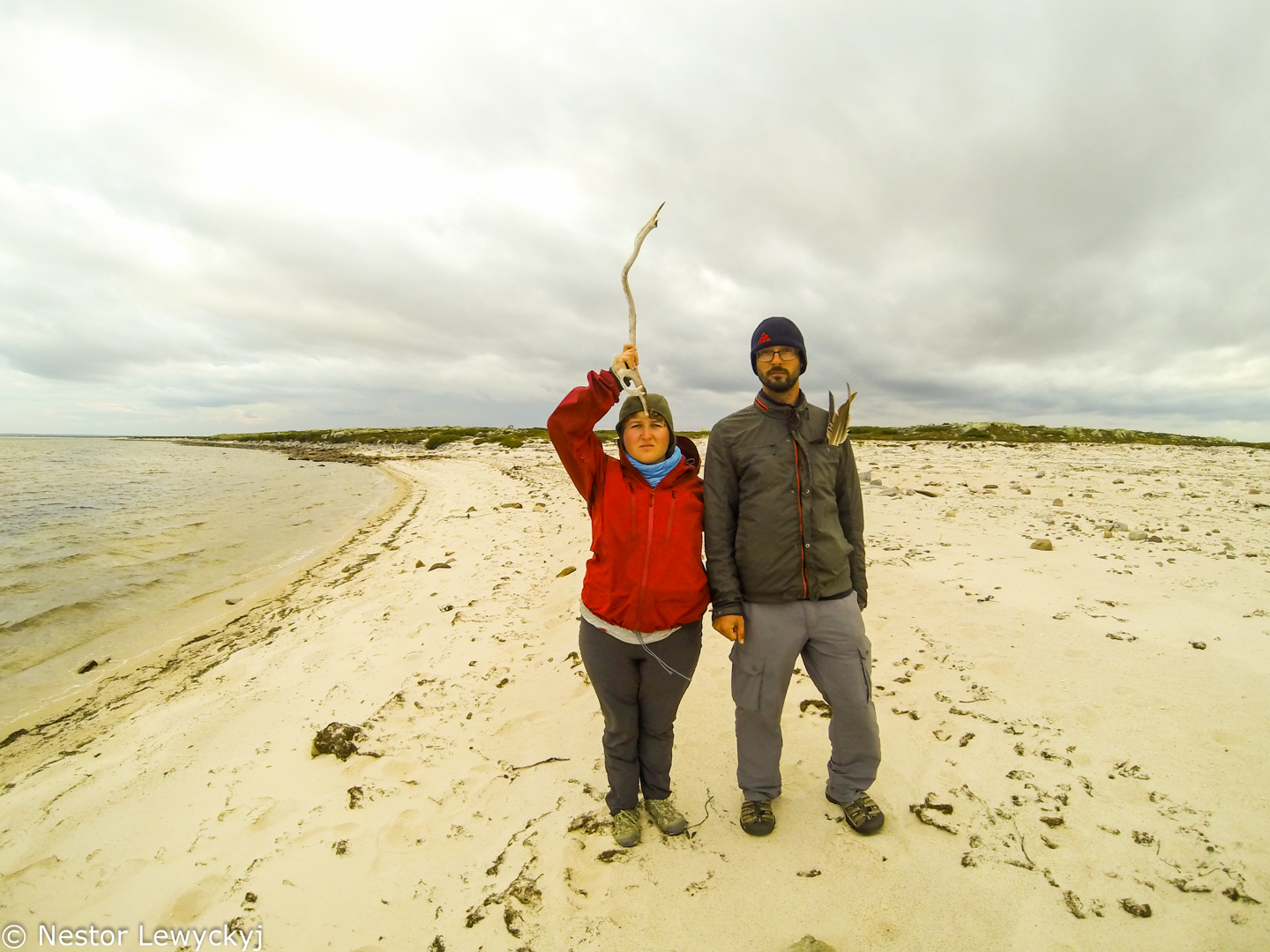 Alex and Paul, Tundra Gothic.....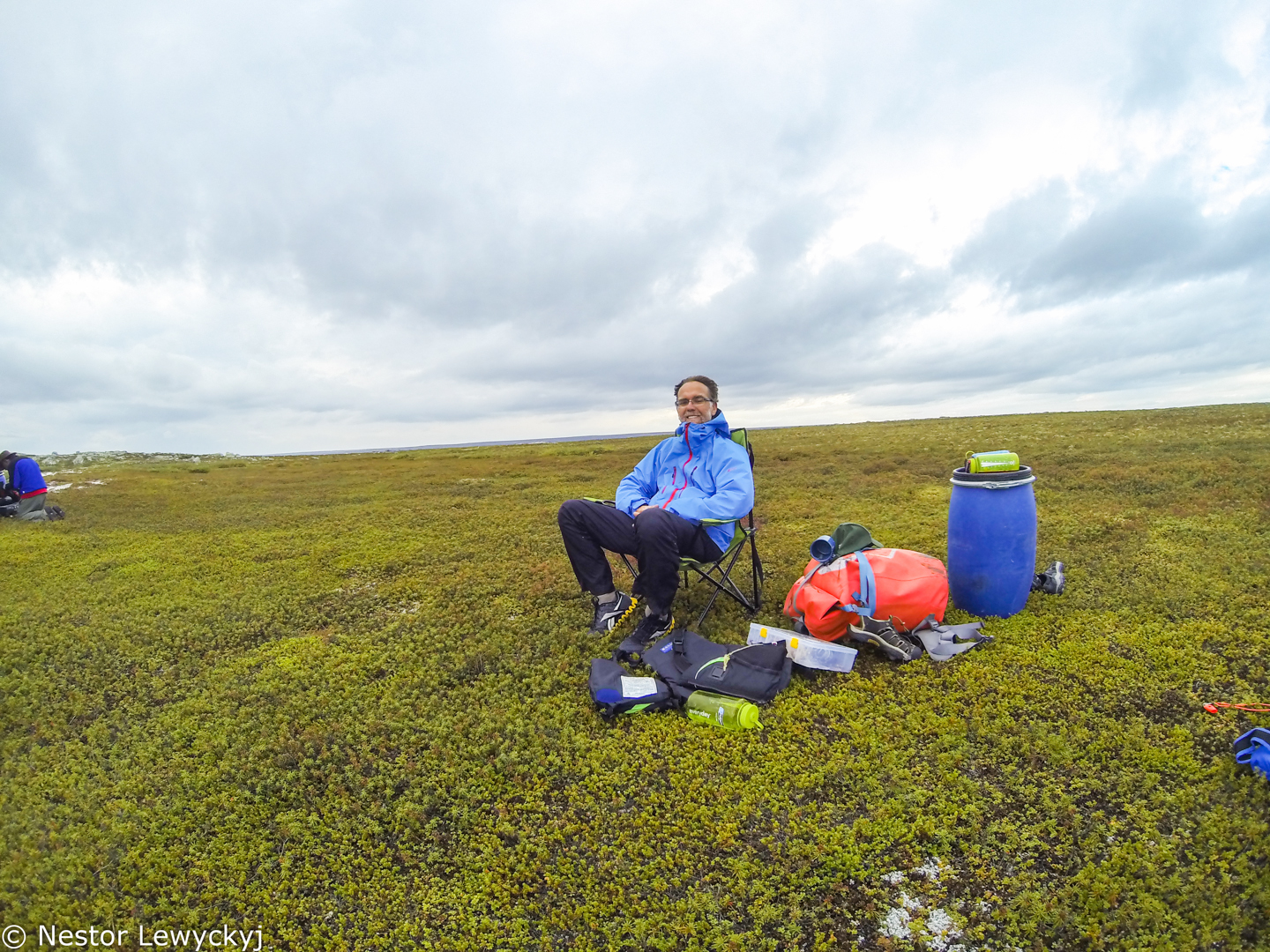 Peter relaxing before dinner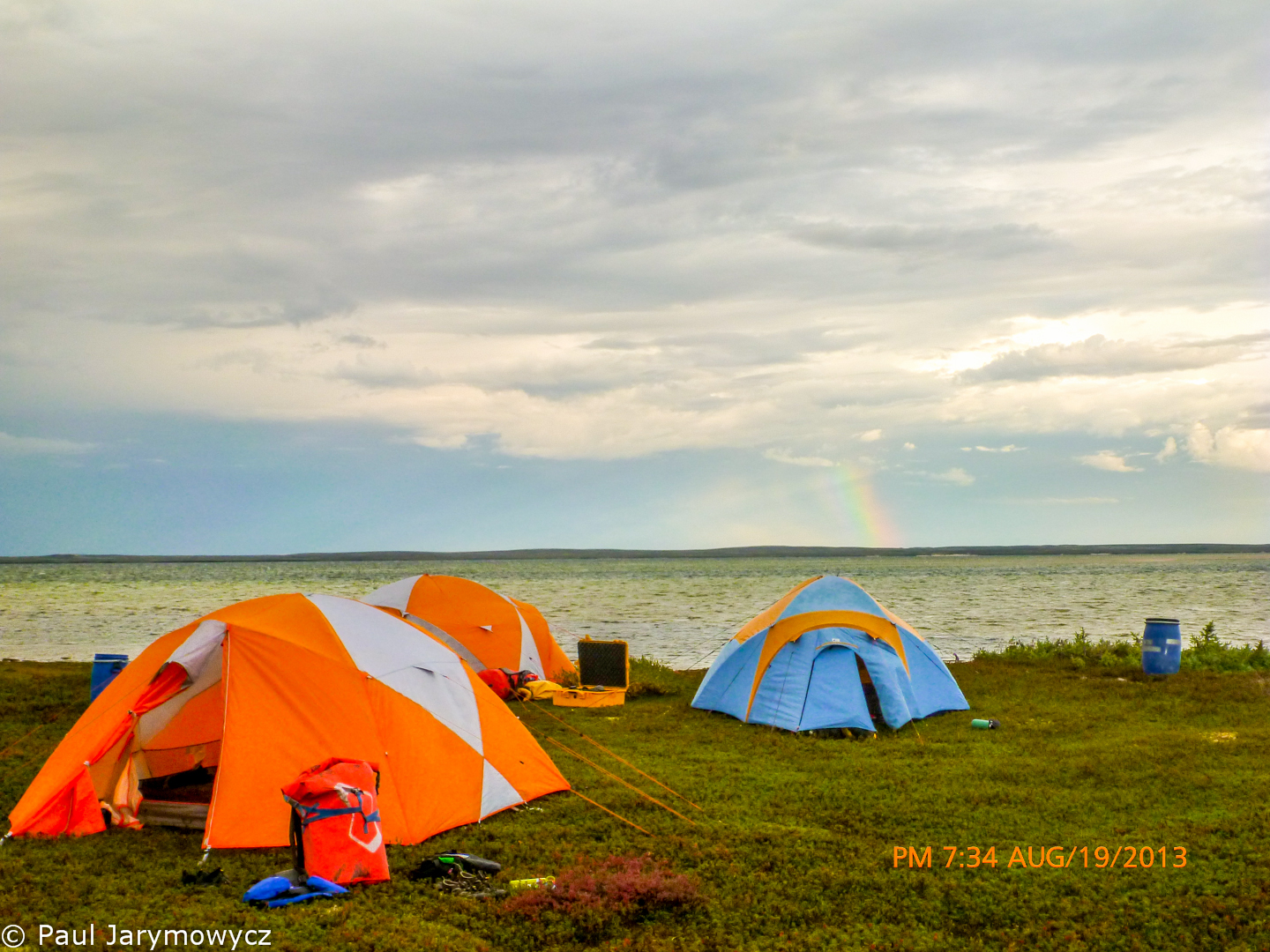 We had very variable weather that last evening on the Thelon, on the Western shore of Eyeberry Lake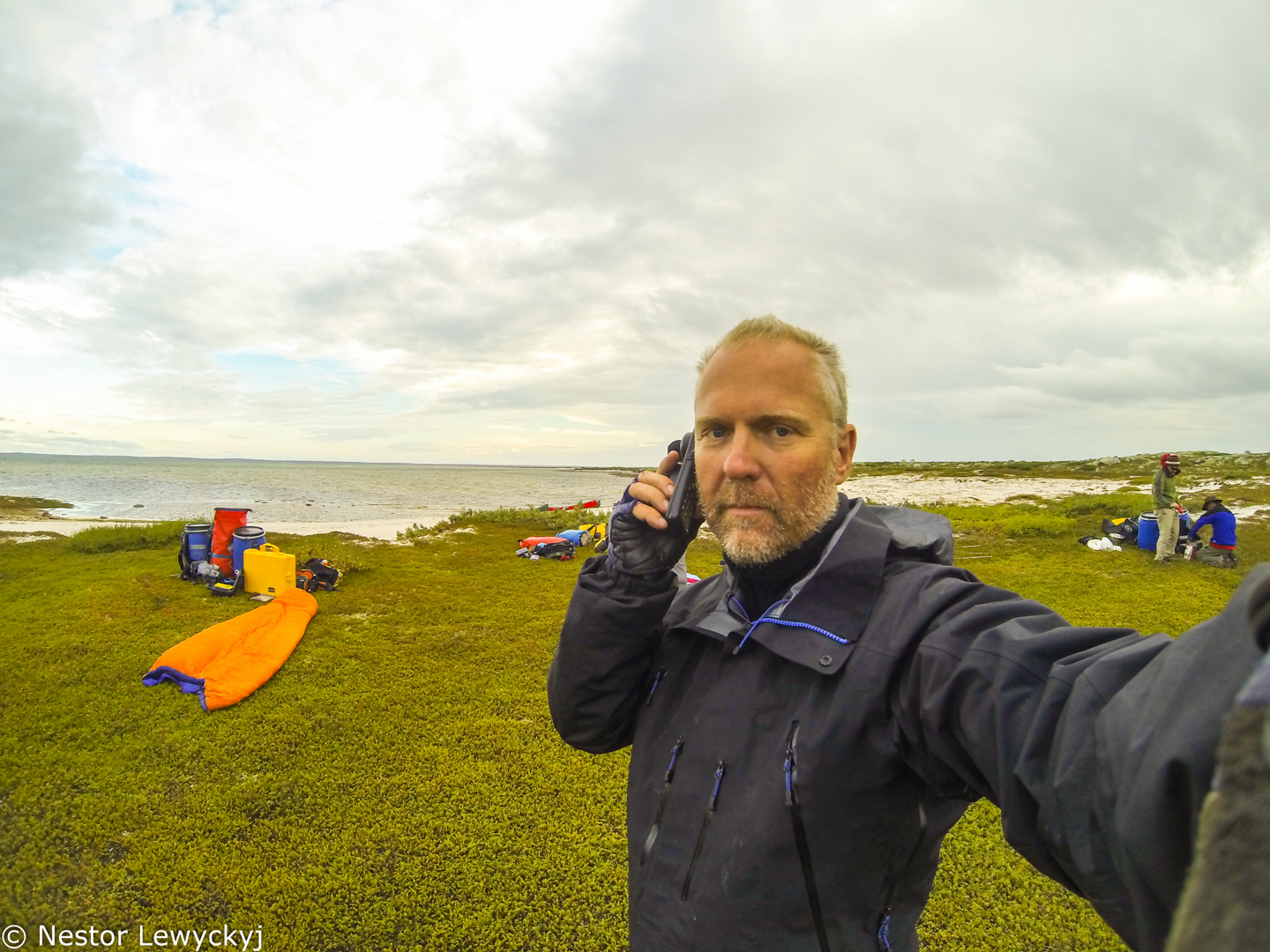 I am probably calling Stony Rapids to confirm pick up time and coordinates for the next day. Satellite phones out there are a life safer. You would be very foolish to go out there without one.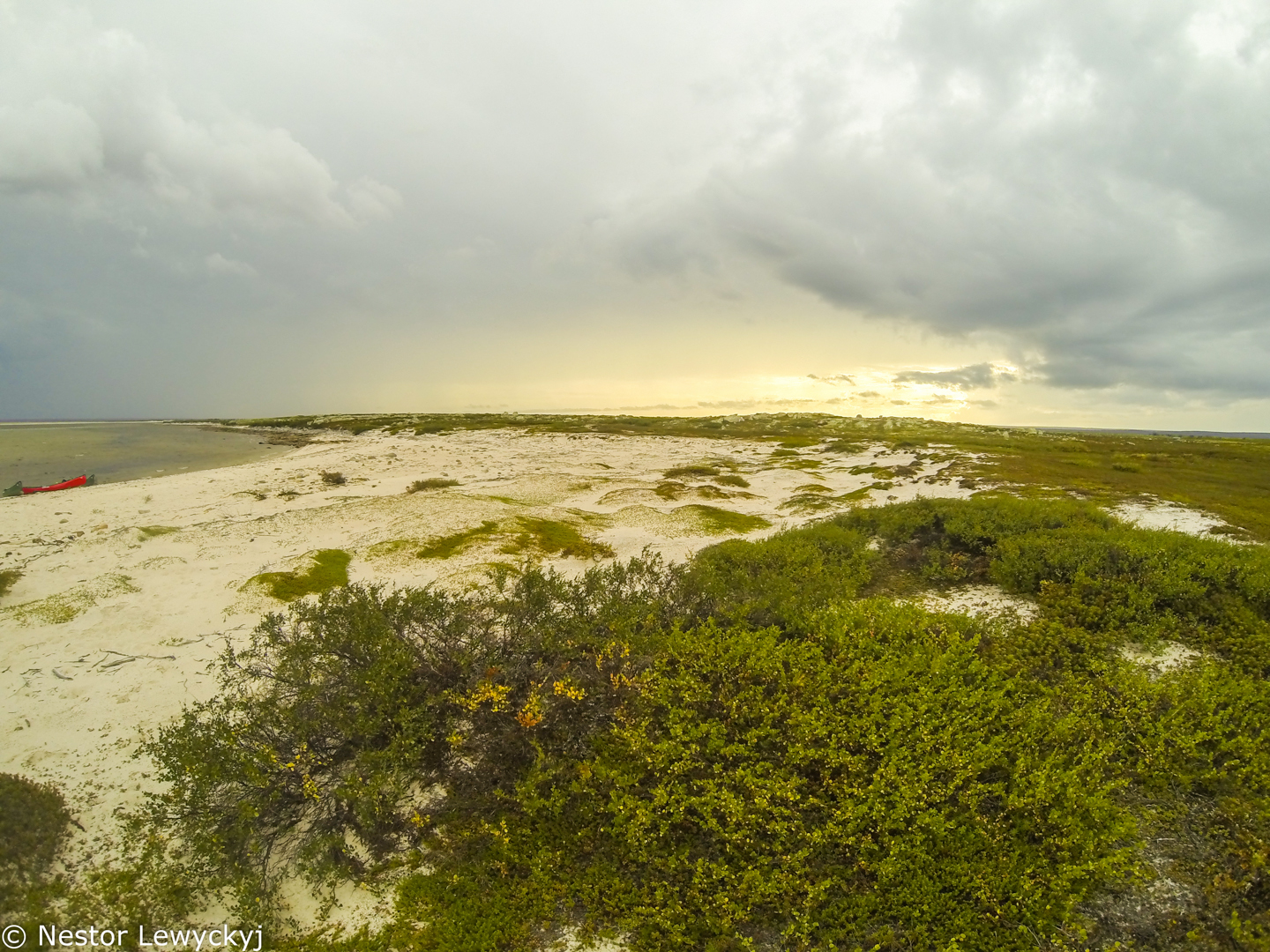 There is a lot of sand around Eyeberry Lake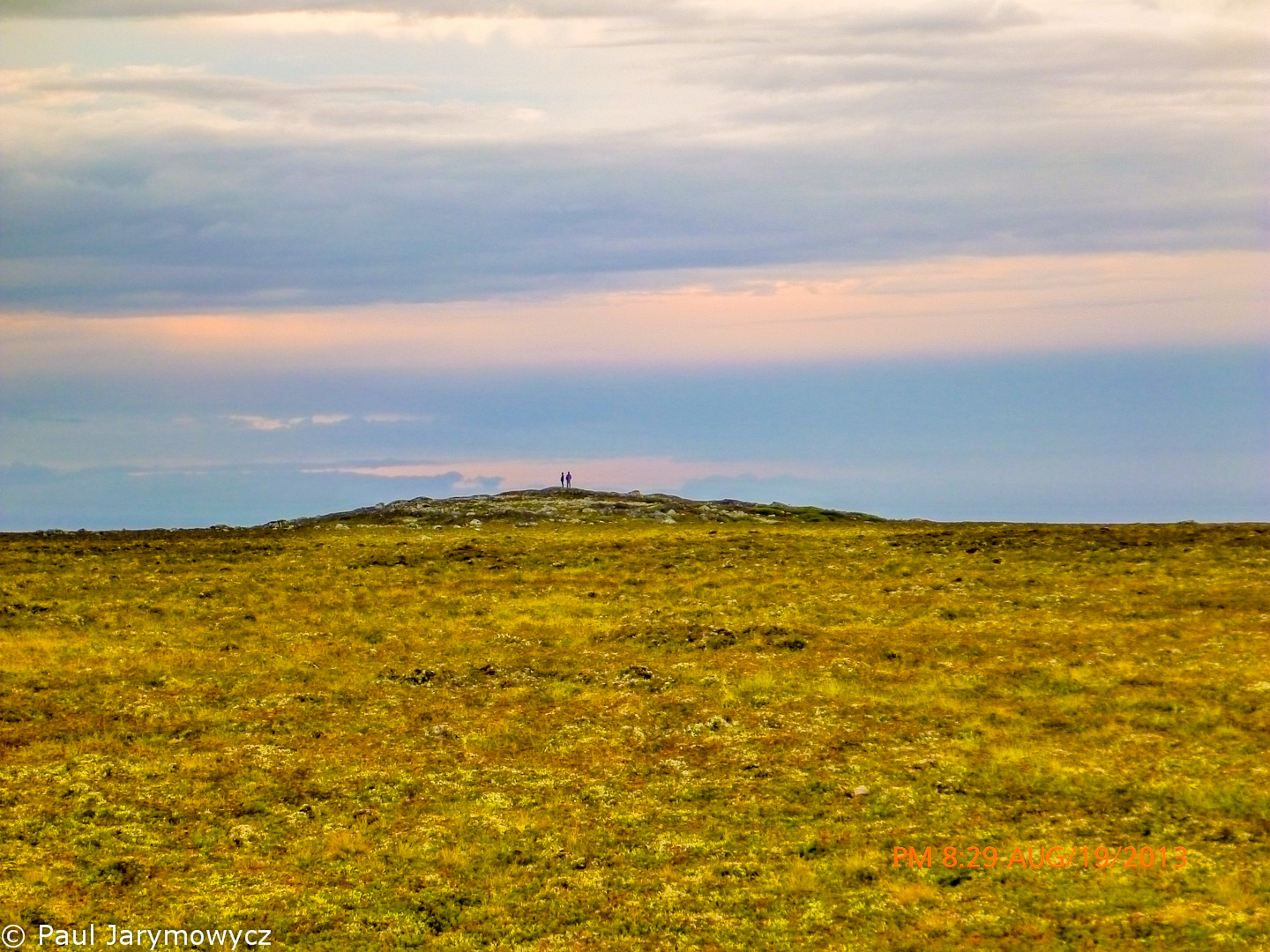 Peter and Bohdan exploring a hillock west of camp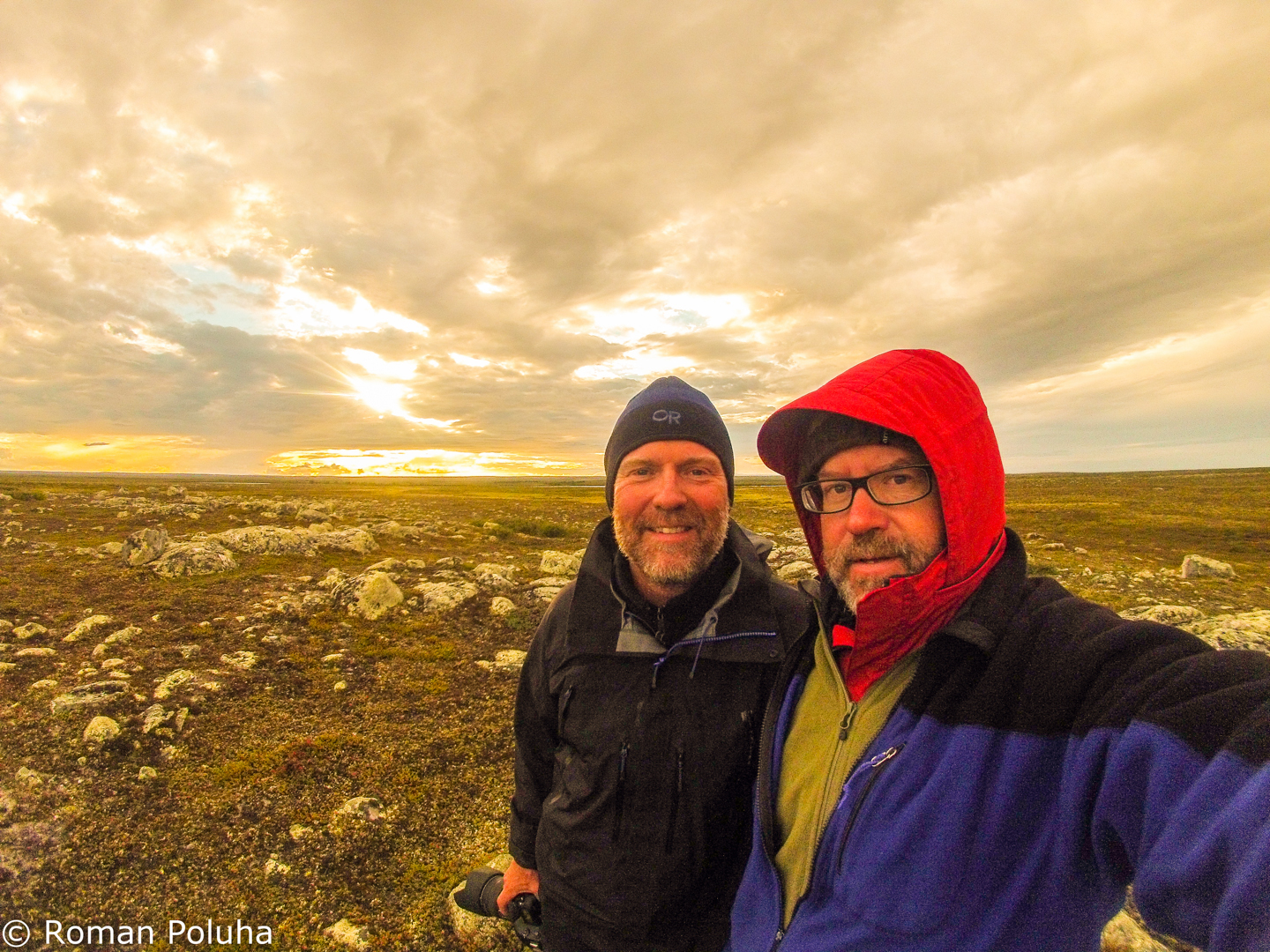 Enjoying our last sunset out on the Barren Grounds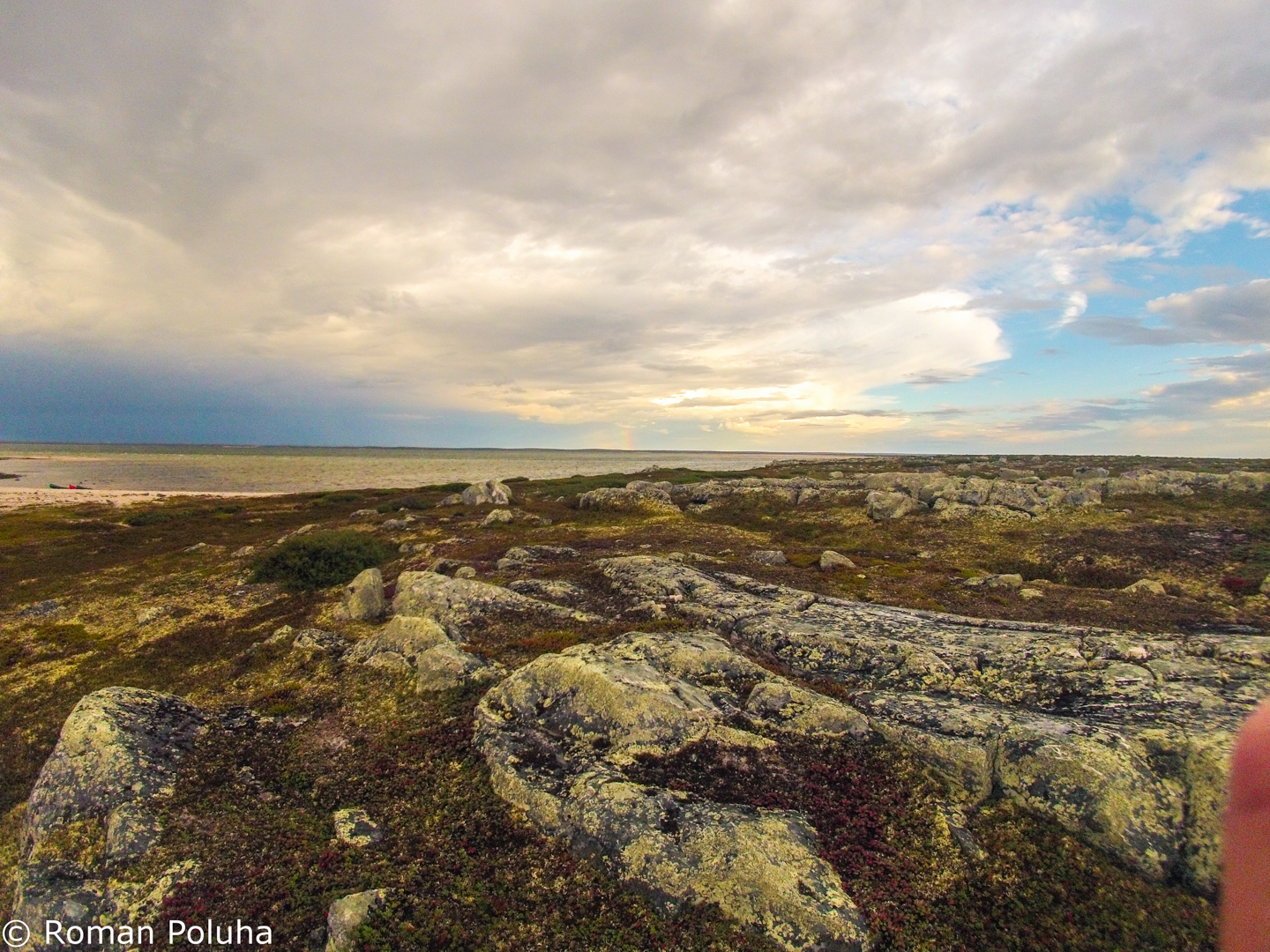 With such low relief, you can see a ton of sky, and with it, a lot of different weather all around you.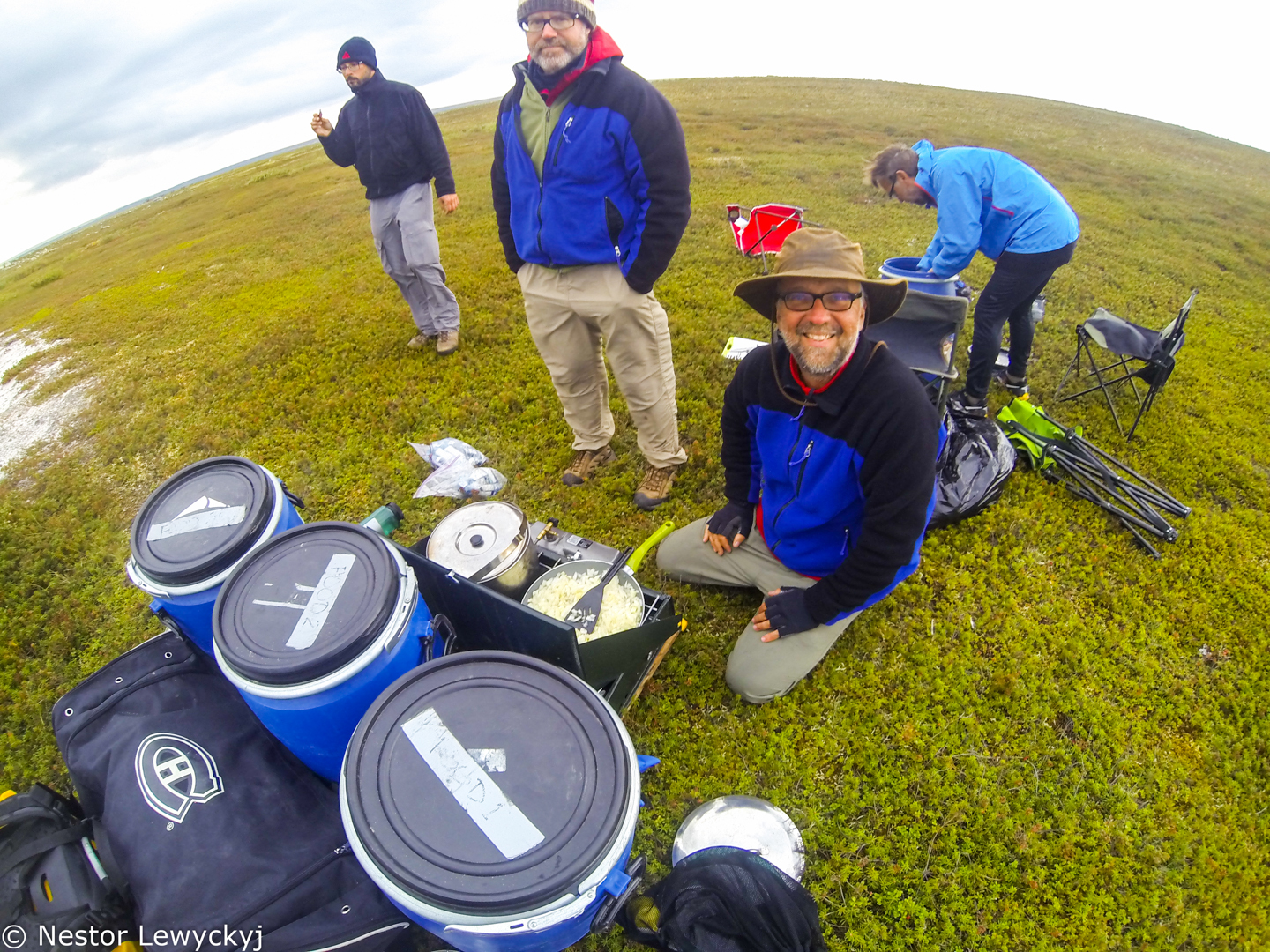 Bohdan making sure we were going to eat well that night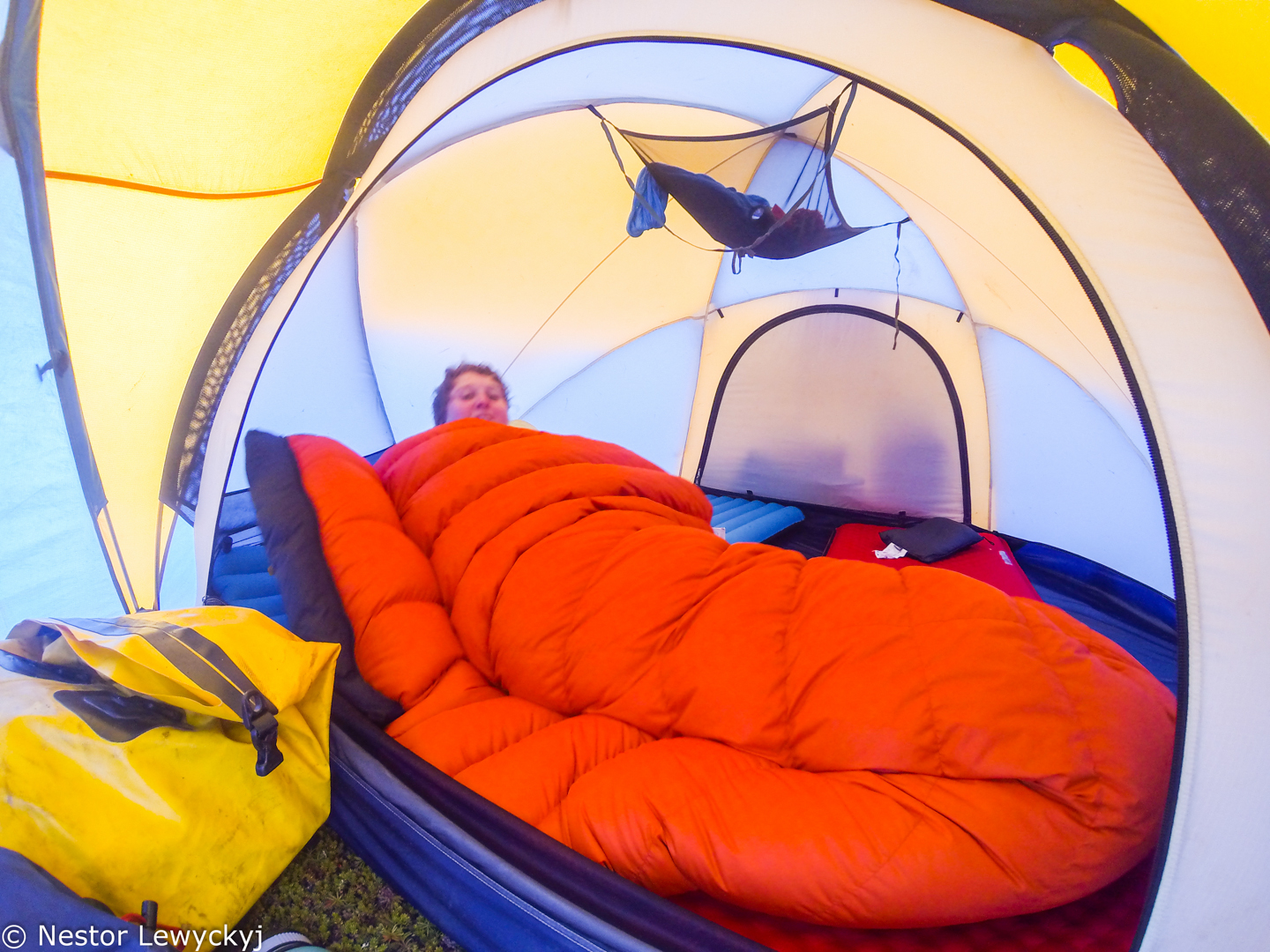 While Alex caught a before-dinner nap...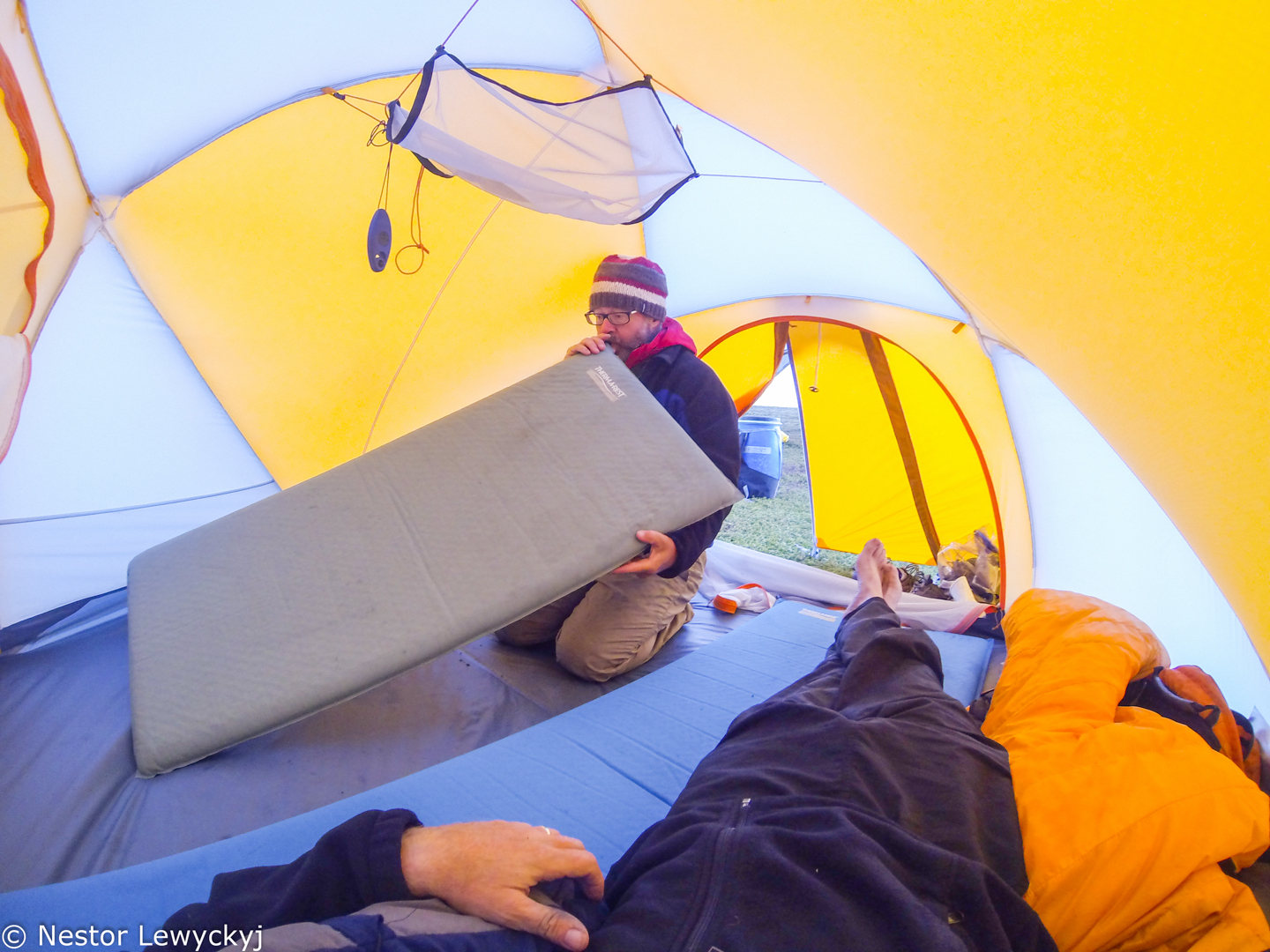 Roman firming up his Thermarest in our cavernous Nunatak tent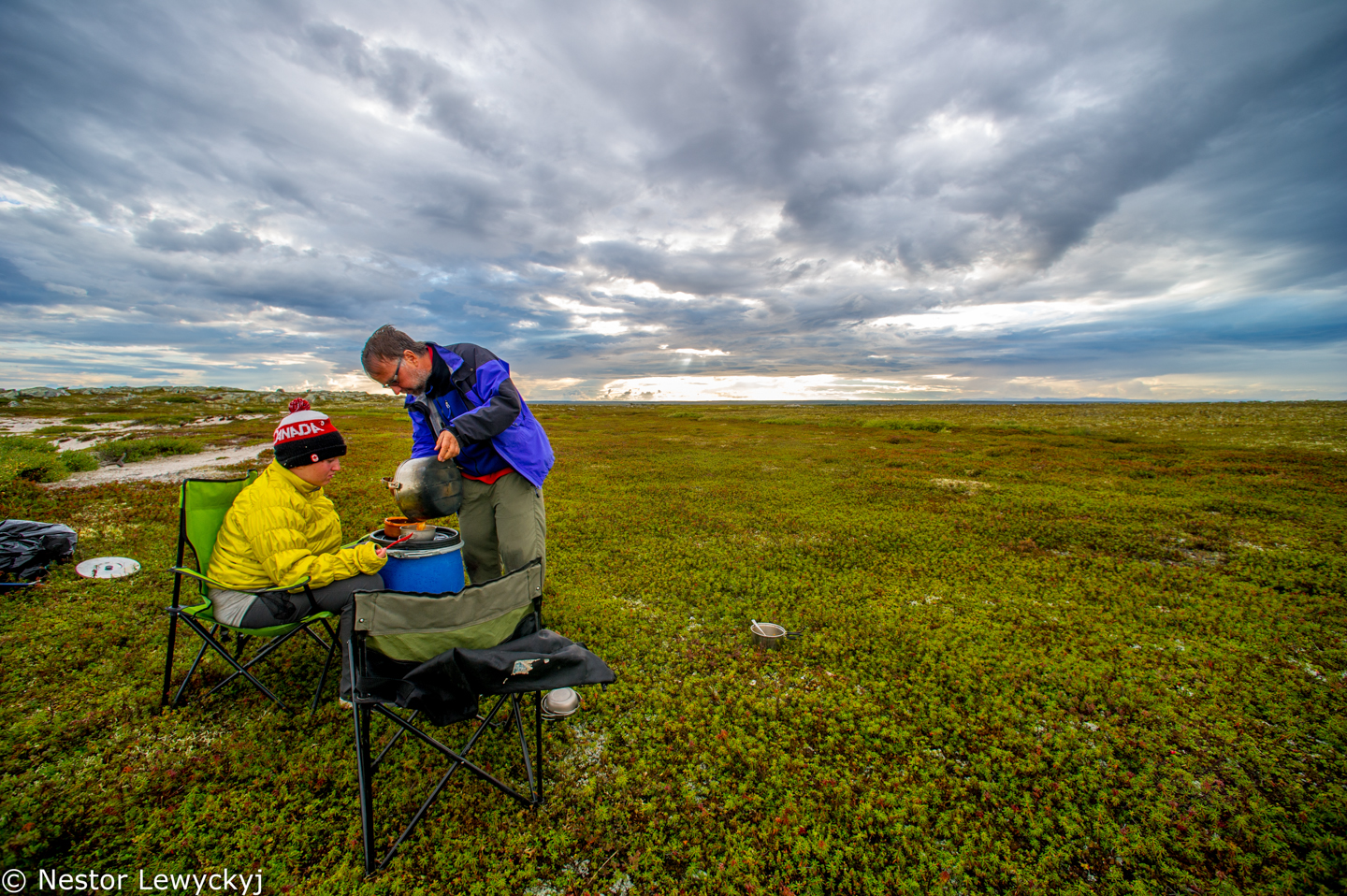 East al fresco on a fine green carpet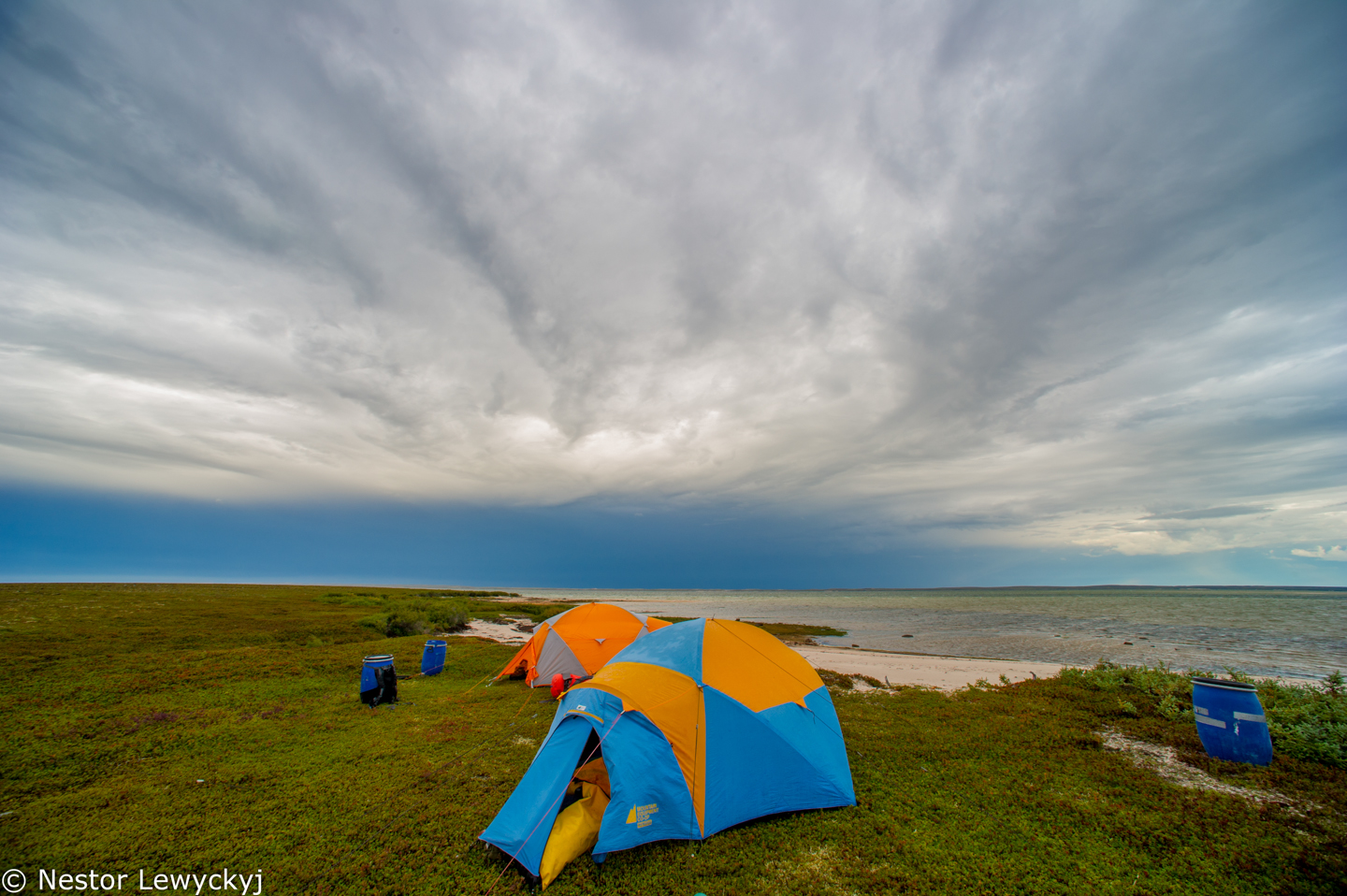 The weather looked a little suspect that last evening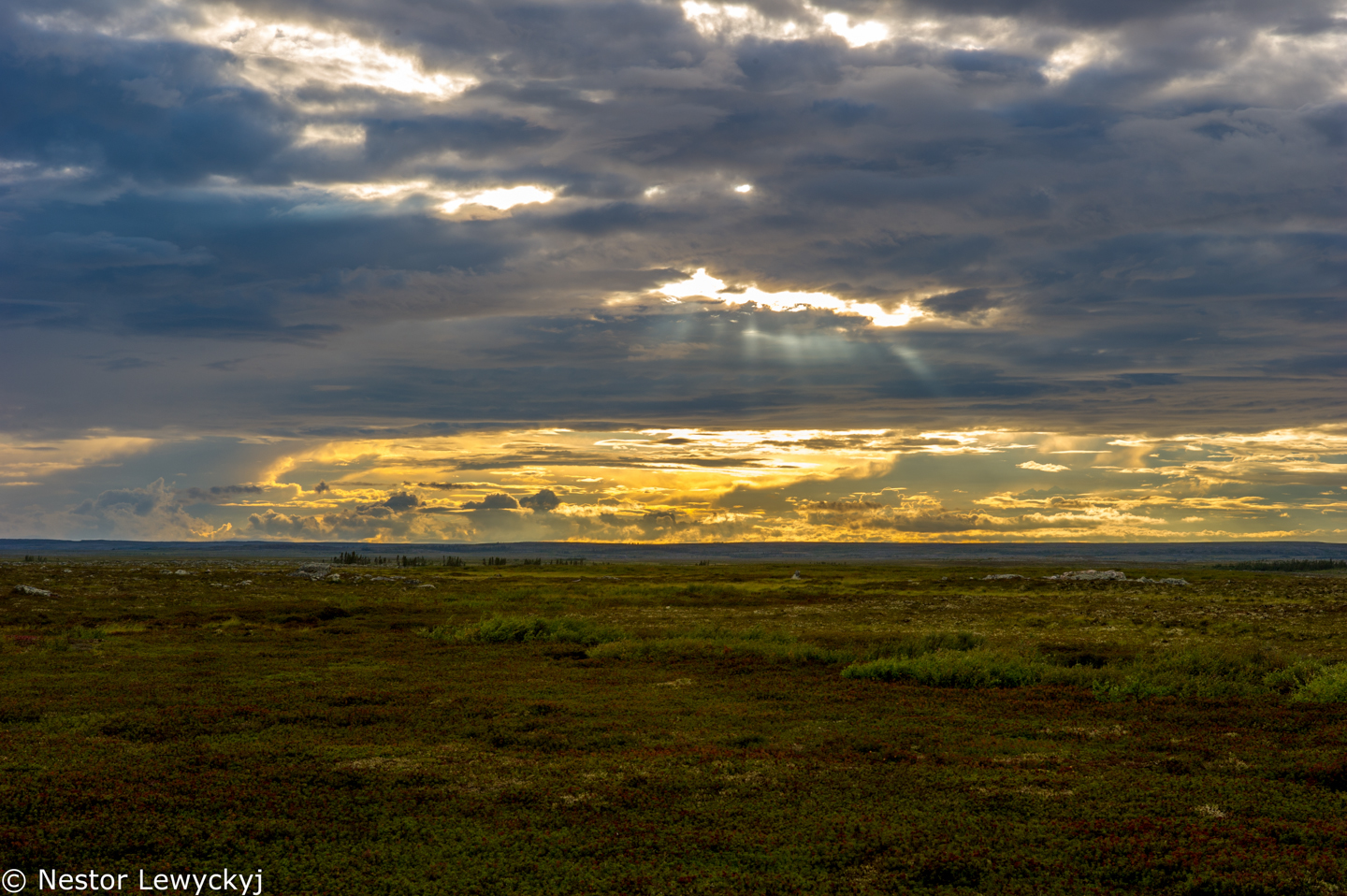 Not much came of it but it made for a rather complex sky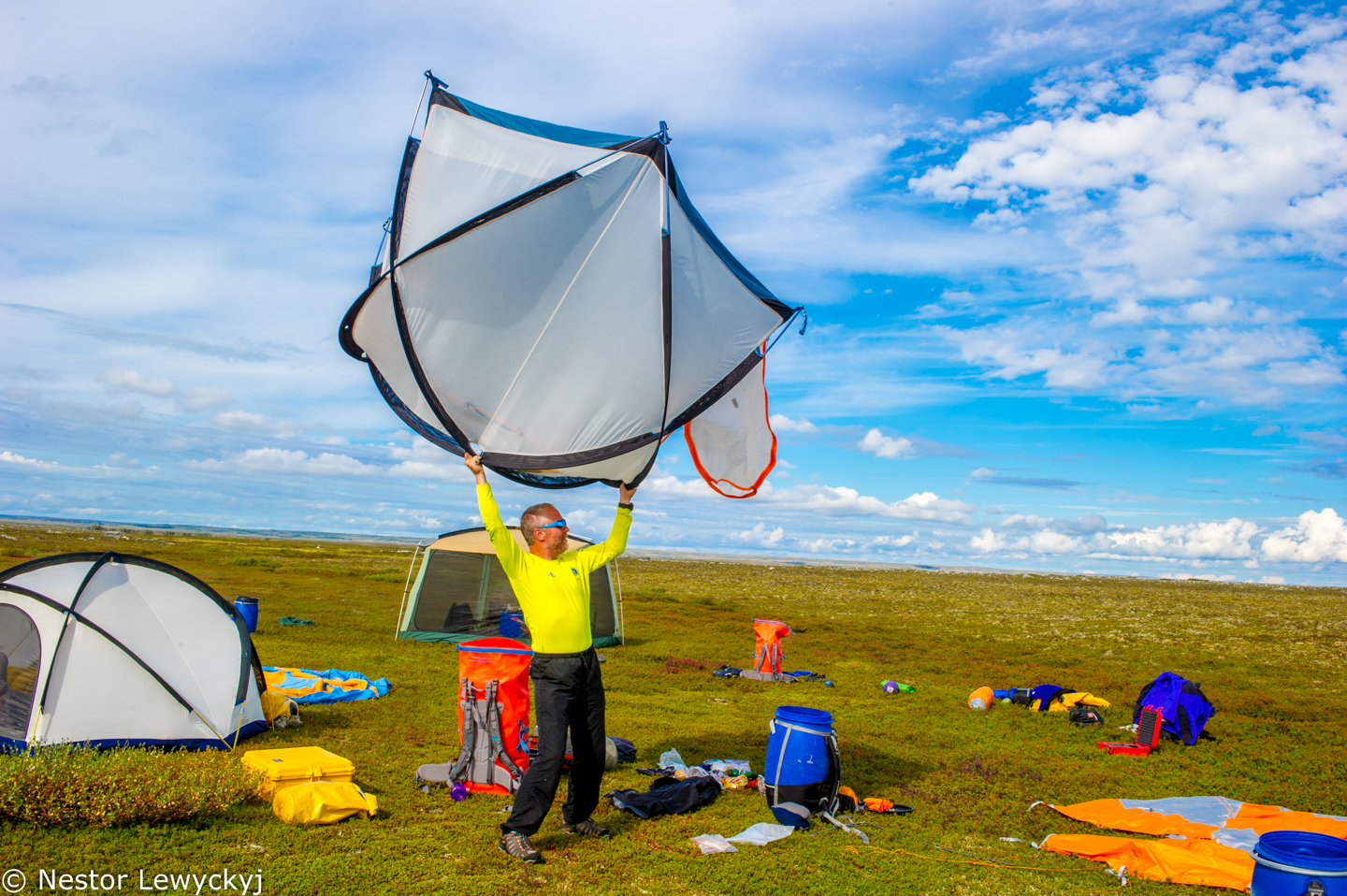 Atlas, emptying dirt out of his tent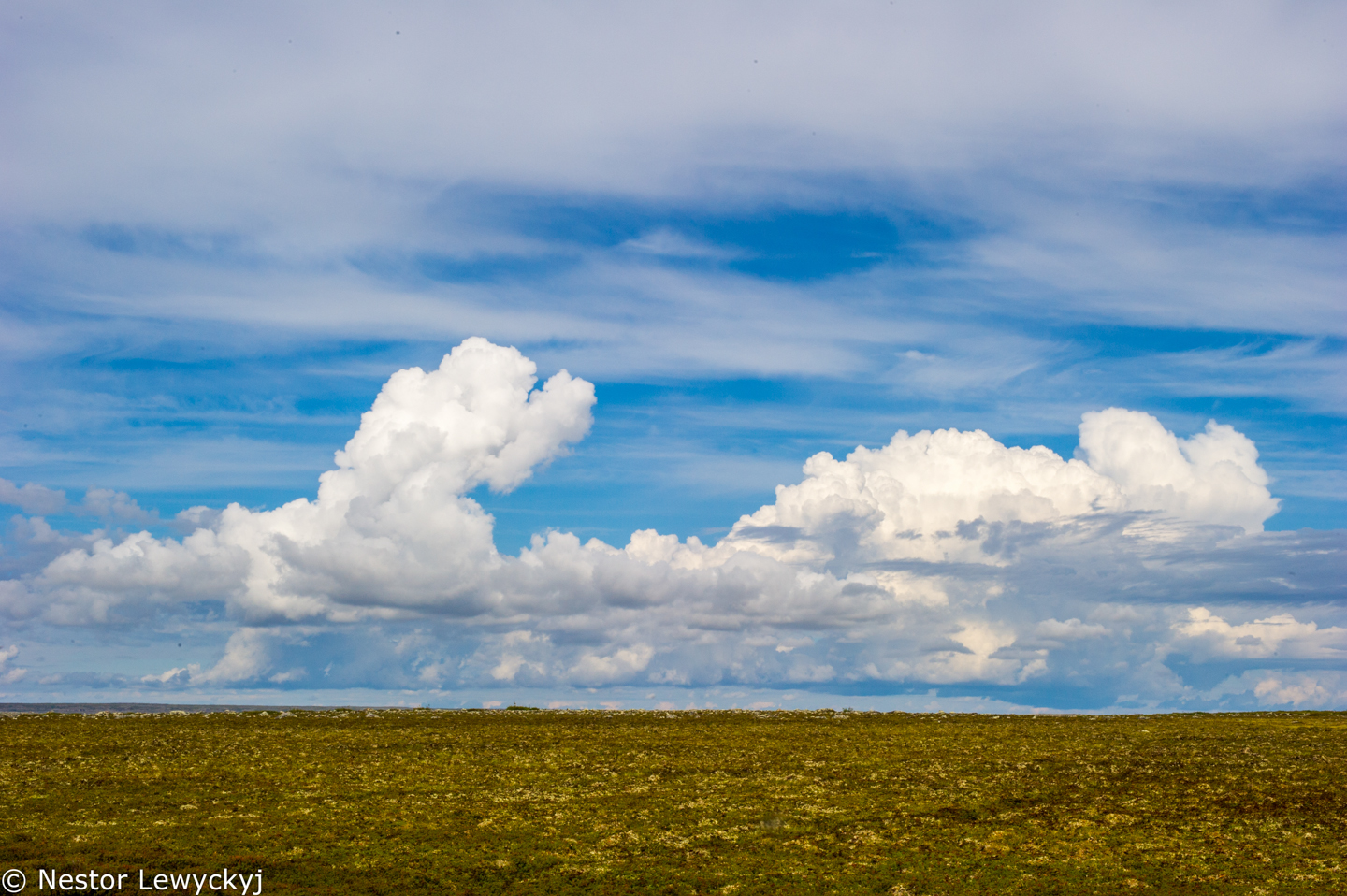 That last morning brought some nice fair-weather clouds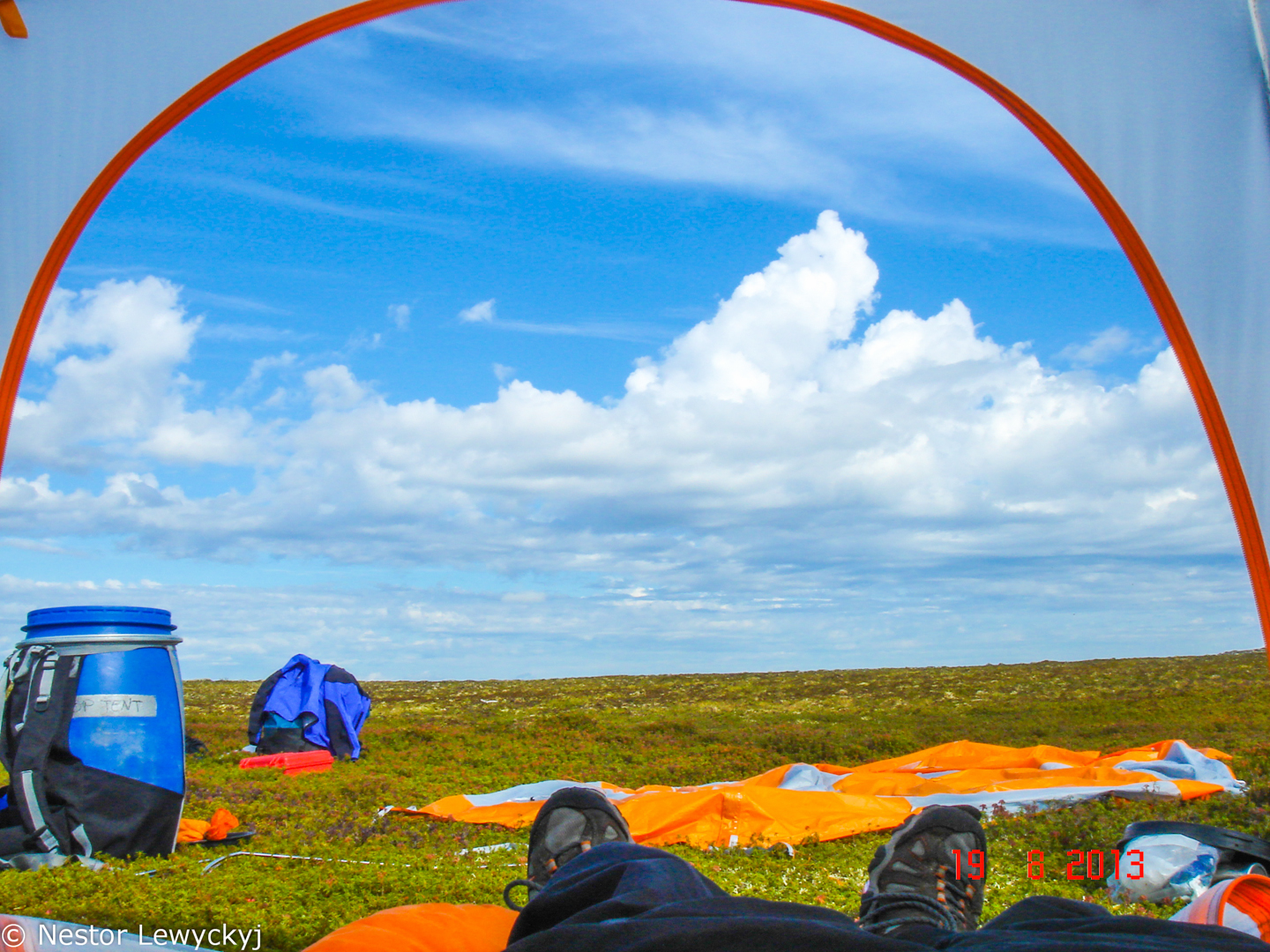 And we didn't have much to do except take the tents down and relax in the process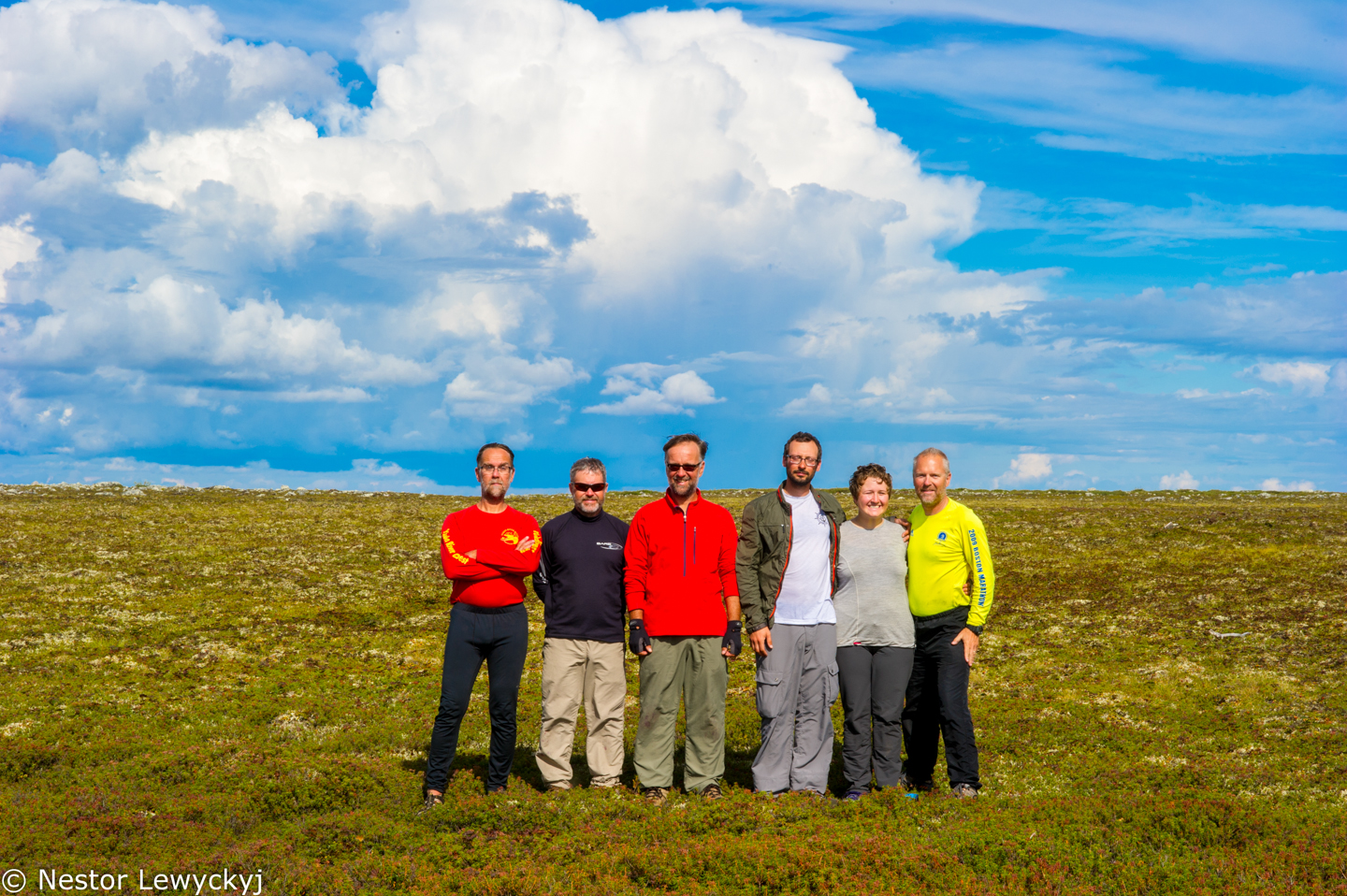 Our last group shot. Don't know why Peter was so angry and Paul so bored......
In position waiting for the Twin Otter to take us back to Stony Rapids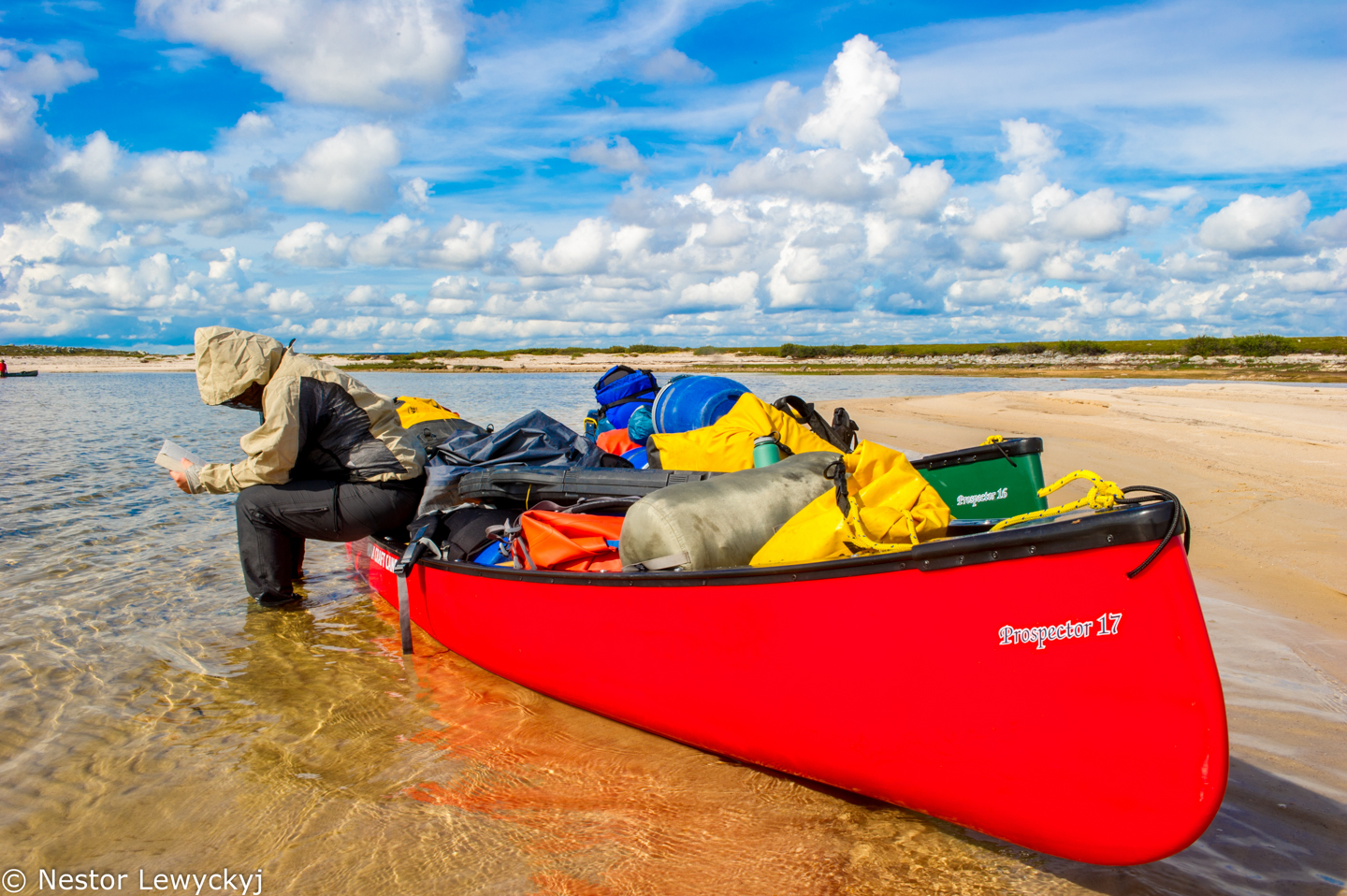 Alex, any time, any place.....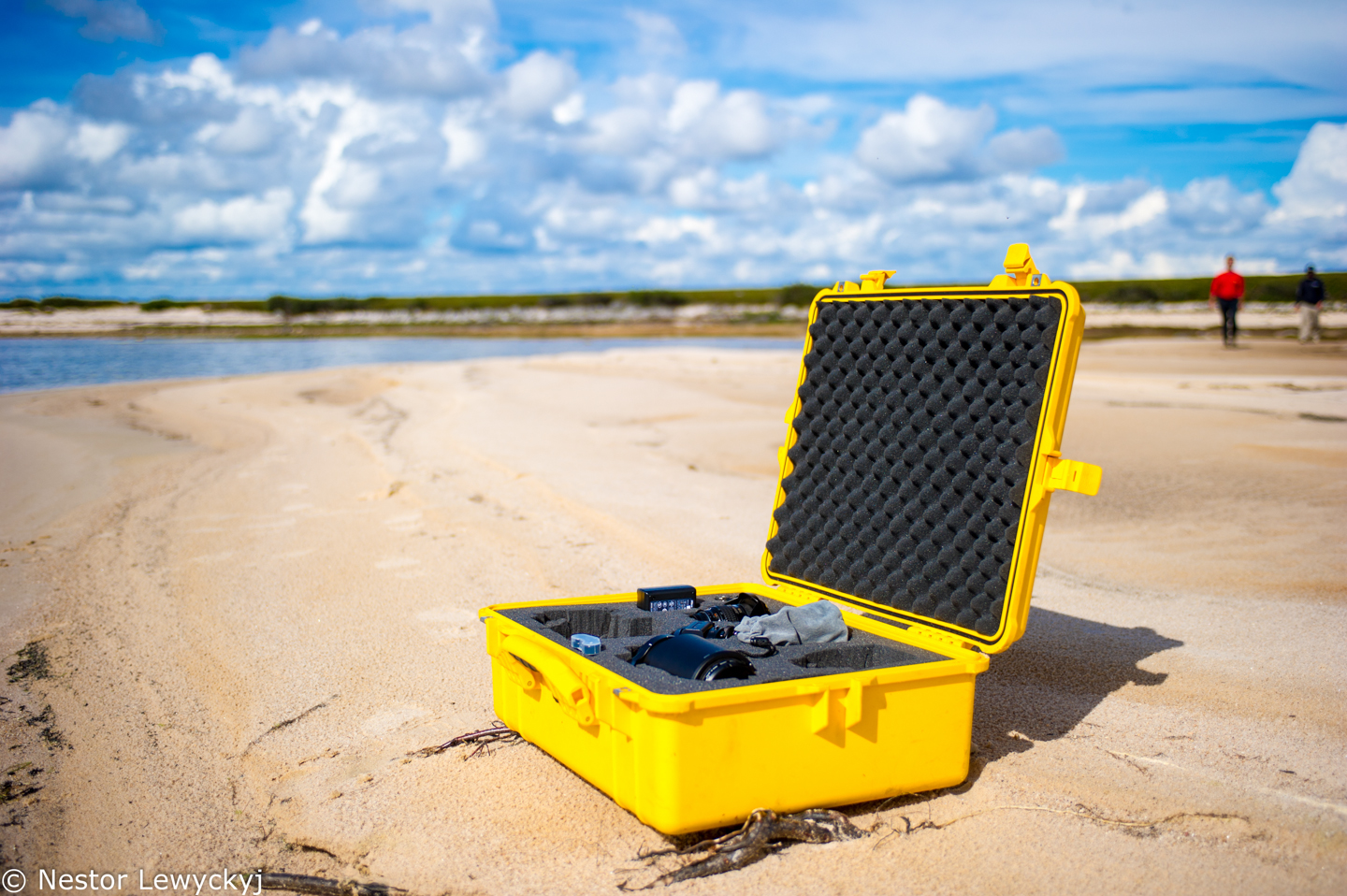 This is my Pelican case. They are truly amazing. I trust my camera equipment to them. For this trip I had my D3S camera, 4 separate lenses (everything for ma 14mm to a 400mm), a spare battery and charger, my Sony 1080 video camera and charger. All of that in a waterproof and shockproof case. This time around, I have purchased an adaptive carrier that allowed me to carry it on my back. Much easier than carrying it like a suitcase. Pelican cases come in a very wide variety of sizes.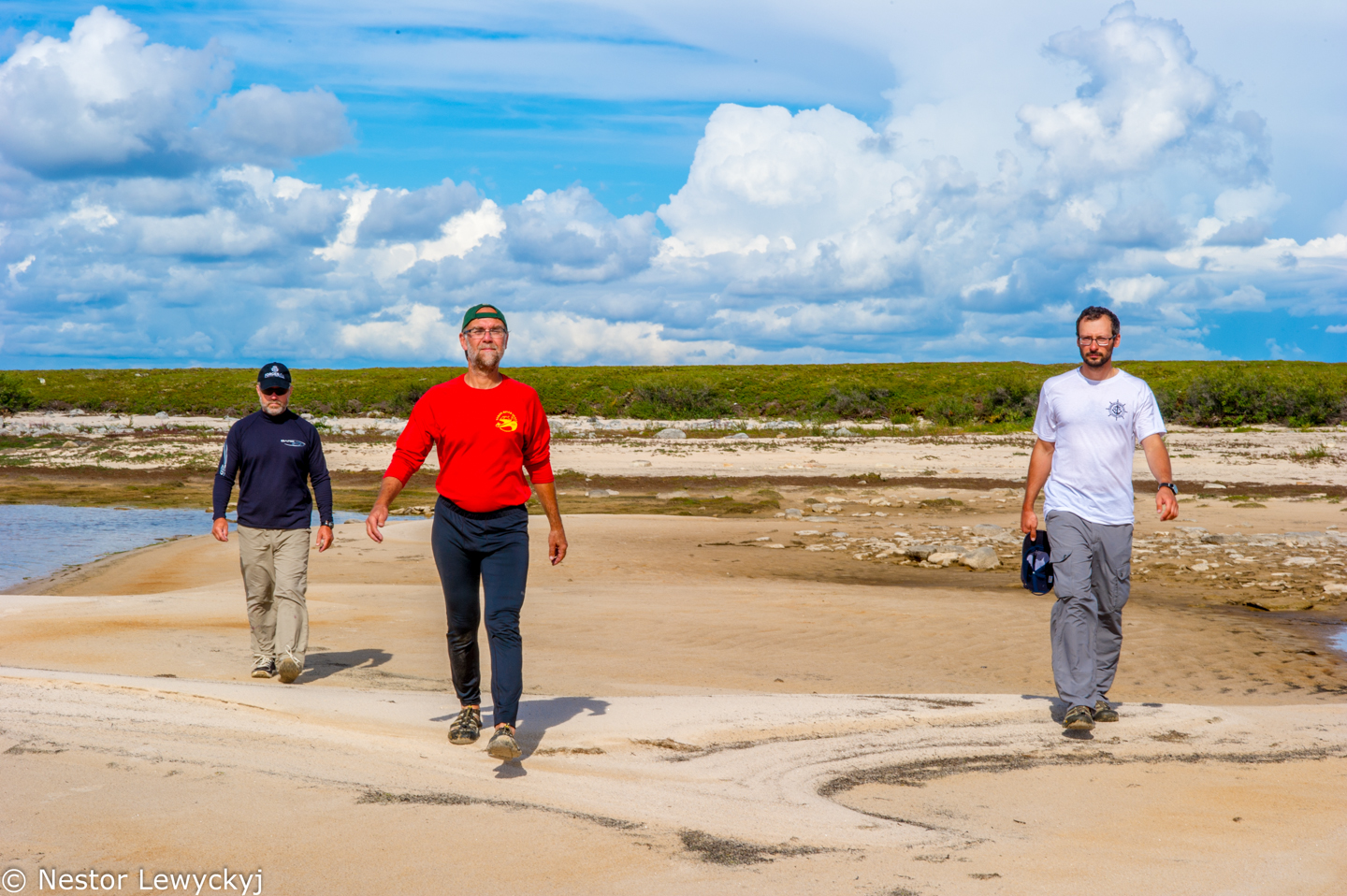 Here comes the crew...
Peter and Roman getting ready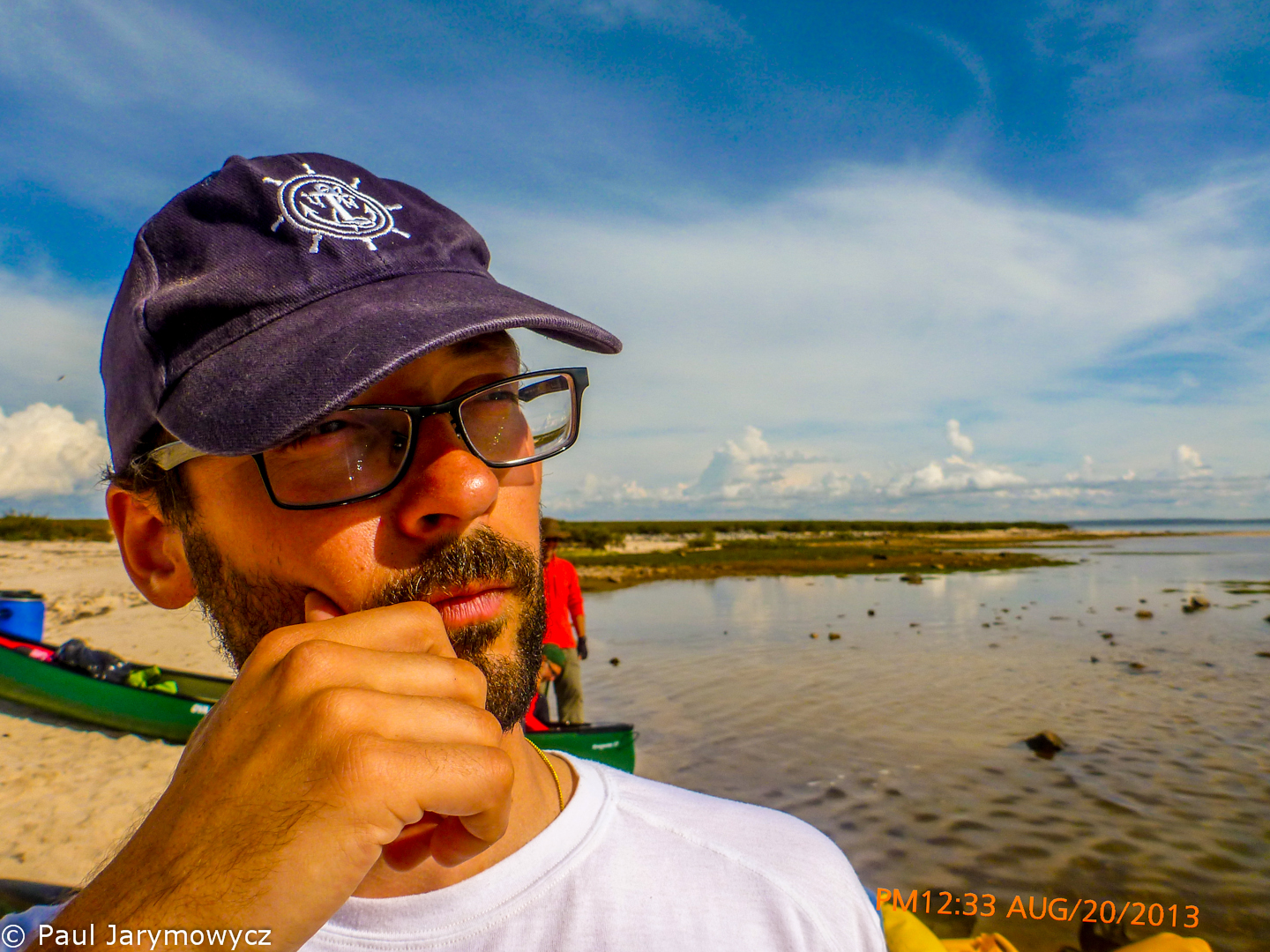 A very thoughtful selfie by Paul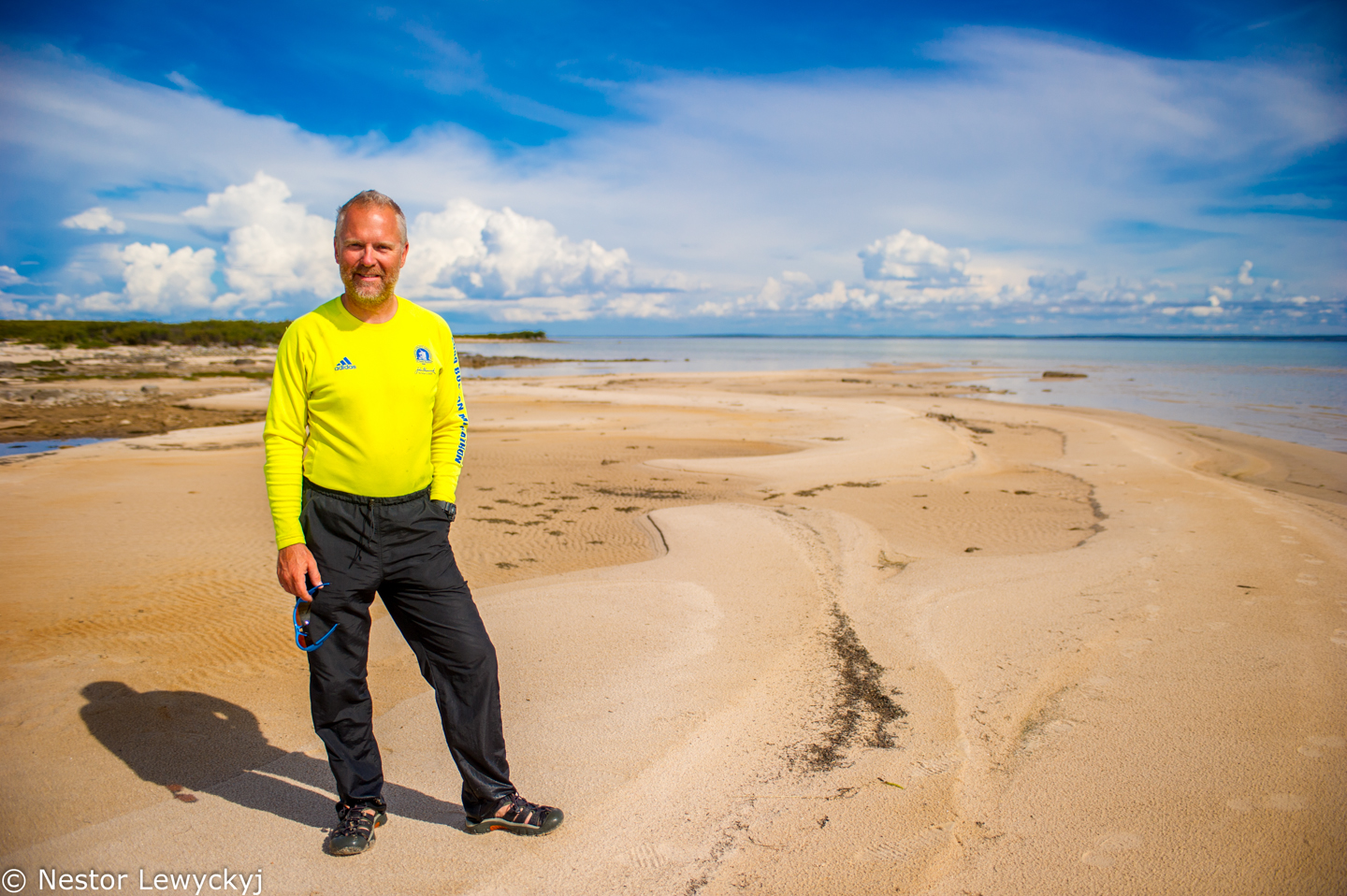 It was beautiful weather again when we were leaving, nicely bookending our trip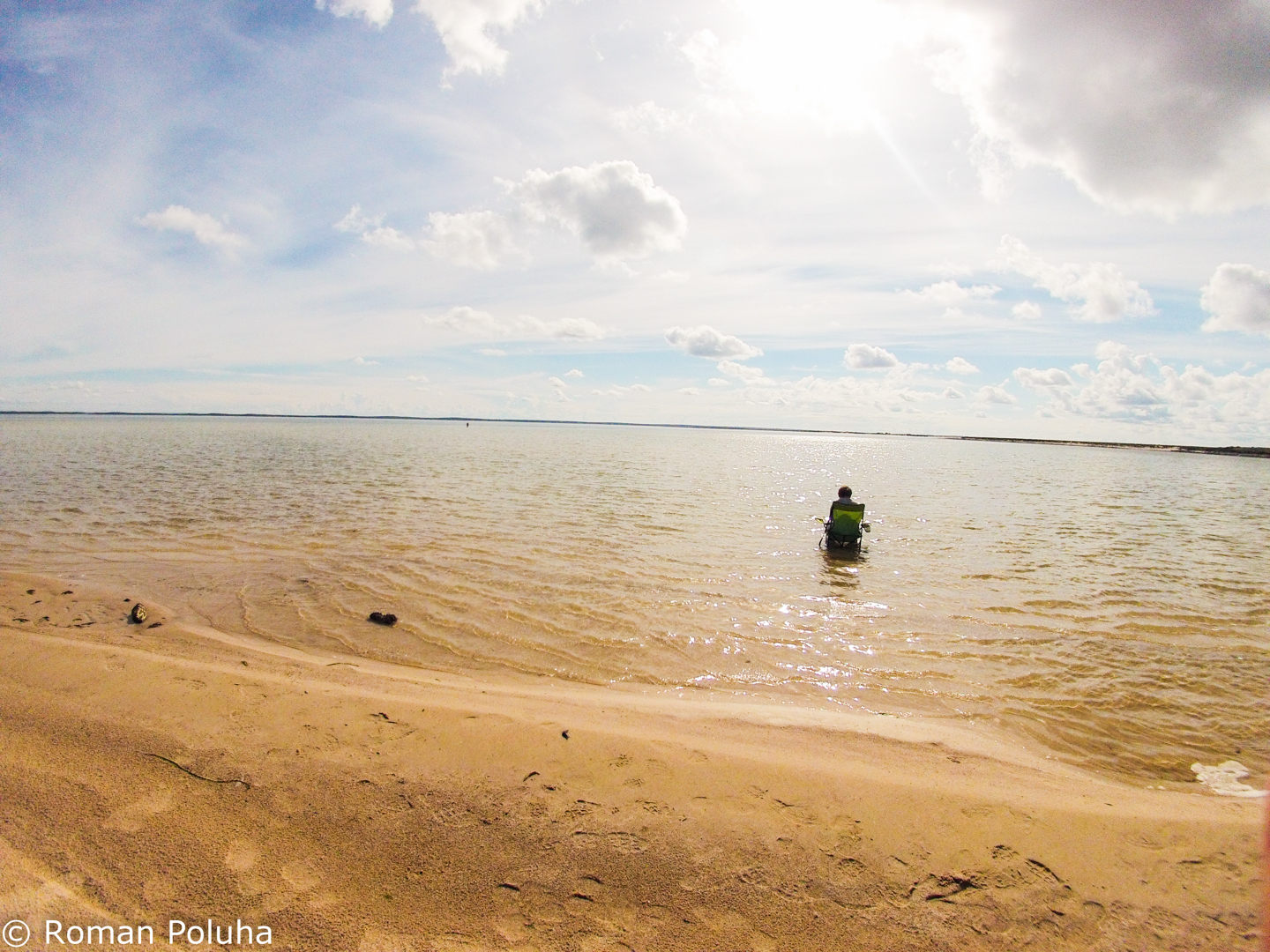 And Alex never wastes any time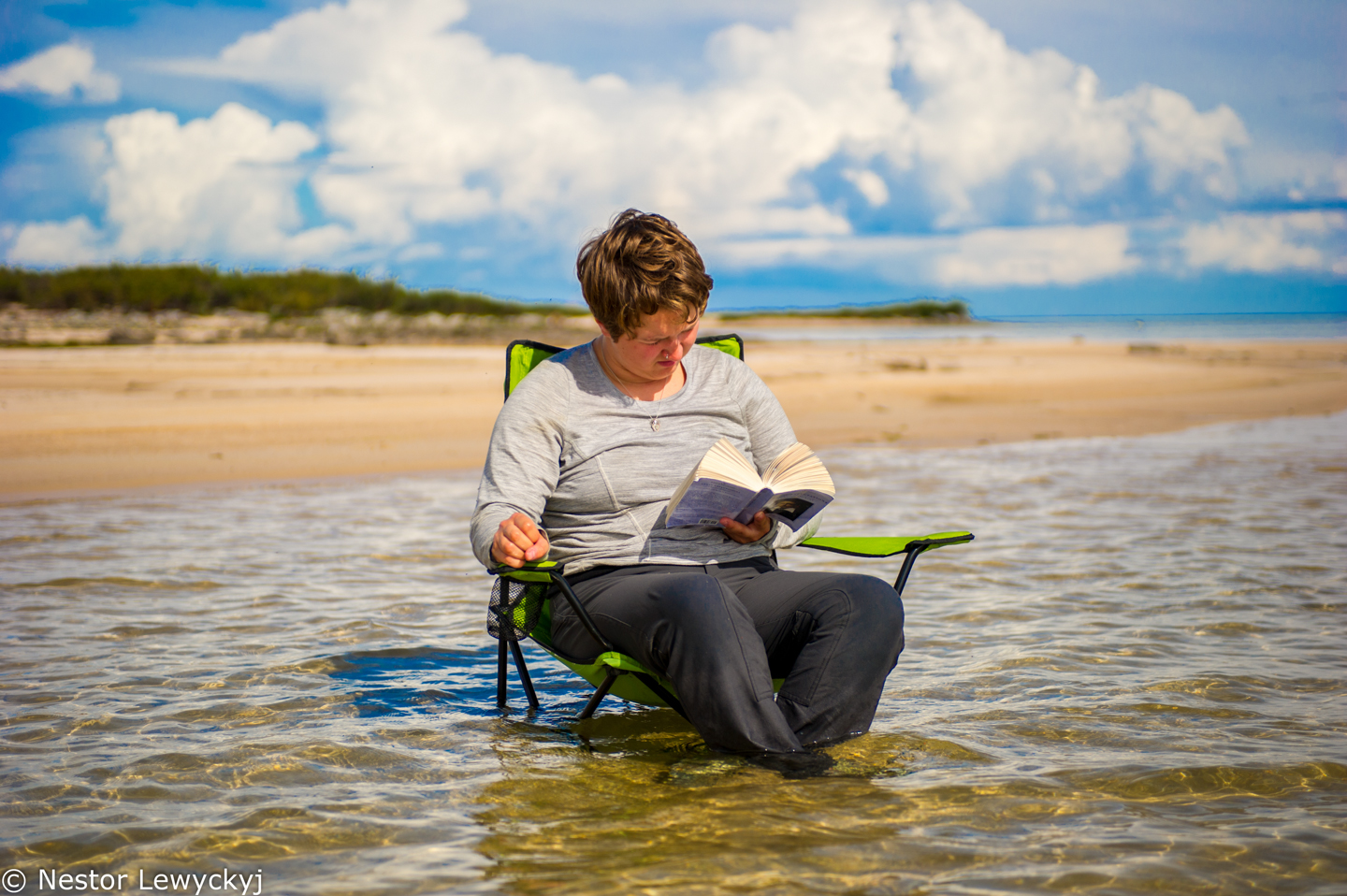 Almost oblivious to everything around her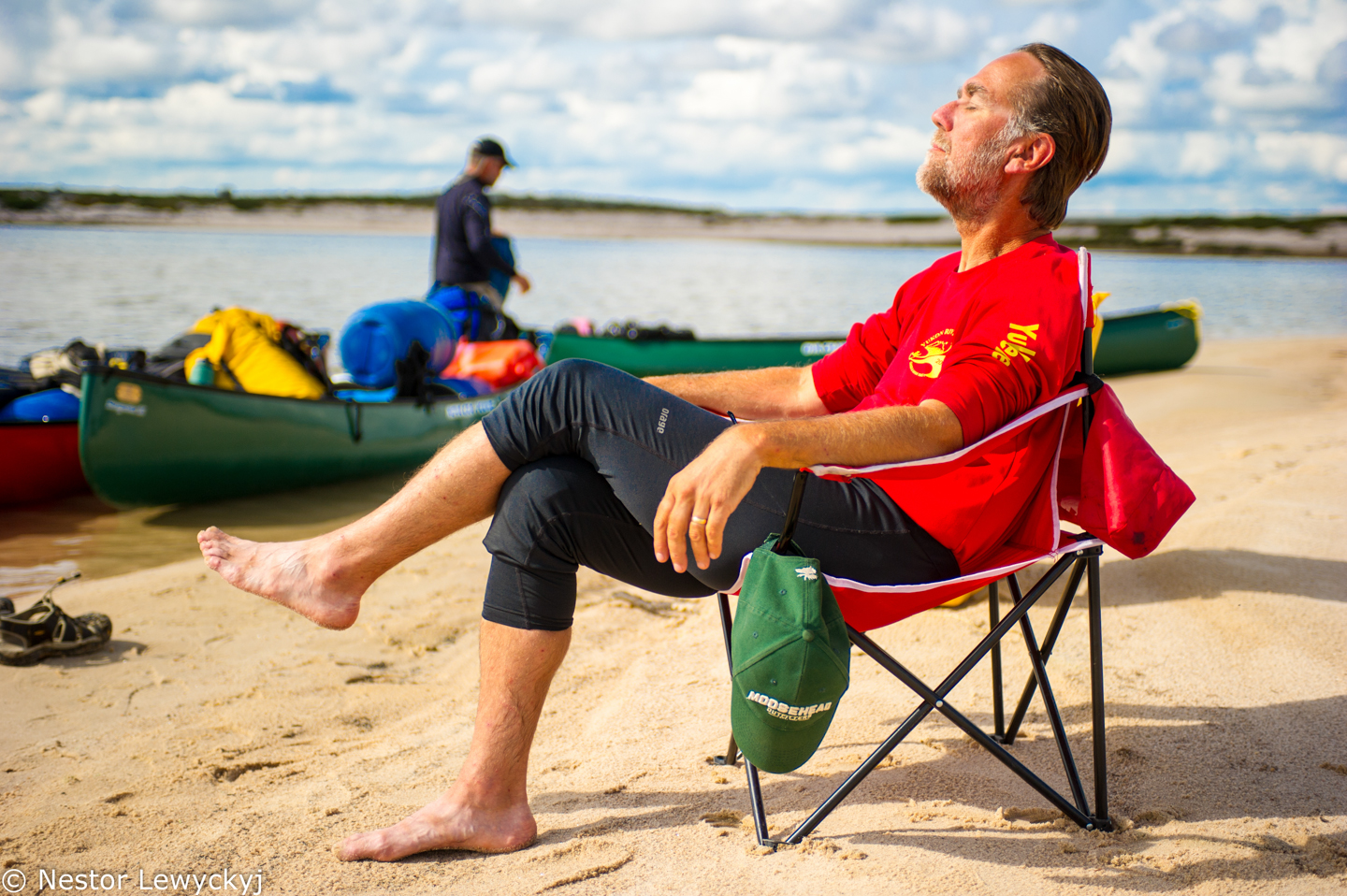 As Peter caught some last northern rays....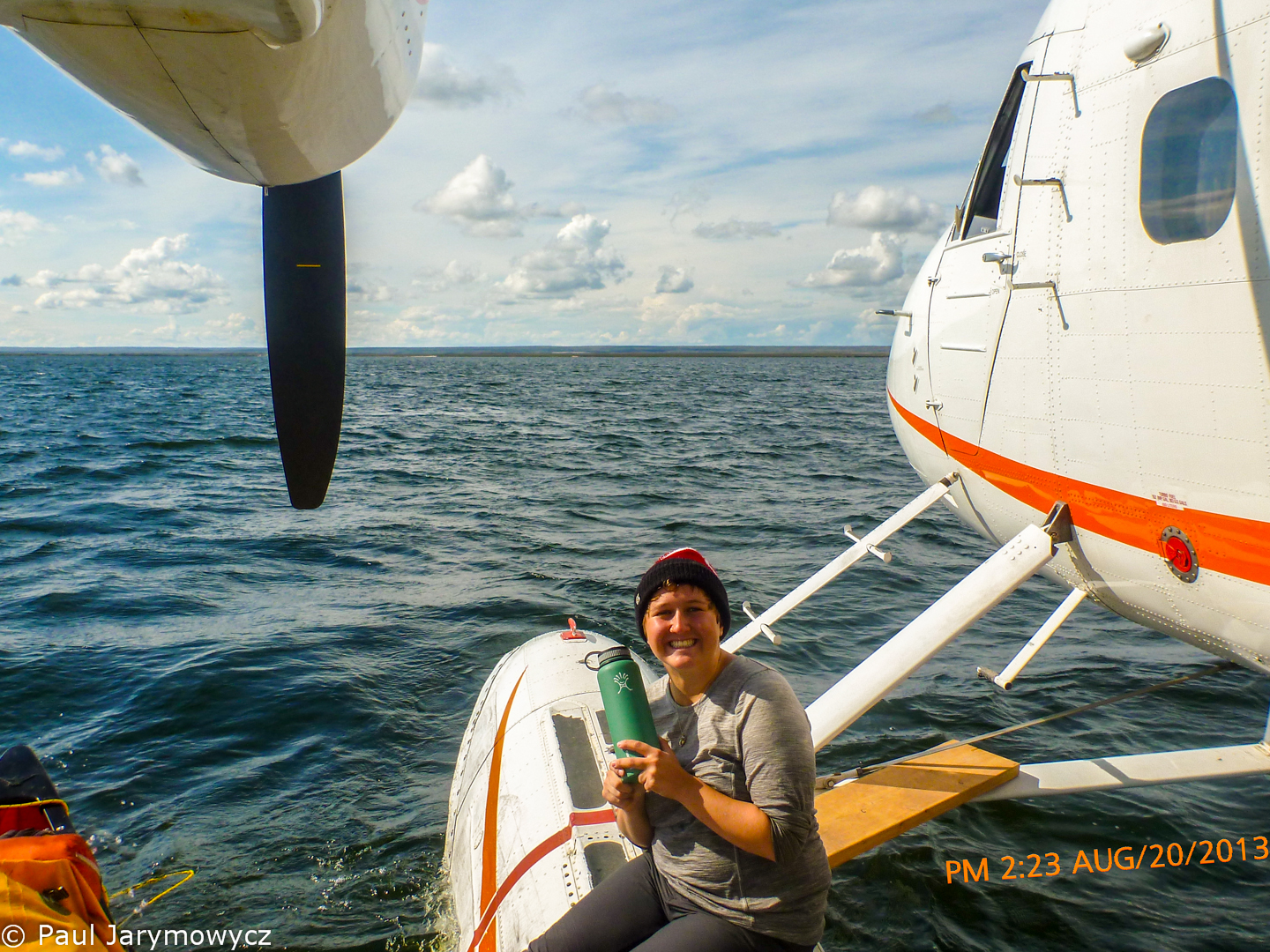 We had to paddle out to the Twin Otter as he could not get very close to shore. Alex taking a breather on the pontoon before clambering in. It's a very different story loading canoes and gear into the Twin Otter when you are floating out in the middle of a lake!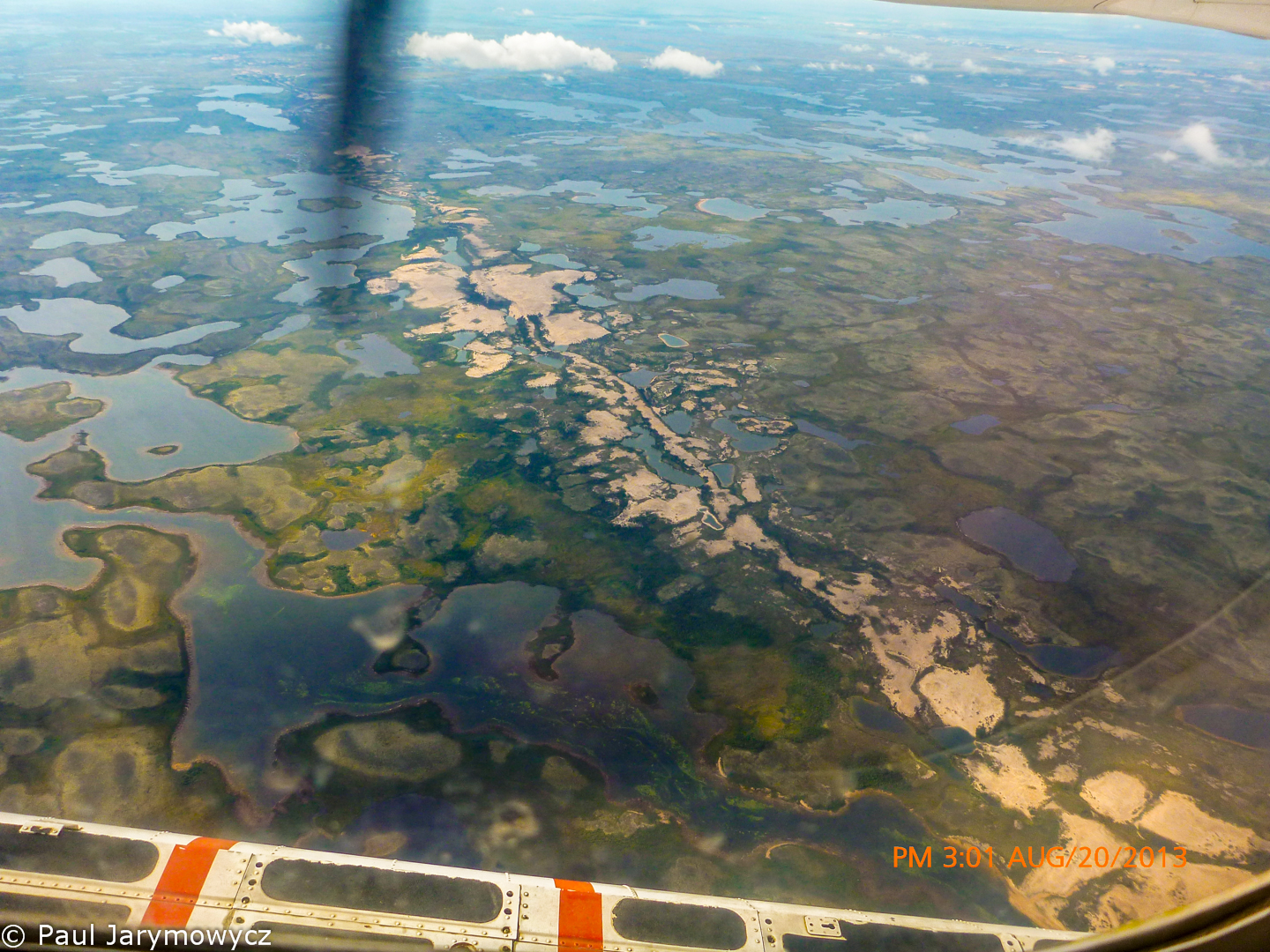 A nice view of one of the long eskers that you will find in many places up there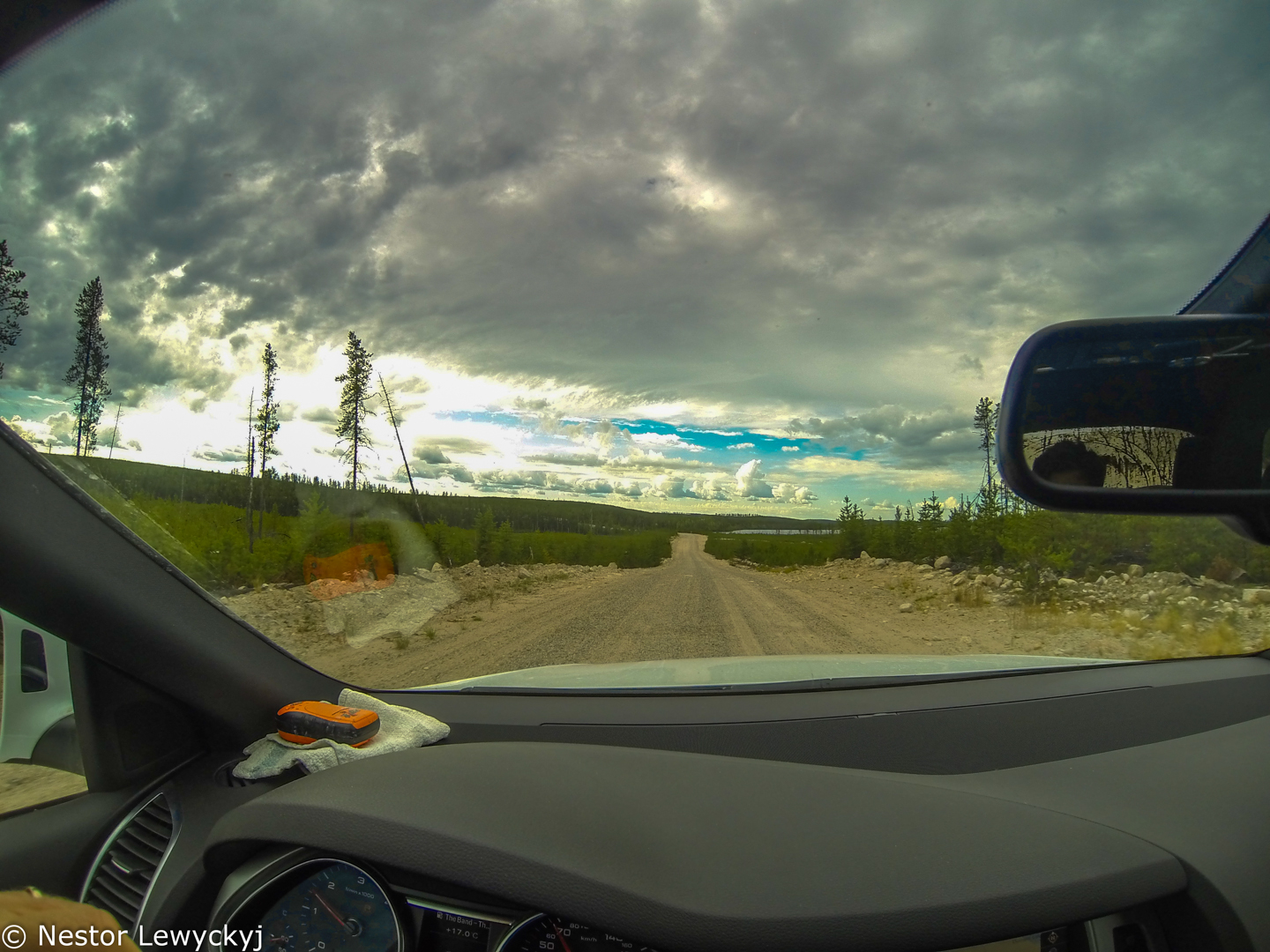 The beginning of our very long (4,100 kilometre) drive home. I kept my SPOT satellite tracking device on the whole time, so Kathy and our friends could track our progress back home.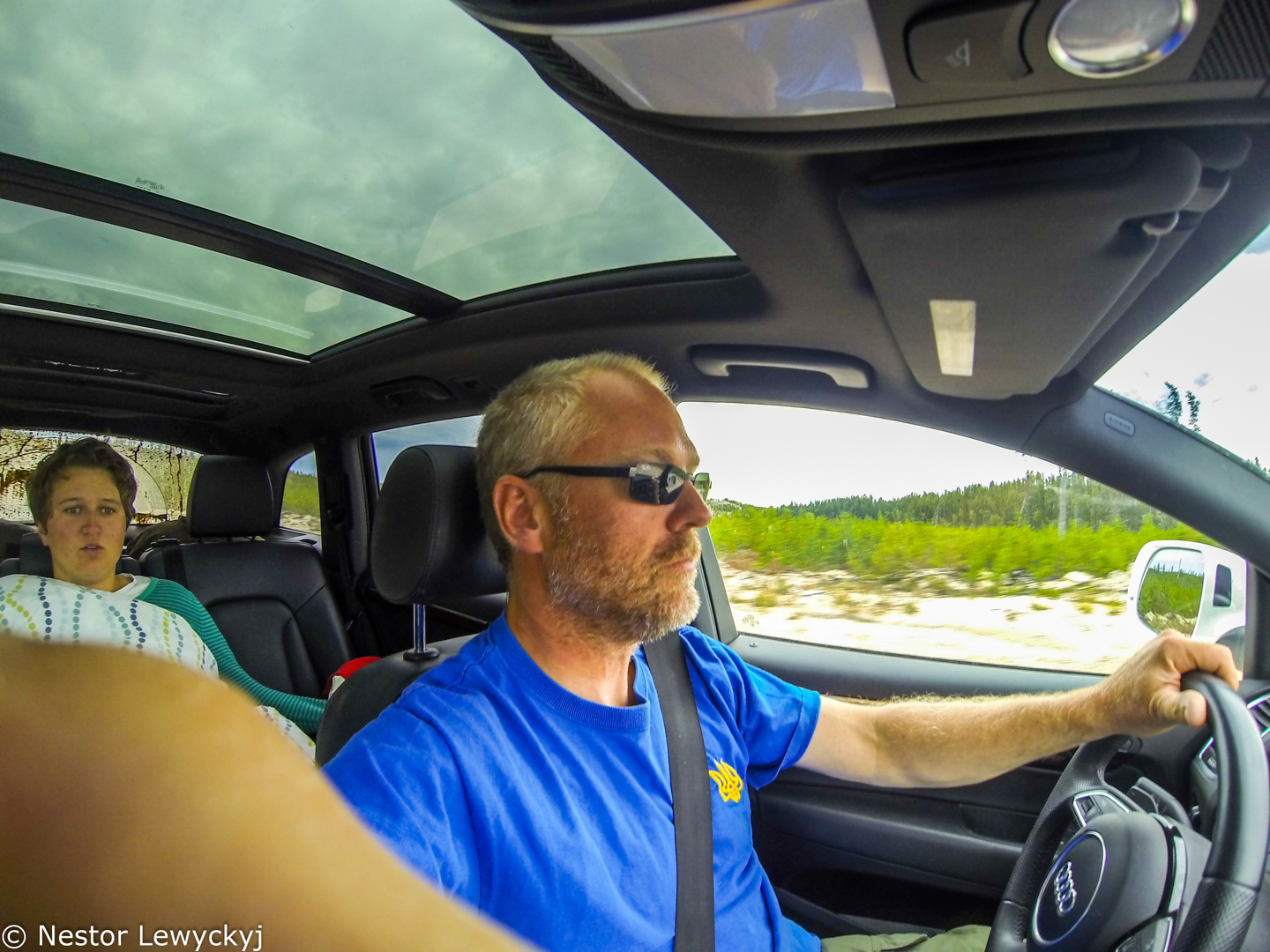 I was using my GoPro camera for all kinds of selfies....
Paul was riding shotgun the first part of the trip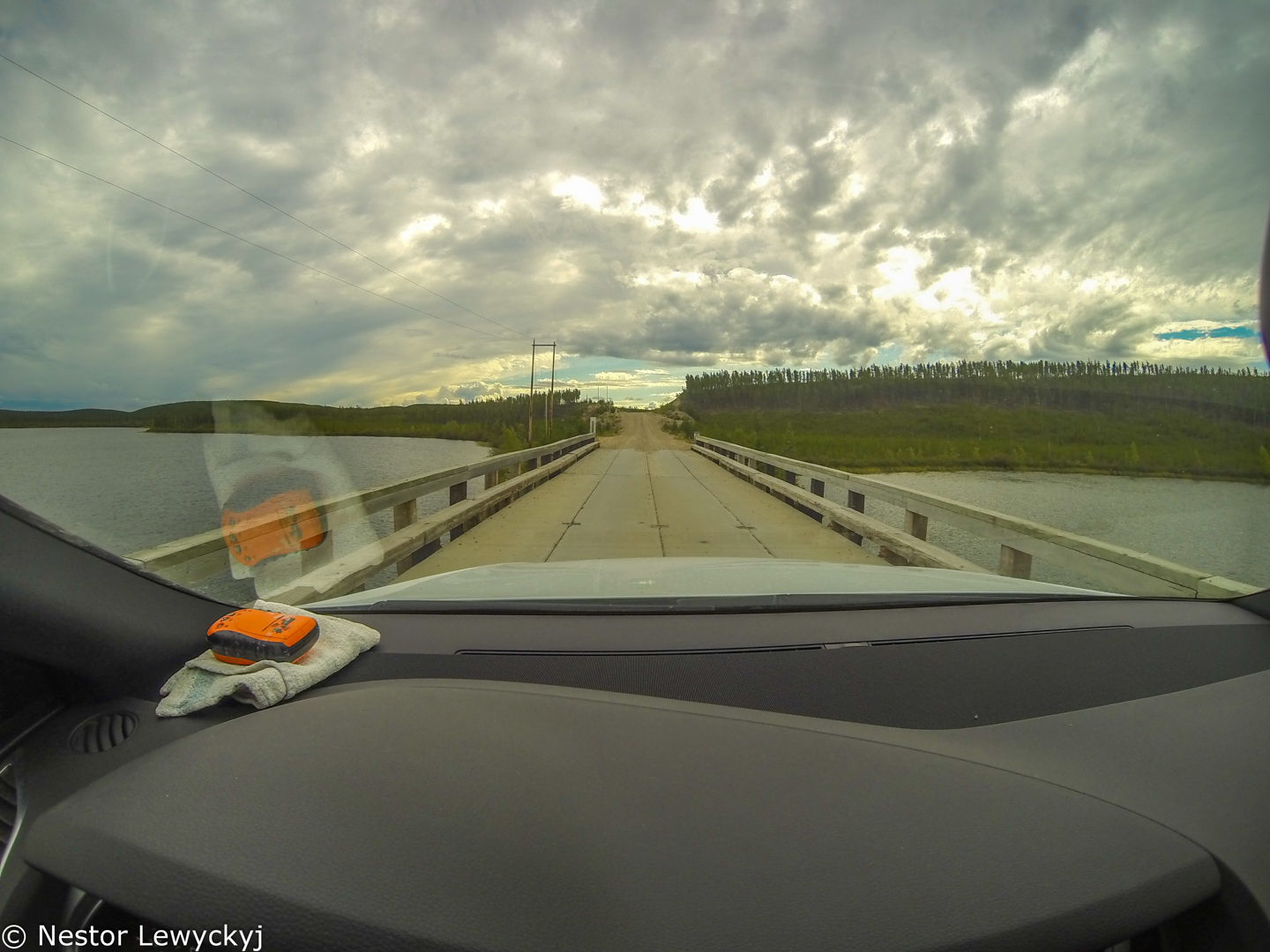 One of the many bridges on the road from Stony Rapids to Points North Landing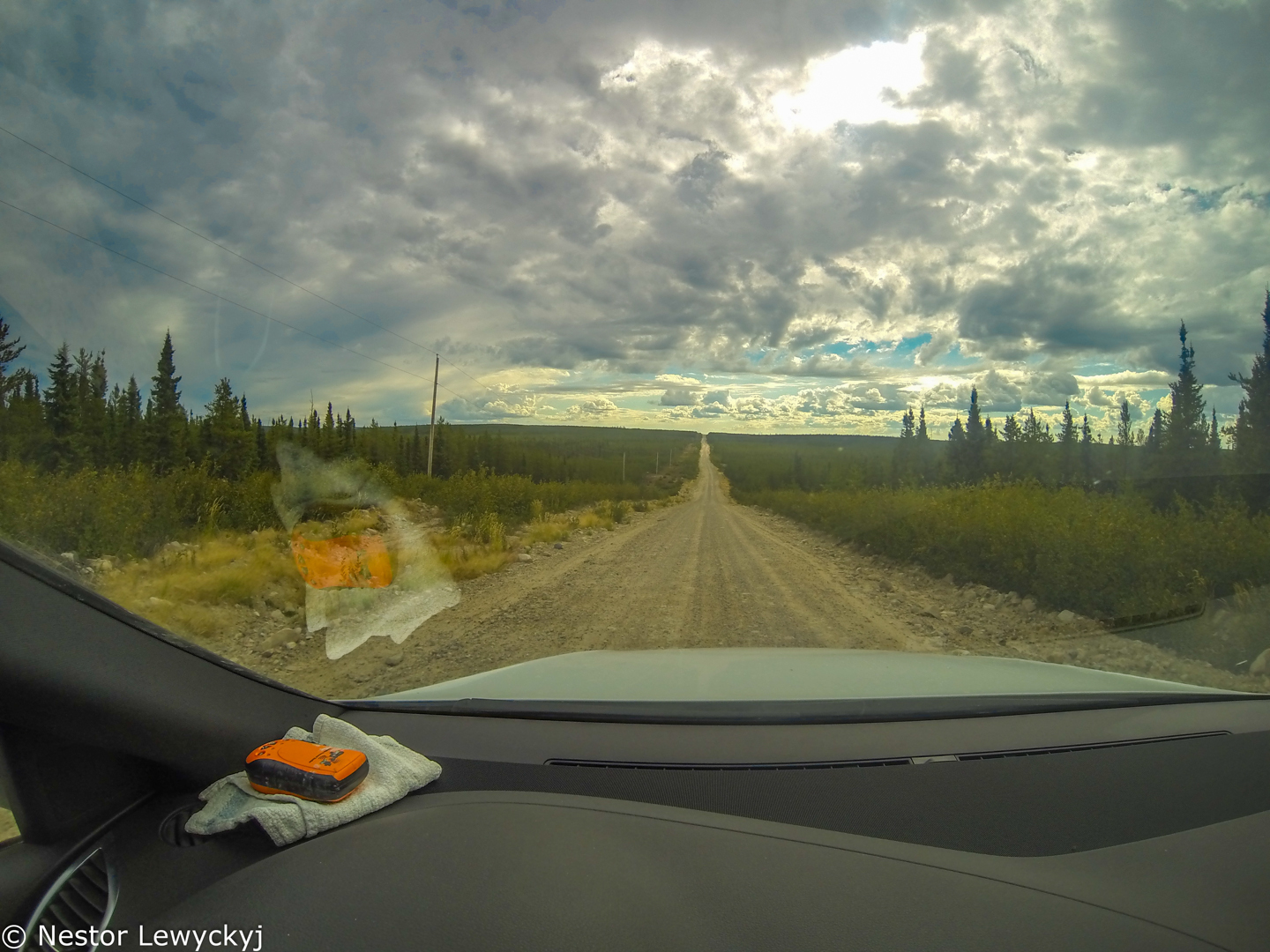 The road often just stretches on and on, in a very straight line south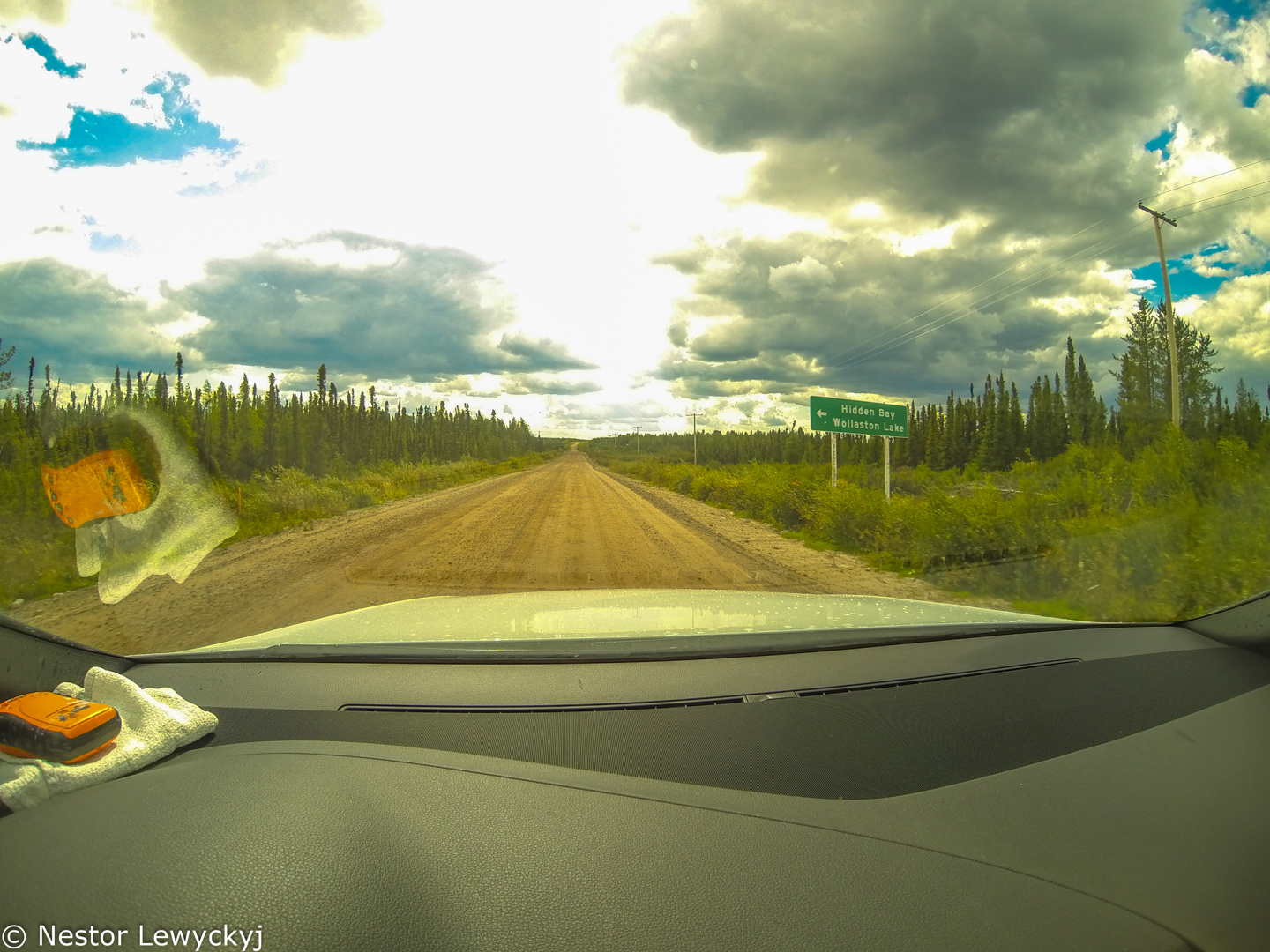 Nobody has heard of most of these places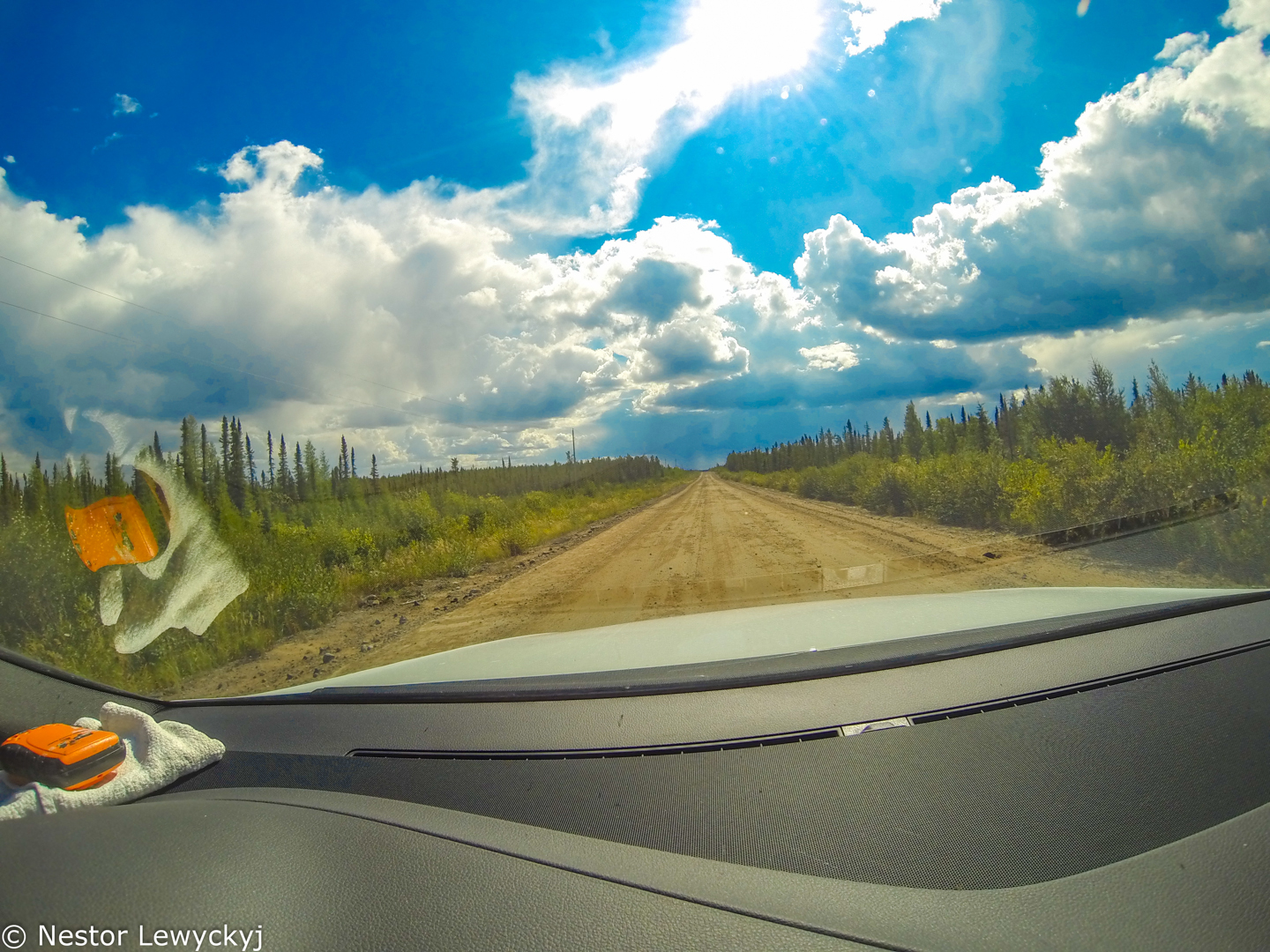 But the weather was kind of nice on our drive back to civilization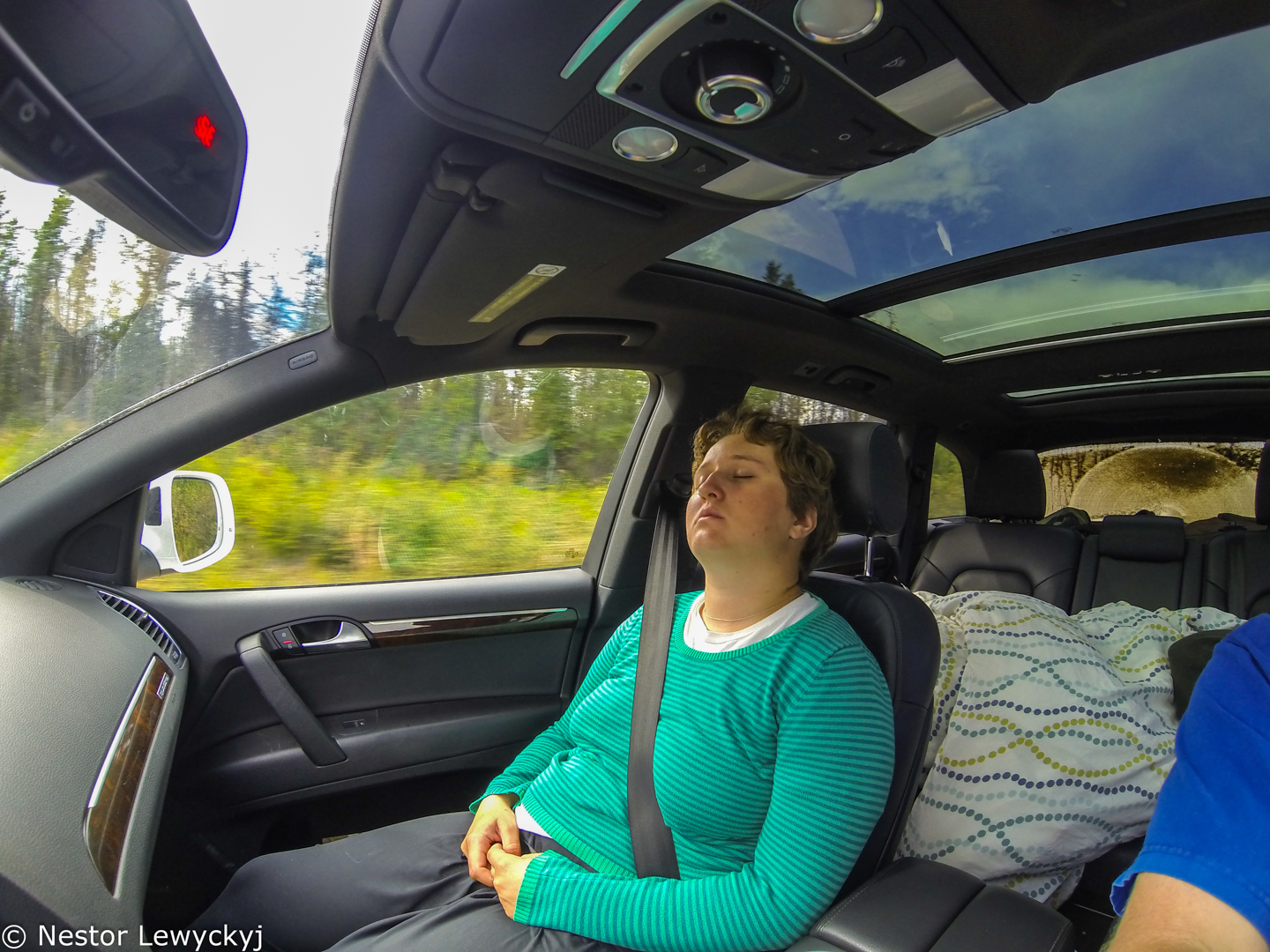 But the youngsters just ran out of steam and dozed off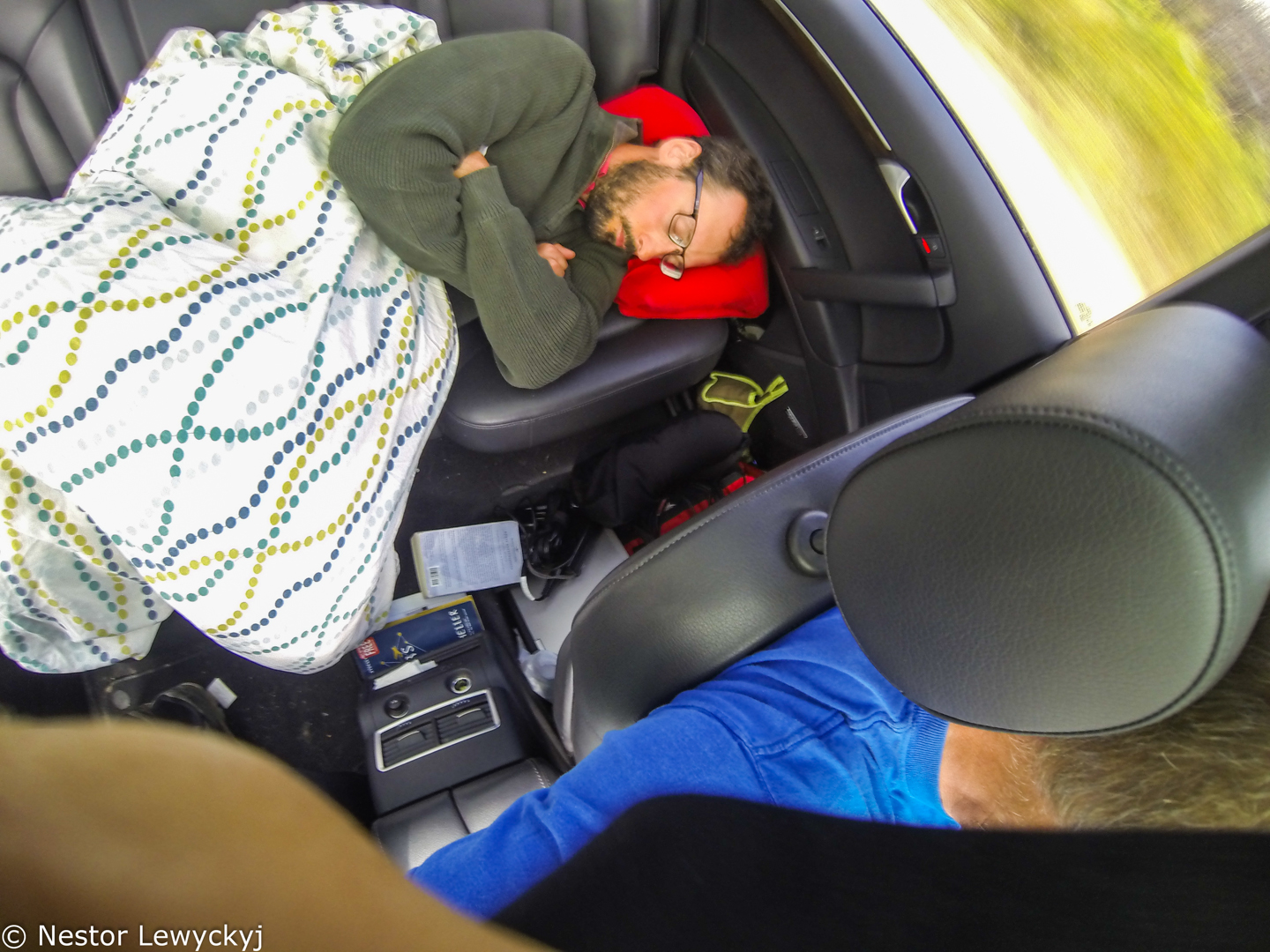 Including Paul who had the whole back seat to himself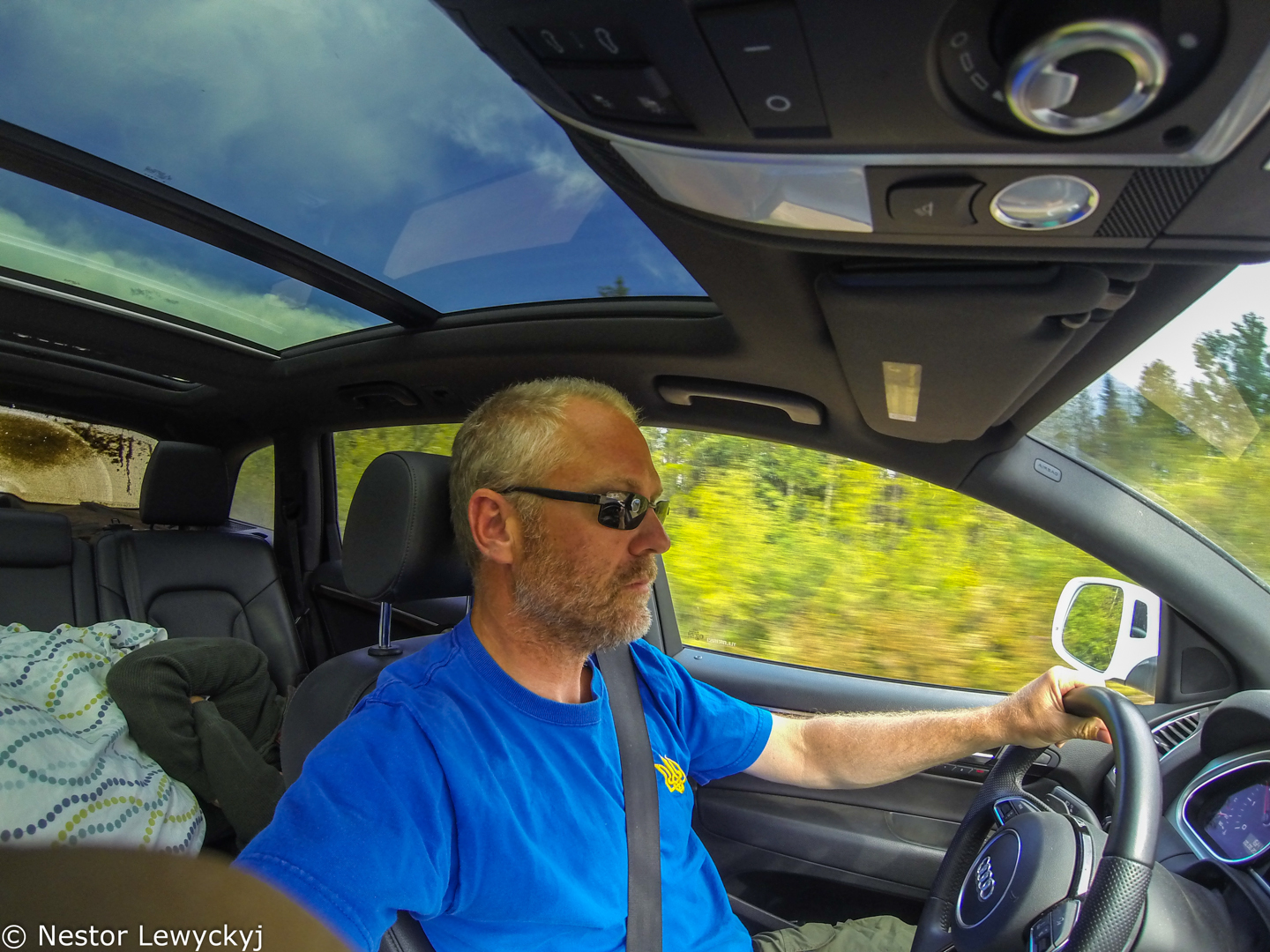 Leaving just me and my Satellite radio to keep me company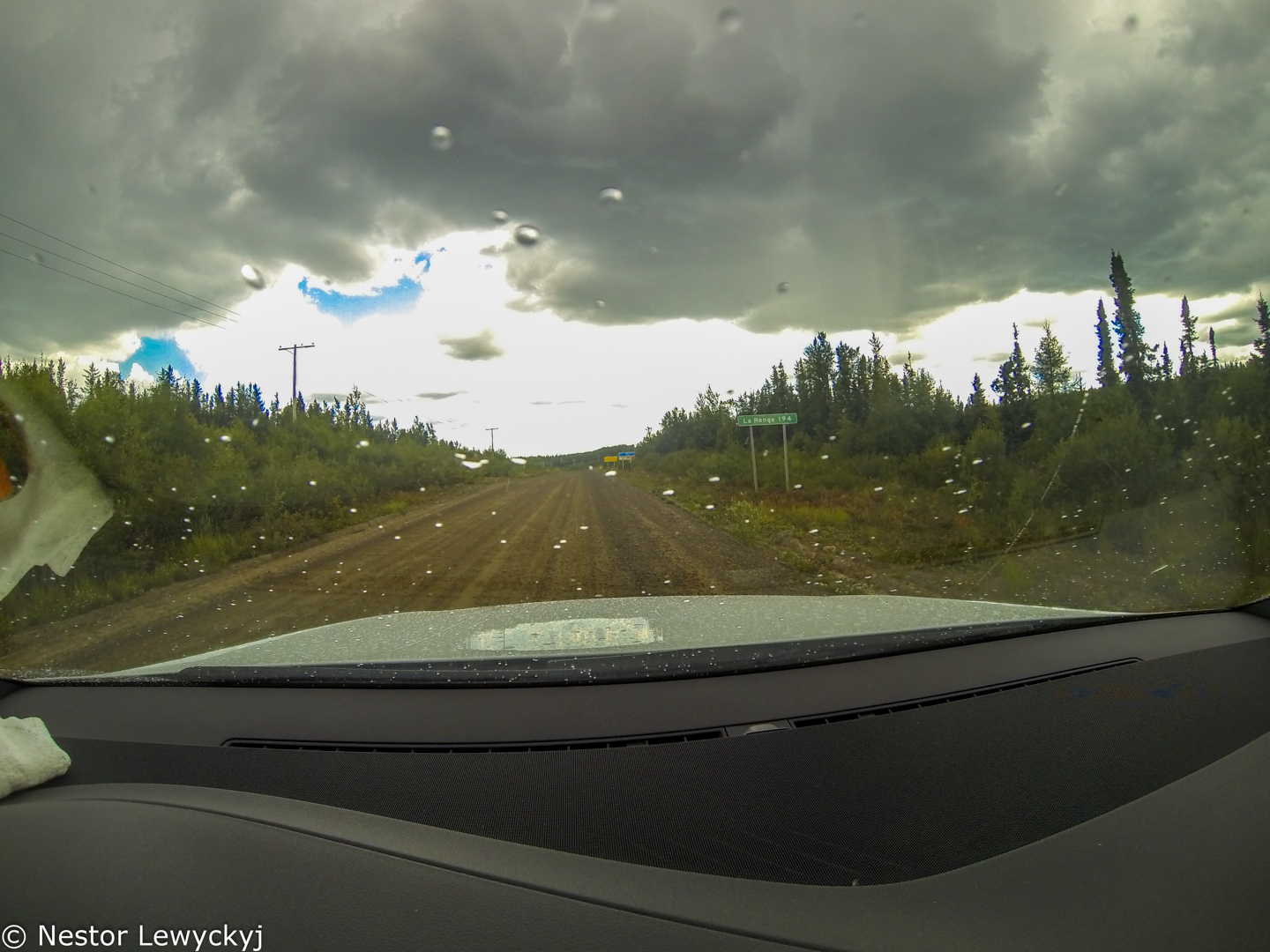 After 400 kilometres of dirt road, only another 200k to La Ronge and the beginning of paved roads!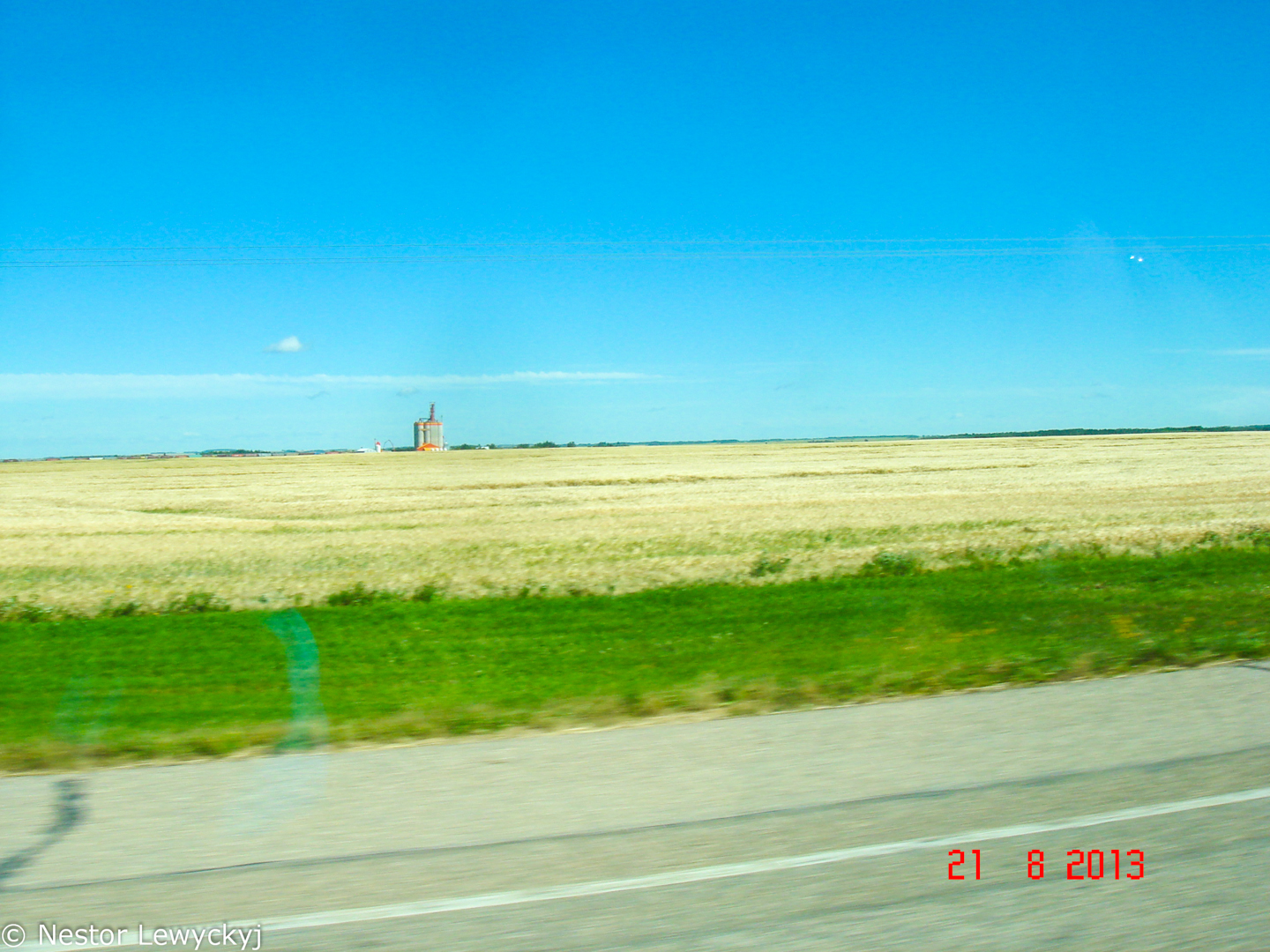 The great wheat fields of Saskatchewan. Another great trip with a great crew. Its a beautiful and large country, most of it rarely visited by most people. I suppose I like it that way, and I am selfish in thinking that we need to keep it that way. Since when did Man make ANY wild place better? E-Mail me if you want to discus this trip or trekking in the north in general. I am always willing to sit and talk.....
Copyright Nestor Lewyckyj 2013