Canoeing the Thelon River from the Hanbury River to the Thelon Bluffs through the Thelon Game Sanctuary in Canada's North West Territories and Nunavut in August 2015
For 2 weeks in August, four of us spent 2 weeks canoeing the very bottom portion of the Hanbury River and then the Thelon River all the way through the last rapids at the Thelon Bluffs. With me was my long-time trekking partner Roman Poluha. We have canoed long trips together several times and have hiked throughout the North East as well as Baffin Island. Roman's second oldest daughter, Sarah aged 21, joined us and was a great addition to the team. My oldest brother, Wolodymyr Lewyckyj joined me for the first time. I think that he enjoyed himself thoroughly and that the Barren Grounds have worked their way into his blood and psyche. Wolodymyr fitted perfectly with the team and with the north. The middle to far north is a very harsh mistress. Our canoe trek took us well north of the tree line, through the heart of the Thelon Game Sanctuary and we finished off about 64.5° north latitude. This is true tundra and permafrost, and the wildlife, both fauna and flora, is very different. Some people call this a waste land but I tend to disagree. Life is more precarious and precious here, and the density is much lower than points south (except for insects!), the ecosystem is just as integrated, developed, and interrelated as anywhere else. This page chronicles our journey, primarily through pictures and some video with some captions thrown in. if you ever want to communicate with me about canoeing in the Thelon Game Sanctuary or in the Barren Grounds in general, drop me a line at webmaster@lewyckyj.com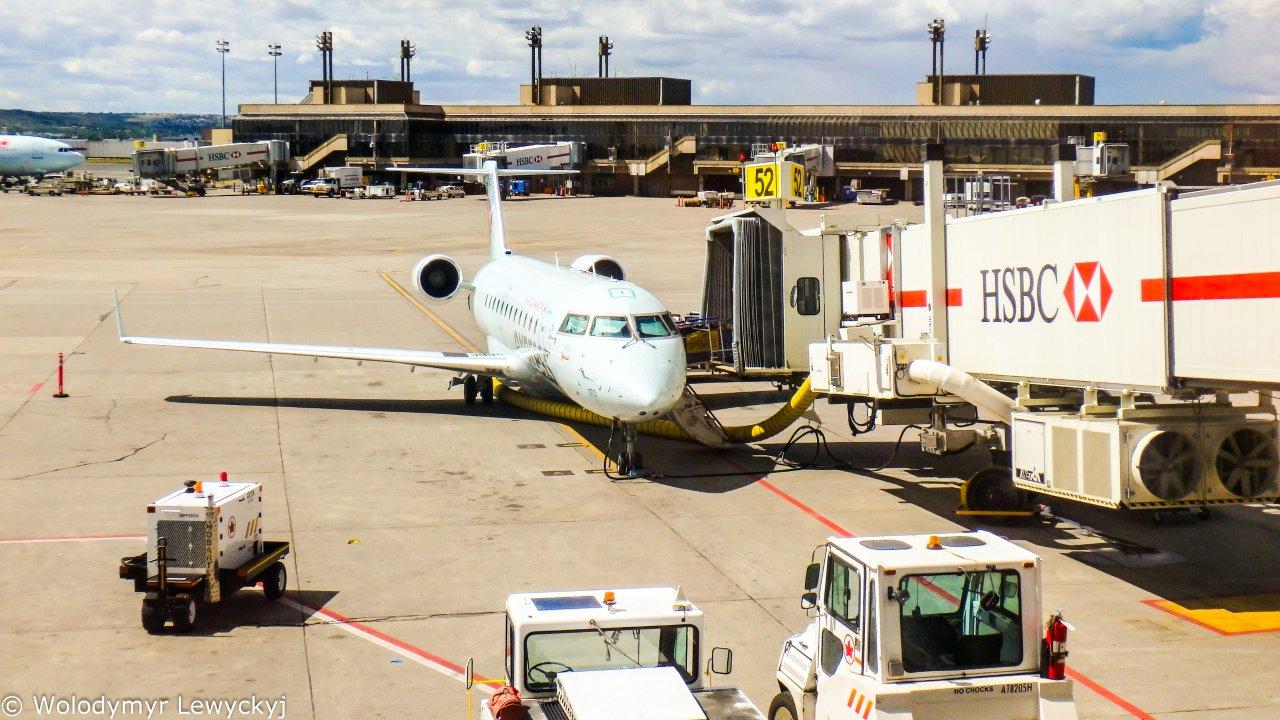 Our Air Canada Jazz flight from Calgary to Yellowknife. Wolodymyr and I cooled our heels in the Maple Leaf Lounge. He had travelled from Toronto and we met up in Calgary.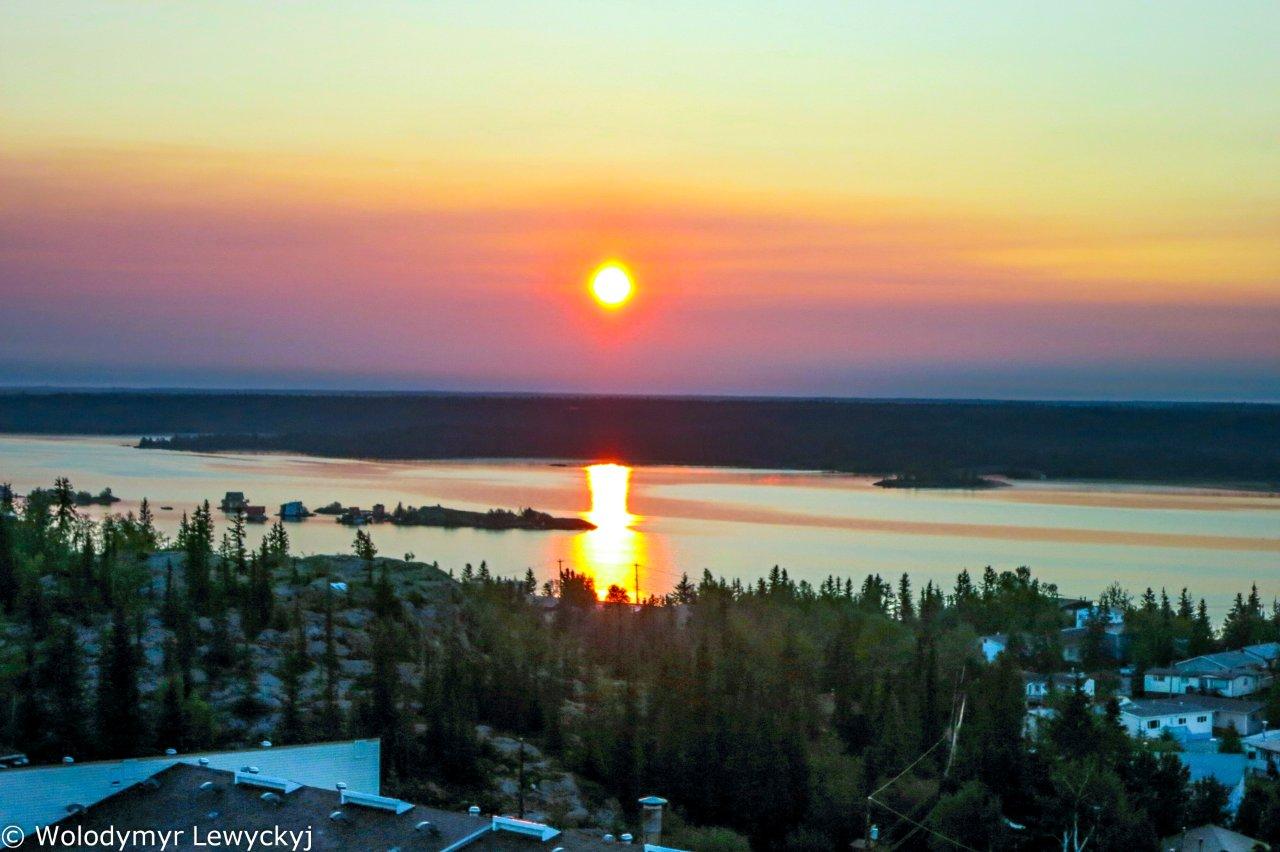 An amazing red sunset from our balcony in Yellowknife due to forest fires in the area.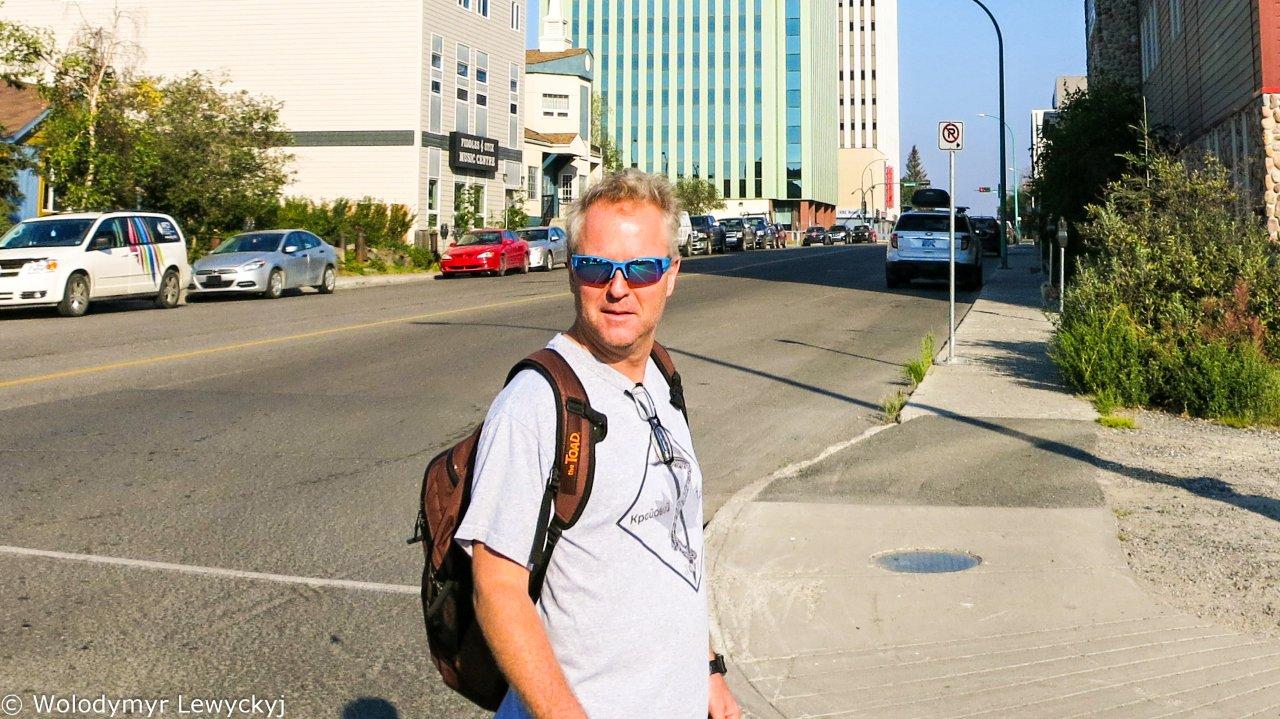 Walking around Yellowknife on a Saturday morning. We still had some supplies to pick up and make sure we were all set with Air Tindi, the charter airline we were using, plus I had to get my hair cut really short, the way I like it, when I go into The Barrens. Long hair can be problematic when you can't wash often and the bugs are really bad. I love the freedom of a brush cut!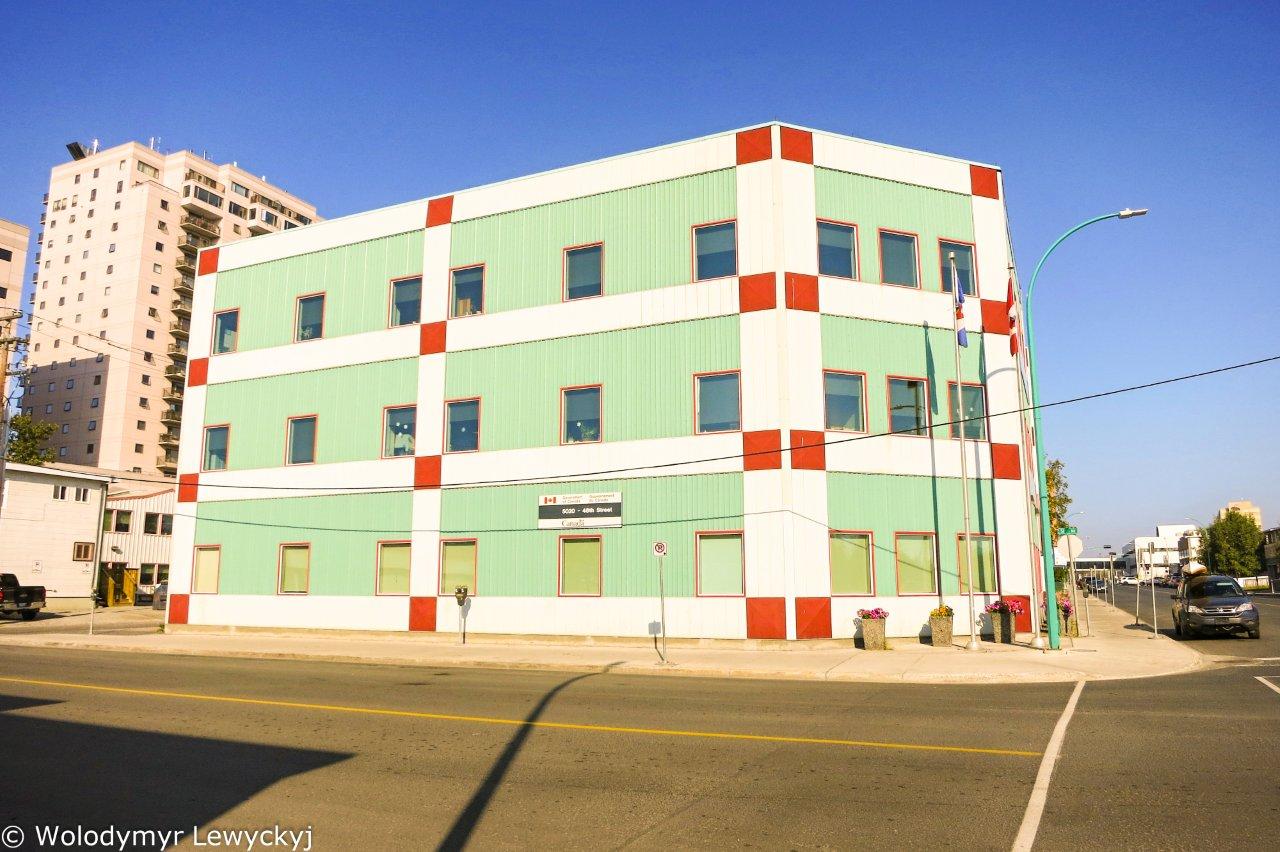 The architecture is already different in Yellowknife. Everything new is built with the long and cold winter in mind.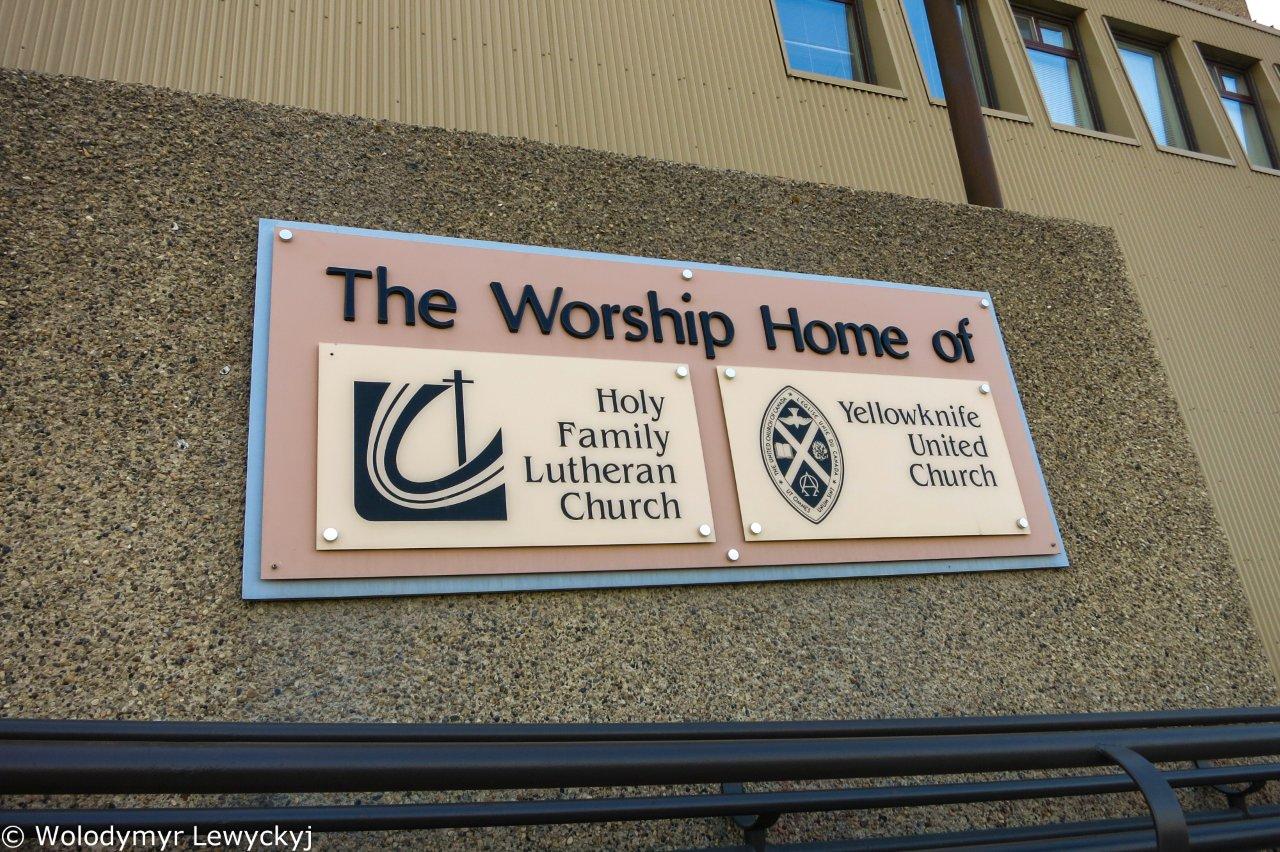 There are an amazing number of houses of worship in Yellowknife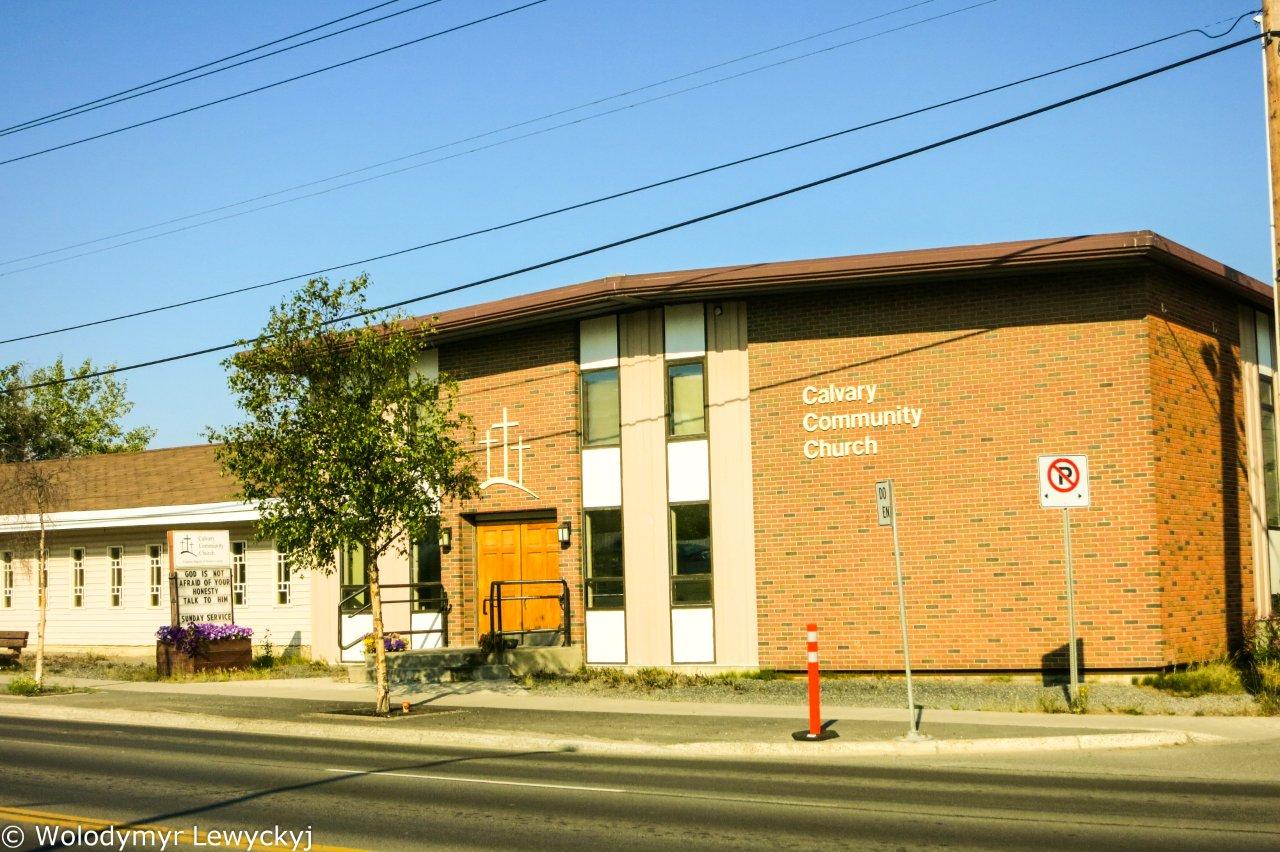 Of various denominations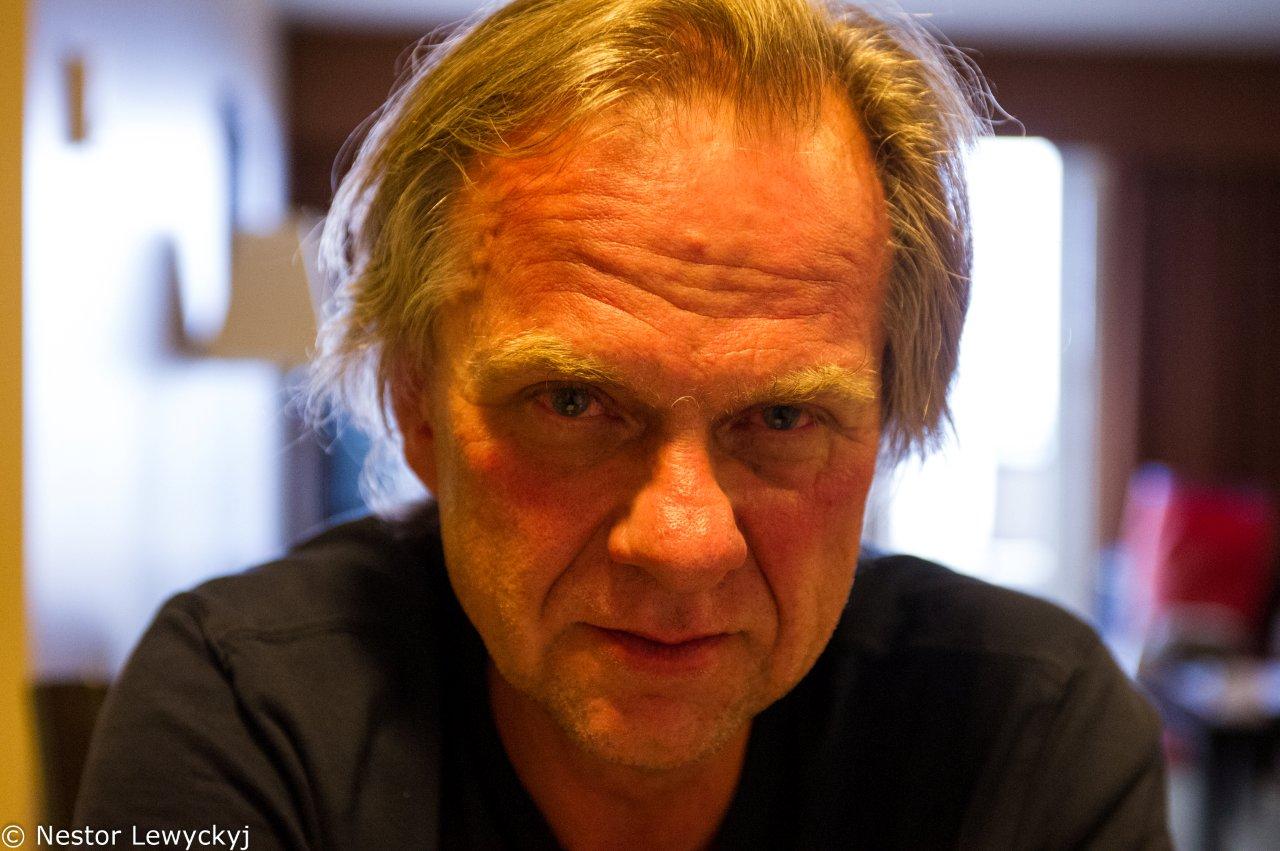 Wolodymyr in our room on that Saturday afternoon. We were waiting for Roman and his daughter Sarah to fly in from Ottawa that night.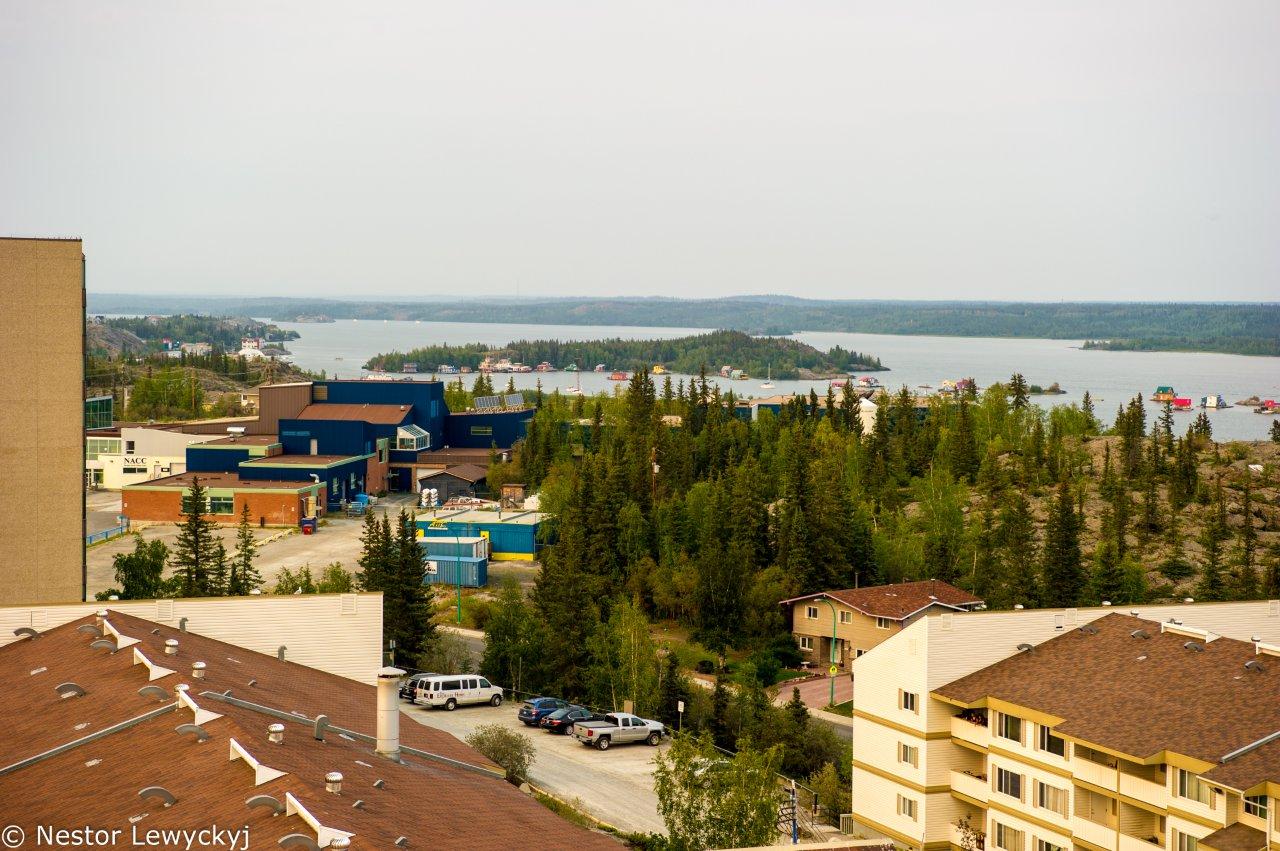 Floating houses in the harbour by the island on the distance. Yellowknife is a really cool town, at least to visit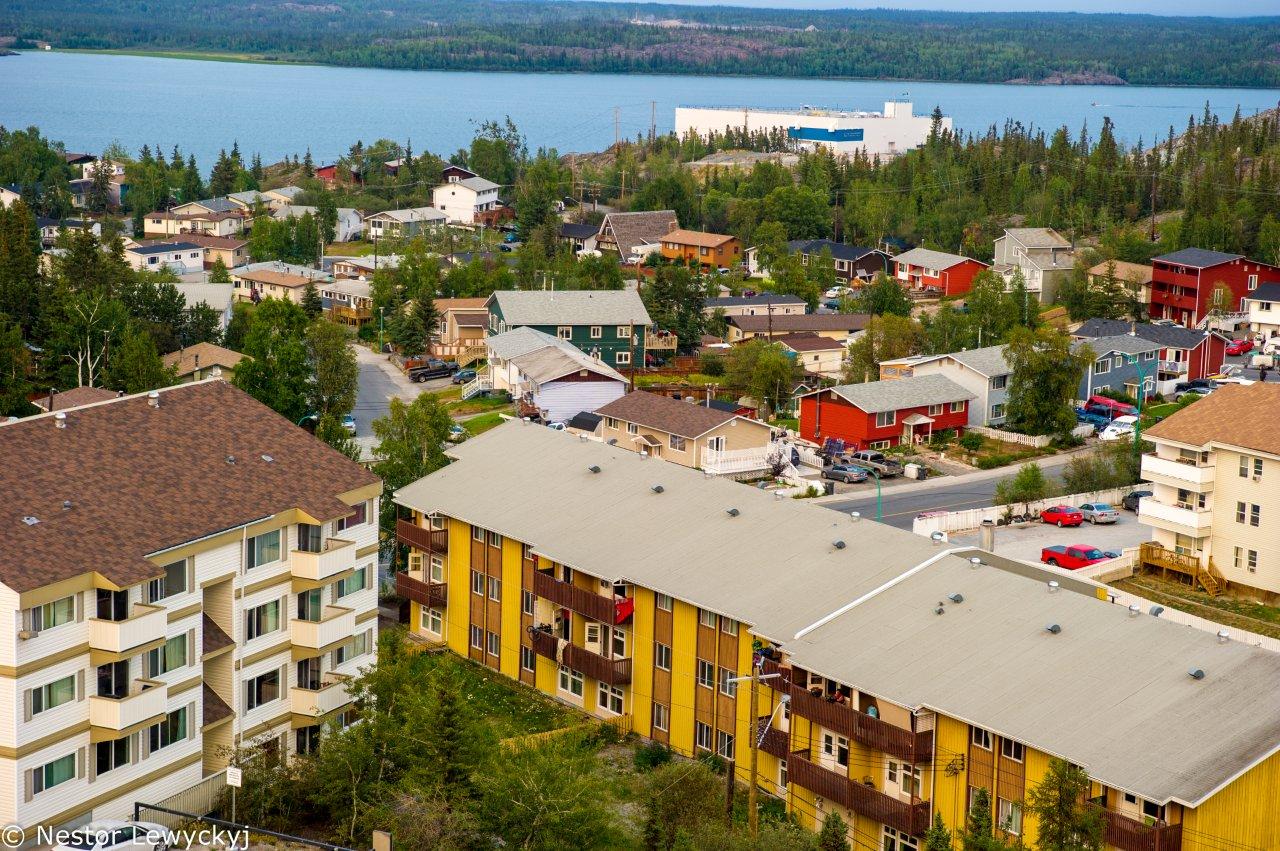 The colours of the houses reminds me a bit of something like Amsterdam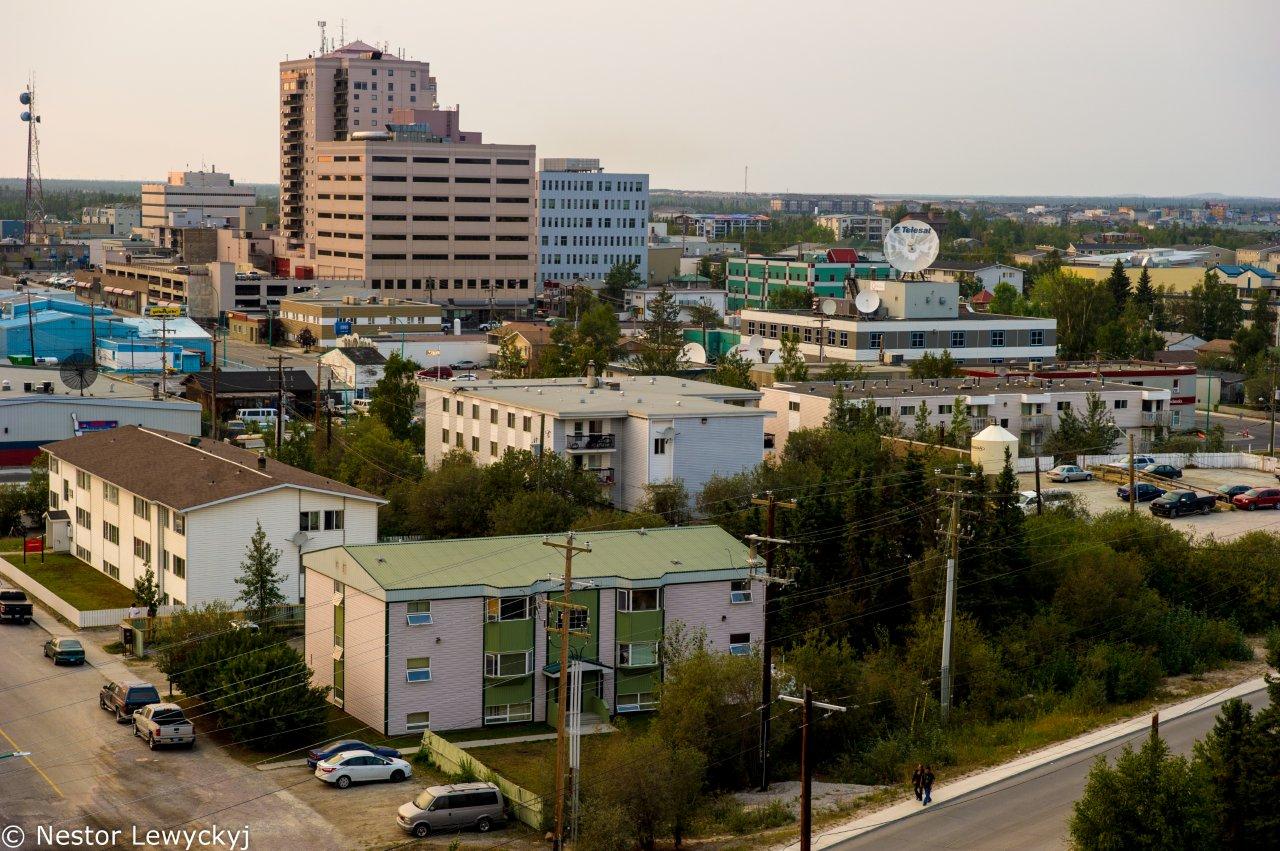 The federal government has a rather beefy presence in town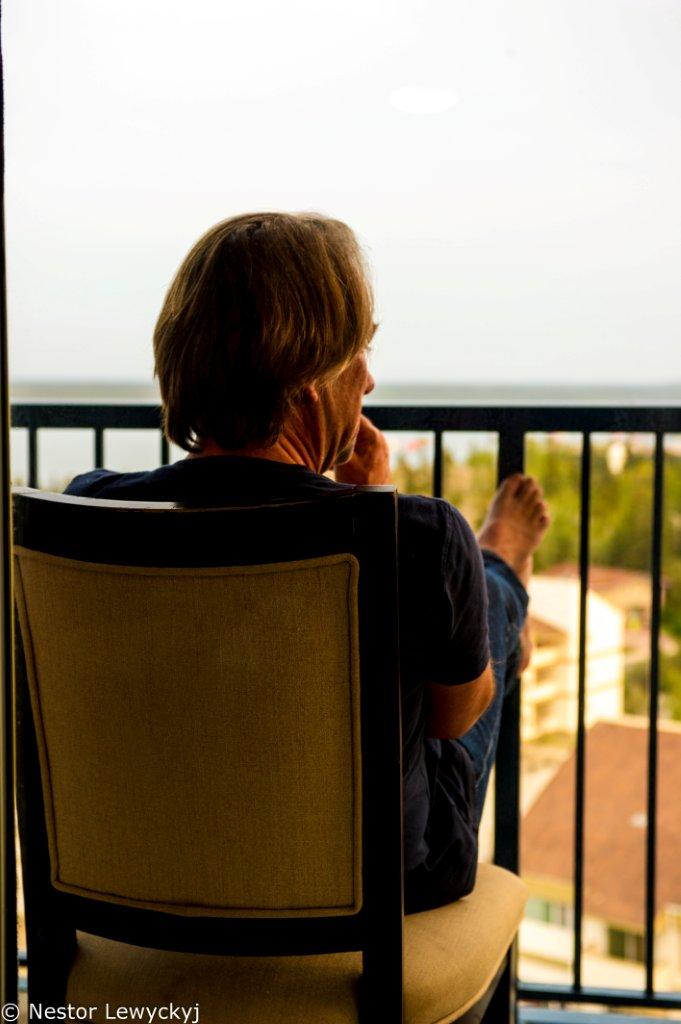 Waiting, waiting for Roman & Sarah, but mainly for the real part of the adventure to begin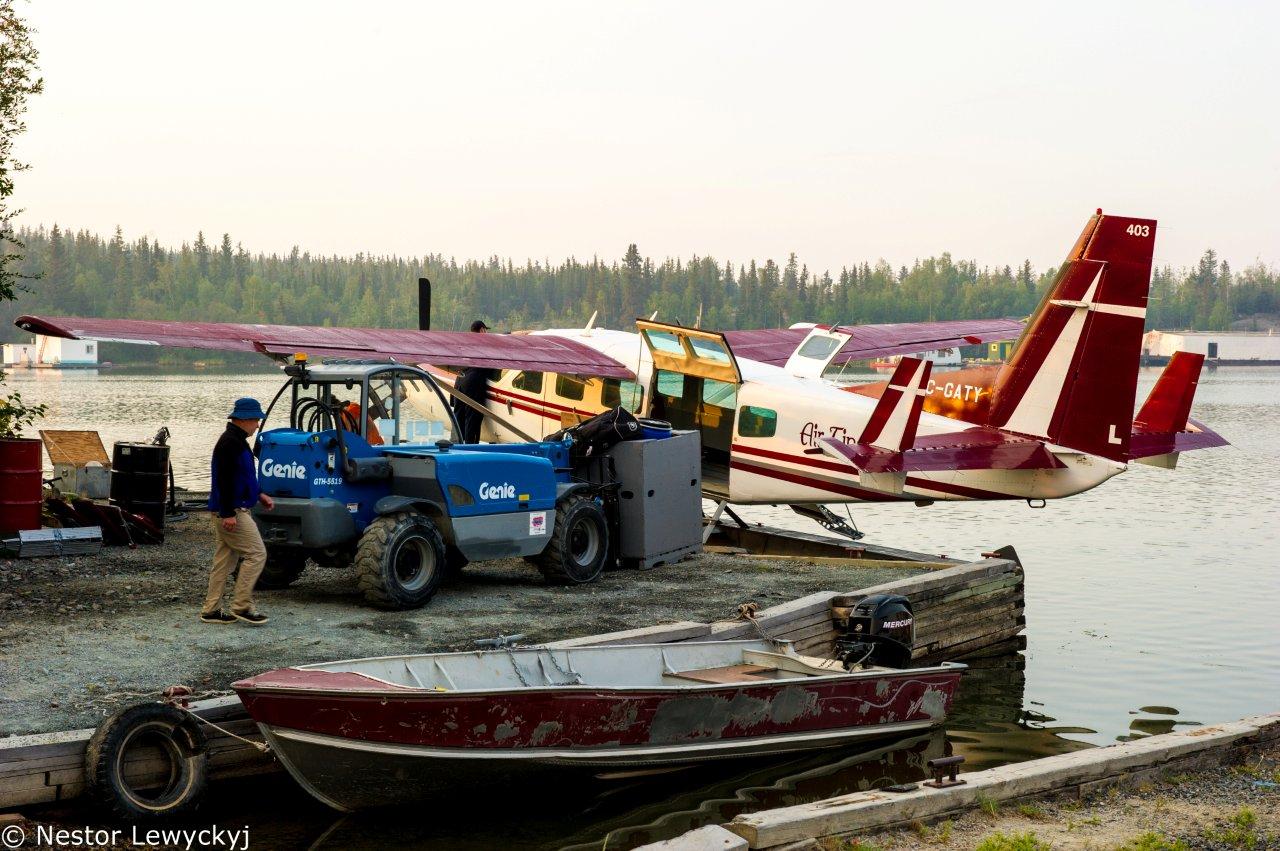 Getting ready to load up the Air Tindi Cessna Baby Caravan. This was my first time in that model of plane and the first time I had ever used Air Tindi. They were great and I highly recommend them. They were highly professional and very polite.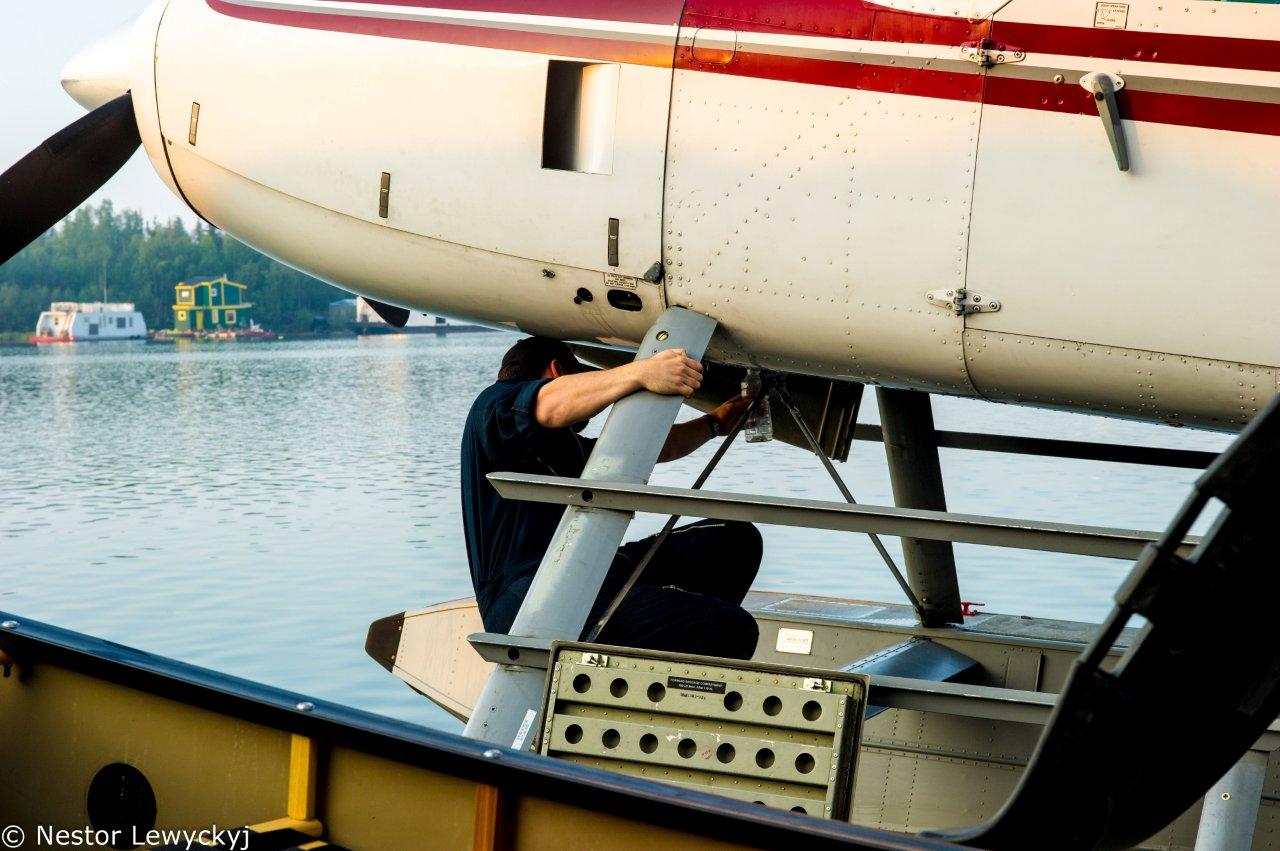 Draining what looks like some condensate from somewhere...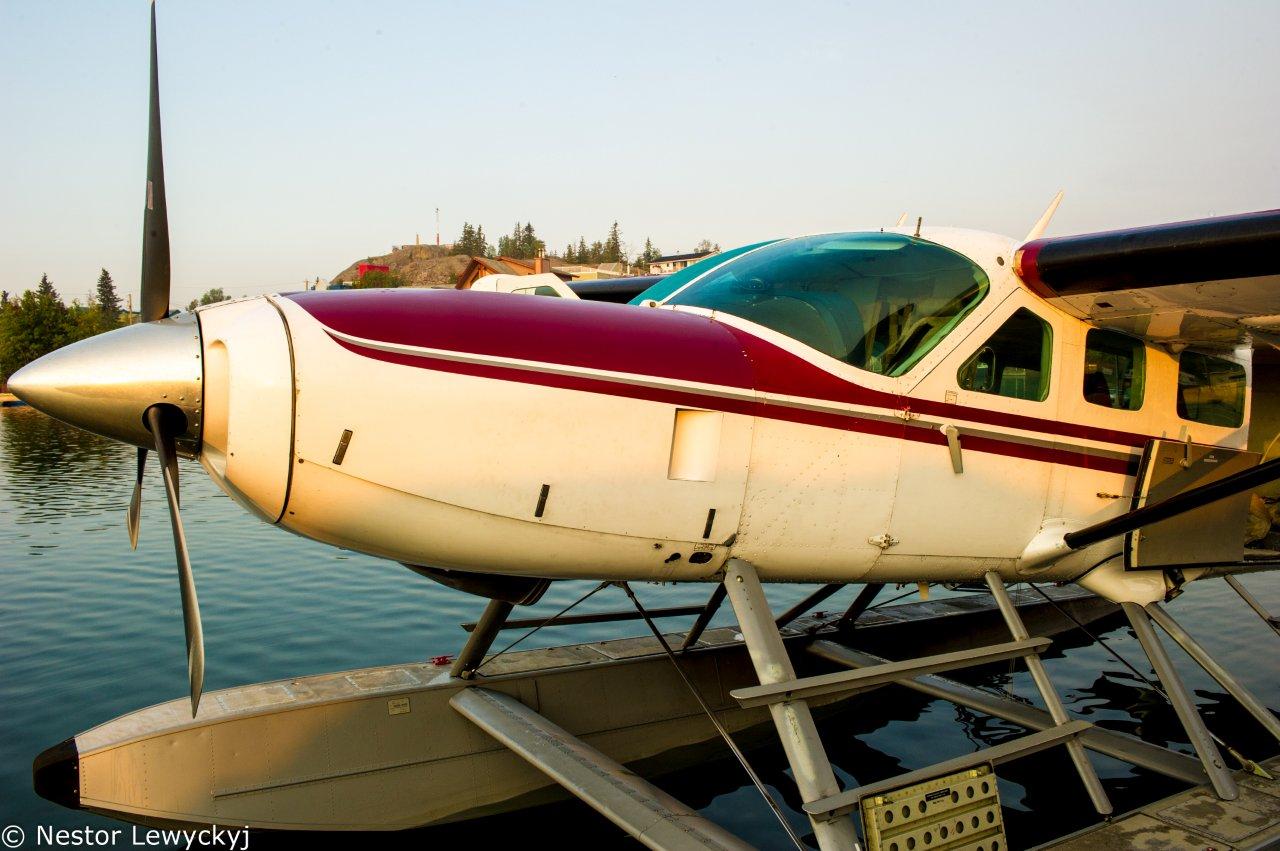 The Cessna Baby Caravan is a great plane. It has almost as much range and carrying capacity as the Twin Otter. Plus it has this amazing wrap around windshield that gives the front seats phenomenal visibility.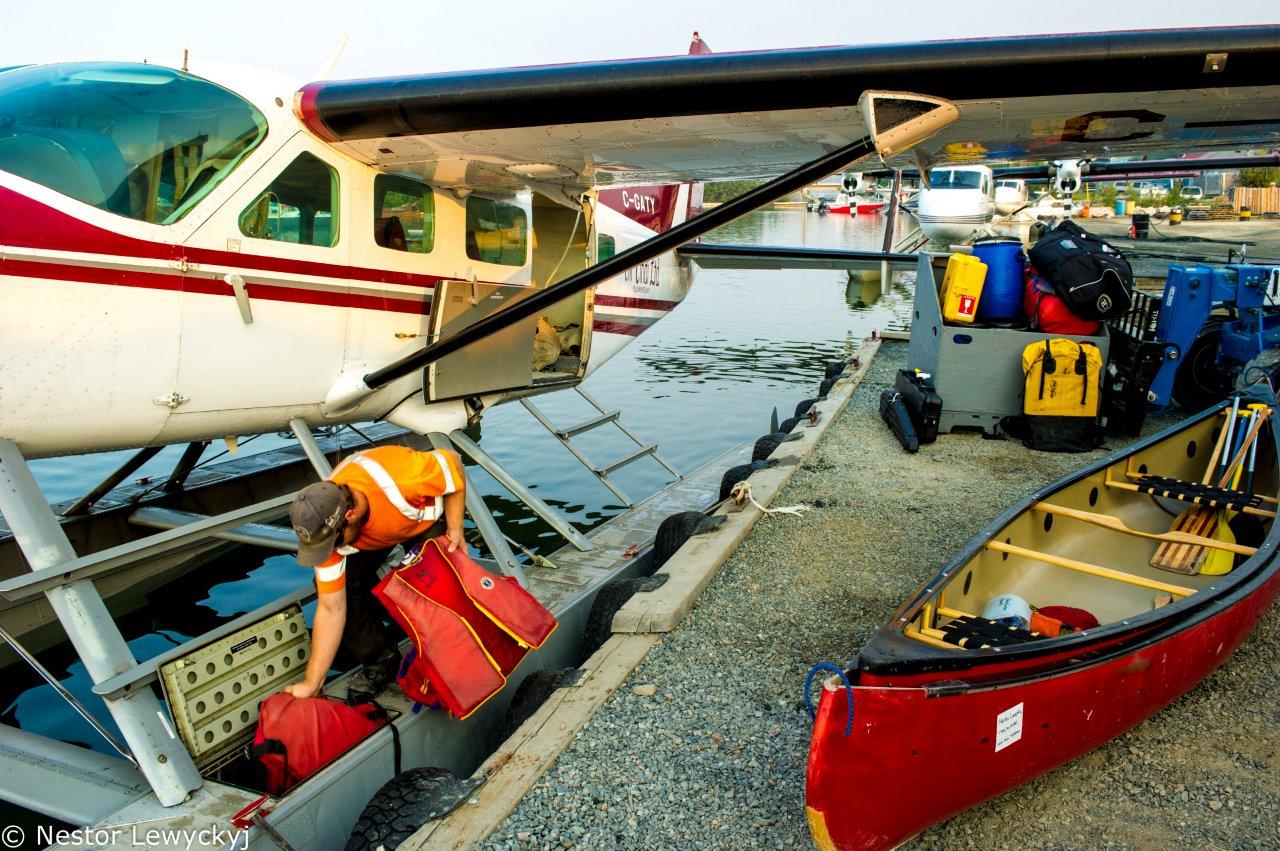 The floats were loaded with all of our small stuff in order to save space in the cabin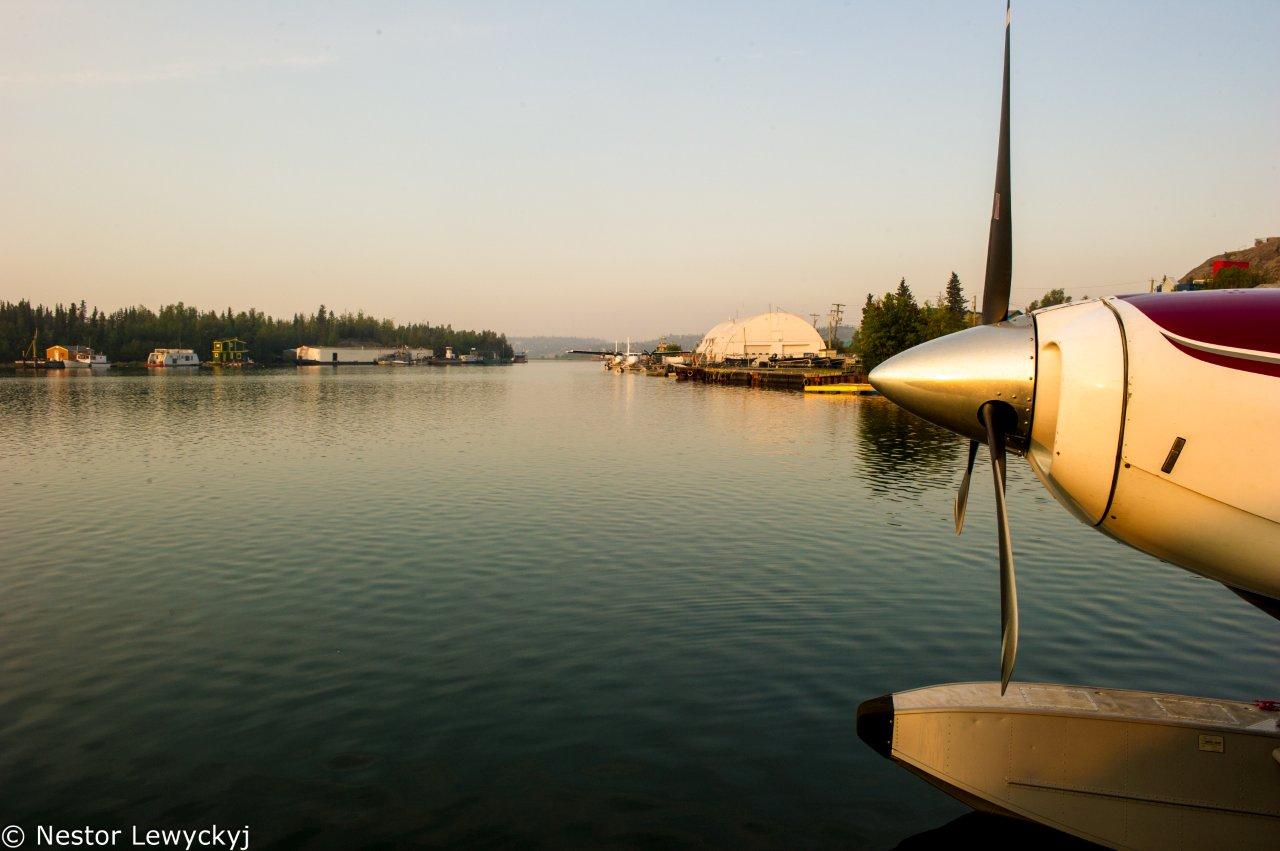 It was a very nice early Sunday morning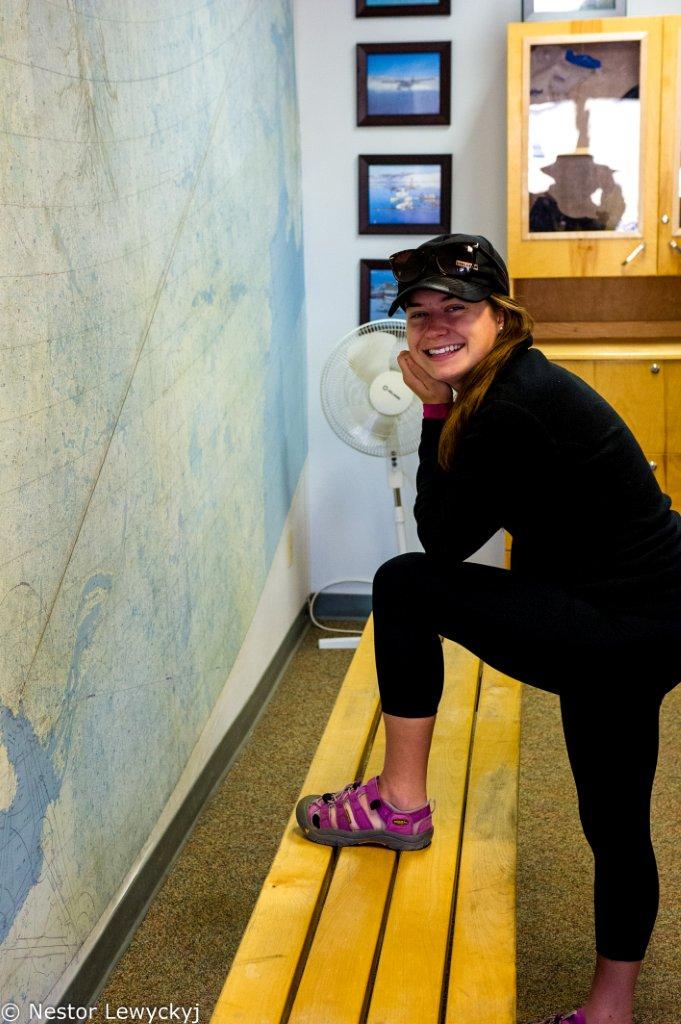 Sarah spent time studying the big map of Canada's north
Our pilot for the flight, Caleb, was making sure that everything was just right. It was going to be a 2+ hour flight out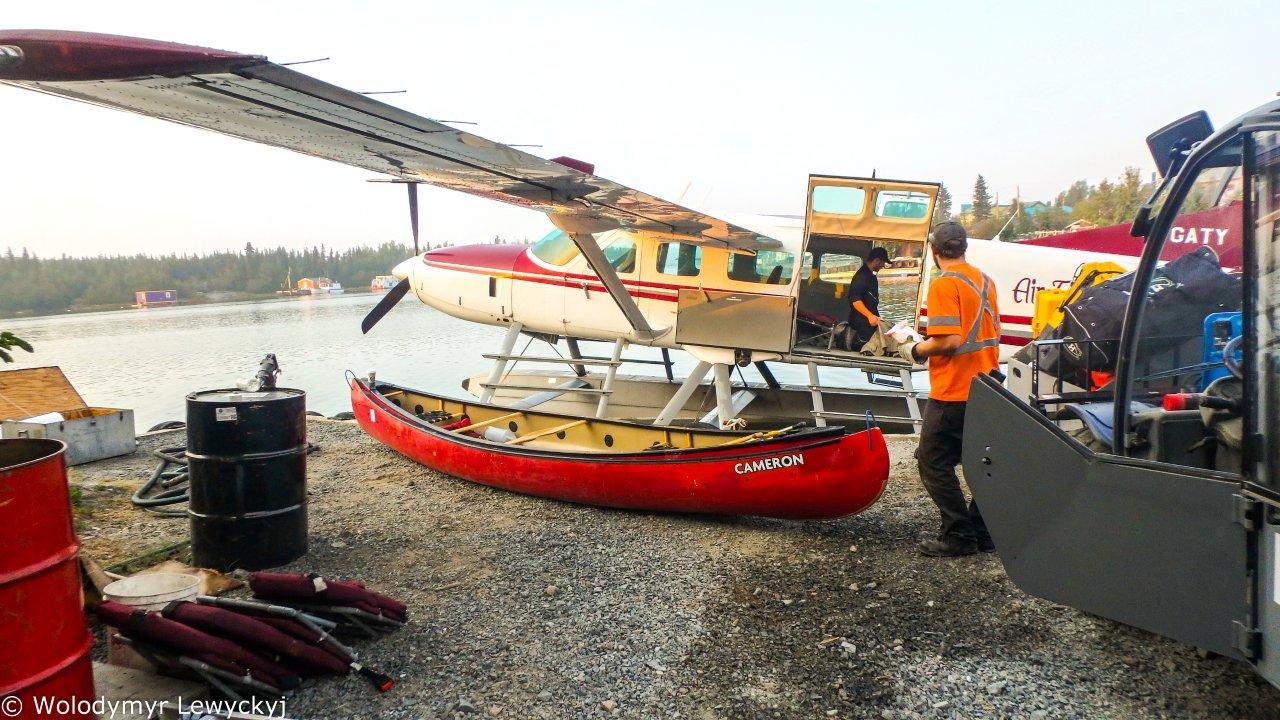 We thought that we had a fair bit of gear, but we were told we had a lot of weight left to spare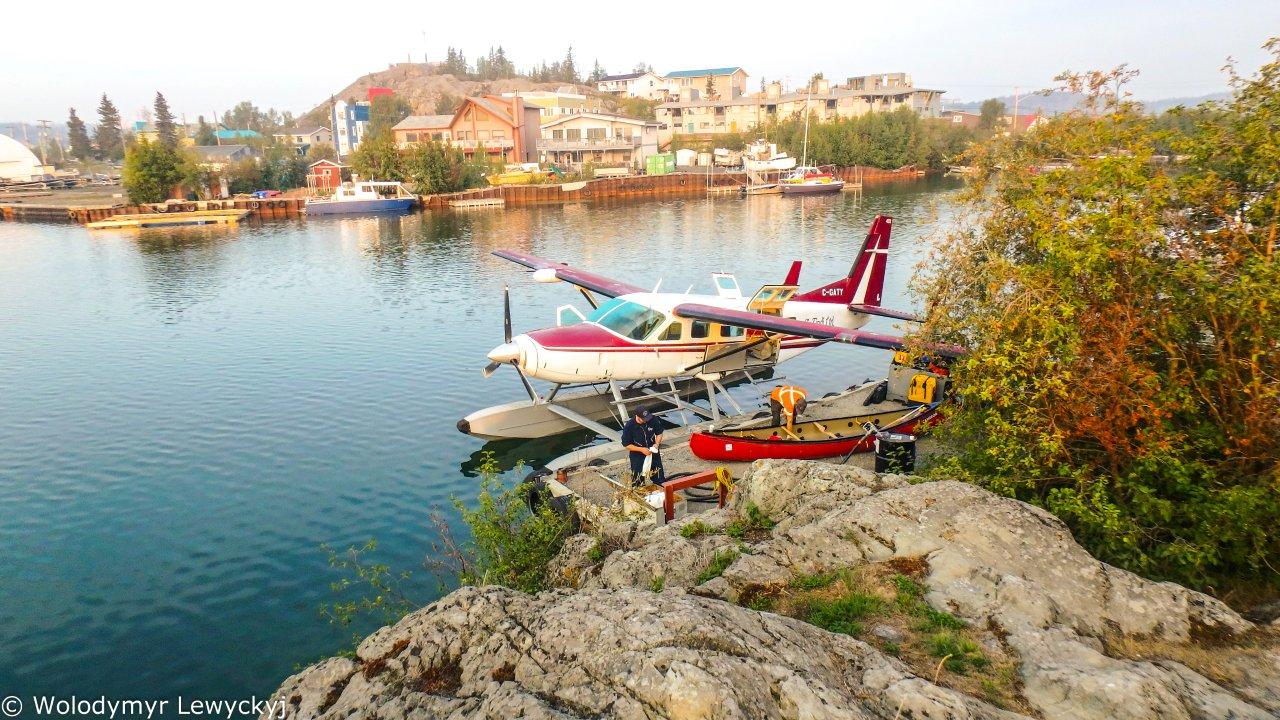 A good view of that part of the harbour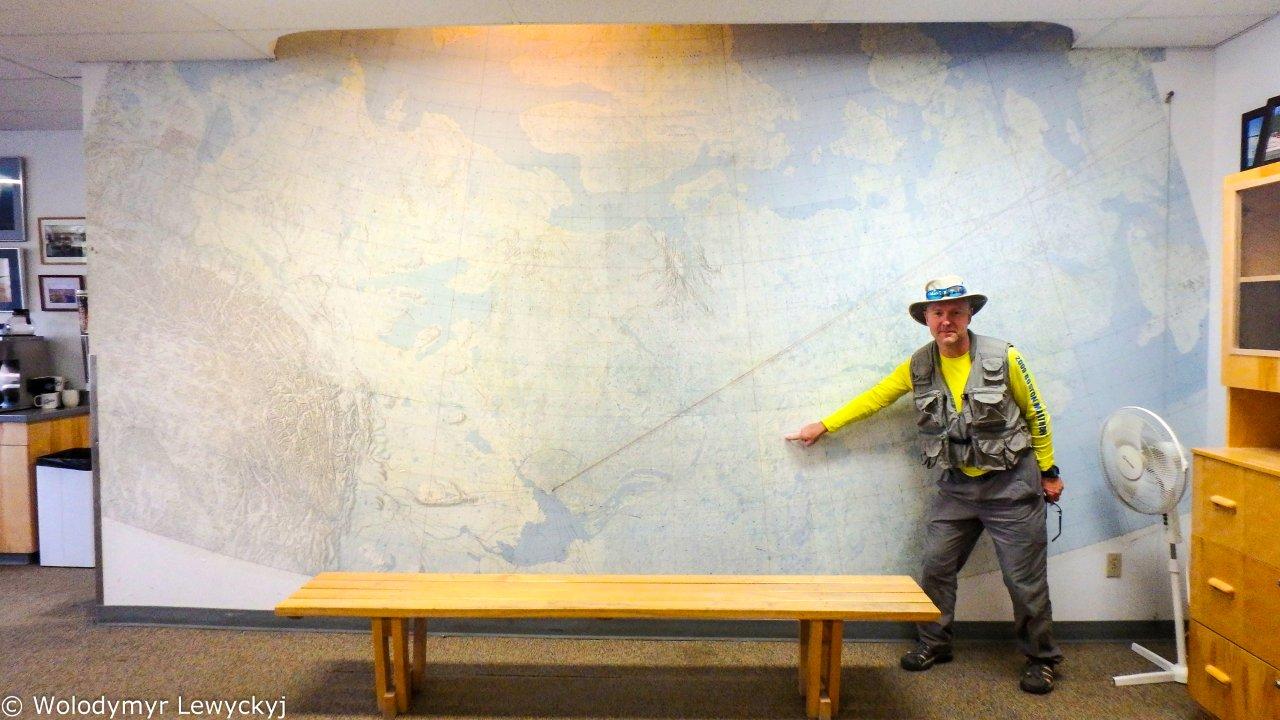 We were able to find exactly where we wanted to drop down on the Clarke River, but we were having our doubts about water levels. The Clarke does not have a lot of flow in the best of times, and summer had been very dry. We were trying to develop alternate plans which included simply landing at Warden's Grove on the Thelon.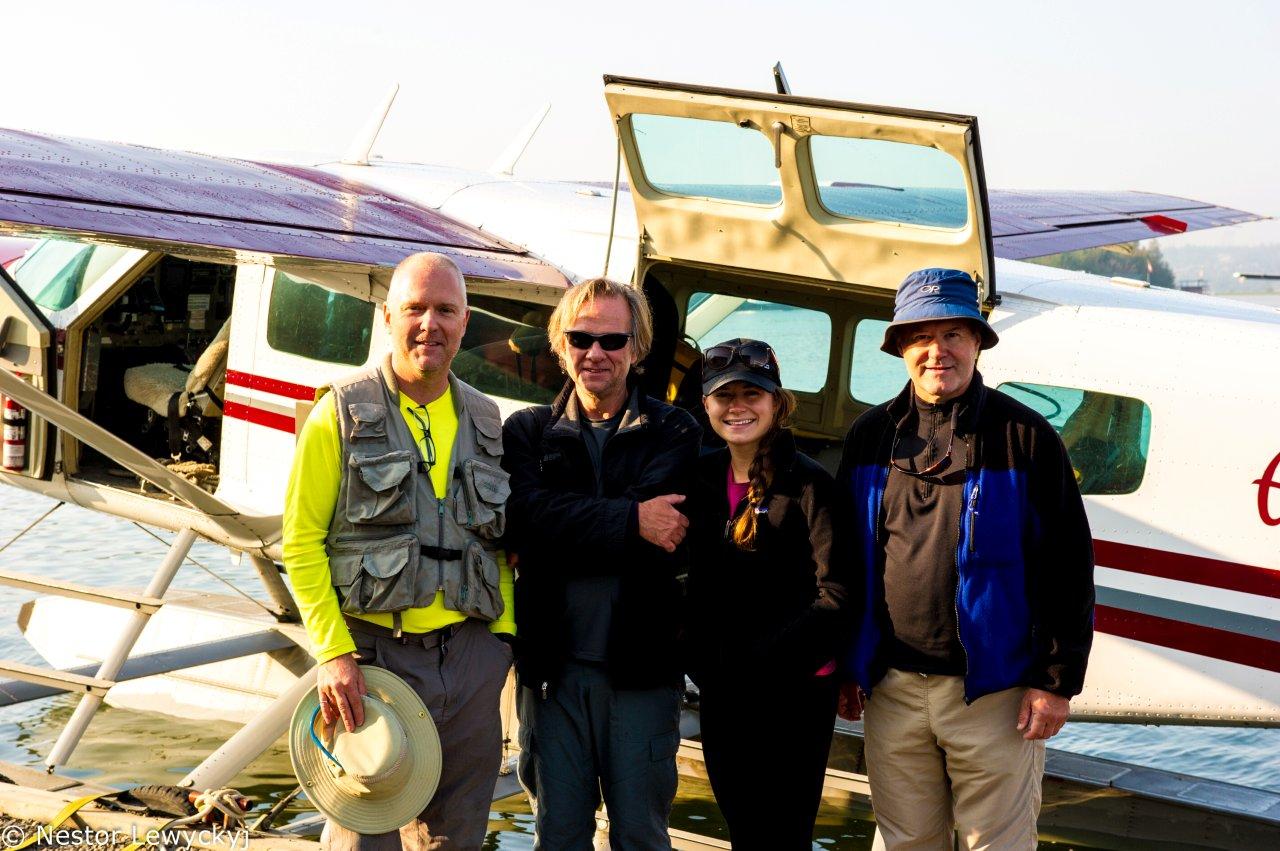 Ready or not, there we were, the full crew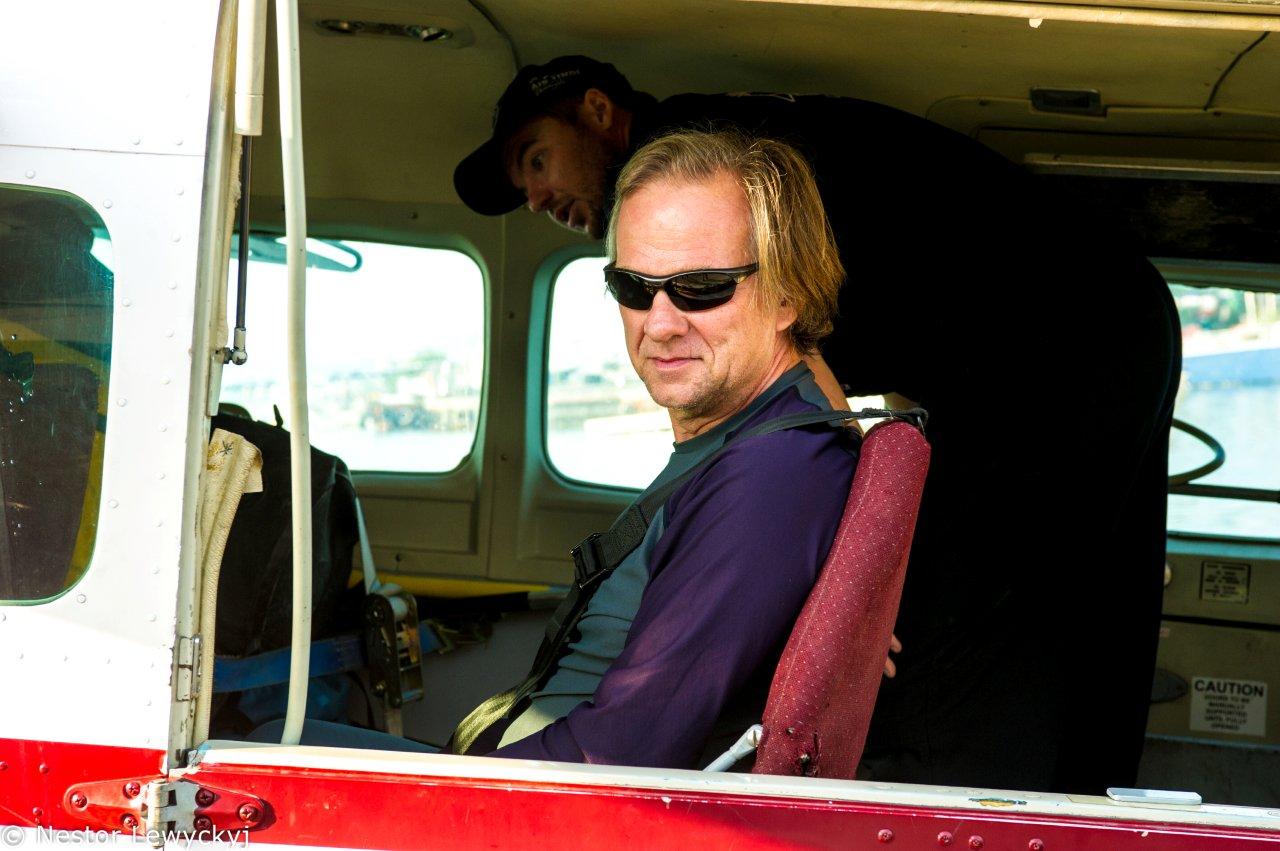 We had a pilot named Caleb and Wolodymyr the celeb.....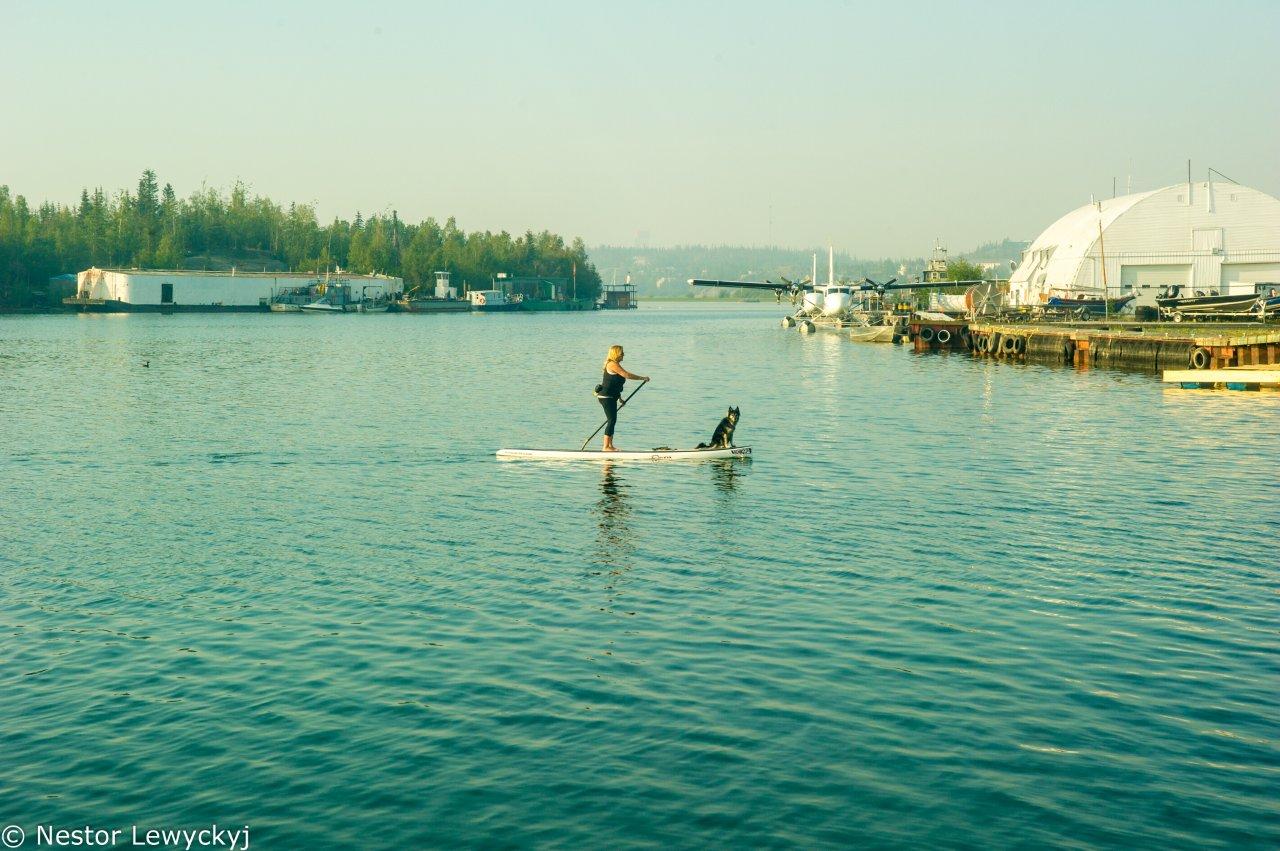 Apparently this is quite popular in Yellowknife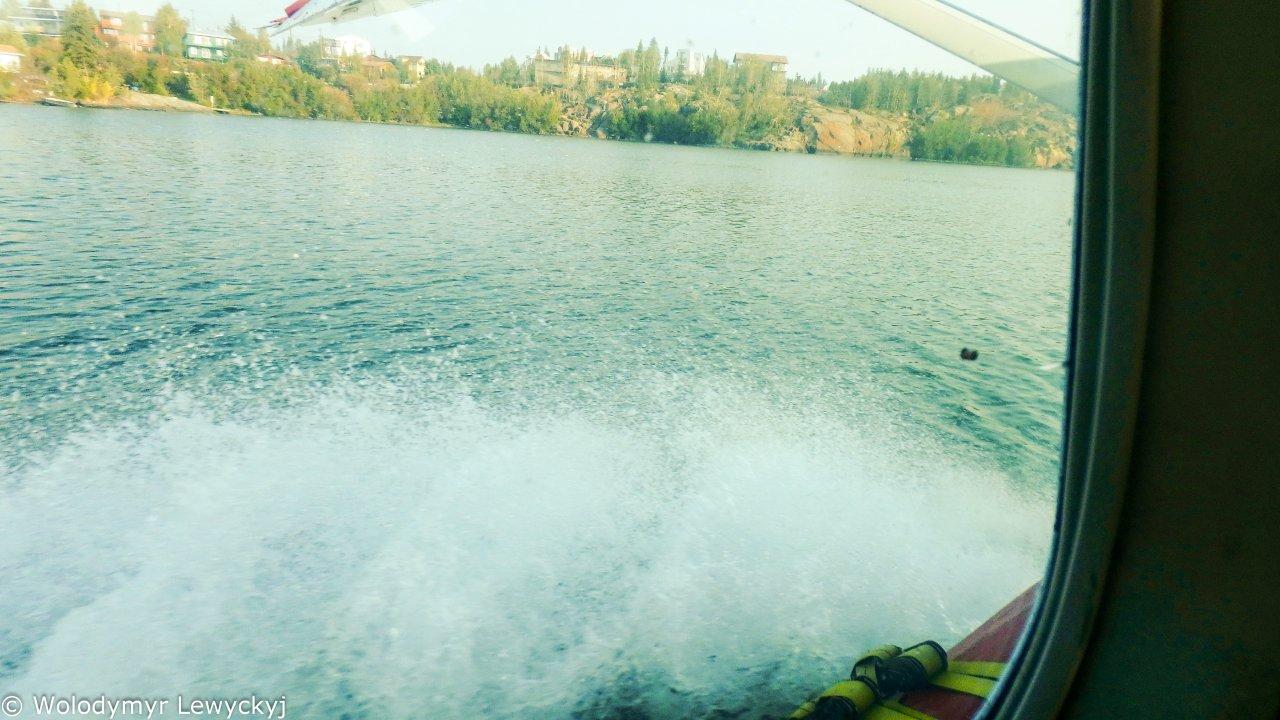 The exhilarating and splashy take off!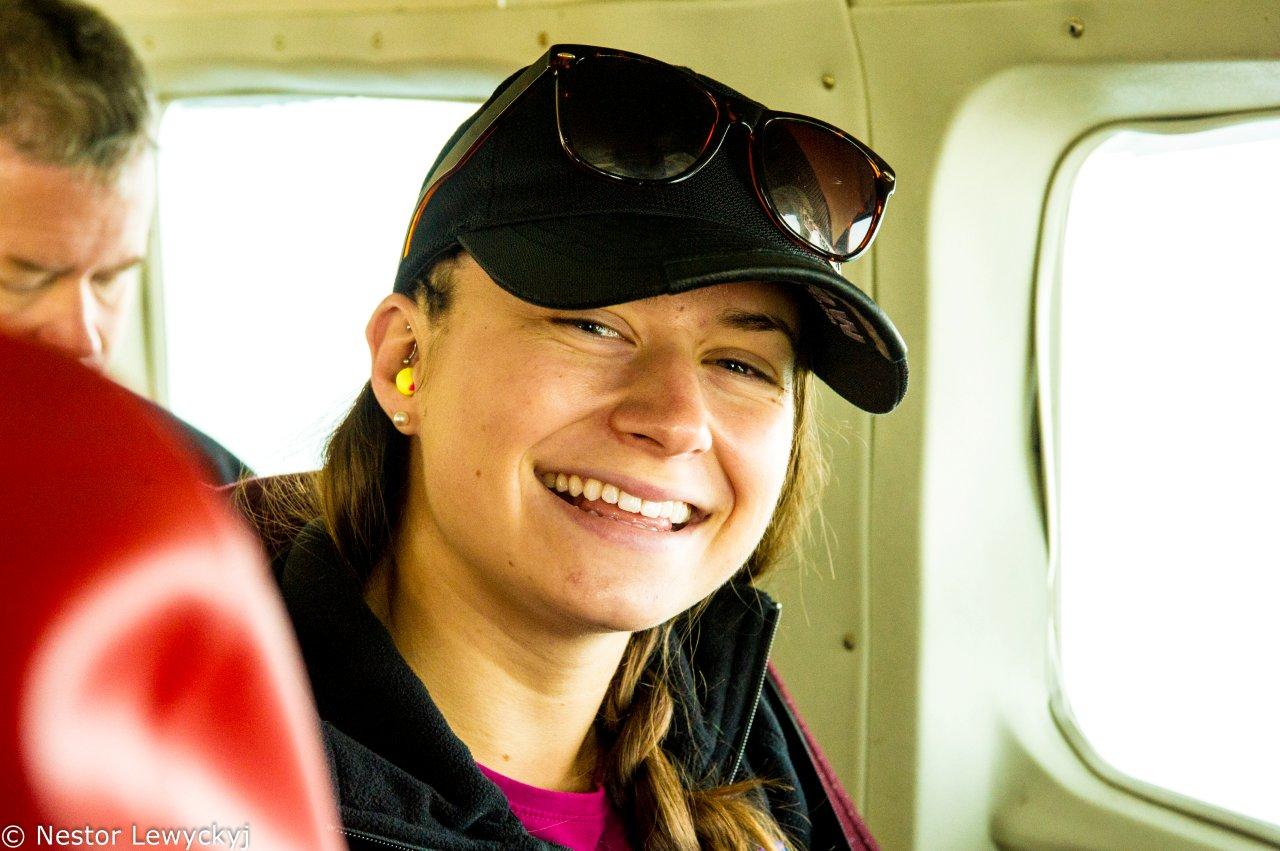 This was Sarah's first time in a float plane but she seemed very relaxed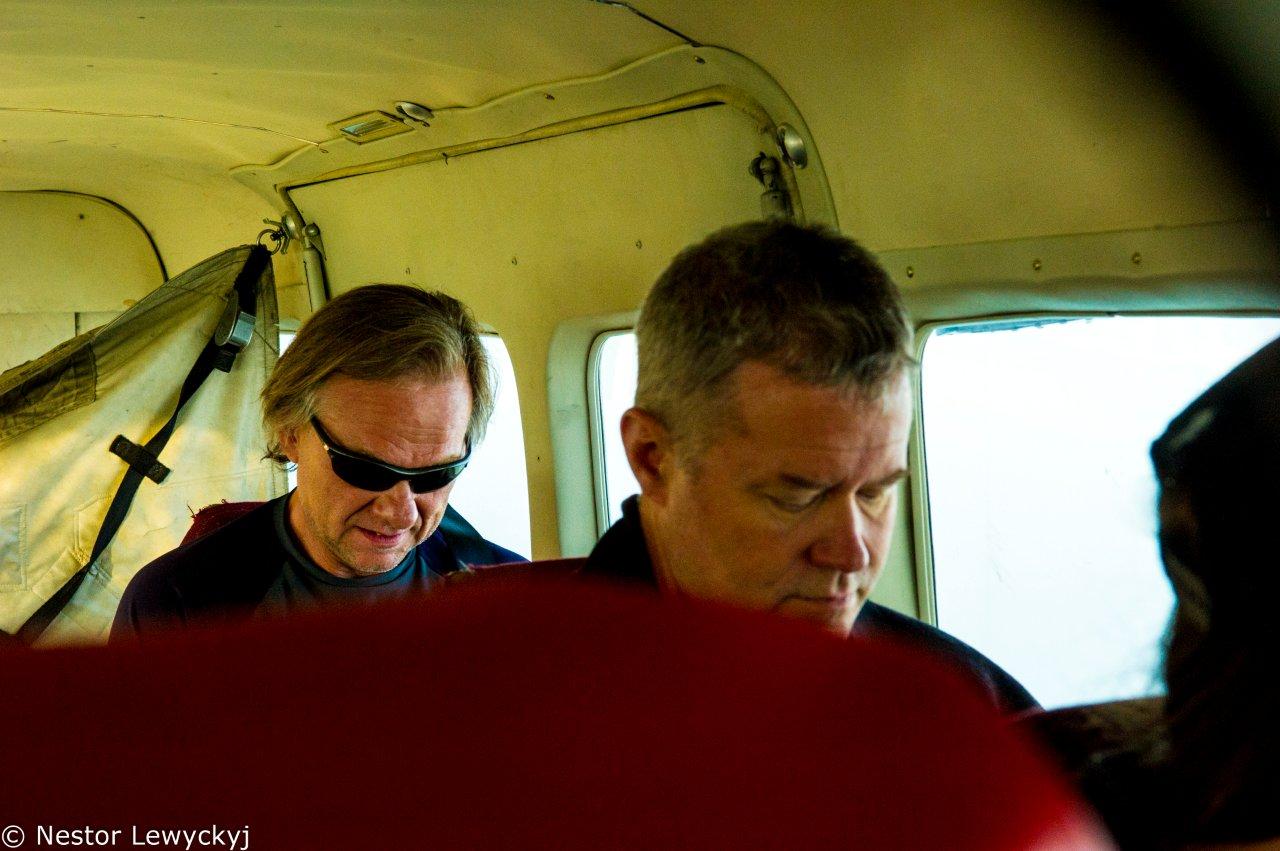 But such a small plane will give some people pause....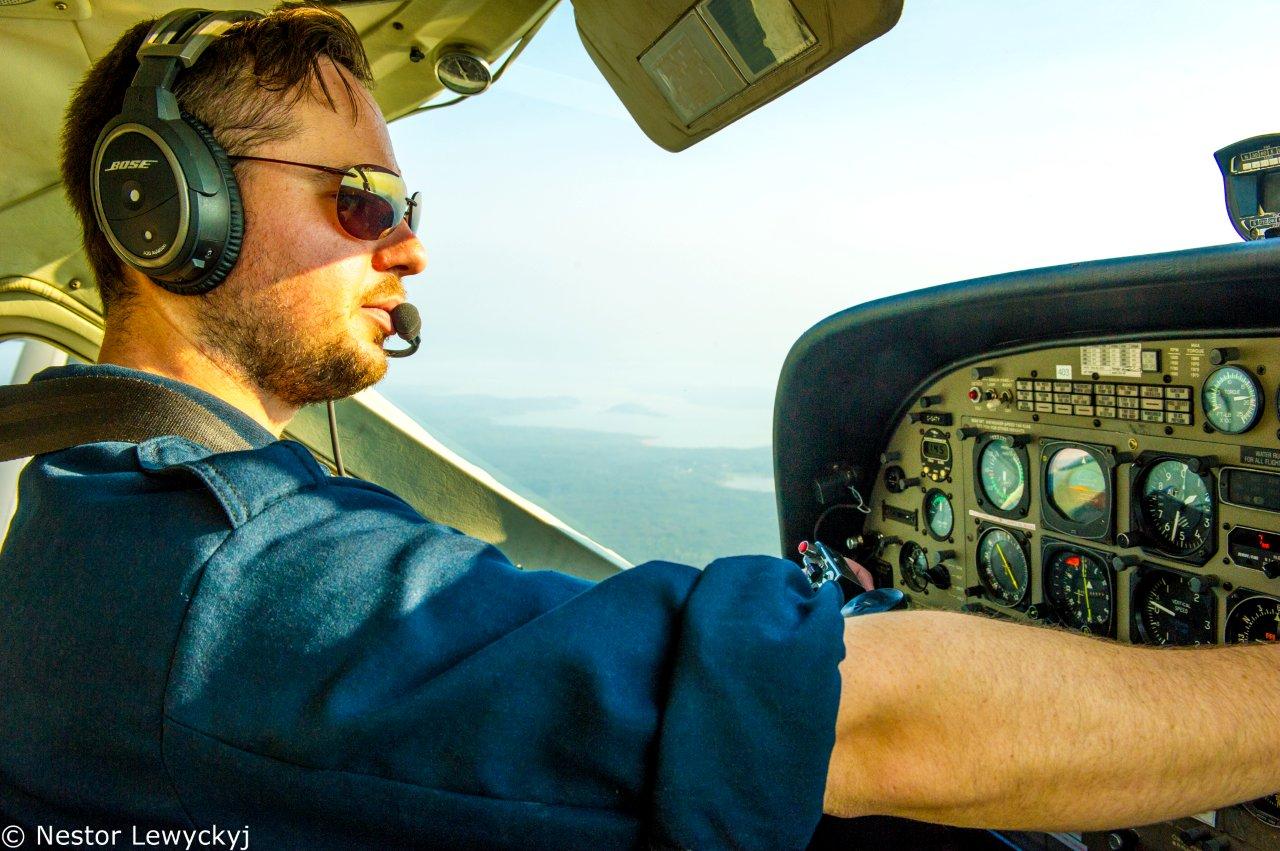 Caleb proved to be a very interesting, pleasant, and capable bush pilot who loved his craft. It was fun to fly with him.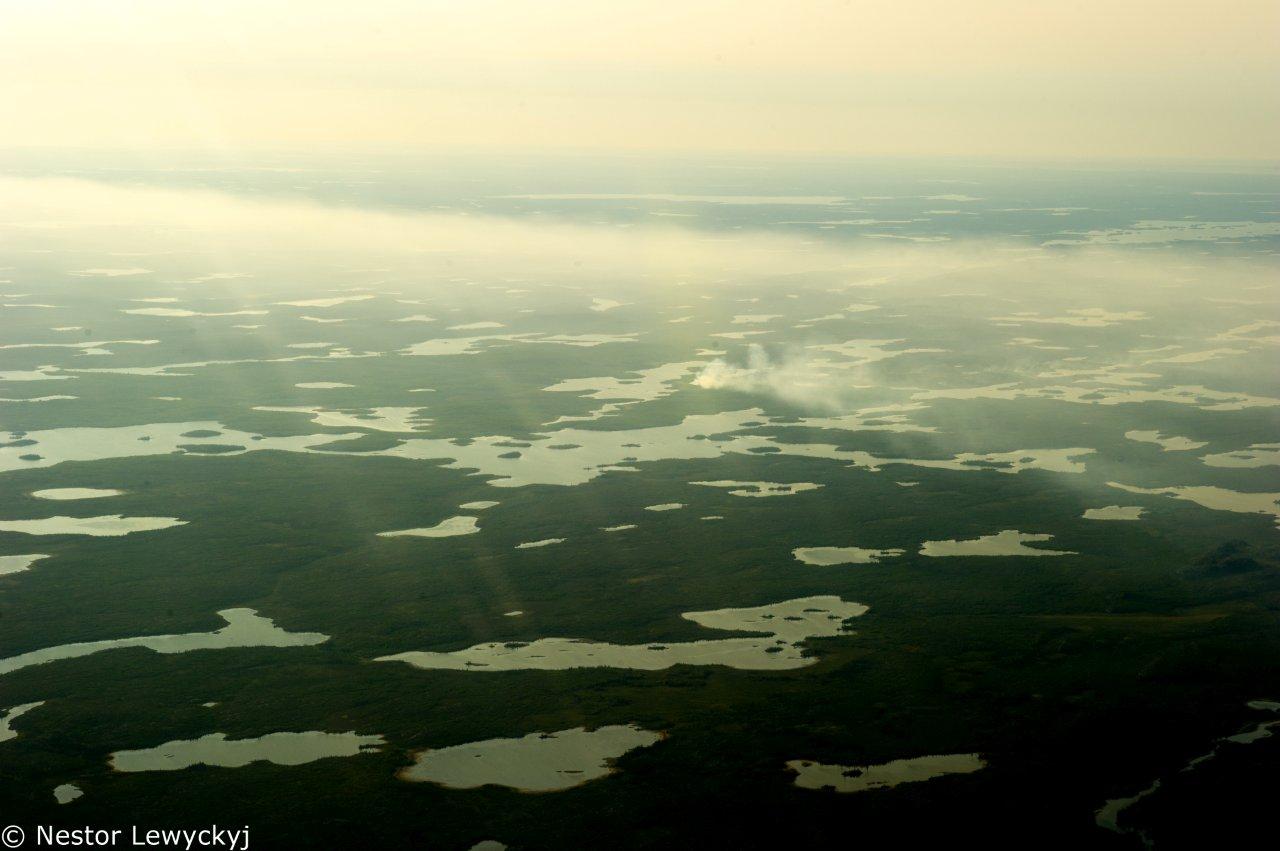 A local forest fire burning. Most are started by lightning strikes and will often burn all summer.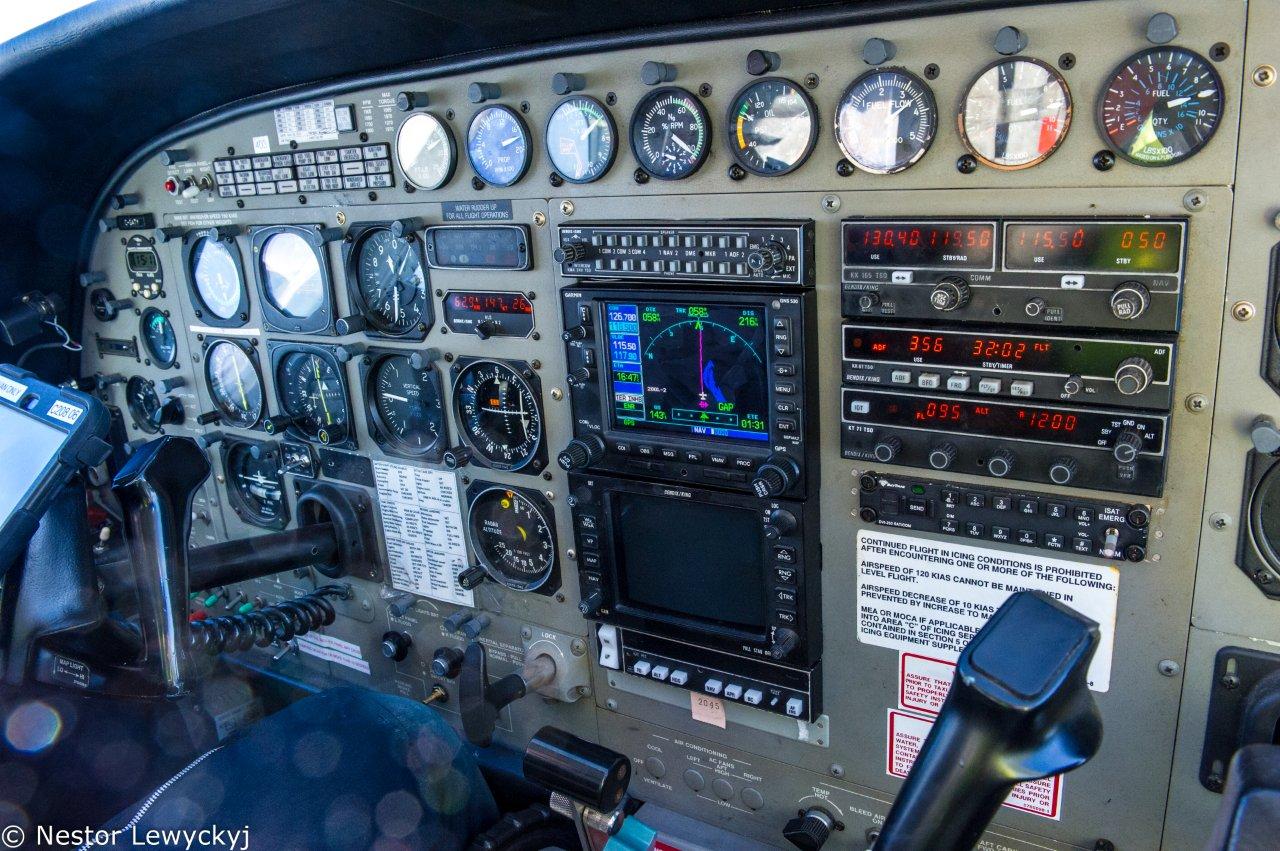 I had the opportunity to sit up front. the view was great and so many instruments and gauges!!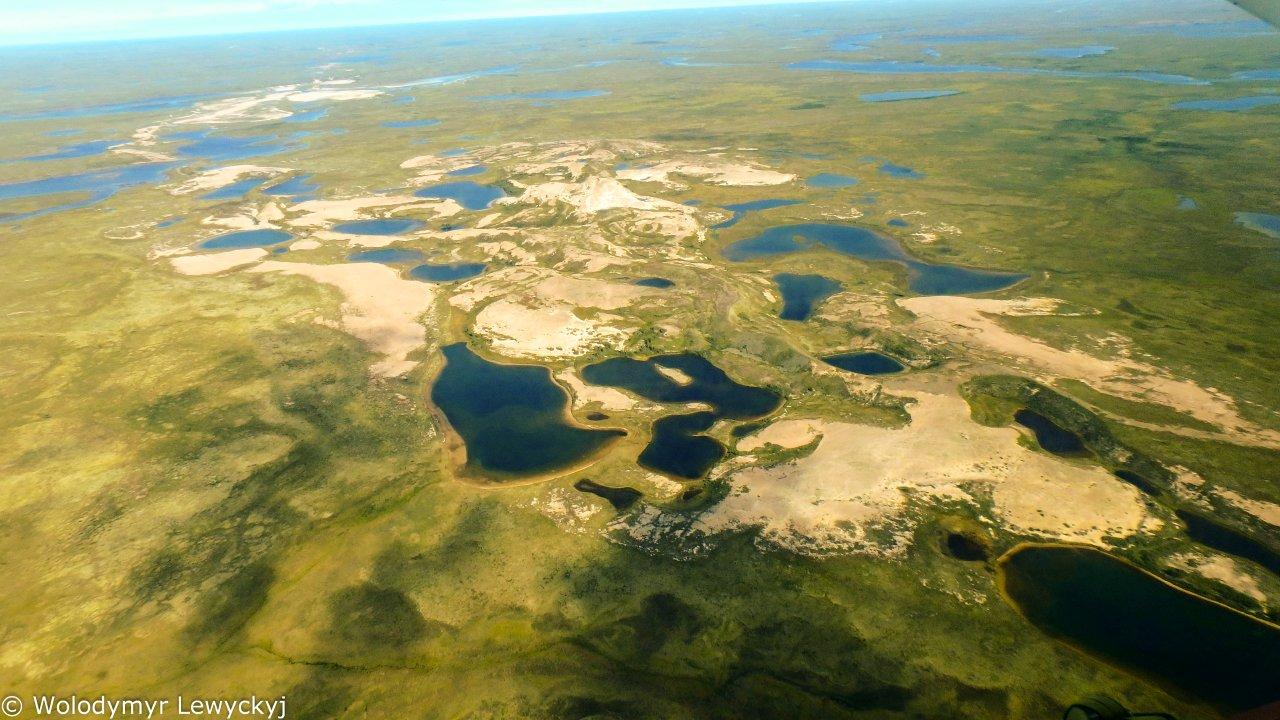 A beautiful long, wide, blond esker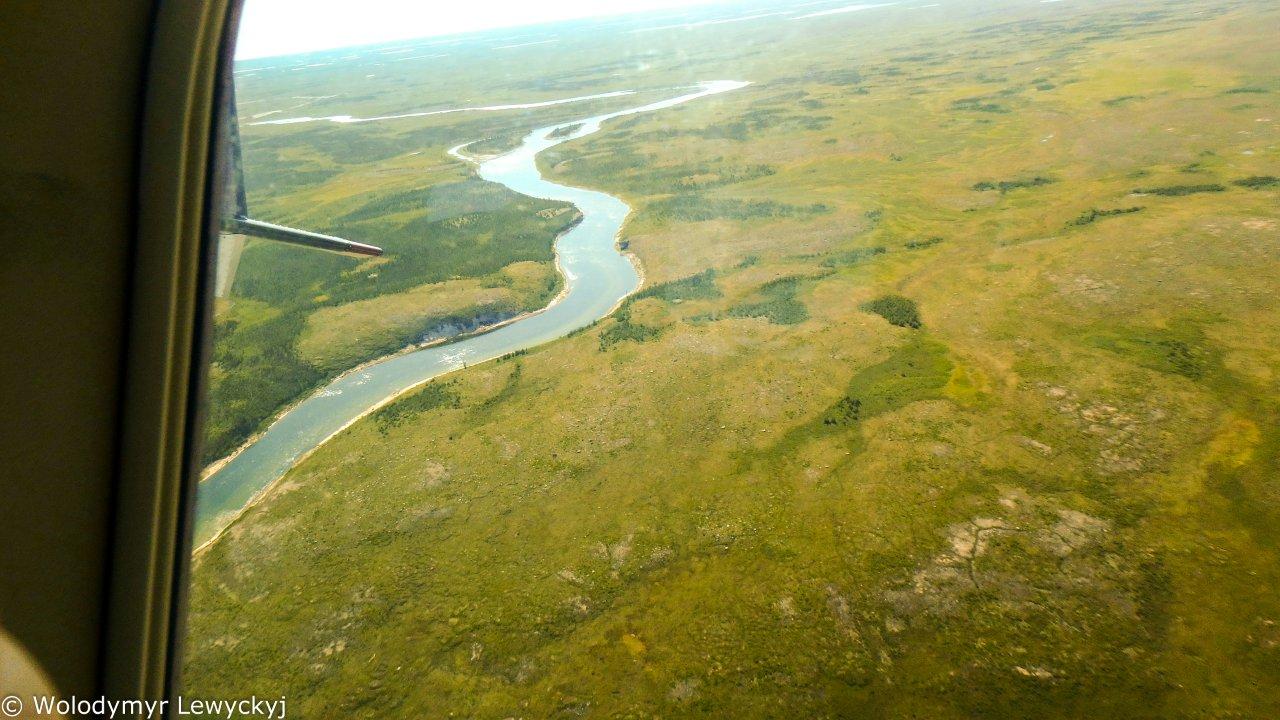 We were starting to see real tundra down below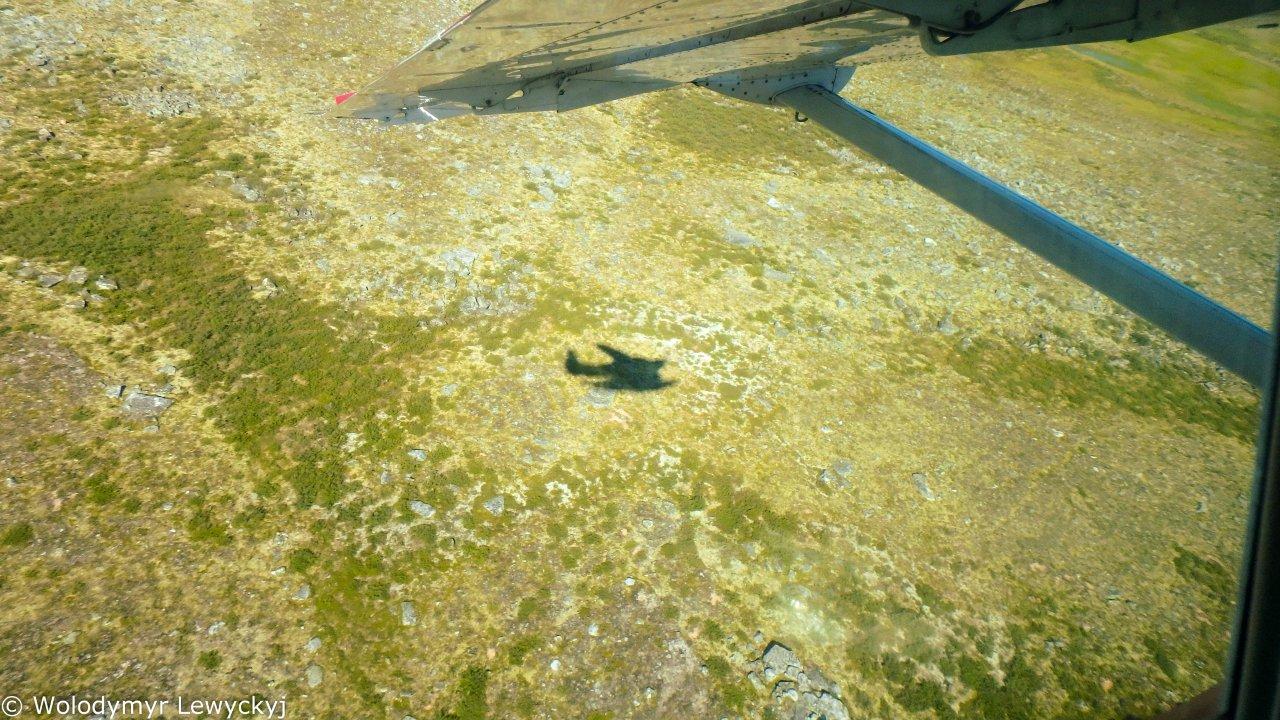 A cool shot with our plane's shadow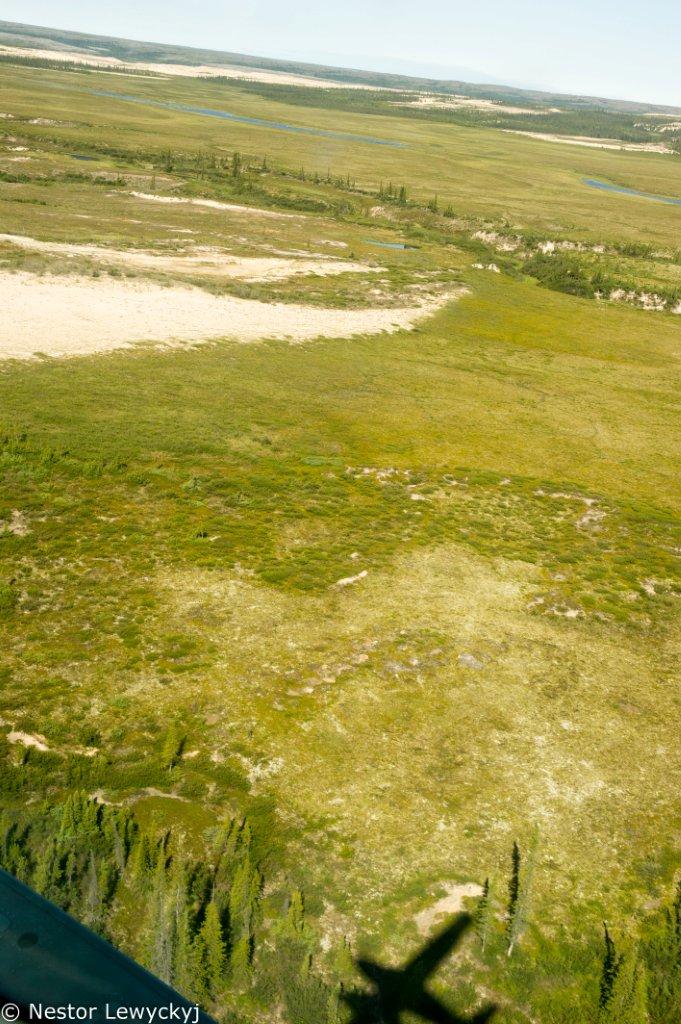 We were coming in low to see where to land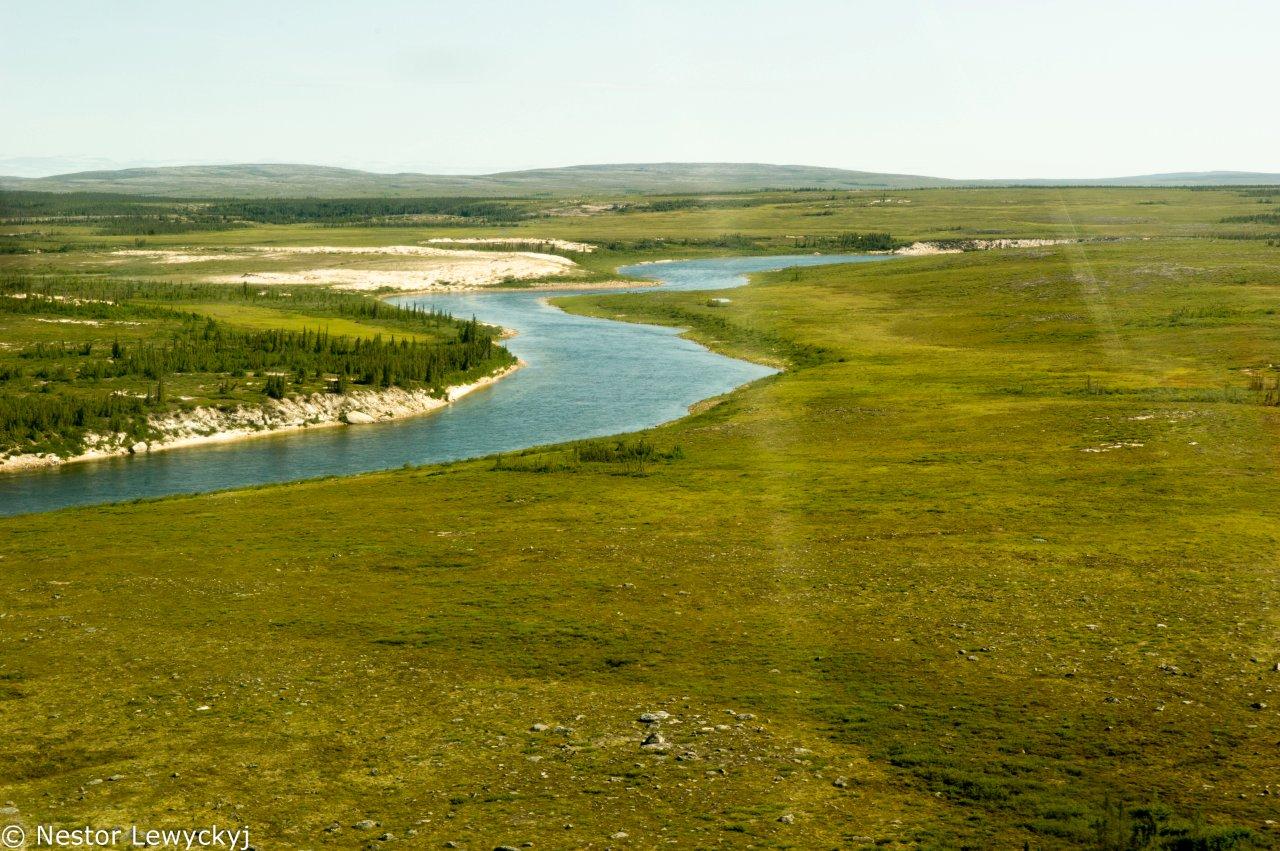 After discussing it at length with the pilot, Caleb, we decided to not even give the Clarke River a fly over. But Caleb had a great suggestion. Why not put in on the Hanbury, maybe 8 kilometres up from the Thelon? This shot is of the final approach after three go-arounds to see how deep the water was and if there were any roacks that would pose a problem. We landed on the patch of water straight ahead and pulled up to shore in the right hand turn with the sand beyond. It was a perfect landing!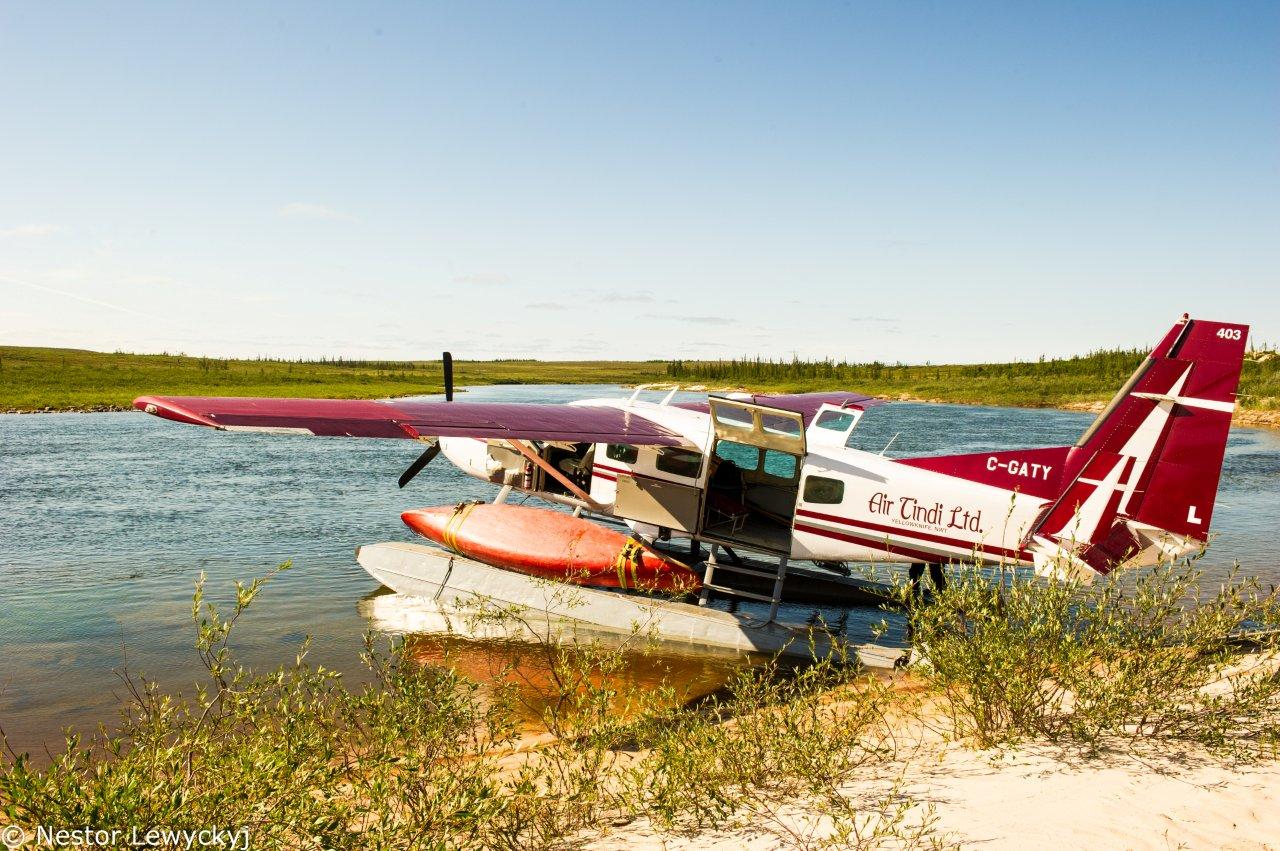 It was bot ha good spot to land and an easy spot to unload the plane, all without getting our feet wet!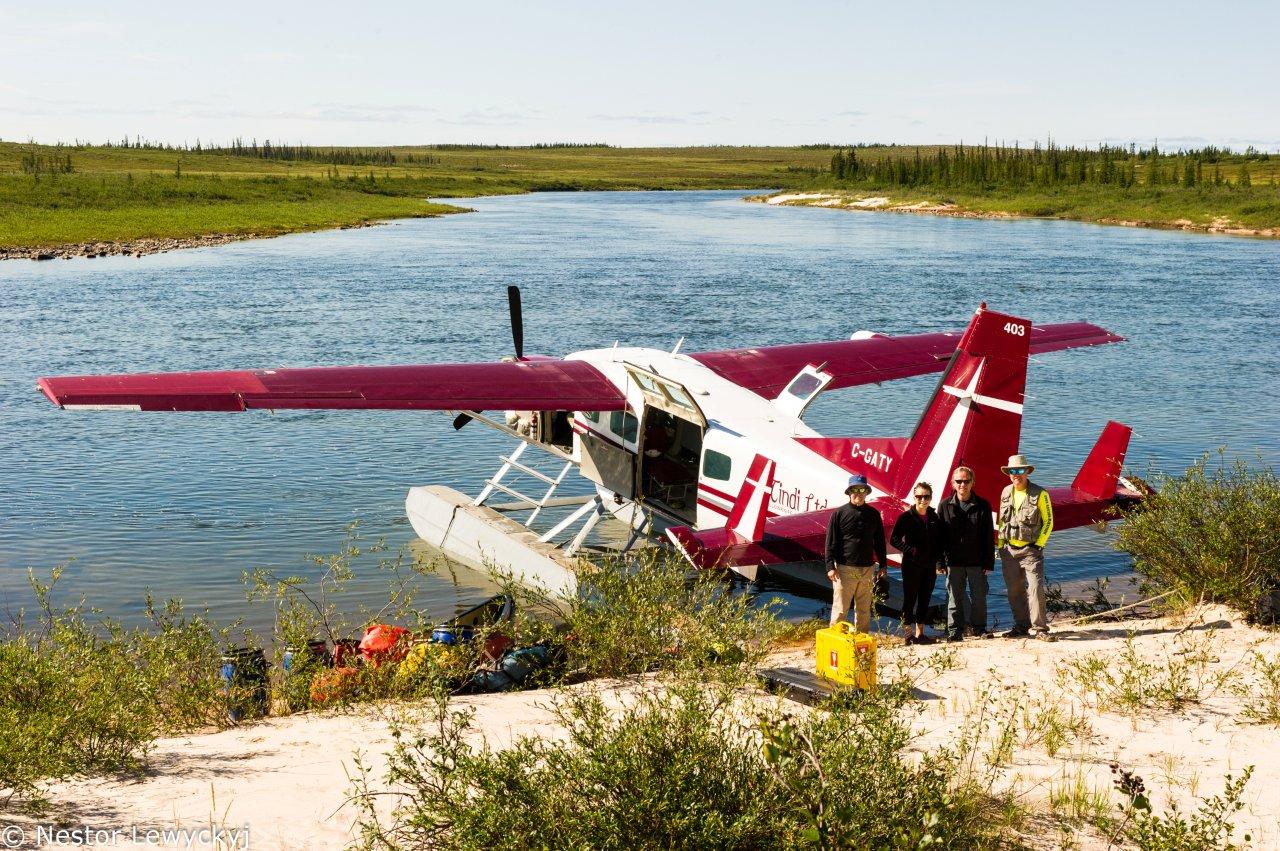 Caleb took a final group shot documenting our start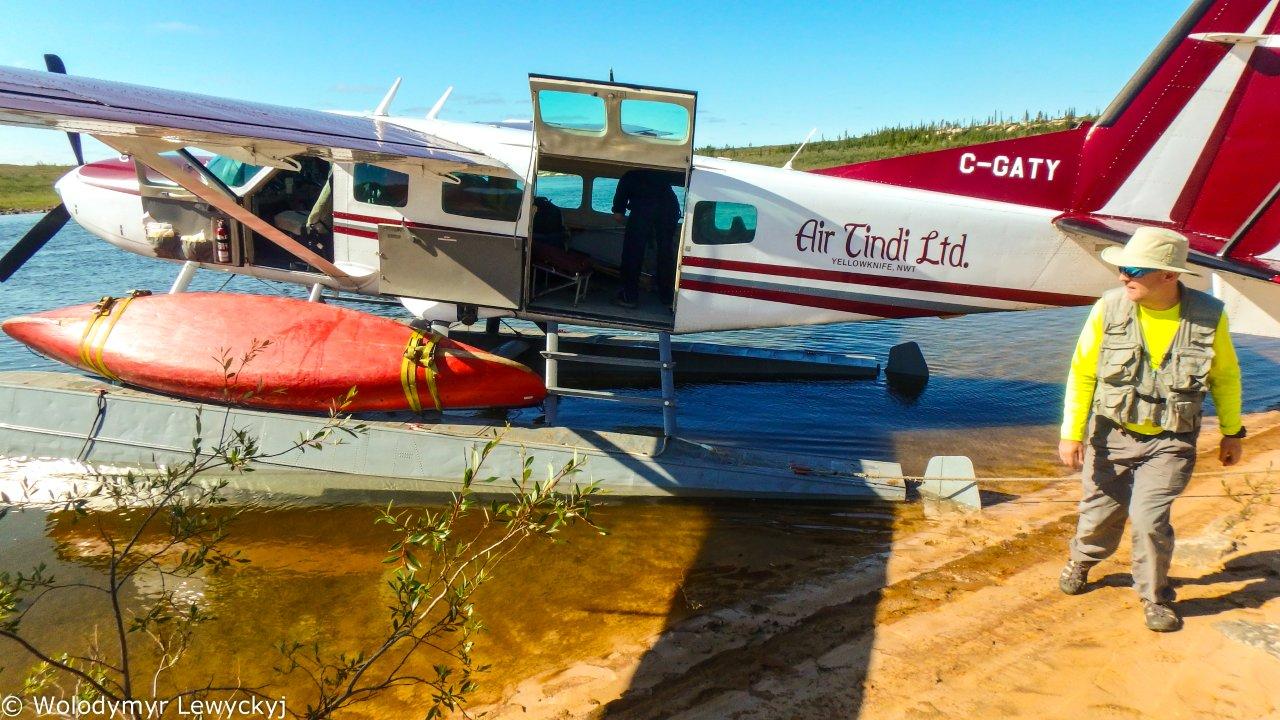 Making sure that the canoes are secured tightly is the most important part of the loading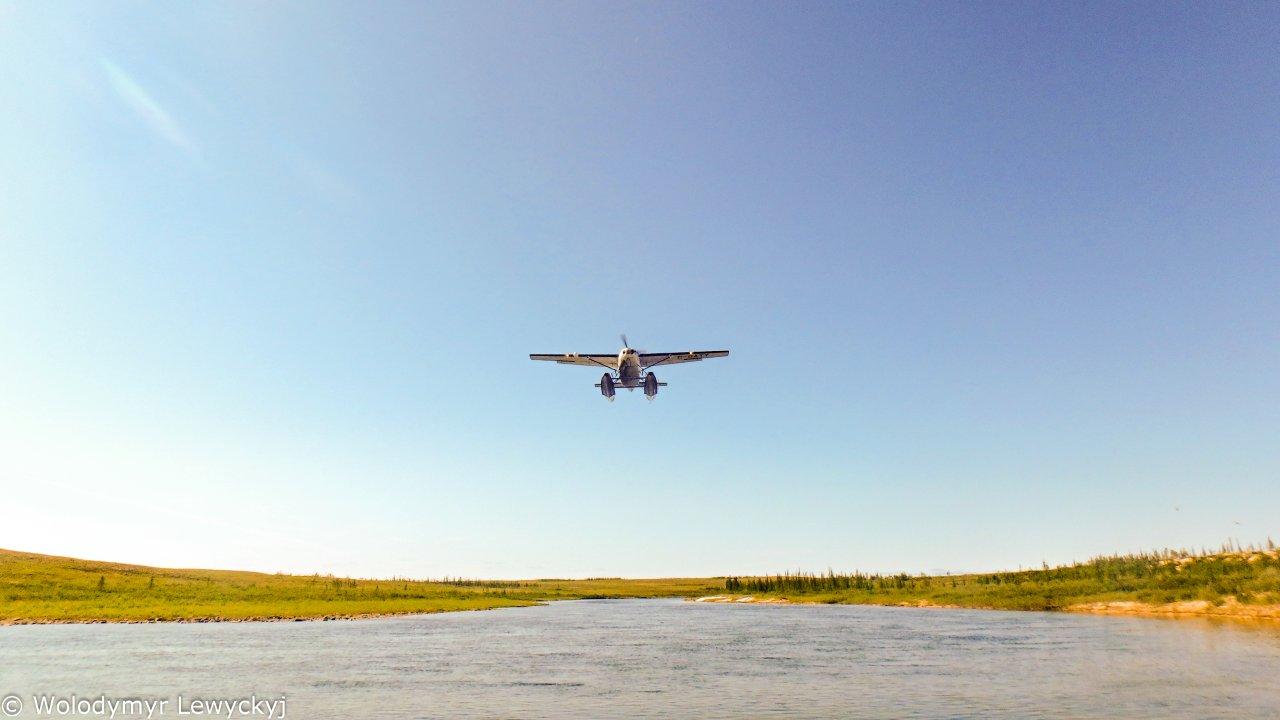 The take off that left us alone for probably over 100 kilometres. When the plane flies away and you are left with the silence and the solitude of The Barrens, it is a thing of pure beauty for me. It scares some people when they realize how alone they are, but for me, it jump starts my survival mode and makes me feel extremely alive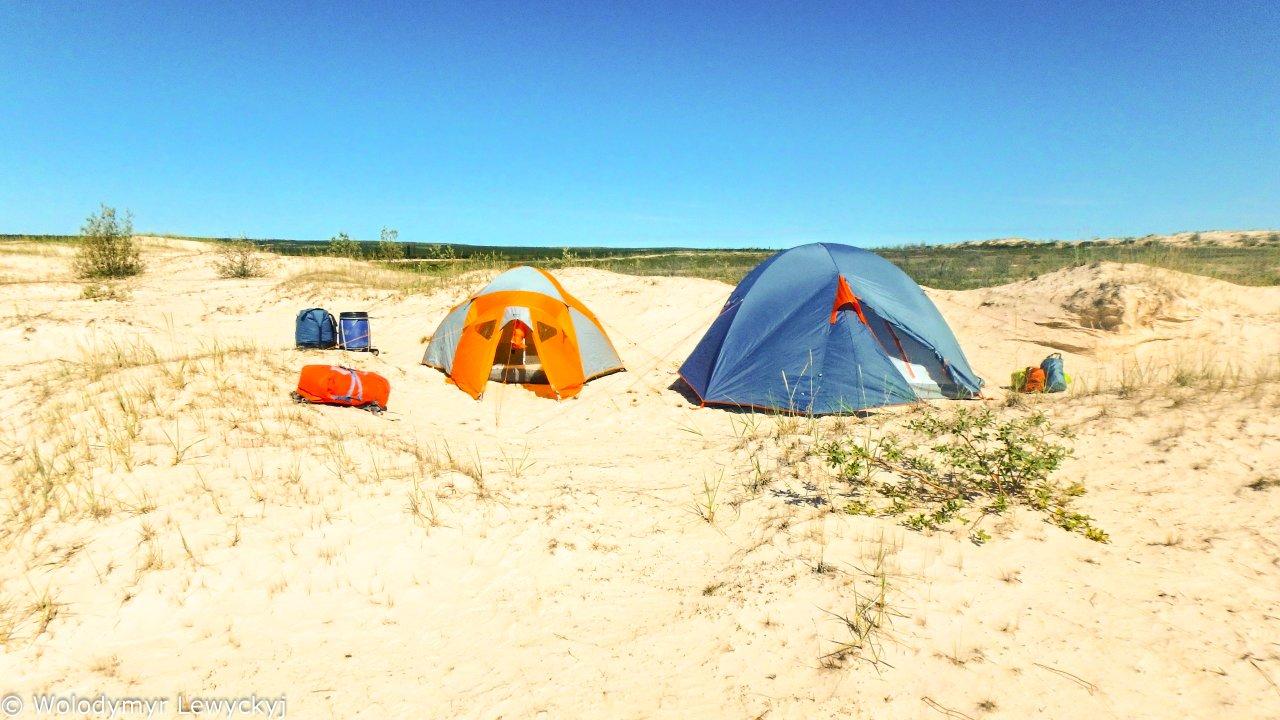 Our first camp site on the Hanbury River. It was a nice spot, where we landed, the weather was fine. We decided to stay put and explore the area.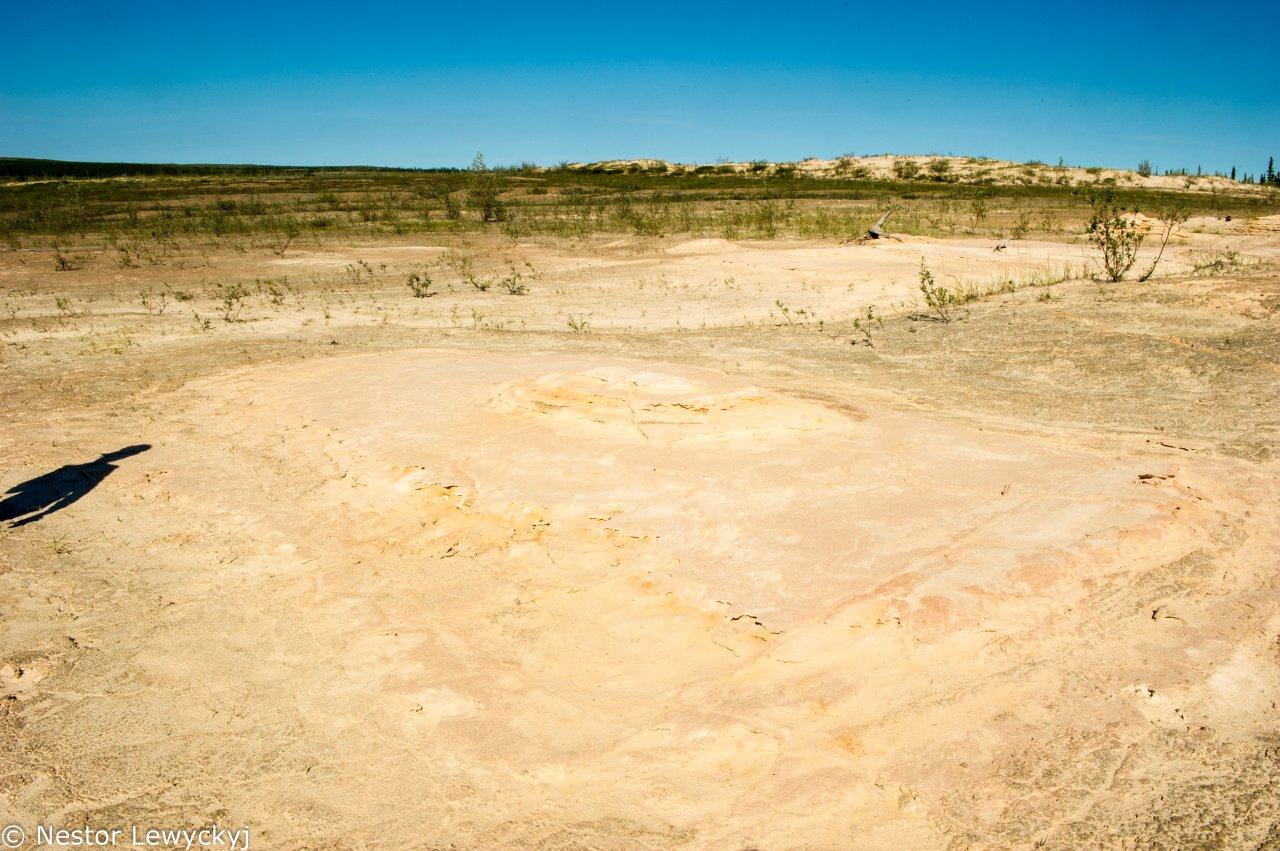 Not only is there tons of sand along the rivers in the Barren Grounds, some of it takes strange shape and form, molded by the permafrost underneath. This almost looked like a burial mound.
This looks like a scene from Arizona or Utah....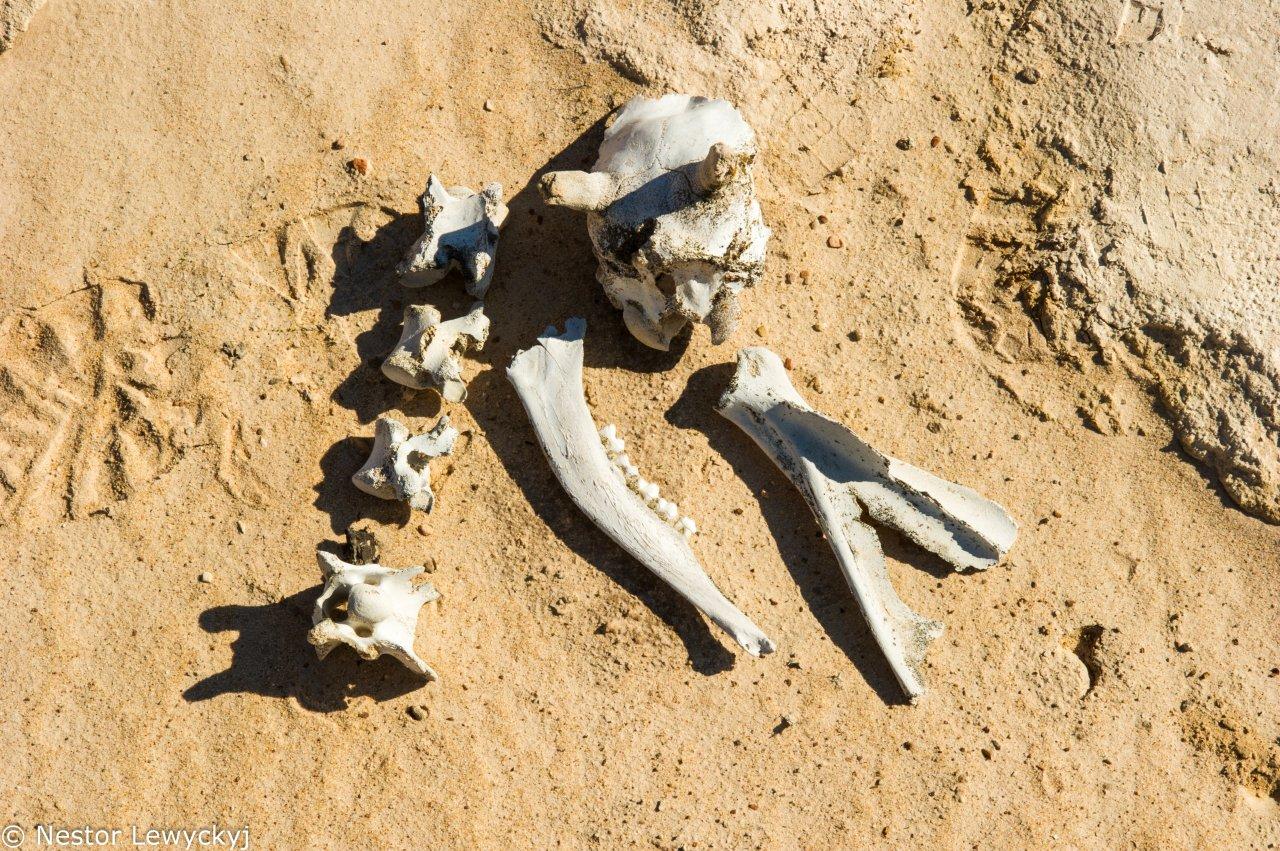 Old caribou bones. The Barrens are littered with them.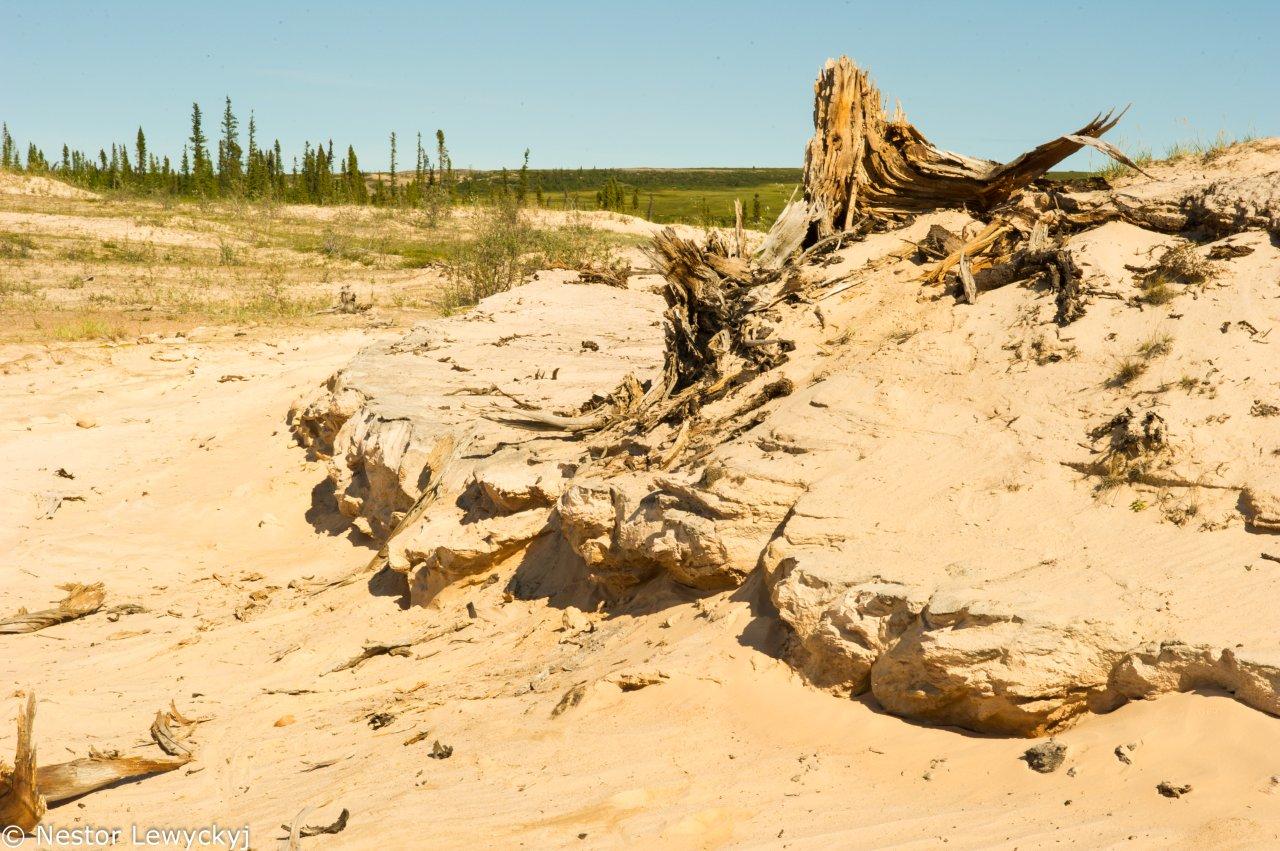 Old tress that are dead and gone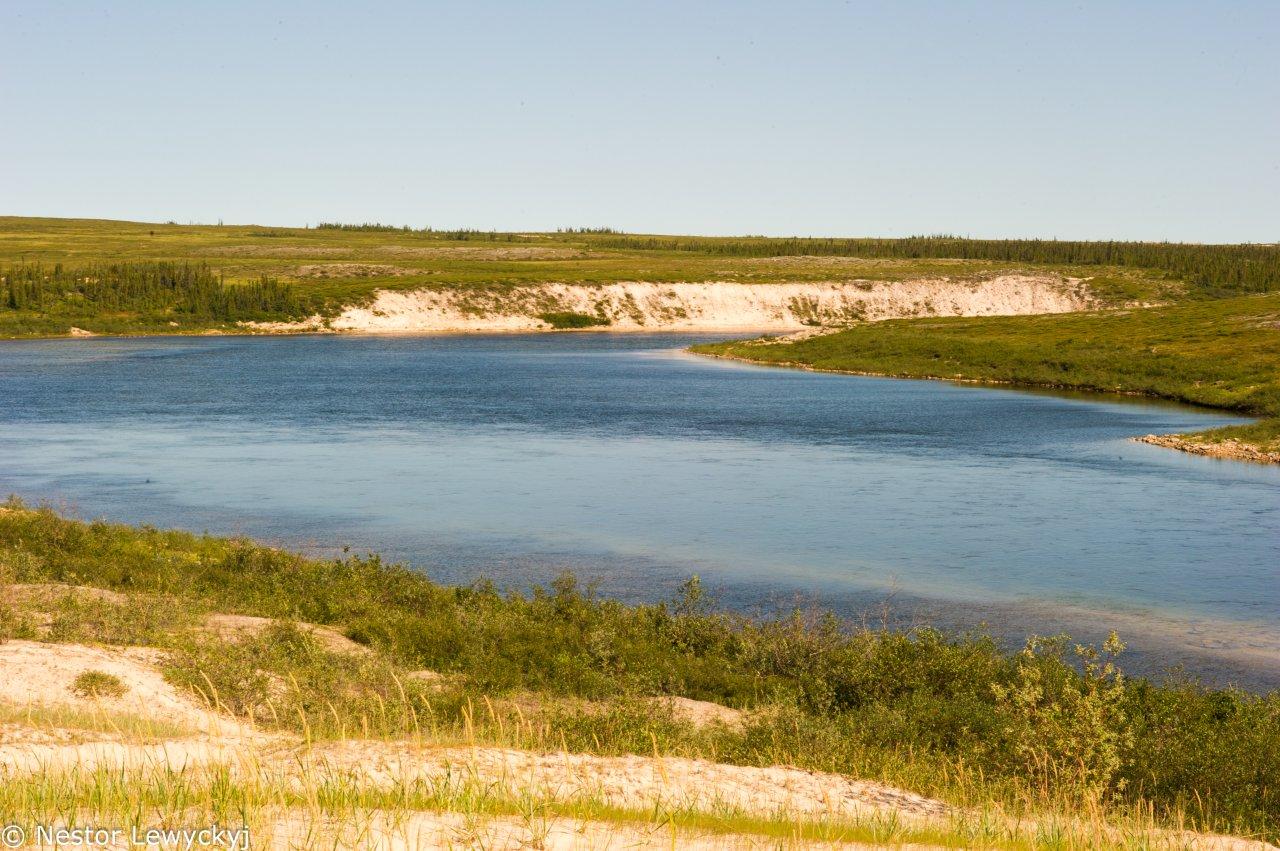 The Hanbury River flowing away from us. We would be on it in the morning.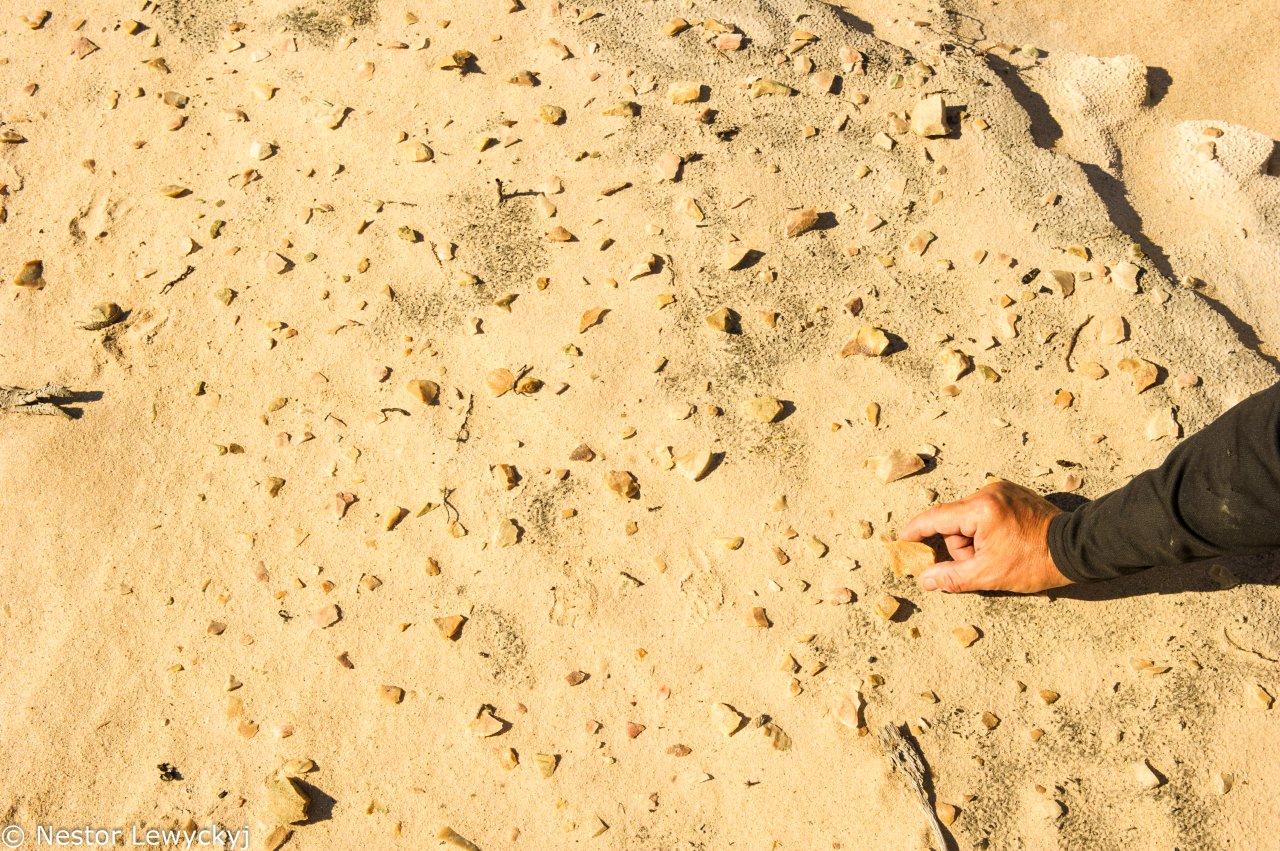 We found this large grouping of flint rocks, very sharp.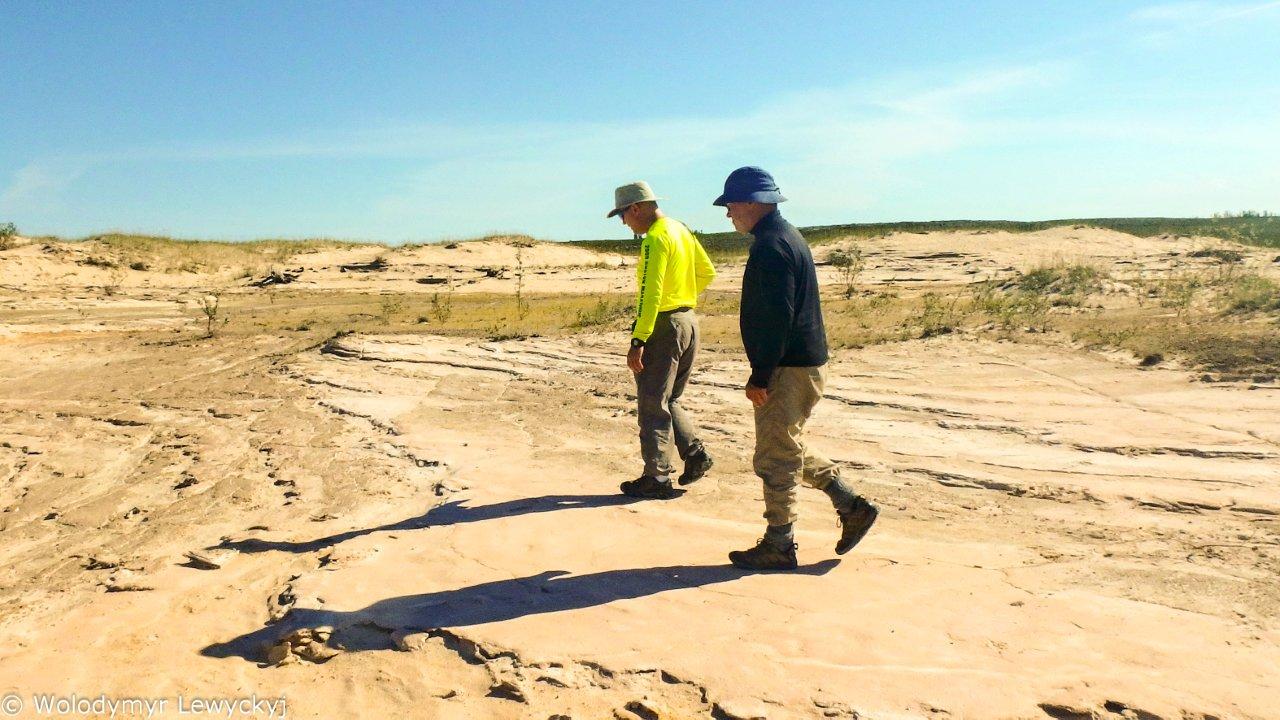 Some of the sand looked like it has flowed at some point.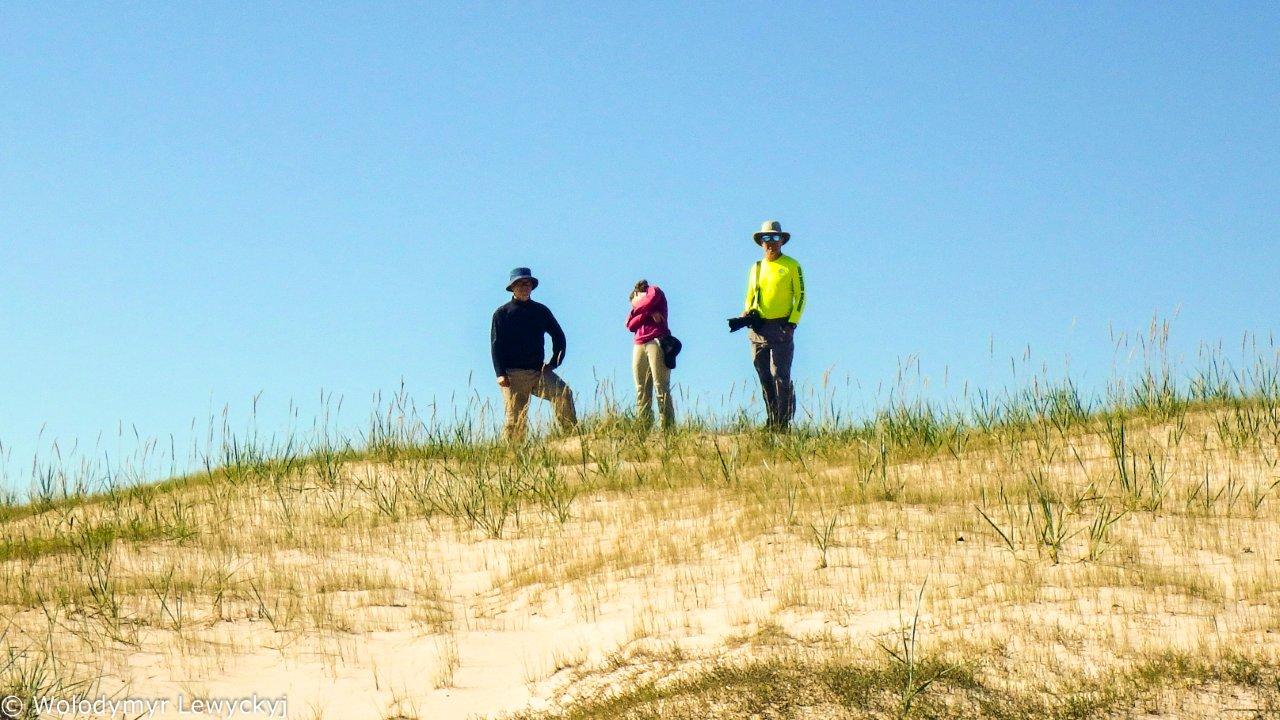 Obviously the black flies were not too bad yet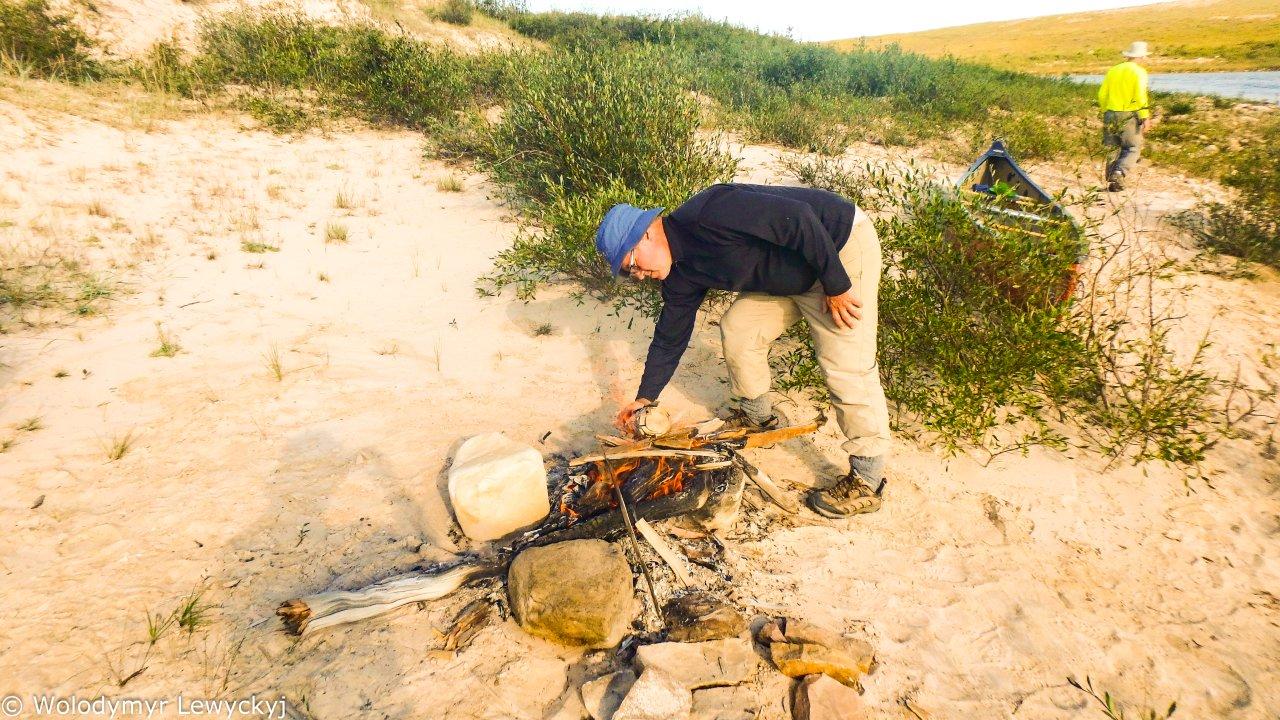 Roman preparing a good bed of coals. We bought 4 huge steaks in Yellowknife that we roasted over the coals. I am amazed that none of us got a picture of them on the grill!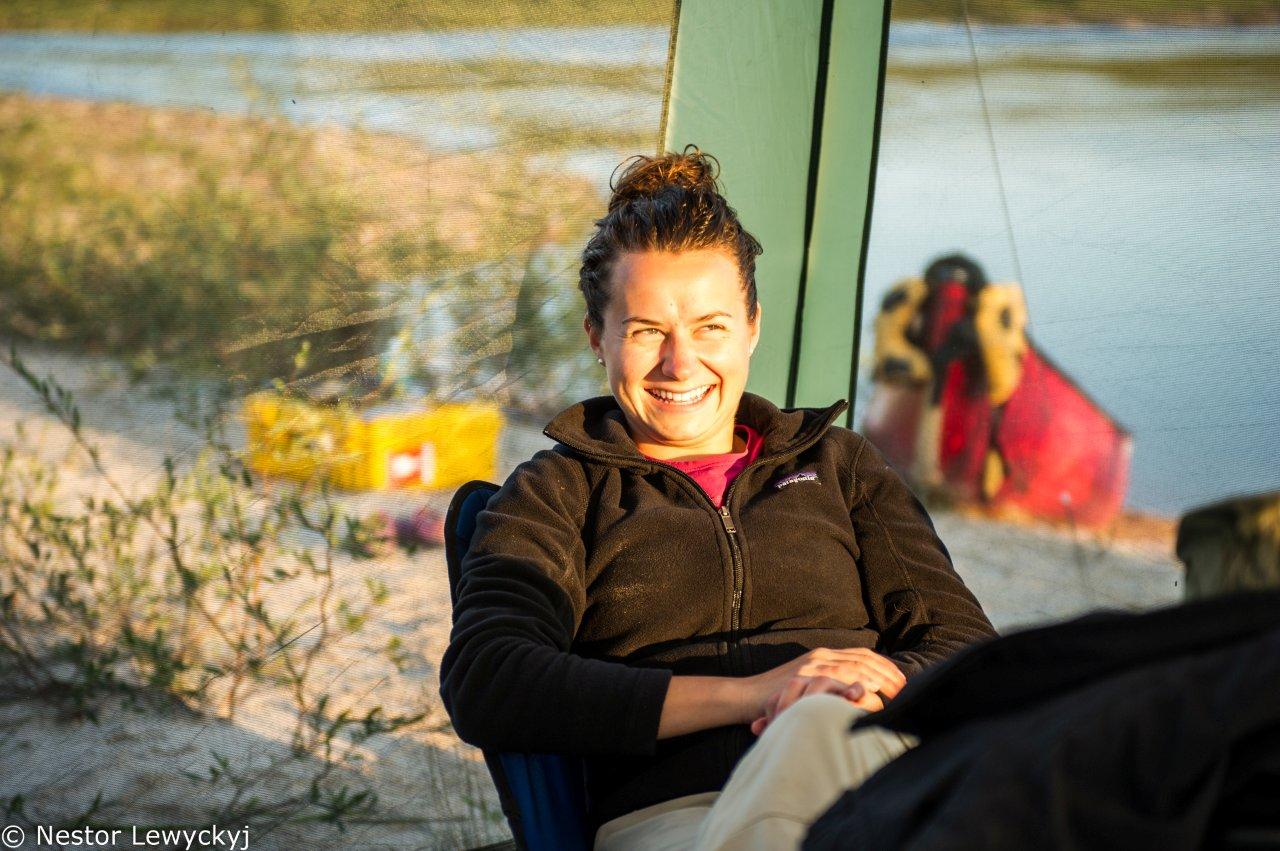 Sarah and her unshakable cheery disposition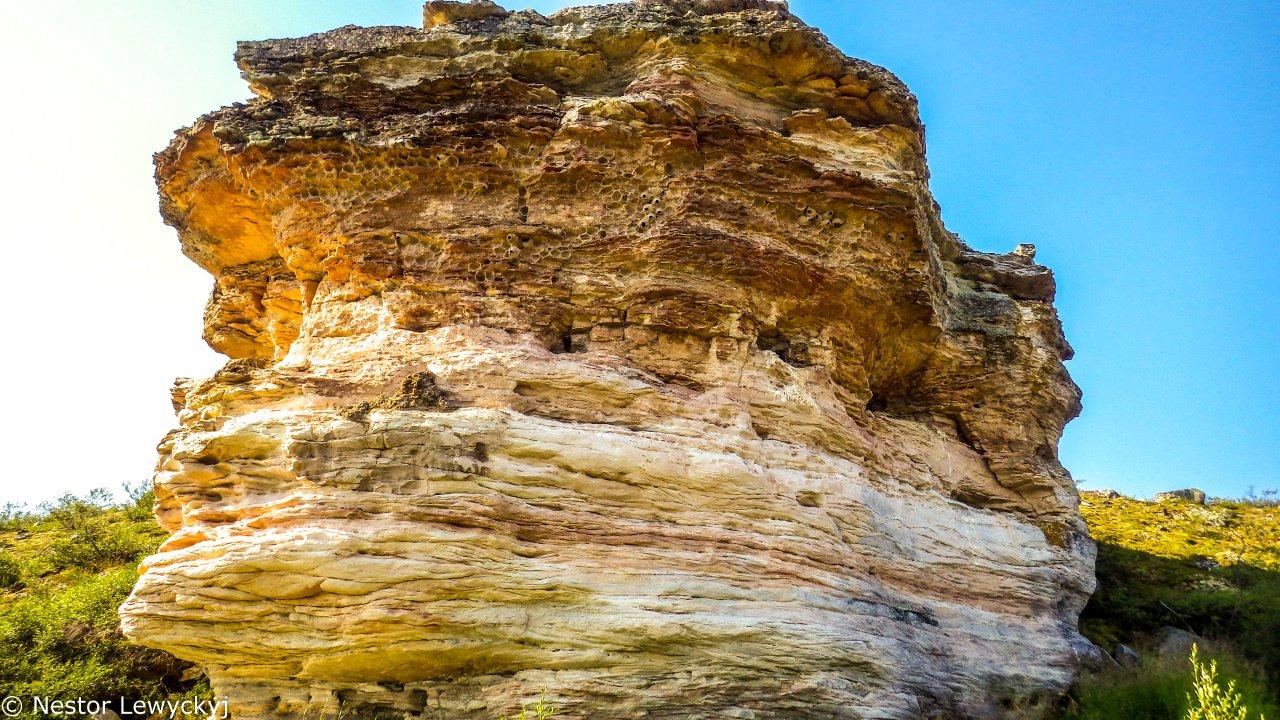 A sandstone cliff and outcropping on the Hanbury River. Note the hundreds of old swallow nests and some new ones. They have most probably been nesting here for thousands of years.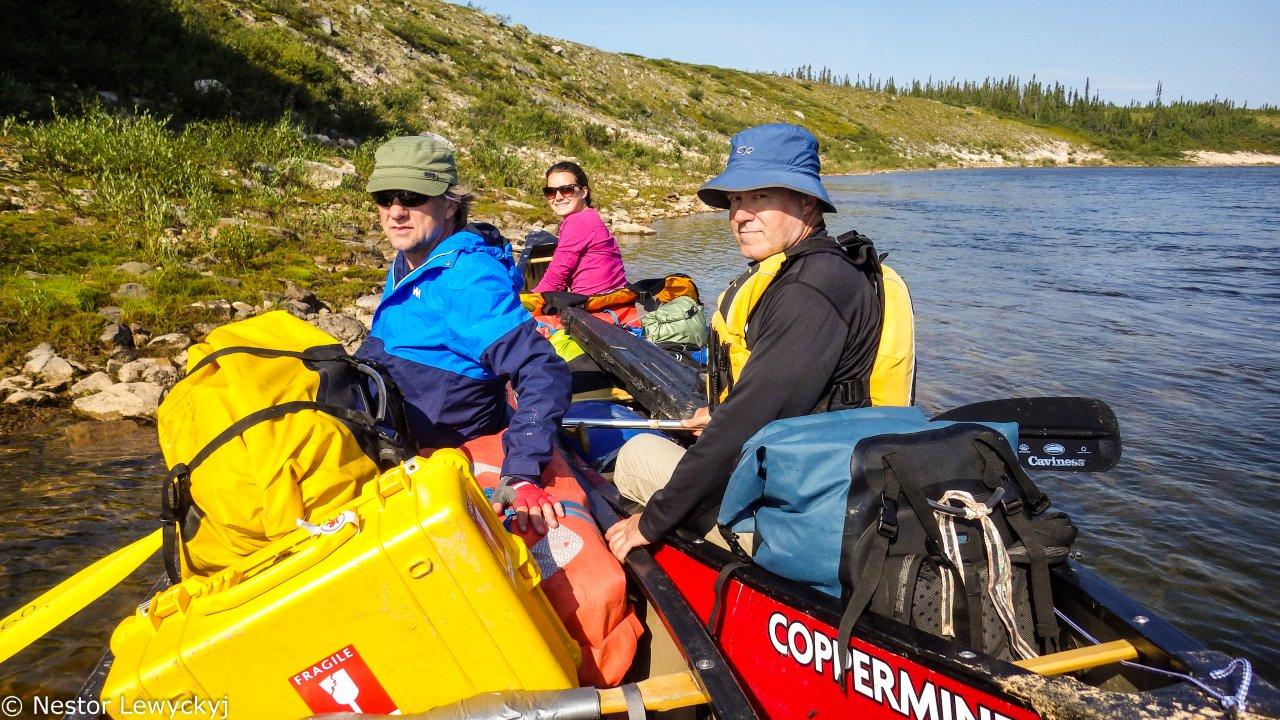 We still looked very fresh that first day of paddling, on our way down to meet the Thelon River.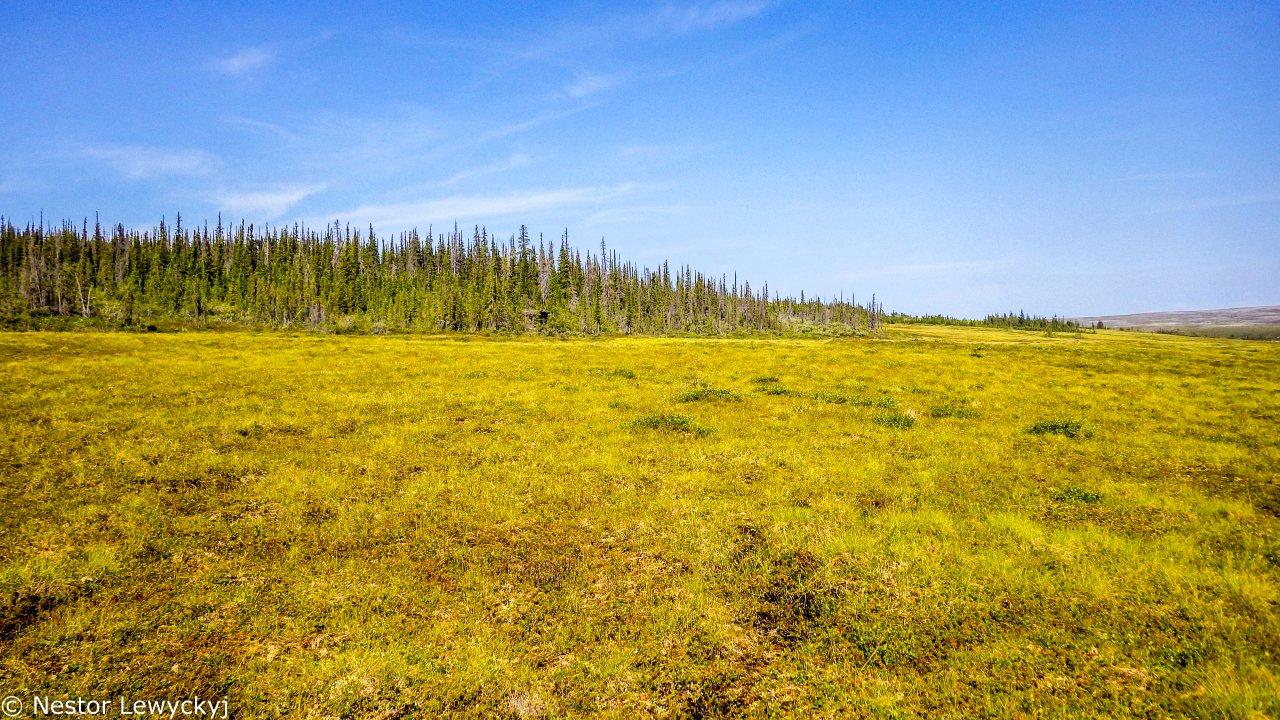 Slightly left of center in the photograph, you can make out the old warden's cabin in Warden's Grove, on the left side of the Thelon a couple of kilometers below the Hanbury. Its strange. I have been in this spot twice before and never saw the cabin from the river. This time around, it literally jumped out at me. Perhaps I had studied the maps closer this time and knew more precisely where to look. Anyway, it was kind of weird but nice to be able to spot it and visit it.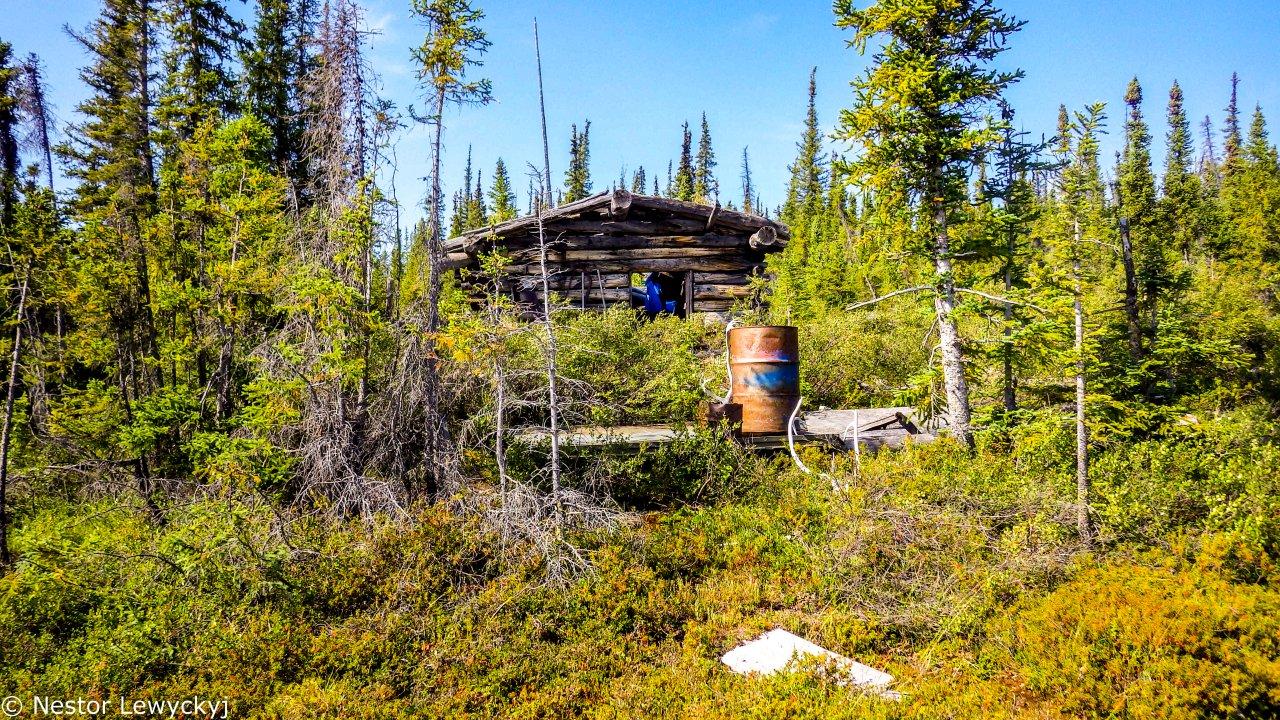 I had expected the cabin to be just rubble, but it is still mainly standing, with part of its roof collapsed.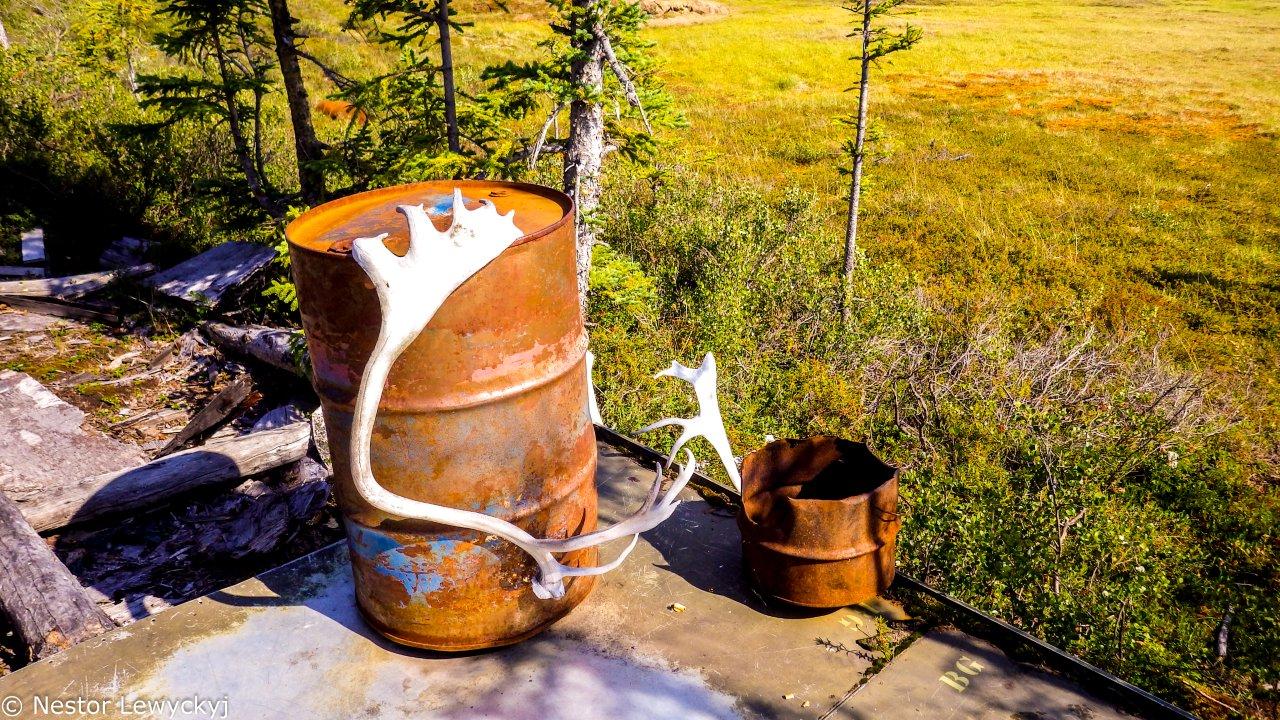 There is a lot of junk around, and old caribou antlers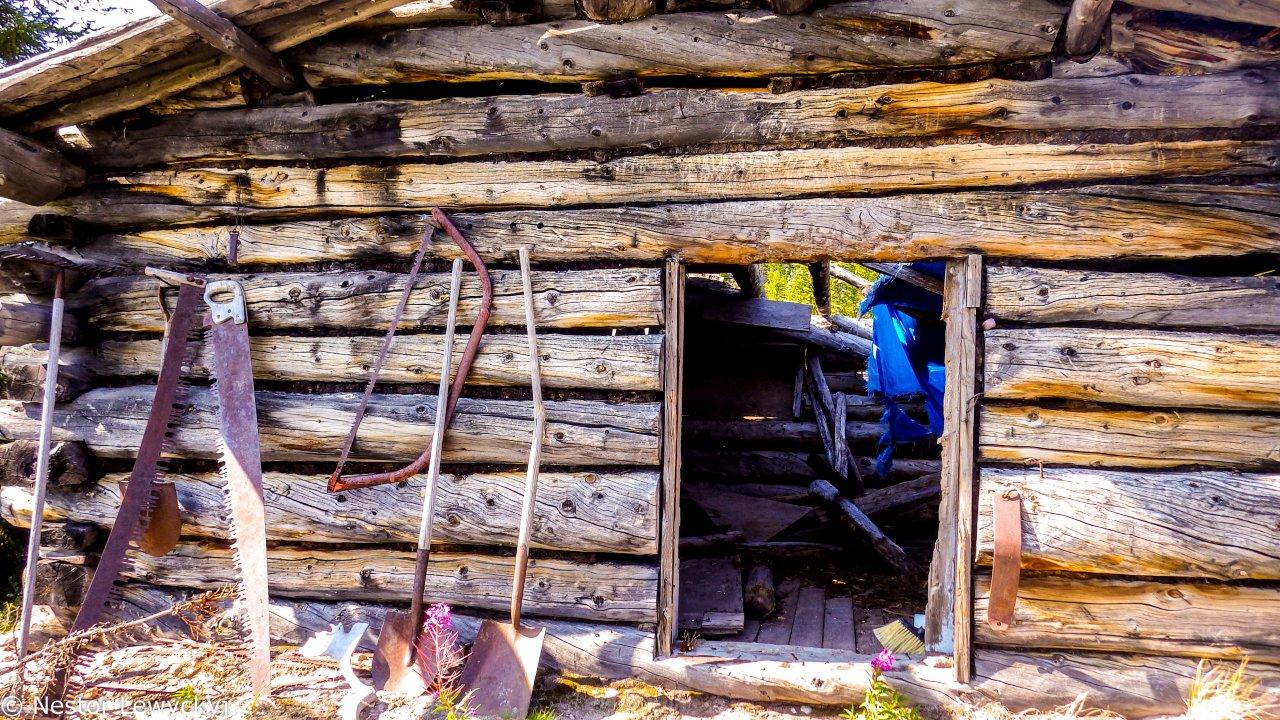 Old saws and shovels were left behind. It looks like the Warden's Grove stand of trees yield large enough logs for such construction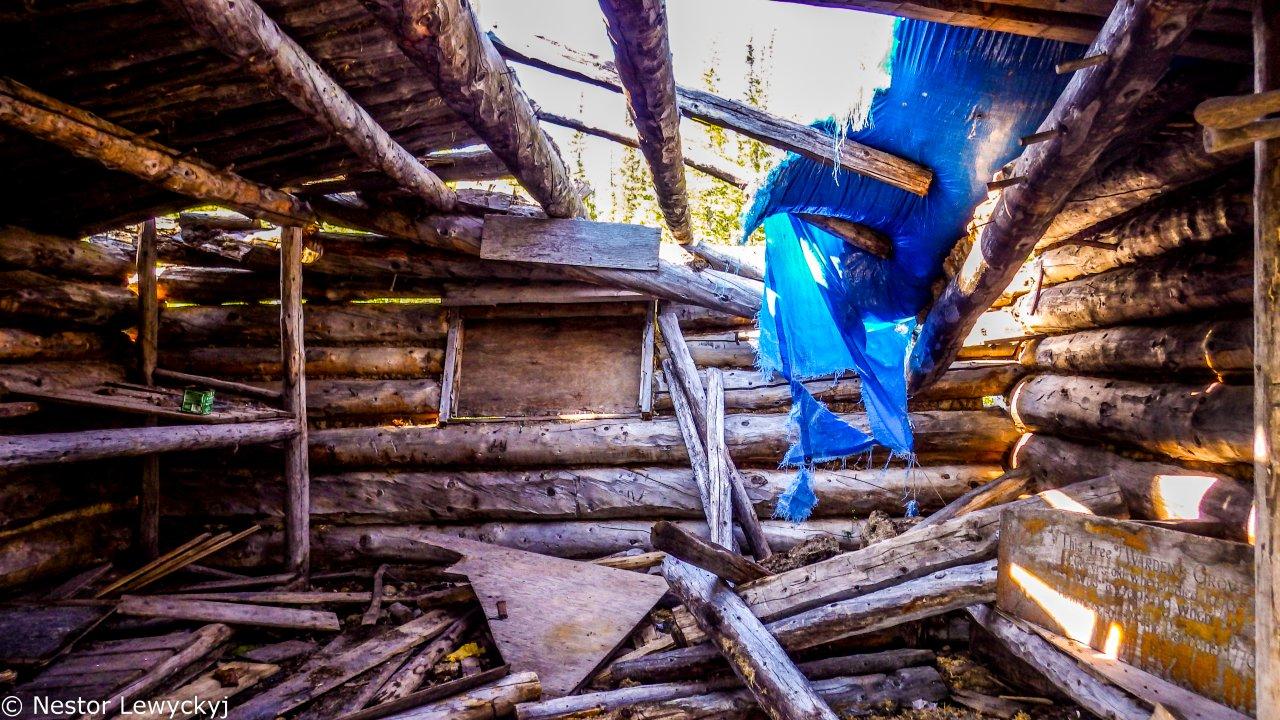 If someone wanted to put in the effort, it may still be salvageable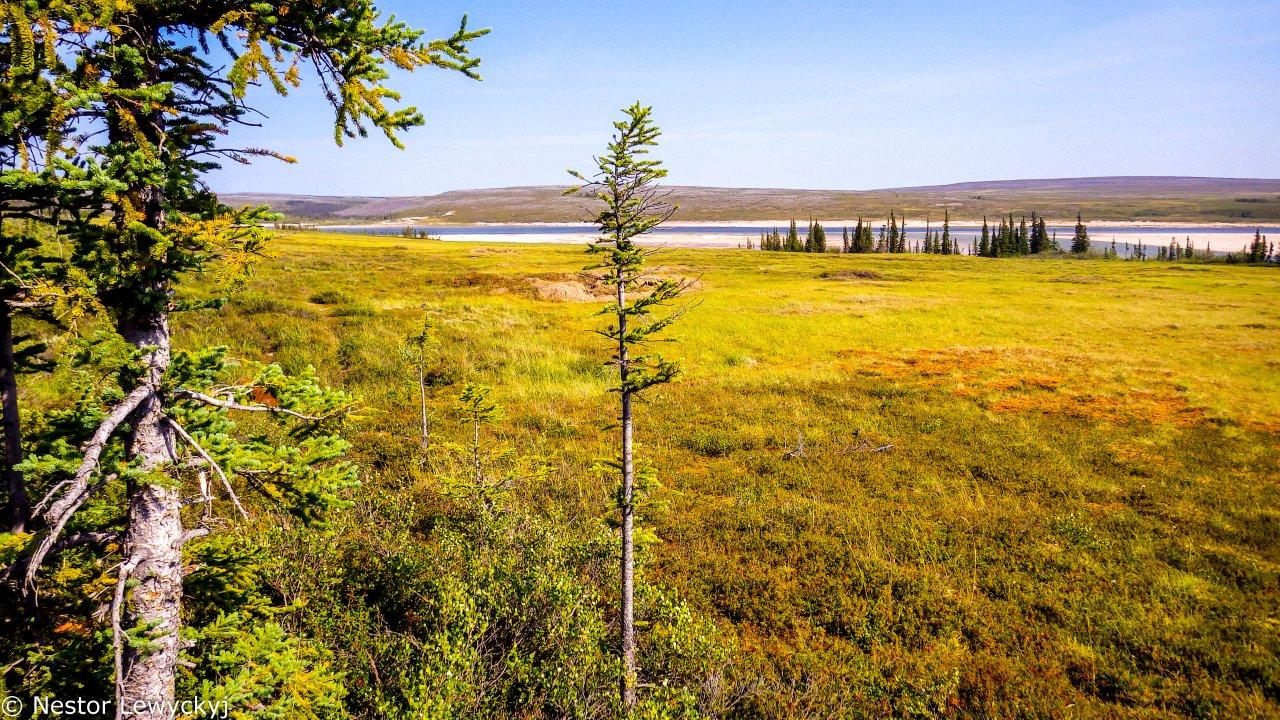 The view from the cabin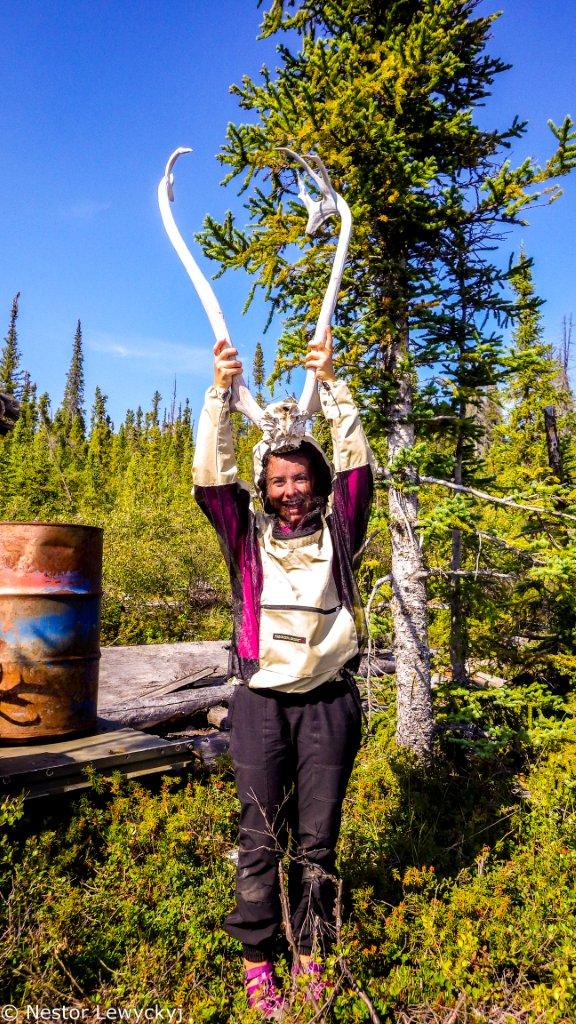 Sarah caribouing around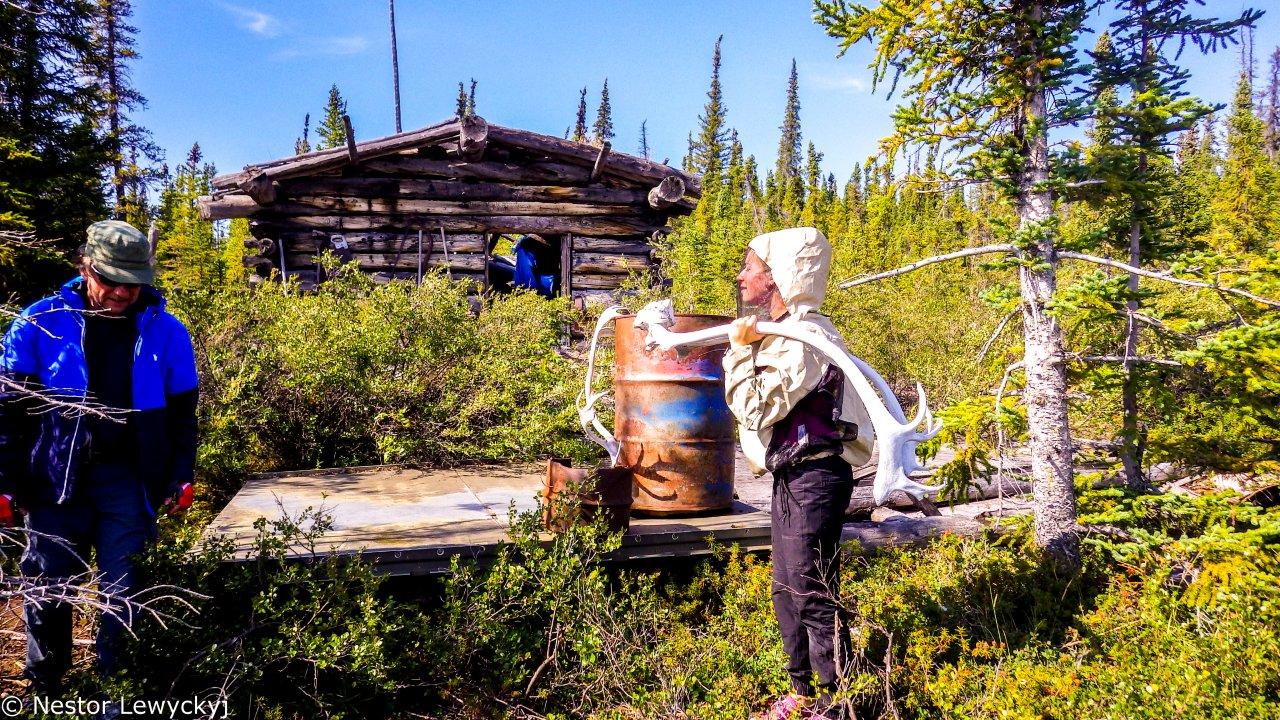 Look at me, look at me!
Walking back to the river we found lots of very fresh birch Boletes mushrooms that Wolodymyr is seen carrying in his right hand. Very edible and tasty. We fried them to accompany several of our meals.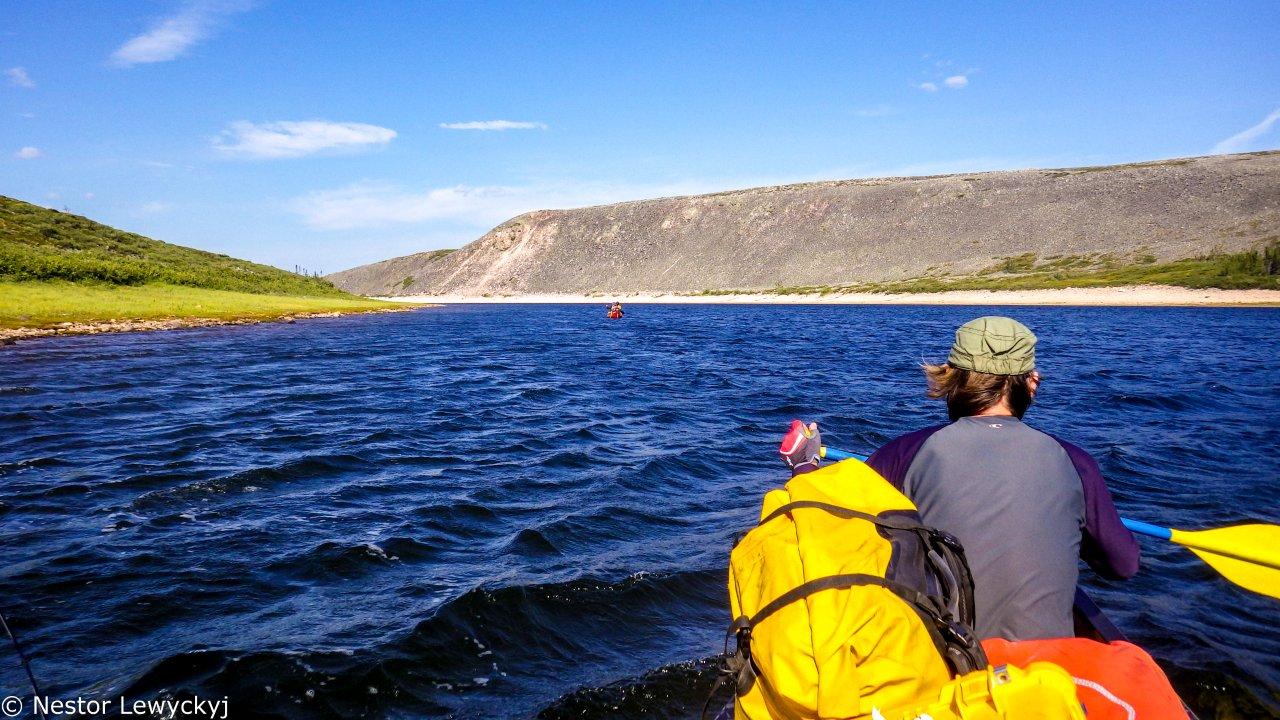 The Gap just slightly beyond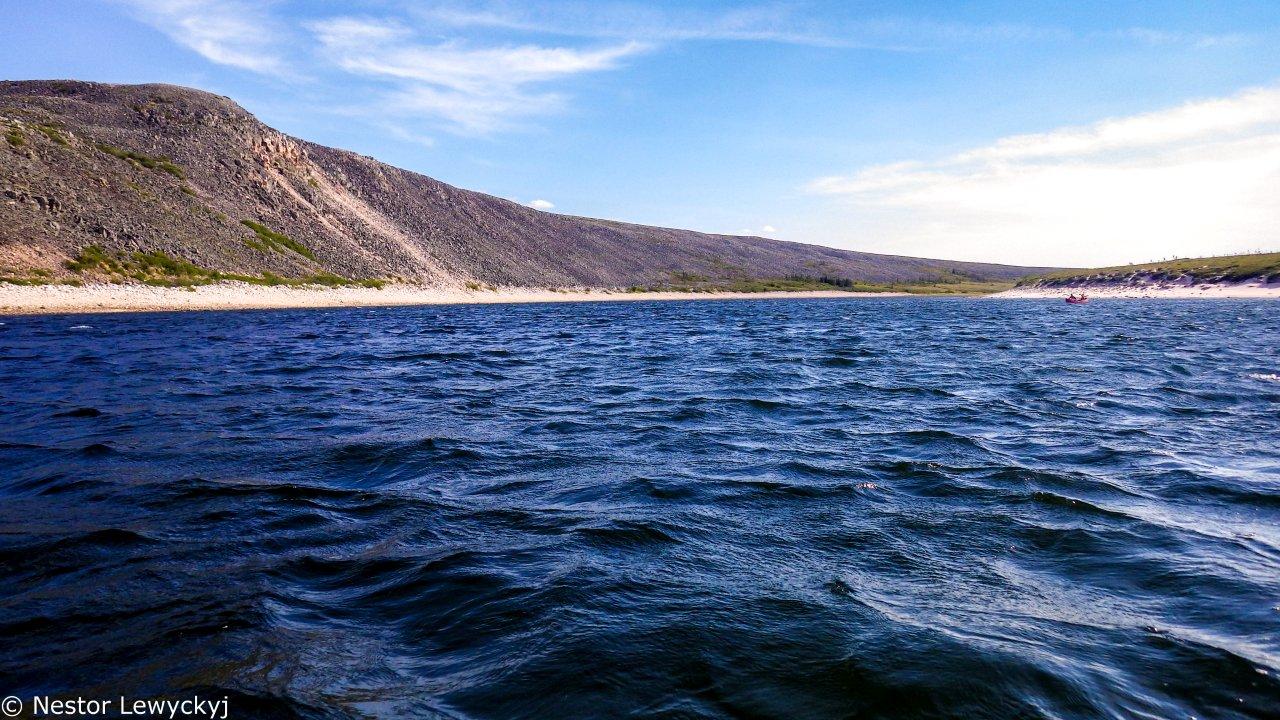 Looking back through The Gap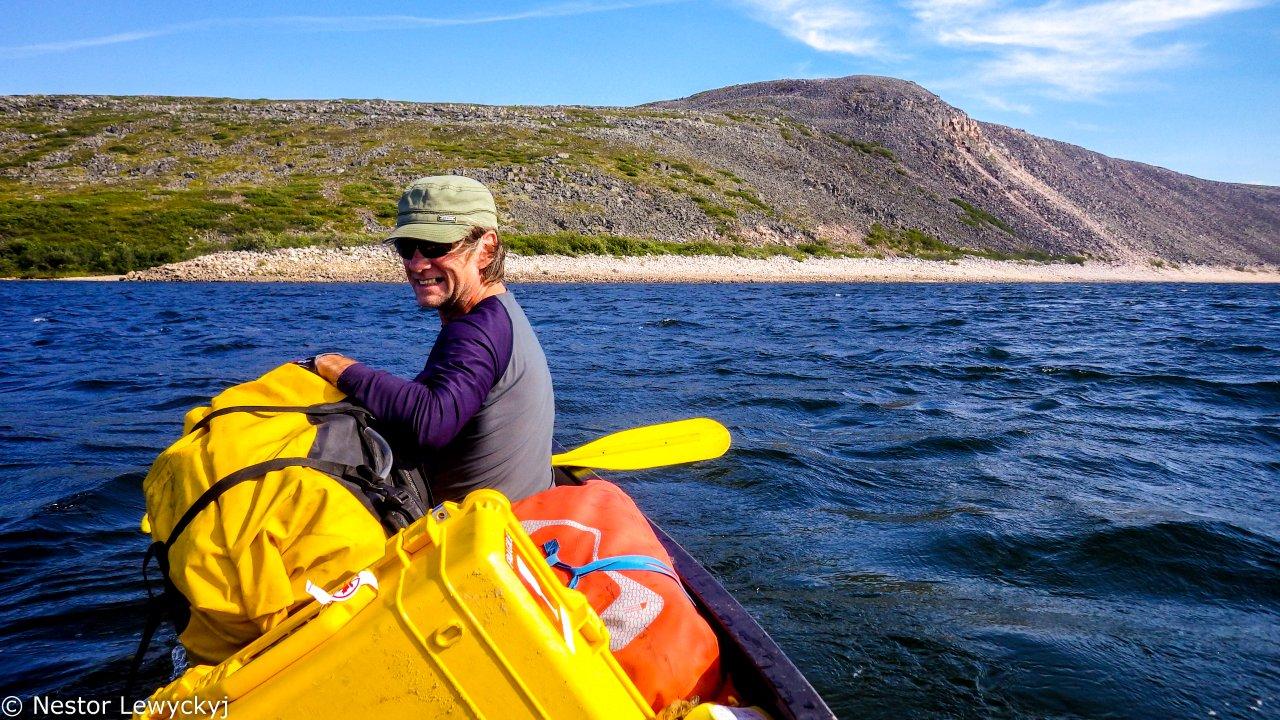 Even on day 1 of paddling, Wolodymyr was like a kid in a candy store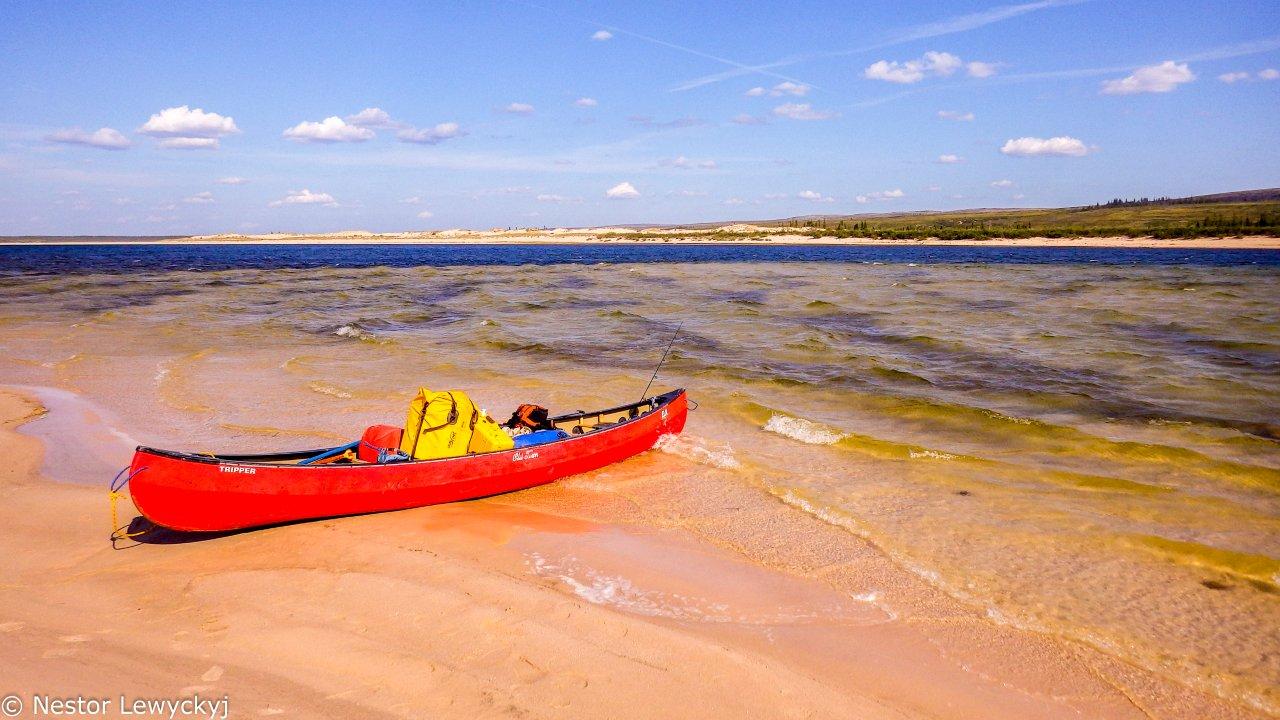 A pause in our day on a really fine beach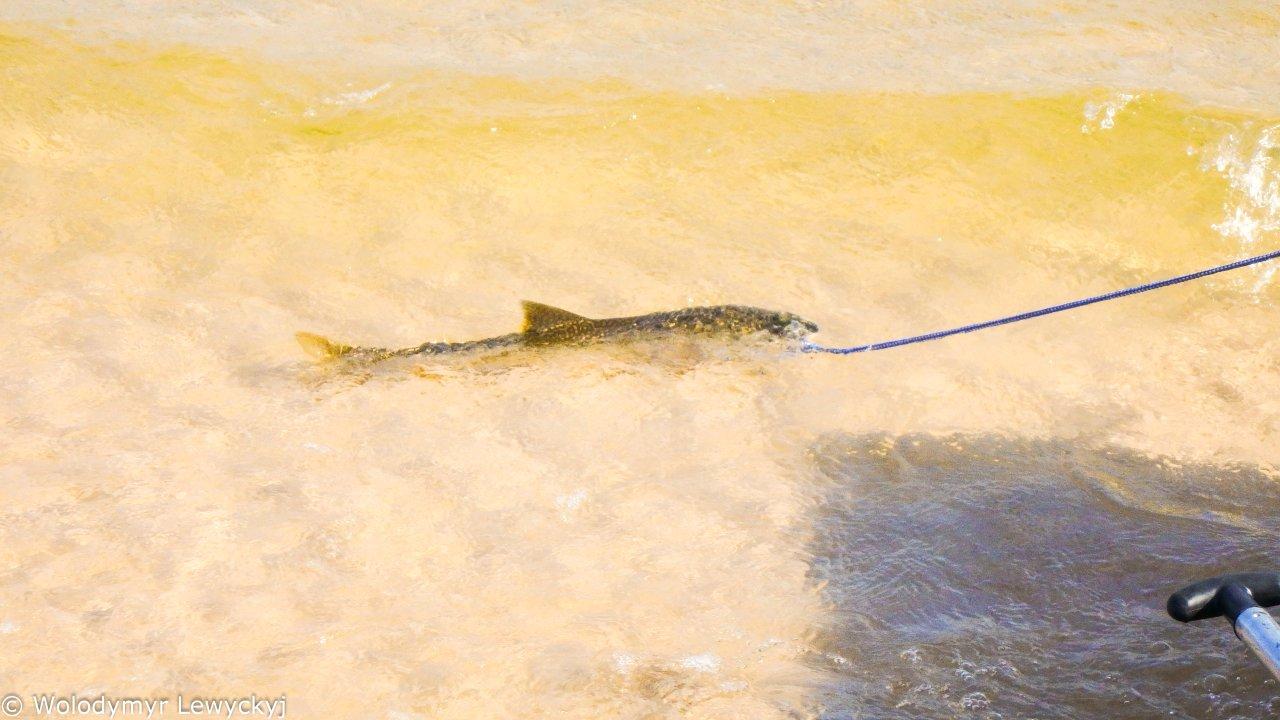 I caught my first lake trout trolling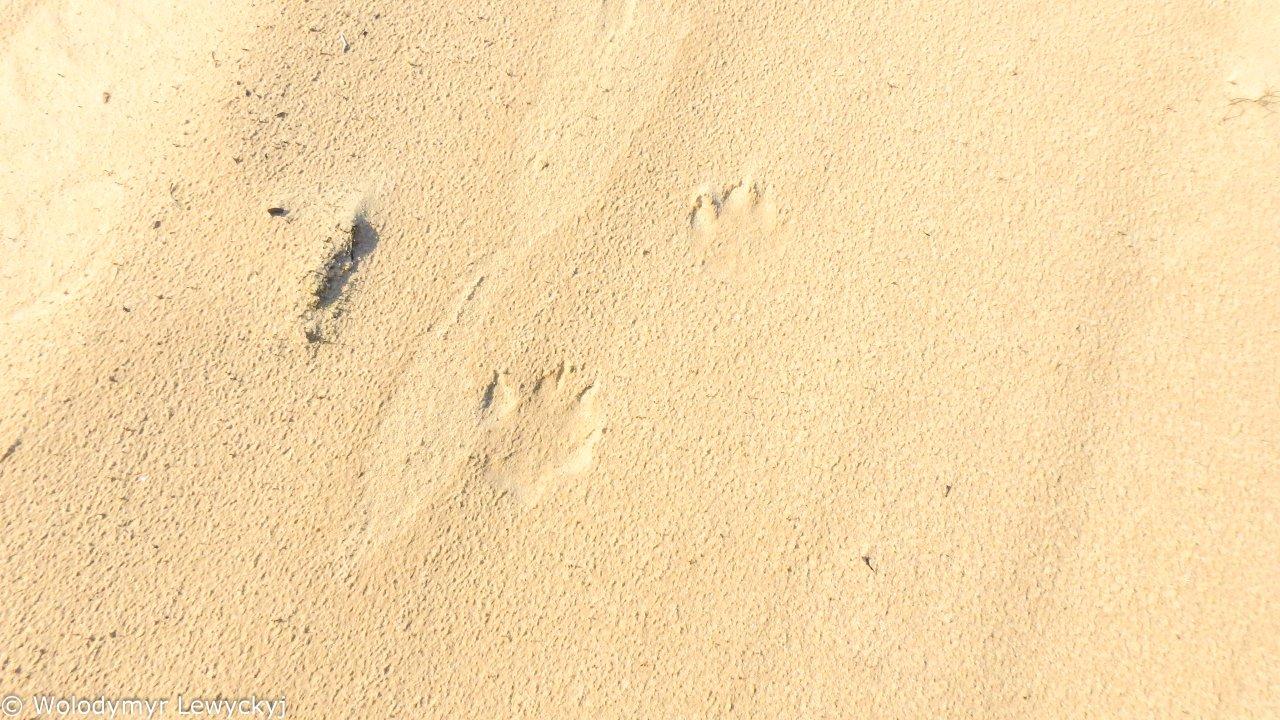 Old wolf tracks in the sand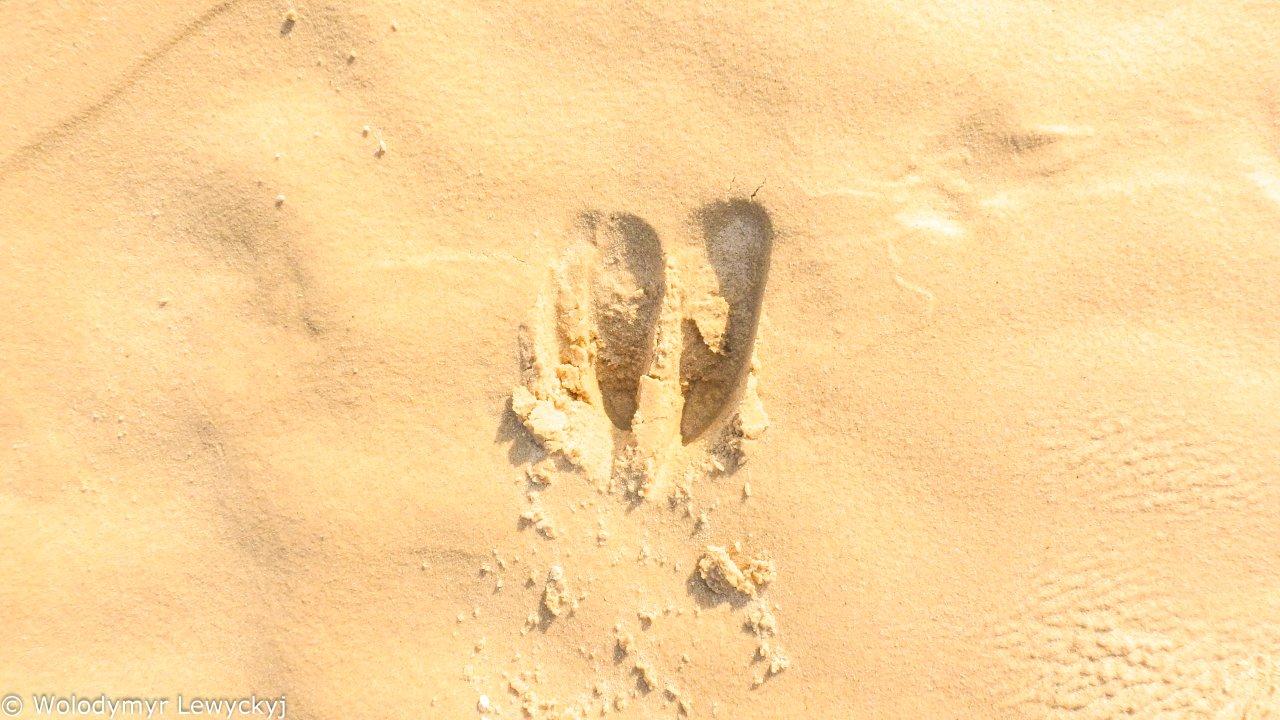 Fresh caribou tracks, or is that moose?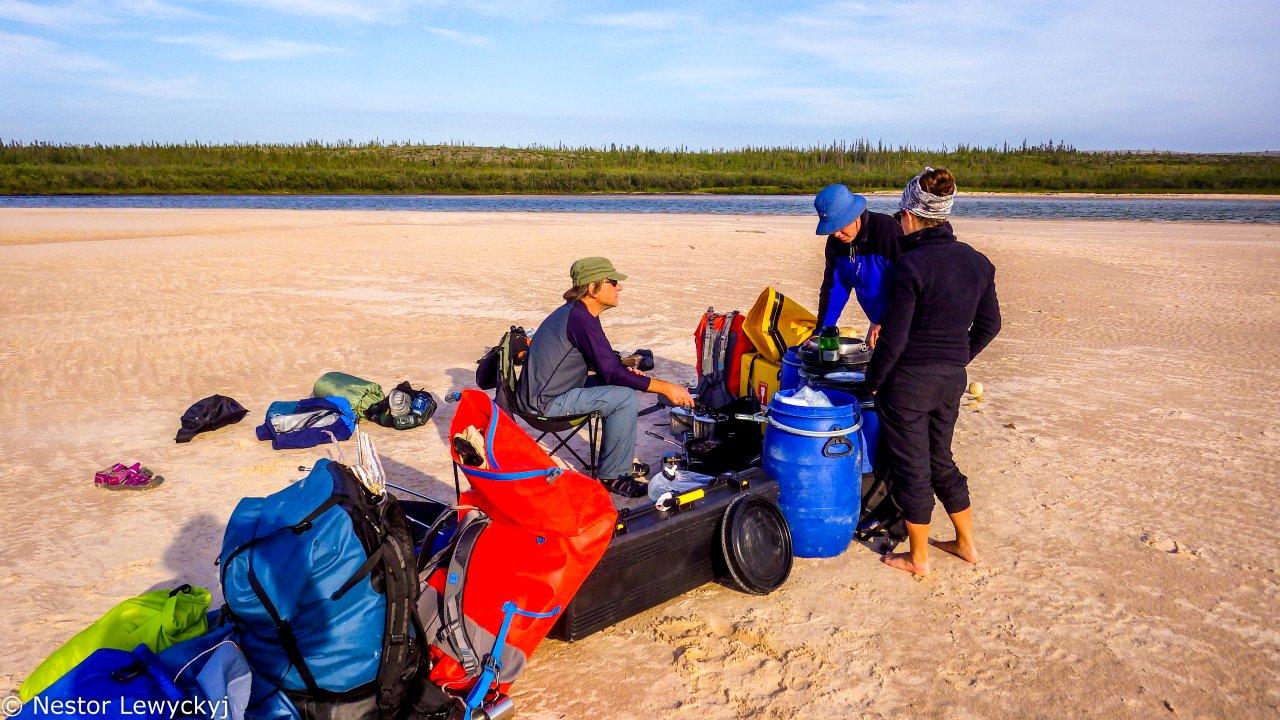 Our second night out on the Barrens was on this very fine beach. We had a wicked tail wind from the south all day. That gives you good speed but it is hard to control the canoe
Cinq a sept tundra style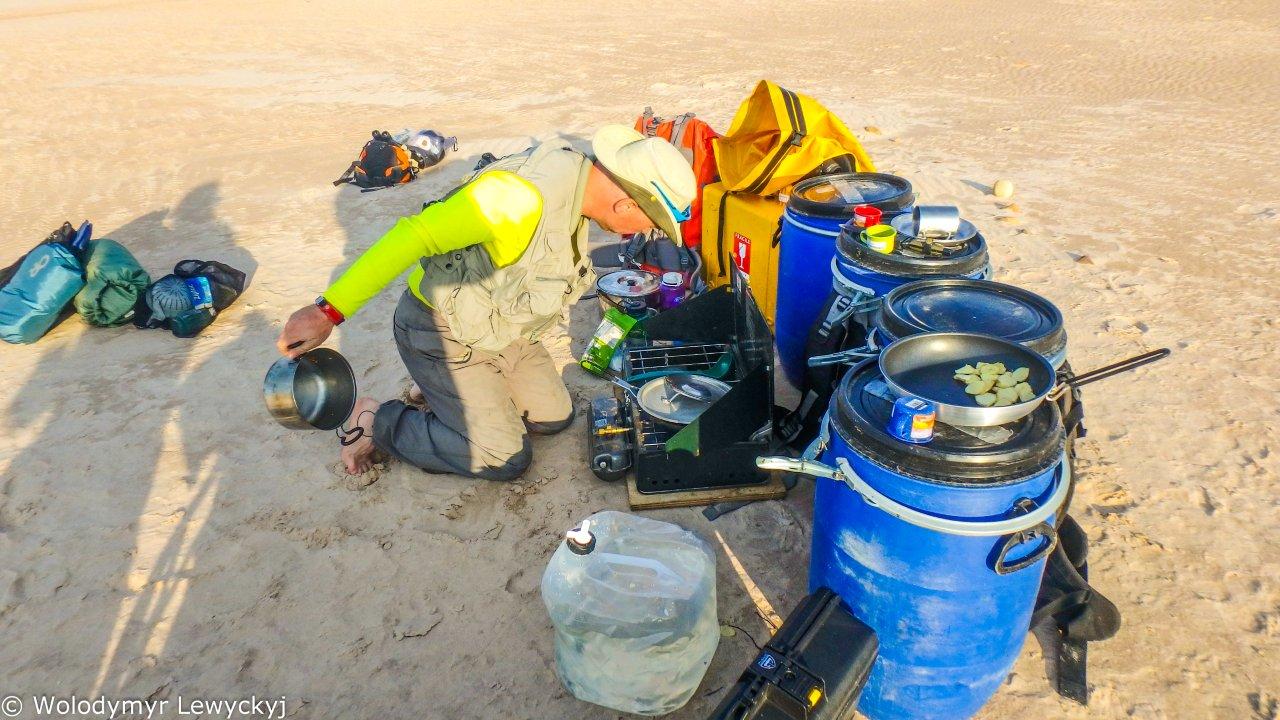 Trying to get dinner going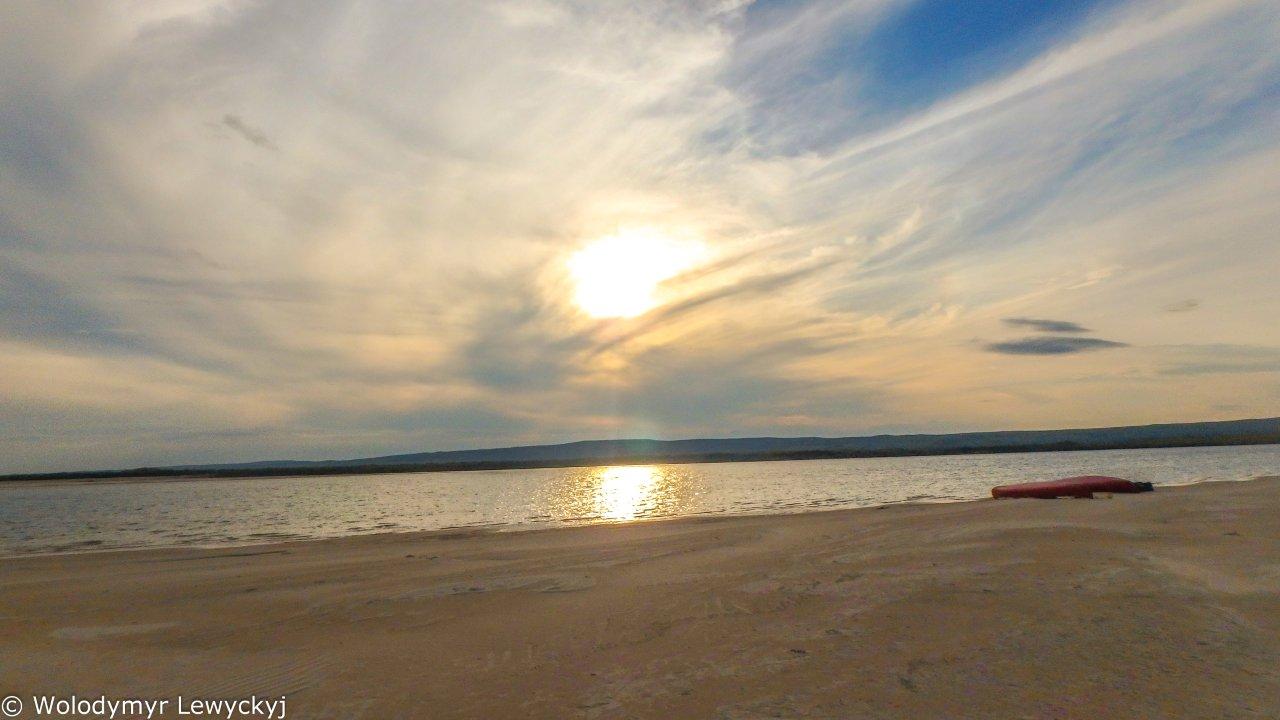 A beautiful and calm sunset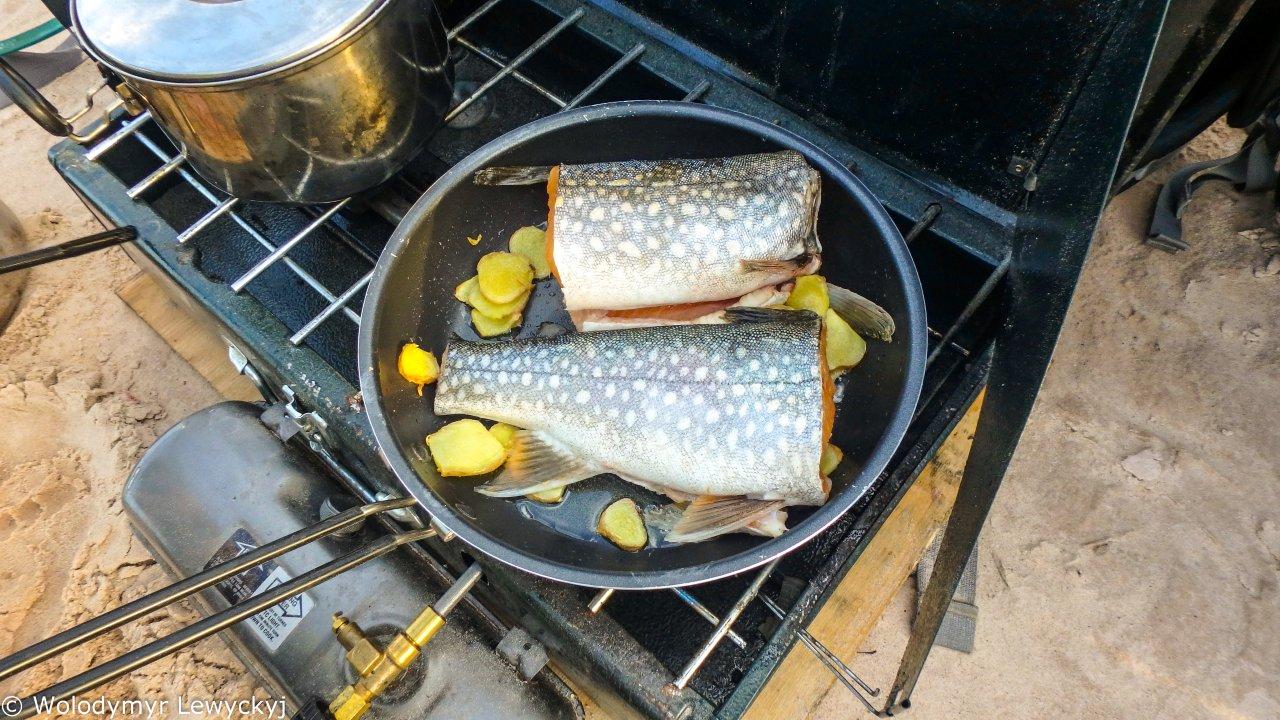 The lake trout was not very big but just perfect for us. We fried it with fresh ginger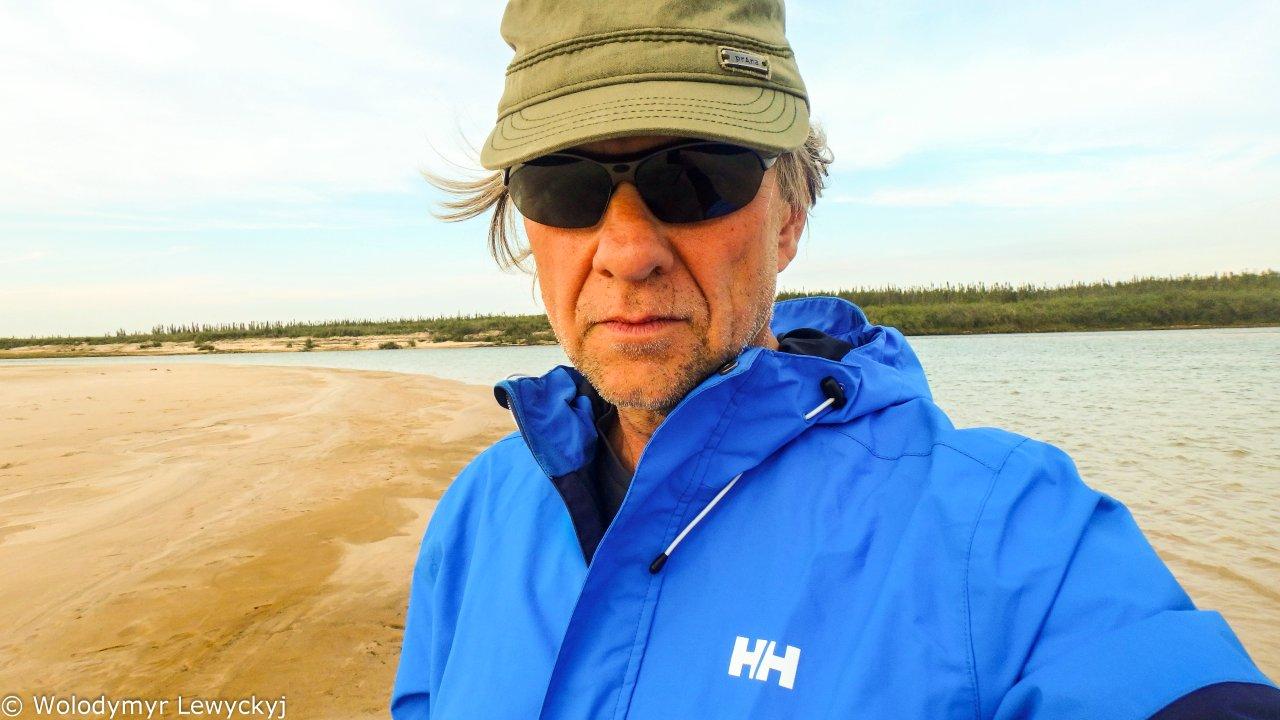 Barren selfie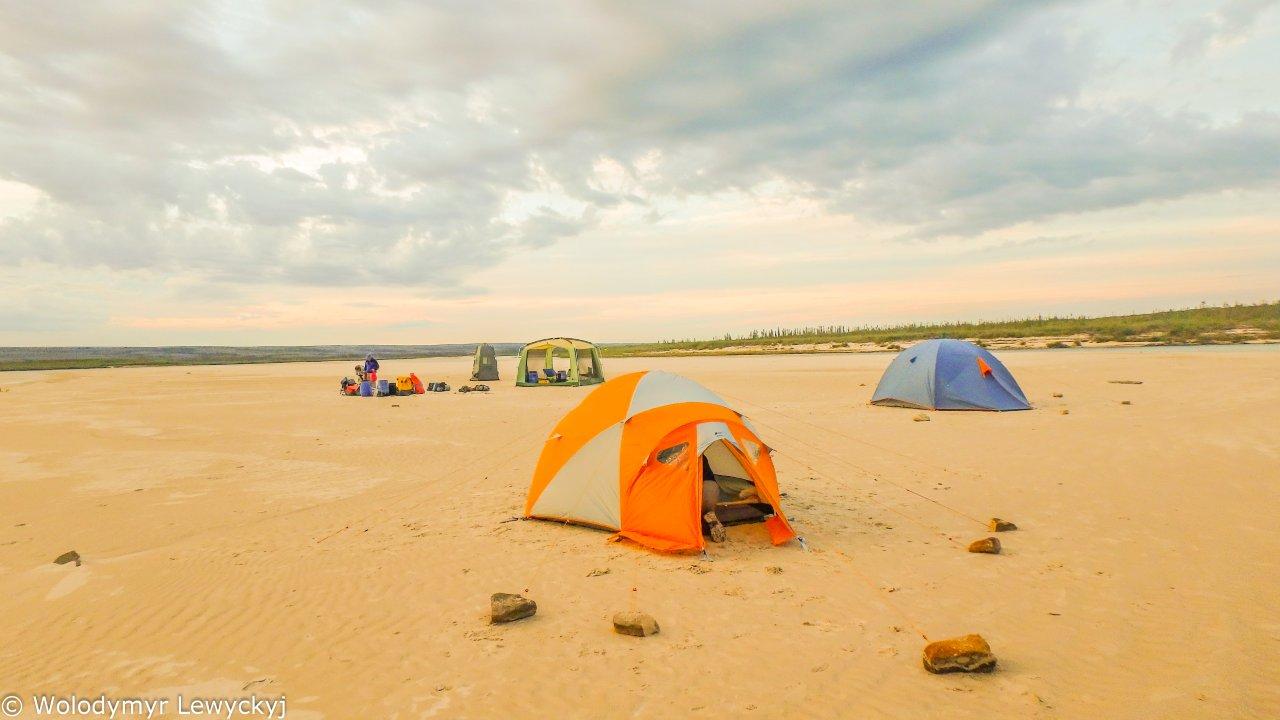 The size of the sand bars that get exposed by August is truly astounding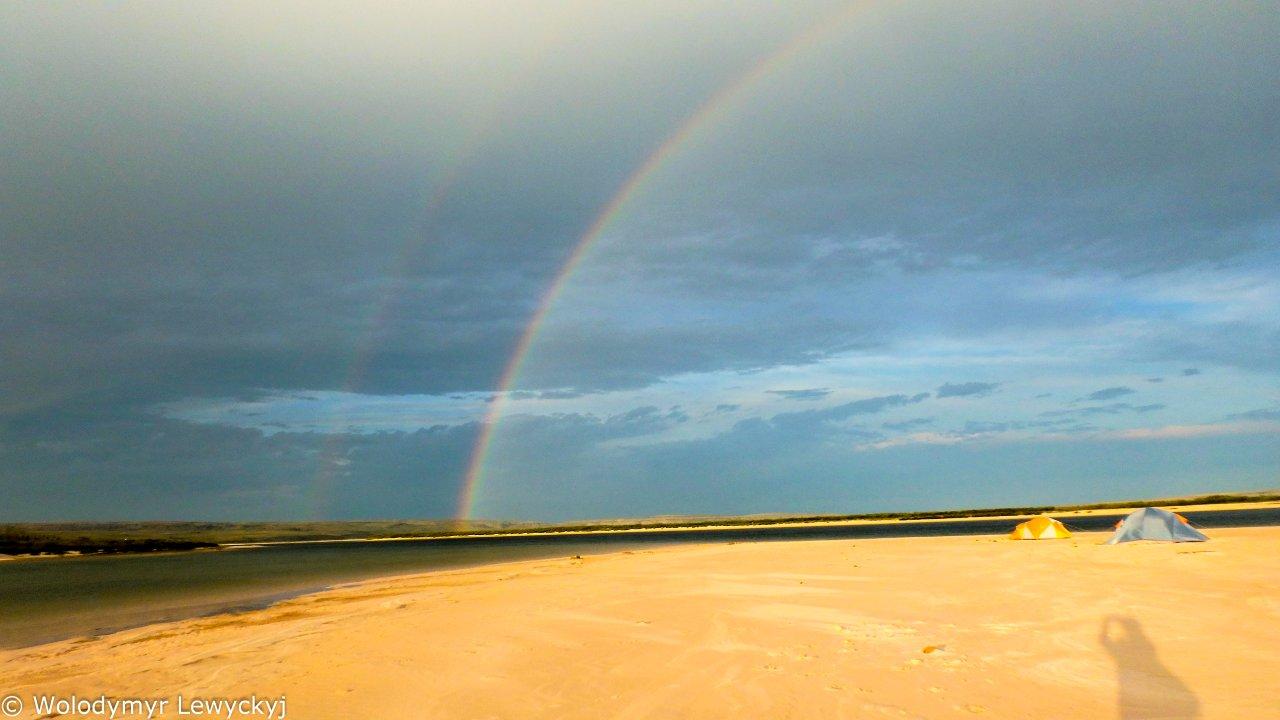 Interesting weather was all around us, nice but somewhat unsettled. because the terrain is so flat, you can see for tens of kilometres all around you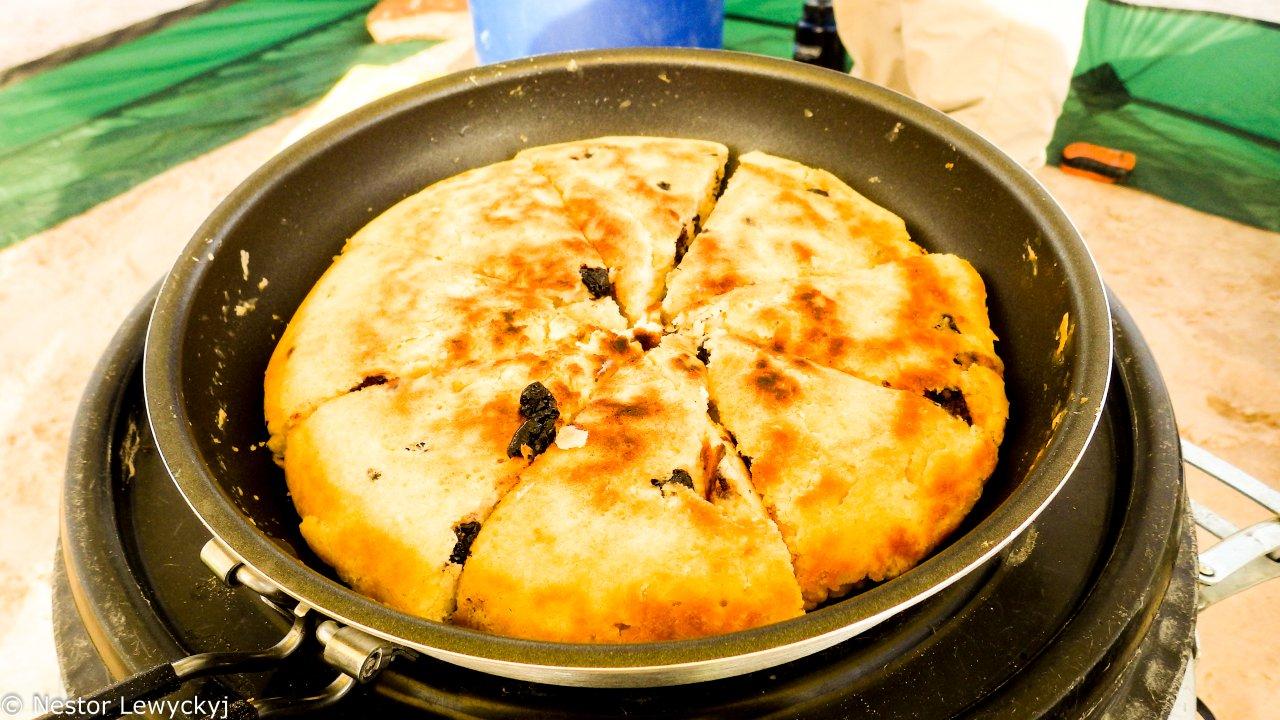 Bannock for breakfast, Roman's specialty. We had it on 4 or 5 mornings.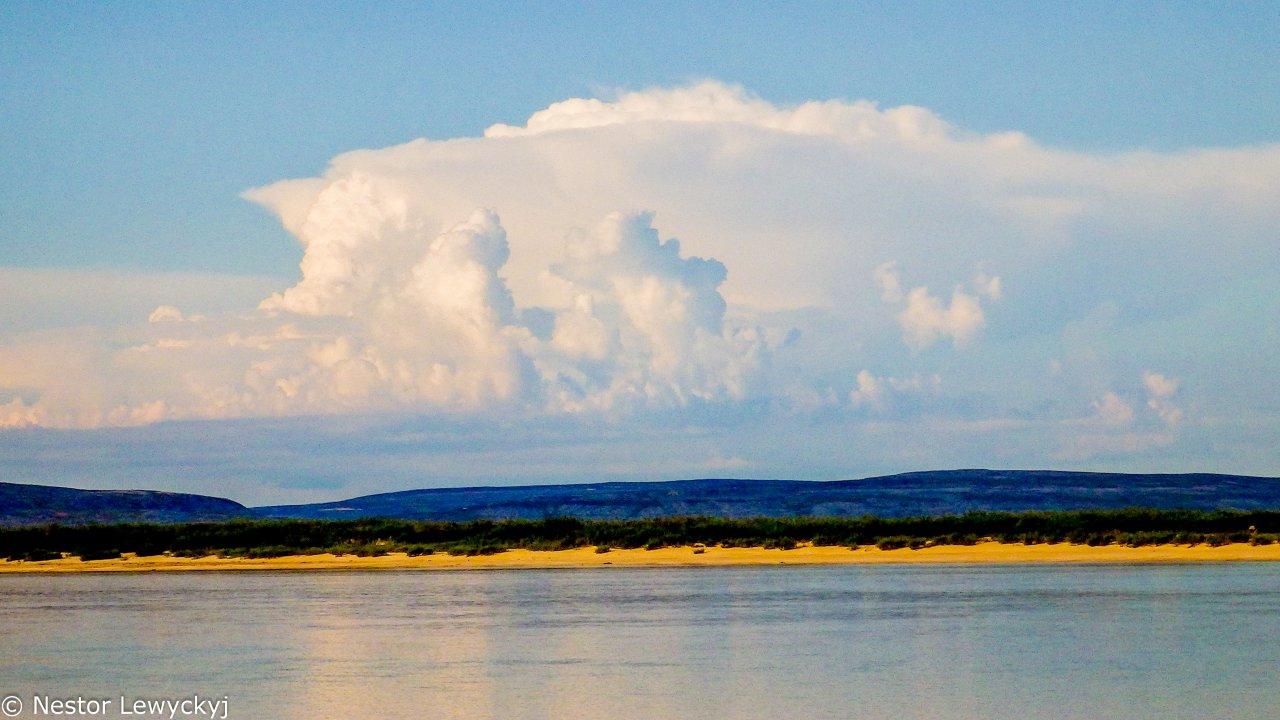 We saw a lot of cool clouds because you see so much of the sky all of the time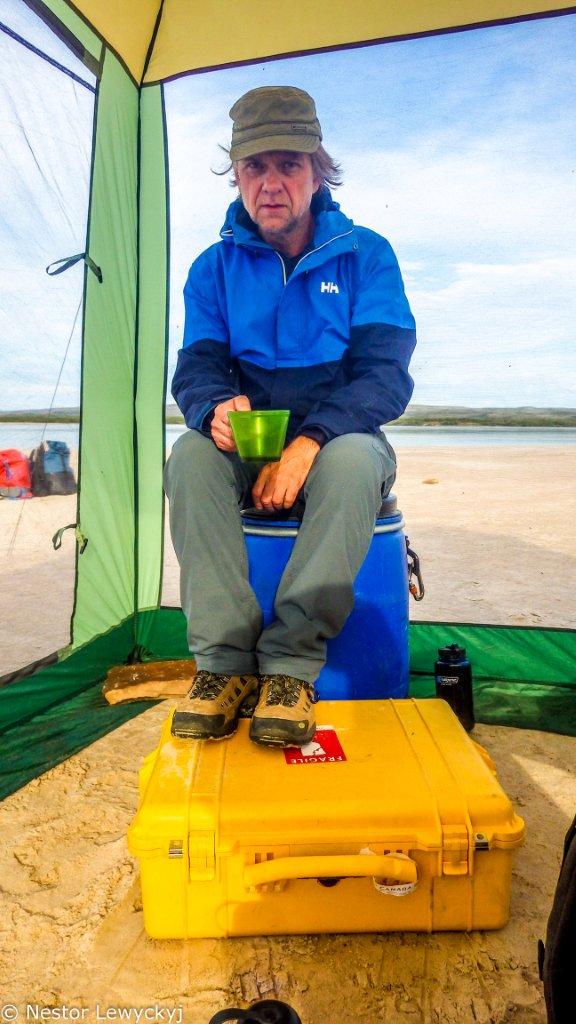 Someone did not bring a chair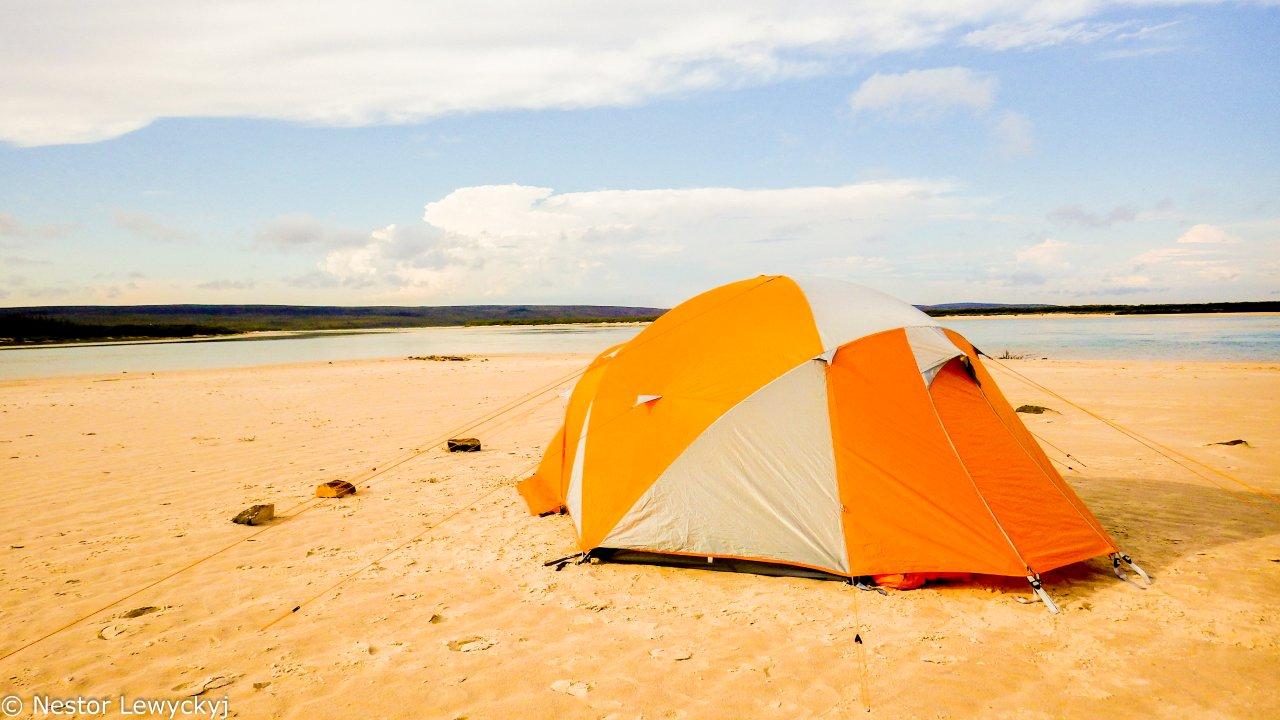 This was the second serious trek for my Nunatak 3 tent from MEC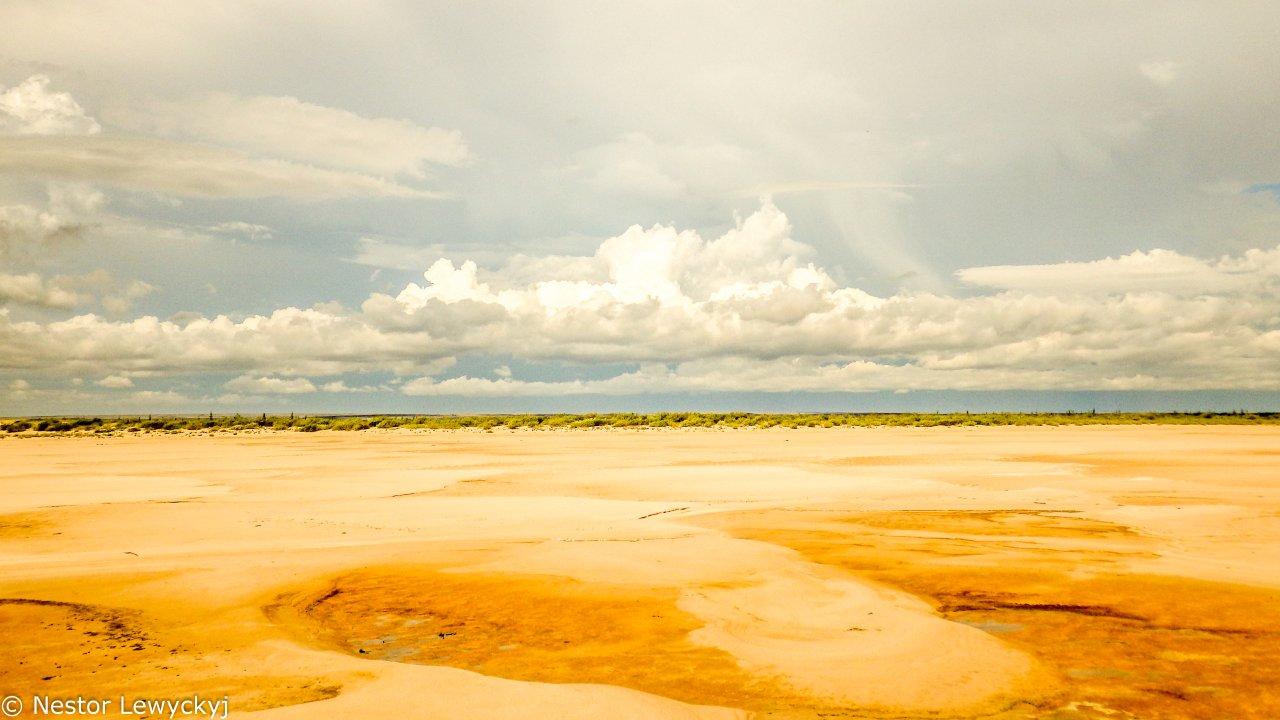 Sometimes the scenery takes your breath away. it can be distracting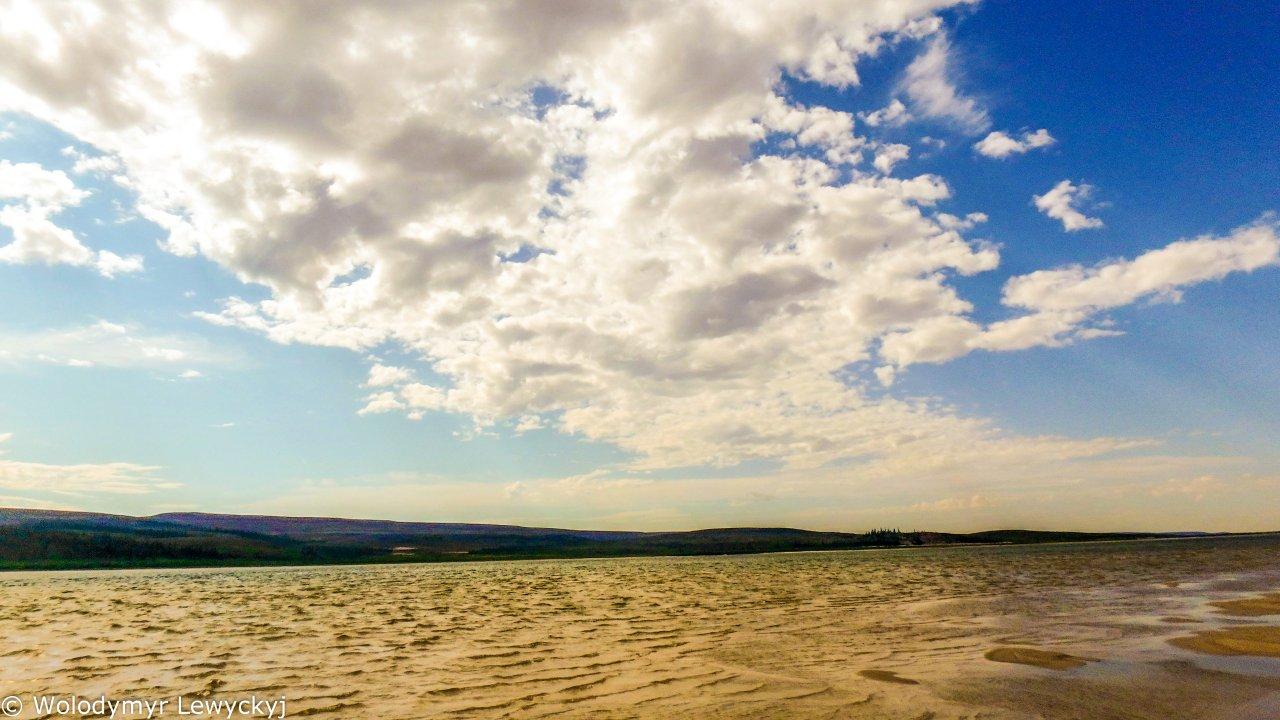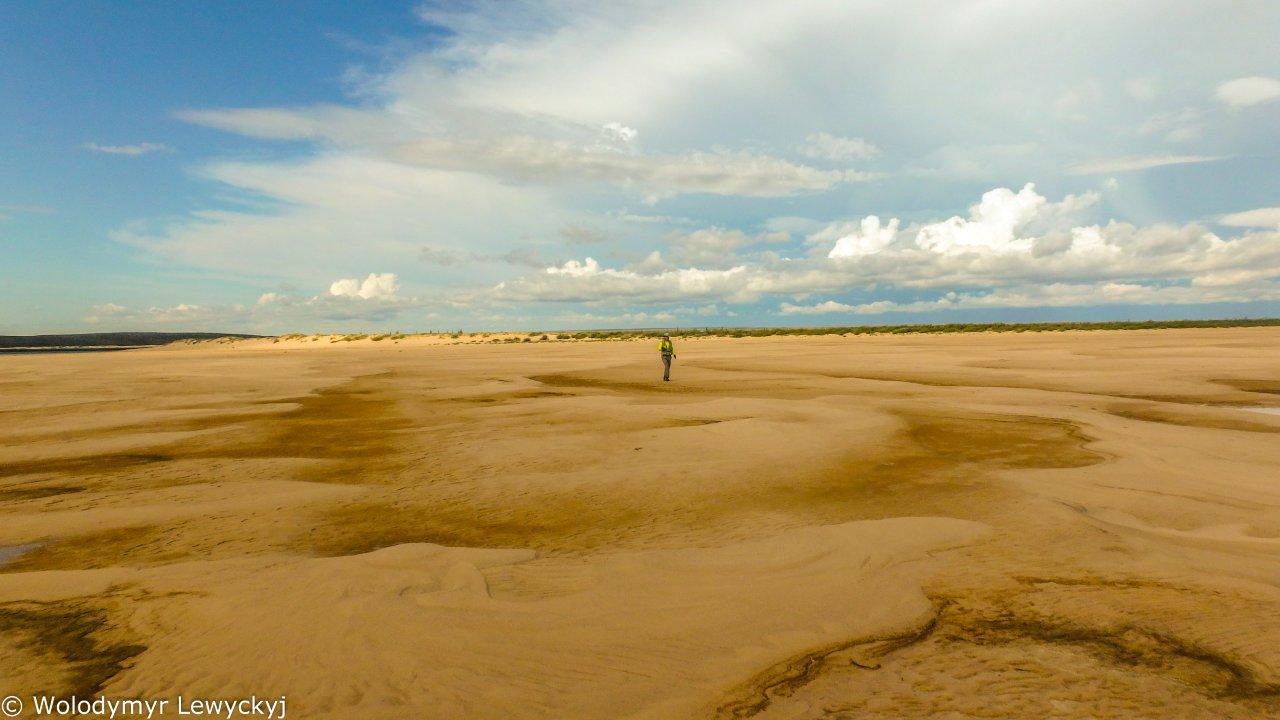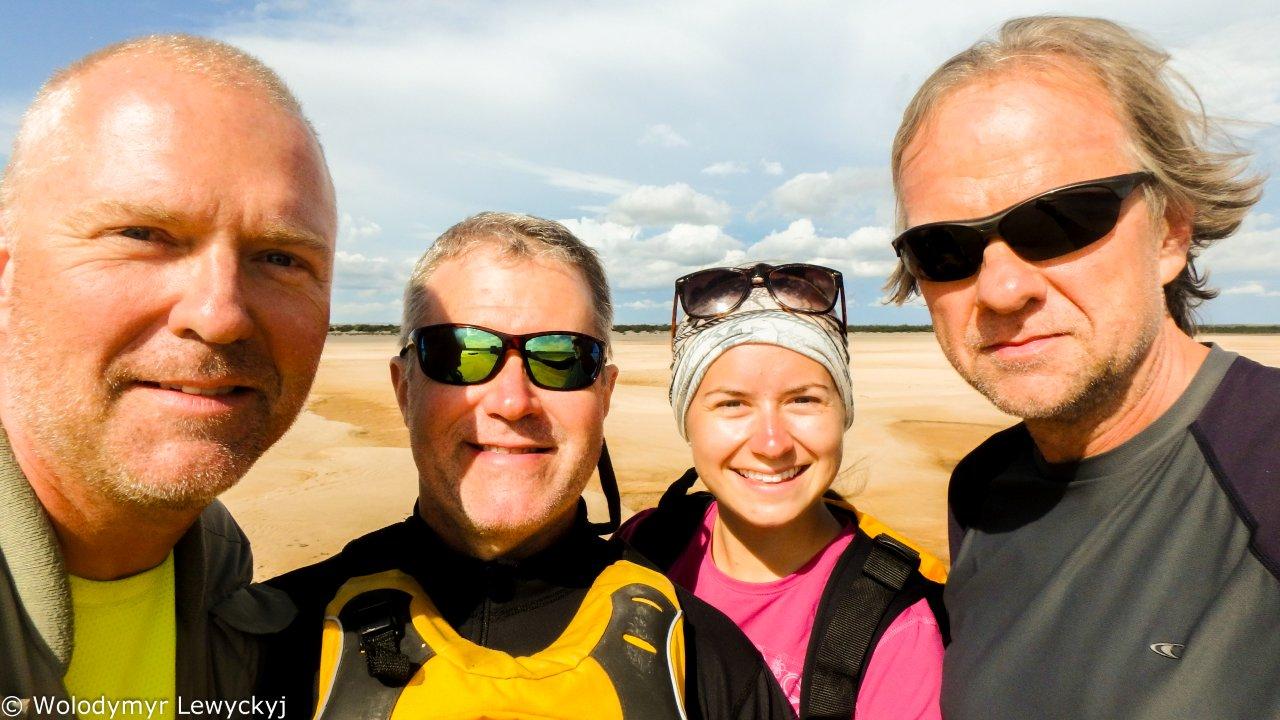 Crew selfie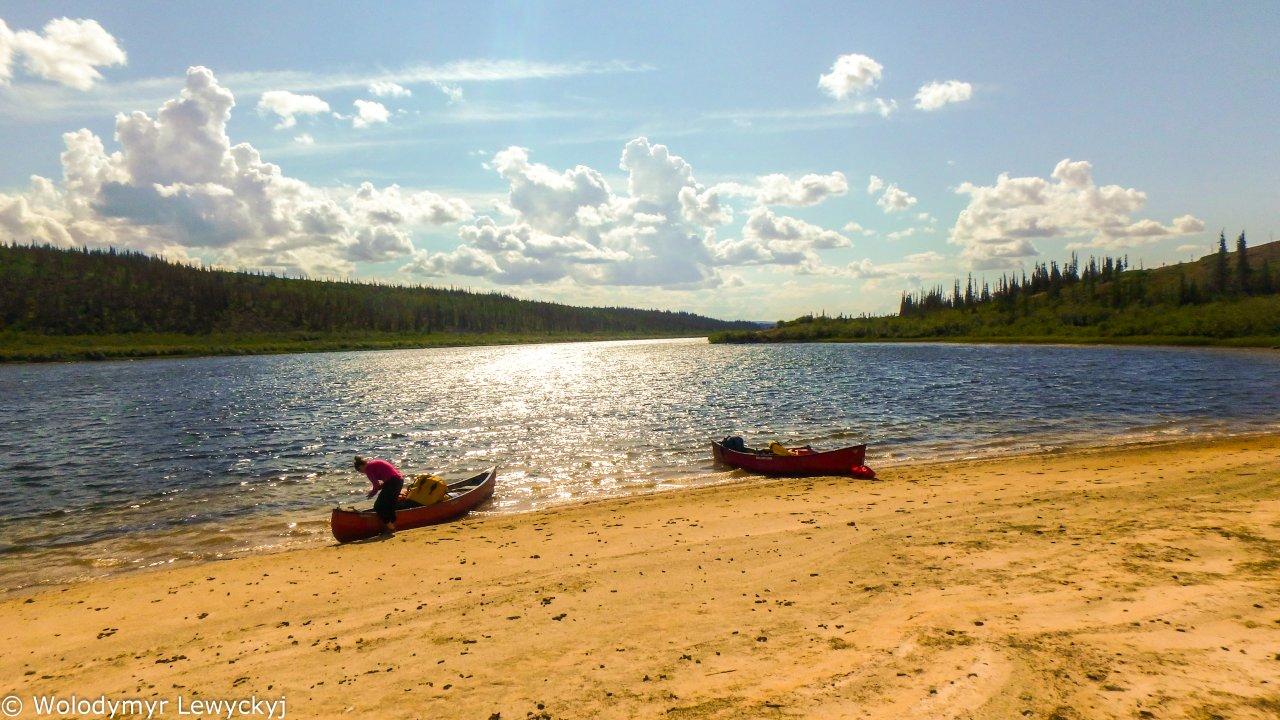 Taking a mid day break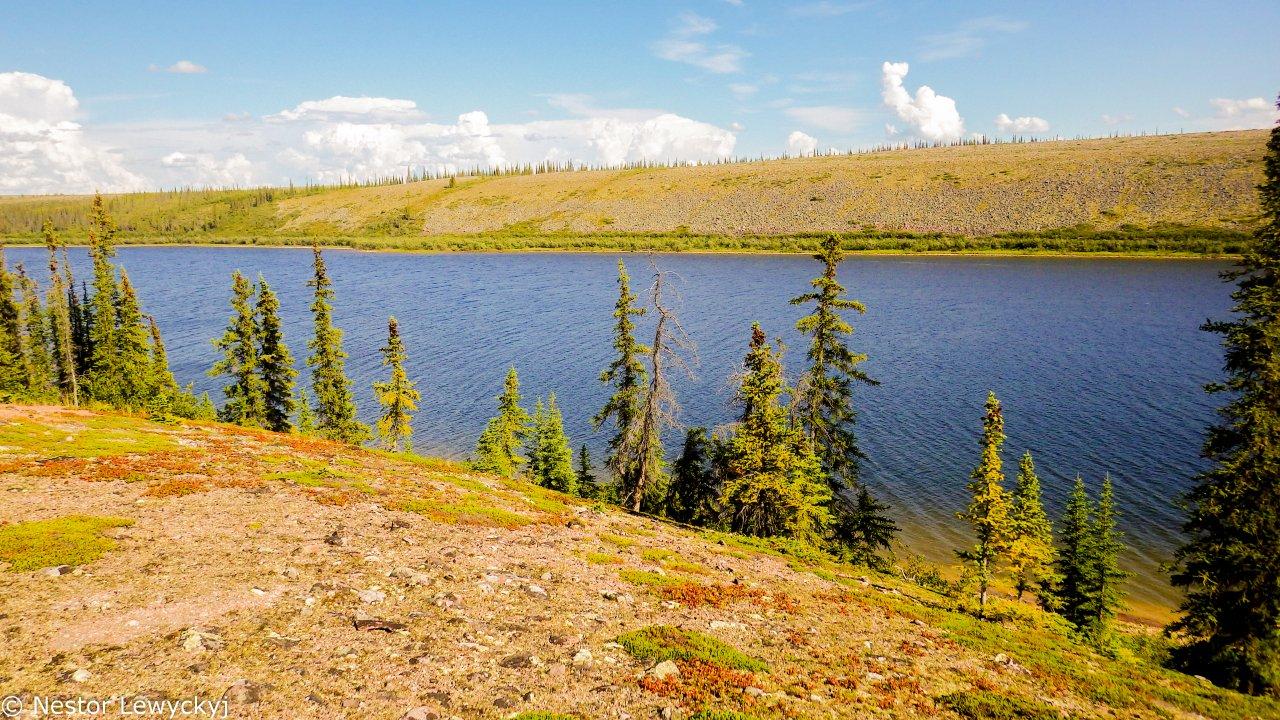 I scampered up looking for a possible camp site. Nothing is set here. Every camp site is something you spot, you find, you figure out. At some places you can tell that others had the same idea. But sometimes it is not obvious and not easy to find a decent spot and you have to settle. Fortunately, in August, you have many more options as the water levels are so much lower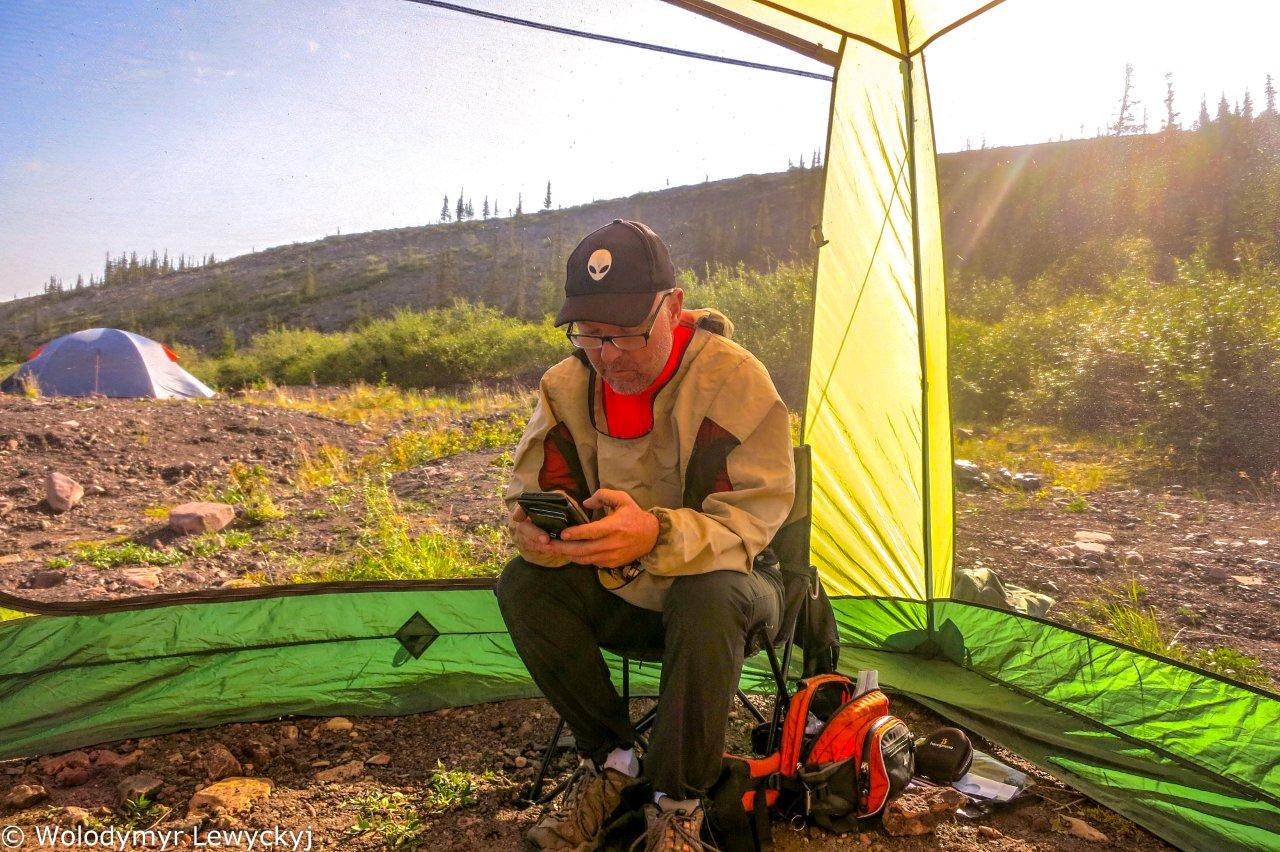 This was the site where we had gotten hammered by a bad thunderstorm the afternoon before. It was coming up behind us and we barely found this spot and put up our two tents before all hell broke loose. We ended up riding it out with all 4 of us in my tent. We estimated the winds at up to 90kph. I have never seen my Nunatak bend so much because of a wind. It was coming at us from 45° but the tent stood solid.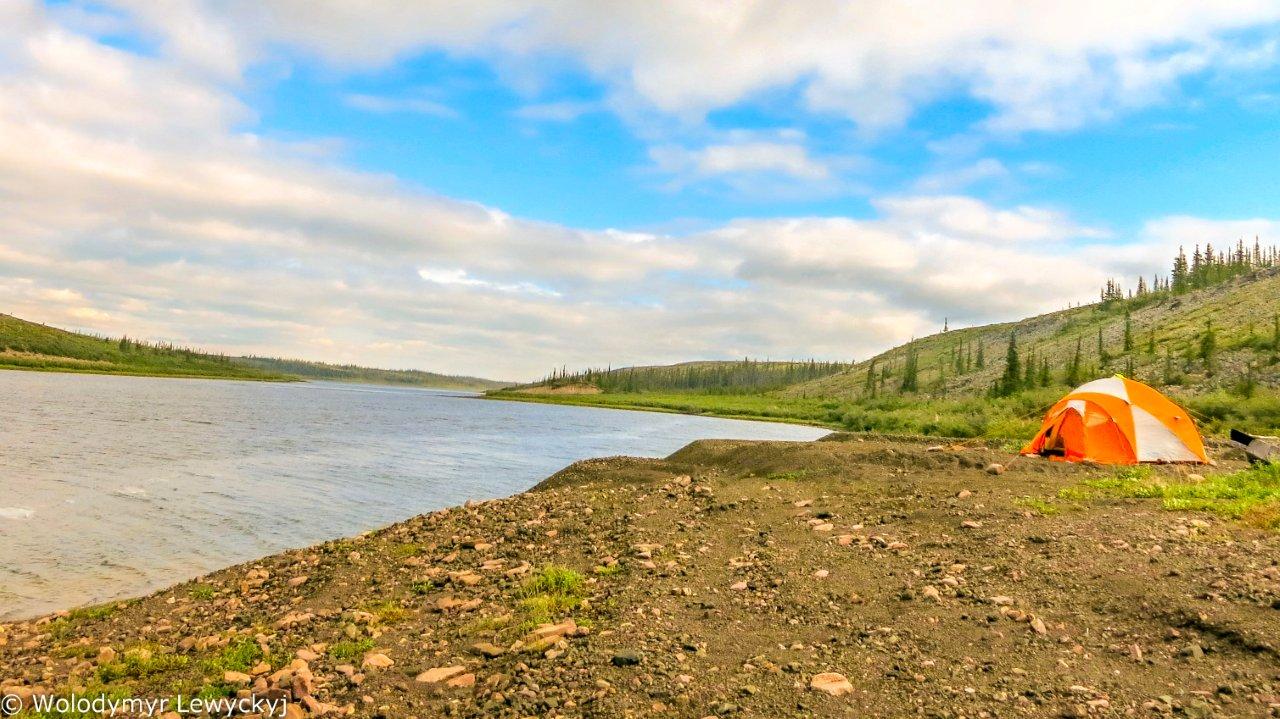 It was not the best spot, but someone had used it before. it saved us form the storm, and Wolodymyr was observant enough to spot it from the river, just in time as it turned out. The gravel was really loose so we used large rocks over the tent pegs for the storm. But it was a huge lesson to us. We had left our 2 canoe up on the beach but not tied, on the lee side of the spit of landed. They were completely sheltered from the wind. yet, after the storm when I came out to inspect, one canoe had been blown about 100 metres down the shore and the ropes were all wrapped around the canoe showing that it had rolled many times. Had the winds been in a slightly different direction, the canoe would have been kilometres downstream. So the rule is, no matter what the weather looks like or what the terrain is, always tie up your canoes overnight. Tie them to a tree, a bush, a rock, or a good peg, but tie them up. It does not take much for a wind to take them away.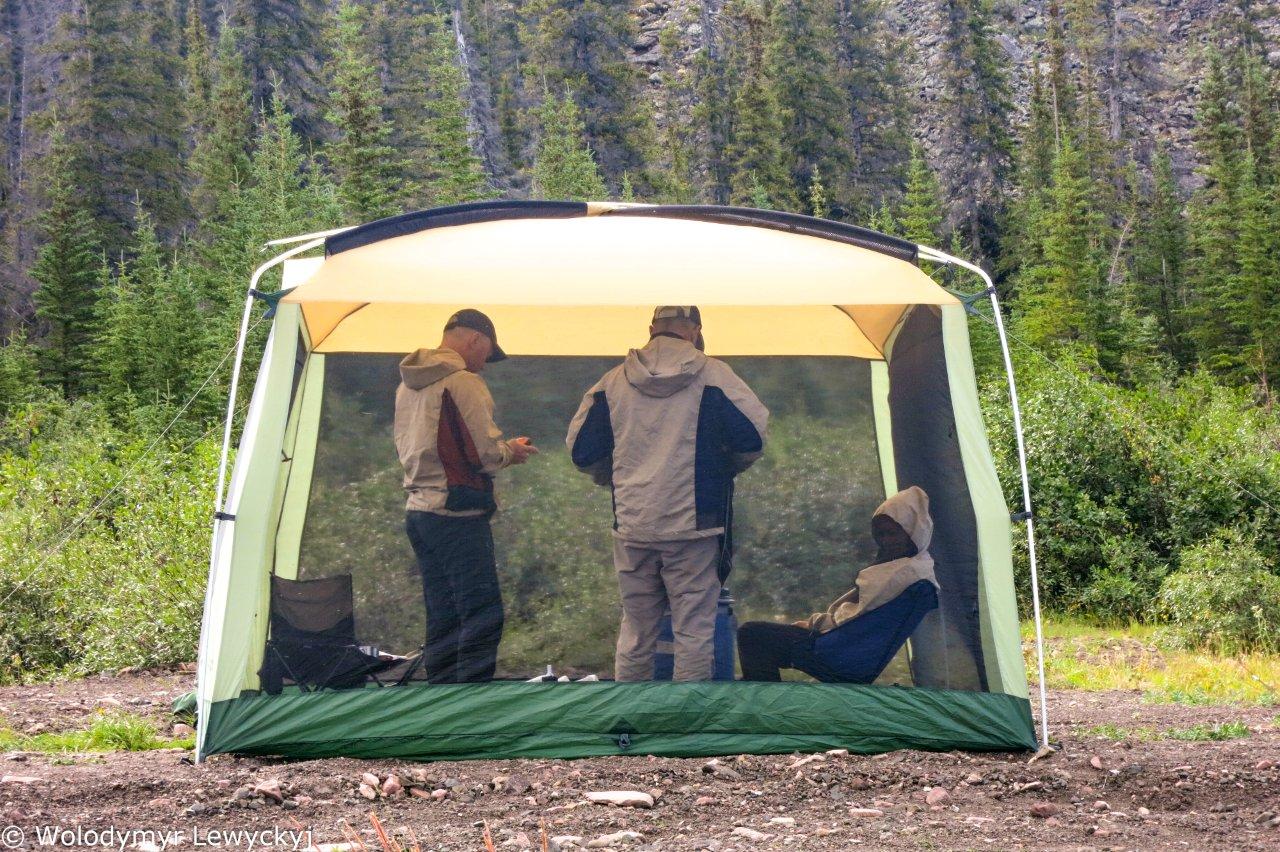 I really believe that a bug enclosure is a must. Its perfect for 4 people. You can eat in there, socialize, play card games or Scrabble, in the relative comfort away form the bugs. My zippers were starting to go, so we had to nurse it along for the rest of the trip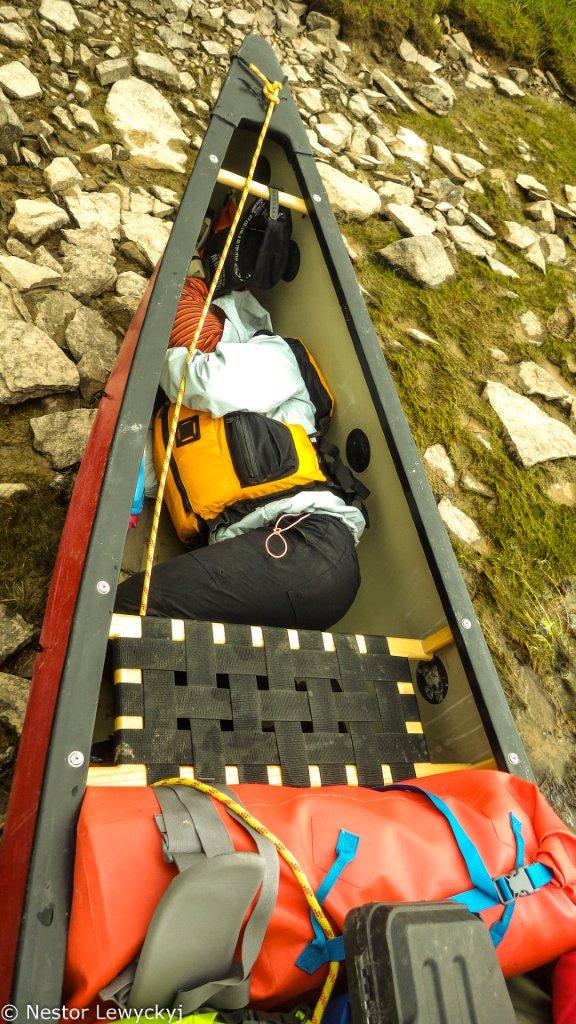 It turned colder after the thunderstorm, and the wind shifted from the north, which was the general direction we were going. So a strong tail wind and a current turned into a strong head wind with a current. In this shot, Sarah is taking a nap in the canoe while we waited to see if the winds would die down. This particular section of the river had the winds coming straight at us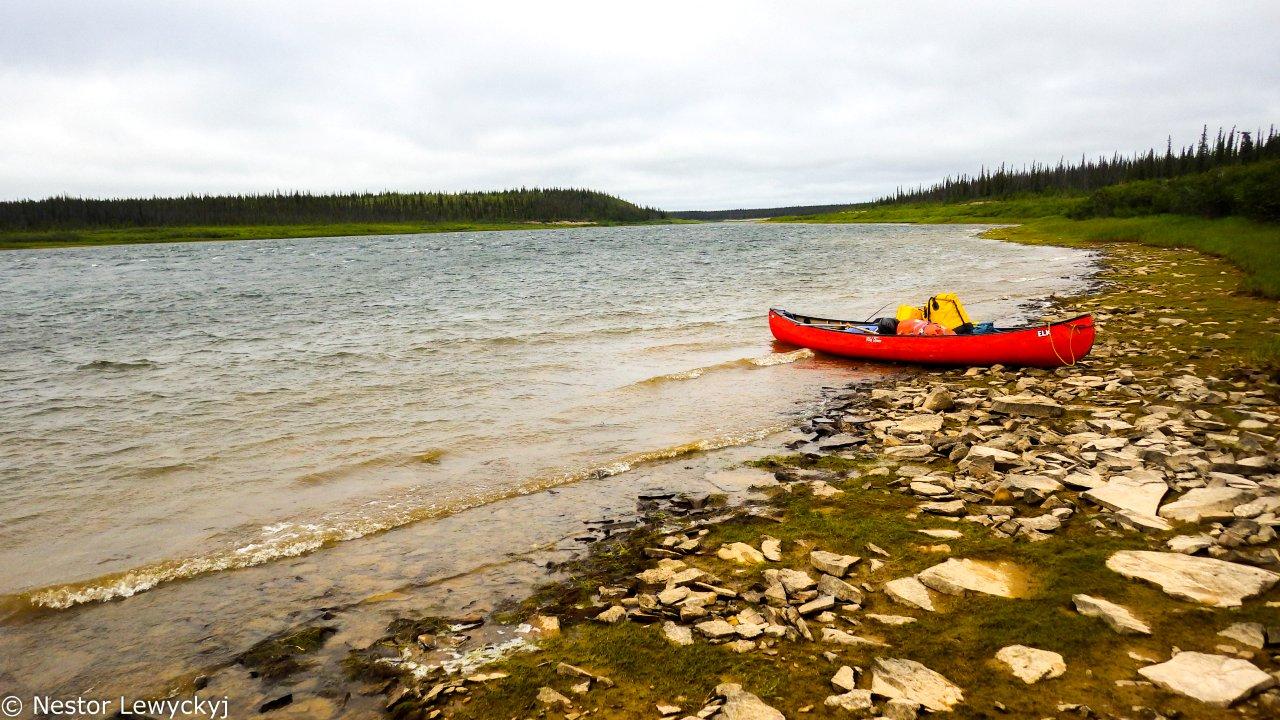 You can see the strength of the head winds by looking at the white caps in the middle of the river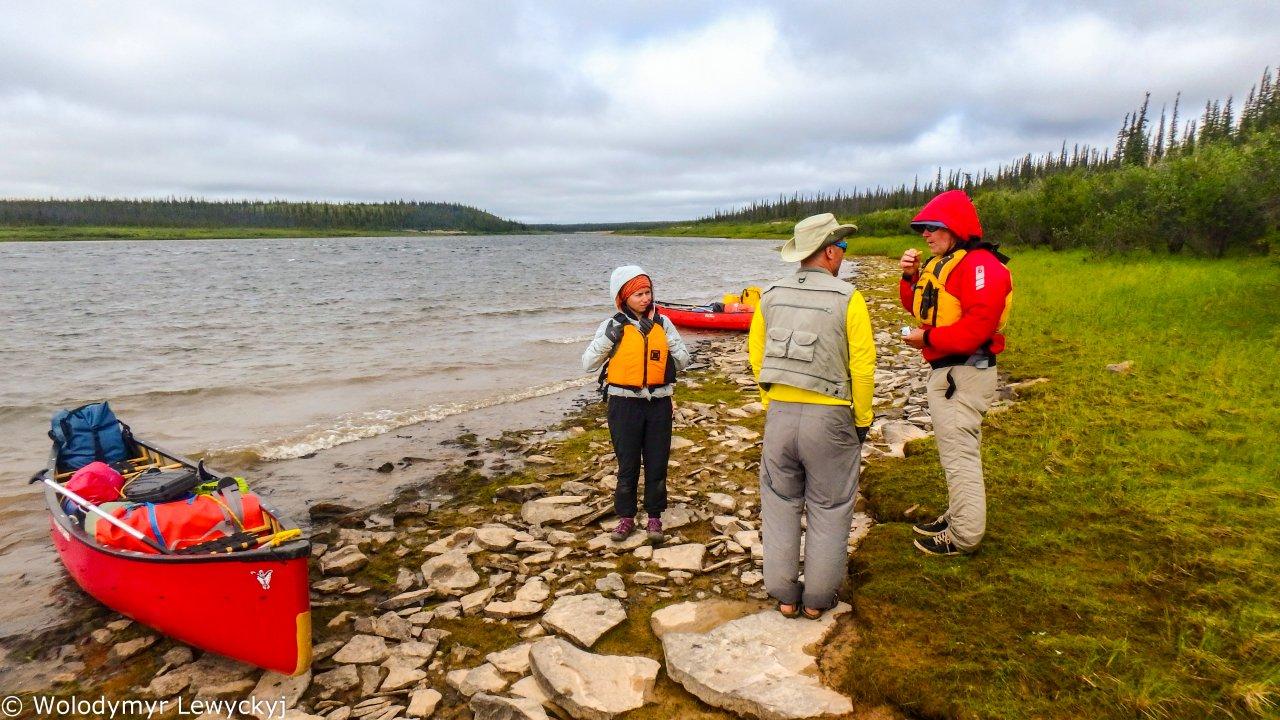 What to do, what to do....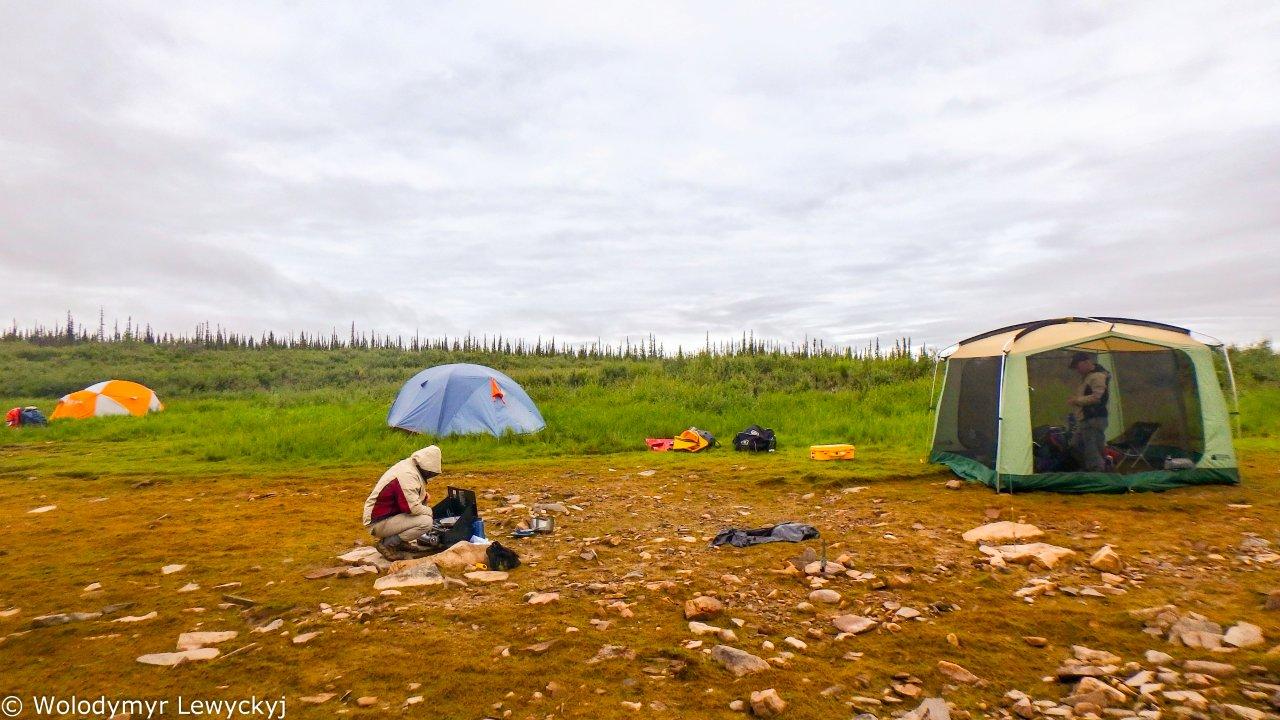 So just before the bend in the river, where there was some shelter from the wind, we made camp. it was not a great spot, a soft, wet, and muddy beach covered with a lot of goose droppings, we put our tents up in the soft grass. it worked out ok. In the Barrens, you don't always have a choice. You have to respect nature and live by her rules. You can fight it, but you will only beat yourself up and possibly hurt yourself.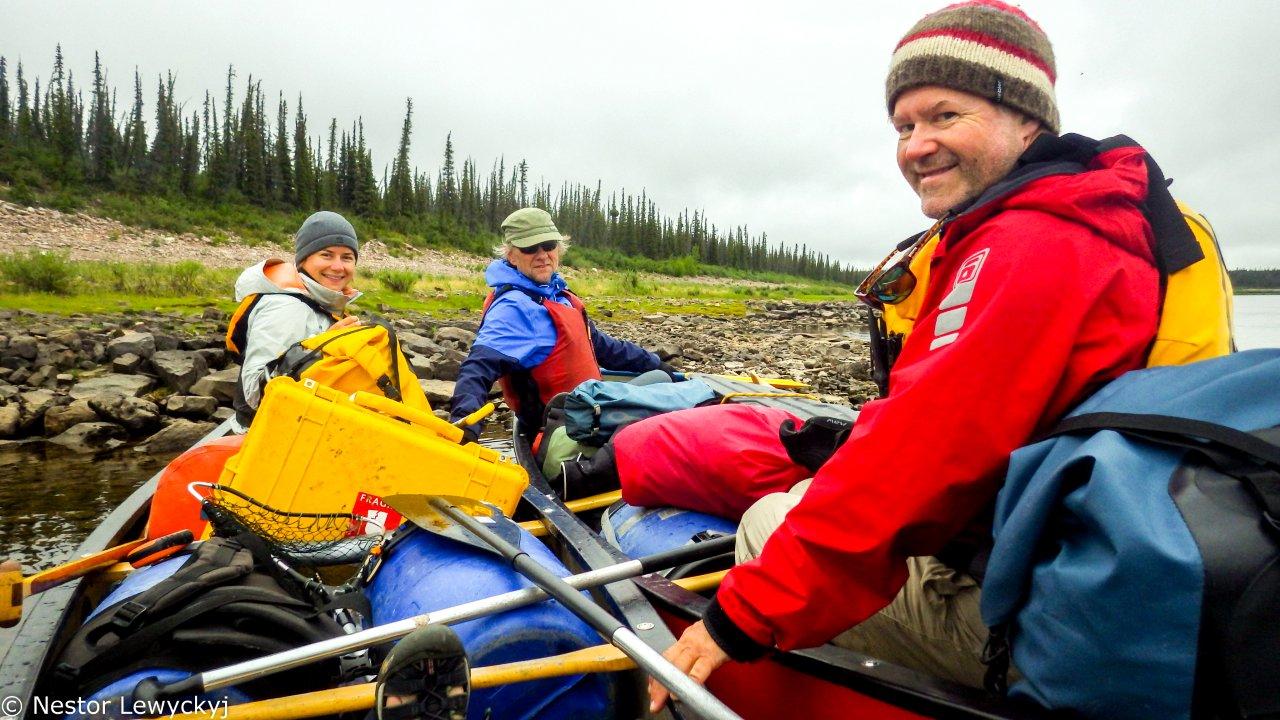 Although it was still cold, the wind had died down appreciably by morning so we were able to set out the next day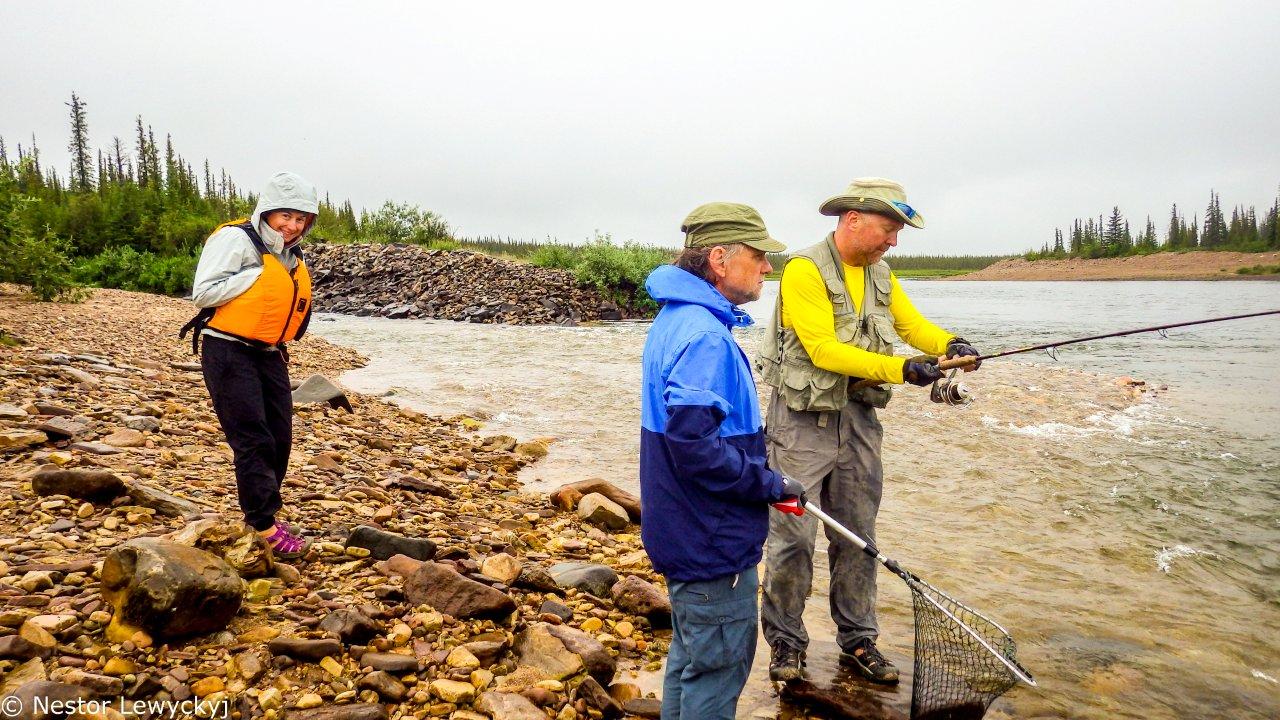 This is a very cool spot it is just a few kilometres downstream of Hornby Point. We made camp here back in 2004 and the river water levels were higher. We had encountered strong winds here and cold weather back then. But I remember the fishing was excellent. the Arctic Grayling spawn and live in the smaller streams, like the one feeding into the Thelon River. Its like the predator fish have staked out their territories. In the eddy to the left of where the stream enters the river, sit the pike. To the right, where the current is stronger, sit the lake trout and both are waiting for grayling to make it downstream so they can feed. I tested out this theory and was proven right. We did not want any pike, though. We wanted lake trout for dinner.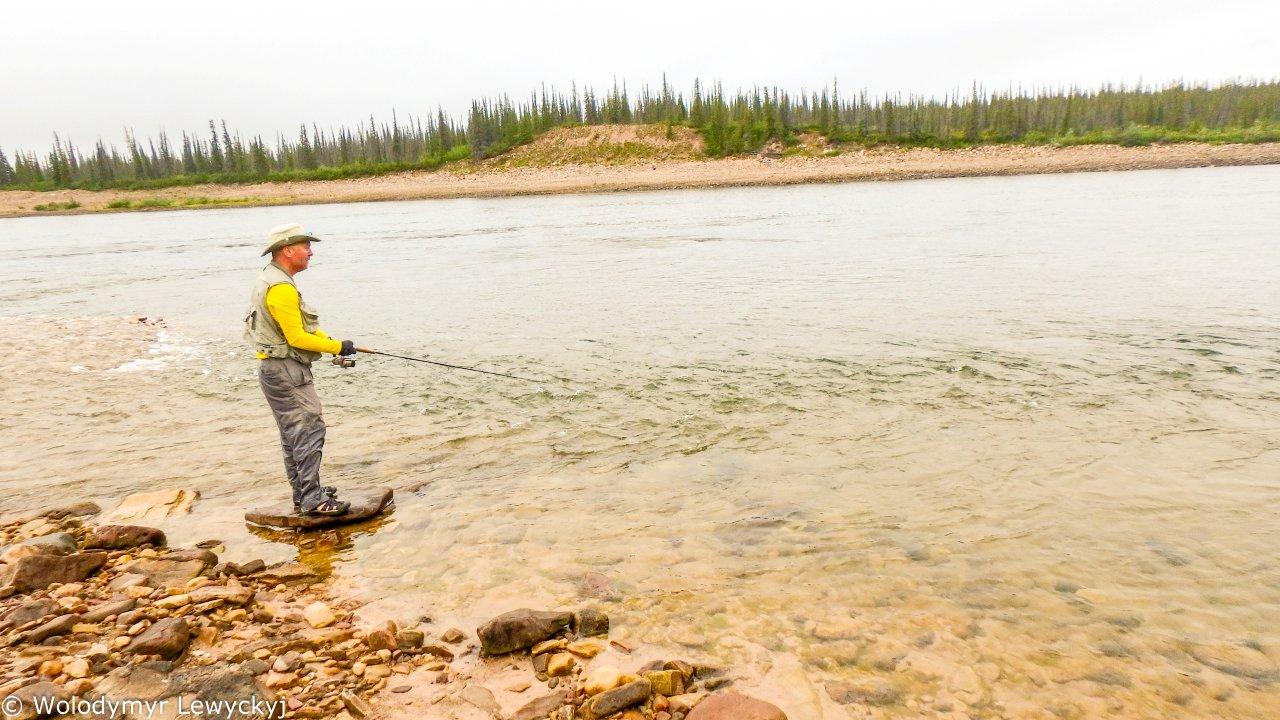 It is a lot of fun casting into the current. I was using a #5 Blue Fox spinner on a 20lb test braided line, plenty strong enough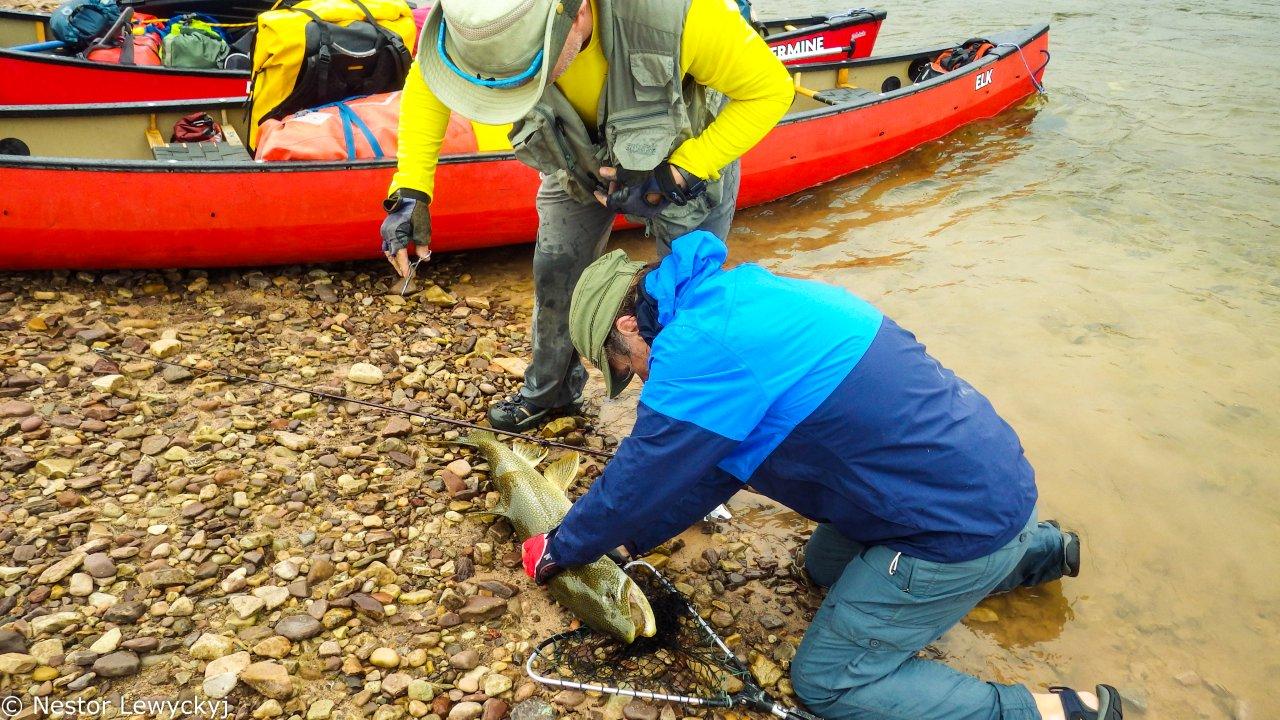 And lake trout it was!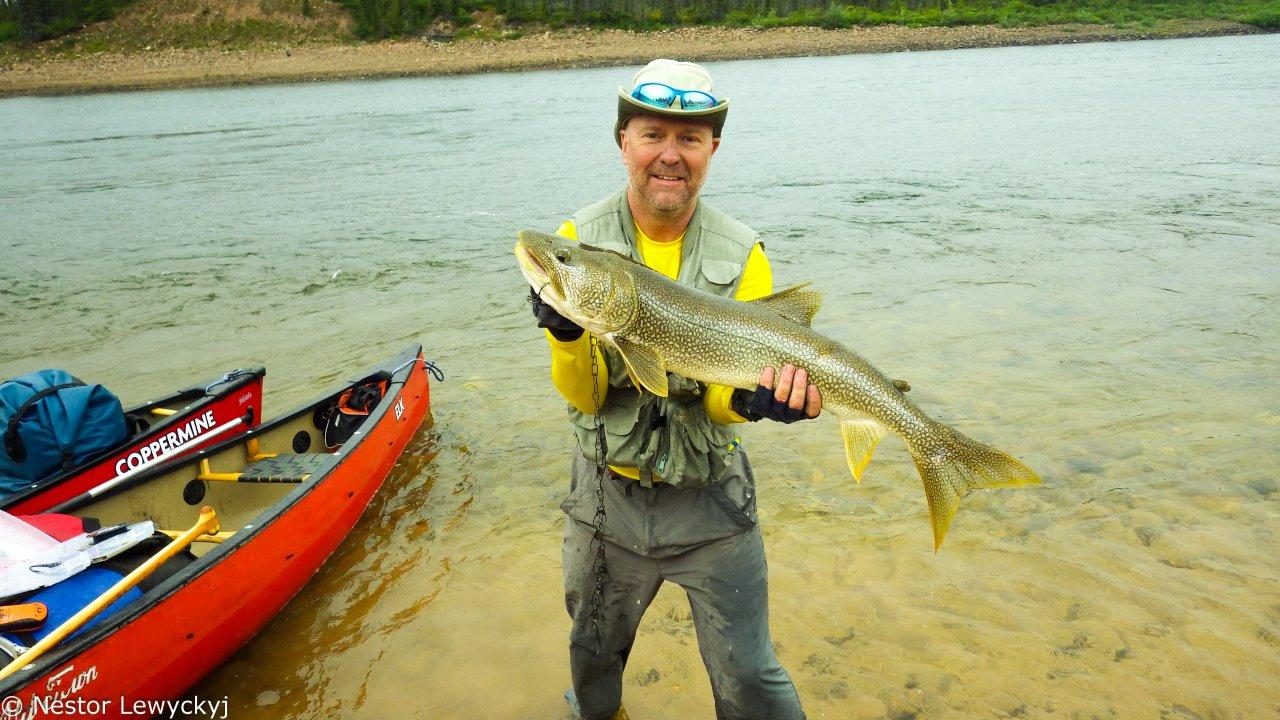 A beauty, at about 10-11 pounds. I do not know exactly because we did not weigh it. but this is not the end of the story. As you can see in the photo, I attached my chain to the trout and I then attached the chain to the rope loop at the back of the canoe, to keep the trout alive until dinner. Wolodymyr took one look at the set up and warned me the chain was too weak, and the trout would break free. "Rubbish", I said. Sure enough, 30 seconds after tying him up he did a run and simply bent the metal hook in his mouth and he was gone. But as a testament to how good the fishing is at this spot, I caught another lake trout, just a bit smaller weighing at just under 10 pounds only a few minutes later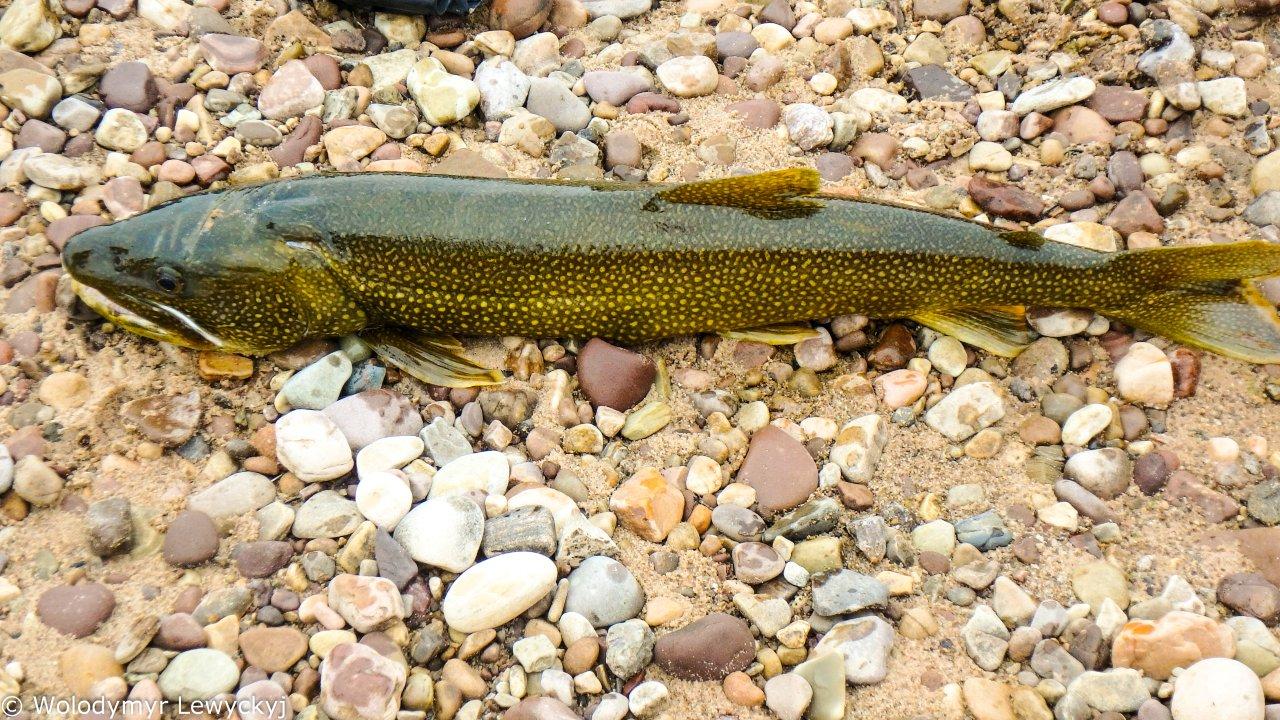 Lake trout in the Thelon look very similar to pike in the water because they are such a dark green colour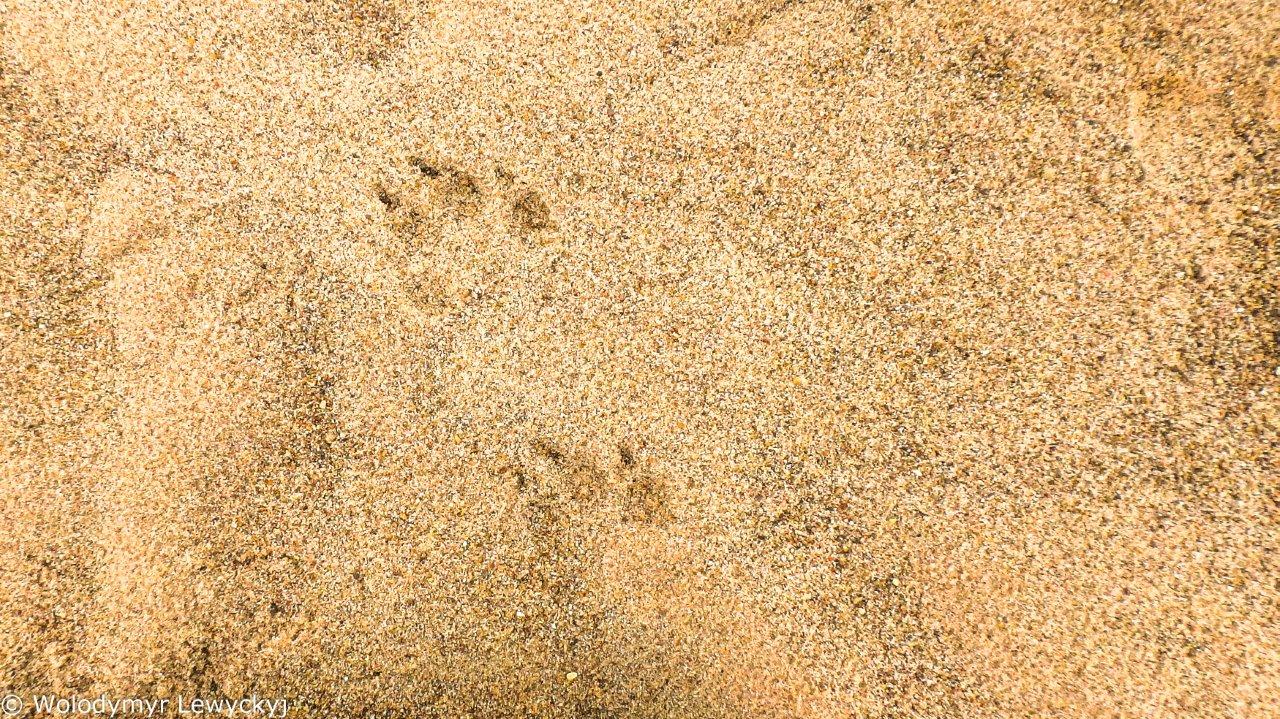 More wolf tracks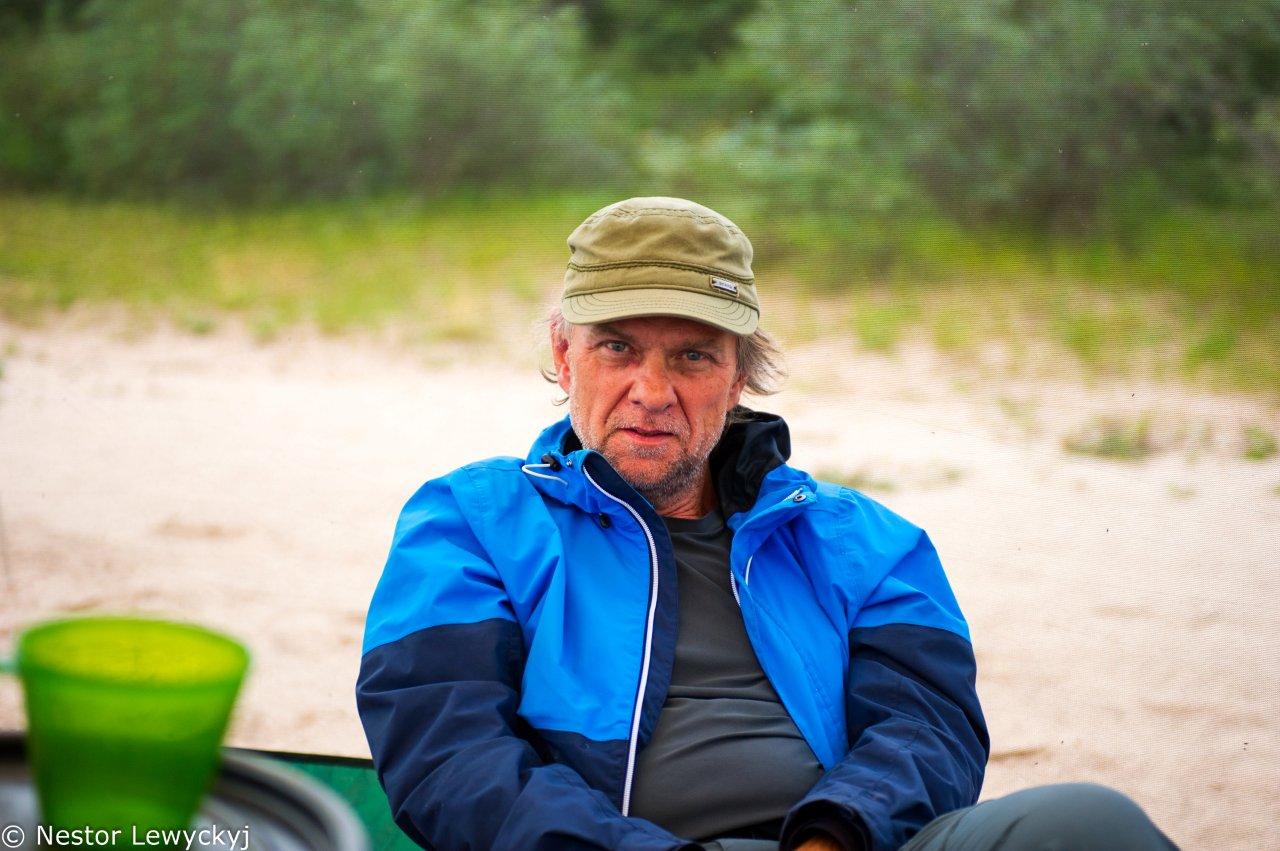 Barrens fever?
Roman was in good spirits the entire trip. Once you get that much experience being out there, you start appreciating the trip in its entirety. You are less enthralled by each moment and more content with it as a whole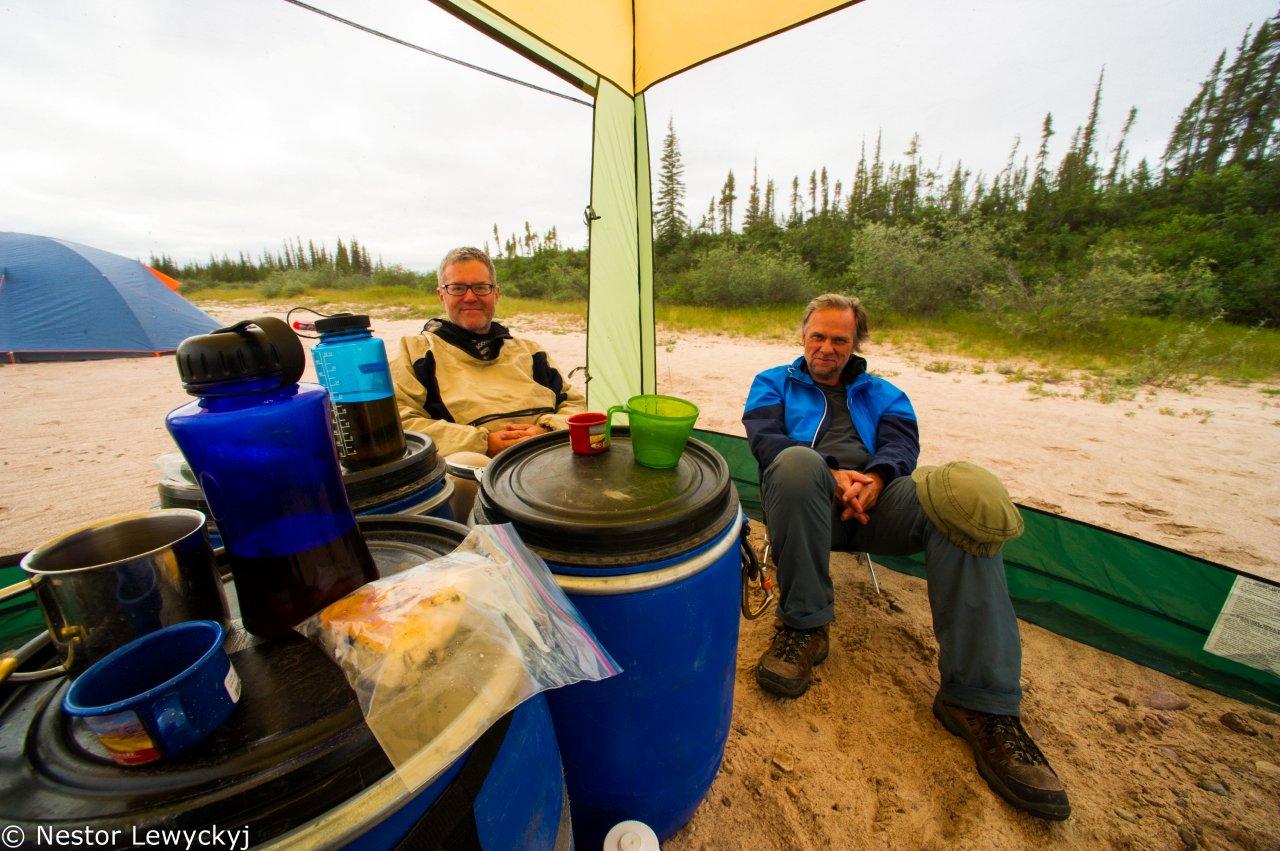 We spent a lot of time in the bug tent
Collecting firewood so that we could roast the lake trout fillets in foil in the coals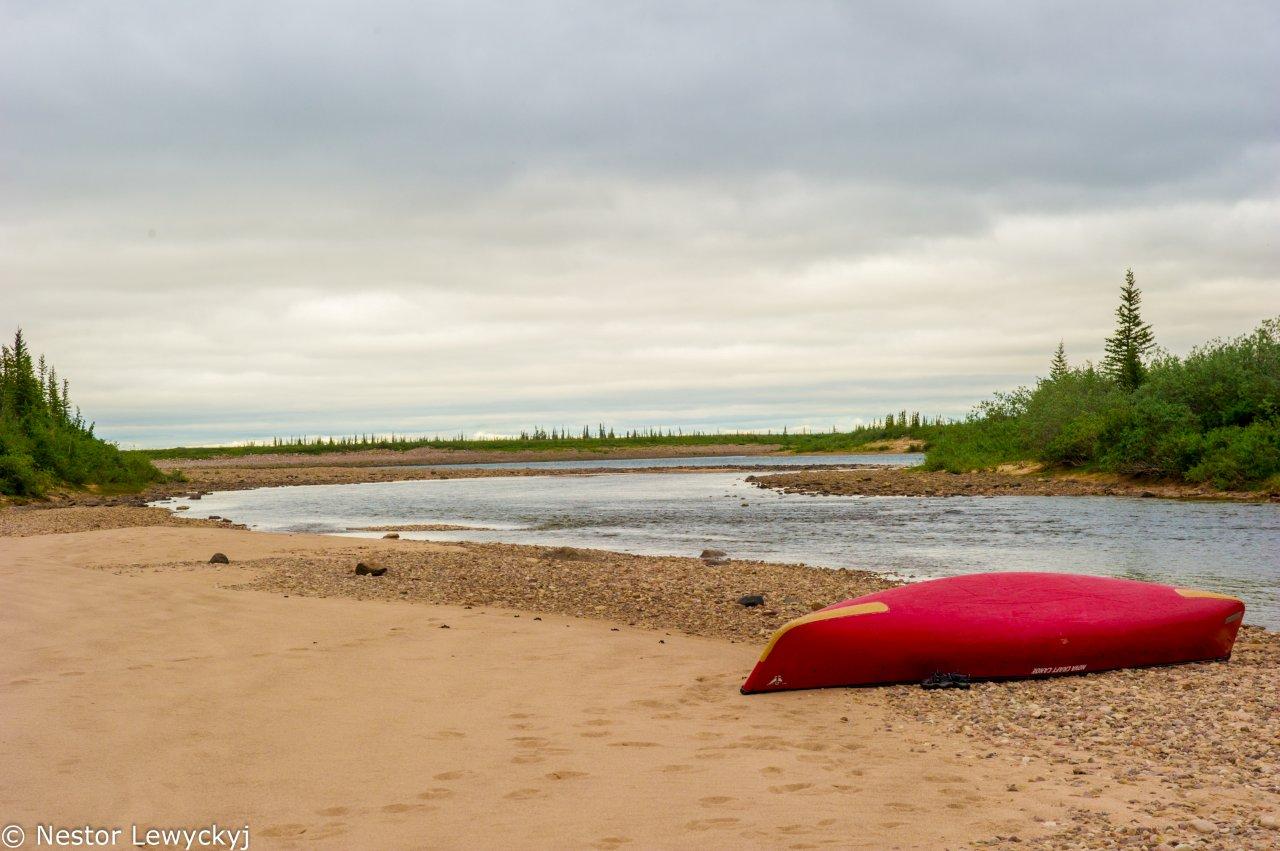 A nice place to camp, just up a river that was feeding the Thelon. We camped just around the corner to the left back in 2004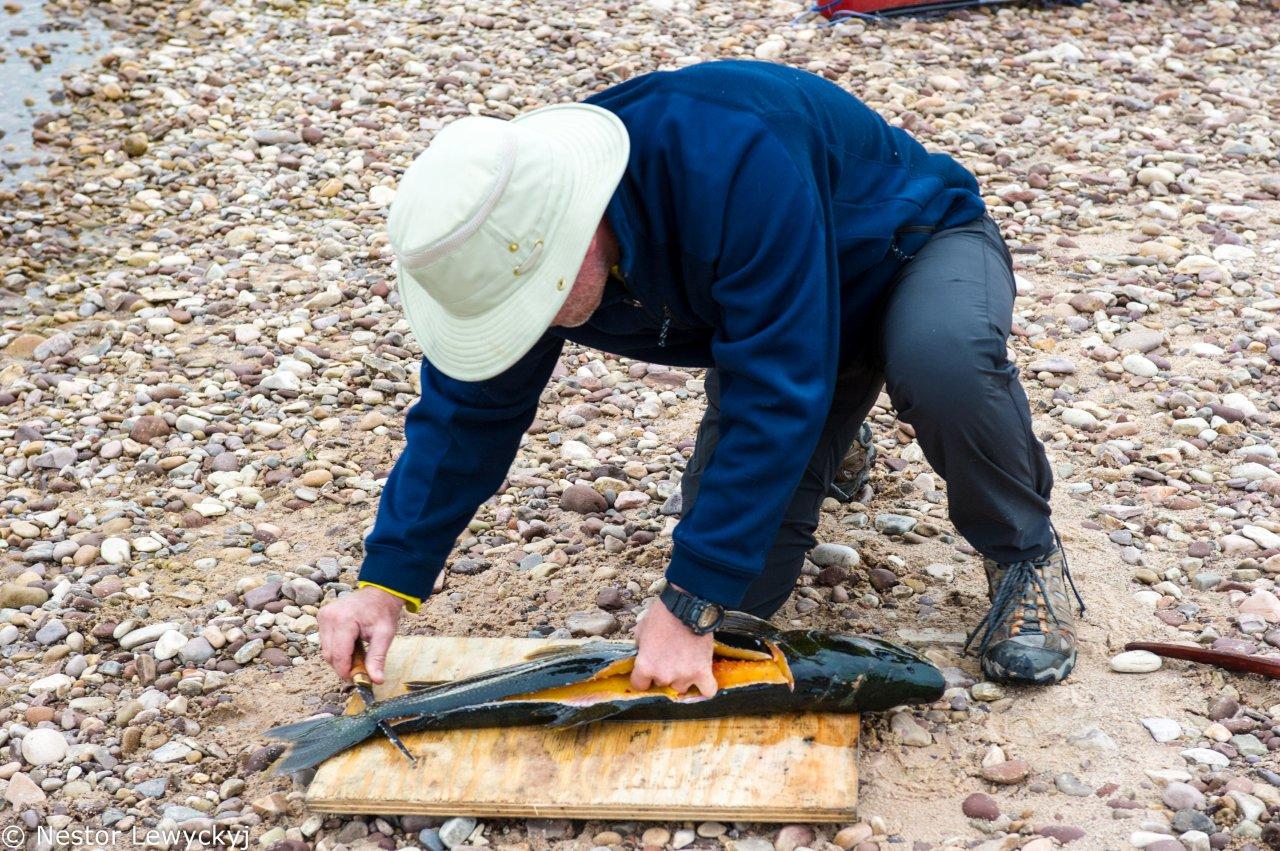 I am not an experienced fish dresser, but a large lake trout is not difficult to fillet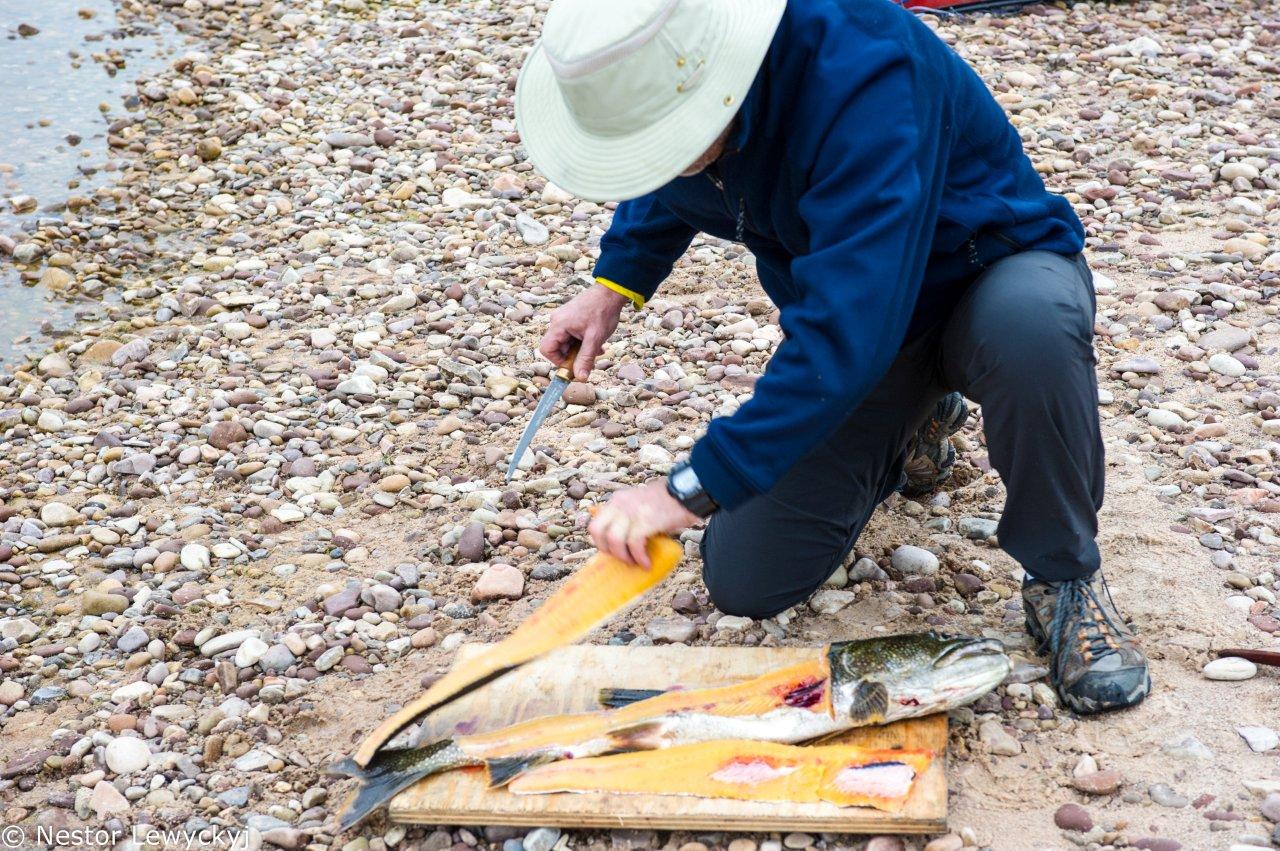 But check out the colour of the meat!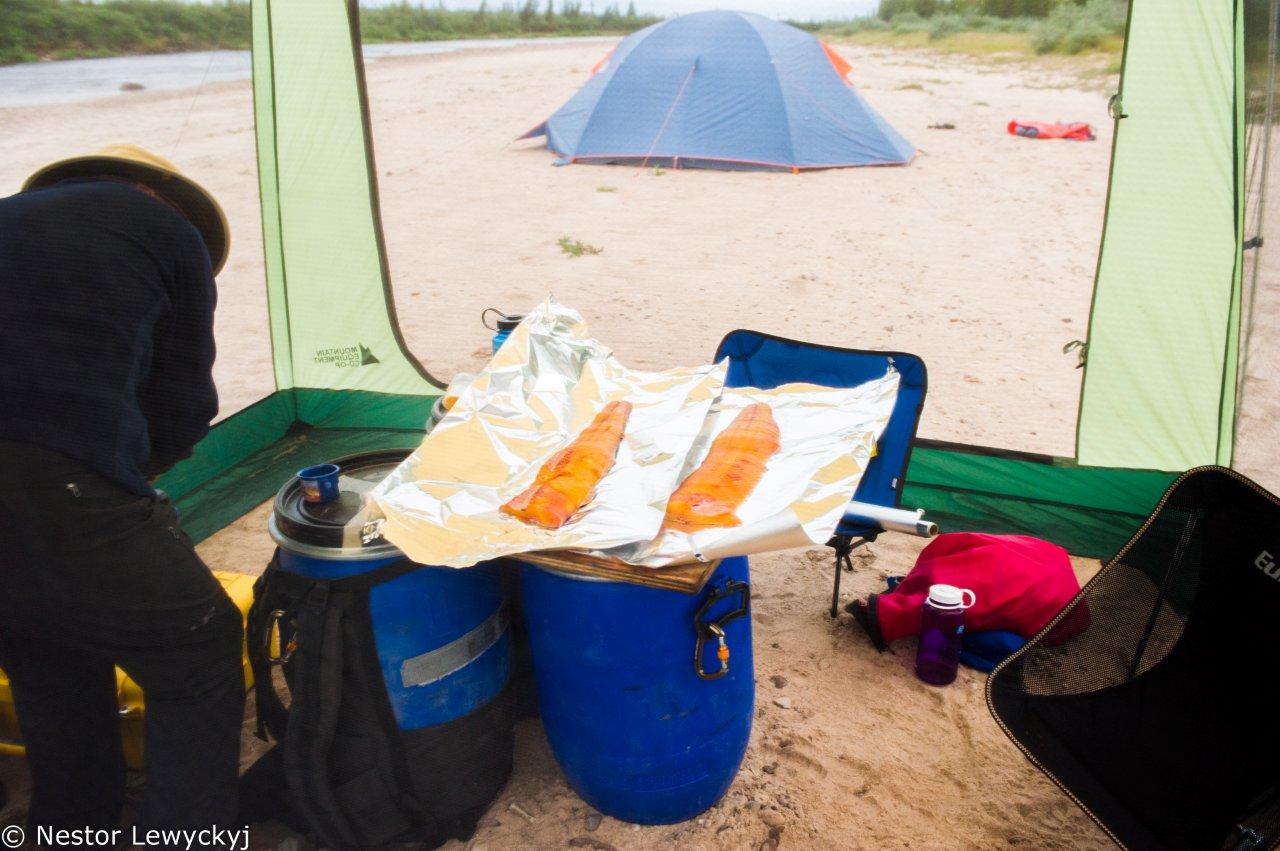 The lake trout yield two large fillets which we roasted in the coals separately. It was our best meal of the trip, I think (ok, maybe second to the steaks)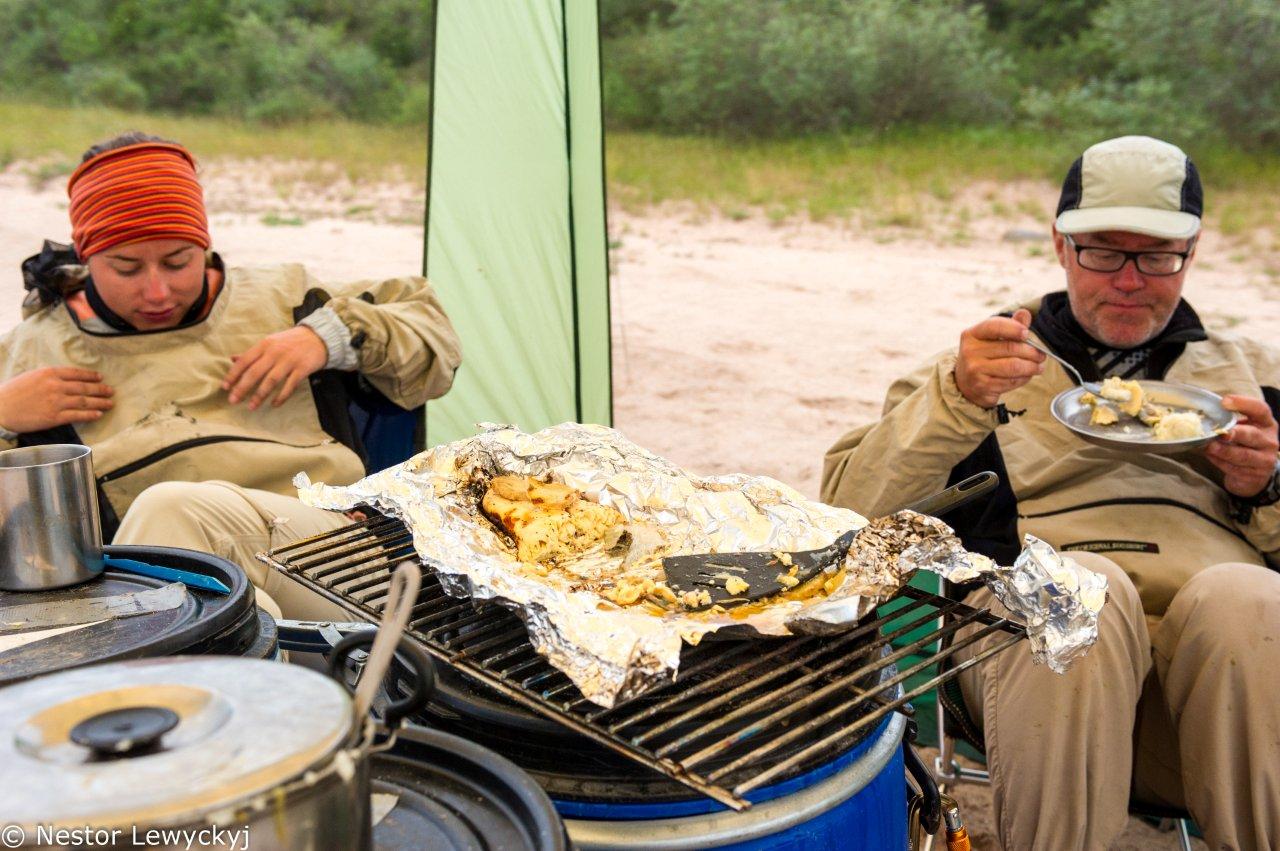 We made sure there was nothing left over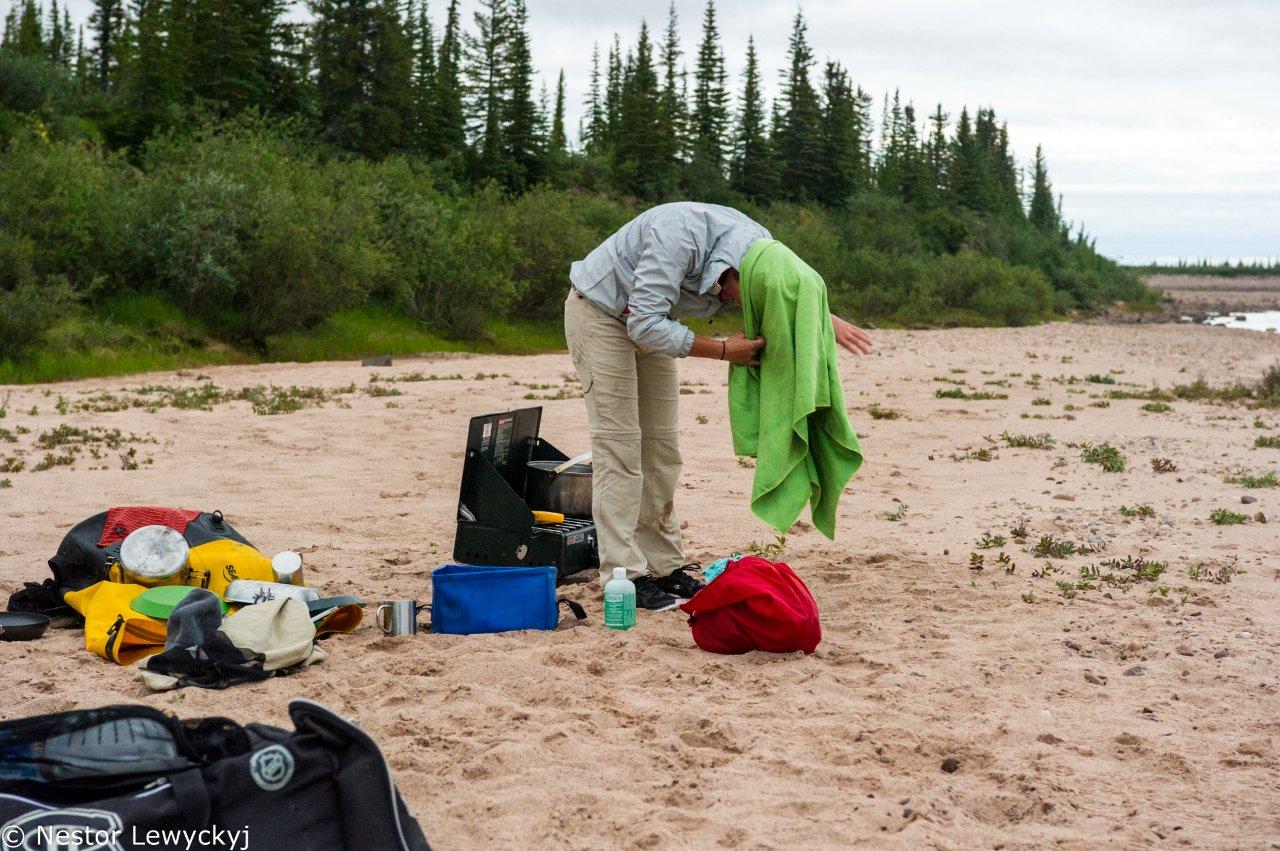 Two weeks is a long time, so some caring about personal grooming becomes essential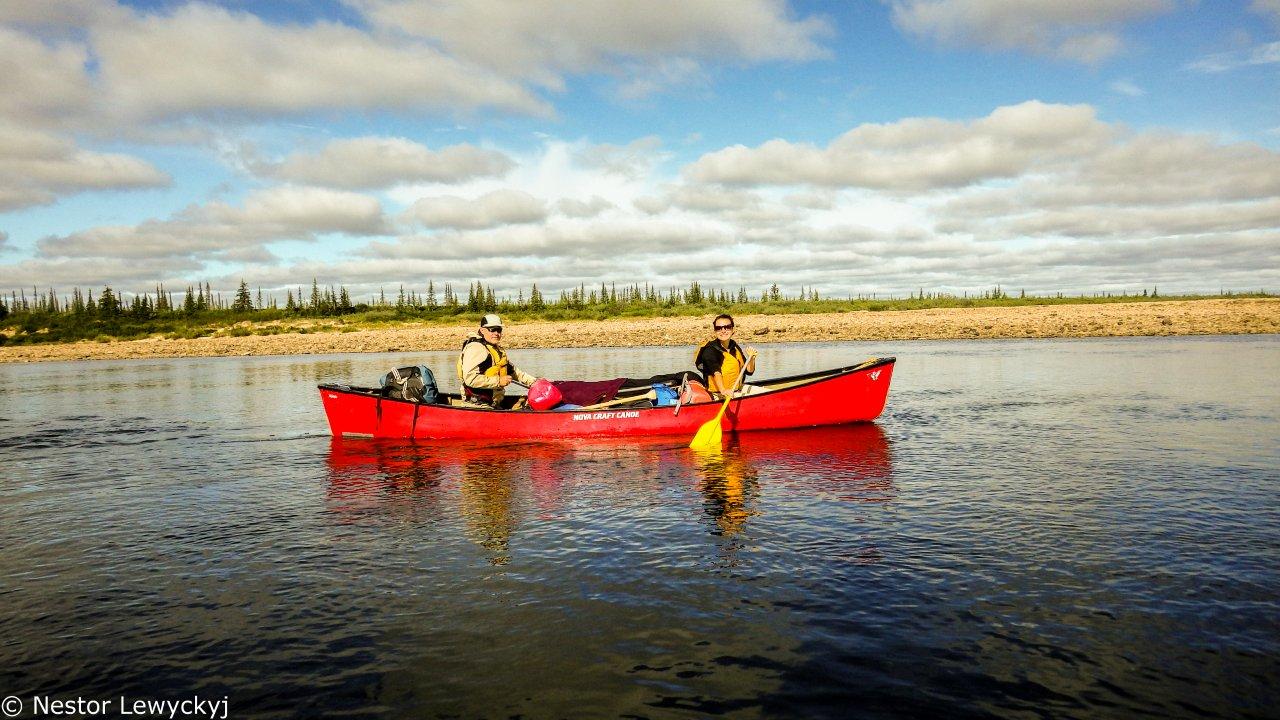 Father daughter team extrordinare!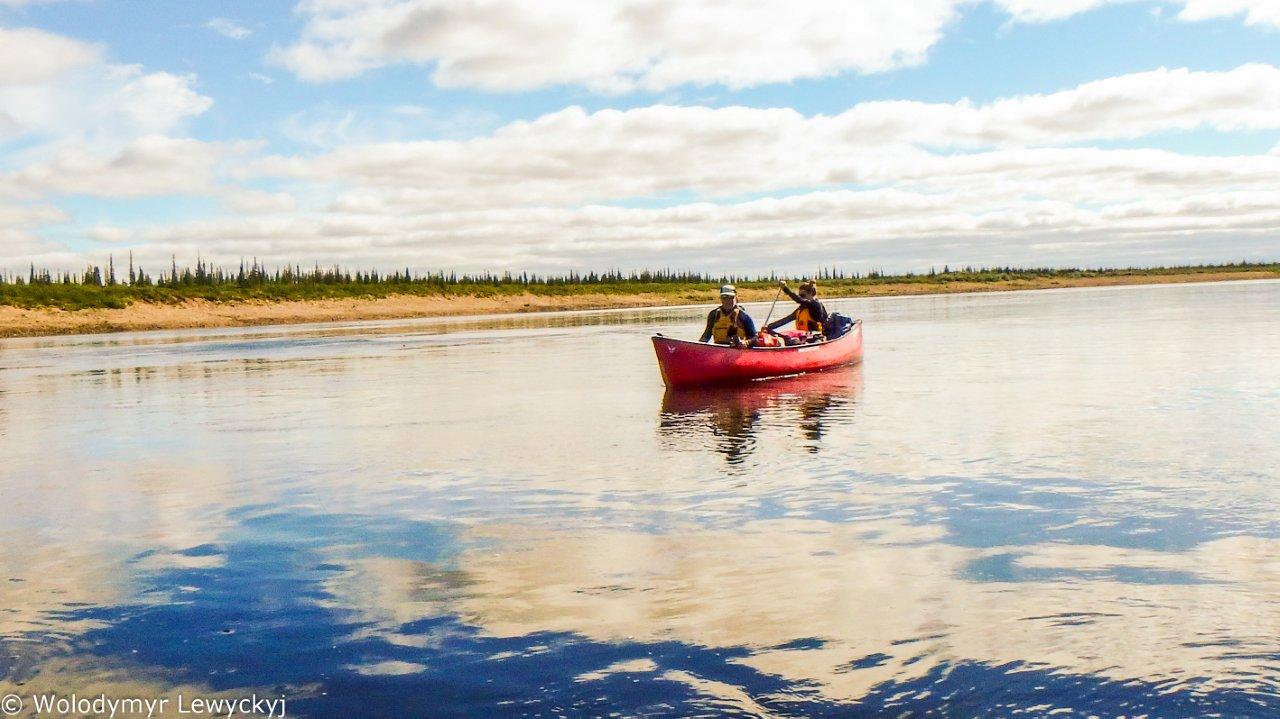 A poster shot of Roman and Sarah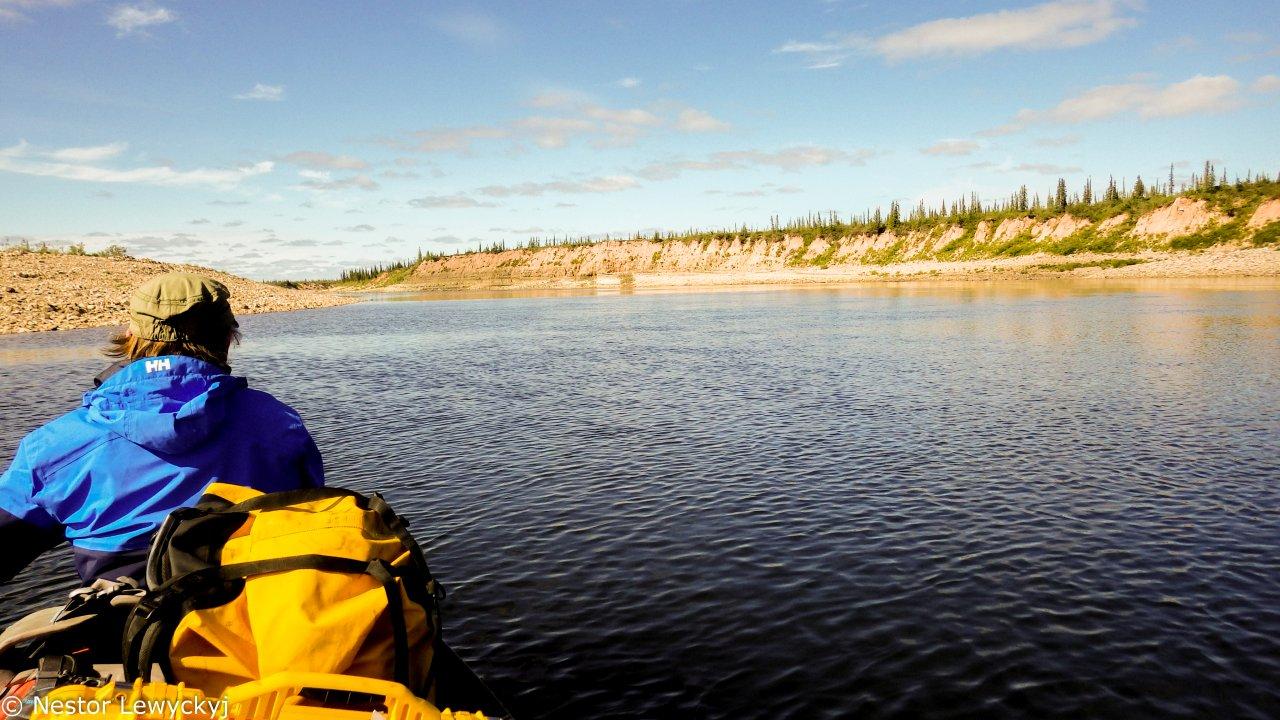 This part of the Thelon River was very pretty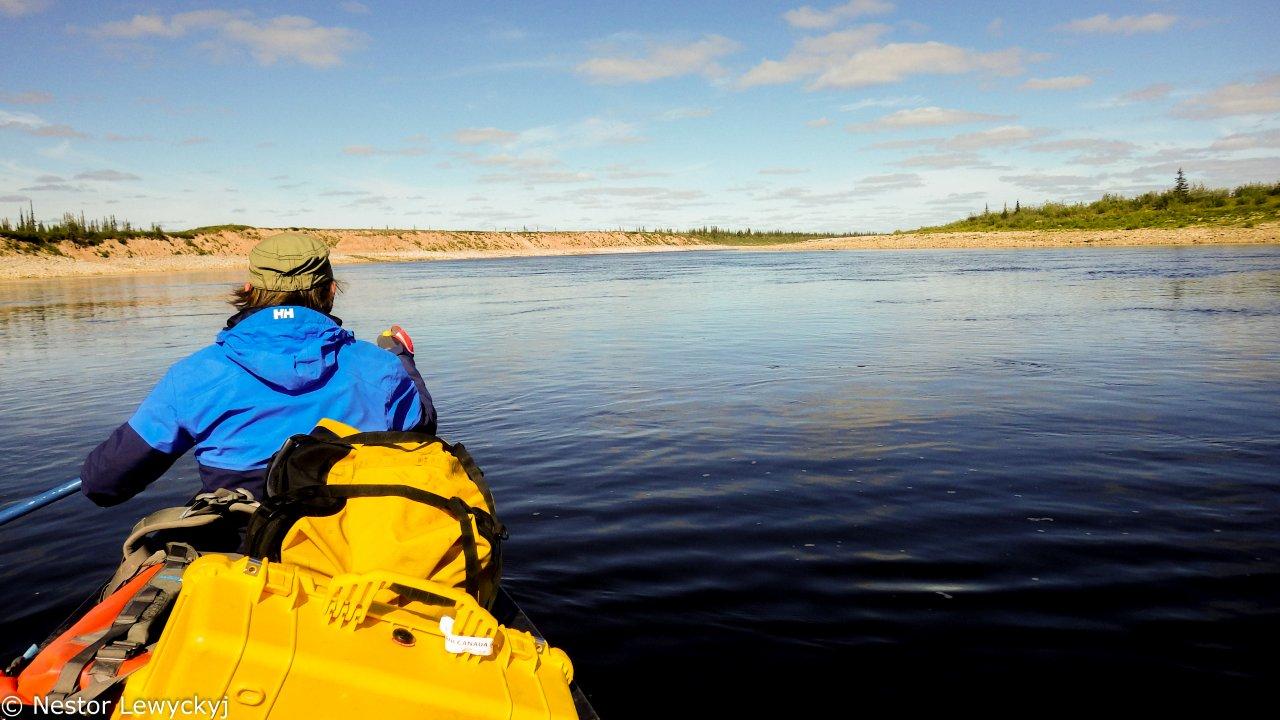 The banks would often rise on the outside of curves. You can just wonder what it looks like in the spring melt!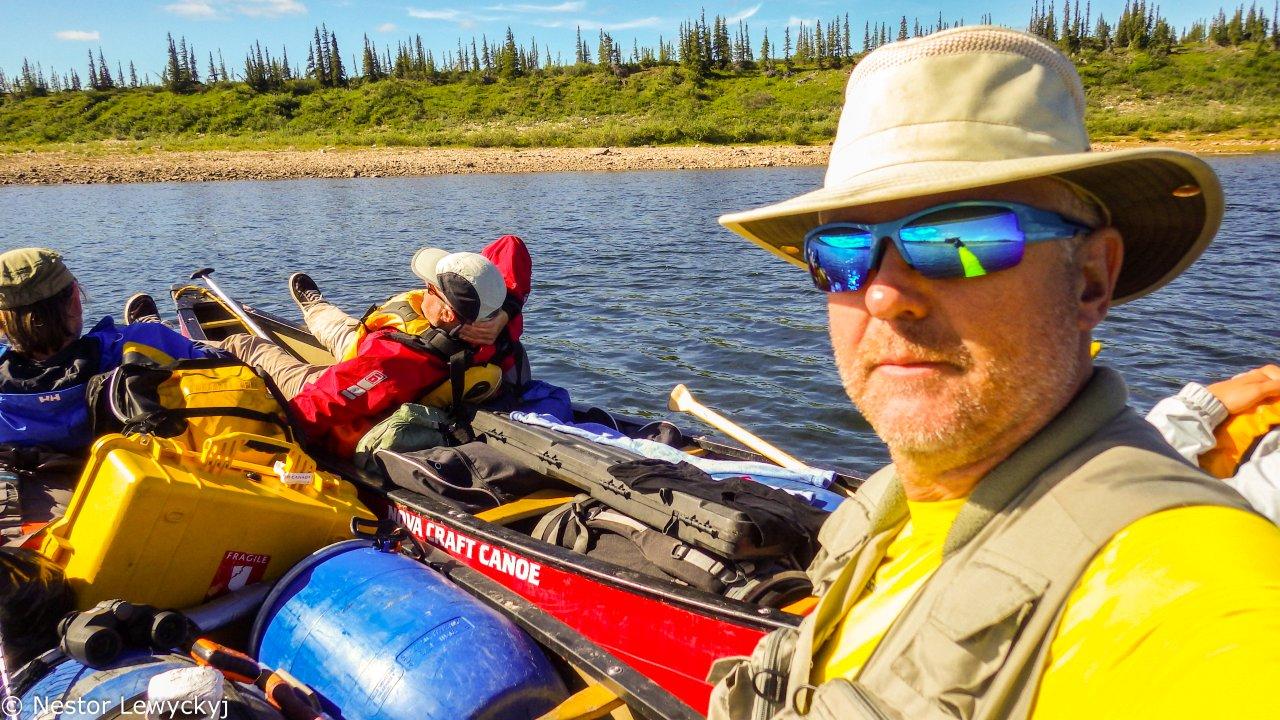 Chillaxing on the river....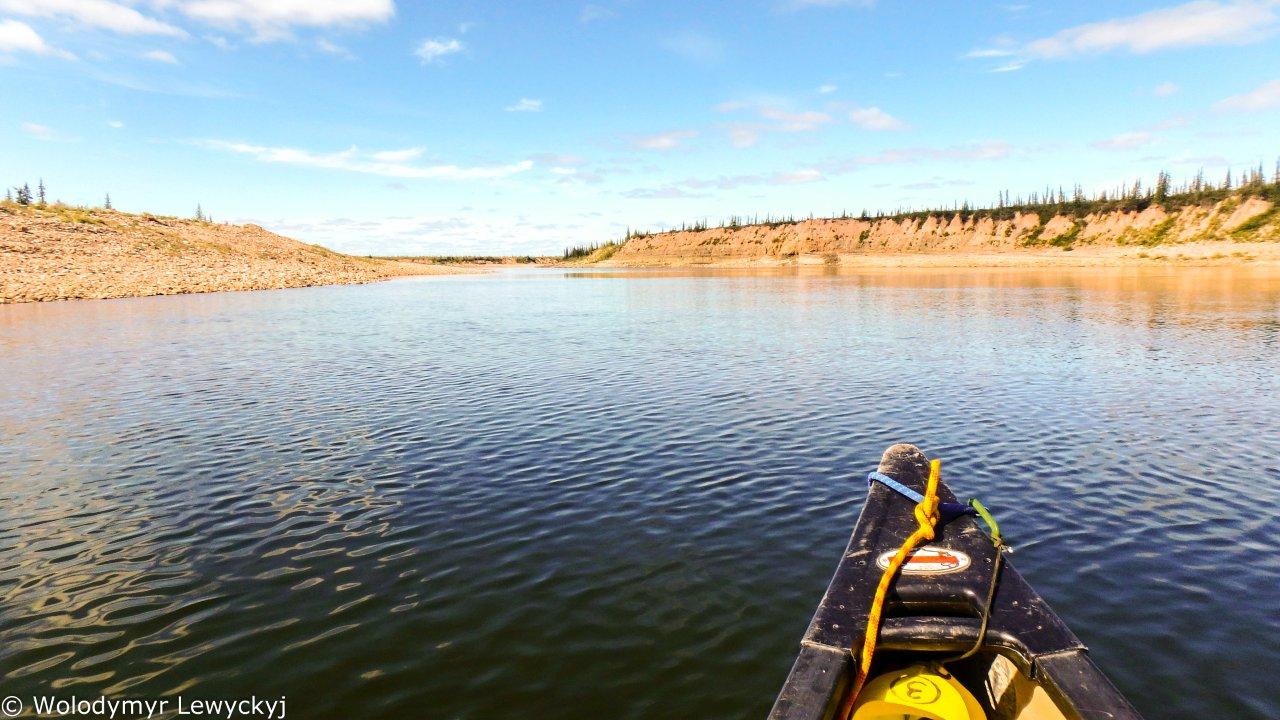 Ahhhhhhhh!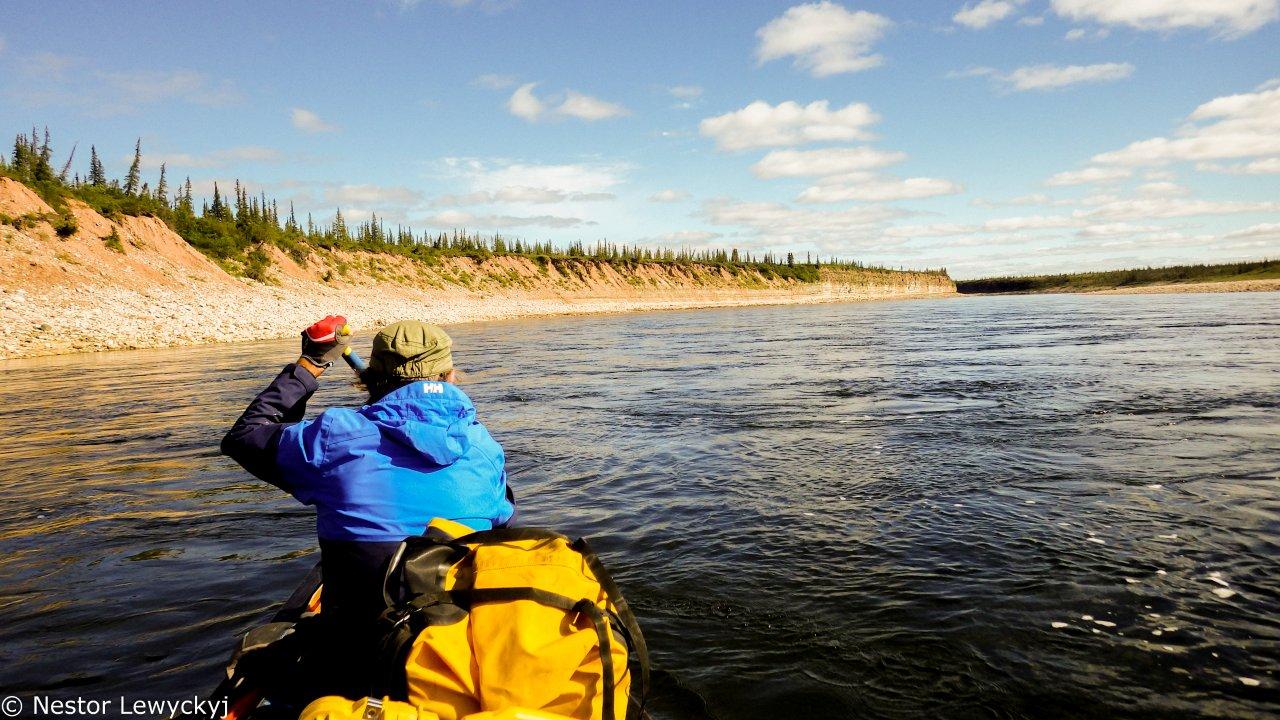 Although there are no rapids on this part of the Thelon, there are many swifts, which are fun, as they speed you downstream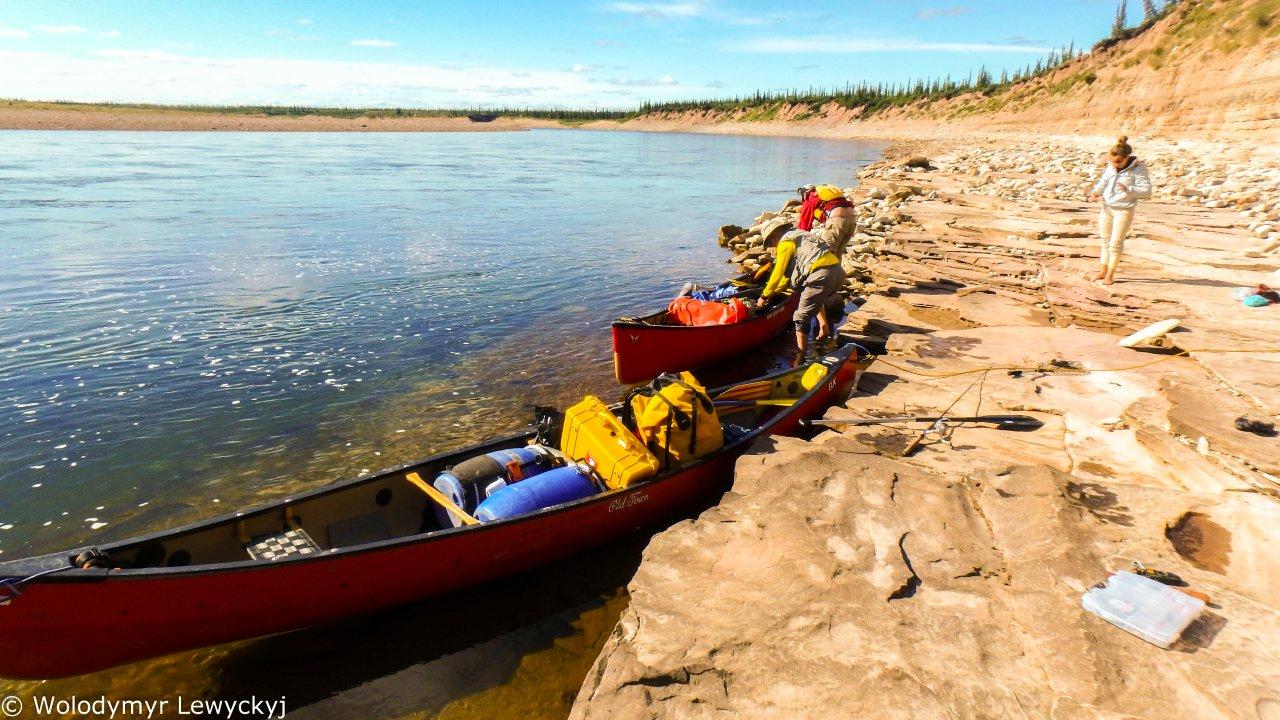 A beautiful sandstone shelf that gets uncovered late in summer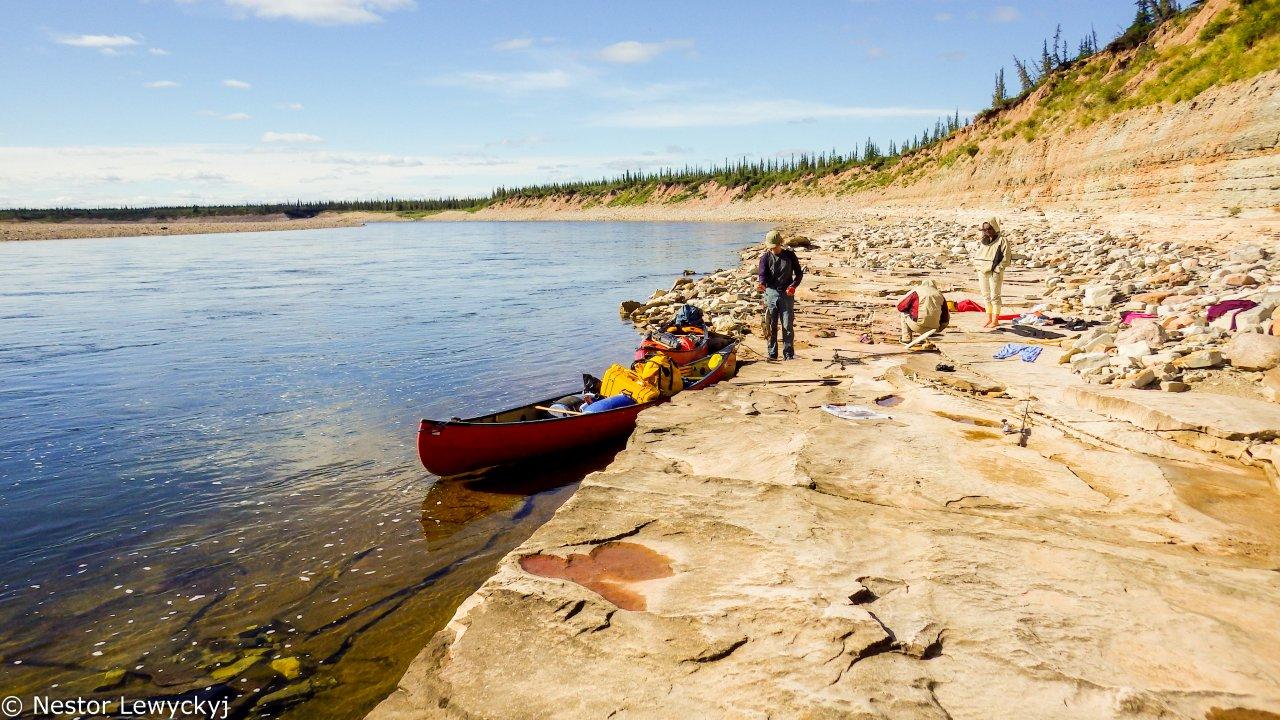 The grayling were jumping in this swift so we decided to get some for dinner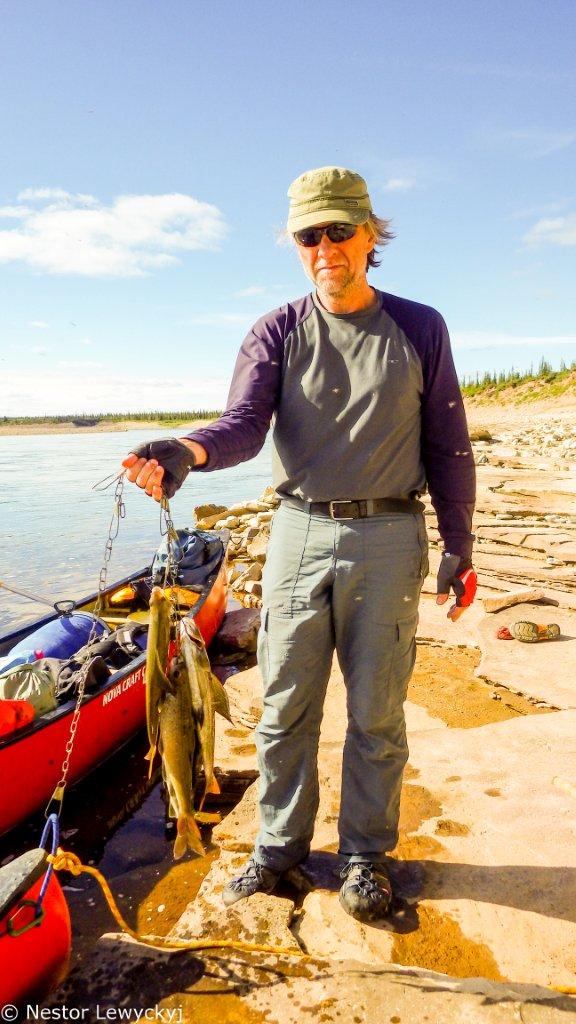 Wolodymyr did a great job getting dinner caught!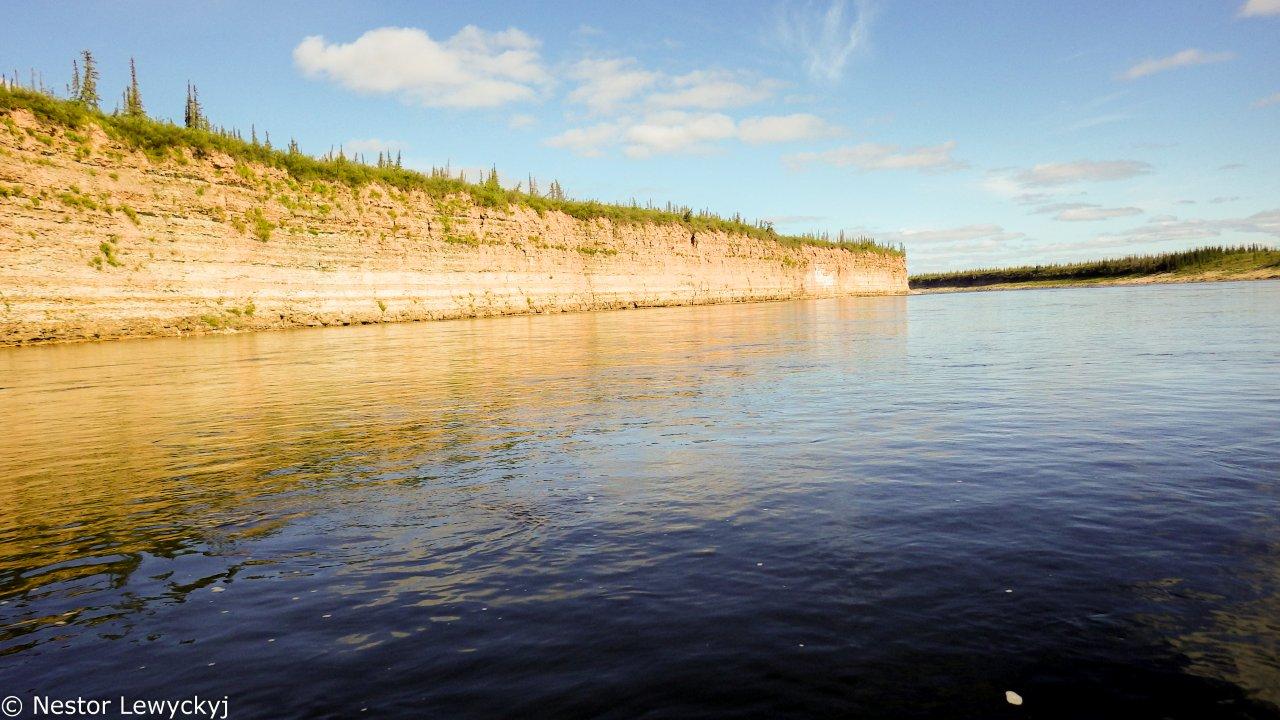 We had a lot of amazing scenes like this one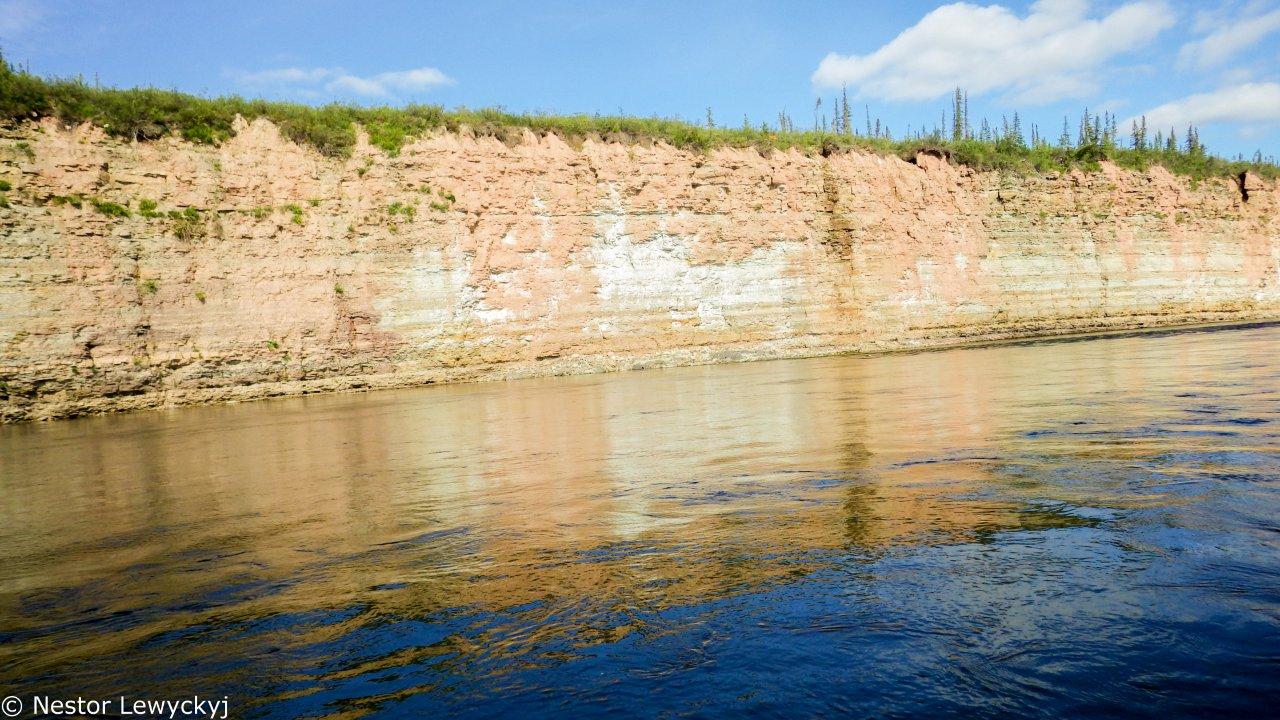 Its almost like Banksy was here!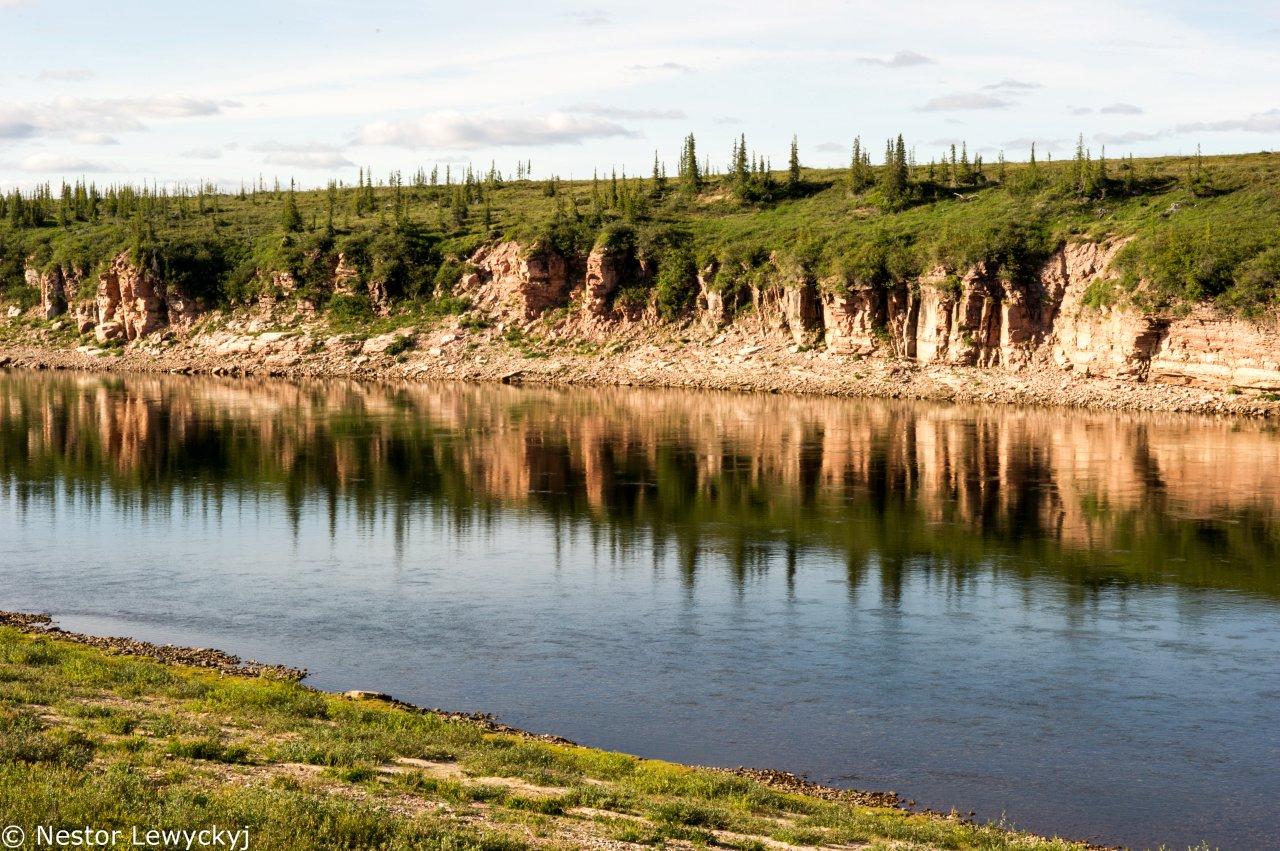 This was from our camp site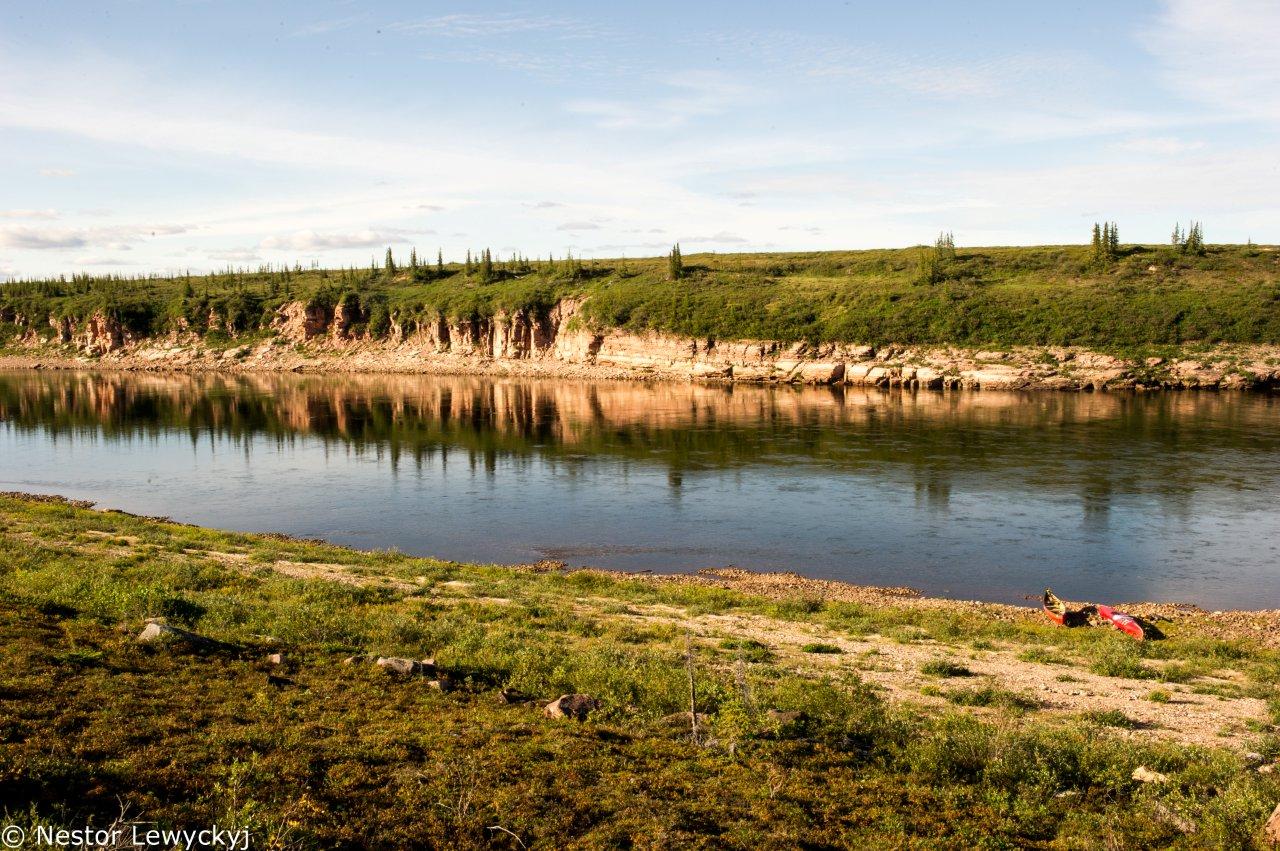 We did tie the canoes off later that evening!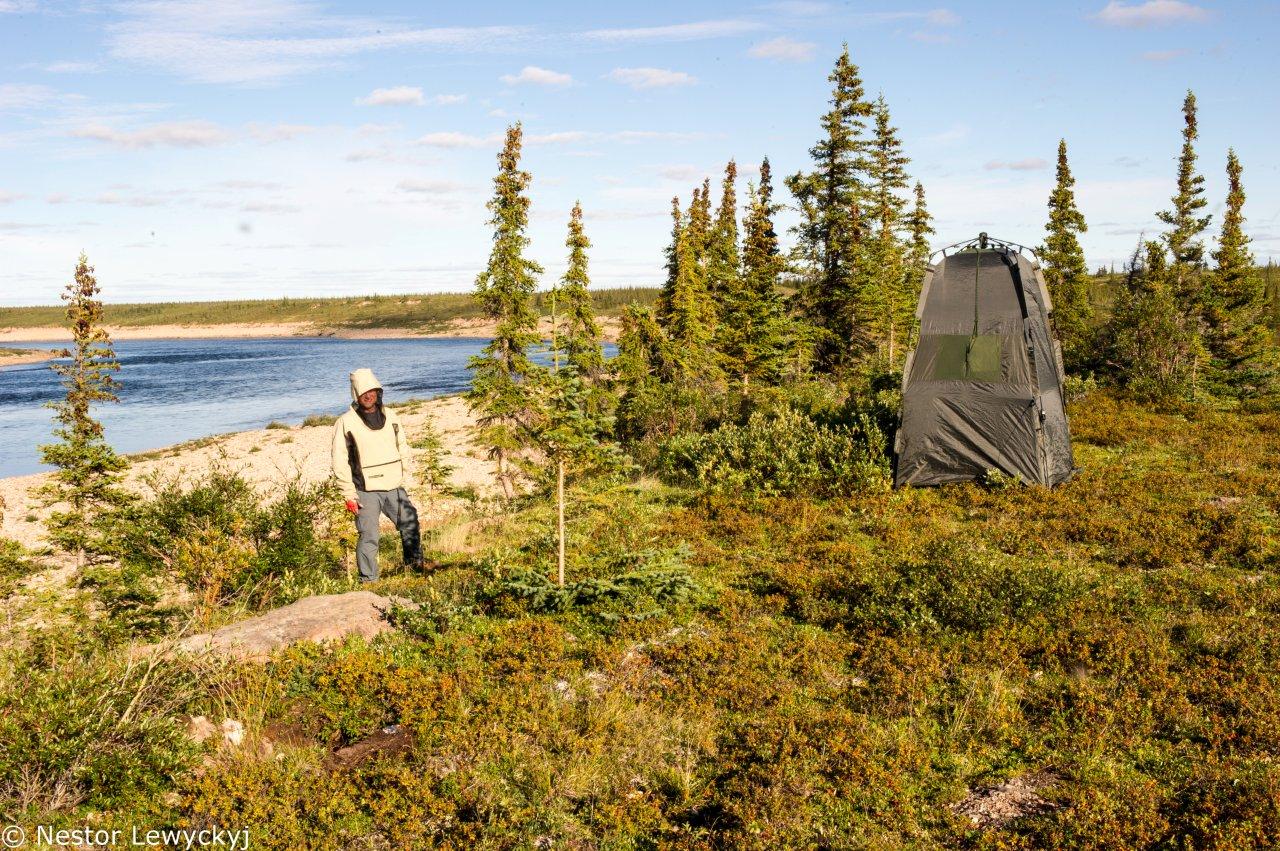 The ever practical toilet tent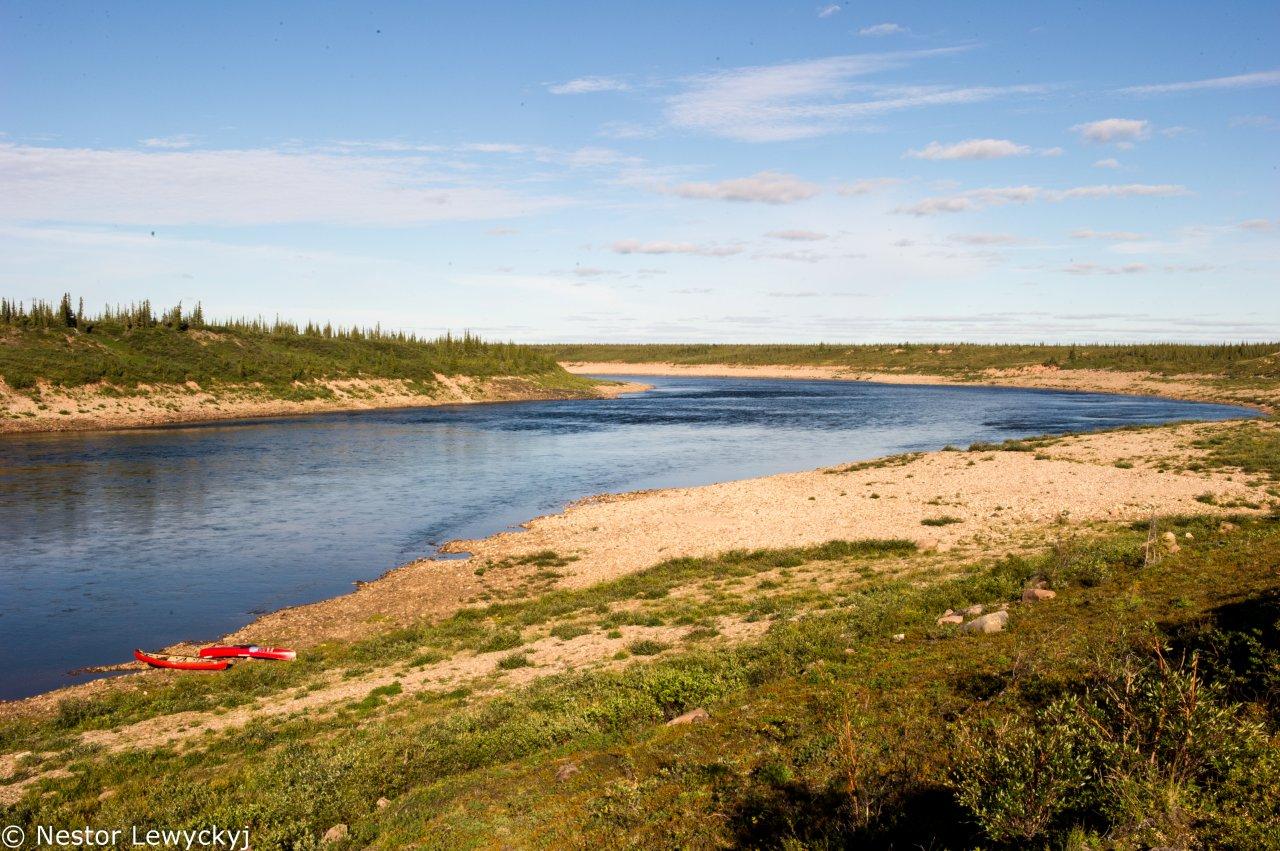 We had some gorgeous evenings on the river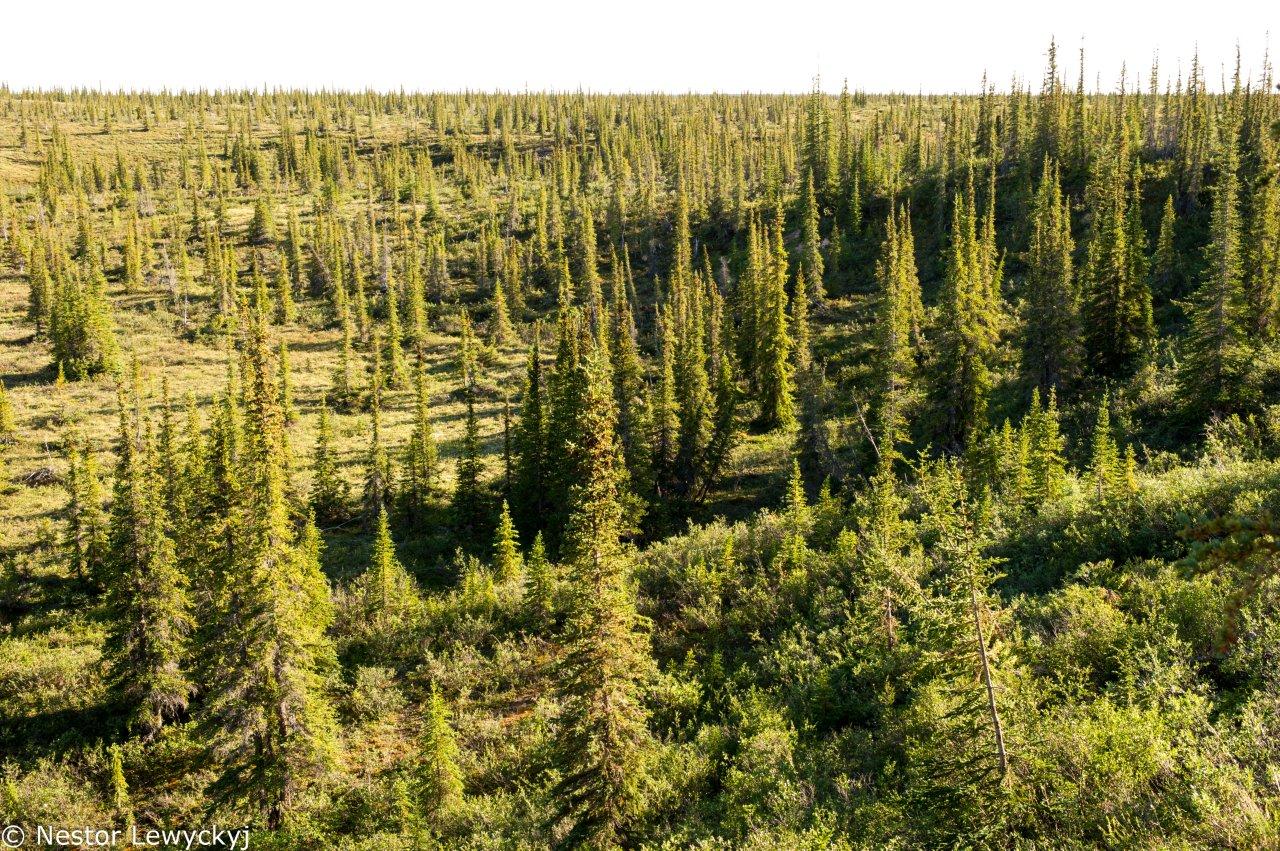 This is as big as the forest gets up here. In fact, away from the river, there are really no trees. The Thelon River is called a Forest oasis because its waters melt the permafrost deep enough that a forest can take root, way north of the official tree line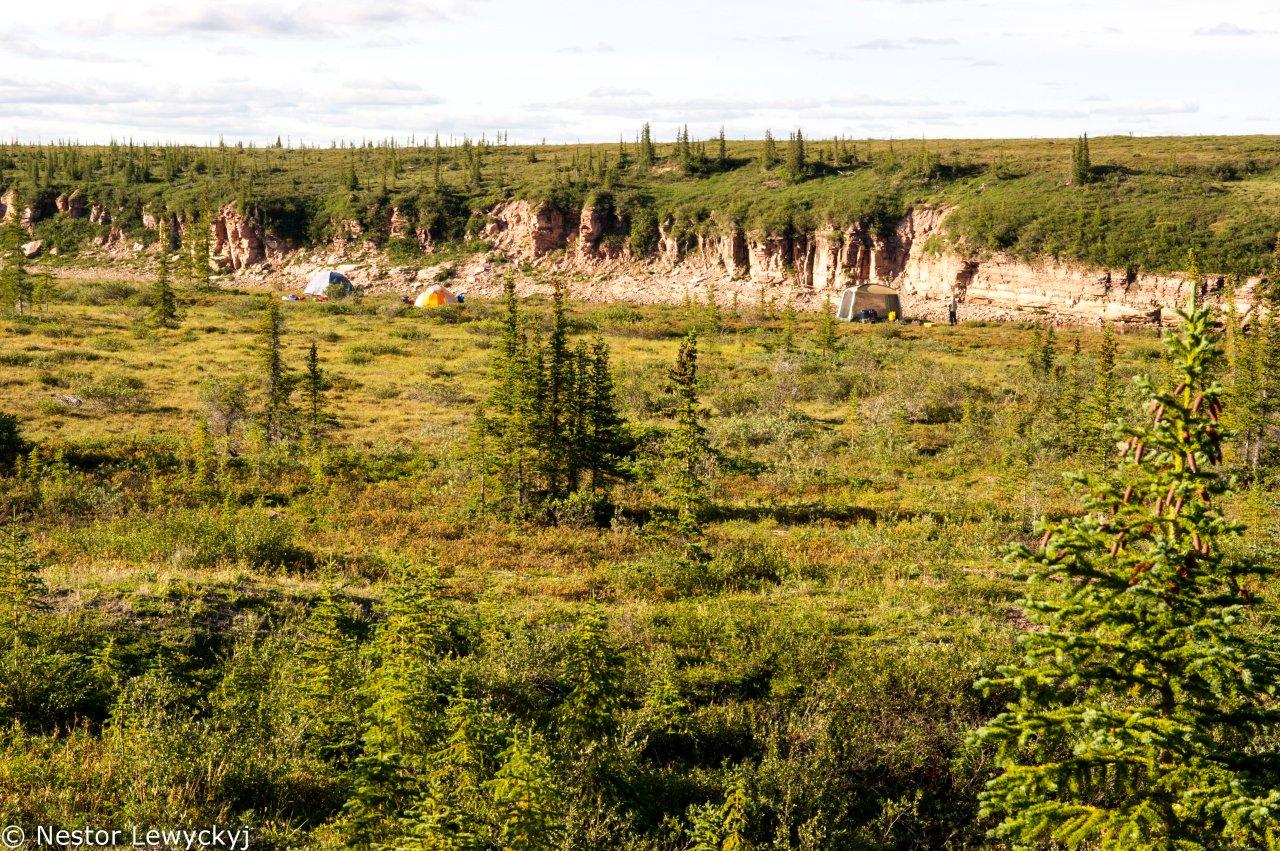 It was a wonderful place to make camp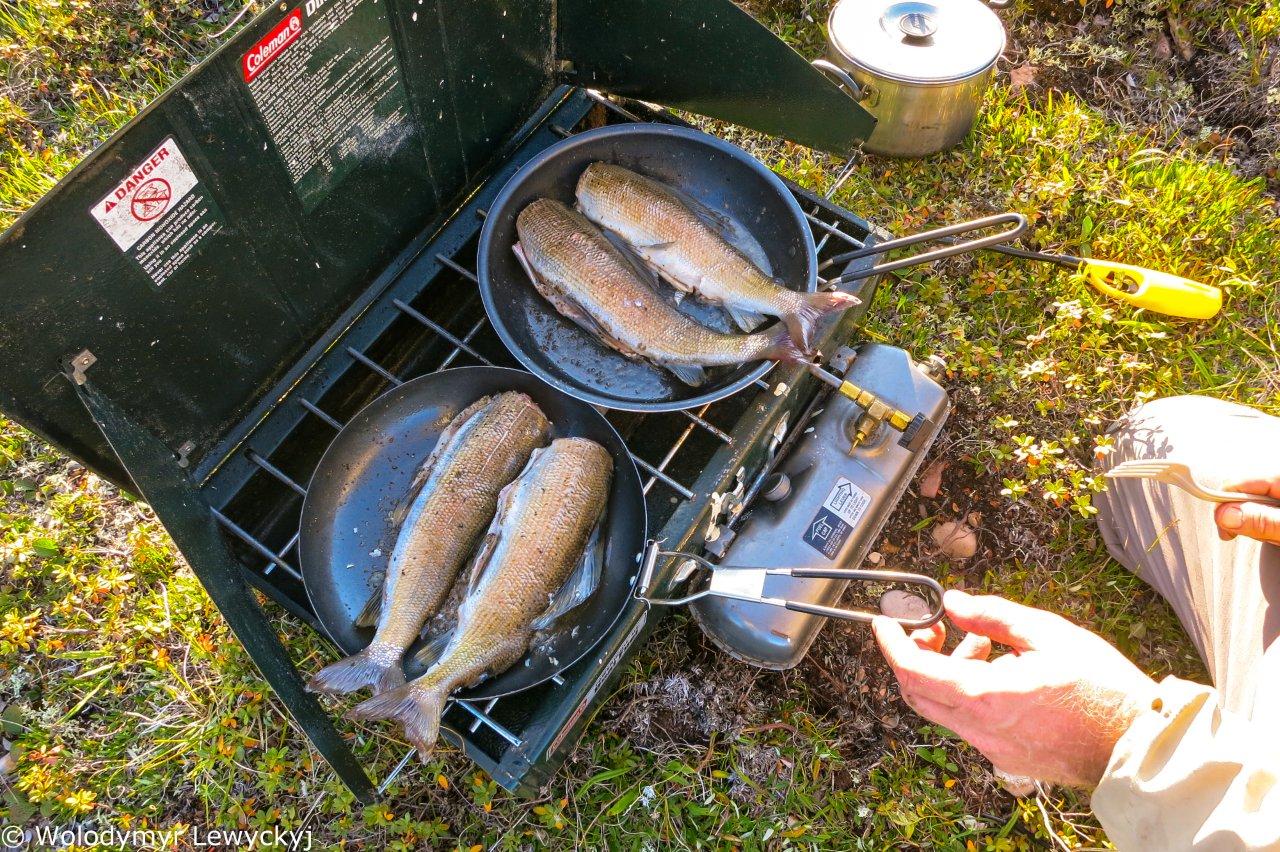 Four Arctic Grayling frying, one for each of us!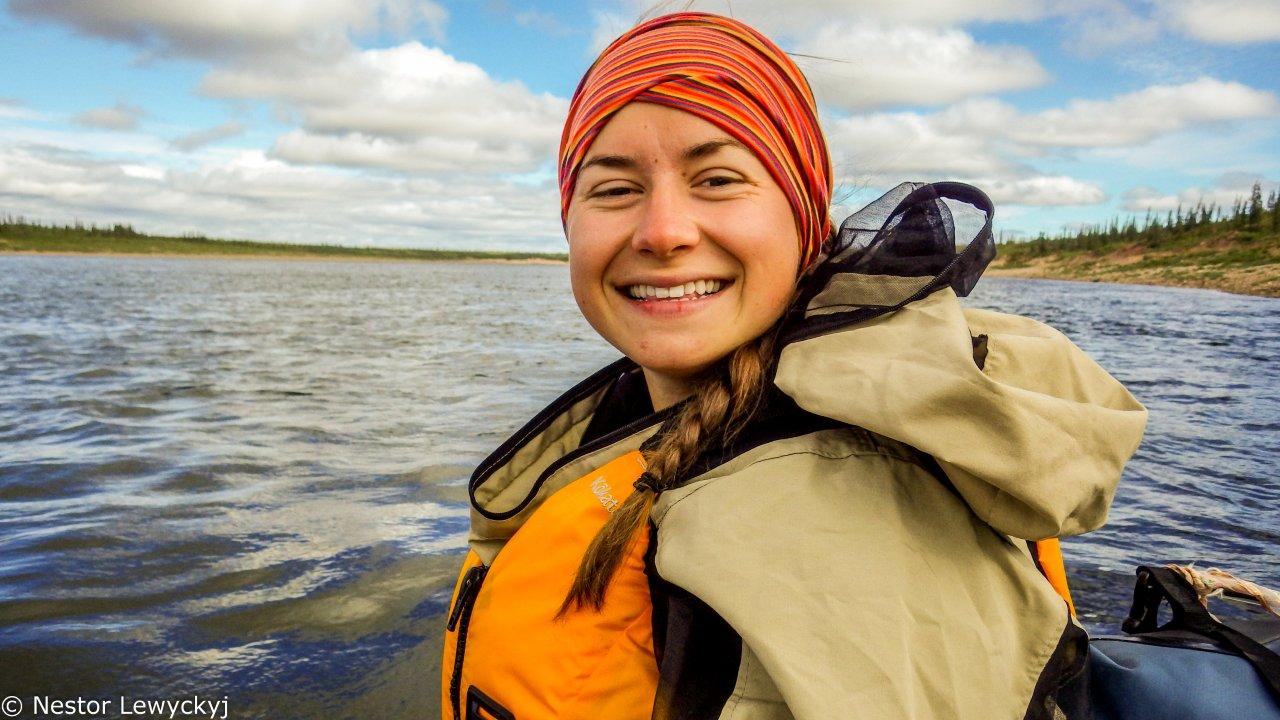 Sarah was always good humoured. She was a very warm part of the team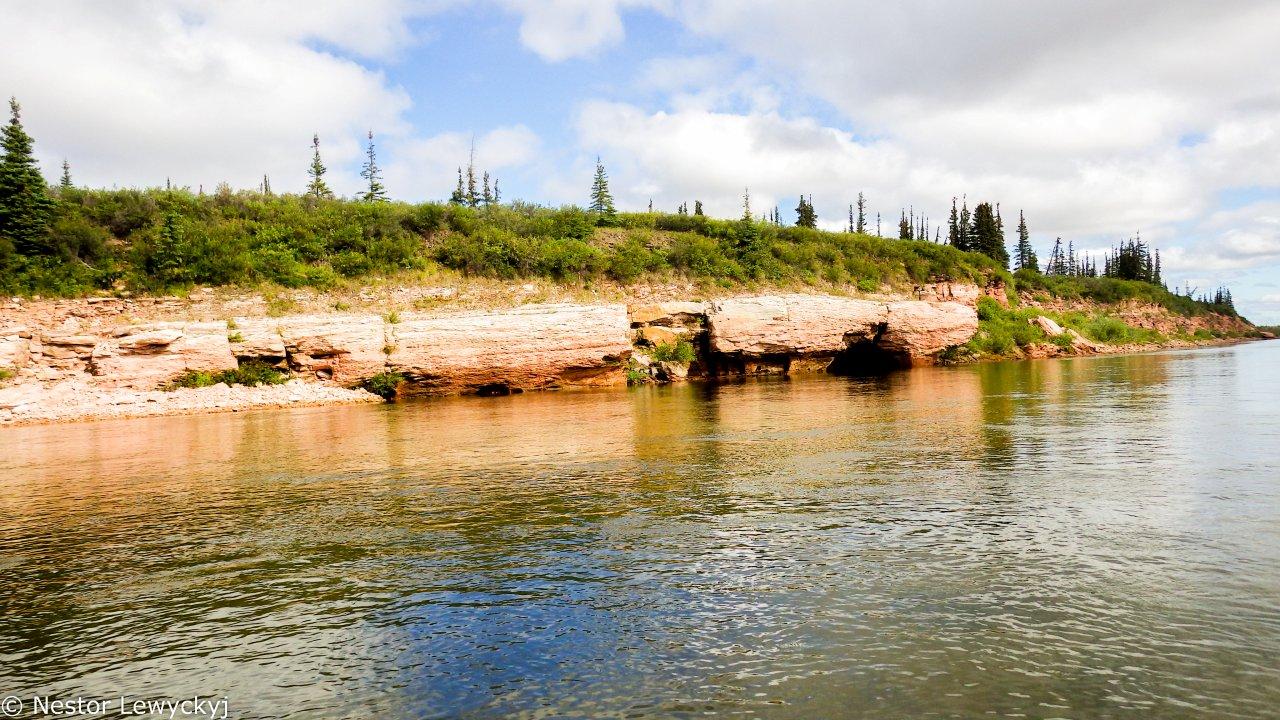 Cool sandstone shores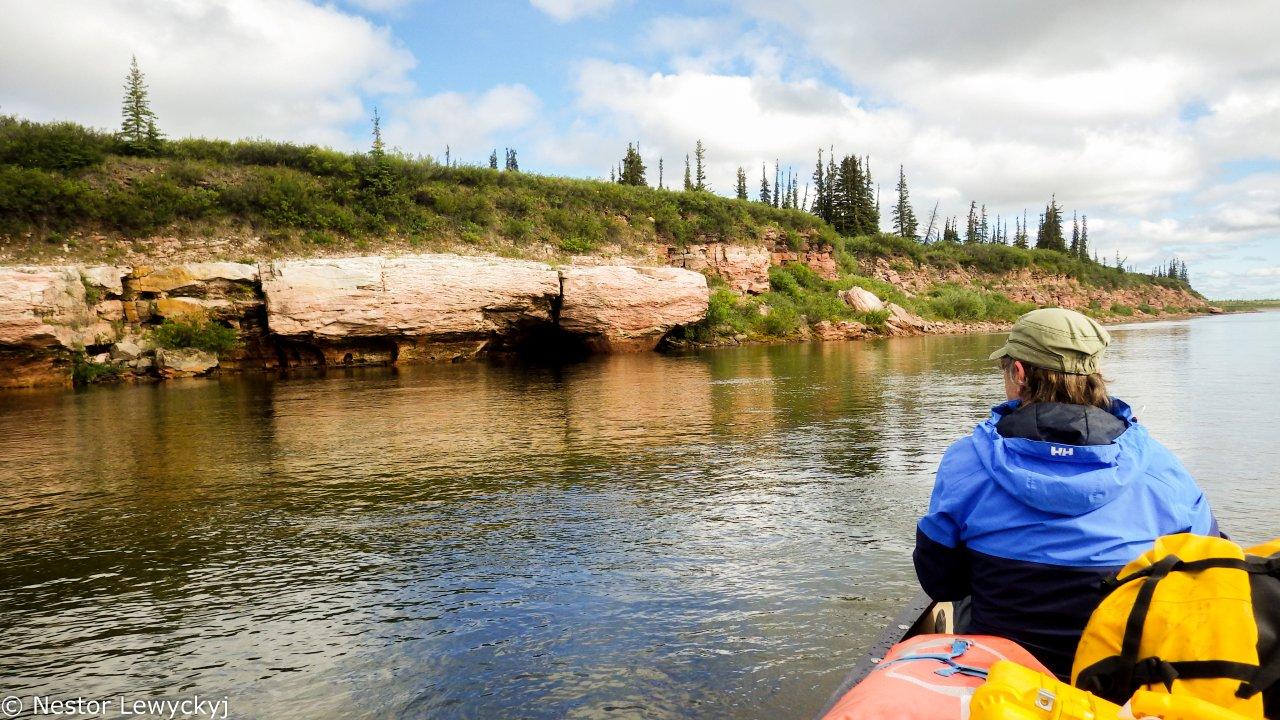 We wanted to get a closer look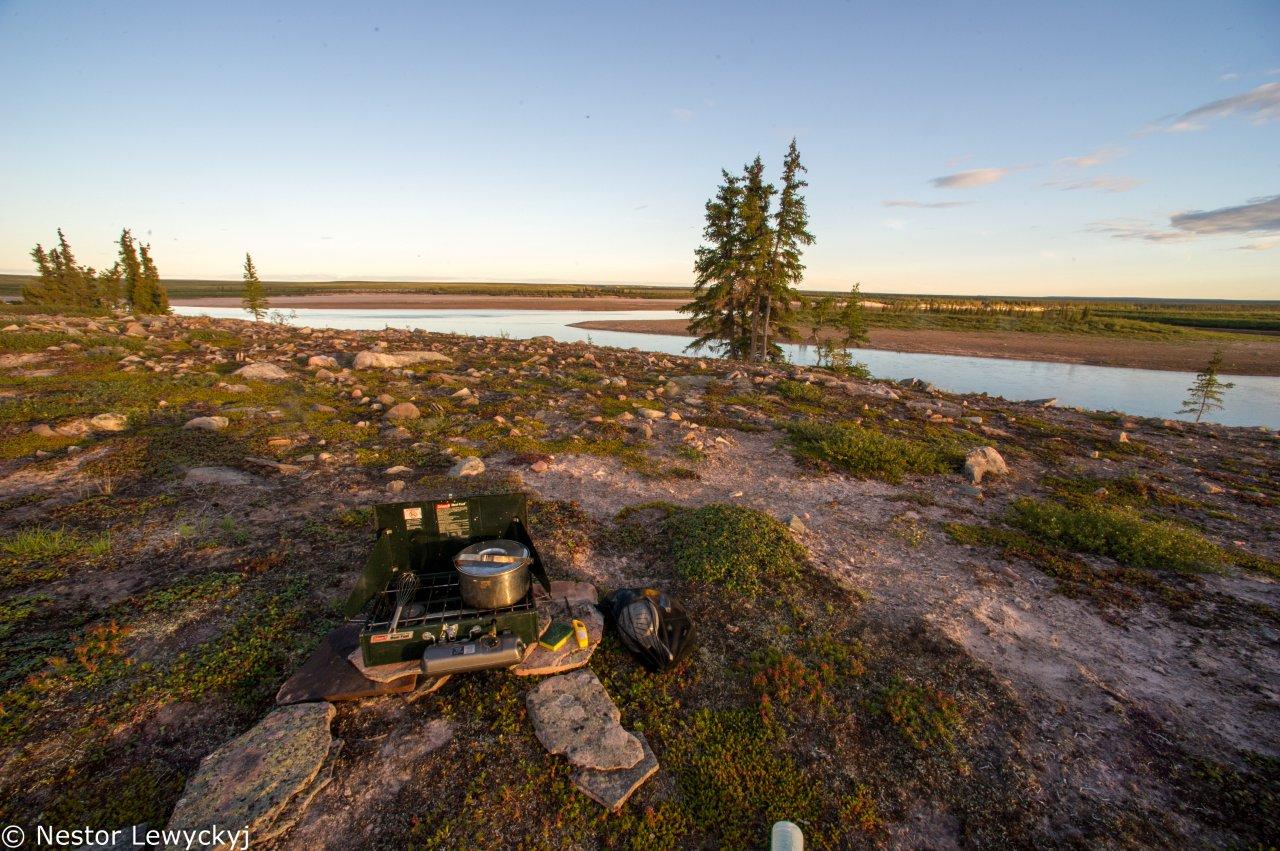 Our kitchen at Lookout Point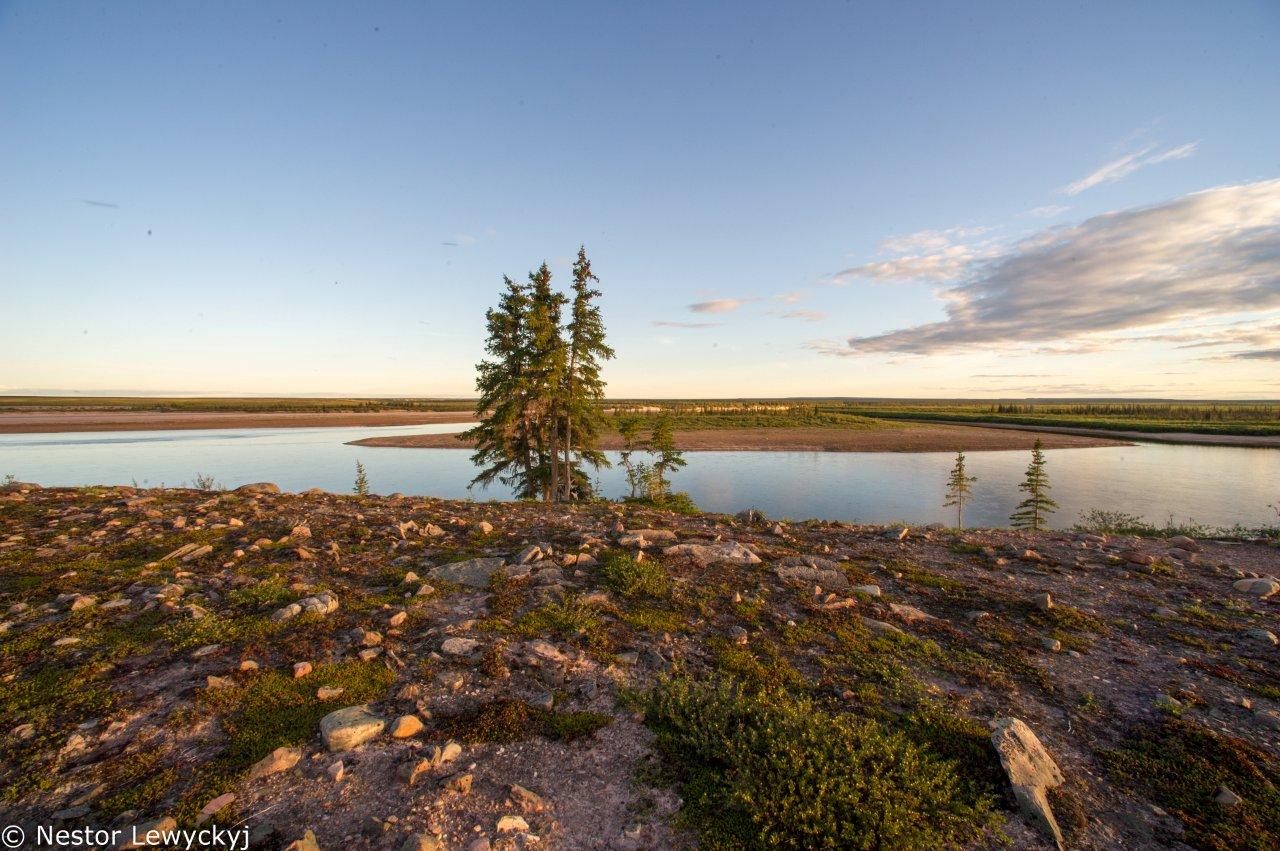 It was an amazing evening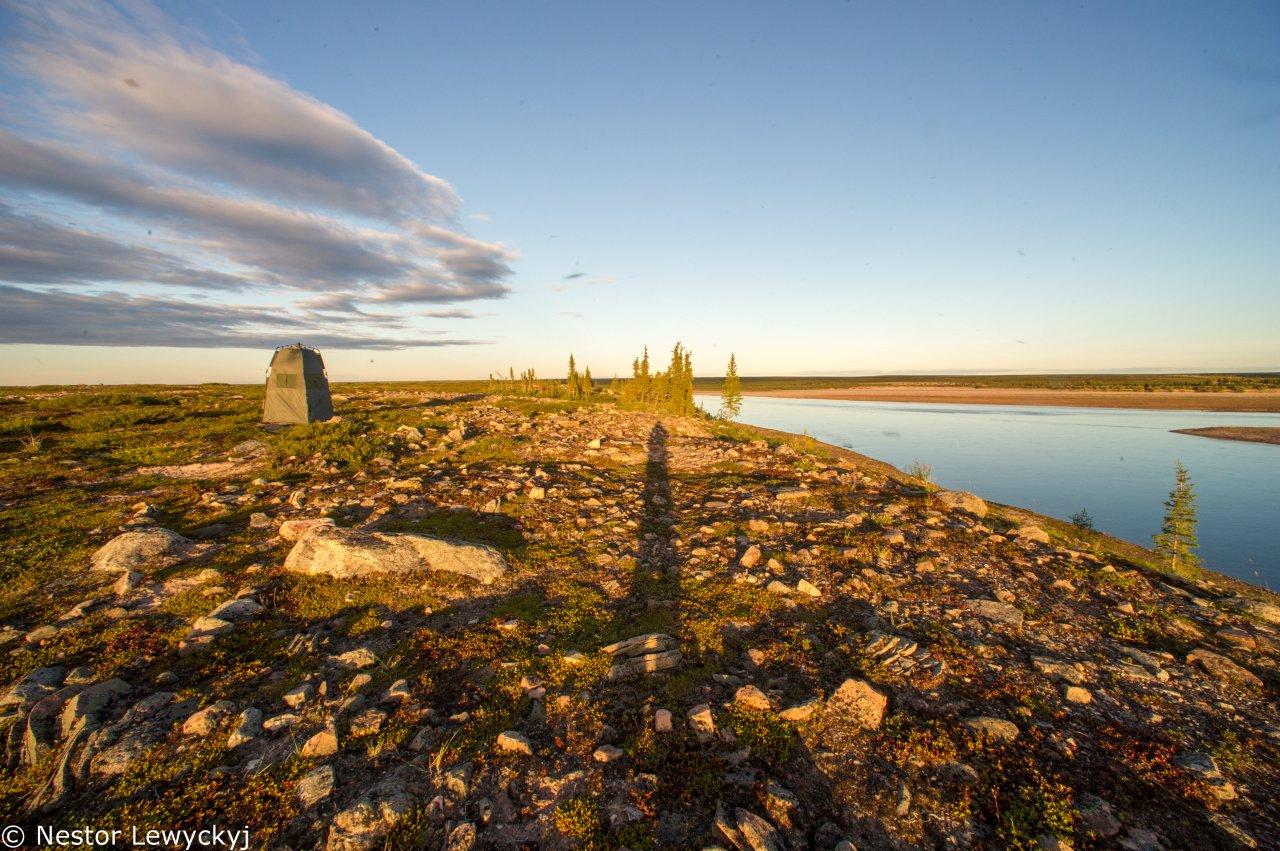 I love it when the sun gets so low. There are no hills to throw shadows, only yourself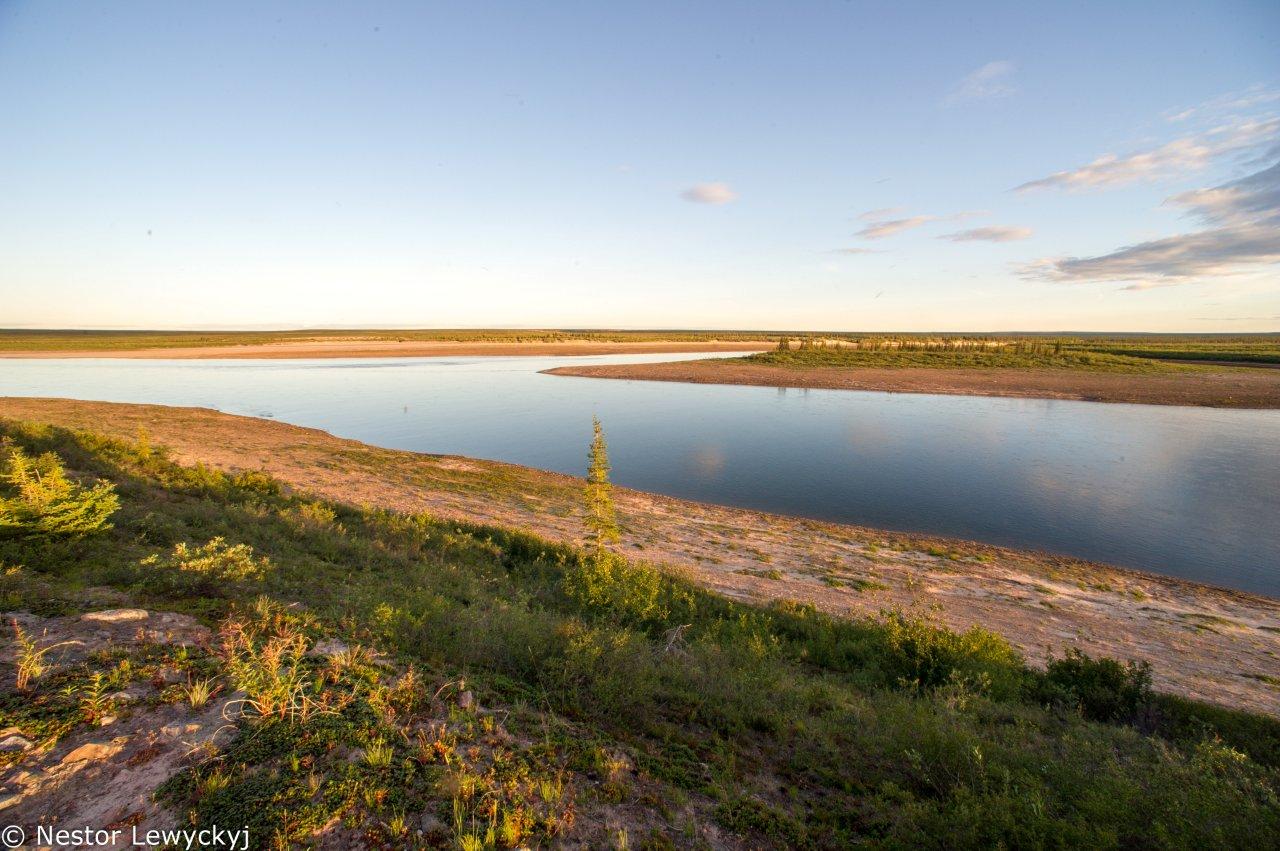 The Finnie River meeting the Thelon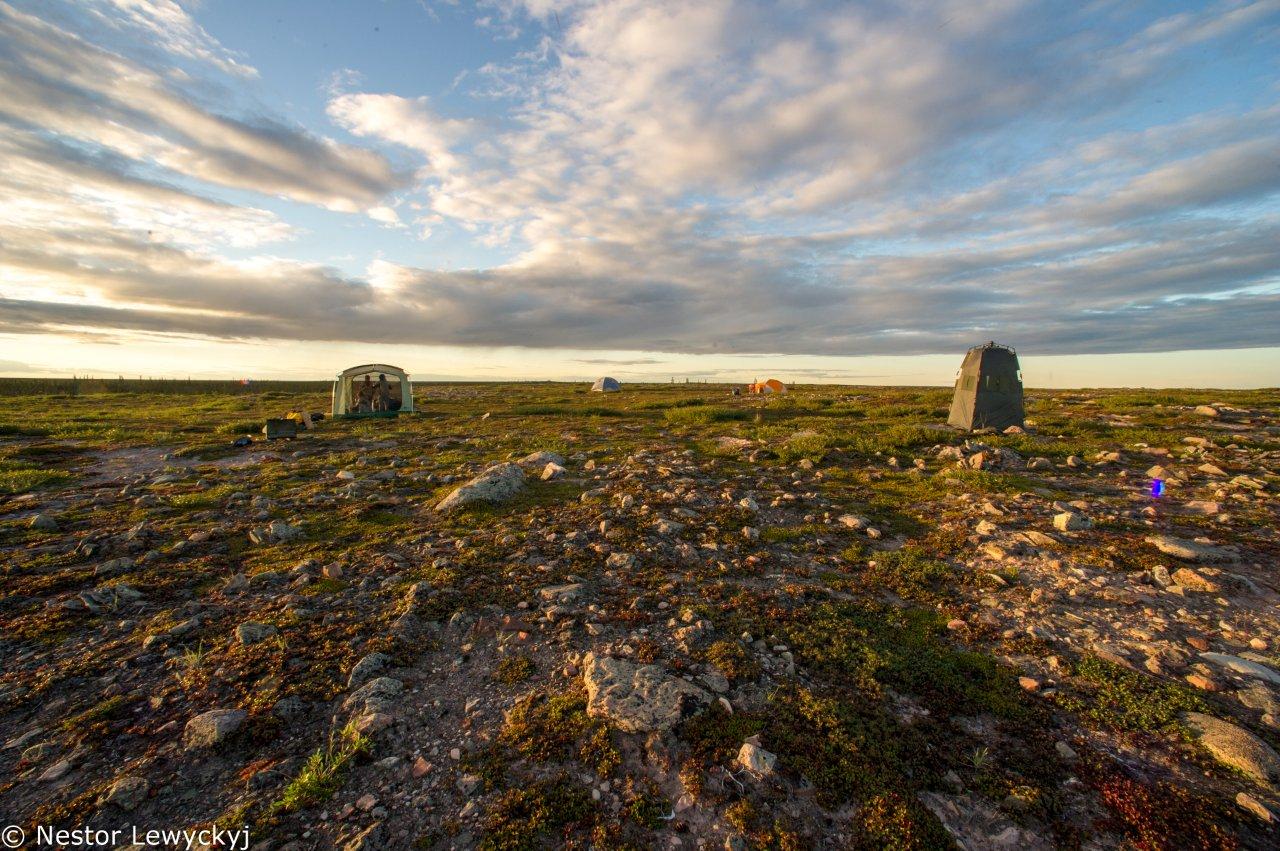 Our camp
The evening sky over Lookout Point on the Thelon River at the junction of the Finnie River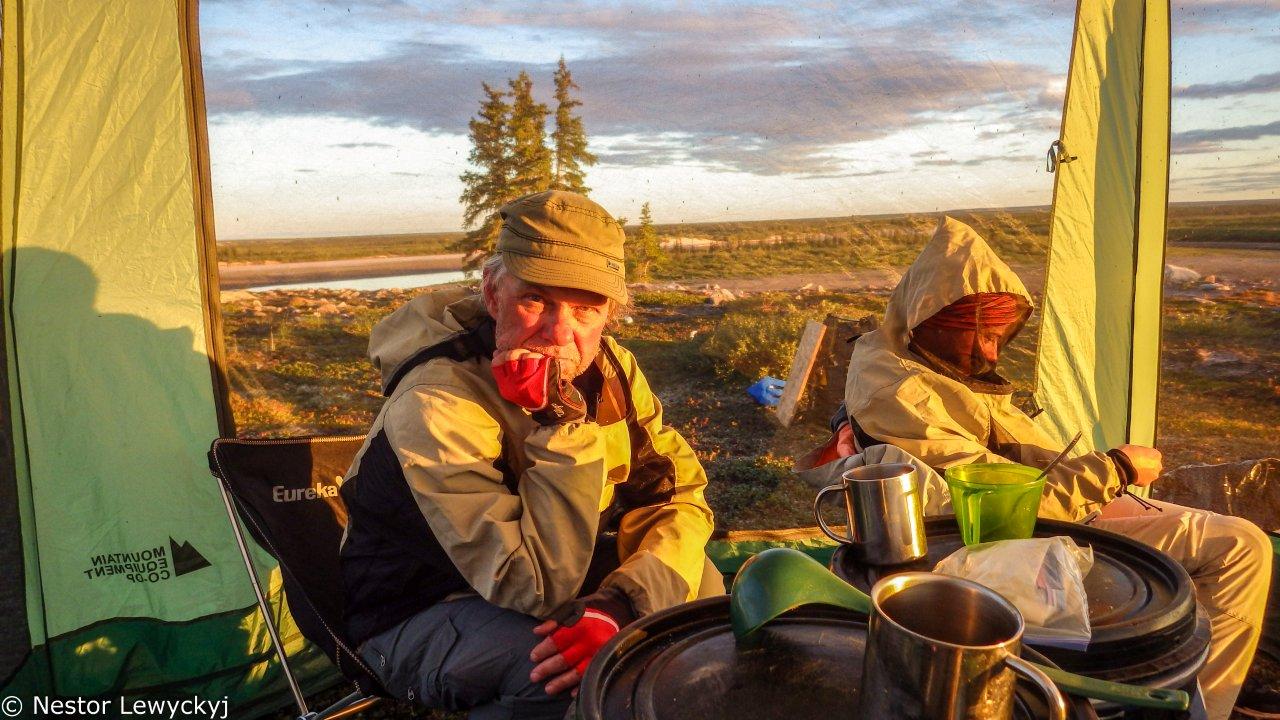 Pensive Wolodymyr in the light of the setting sun in our bug tent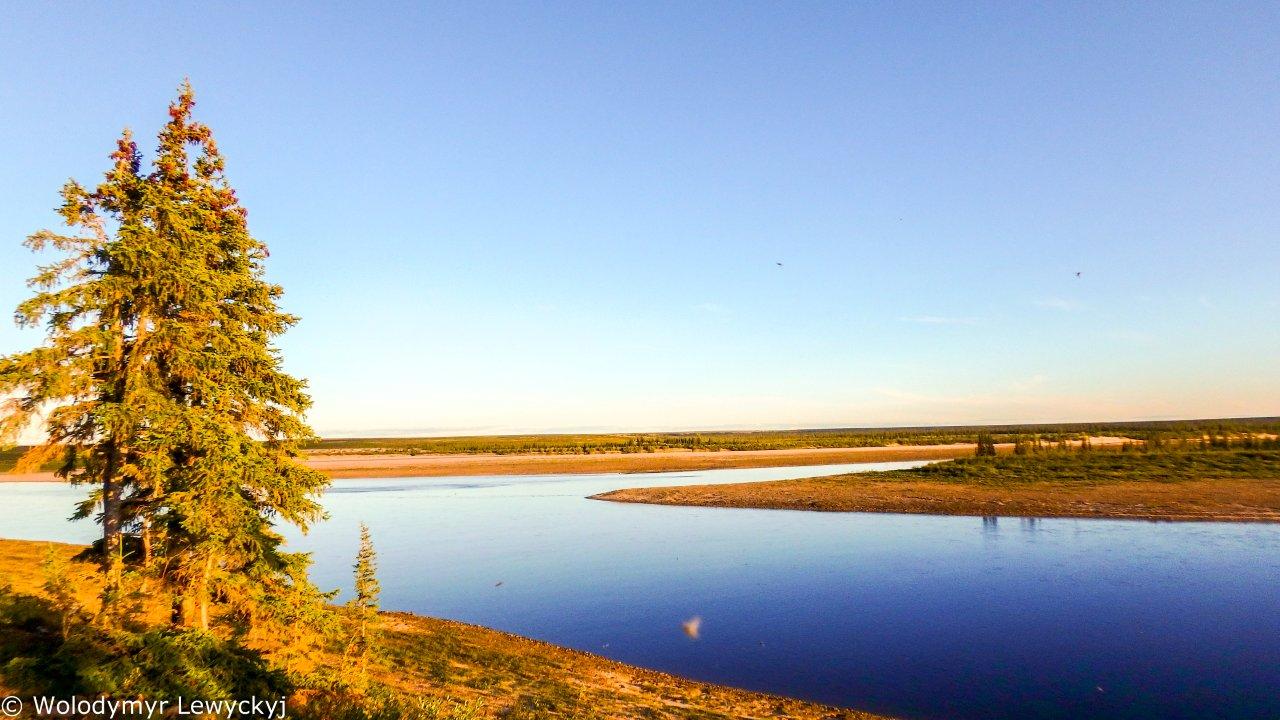 Lookout Point with the Finnie River in the background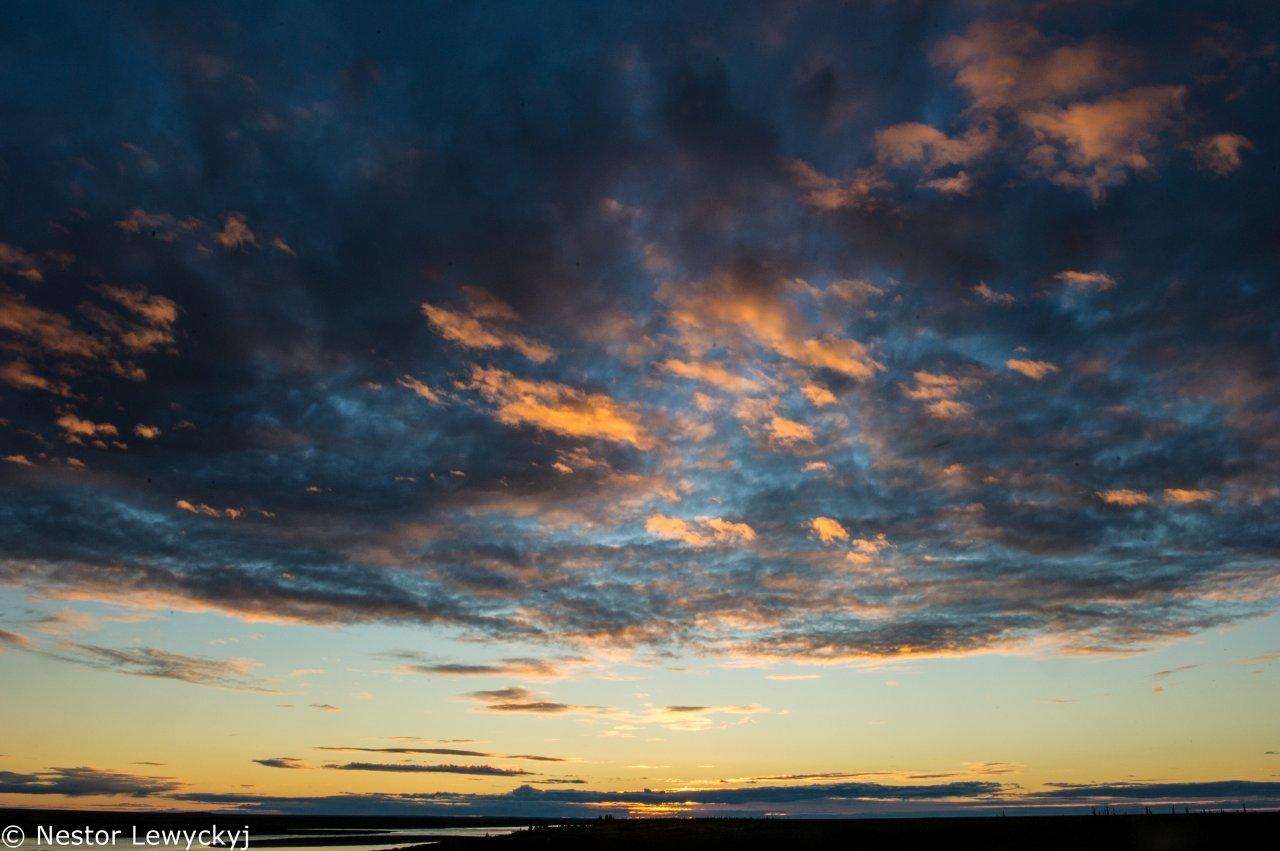 Last light at lookout Point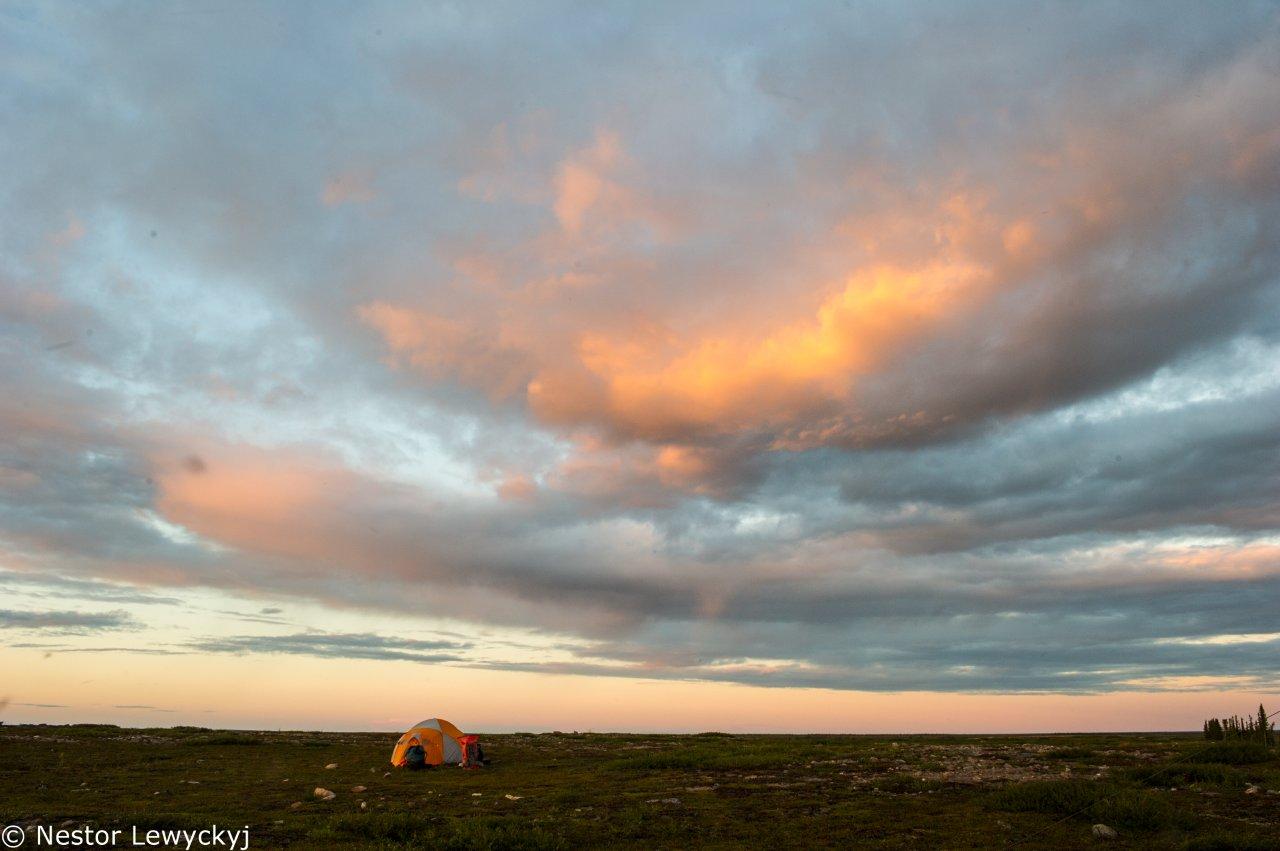 The setting sun painting the clouds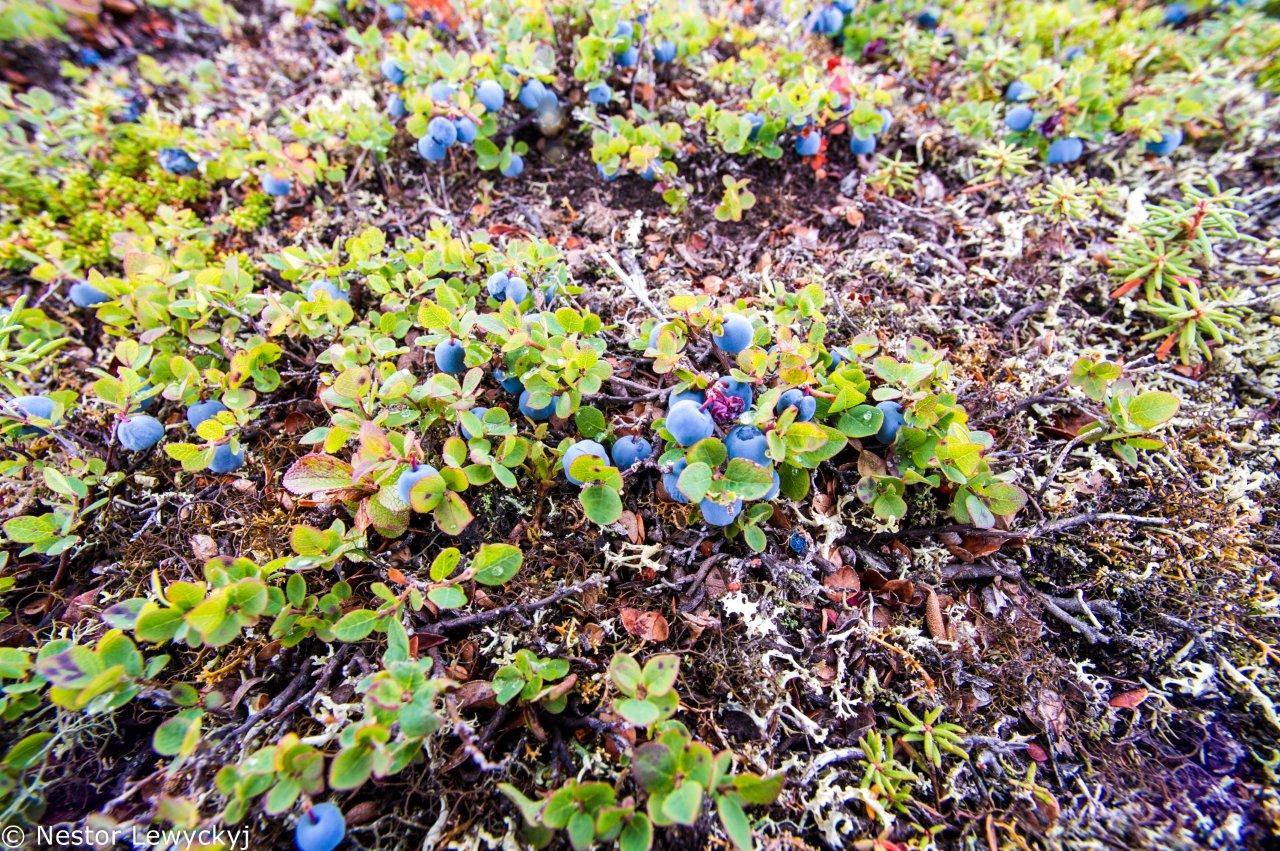 It was a phenomenal year for blueberries in August this year. Lookout is an extraordinary place for blueberries and we spent a lot of time picking them and eating them in all manner, from straight off of the bush to having them in our pancakes and in our bannock. I think the grizzlies has a lot to eat getting themselves fat for winter.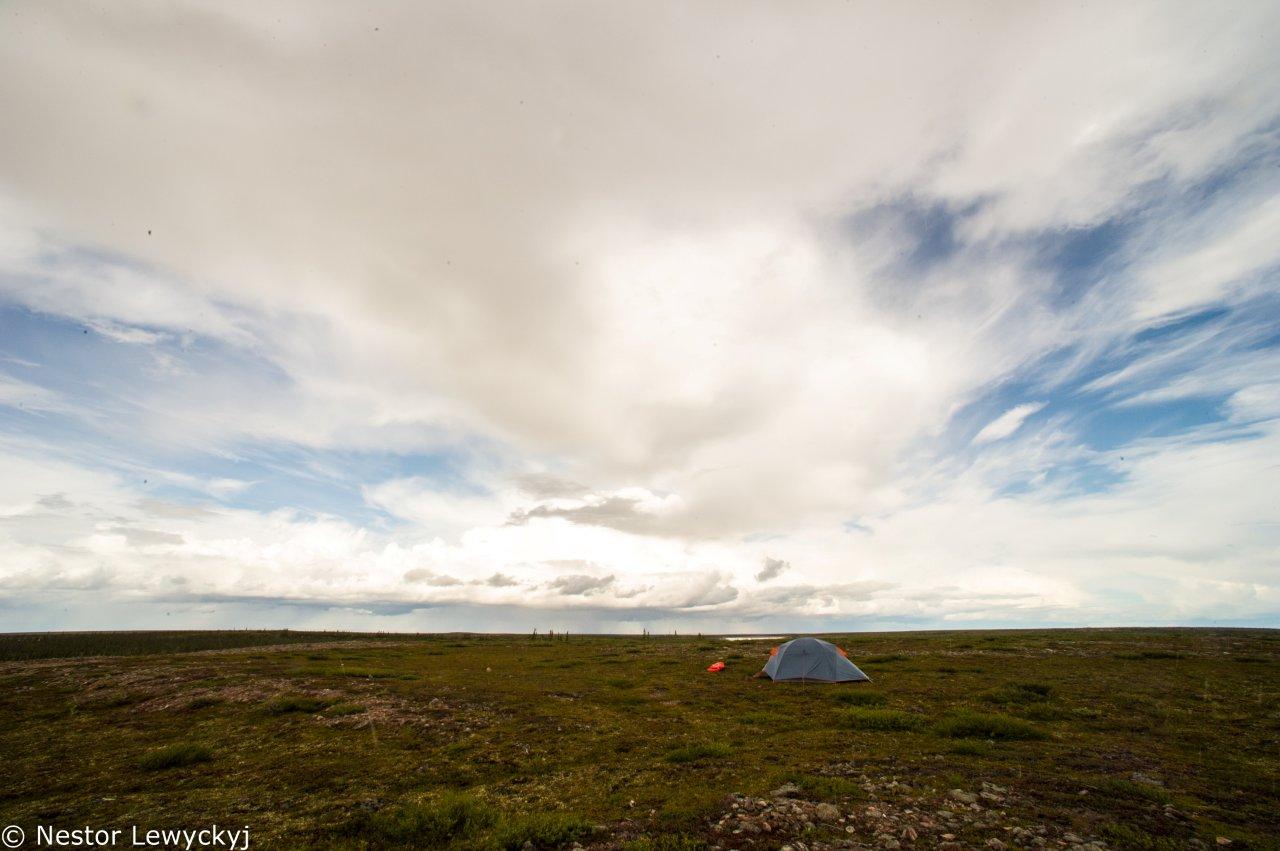 It was so nice at Lookout Point, and the weather was fine, we decided to stay two nights here. Plus we were ahead of schedule anyways...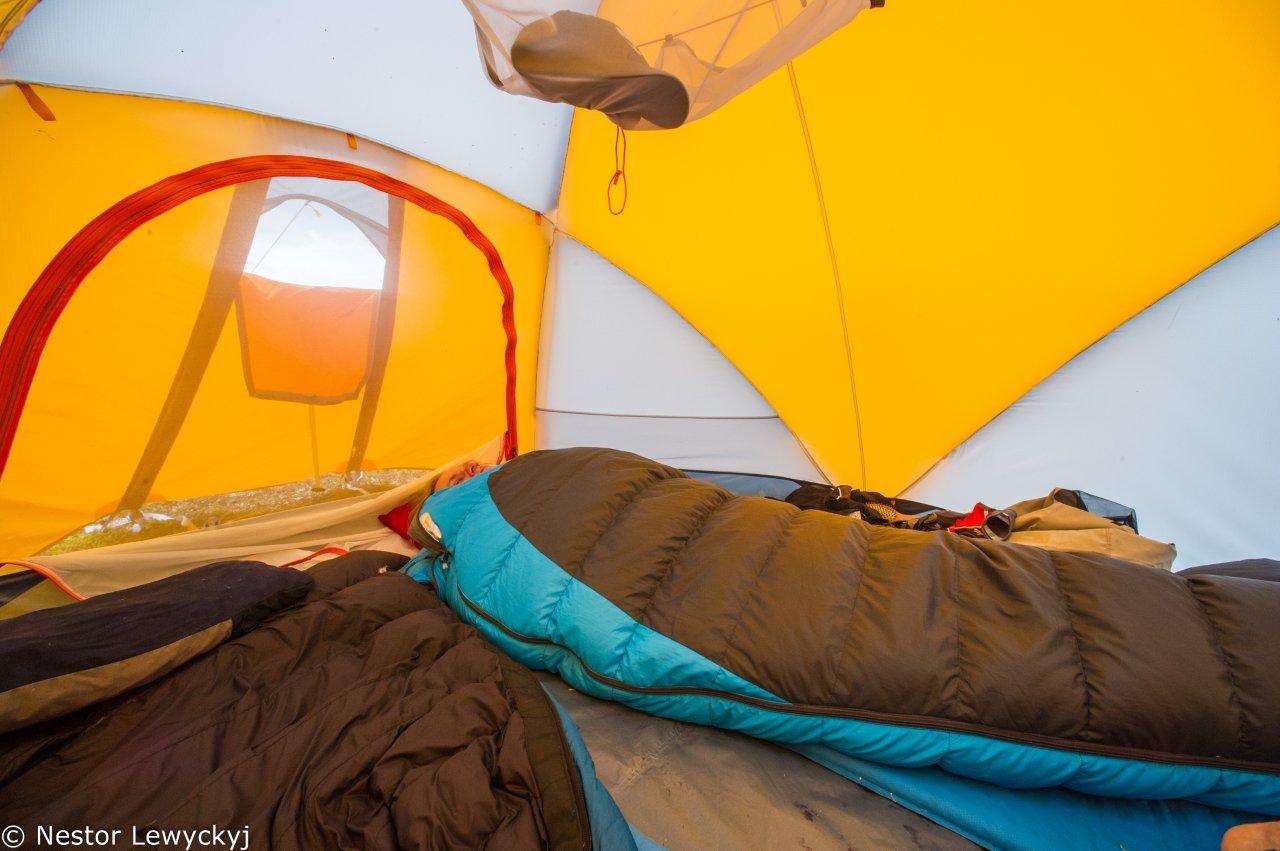 Our Nunatak 3 tent was our hotel for 2 weeks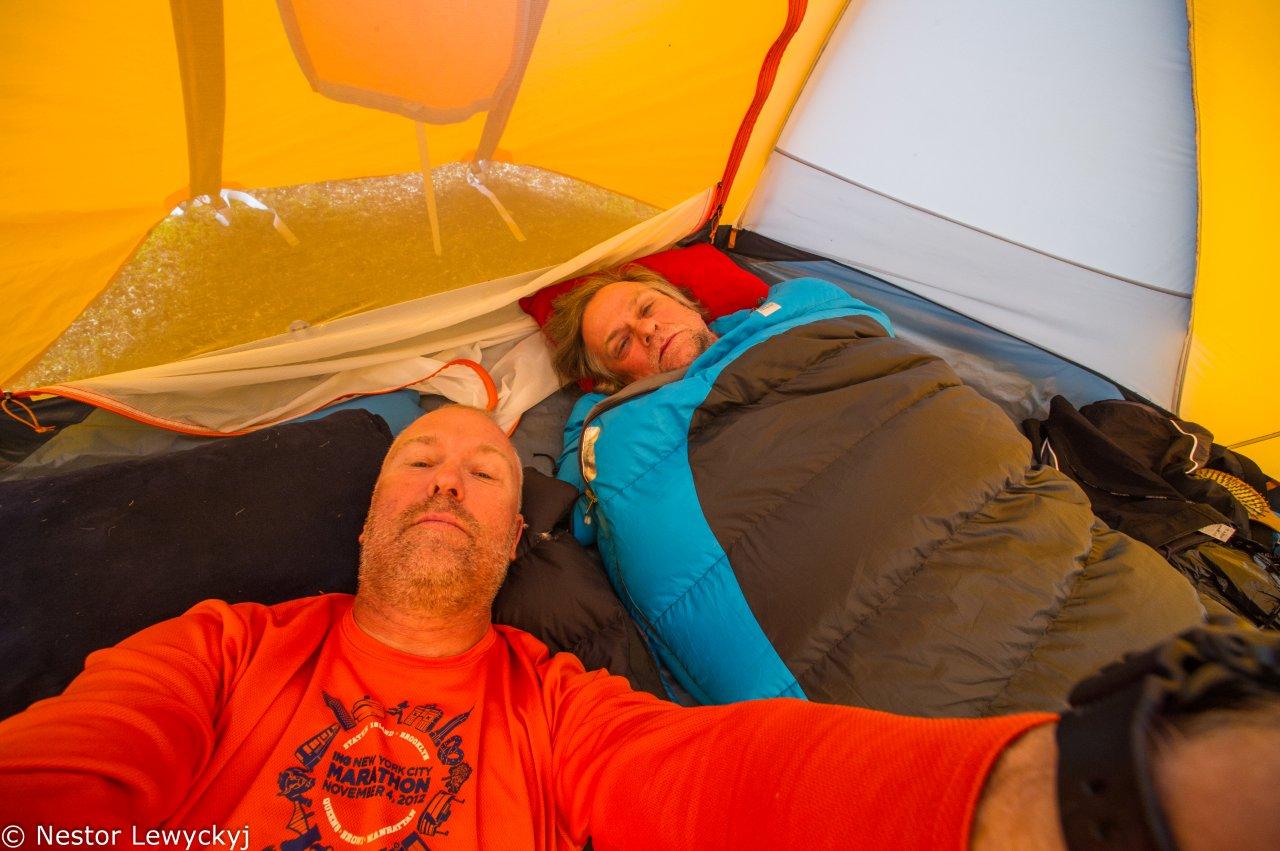 Wolodymyr and me in the tent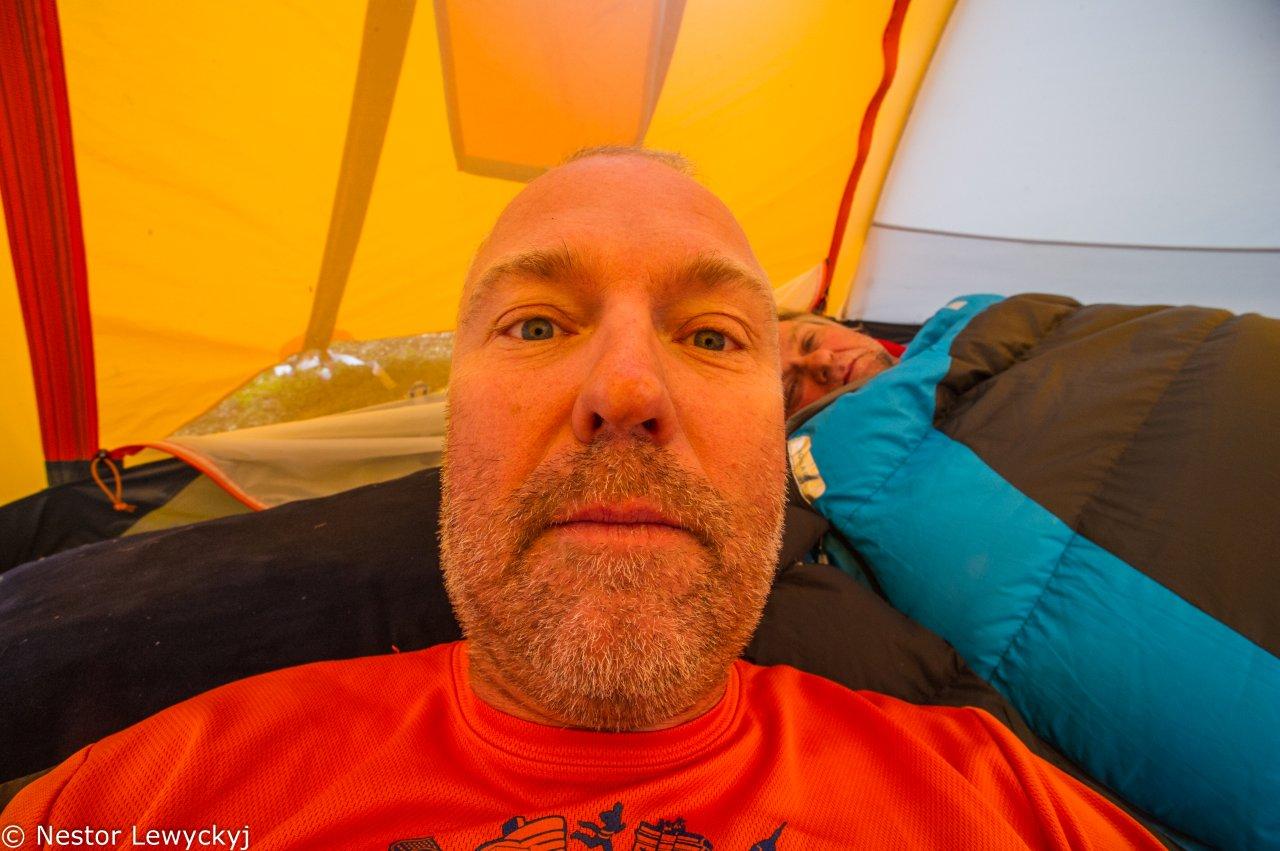 A selfie...we had no mirrors so I wanted to see what I looked like at this point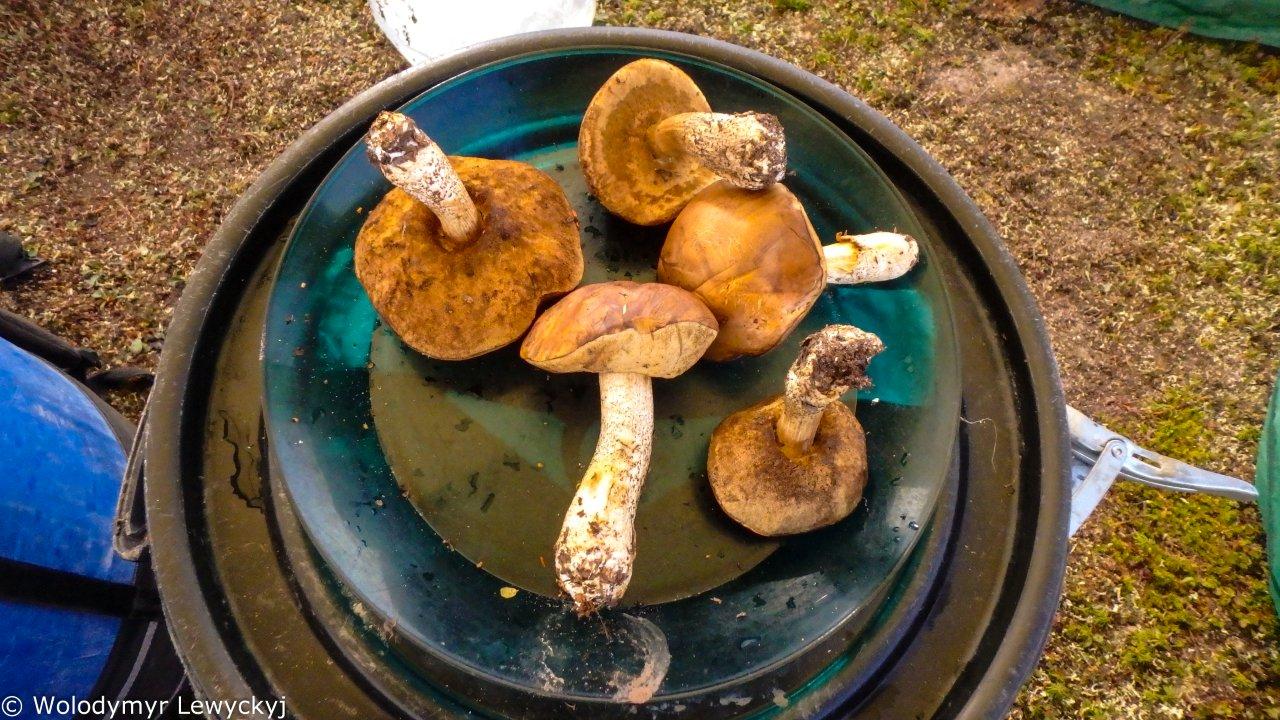 Birch boletes mushrooms picked as an aside for dinner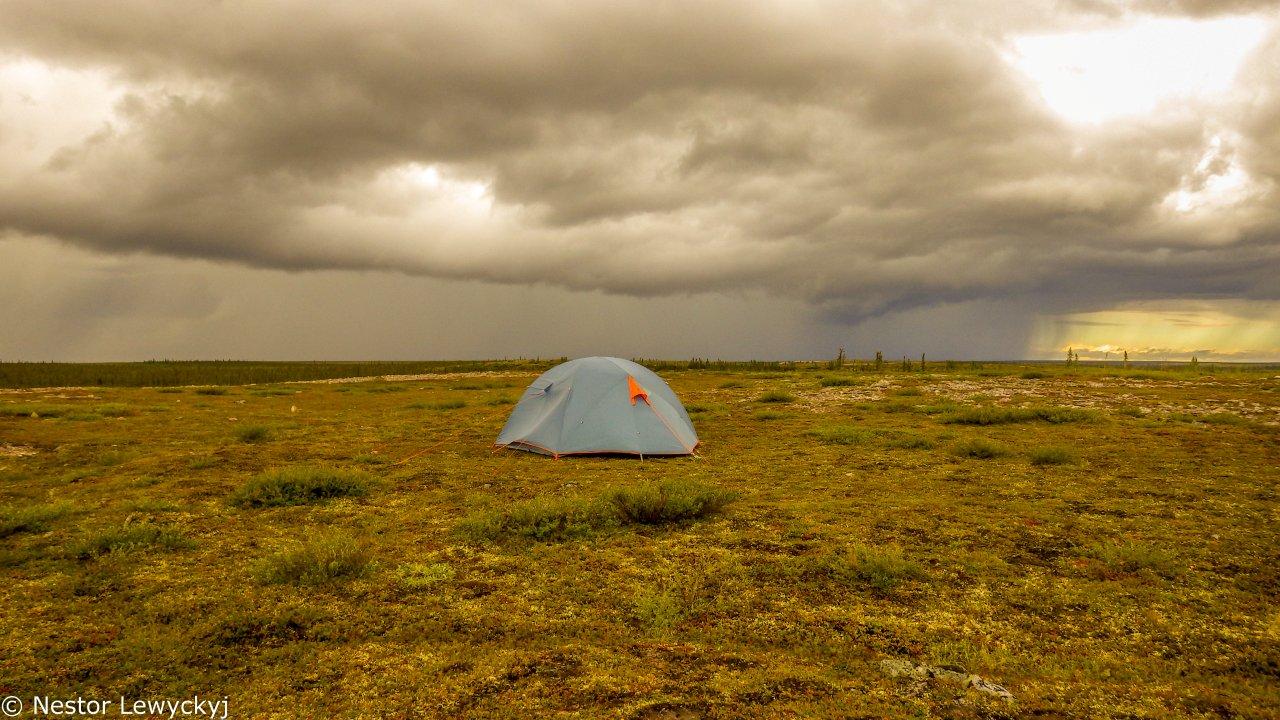 But a bit of rain did find us up on Lookout Point. It is a great spot to camp, and there are signs of the Dene having camped here over the millenia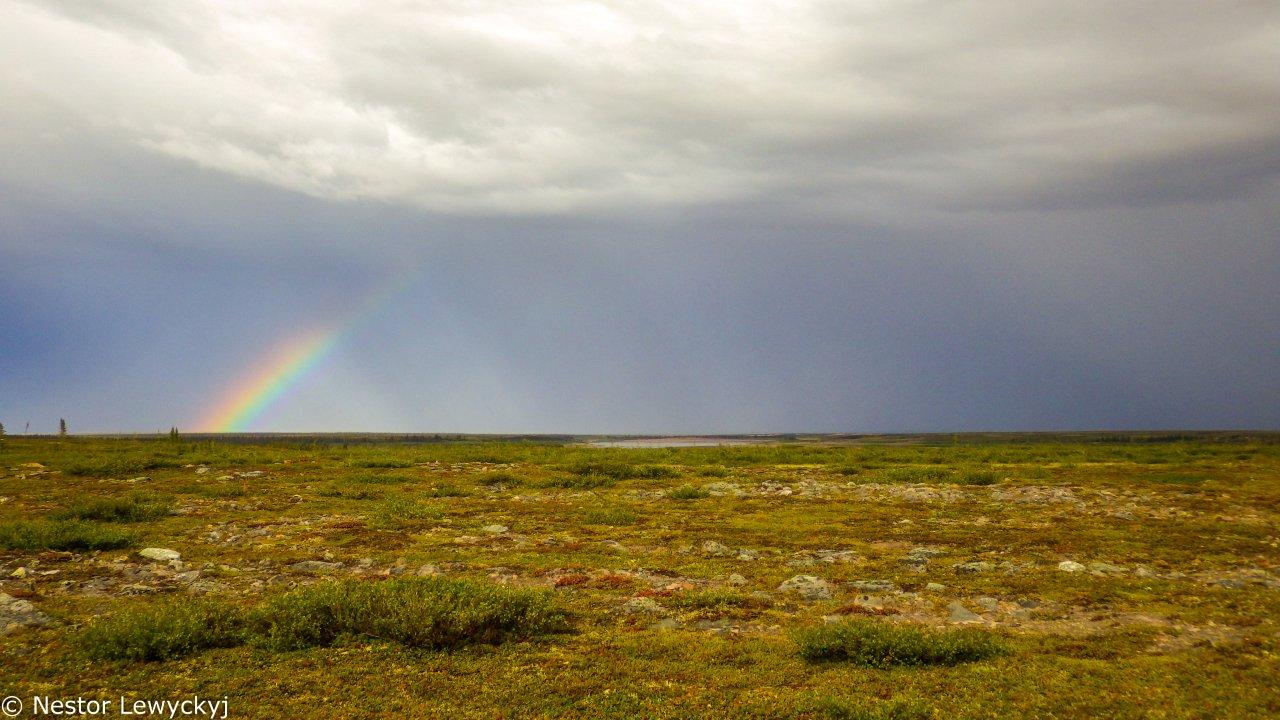 But the weather was dynamic, always changing, giving us interesting perspectives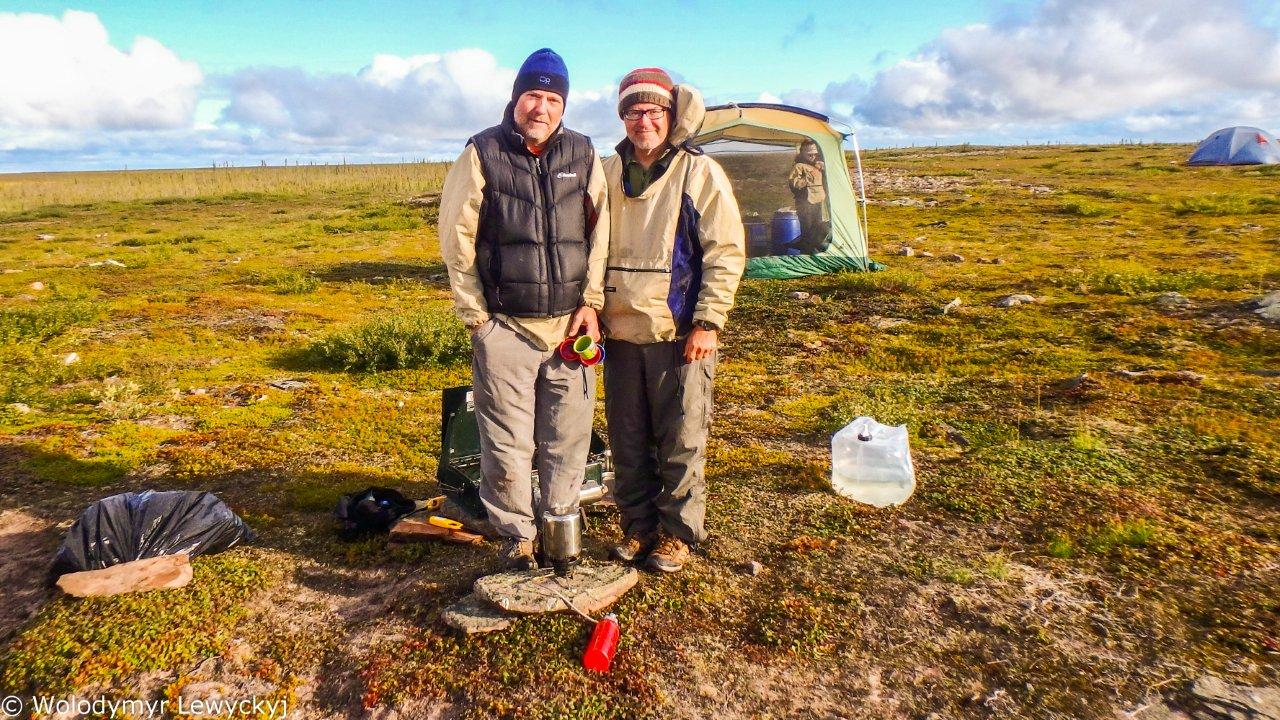 Roman and I. It was getting a bit cooler as the summer waned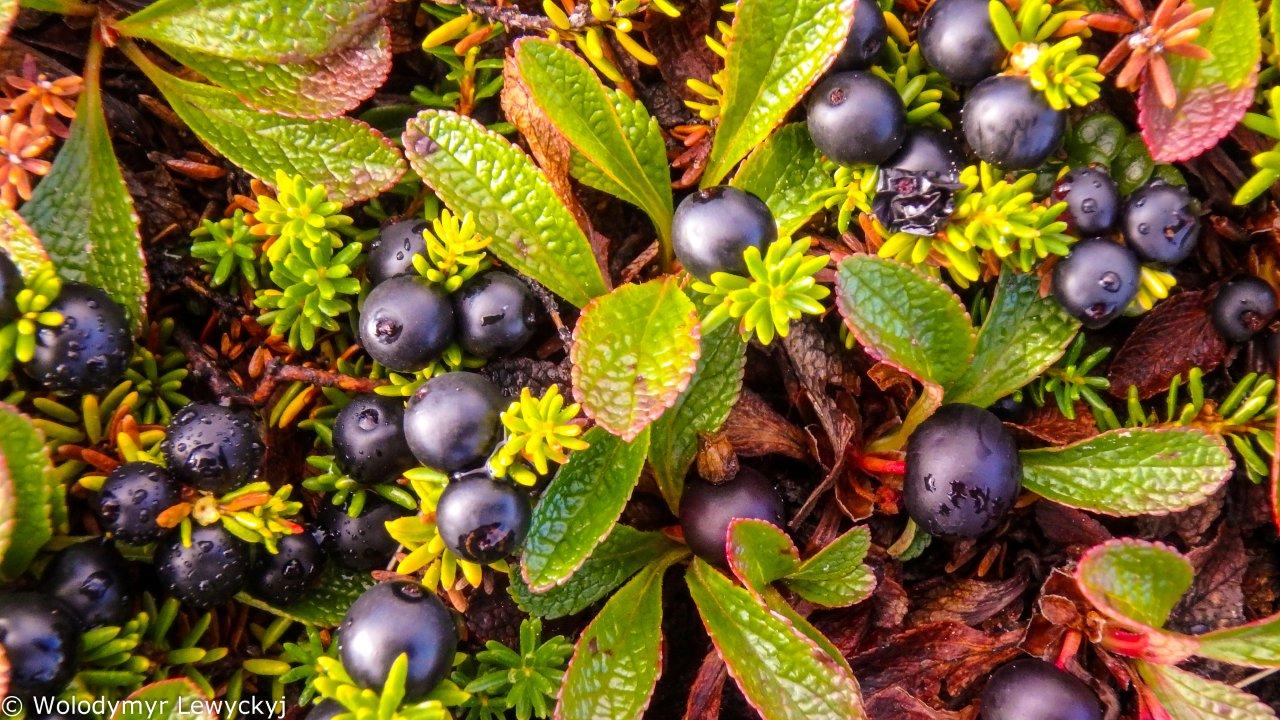 Some dark berries that I do not know what they are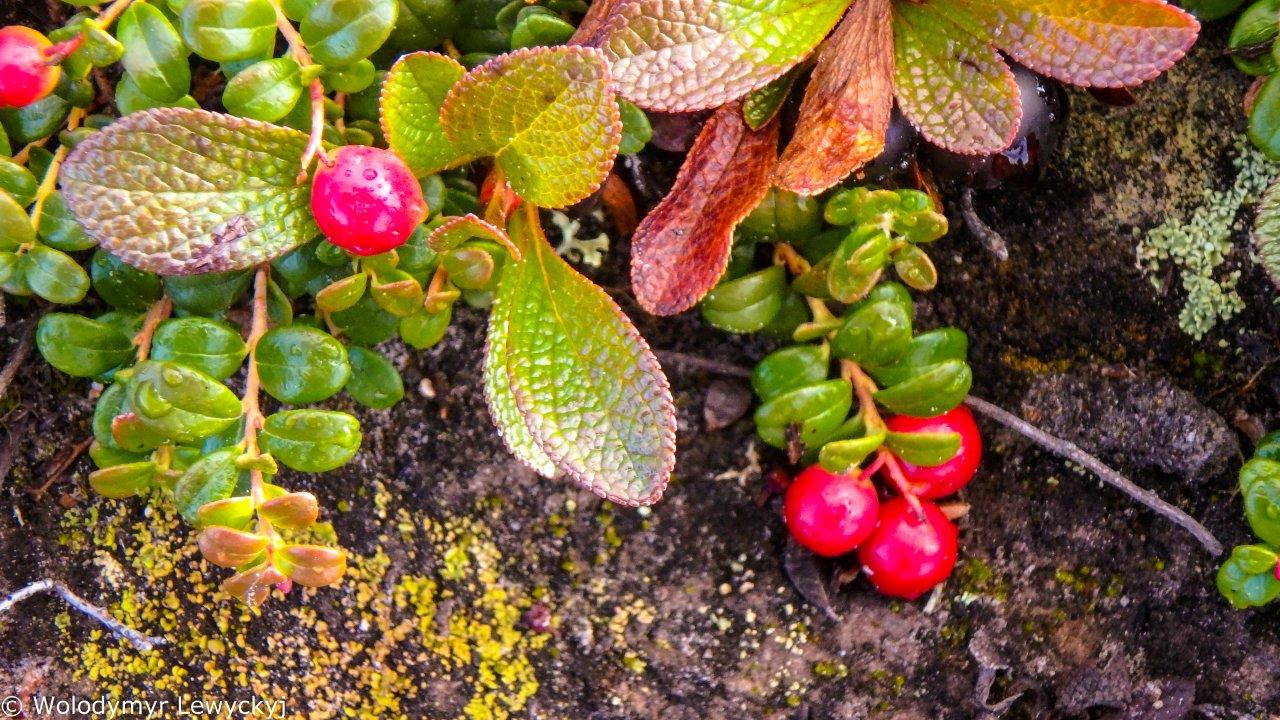 Ditto for the red. Tundra cranberries? We did not try to taste them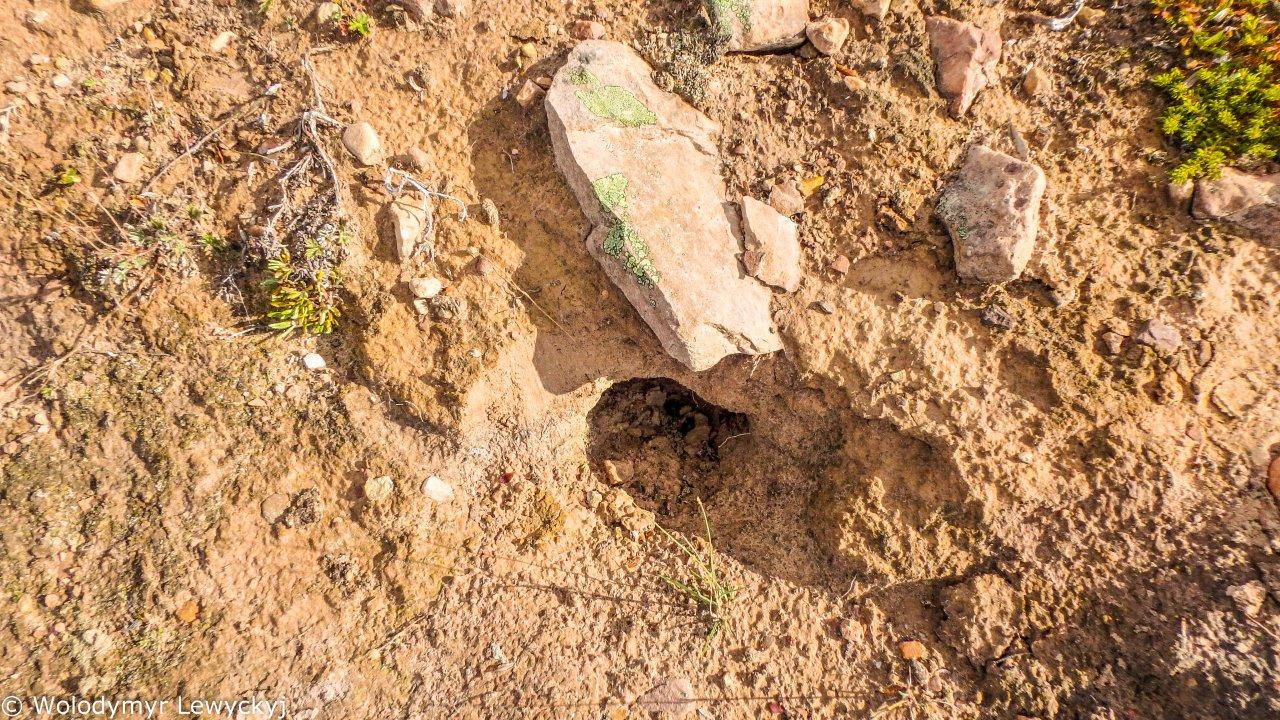 A burrow, probably of a sic sic but I think they may be called tundra prairie dogs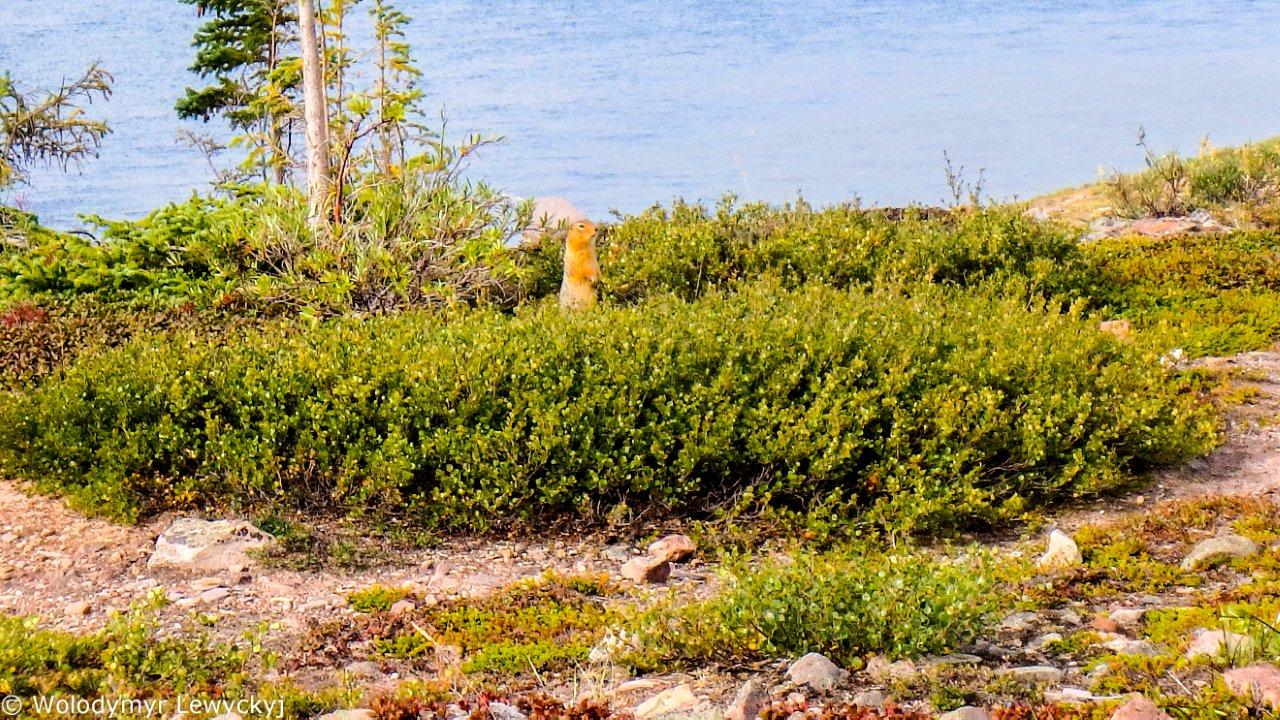 They are very cute and not very shy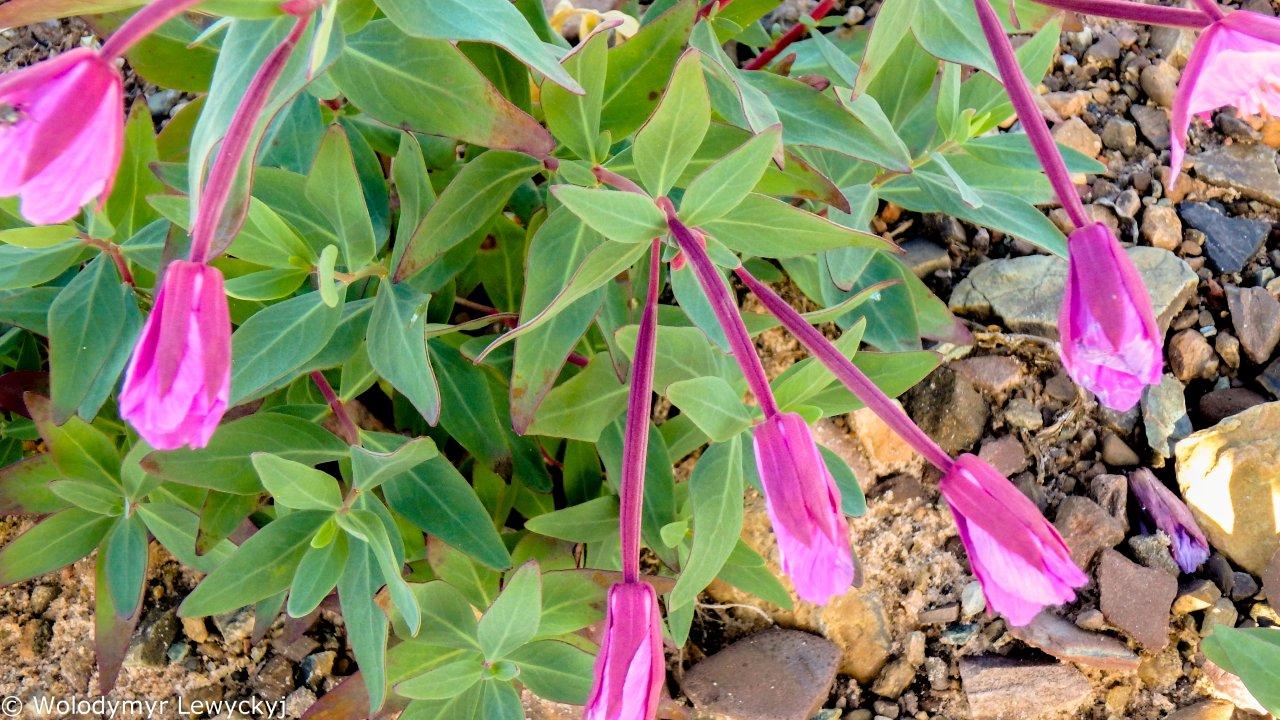 Tundra flora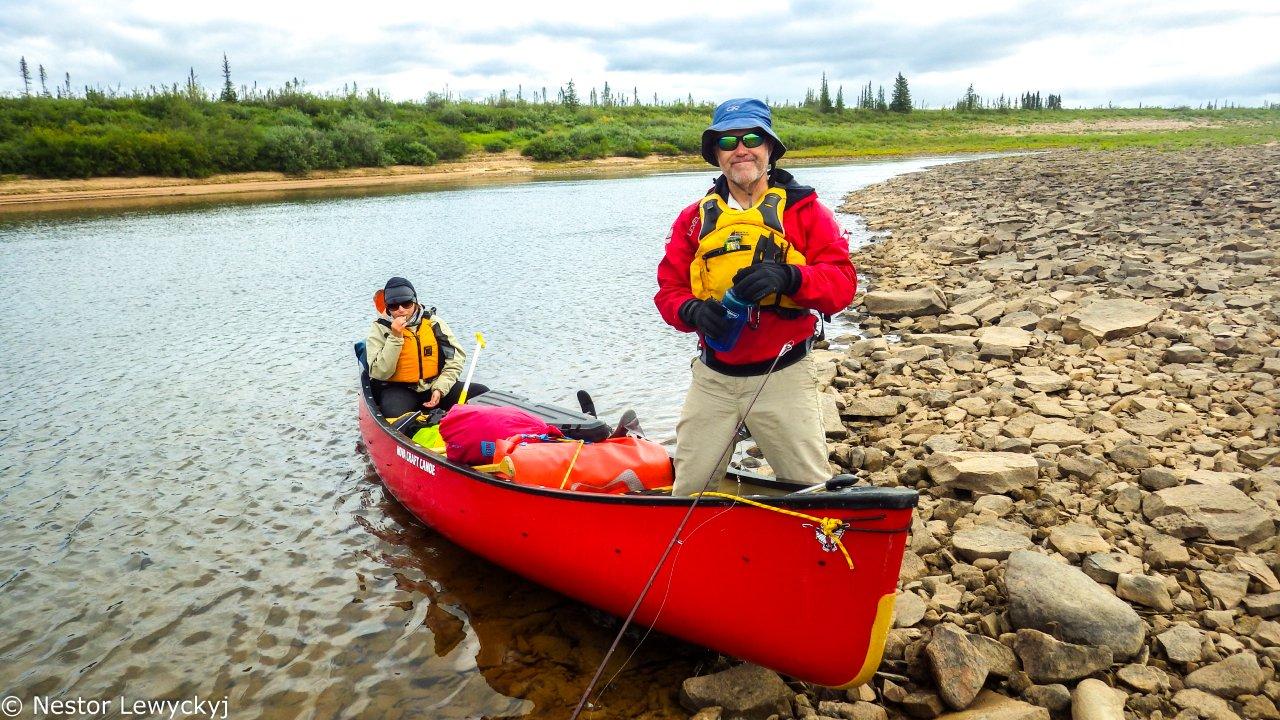 Taking a snack break on the Thelon river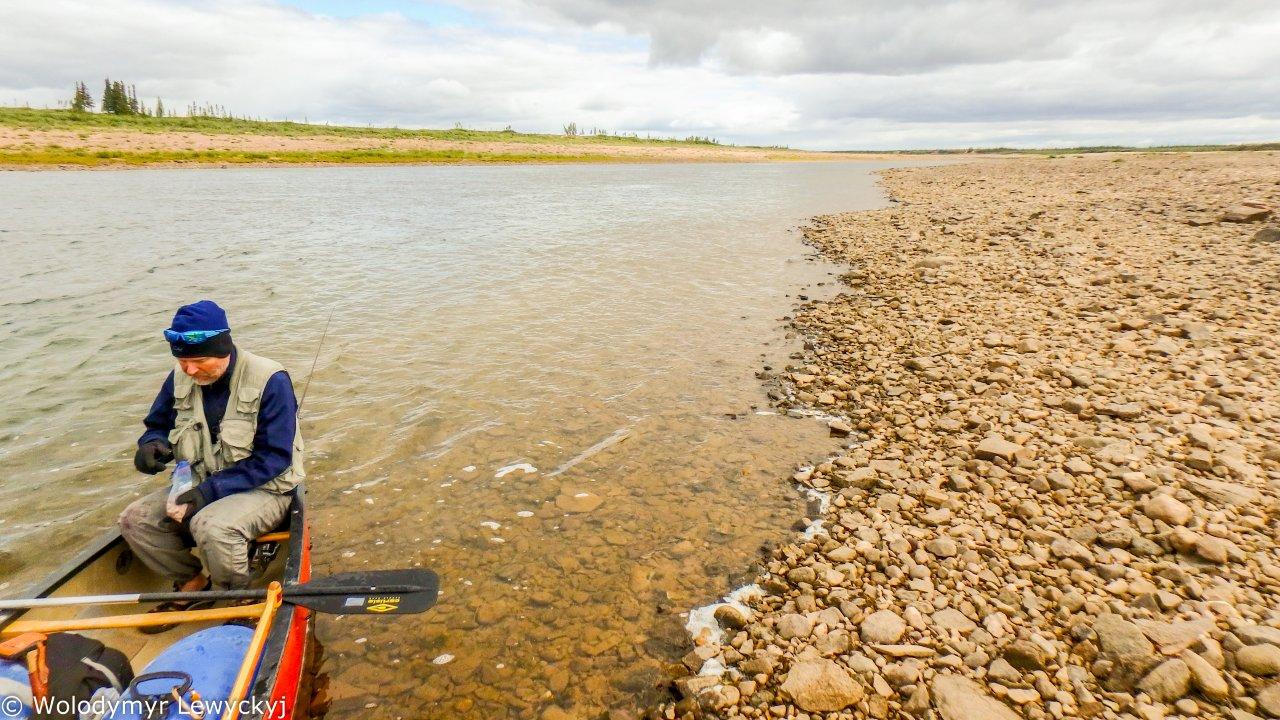 As you can tell, it was getting cooler....the thunderstorm of a few days ago definitely turned the wind direction from the north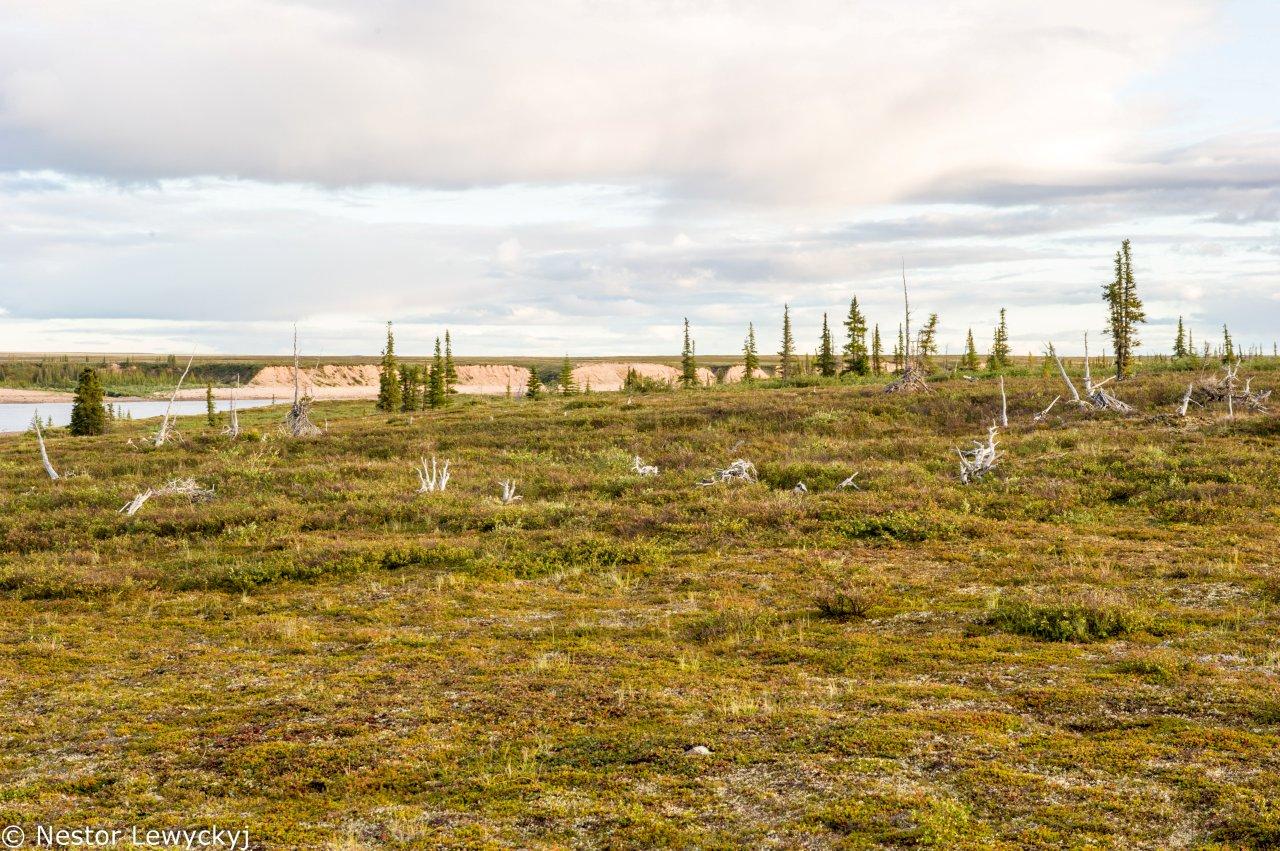 Dead trees like tombstones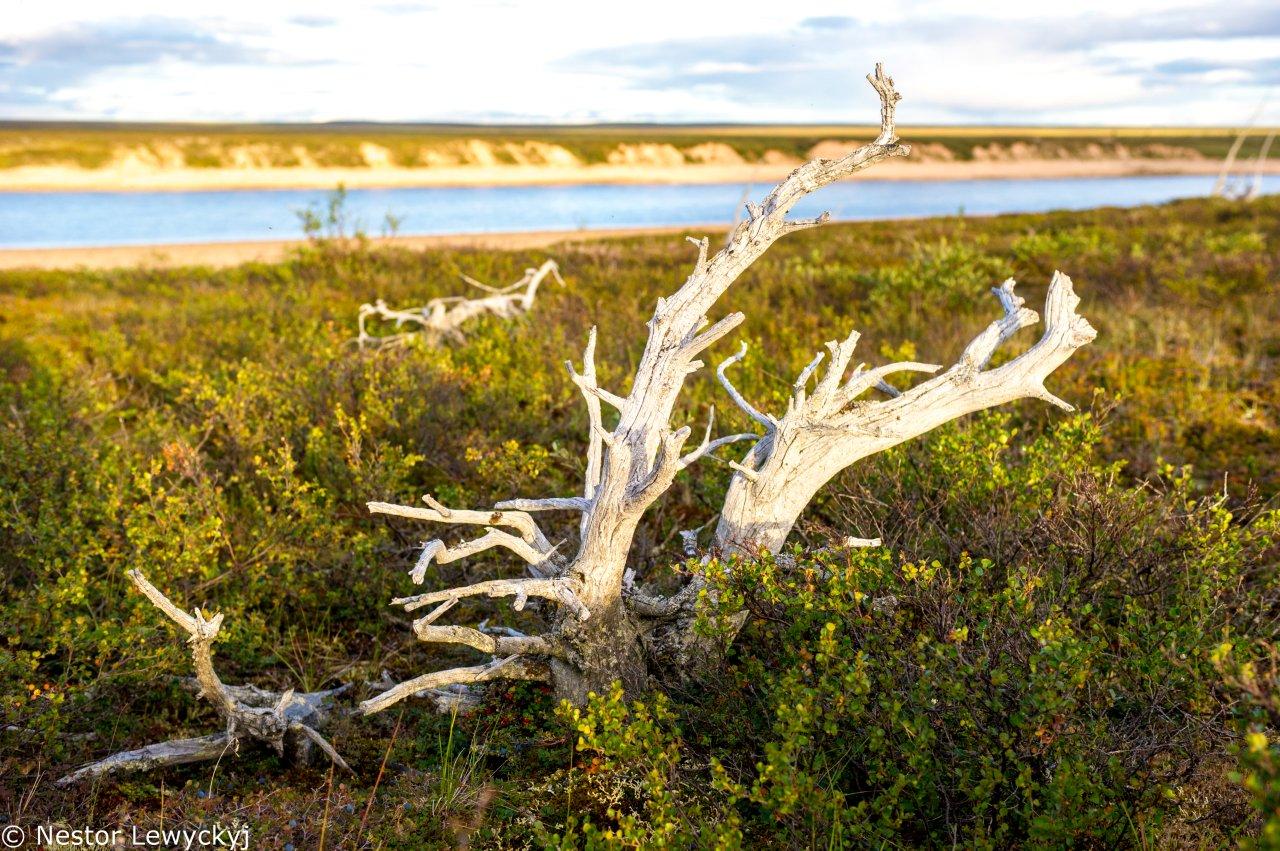 I love this perspective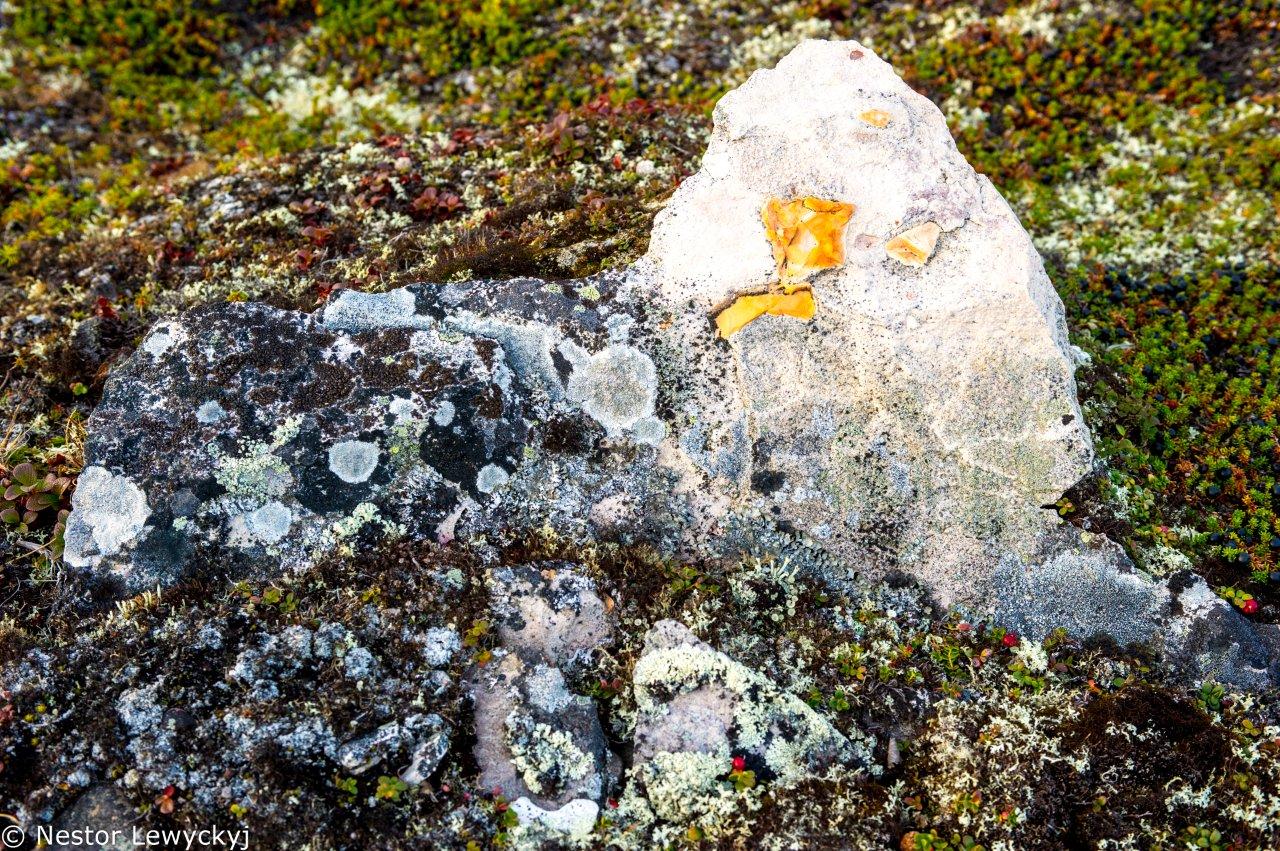 Tundra gold?
The huge sky and the flat relief give for interesting perspectives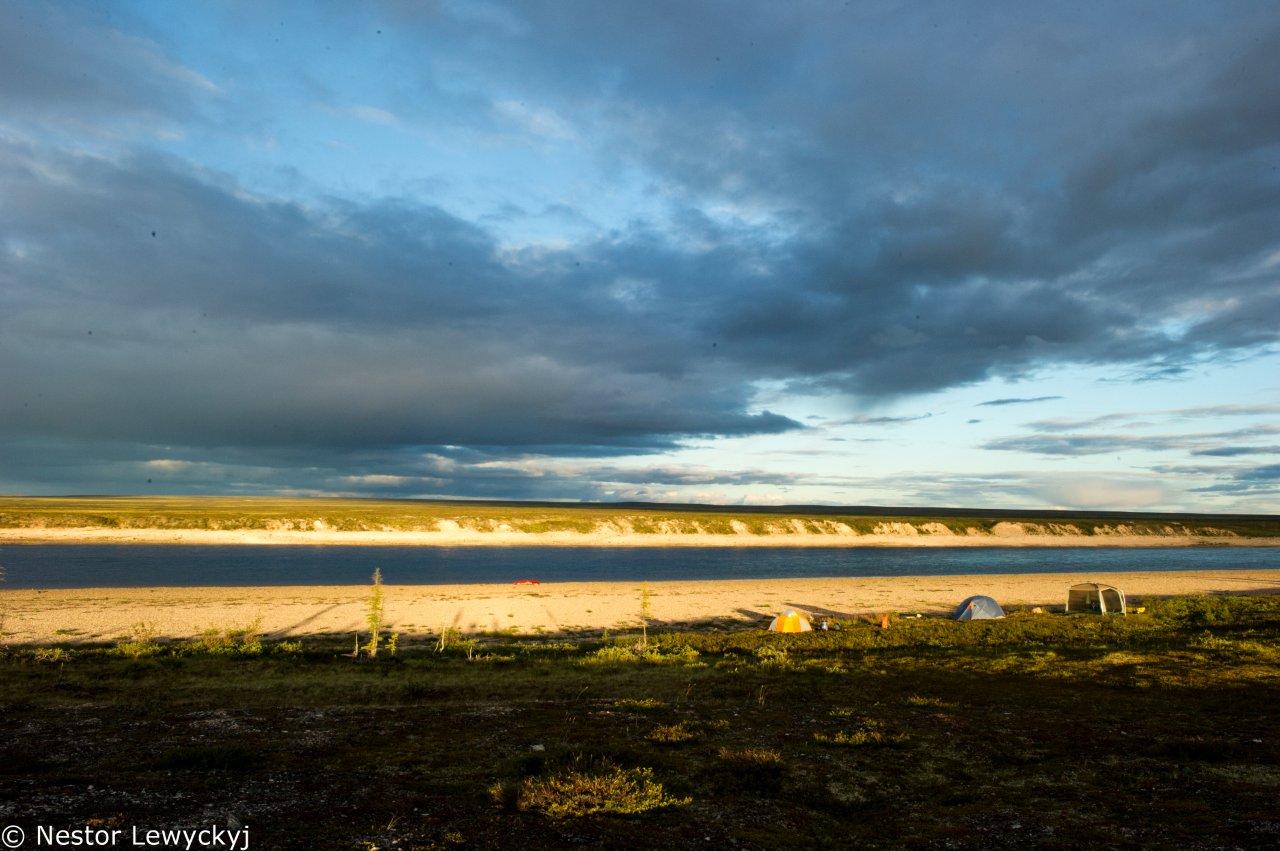 Our camp on the Thelon River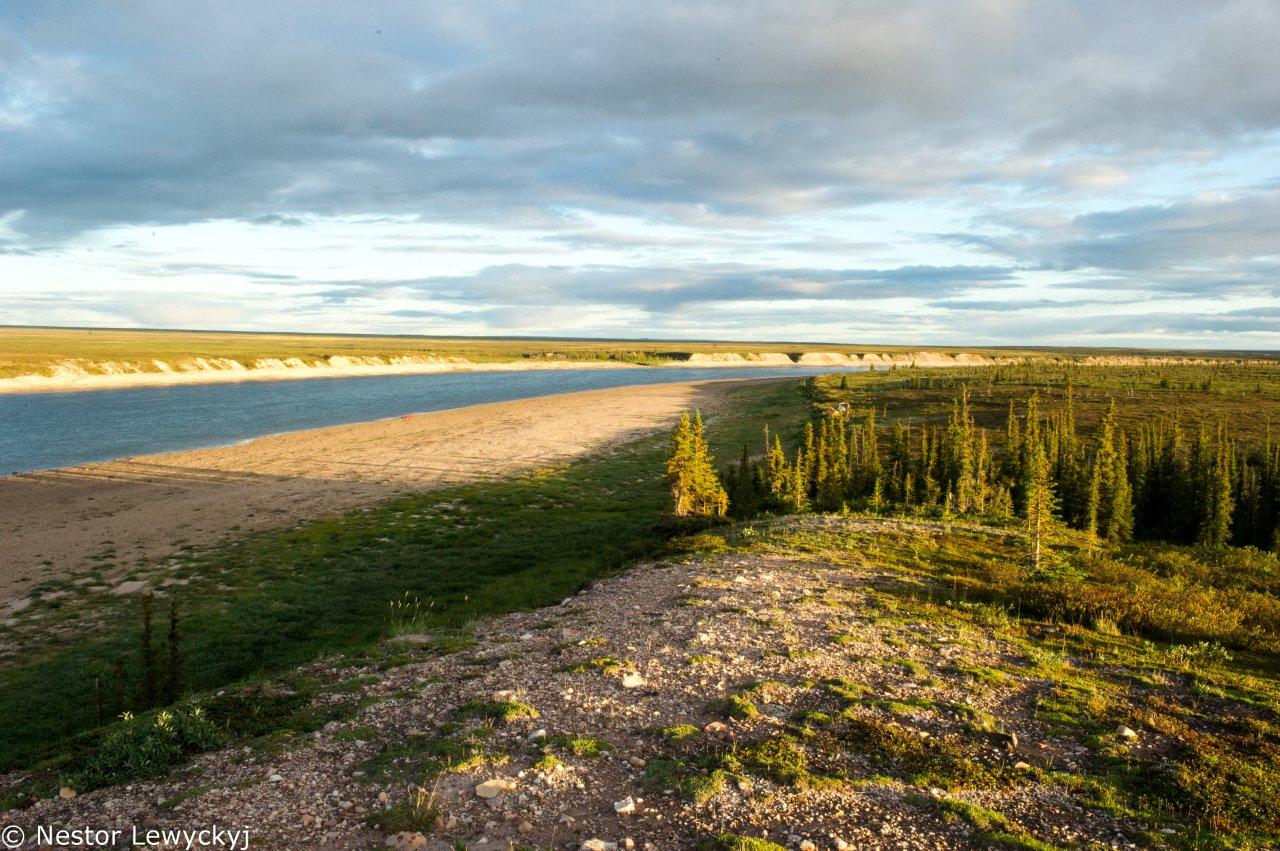 As viewed from the ridge just downriver from us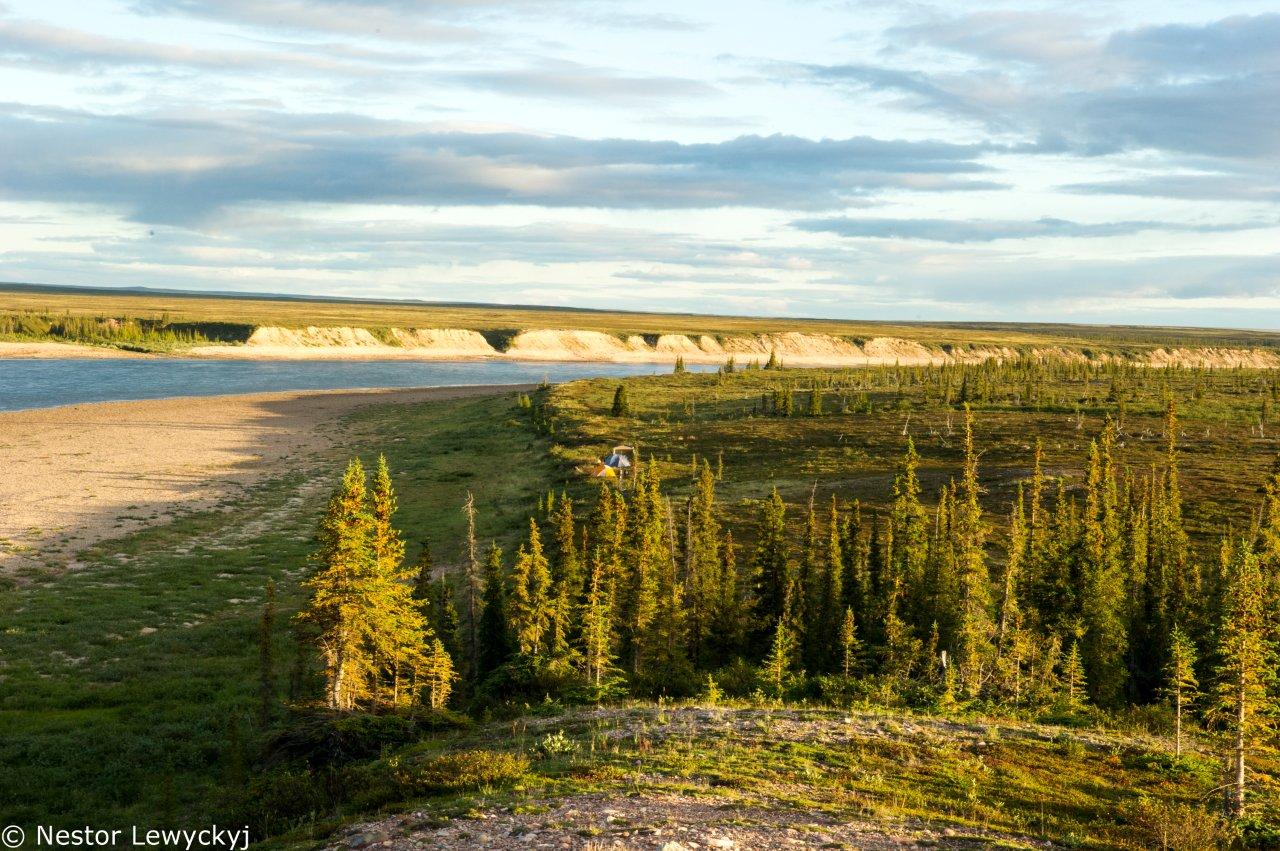 If you were given this view, would you guess that this is Canada?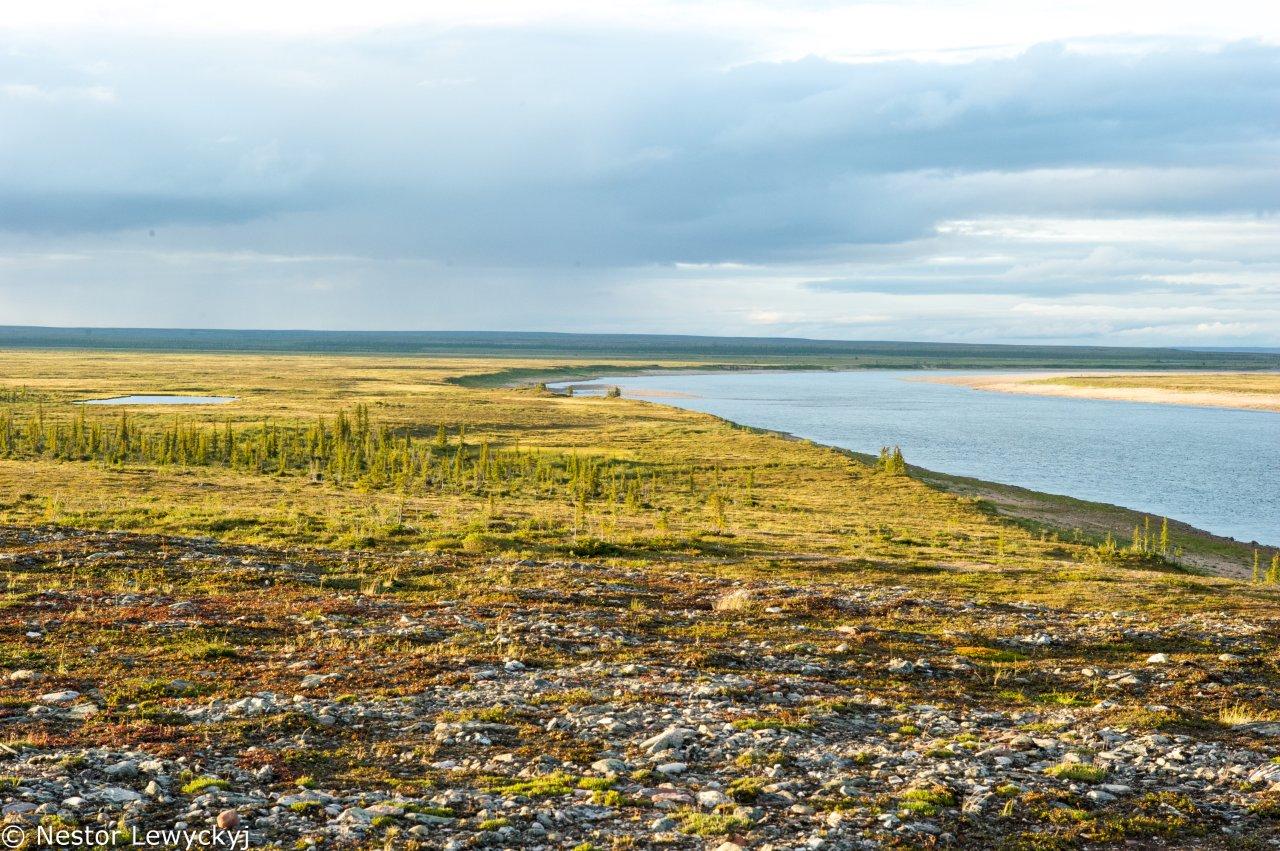 The Thelon River flowing northward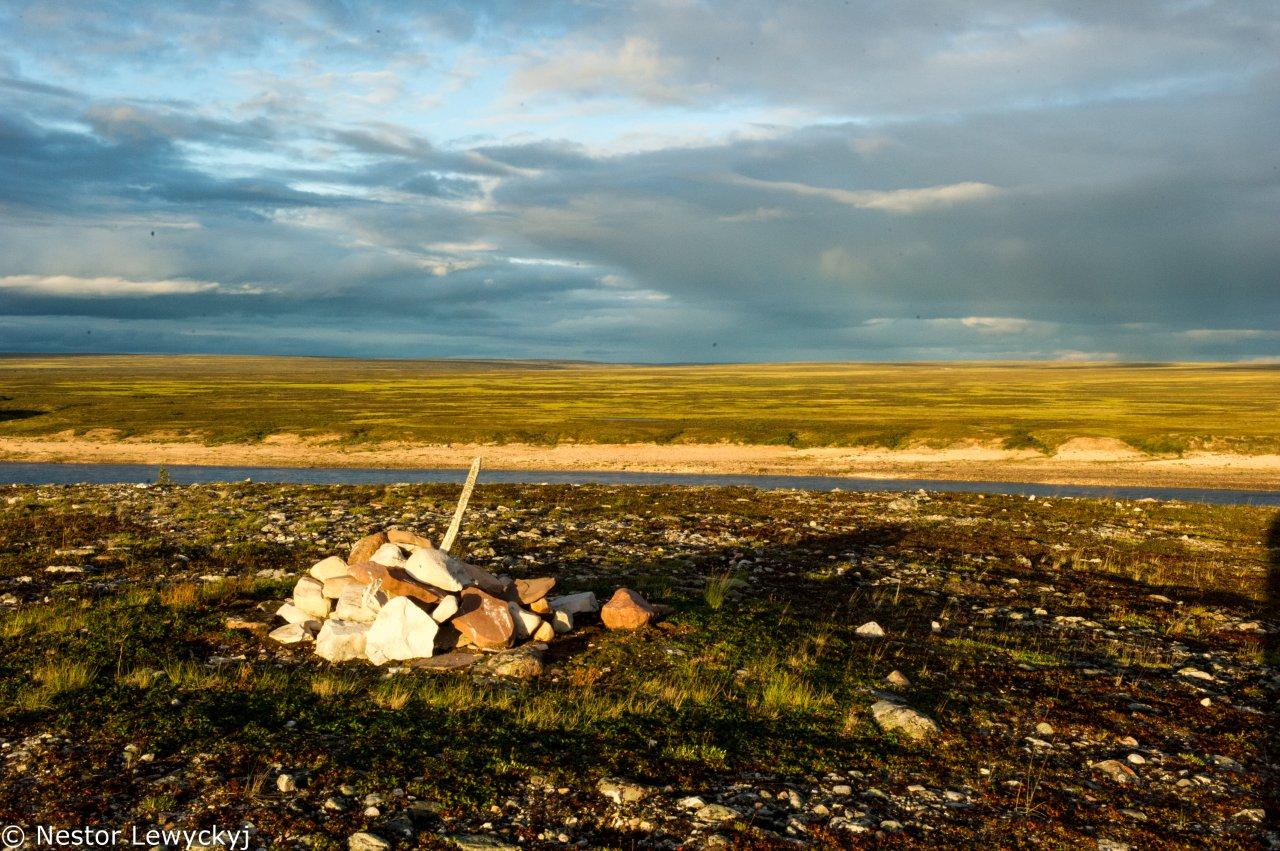 The top of the ridge had a marker on it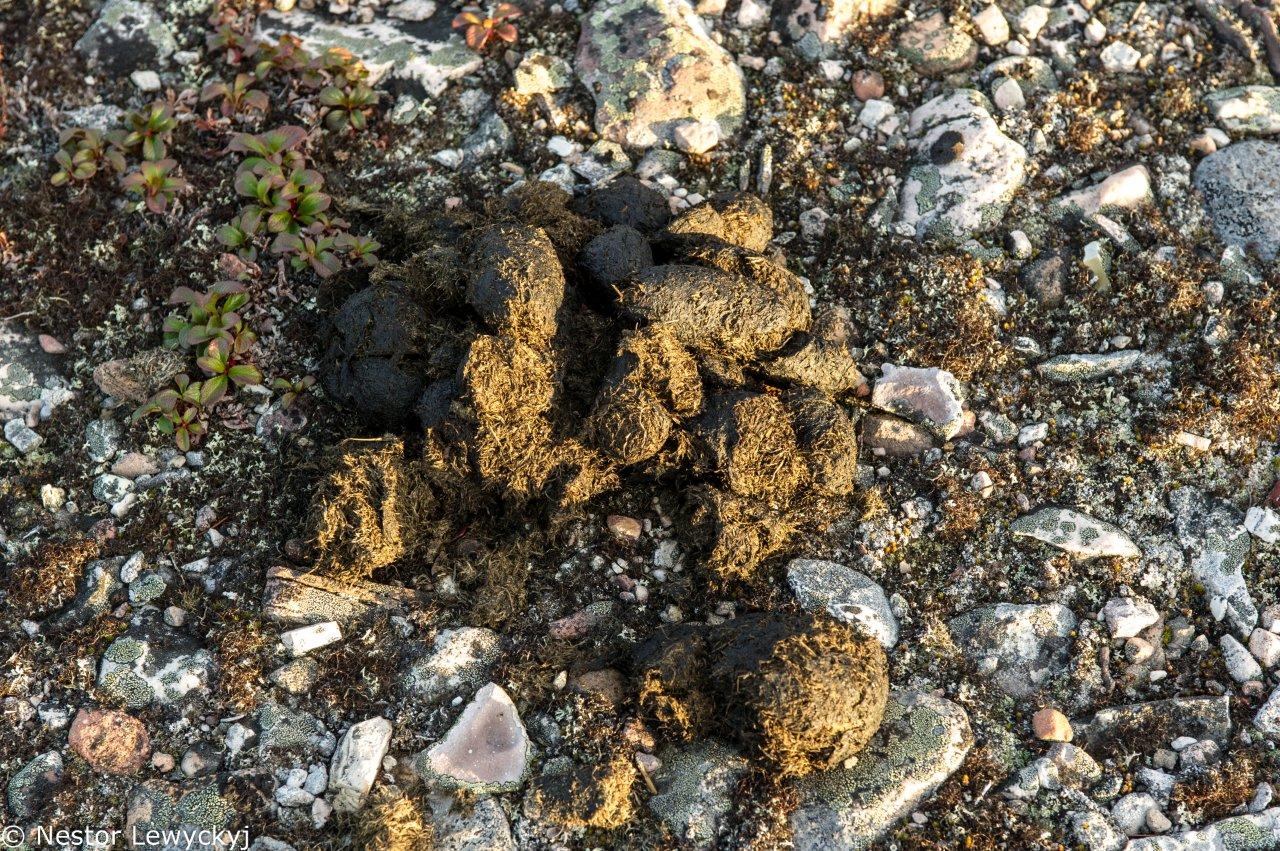 Muskox droppings at the top of the ridge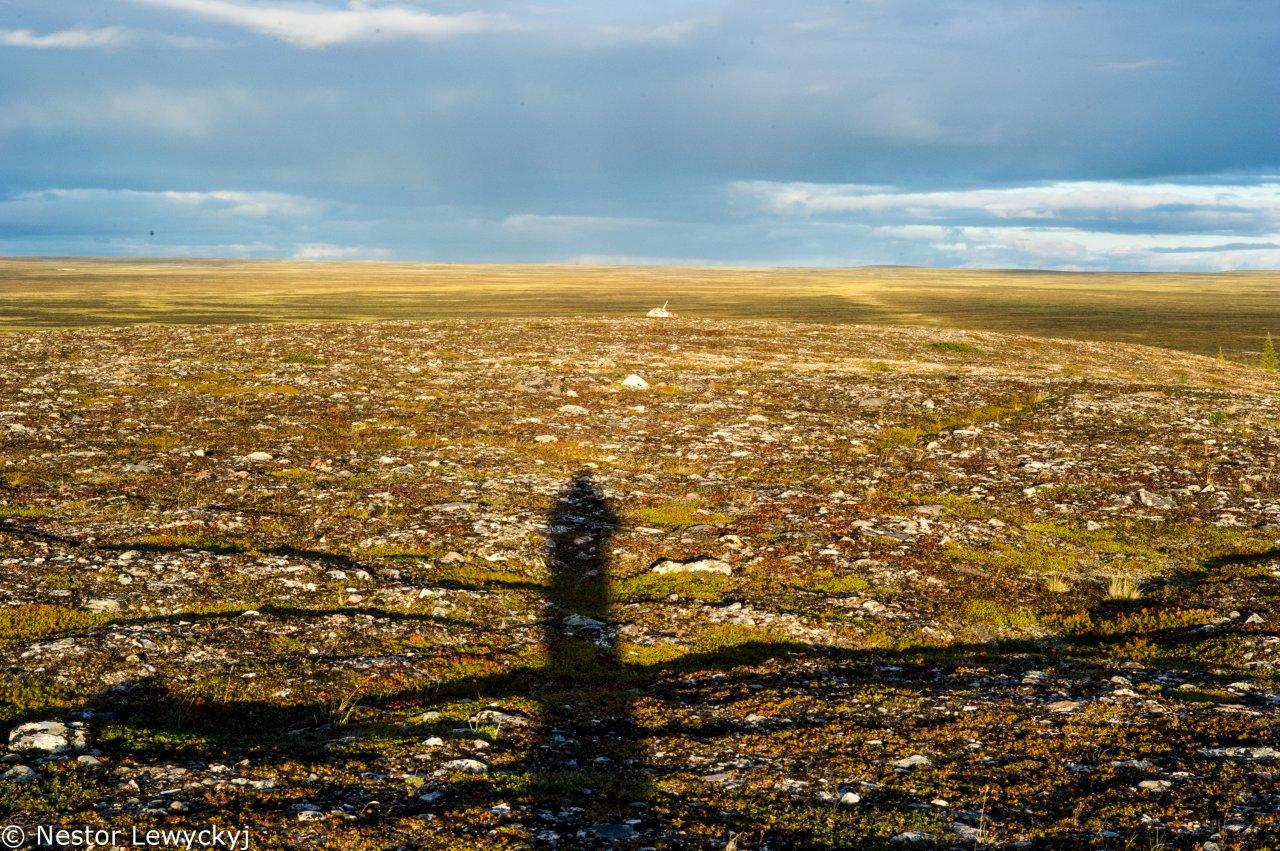 Shadow tundra selfie
You can see for miles and miles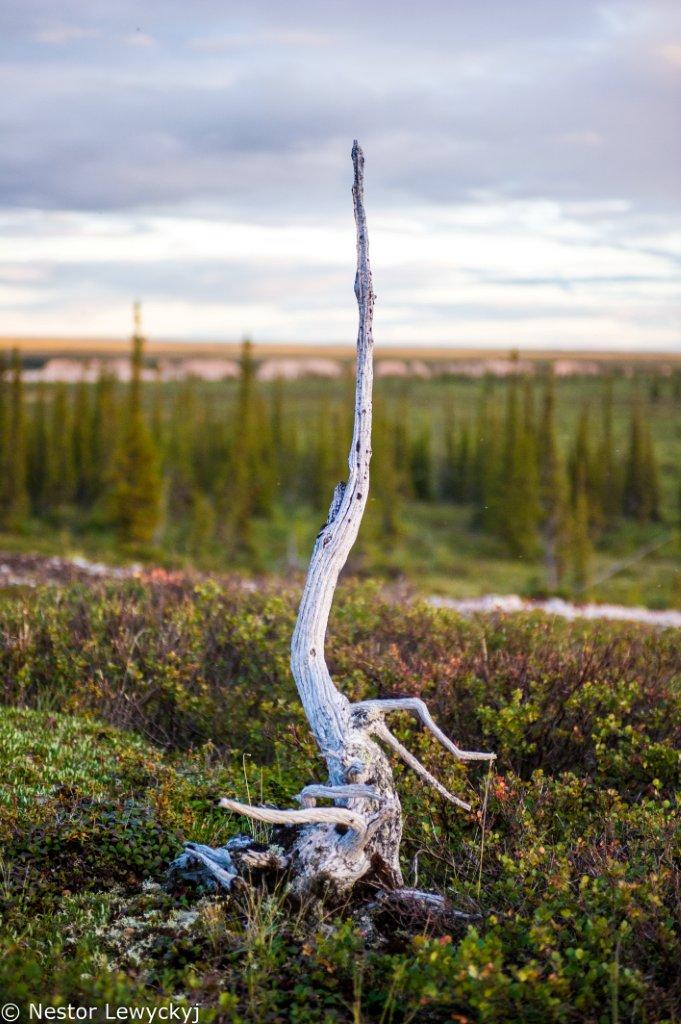 Dead tree as a monument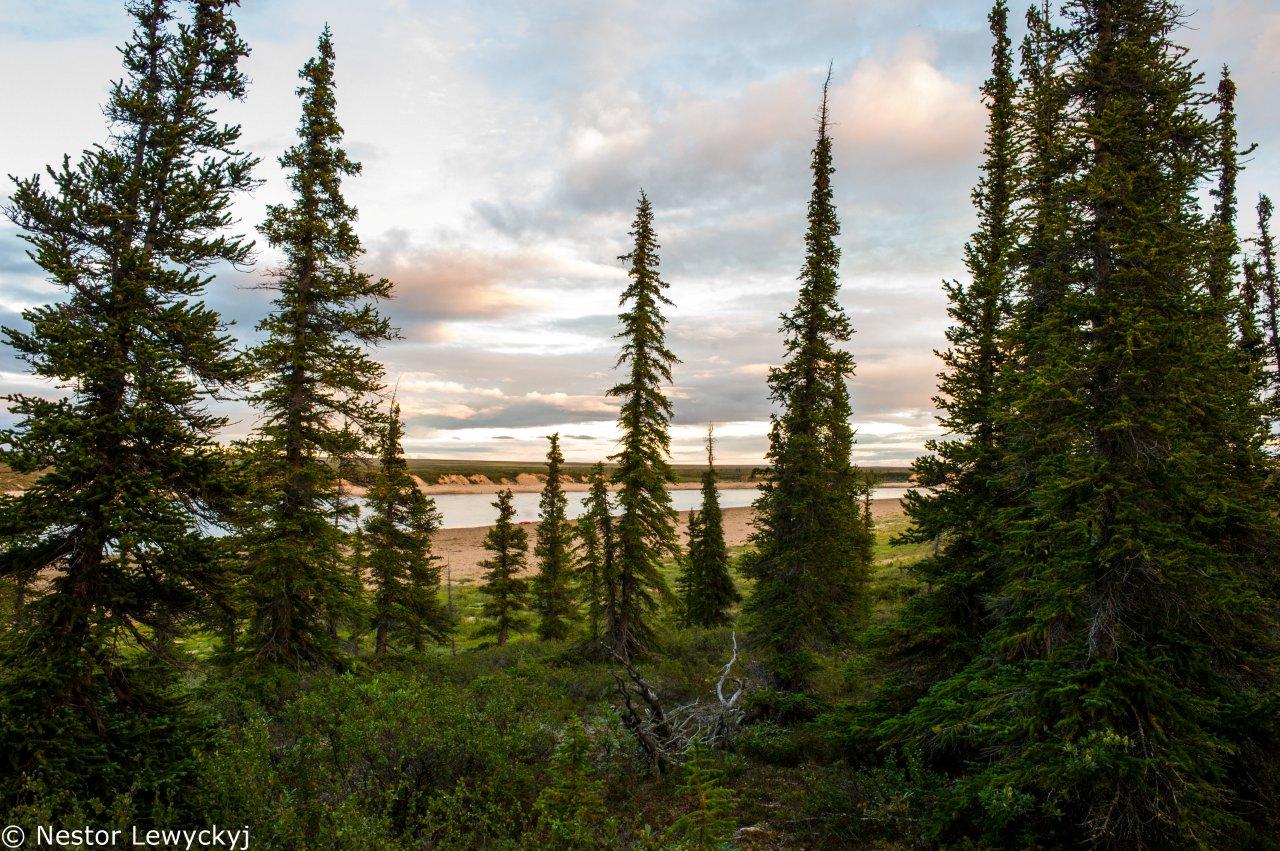 There are not many trees this far north, and ads you walk about them, and see how big they are at the base (18" dia), and once you think how slowly they grow there, you realize they are really probably hundreds of years old!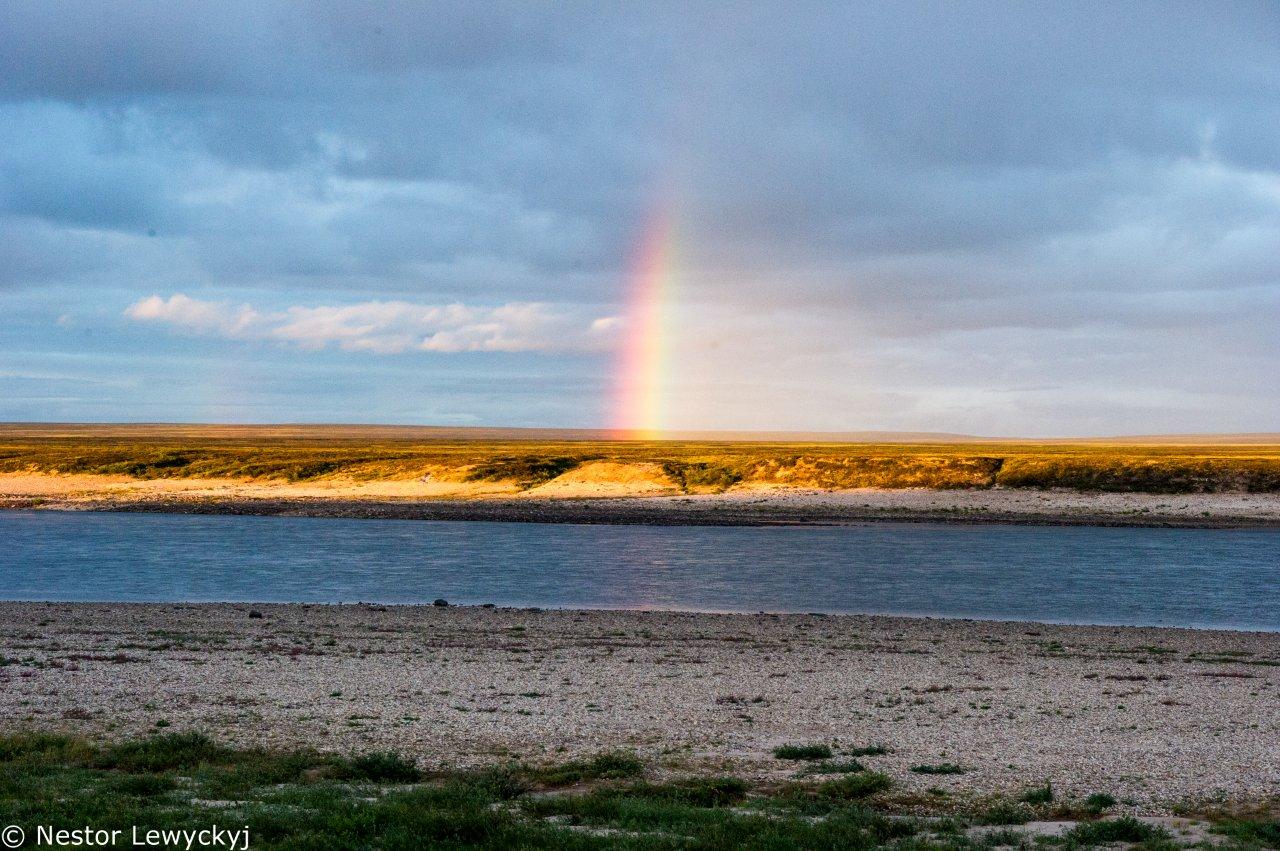 If you take the time to walk around and look, they are many beautiful vistas around you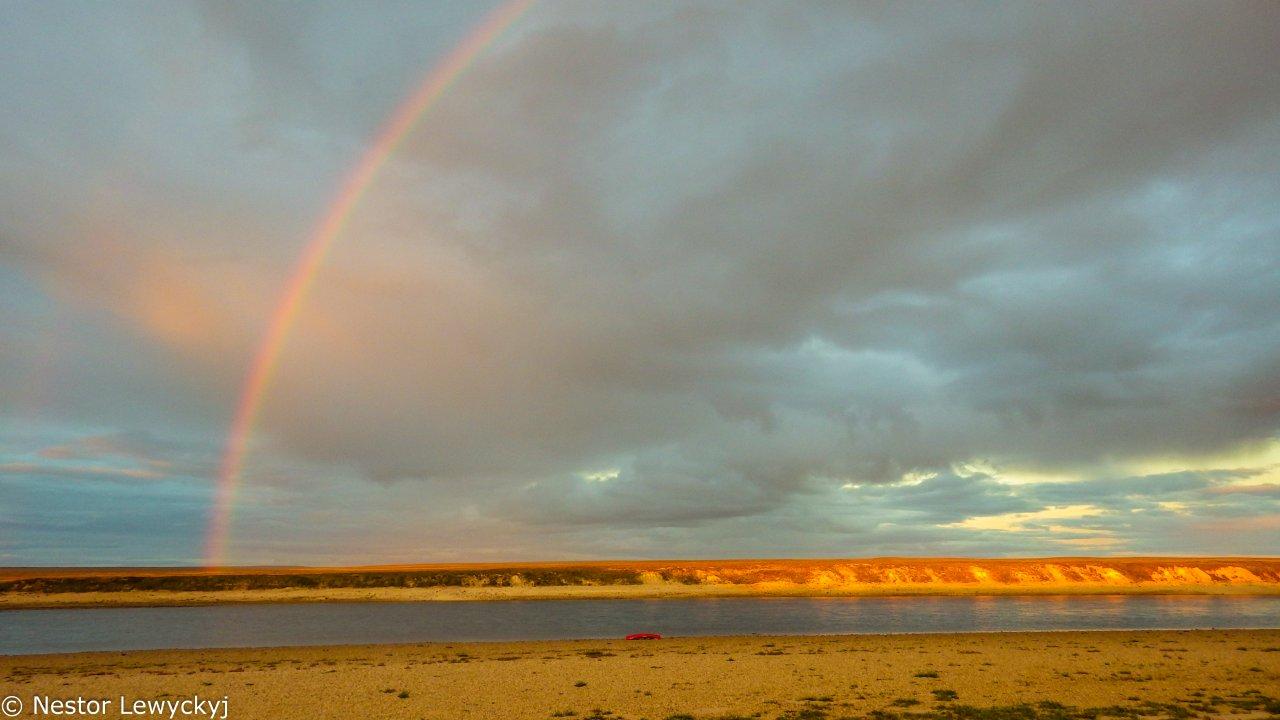 I am not ready to go to sleep yet!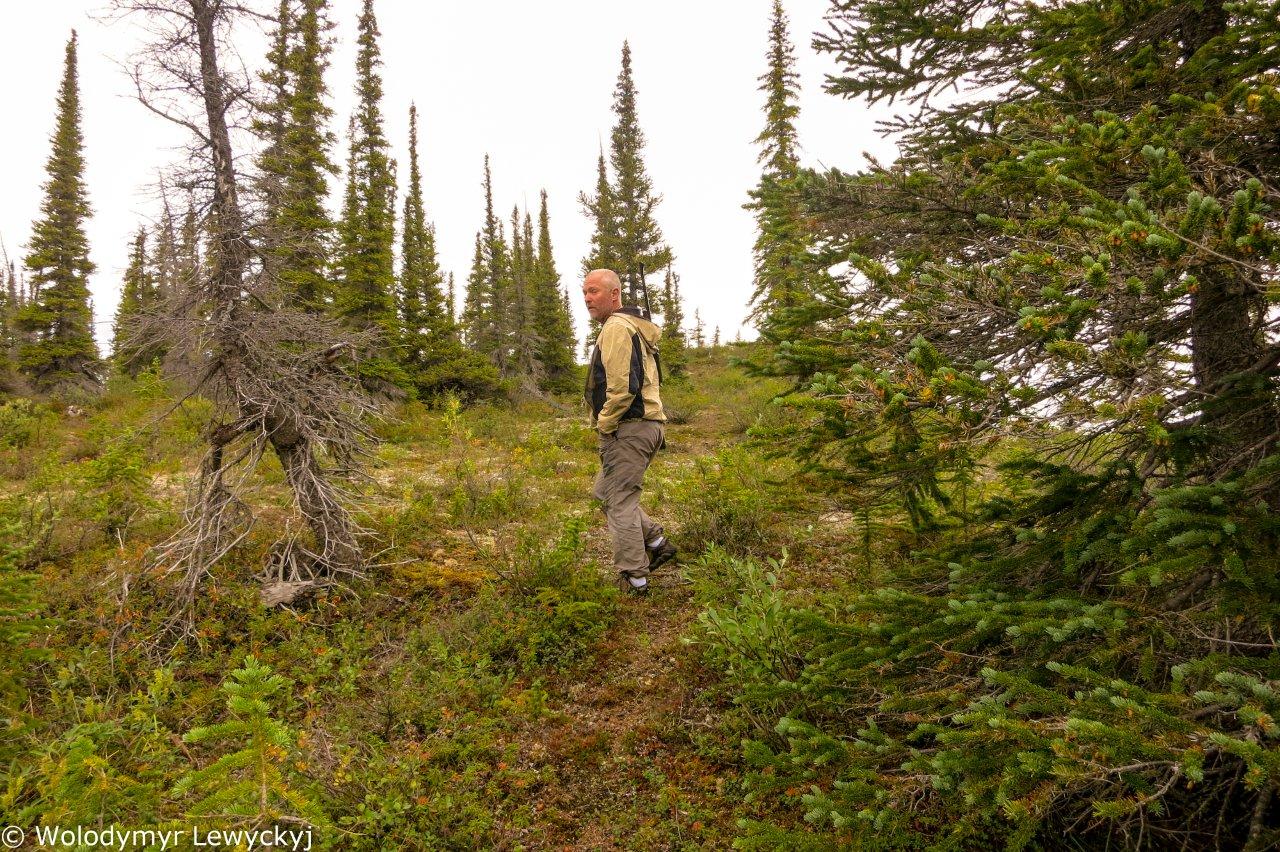 All of us took a walk up the ridge the next morning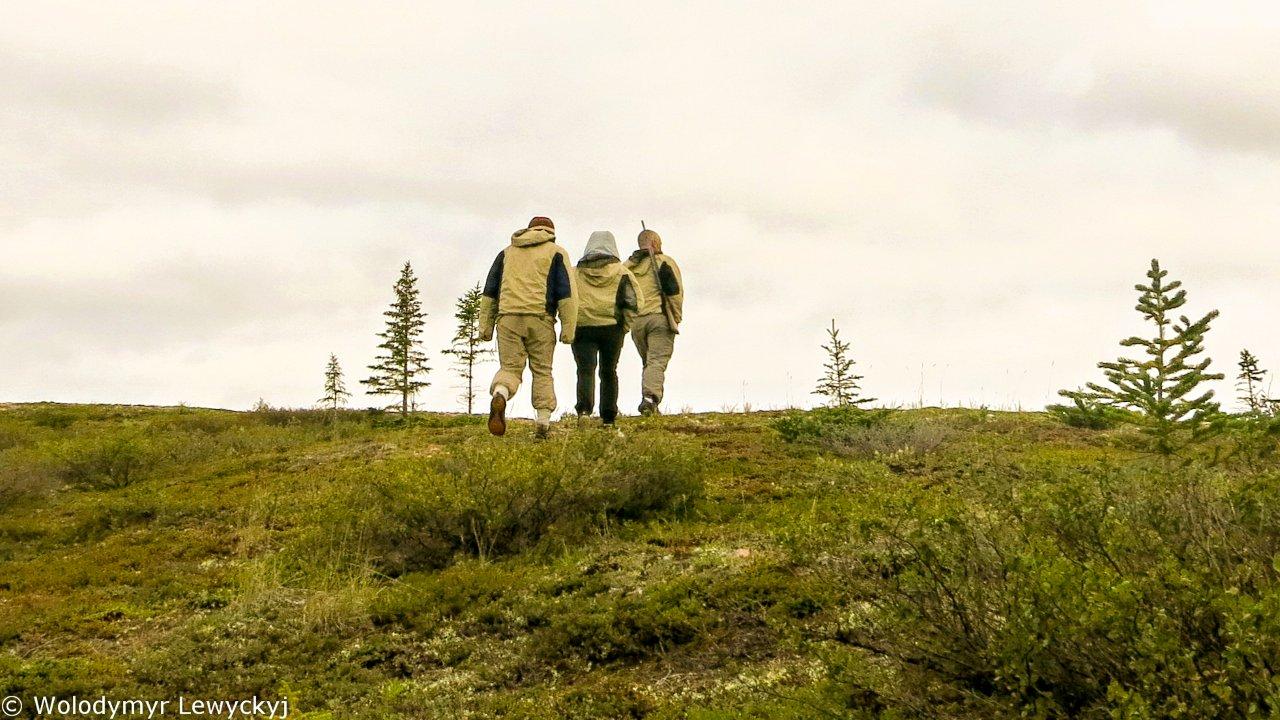 The bug shirts were like our uniforms the bug shirt army protecting the North!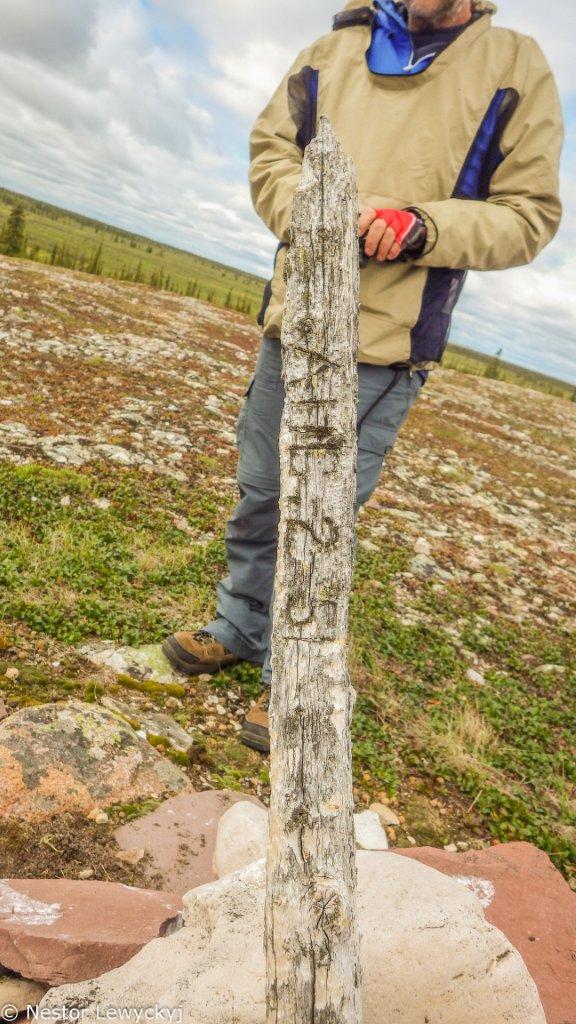 The date on the ridge marker is Aug 2, 1951 and it is really weathered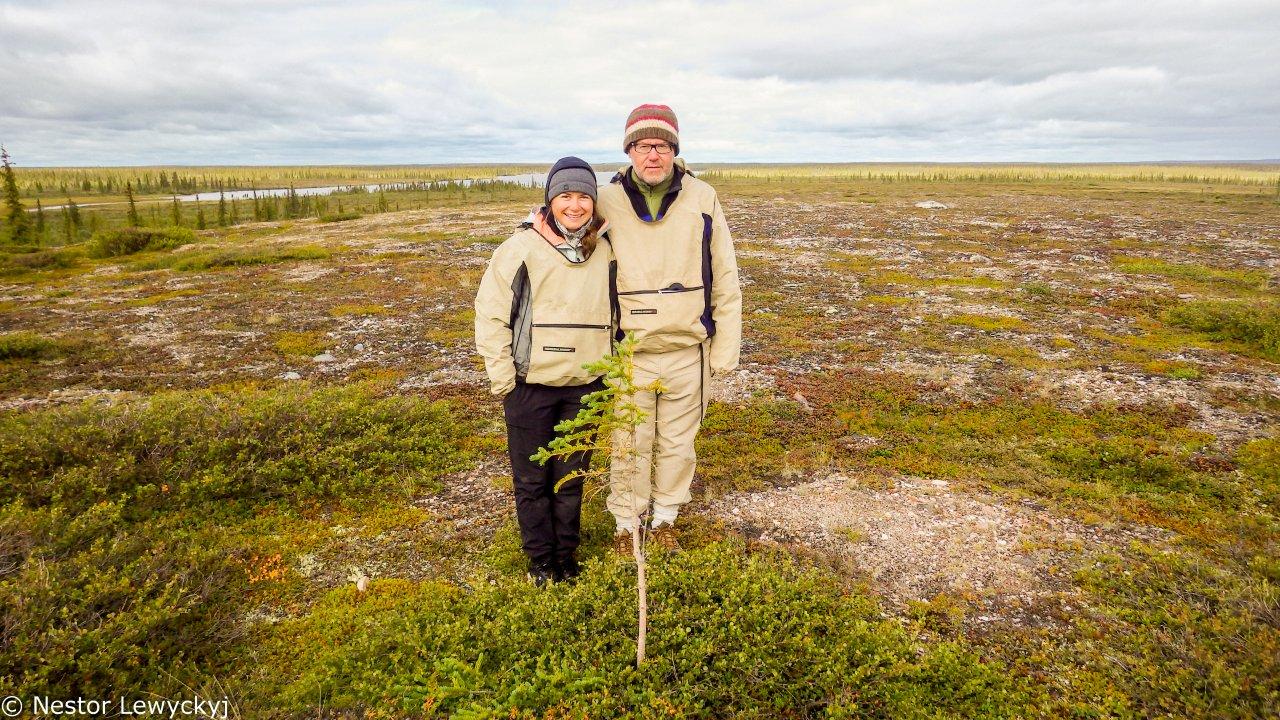 Brave but lonely tree on the ridge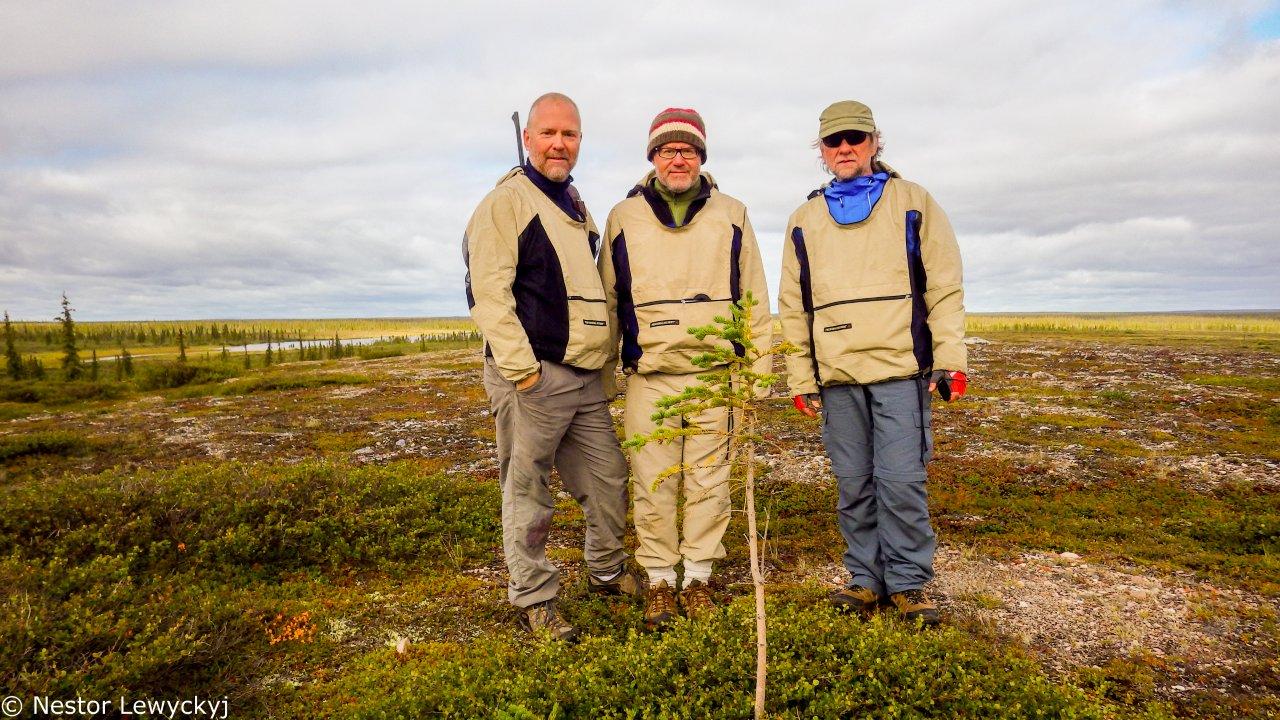 And it received our full attention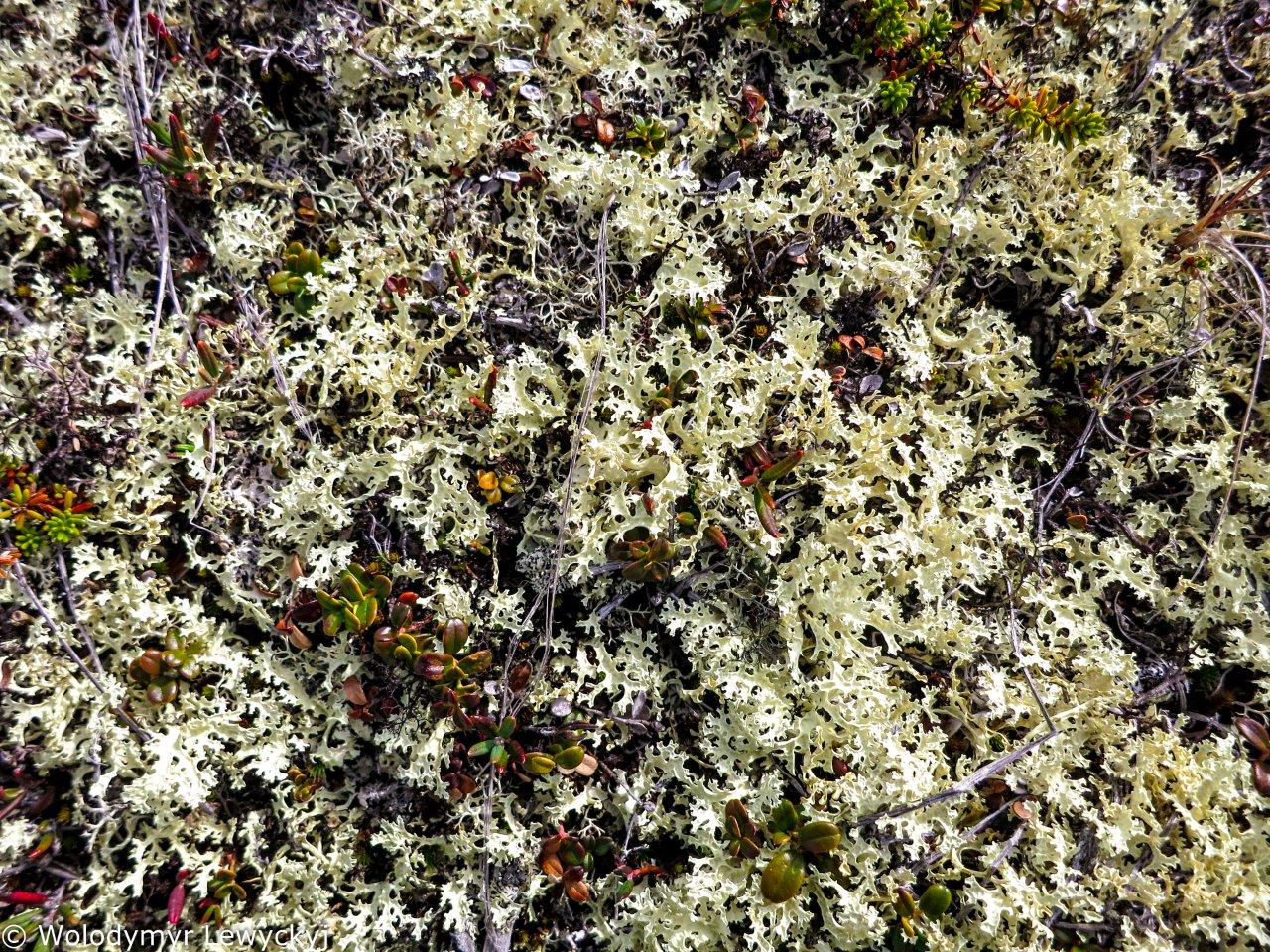 Lichen, Caribou food. As far as I know, they eat nothing else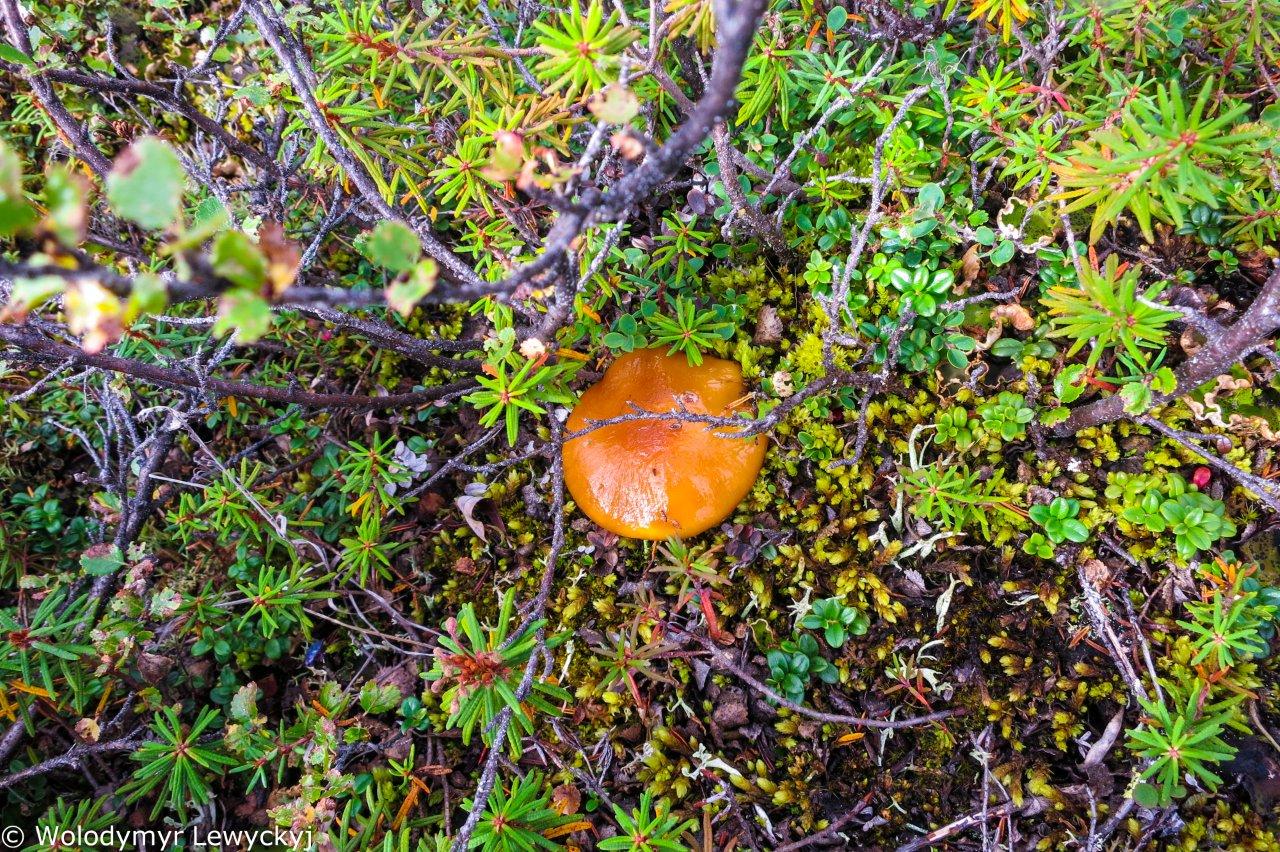 It being August, their were tons of all kinds of mushrooms to be found, and they were plentiful this year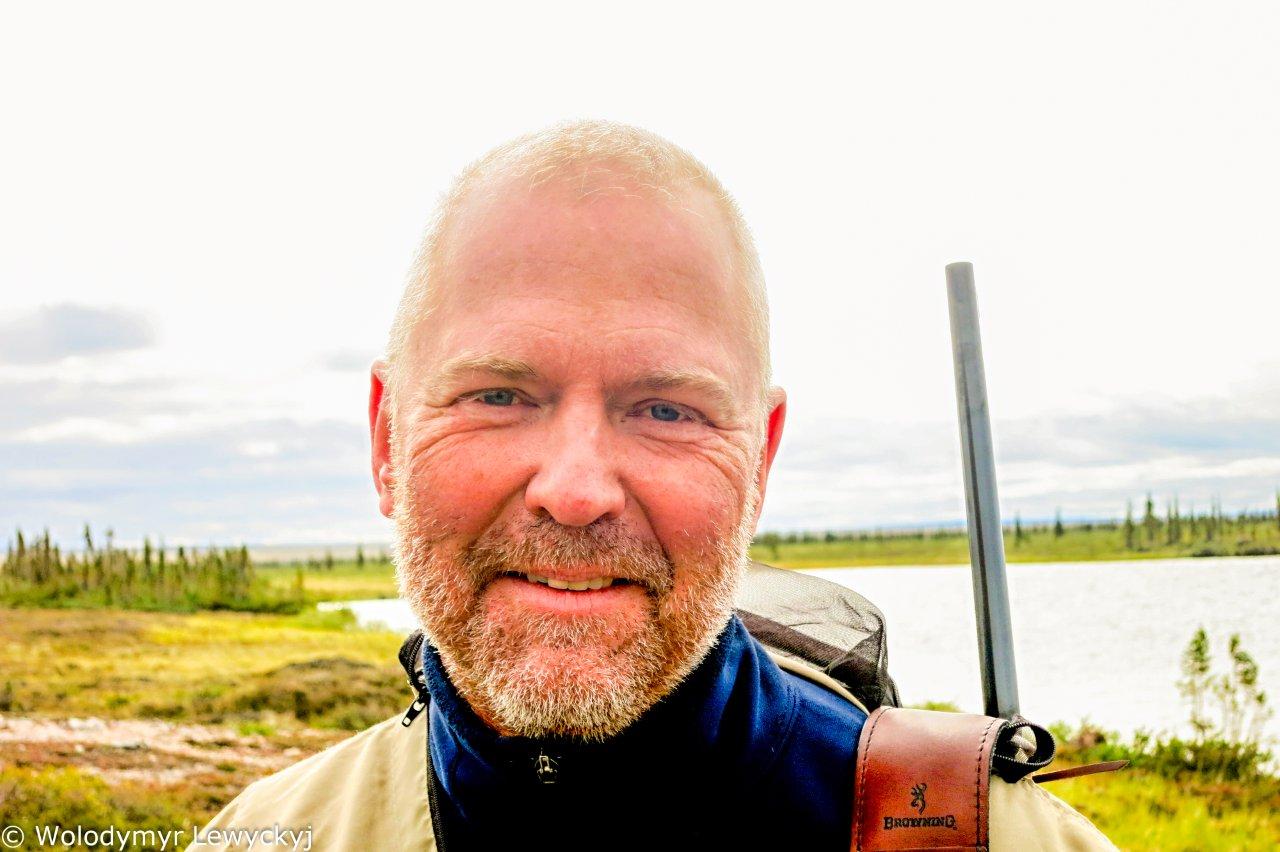 I don't show many such shots of me, for a reason. I am definitely getting older and that is not always easy to take. I am younger on the inside....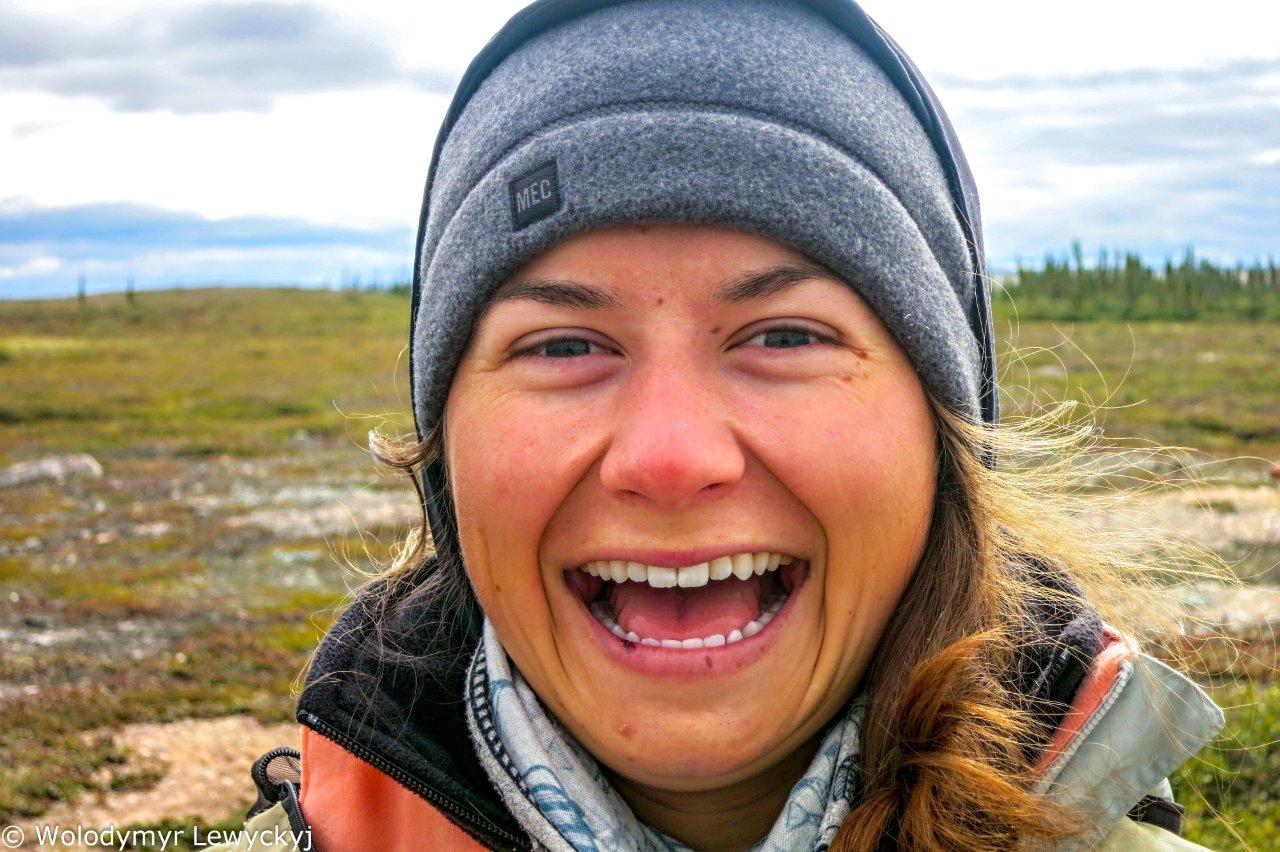 Sarah was always in amazing spirits. No matter how hard or uncomfortable it got, she was always smiling. She was such a strong part of the crew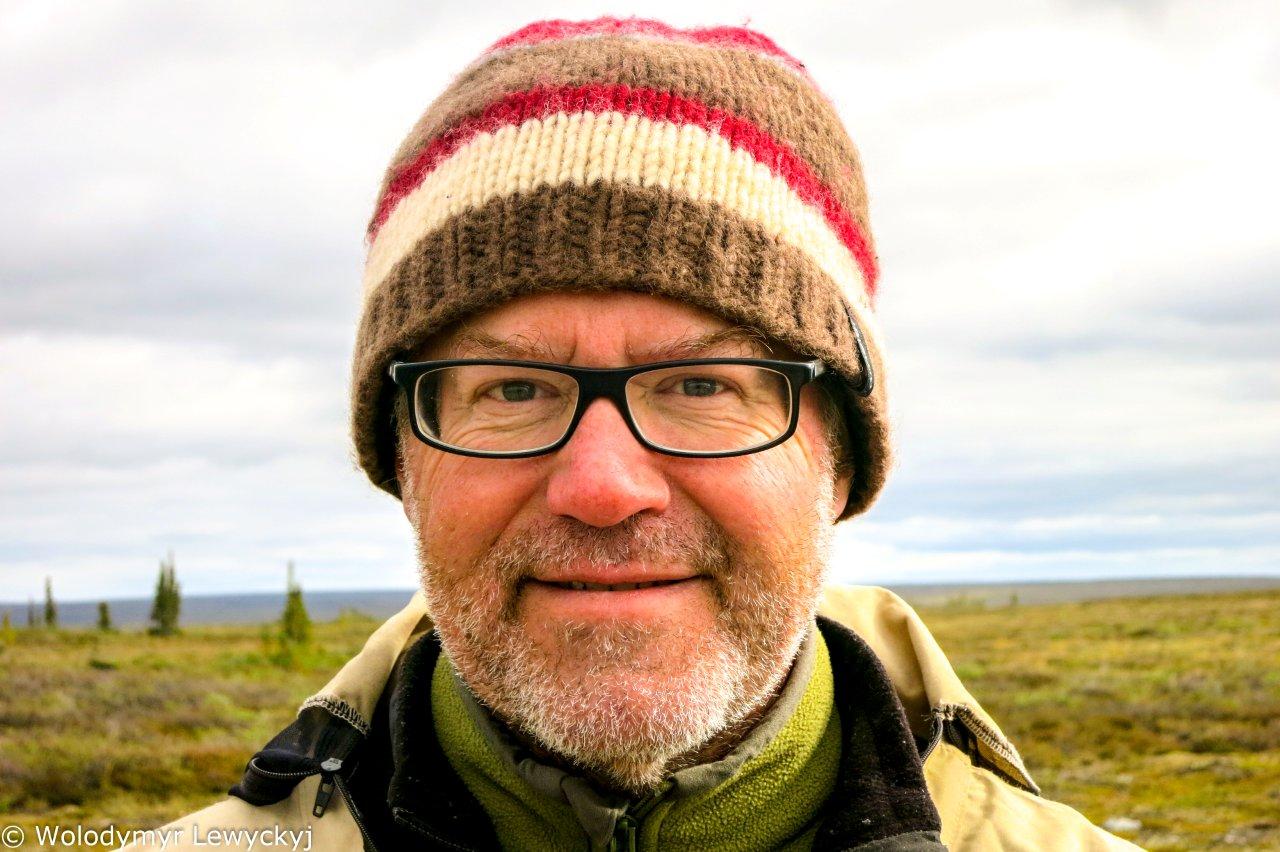 Stalwart Roman
Wolodymyr provided the crew security.....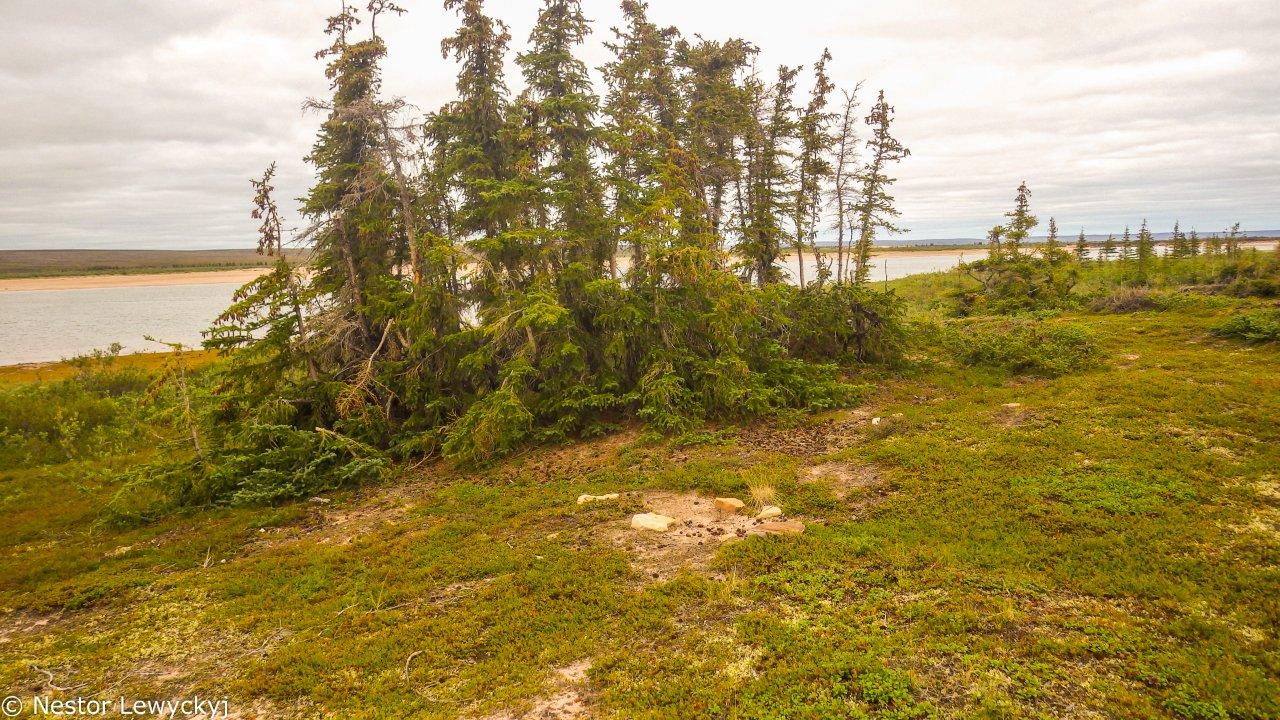 This stand of trees, just before the Thelon River takes its final turn to the East to eventually flow into the big lakes, is where Natalka, Keith, Taras, and I spent 3 days wind bound back in 2004. You can see our trip details here.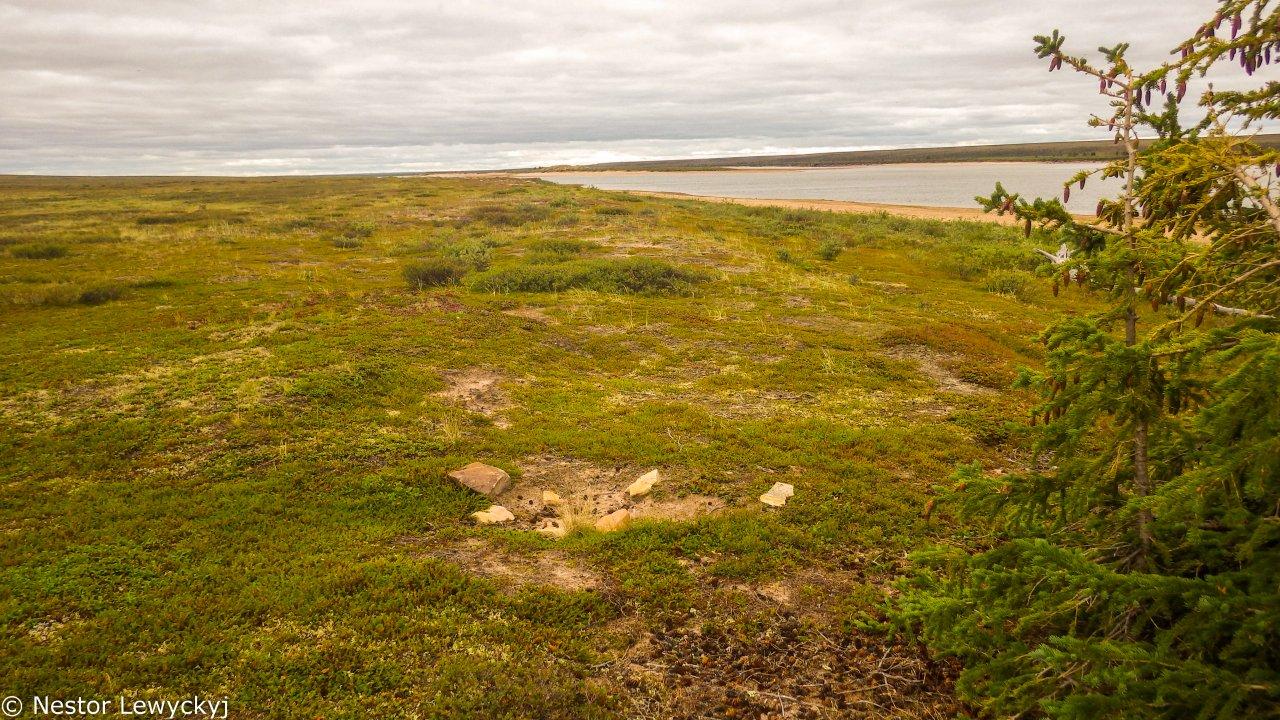 The old fire pit is still there. It was there when we found it in 2004. Obviously other trekkers had used it before us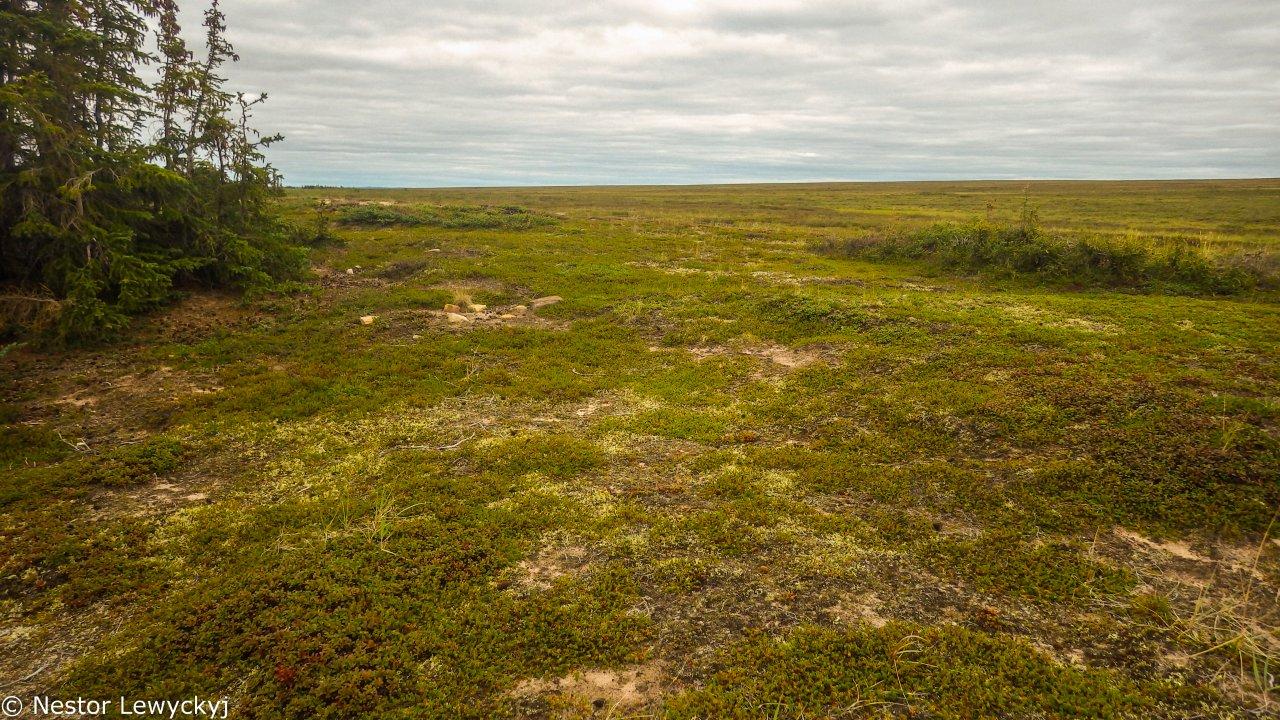 It was still so familiar in my mind, it was like visiting an old friend.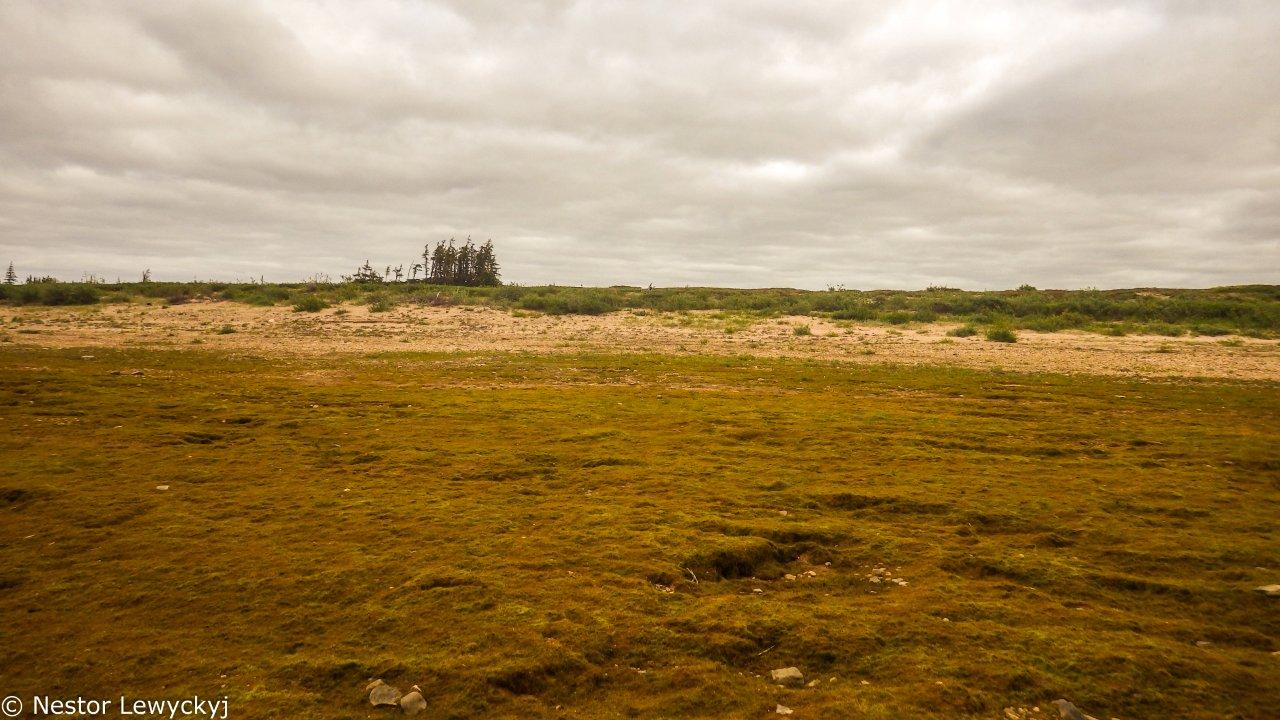 That is all it looked like from the river, but back in 2004, those trees sheltered us from a brutal north-easterly wind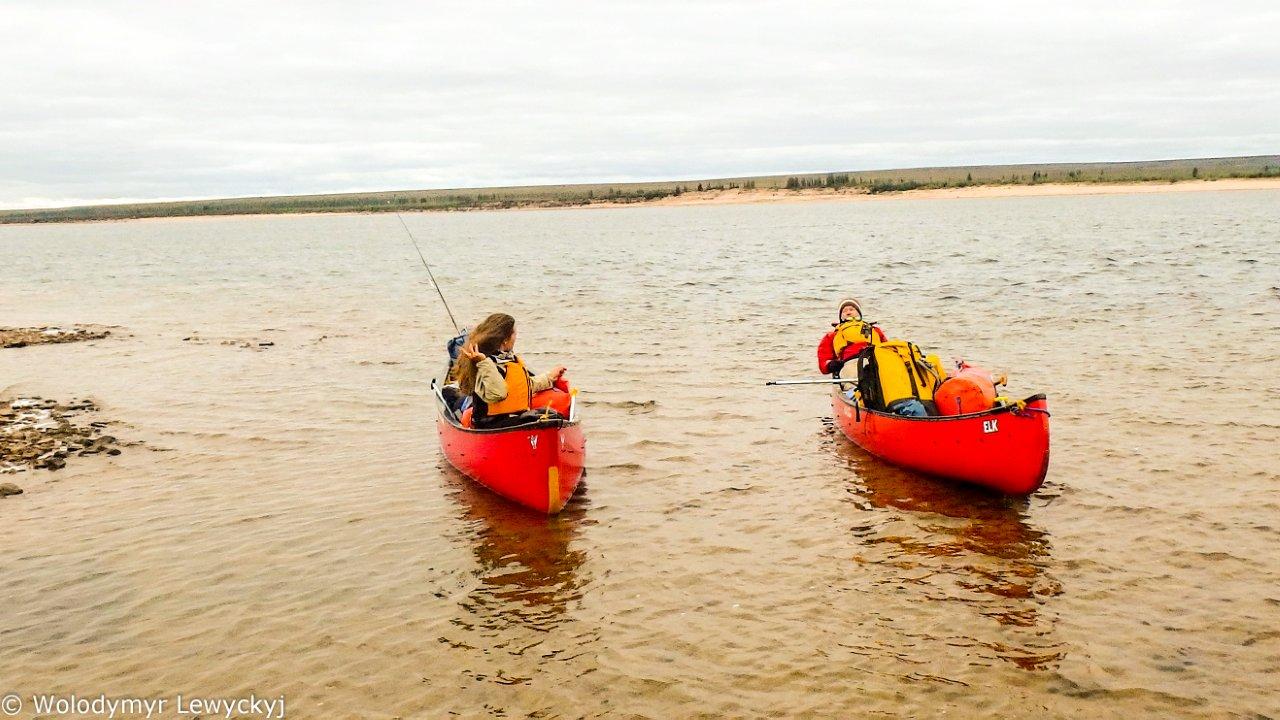 The rest of the crew waited patiently while I visited my old friend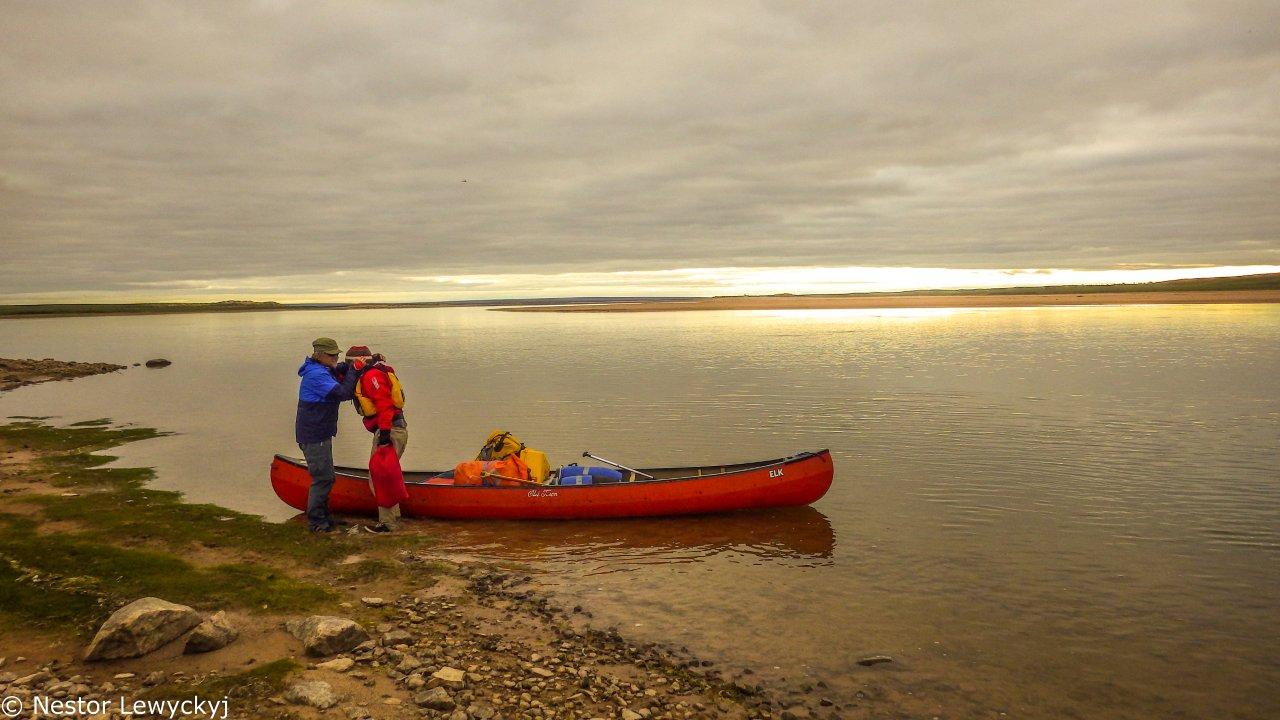 Wolodymyr giving Roman a badly needed hug at the end of a long long day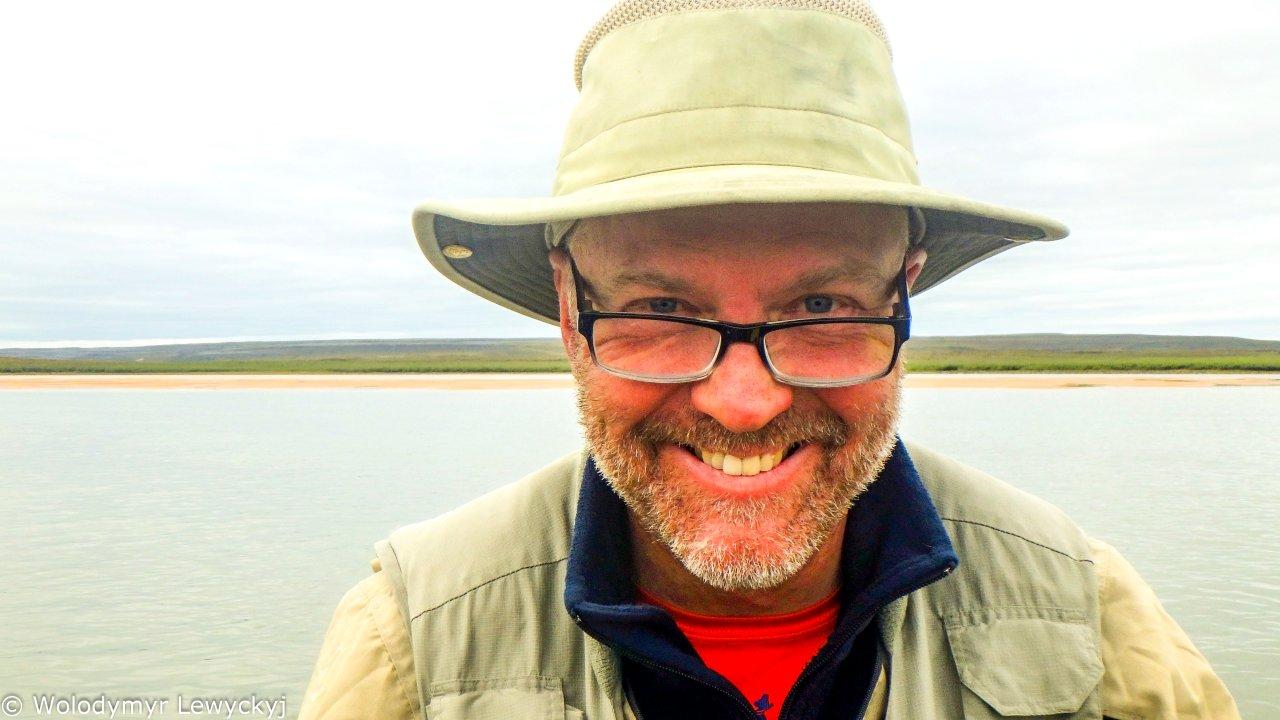 I was feeling really good! The trip was going really well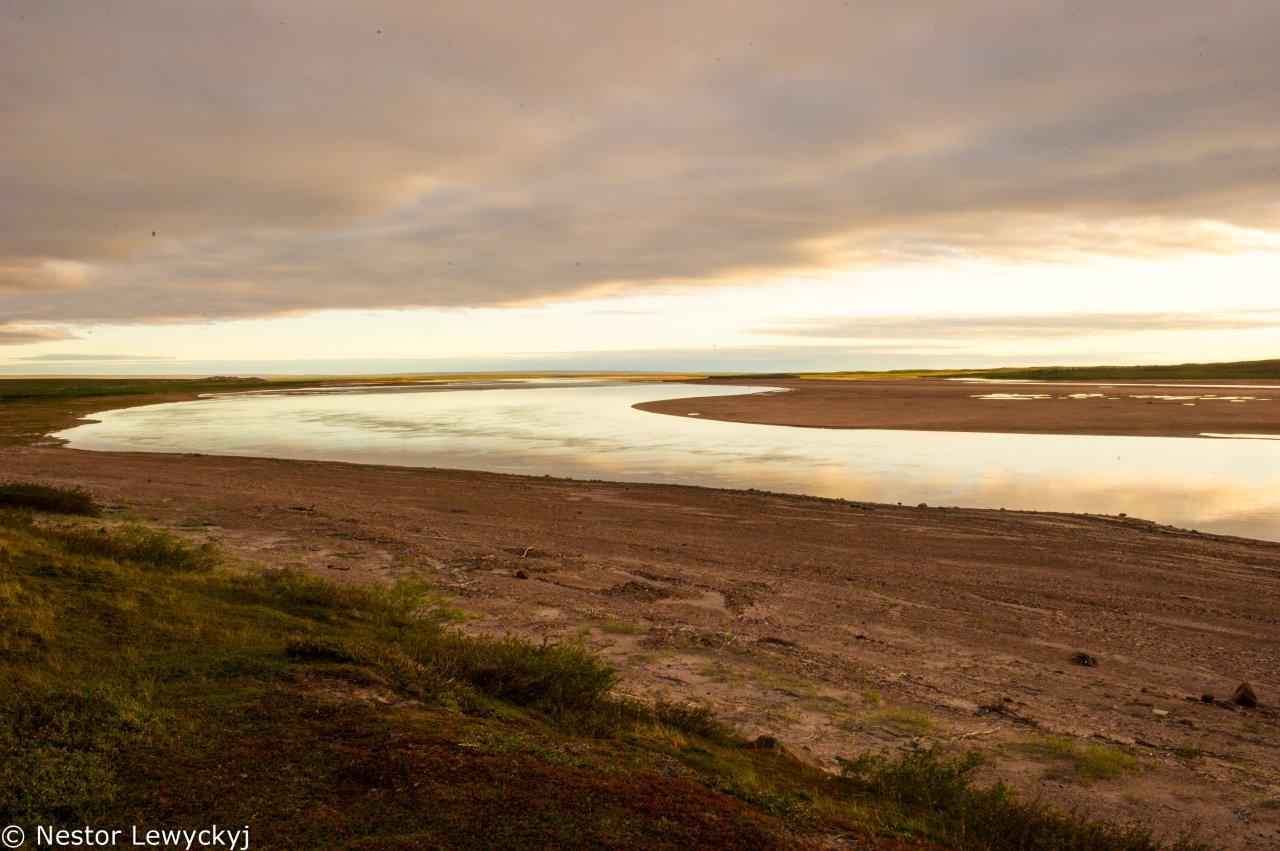 We made our camp about a kilometre from the big bend in the Thelon River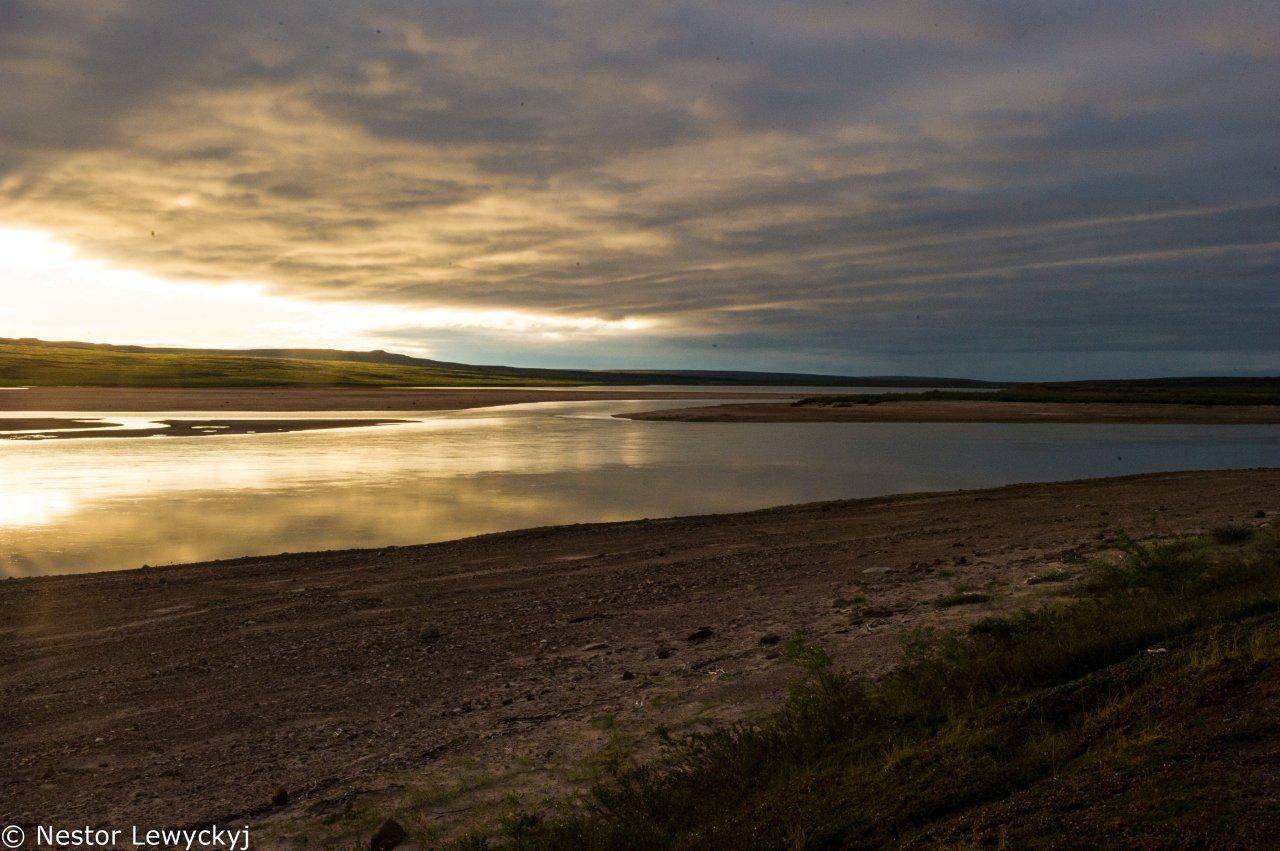 It turned out to be a very nice and calm evening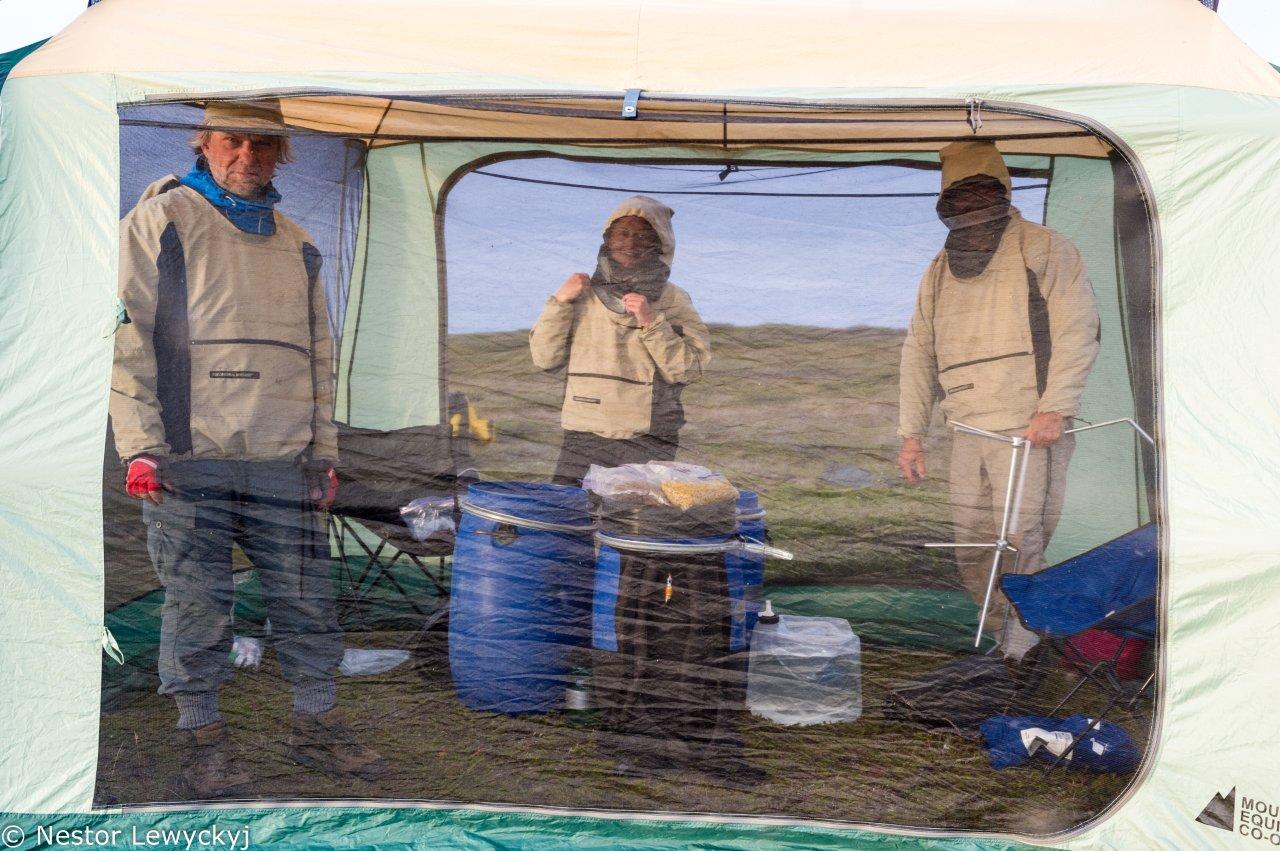 But the bugs were really bad this year, and the bug tent proved to be invaluable, giving us badly needed relief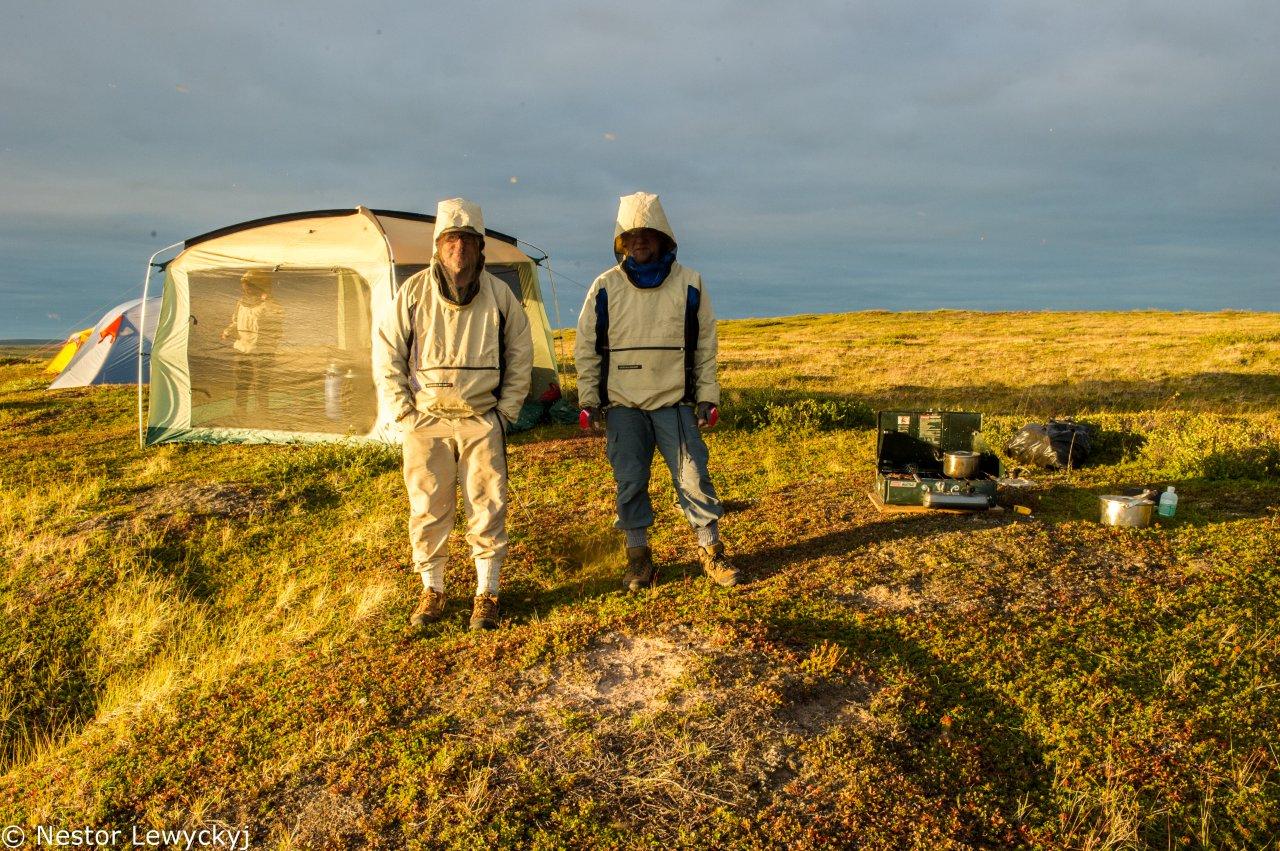 And we had the amazing glow of the late summer setting sun over the tundra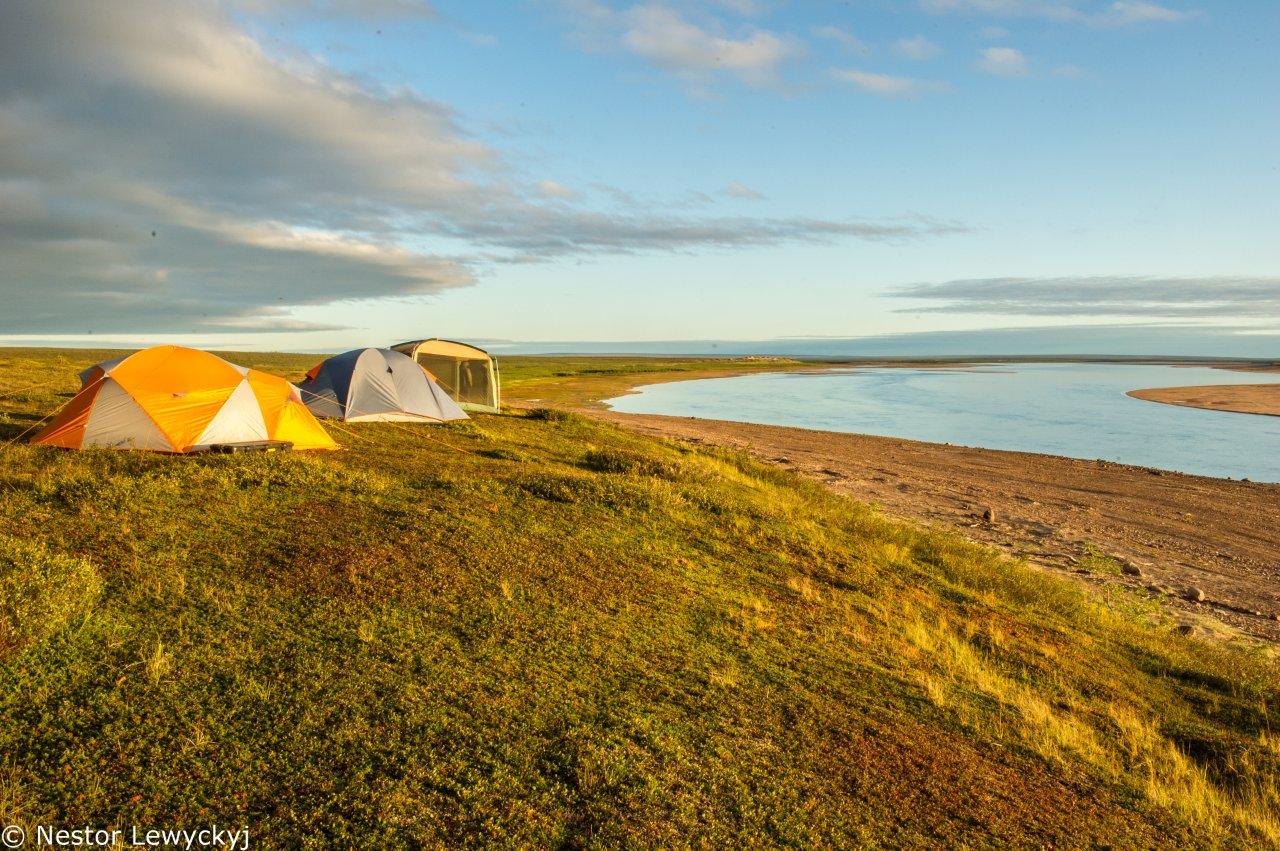 It was a really nice place to camp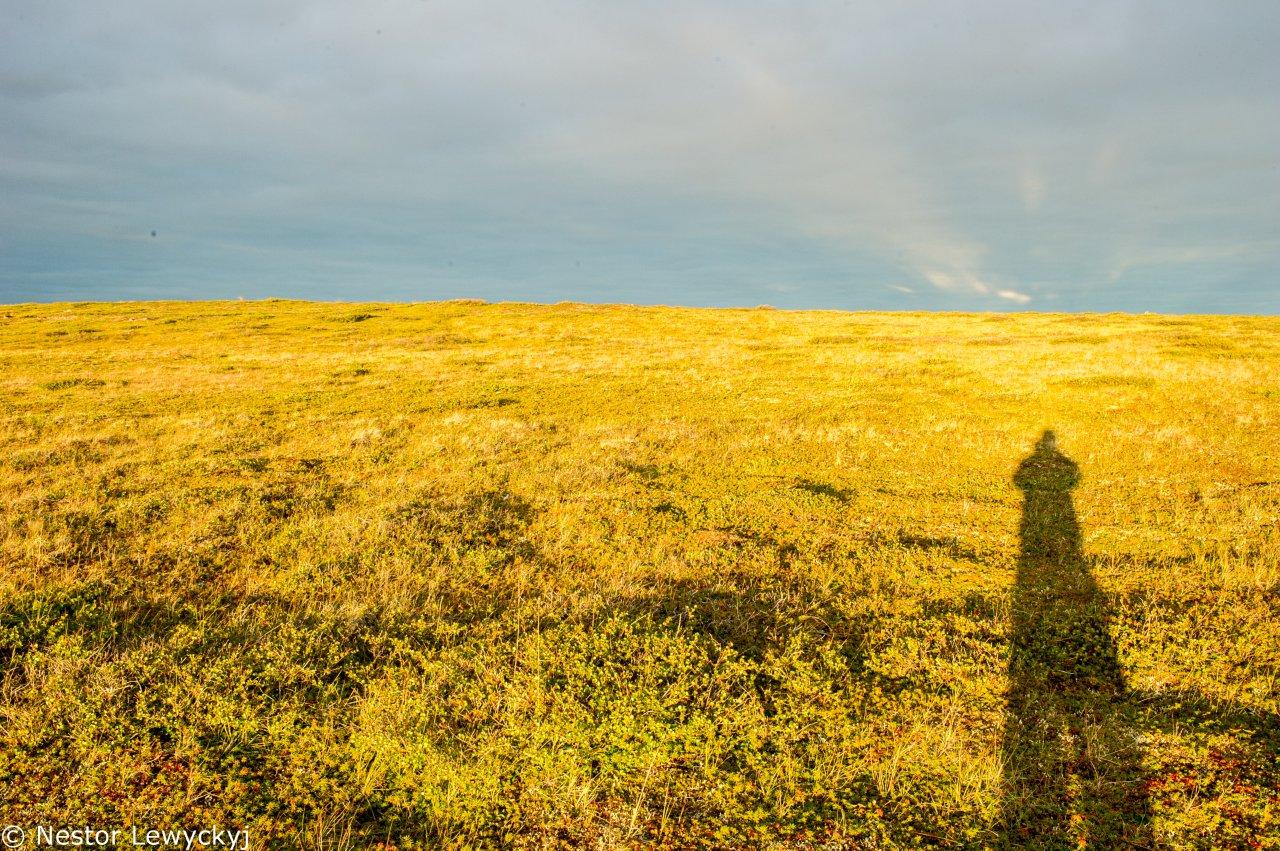 A tundra selfie, but also a tundra version of the Ukrainian flag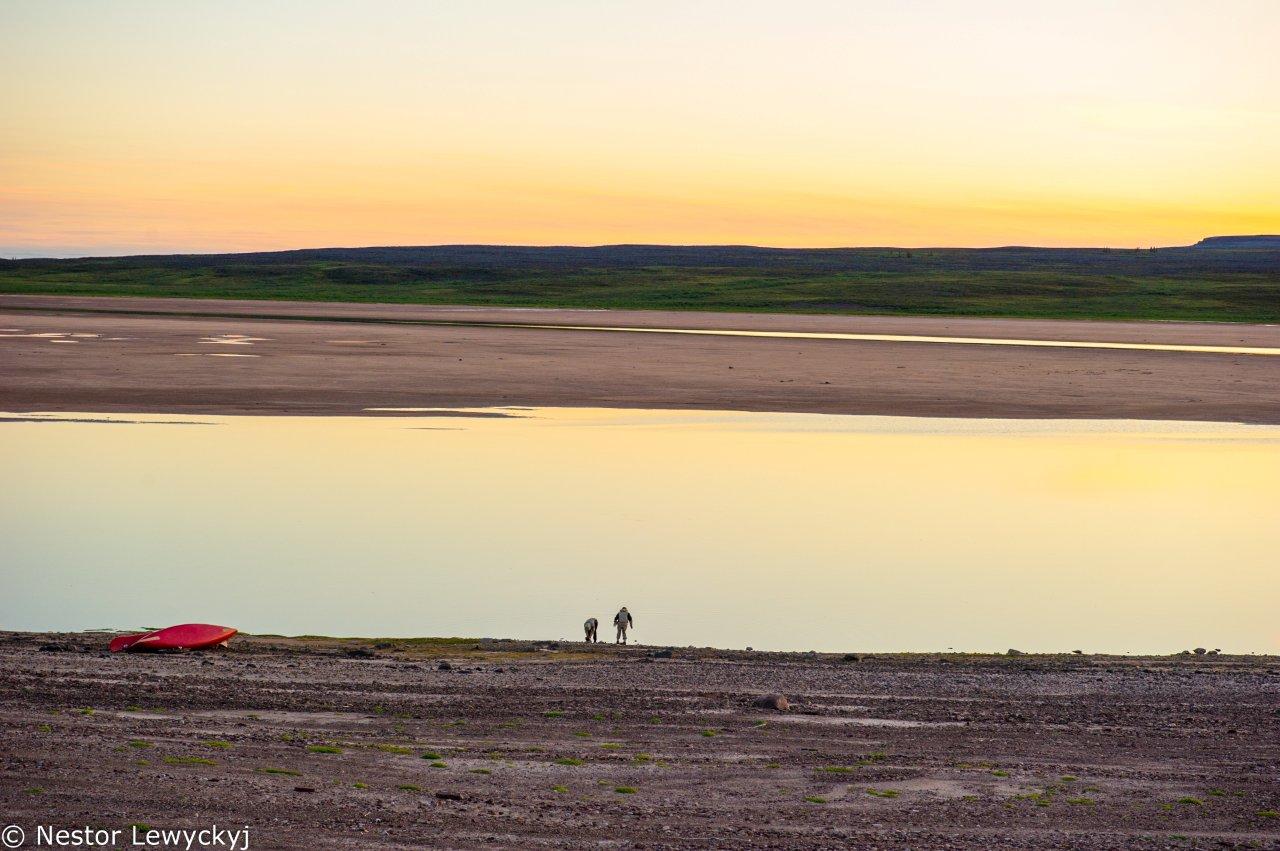 Roman and Sarah doing the dinner dishes. This perspective shows you how low the water levels get in late summer, but also the vast scale of the landscape
And our camp had a great view of the setting sun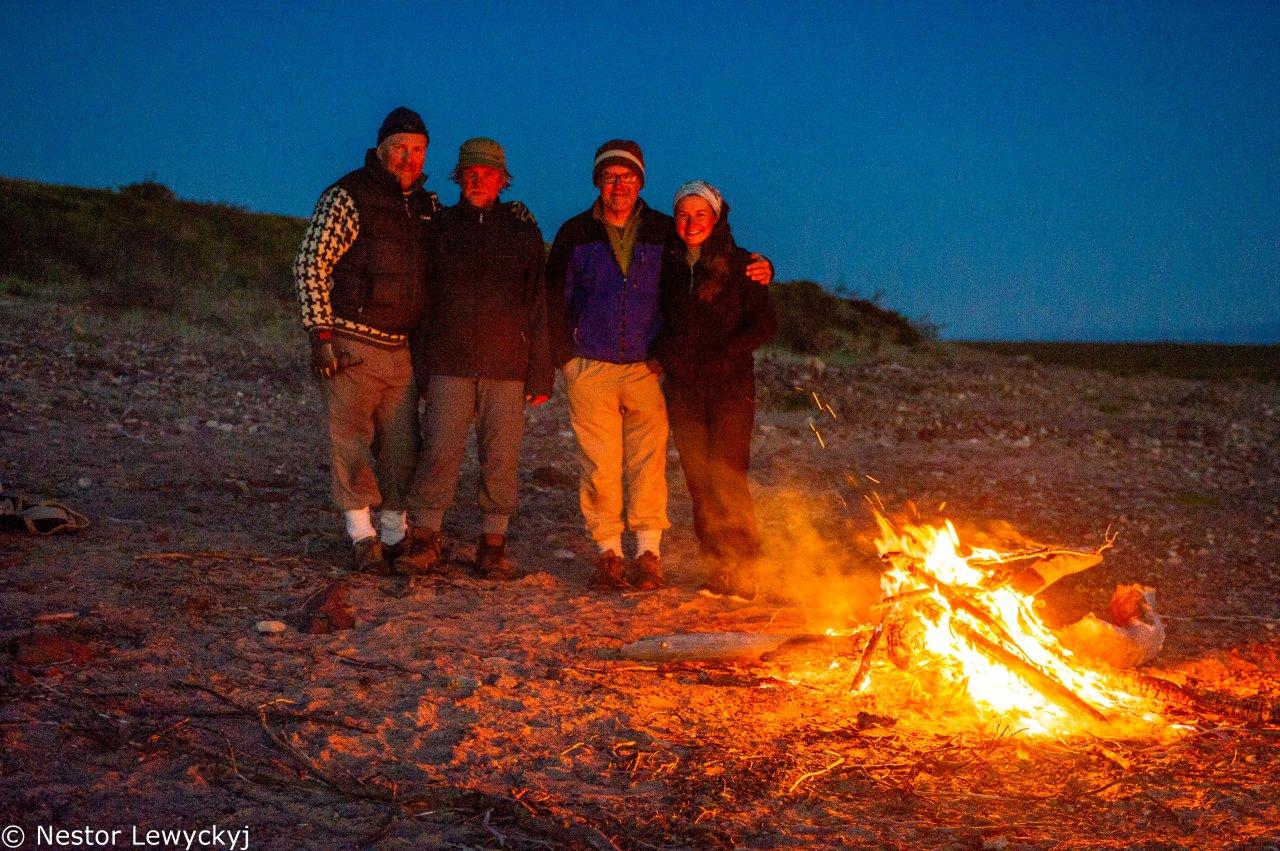 Even though we were well north of the tree line, there was tons of driftwood to allow us to light a nice campfire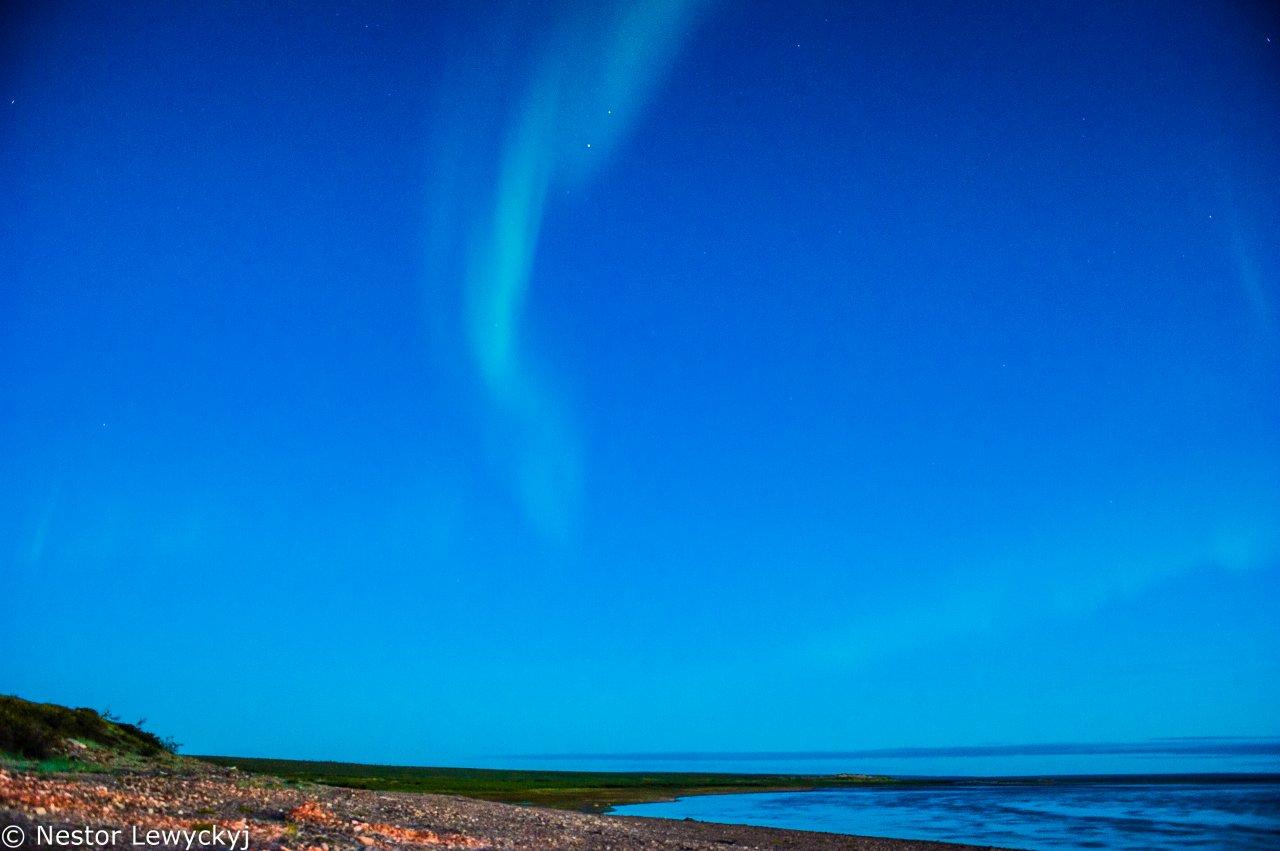 Even though the skies were never very dark at night yet, it was dark enough to get some northern lights!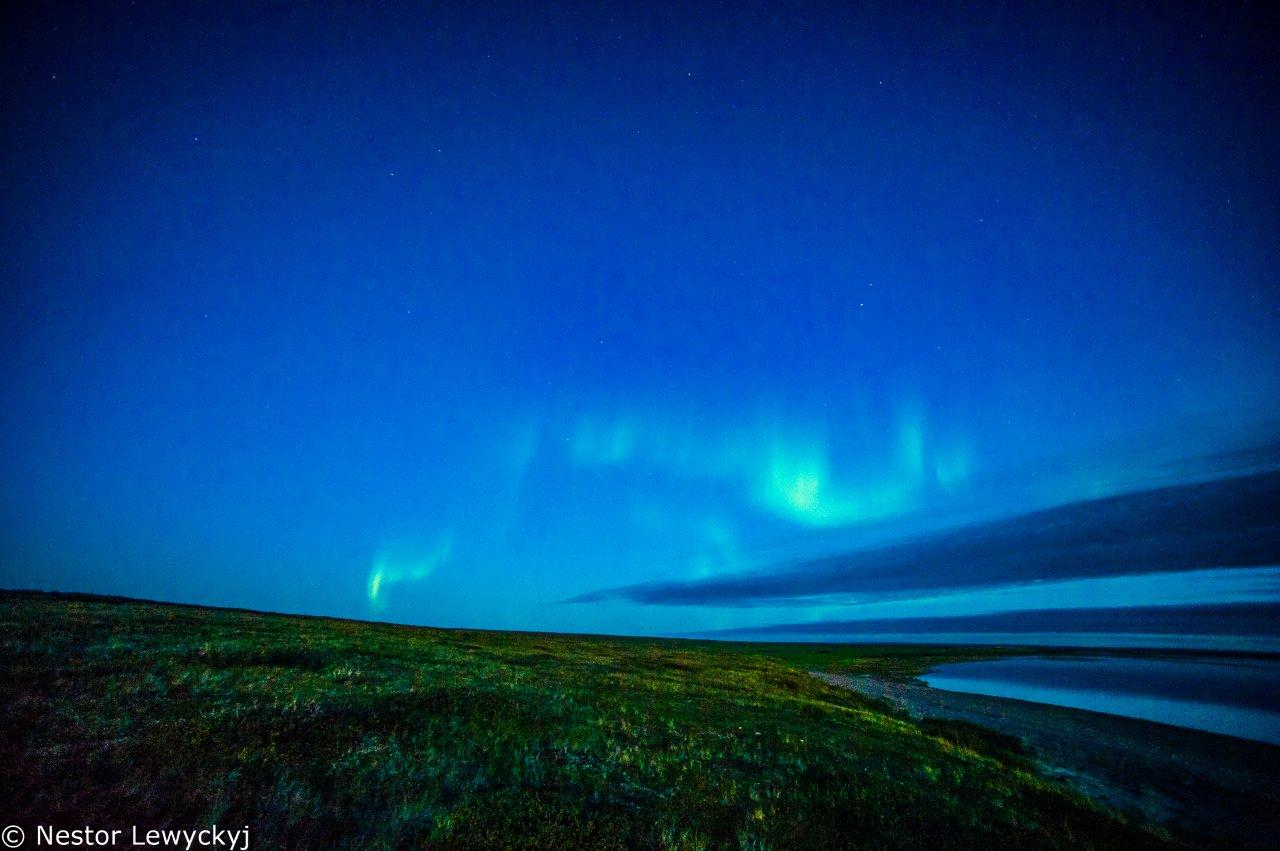 One can imagine what this looks like in late October or into November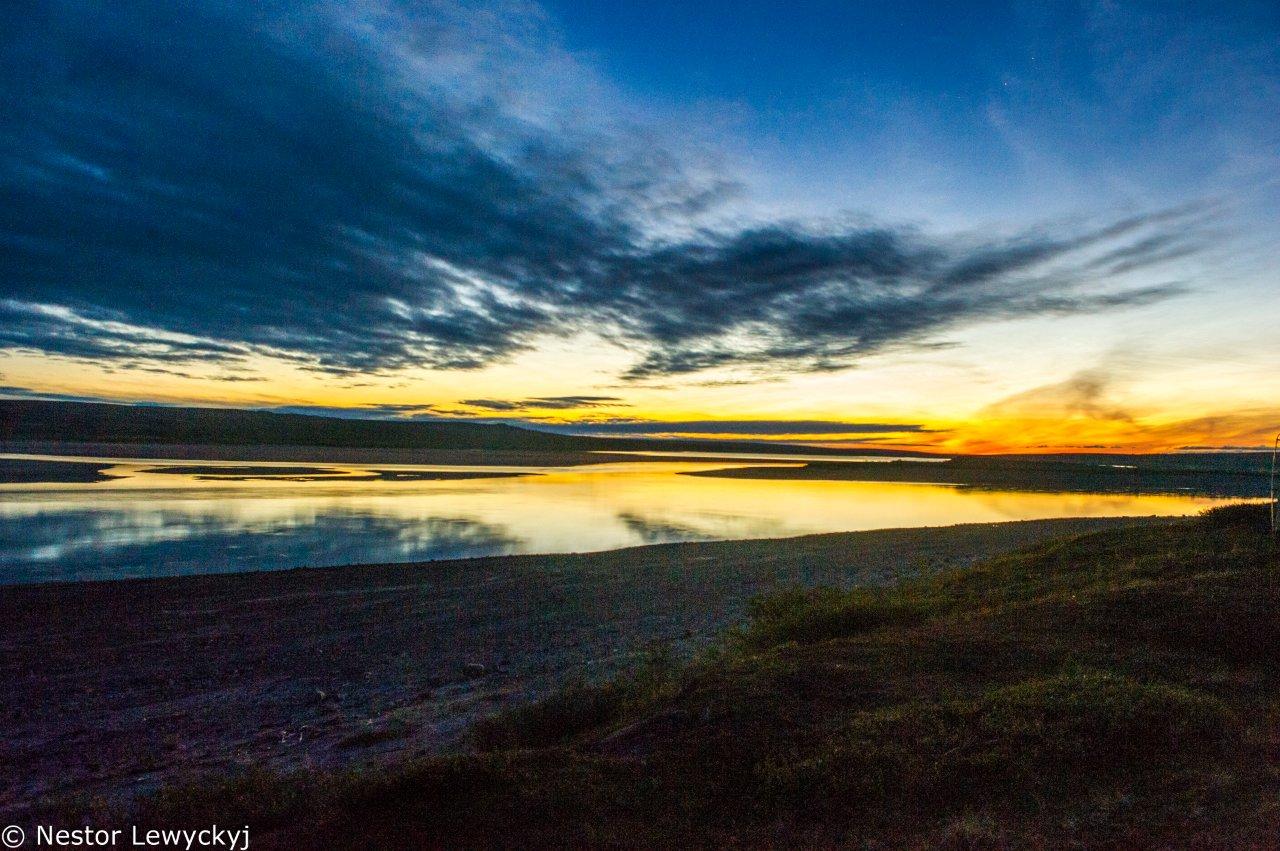 There was not a breath of wind, but mercifully, the mosquitoes were quiet that night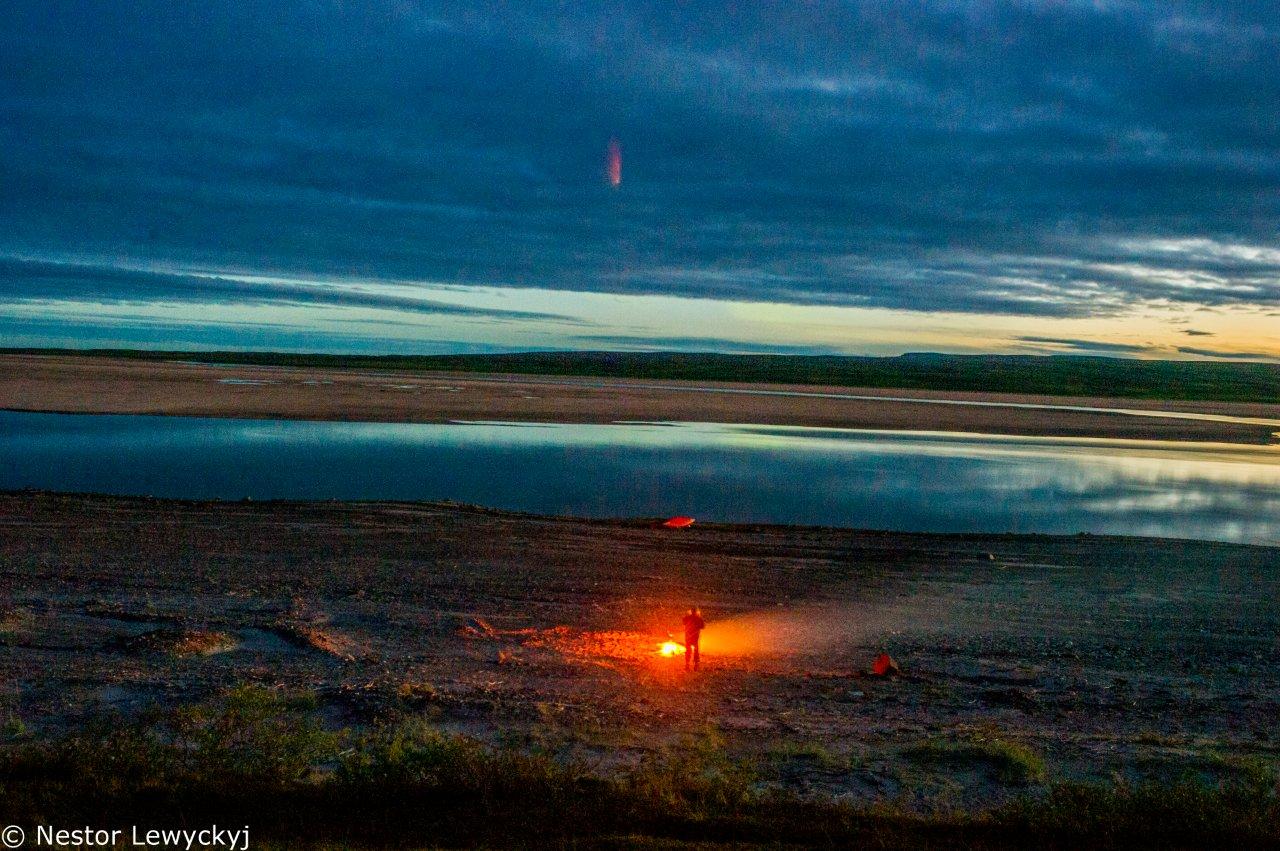 Wolodymyr enjoying a solitary moment by the fire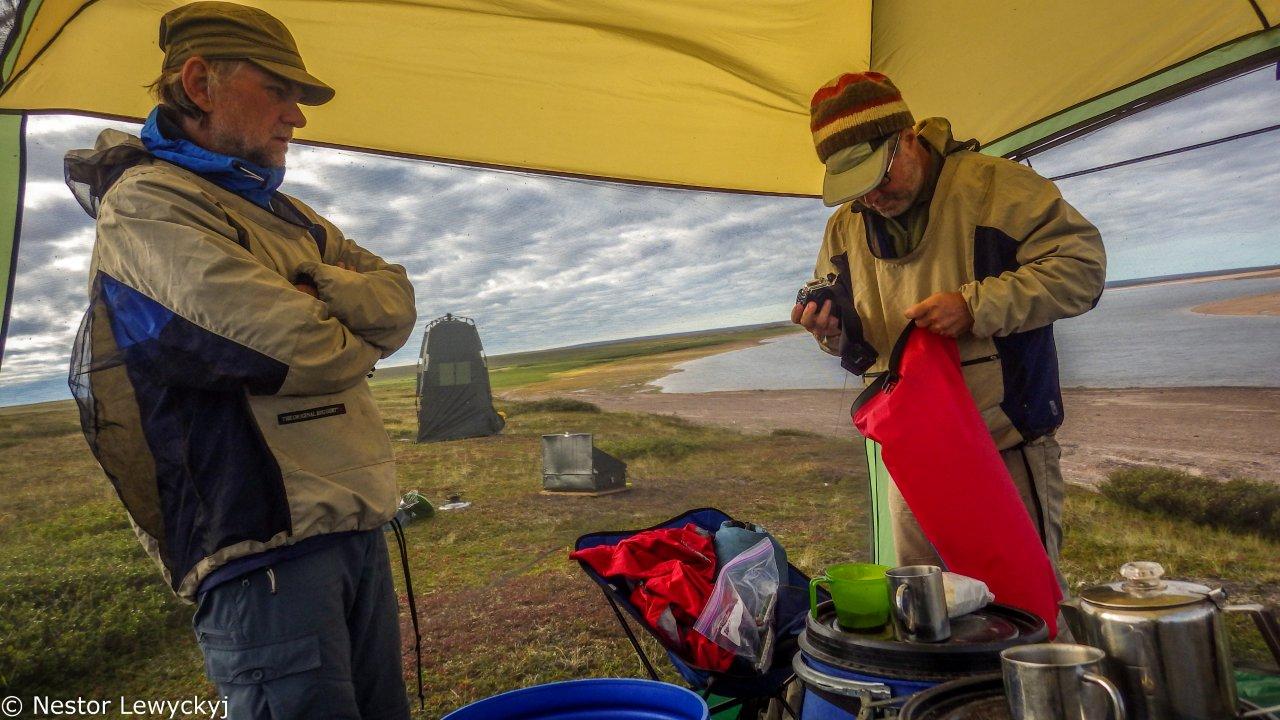 Starting to pack up camp in the morning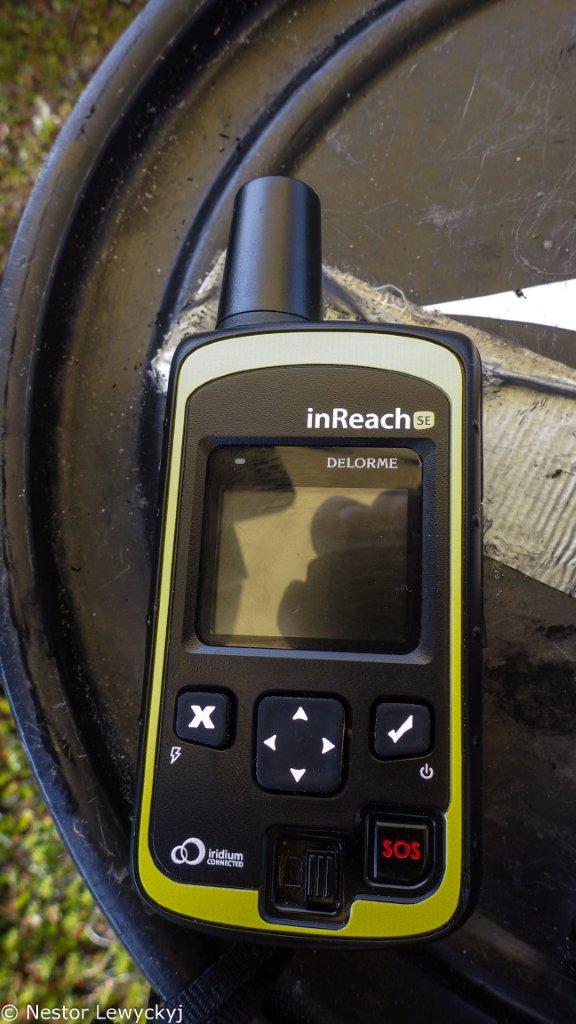 I had with me for the firs time an inReach satellite messenger device that allowed us to post onto FaceBook (but not see comments) and to hold text message discussions with family and friends on their cell phones, all through the Iridium satellite system. It was amazing to have that kind of connectivity up there.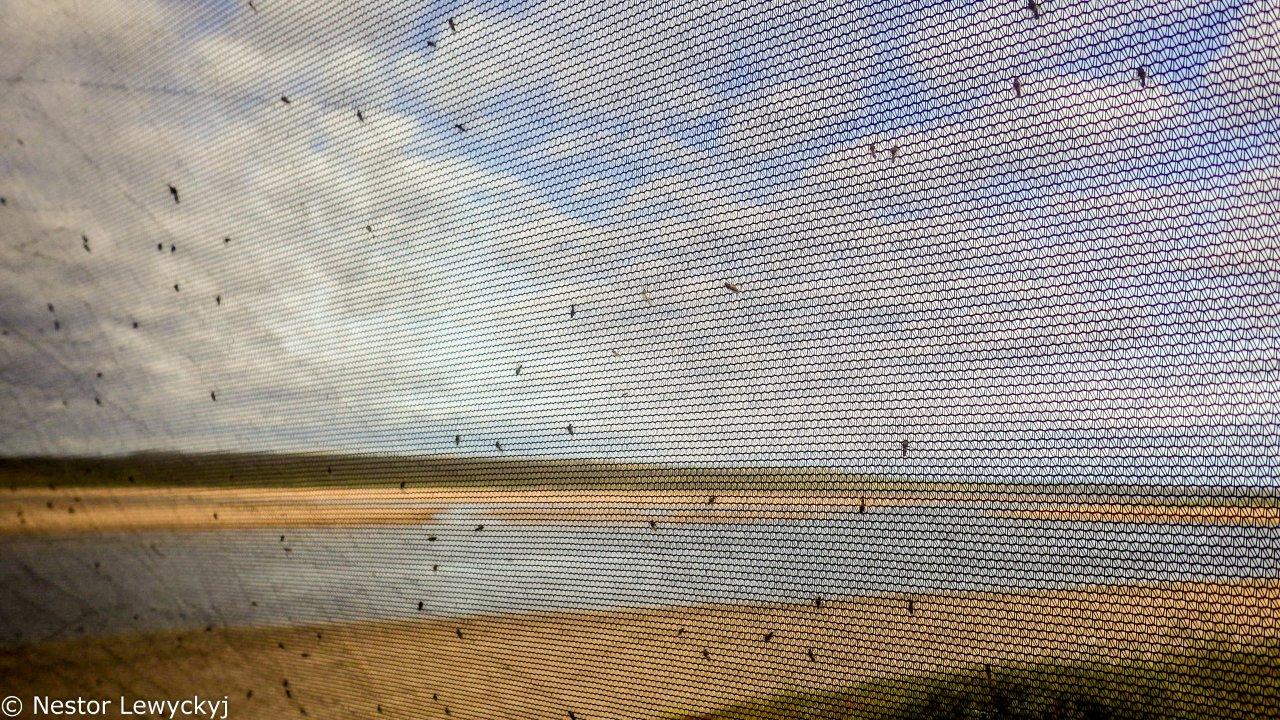 The bugs waiting for us on the outside of the screen of our bug tent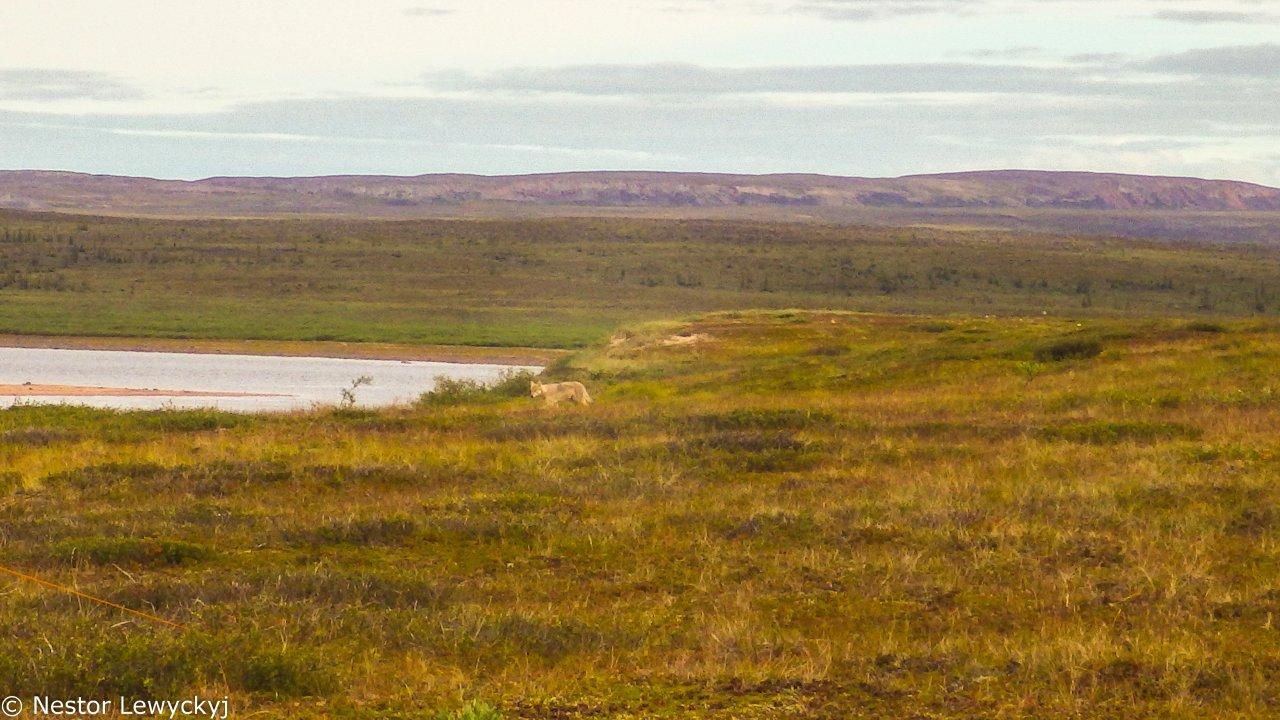 A tundra wolf paid us a visit that morning. We were starting to pack up and he was trotting down the river. He went around us inland and curled back to the river, quite close to us, paused to give us a sniff, then continued on his way down the river.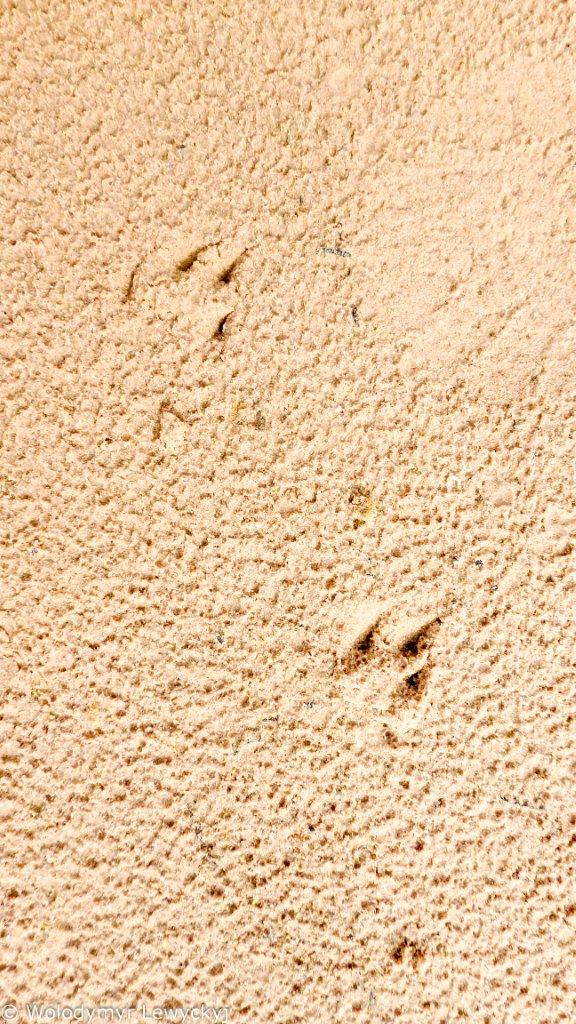 Small prints on the beach. Fox?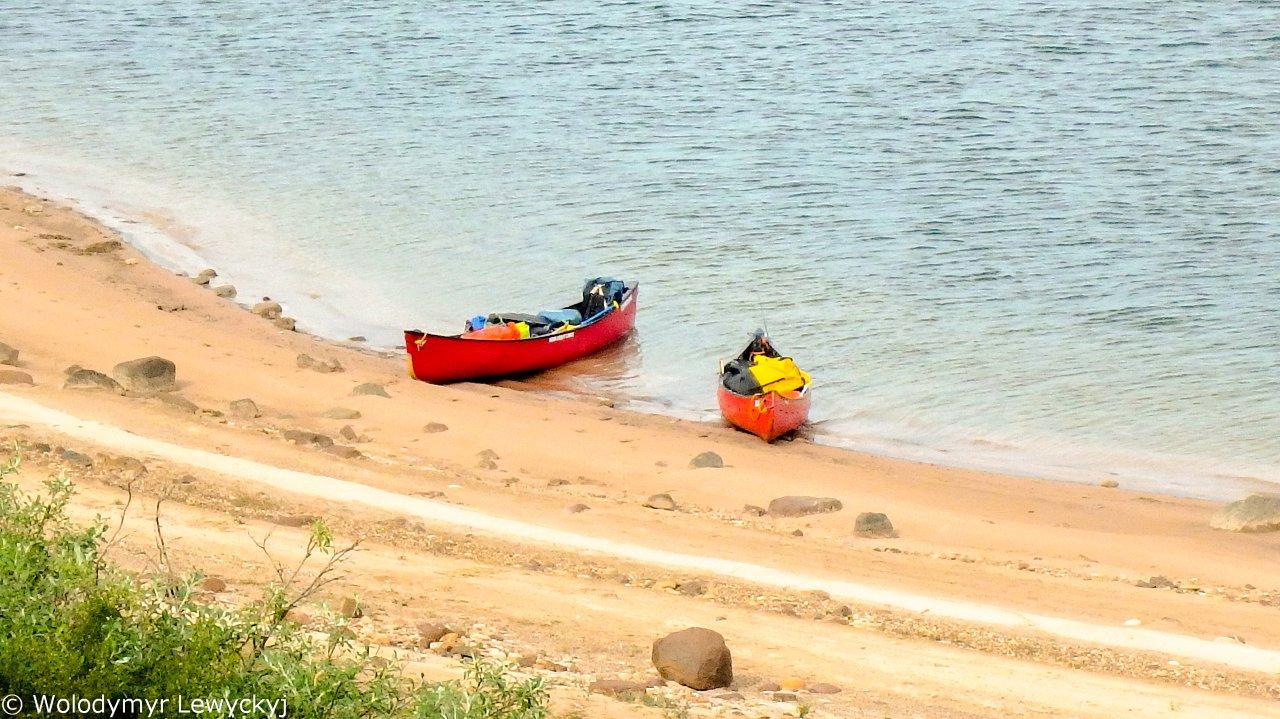 We took a break right below the water measurement station at the Thelon Bluffs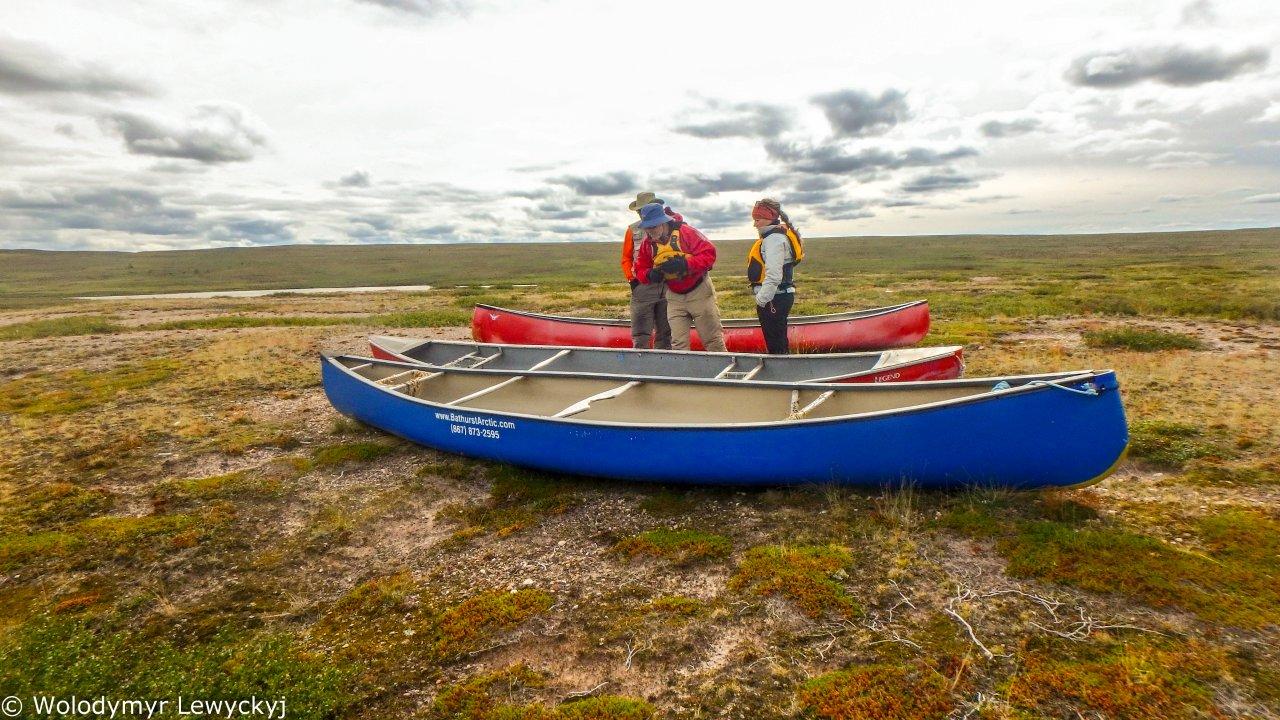 We saw some canoes on the ridge and we thought that someone had made camp so we went up to say hello. we had not seen a soul on the river for the two weeks we were out. but it turned out to be canoes abandoned by an outfitter, probably many years ago, its a shame that these canoes were left behind. I guess it was too expensive to take them out at the end of someone's trip. but they will lie there for years littering the surrounding tundra. This is VERY irresponsible! They still have a web site and they should be shamed into cleaning this up!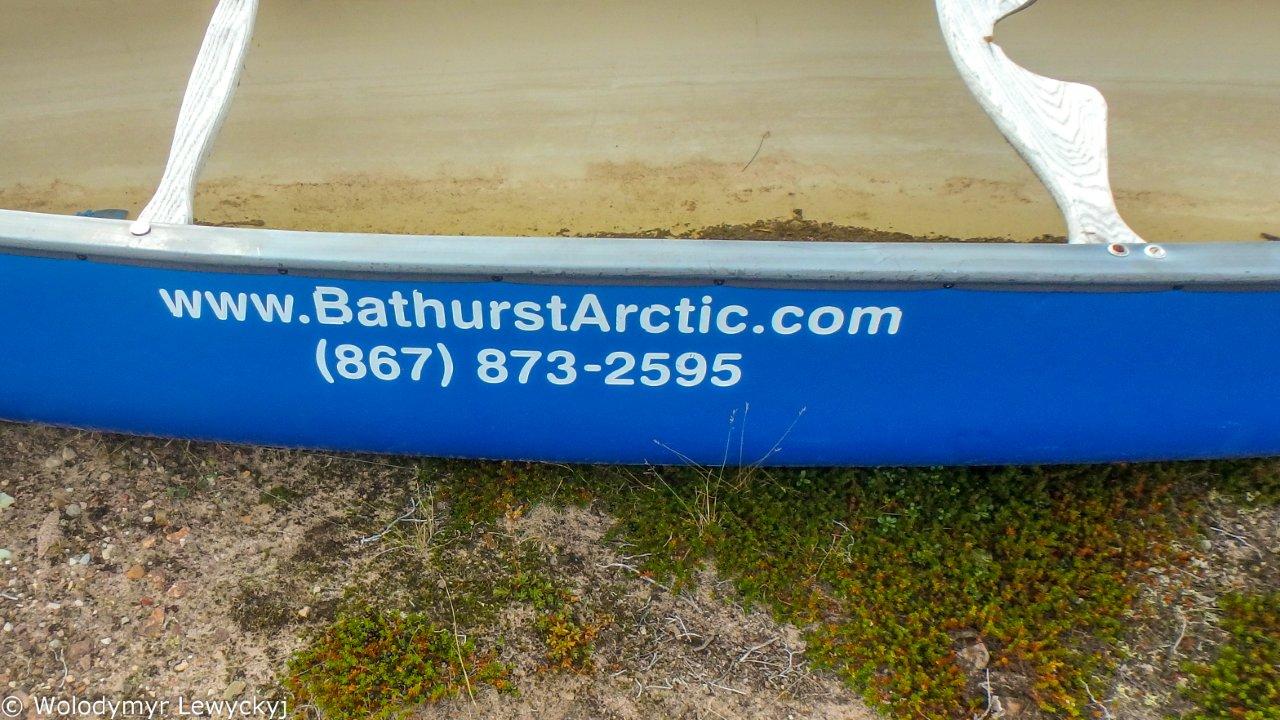 They are not hiding who they are!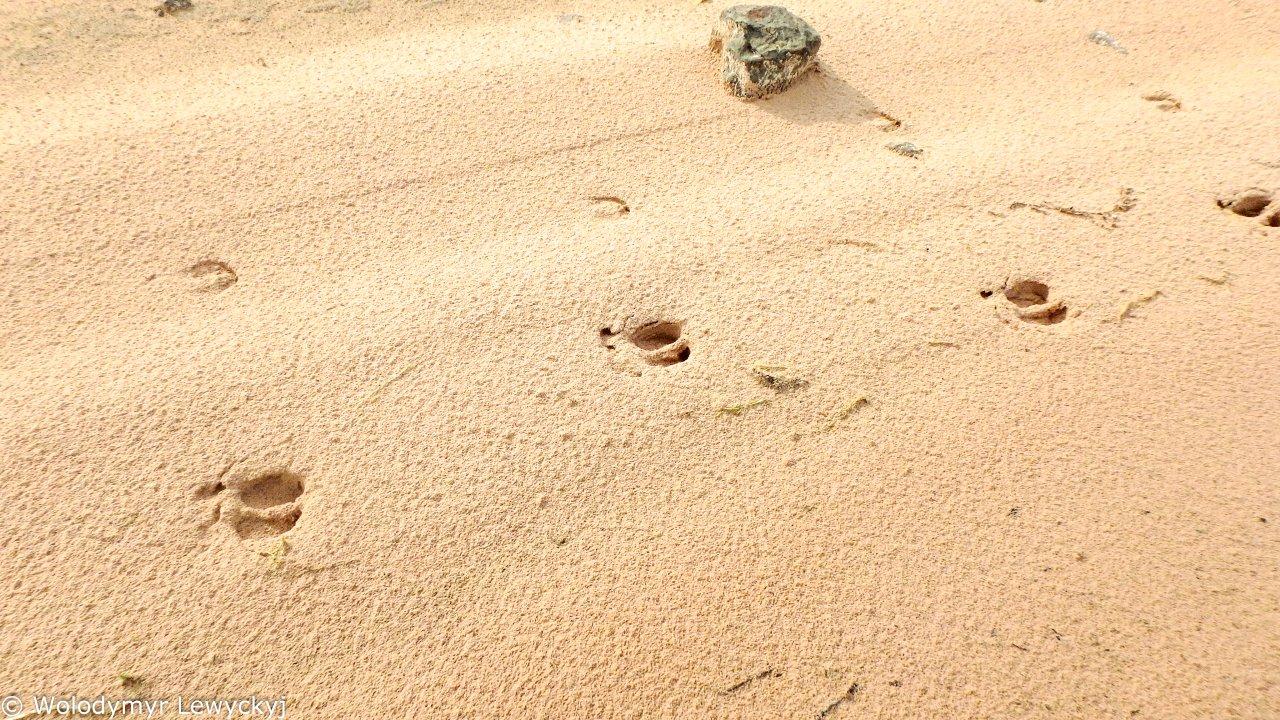 Caribou tracks on the shore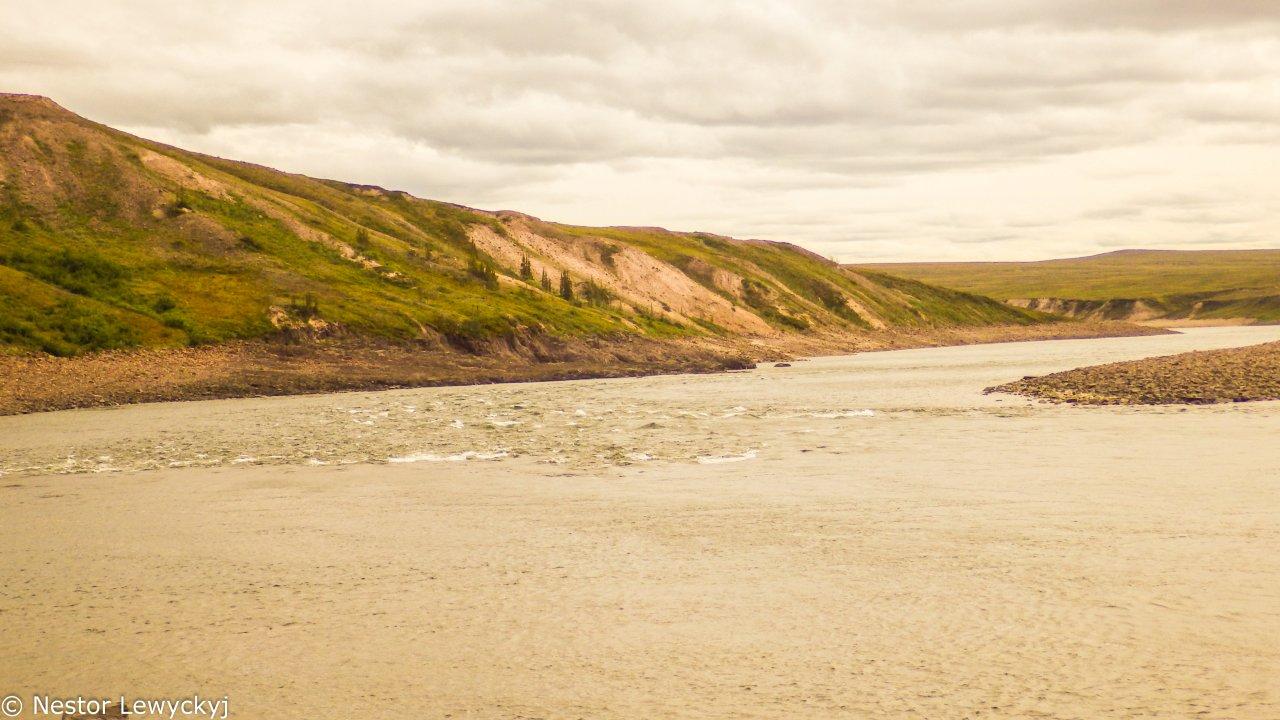 A view of the last rapids we had to run. Not bad in low water. We ran them left, having to avoid a big rock on the left side.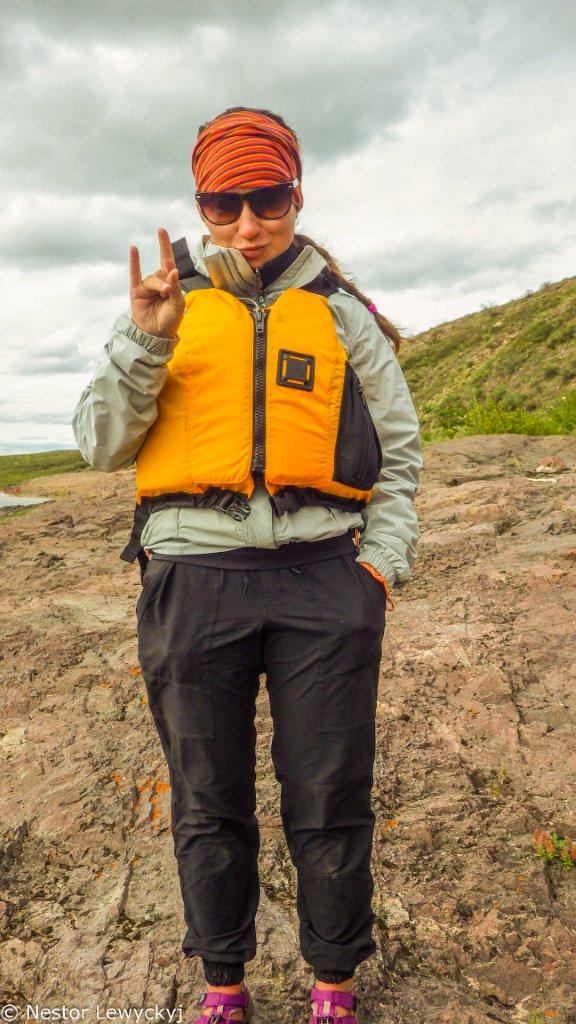 Sarah was stoked to run the rapids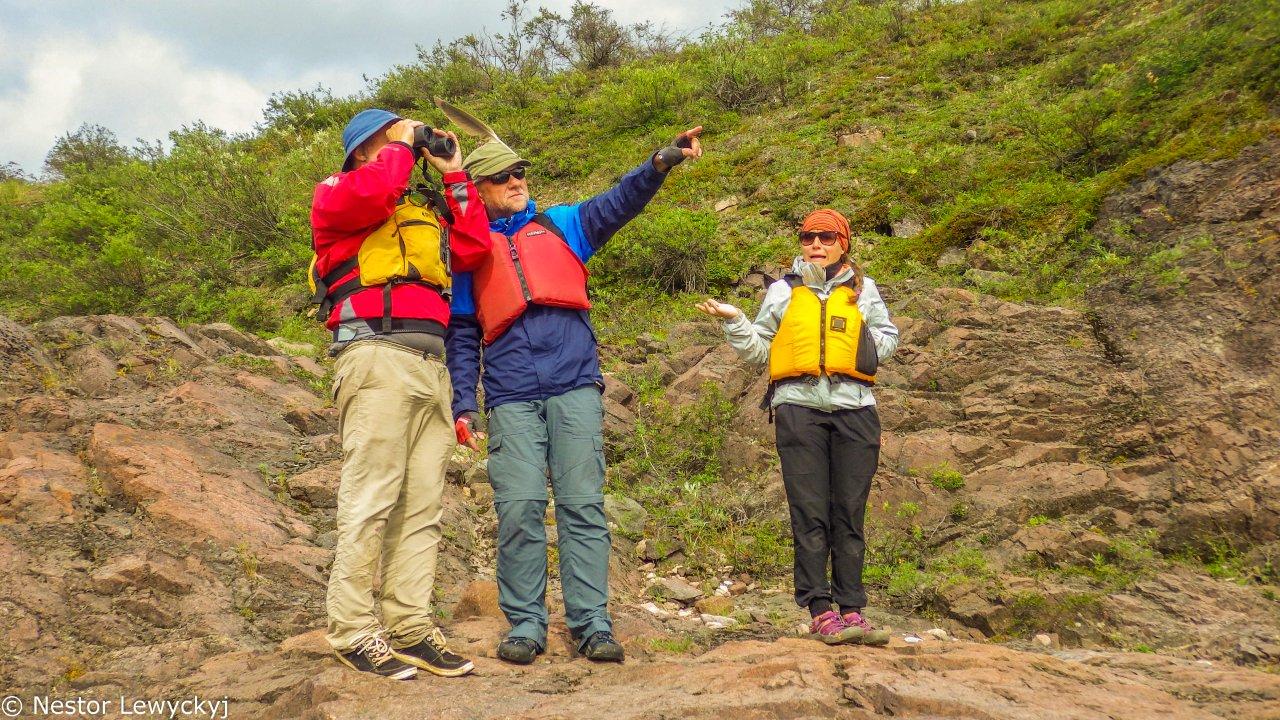 While the old, I mean, wise men surveyed the best route through them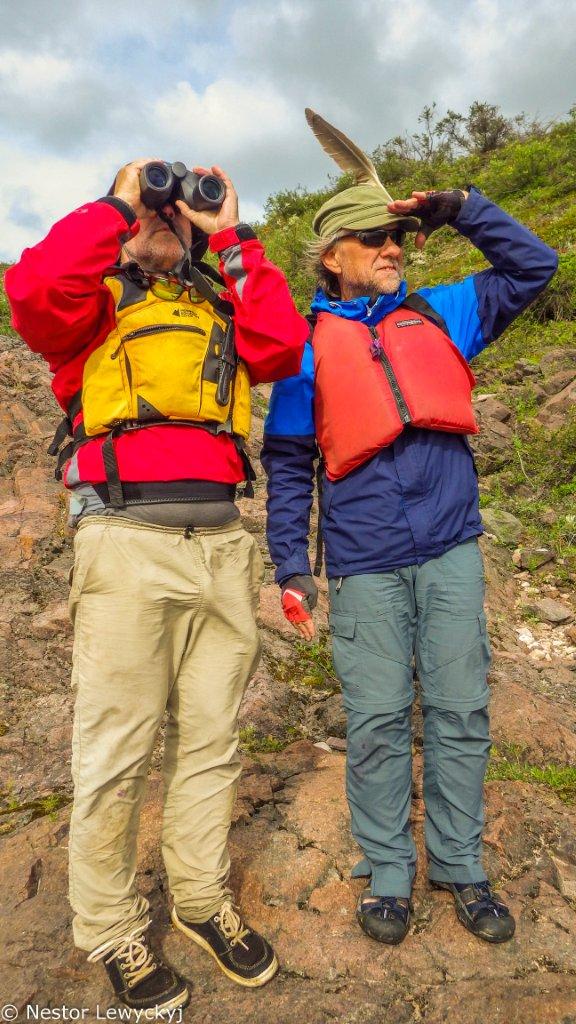 Looking and studying, looking and studying!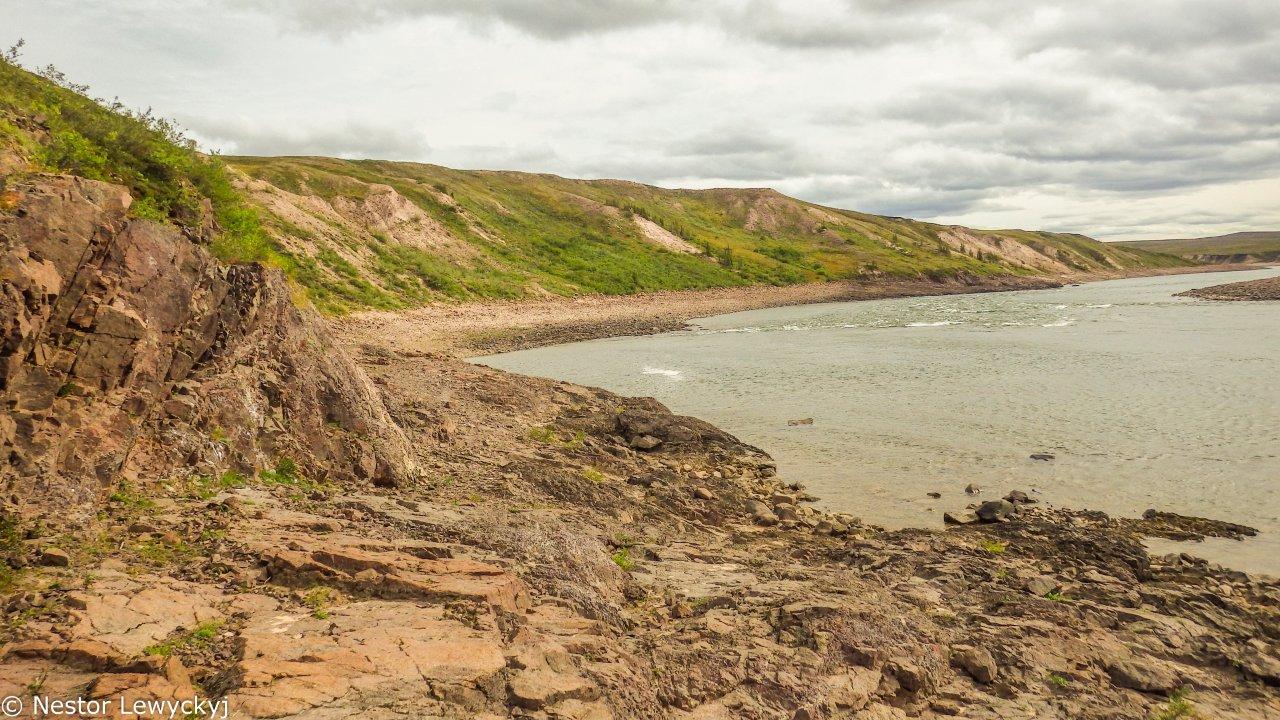 There really was not much to them but they were still fun to run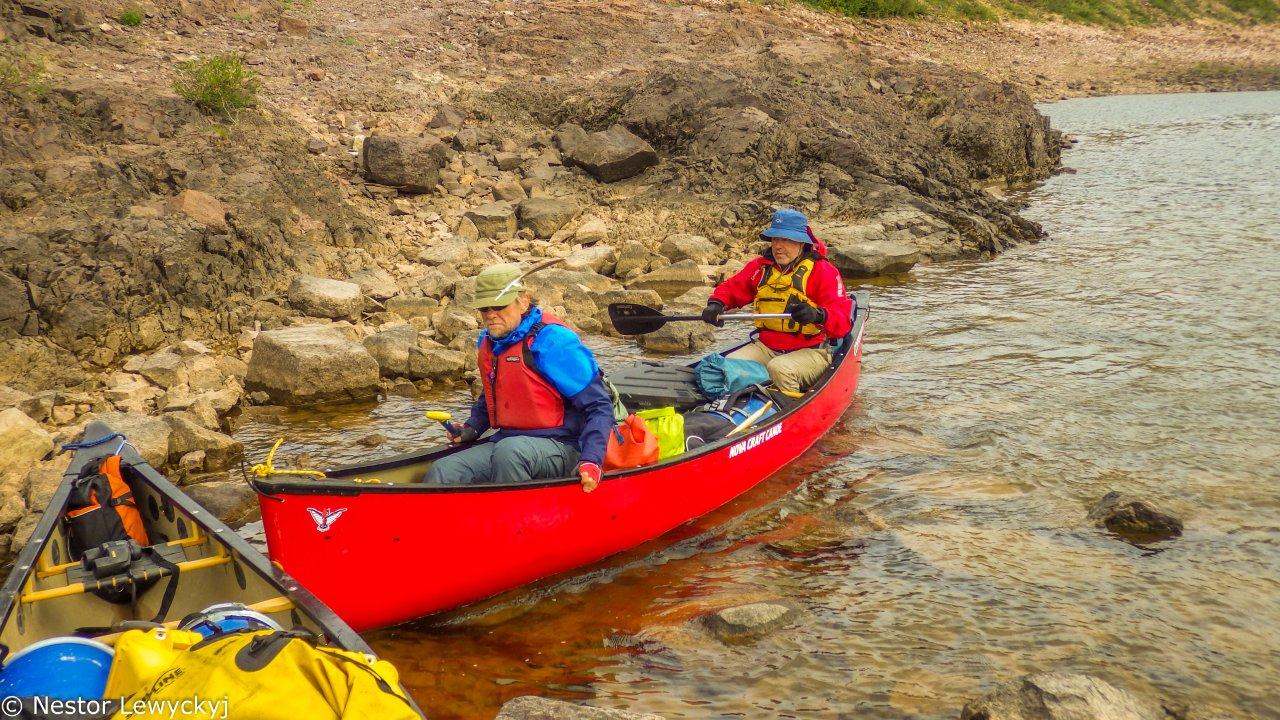 Getting ready to do battle!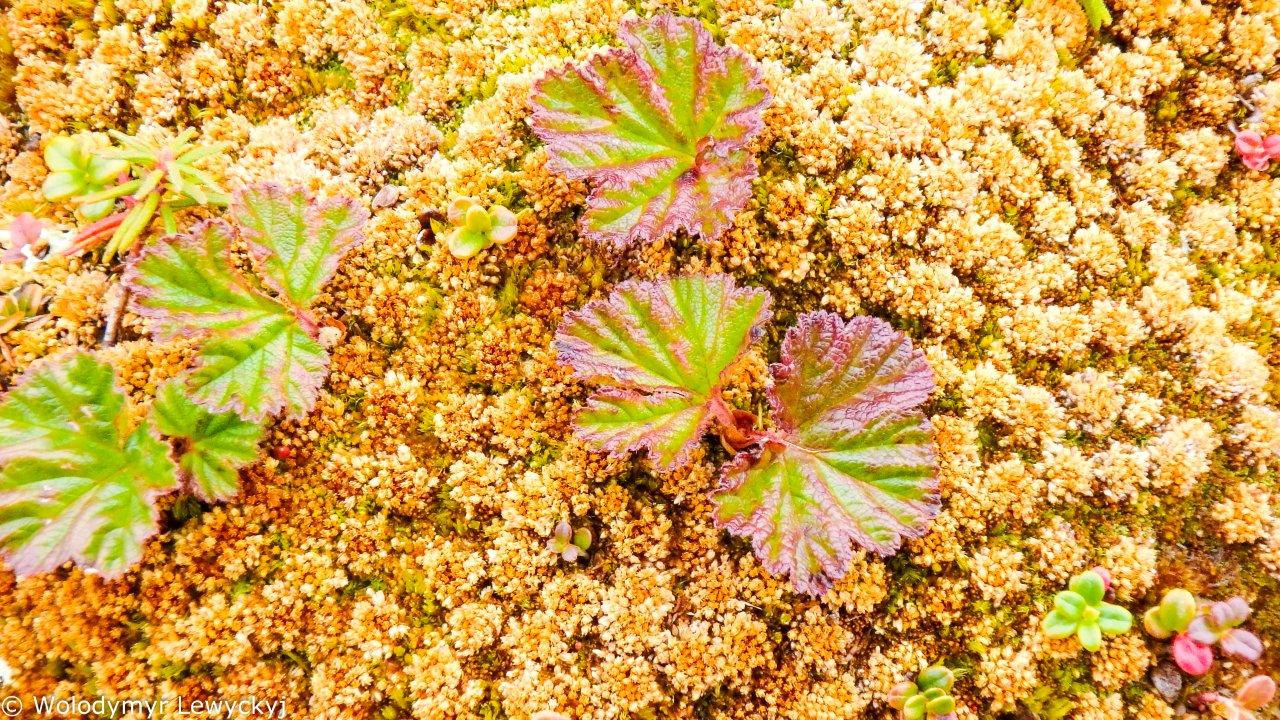 If you took the time to investigate, the vegetation of the tundra is really varied and wonderful in its complexity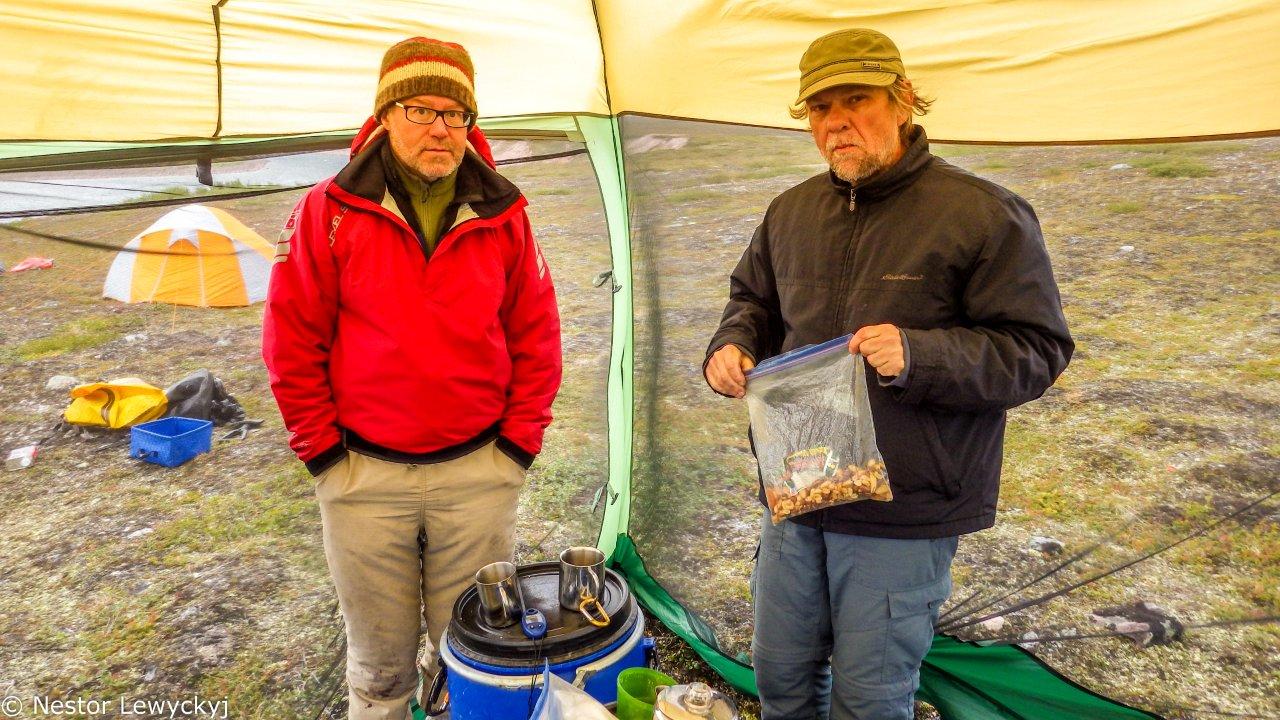 We ended up wind bound below the rapids for 3 nights and it was the furthest that we would get, about 25k shy of our planned end point
In this picture, the wind was blowing right into our face, gusting to over 35 kph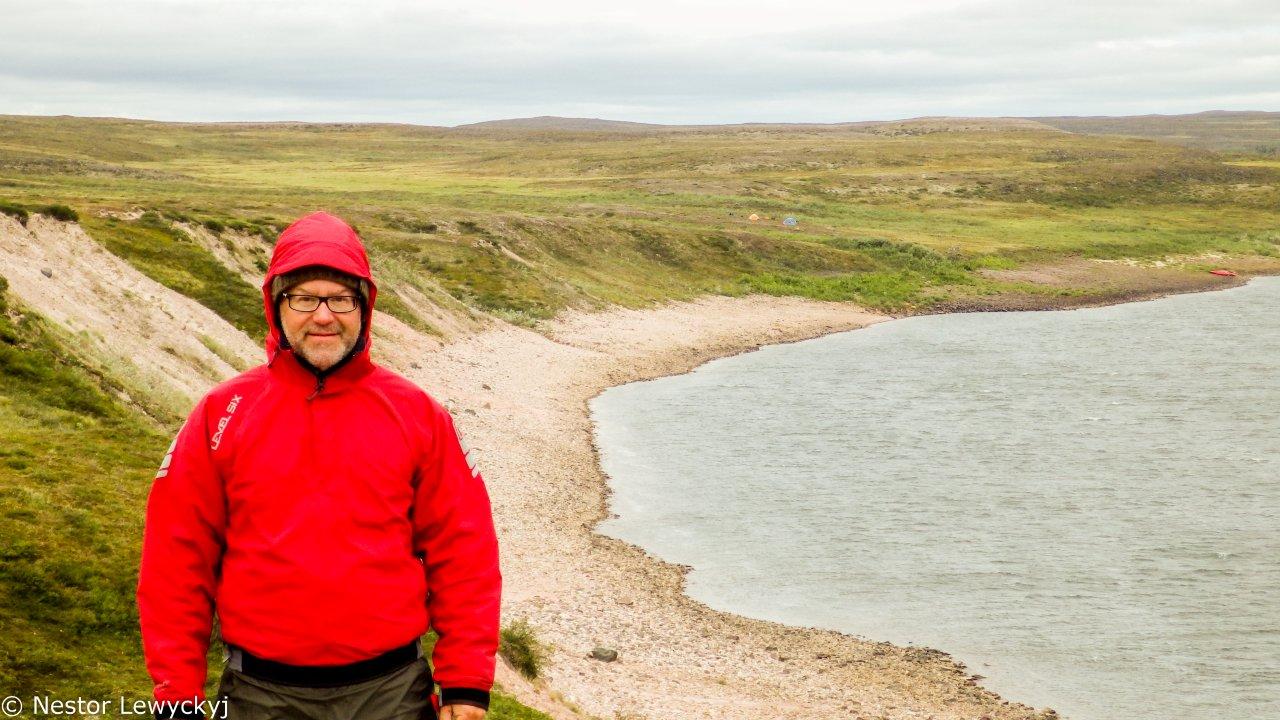 So we took the time to investigate the area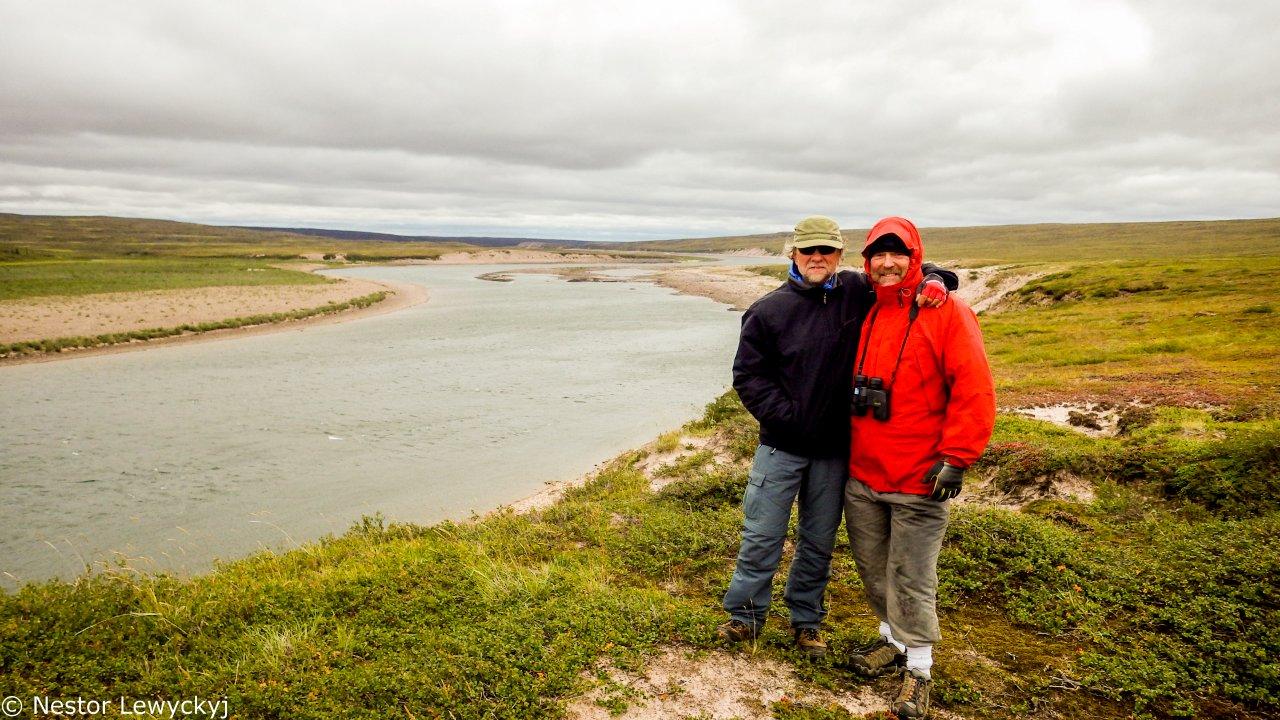 And take many shots of ourselves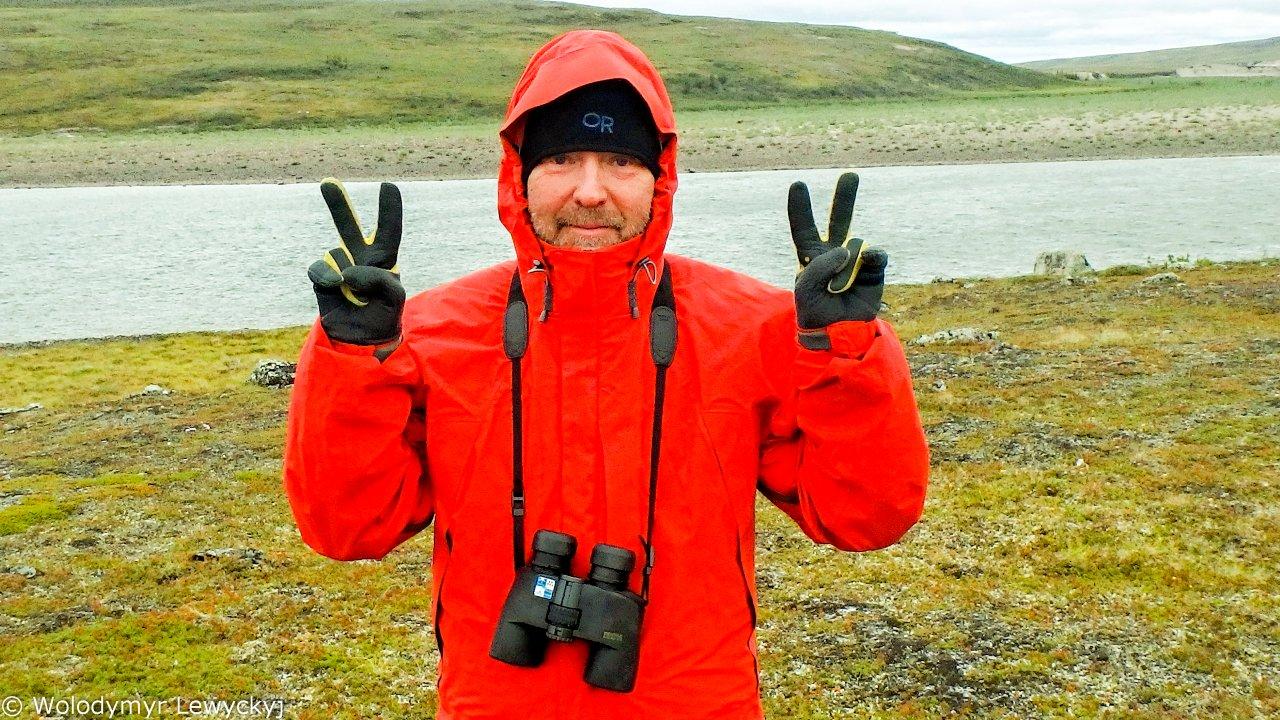 We knew we were close to being picked up and going home!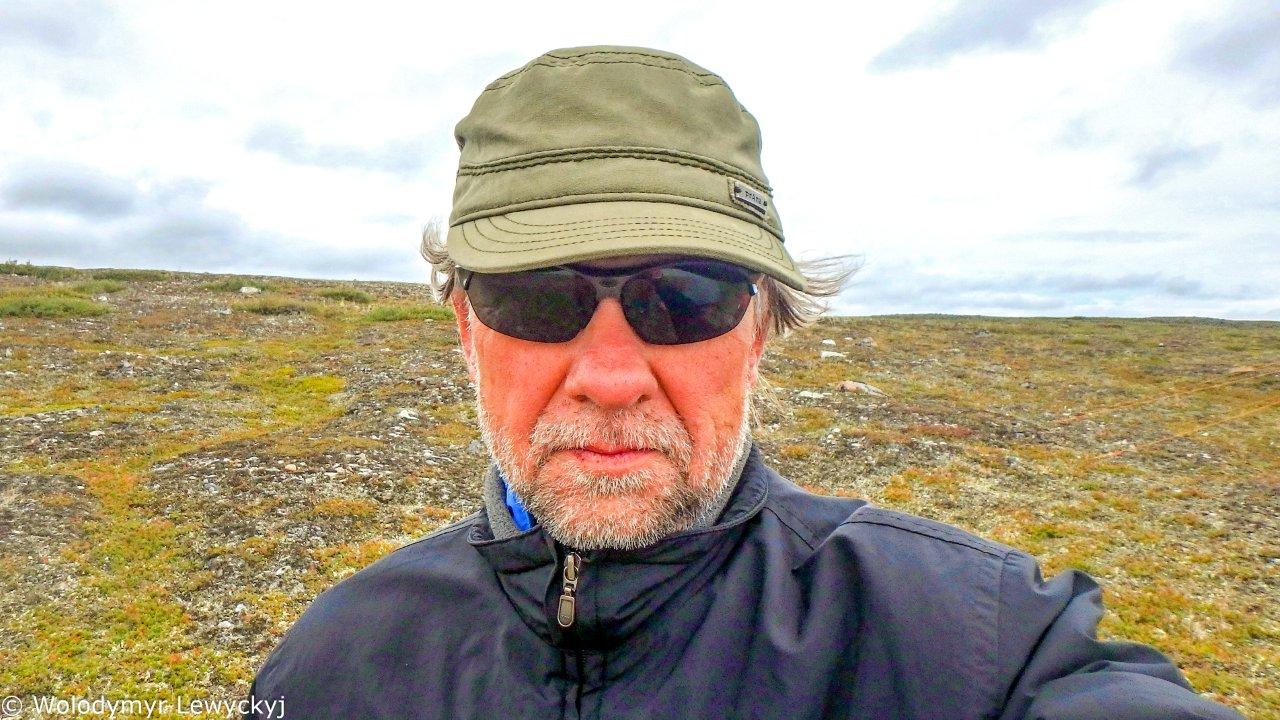 Tundra selfie guru
The red brothers. You can tell how cold it was getting with the wind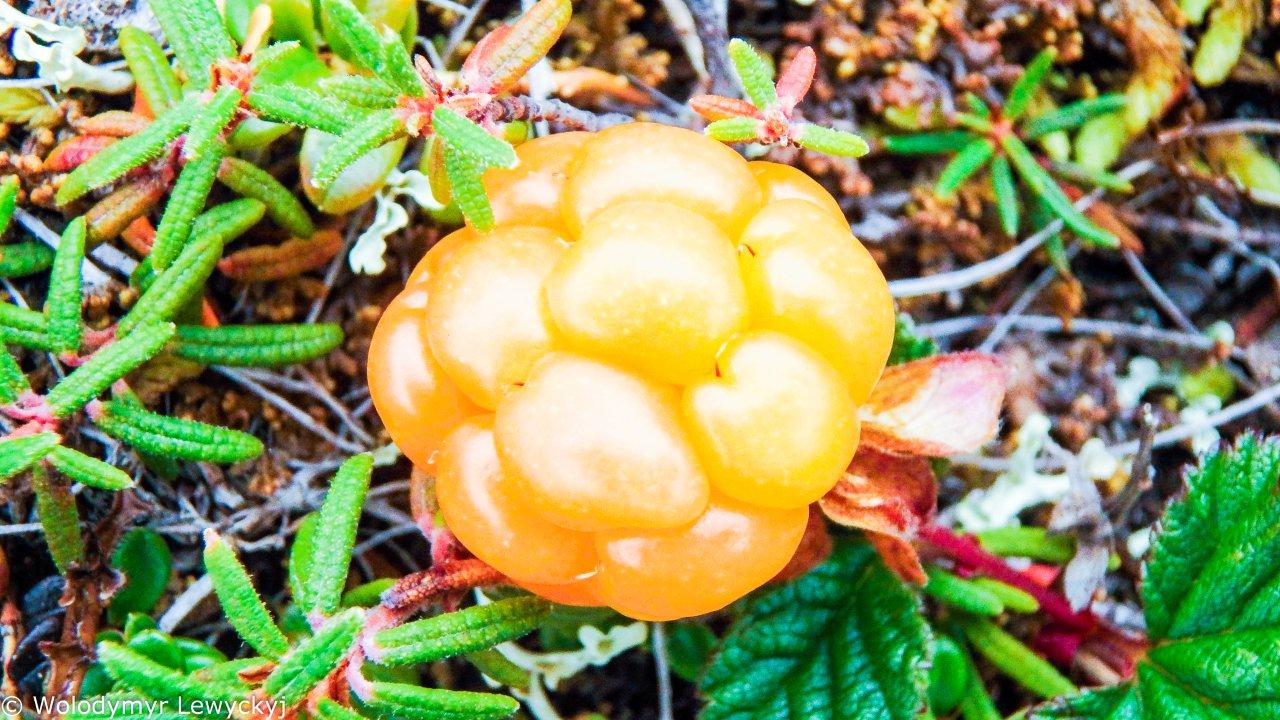 Cloud berries. Gaetan back home makes wine from these.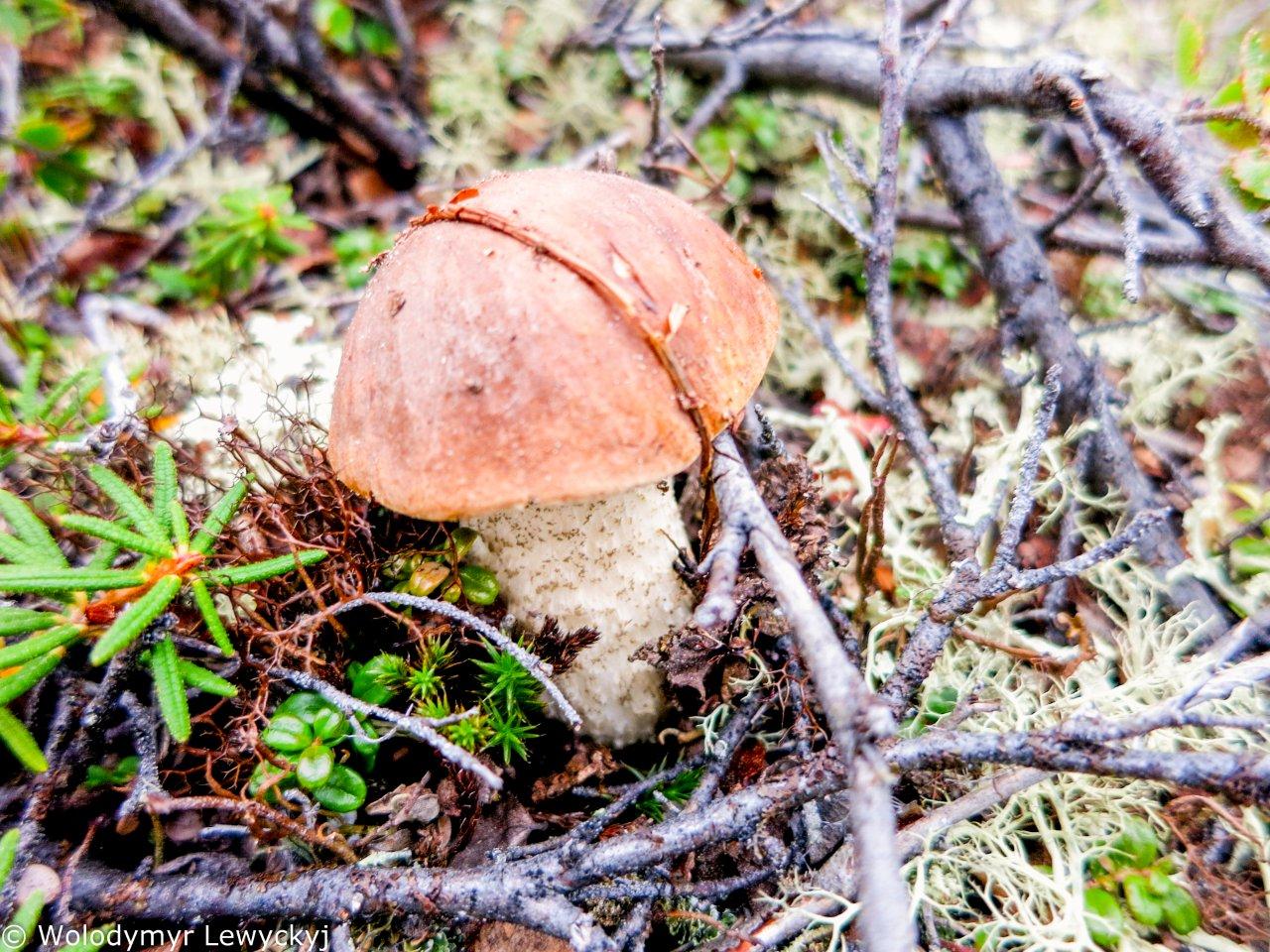 And the mushrooms were still around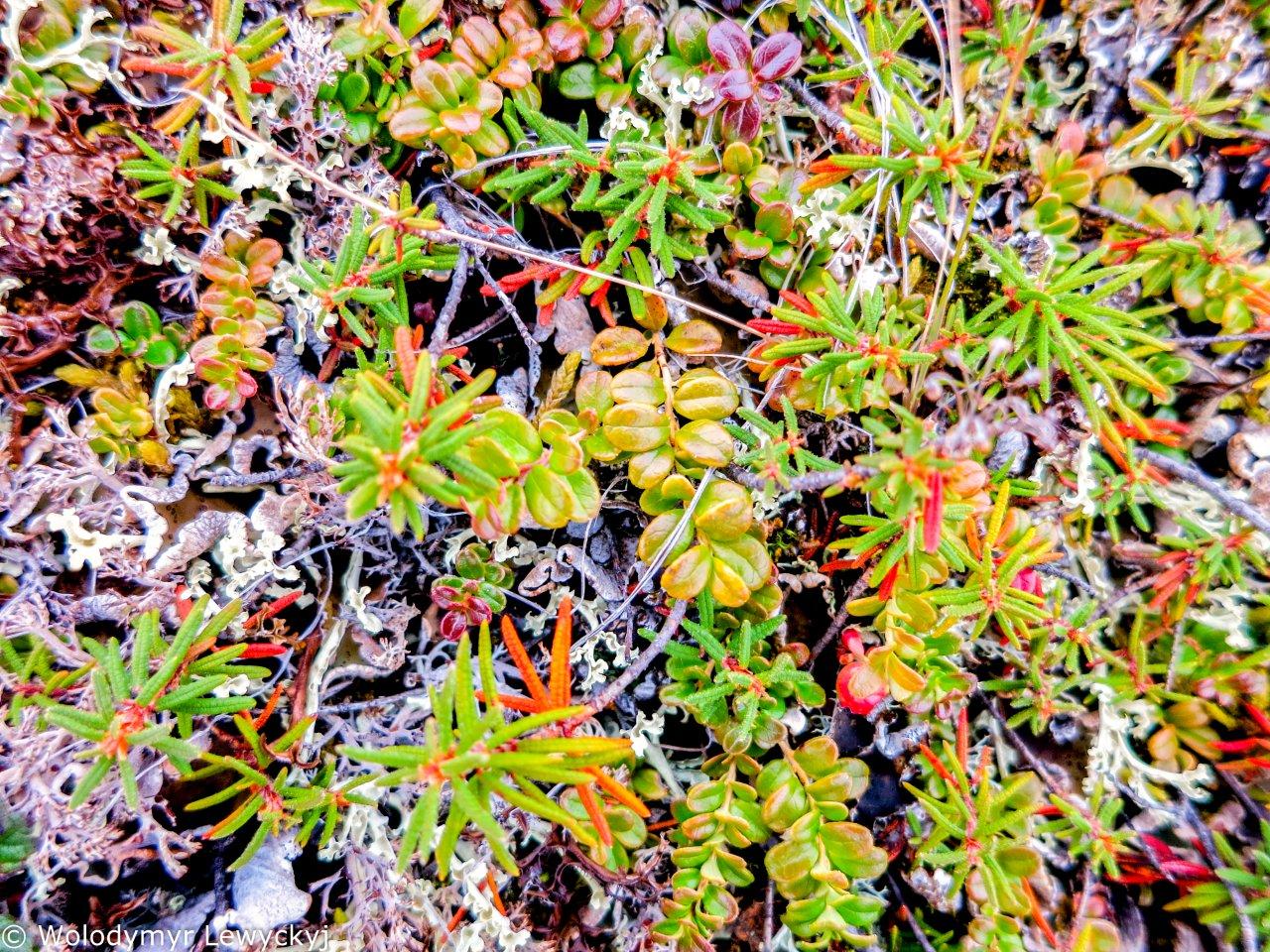 The plant with the long narrow leaves is Labrador Tea. if you step on it, or rub the leaves between your fingers, it has a very strong sent, a but like juniper. You can buy dried Labrador Tea and make.....tea out of it!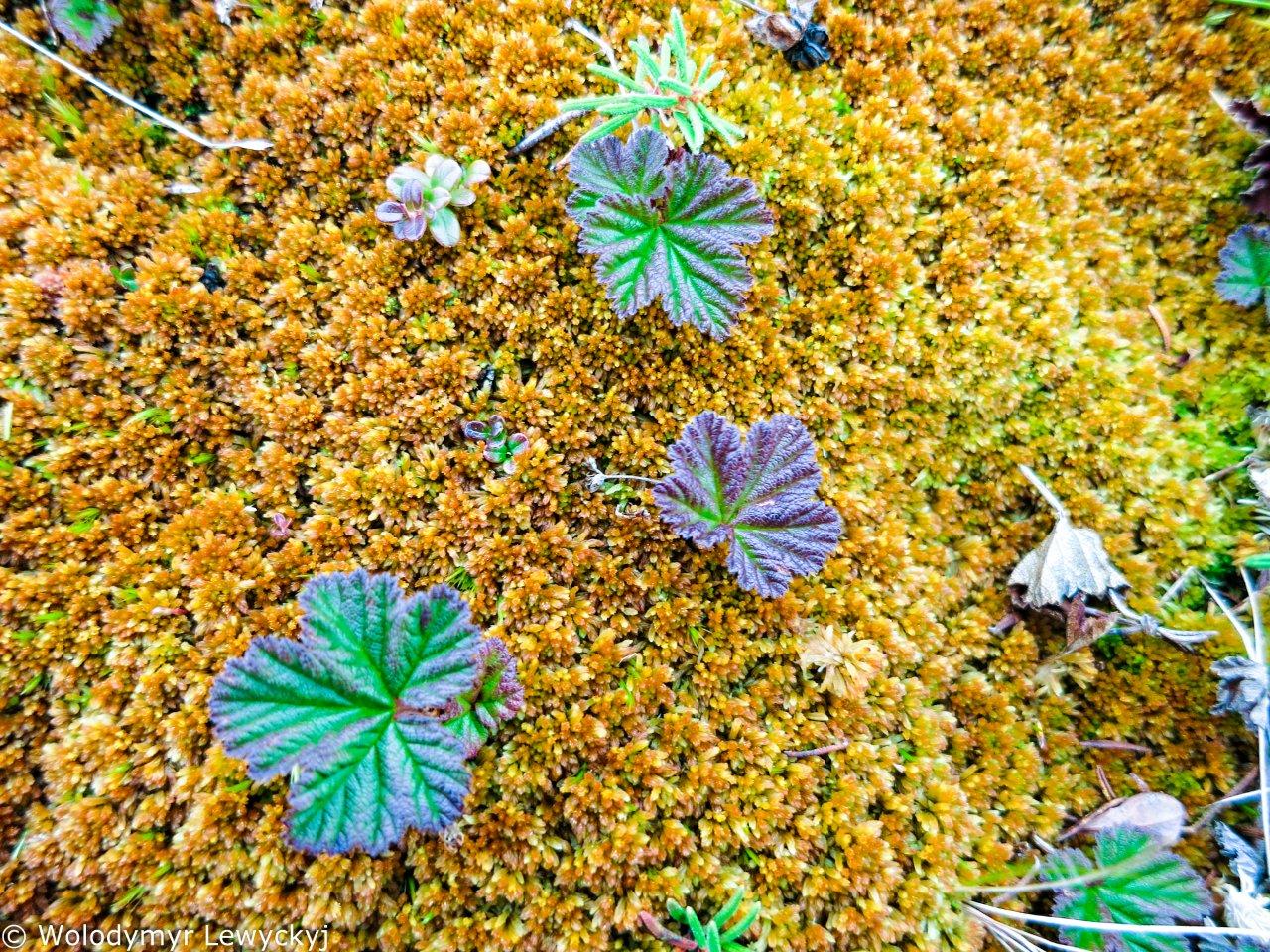 Some very cool flora inded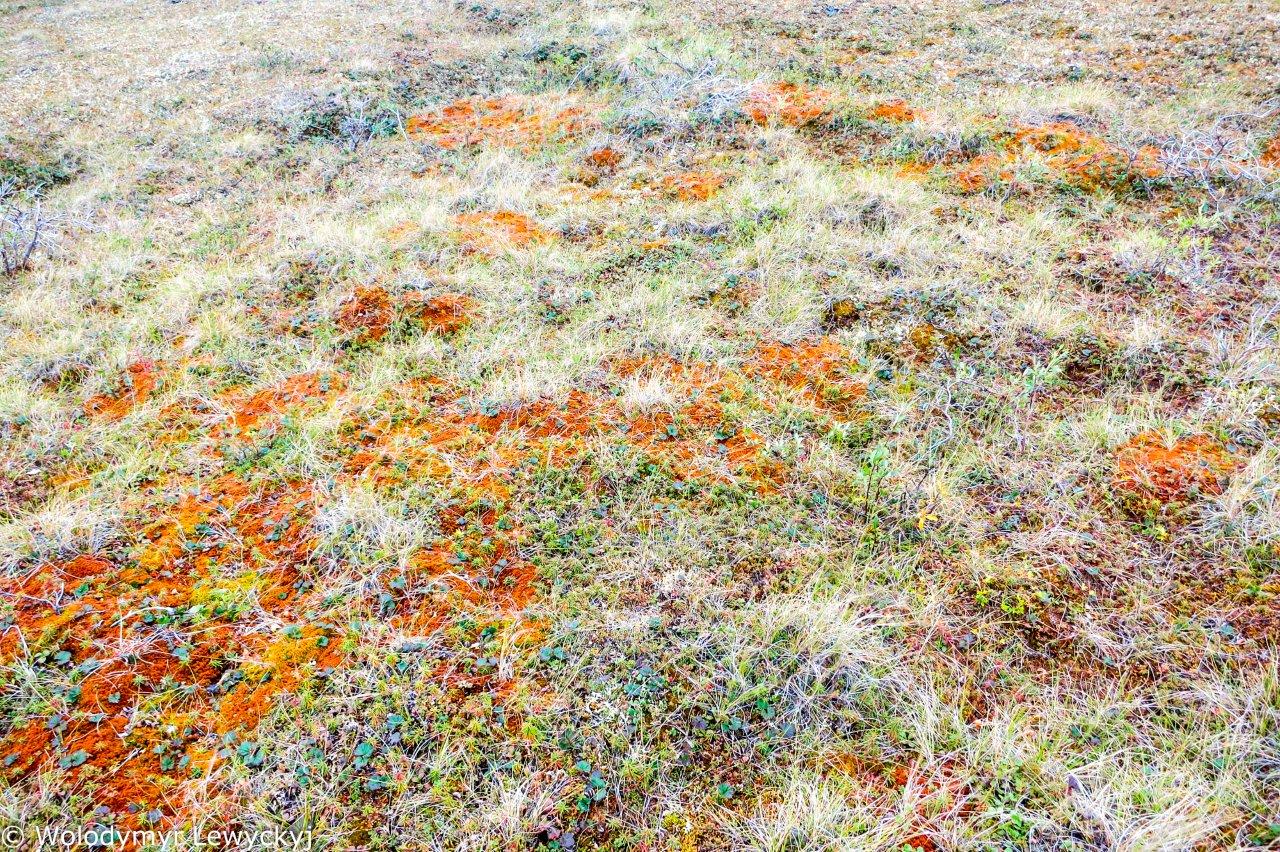 And the tundra was starting to turn autumn colours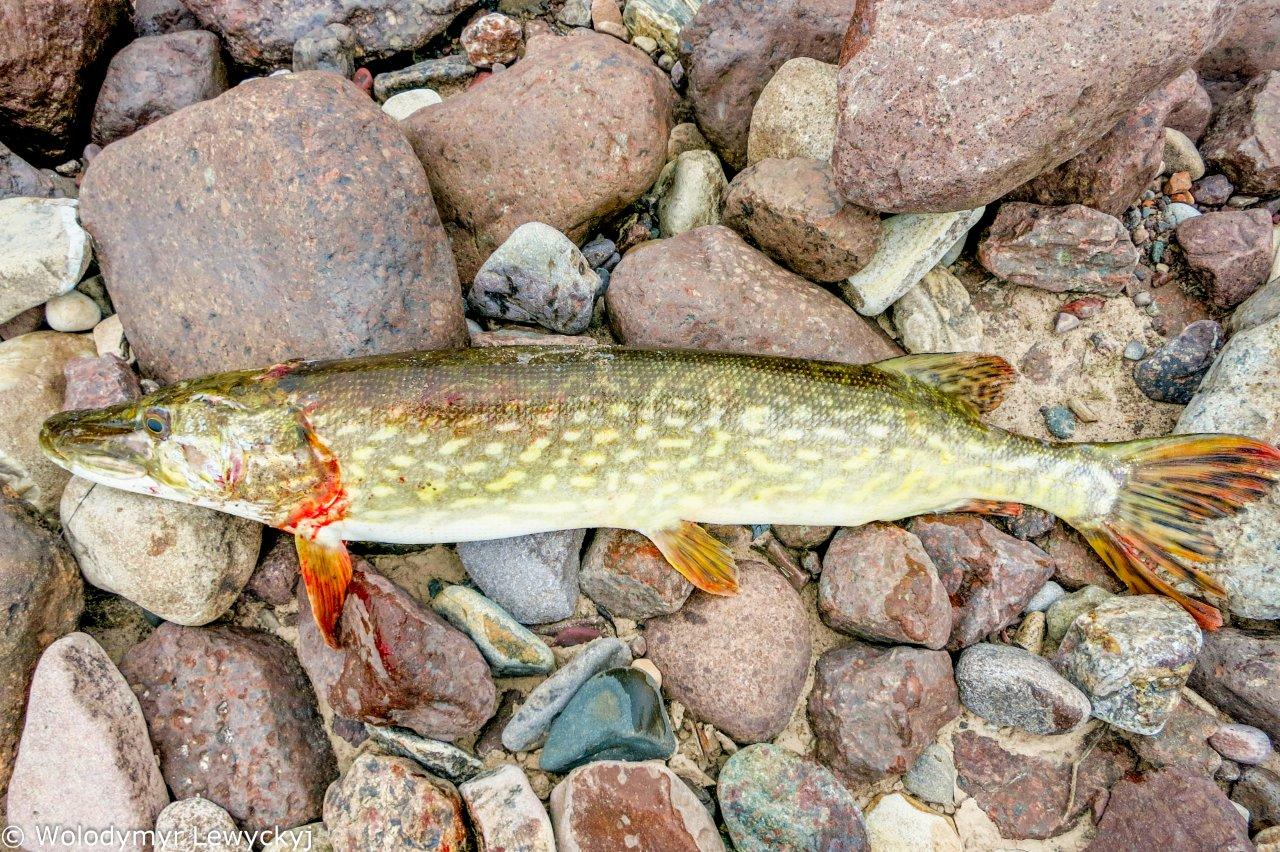 This was the last pike we caught and Wolodymyr caught it. And although I was very careful on this trip and brought extra tools, as I was trying to extract the lure from its throat, I made a careless move and the pike spun around and snapped on my knuckle with its razor sharp teeth. I bled like a stuck pig and it hurt, a lot!
Amazing purple pine cones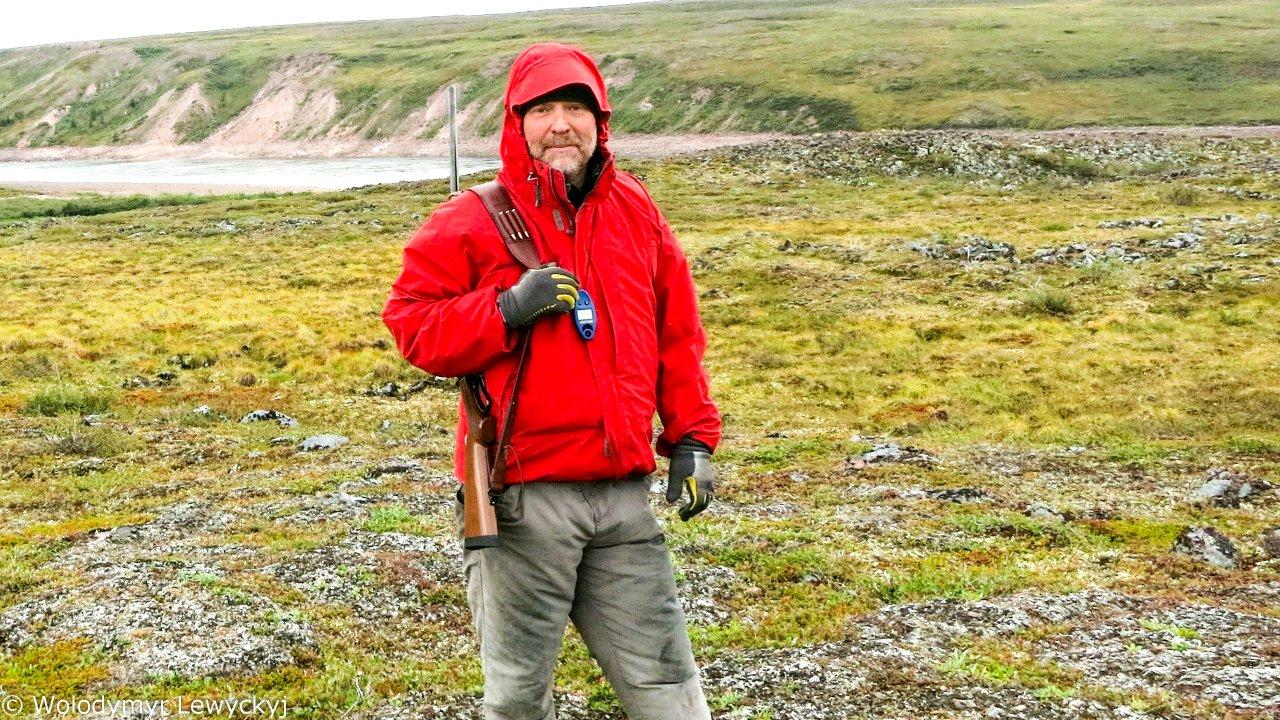 With time to kill, Wolodymyr and I went for a long walk up the ridge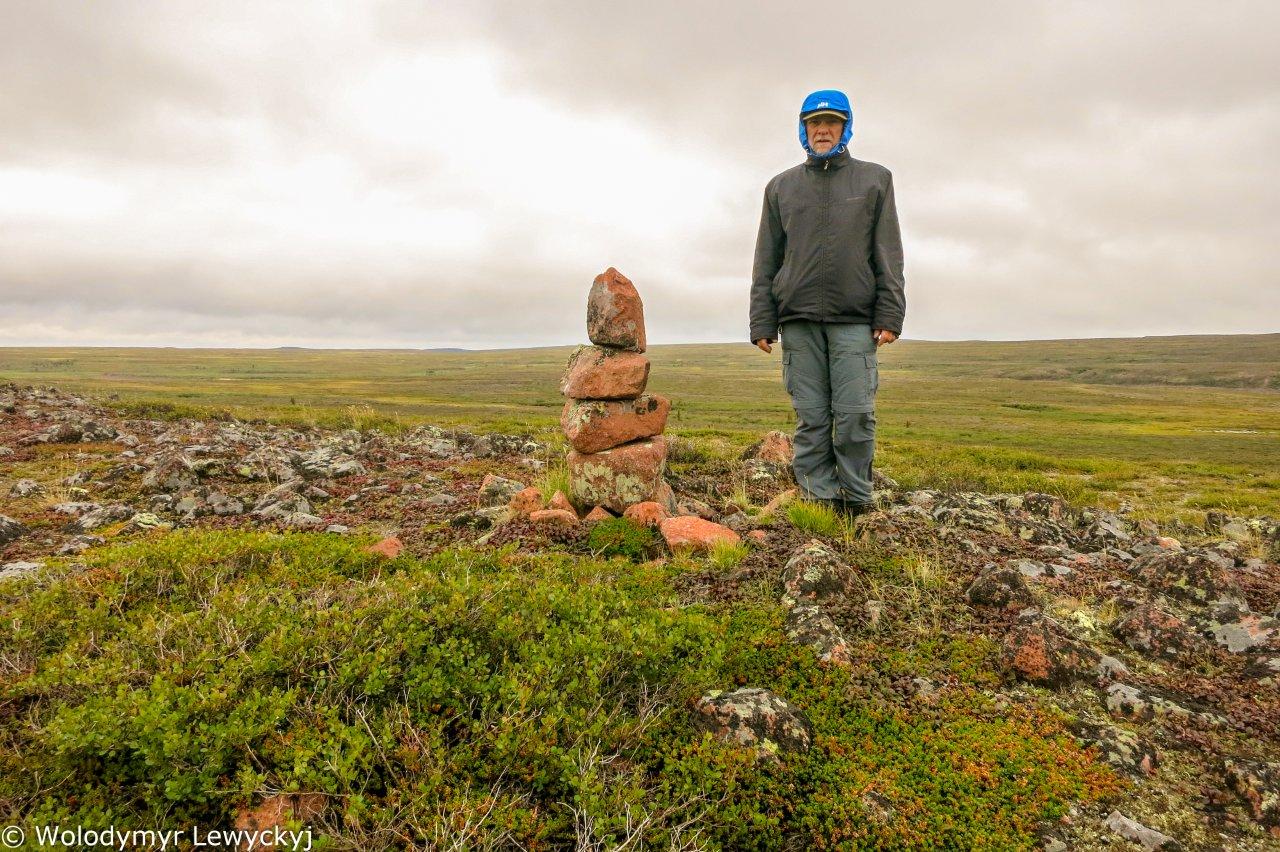 But we saw that others had come before us. The random construction of such stone markers is a bit controversial, especially since most of them denote nothing at all. Many purists consider this as needlessly leaving a human mark, when the motto really should be "leave no trace". I tend to agree with that sentiment.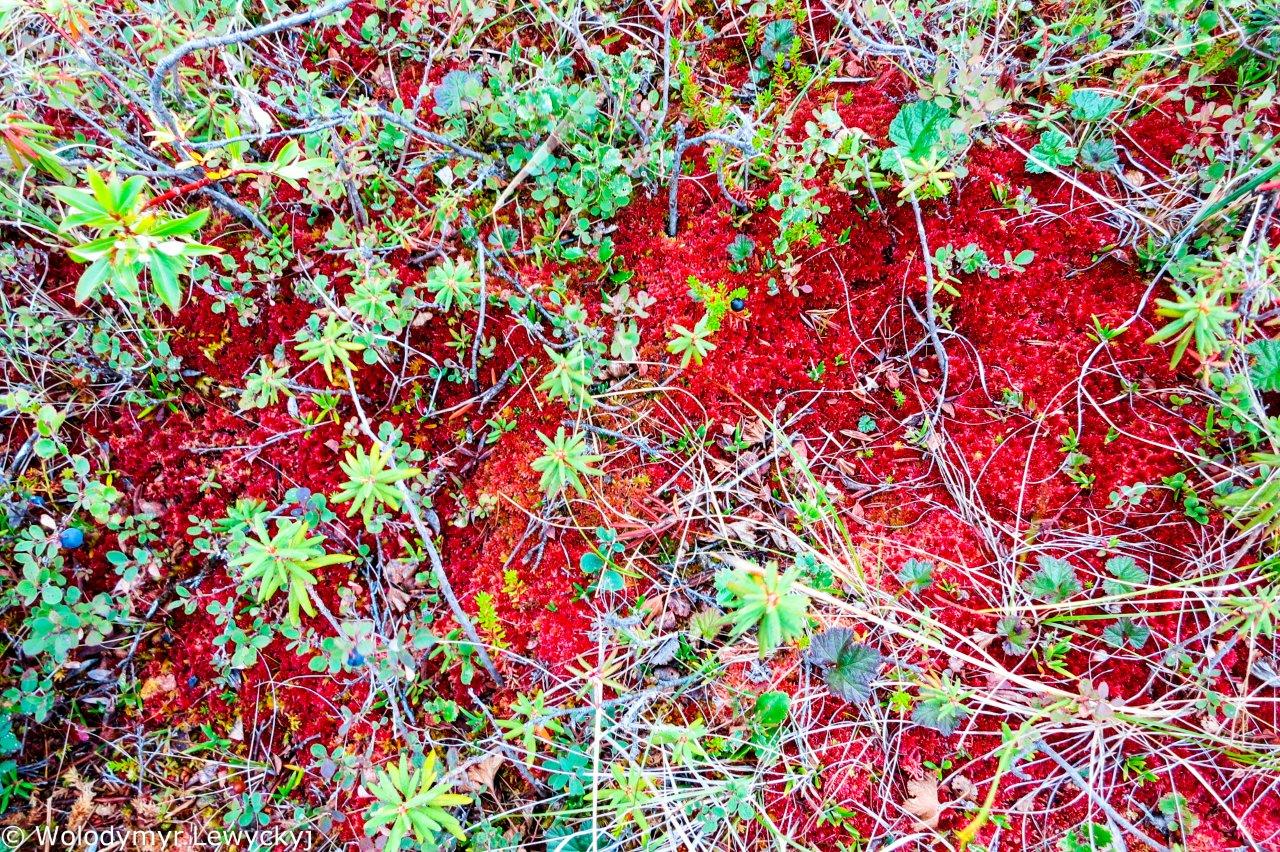 Some of the tundra fall colours can get very vivid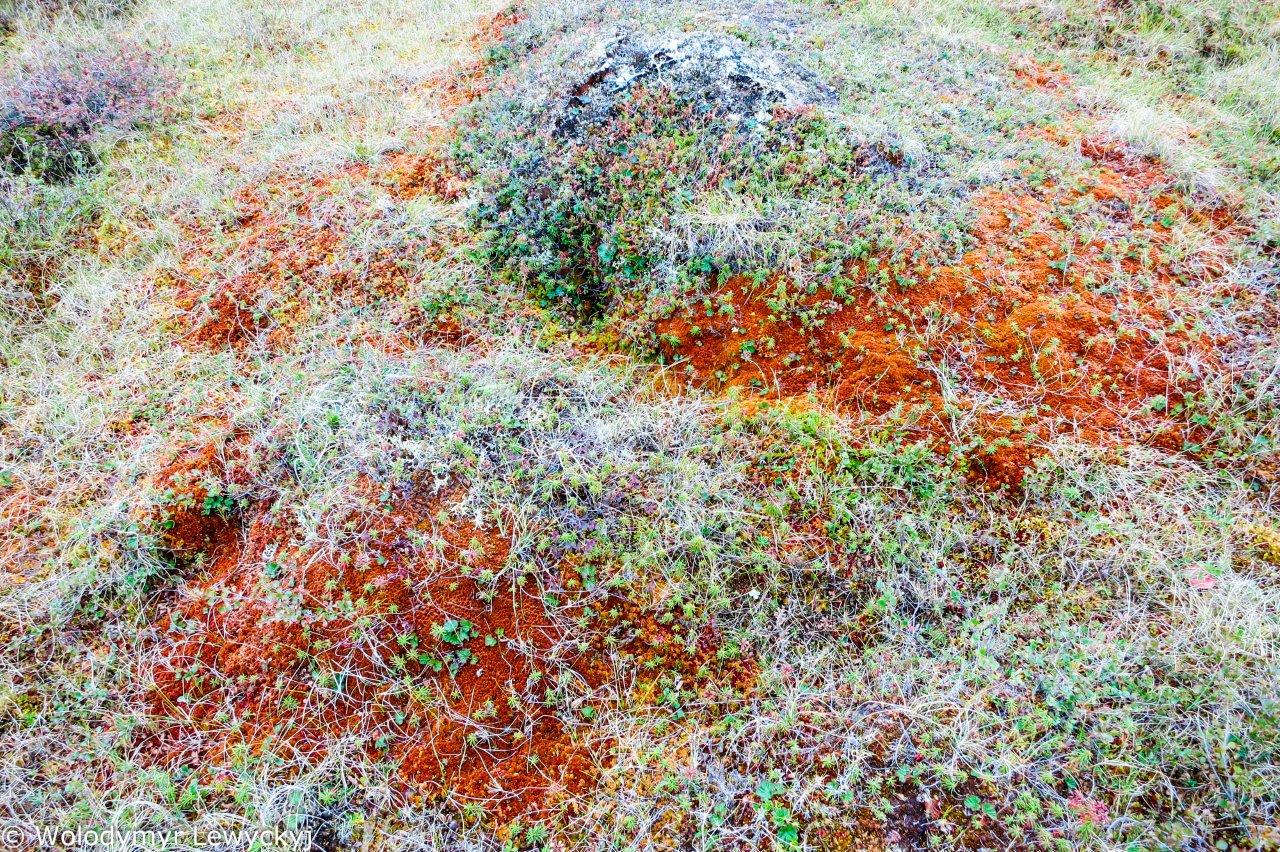 Some wonderful textures and colours. Wolodymyr enjoyed documenting the various looks of the tundra flora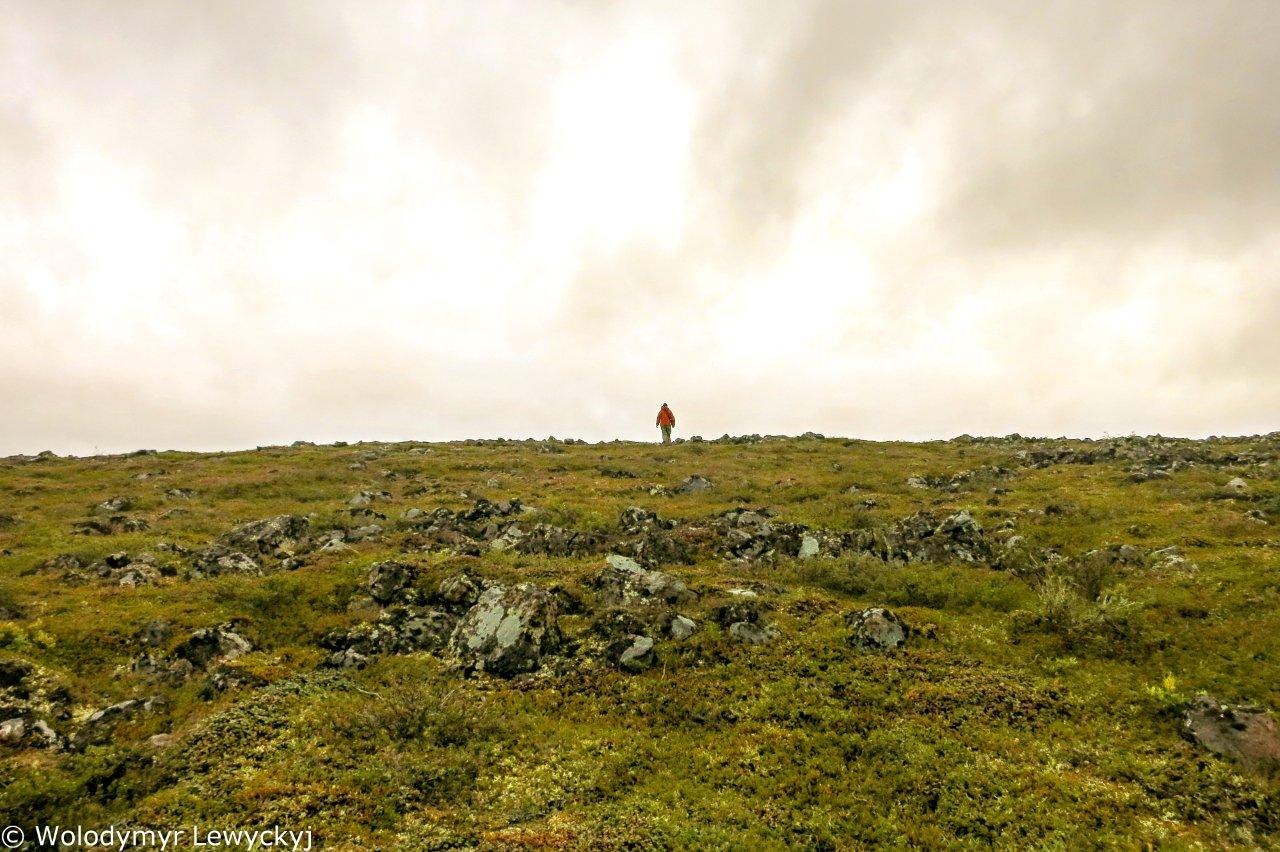 it was still cold and windy, threatening rain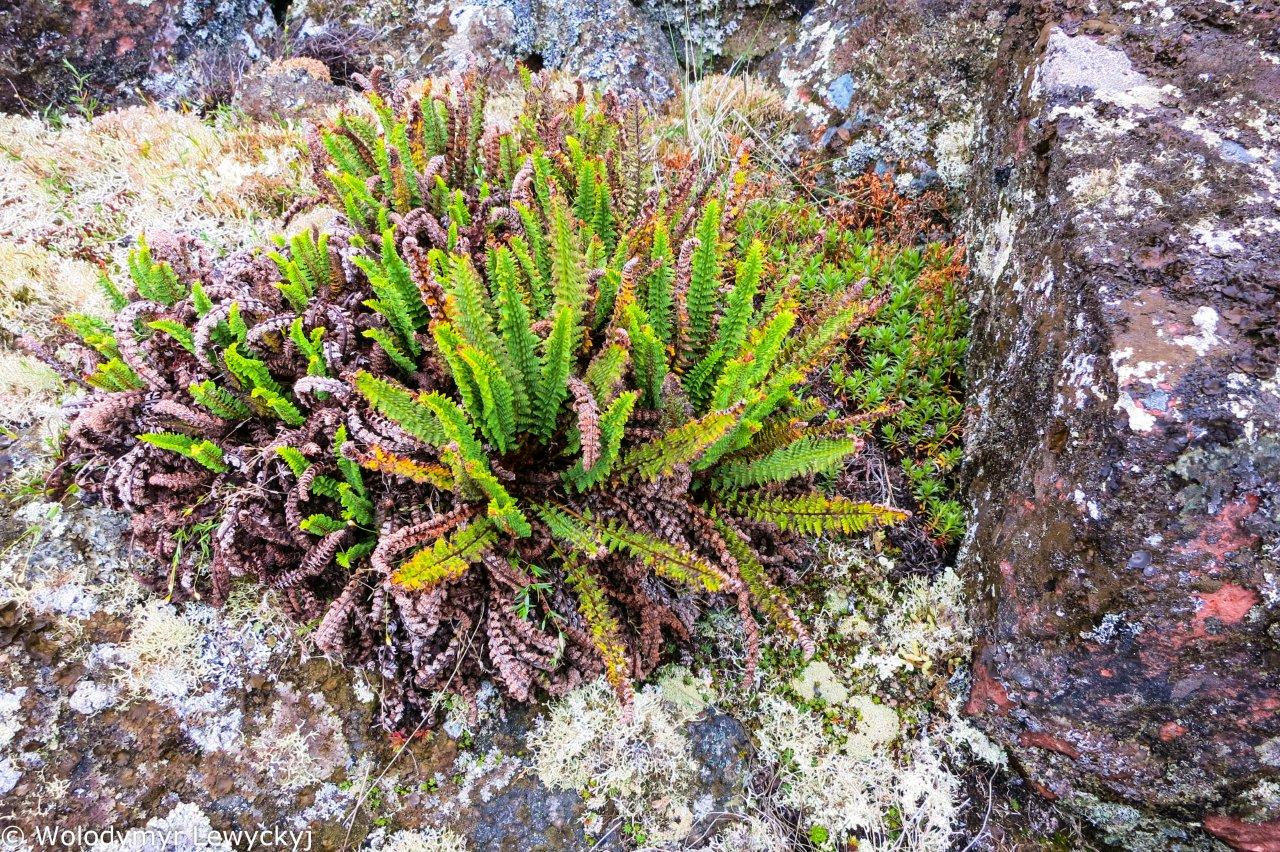 And hidden amongst the rocks, we actually found ferns!!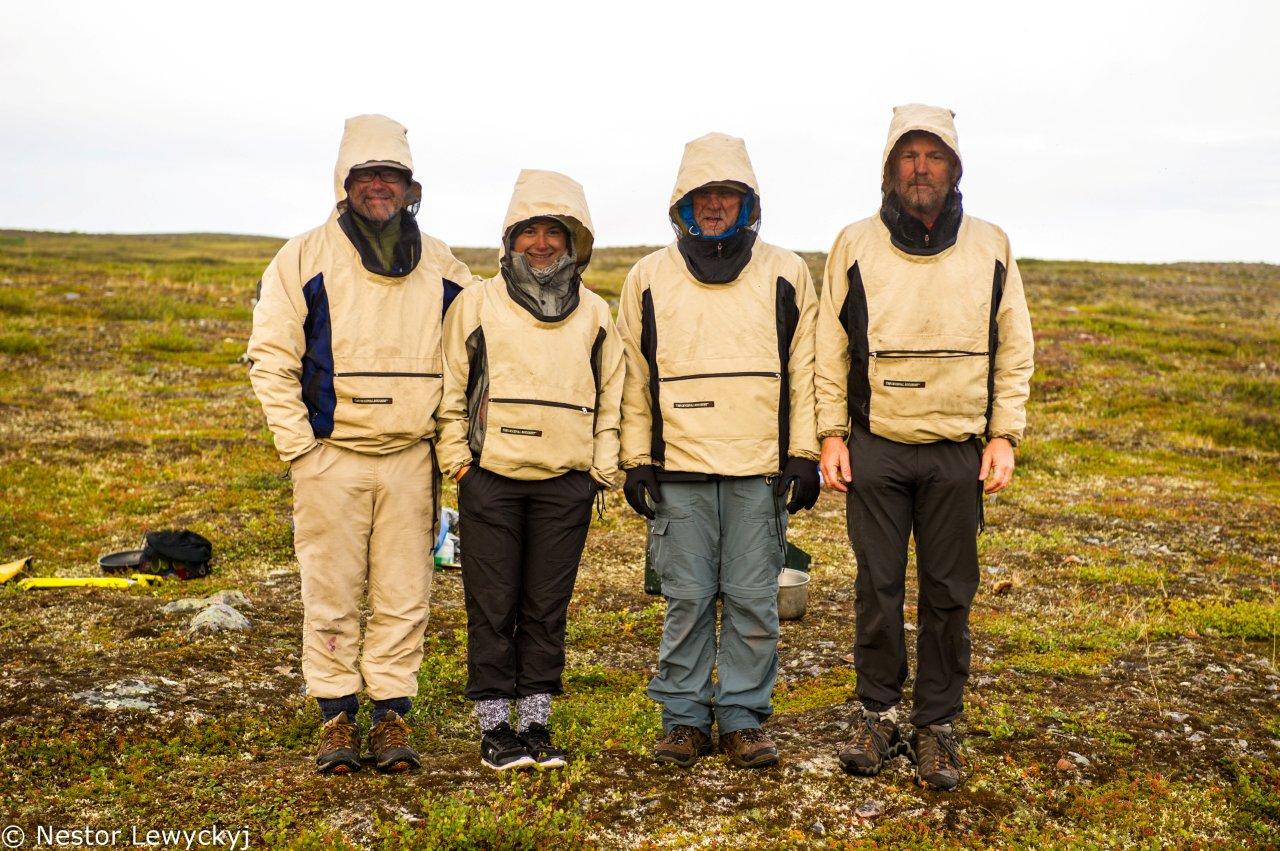 The Chernobyl clean up crew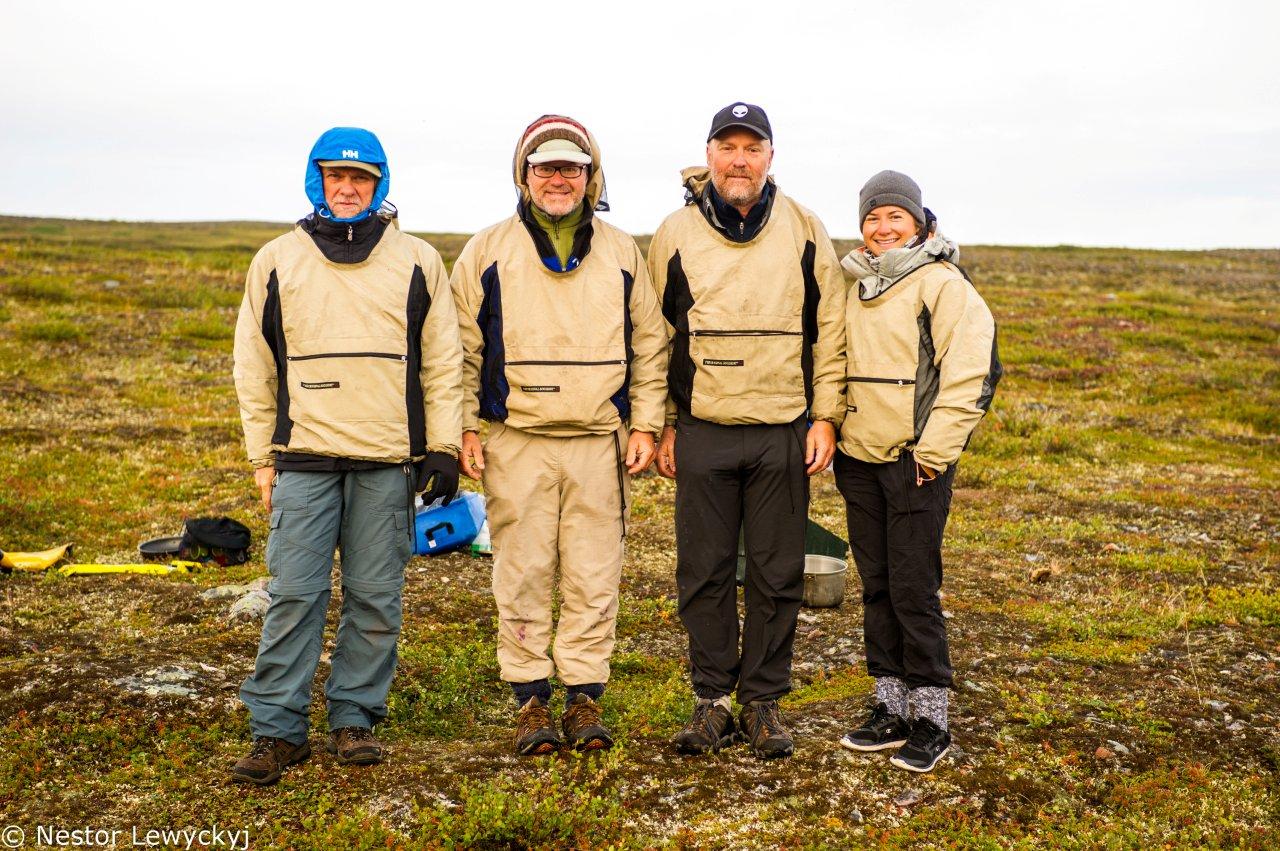 Or the local scouting chapter....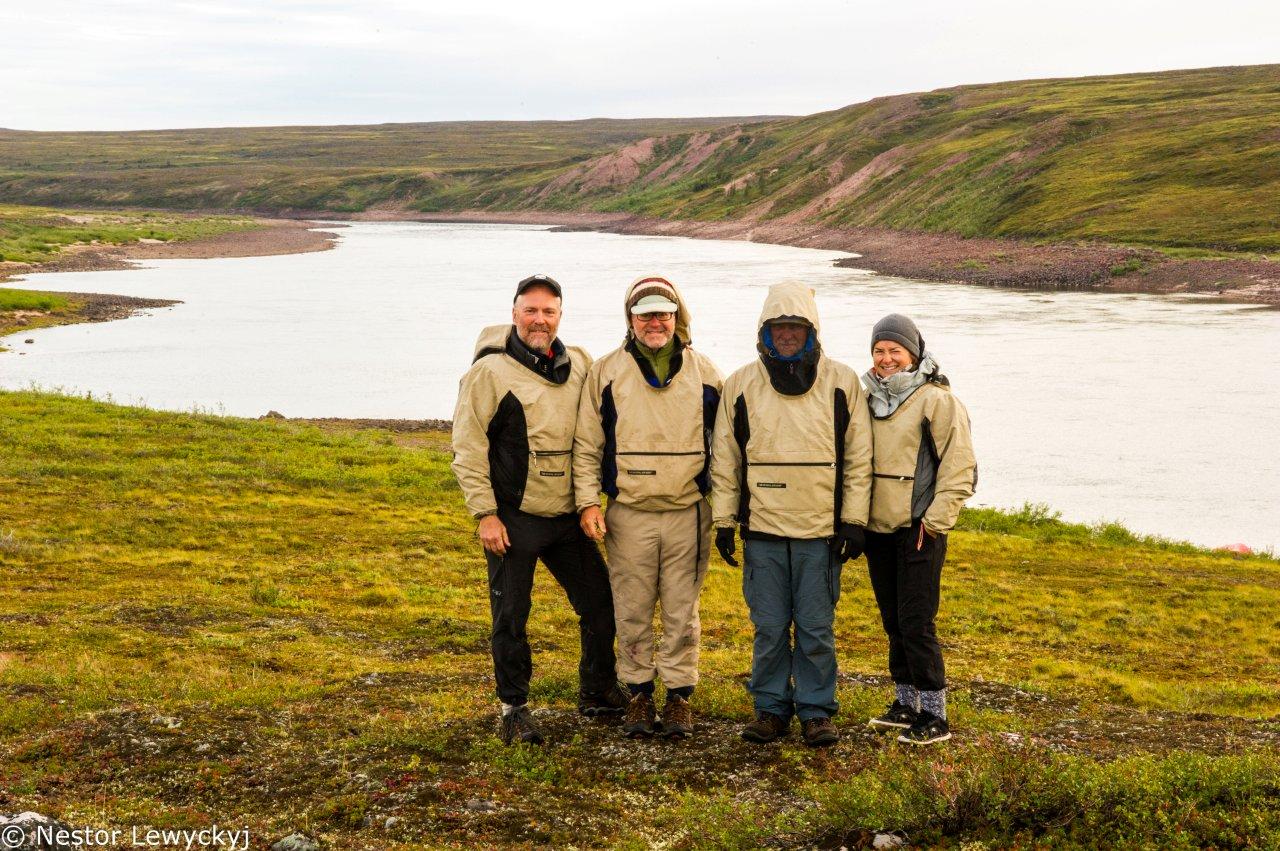 On that last day before pick up, the weather was improving a bit. Even though we were shy of our agreed-to pickup point, we knew we were in a good place to land and load the plane, so we used our satellite phone and called in our new coordinates to Air Tindi.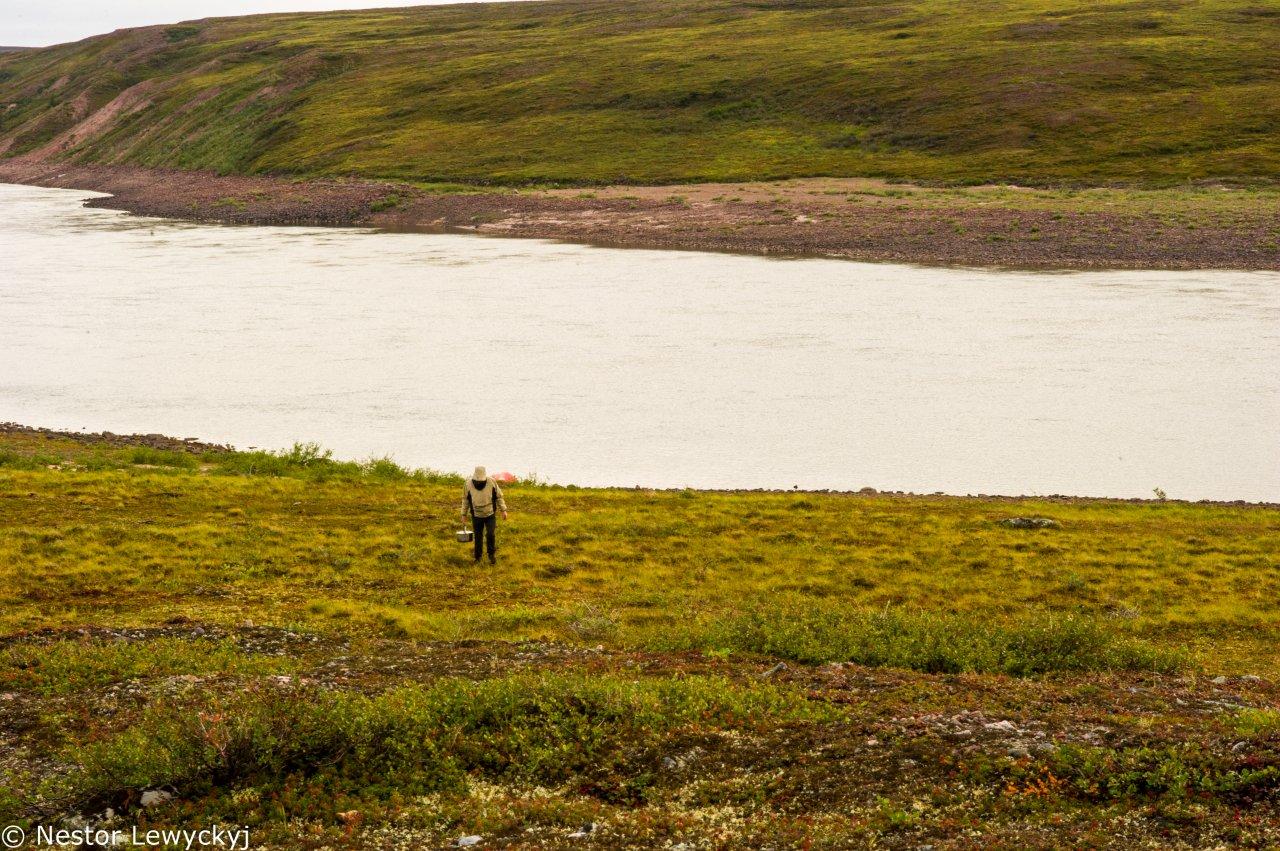 The last time we had to hail water up to camp. you don't really think about it, but you end up walking a lot when you come to shore and make camp. Its takes a fair bit of energy.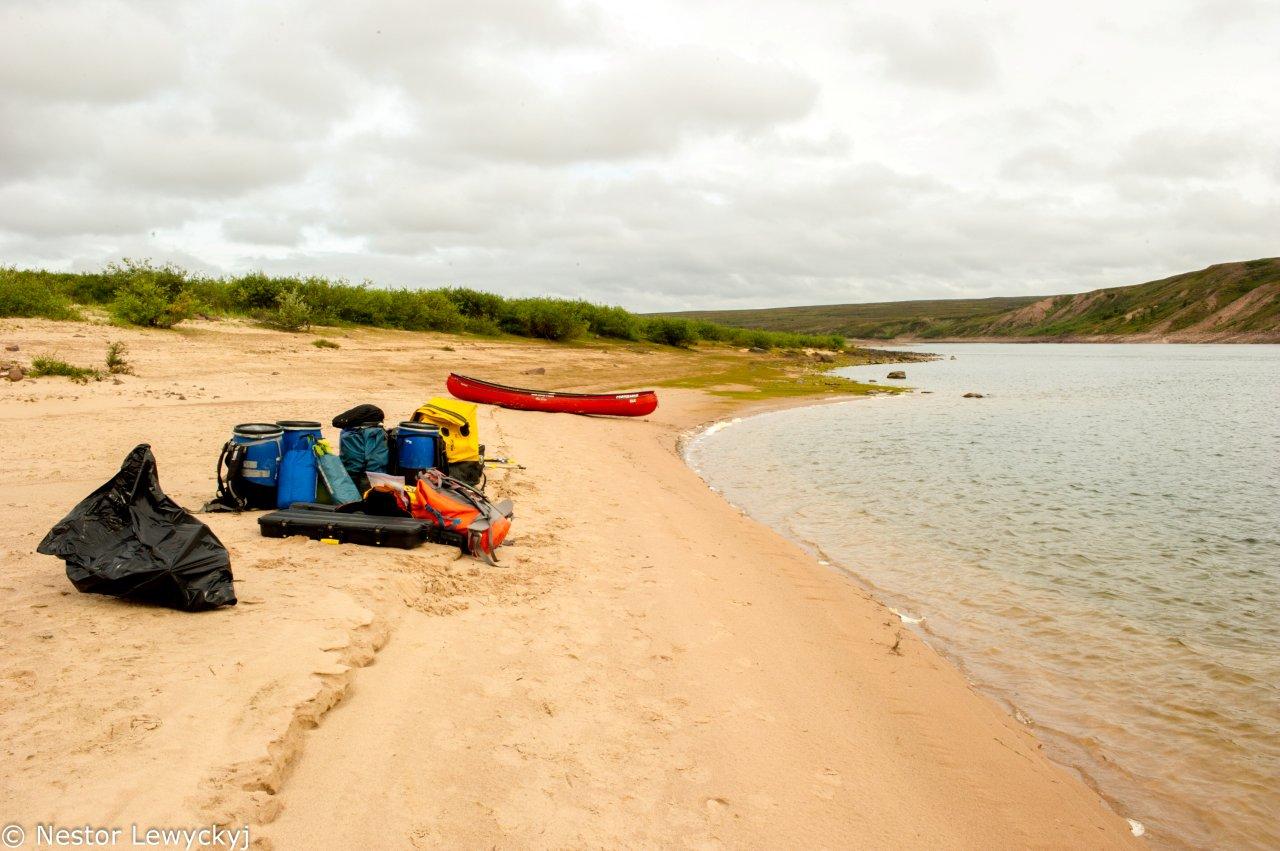 We liked the spot because the river was straight and deep, and there was a soft beach for the float plane to back up and allow for easy loading. As long as the ceiling stayed reasonably high, we knew we were in good shape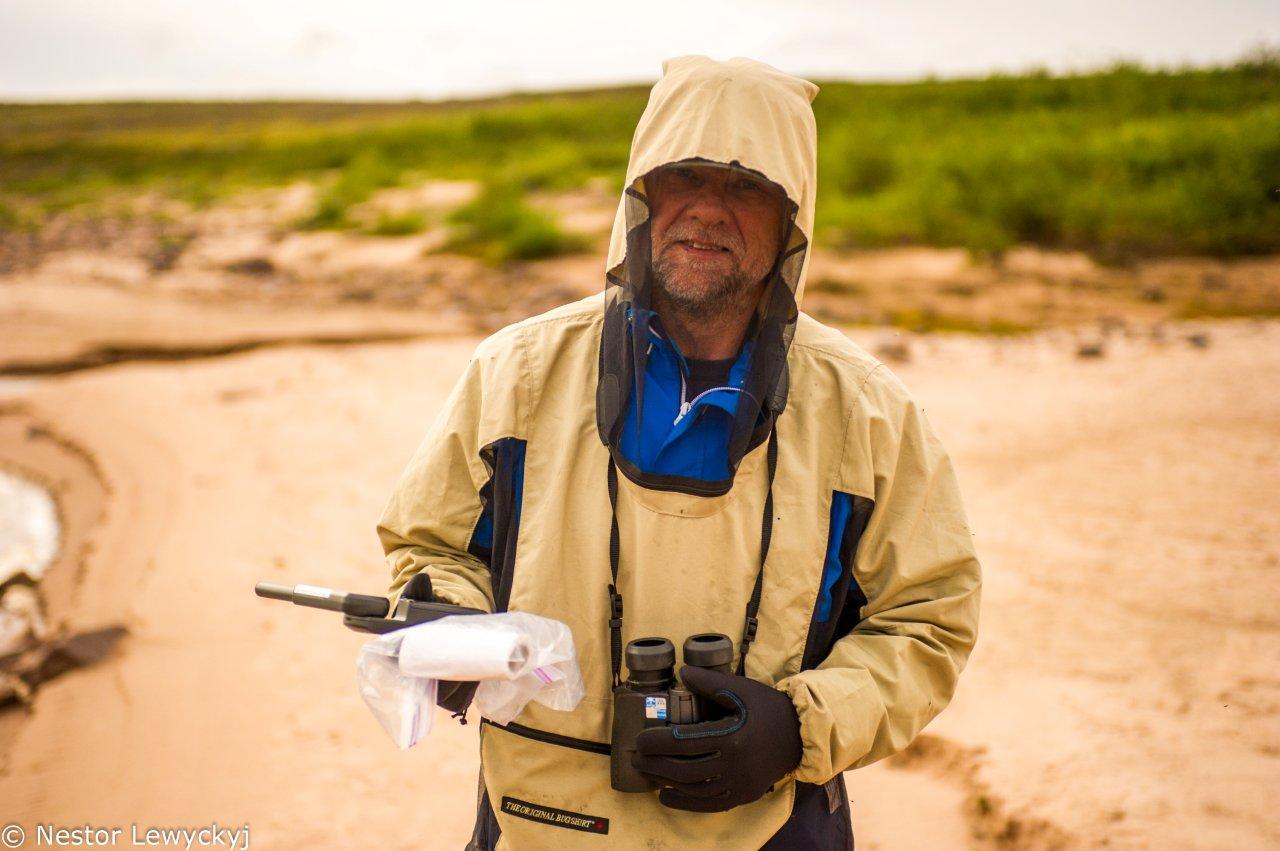 Carrying our gear down, bit by bit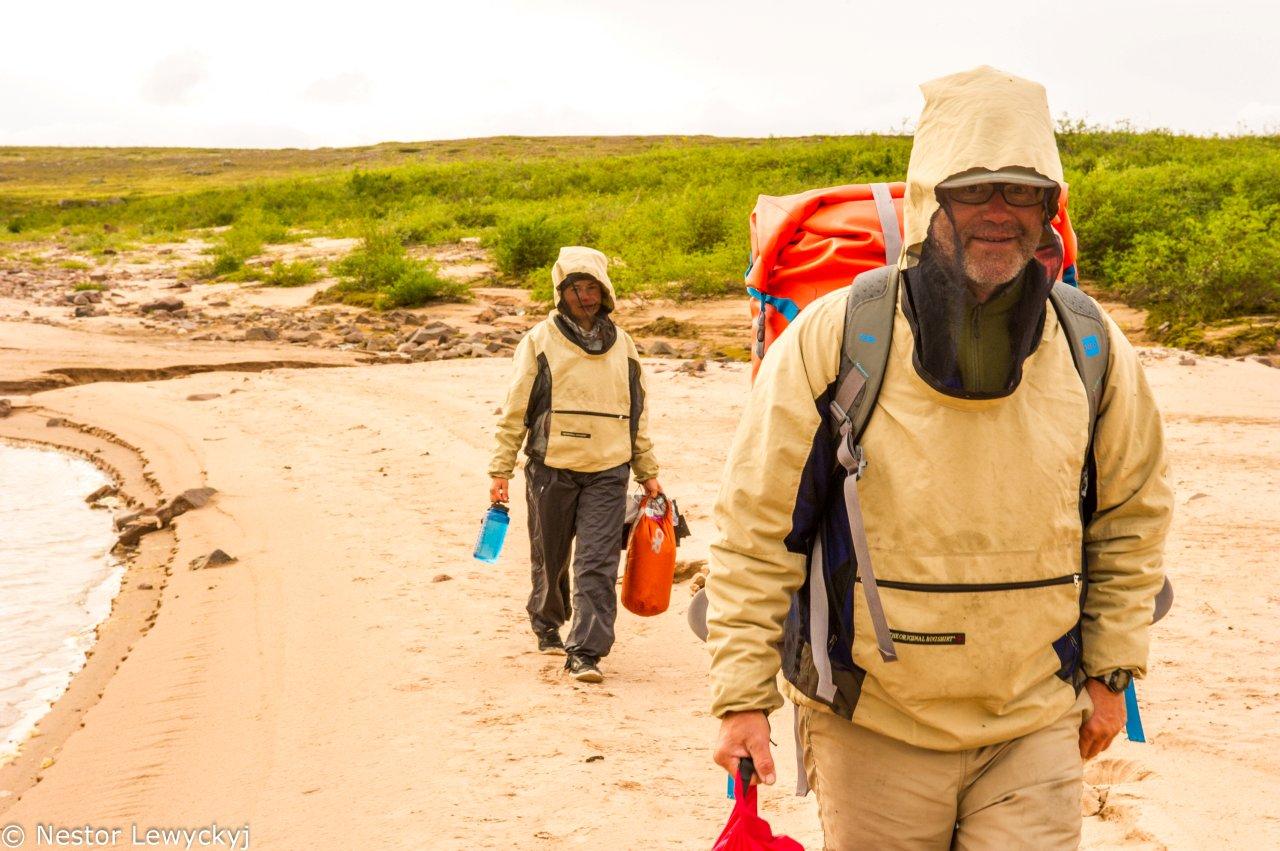 Roman and Sarah were still smiling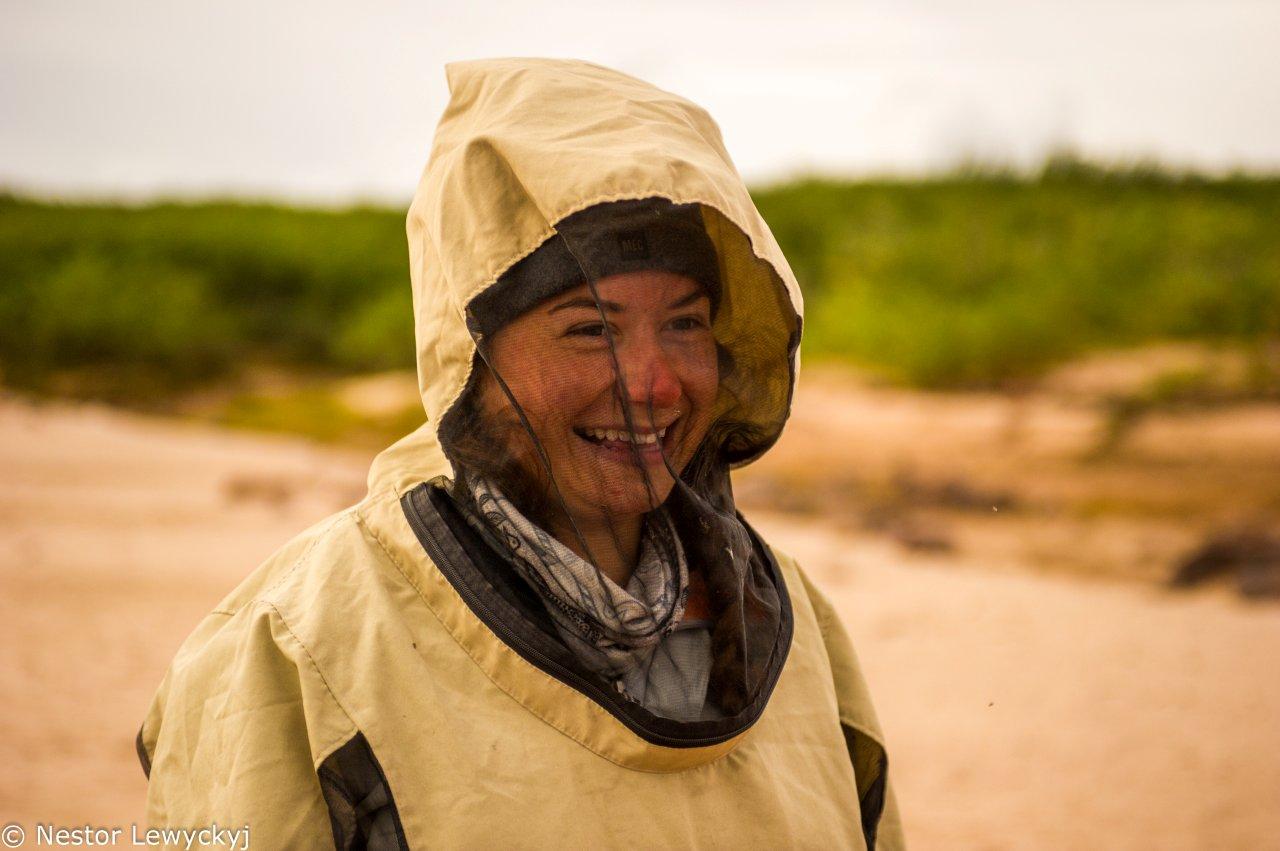 Especially Sarah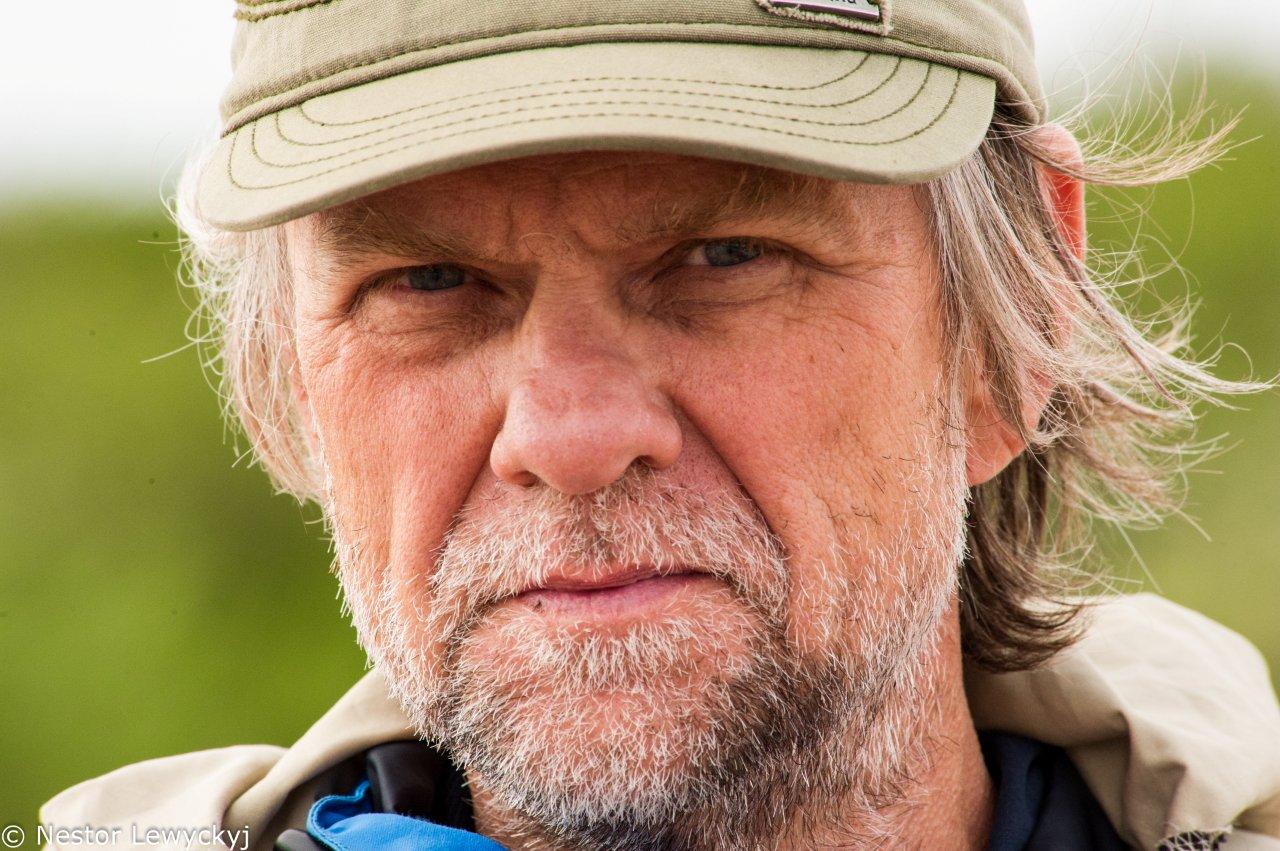 I got the sense that maybe, just maybe, Wolodymyr may have been a tad sad to leave. I can't say that I disagreed with him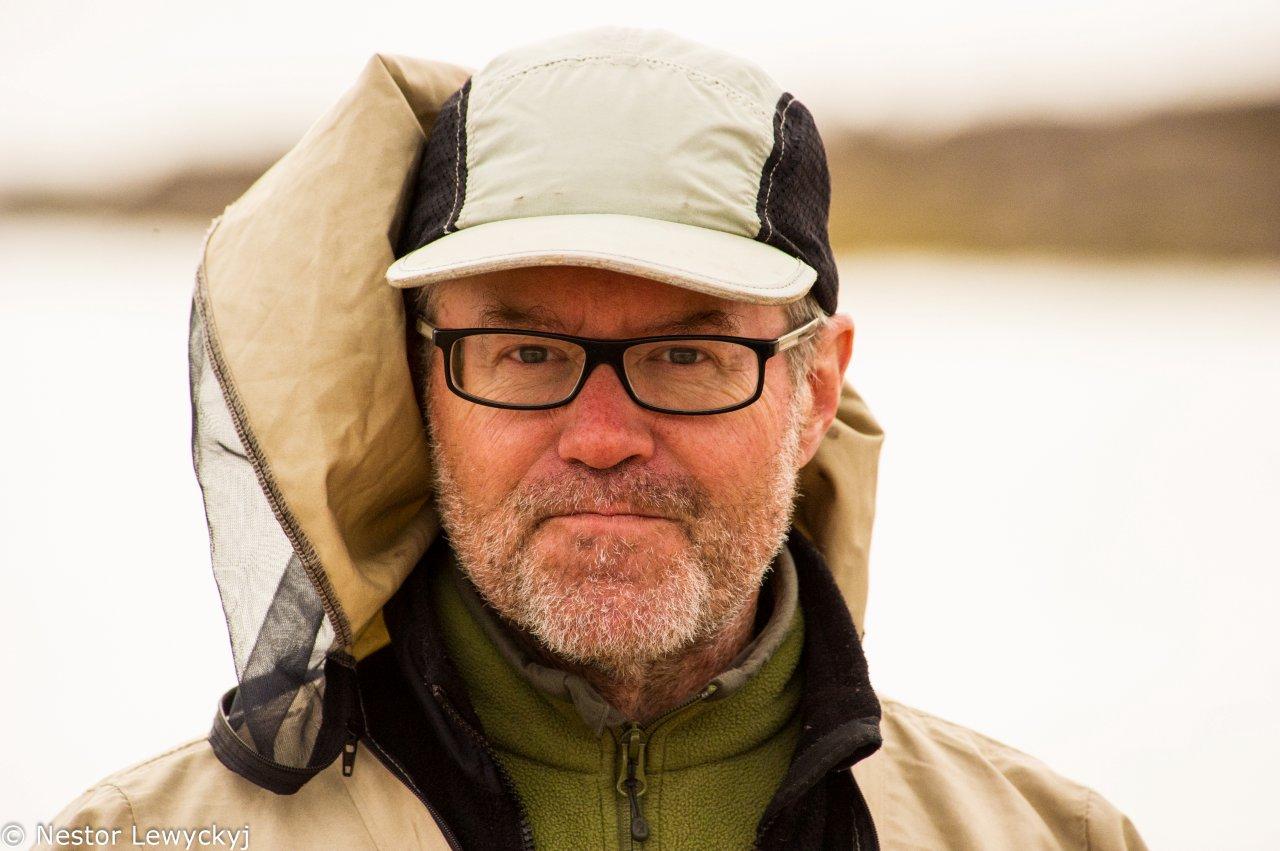 Although Roman may have been ready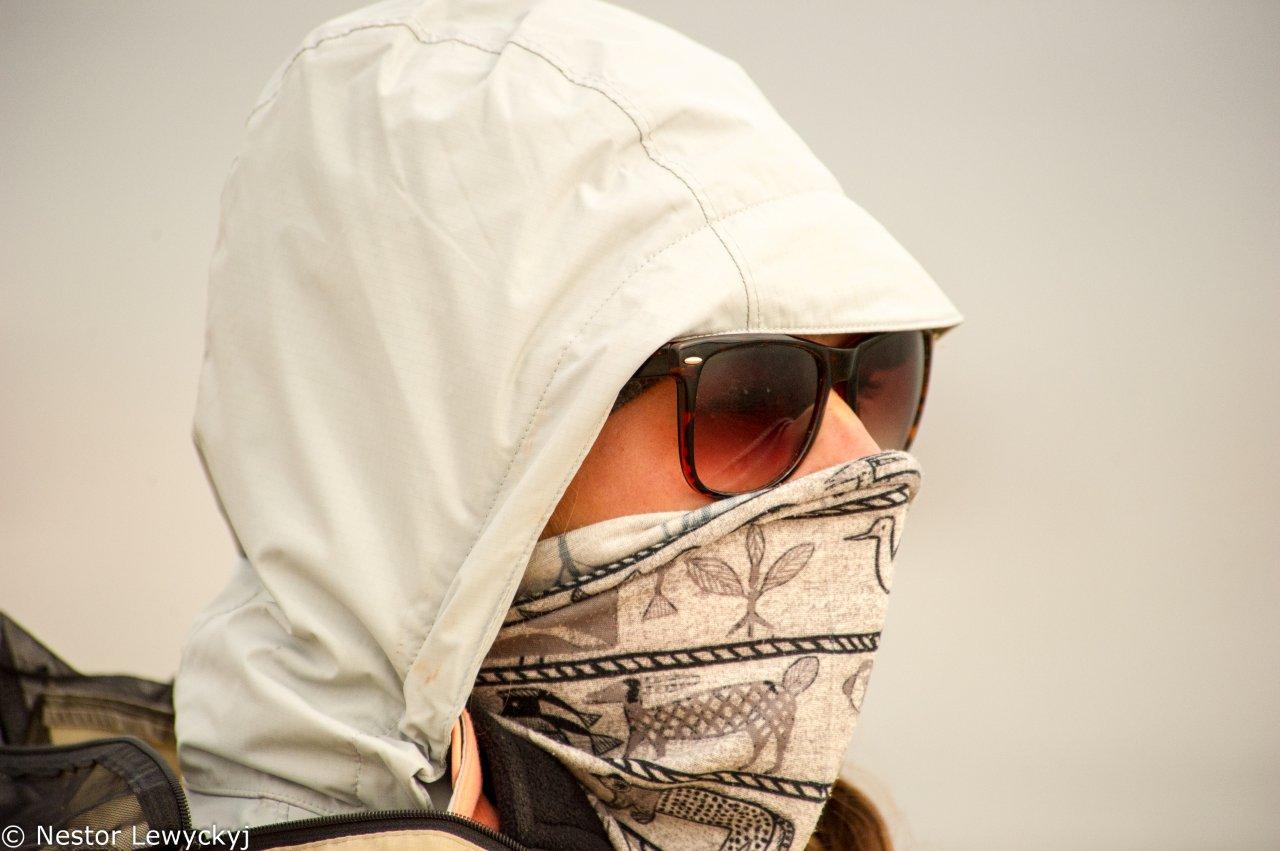 Sarah getting ready for??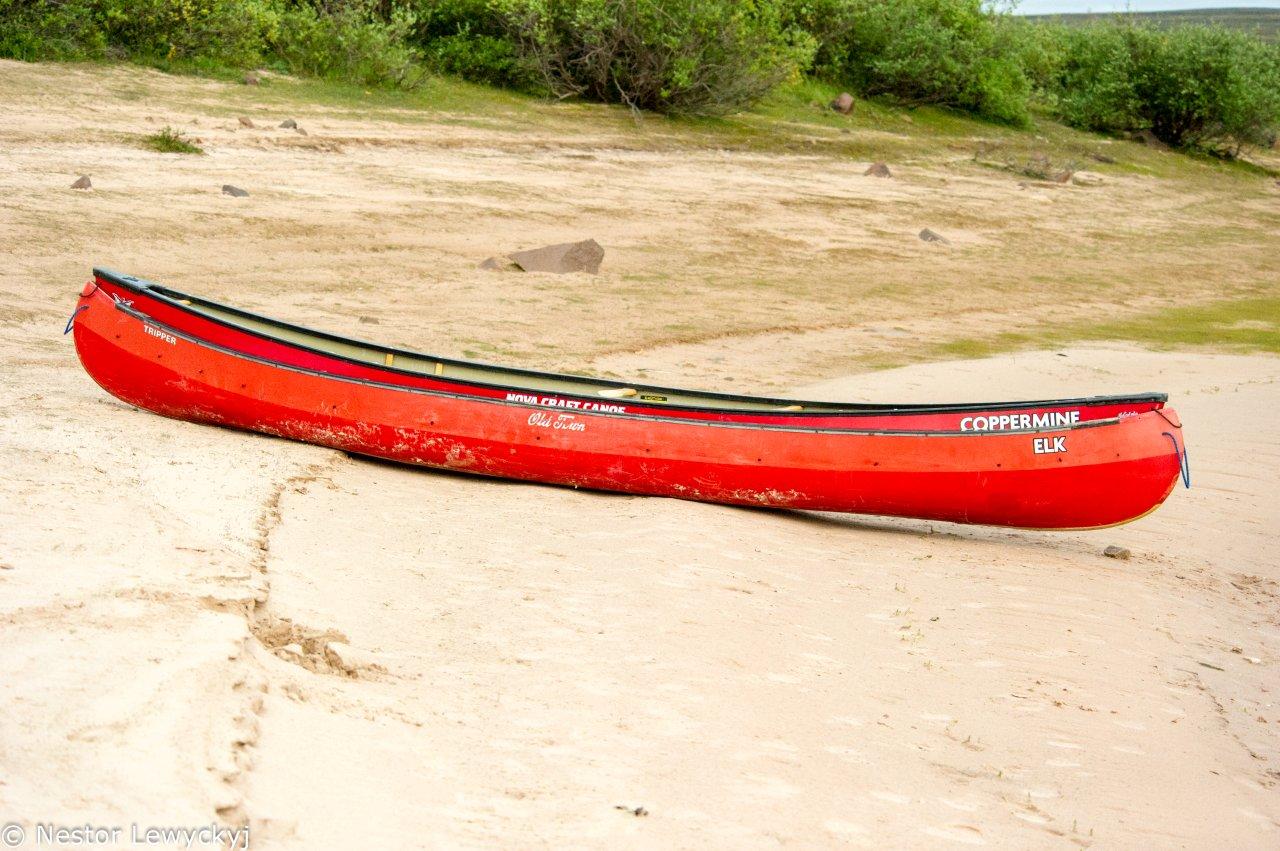 We disassembled the longer canoe and nested them together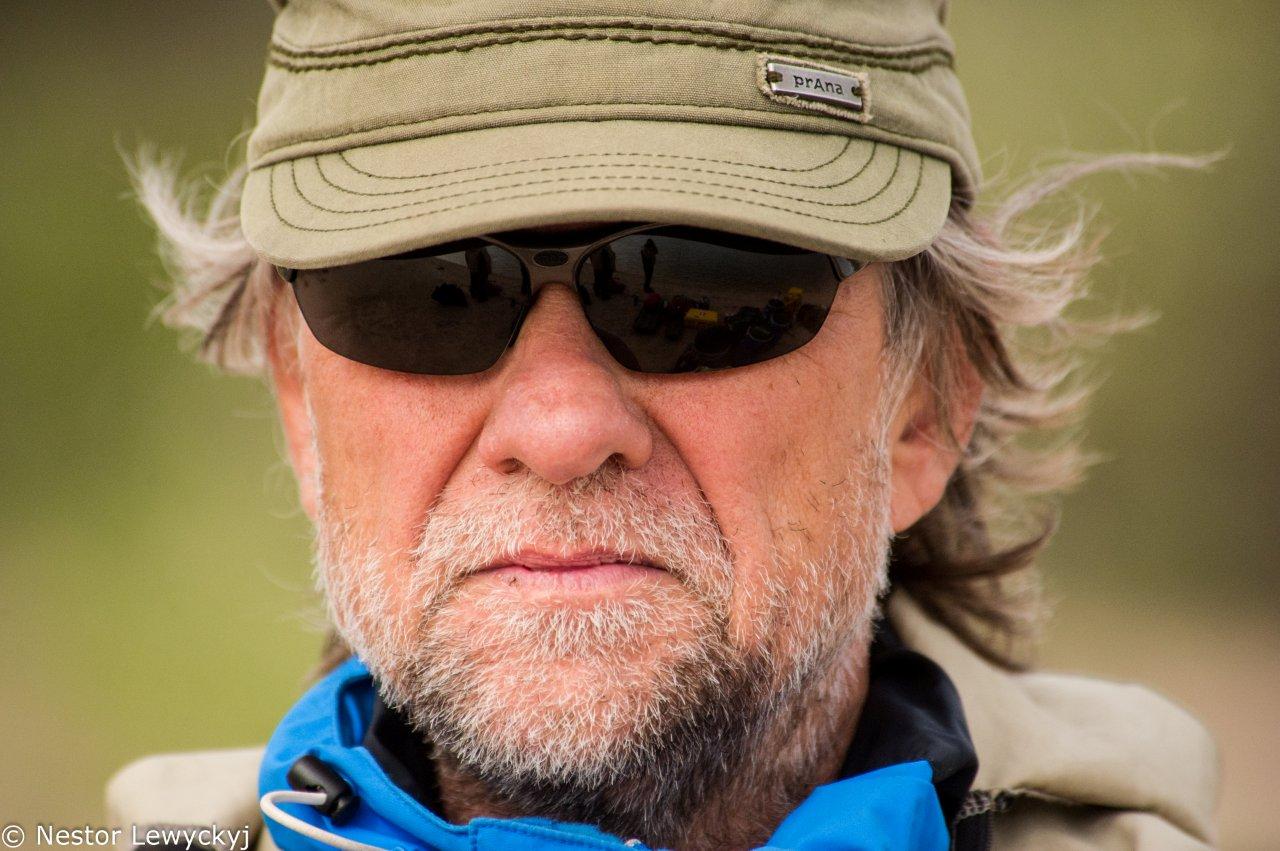 While Wolodymyr made sure that we were not accosted in any way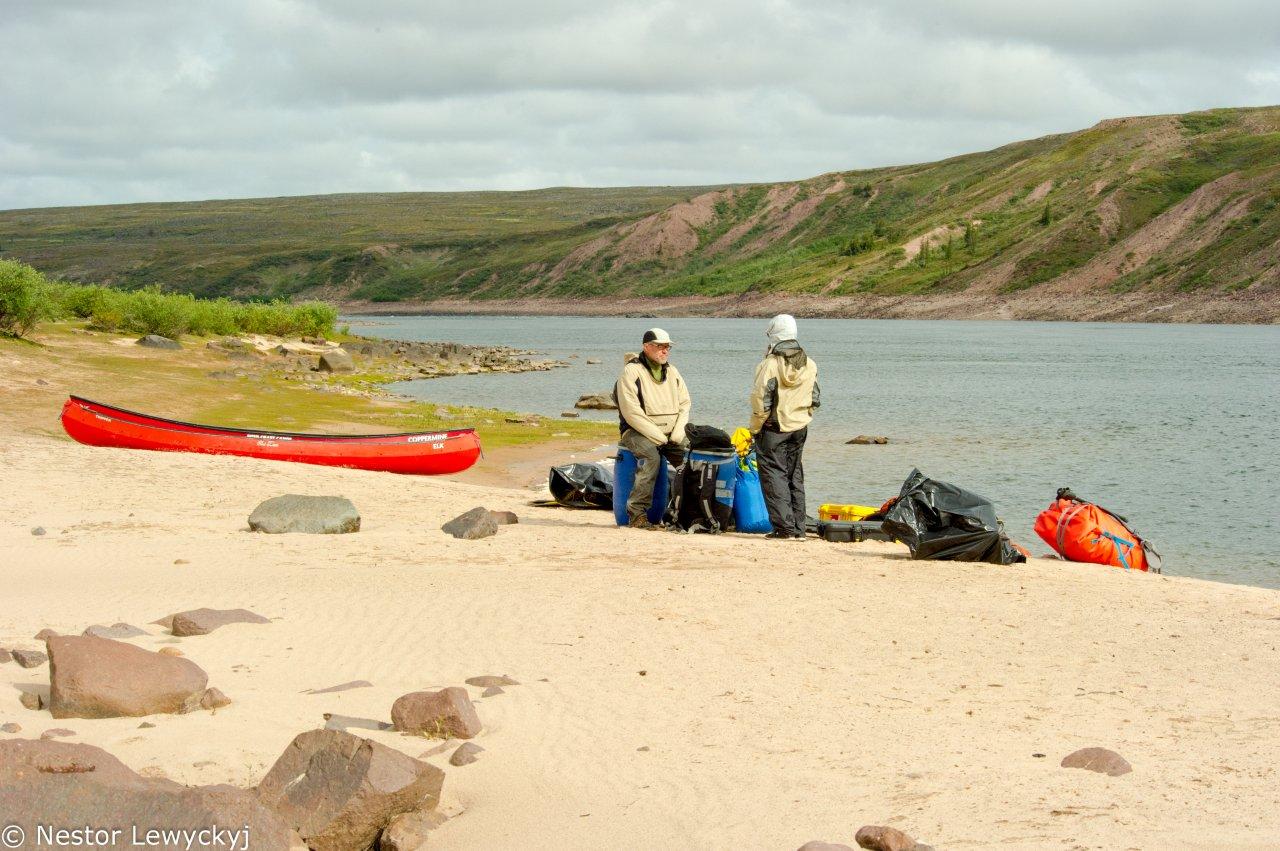 Roman and Sarah spent a lot of time together talking, which was really nice to see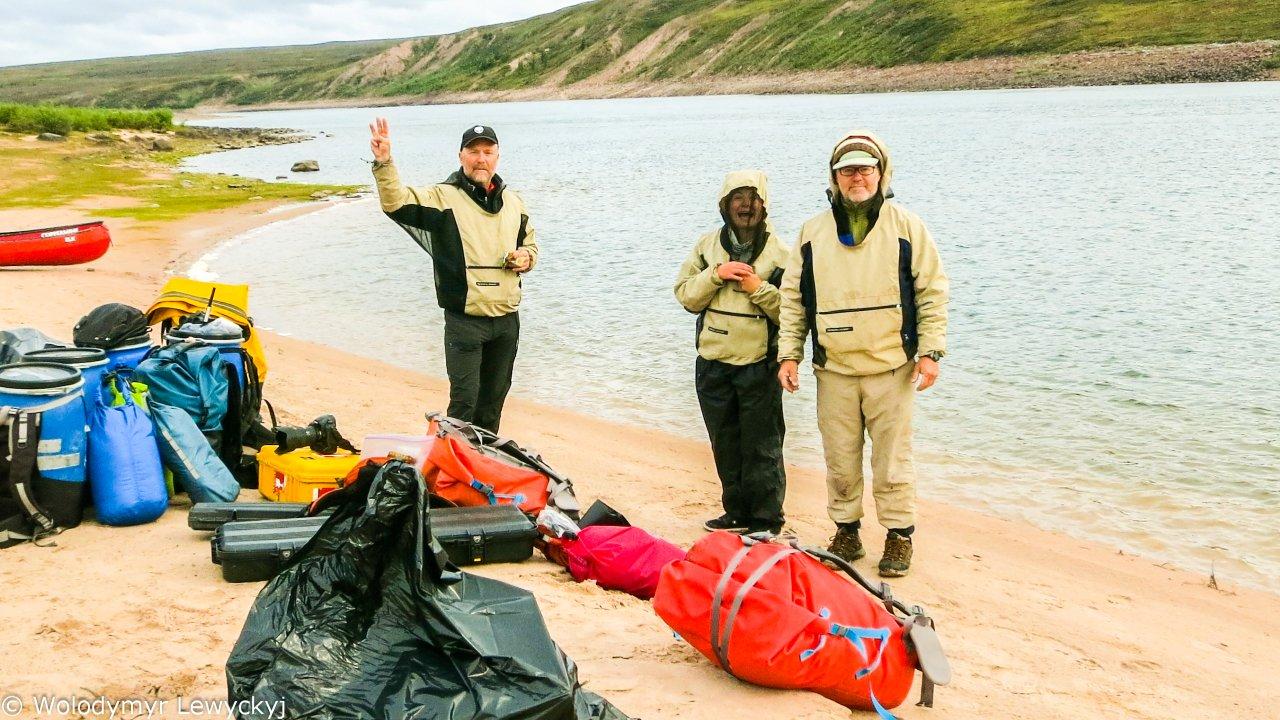 We knew that the plane left Yellowknife a bit late and we kept listening trying to pick up the drone of the engine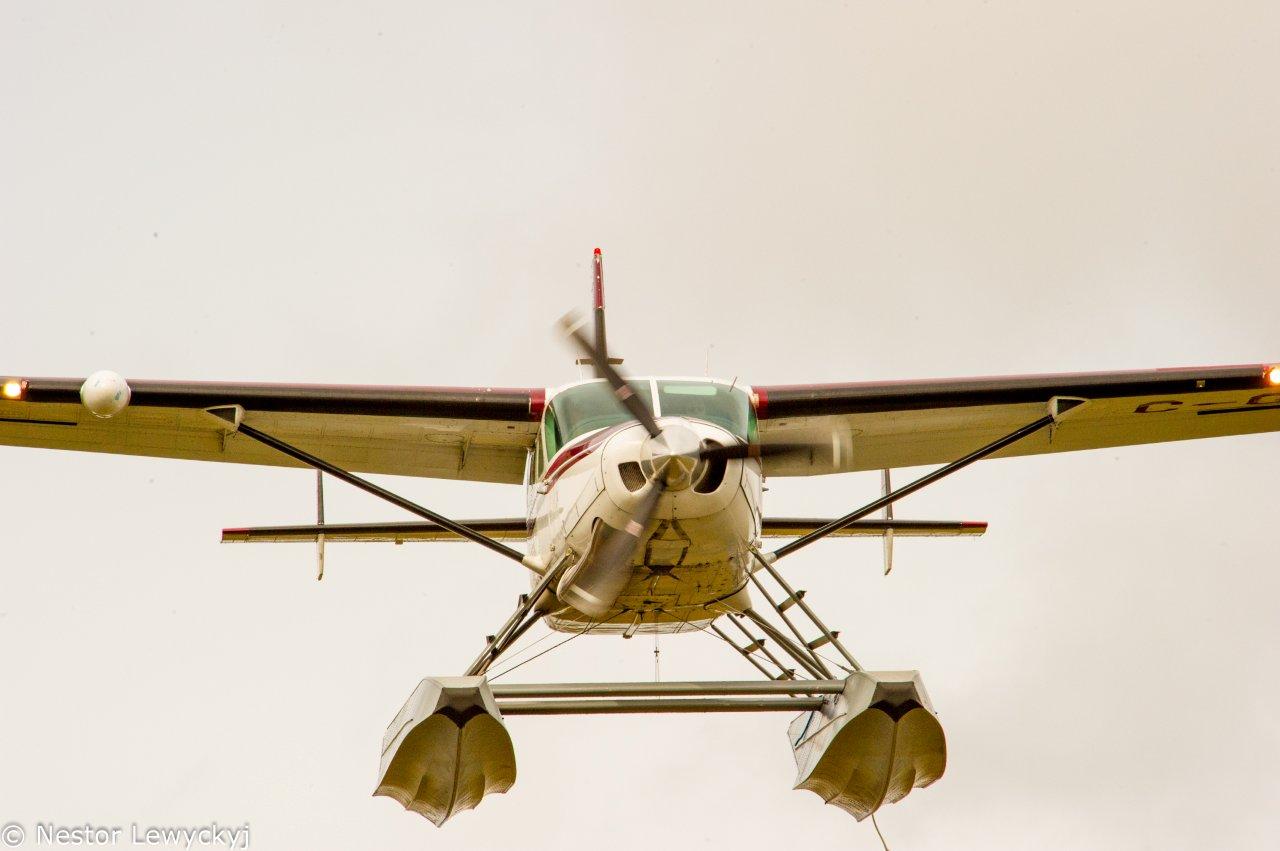 It turns out that it was Caleb that was coming to pick us up. He flew right over us from the West, dipping his wings to signal that he spotted us. He circled around several times to get a good view of the spot and then disappeared behind the ridge to the Wrest of us and then suddenly appeared right over our heads, what seemed like really low (but wasn't). He was landing directly into the wind as this made it easier on him. You can actually make his face out on the left side of the windscreen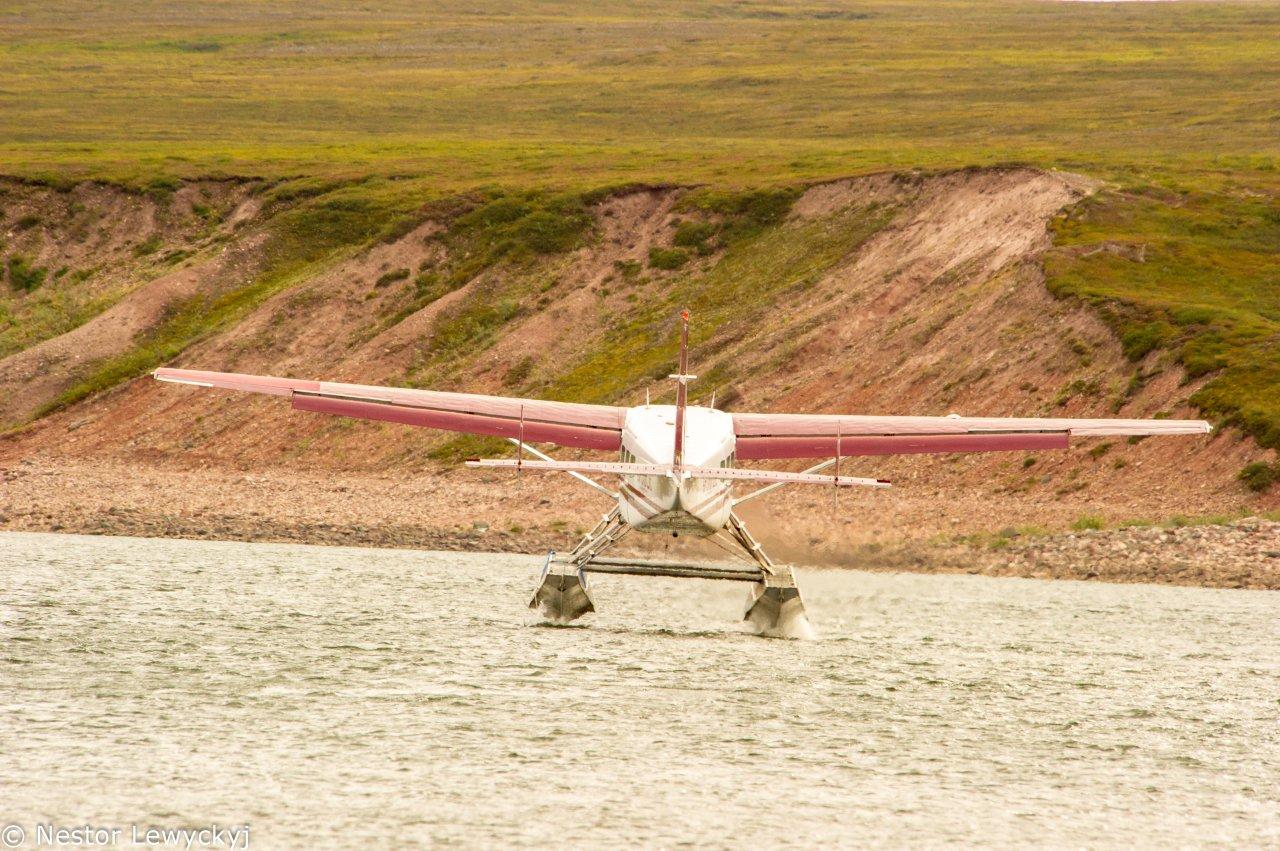 A perfect landing with the current, but into the wind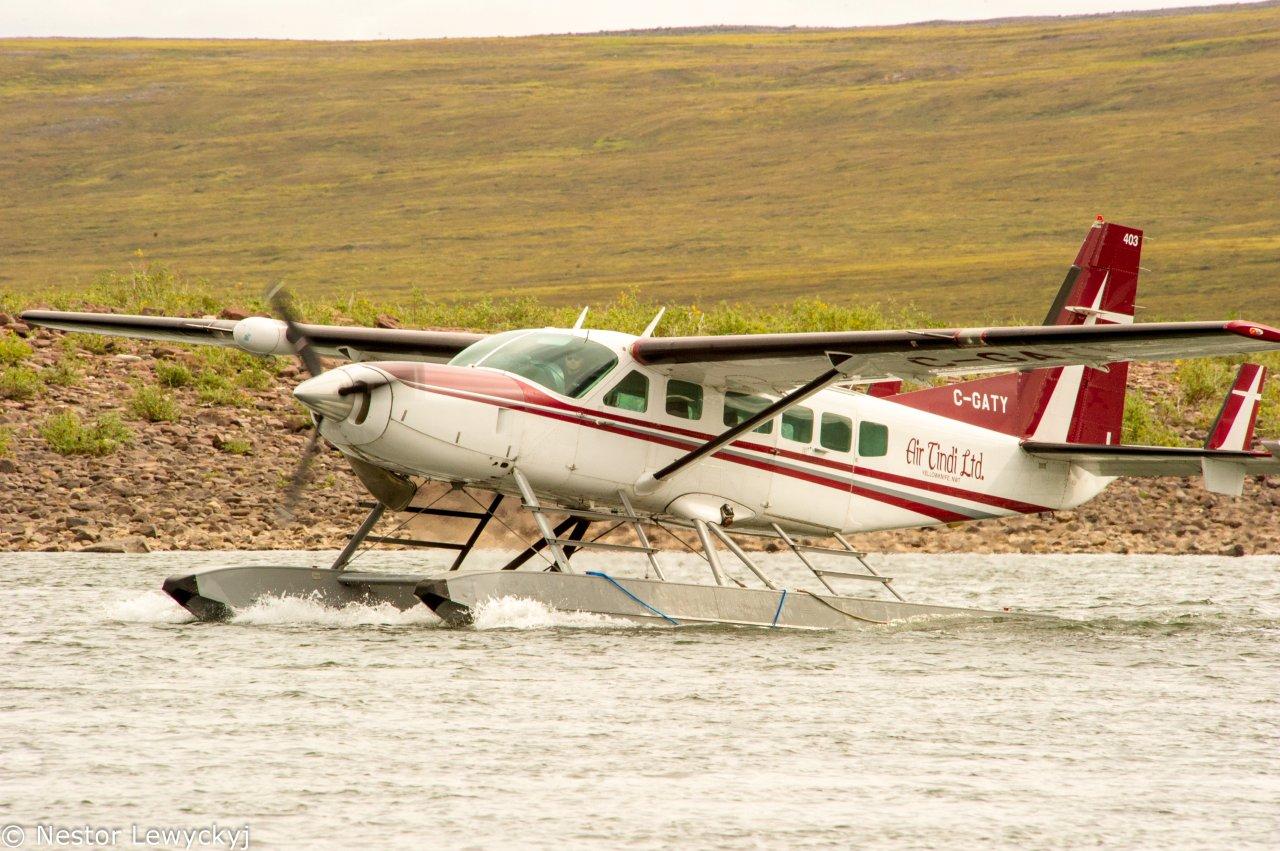 Caleb giving the beach a good looking over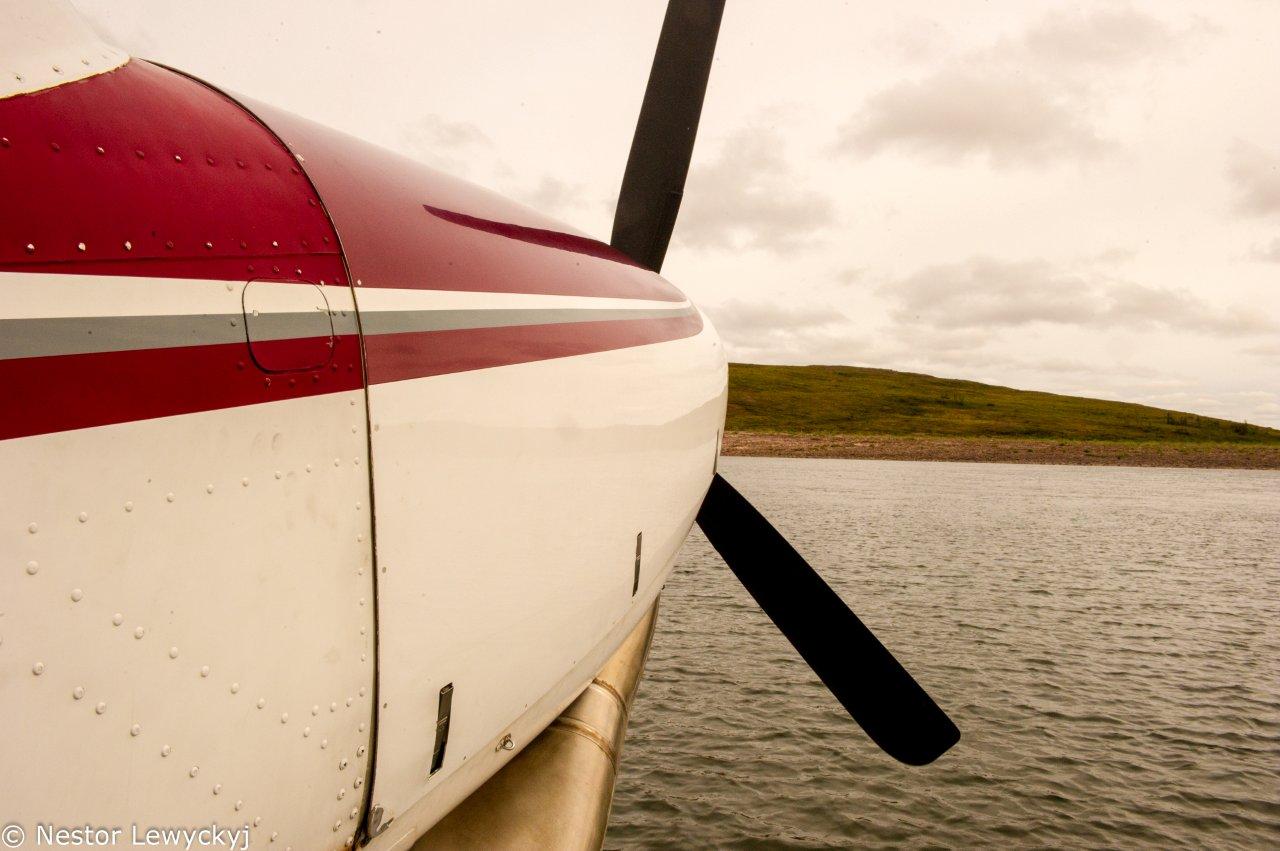 The nose of the Cessna Baby Caravan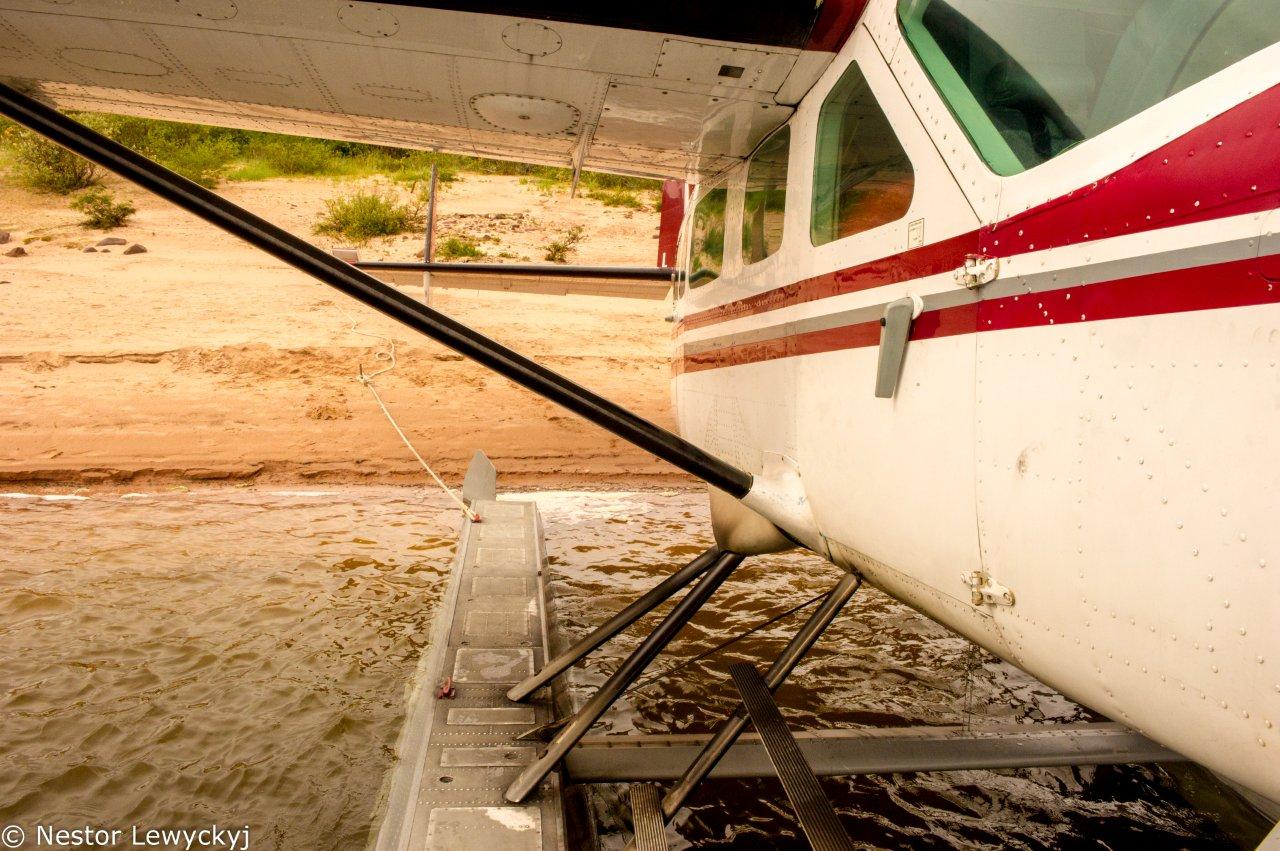 The floats were tied off to steel bars hammered into the sun to make sure that the wind did not spin her around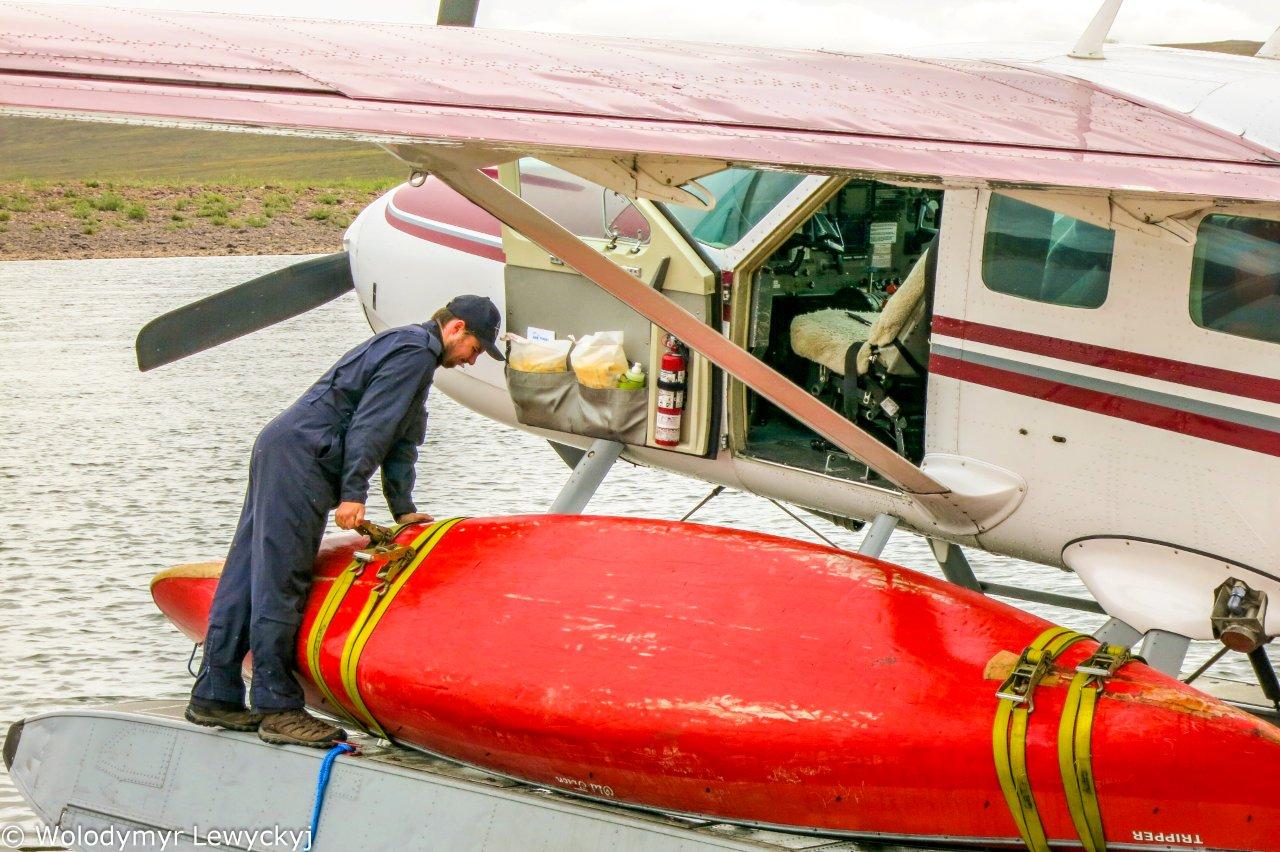 You have to make sure that the nested canoes are strapped on good and tight for the long 700 km flight to Yellowknife. if the canoes were to come loose in flight, it could be disastrous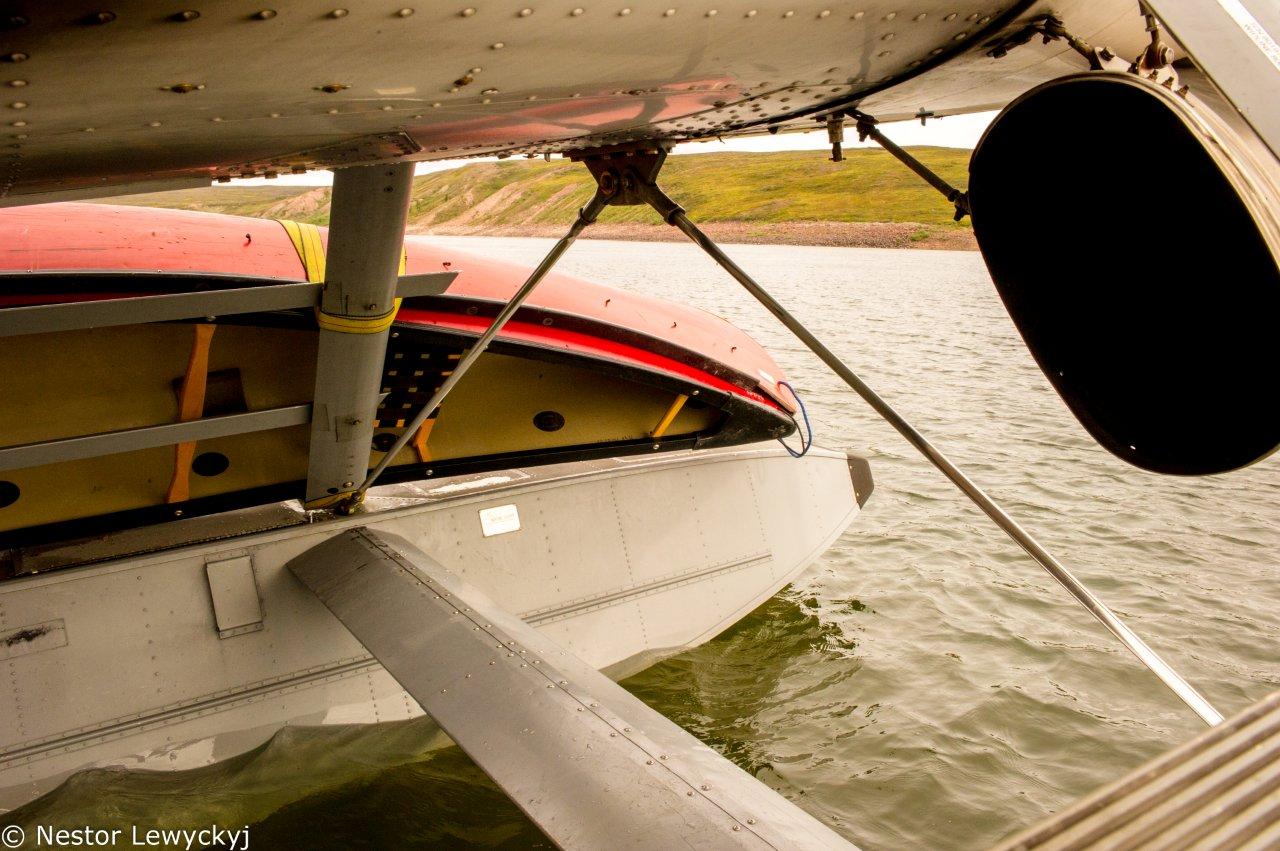 The engine exhaust and the nested canoes tied to the float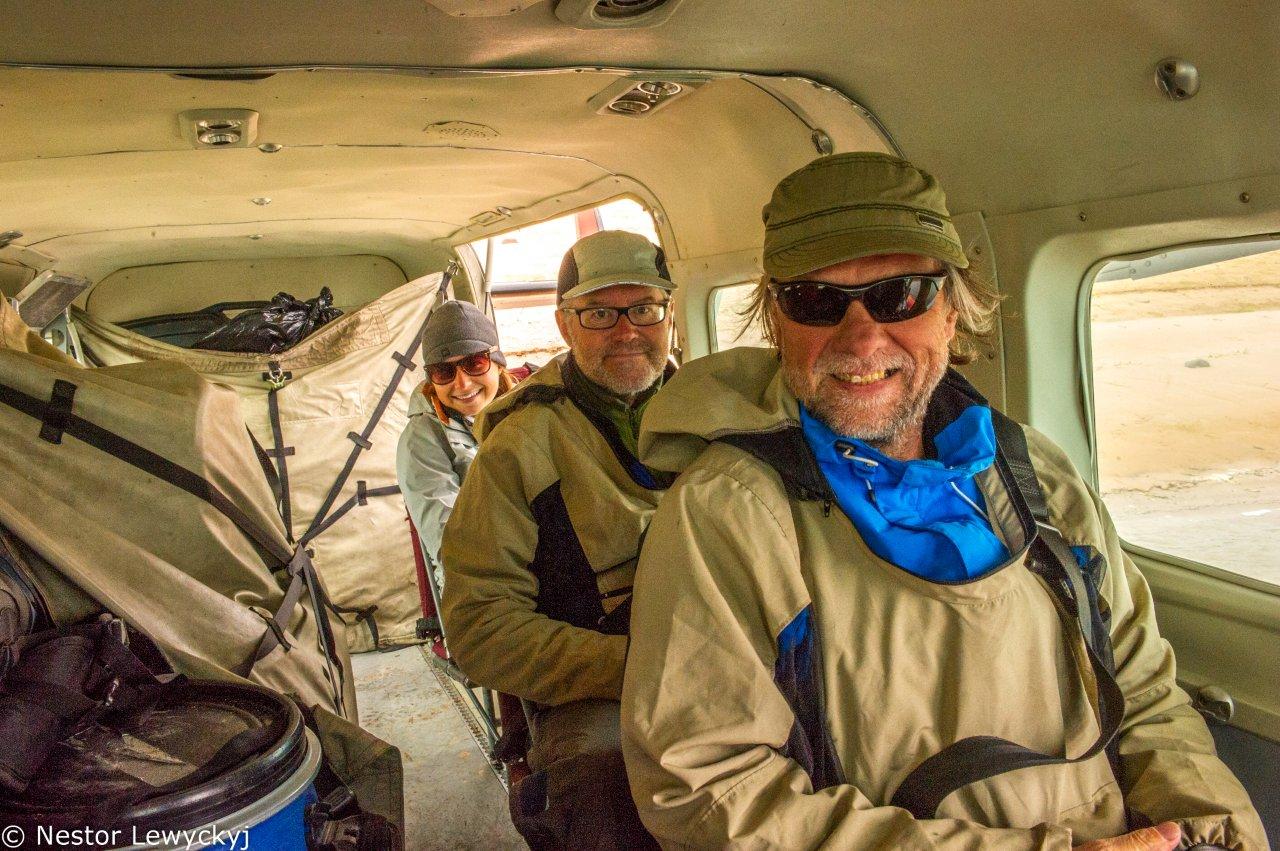 Ready and eager to go!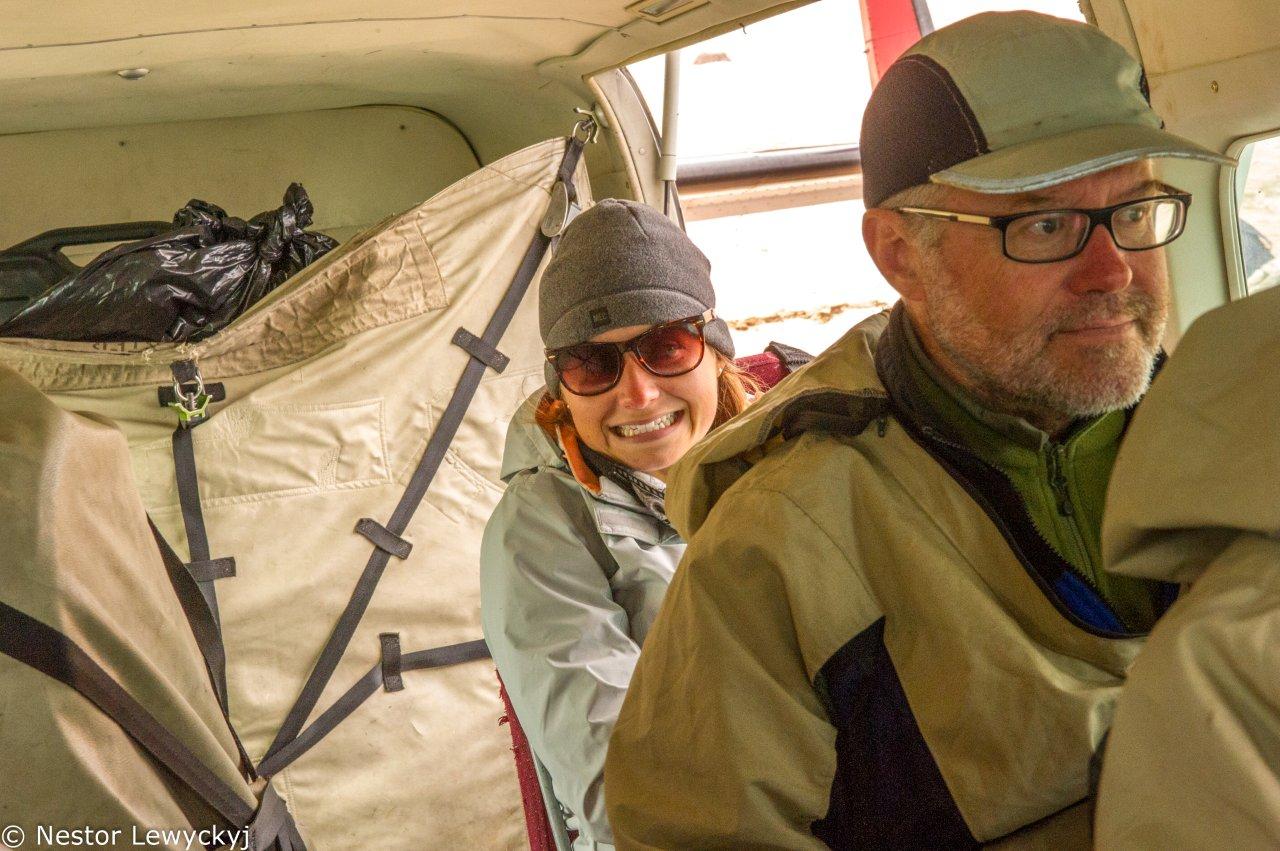 We sat on one side, and the other side had the gear, with the balance stored at the back of the plane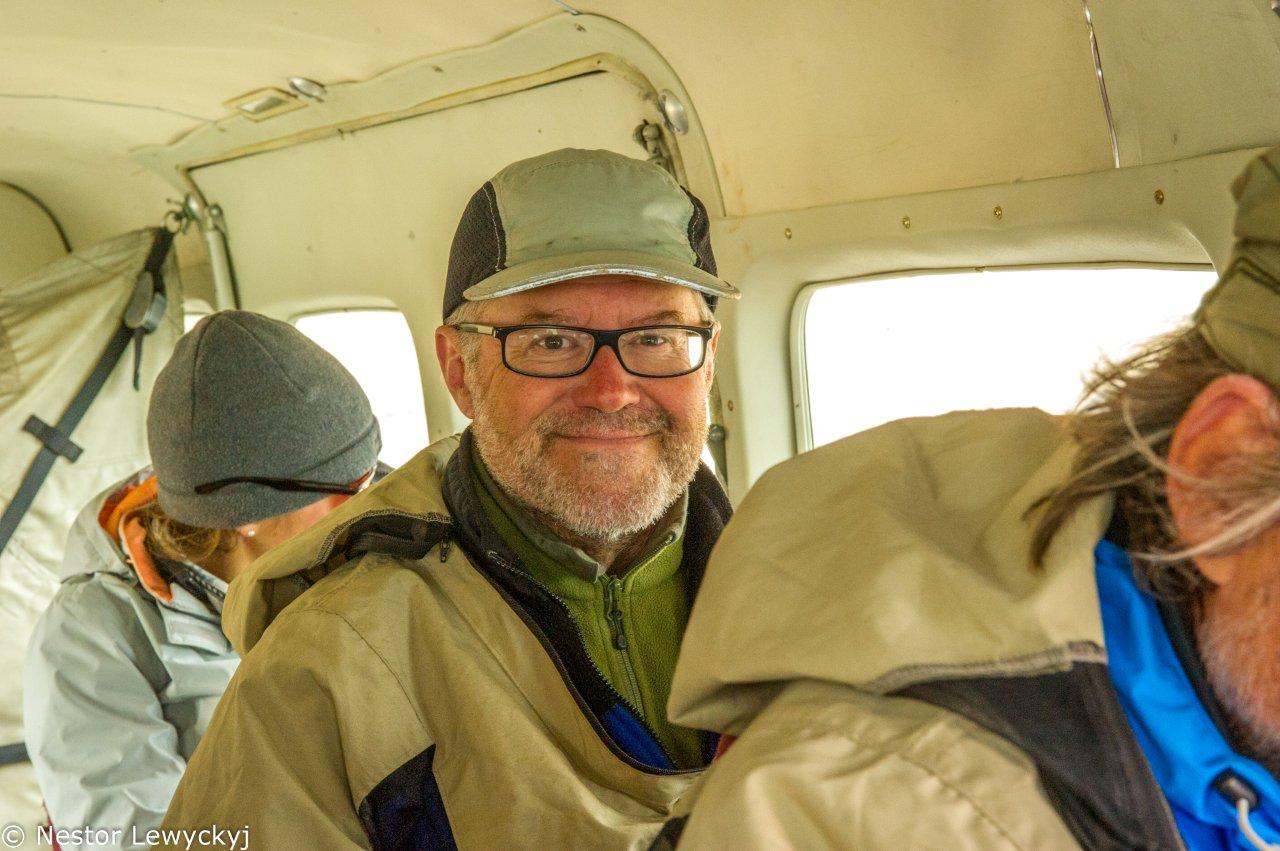 We were each left woith our thoughts of the trip and we started to taxi up the river in order to take off wit the current and into the wind. Caleb taxied as close to the rapids as he dared, before spinning the plane around and powering out of there, taking off on one float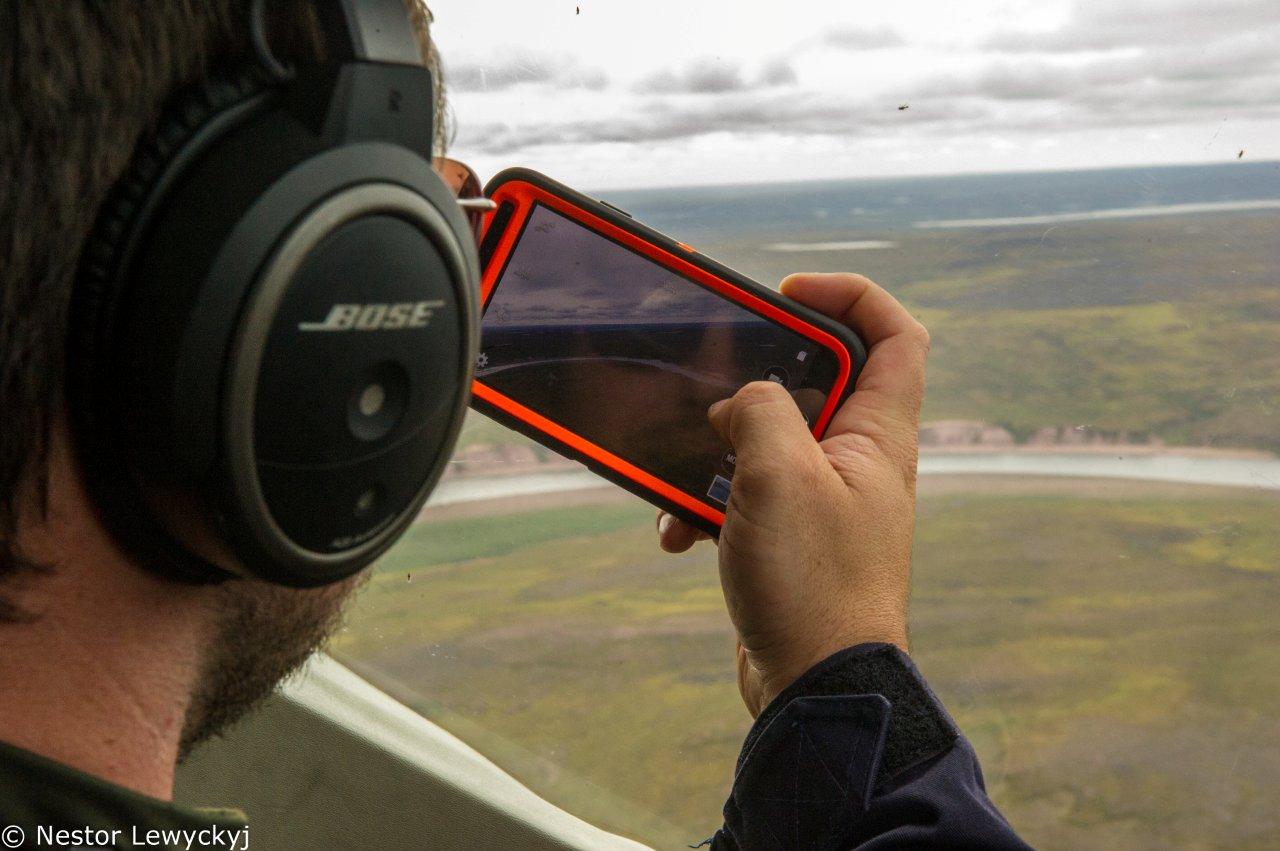 Apparently Caleb likes to take pictures of all of the various places he picks clients up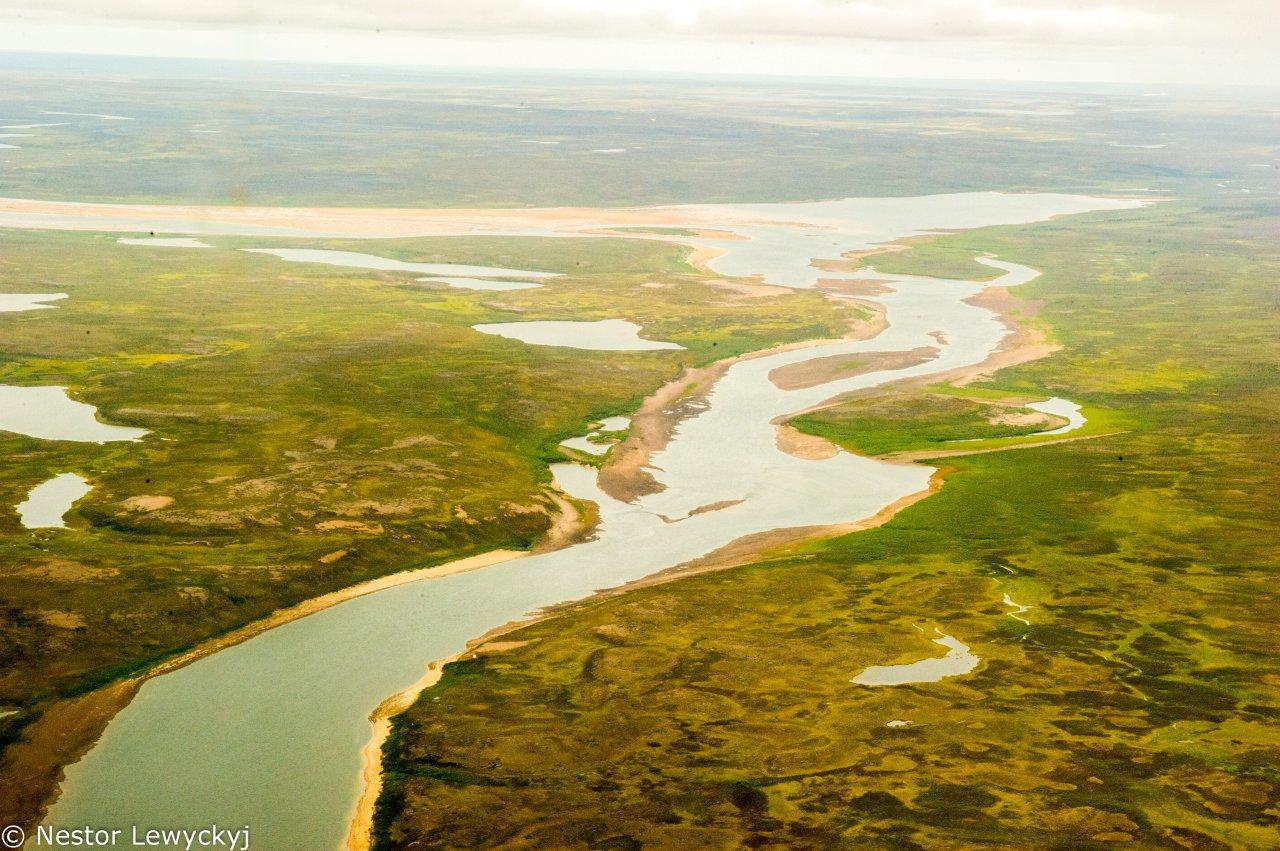 The sand and the shoals of the mighty Thelon River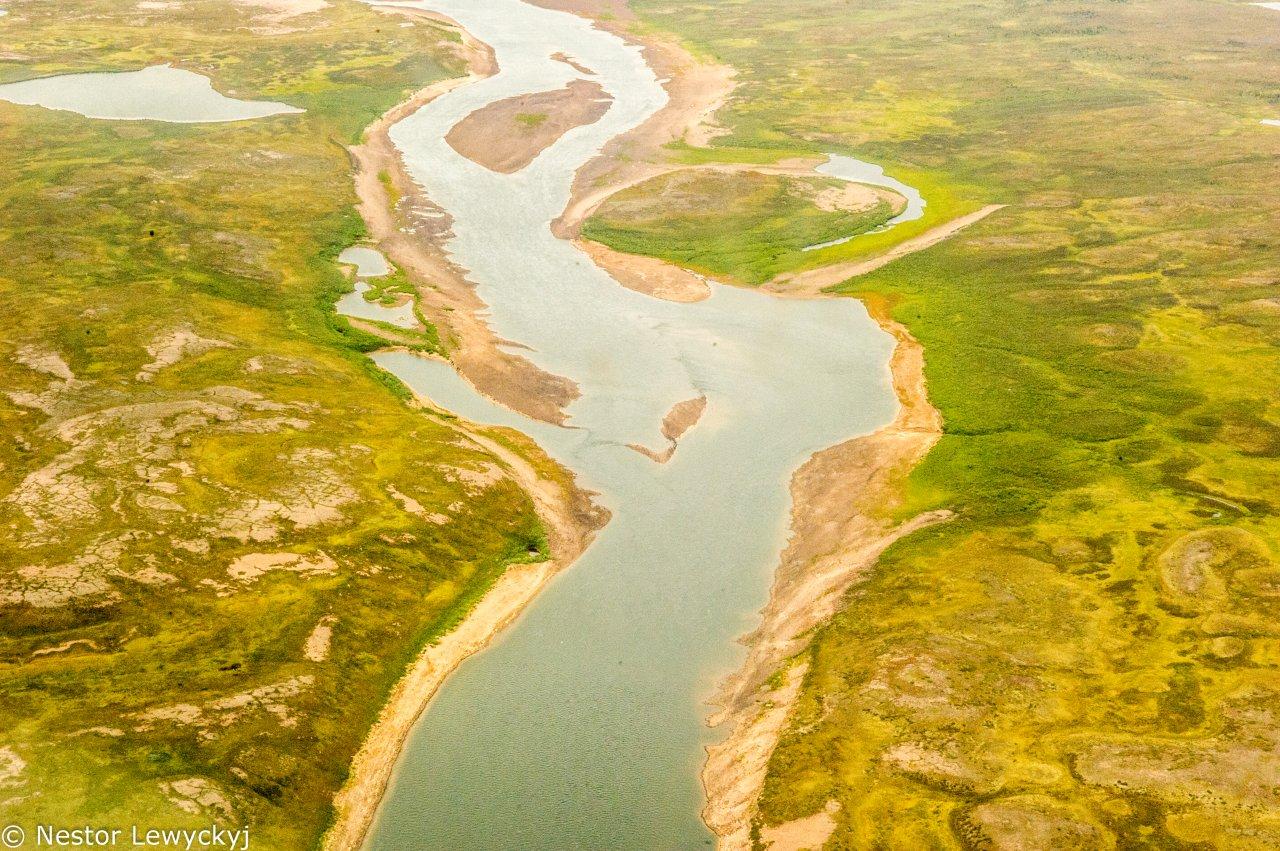 One can imagine what it looks like at high water in June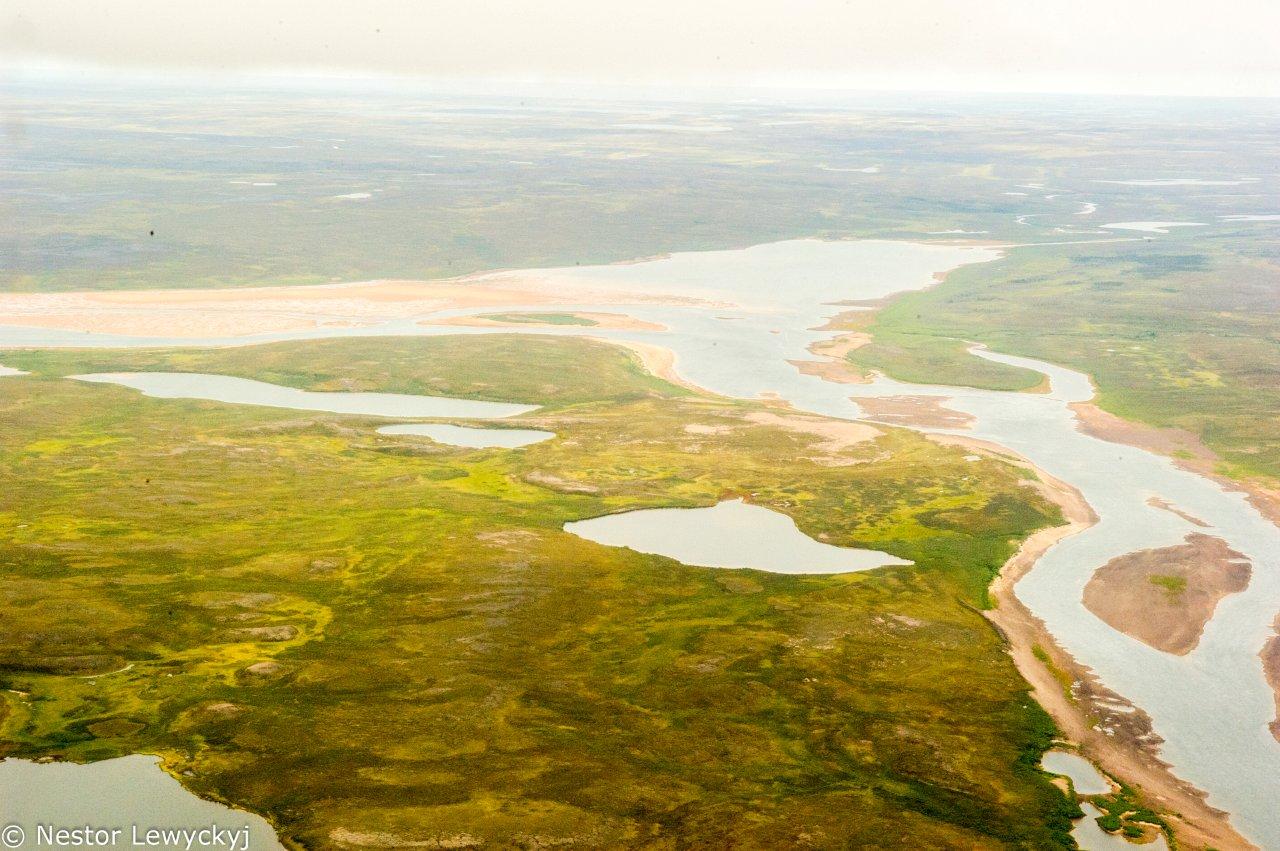 A good view of the big right hand turn of the Thelon River as it starts to head due East to the large lakes, ending up in baker lake and the Hudson's Bay, through the Chesterfield Inlet. Our second to last camp site was just to the left of this picture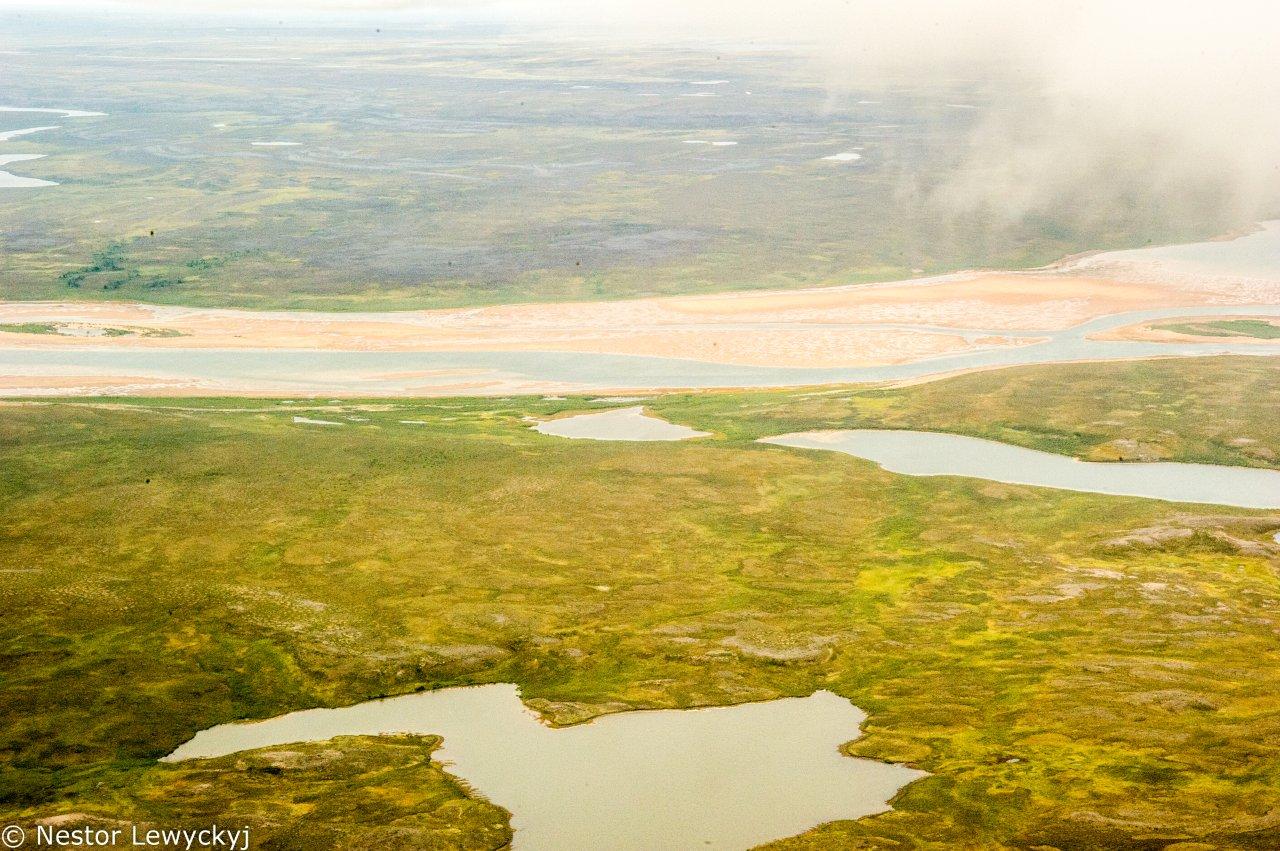 It was nice to see from the air where we had been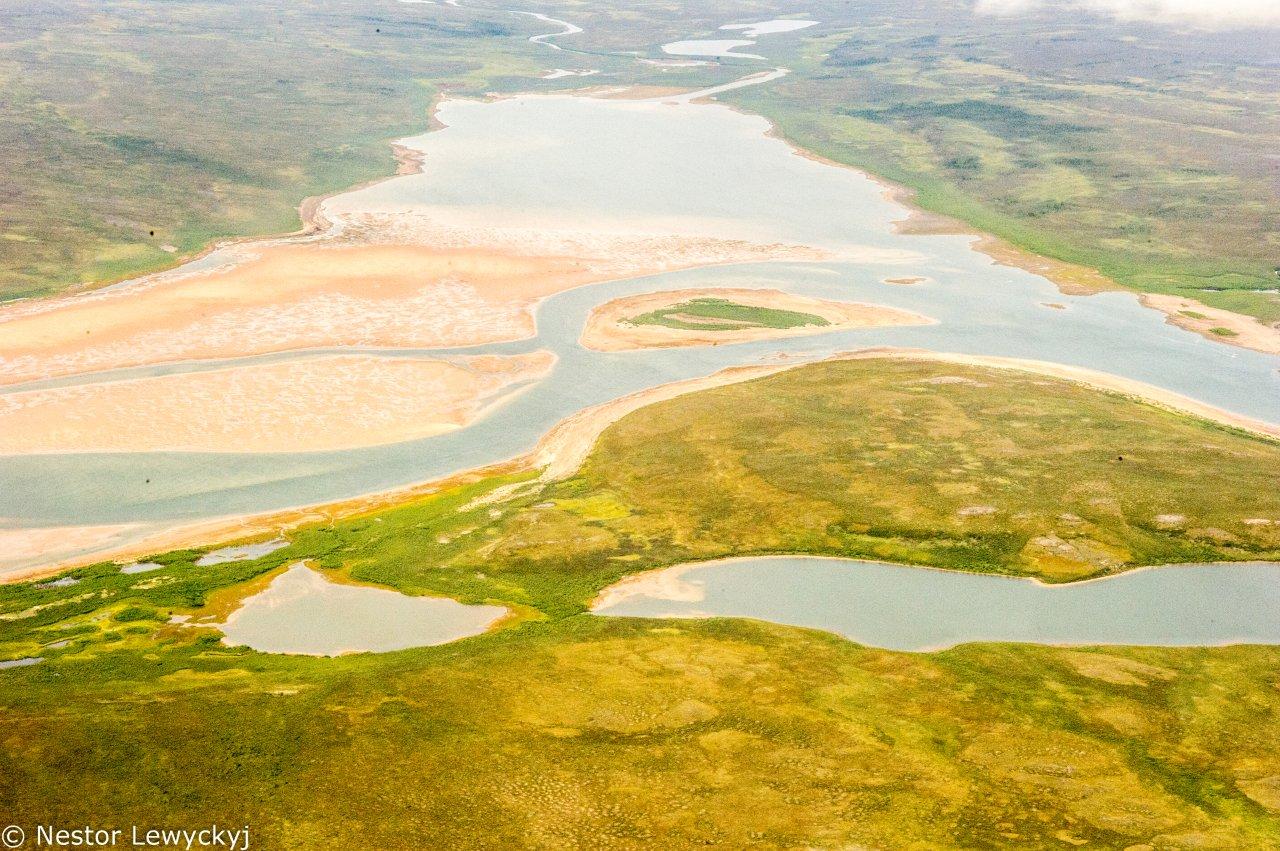 Tons of sand....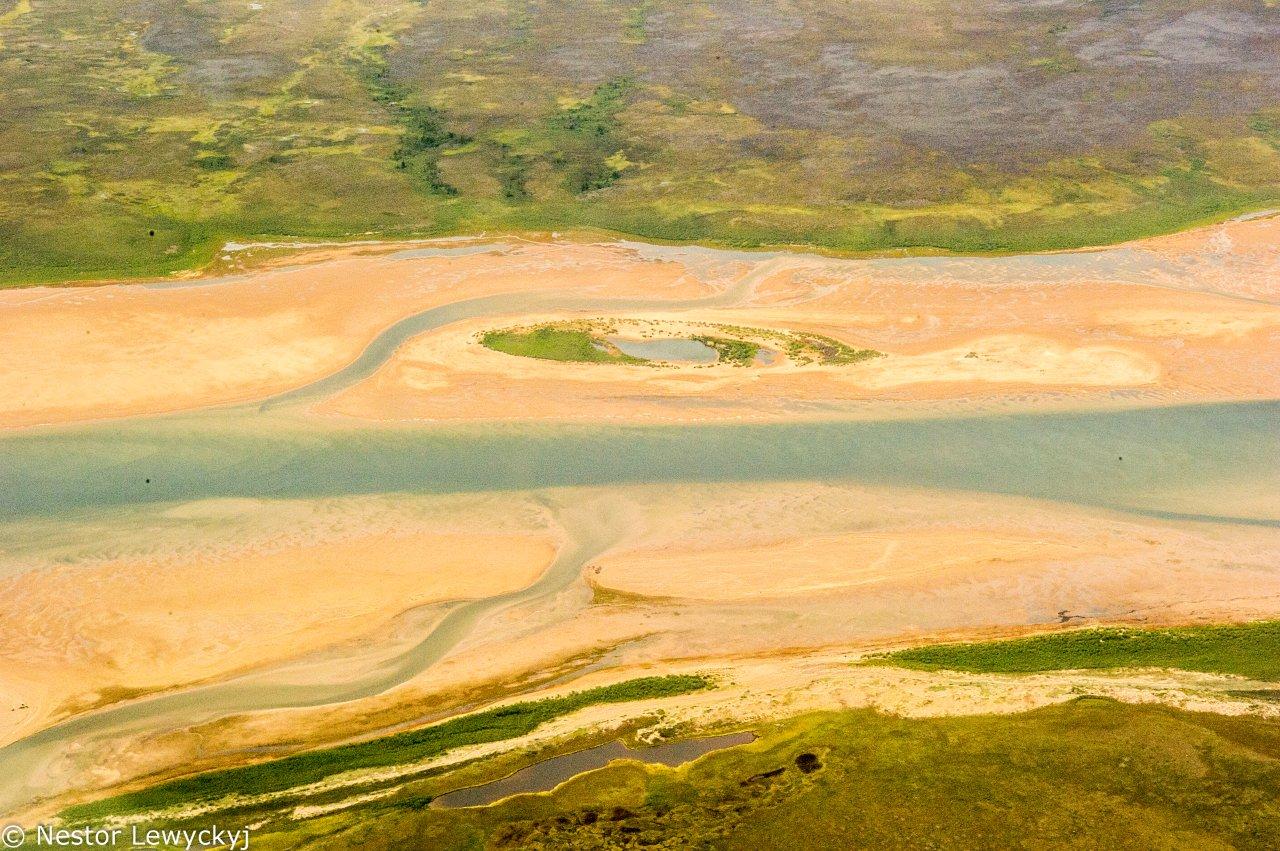 One can almost mistake it for a tropical paradise!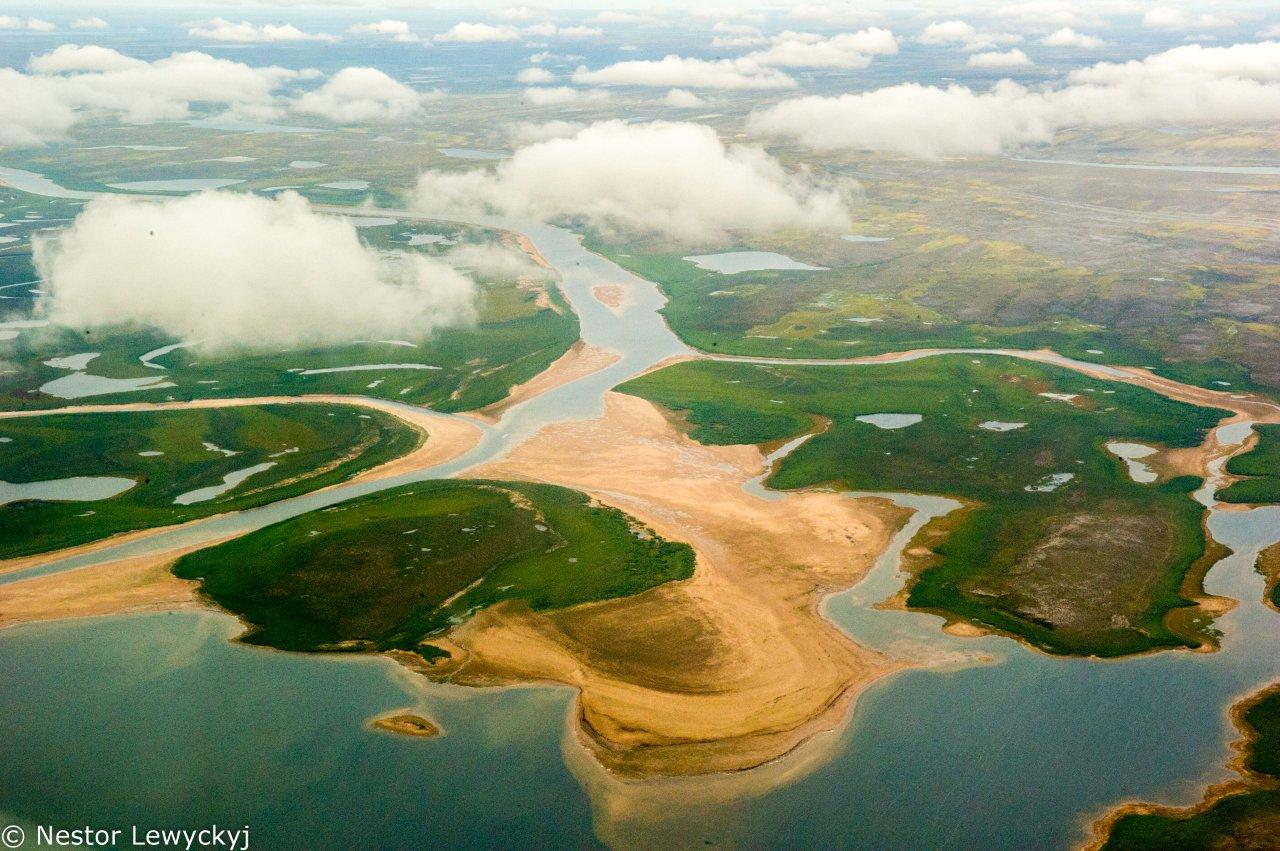 Incredible landscapes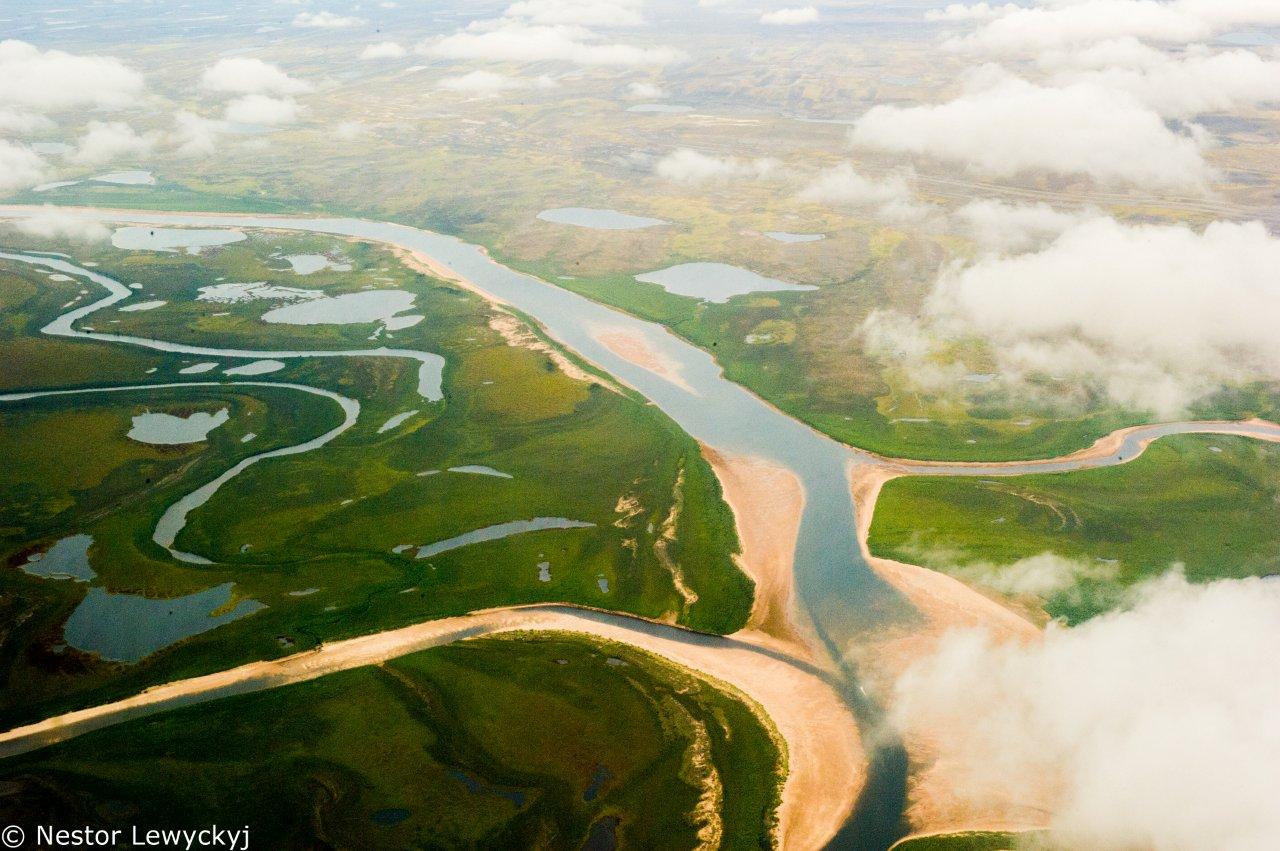 Such a mixture of water, tundra, and sand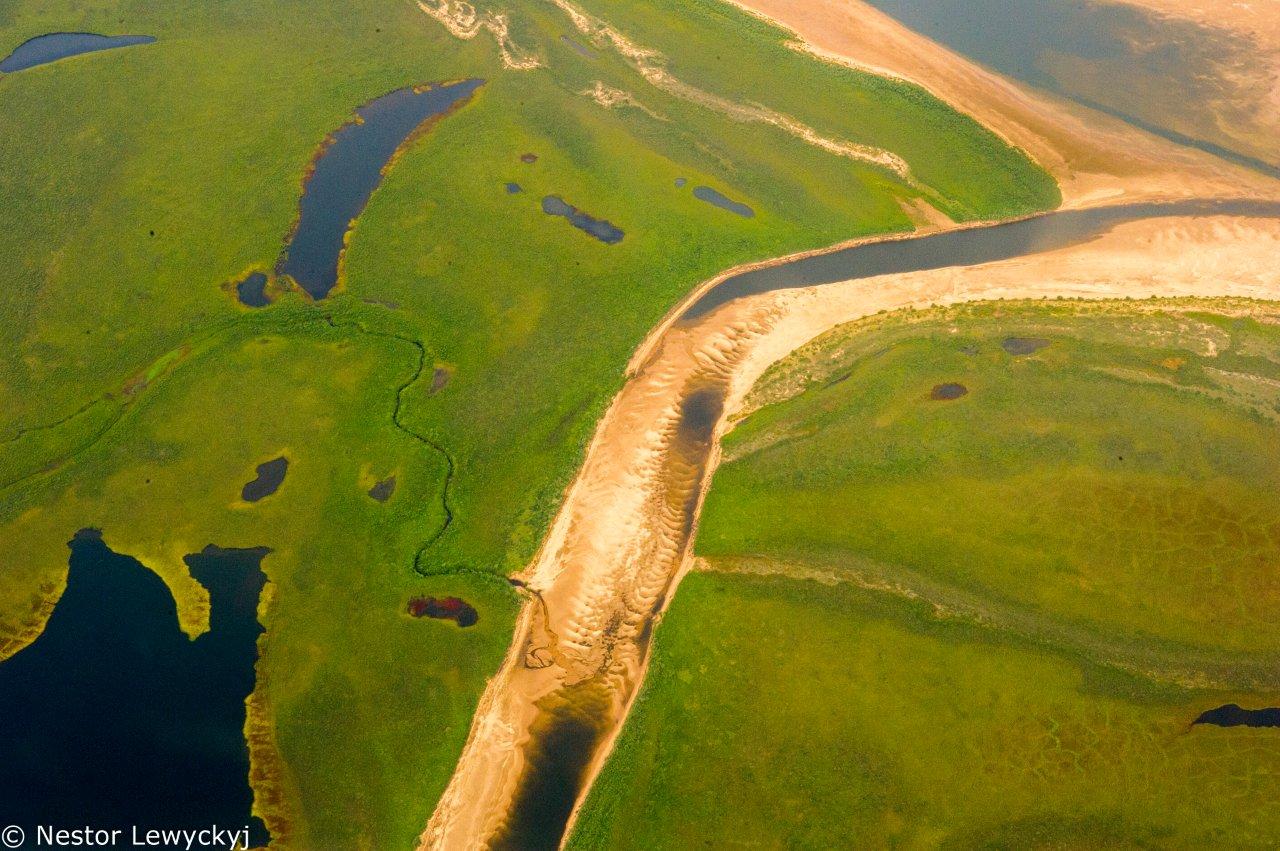 The water-sculpted sand clearly visible above and below the water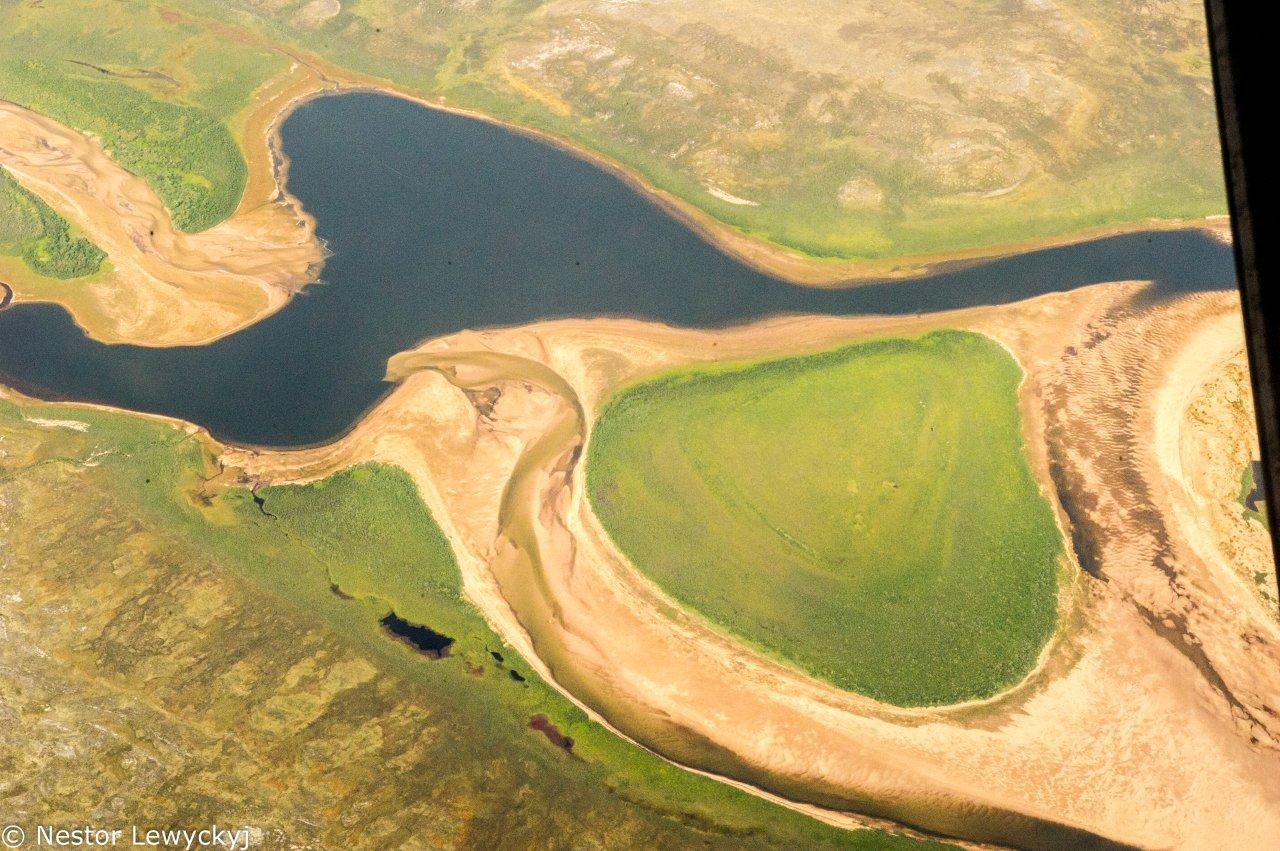 Some river channels become virtually impassable as the water levels drop in late summer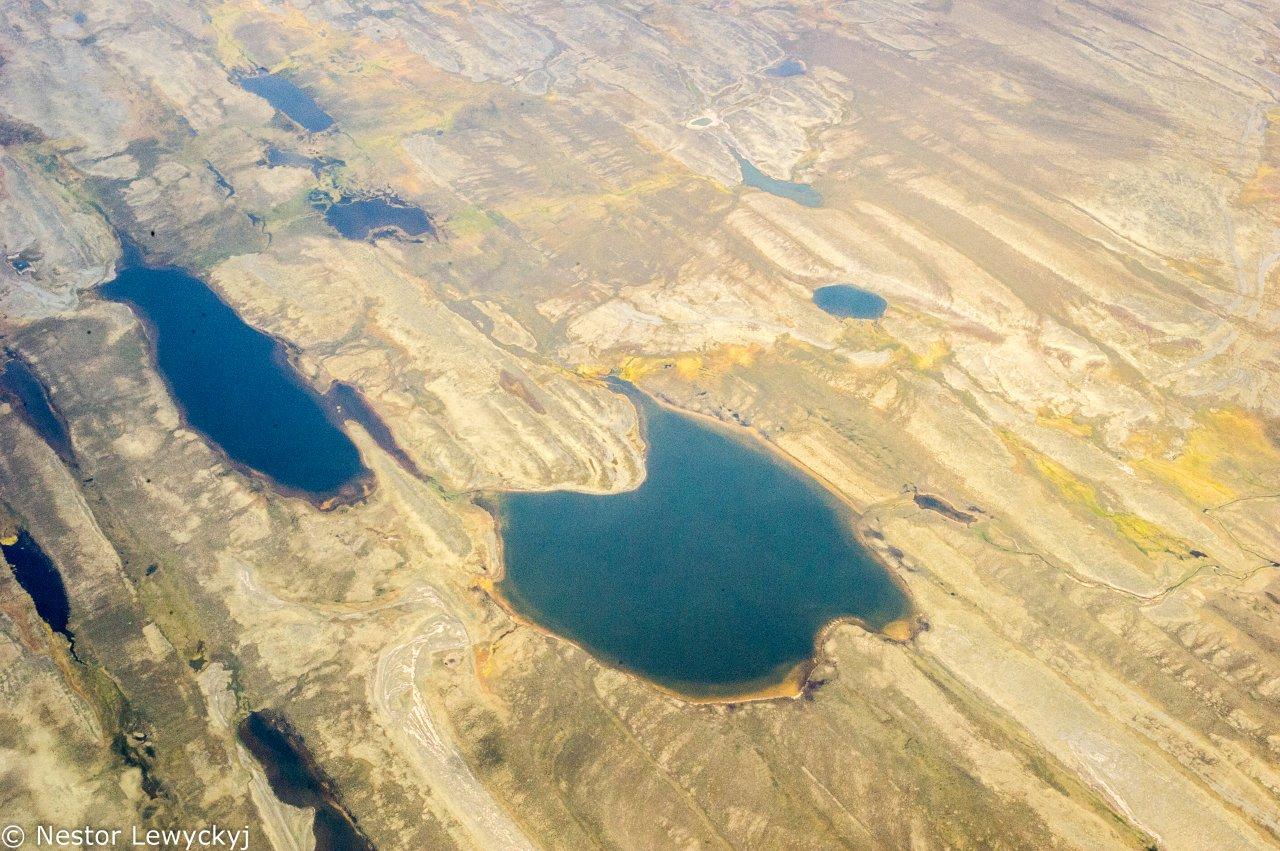 The scarring lines of the old glaciers thousands of years ago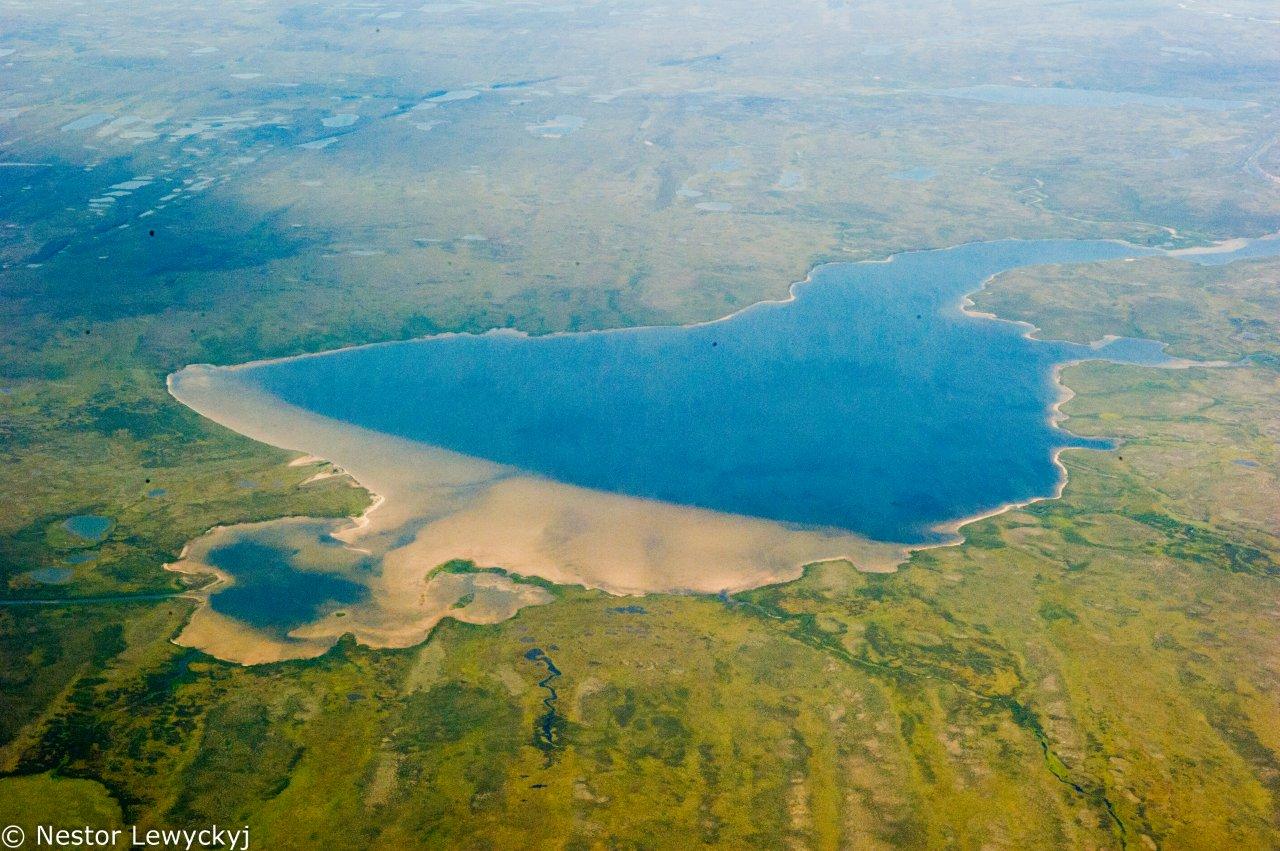 Unbelievable sites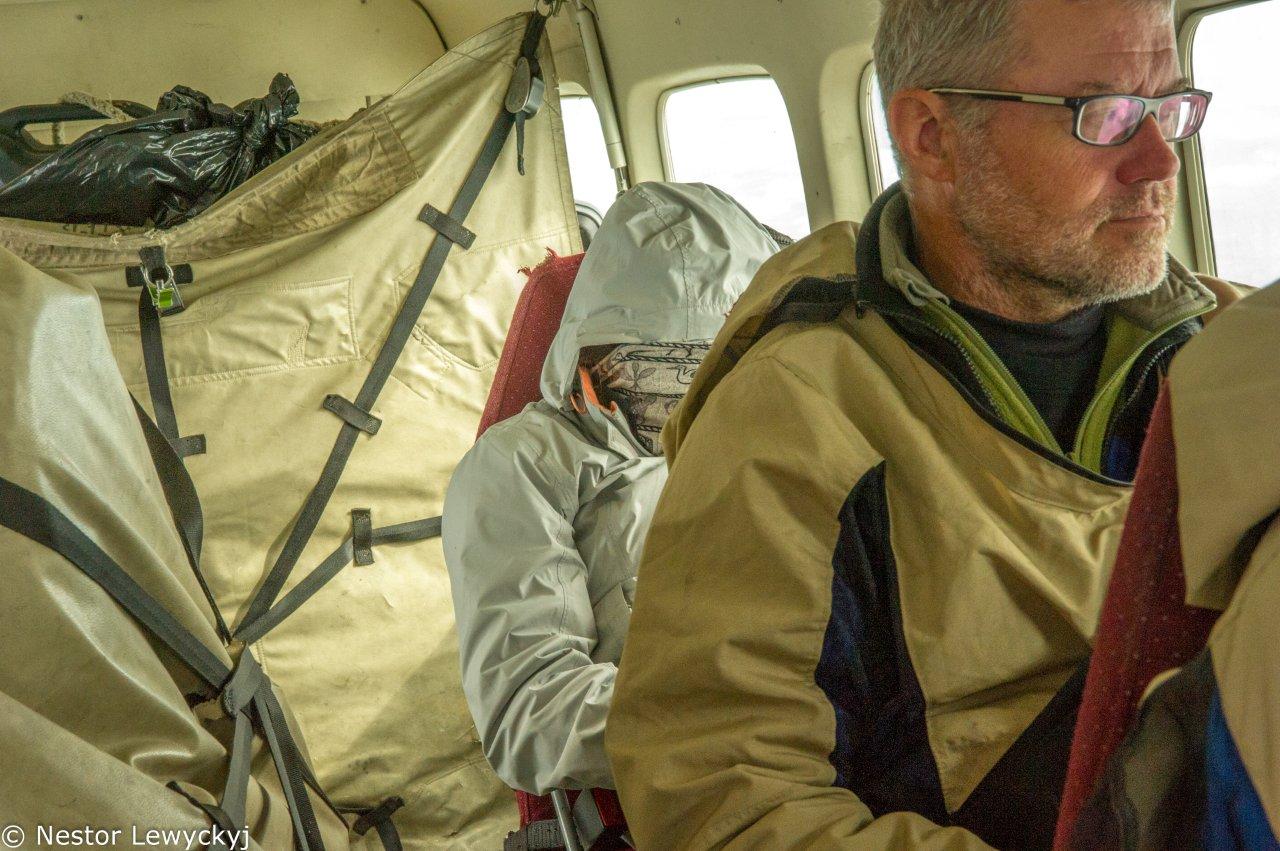 Sarah snoozed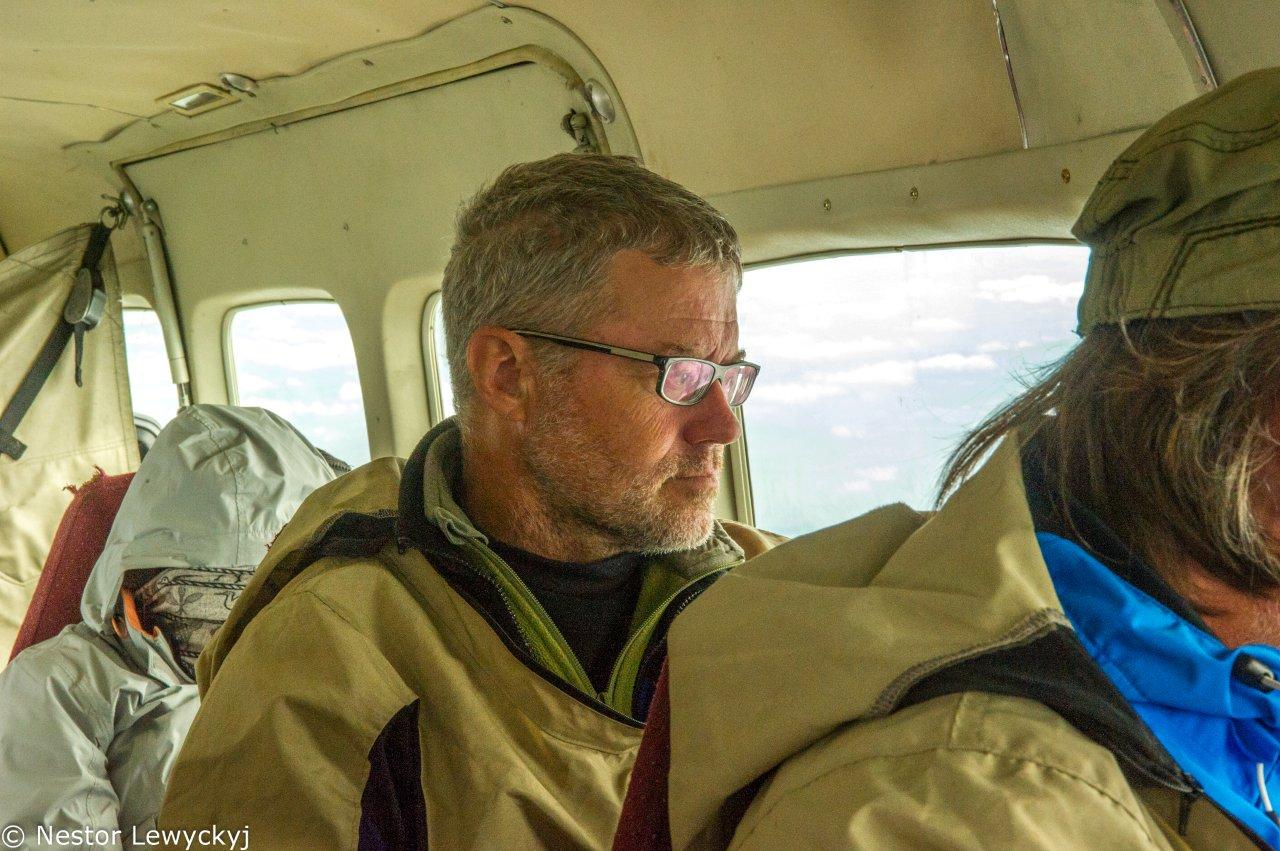 Roman studied the lines of the river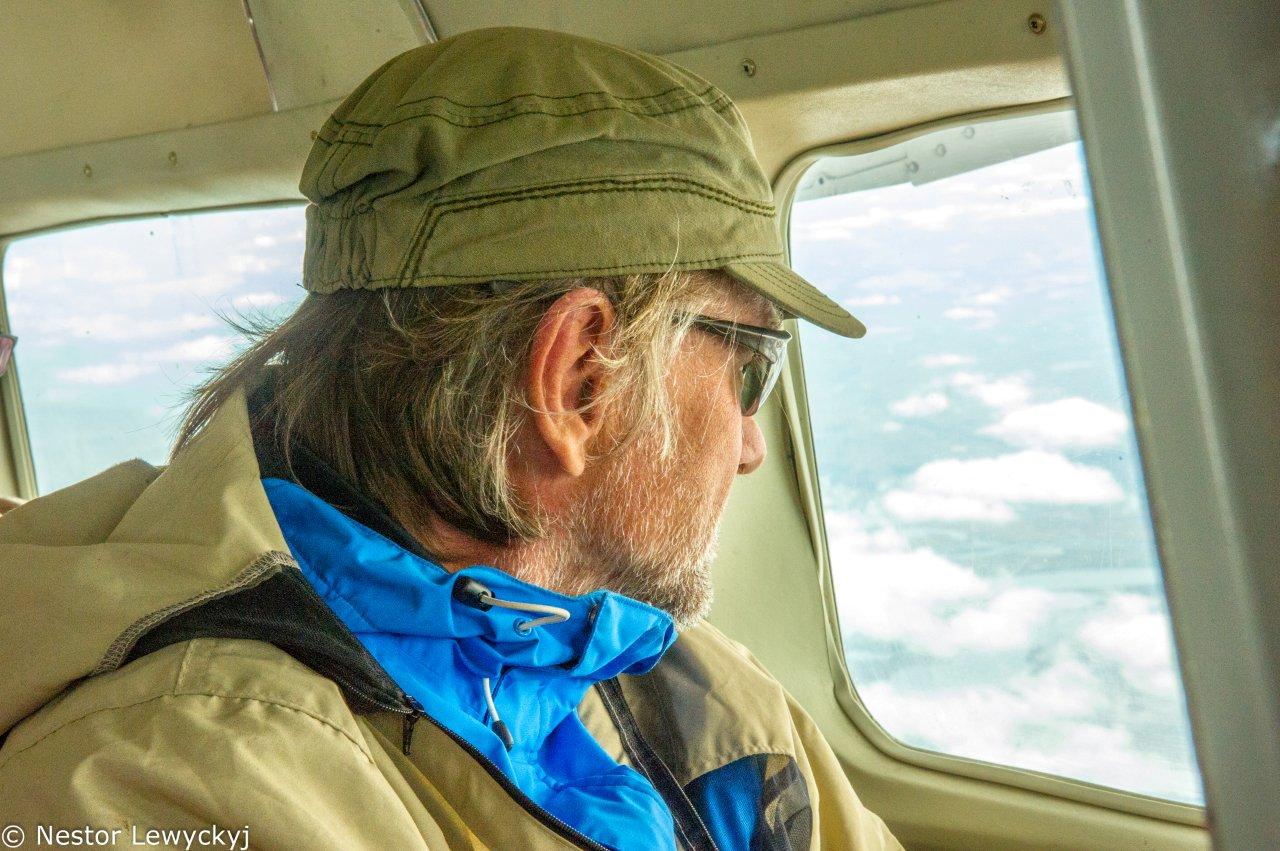 Wolodymyr was just trying to figure out how to come back someday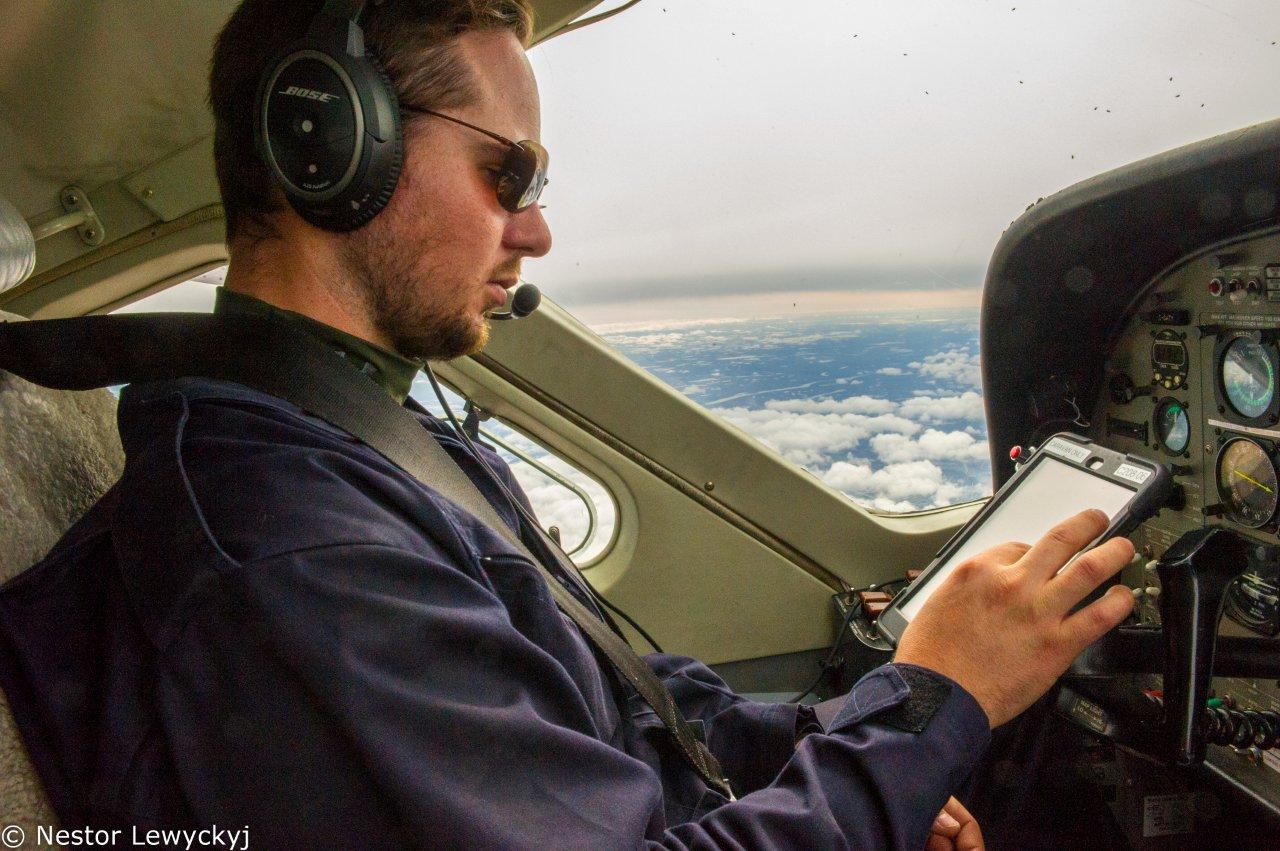 Caleb was using his iPad mini which was loaded with really cool avionics!! He was a great pilot and fun to talk to. He loved this kind of flying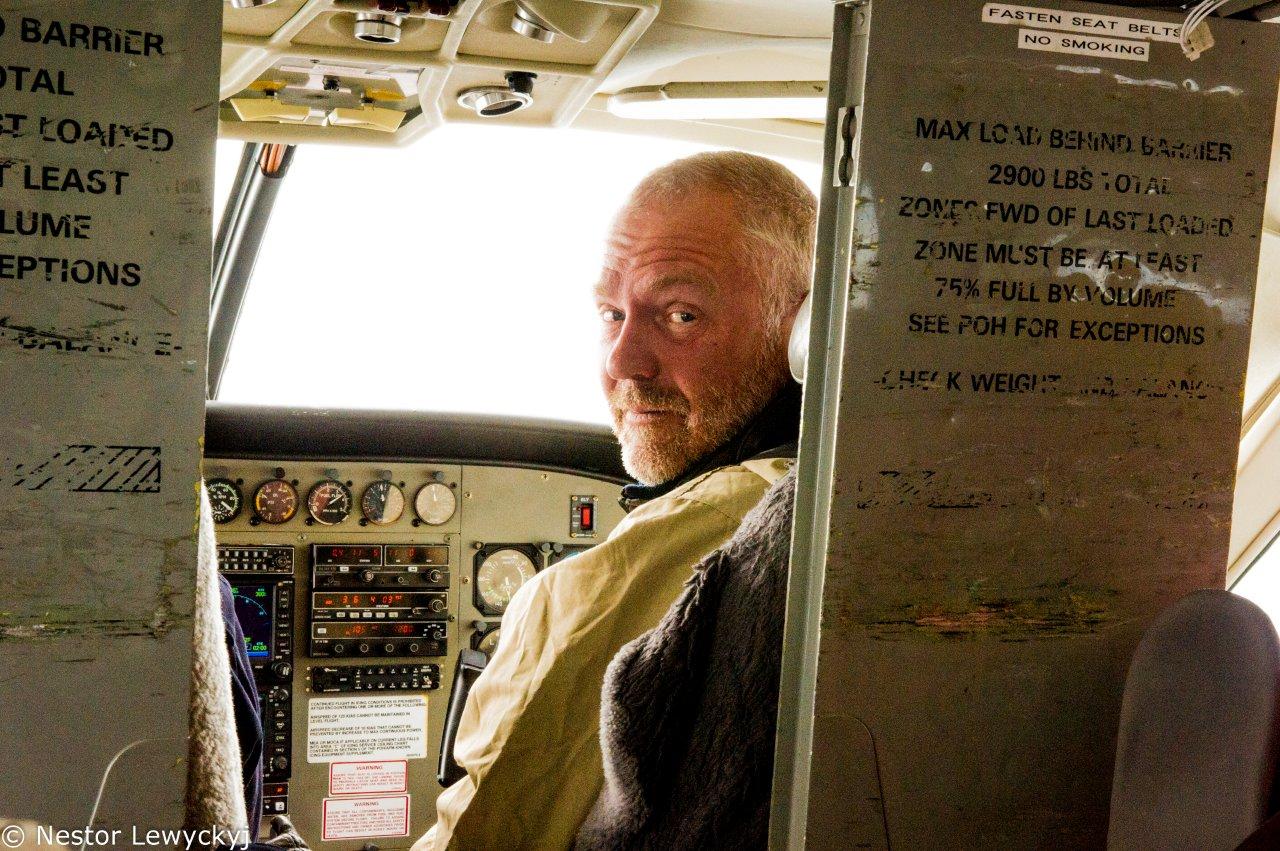 Nobody was too keen to sit in front (or so they let me believe) so I had the co-pilot's seat coming and going. I enjoyed it. A lot!
Modern GPS based avionics can turn the smallest plane into a very safe and controlled platform. It makes the far north that much more accessible to any float plane equipped with it.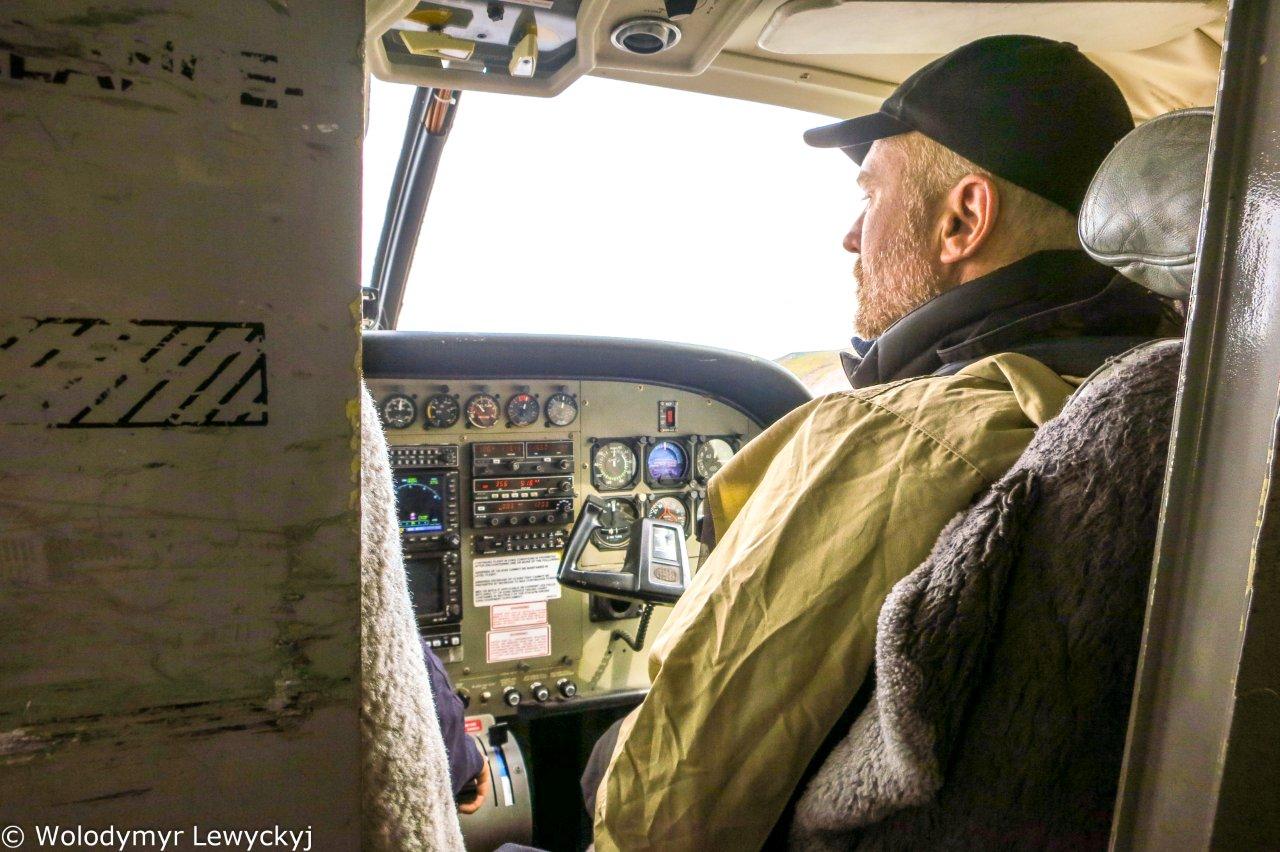 I practised hard to pretend that I knew what I was looking at on the instrument panel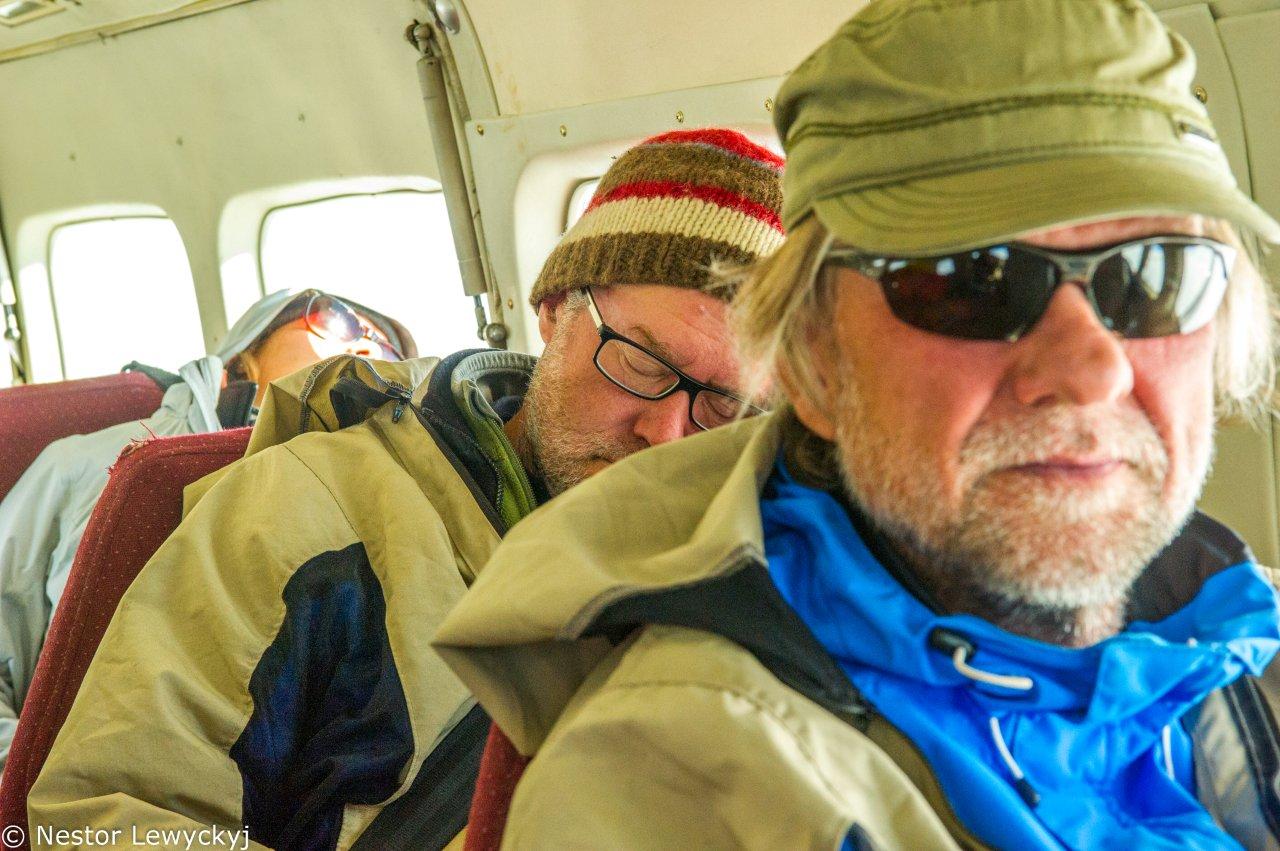 Roman joined the napping Sarah. There was NO WAY that Wolodymyr was going to sleep on the flight!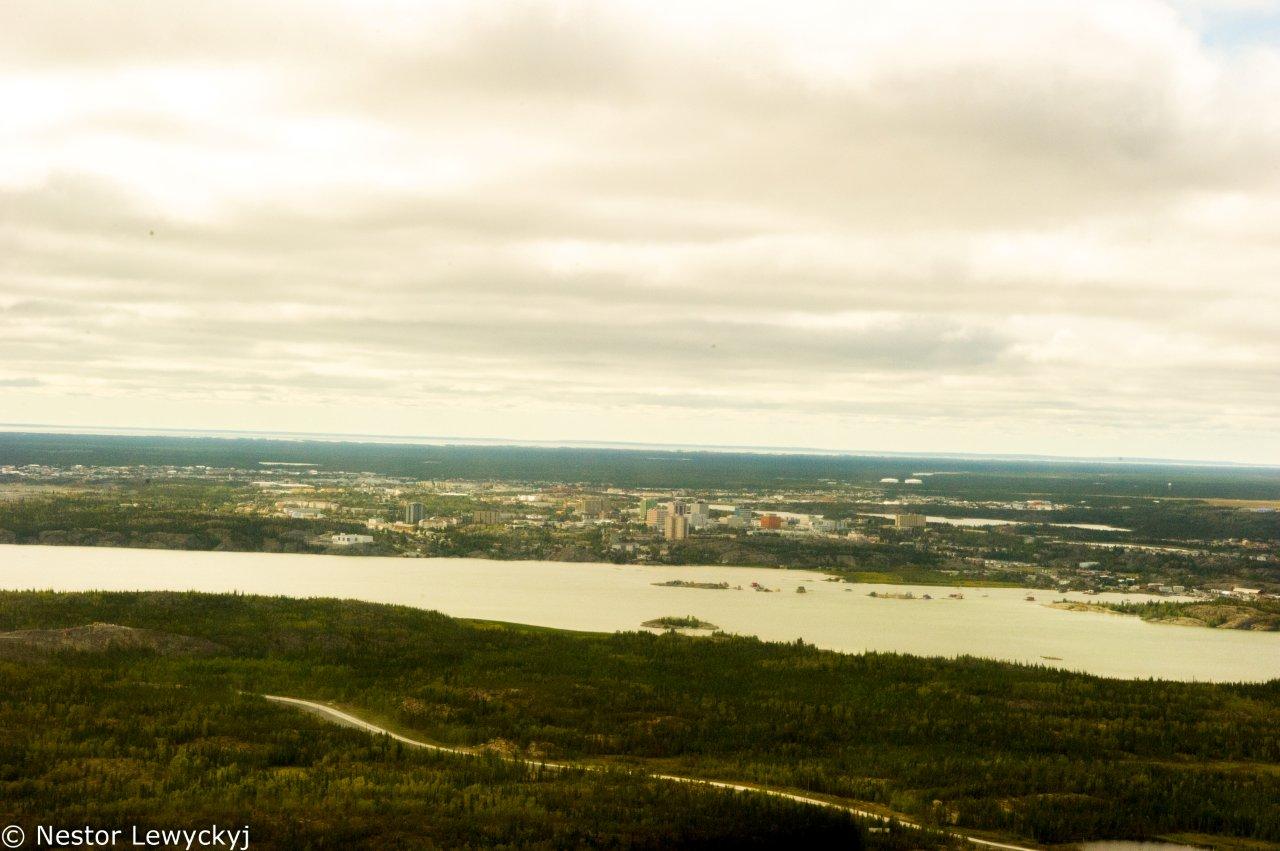 The sprawling town of Yellowknife. I had mixed feelings coming back to civilization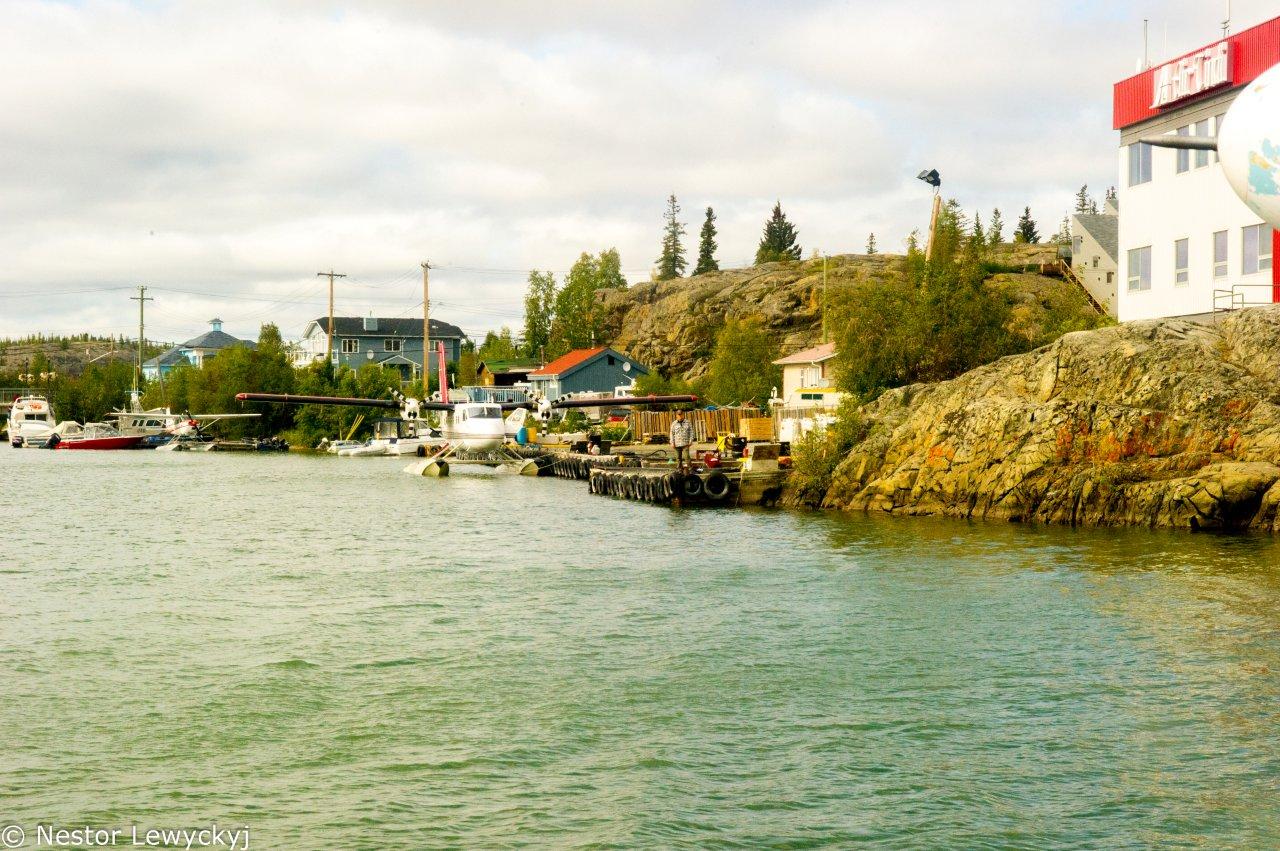 Air Tindi's home base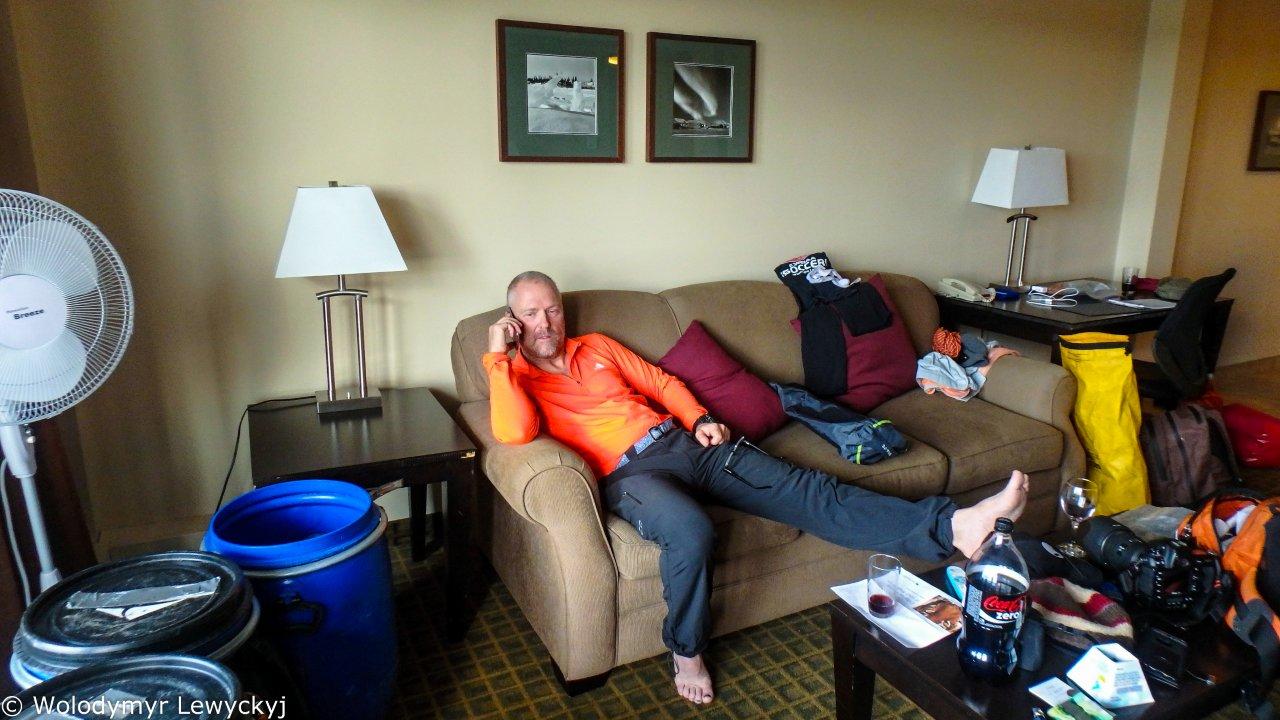 Back at the Fraser Coast Tower Hotel talking on the phone with Kathy. We had a 2-bedroom suite both coming and going, and it really worked well for us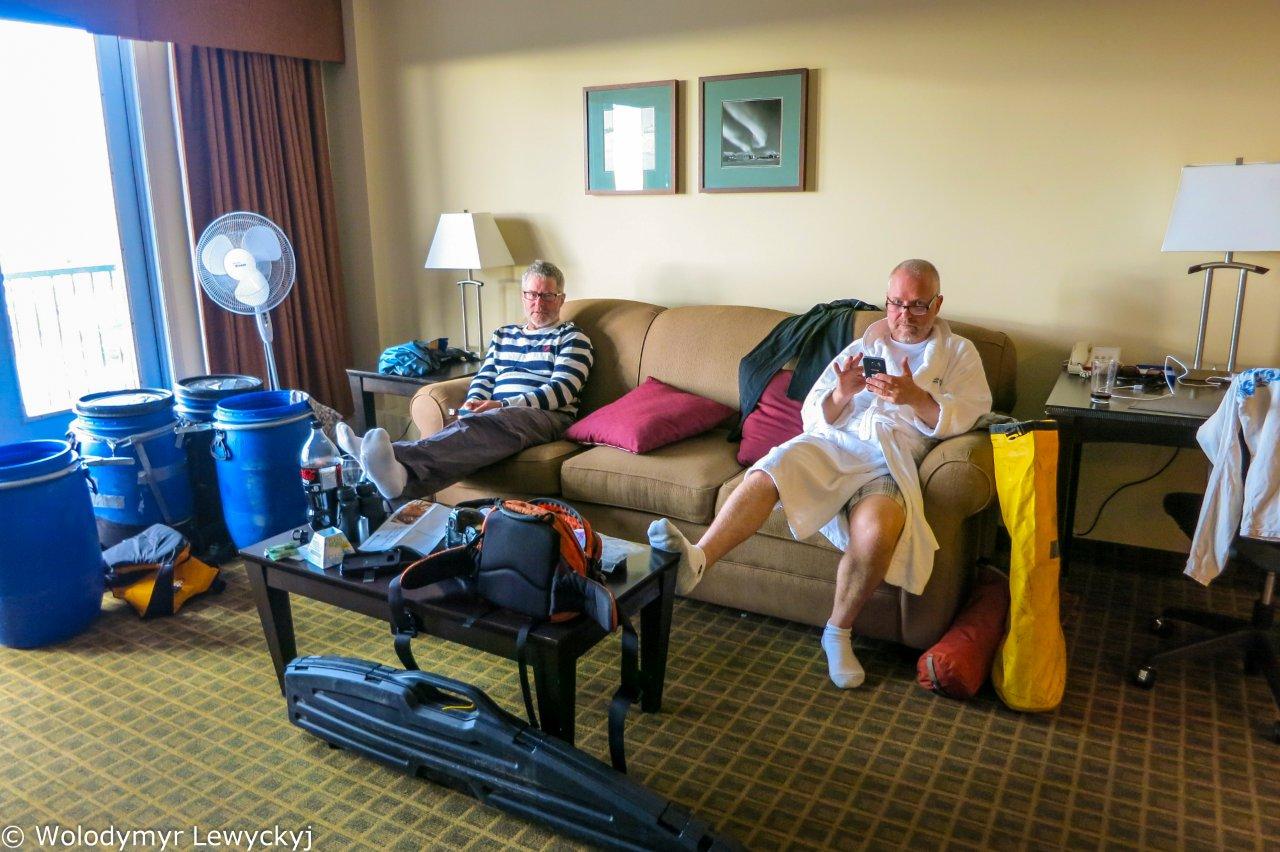 Apparently I had already taken my shower, catching up on my Samsung S6 Edge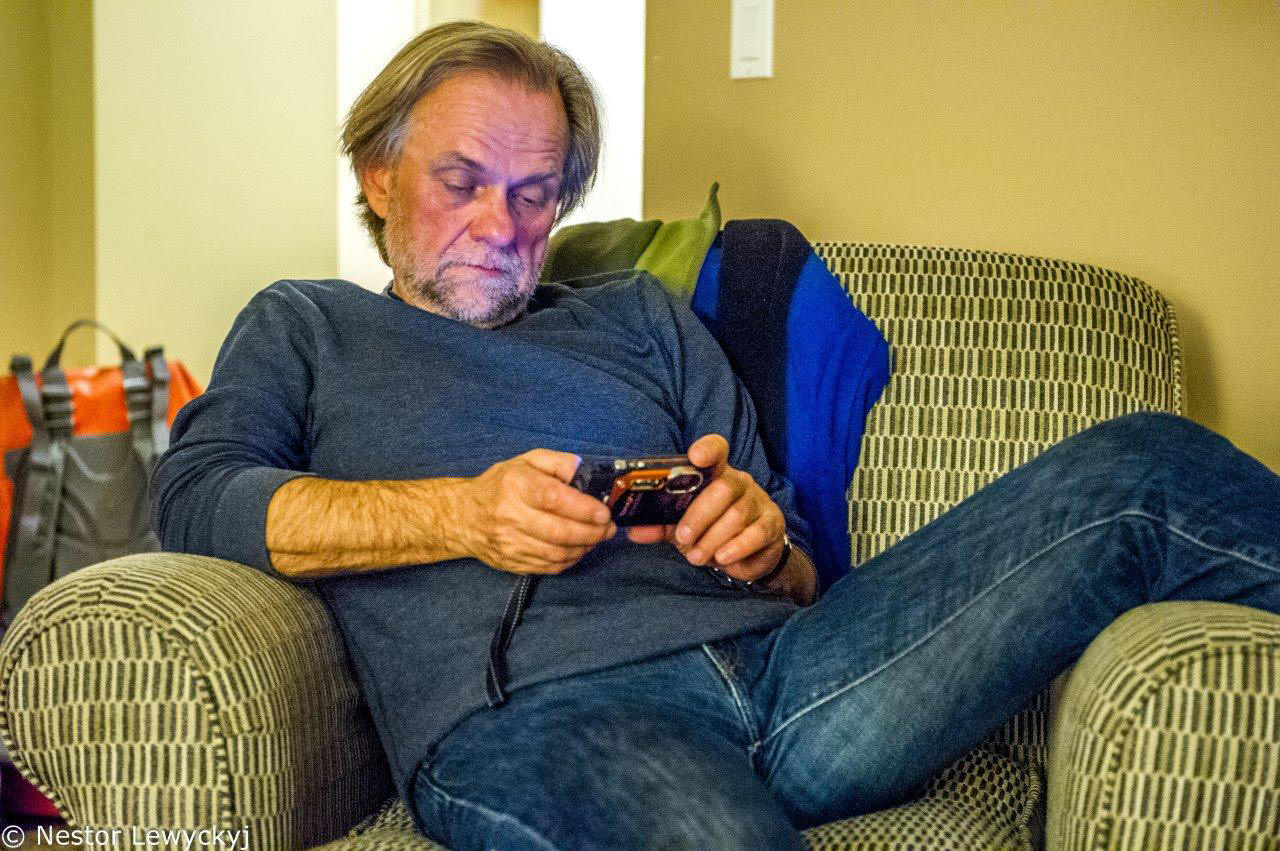 Wolodymyr was studying his pictures on his very cool waterproof camera. It (he) took some great shots!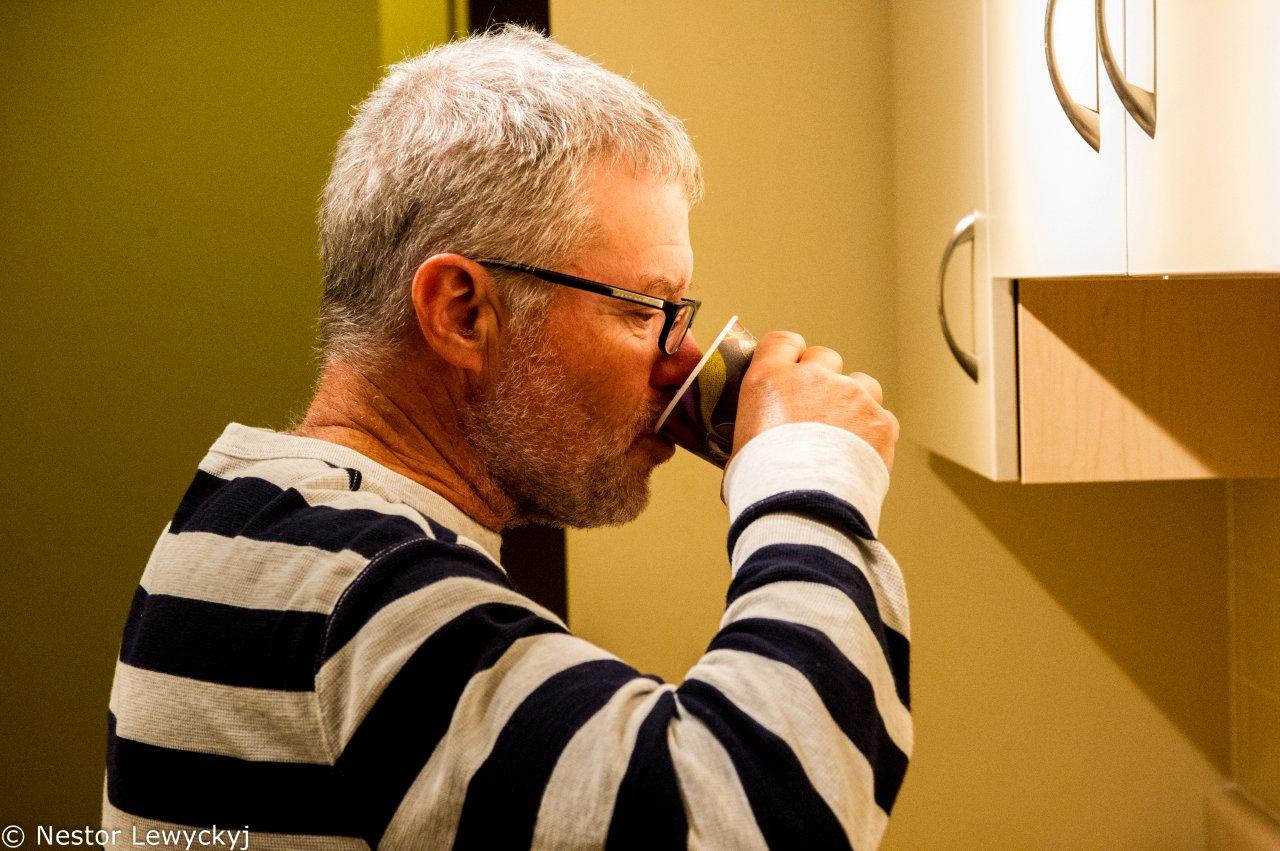 Hydrating for the flight back home tomorrow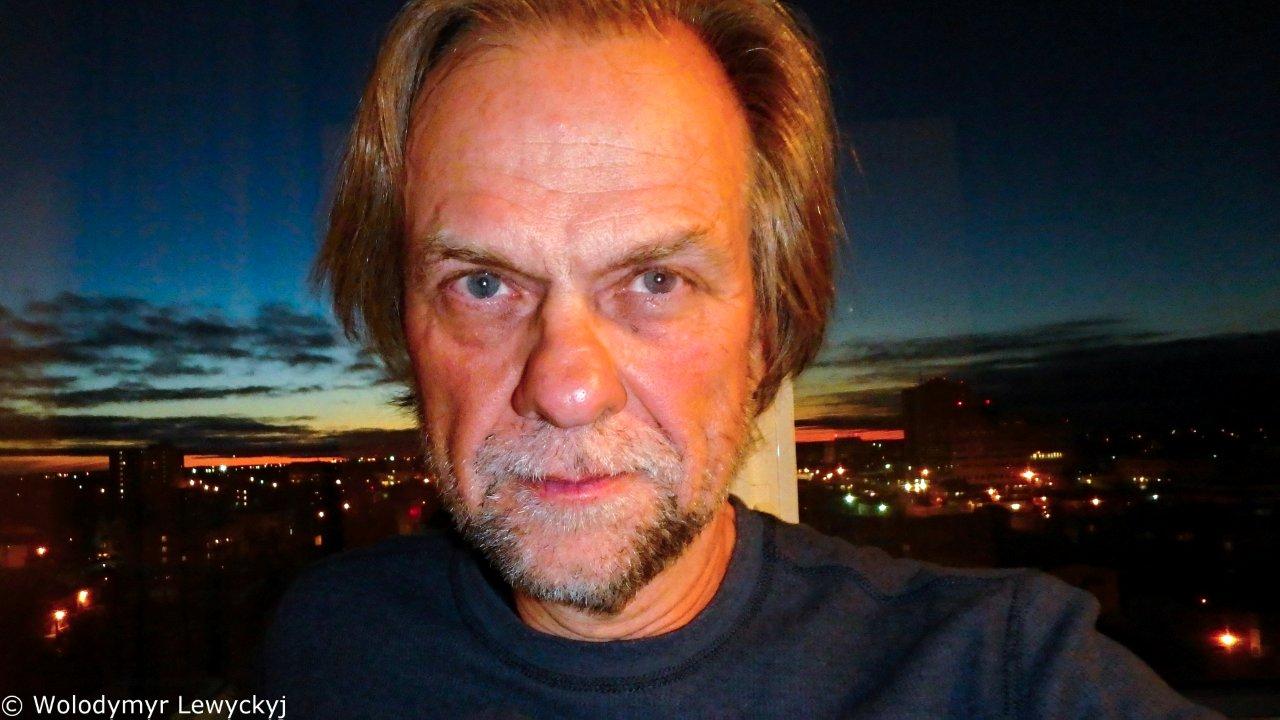 Wolodymyr's last selfie from our balcony at around 23:00.
So concluded our 2-week trip on The Hanbury and Thelon Rivers, in the Northwest Territories and Nunavut of Canada. The Thelon Game Sanctuary sits squarely in the middle of the Barren Grounds, that huge area of landed north of 60° between Great Slave Lake and Hudson's Bay. It was explored by Europeans only in the middle of the 19th century and to this day it has no permanent settlements. We did not see a single person our our 2-week trip. The Thelon Game Sanctuary is not a national park. It was created only through an Order in Council. It's status can be revoked at any time by an action of Cabinet. In general, Canada's great north enjoys very little protection from development. Financial considerations can quickly and forever destroy its very delicate tapestry. And we know that the lives of the caribou and other animals are very easily affected by human encroachment. Life is hard there, and it does not take much to tip the balance from group survival to population collapse. This is an important part of Canada, destined to become more important as time goes on. if you are not going to visit it (and I urge you to) at least read up on it and speak up whenever you see that it is threatened.
Drop me a line if you are planning a trip to this or other northern area. I am always looking for places to go. I would love to talk to you and see your trip pictures. Cheers!
Copyright Nestor Lewyckyj 2015