Canoeing the Elk River and Thelon River
from Vermette Lake to Warden's Grove, into the Thelon Game Sanctuary
in the North West Territories of Canada
Four of us, Nestor Lewyckyj, Taras Gula, Roman Poluha, and Barry Cull, canoed from Vermette Lake, the headwaters of the Elk River to Wardens Grove on the Thelon River, deep into the Thelon Game Sanctuary. We planned this trip for the better part of a year. Taras and I had canoed the lower Thelon River from Warden's Grove to the Thelon Bluffs in 2004. Its a great trip and I chronicled it on my web site here. Roman and I have an old history of hiking all over the place, including 2 trips to Baffin Island and canoeing in Quebec's and Ontario's near north. This would be Roman's first trip to the Barrens. This journey, about 400 river kilometres, from the upper reaches of the tree line to deep into the Barrens, would be a physical test for all of us, such as we have never known. The Elk River, a Class 3+ river, would test our skills on the rapids, our endurance on the portages, and our patience with black flies. We all survived the 18 days on the river in splendid fashion. The pictures below highlight our trip. Each picture has a higher resolution image associated with it. If you are curious about this particular route, or hearing more about our journey, please feel free to e-mail me webmaster@lewyckyj.com
Click on a picture to get a higher resolution image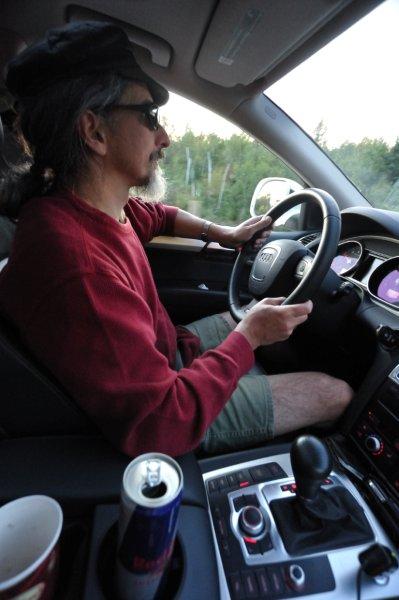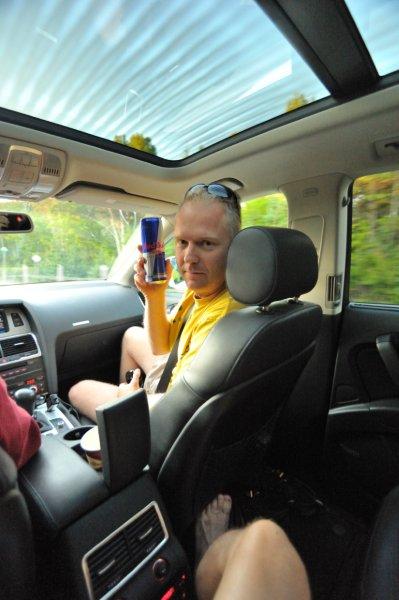 We started the trip by driving from Montreal, Quebec to Stony Rapids, Saskatchewan, a 55-hour non-stop drive extending just over 4,000 kilometres. We rotated drivers often, and made sure that at least one other person was always awake to keep the driver company. Its on a drive like this that you realize how huge Canada is. I made sure that I had a running inventory of Red Bull on hand.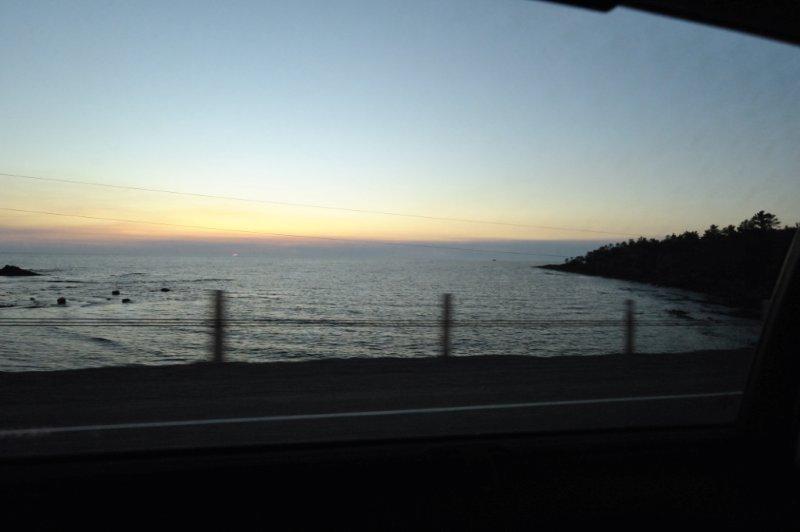 The Eastern shore of lake Superior at sunset.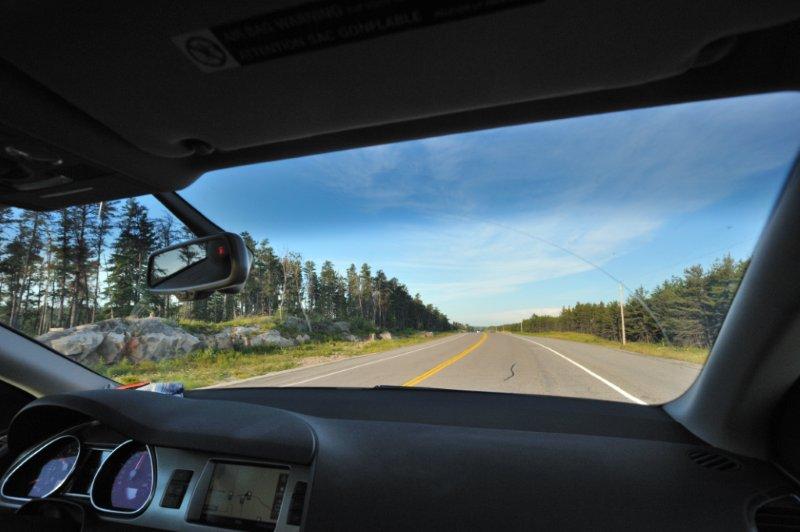 The view kept changing as we headed north and west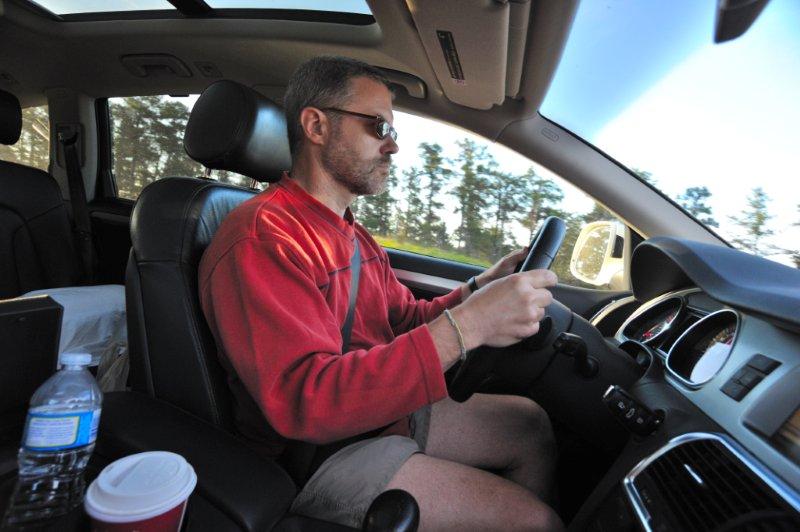 Roman looked good driving our Audi Q7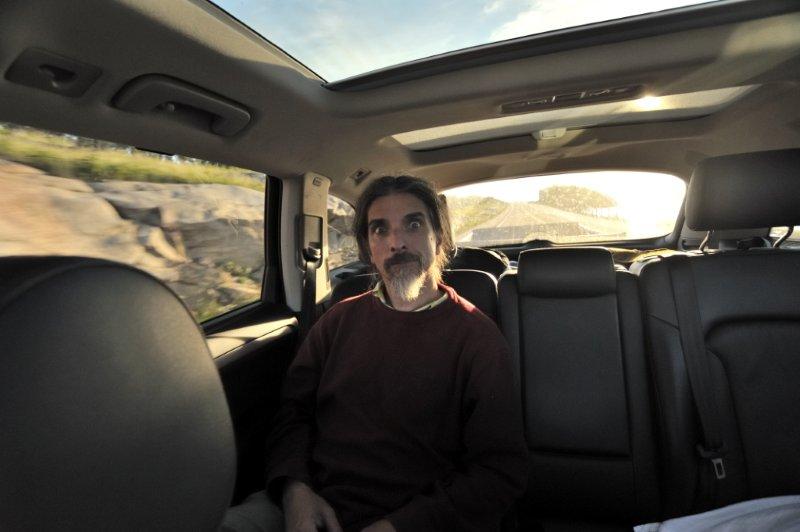 Taras was getting bored in the back seat when sleep would not come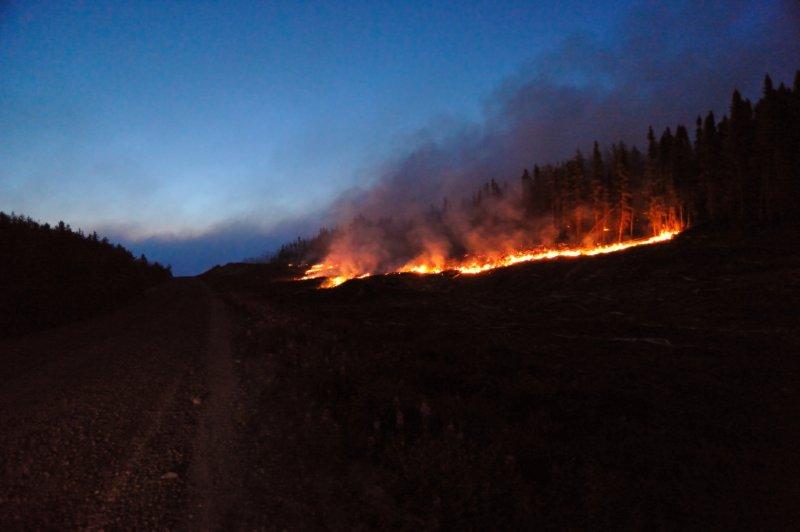 In northern Saskatchewan, near day break, we drove through a forest fire. it lasted a number of kilometres with a lot of thick smoke, but the scene was very, very weird, like something out of Apocalypse Now. We were on a dirt road by now.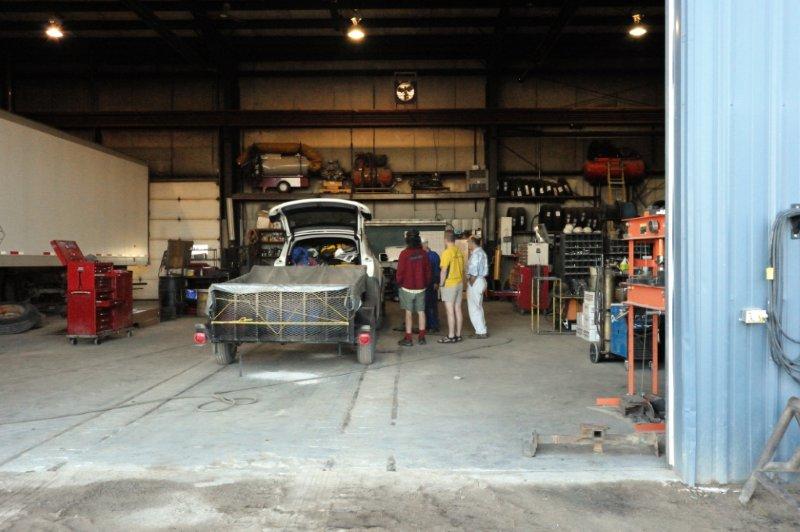 In Points North Landing, the end of the all-weather road, we stopped to repair a slow leak in a tire (a screw had lodged itself right in the tread). We also had breakfast (they were very kind to us), fuelled up the car, and attacked the last 200 kilometres of road to Stony Rapids, a very, very rough winter road that is used very little in the summer. We had just driven 400 kilometres on gravel roads to get o Points North landing. So after driving 50 hours to get here, we now had to drive 200 kilometres on very rough dirt roads. This took us 4-1/2 hours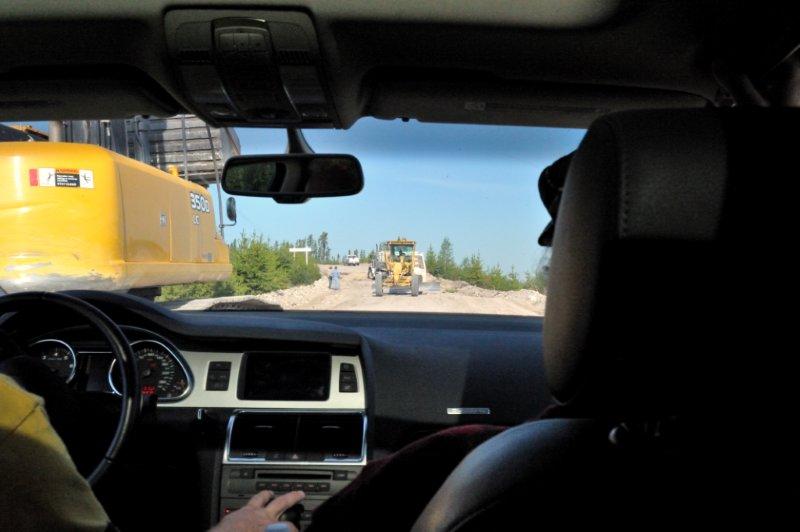 They were doing some "repairs" to the road at one section and a large truck actually got stuck in the middle of the road on an uphill. A grater came to his help as did a large excavator that rumbled just to our left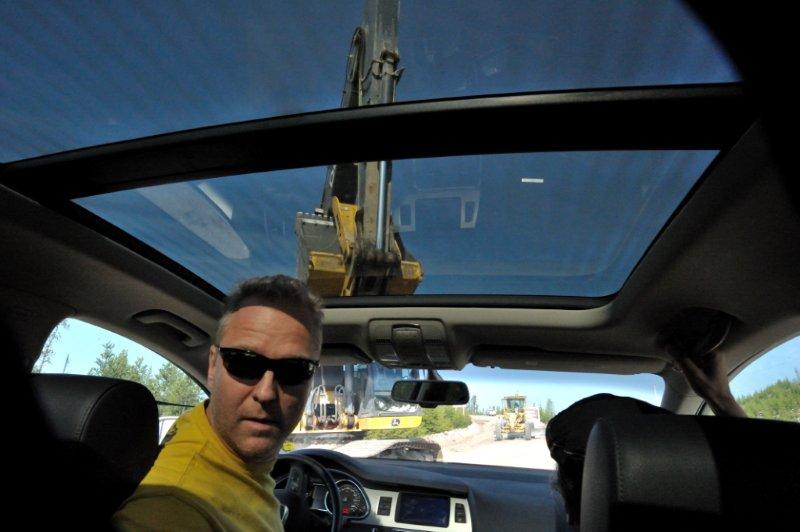 I really felt like there was not enough room for the both of us on that road, so I backed up to wait until the rescue was over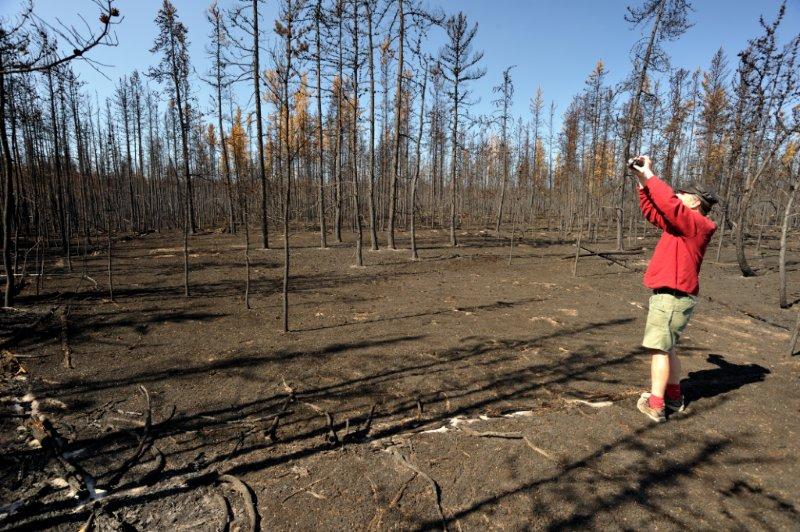 Taras took some pictures and video at the site of a recent burn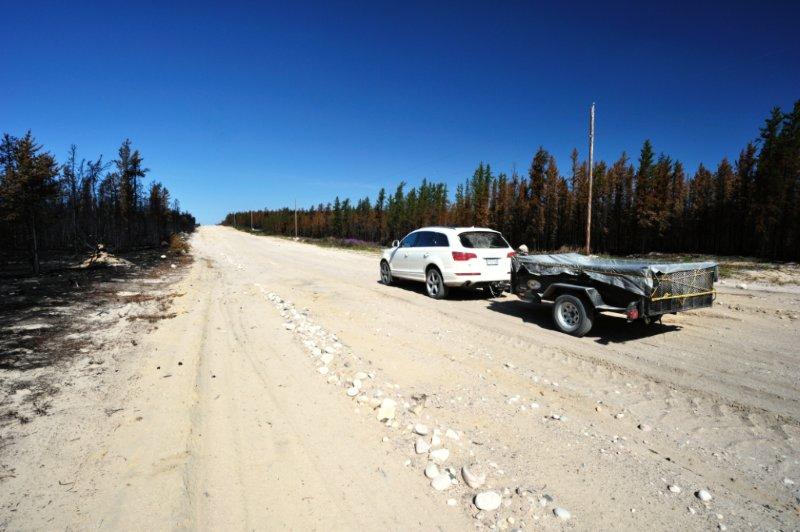 We were geared up for this trip. We had an Audi Q7 Quattro with a 4.2 litre V8 and adaptive air suspension. This was a great combination when paired up with the trailer we had with all of our gear. On those last 200 kilometres of winter road, the Audi pulled us through some dicey spots, the all wheel drive working really, really, well. The road was so rough in spots that I thought something would shake loose on the car.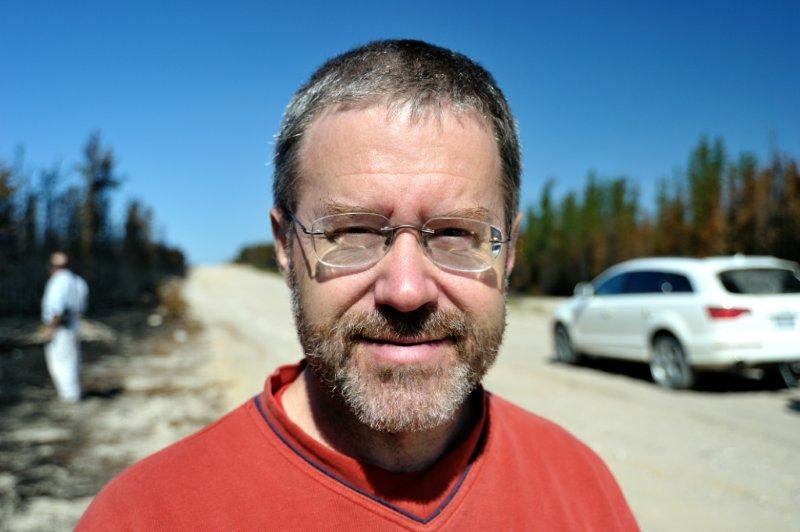 After over 50 hours of straight driving, Roman was still in a good mood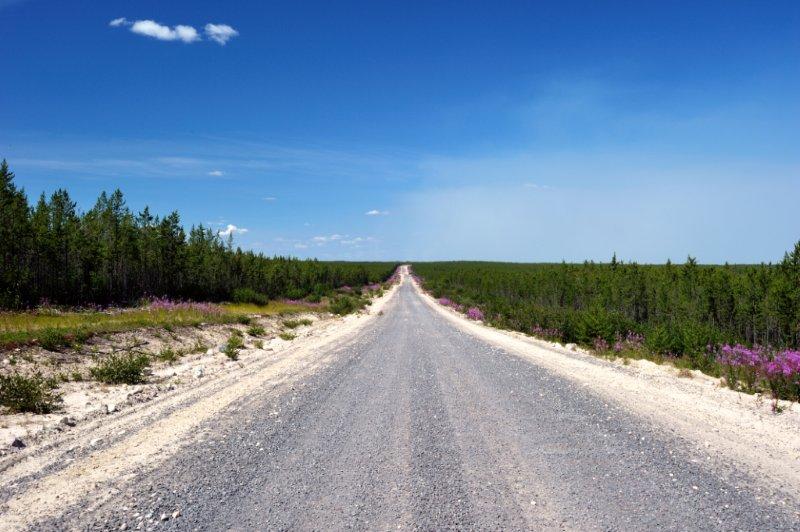 We would travel for stretches of over an hour on that winter road without seeing a single car. As we headed due north past the 55th parallel, the forest got progressively smaller and scrawnier.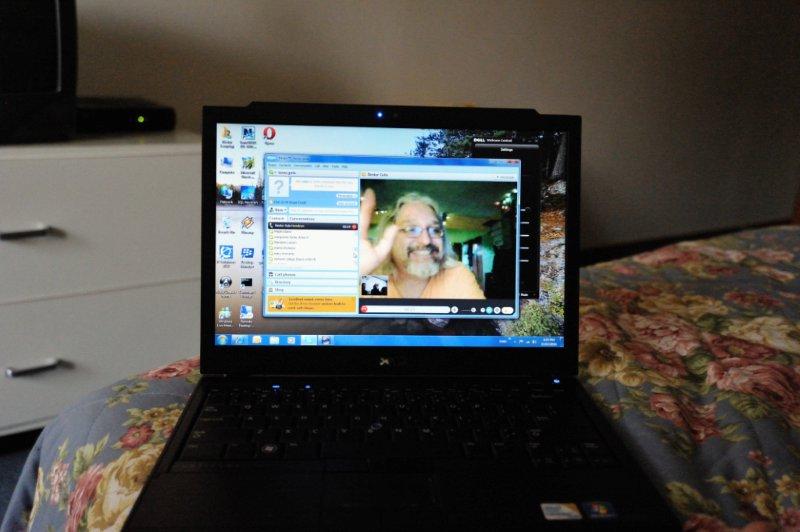 In Stony Rapids, the literal end of the road, we caught up with Nestor Gula, Taras' brother, on his birthday through Skype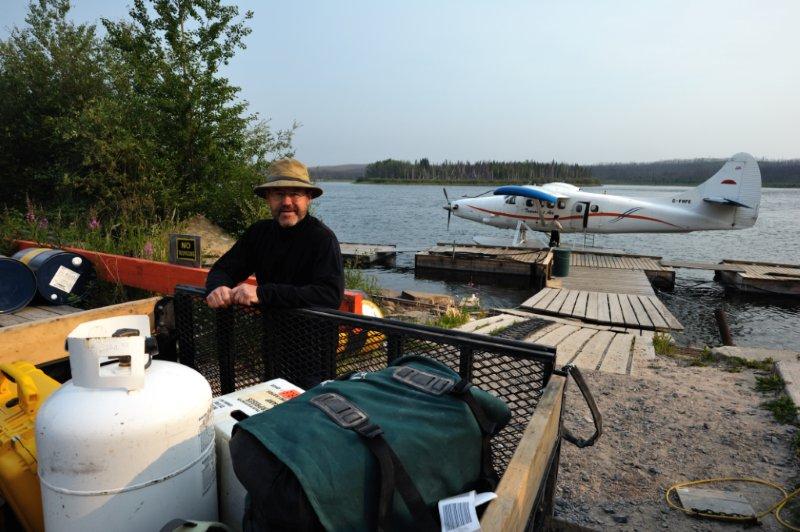 Roman with our gear waiting to load up the Twin Otter for our flight north to Vermette Lake. Visible behind him is the Single Otter. We organized the charters and the canoe rentals through Tundra (Tom) Faess. I had arranged our 2004 trip to the Thelon with Tom and it was good to work with him again. His web site www.thelon.com is a veritable treasure trove of information, photographs, and stories about the Barrens and Tundra Tom himself. The air charter company, Trans West Air, were excellent and I would not hesitate in recommending them. The people who work there are great!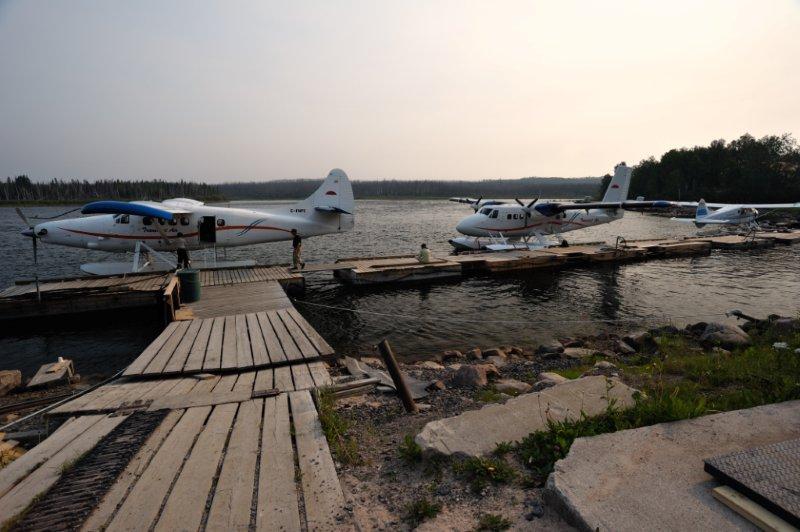 The Single and Twin Otters at the dock of Trans West Air in Stony Rapids. At the far right is a Beaver. Trans West Air proved to be a very reliable charter airline. Although we were delayed a day in Stony Rapids because the Twin Otter had punctured floats, we found the people there very cordial and professional.
Yak, one of the pilots, cleaning the windscreen of the Twin Otter. He would be the one who would fly us back in the Single Otter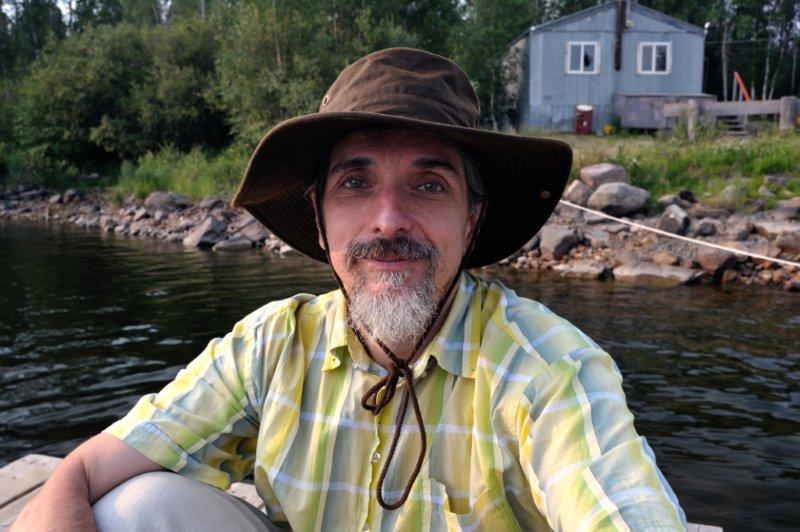 Taras, serenely biding his time, as we waited for the Twin Otter to be loaded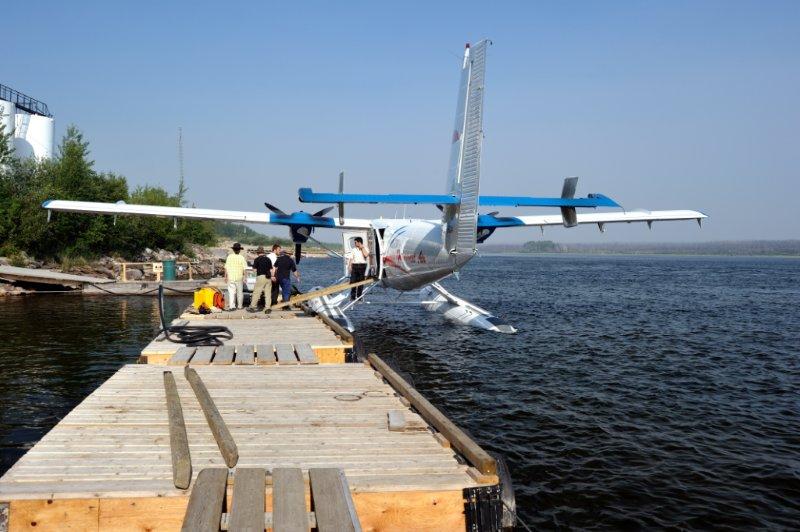 Loading the gear into the Twin Otter. Travel this far north gets complicated because there is no support on the ground. Along with our gear, they loaded 2 - 45 gallon drums of jet fuel that would be needed as re-fuelling for our return flight in the Single Otter 18 days later. If such logistics are not planned carefully, you can find yourself very far from any support, without fuel. You can always land on a lake as they are everywhere, but then you would have to wait for fuel to be flown to you (very costly) etc.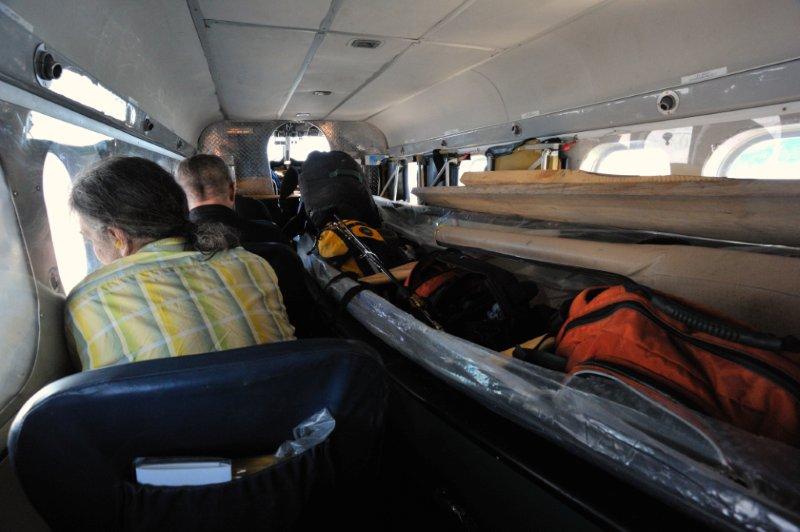 So the 4 of us are squished on one side of the Twin Otter, with 4 canoes on the right side (2 canoes were needed for another party), all of our gear, and 2 - 45 gallon drums of jet fuel. We were not flying business class, but we did not care. I went through Tundra (Tom) Faess for the canoe rental and charter organization. He was able to organize a spit charter for us that worked really well.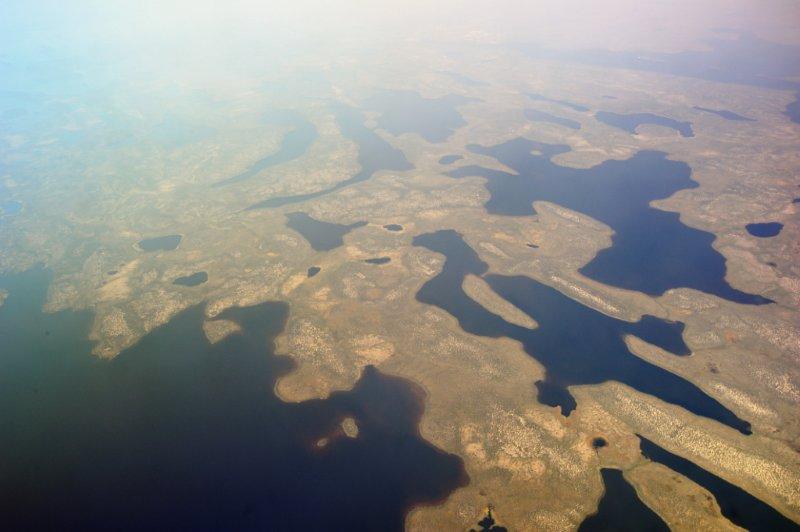 The never ending lakes of the North West Territories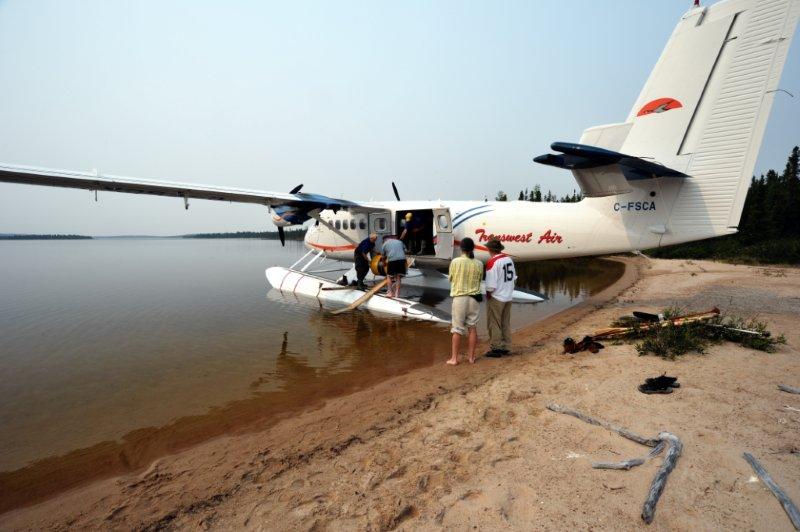 Tundra Tom helping to unload the drums of jet fuel at the northern end of Vermette Lake where the Elk River flows into Rennie Lake. This is where we would refuel with the Single Otter 18 days later on our flight back to Stony Rapids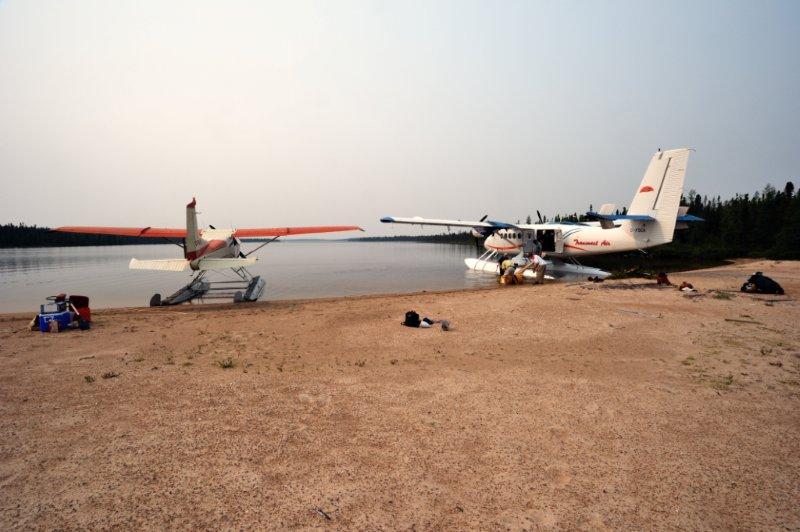 Tundra Tom met up with us at the drop off point, travelling in his Cessna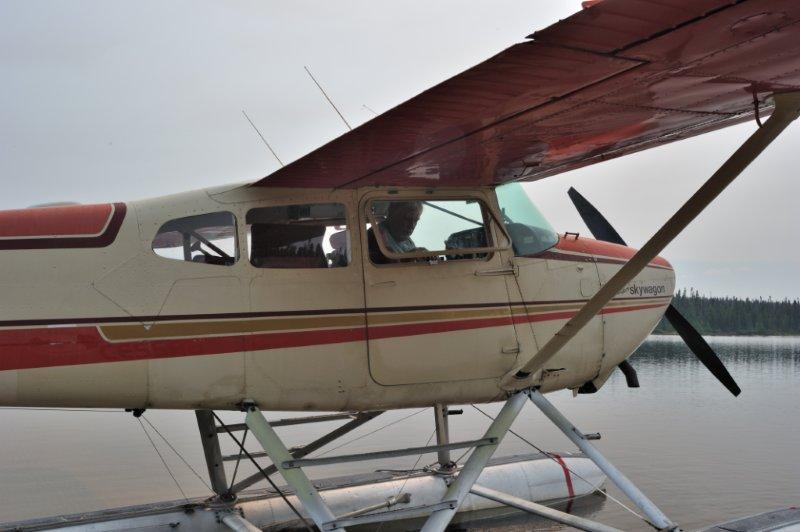 Once we assembled 2 of the 4 canoes, and had the detailed wilderness and cultural briefing by Tundra Tom, he jumped into his plane and took off for his camp, less than an hour away.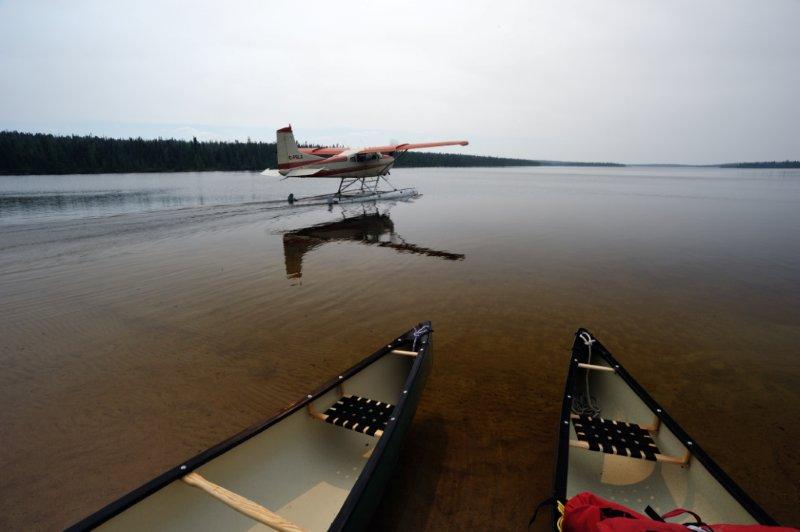 Although I have lived through it before, it is a strange and exhilarating feeling to see the plane take off, leaving you totally and utterly alone in the vast northern wilderness. We were quite possibly hundreds of kilometres from the nearest person.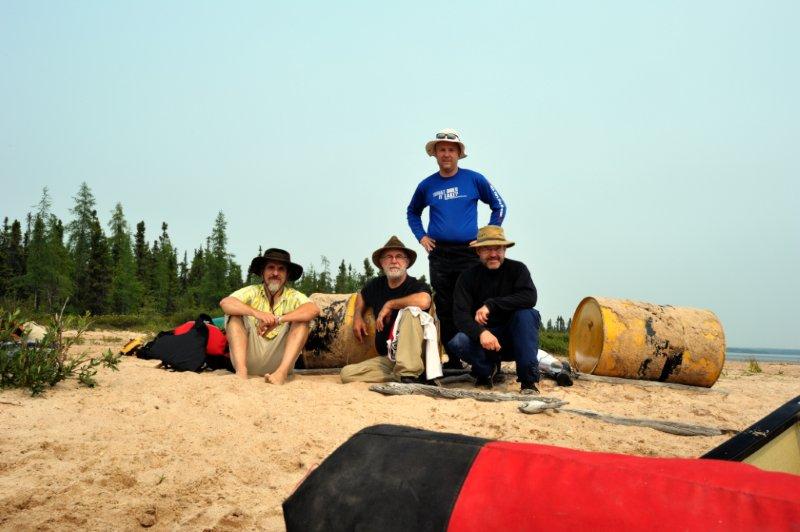 Our first group shot by the drums of jet fuel. Welcome to the North!!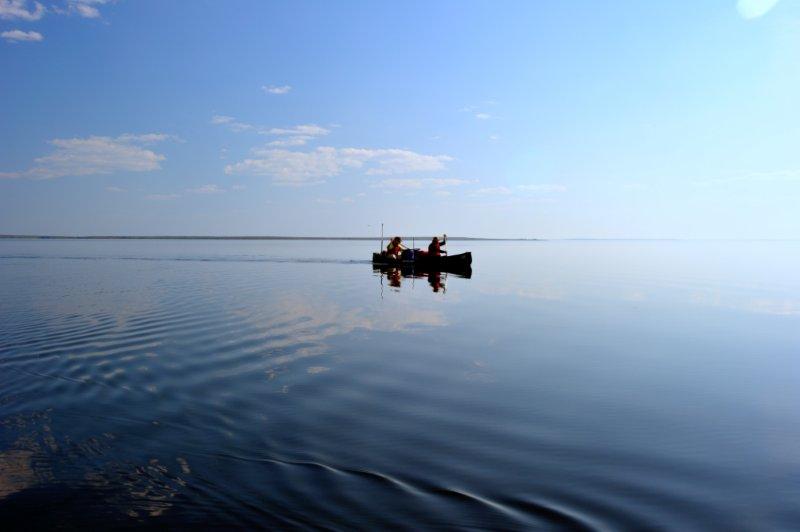 Those first couple of days on Rennie Lake were eerily calm and hot, with the smoke of distant forest fires hanging in the air.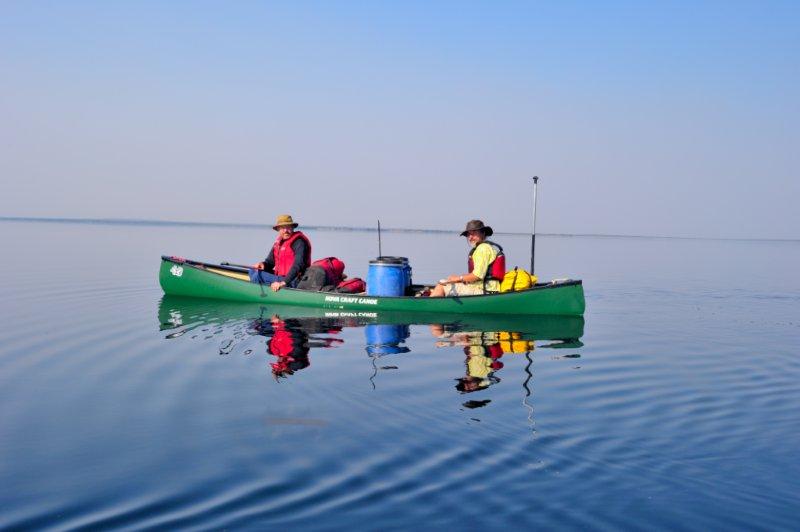 We rotated canoe partners on a daily basis to give us some variety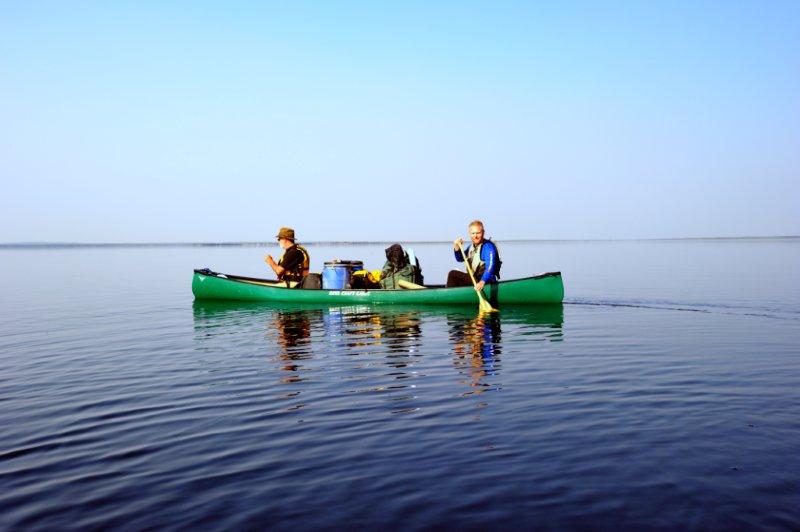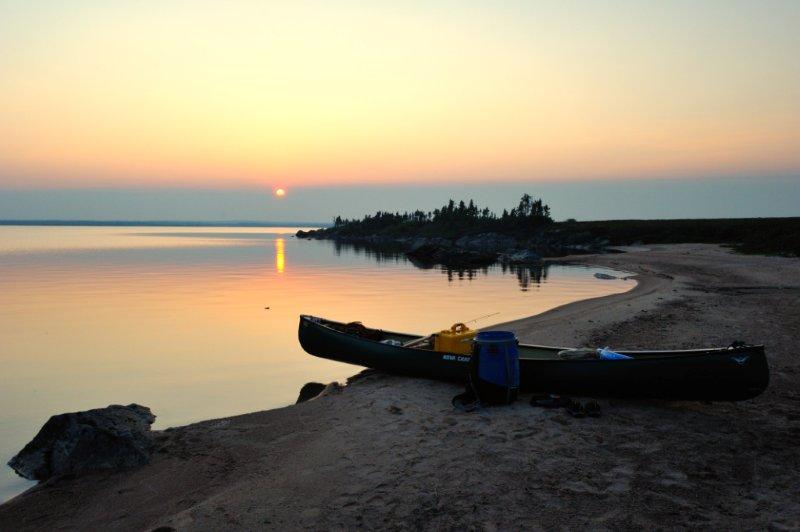 The smoke did give us some spectacular sunsets, like this one on our first night over Rennie Lake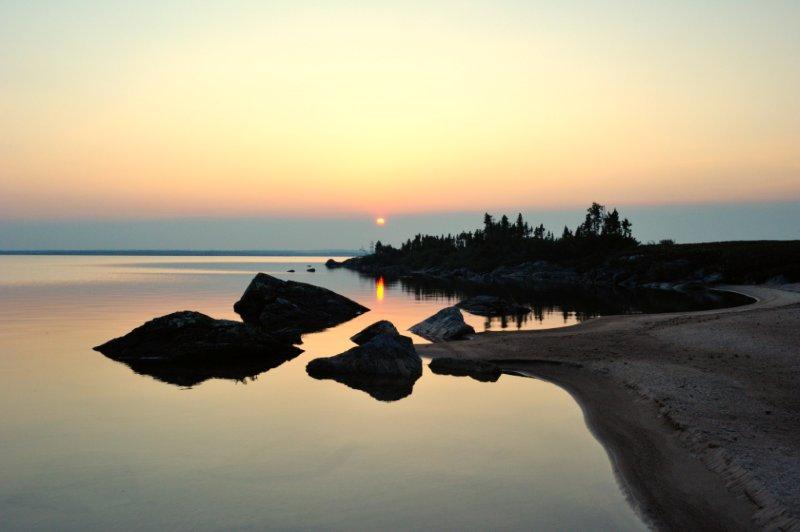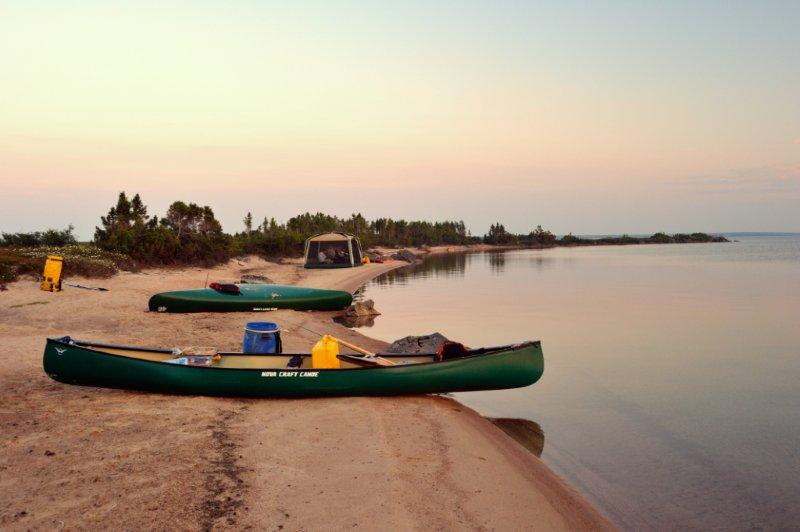 With the water levels dropping in mid-summer, beaches often serve as good camping spots if you don't want to spend time searching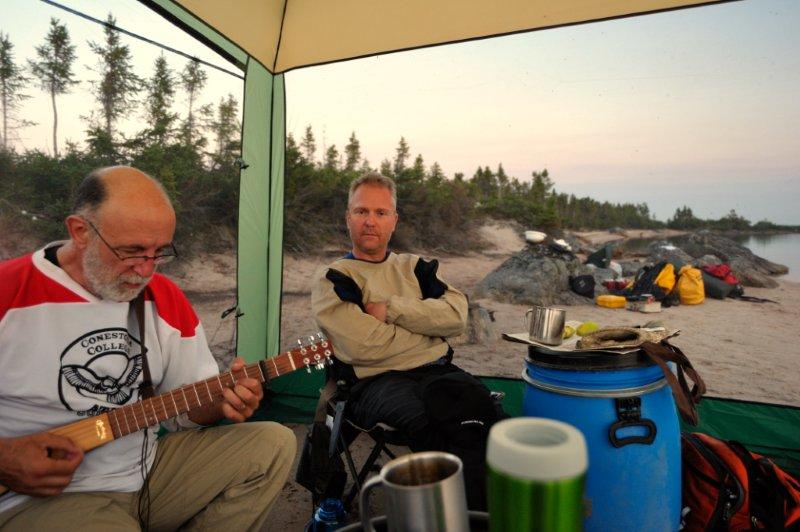 We had a guitar with us which gave us some evening entertainment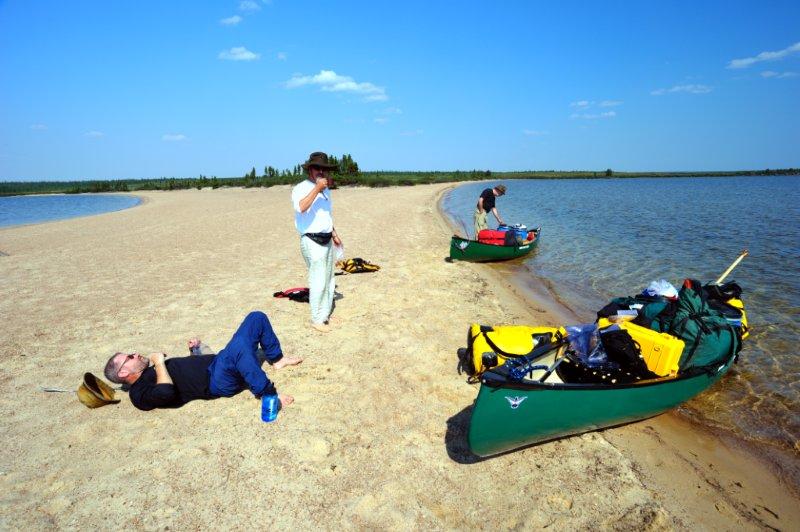 We would take advantage of nice spots during the day to take breaks for food and to rest our backs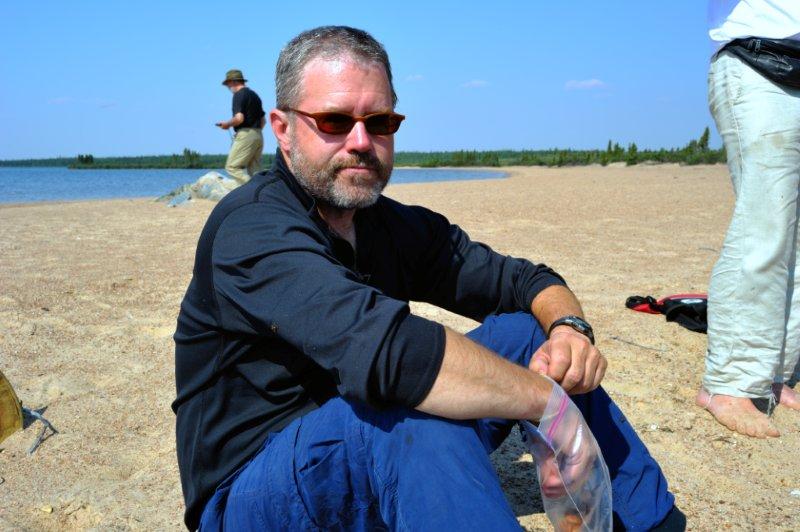 Roman REALLY looked cool in his shades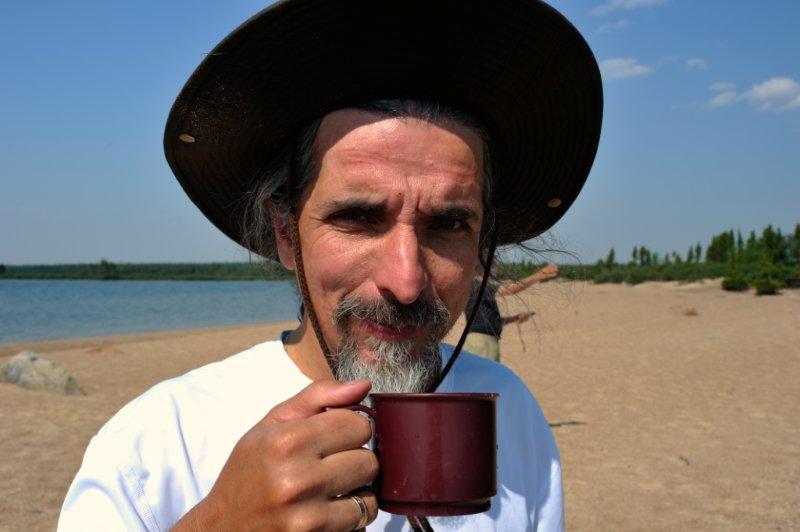 While Taras, well, sported a different kind of look.....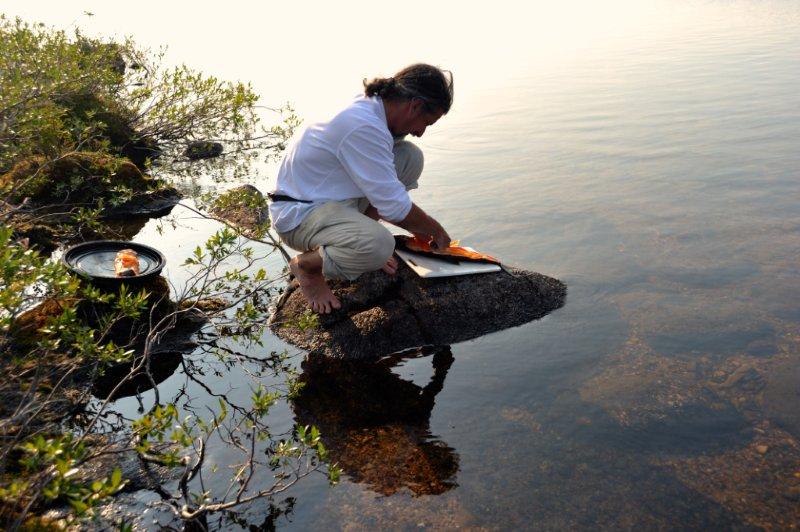 Taras filleting our first lake trout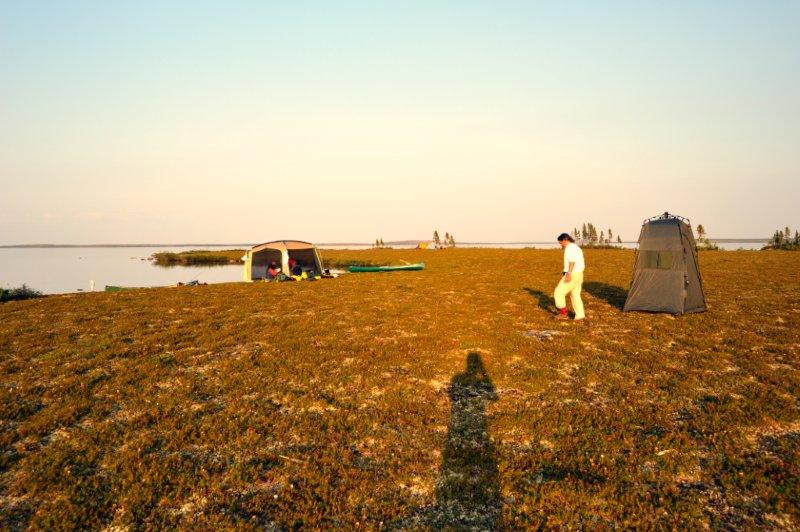 The late afternoon sun on our camp. A lesson I learned in 2004 is that you really need a sheltered place to do your business, or else the black flies really get at the soft stuff. This toilet tent was the perfect solution. It is not very sturdy, but we were able to put it up at most of our sites. Black flies do not bite when they are into a small enclosure, like a tent, so it worked really well. This adds to the weight you have to carry on a portage, but I think that its benefits far outweigh that negative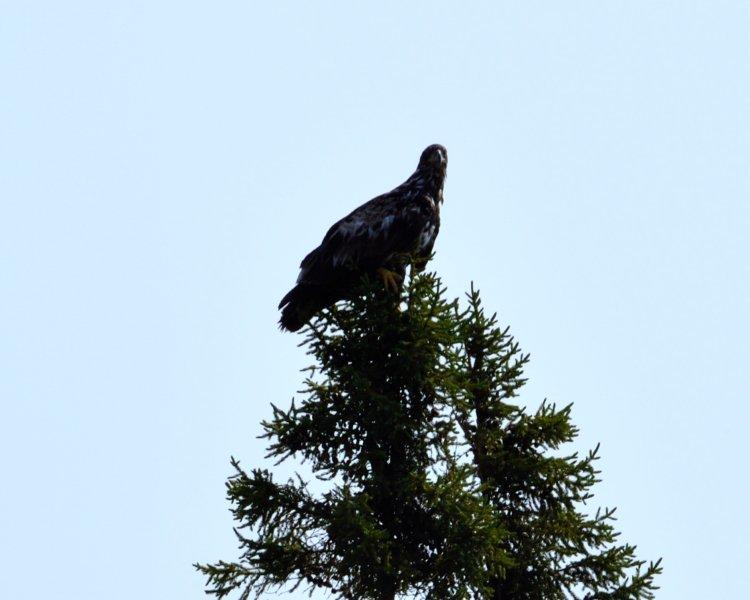 We spotted what we believed to be a golden eagle near our camp that evening. I was able to get reasonably close with my 400mm telephoto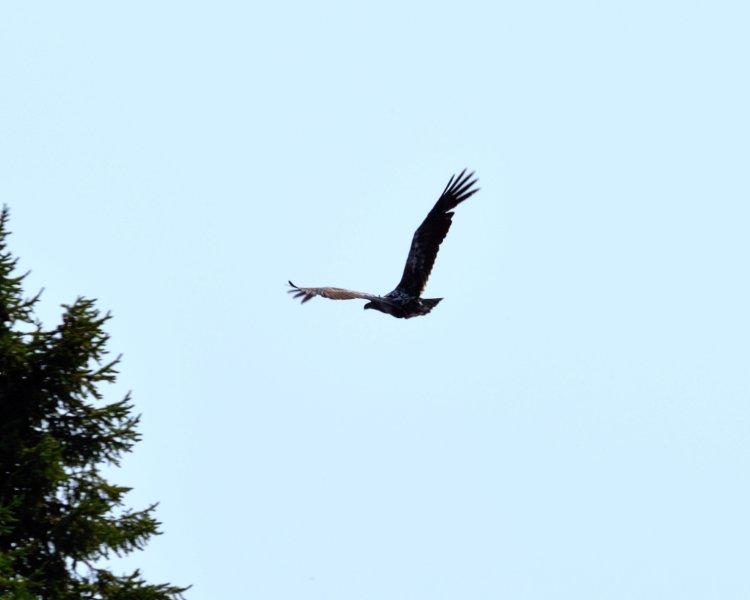 But scared him off when I got too close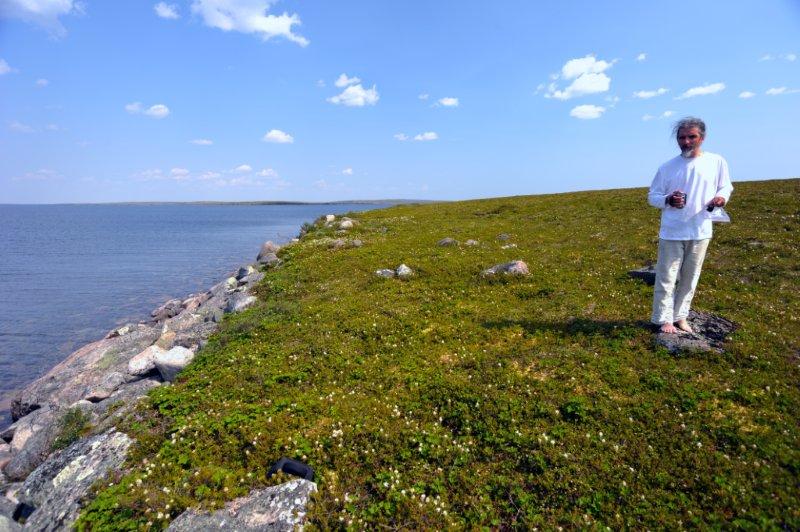 Taras had his Wise Sage look those first few days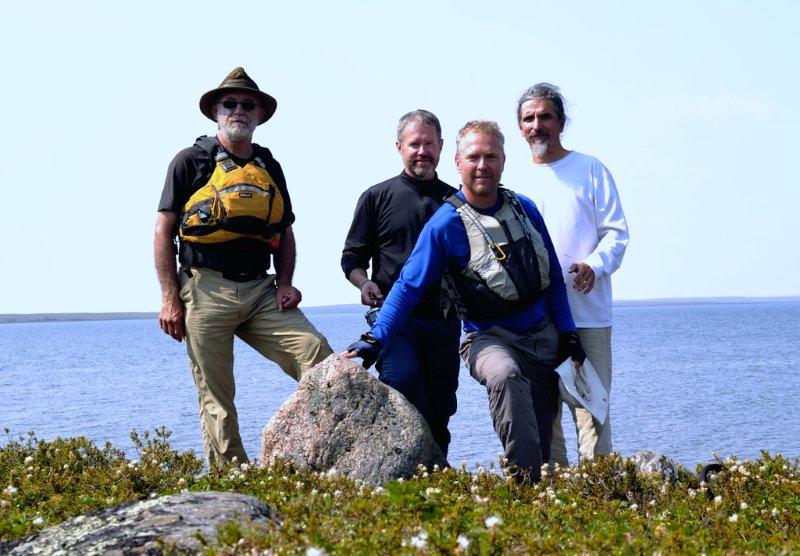 Another group shot. It was clear that we had left the tree line behind. Tundra Tom had explained that once we were through the lakes, we would truly enter the Barrens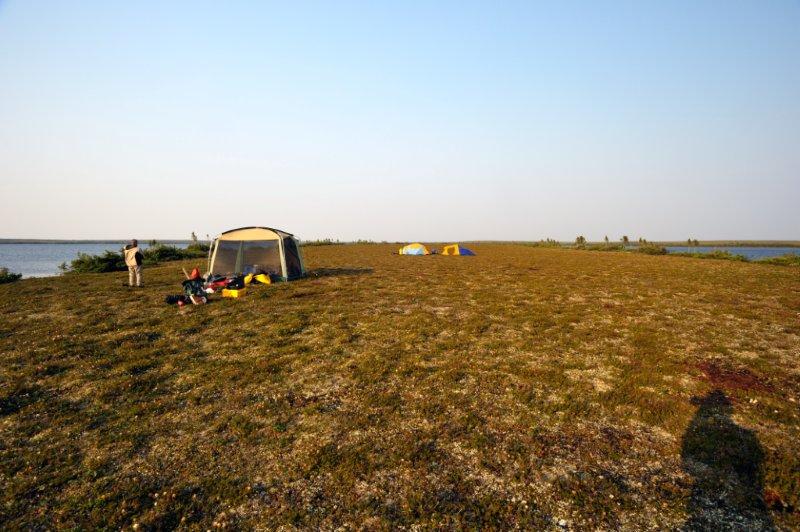 This was a nice spot near where the Elk River truly started to flow. The camp lay out would be repeated every night. We located our 2 tents close together, a bit of a distance from the screen enclosure where we cooked and ate.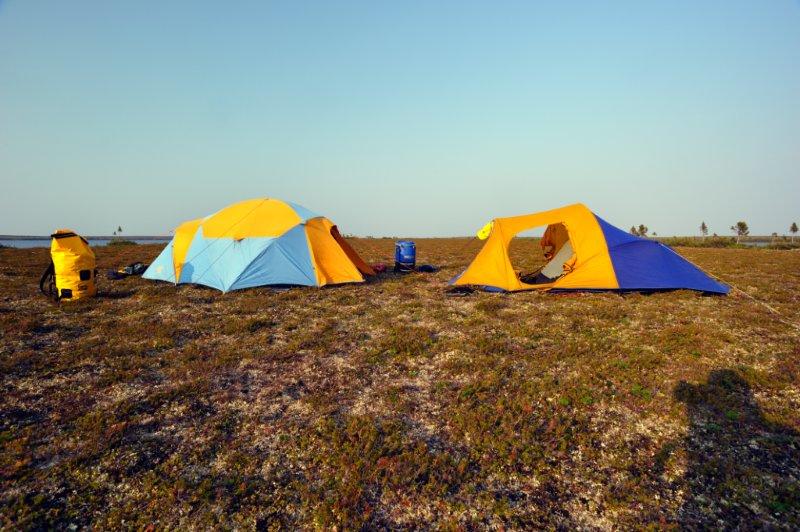 My MEC Nunatak tent served Roman and I very well, even though it was over 8 years old, a veteran of at least 4 serious expeditions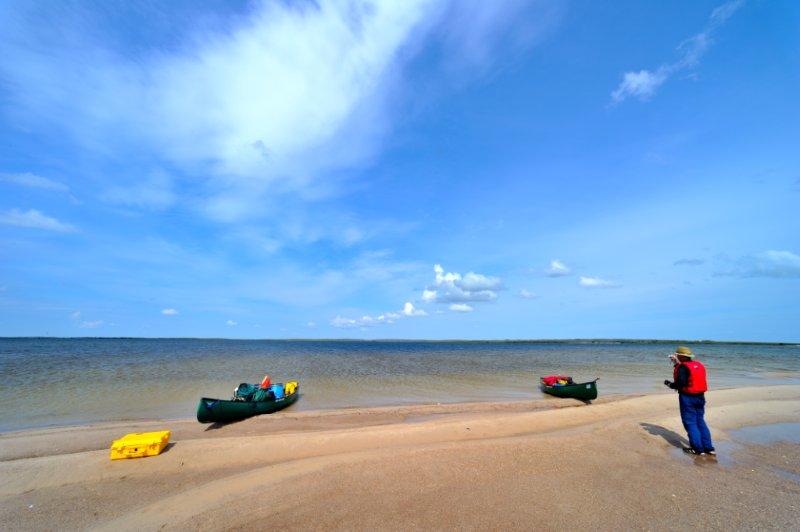 We came upon this wonderful sand bar as the wind was coming up on an open stretch of water. We waited for a few hours for the wind to die down, but it didn't. We ended spending the night, a wonderful spot to camp. Wind can be a big problem in the Barrens. The land has very little relief and there is no forest, nothing to slow down the wind. Once it starts to blow, it can blow for days, making canoeing virtually impossible.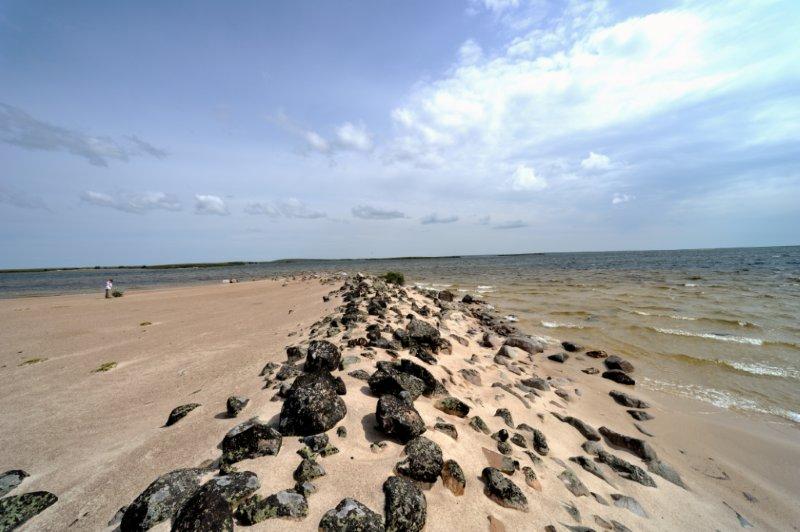 Being wind blown gave me a chance to experiment with my new Nikon D3S camera and my Nikkor 14mm 2.8 lens.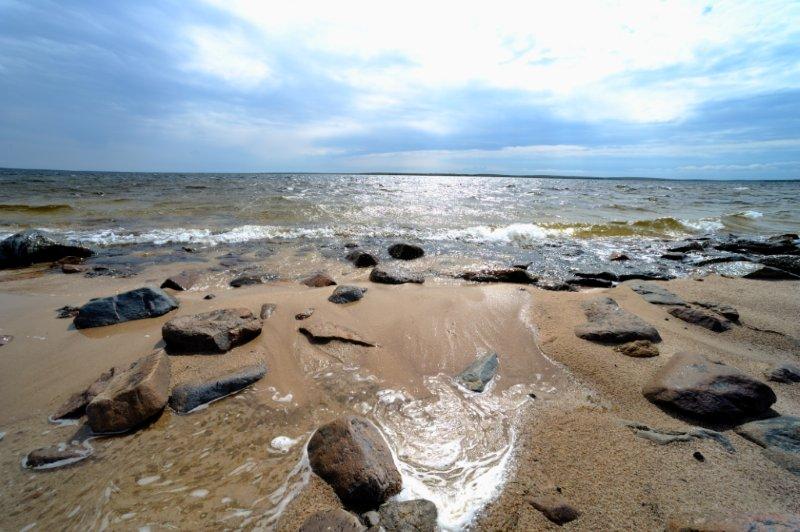 The 14mm lens allows for some stunning photography that I was only starting to discover while the ultra wide ISO range of the D3S gave me unprecedented flexibility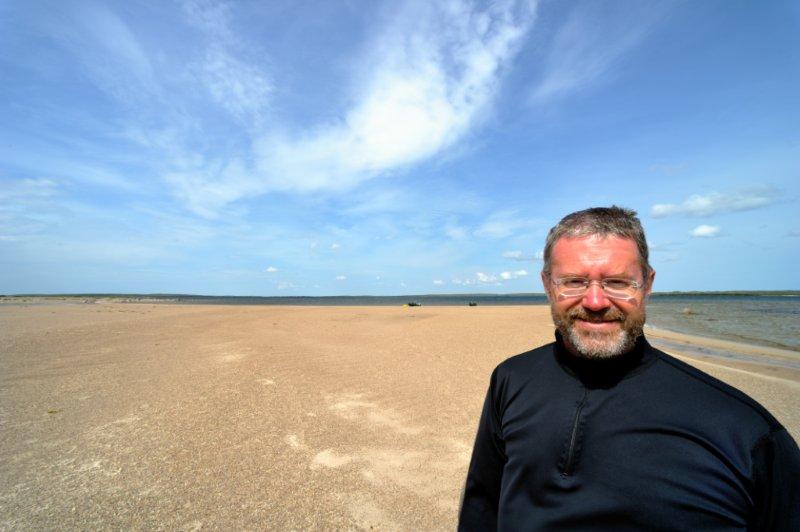 Roman did not mind the break. The weather was fine, besides the wind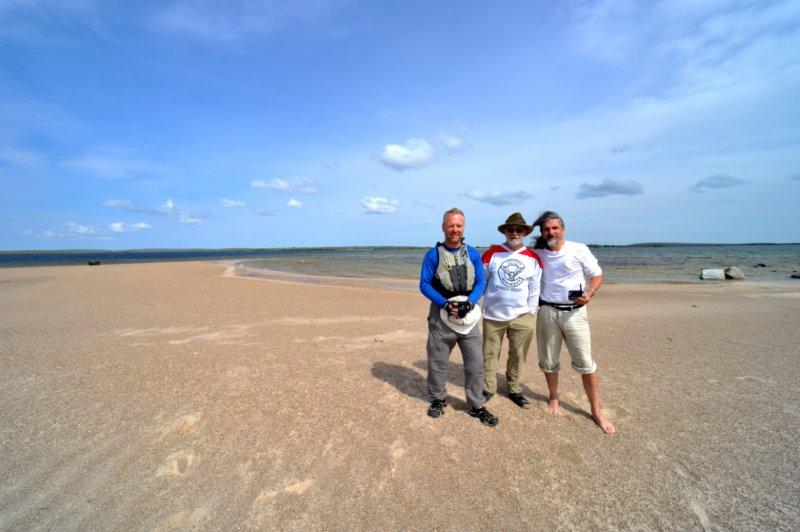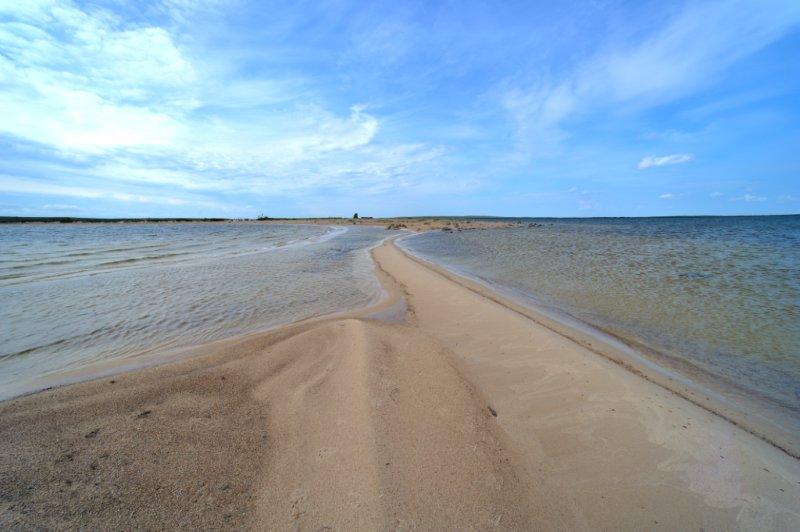 This narrow strip of sand was the only thing connecting the sand bar to the main land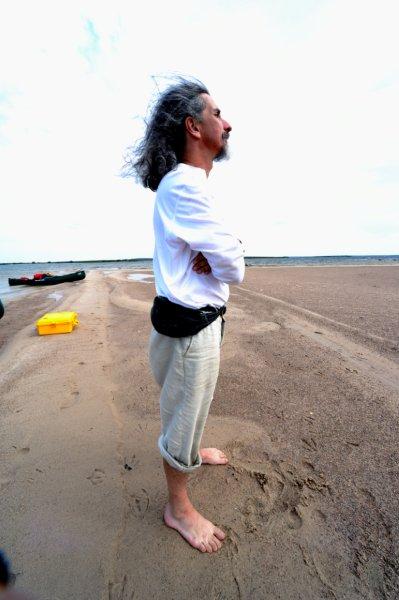 The Sage pondered the wind.....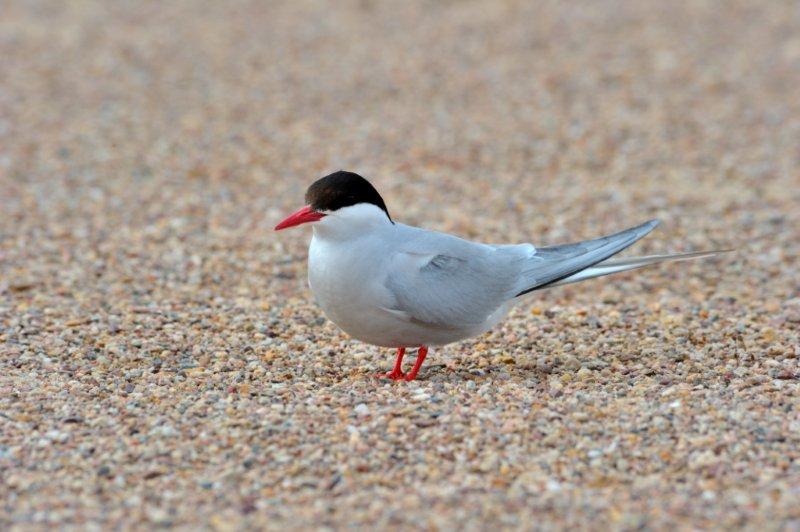 While this Arctic Tern took a rest from trying to fly in the wind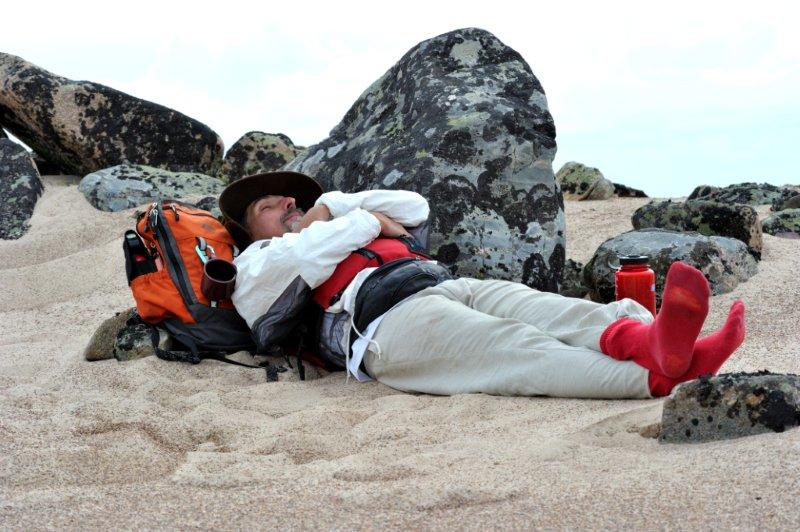 Taras caught up on his sleeping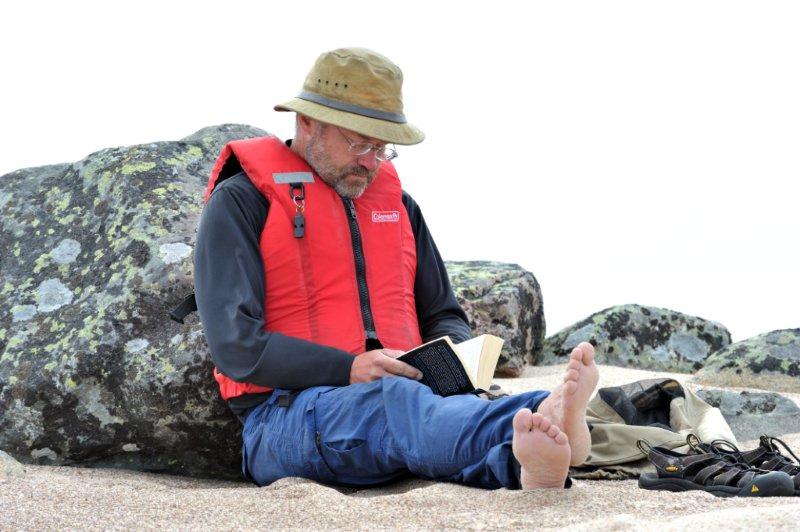 While Roman tried to catch up on his reading, but ended up emulating Taras......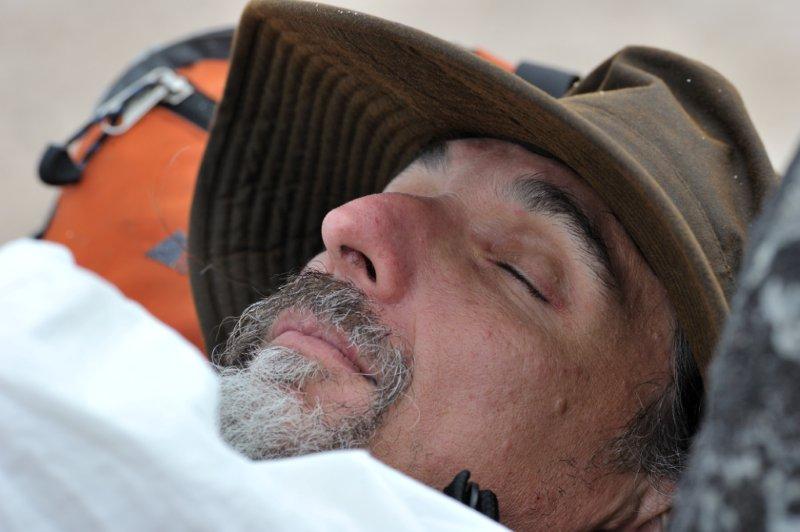 Sleeping Beauty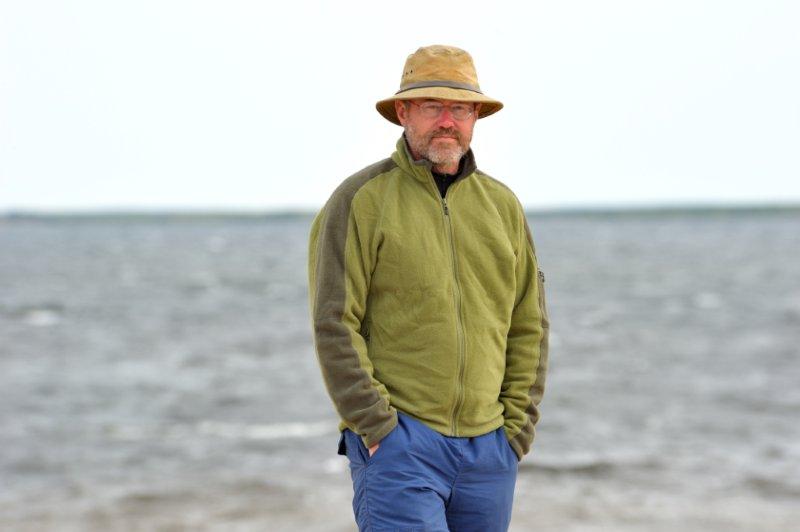 But after a while, the waiting got, well, boring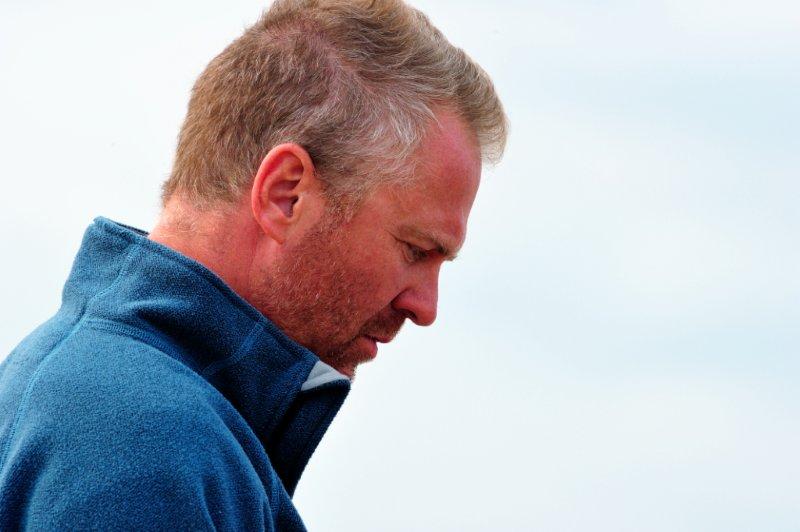 What to do, what to do?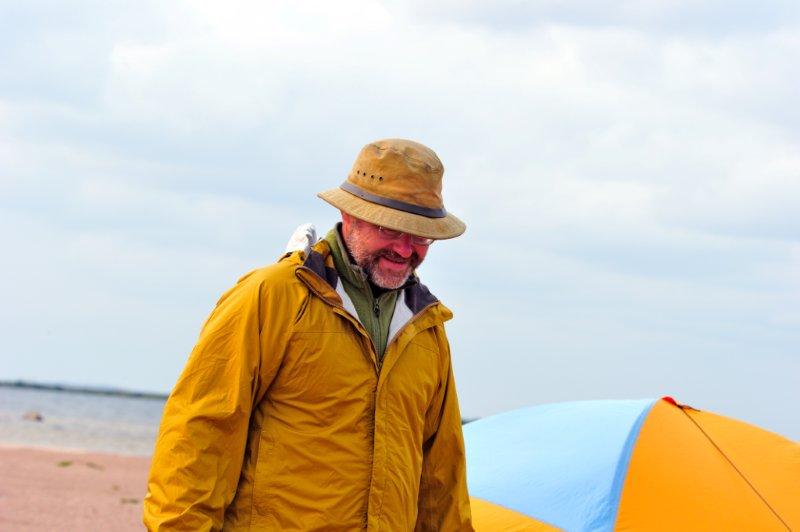 Set up camp, of course!!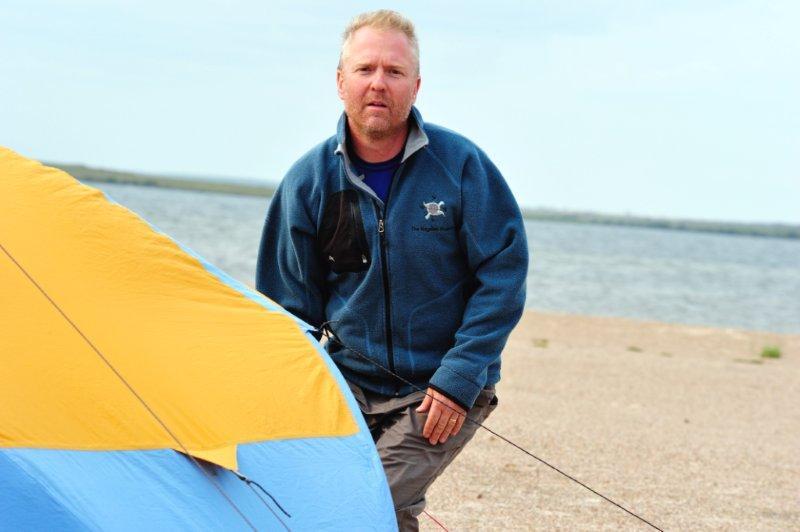 Doe in the headlights.....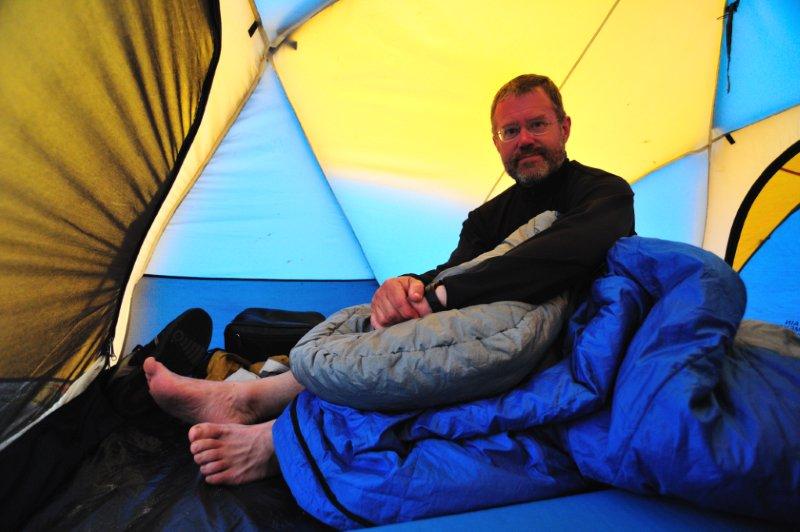 The inside of our cavernous Nunatak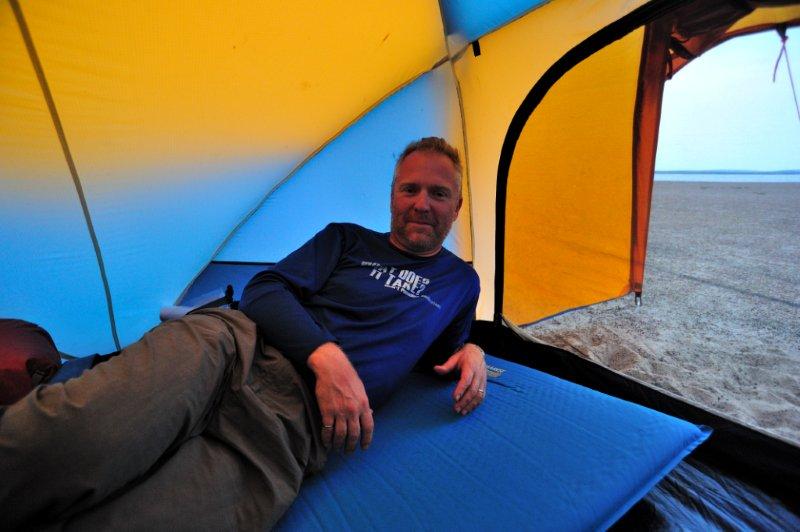 A condo in the wild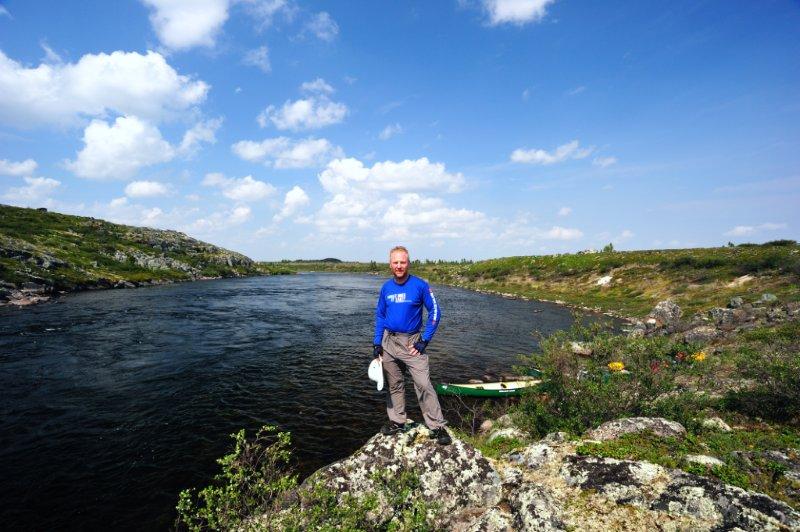 This was the end point of our first portage on the Elk River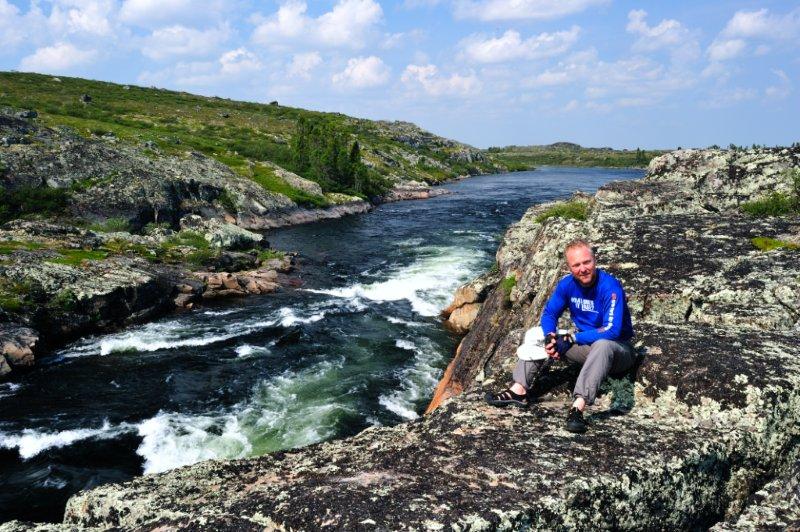 There was no way we were going to try that in an open canoe!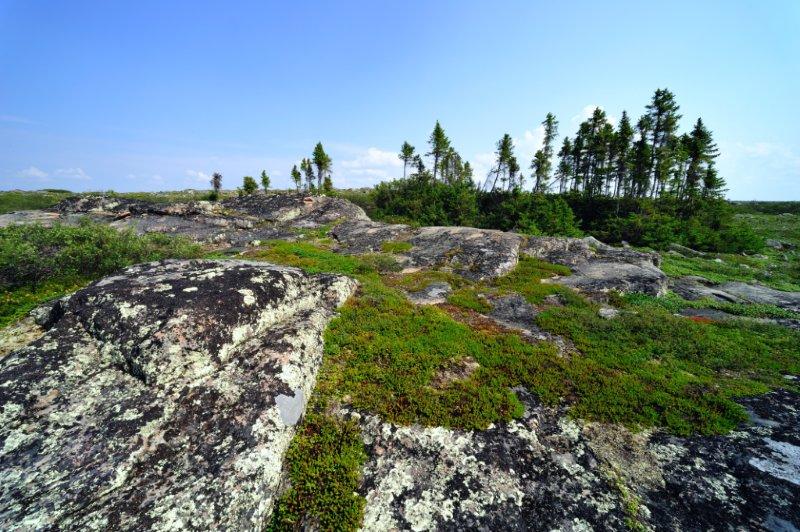 That is as much tree as you will find this far north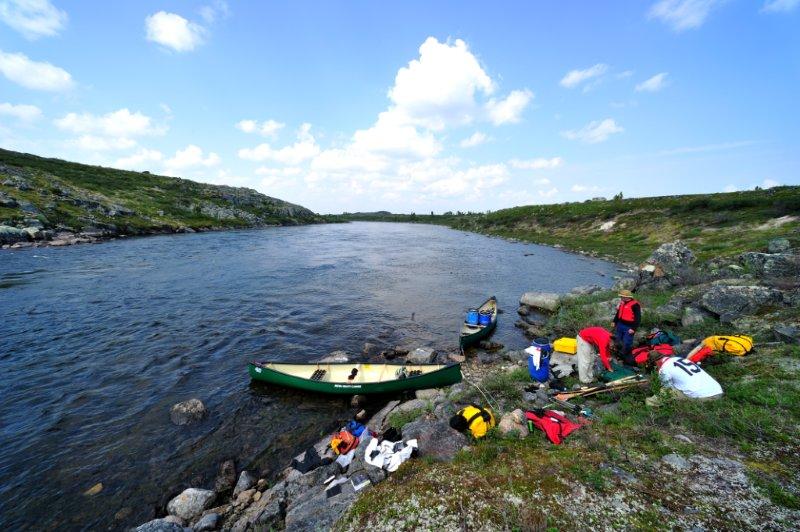 A portage is always a pain, of course. Take all the gear out, carry all the gear, pack all of the gear back into the canoes. Its a lot of work. The shortest portage can take at least a couple of hours. We had a lot of gear. It would take us 3 full trips to complete a portage.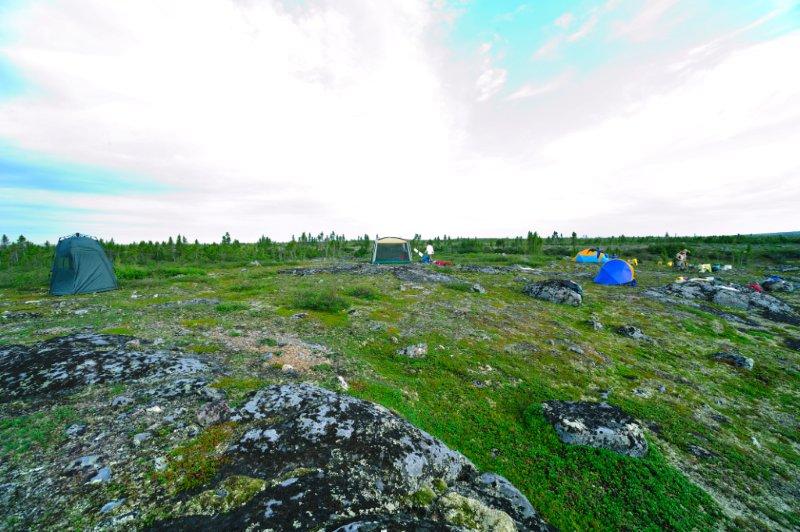 Picking high ground for camp always had the advantage of bringing some wind and solace from the black flies. The flies were particularly bad on the Barrens this year. I think that I would prefer to come back in August next time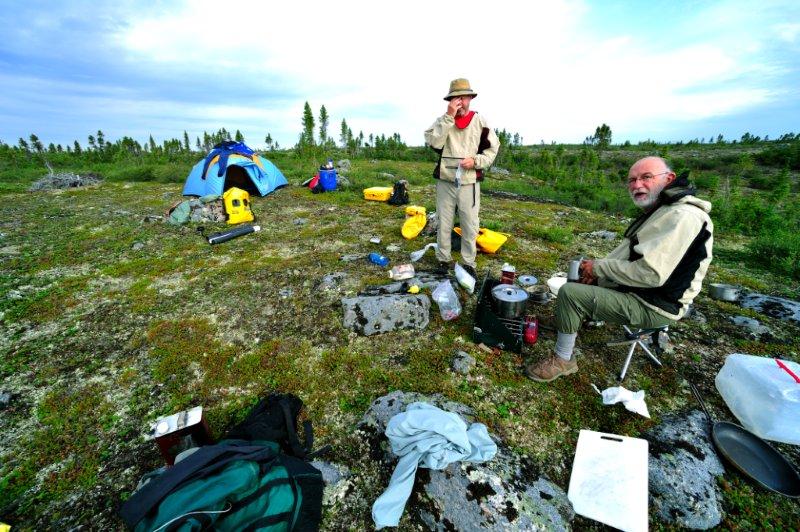 Our camp would get rather spread out with all of our gear......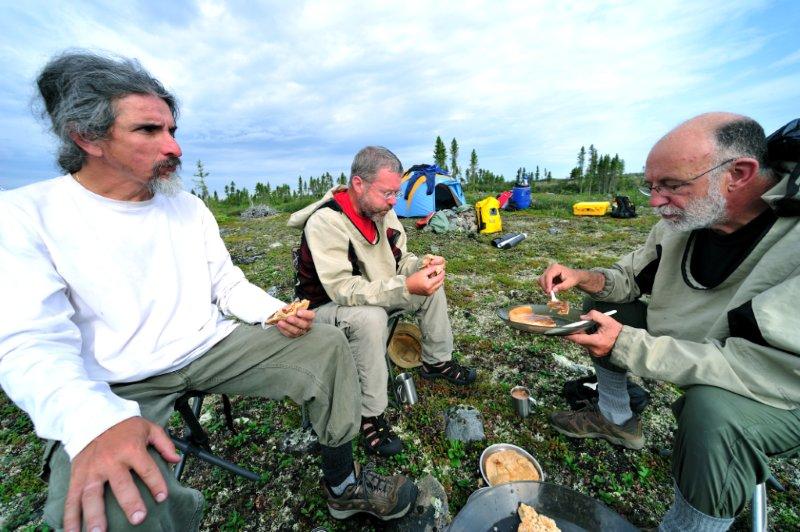 Yummy pancakes for breakfast!!!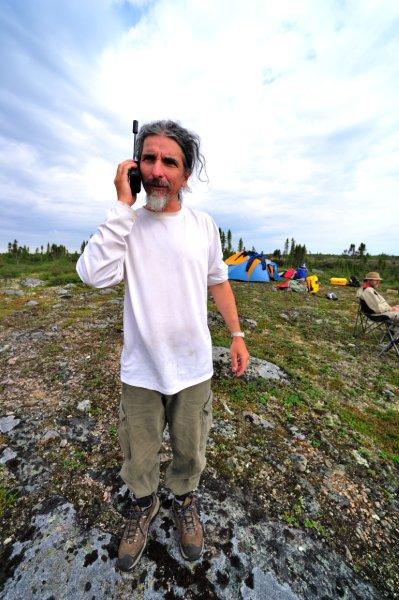 Taras really trying not to look like Frank Zappa calling Dweezil on the satellite phone (and failing miserably)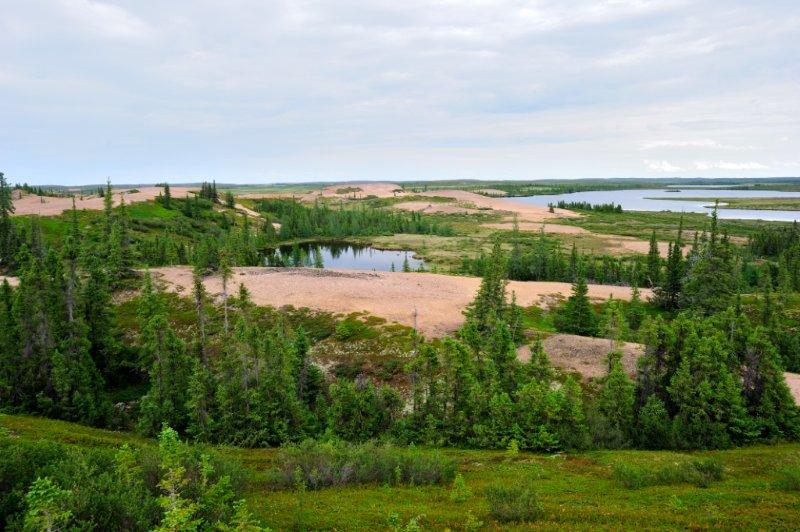 The wonderful sandy eskers of the Elk River. This shot is from the top of a particularly high esker we encountered and took some time to explore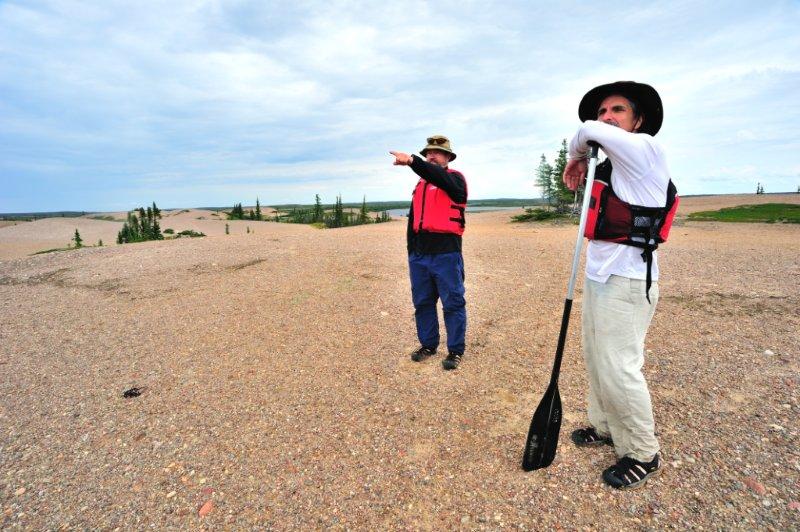 Roman saw something of note from the top...Note that the esker is more gravel than sand. The wind blows the sand off of the top of these eskers, leaving pebbles behind.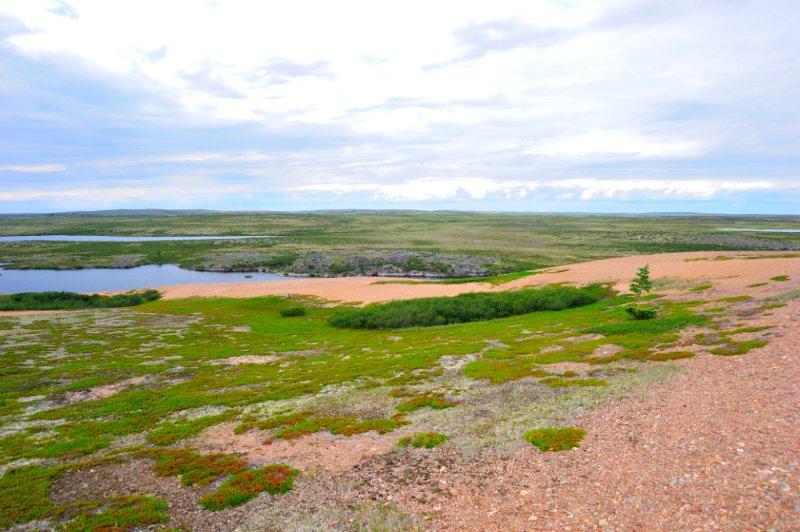 The view can be endless, with no relief to the land at all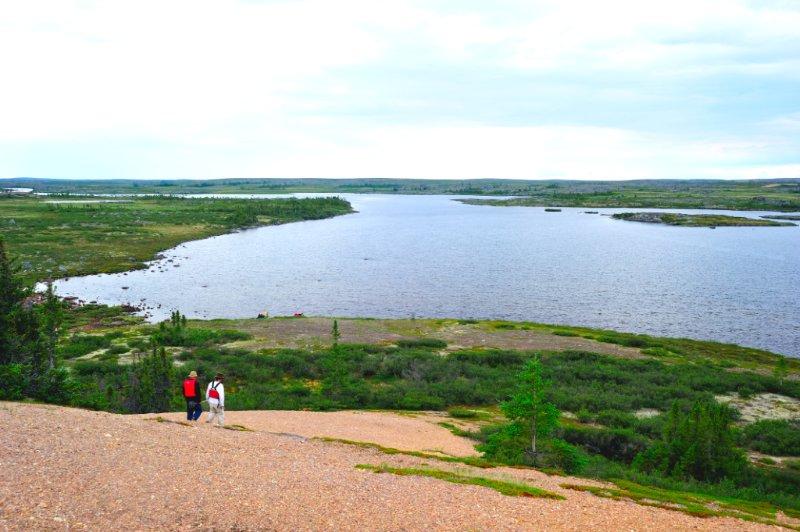 The walk back down to the canoes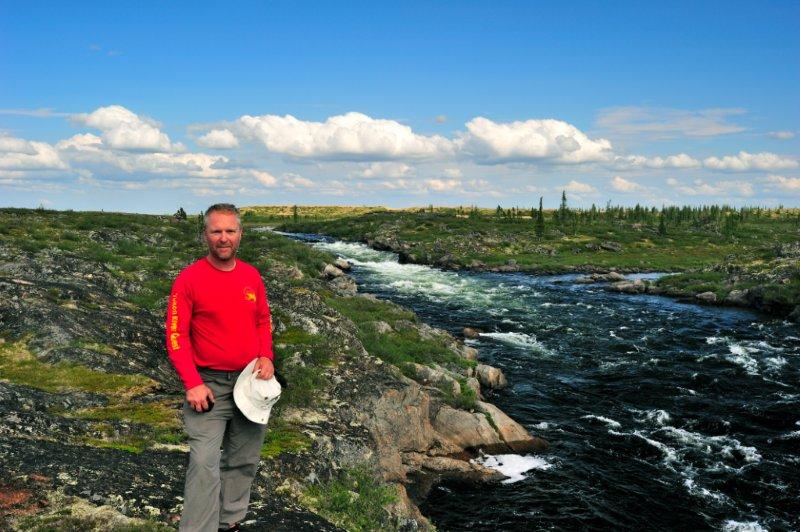 Another set of rapids that we did not care to run. The chute in the background was narrow (<10 metres) and fast. We estimated it at over 25 kph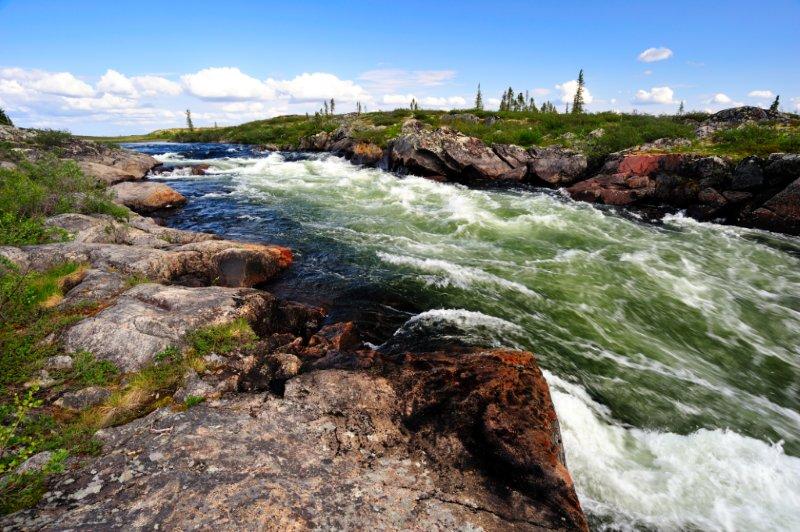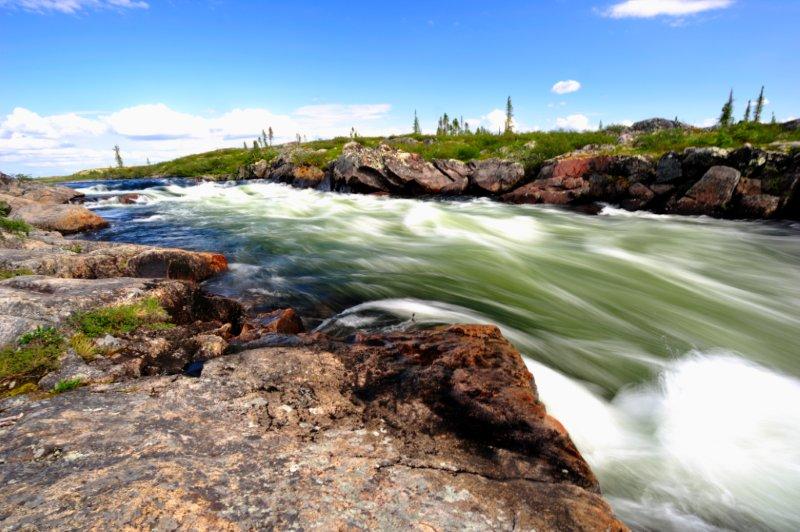 \
Did I say that it was fast??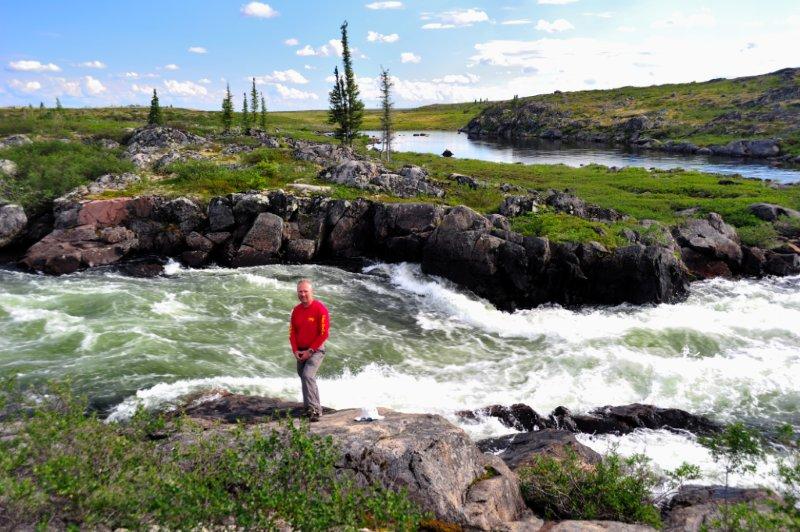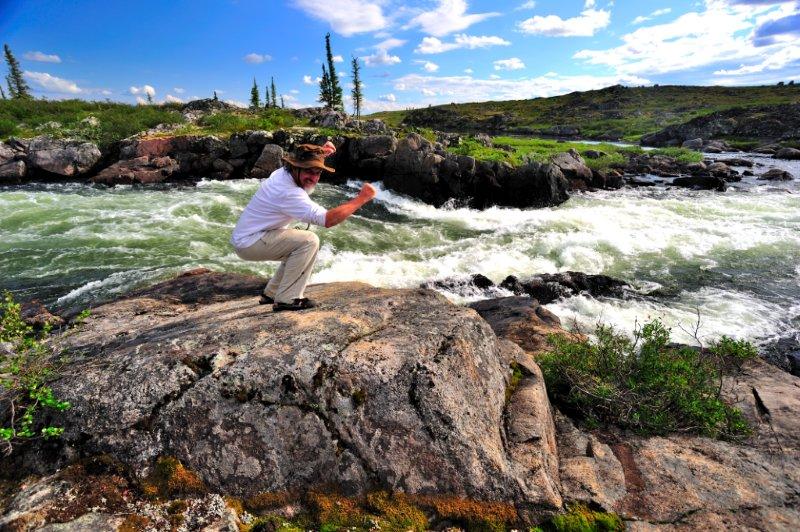 Taras doing his virtual canoeing through the rapids thing.....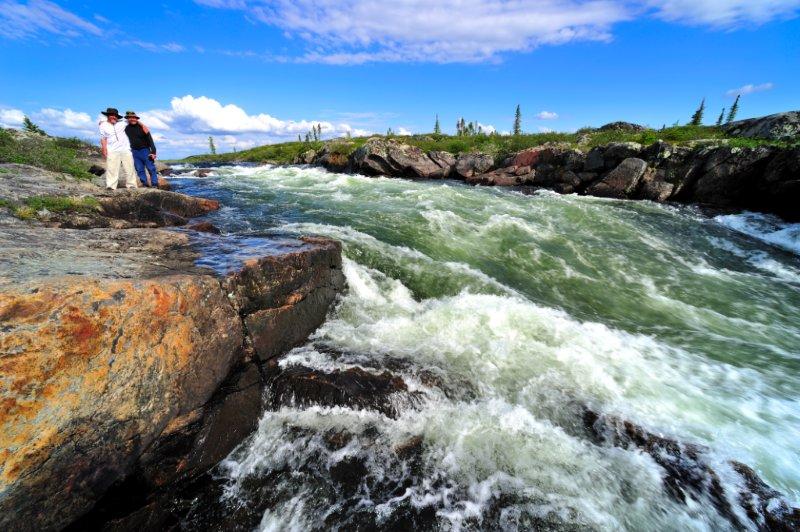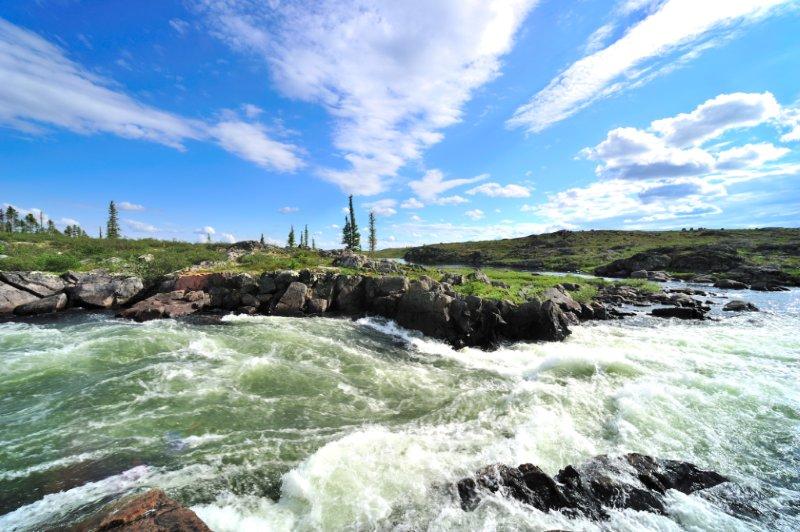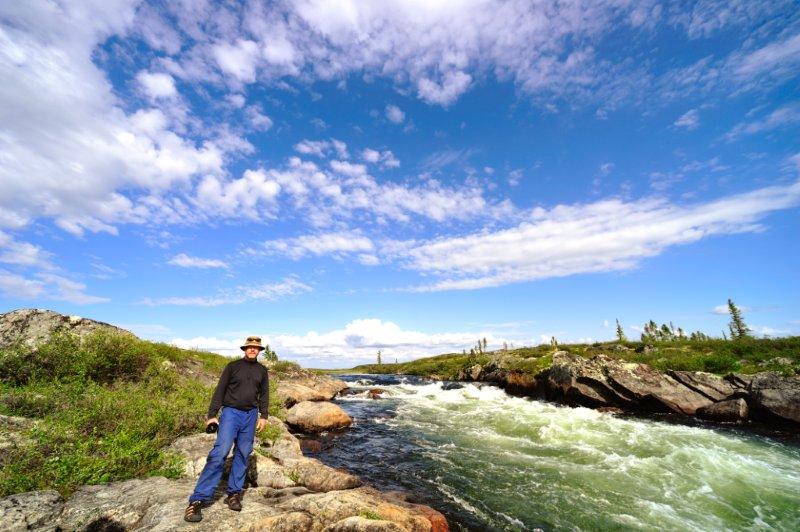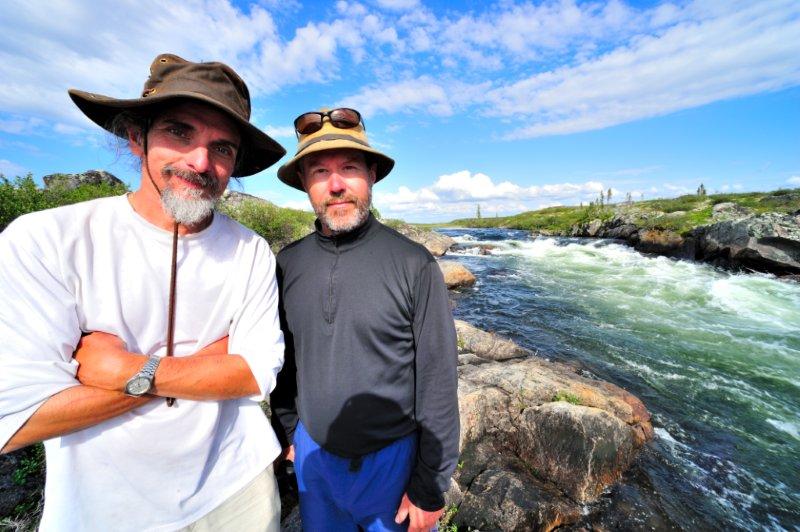 It was a nice spot to take a lot of pictures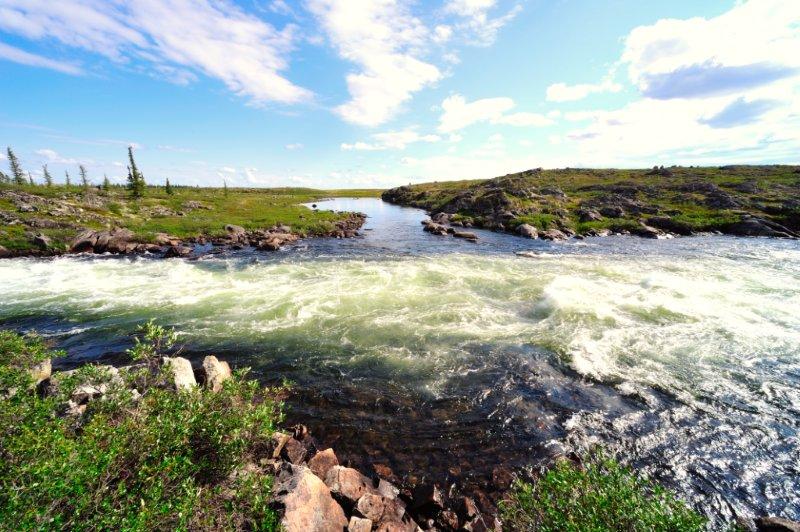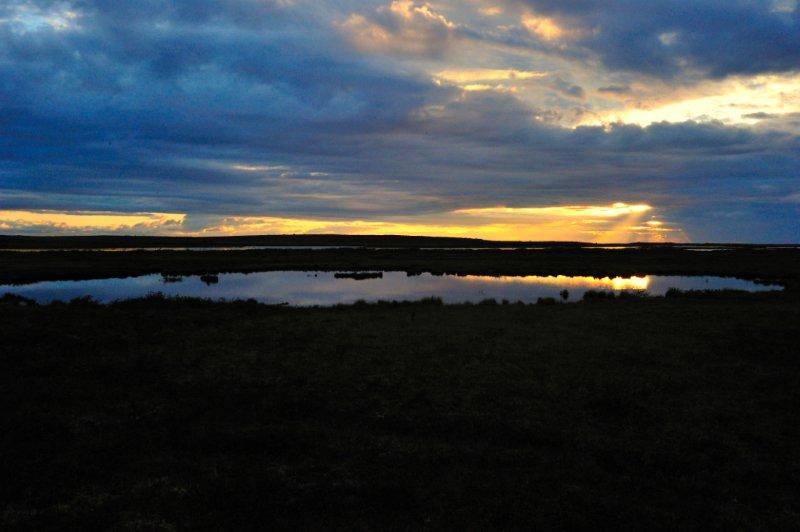 A serene sunset at the end of that long day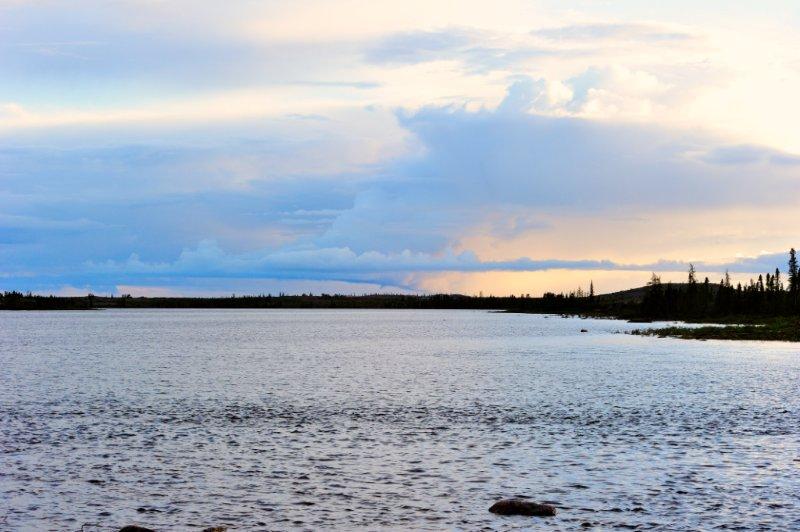 With the relief of the land being so low, you see weather for ever. In fact, you see multiple weather systems at any one time in the huge sky. They say that Montana is Big Sky Country but I politely disagree. I think that Canada's Barrens are the true Big Sky Country!!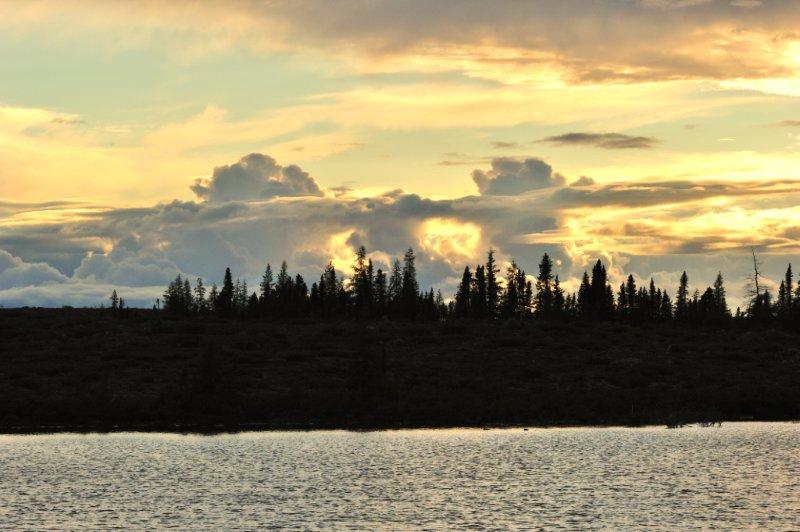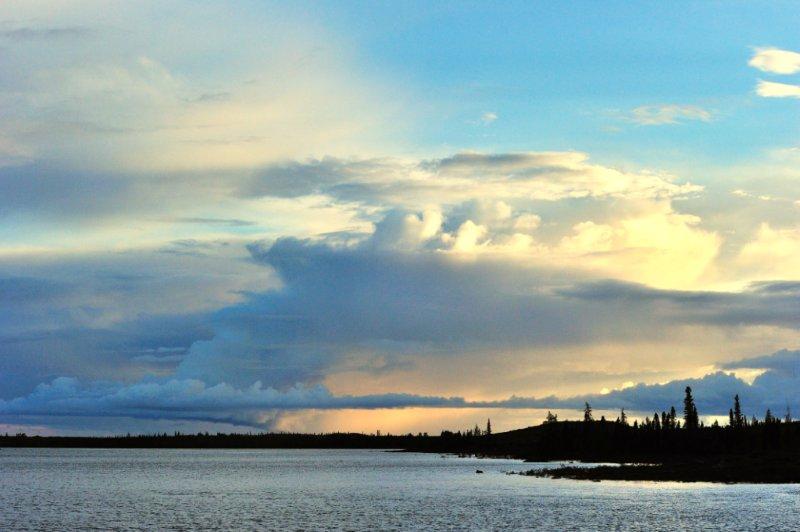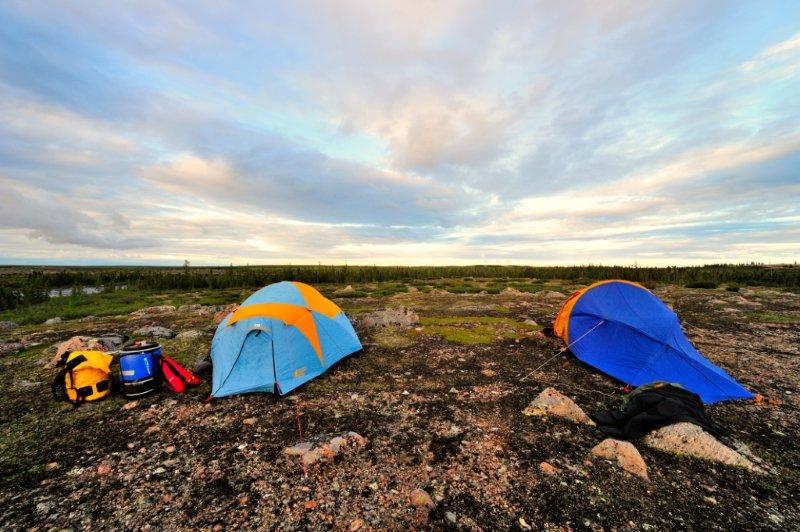 Side by side cozy tents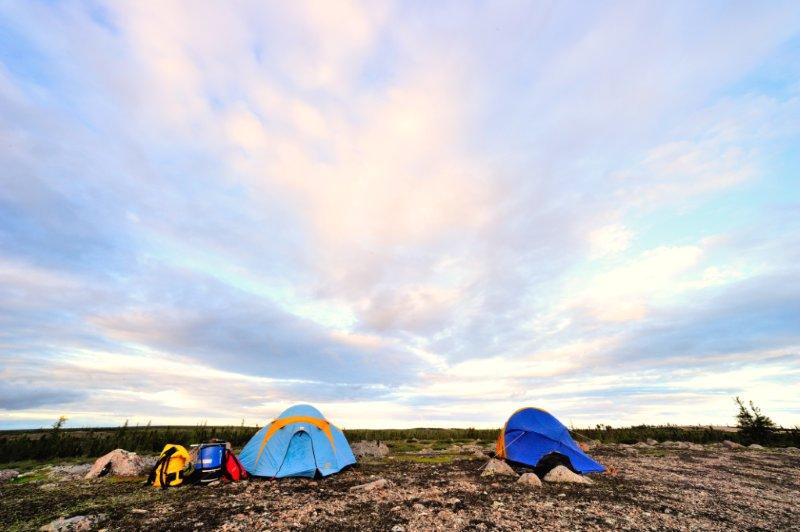 Going over the maps to make sure......We were far away from civilization, but not technology. I had a GPS Spot device that transmitted our progress to a web site and a bunch of people we knew were following us online. We had a satellite phone. We had 3 separate GPS units, 2 which had detailed topographical maps of the region. We had 1:50,000 water proof topographical maps of the area. I had a 25 watt flexible photovoltaic panel for recharging our electronic devices. I had a 12 volt battery pack to act as a storage medium for this. I had an inverter to enable us to charge batteries that did not like DC power. This all added to our weight, but also gave us the flexibility to handle unforeseen events.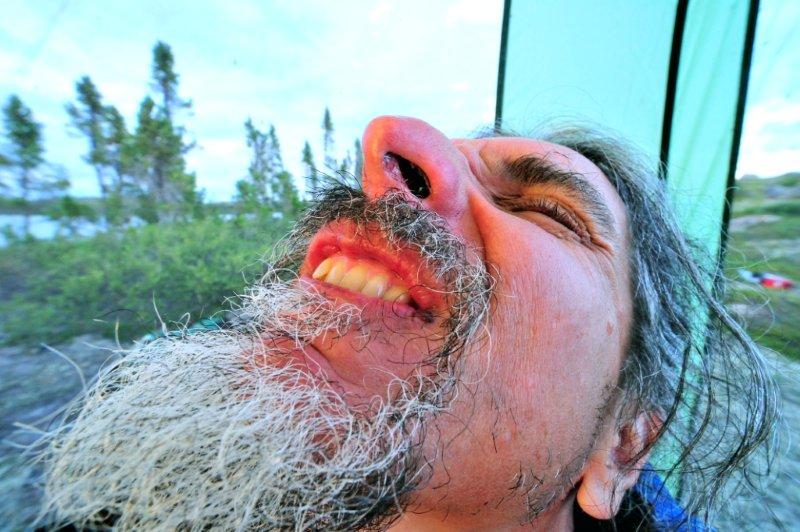 Experimenting with my 14mm lens......
This was a beautiful camp site, at a 90° bend in the Elk River with tremendous skies and sun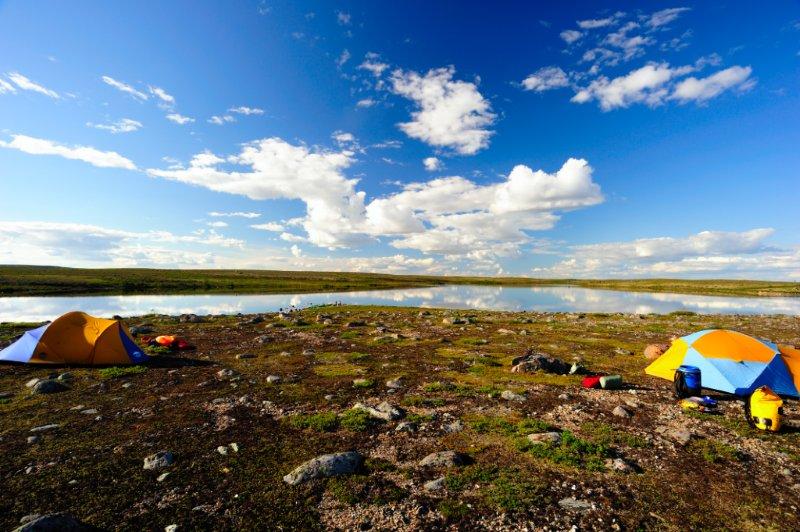 It is hard to describe how beautiful this spot was, so I will let the pictures do the talking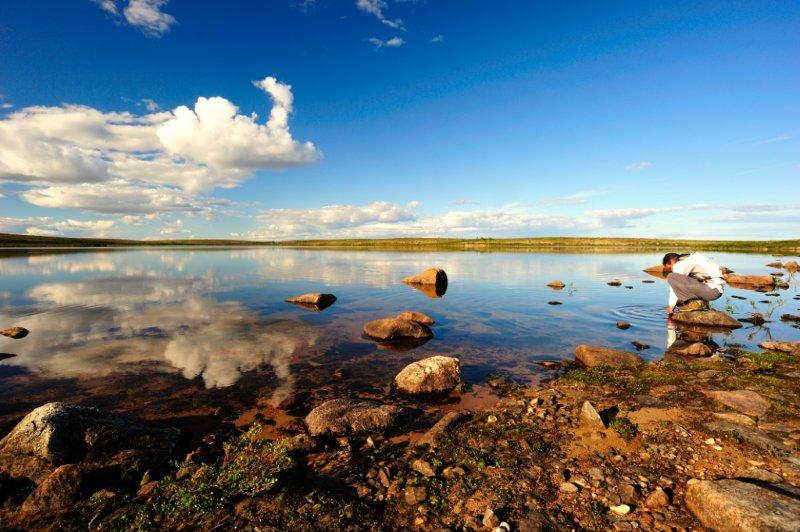 Taras washing up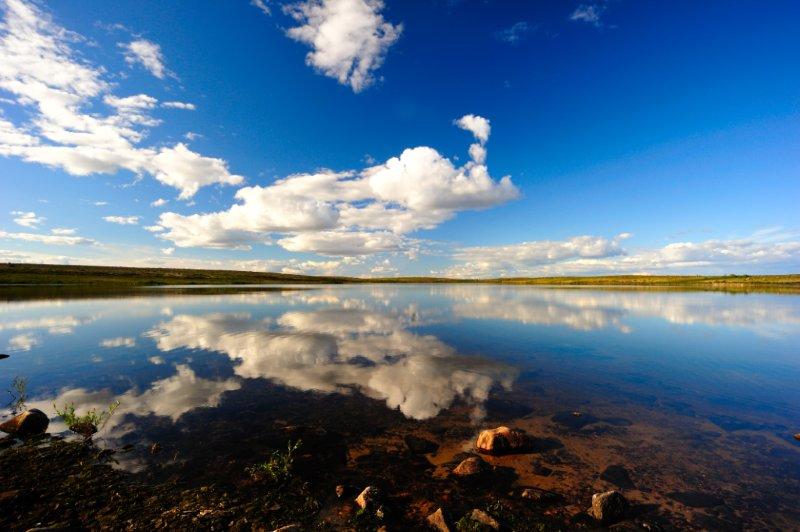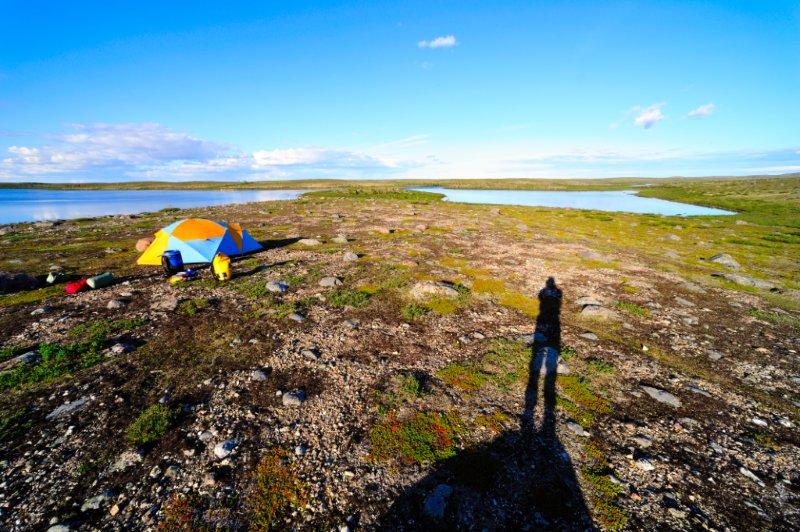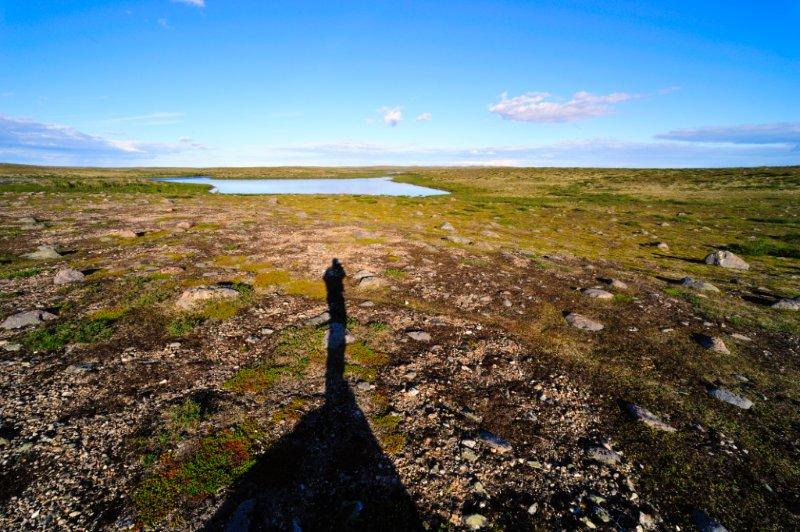 A self portrait.......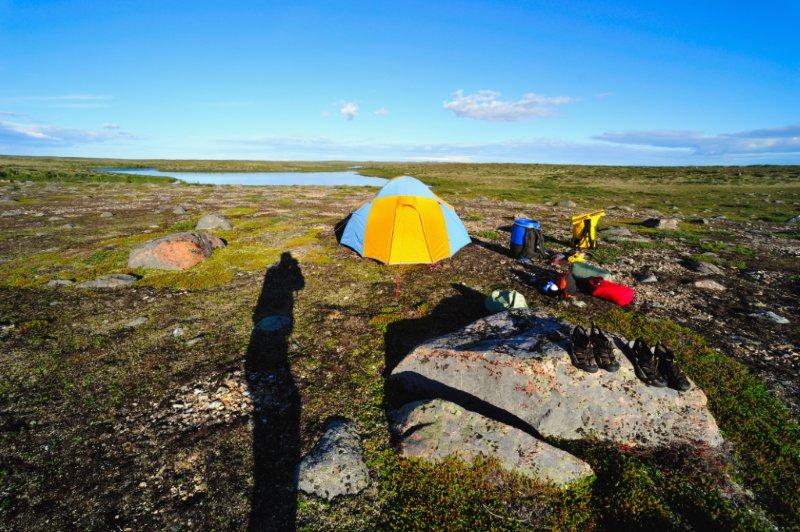 River sandals drying in the late afternoon sun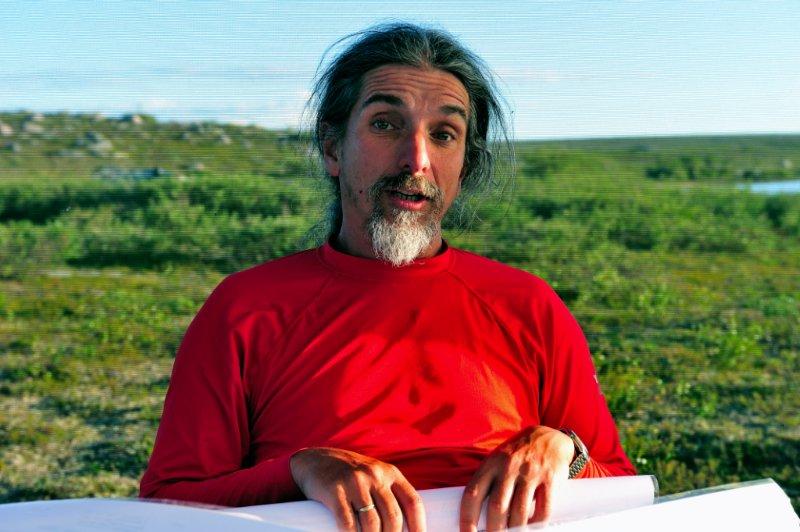 Taras was always ready for philosophizing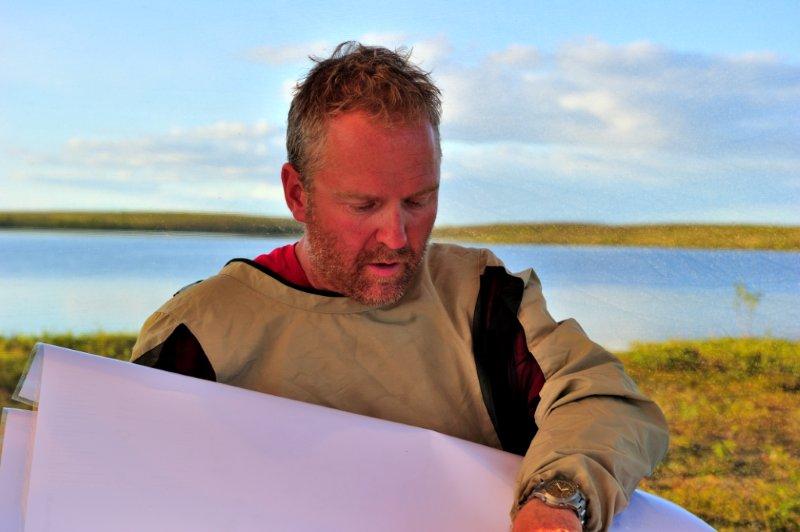 We went through the maps almost every night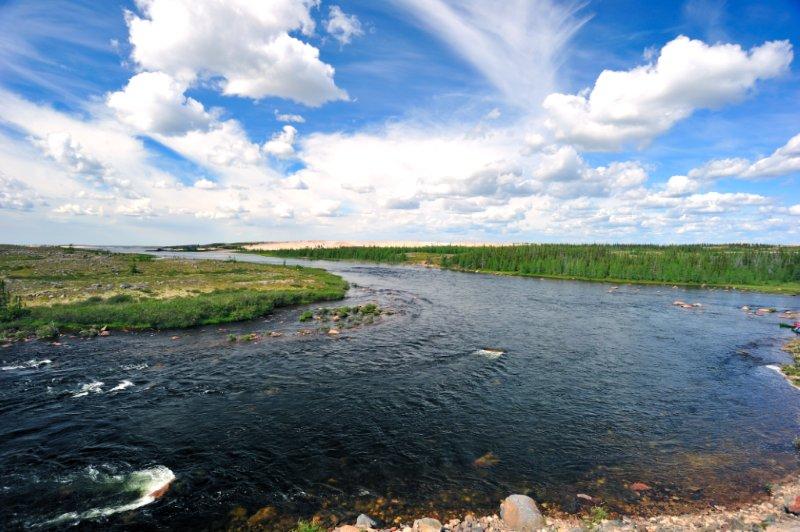 Even with all of the information tools that we had, the Elk River still threw surprises at us. The largest was this set of rapids. It was a huge 'S' curve rapid with a 4' ledge in the second bend and the entire rapid was at least a kilometre in length, yet it did not appear on any of our topo maps!!! We found this rather discouraging, but also very hard to believe. In this shot, our canoes are visible at the extreme right of the photo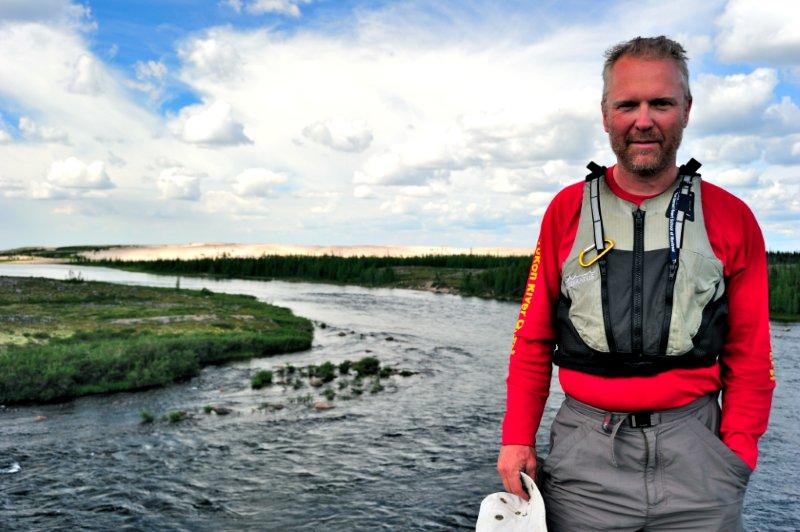 The rapid occurred after a huge esker that is visible to my left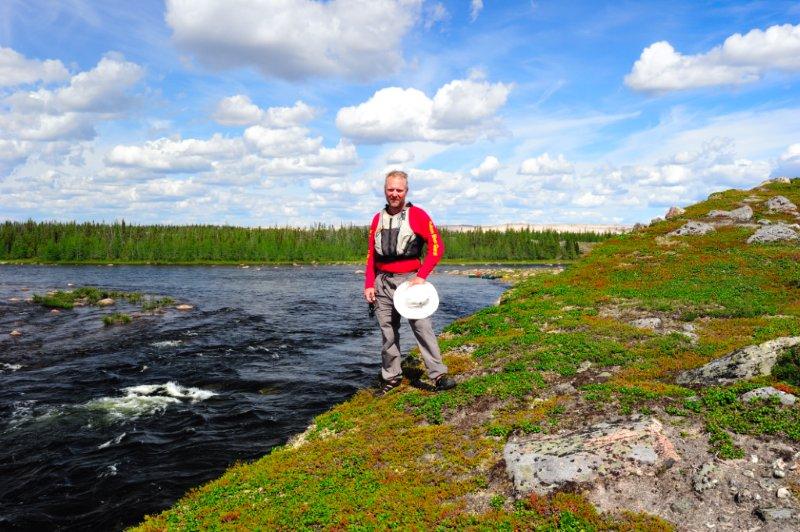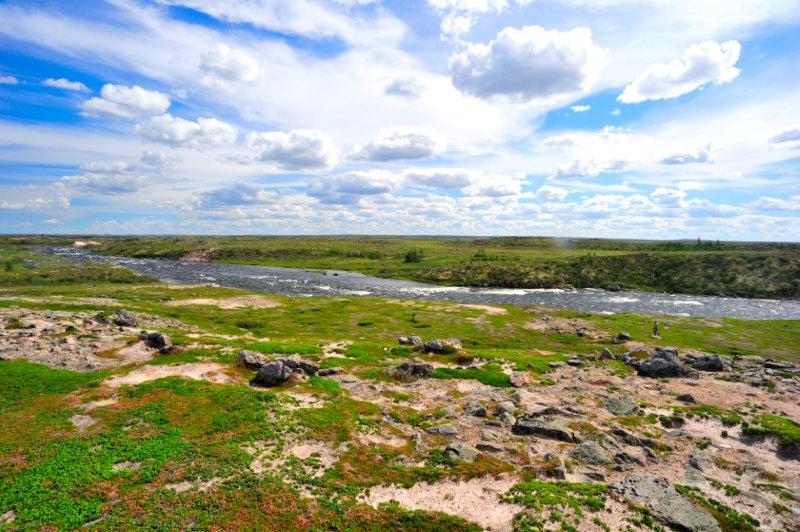 This is the length of the rapid after the second bend and the ledge. We put in at a point beyond the view of the photo!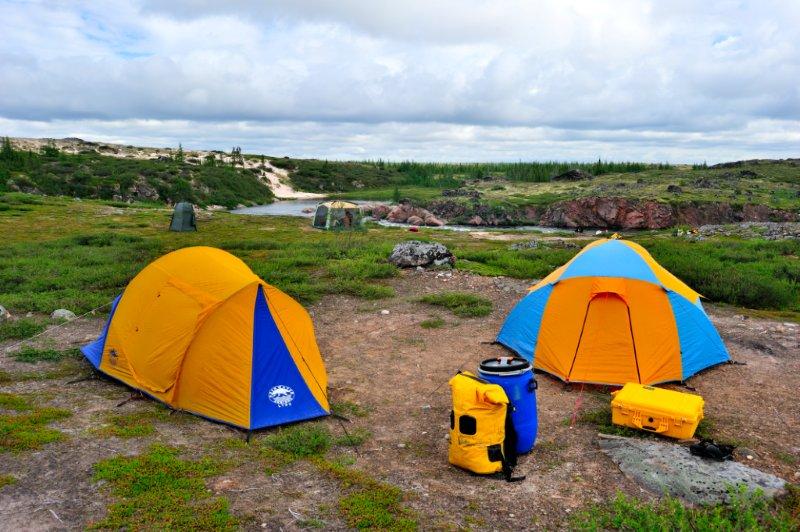 Our camp at Granite Falls. Below this the Elk River joins the Thelon River. This was the longest portage that we had seen up until now, at about a kilometre. We were really tired when it was over and the weather was threatening.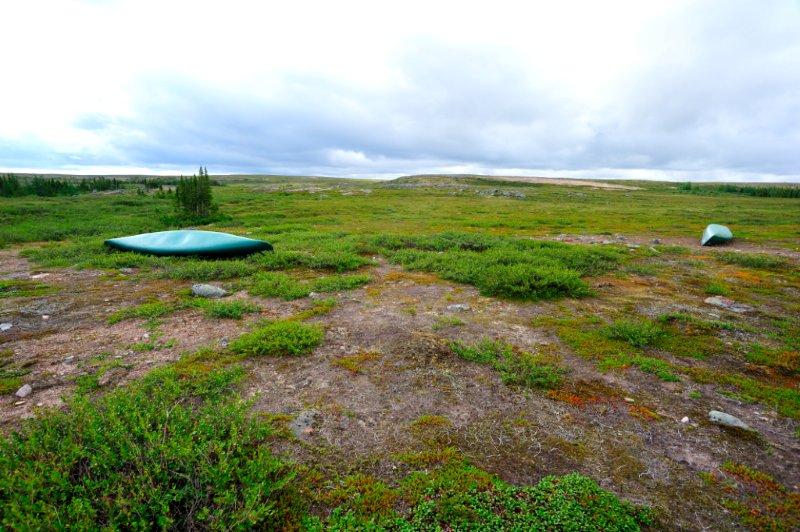 We left the canoes out on the tundra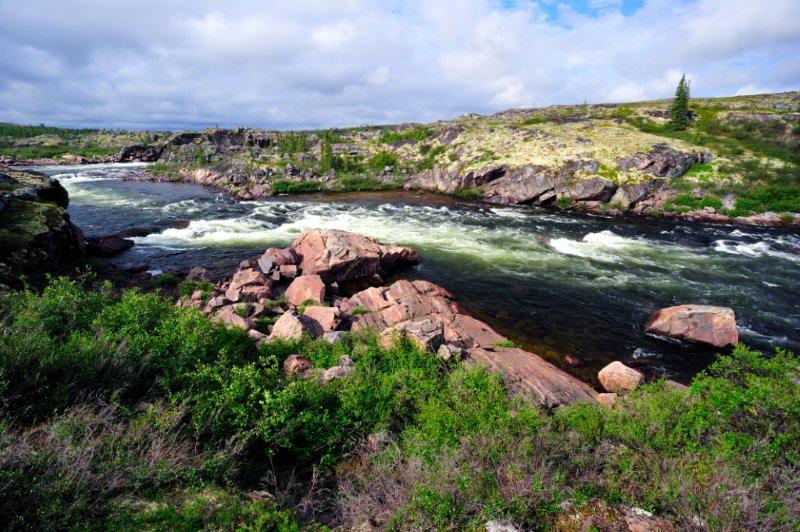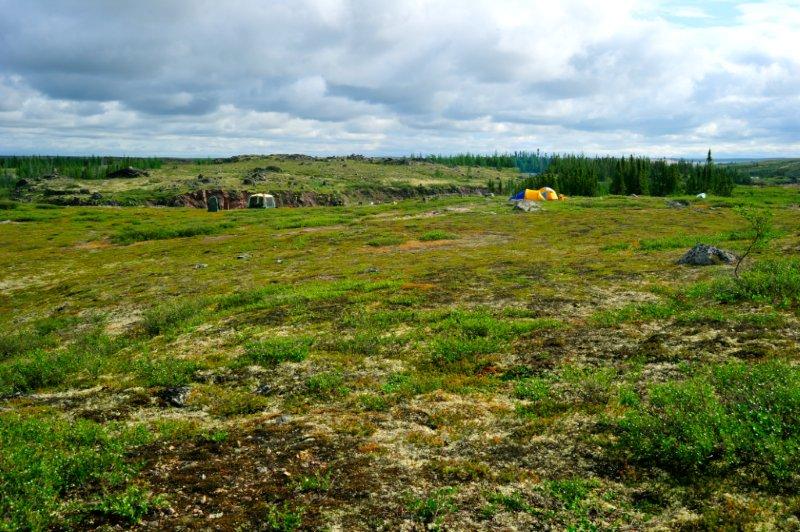 Our standard camp lay out shown in this shot. The dining and latrine tents are off to one side, and our sleeping tenets are together, but a set aside from the rest of the camp
Granite Falls are really a set of rapids and cascades, with tight turns, impossible to do in a canoe, and probably very dangerous in a kayak. I don't know if the rock is truly granite, but it is much harder than the surrounding rock, and has a definite red tinge to it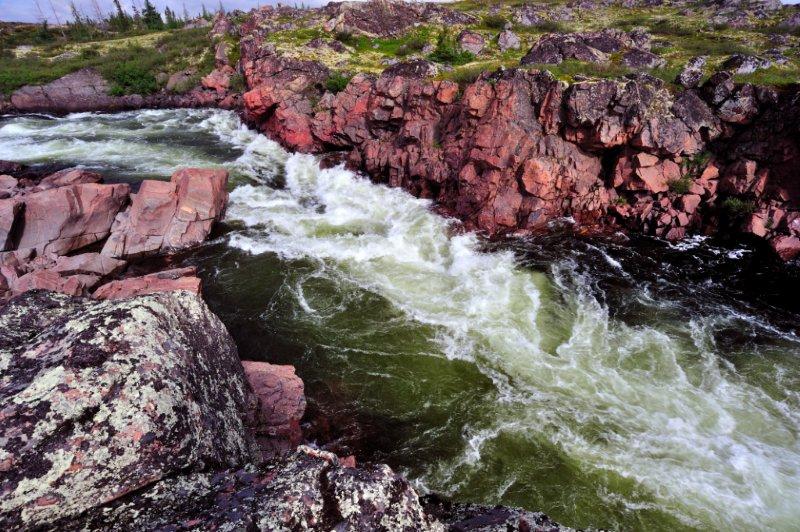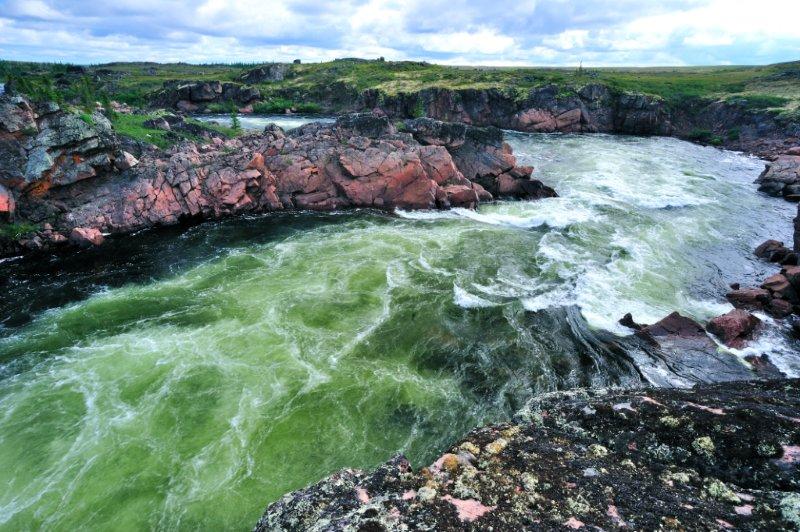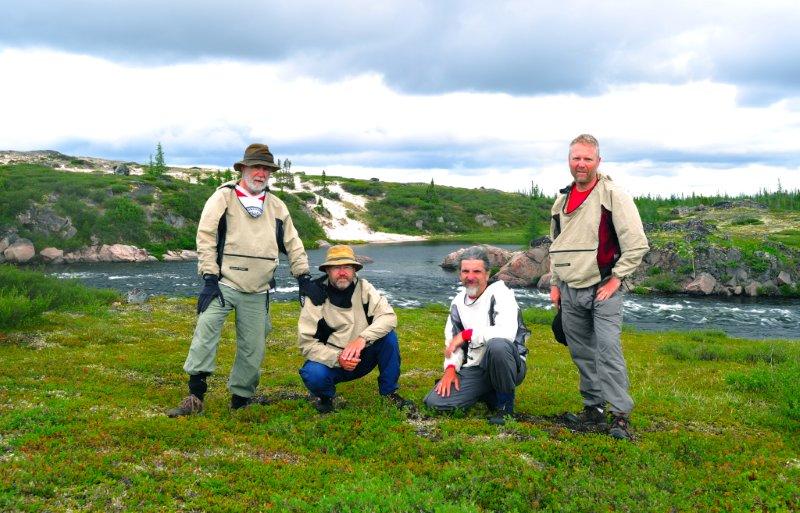 Another group shot at the foot of the falls. We put in at a spot a couple of hundred metres to the right of this spot. We came upon 2 men from Minnesota that we had met that morning. They had leap frogged us. They had quite the ambitious plan. They had started in Great Slave Lake and had successfully negotiated Pike's Portage. I mean, these guys were tough. They had plans to go as far as the Thelon Bluffs, but I think that time was against them. We were portaging late into the afternoon and never had a chance to sit down with them and share some tea. These would be the only people that we would come across on our journey, and its a shame that we did not get a chance to get to know them better. But such are the Barrens!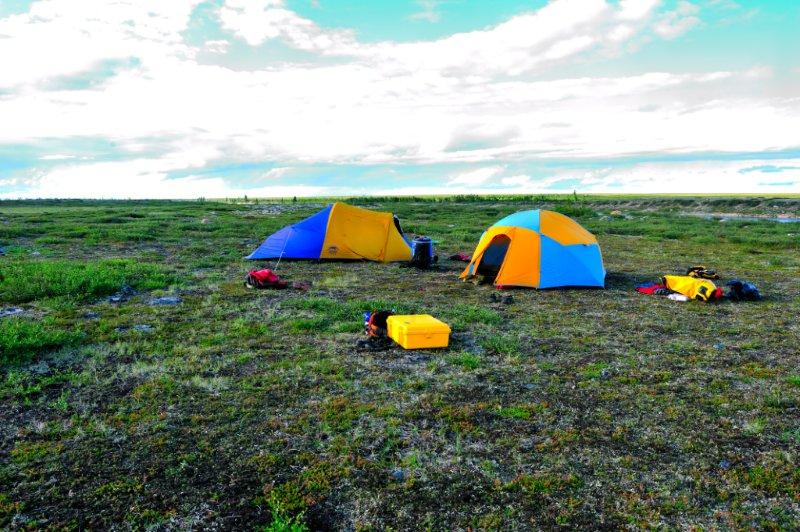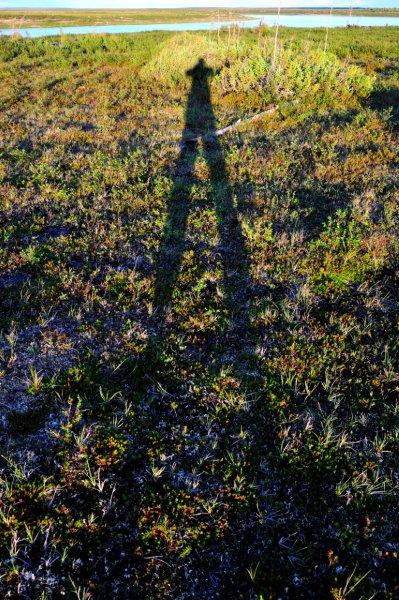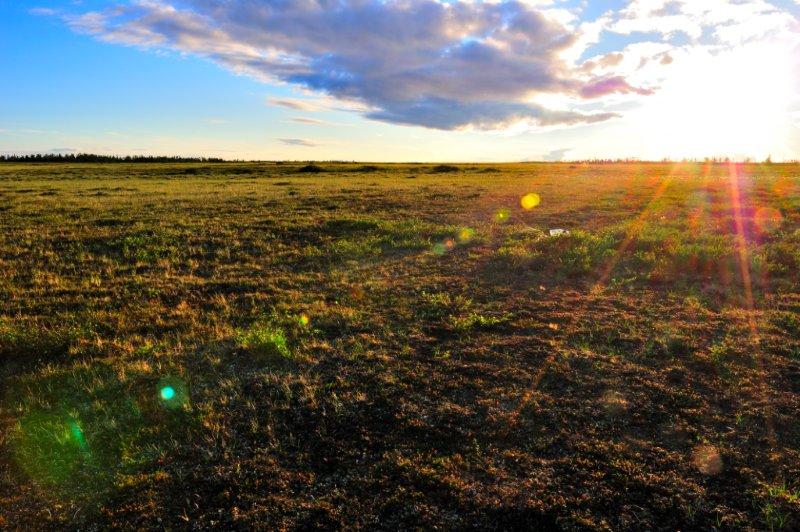 The late day sun always plays tricks with shadows and light.....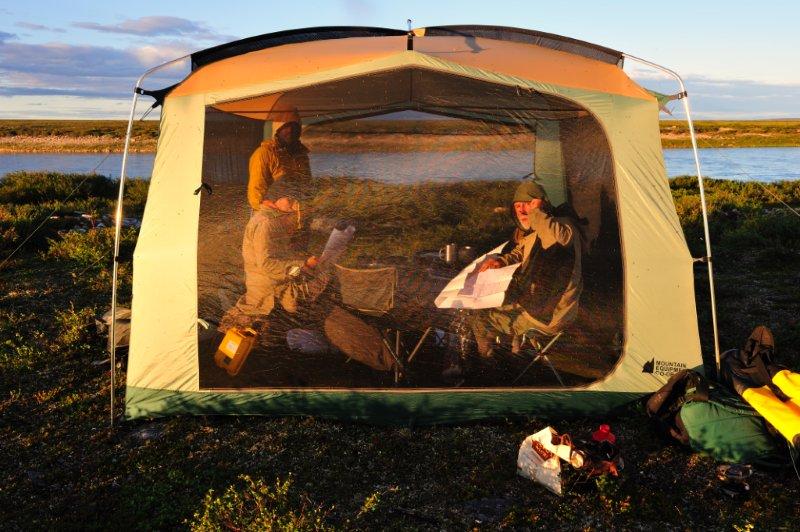 The bugs were bad this year out on the Barrens. The bug tent was SO useful.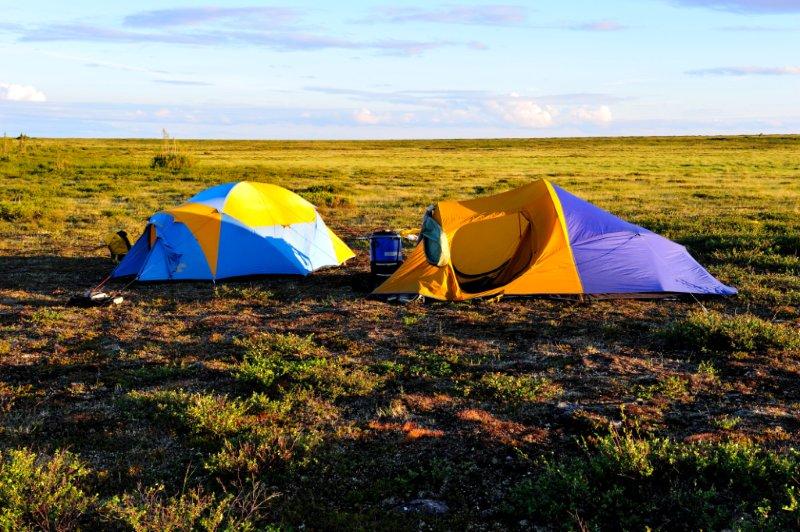 You have to make sure that your tent is in tip top shape when you go, and that it can take high winds without failing, at least 60 kph. We never really saw high winds, but I think that we were simply lucky. But the Nunatak can easily handle winds of that magnitude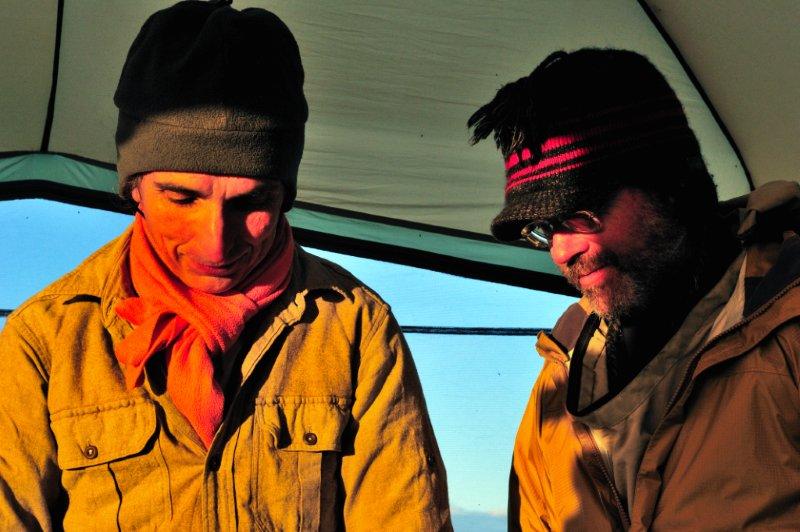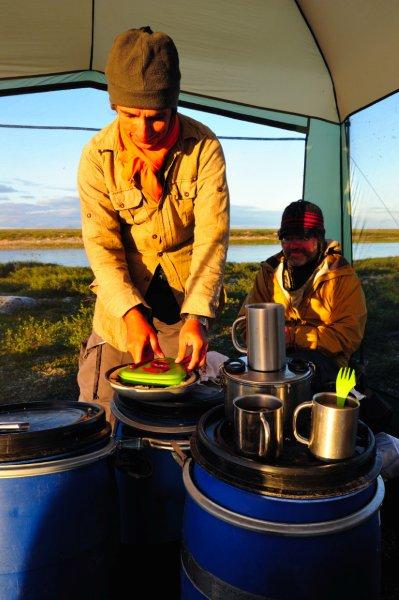 Working on getting the Liquorice ready for Taras' daughter's birthday that we would phone in and film. He called in that evening on the satellite phone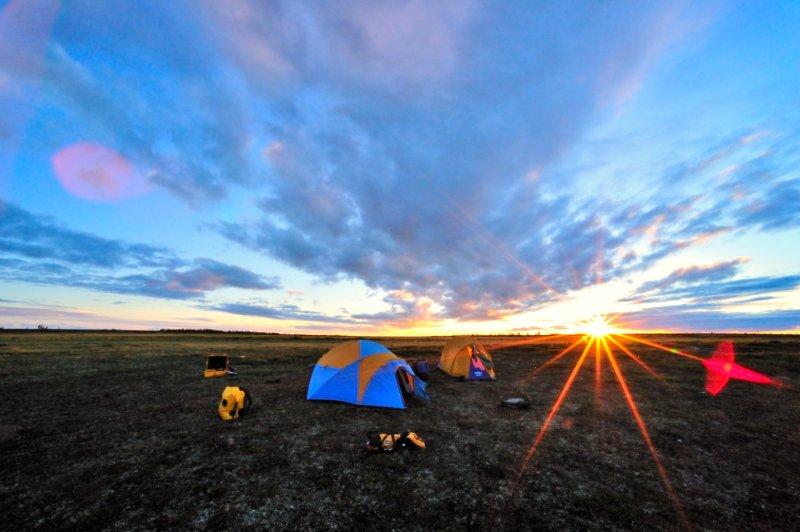 Setting sun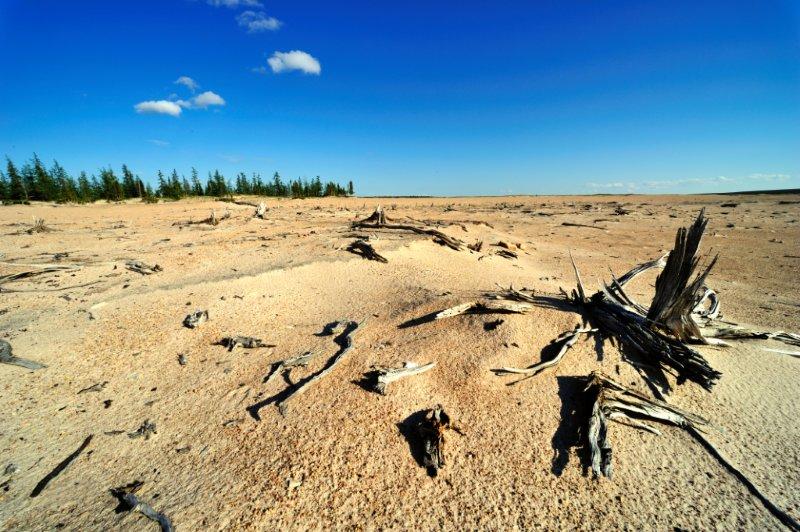 We camped on this esker on the Thelon and it was a very weird spot. The esker was large, and all sandy. It had obviously eaten a part of an old forest, with all of the dead stumps lying around. It was a good, windy spot, but the sand kept getting into everything, including the food!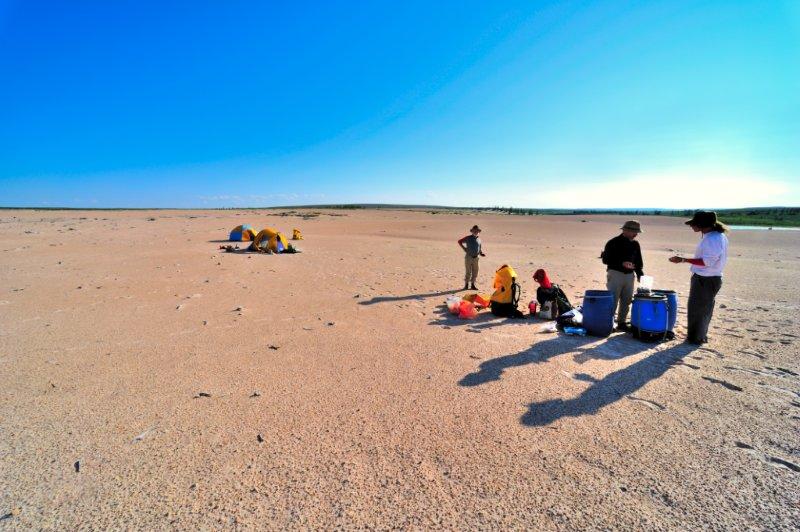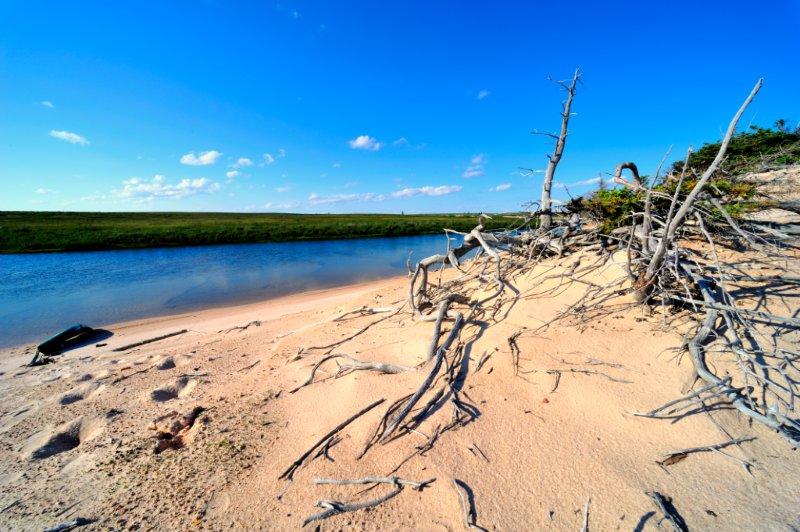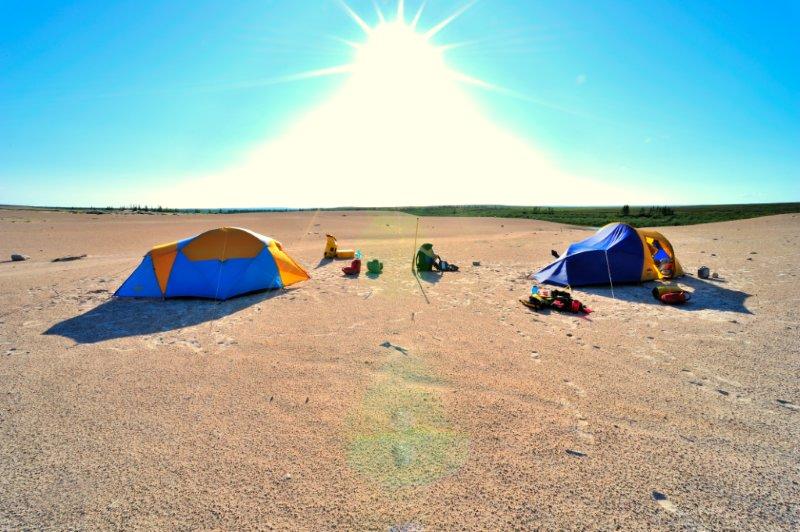 The skies were clear and the sun was brutal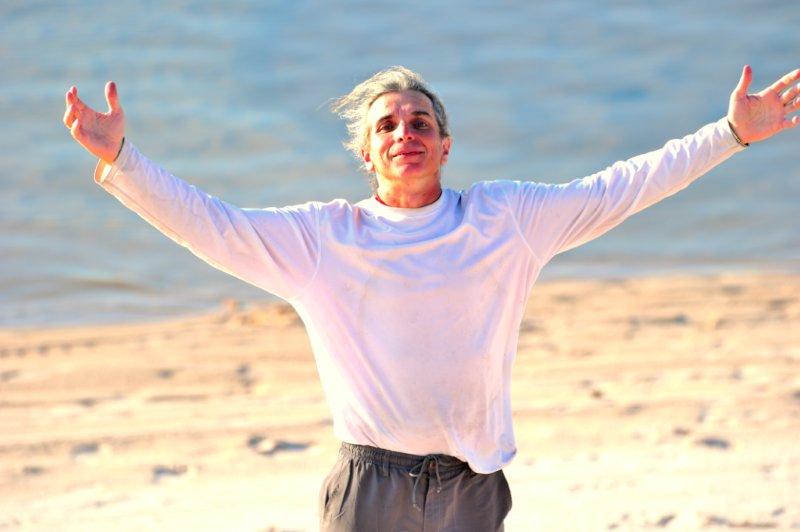 Taras was enjoying the freedom of the spot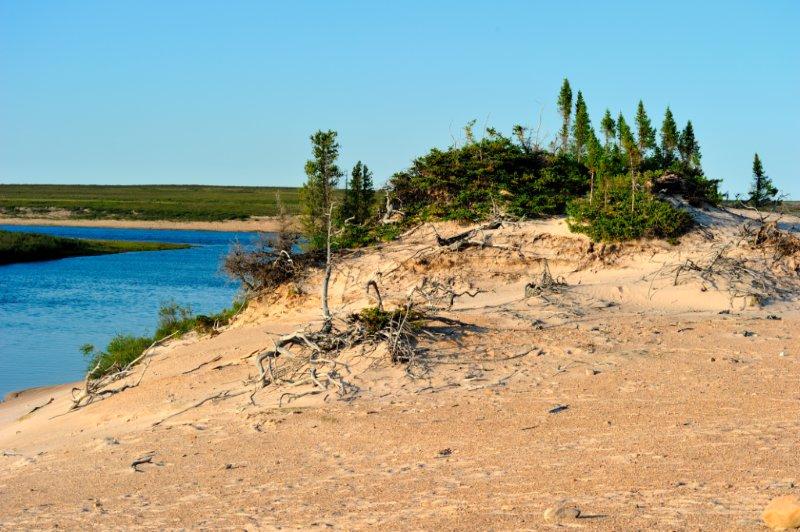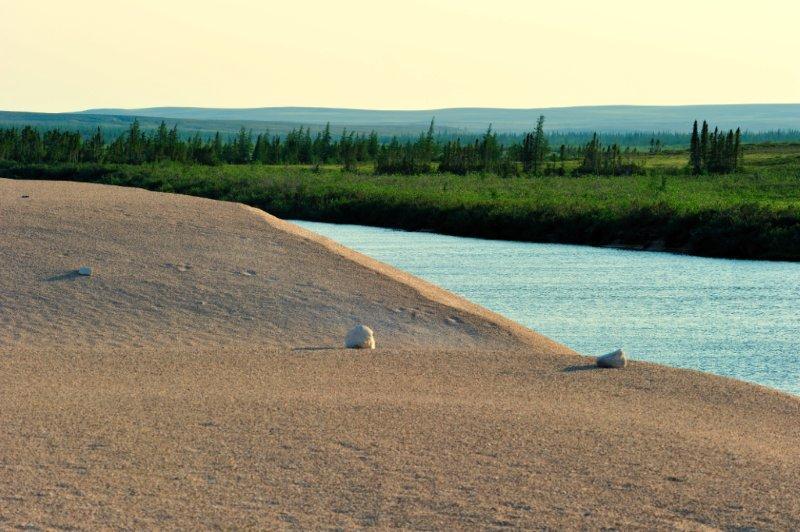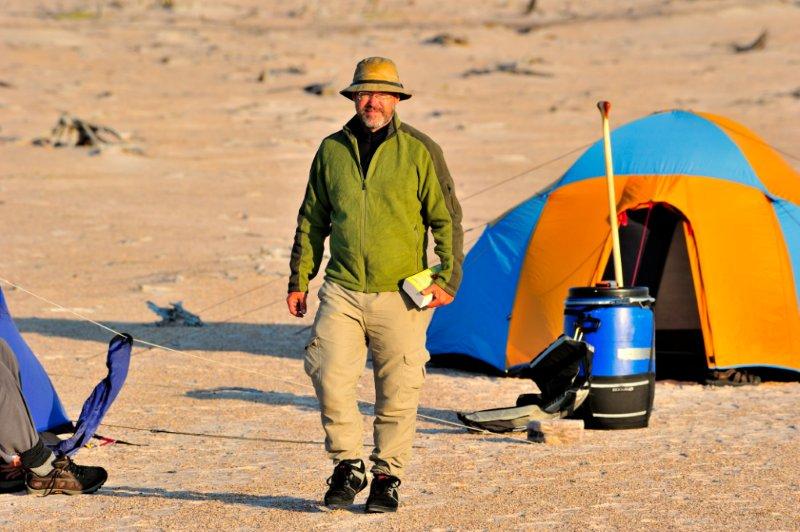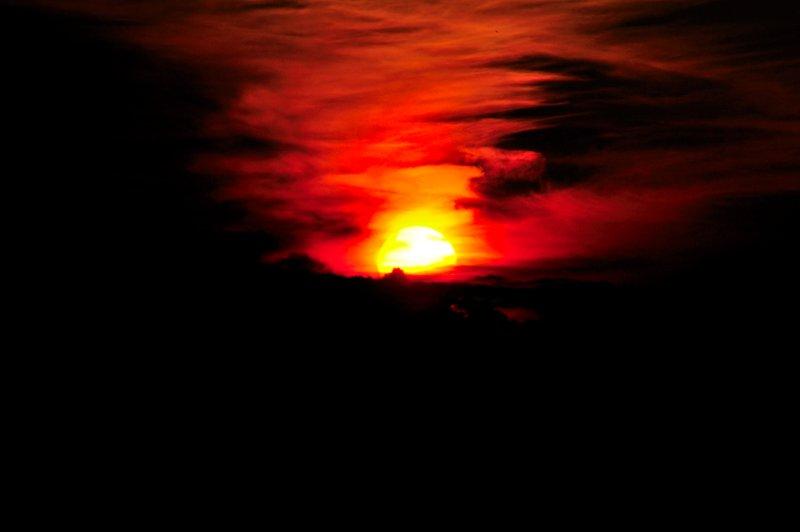 An angry sunset, something from Mordor!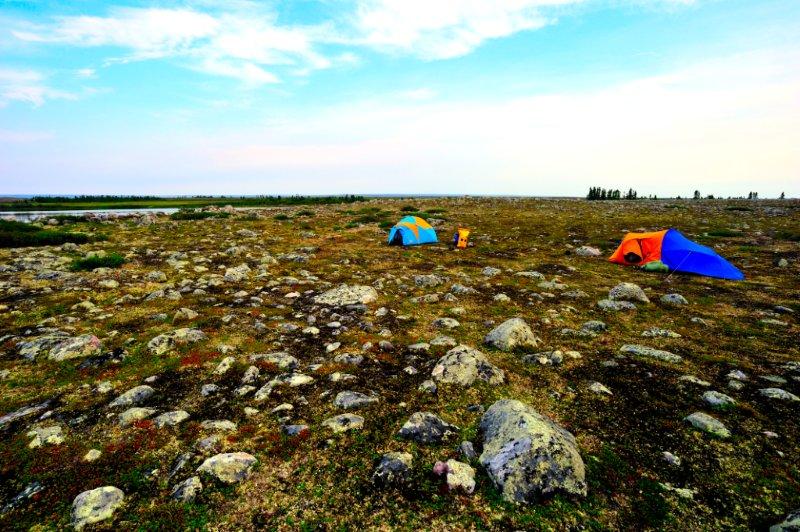 There were times when we had to eke out a camping spot amidst the rocks of a plateau. In the Barrens, you cannot be too choosy!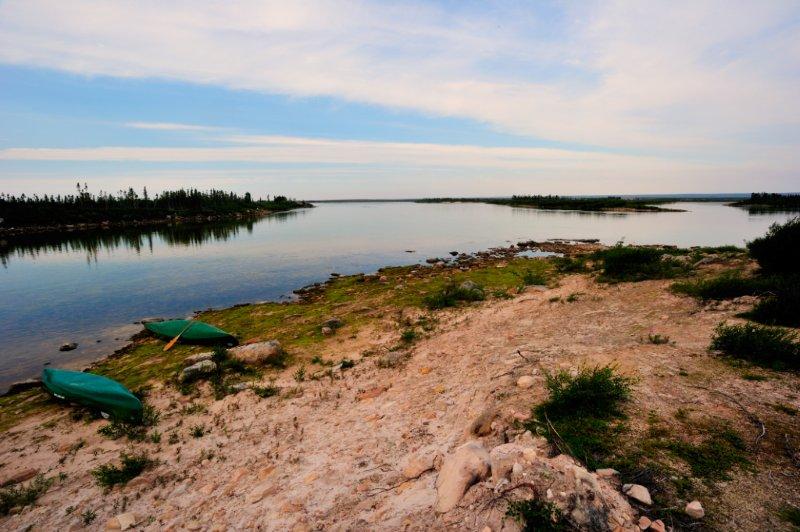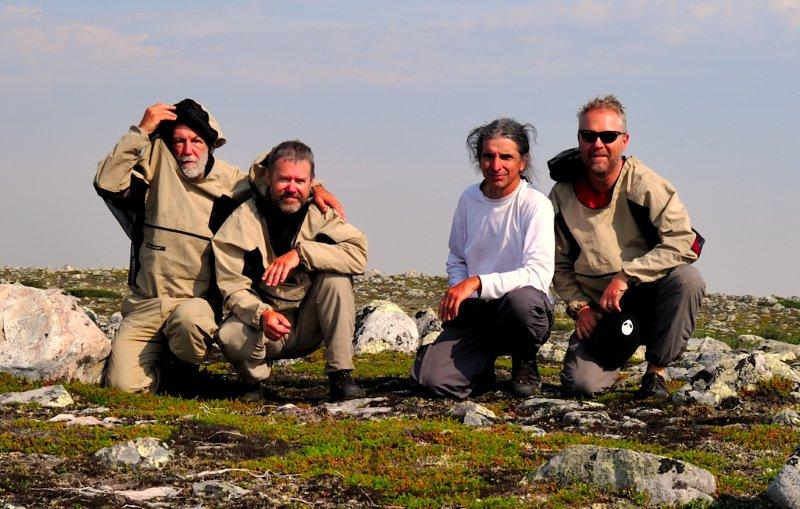 A group shot on that spot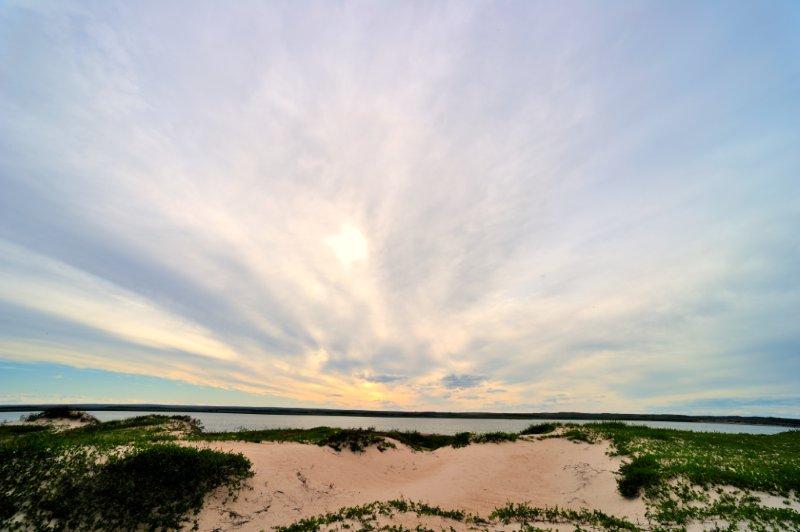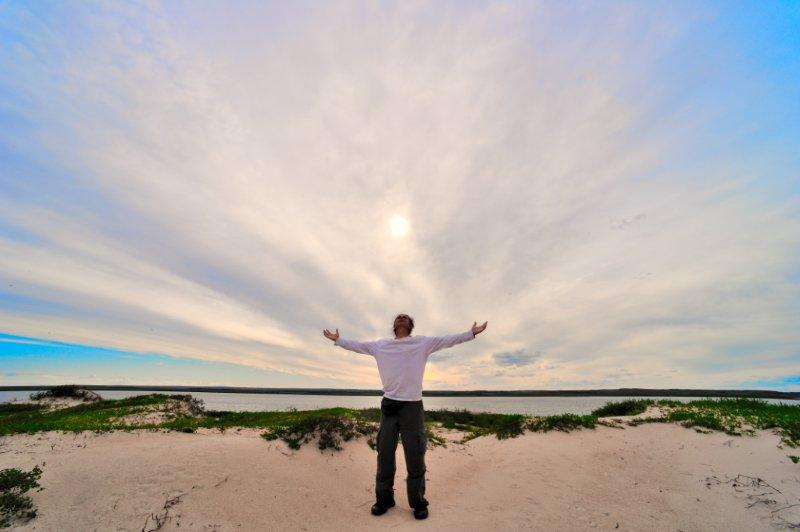 The clouds sometimes give you interesting sightlines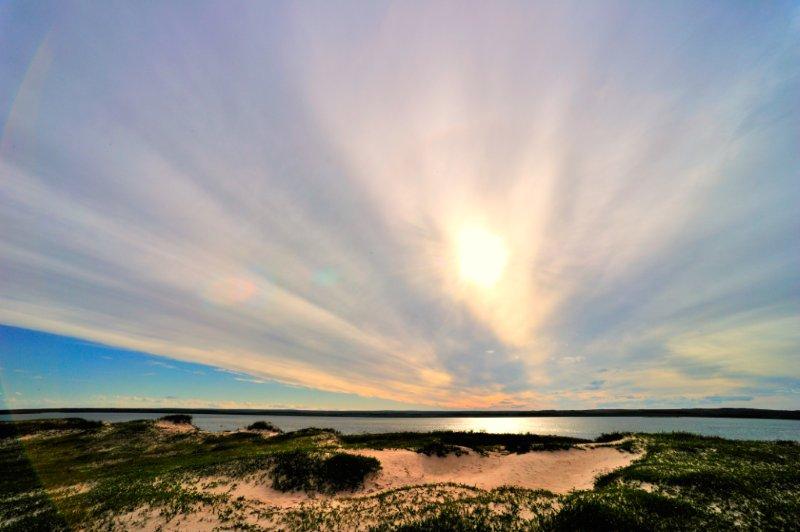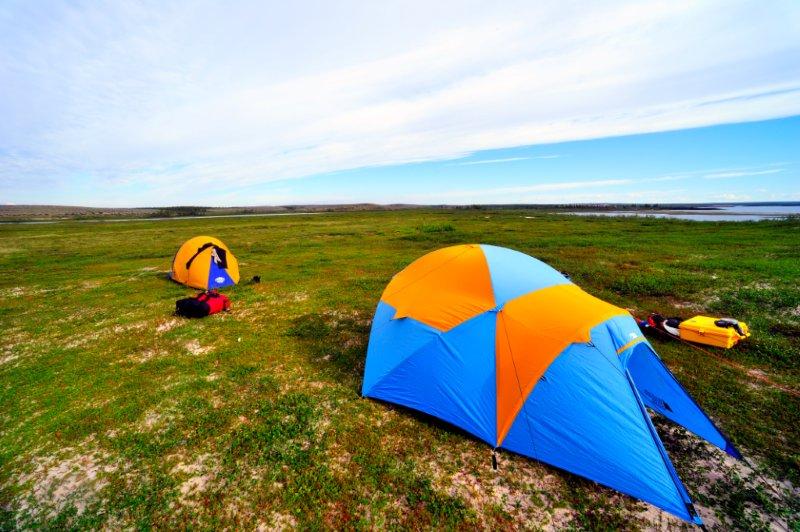 My yellow Pelican case, where I kept my Nikon D3S and my 4 lenses, lies behind my tent. It was cumbersome to carry, but it protected the equipment amazingly well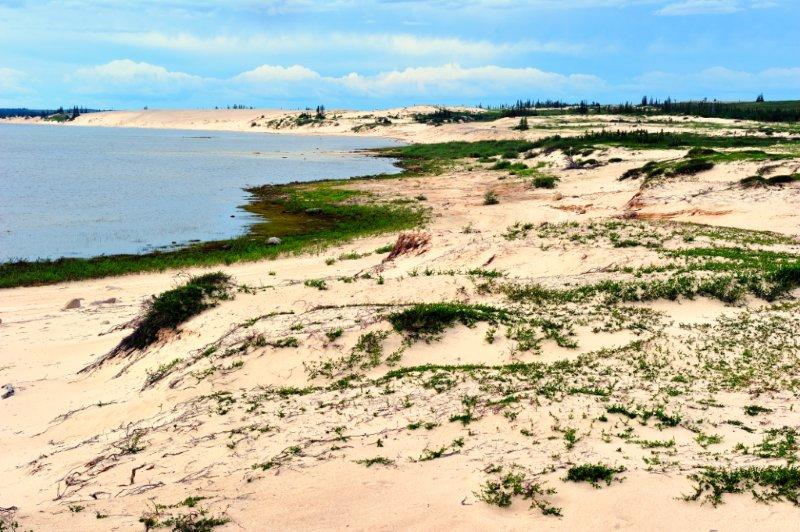 The amount of sand you find along the Thelon is truly astounding. At times, if you forget the bugs, you can imagine yourself in a tropical wonder land!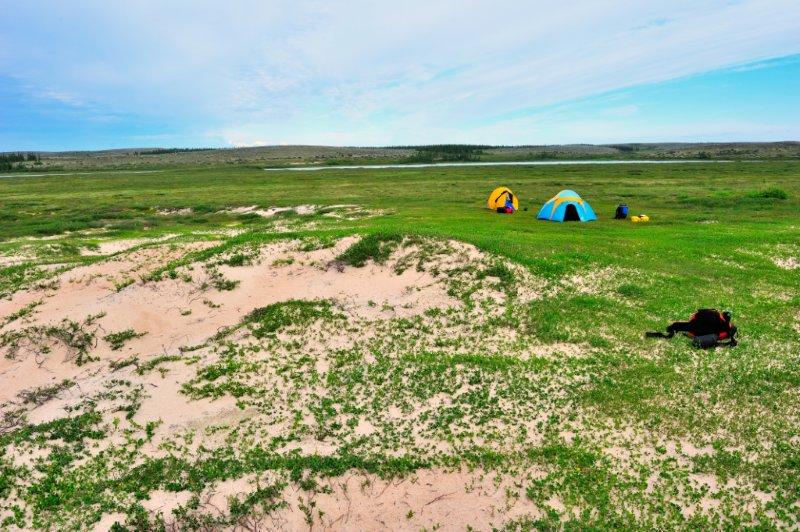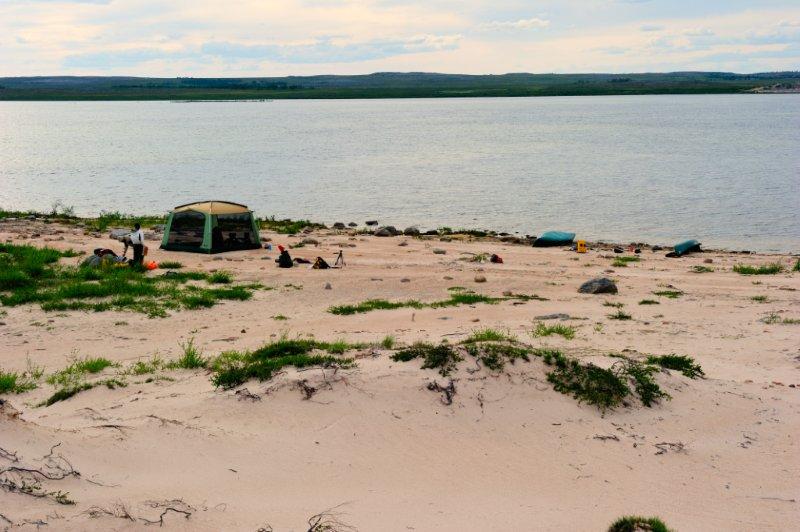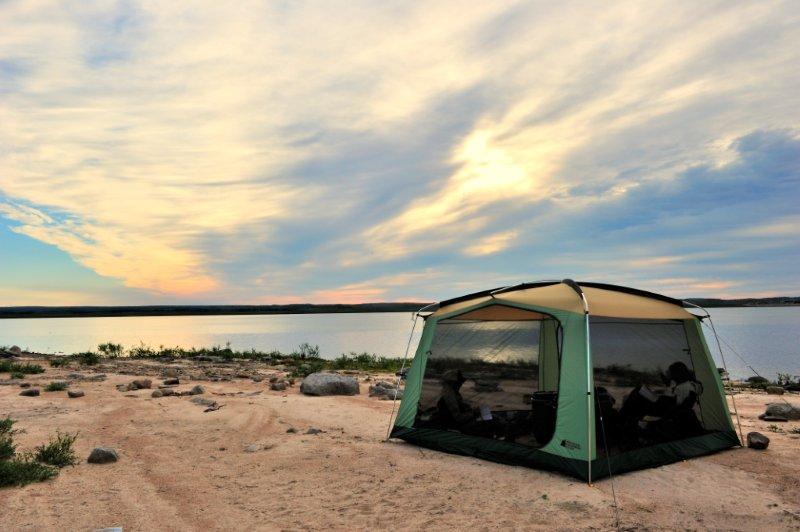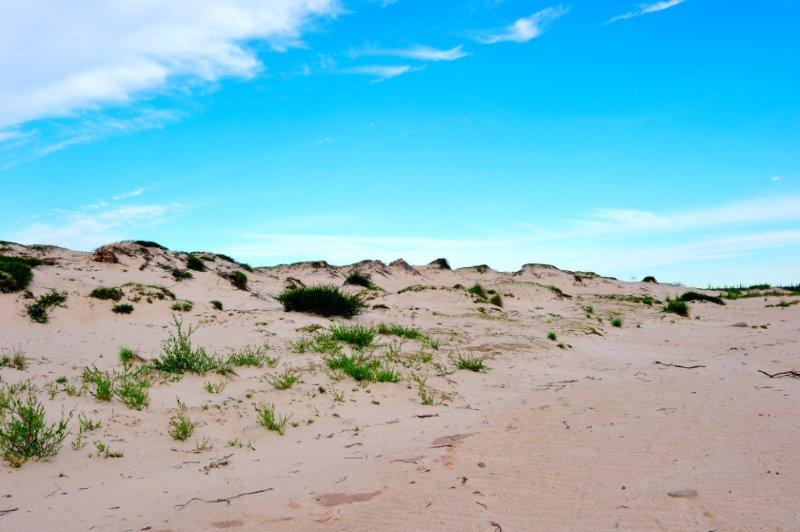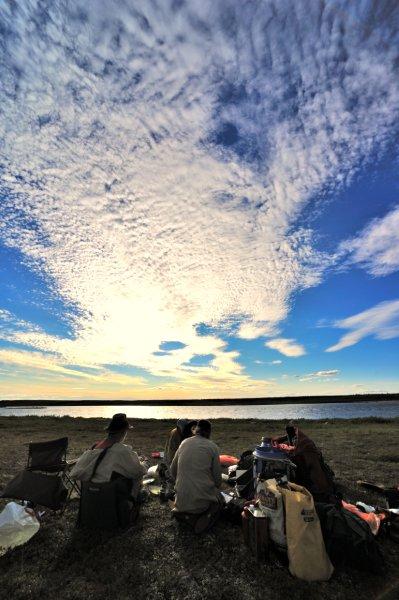 Relaxing after dinner under some moving clouds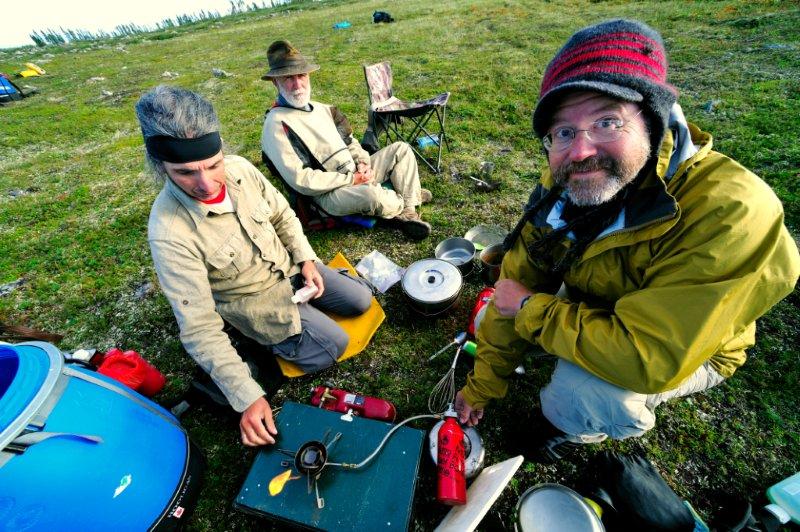 We always tended to congregate around the stove at the end of the day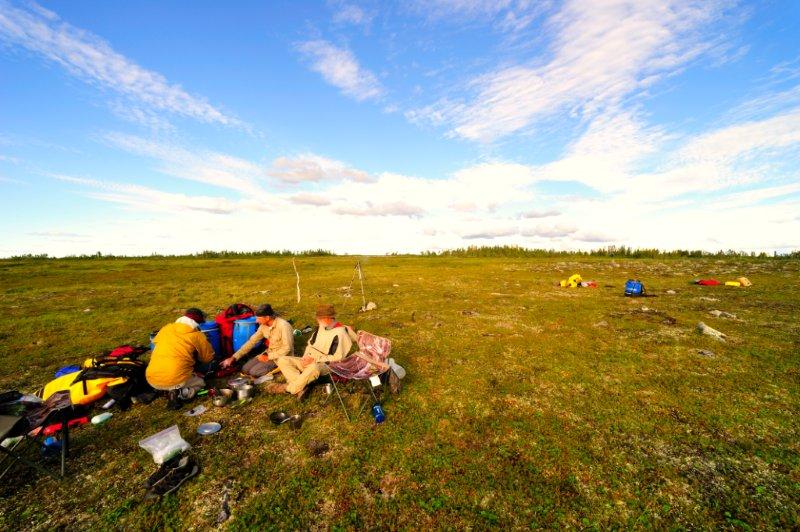 Just us and no one else........
At this point, about 3/4 of the way through the trip, I was wondering what I looked like......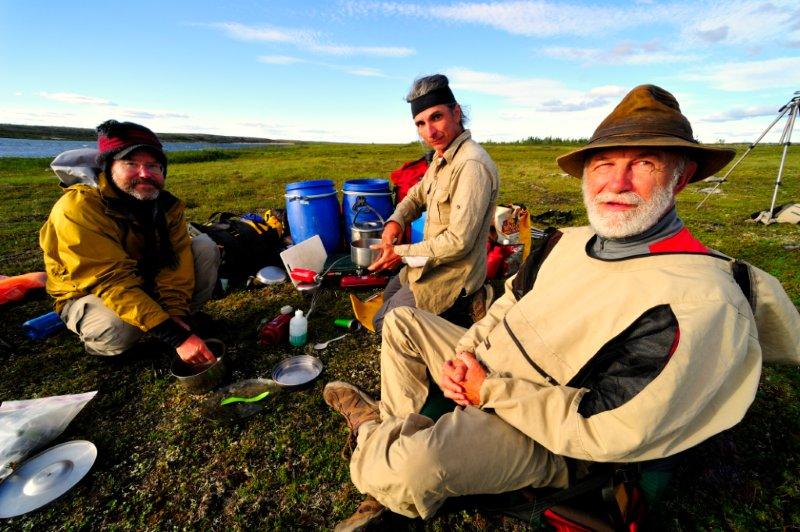 Post dinner repose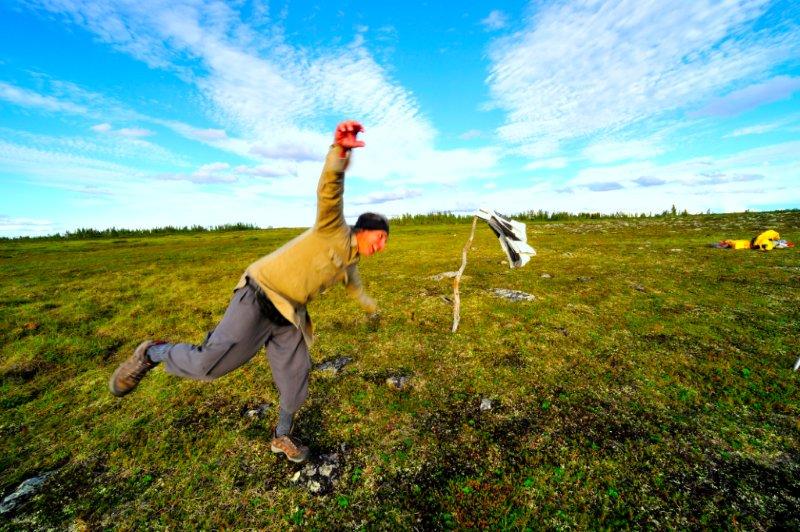 But it was windy that afternoon, the second time we had to stop because of the wind.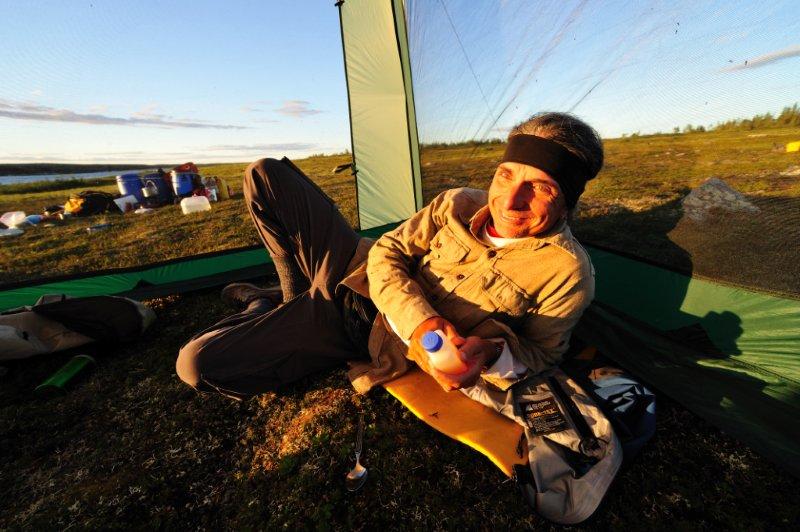 But we took it all in stride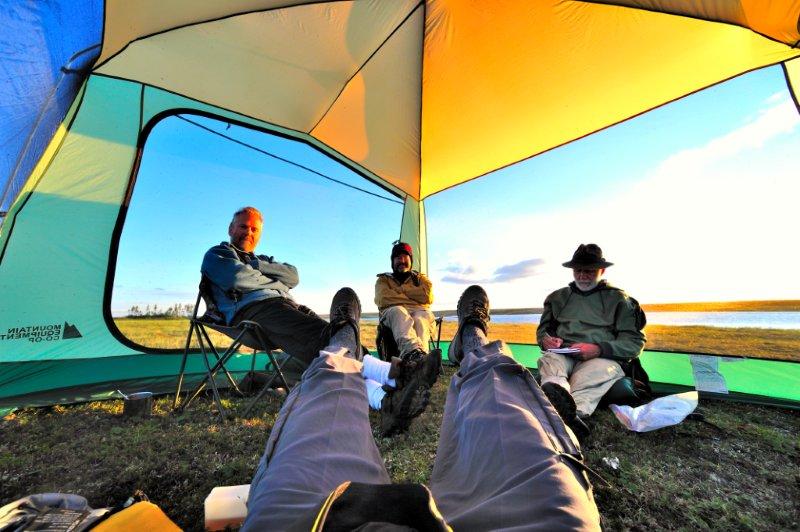 Taras' group shot inside the screen enclosure.......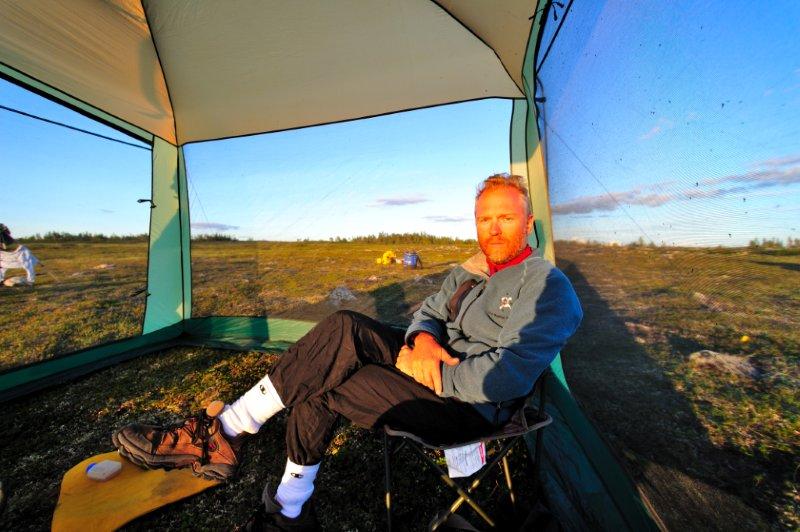 This shot by Roman shows the setting sun giving off an interesting light....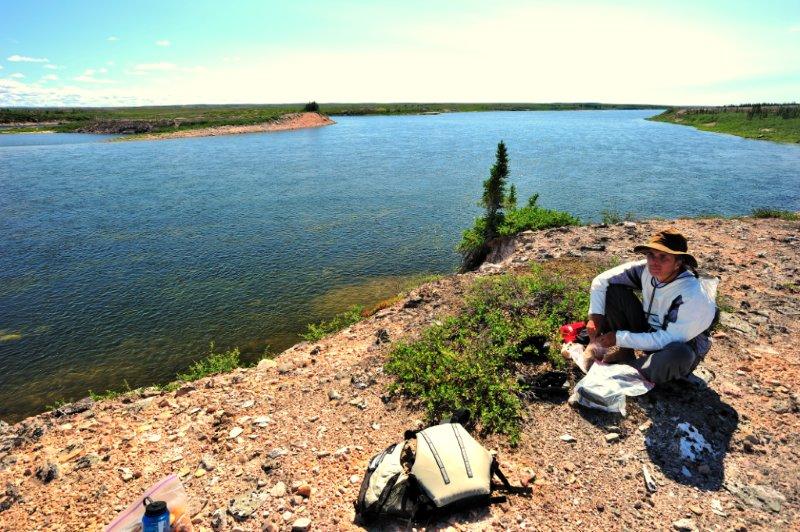 The head of the Thelon Canyon and our most challenging portage. Tundra Tom suggested we portage right but we took the time tested route of going left, and cutting the entire 135° corner of the river. it would be a 3 km portage, that we would have to do 3 times through bog and hill for a total of 15 kilometres. I wonder if Tom's route would have been better. But I will have to come back someday and try it to see!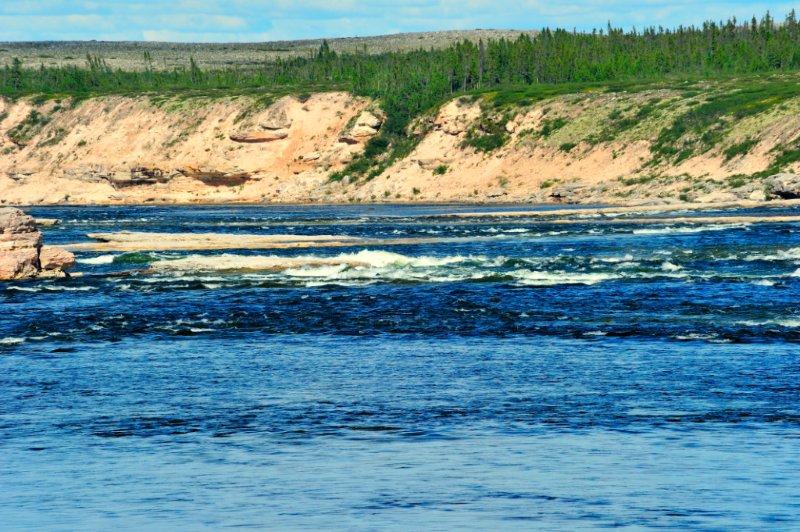 The head of the rapids, which are long and complex, a series of sand stone steps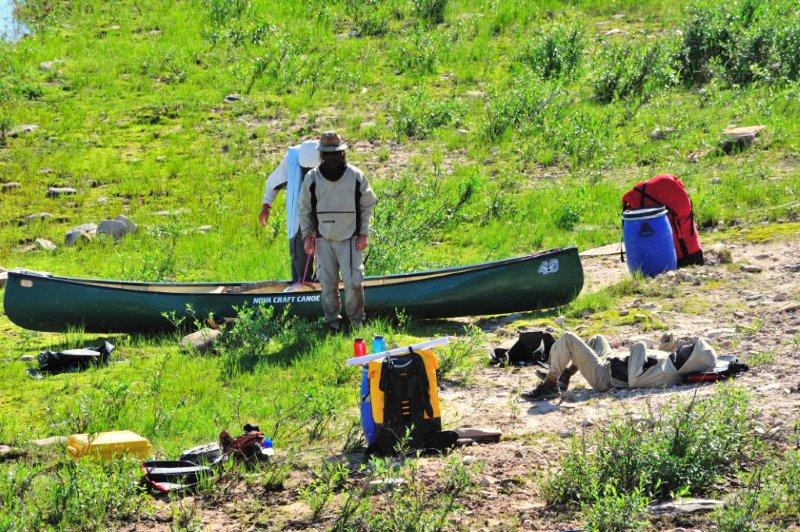 The portage was a tough one, and it took its toll on us. This was after the first of the 3 trips.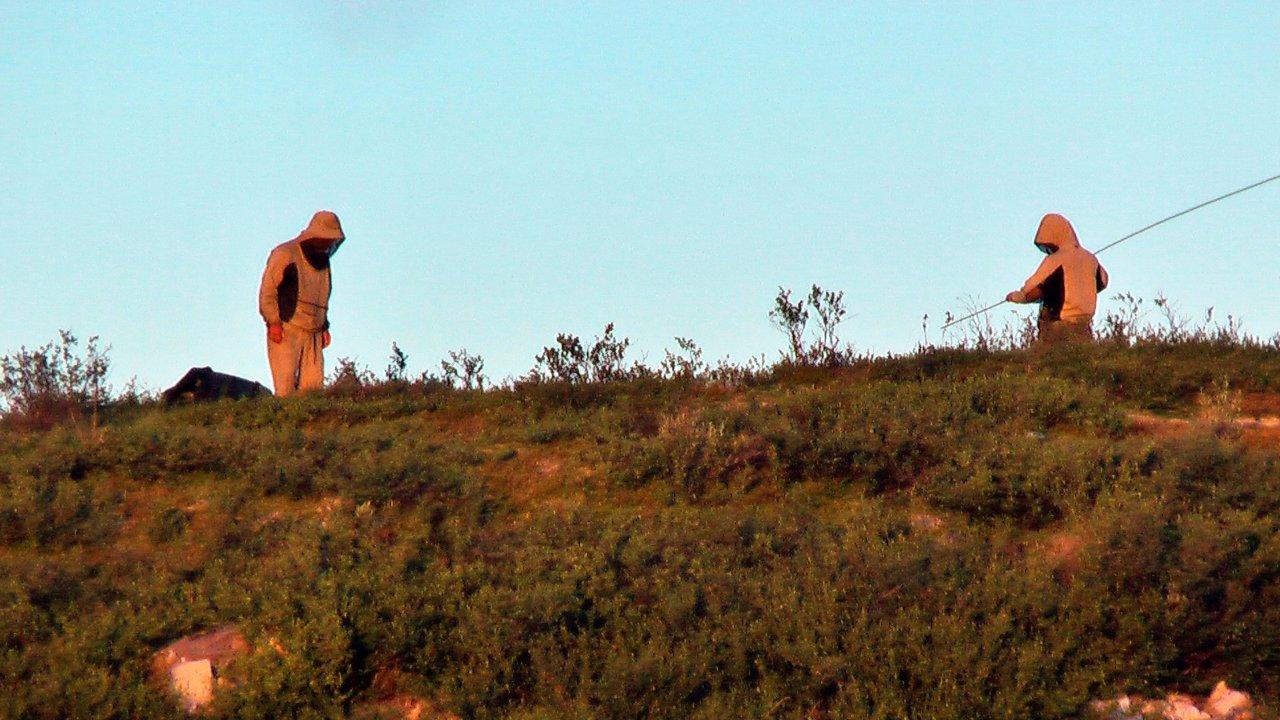 Space men in suits putting up the tent.........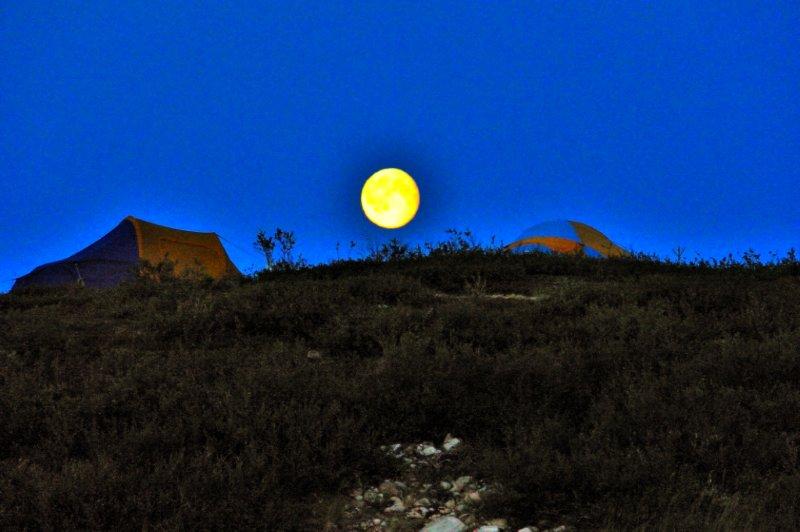 We camped a short distance down stream from the portage on an elevated island. From our dining tent by the river, the full moon rose to split out tents.....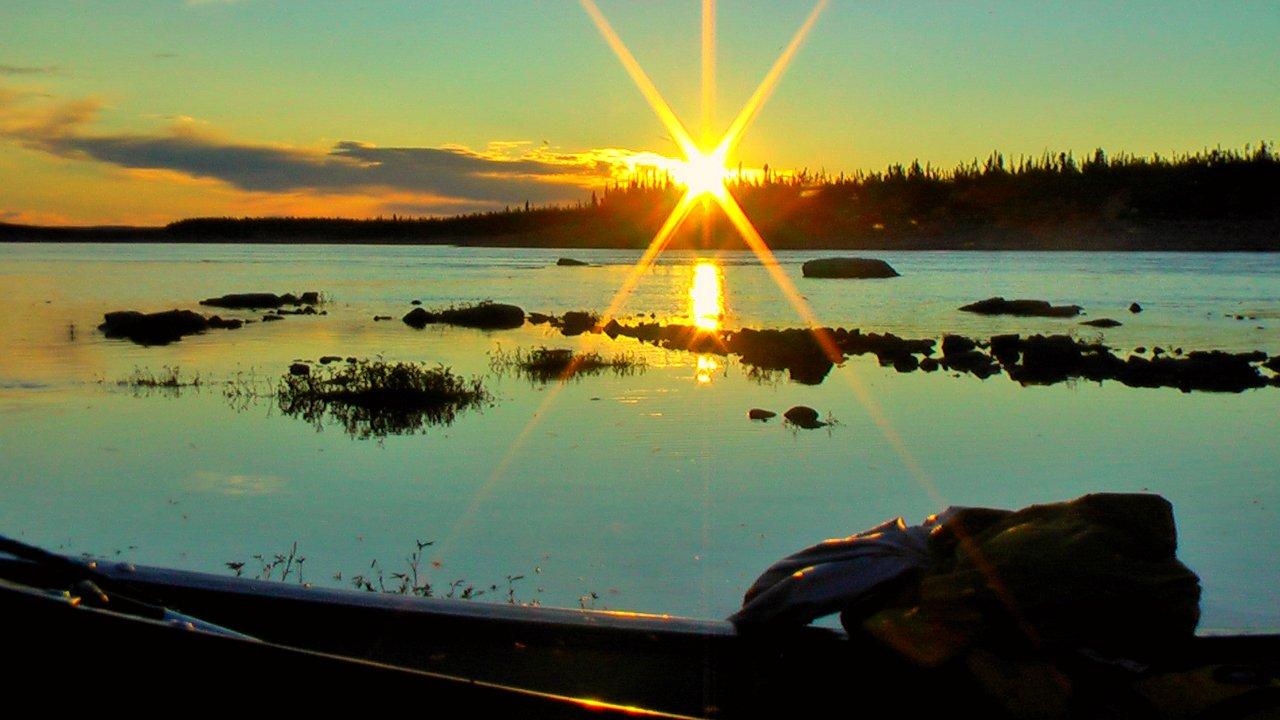 We had some gorgeous sunsets on our trip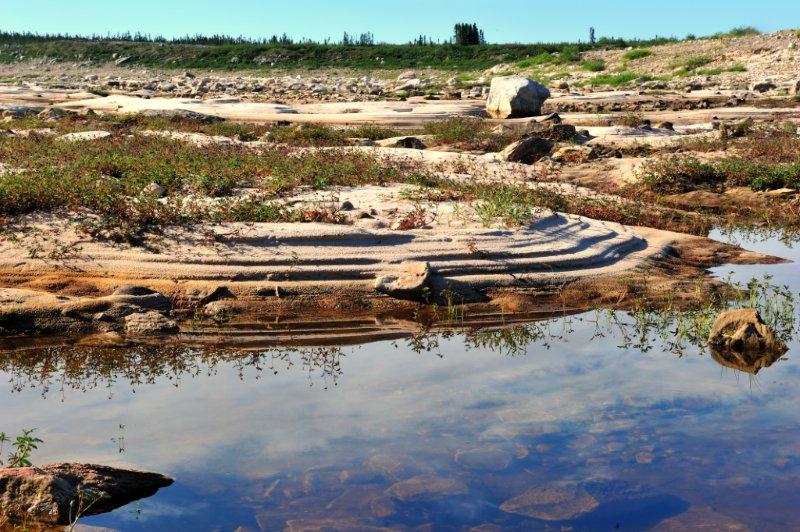 With the water receding, the complex Thelon River bottom was revealing itself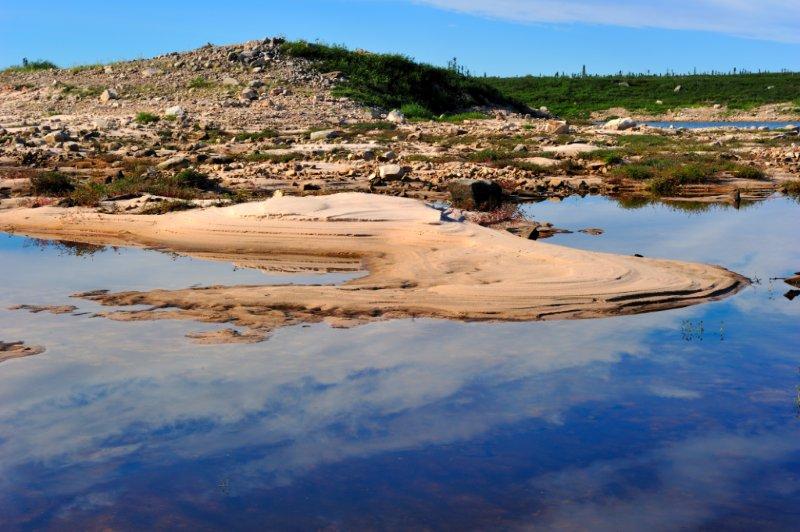 Bannock with cranberries for breakfast!!!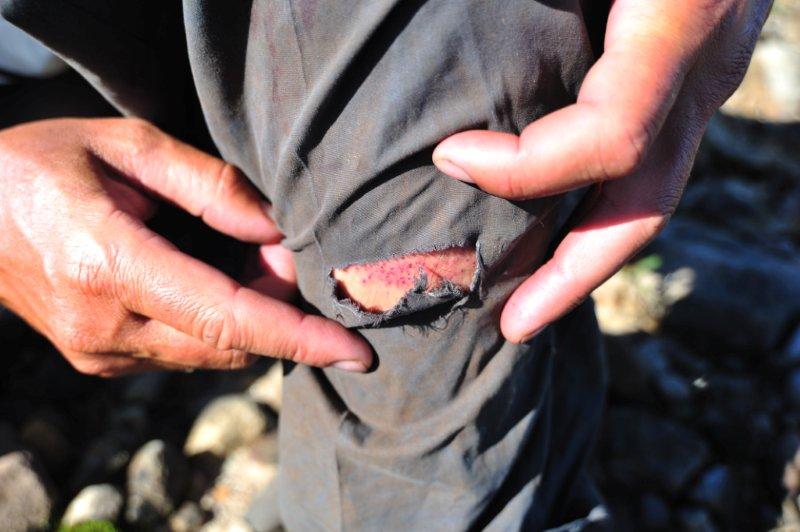 Taras had sustained a tear in his pant leg during the long Thelon Canyon portage, and before he realized it, the black flies had had their way with him. That night, he counted about 200 bites between his ankle and his knee!! The flies on the portage through the bog were unreal. I wonder if portaging right would have been better!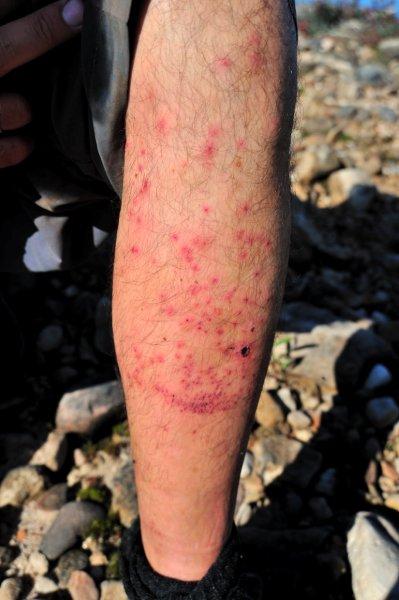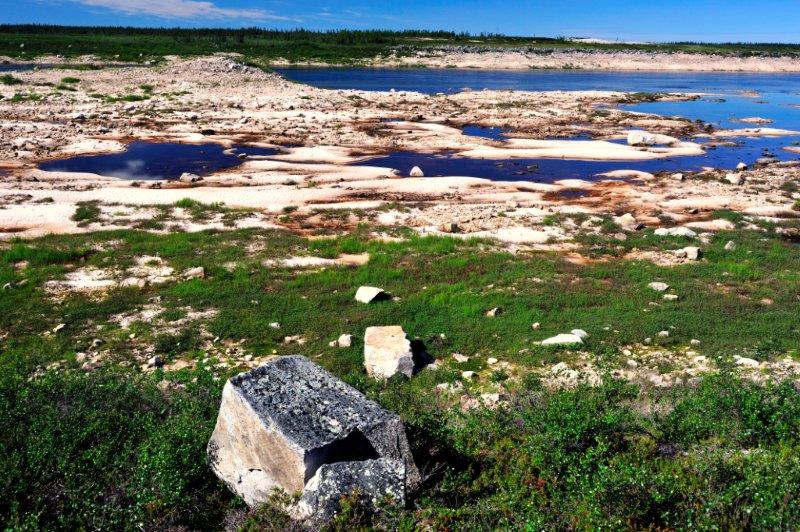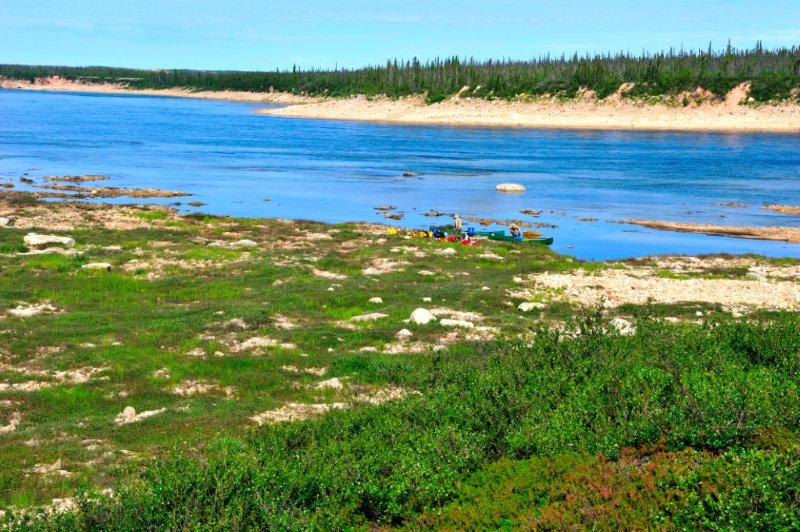 Taking down the camp below the Thelon Canyon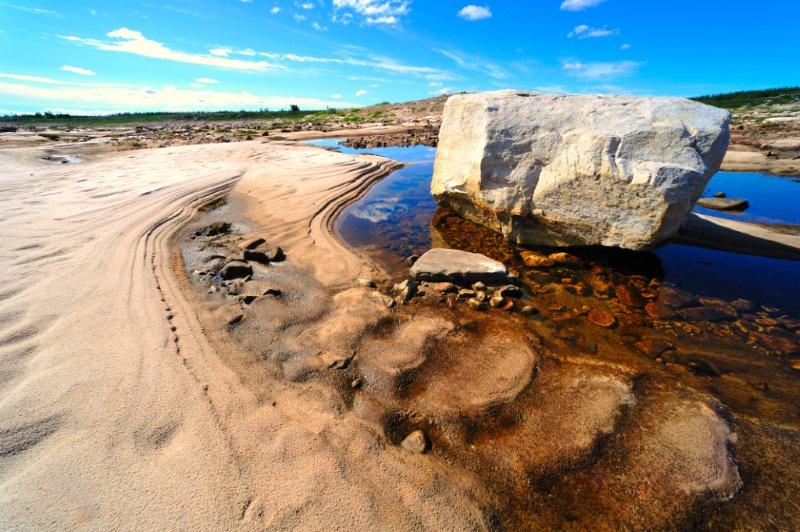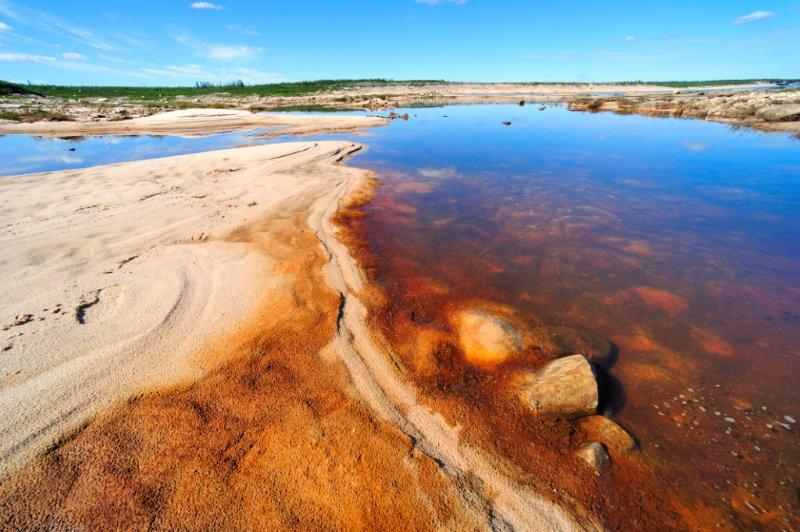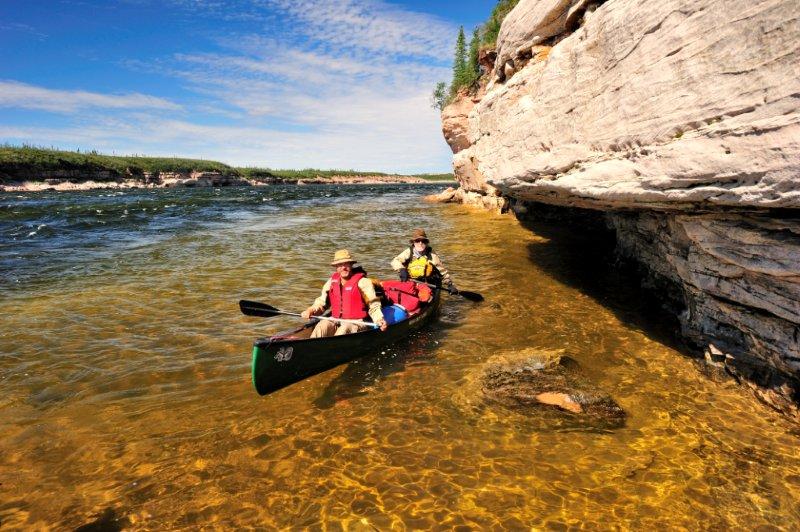 The first set of rapids below the canyon are a real treat. Run them far right and turn into the eddy that is there, by the cliffs. Its a wonderful spot to stop and rest. We bathed and swam here, and took lots of pictures. Just below, the swallows have many nests tight up against the cliffs. These rapids lead to the confluence with the Hanbury River.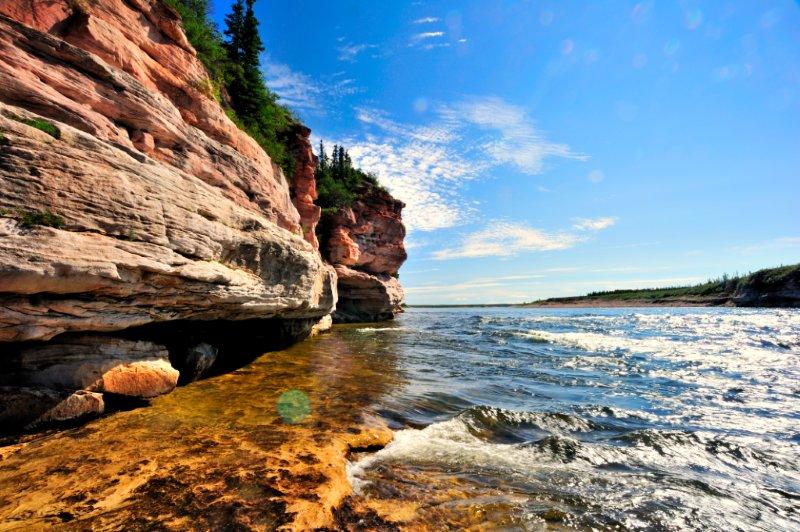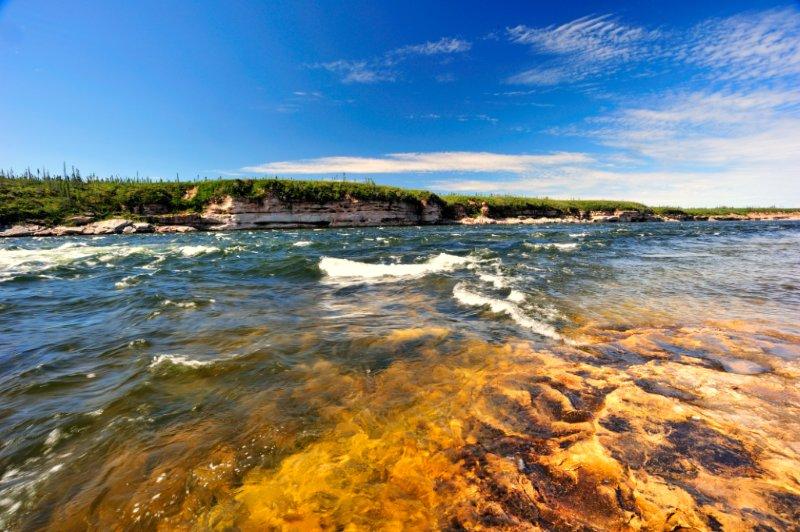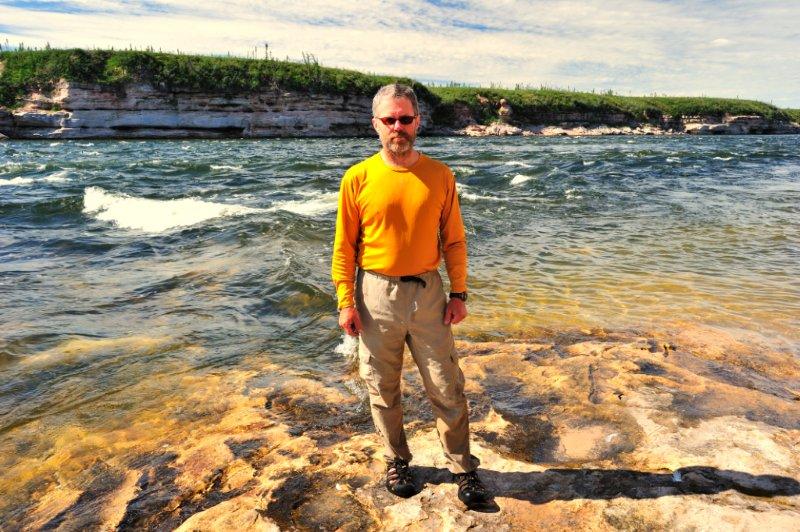 Roman in front of the rapids.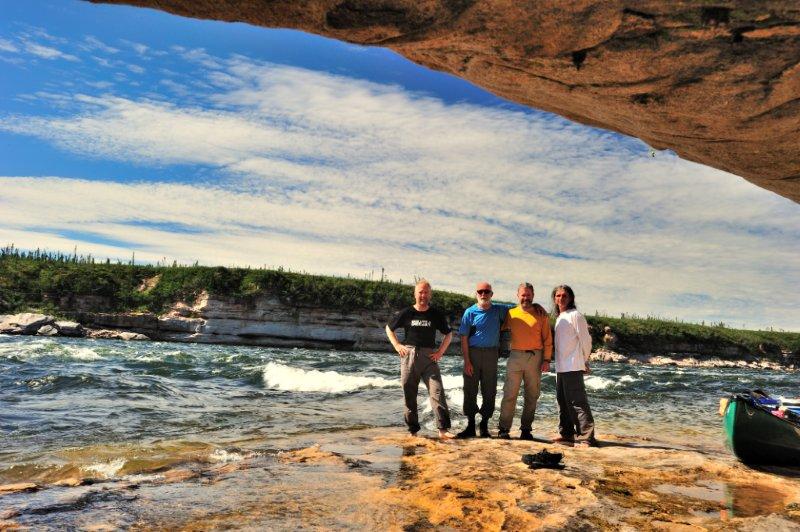 I placed my camera into a nook in the rocks for this group shot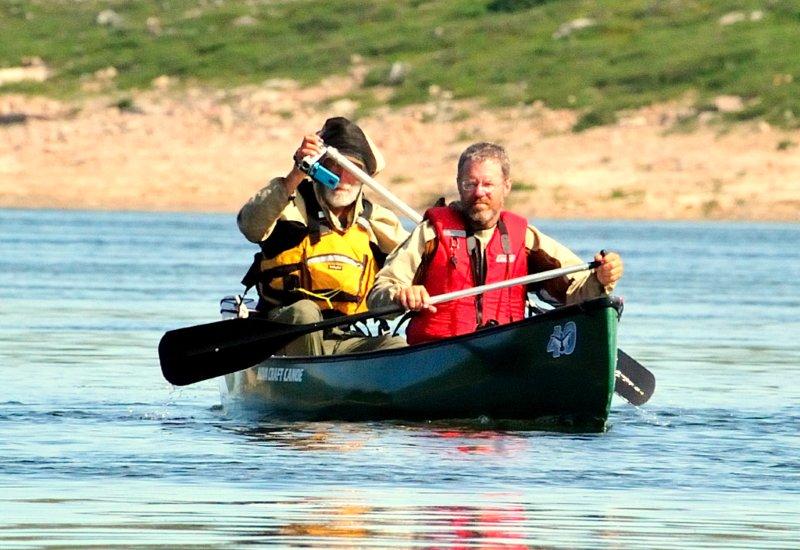 Further below, once we had set up camp at Warden's Grove, we explored for a day. We ended up with one spare day, which is not bad. We did not have to sacrifice too much time to the weather. Taras and I were fishing in the mouth of a stream, when we spotted a musk ox at the other side of the river, our first sighting. The others heard our call over the 2-way radio and raced to take a look.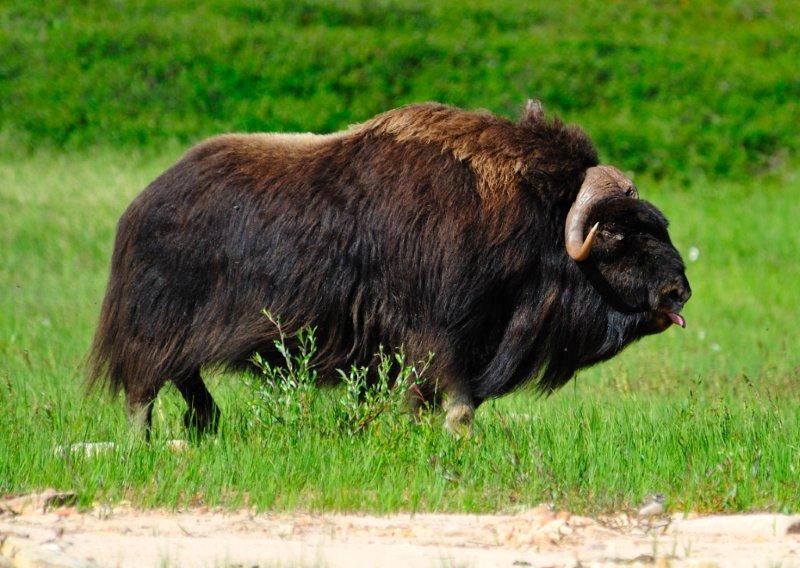 We got close to this animal, less than 100 metres, and he did not seem to mind us there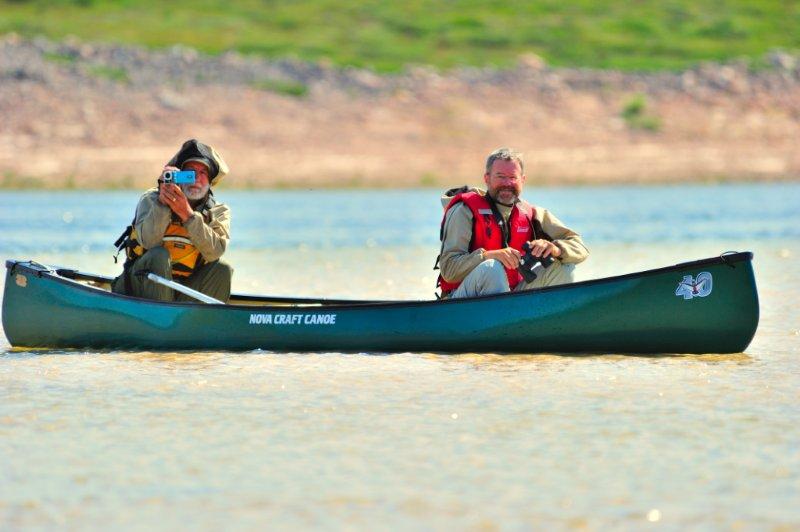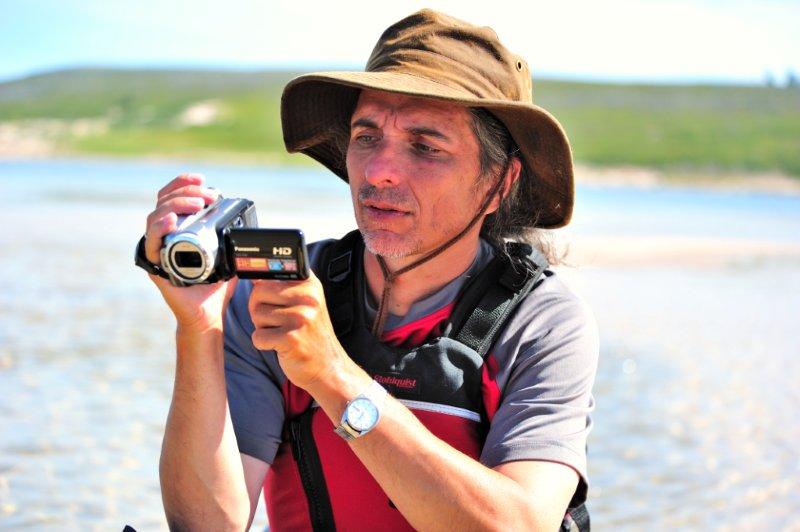 Filming the musk ox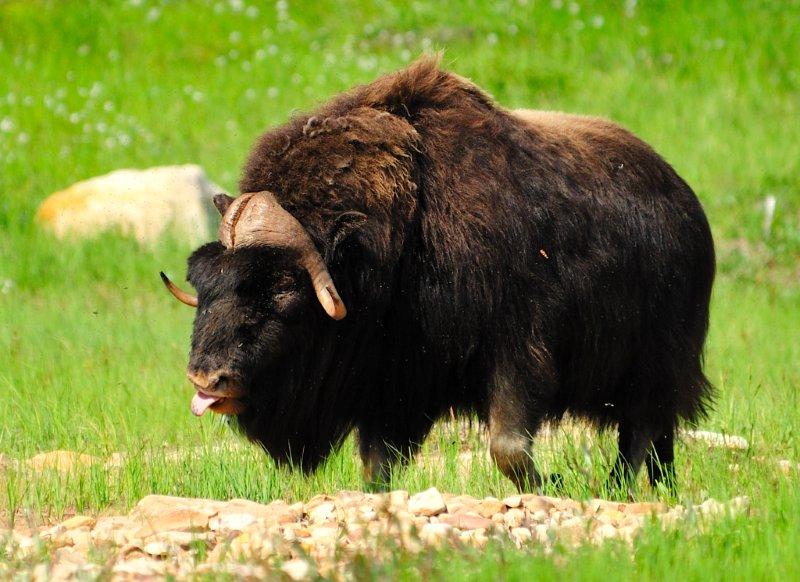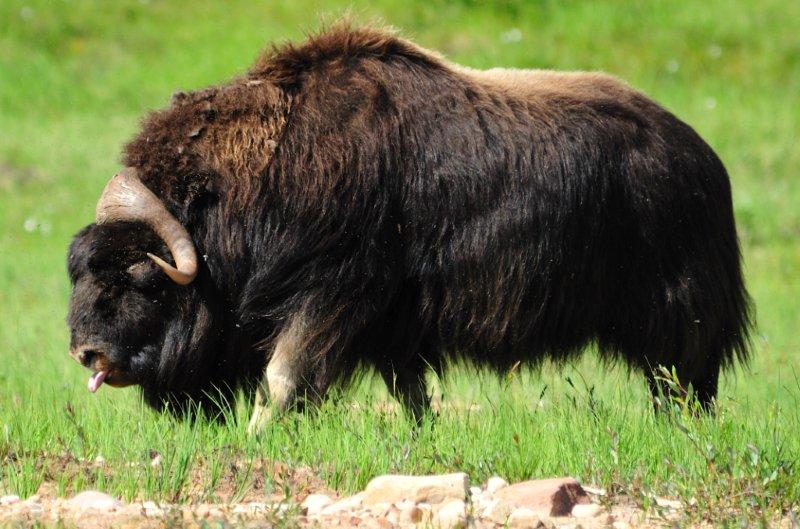 The black flies around him tormented him. He would stomp his hind legs on a regular basis. I'm sure he is glad when October and the first frost rolls around.....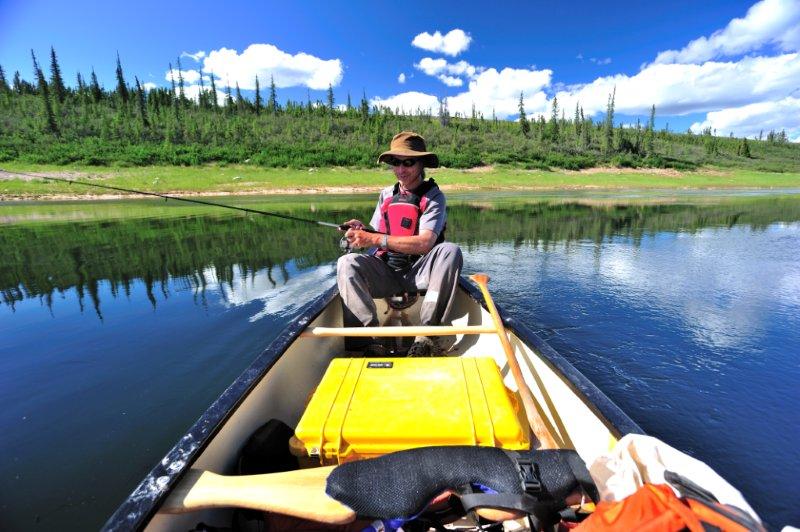 But it was a perfect day for fishing, and Taras and I took full advantage of our last full day on the Thelon River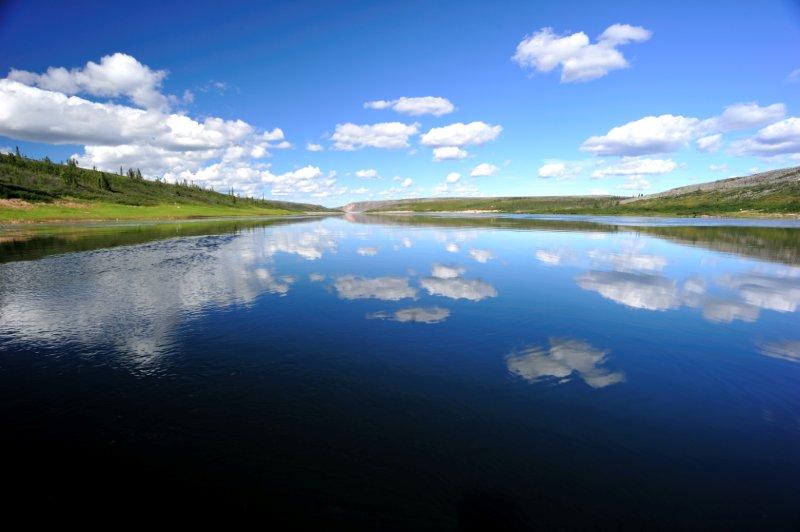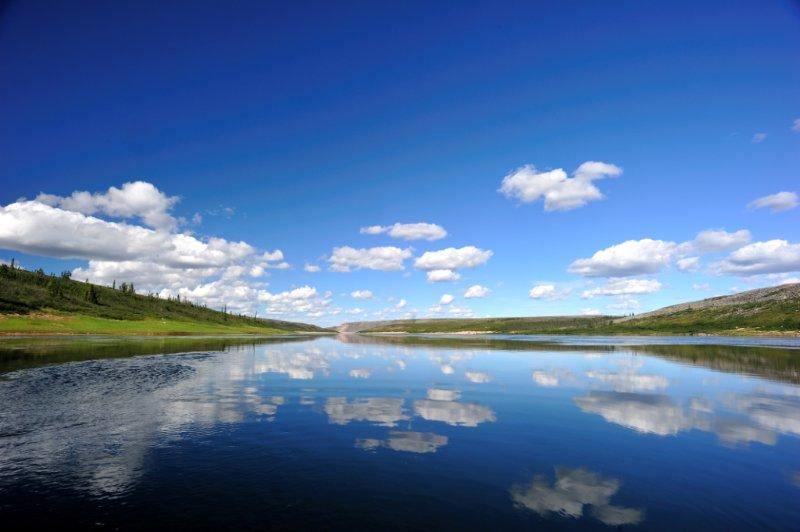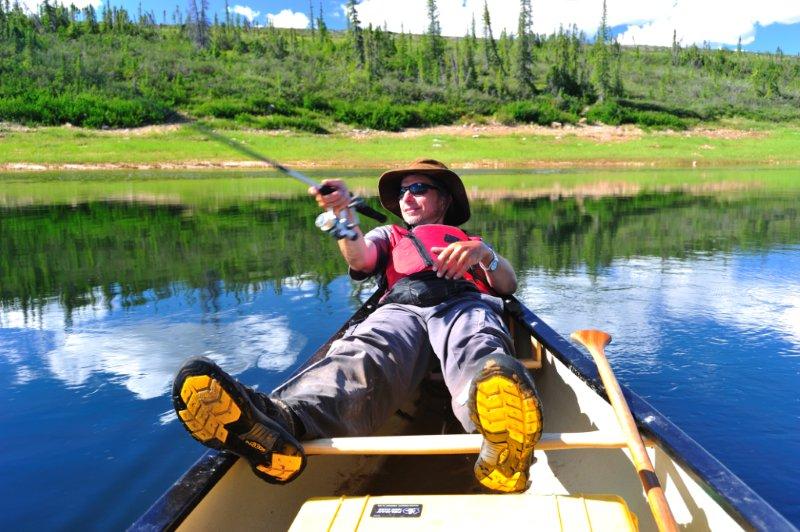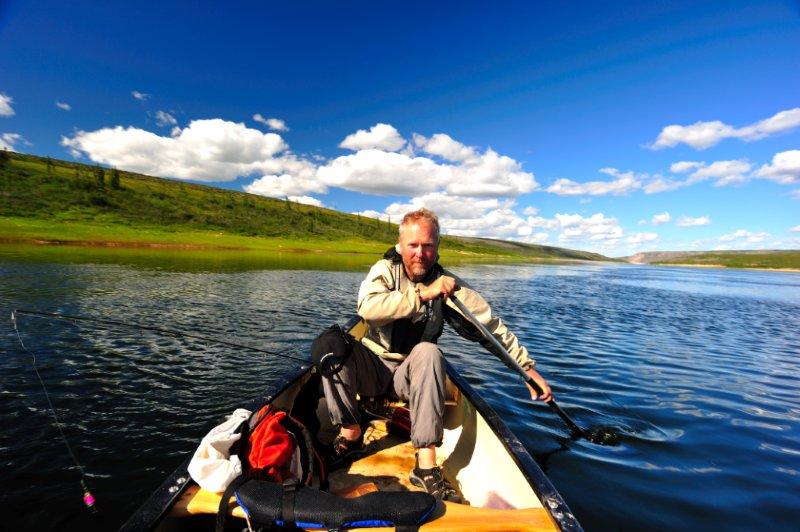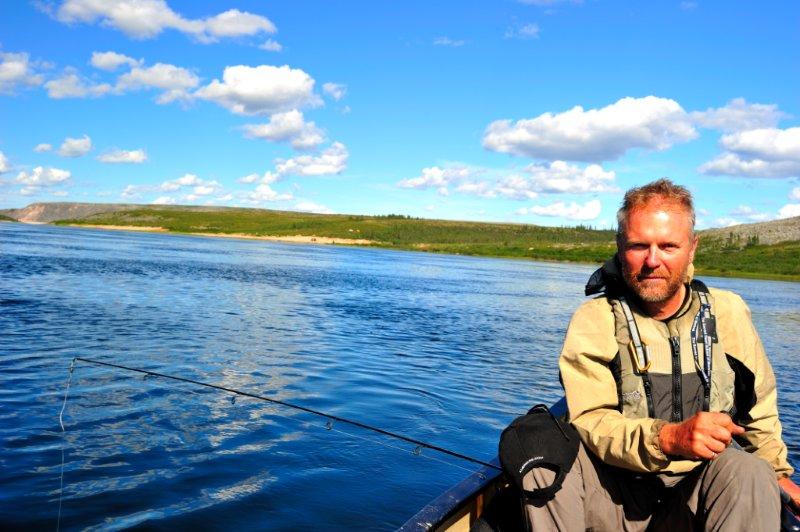 Our camp is visible in the background, just left of the centre of the photograph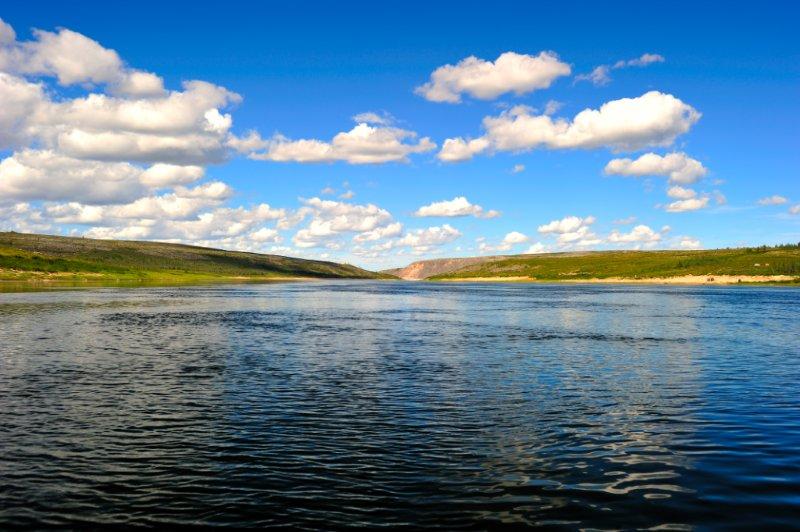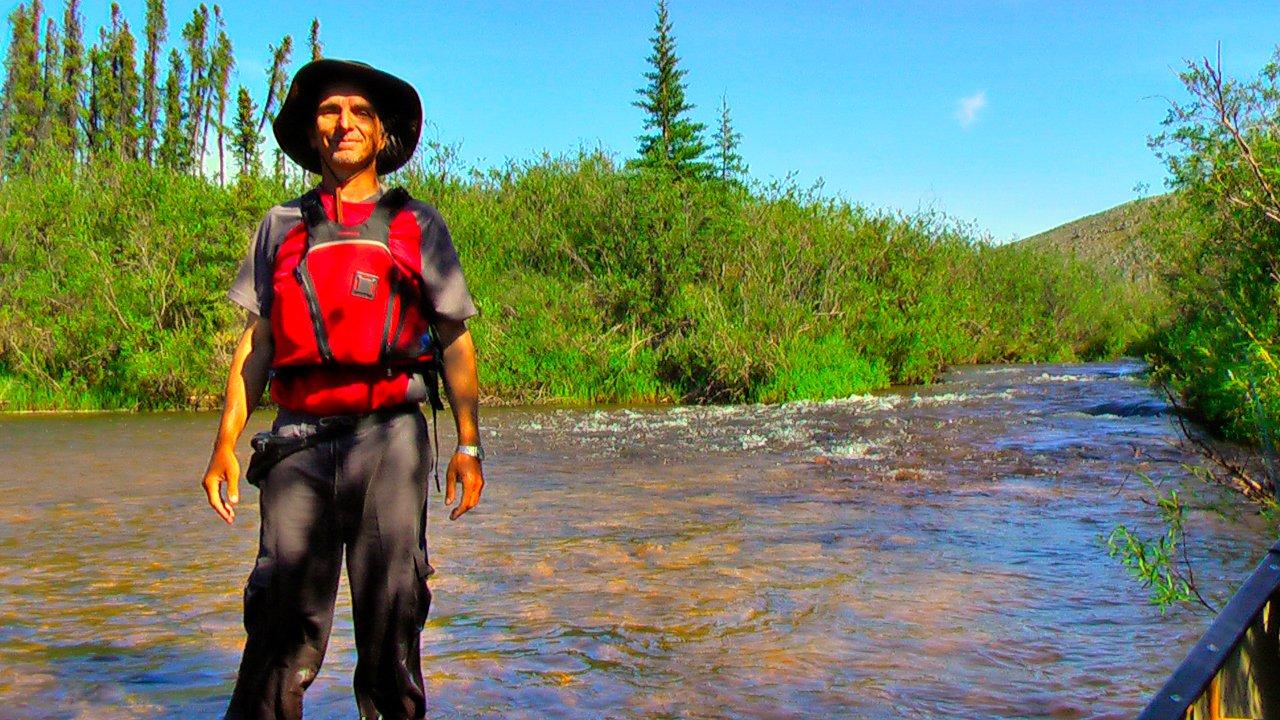 On our last full day, Taras and I followed the stream that comes in on the East side just upstream of Warden's Grove. We were hoping for grayling but caught pike and lake trout instead.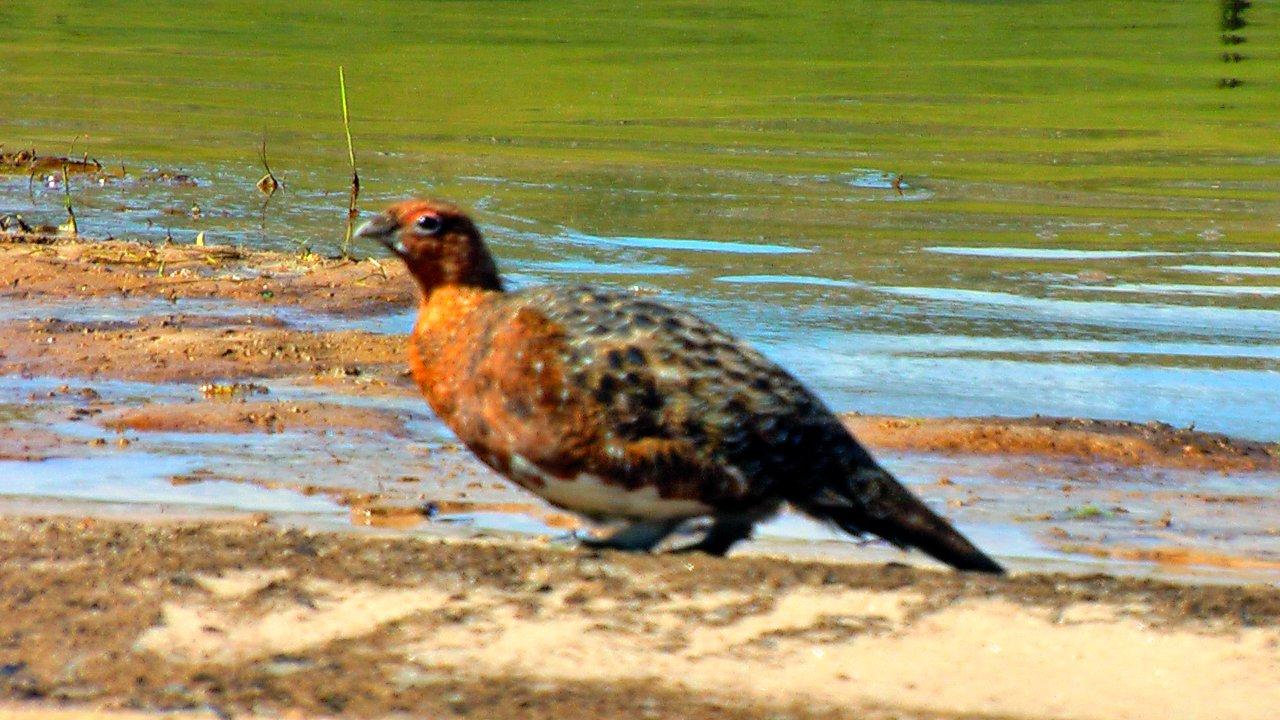 This partridge? grouse? just sat by the edge of the river and let Taras come really close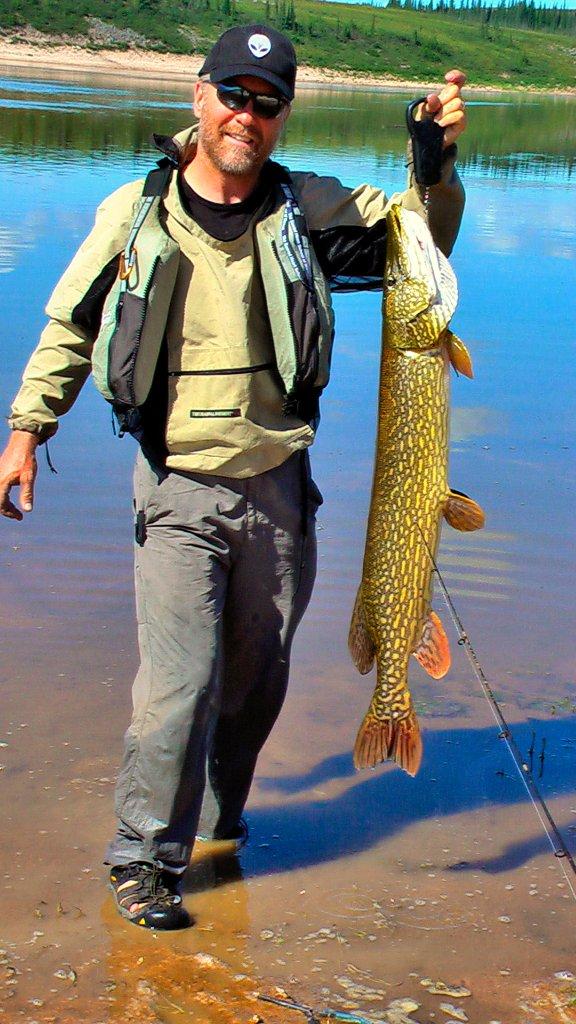 This would proven to be the biggest fish we caught, just over 17 pounds of Northern Pike. We let this one go free, successfully. We caught a lot of fish on our trip, grayling, trout, and pike, and ate all 3 types. I was never a big fan of pike, but these northern fish, cut into 40mm steaks, and fried in a pan with very hot oil with ginger and garlic with some salt, were absolutely delicious. The meat was even a little bit fatty, like the trout. We enjoyed them a lot! The grayling and lake trout are always a treat, of course, and you find them in different parts of the river. But where the streams come into the Thelon, the lake trout and pike sit in the eddies, waitign to feed on small grayling. These are your best fishing spots.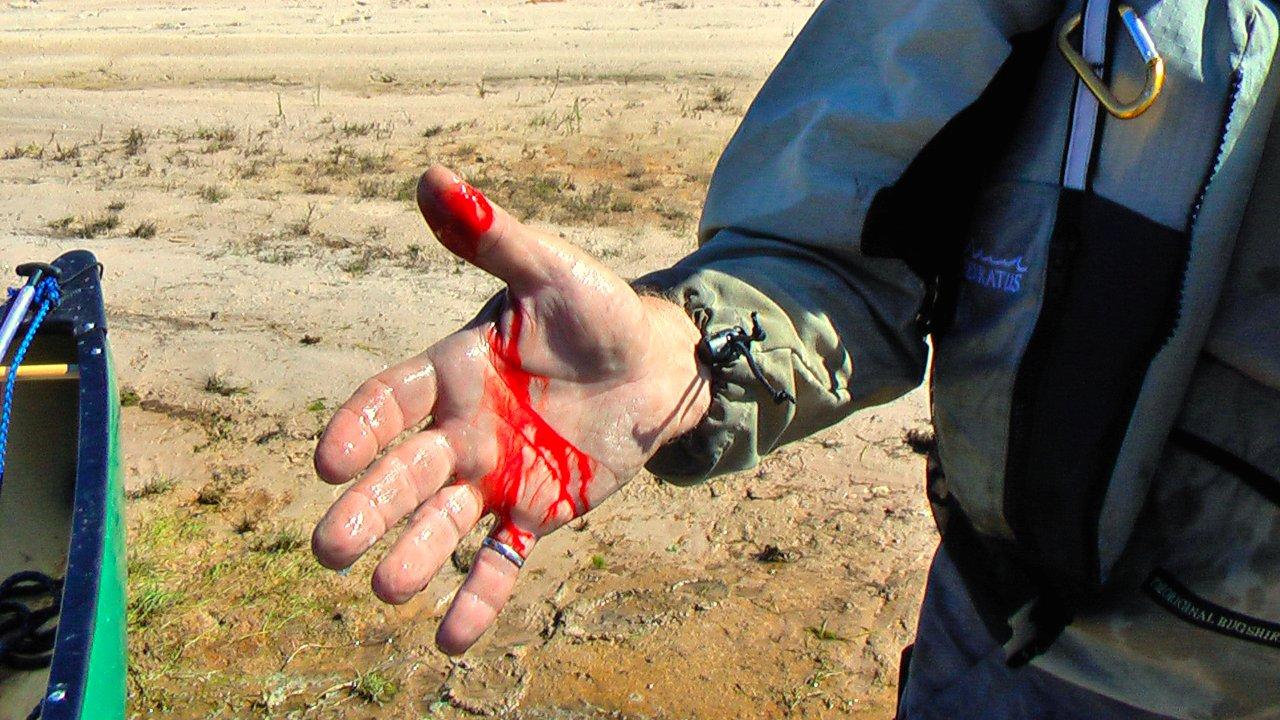 The large pike above had impressive, razor-sharp teeth. The lure was deep in his throat. Even with a good set of long-nosed pliers, he caught my thumb on the way out and sliced it open. These large pike are really like fresh water sharks. Their appetites are voracious, and they will go after almost anything that moves.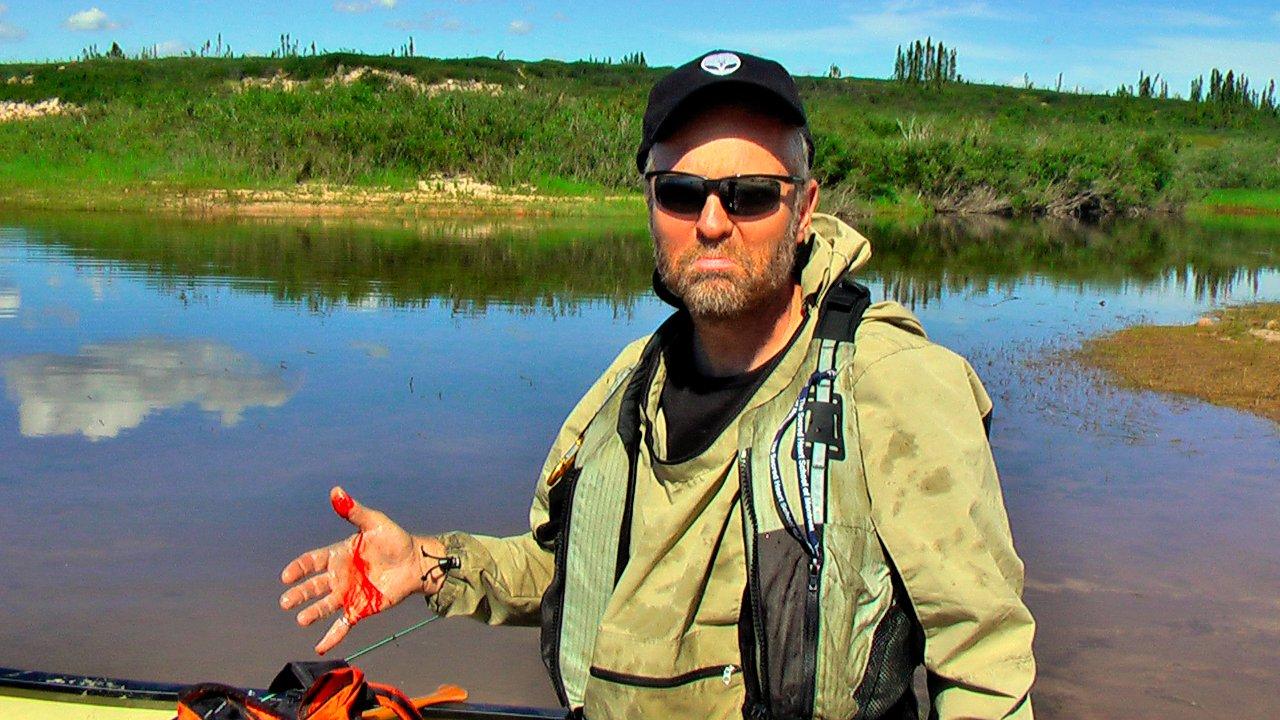 I was not happy with the ungratefull pike. After all, I DID let him go............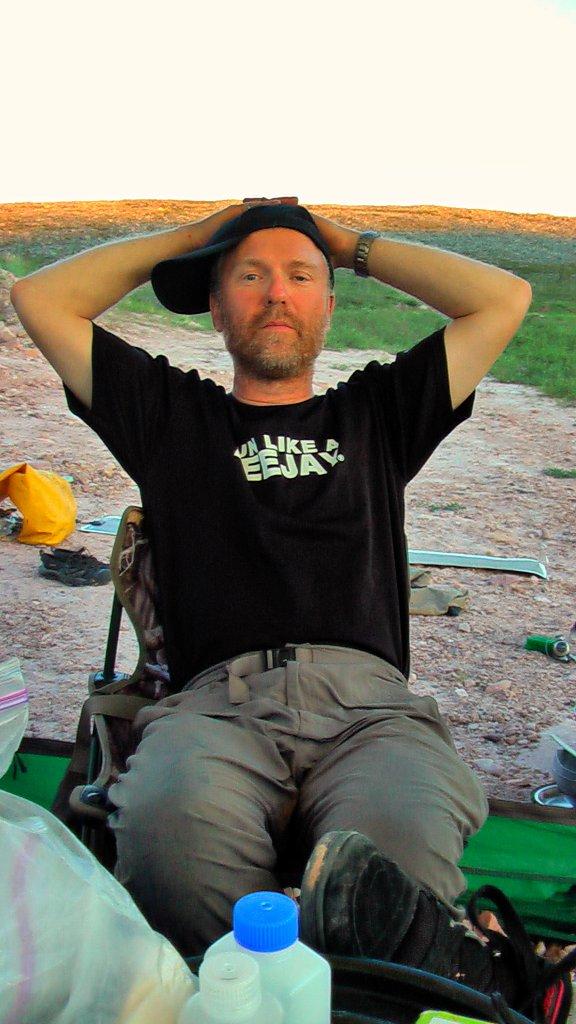 Relaxing in the bug tent on our last evening out....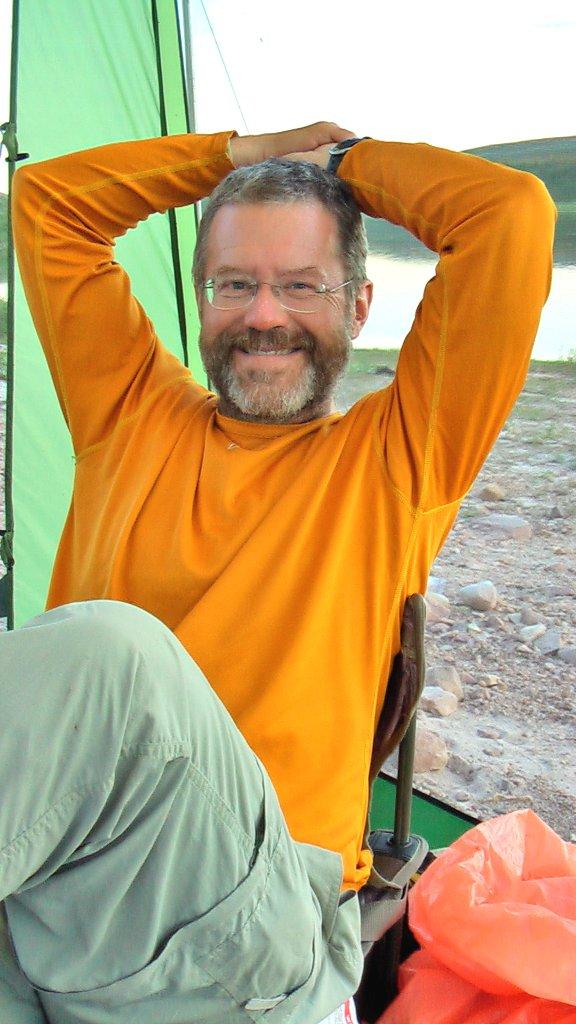 Roman could almost taste home......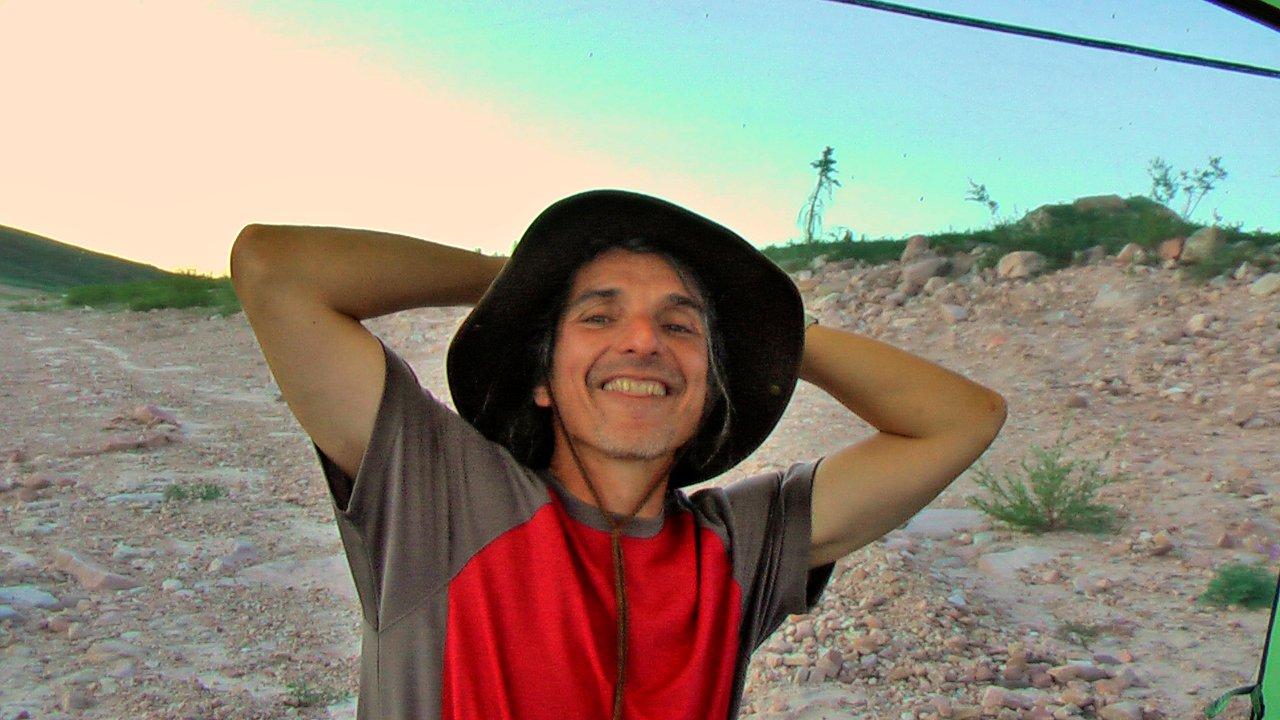 And Taras' spirits were soaring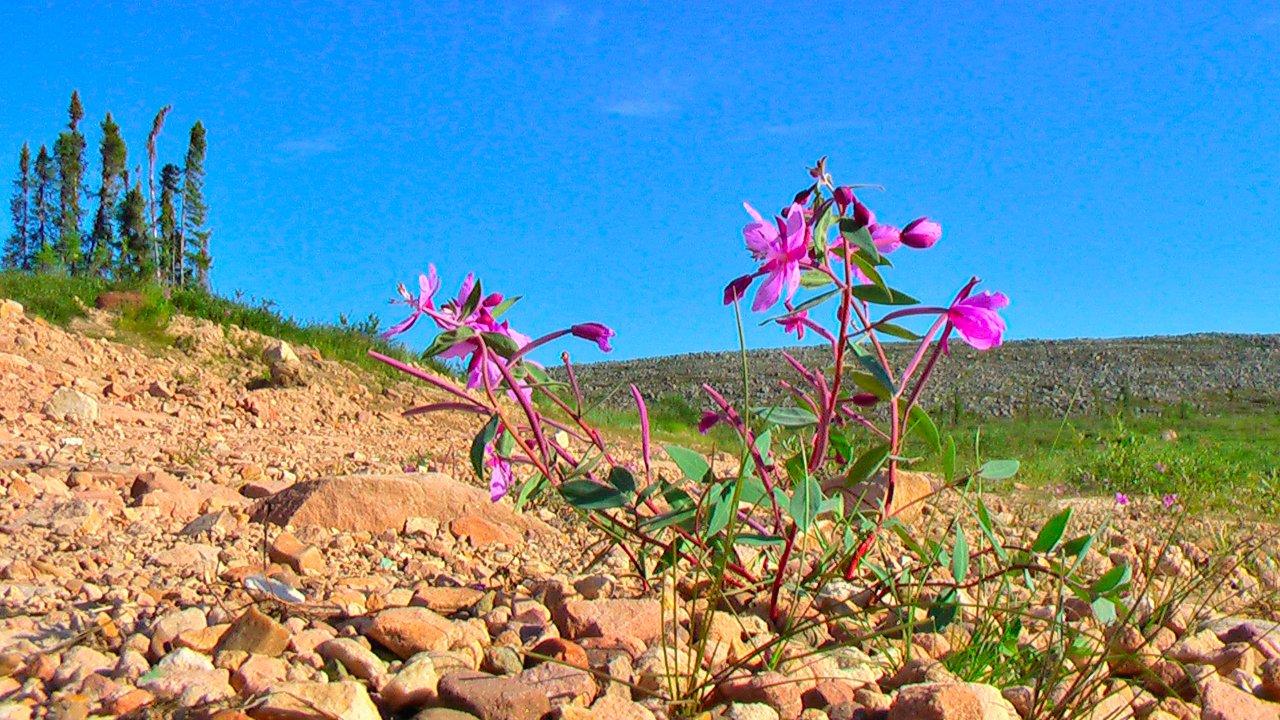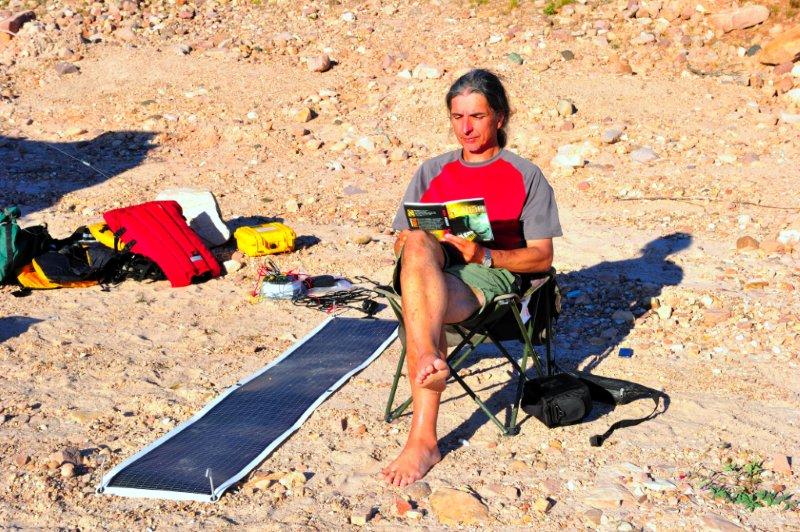 Taras catching up on his reading, with the photovoltaic panel doing its thing in the strong sun. paired up with a good sized 12-volt battery, the panel proved to be effective at recharging the satellite phone, film cameras, etc. Although it added almost 20 pounds to our load, our electrical bag did come in handy, and would be indispensable for longer trips, unless you wanted to bring a lot of spare batteries for your various devices.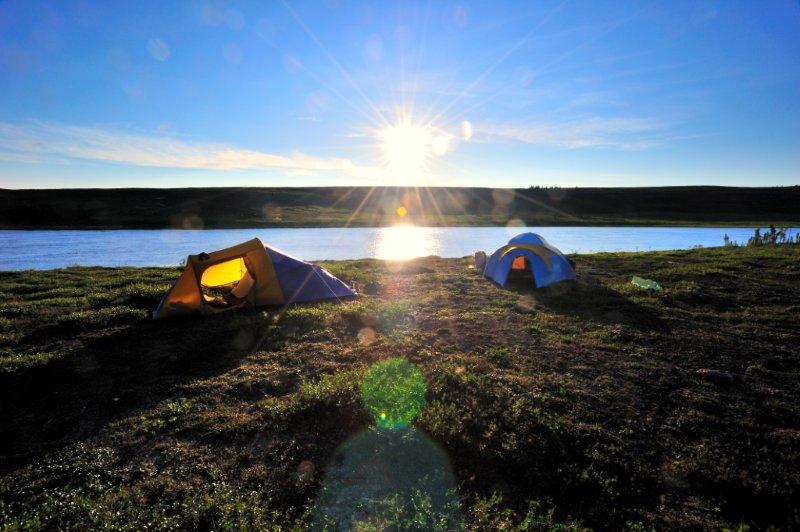 The setting sun of our last evening out on the Barrens
The last sunset that we would see over the Thelon River at Warden's Grove. The weather was great right to the last night. This shot was taken the evening if July 28th. Tundra Tom had visited us earlier in the evening, with the other 2 canoes he had cached along with the fuel at Vermette Lake, a 16.5 and a 17 footer nested together tied to one of the floats of his Cessna. A larger group was coming the next day, canoeing all the way to the Thelon Bluffs, exactly the trip we did in 2004. We gave Tom some of our soup that we had for dinner but he could not stay long and had to head back to Whitefish Lake before it got dark. Problem was, he could not start his Cessna, probably battery trouble. Tom barked at me to get into the pilot's seat while he tried to manually start the engine. Now this is a rather scary thing if its your first time. It involves turning off all power to the engine. I had my hand on the switch. Tom was standing outside on the right hand float, and he would manually wind the propeller backwards. There is some sort of internal spring designed for this. Once he had it wound as tight as he could (3 or 4 turns) he would shout to me to engage power, and then he would let the prop go, obviously getting his arms out of the way. If the engine caught, I was supposed to pull the throttle to give it some gas. Tom tried at least 10 times and it almost started on one of those times but he was getting tired. This is not an easy thing to do. It finally caught and I pulled on the throttle (perhaps a wee bit too much) but the engine was on and Tom needed to leave. As he flew away I wondered how tough and self reliant you need to be out here in the Barrens. You don't always get help when you need it, and you need to be able to look after yourself. You can die out here, and it could be a long while before anyone finds you.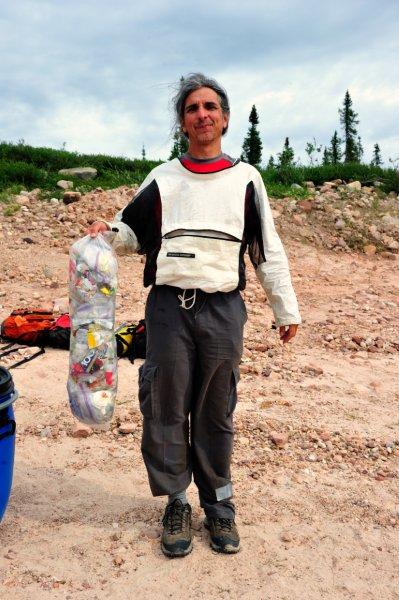 Taras showing off his human trash compacting skills. The narrow plastic bag contained many layers of compacted garbage from our trip. It was a most impressive looking stack of garbage.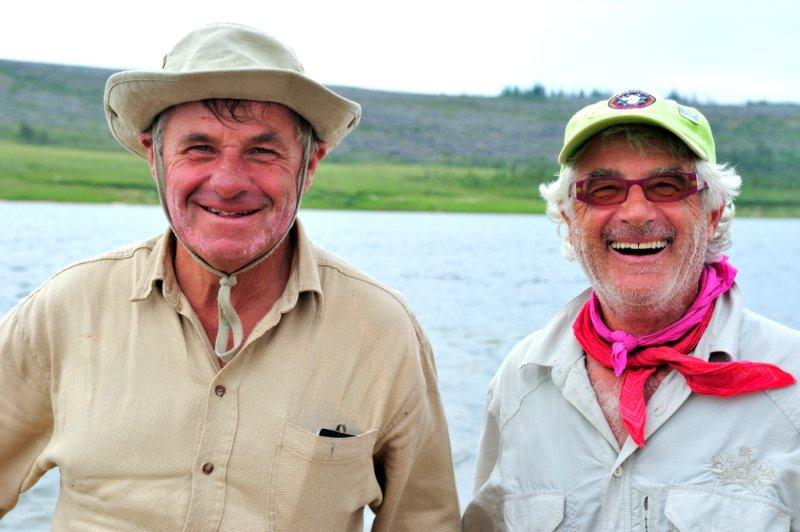 On our last day we bumped into Dale and Clyde. They were going to hop on the plane with us back to Stony Rapids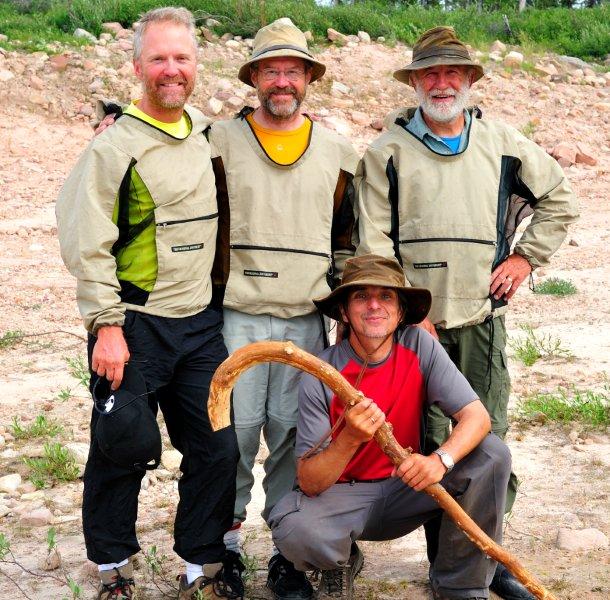 Our last group shot, waiting for the plane to pick us up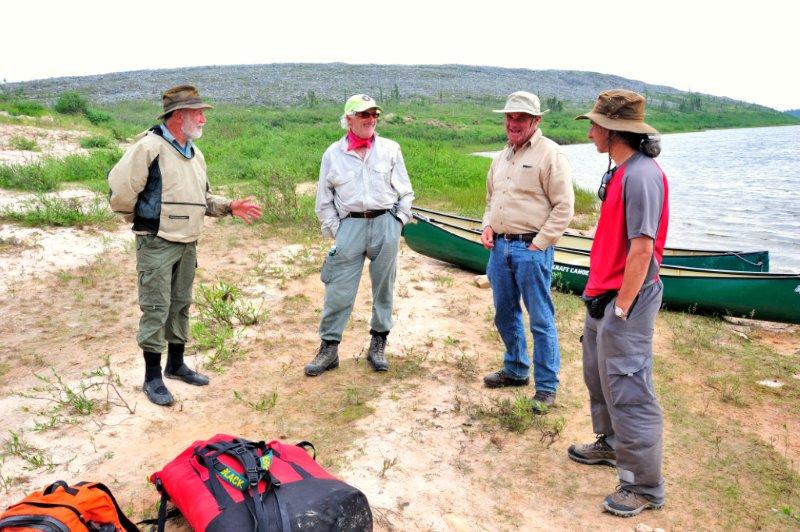 Waiting around with Dale and Clyde for the Trans West Air Single Otter that was coming to take us back to Stony Rapids. It would have to land at the beach between Vermette Lake and Rennie Lake to refuel, using the drums we had dropped off almost 3 weeks earlier. As the otter came in for a landing, a thunderstorm moved in. As Yak pulled the plane to shore, the rain started to come down and the wind started to howl with a lot of lightning. We helped to unload the 7 new trekkers that were going to take our 2 canoes (new, except having been 3 weeks on the water) and the 2 new ones that Tom had brought the day before. We were wondering if Tom was going to come for a farewell, but I figured the weather was holding him back. (I later learned that a wolf had killed one of his dogs at Whitefish Lake and that delayed his departure. He would come to Warden's Grove late, missing us by about 20 minutes). We pointed out the 2 new canoes to the party, gave them the tools we had kept to assemble them, wished them luck (I gave the young lady the lure I had used to catch my 17-pound pike) and we jumped into the Otter, soaking wet, for the flight back to Stony Rapids. I thought that it was a rotten start to a canoe trip but it looked like the storm was letting up.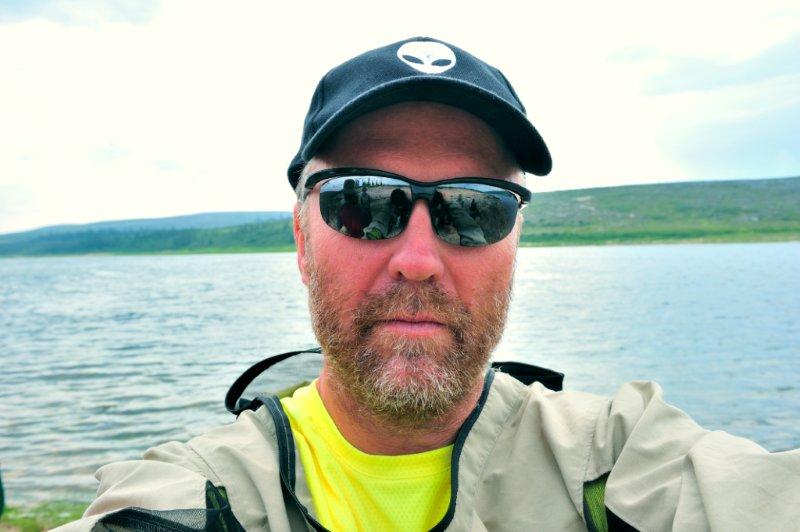 My last self portrait, just to get a look at myself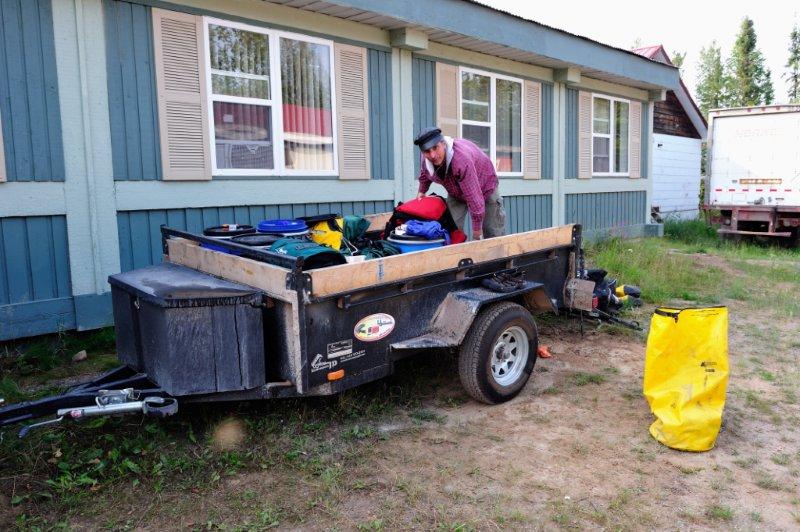 Taras packing up the trailer the morning of our departure from Stony Rapids, Saskatchewan behind the White Water Inn. It was going to be another 55 hour drive back and we were dreading it, but there was excitement in the air at the prospect of going back home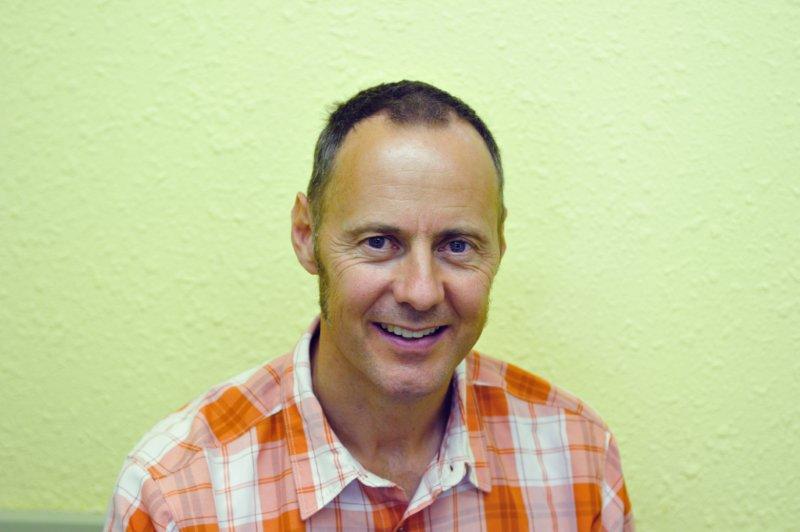 Tim at the reception desk of the White Water Inn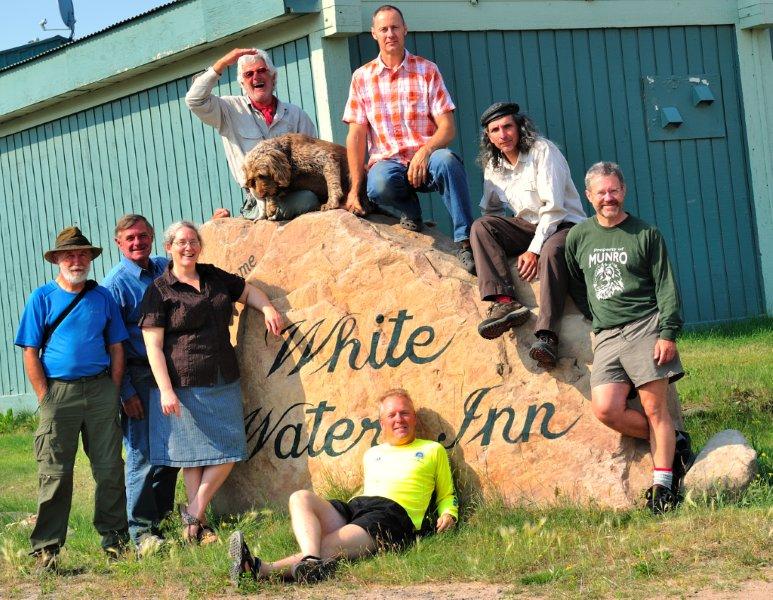 Our farewell shot in front of the White Water Inn. Tim and Pearl are great hosts and run a wonderful inn for the weary traveller.
A good shot down the winter road showing a burn on both sides of the road. There was a lot of this, some of it quite recent.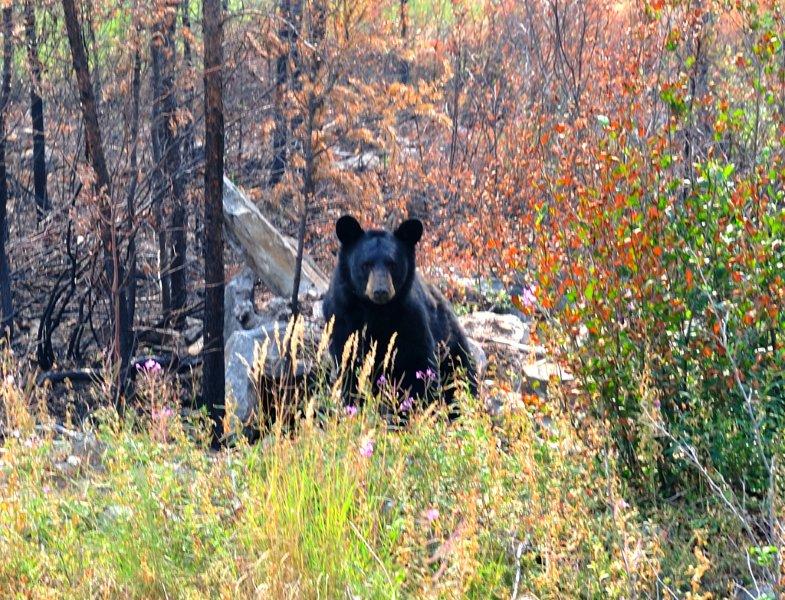 Roman took this shot through the sun roof of this bear that wanted to cross the road but wasn't too sure what to make of us.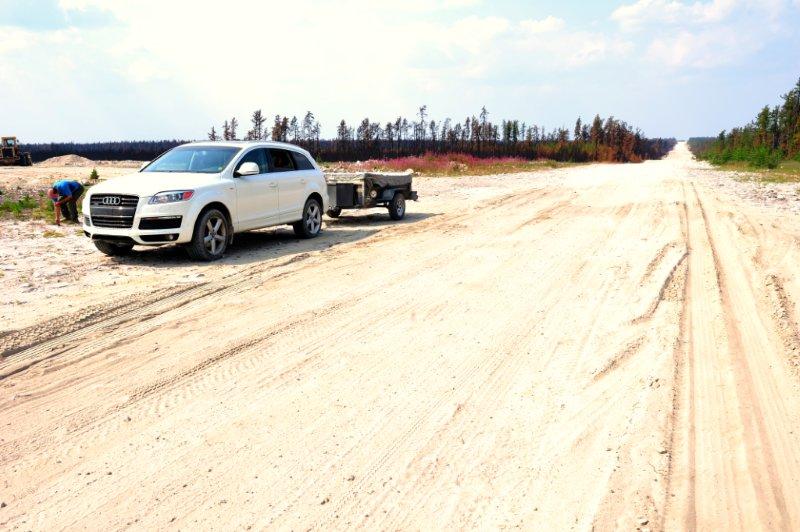 Coming back on the winter road, from Stony Rapids to Points North Landing. Again, the Audi Q7 proved its mettle on a gruelling 5 hour trek over a tortuous road.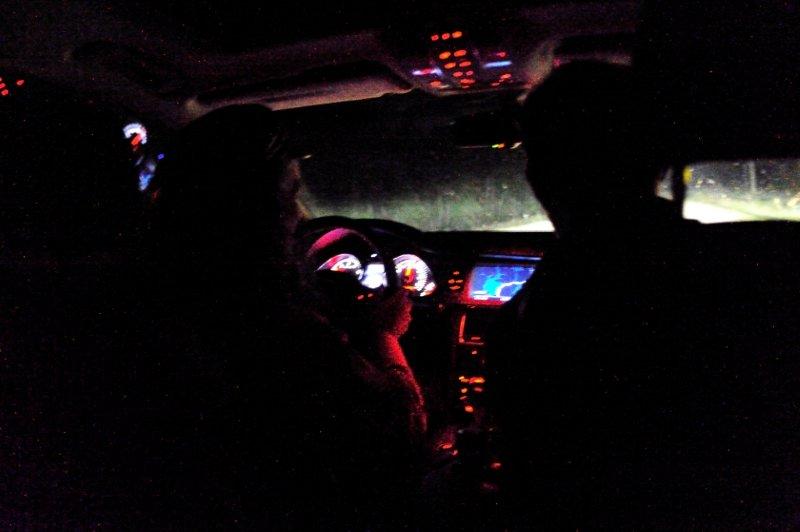 Roman keeping Taras company on that first night of our trip back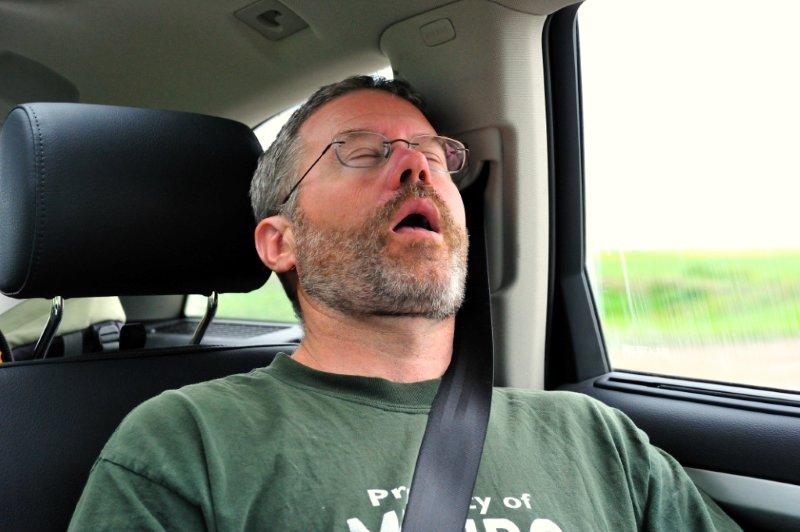 But a man has to sleep some time.......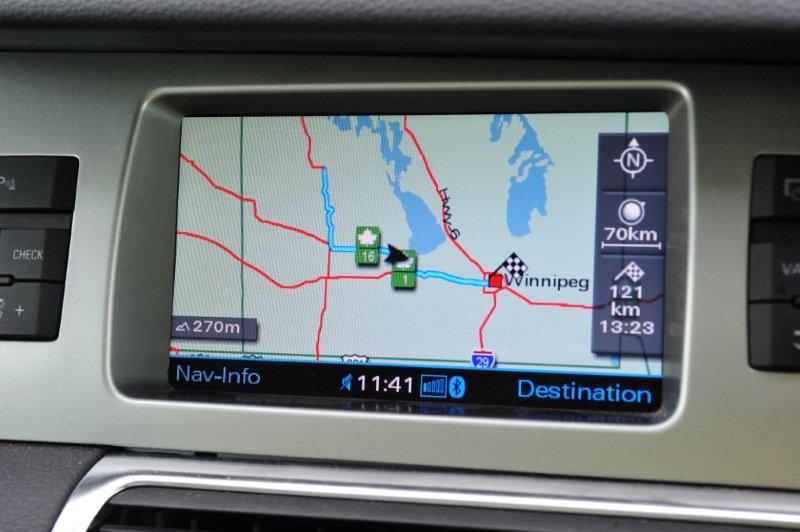 We took a different route coming back. On the way there, we cut straight north from Winnipeg. On the way back, we cut south earlier, taking us through Dauphin and other Manitoba towns.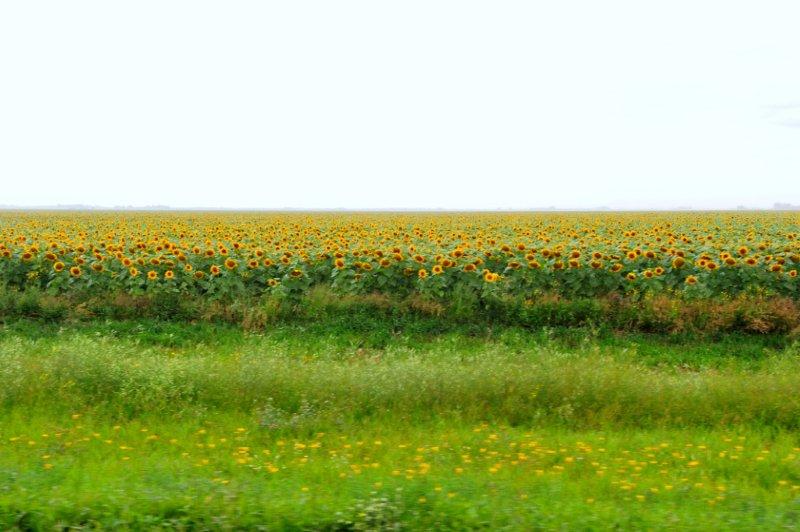 The endless sunflower fields of southern Manitoba
And so ends another trek to Canada's north, and I am always saddened when I work on the web site. I always enjoy the trips, and when I am back home I start dreaming of my next trip. Tundra Tom once told me that once the Barrens enter your body, its tough to let go, and I think he is right. Many people have written about why the Barrens are so compelling. Some say its the unspoiled nature, others the serene silence and absence of the sounds of modernity, still others refer to its remoteness. I think that it is all of these things combined. Perhaps a little bit cliché, but the Barrens are like a state of mind, a meditative state. Some day, I would love to take a trip to the Barrens with a lot of time on my hands, no pressing route to run, with limited food on hand, and just live on the land for a few weeks. I cannot imagine anything more peaceful or satisfying to the soul.
In any event, I am starting to plan a trek in 2013. I don't know if it will be the Thelon, or Coppermine. Perhaps I will attempt Pike's Portage to Lynx Lake and then the upper Thelon to Warden's Grove or down to Baker lake. But if you are interested in any of that, drop me a line.
Remember. The Thelon Game Sanctuary, the Barrens, Canada's North, are not, and should not, be for sale. Protect them. Write to your MP's when you read articles that suggest expanded mining and drilling in the North. Its precious. And it needs to be protected.
All Photos Copyright Nestor Lewyckyj 2010