Northern Labrador Photo Safari
September, 2012
In the last week of September, 2012, I drove alone from Montreal to Happy Valley - Goose Bay in Labrador, took a scheduled flight with Air Labrador to Nain in northern Labrador on the coast, then took a charter Air Labrador flight inland to the eastern end Lake Mistastin landing on an 800 foot tundra "runway" to spend a week photographing the landscapes, flora, and fauna that the area had to offer. I met some wonderful people from all corners of the globe who all share a passion for the wild outdoors, and the northern barrens in particular. Some of them are well seasoned and very gifted photographers who were there to add to their collection. Below is a selection of my photos from the trip. The camp was put together by Tundra Tom Faes www.thelon.com Tom had helped me organize my 2 canoe treks down the Thelon and Elk rivers a few years ago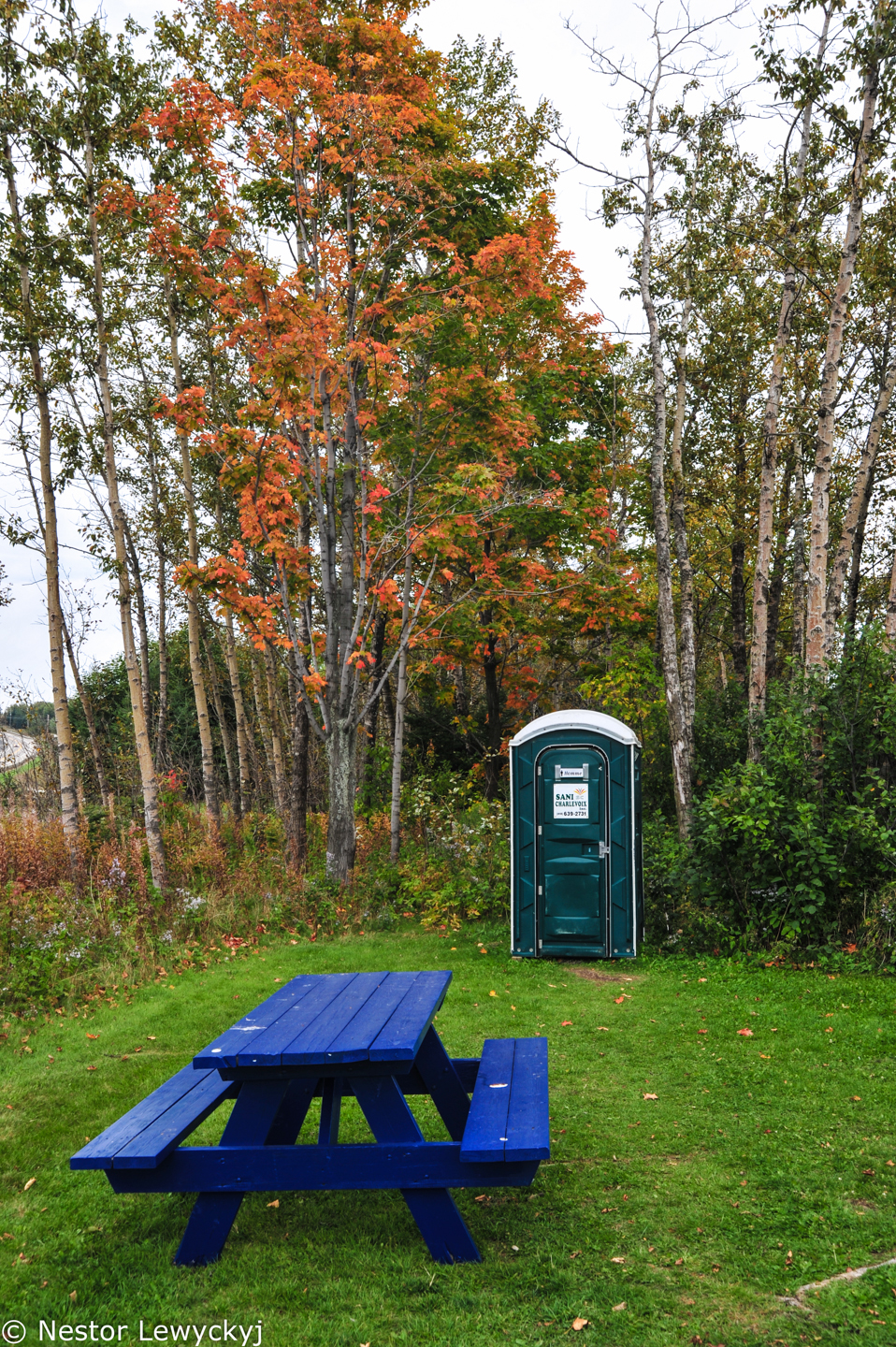 Rest area at La Malbaie. I thought they located the two most useful items very conveniently together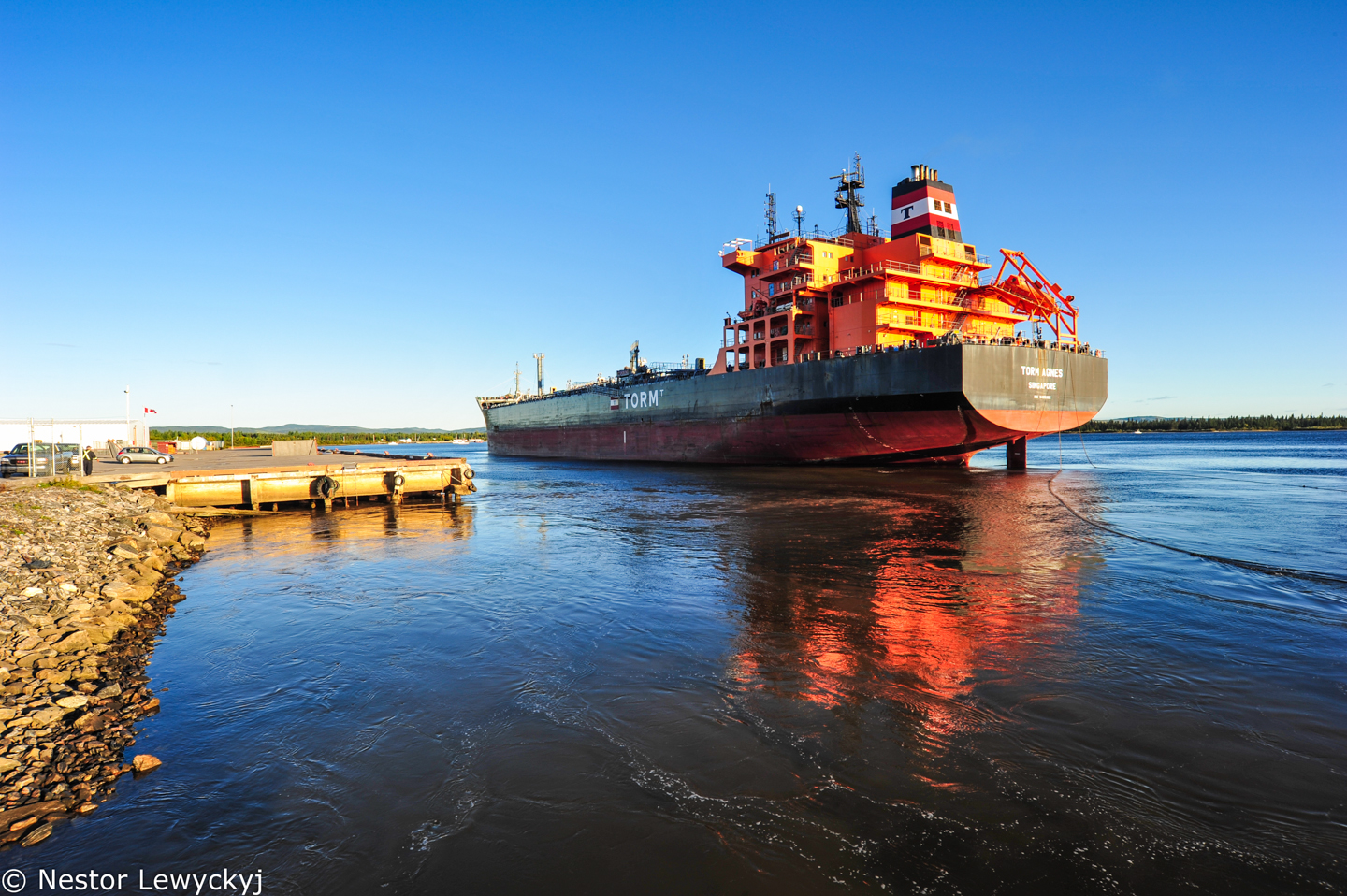 A tanker from Singapore leaving Goose Bay early in the morning after unloading her cargo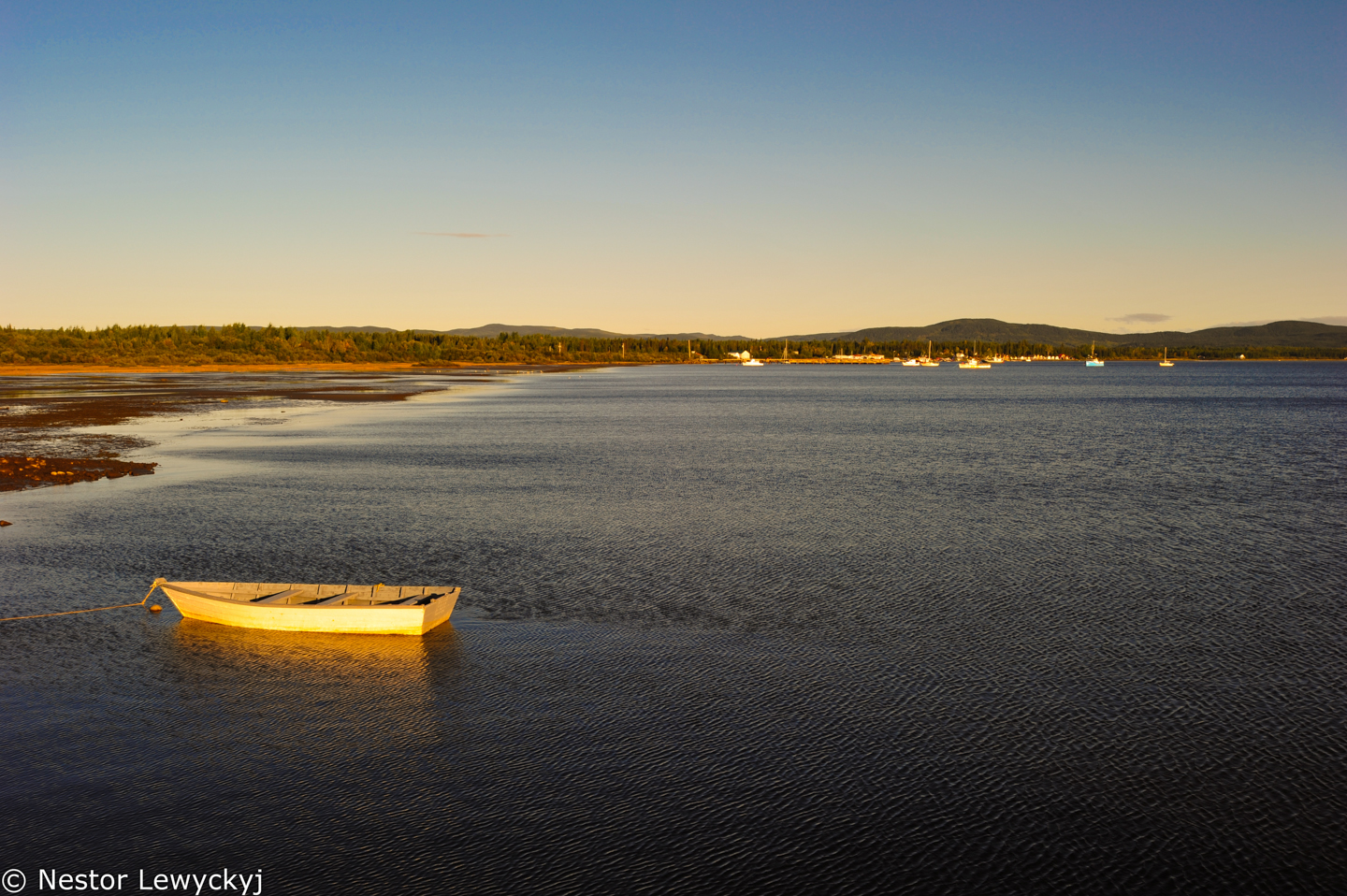 A view from the dock towards the water airport where we would land on our return flight directly from Lake Mistastin a week later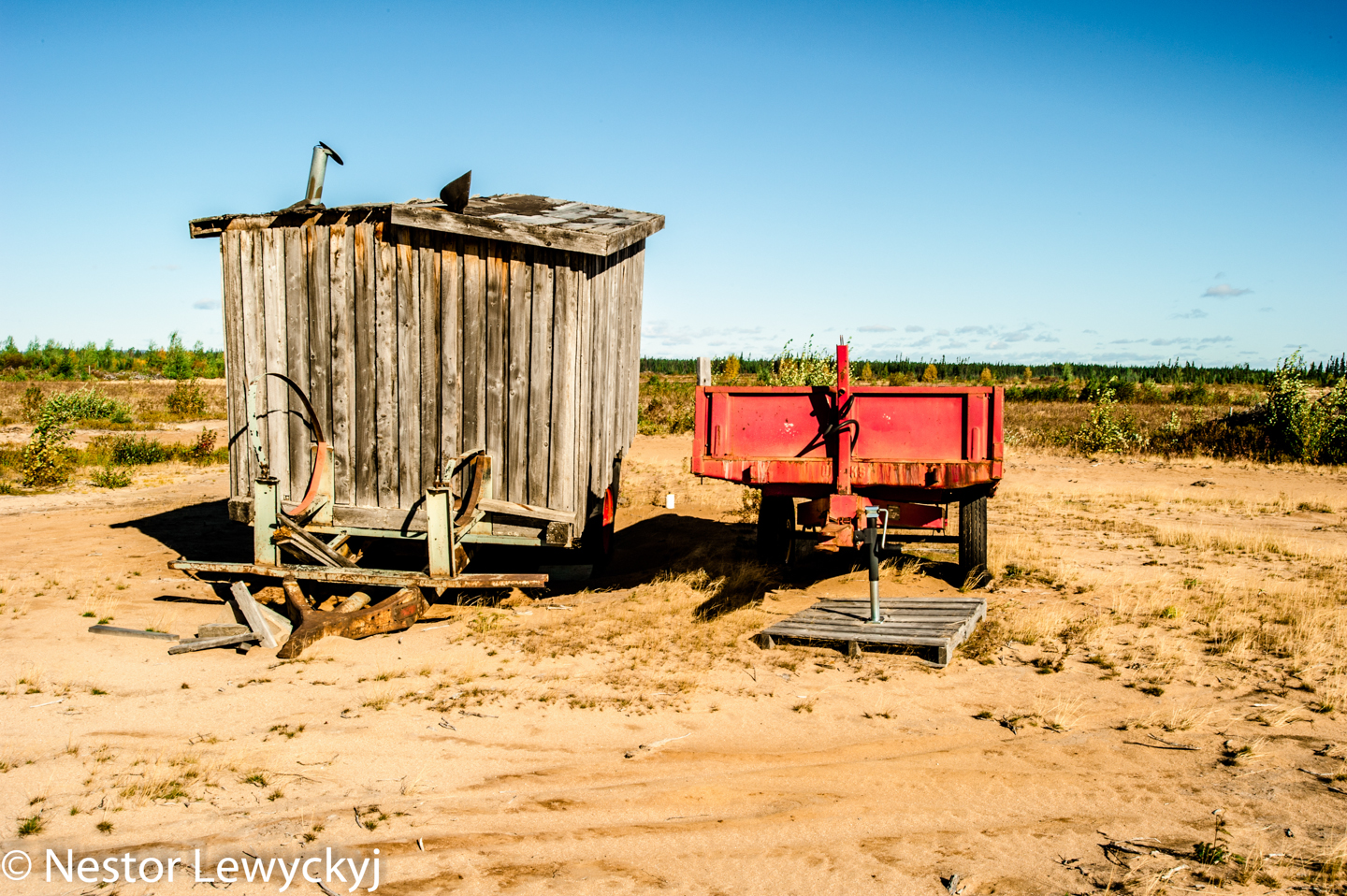 This pair was lying in the middle of an abandoned farm field just east of Happy Valley in a place called Mud Lake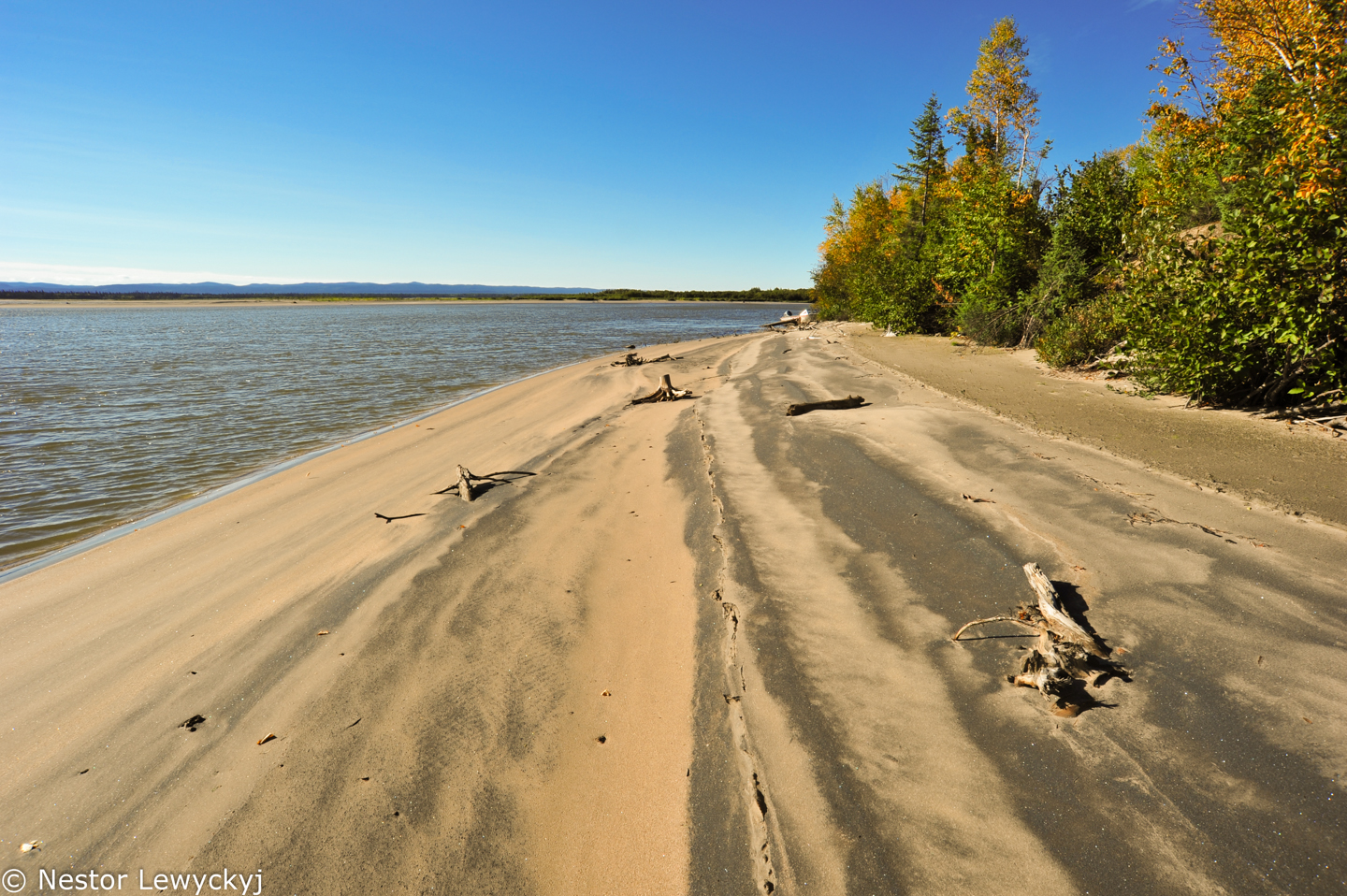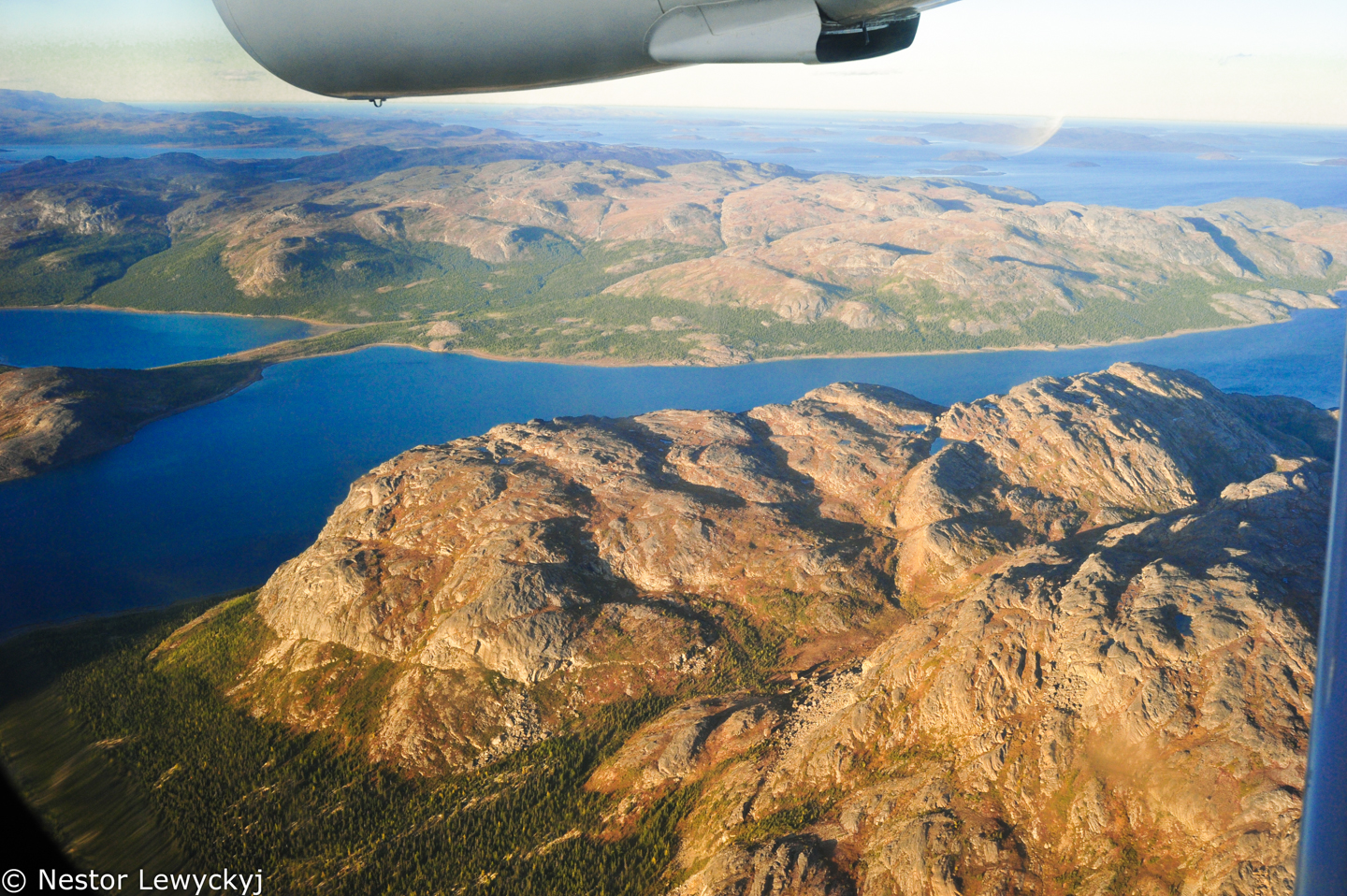 A view of the northern Labrador coast on our scheduled Air Labrador flight from Goose Bay to Nain. The Northern Labrador coast is very rugged, uneven, Canadian shield rock!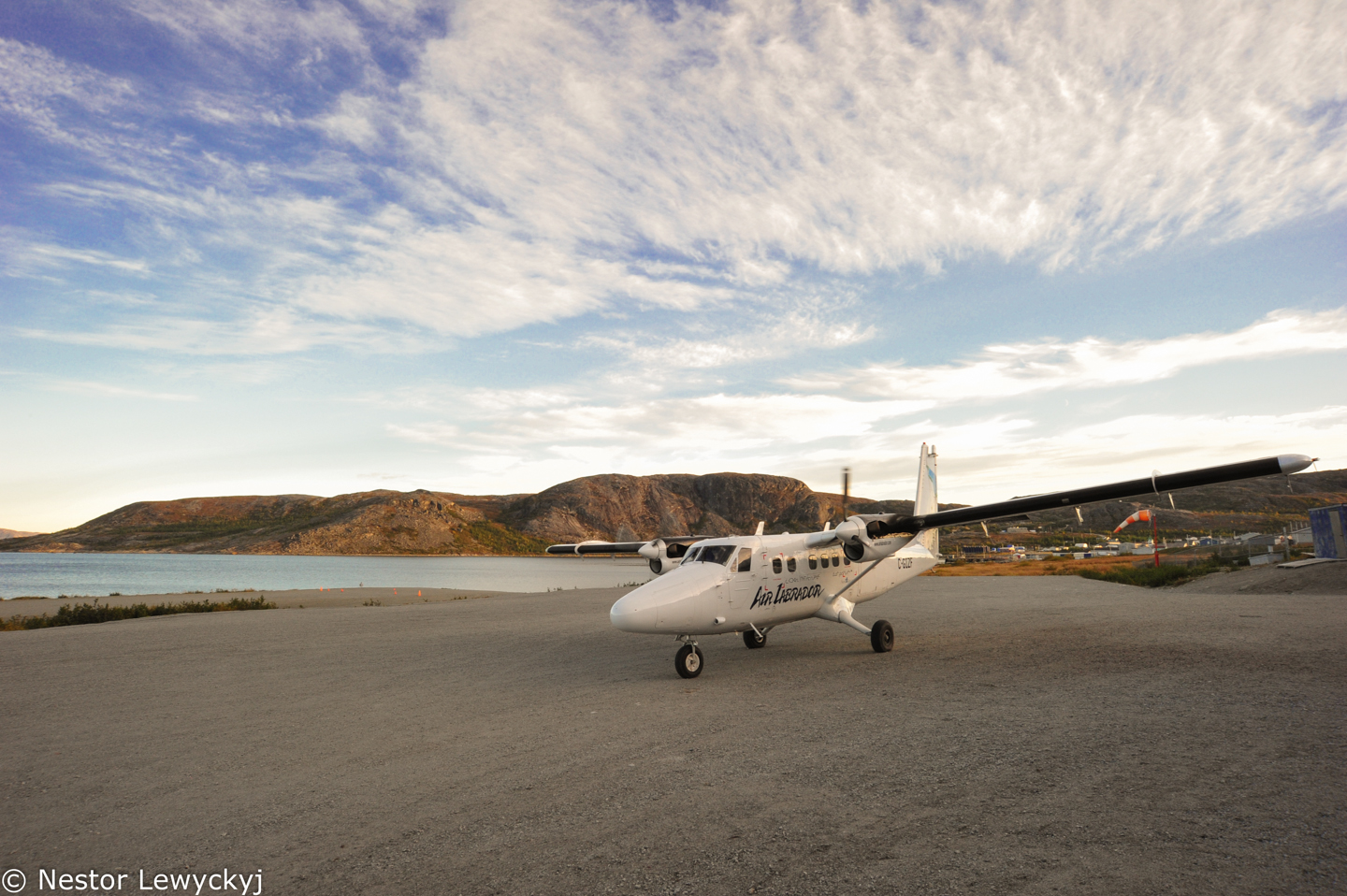 Nain, Labrador. This was the Labrador Air Twin Otter that flew us to Nain from Goose Bay. As you can see, in Nain as in other northern communities, the airports are small single-runway airports with typically 2,000' gravel runways.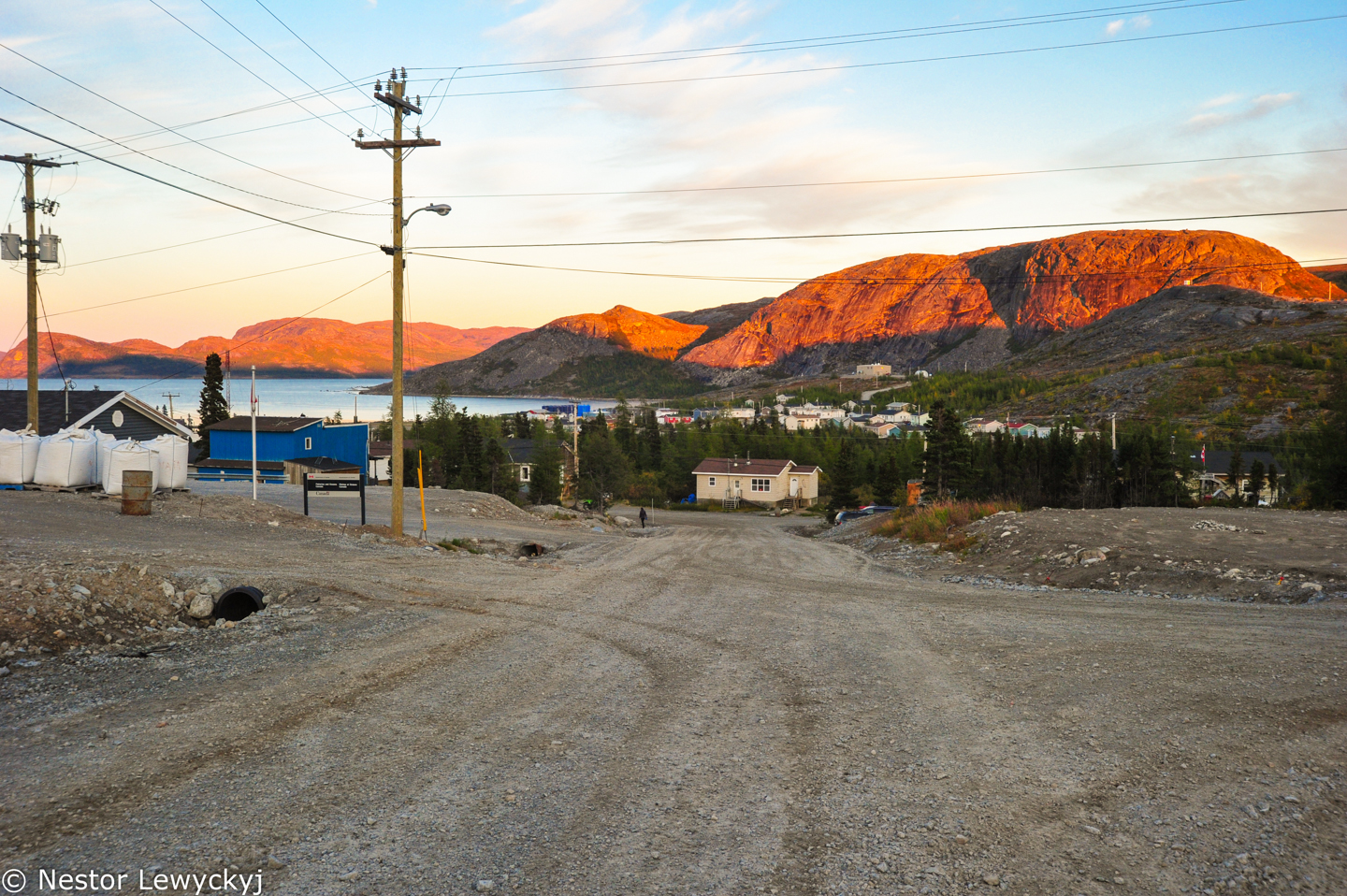 The light from the northern setting sun in Nain in late September. There was a fall chill in the air.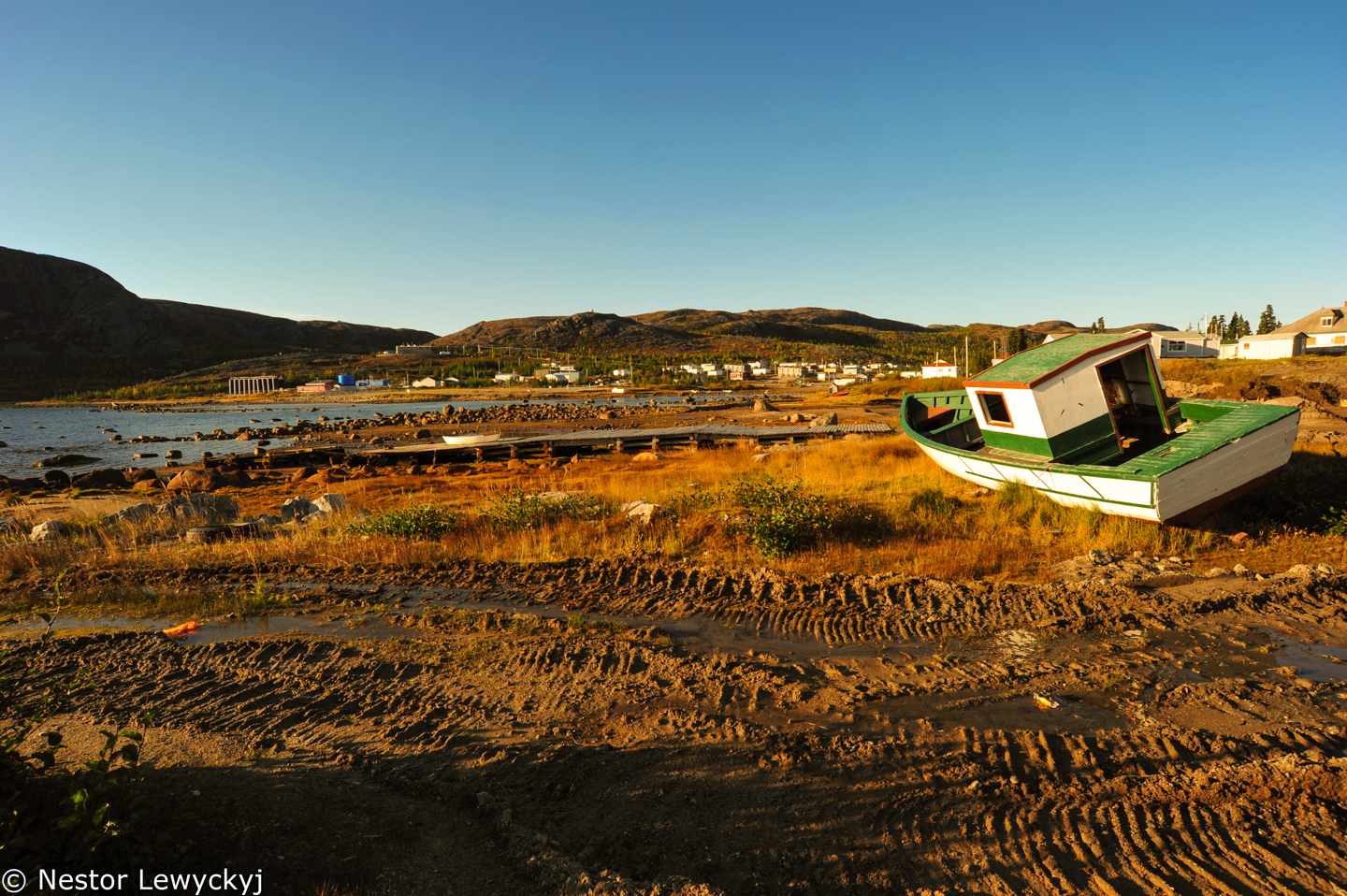 Nain's harbour early in the morning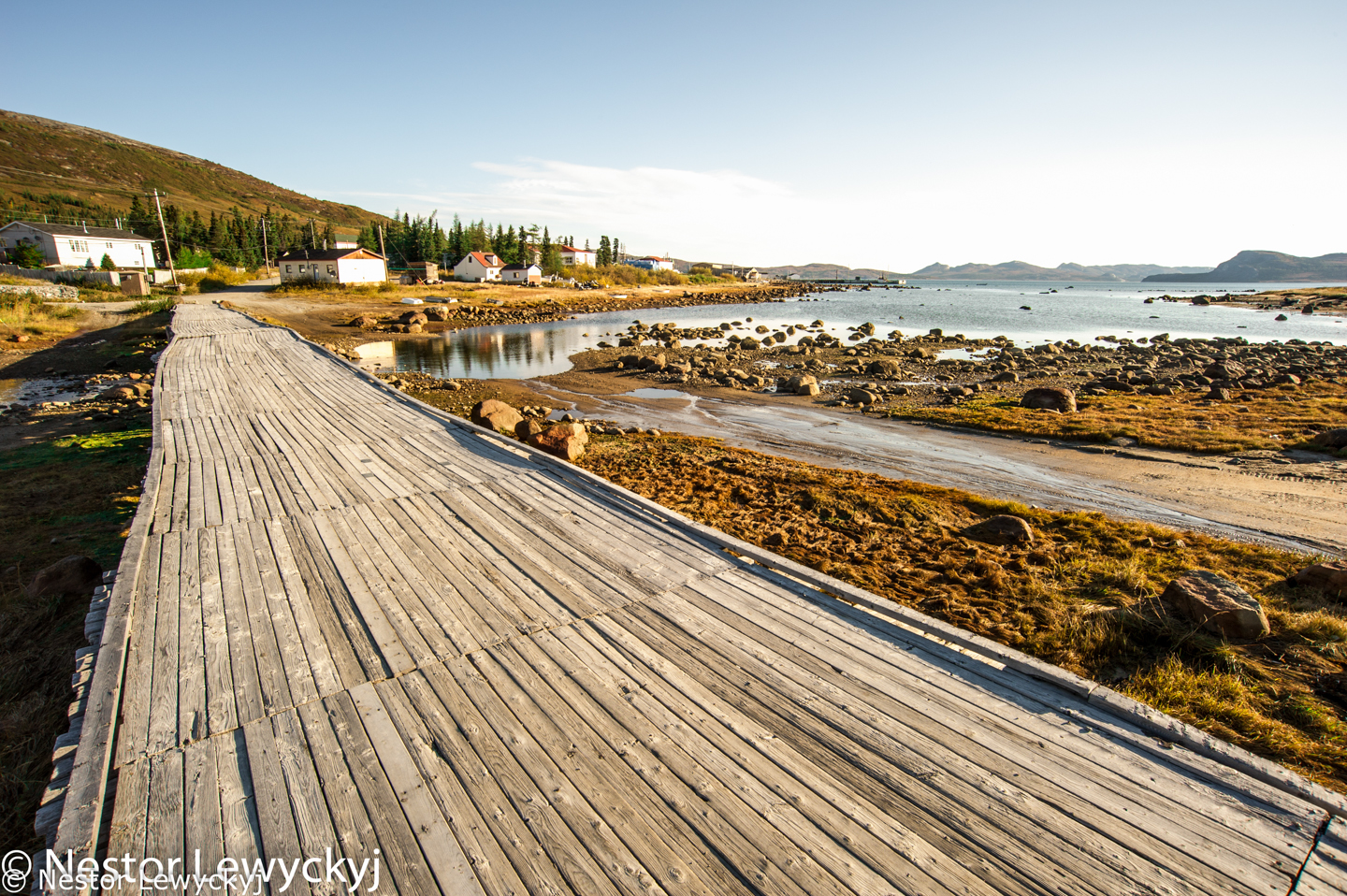 An old roadway at the harbour now used primarily as a pedestrian walkway, low tide.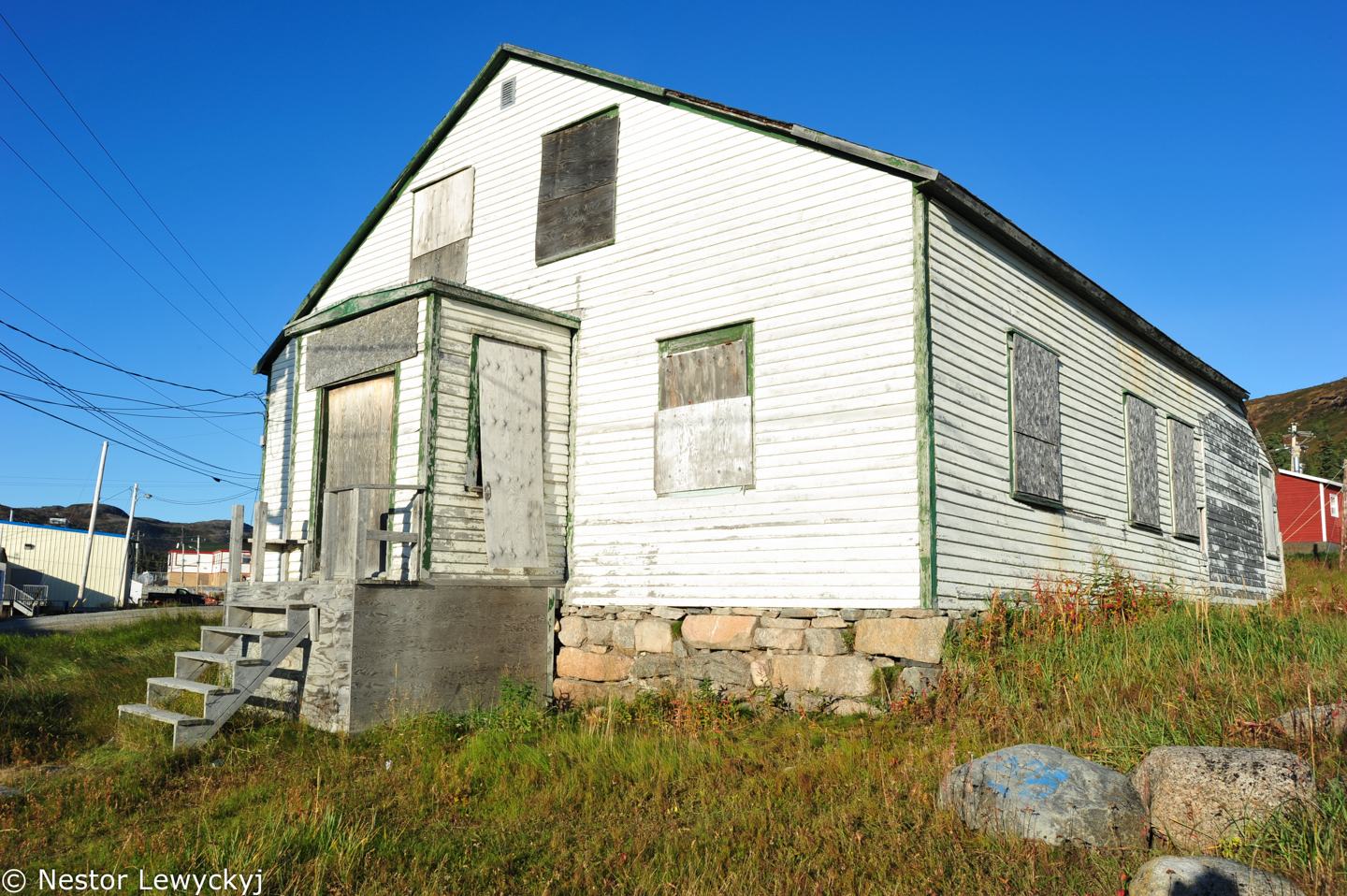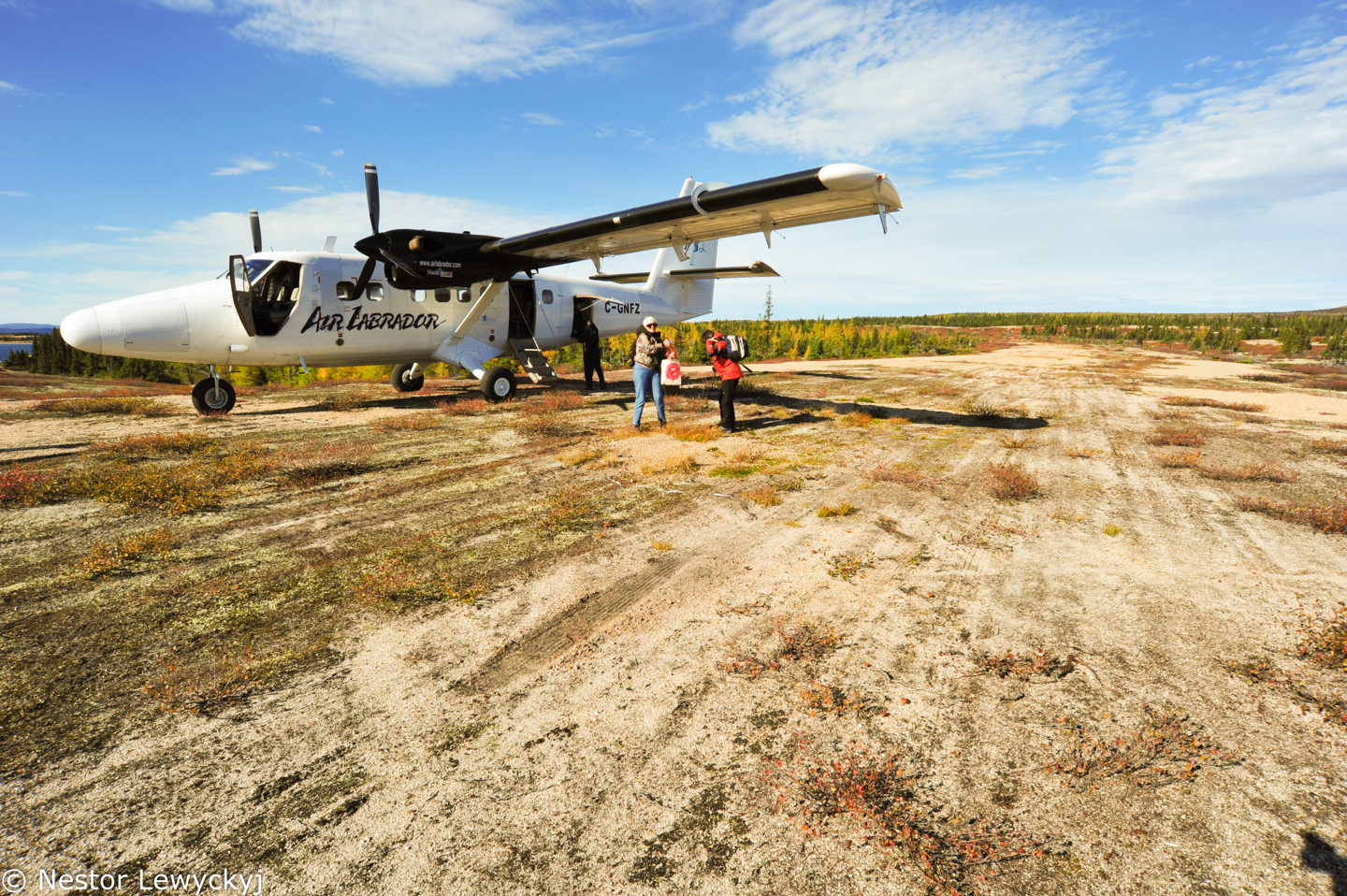 We landed in this Twin Otter (a Labrador Air charter) on this 800' curved tundra "runway". The pilot, Mike, mentioned that he would have to just about stall the aircraft as he touched down in order to stop in time. Quite the landing but expertly done!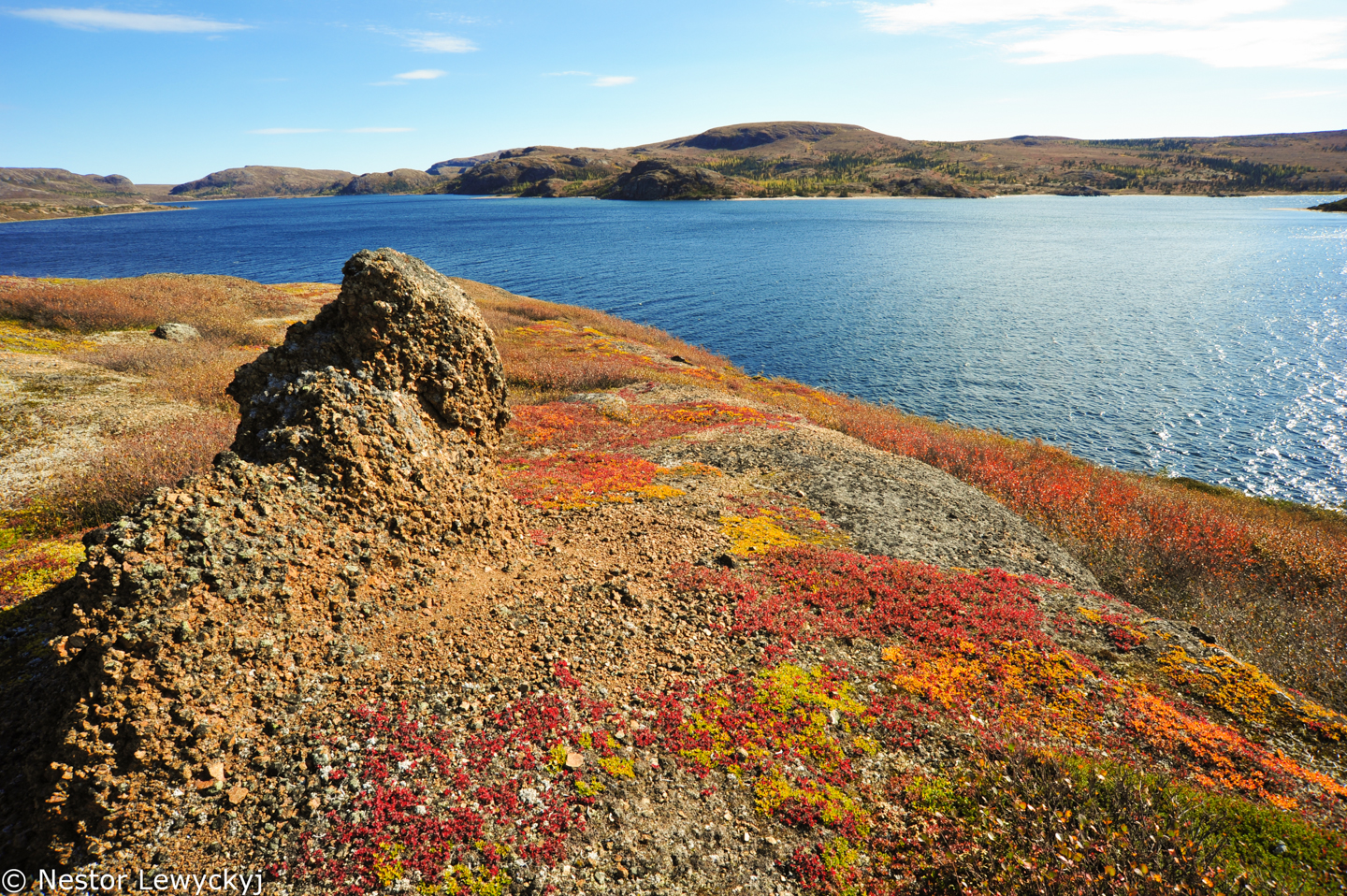 This rock is called something like Polymorphic. it is local rock that was fused together by the heat of the meteorite impact that created Mistastin Lake about 35 million years ago. The heat fused the rick and transformed its lattice structure. the rock crumbles into ice cube sized chunks.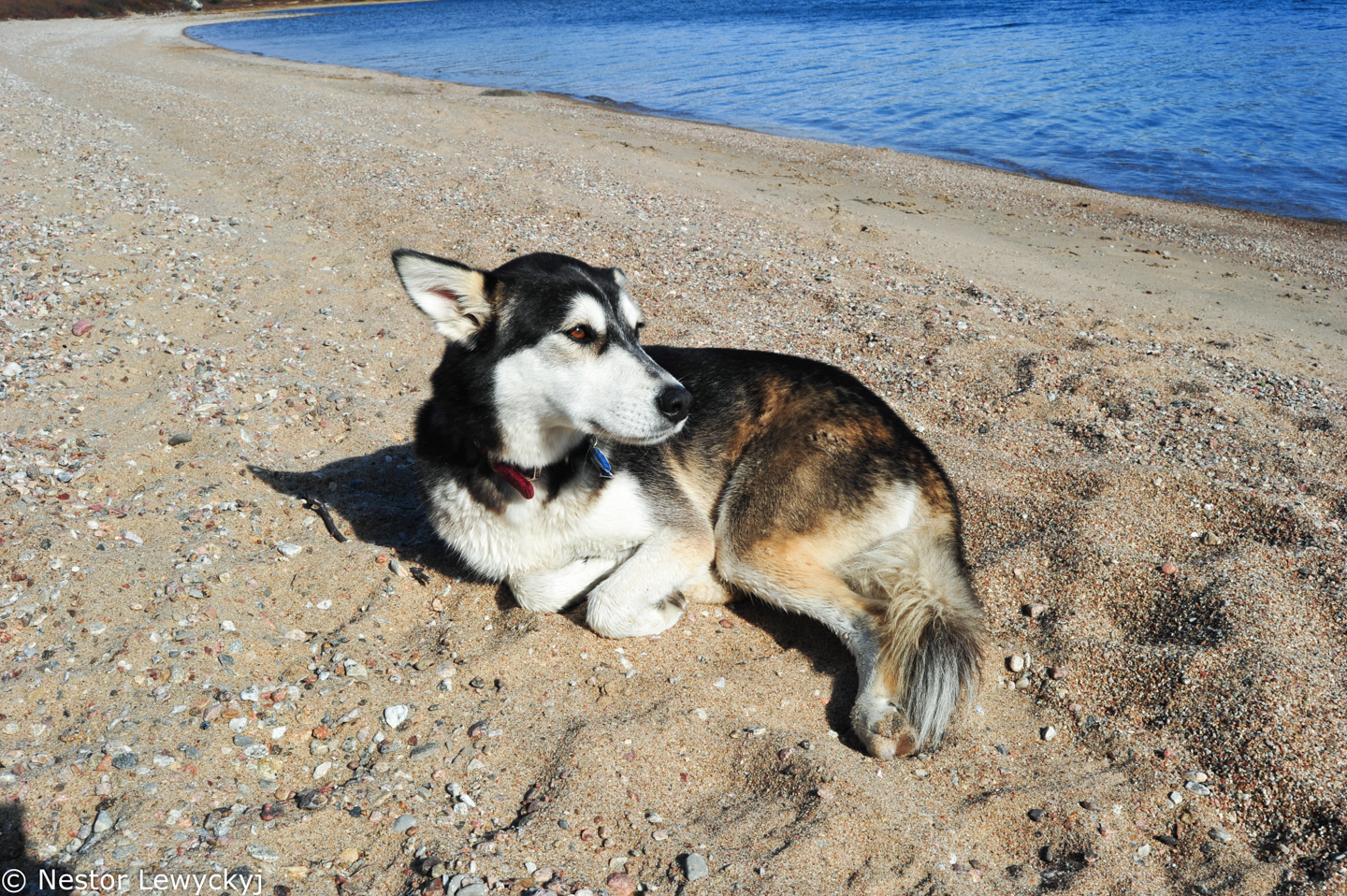 This is Girlie, Tom's 4-year old dog. He used to have a second dog, Jake, in 2010 when we were on the Elk and Thelon Rivers. When Tom flew out in his Cessna to meet us at the end of the trip at Warden's Grove, apparently wolves attacked and killed Jake while Girlie hid under the building. Glad she survived. She is a wonderful dog and made for good company.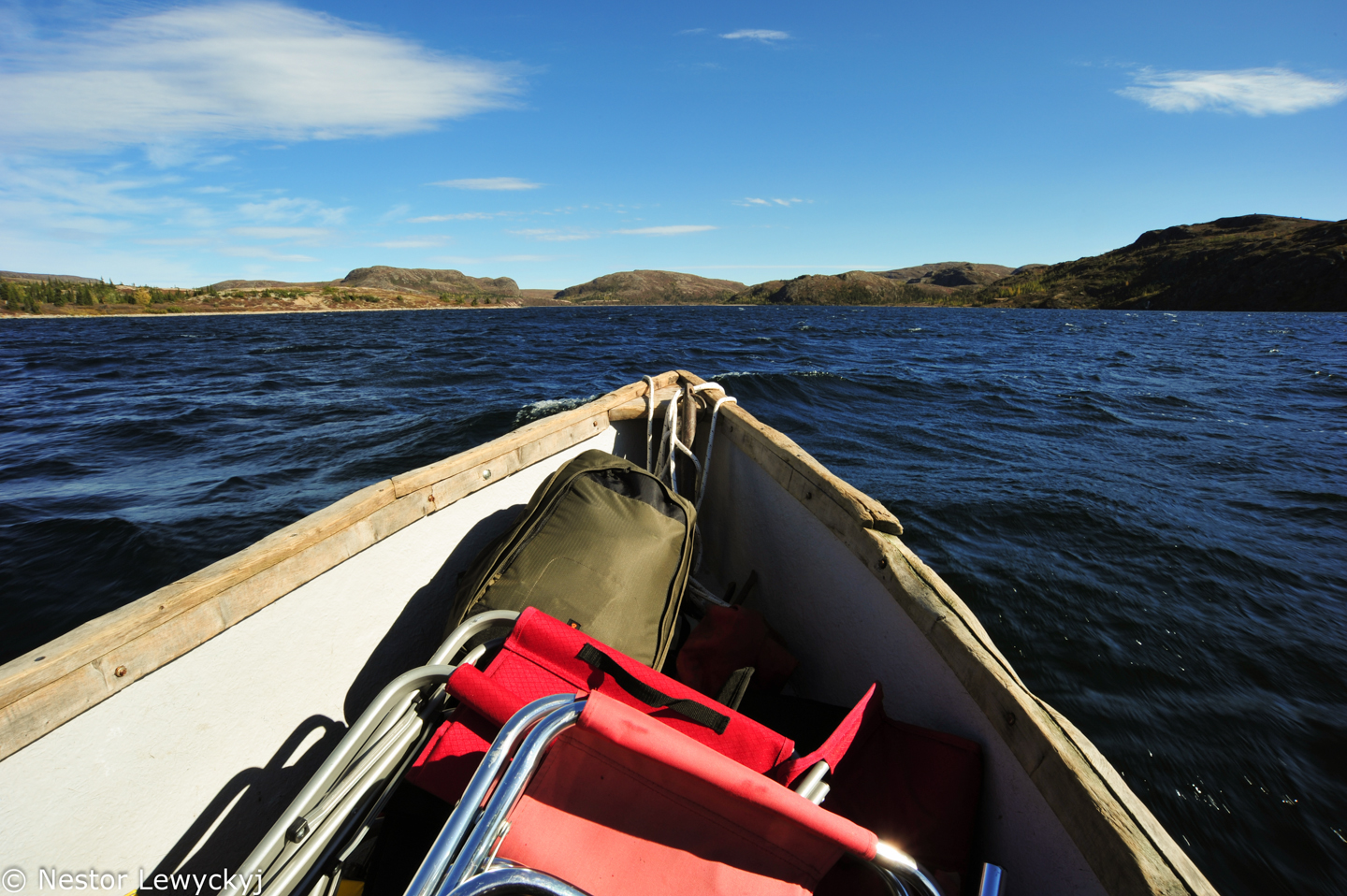 Our boat ride from the landing strip to camp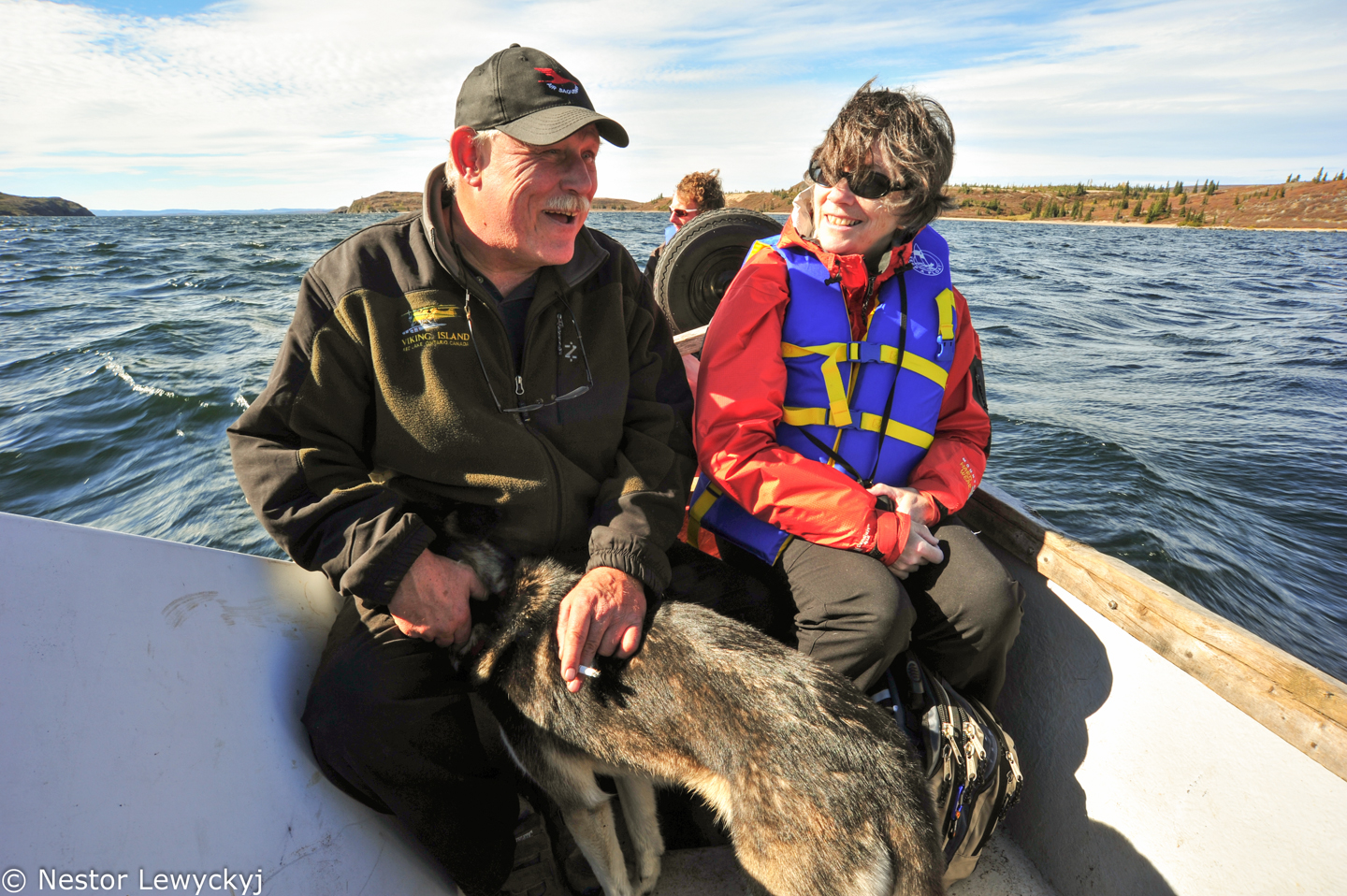 Tom, with Girlie, Margaret, and Dan steering in the back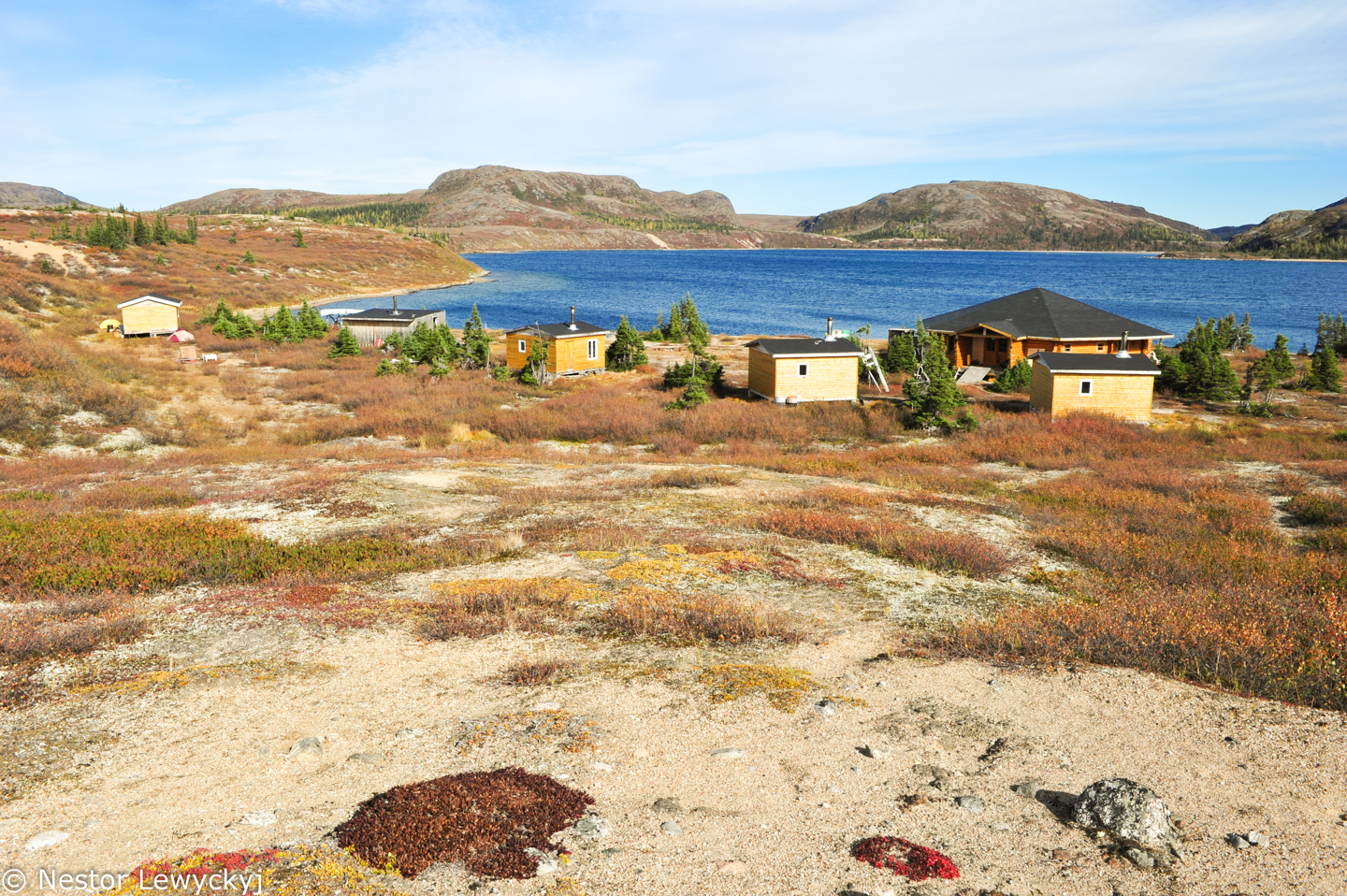 This is what camp looked like. The large building was filled with construction materials and unfortunately could not be used. We slept in the 4 brown huts. The grey one, second from the left, is where the kitchen was and we were fed, some very good meals!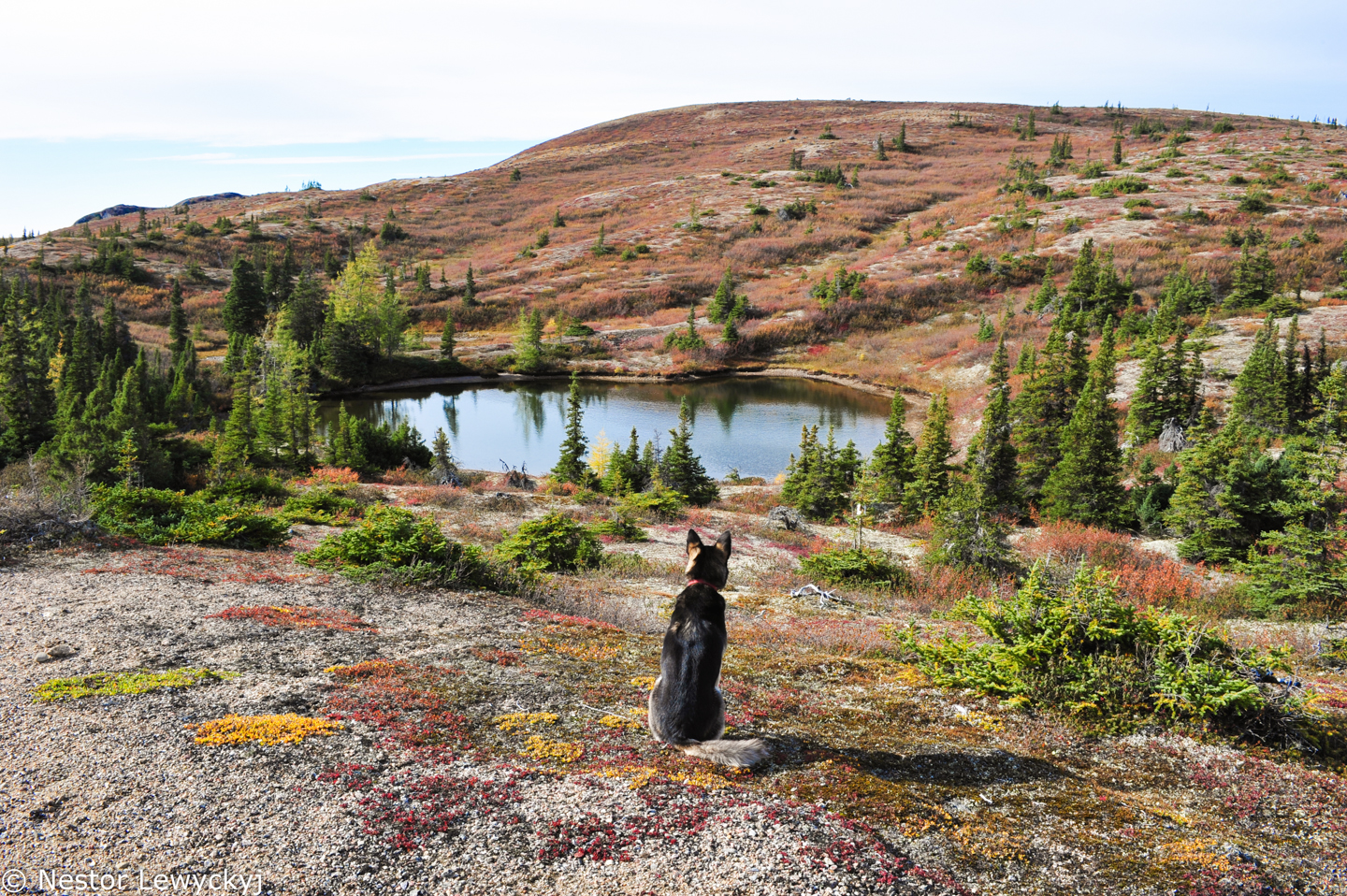 Girlie wistfully looking at a kettle. Apparently, as the glaciers were receding, large chunks would fall of the front edge from quite an altitude. These chunks would often bury themselves into the ground, and as they melted, water filled holes called kettles would be left behind.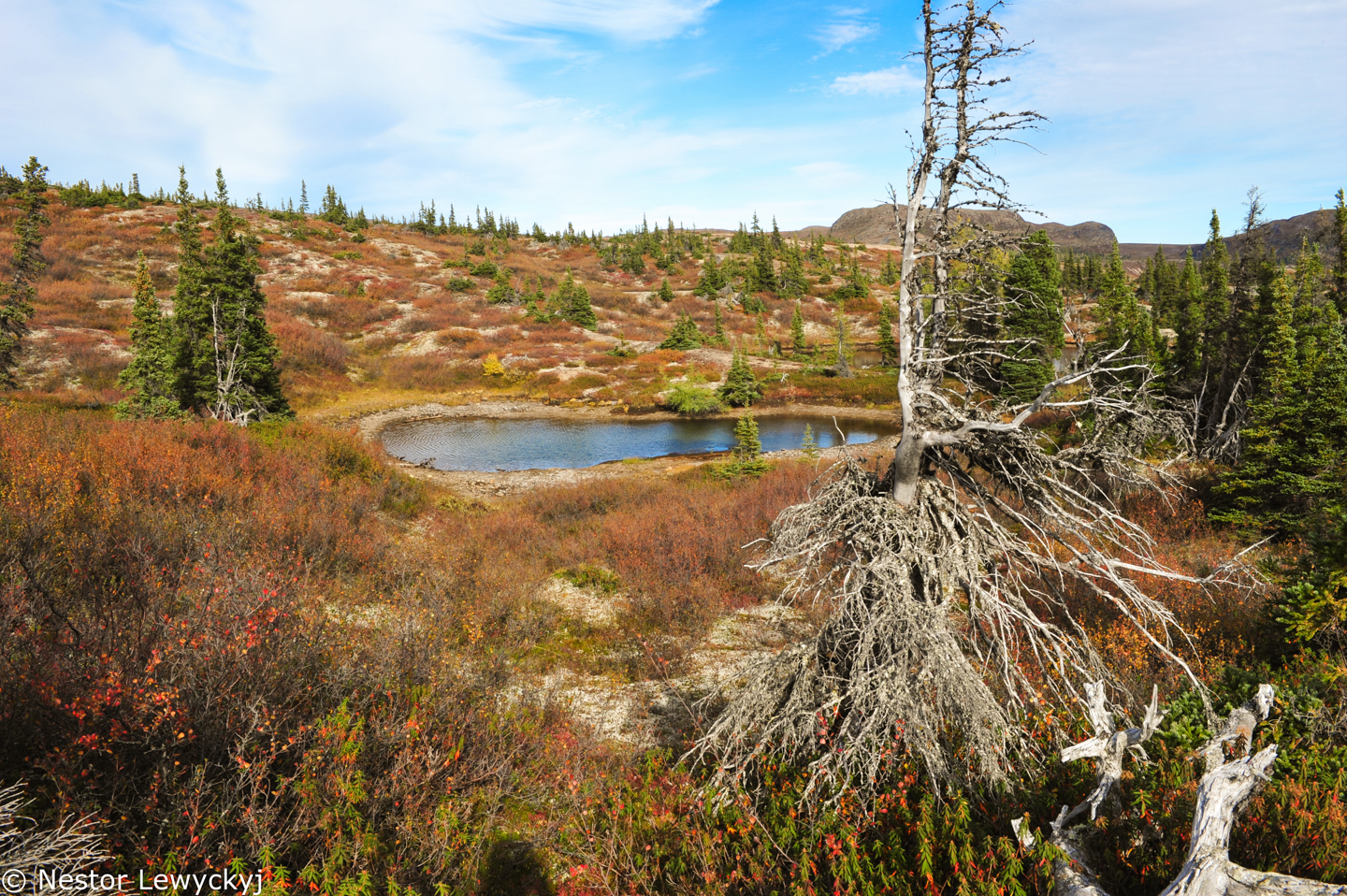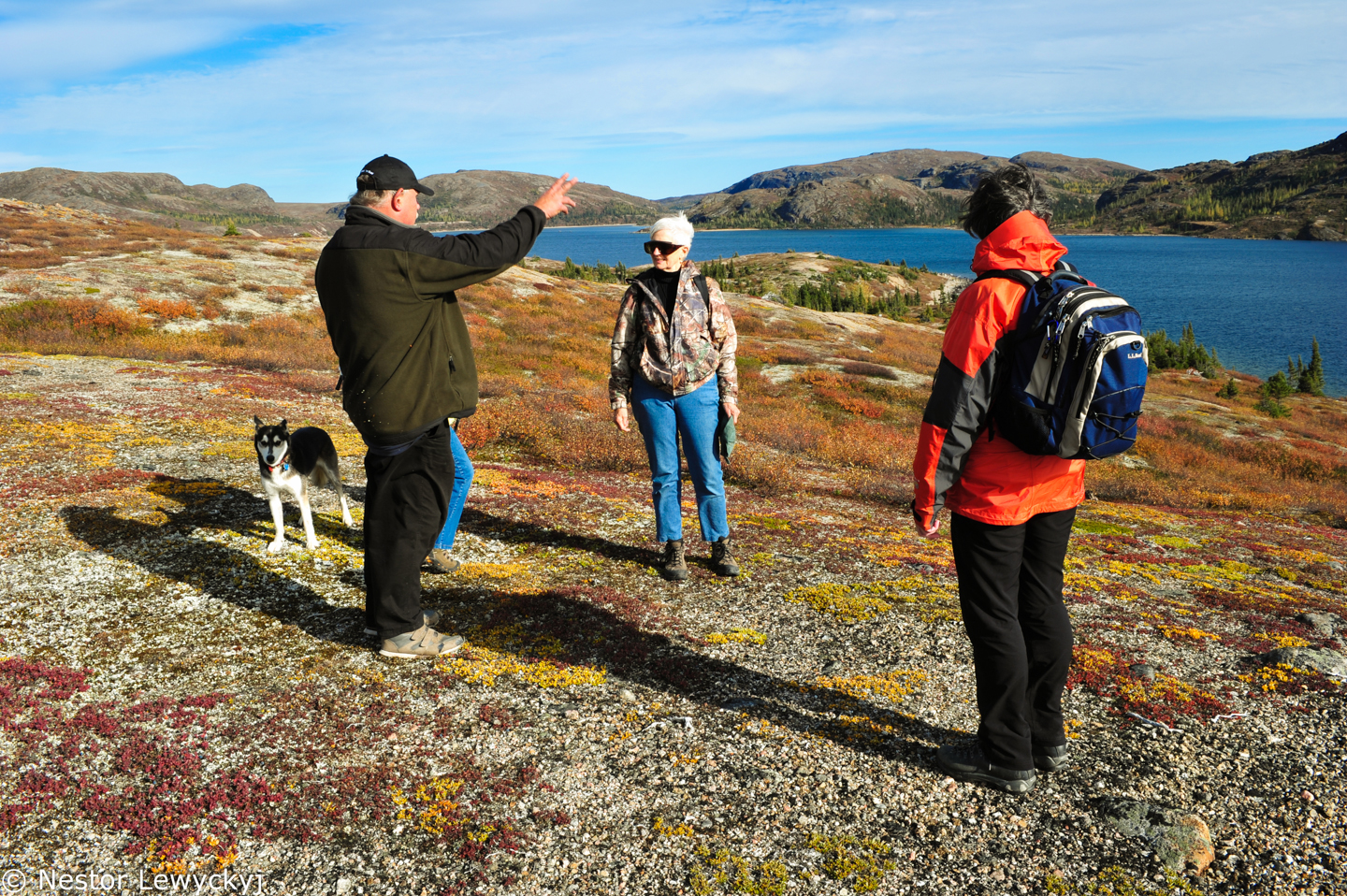 First-day orienteering for Sue (center), Margaret (right), and Denise (behind Tom), and I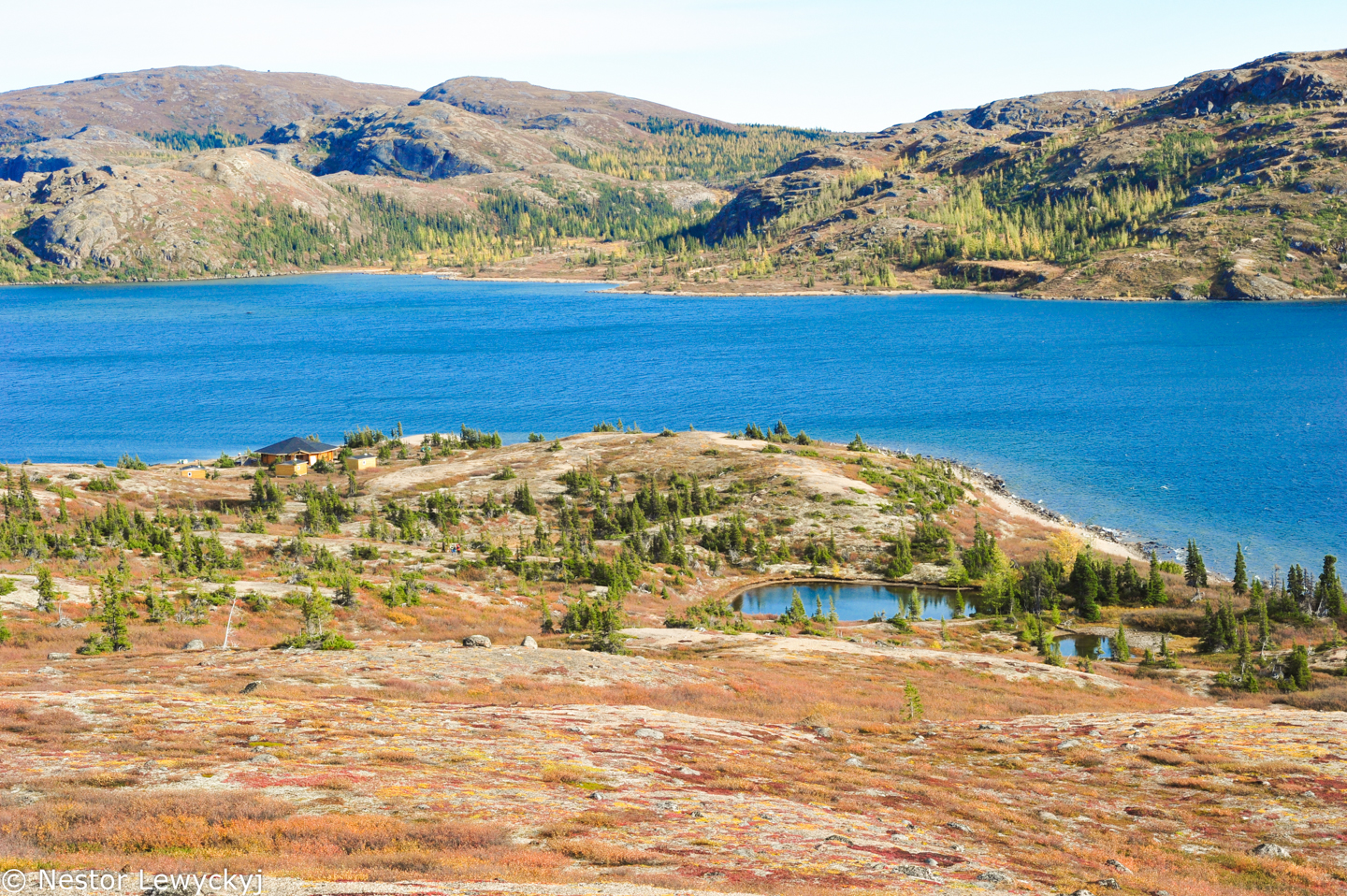 The camp is situated in a really nice spot, sheltered from the prevailing western winds.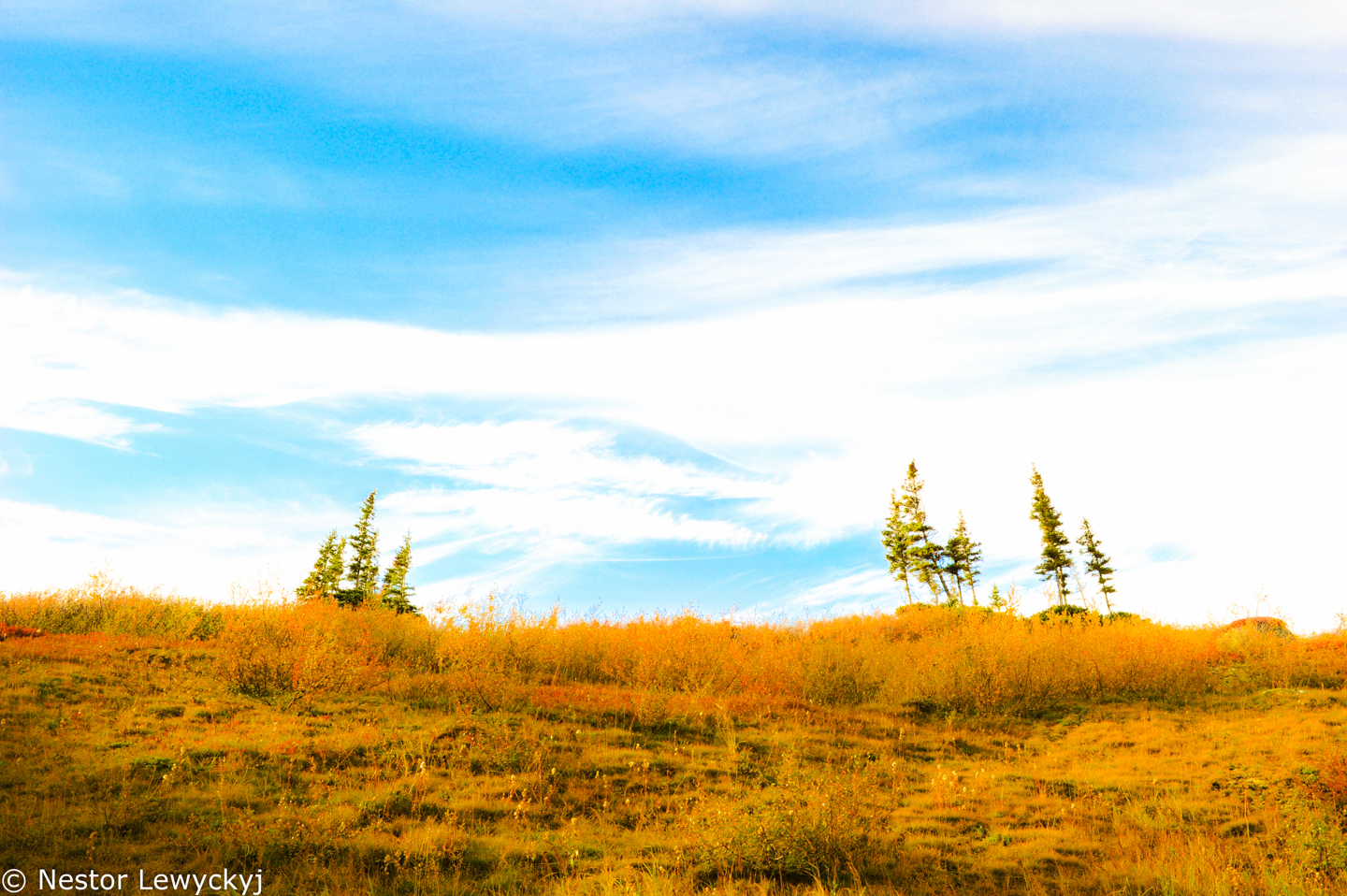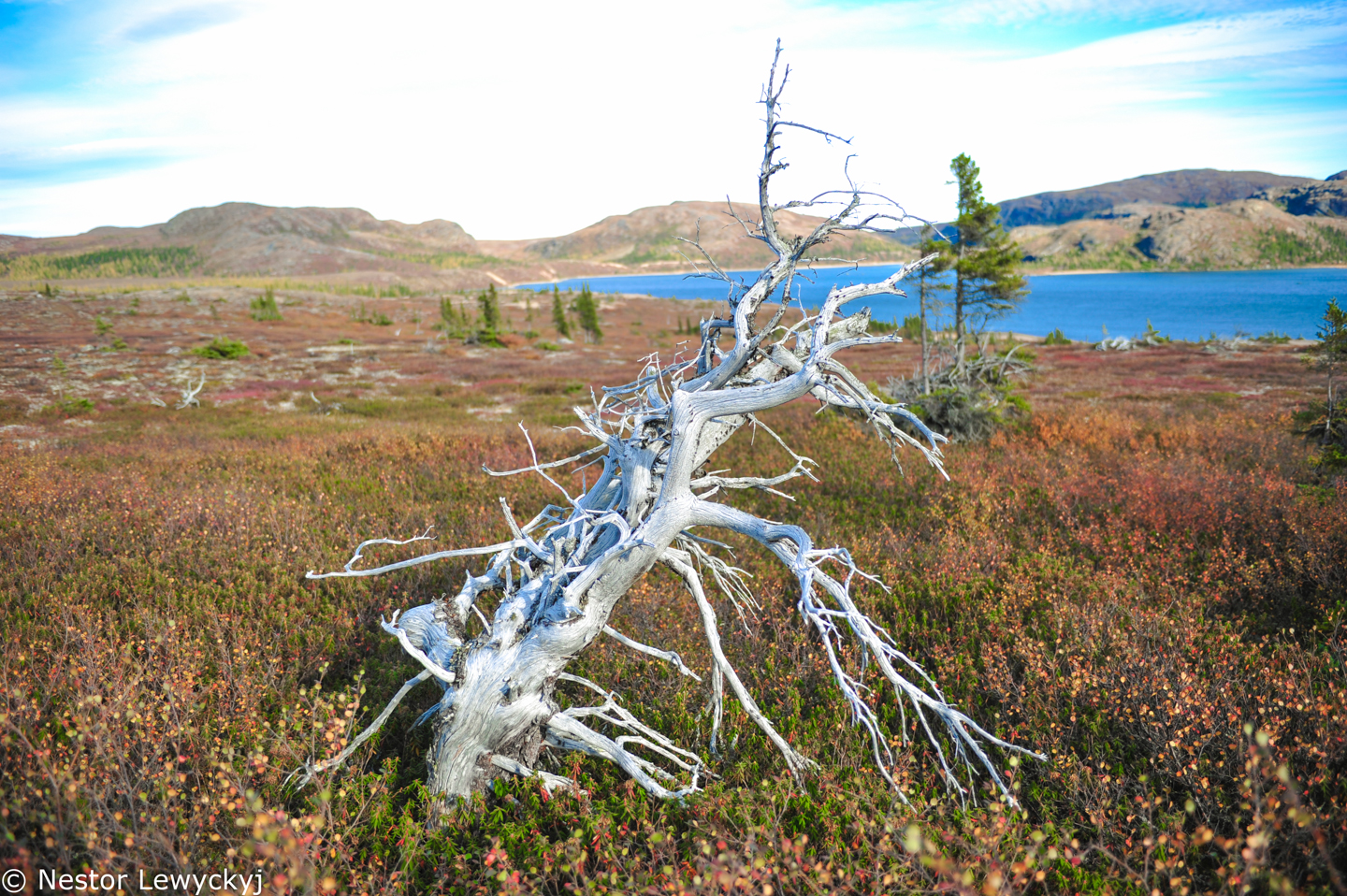 The area is seemingly close to the tree line. Sheltered valleys and ravines house nice stands of spruce and larch, but on ridges, most do not survive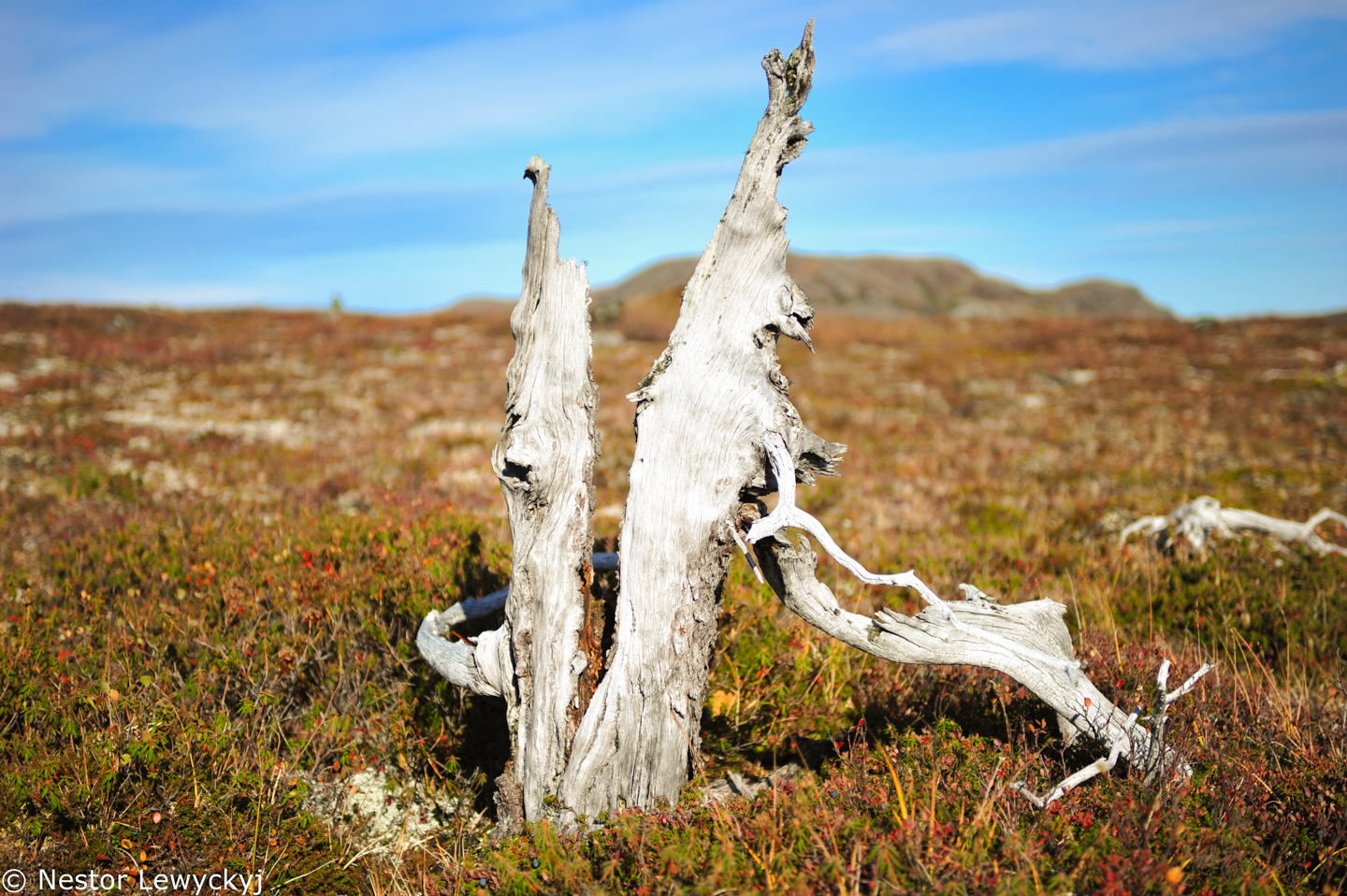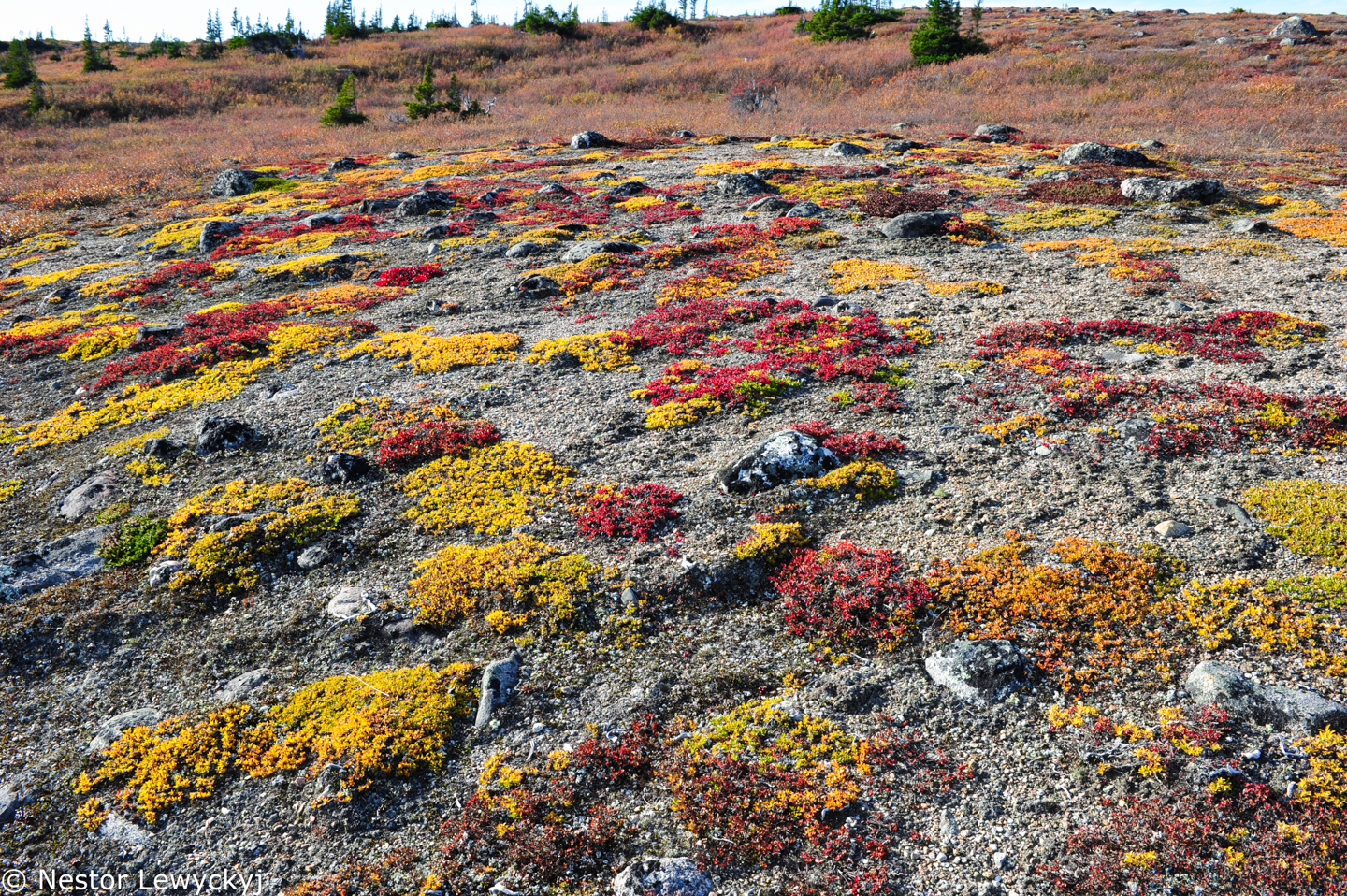 Fall was very much upon us and the ground was turning into a wonderful palette of colours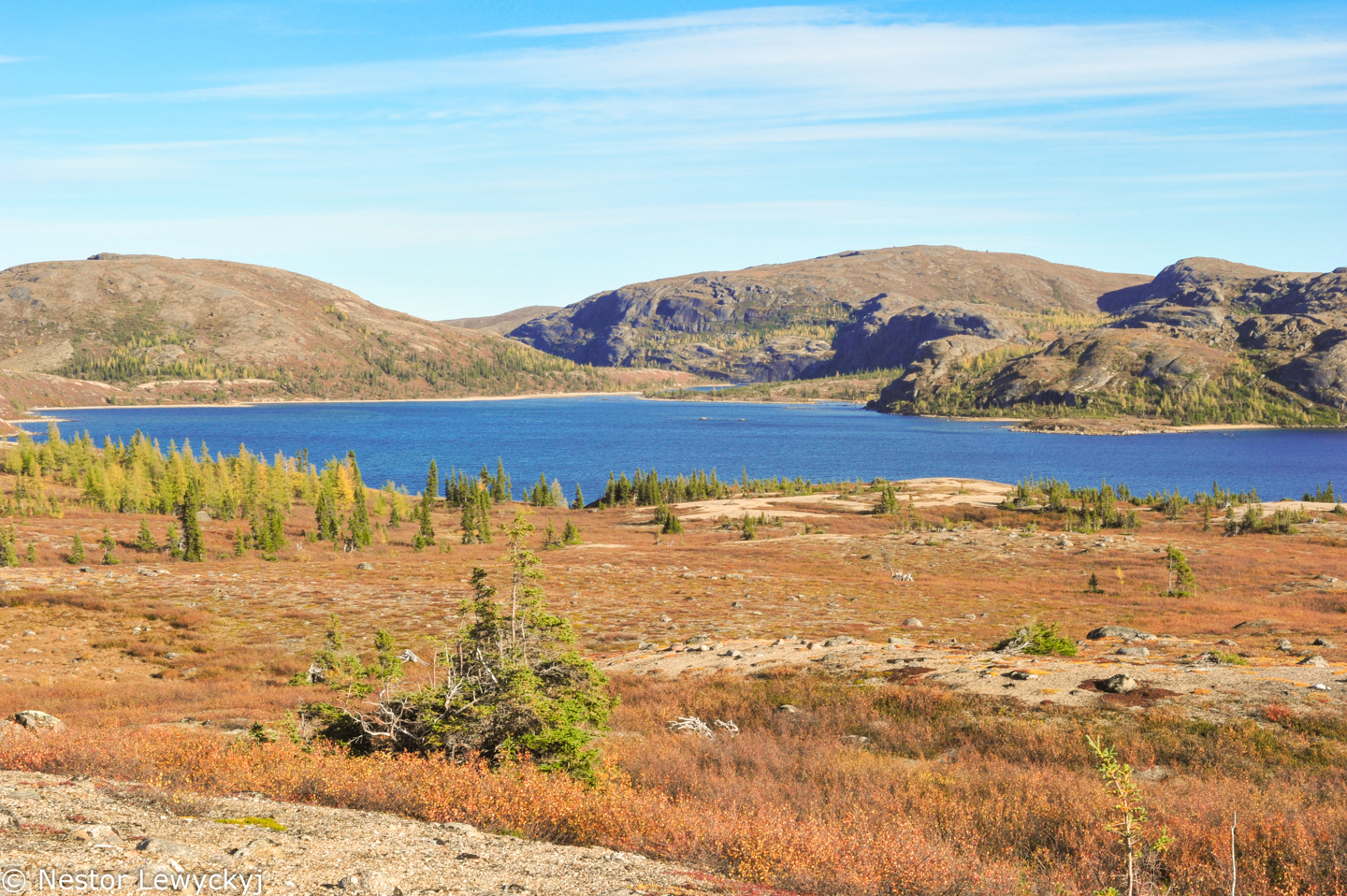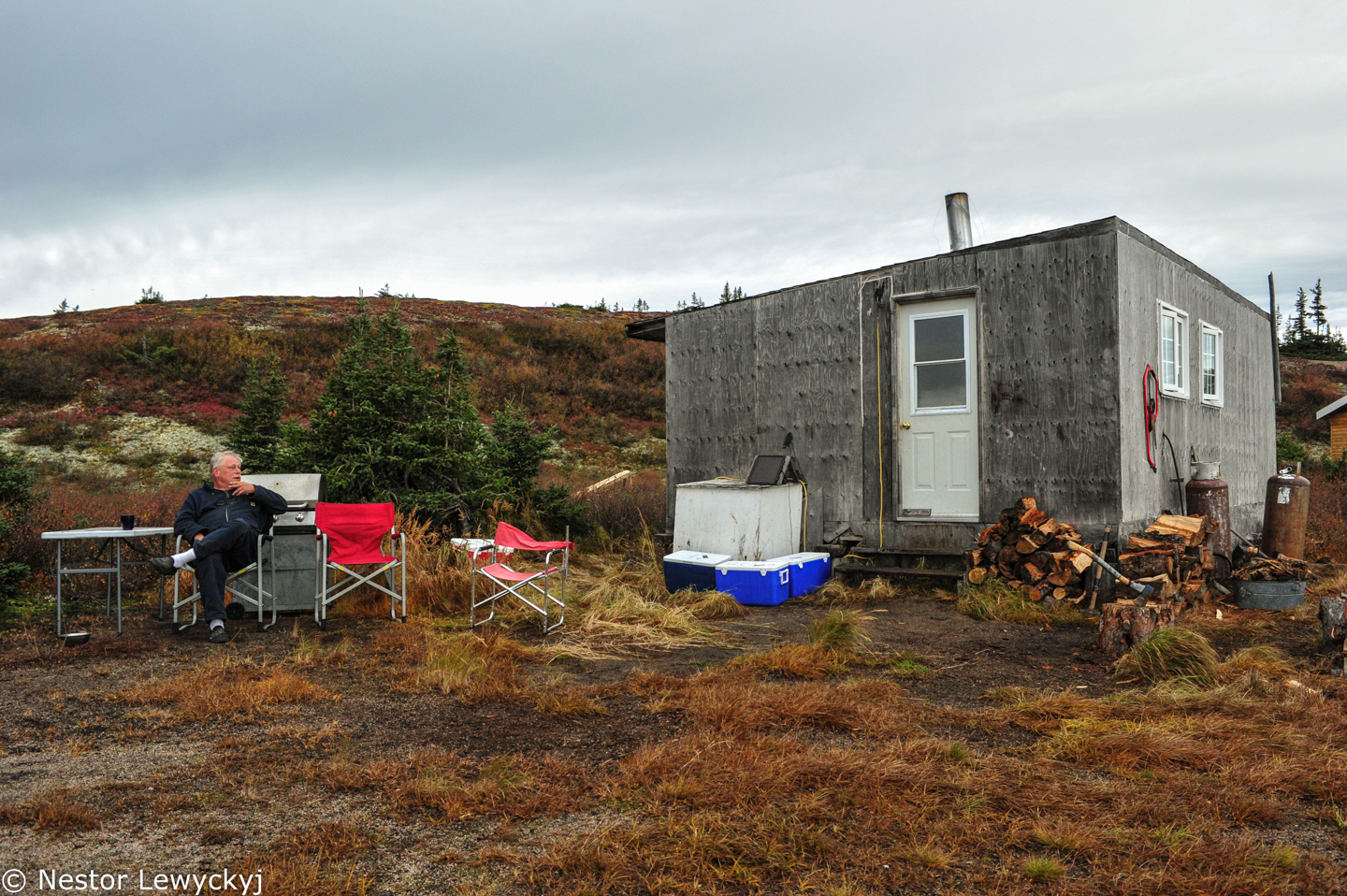 Tom in front of the kitchen/dining room hut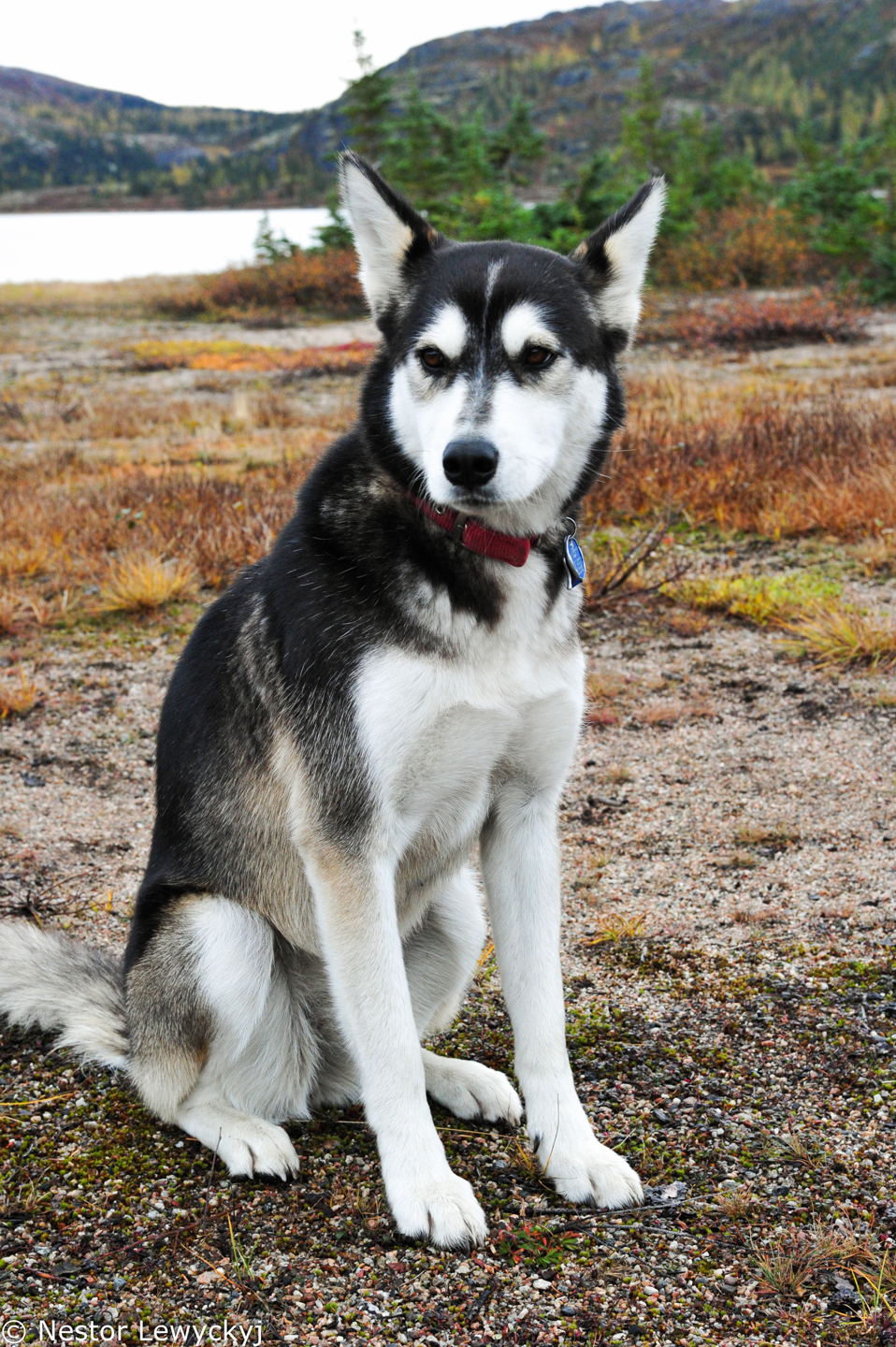 Girlie never strayed too far from camp, crying whenever Tom left by boat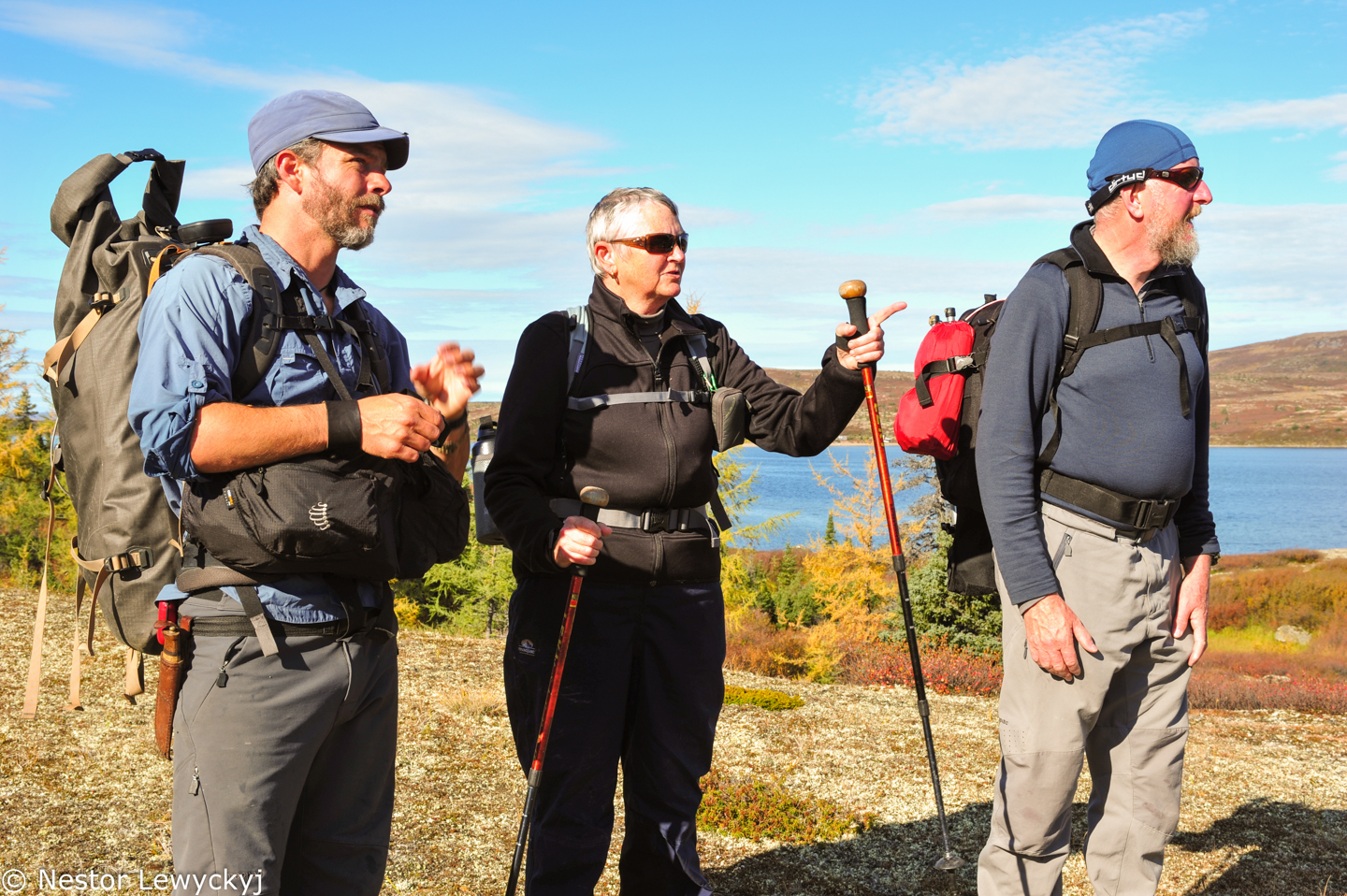 Jaime, a professional outdoorsman and guide from New Zealand but presently living on Vancouver Island, and Leonie & Warren also from New Zealand, although they did not know Jaime before the trip. Jaime was Tom's key guide for this camp. His web site is http://www.worldwideadventures.com and he also has a blog http://worldwildadventureexp.blogspot.co.uk/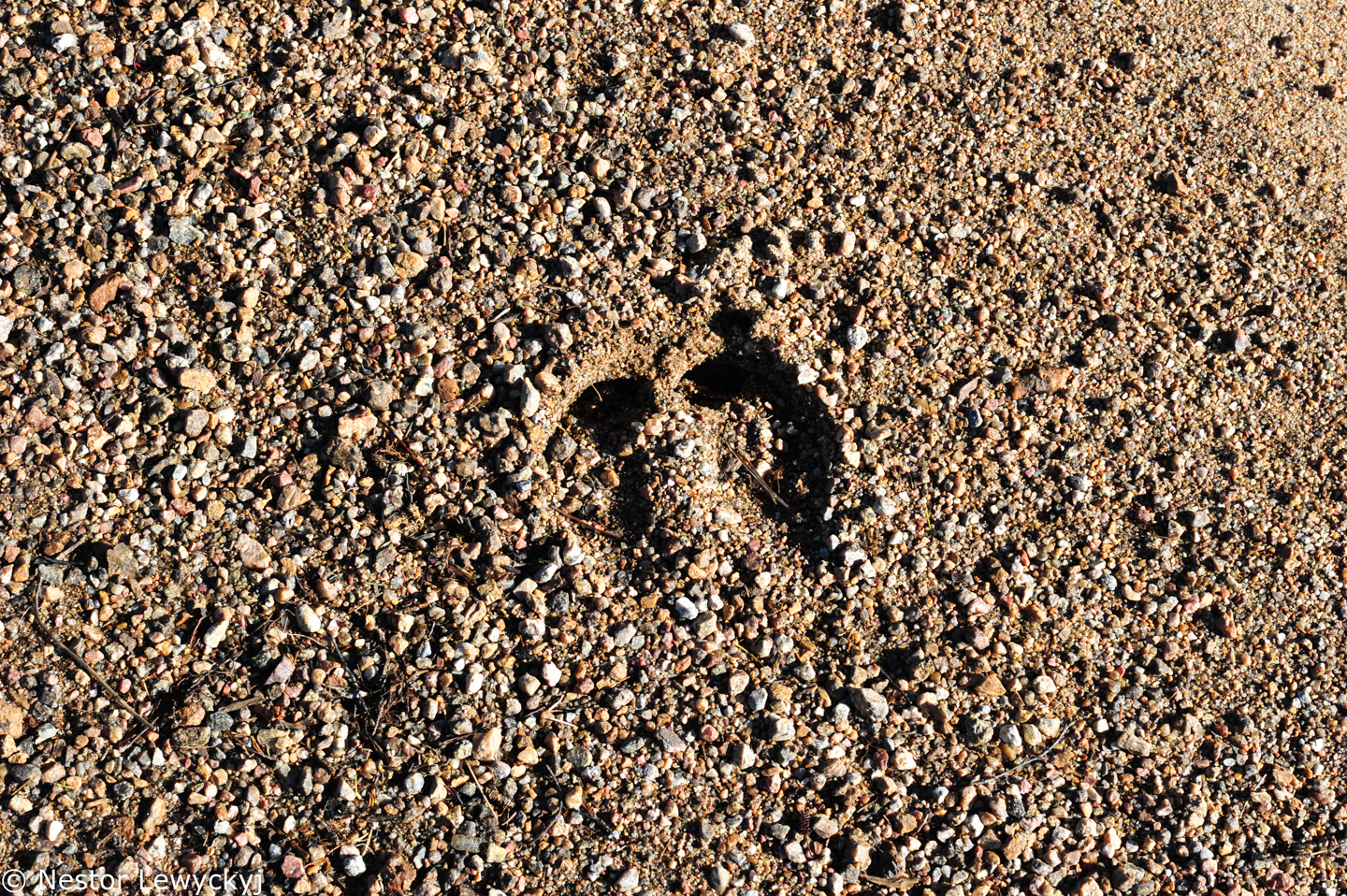 Fresh caribou track but we never saw a single beast!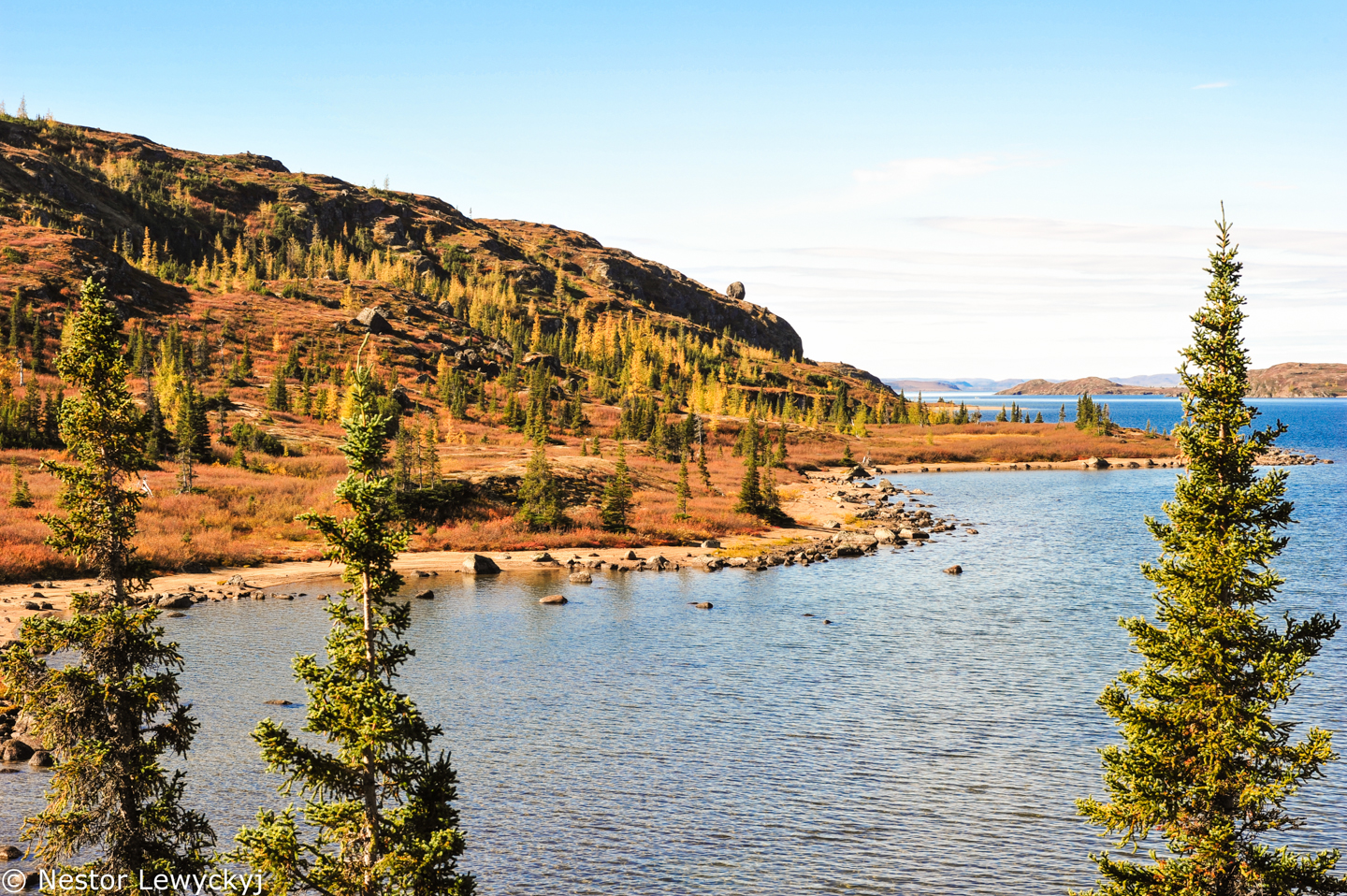 The glaciers left behind a lot of erratics, like this huge one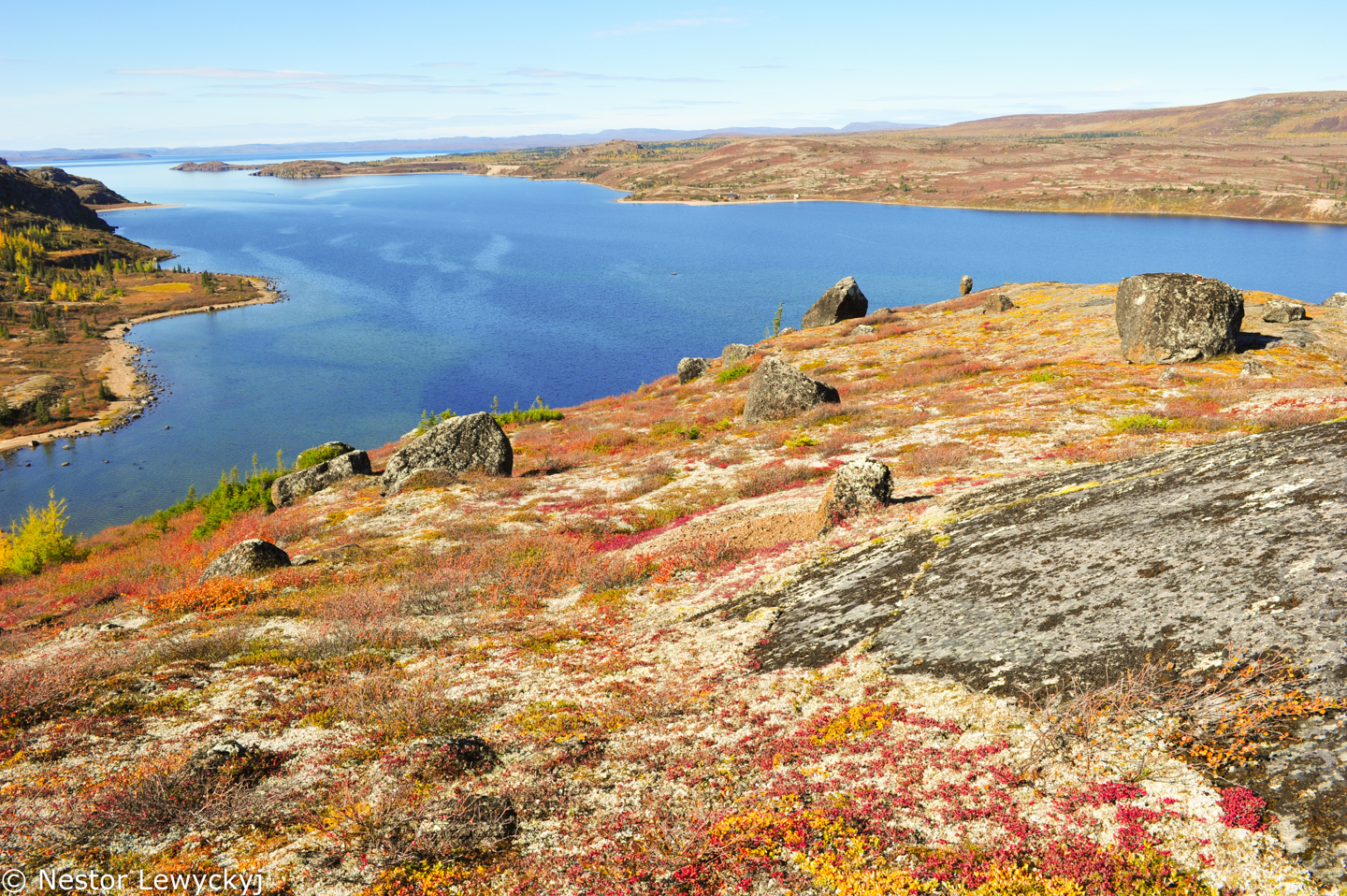 The very eastern-most end of Lake Mistastin, with the camp on the far shore in the middle. The river exists to the right, at a VERY good Arctic Char fishing spot!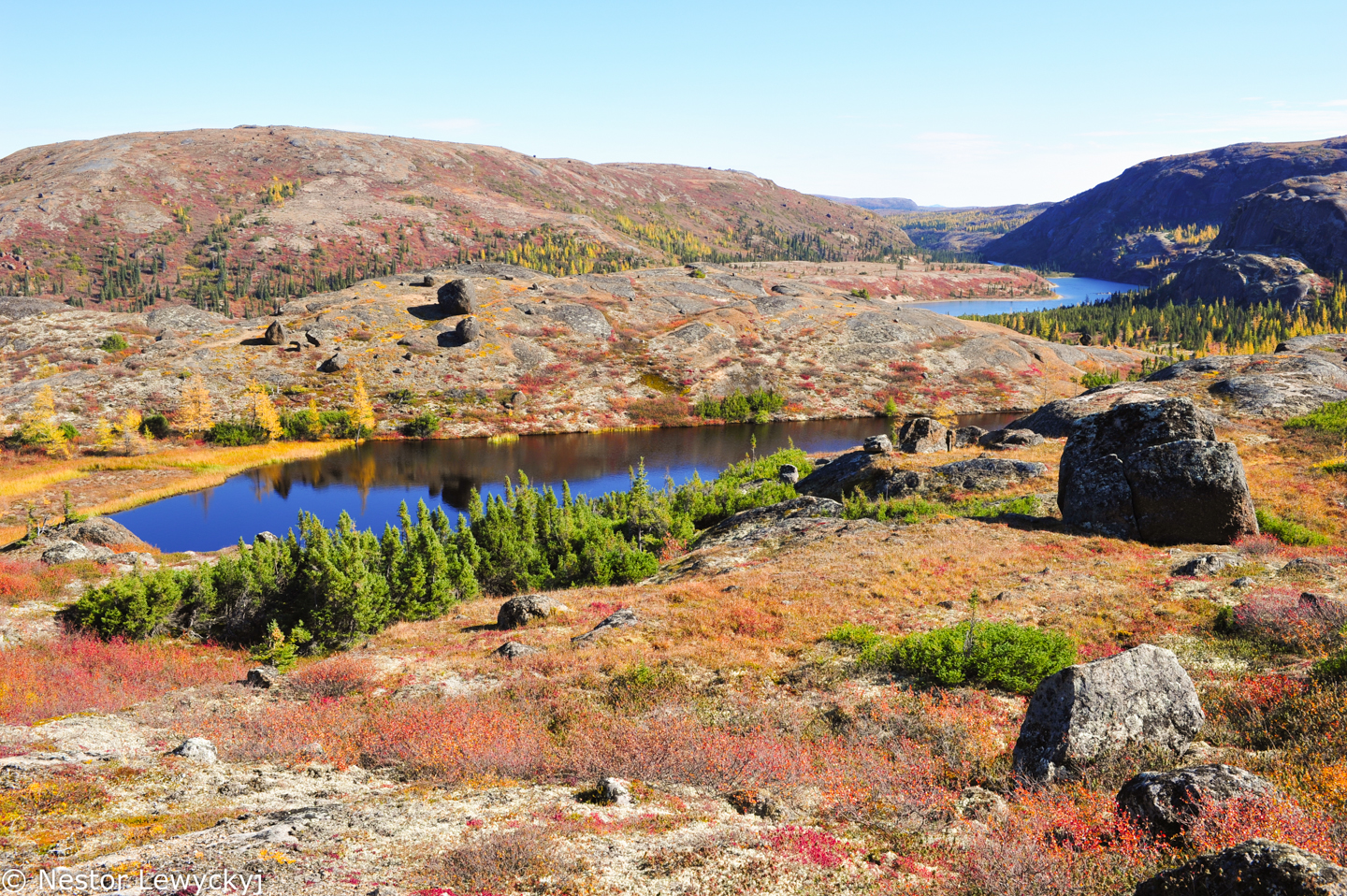 The river exiting the lake is visible on the upper right of the photograph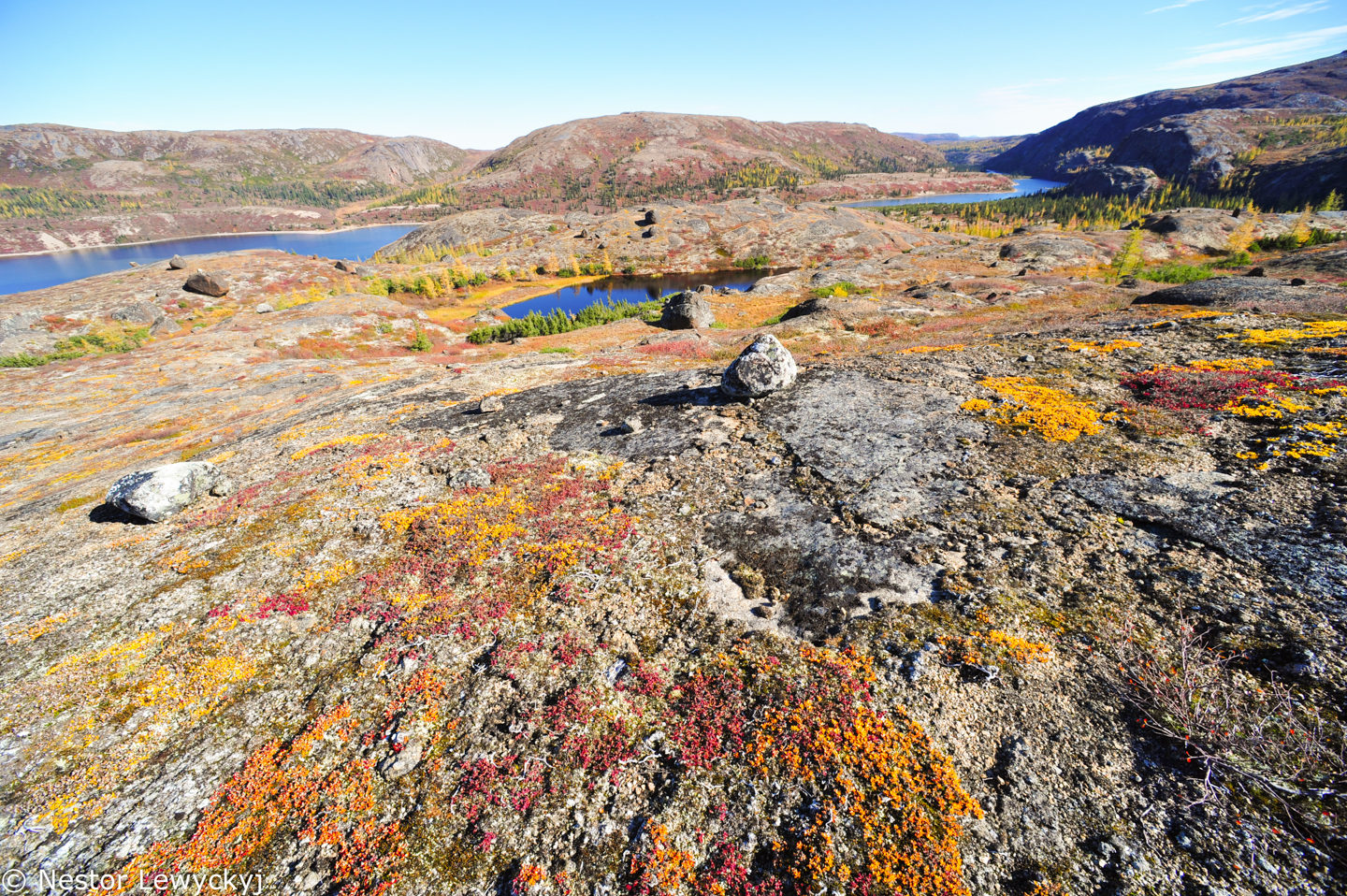 The second day we were there was the nicest weather that we would see during our stay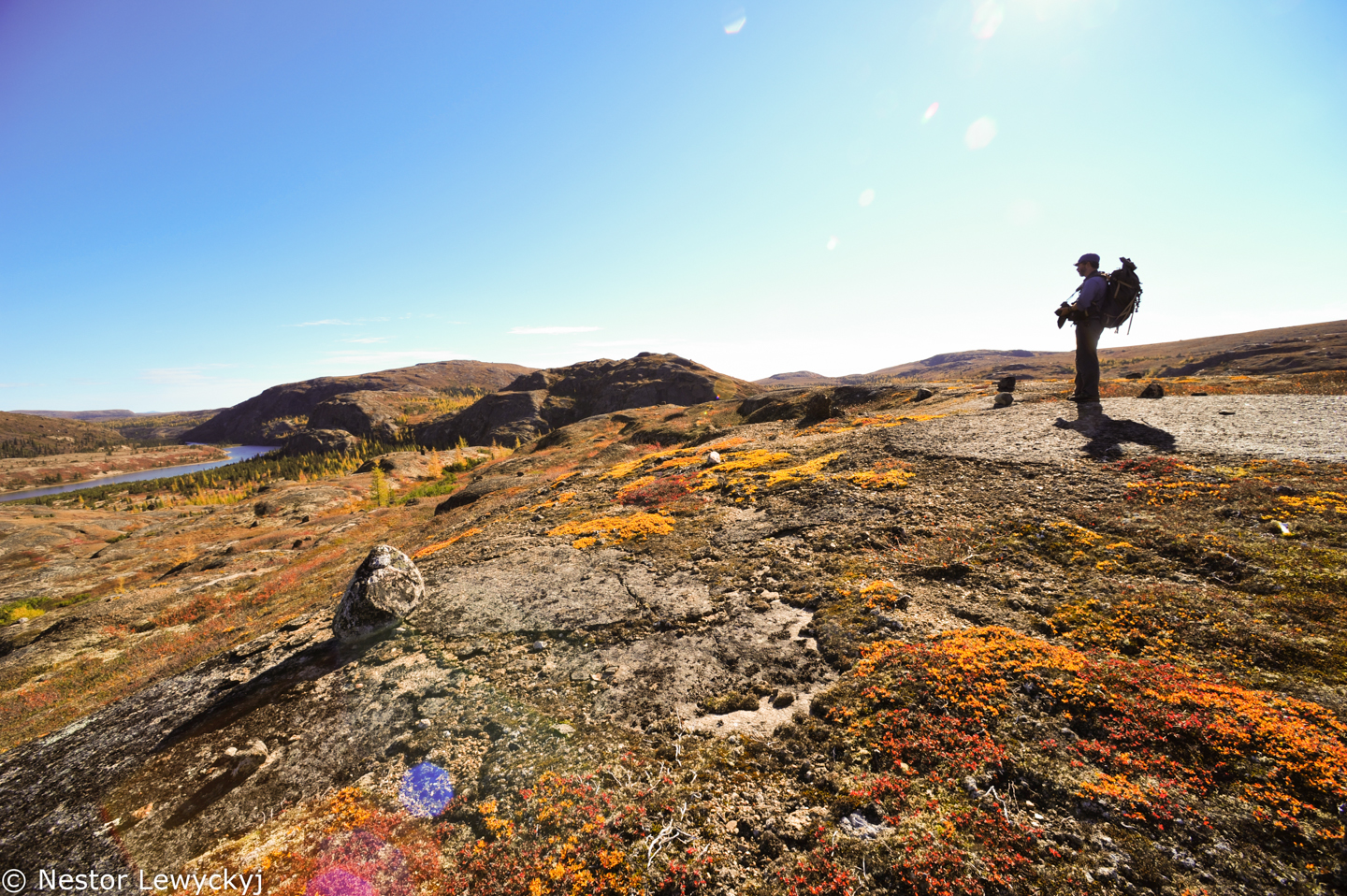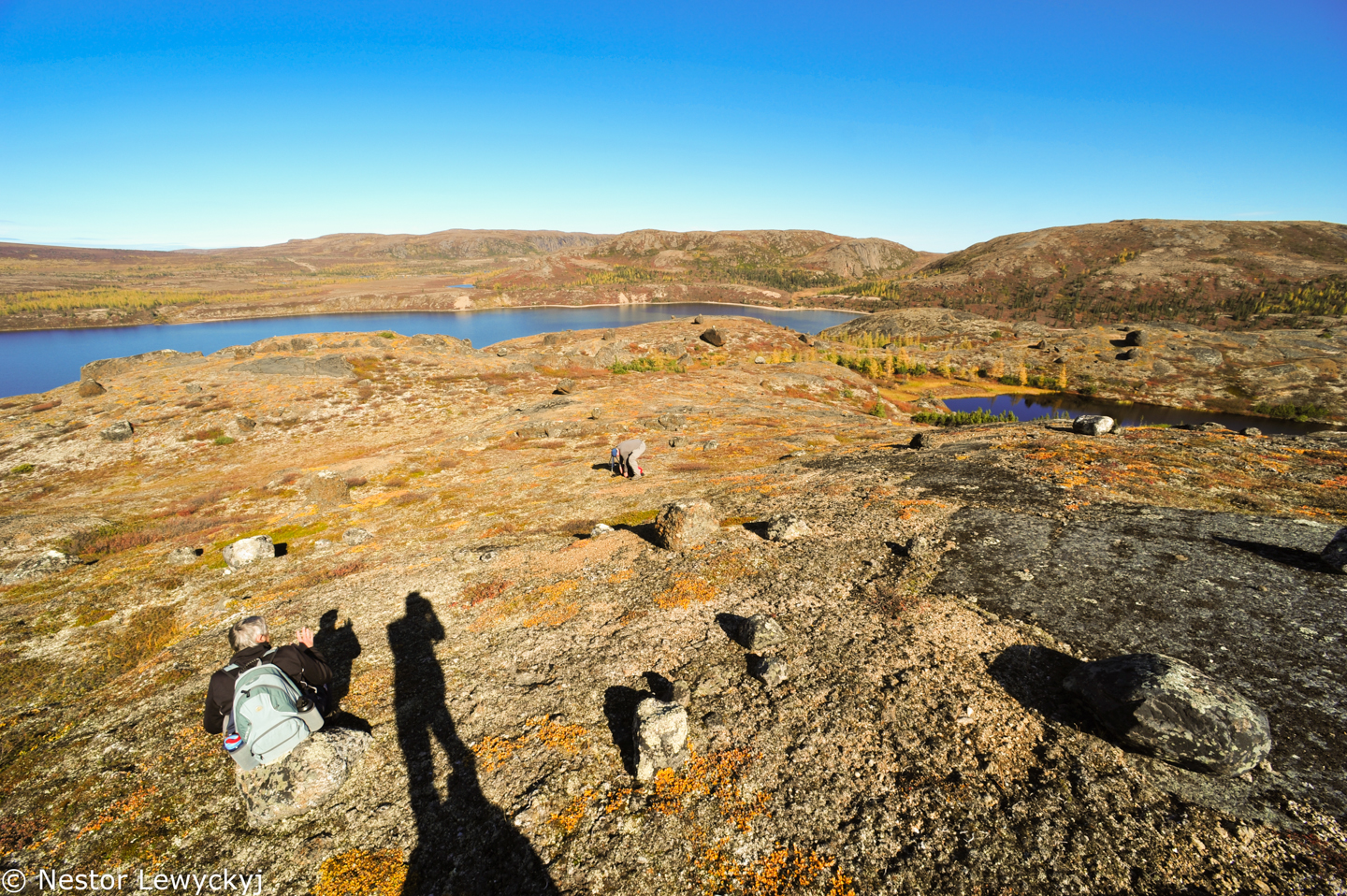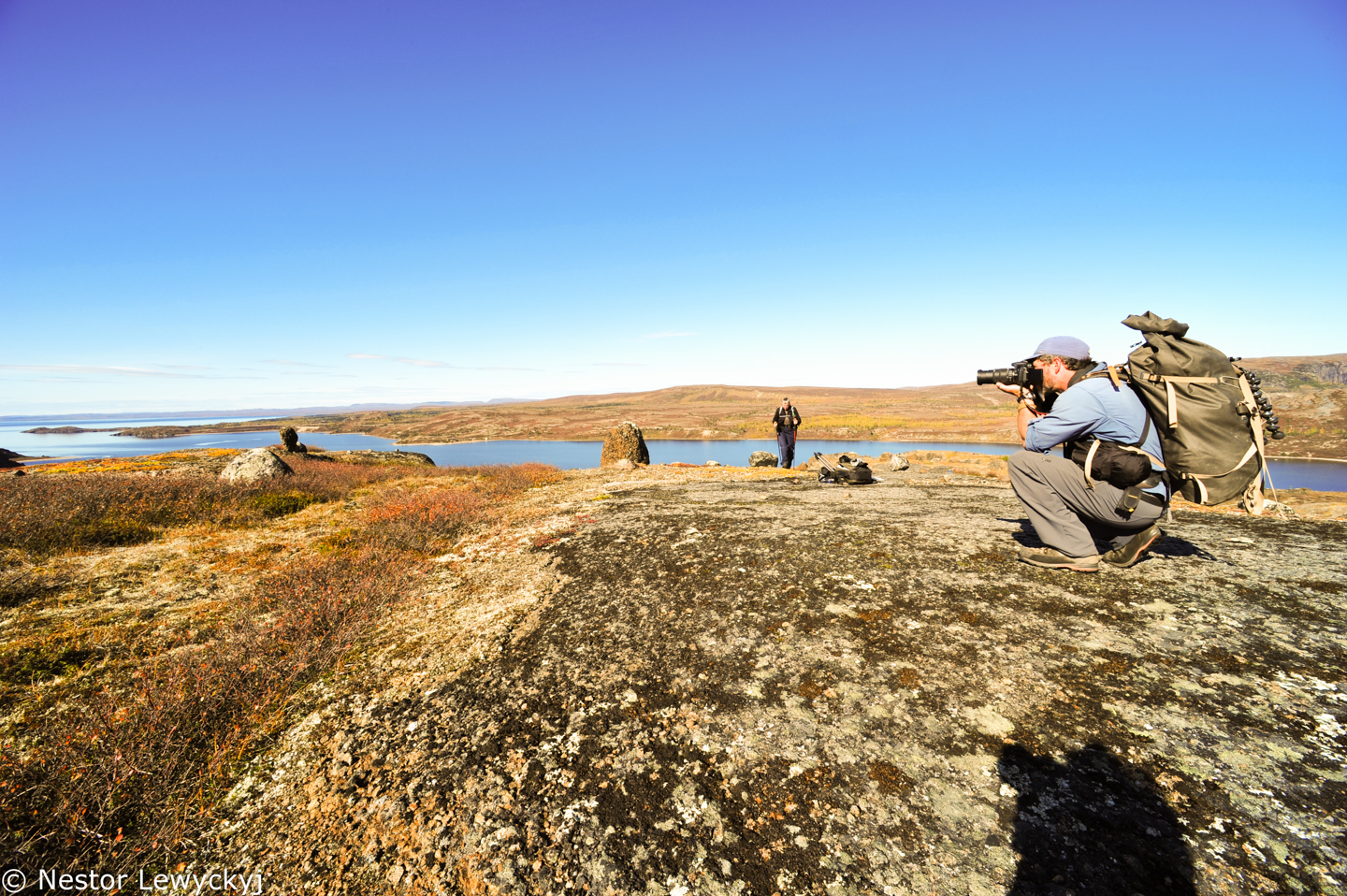 Everybody was taking pictures all the time. It was a real photo camp.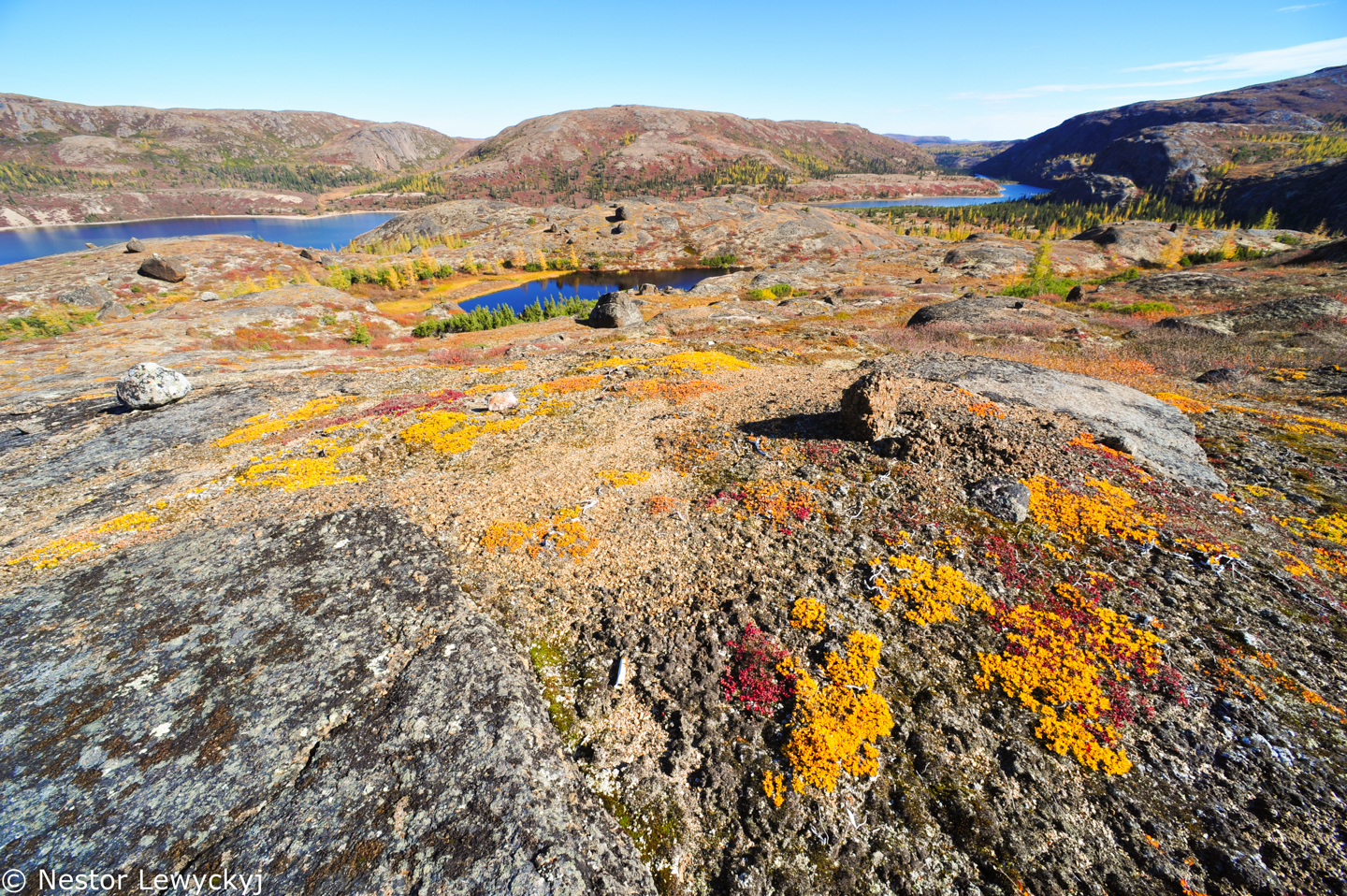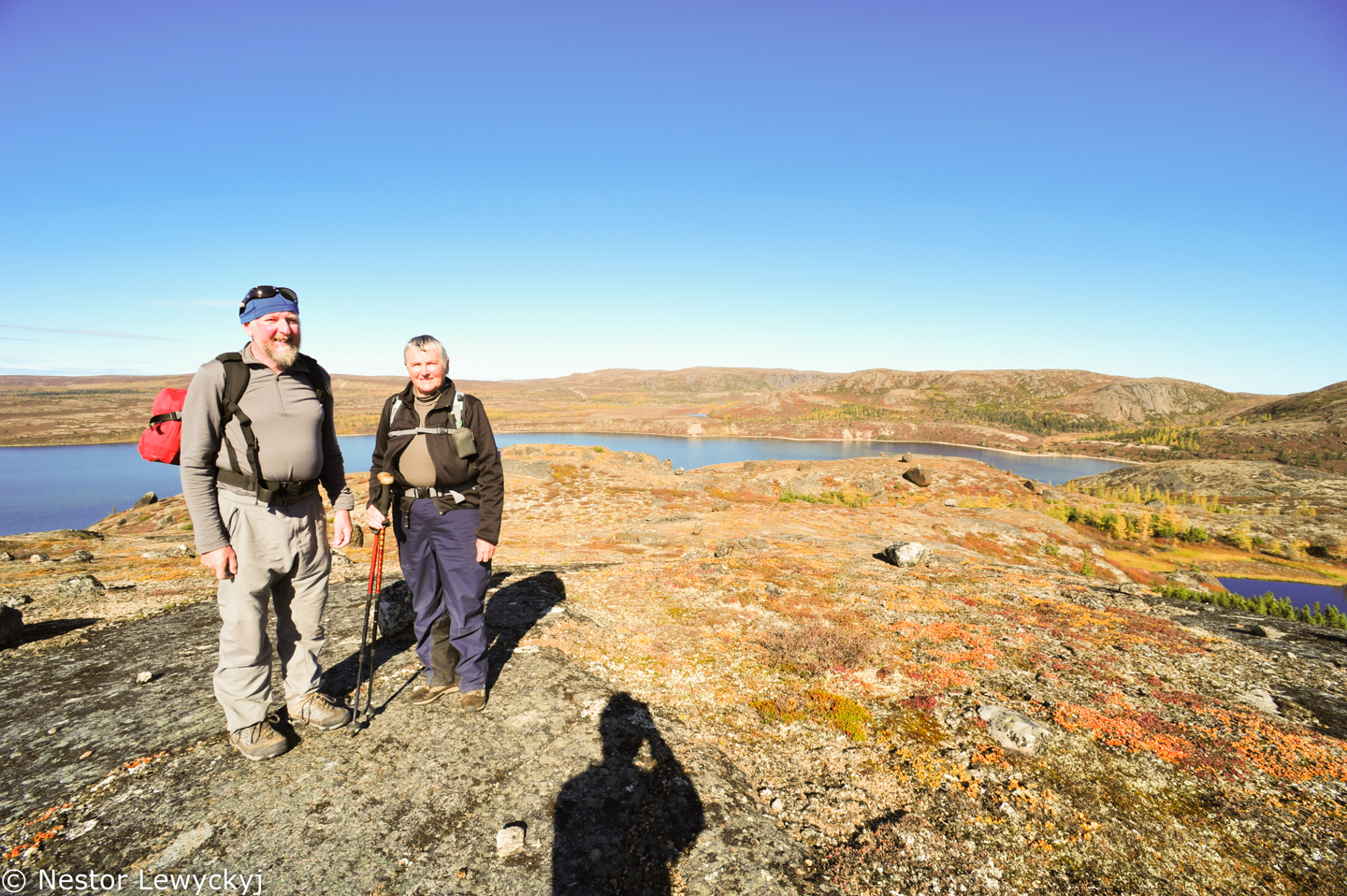 Warren and Leonie from New Zealand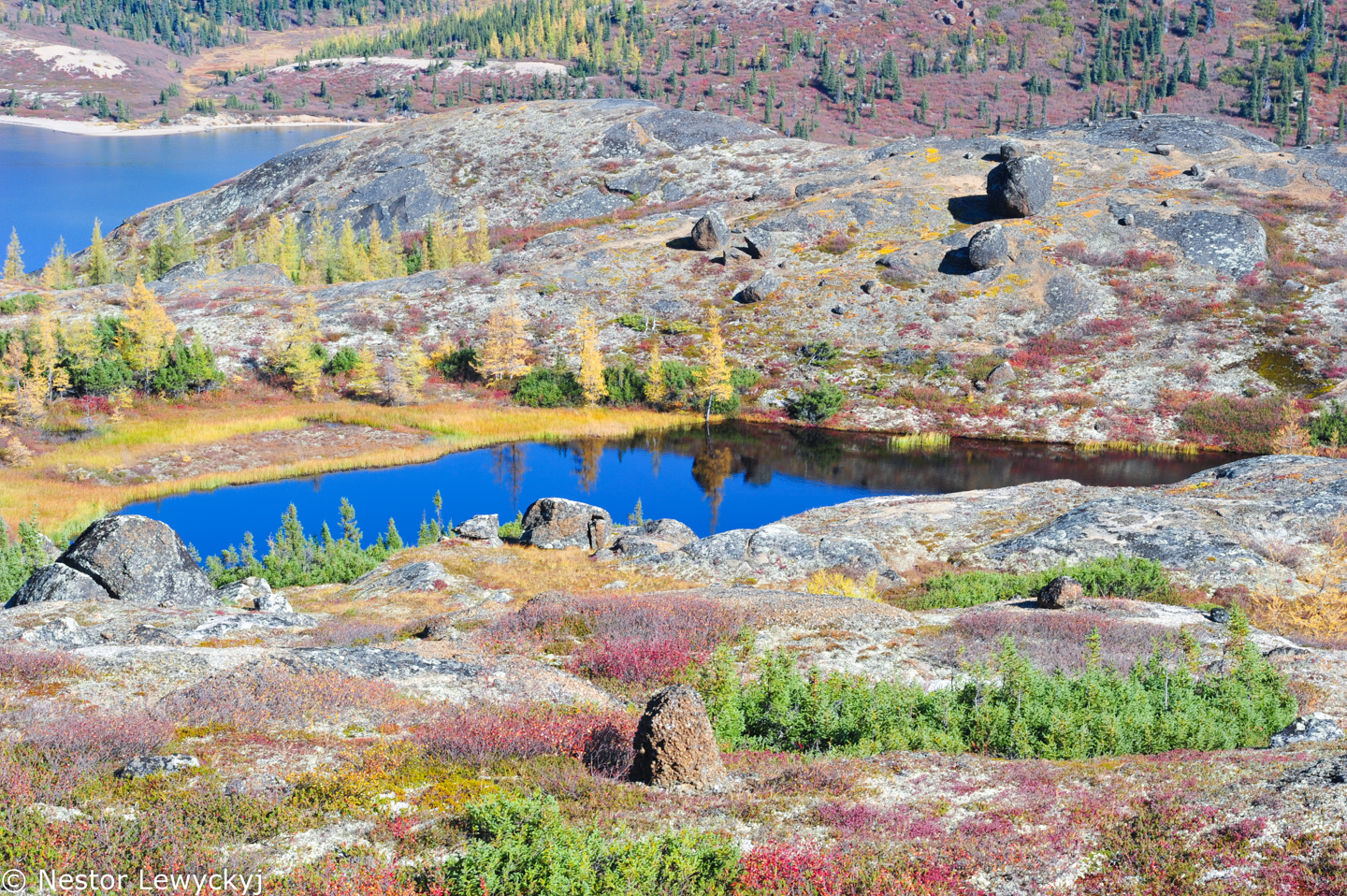 The air was dry, sharpening the entire landscape. And the fall colours were just painting the entire ground cover.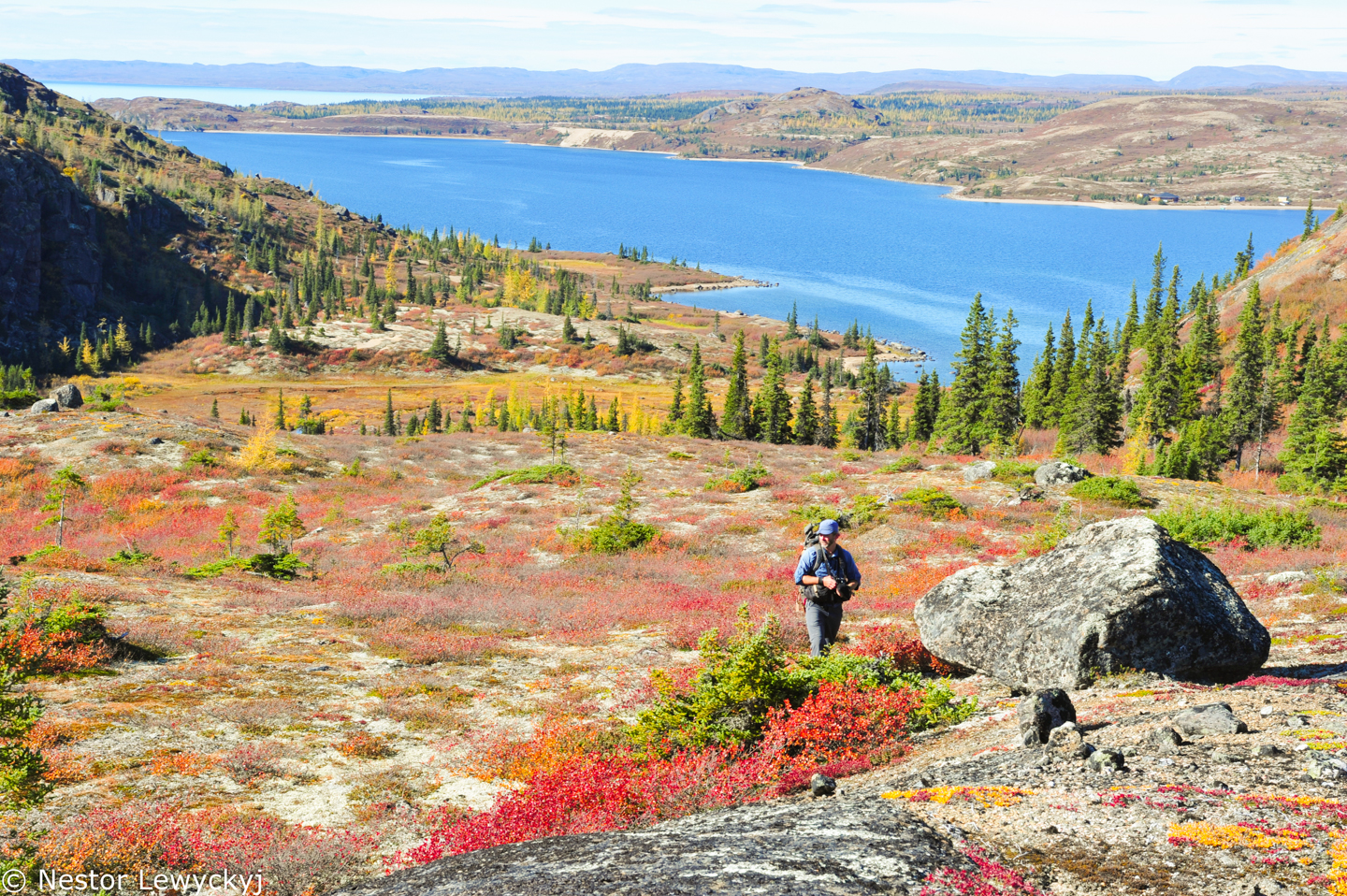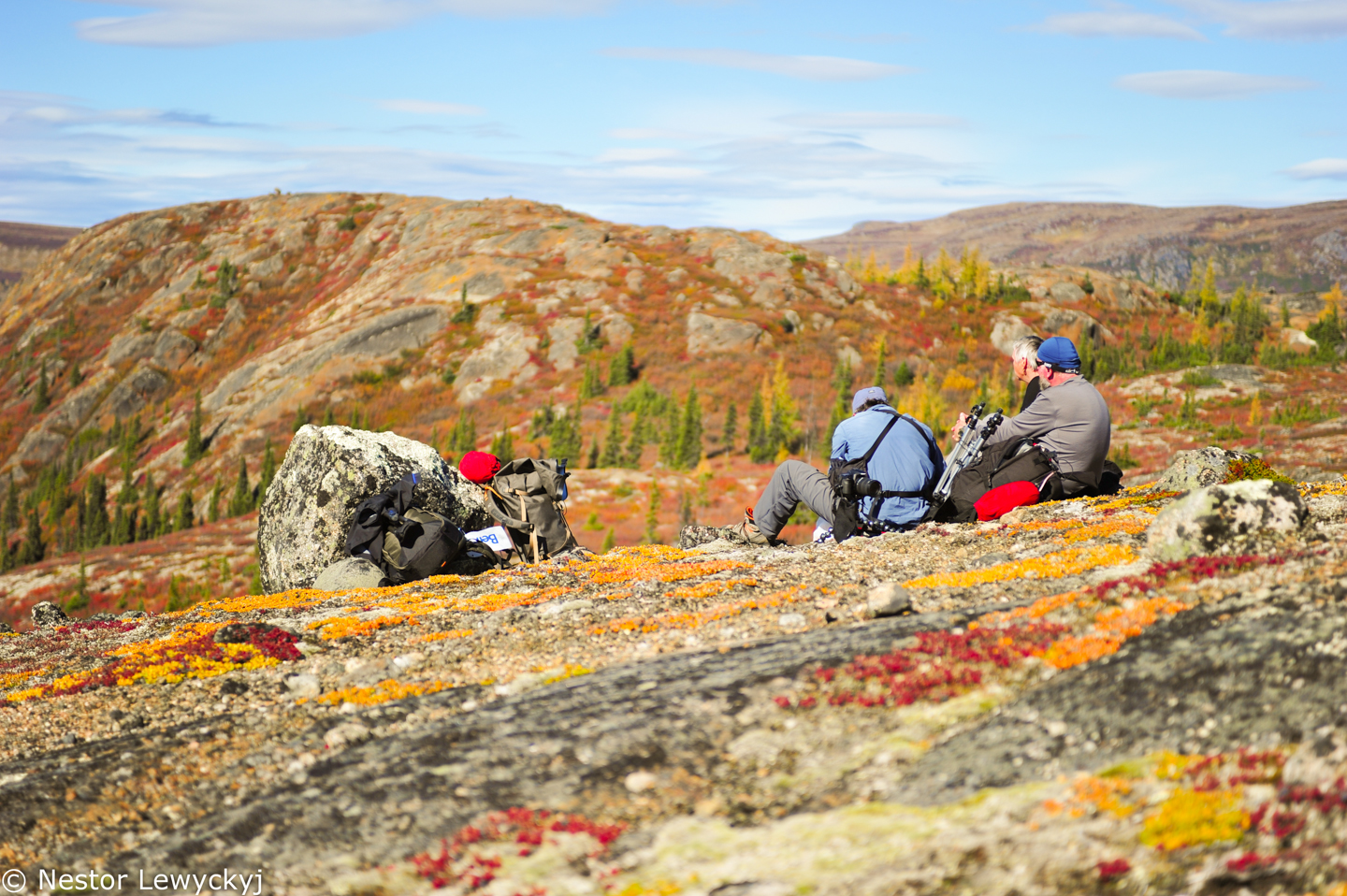 We hiked around a lot, walking along a number of ridges, trying to find the caribou and other mega-fauna.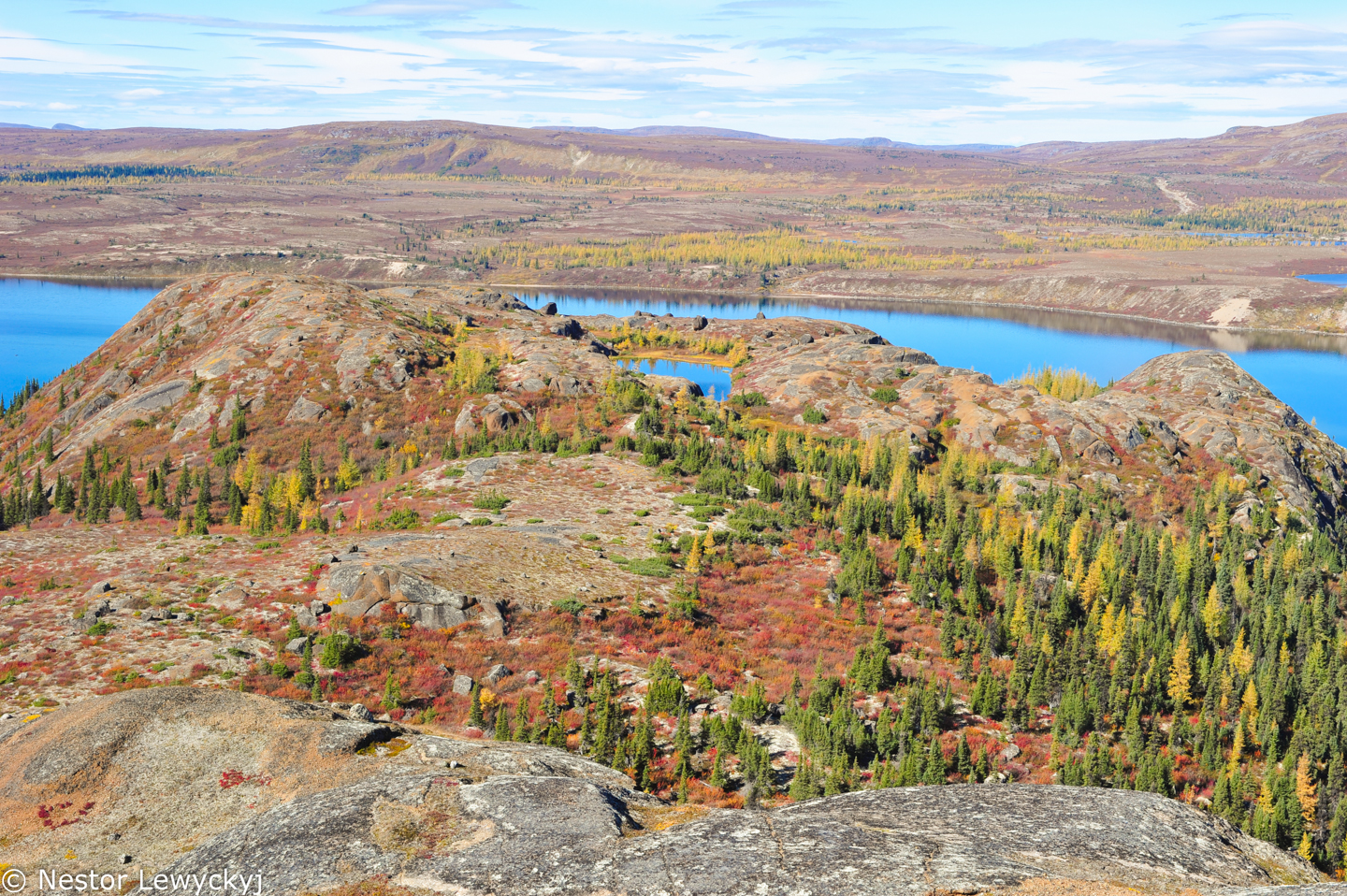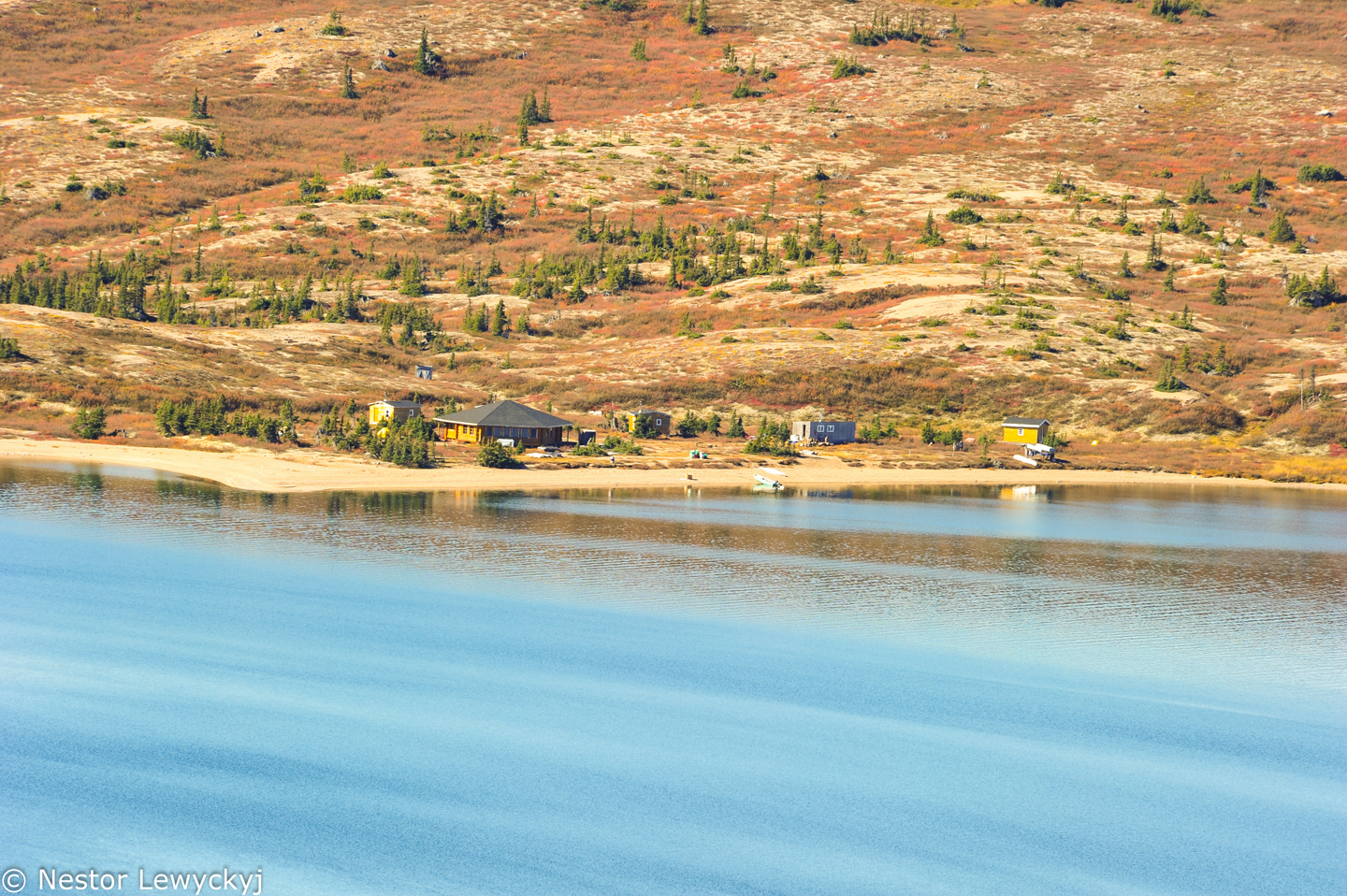 A good view of the camp from the opposite ridge with my 400mm lens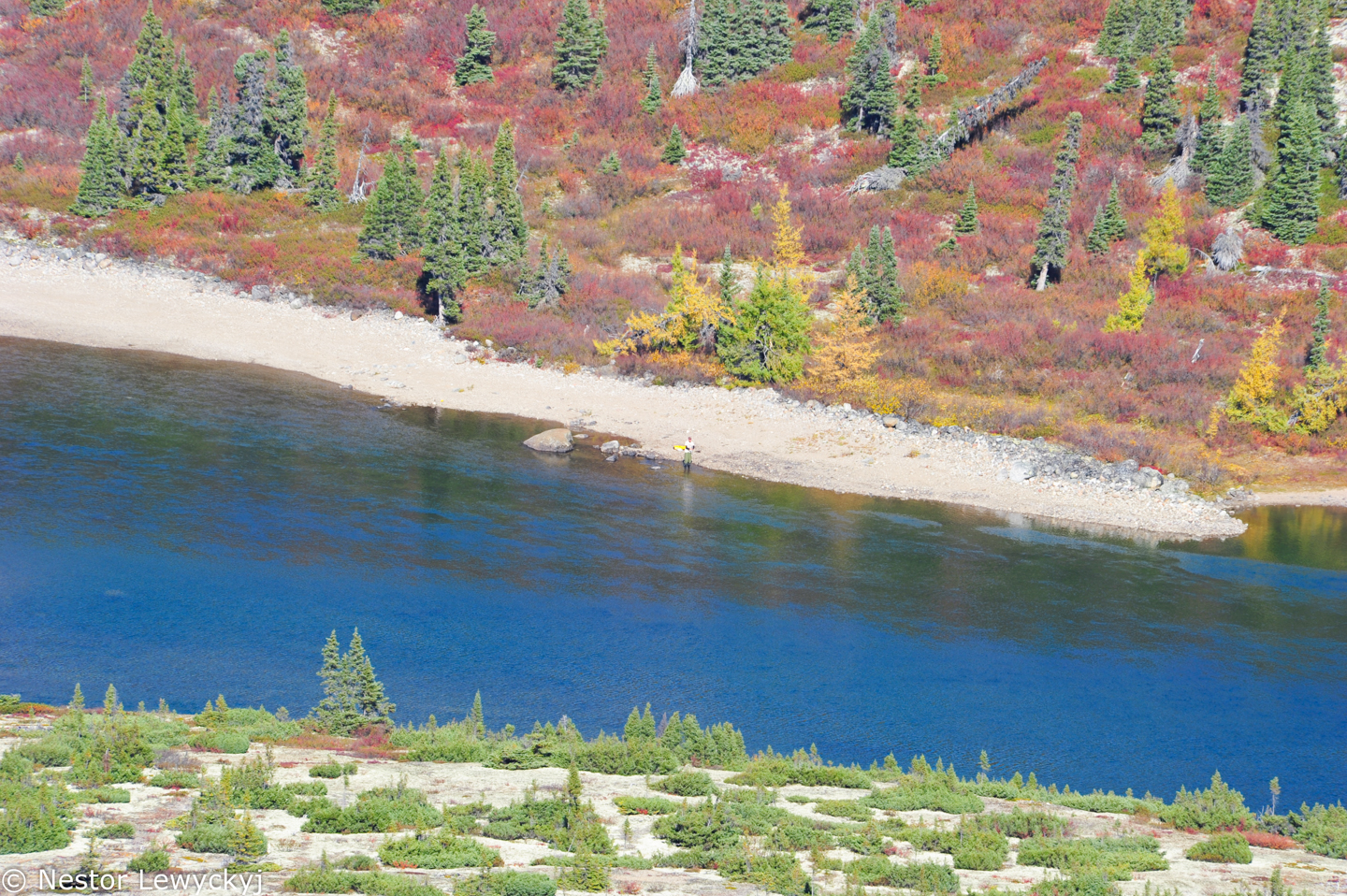 Graham fishing at the lake exit. There was a nice current there and the char were plentiful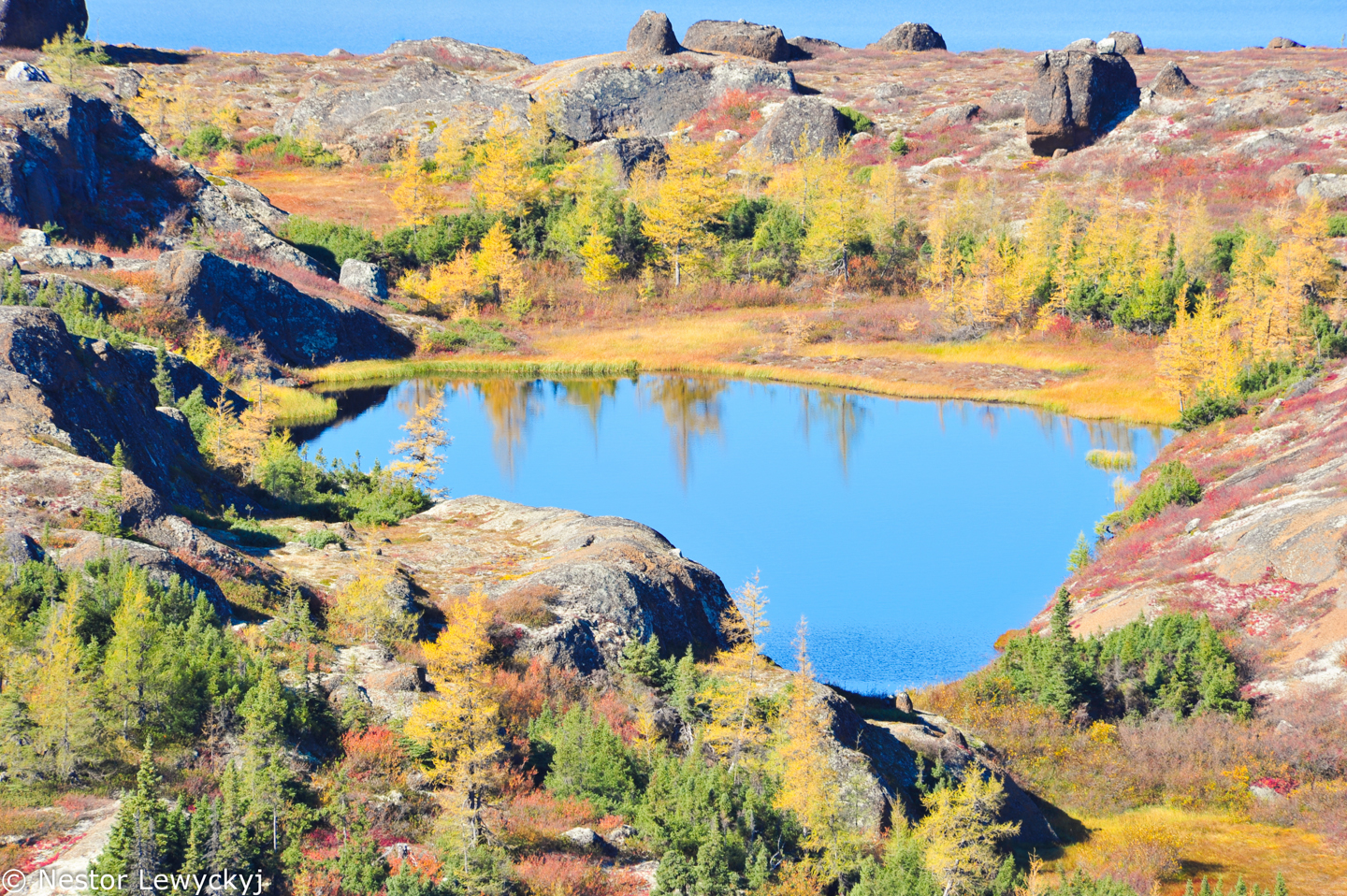 There are some wonderful, sheltered spots where you could while away the afternoon in very comfortable sunlight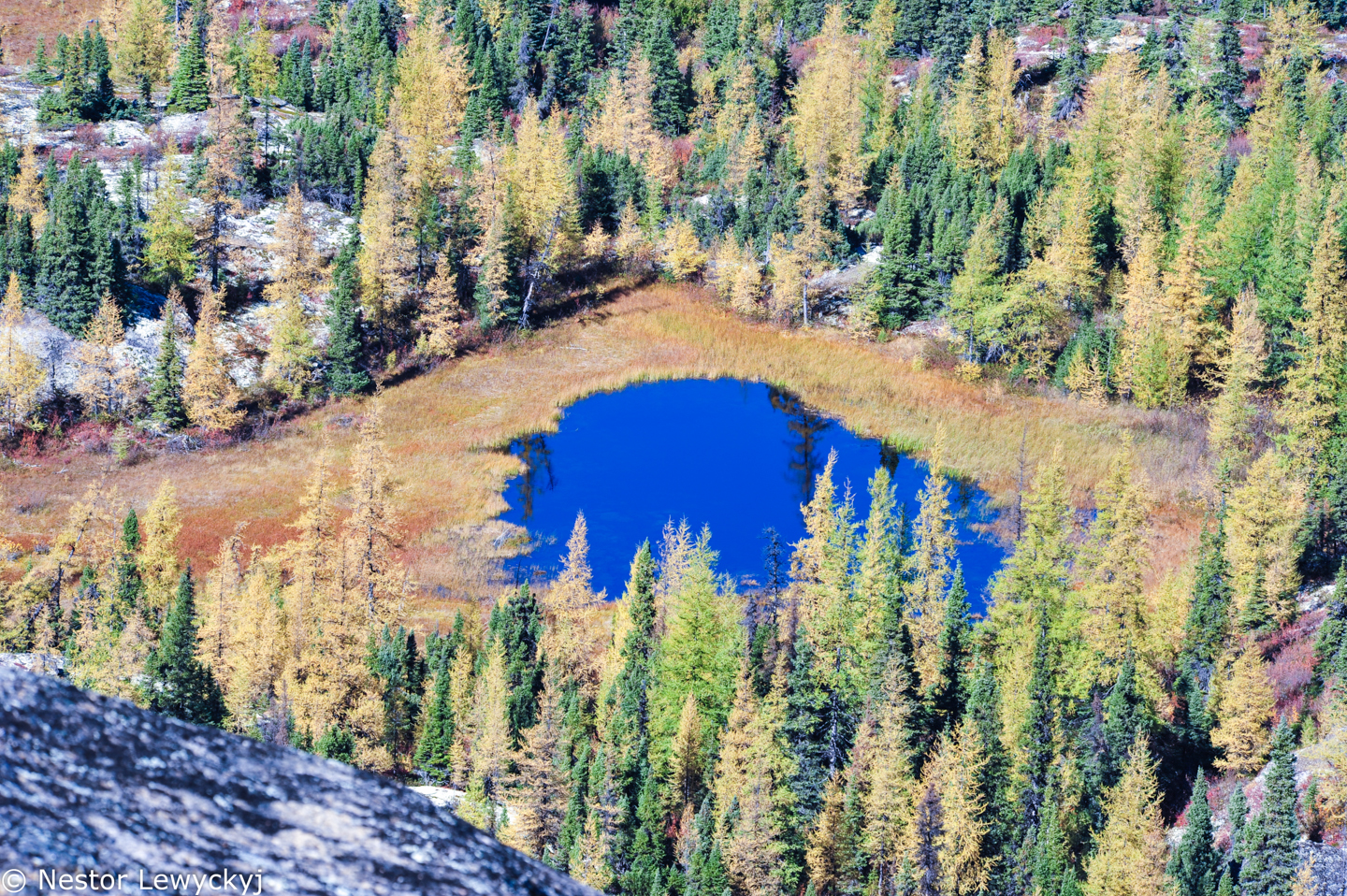 On the border between Taiga and Tundra, there are a lot of small ponds and marshes around, but also a lot of firm ground. There aren't huge areas of muskeg.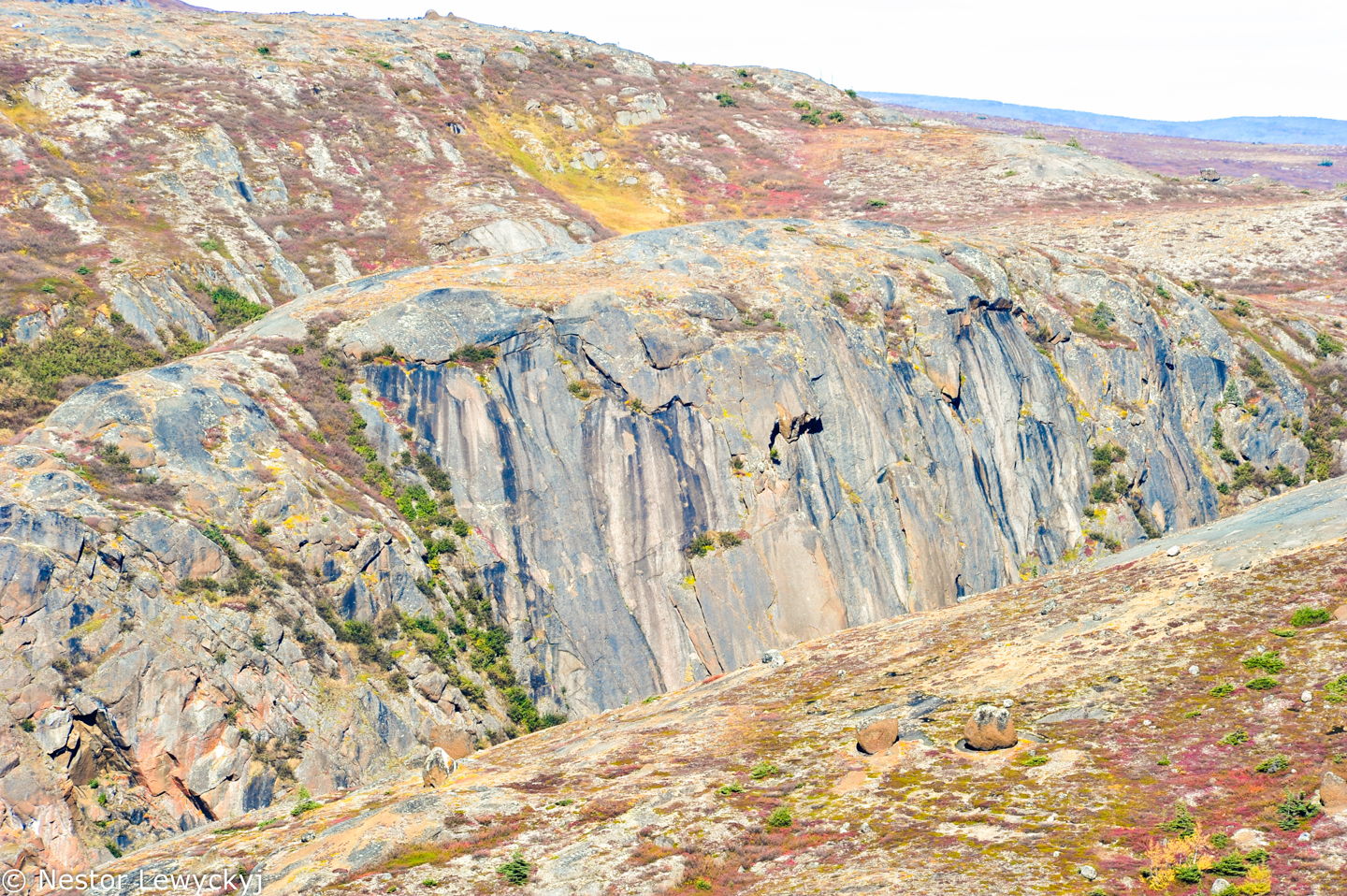 Unlike the barren lands of central Canada, Labrador is much more rugged, and has much more relief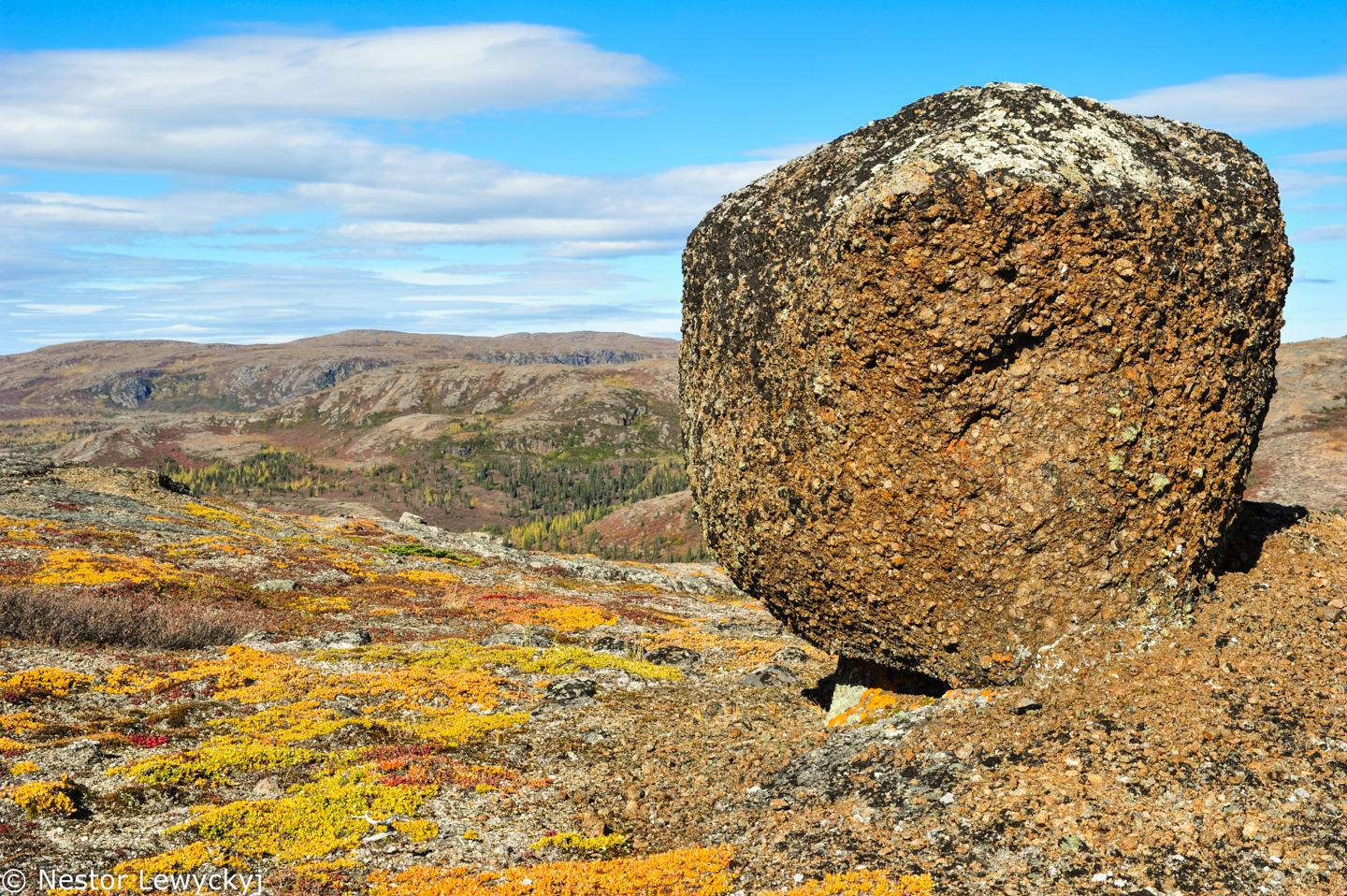 A good close up look of the fused rock
Note how the spruces and larches follow the valleys and ravines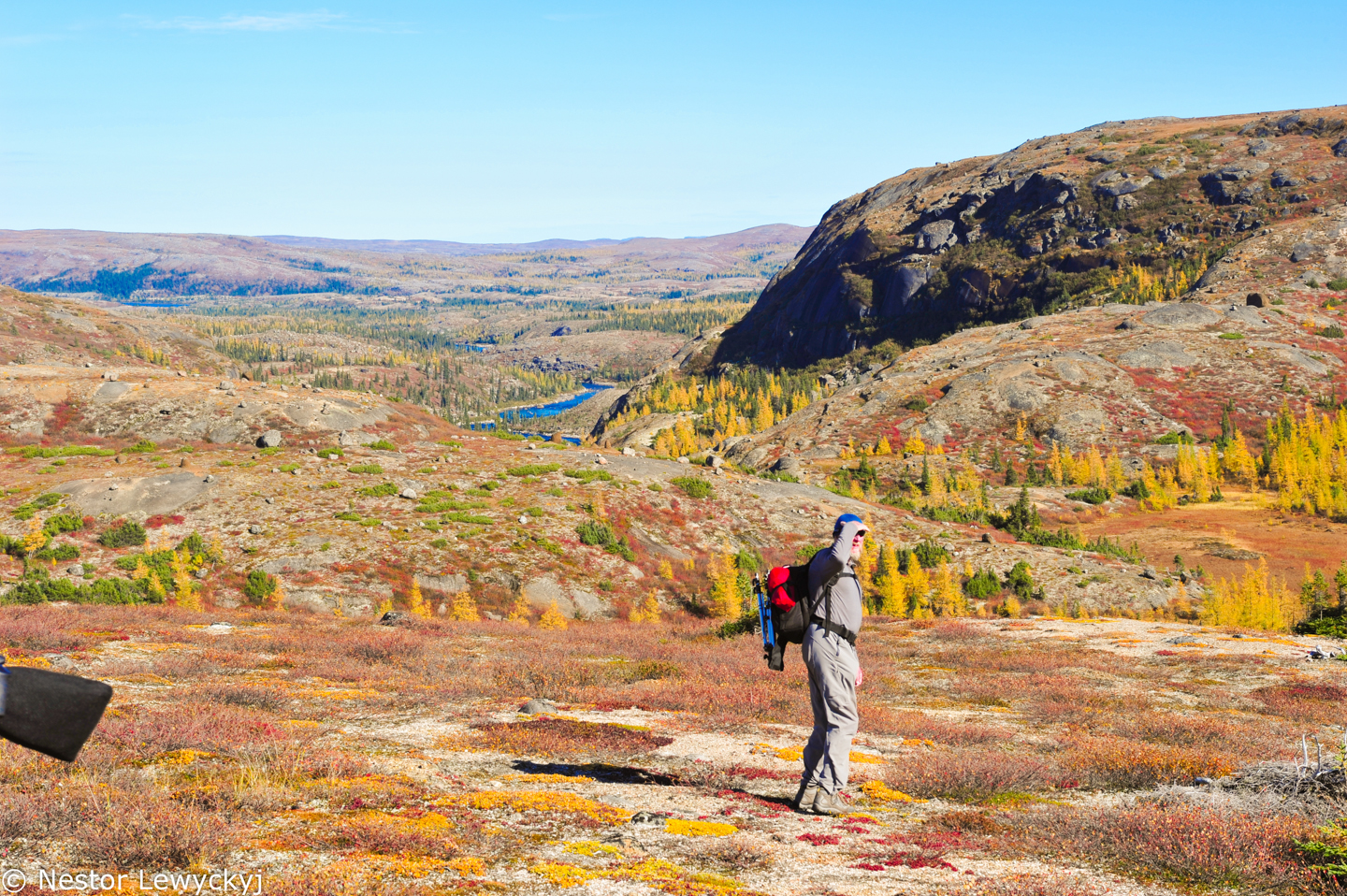 But where are the caribou??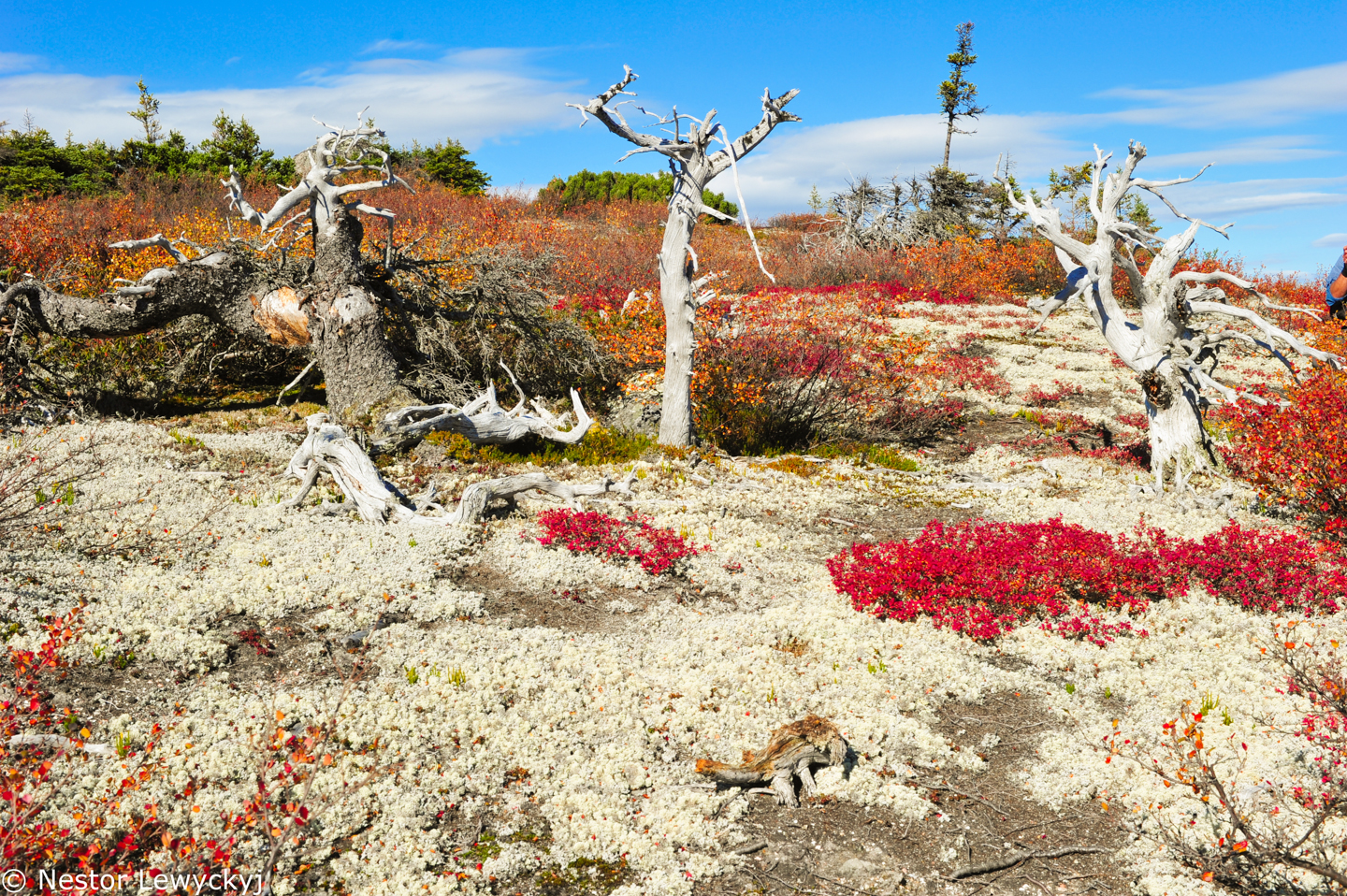 The colour of the ground flora was truly something. We were there at peak colour.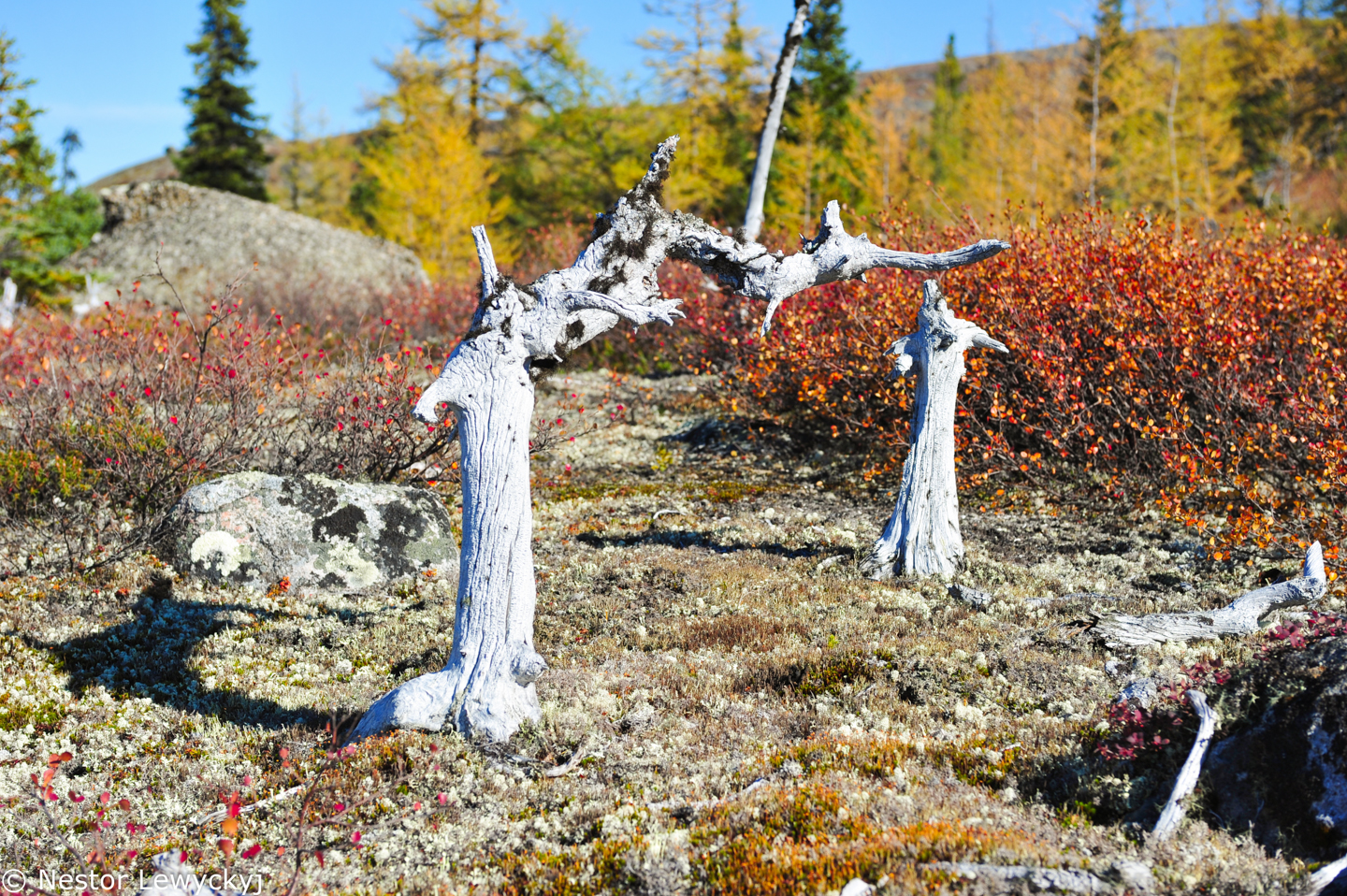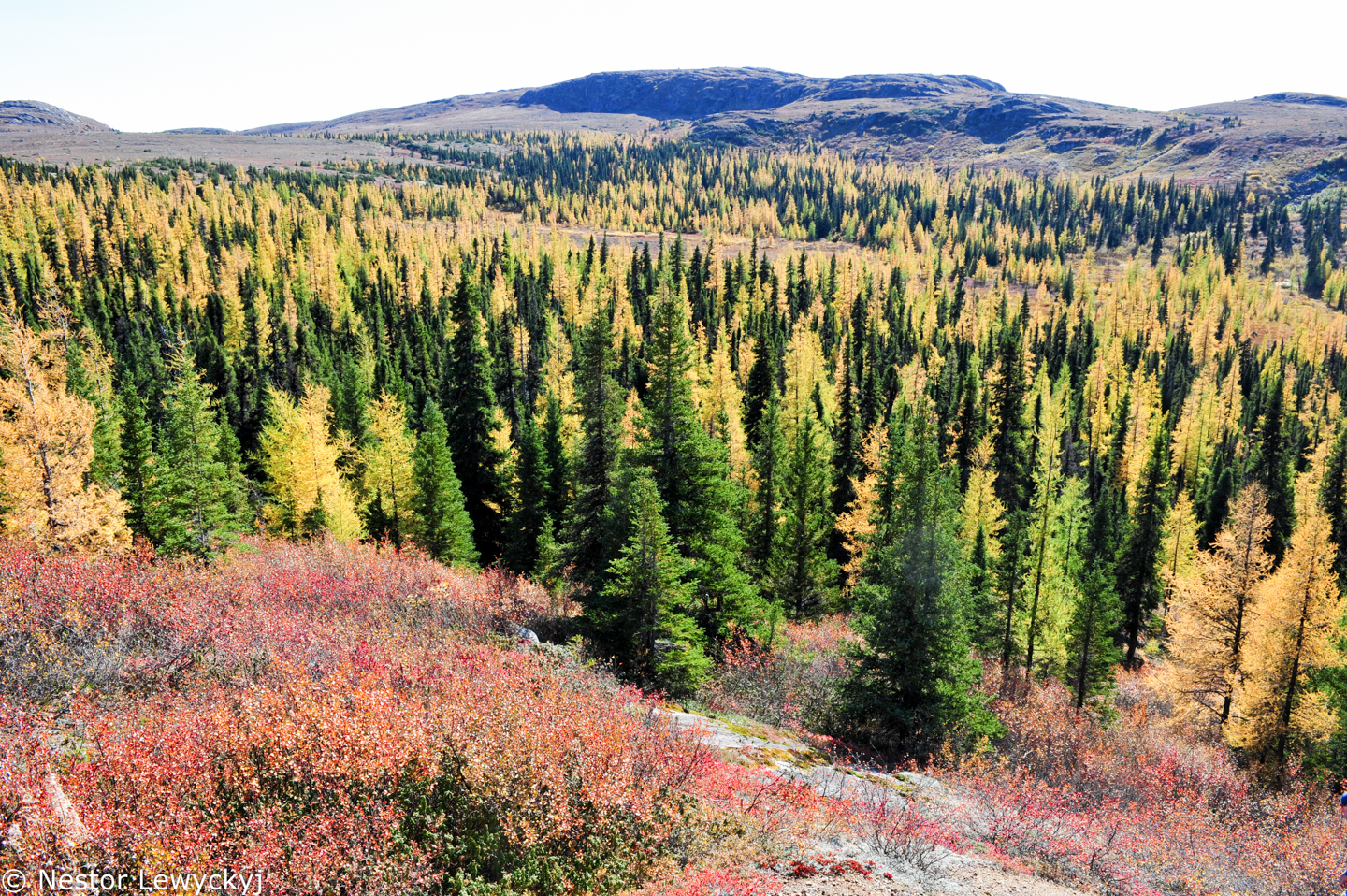 The larches had started to run a wonderful shade or yellow/orange. We had a really nice walk through this small forest.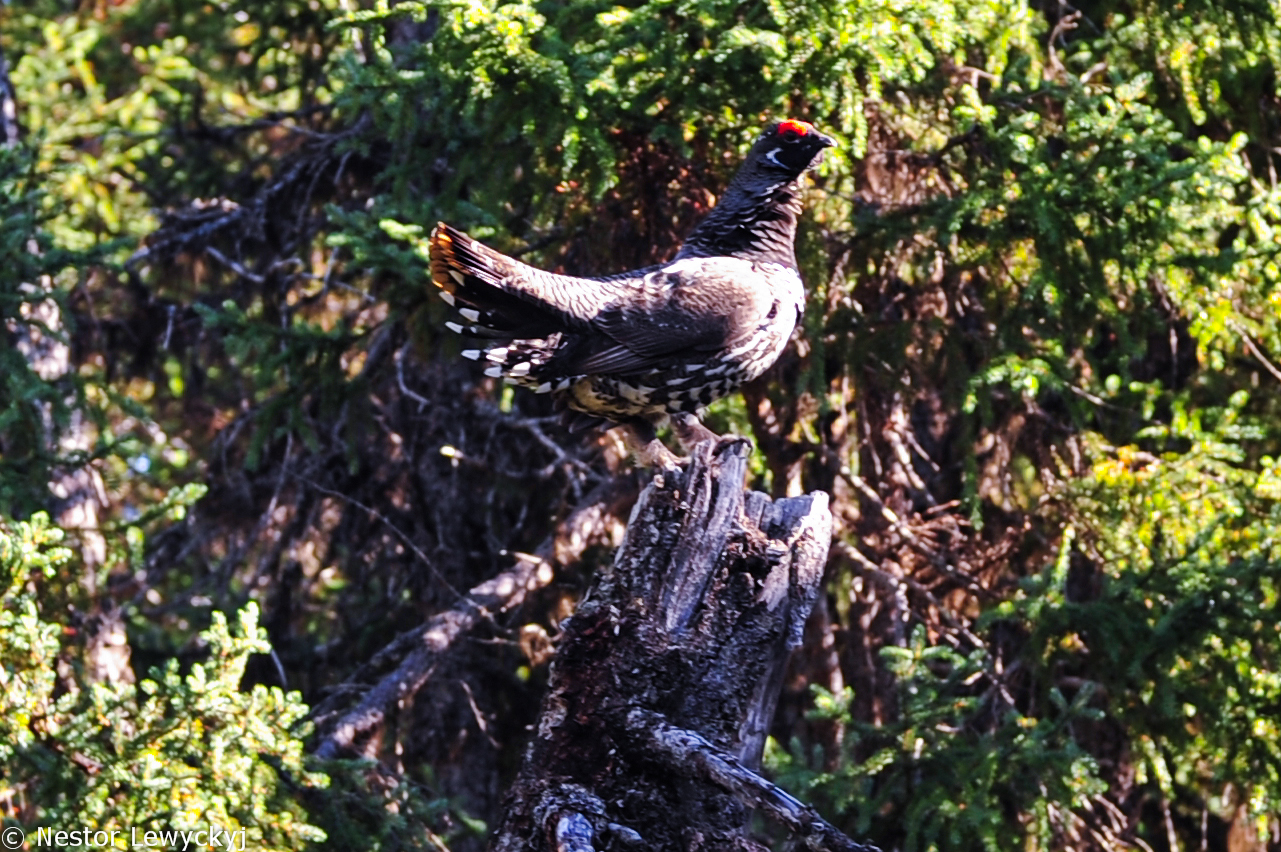 We flushed this grouse our of her cover in this valley forest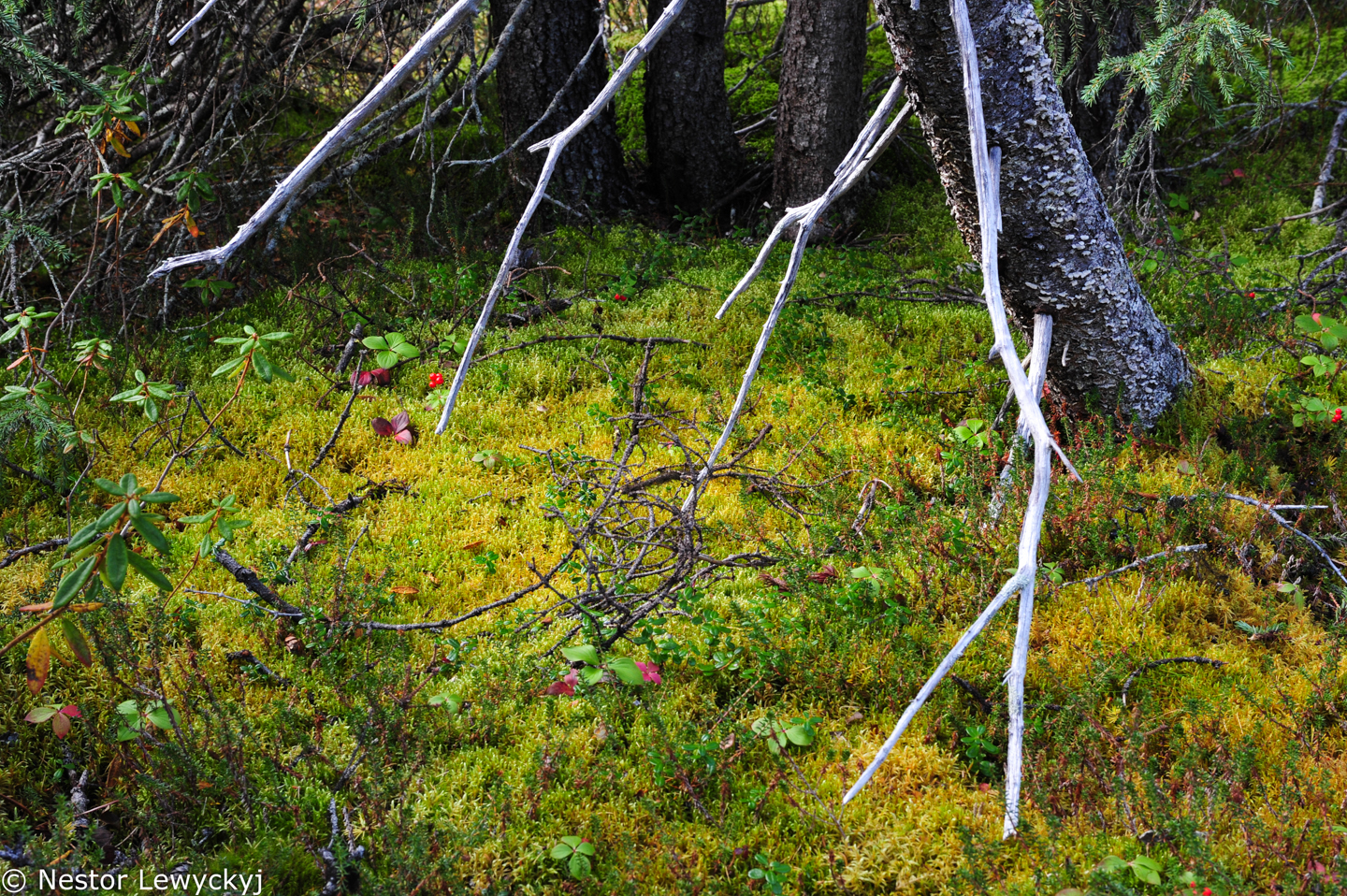 The moss was many inches thick in spots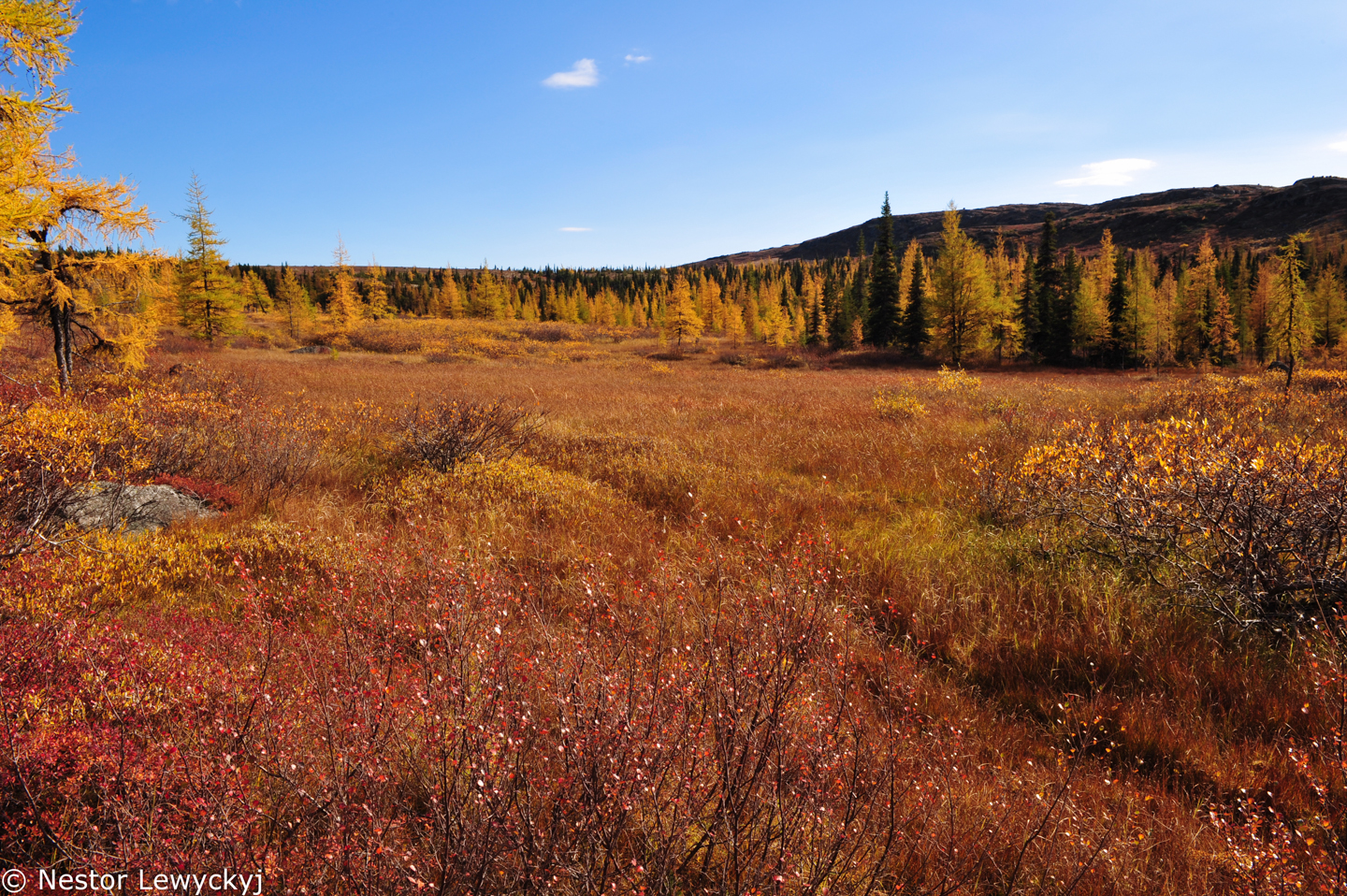 Depending on the sun, the colours kept changing but had a wonderfully warm hue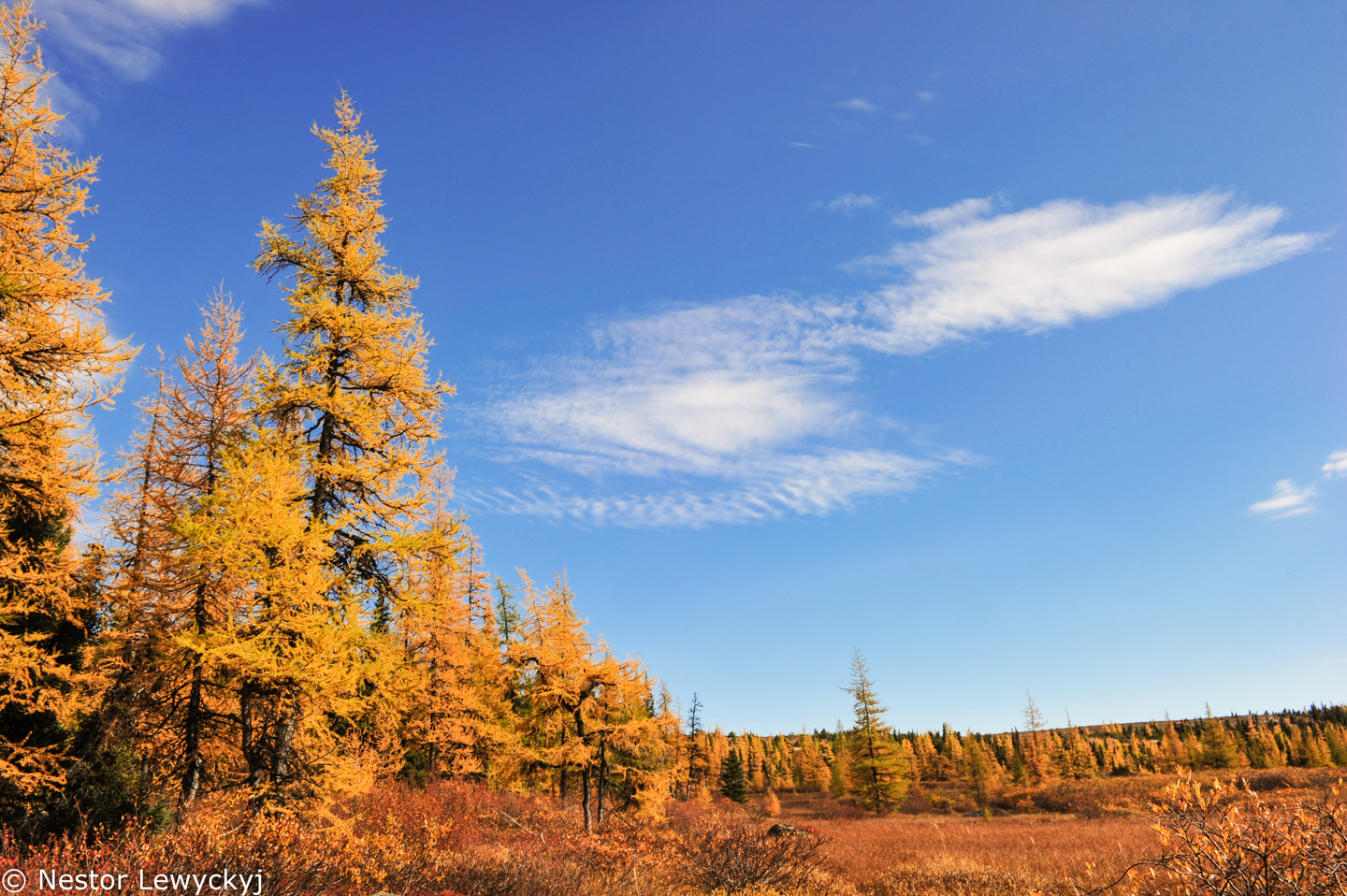 by far this was our nicest day. You could just lie down somewhere dry and take a nap in the sun.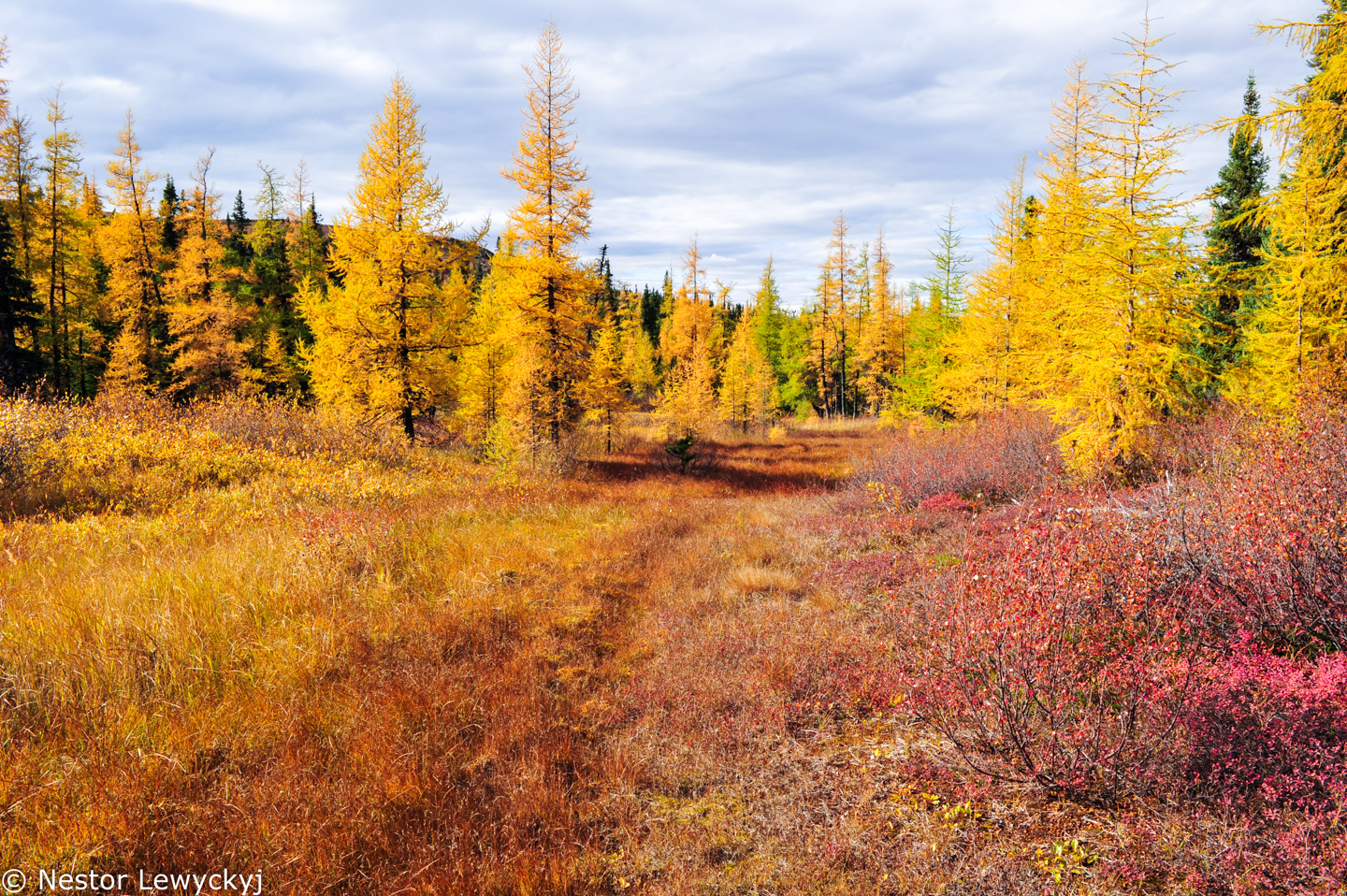 A beautiful spot a the bottom of the small valley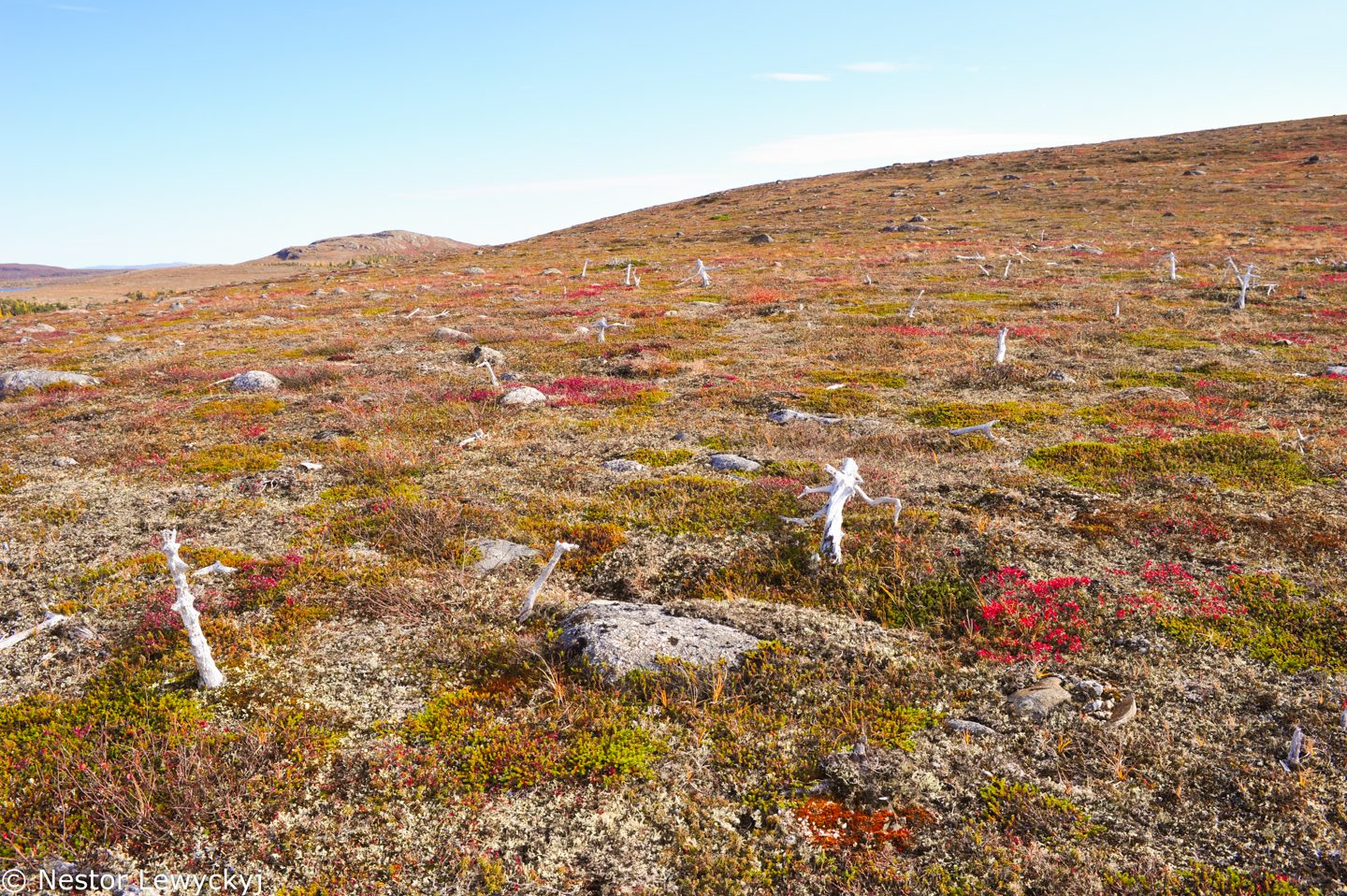 These dead tree stumps looked like headstones in an old, forgotten cemetery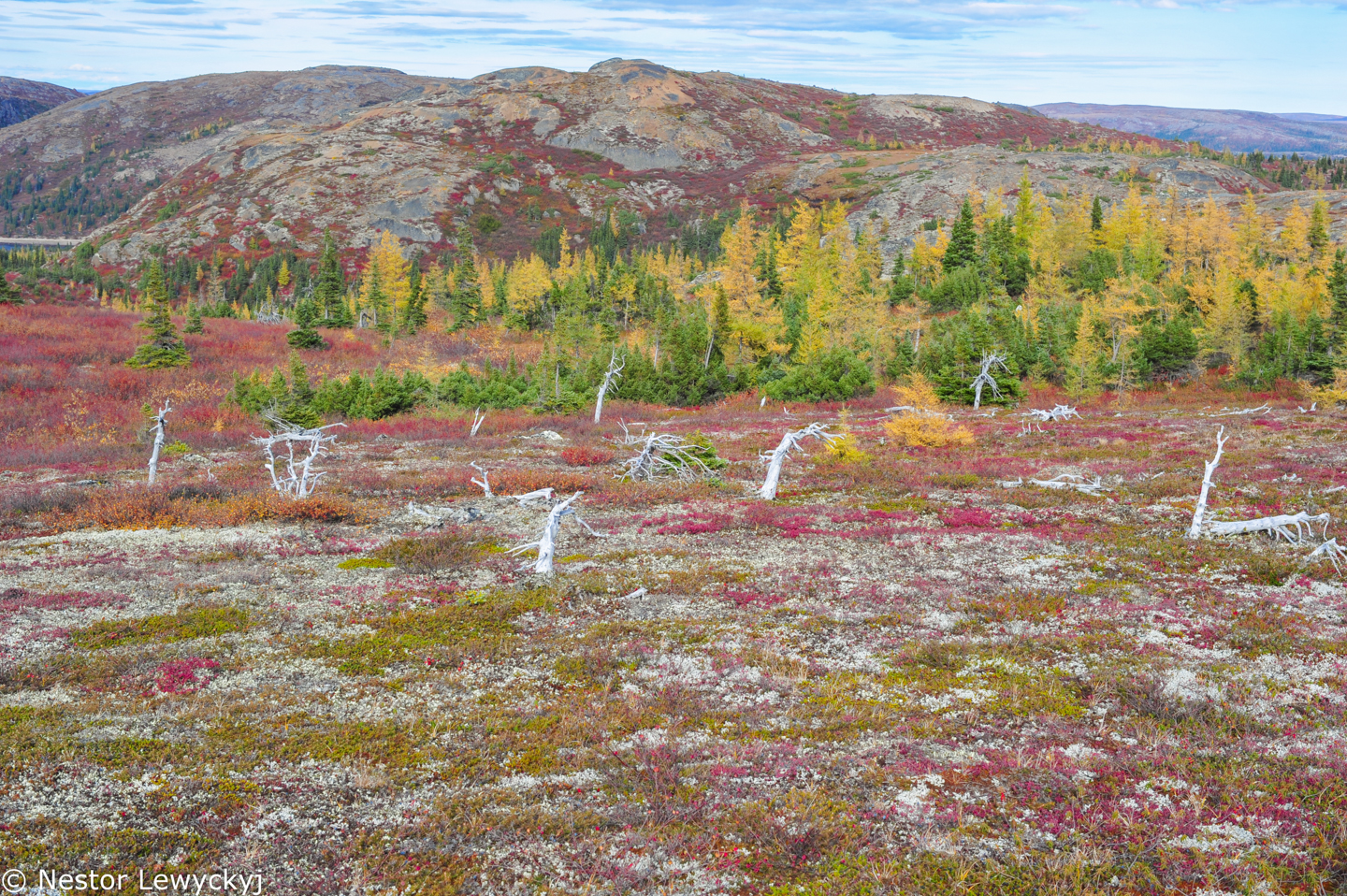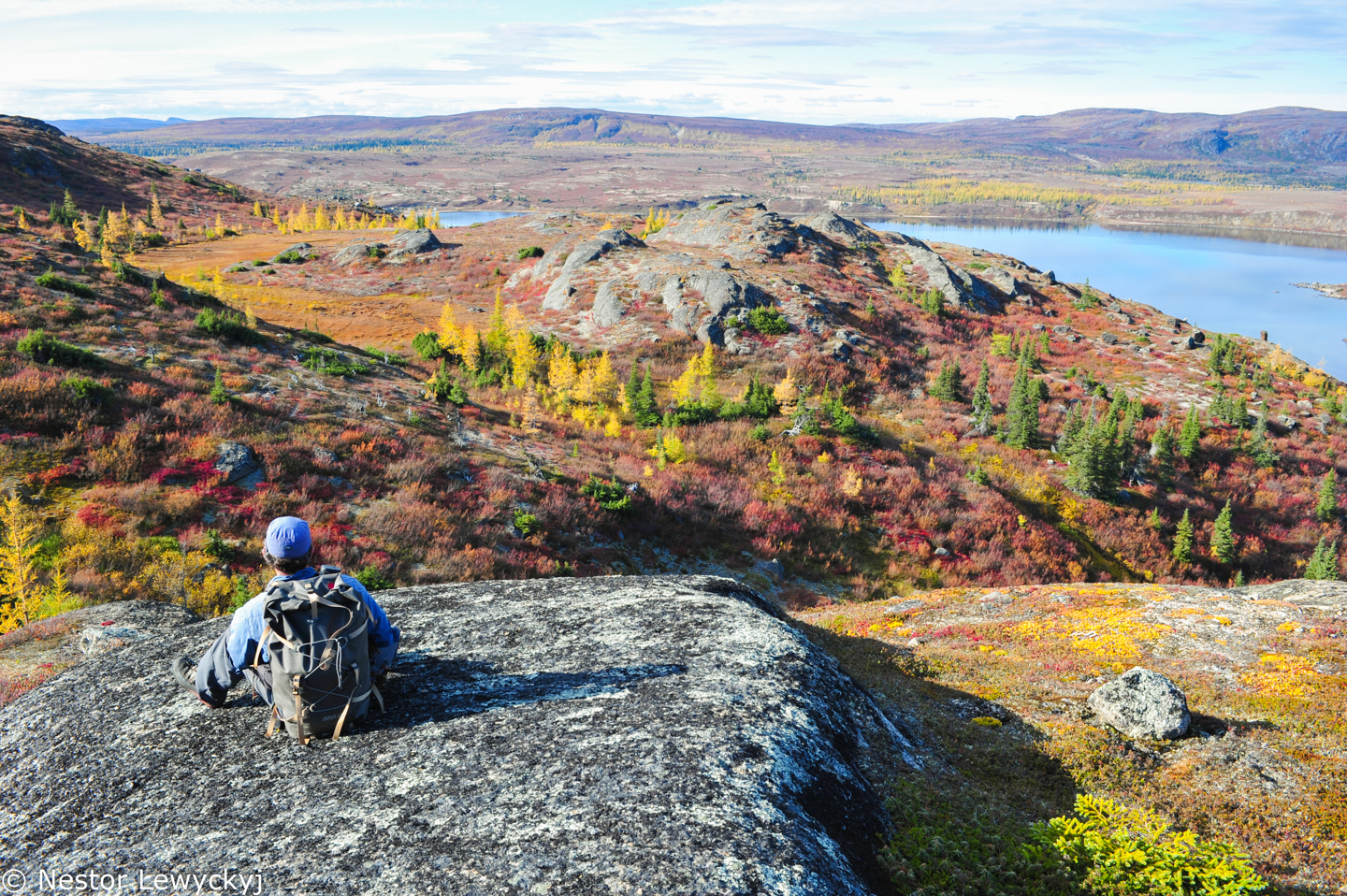 There were beautiful vistas at almost every turn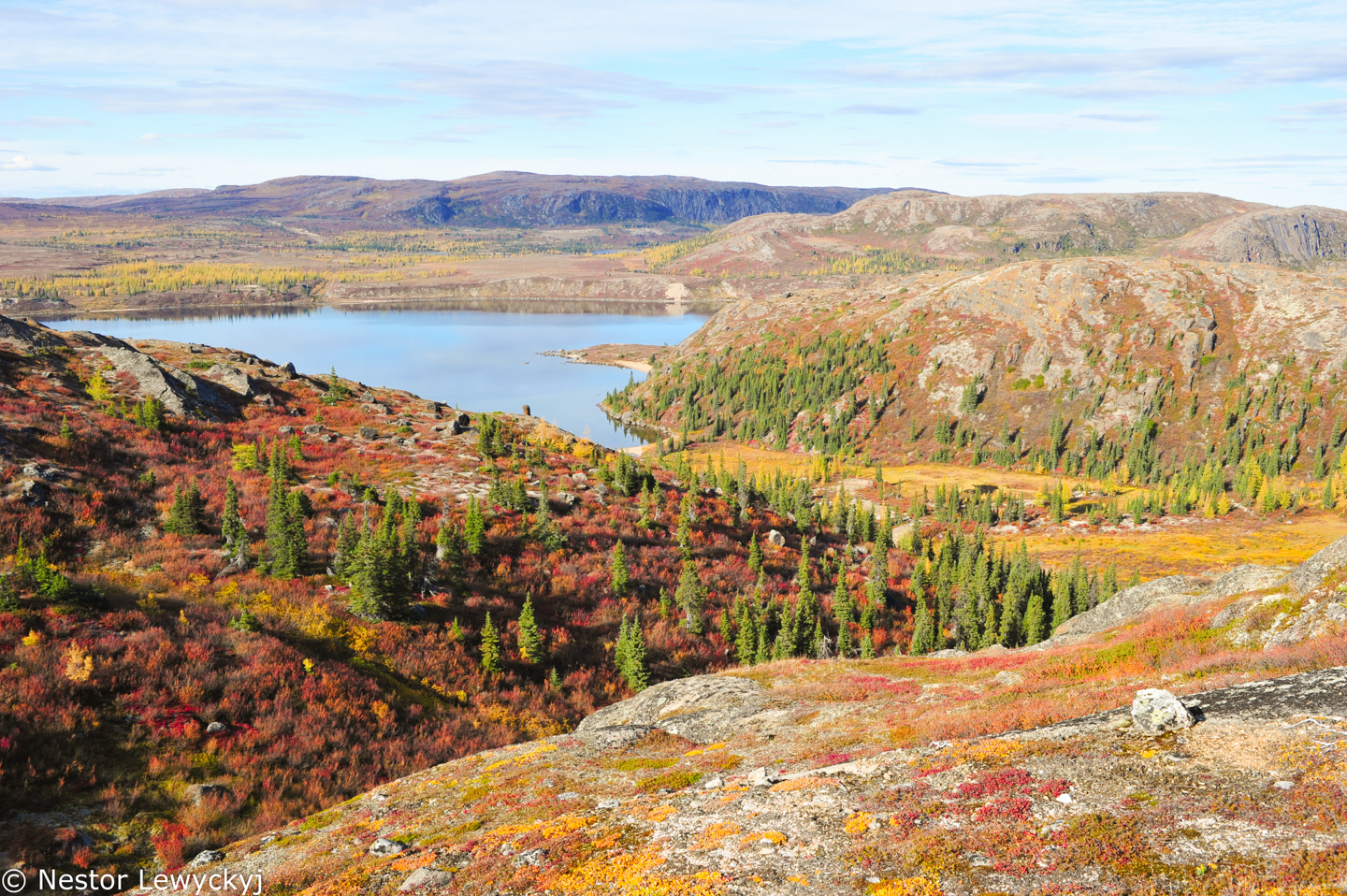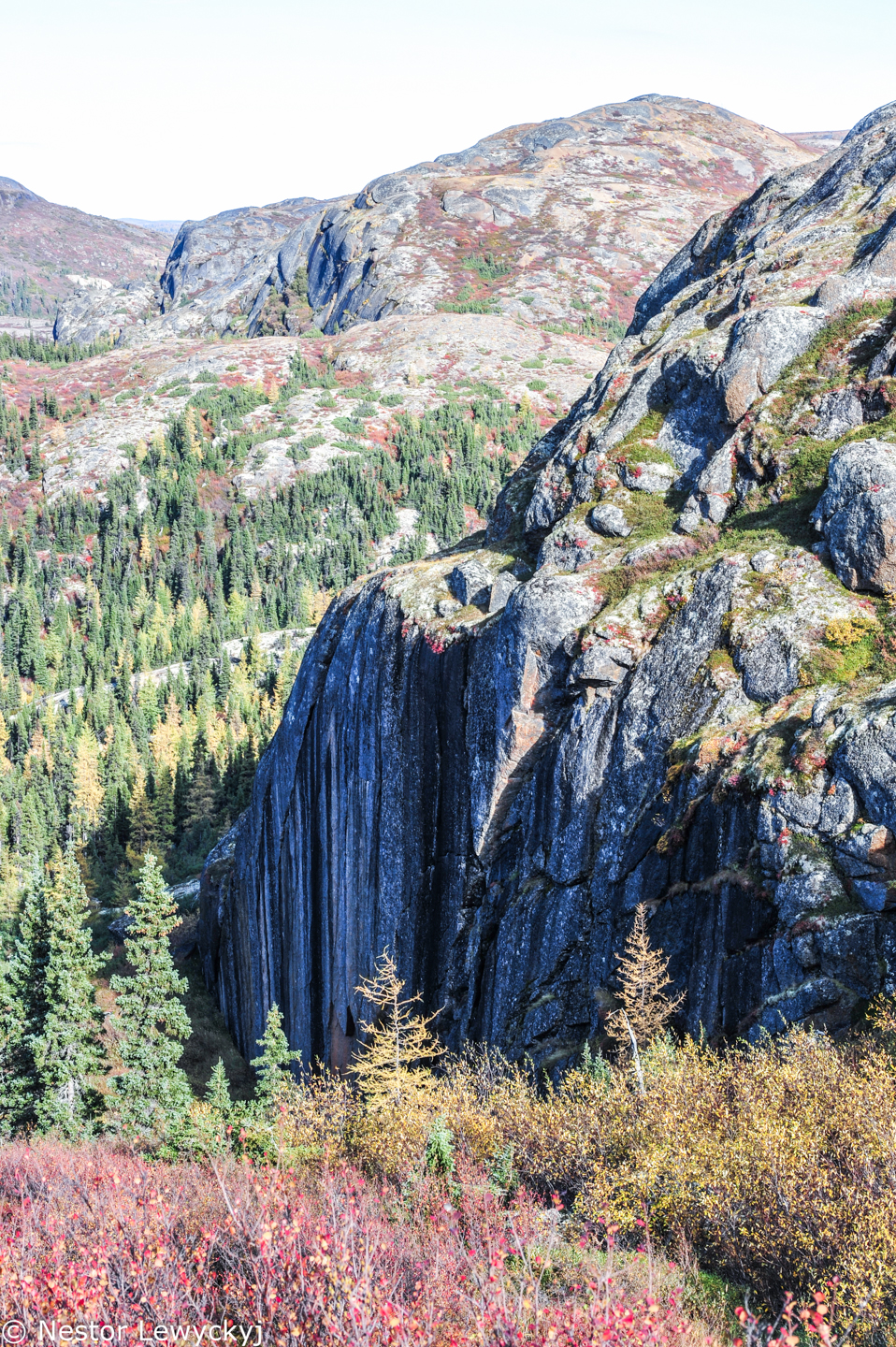 There was no question that Labrador has a lot of rock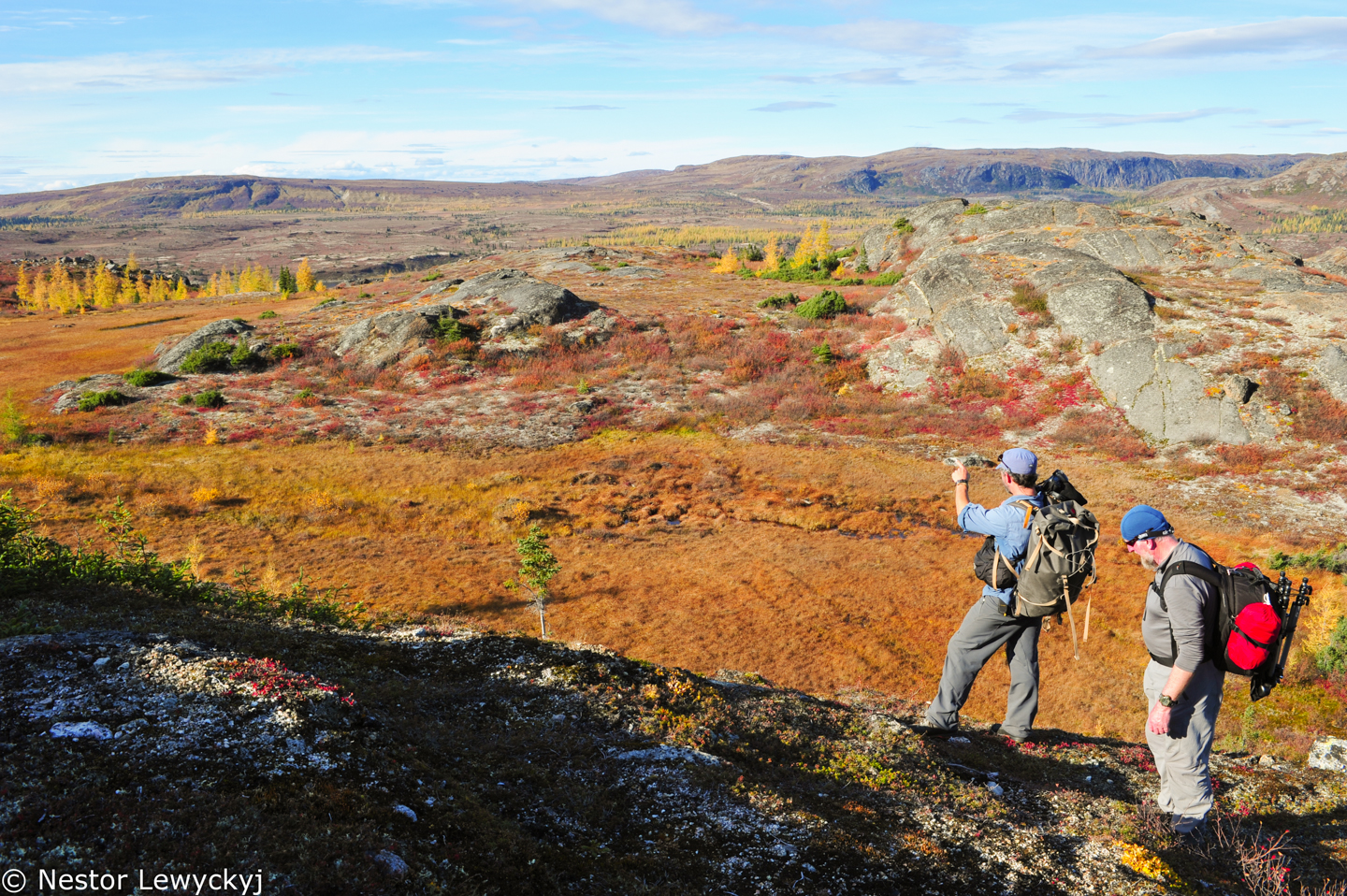 And almost everywhere are tell tale signs of caribou. Trails!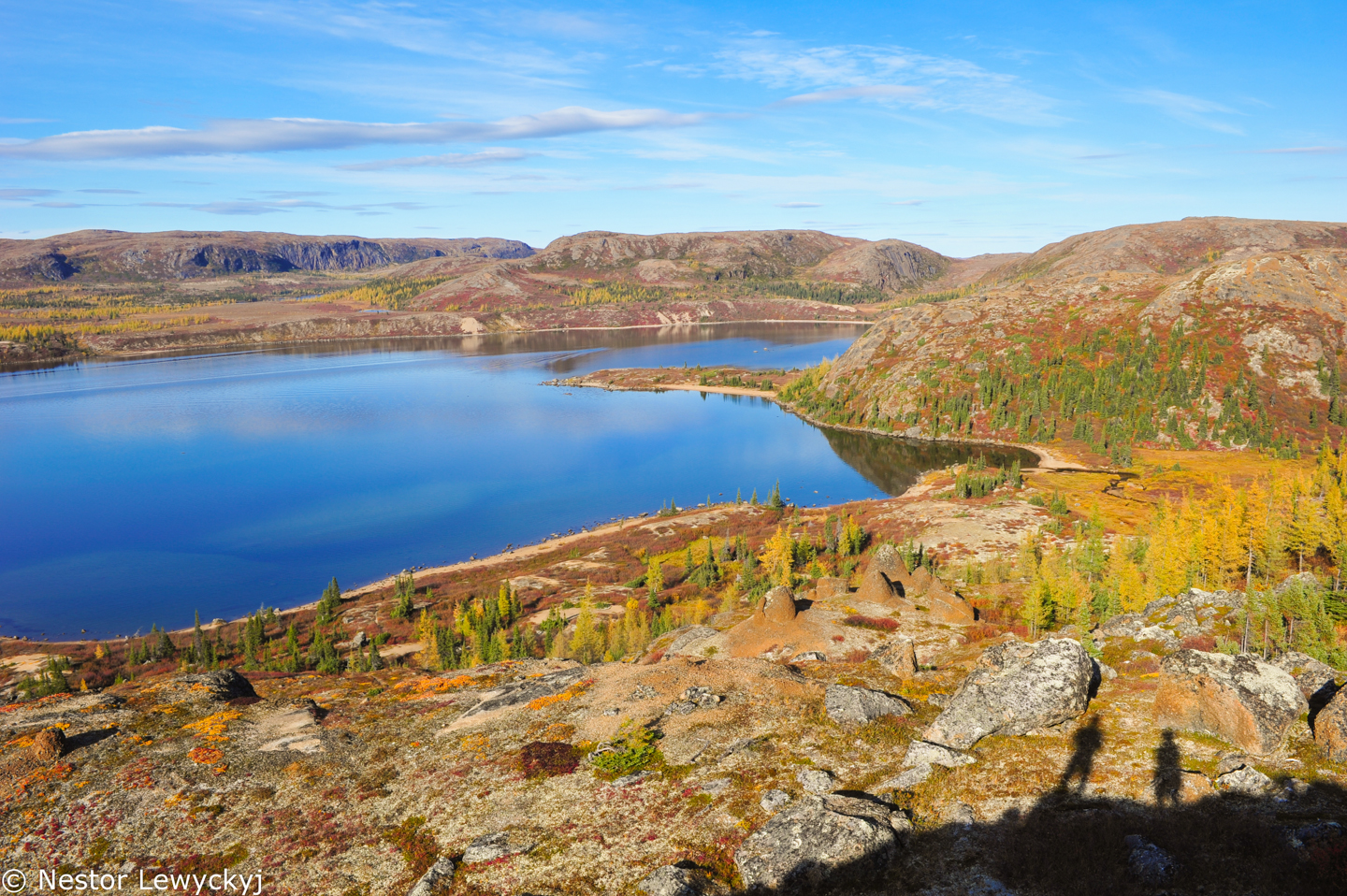 Two silhouettes on a ridge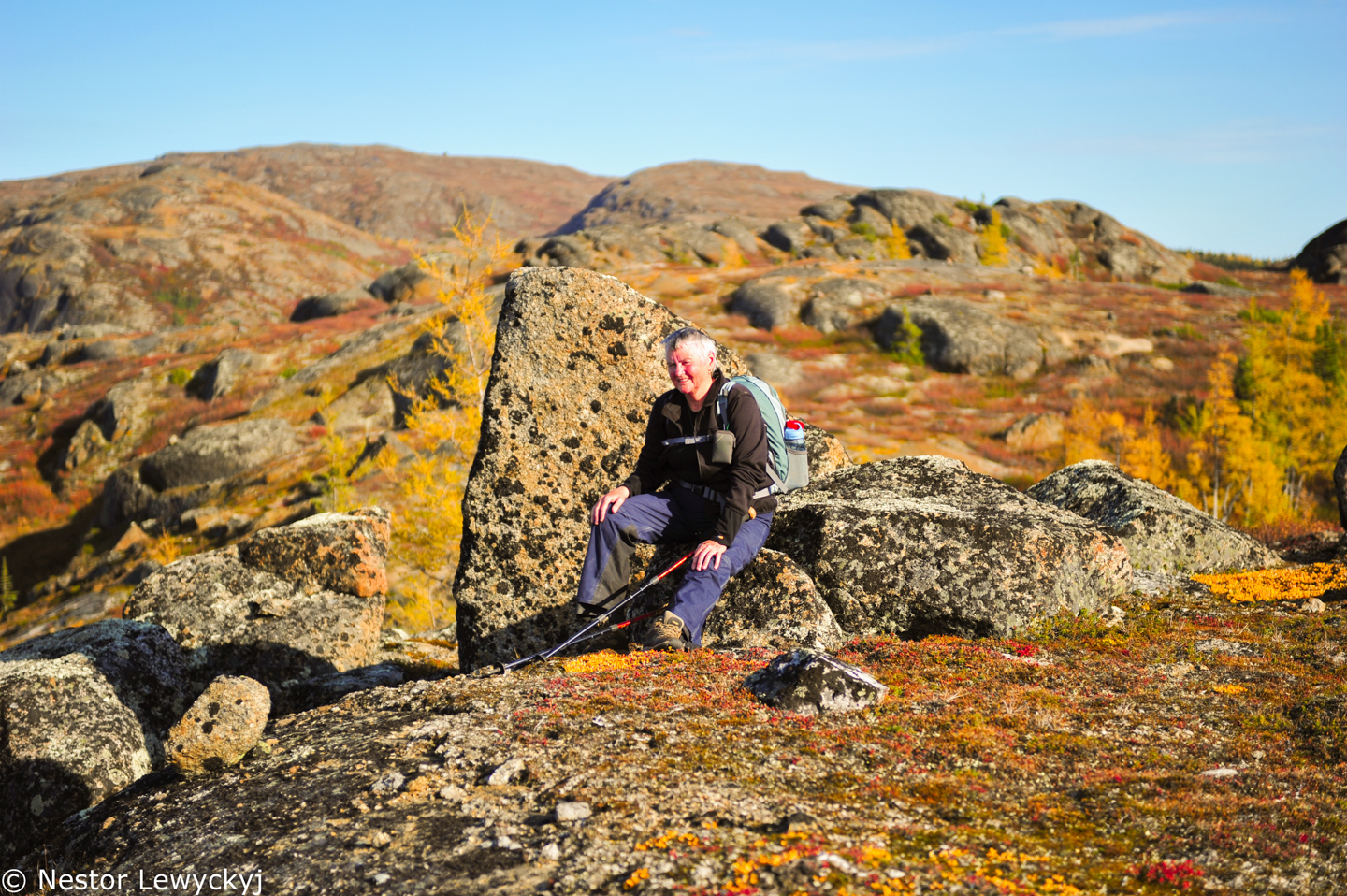 All of this caribou hunting is hard work!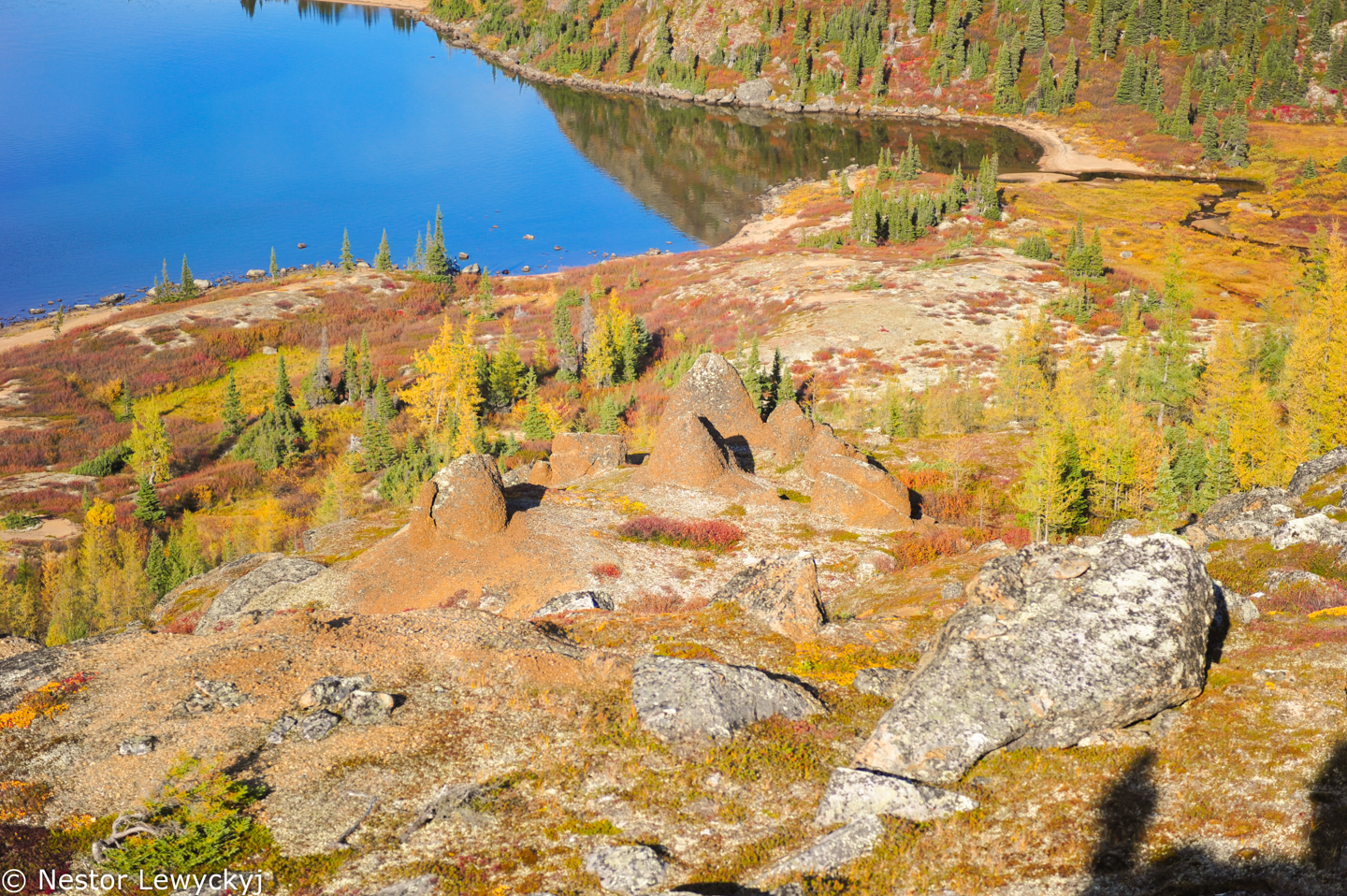 More of the fused rock, this time looking like a miniature village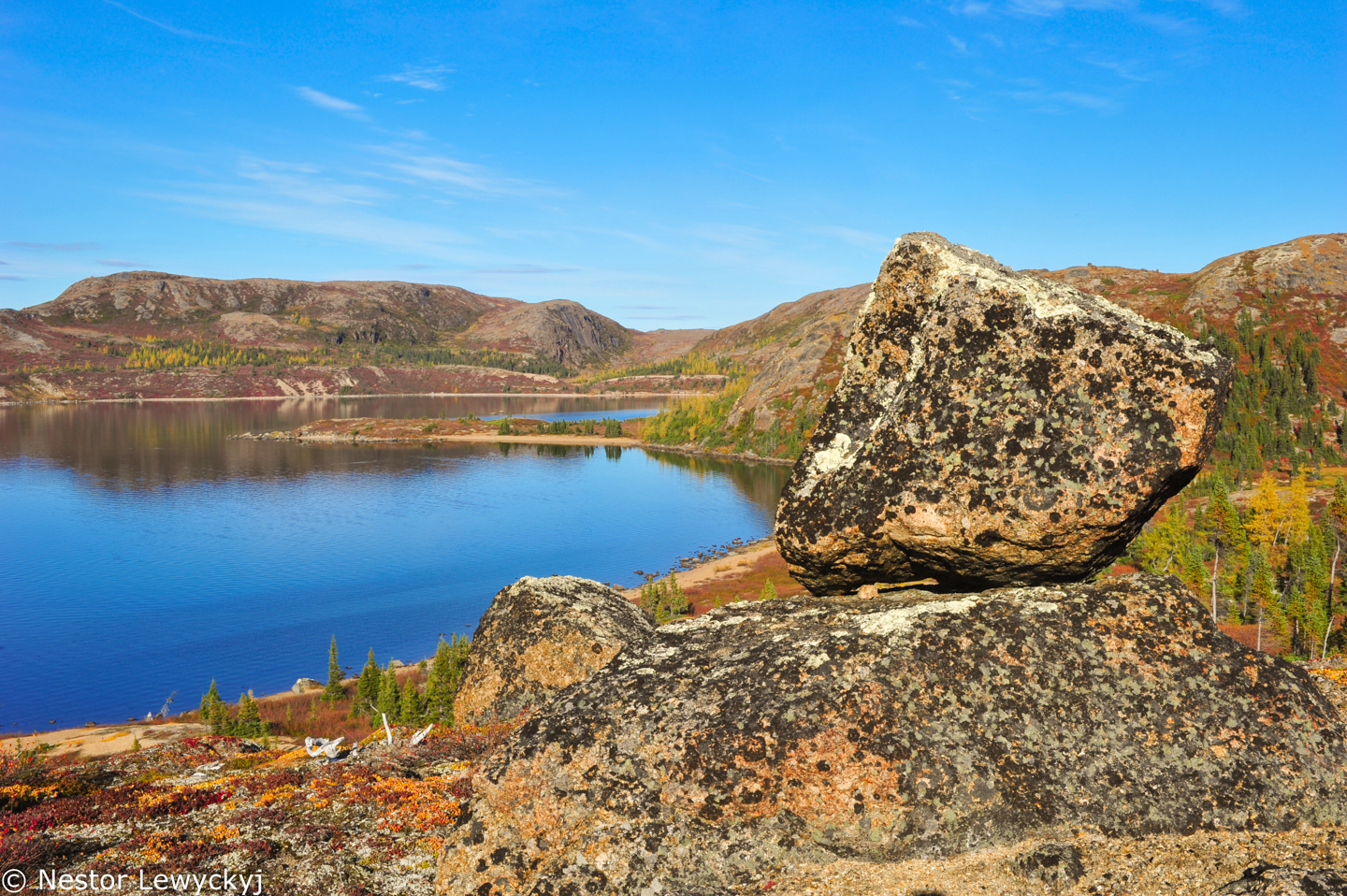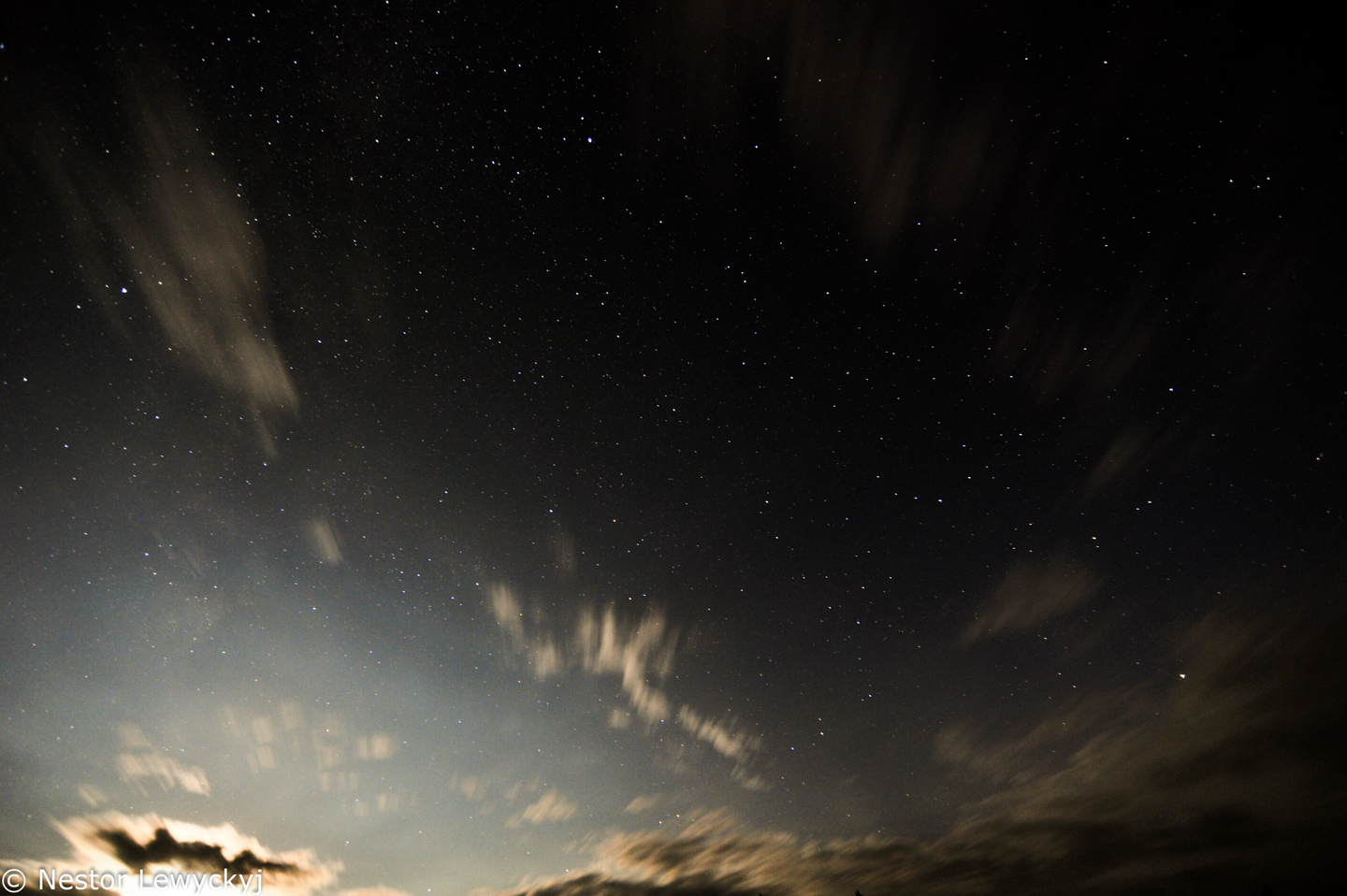 The night sky was a lot of fun too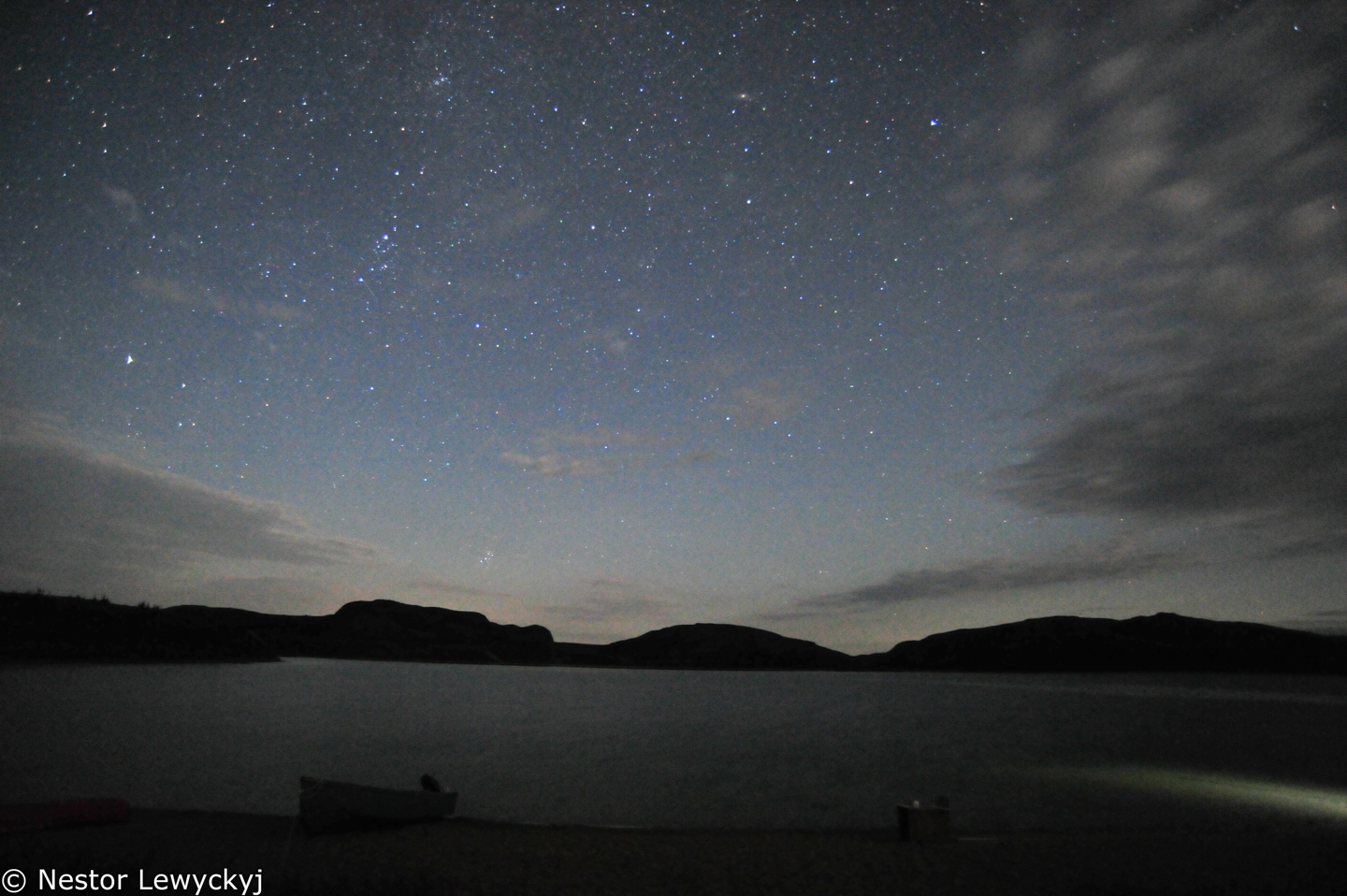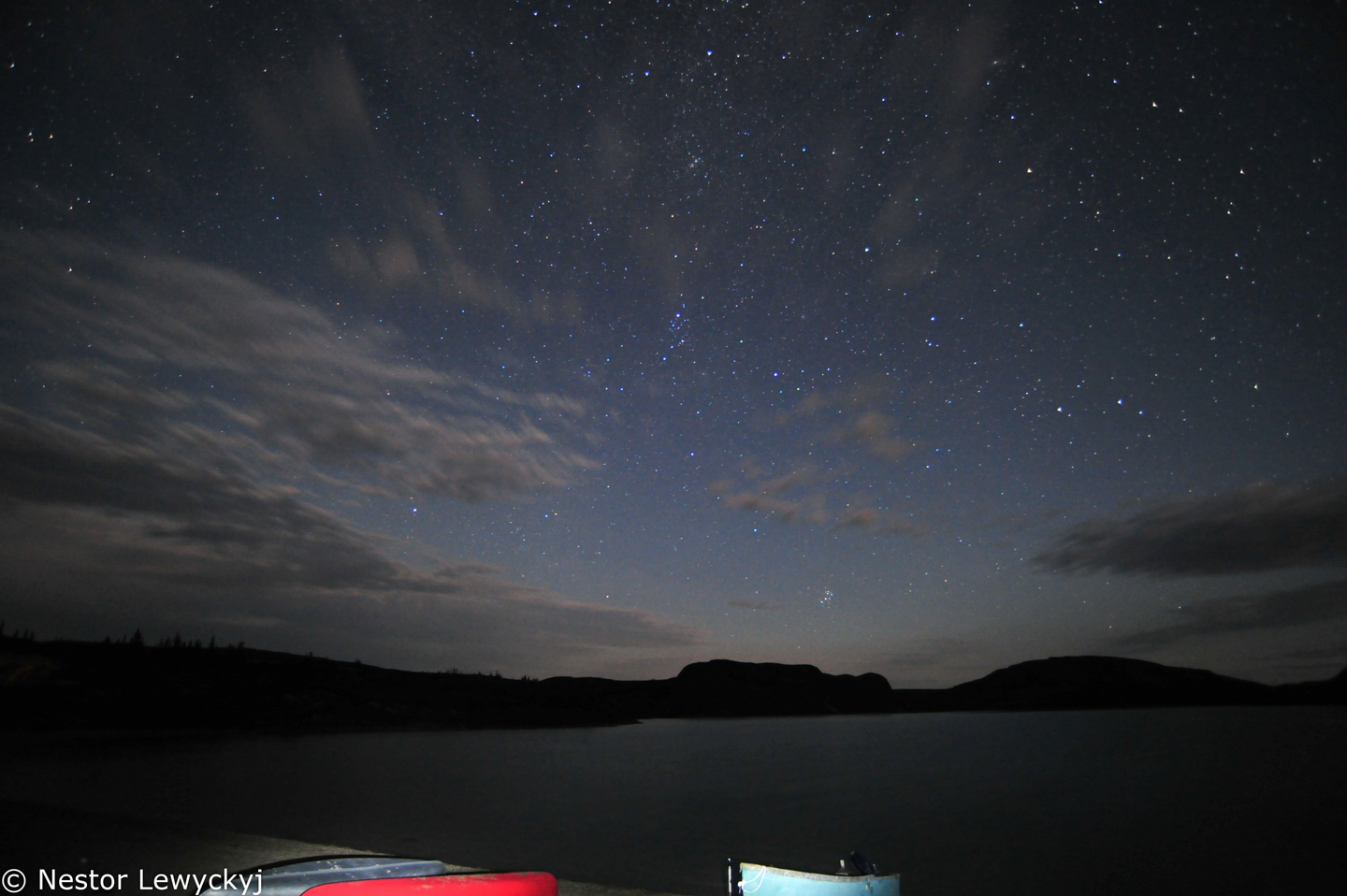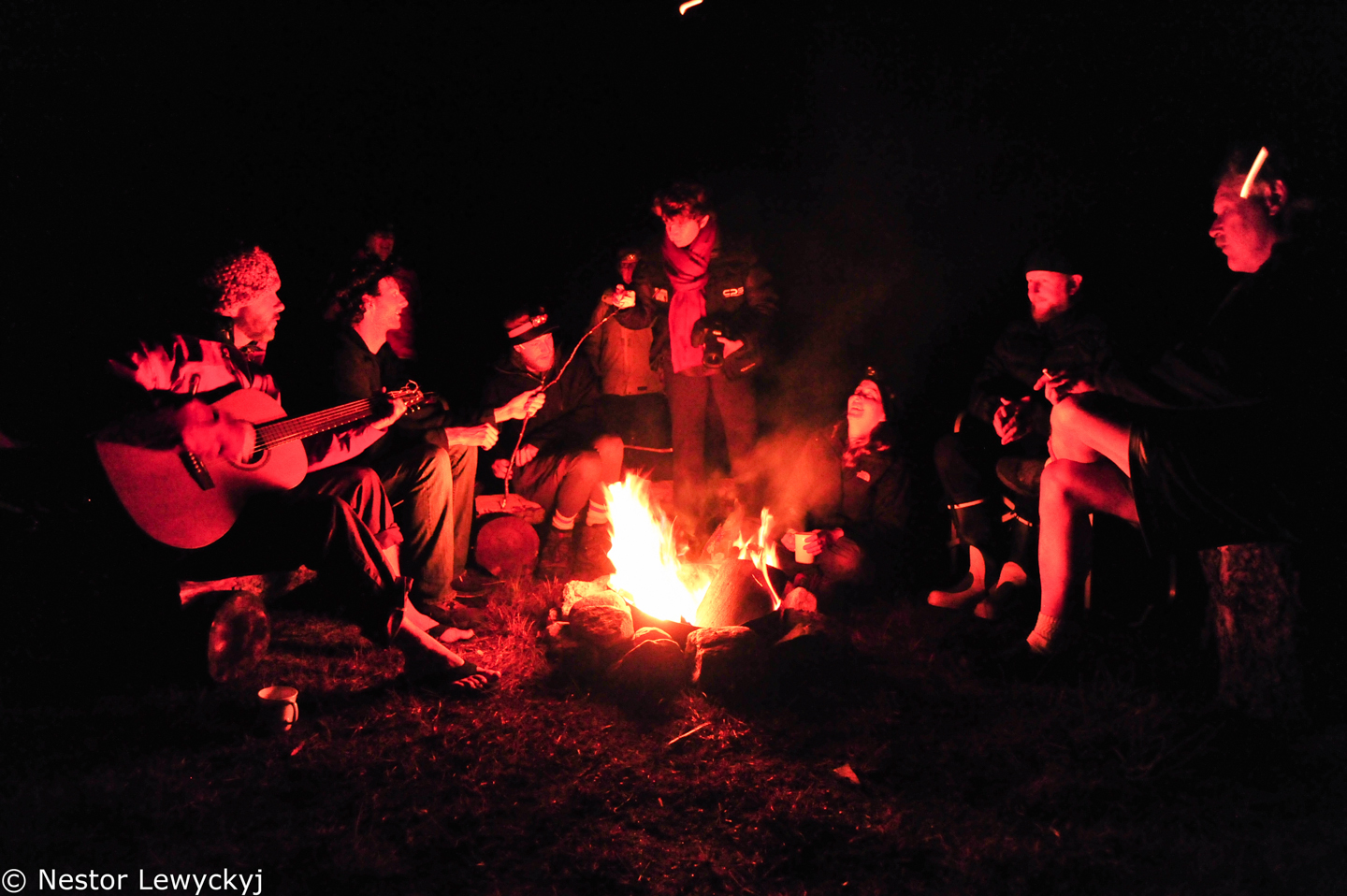 We had campfires at night with guitars playing. It felt a lot like camp, including marshmallows!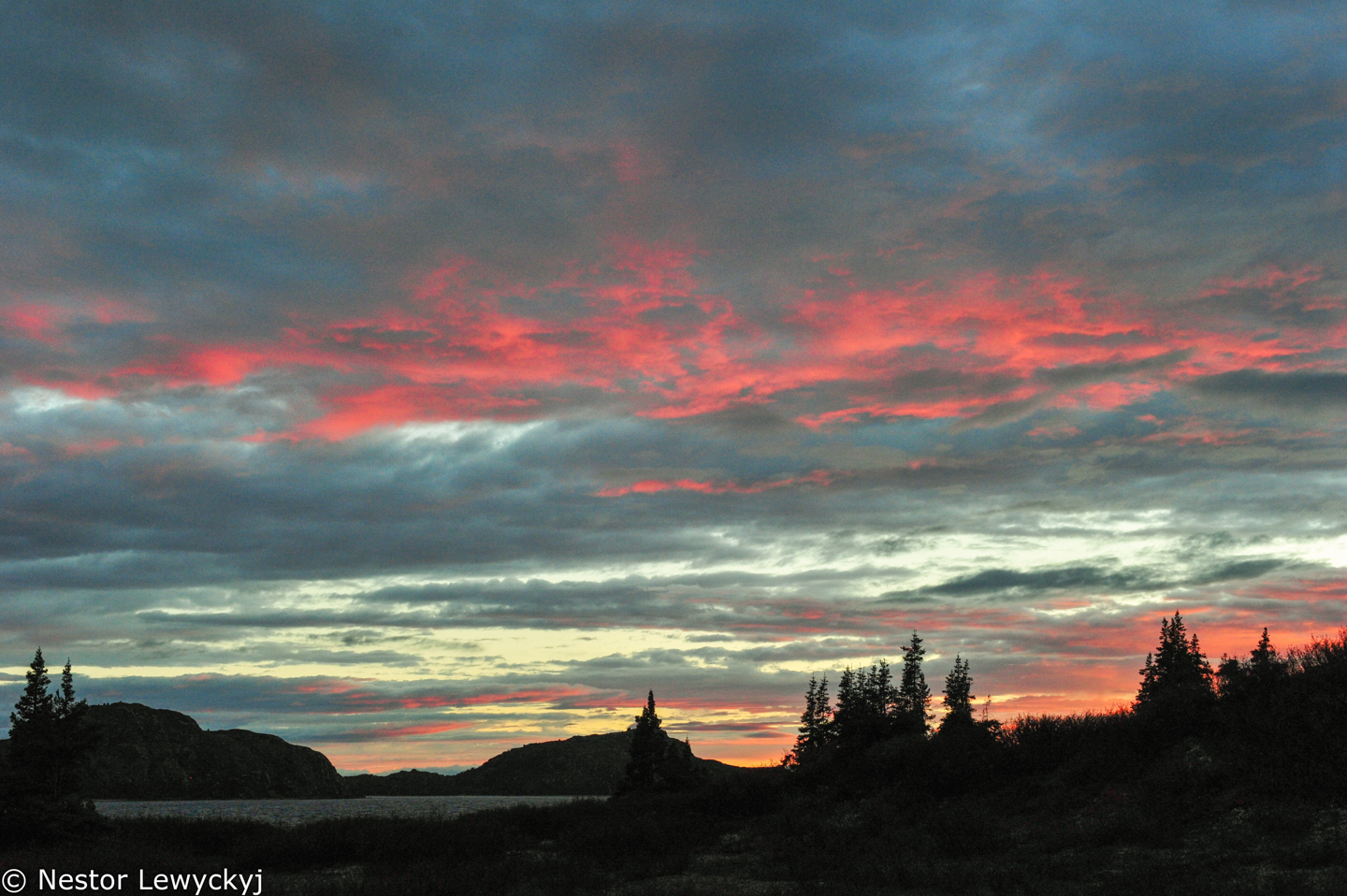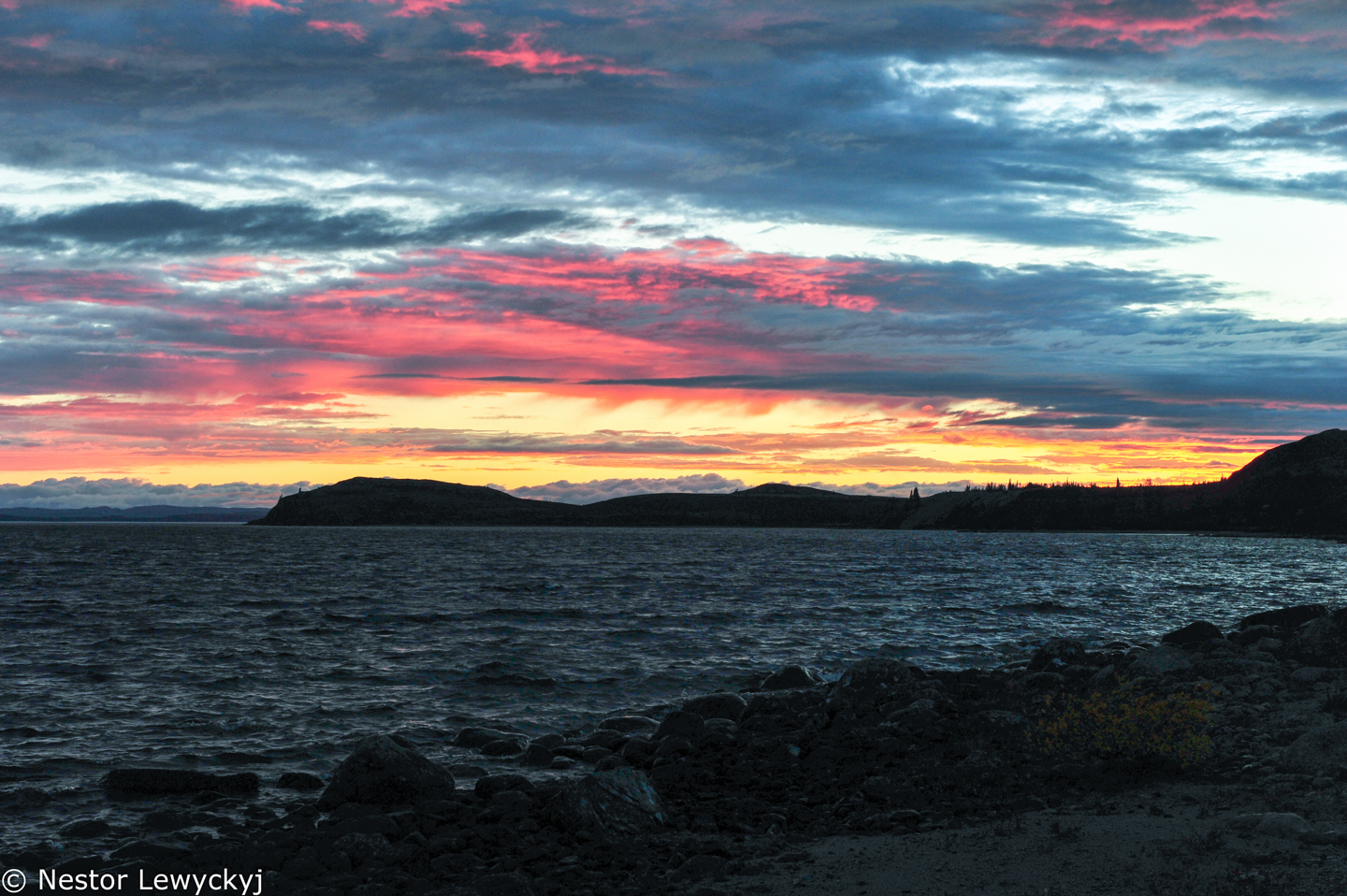 We had some good sunsets too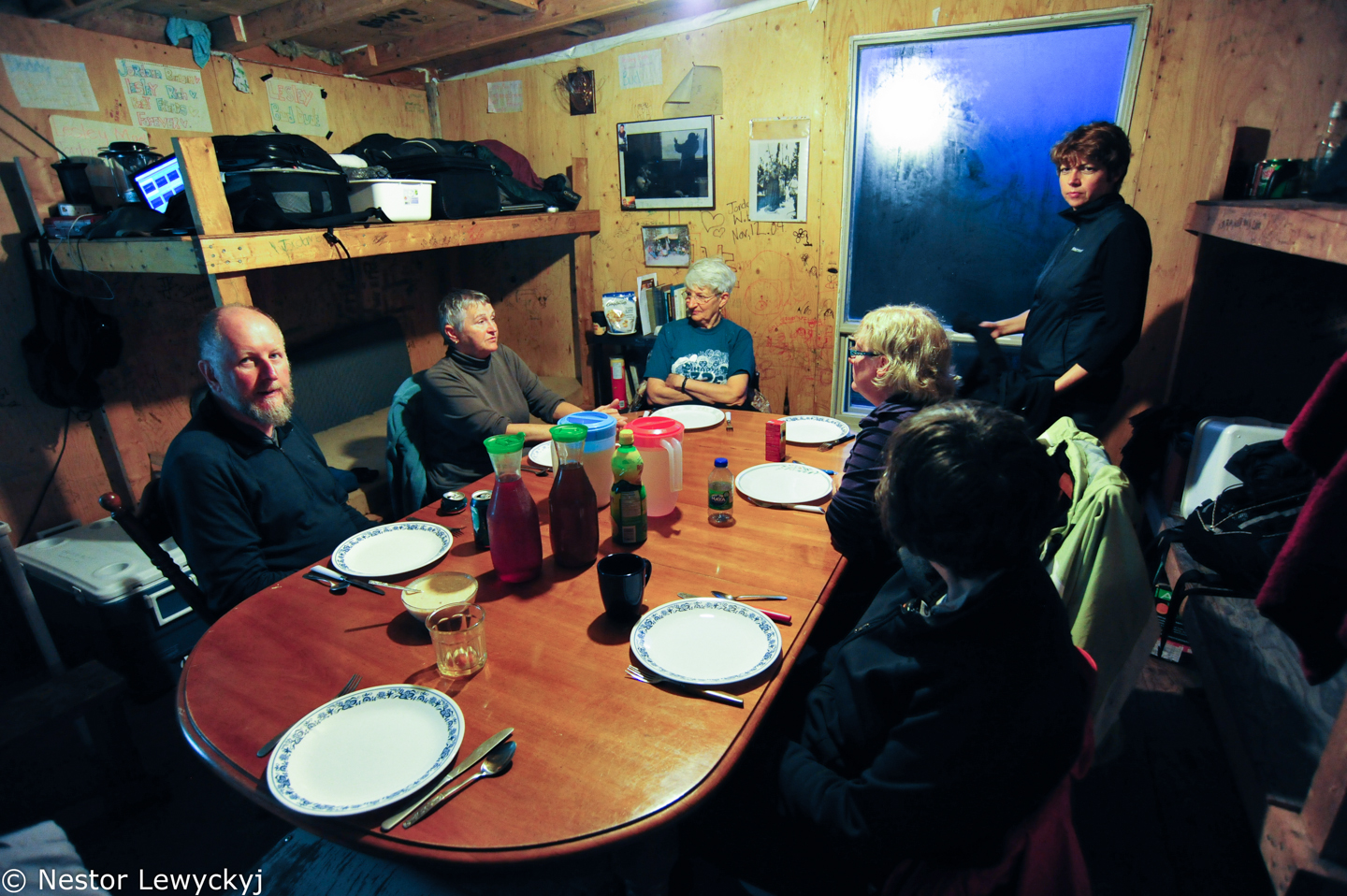 Getting ready for dinner, cooked up by Tom and the rest of the crew. We ate VERY well, and the meals included not just the planned kind, but also freshly caught char and freshly picked berries in jams and coulis!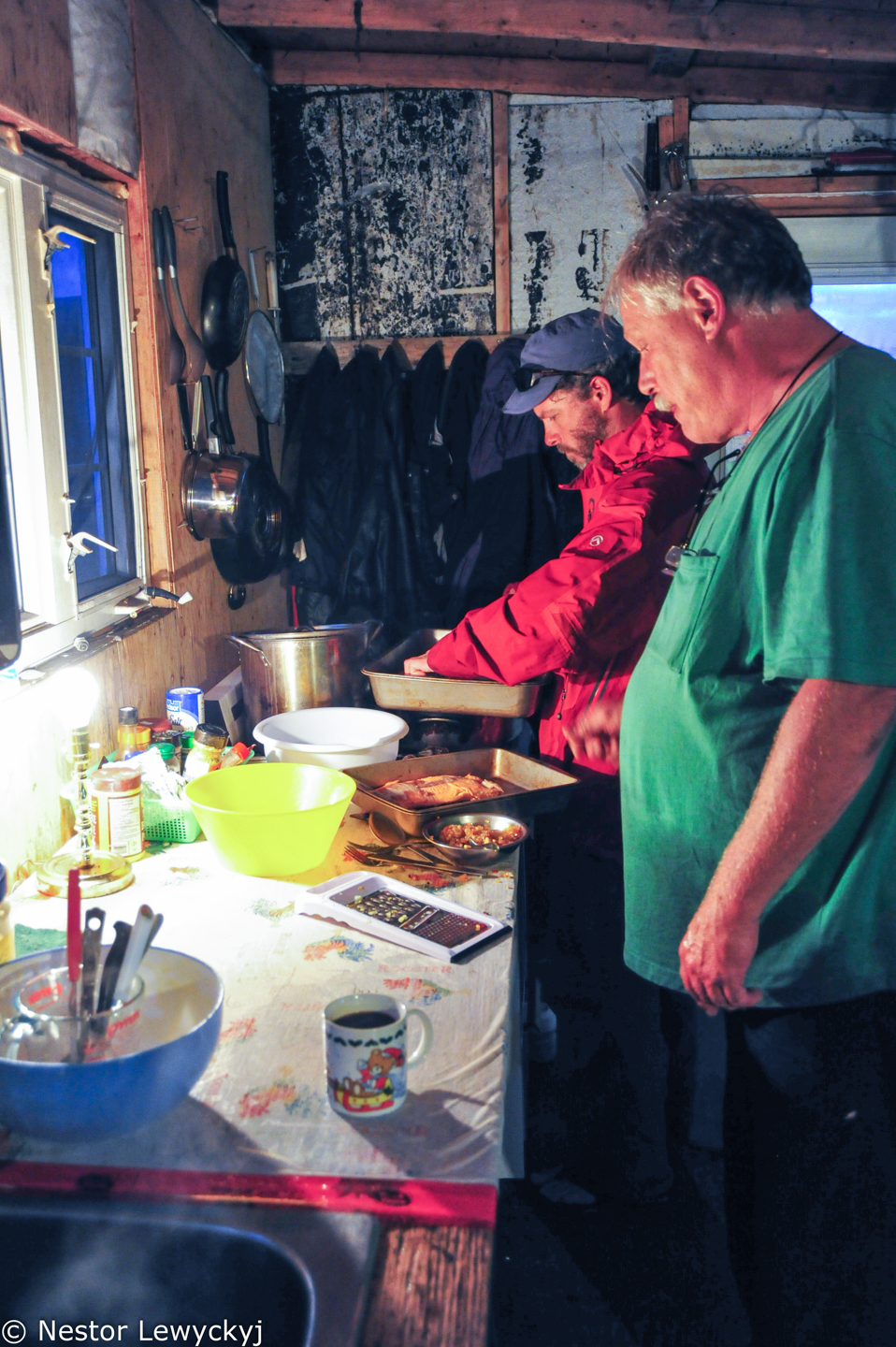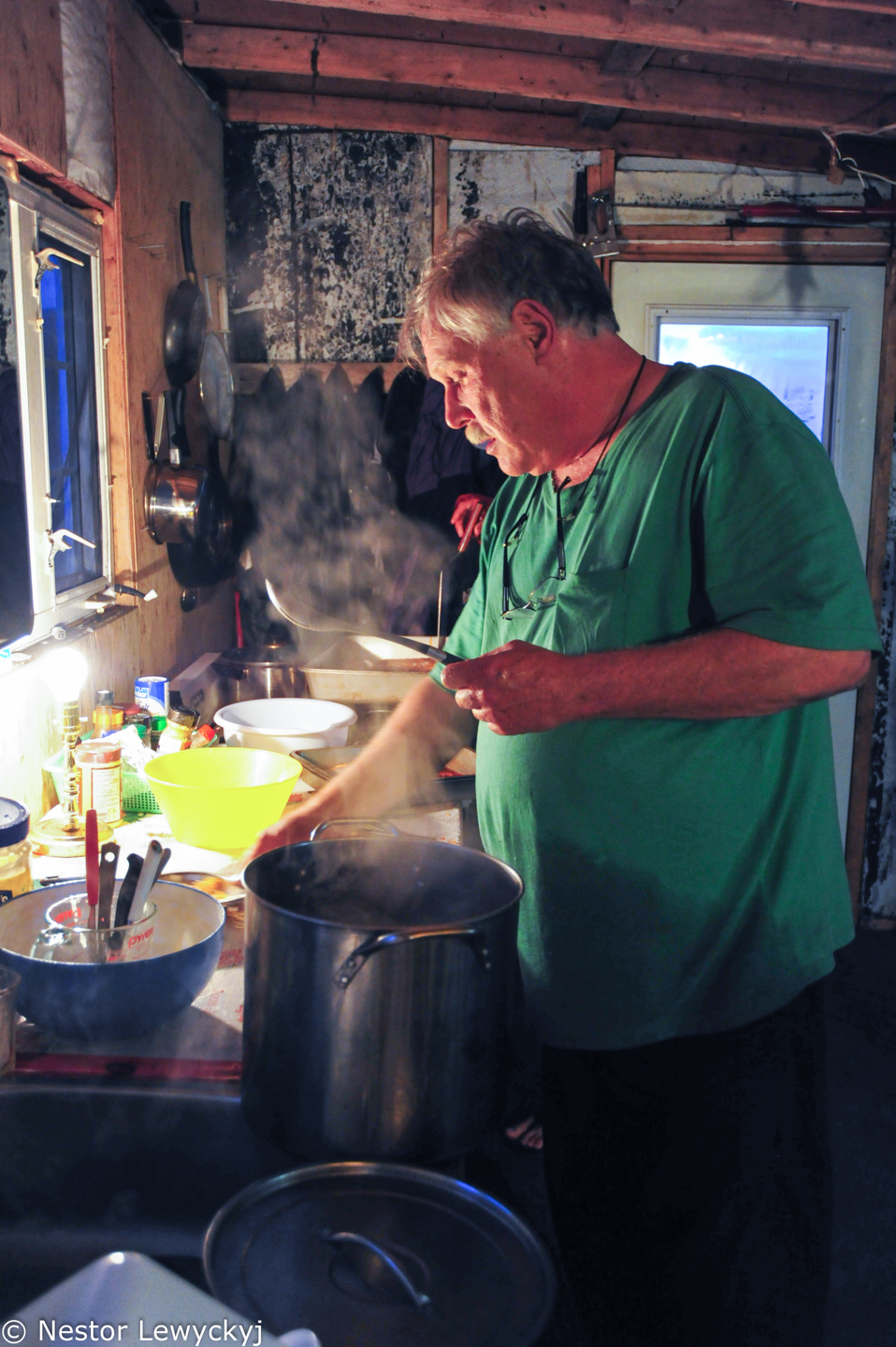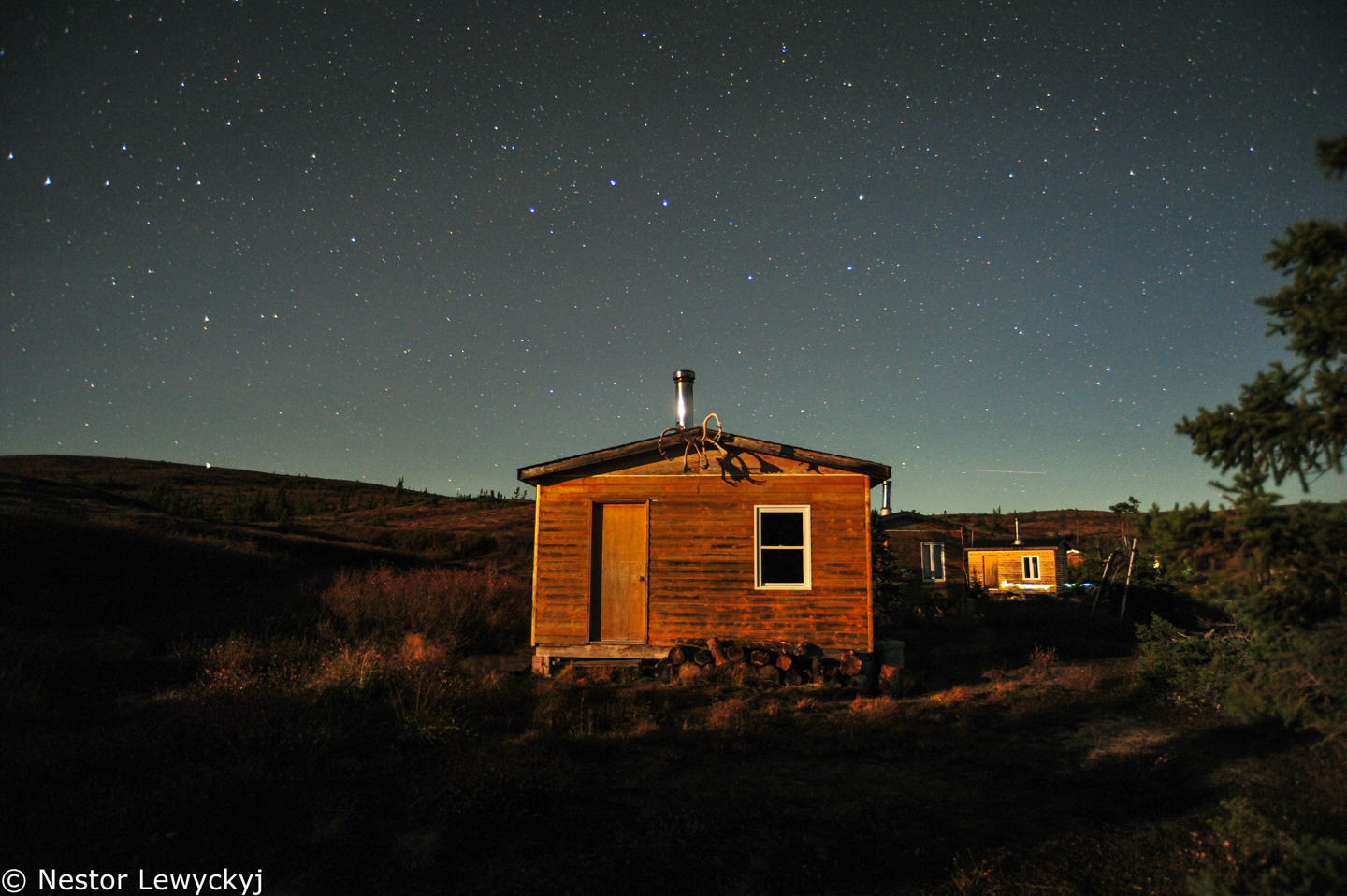 Warren and Leonie's cabin in the moonlight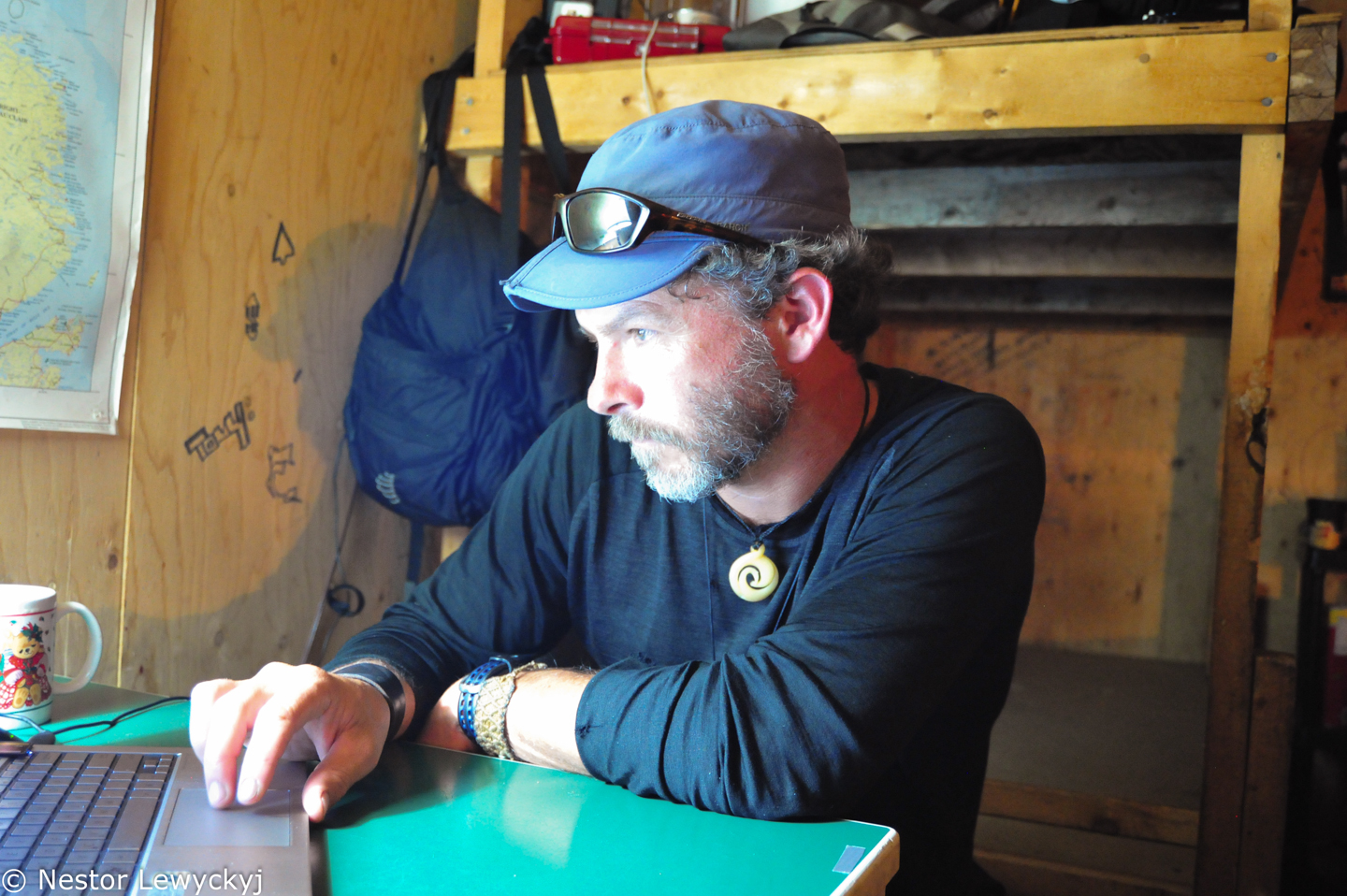 Jamie reviewing the shots of the day. An experienced guide, he also did a lot of videography, taking stock footage for future films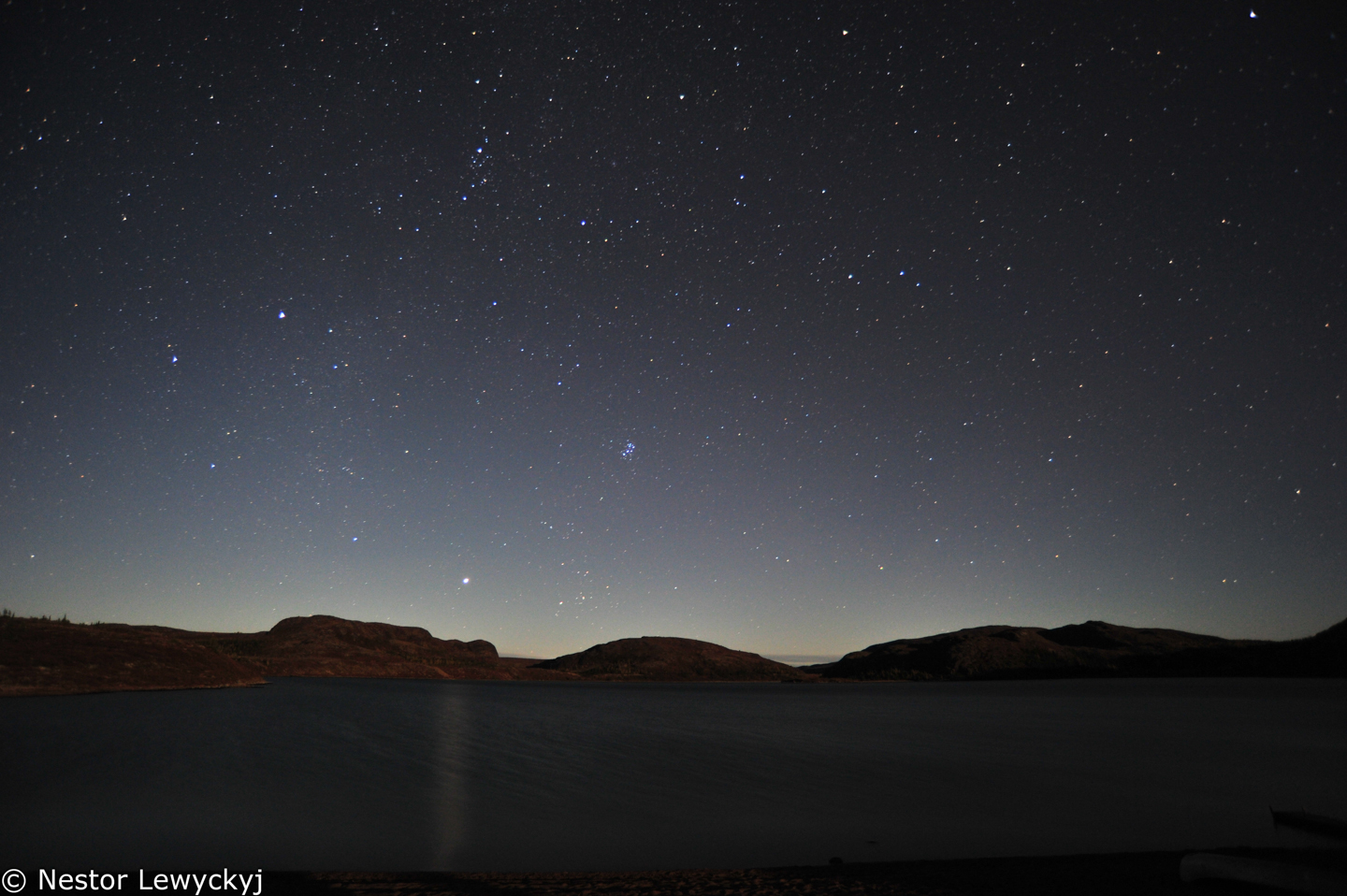 The Lake Mistastin in the moonlight and starlight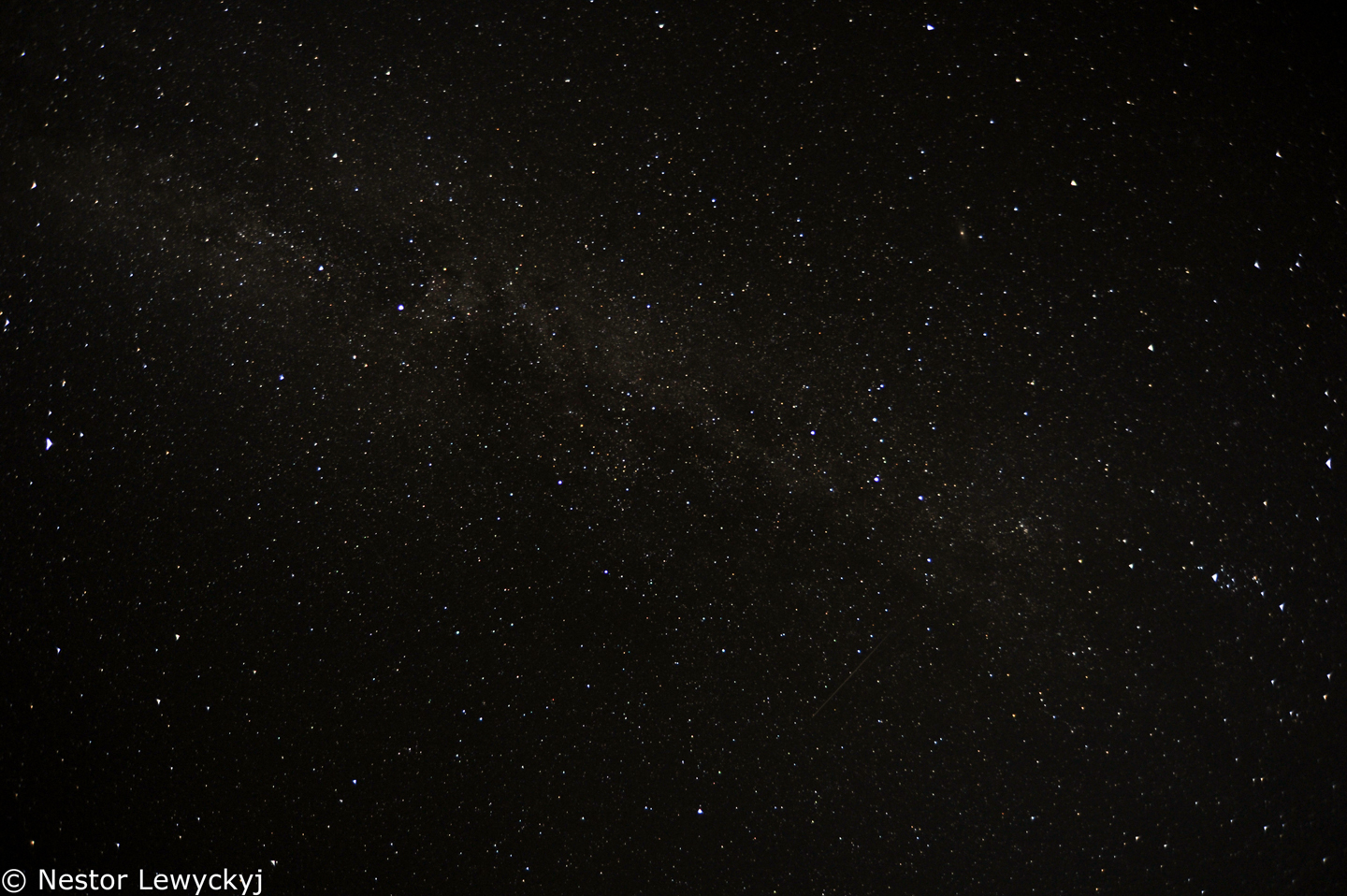 The Milky Way directly overhead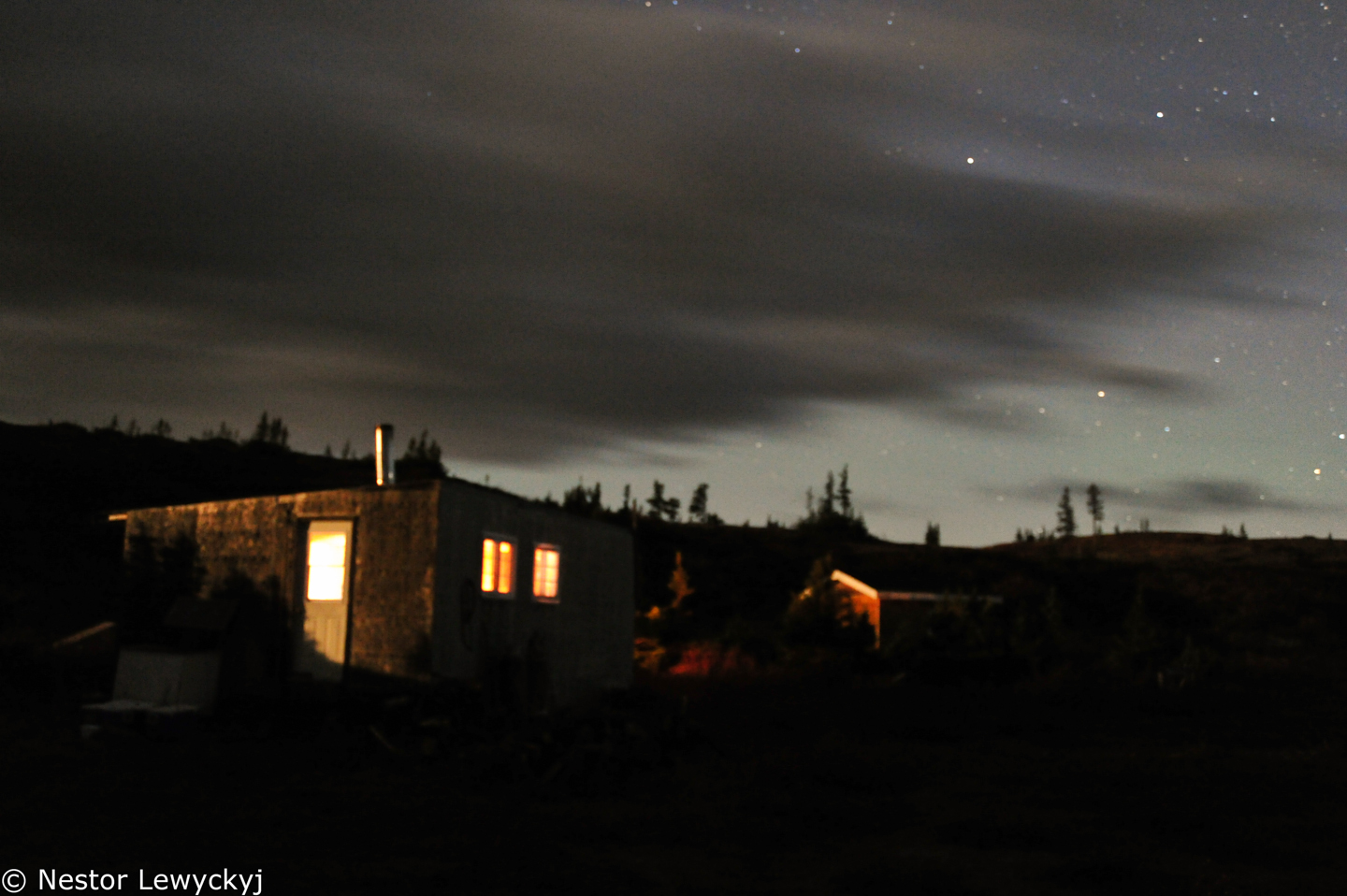 It was getting chilly at night, with a stiff breeze and tumbling temperatures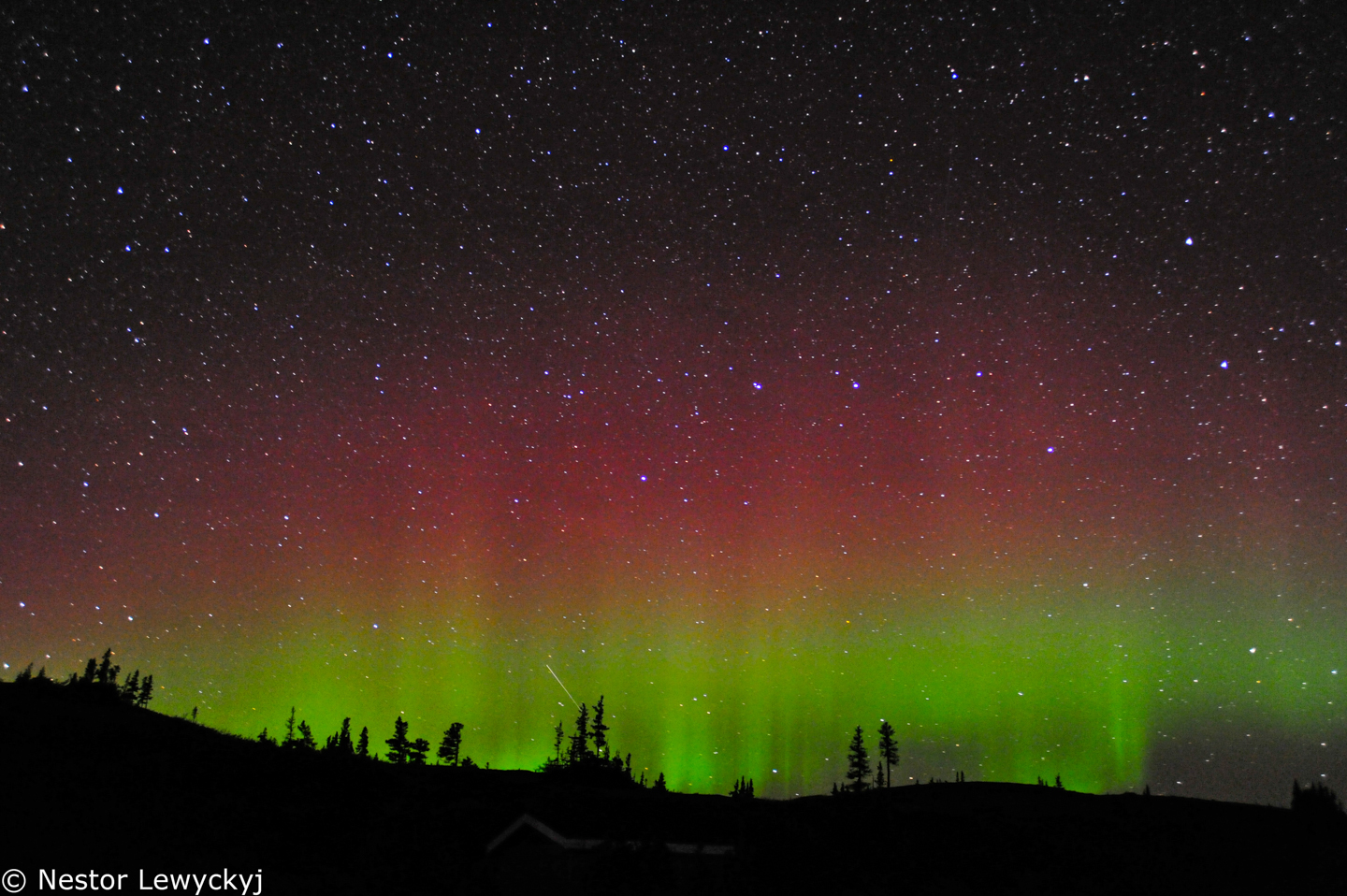 And the Northern Lights did come out and dance for us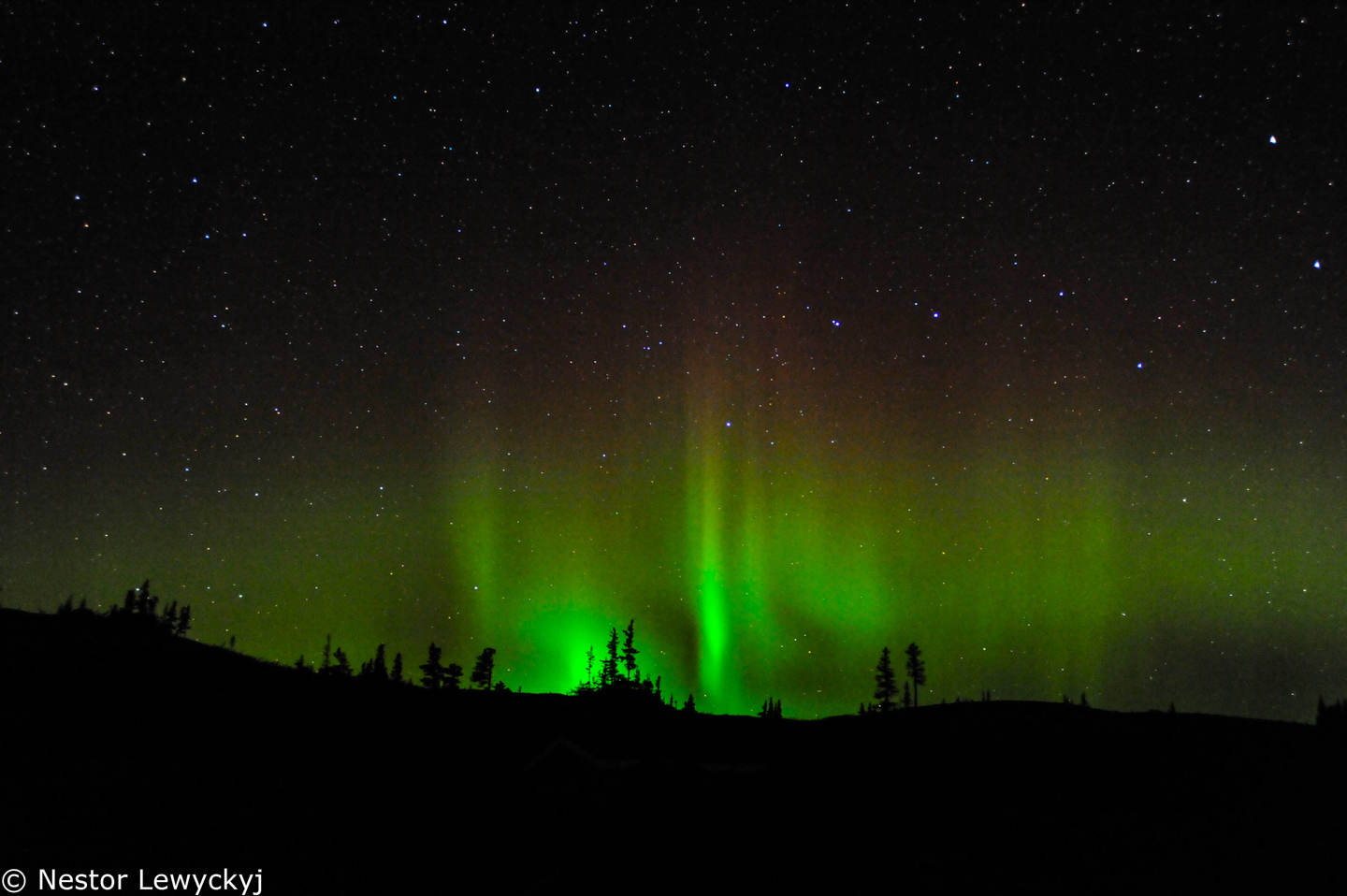 Shortening the exposure time gave more definition to the Lights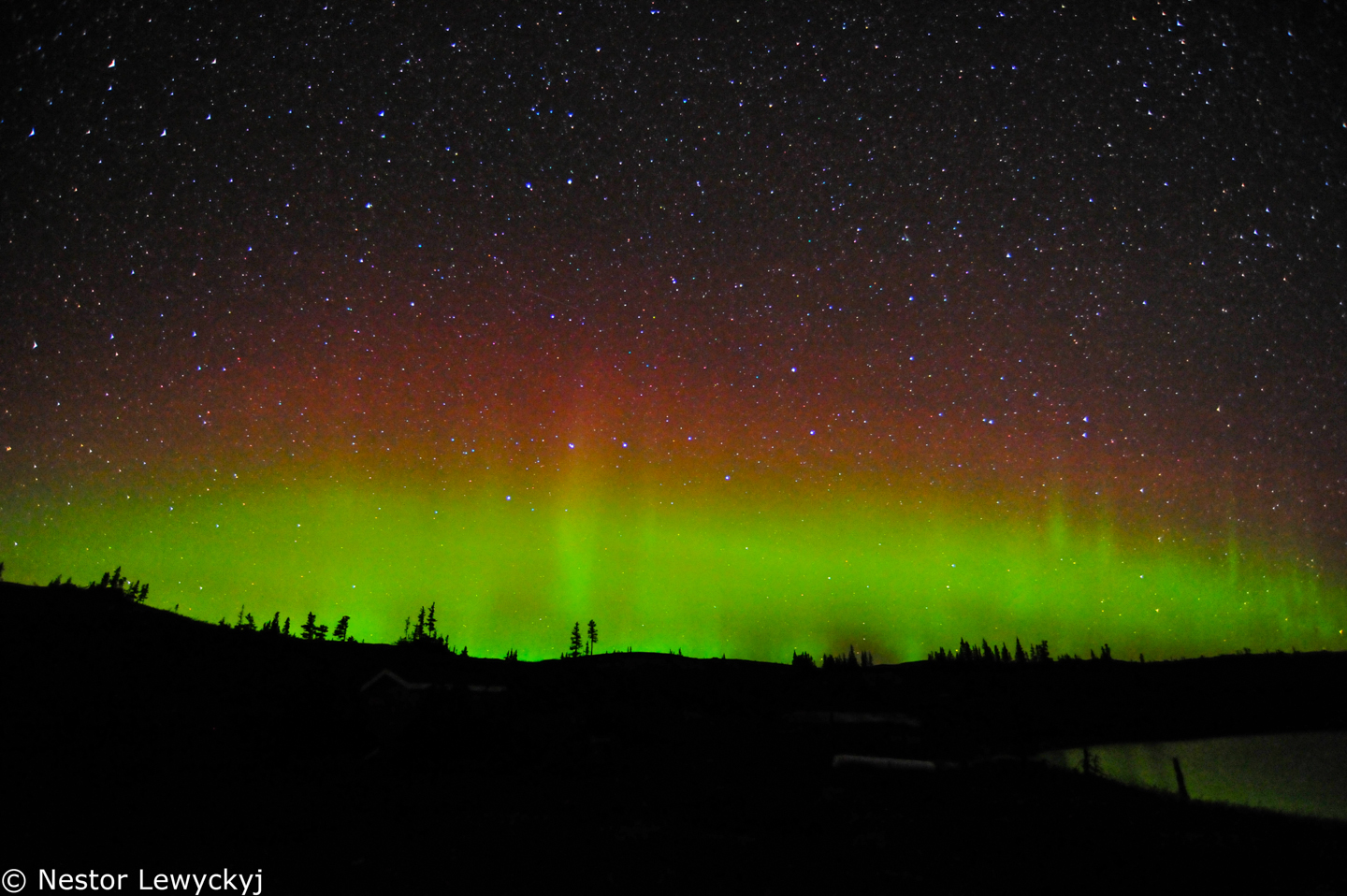 And they had this wonderful red hue at the perimeter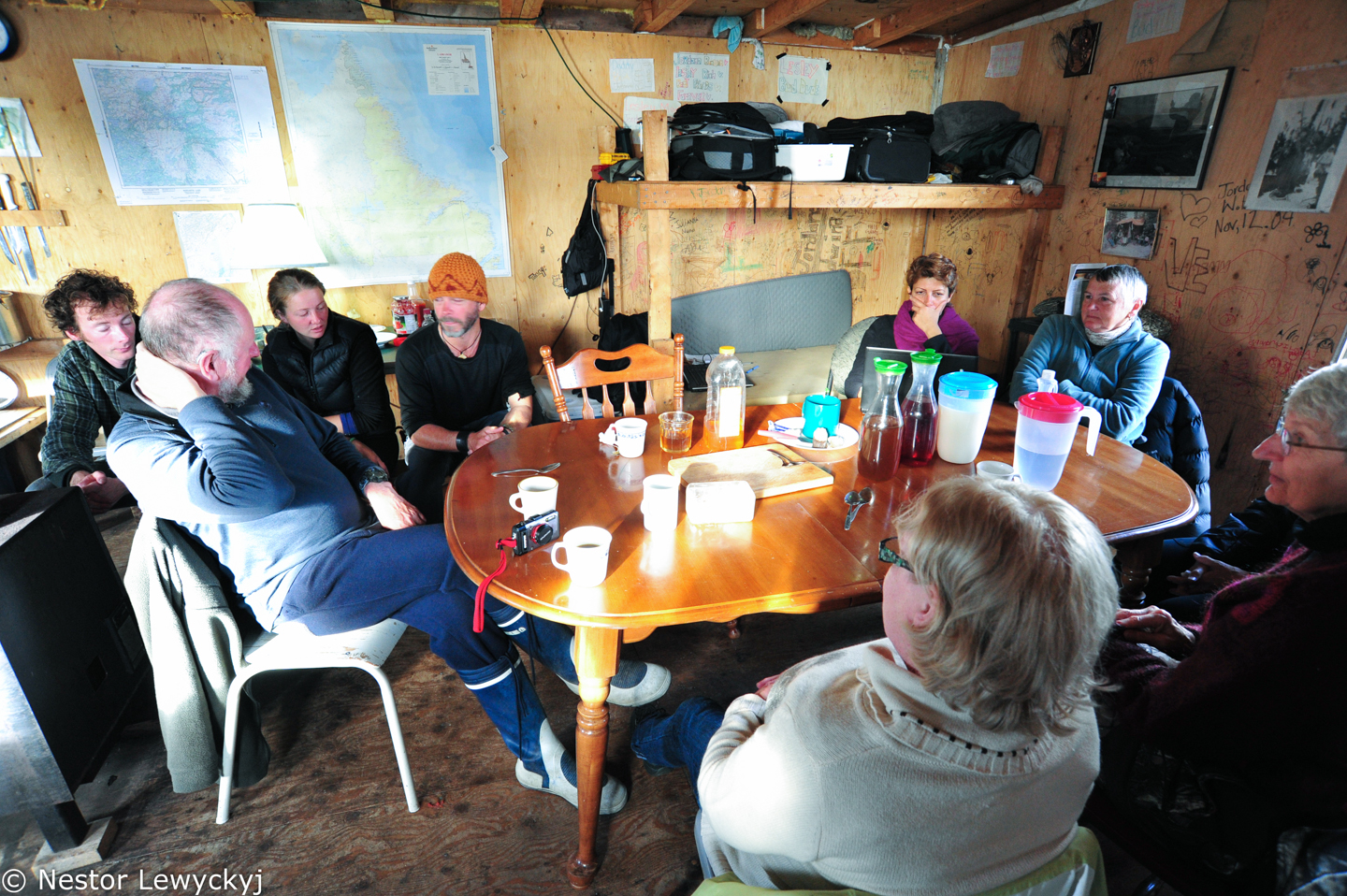 Discussing the plans for the day after breakfast. Where to search that day for caribou!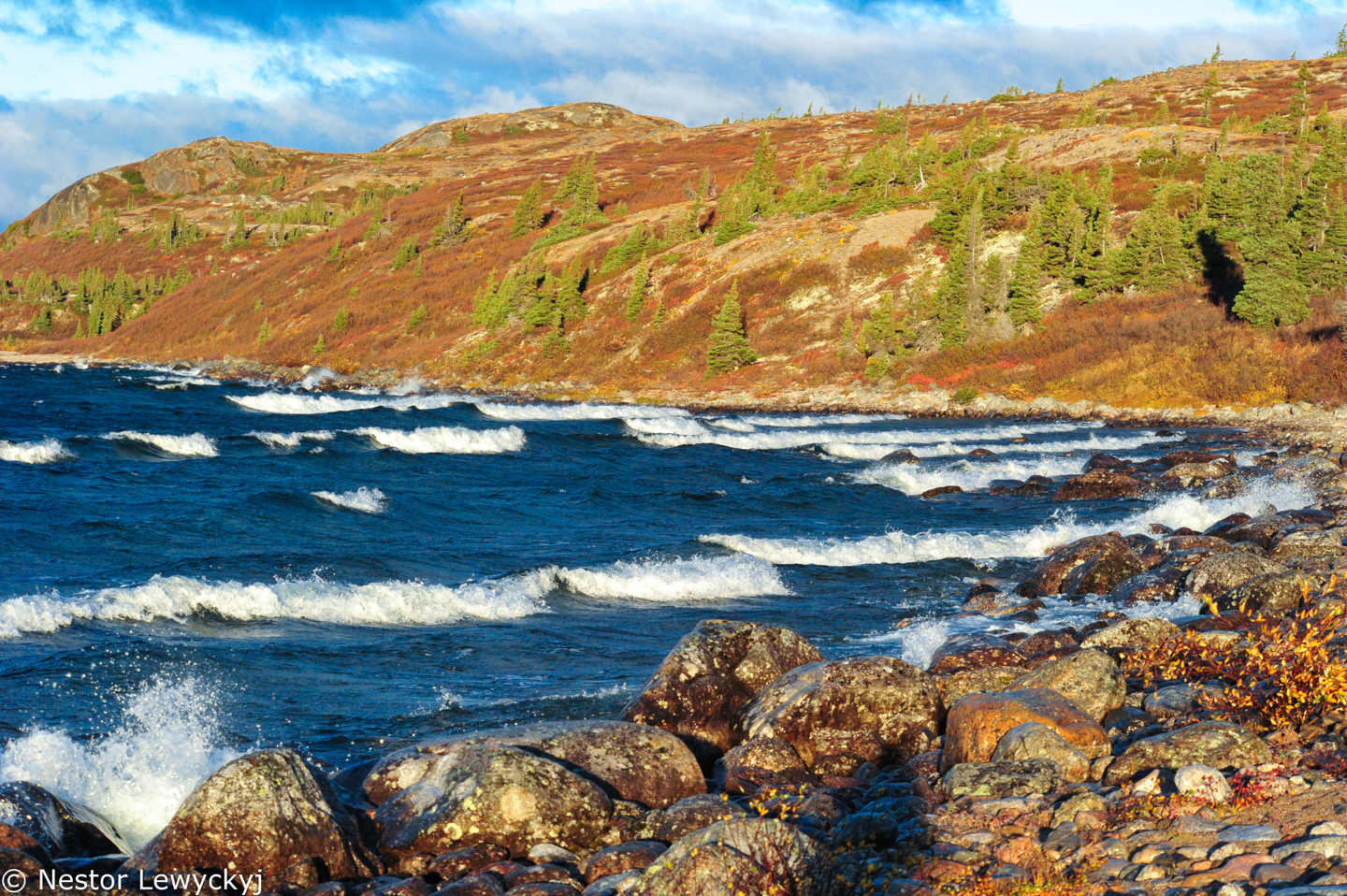 That day was VERY windy, and I went our for something like a 20k hike alone, just wanting to explore at my pace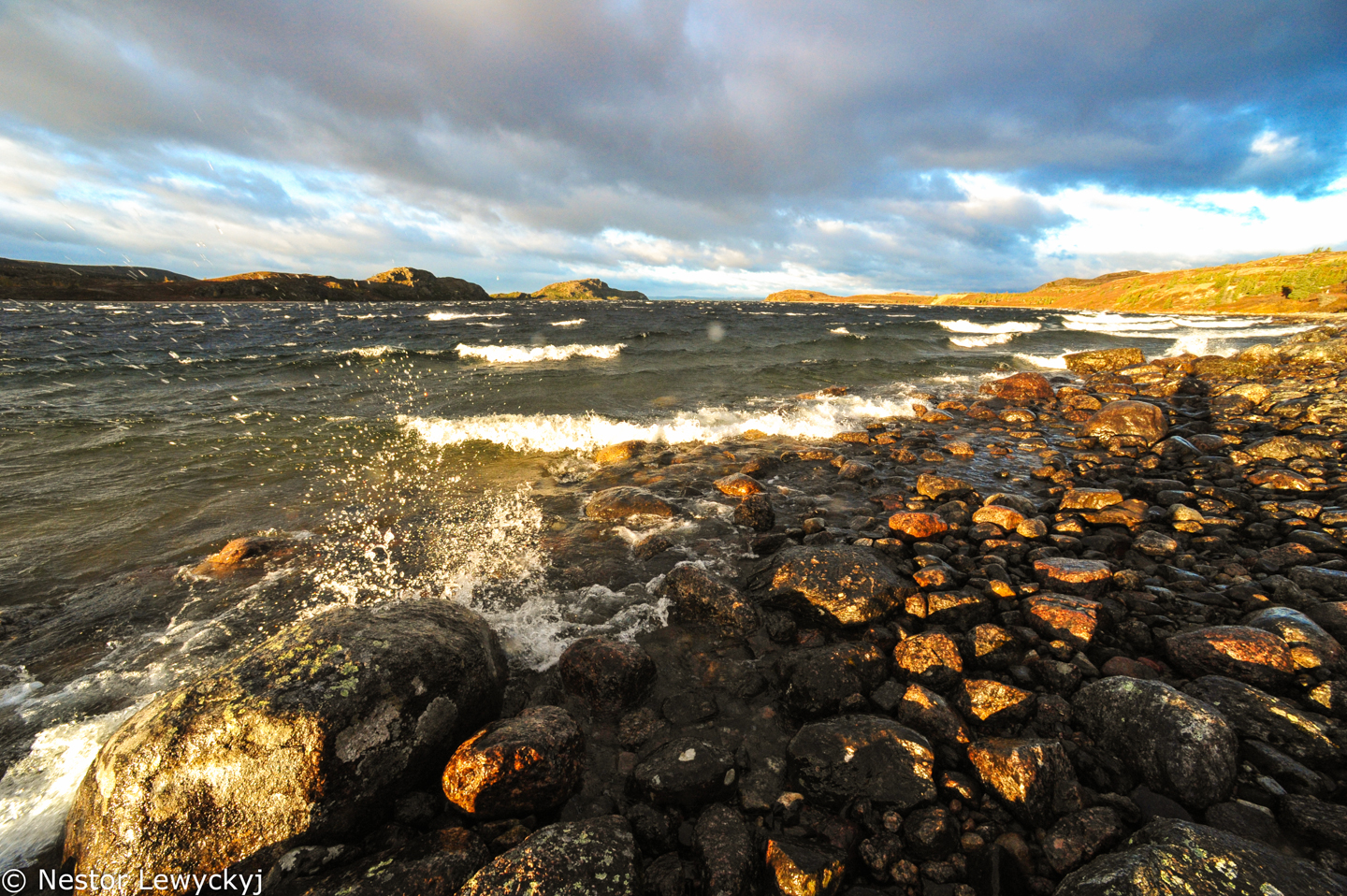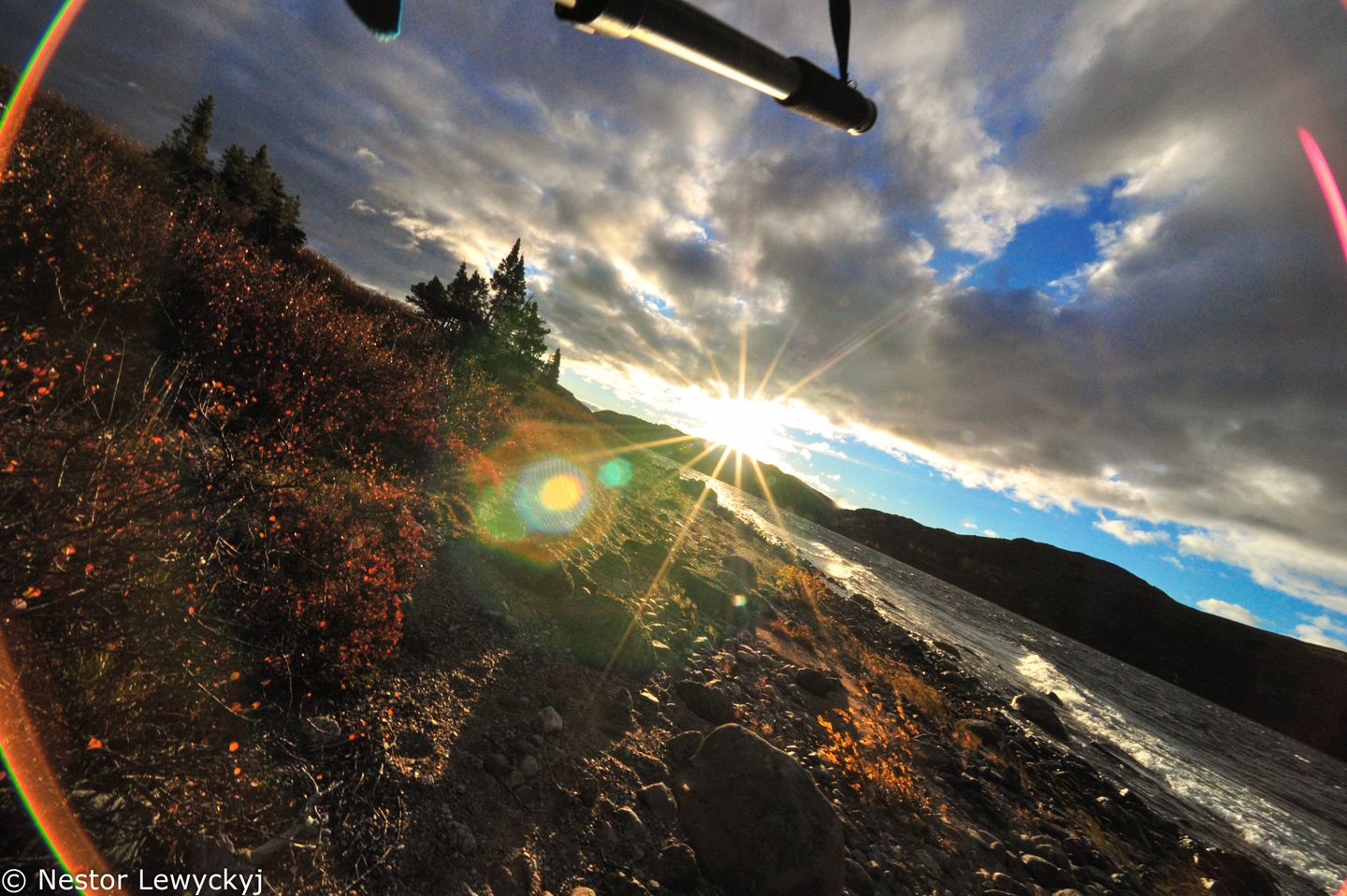 An accidental shot as the camera was slung over my shoulder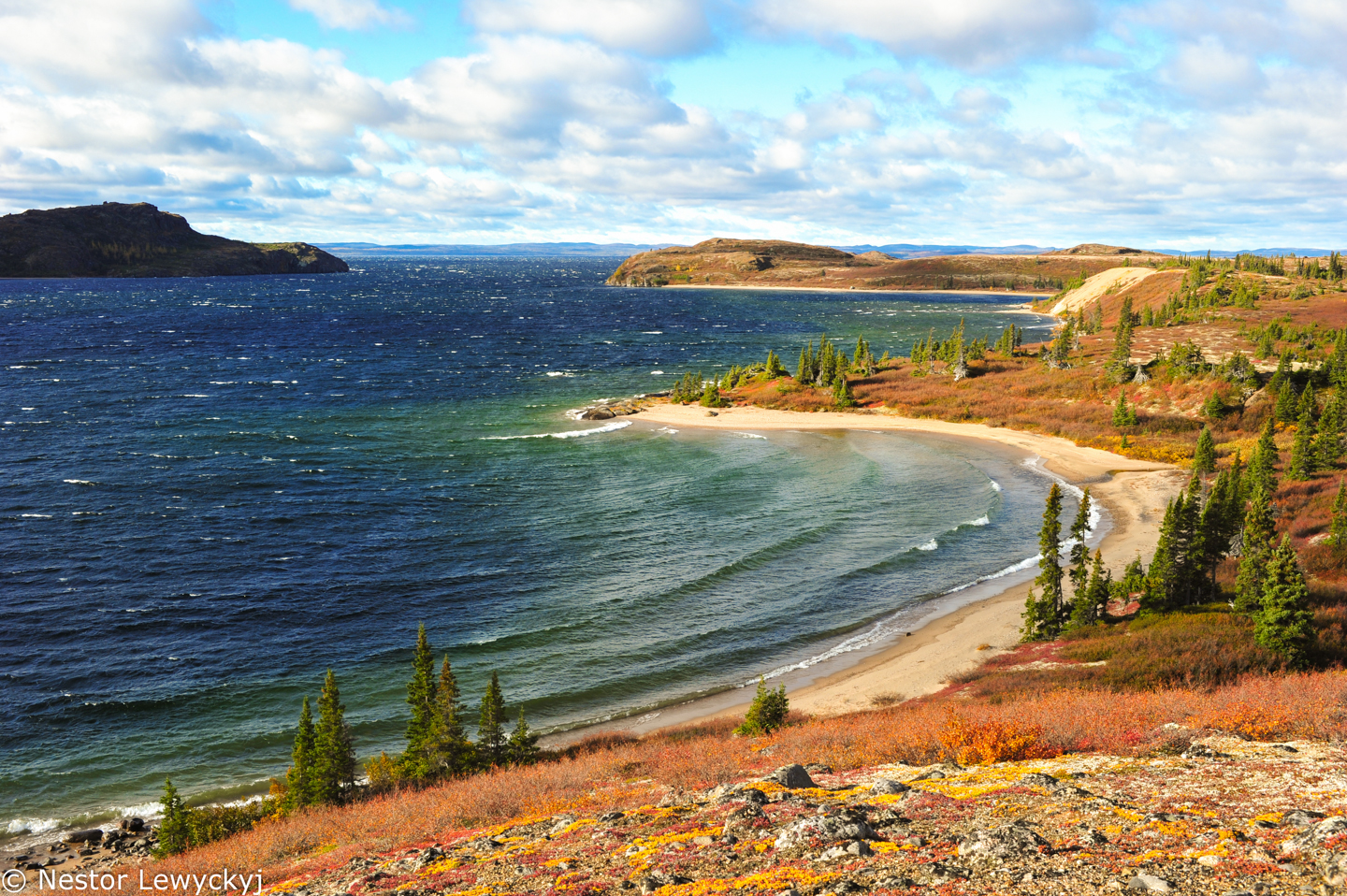 Some of the beaches could have been in the Caribbean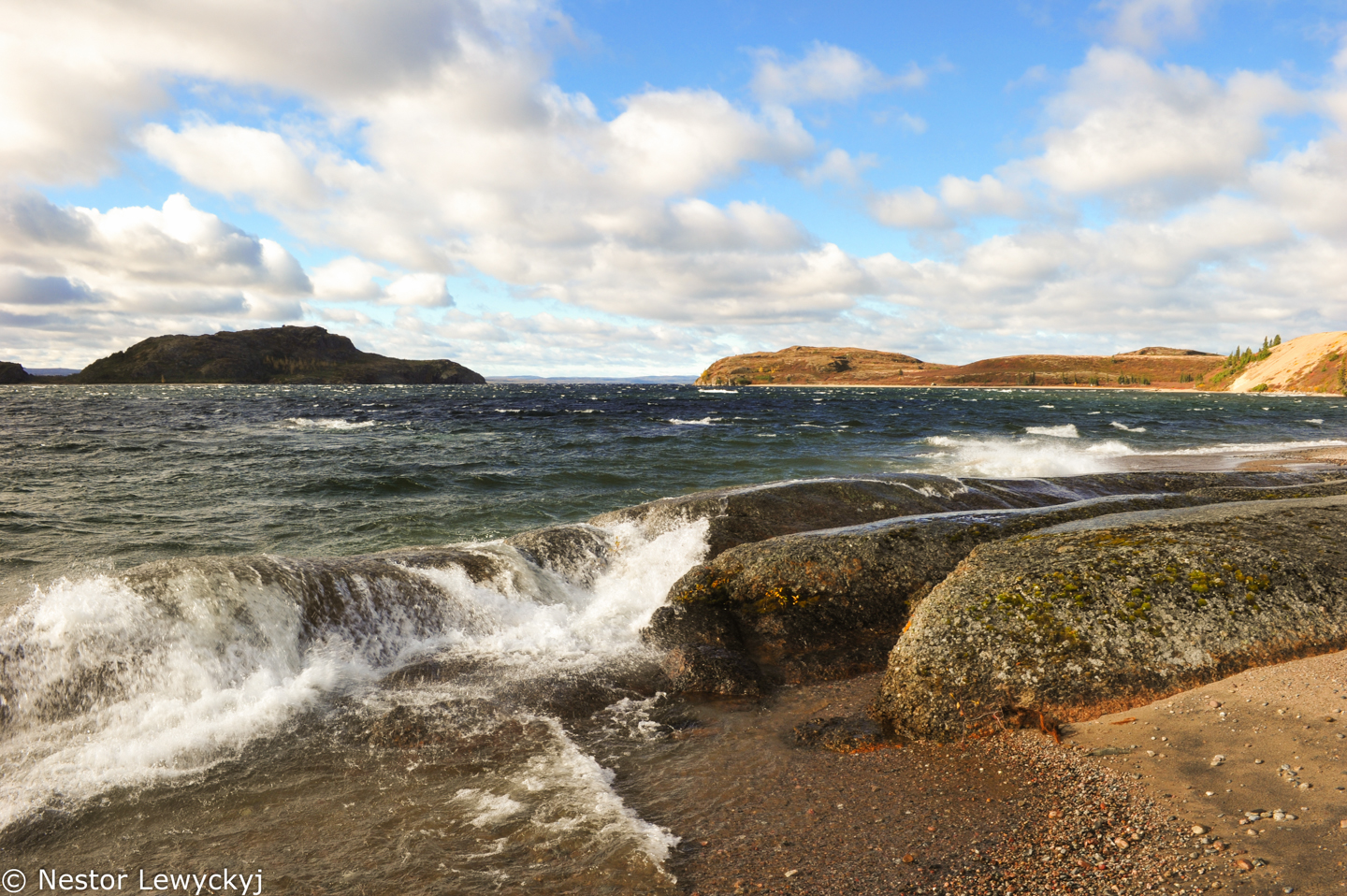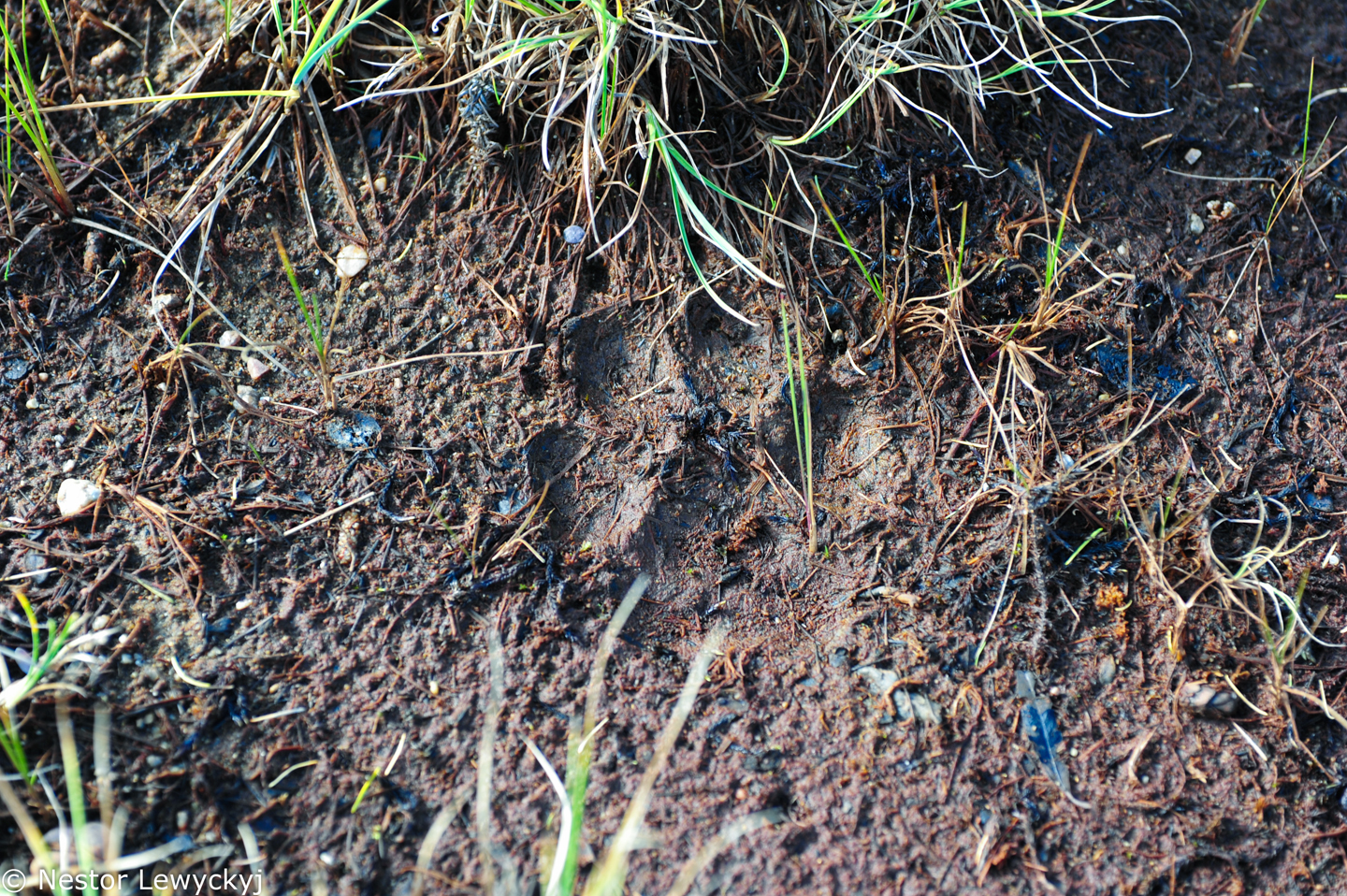 Large and very fresh wolf print. They are elusive animals that are hard to spot before they spot you, and then they are gone!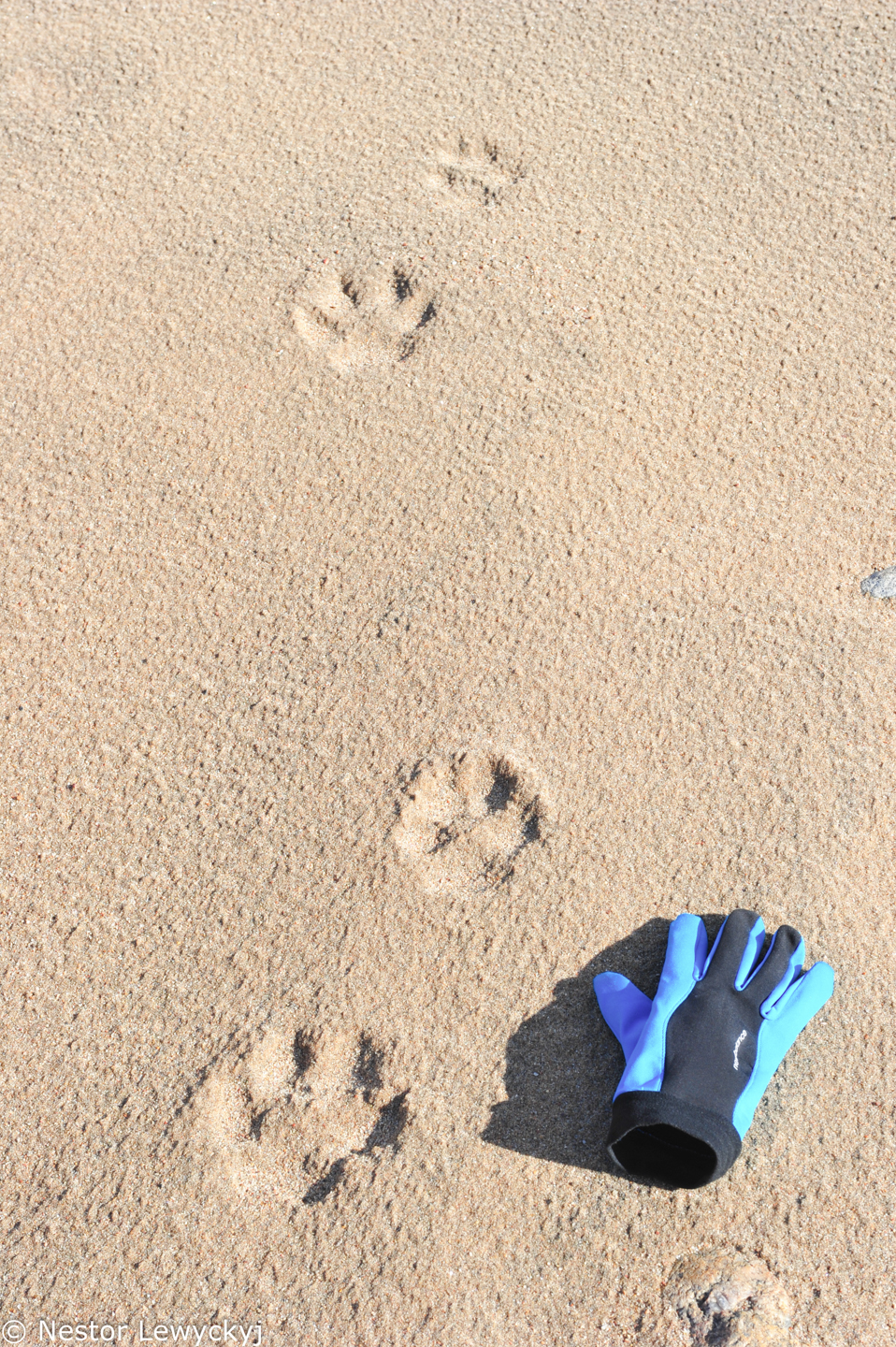 Another set of prints on the beach with my glove as a reference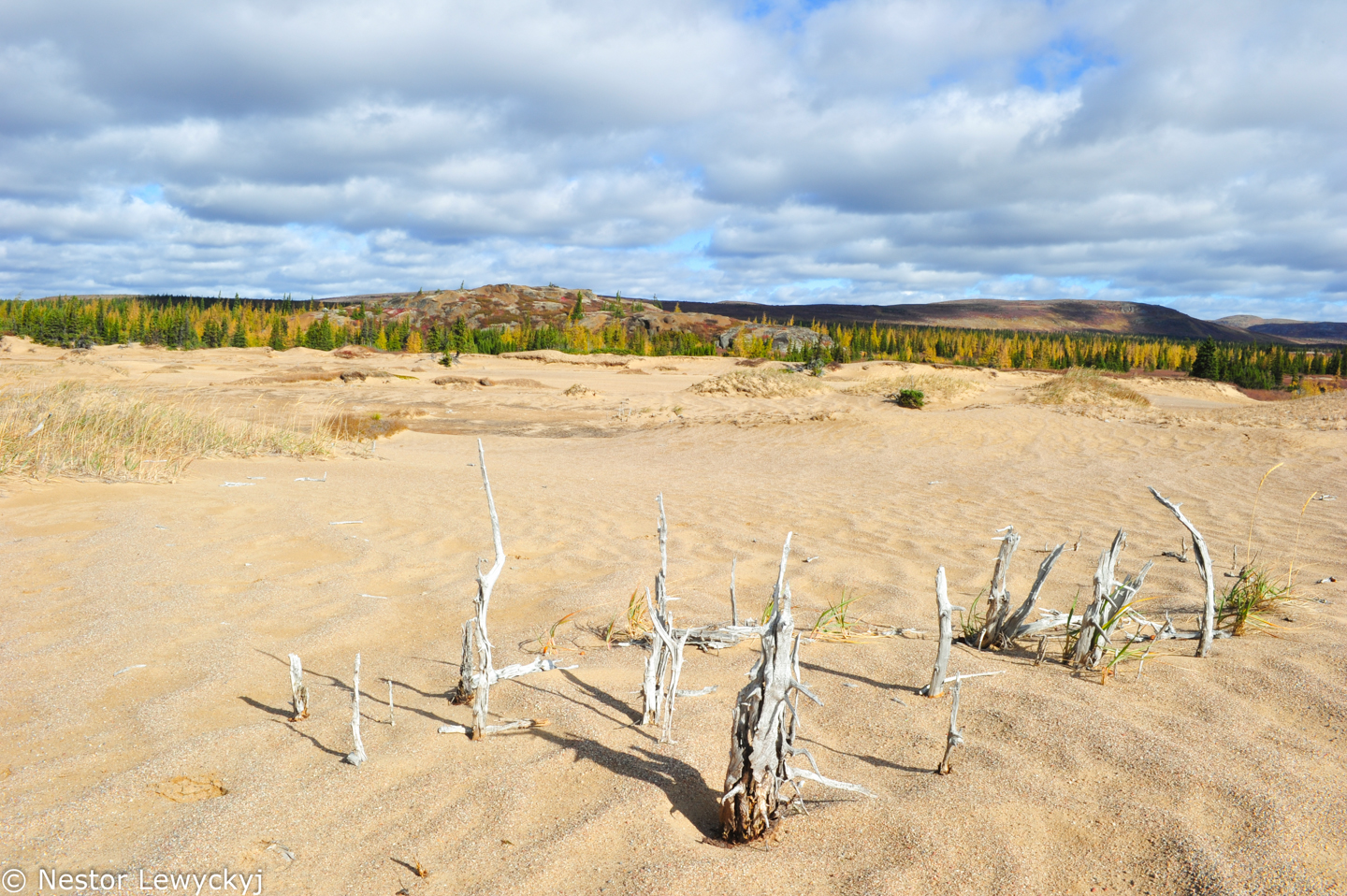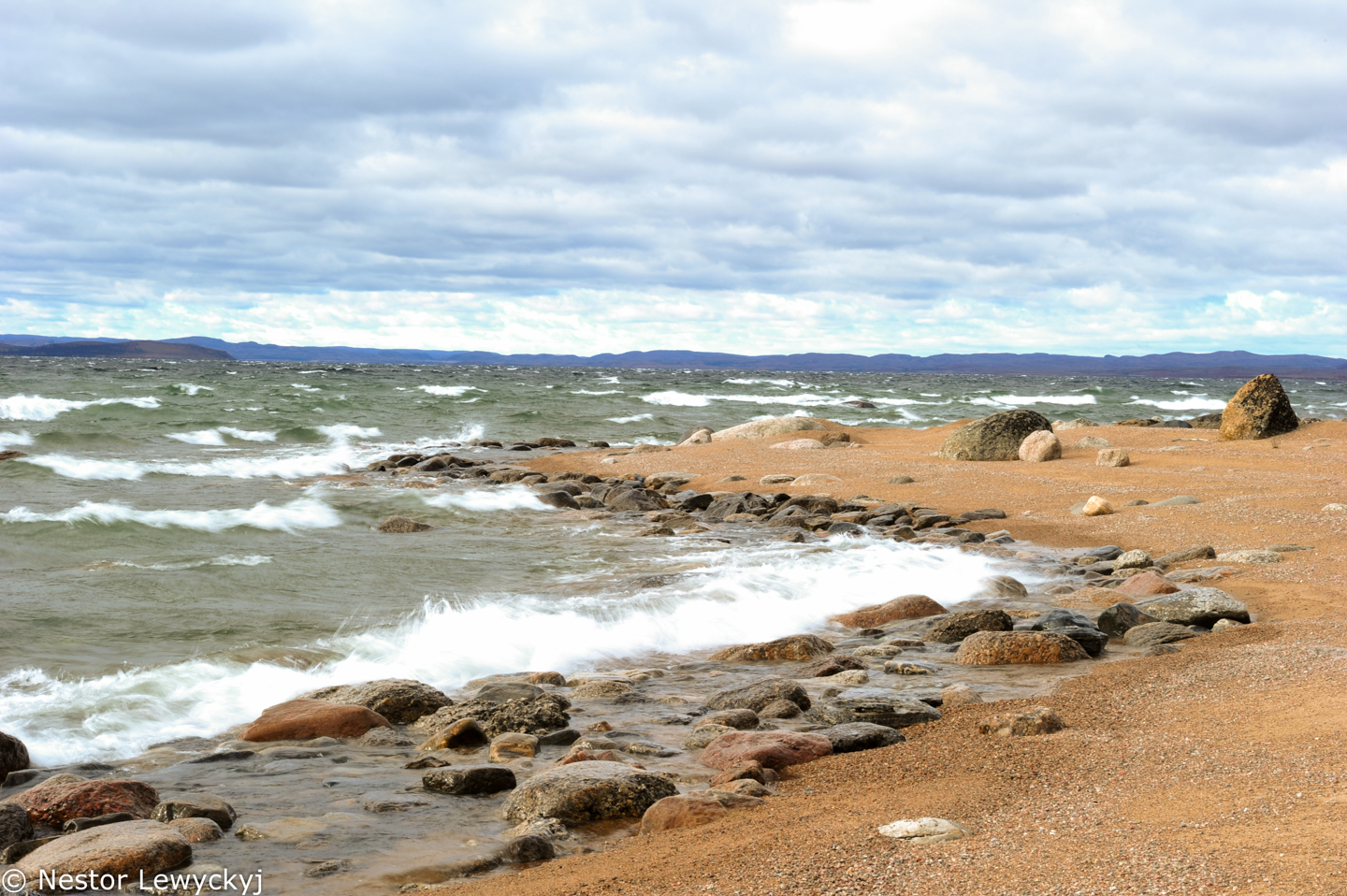 There was no way anyone was going to travel by boat on the lake that day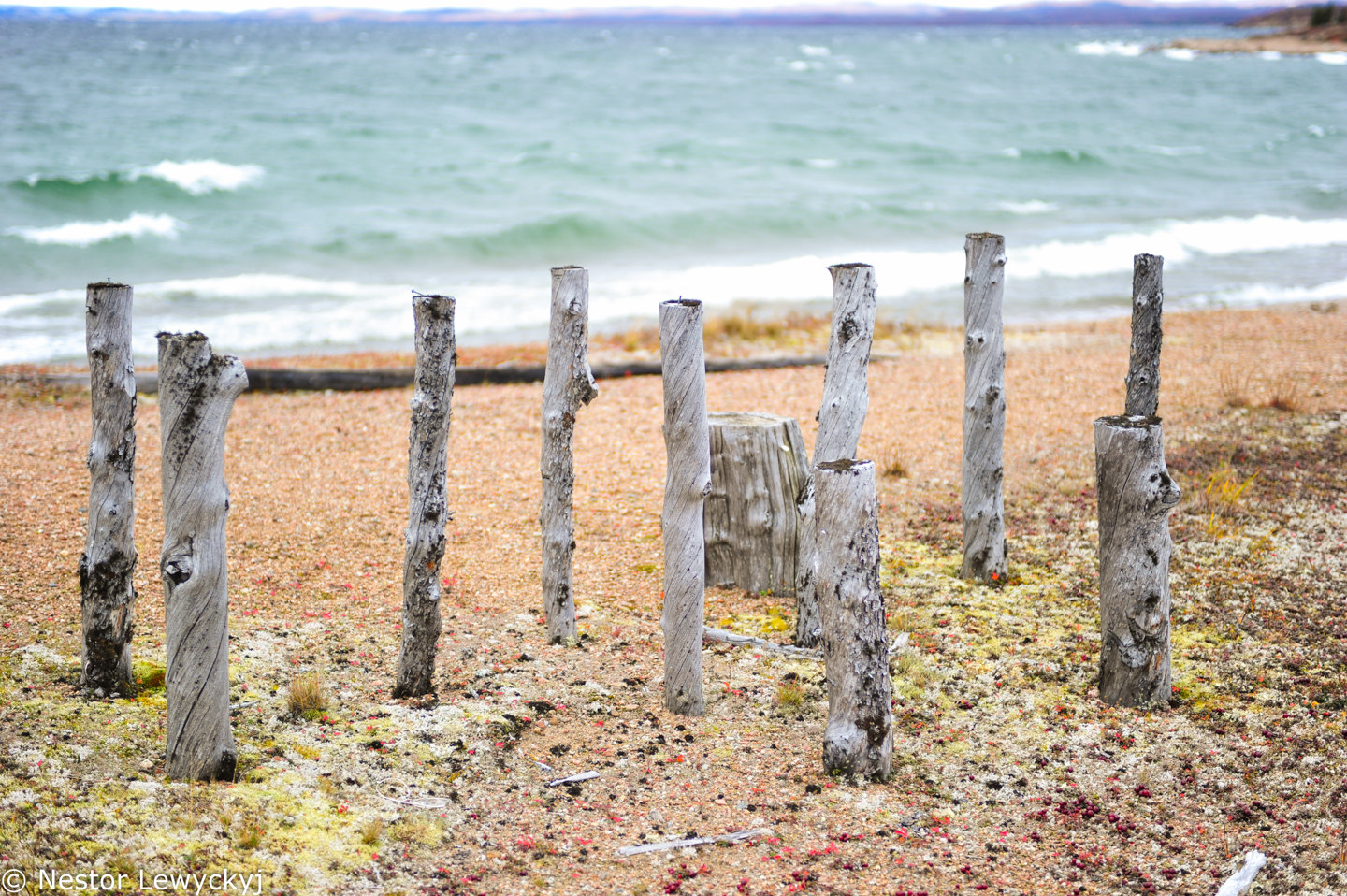 I came across a site on the beach west of our camp that had not been used for many years, but these posts still stood, apparently used for stretching out and drying caribou hide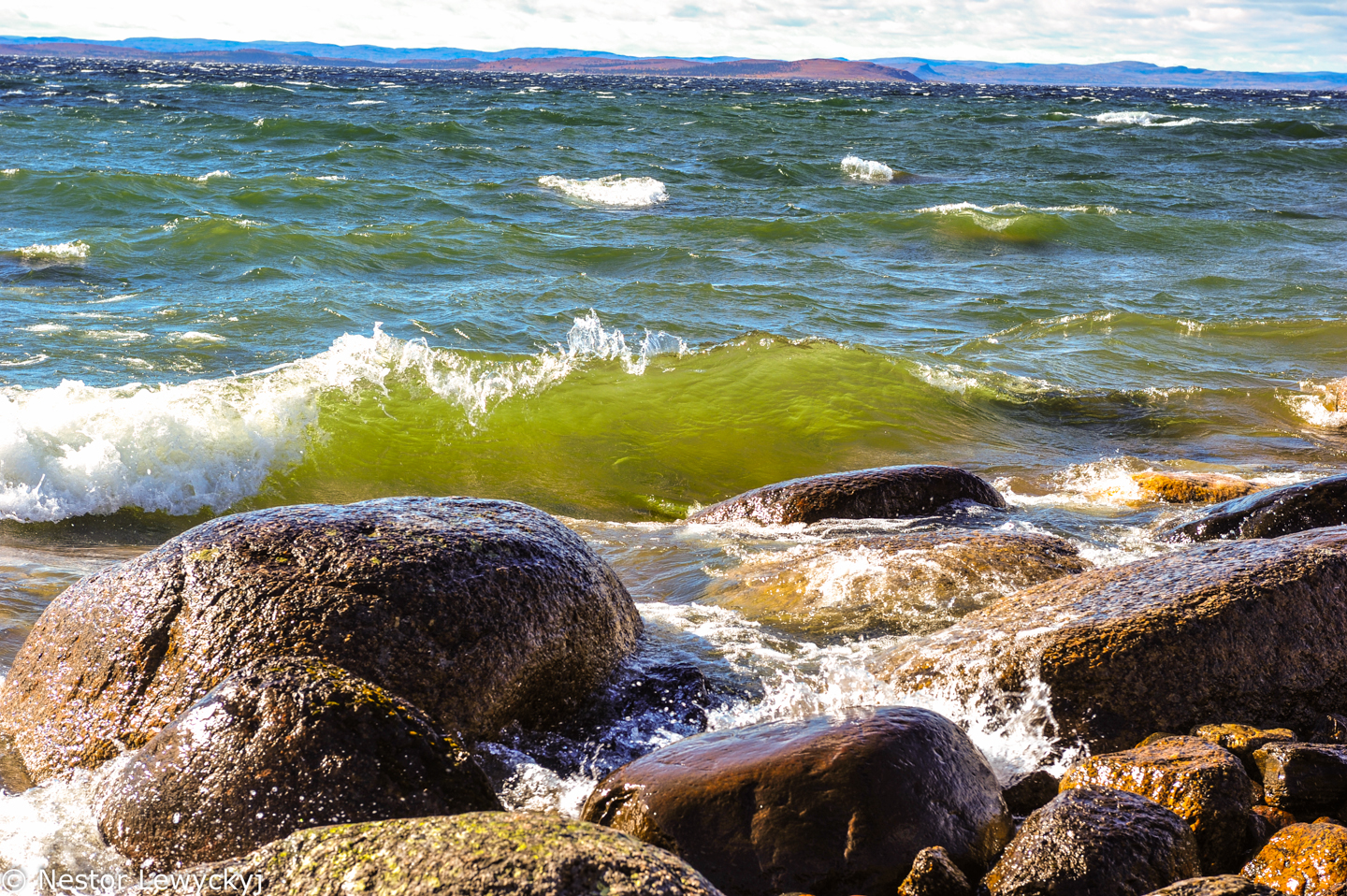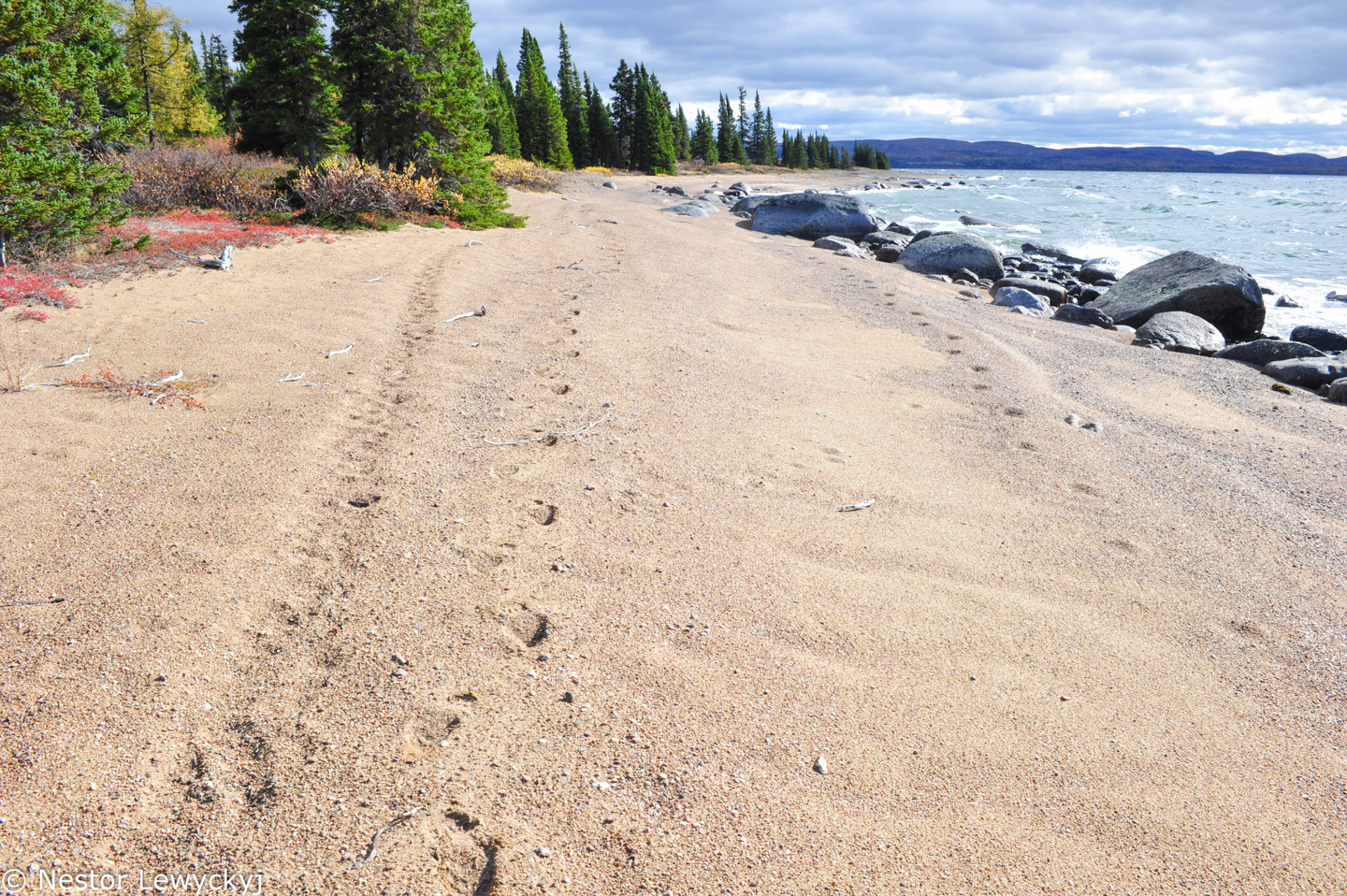 Caribou trail on the left, man (me) in the middle, wolf on the right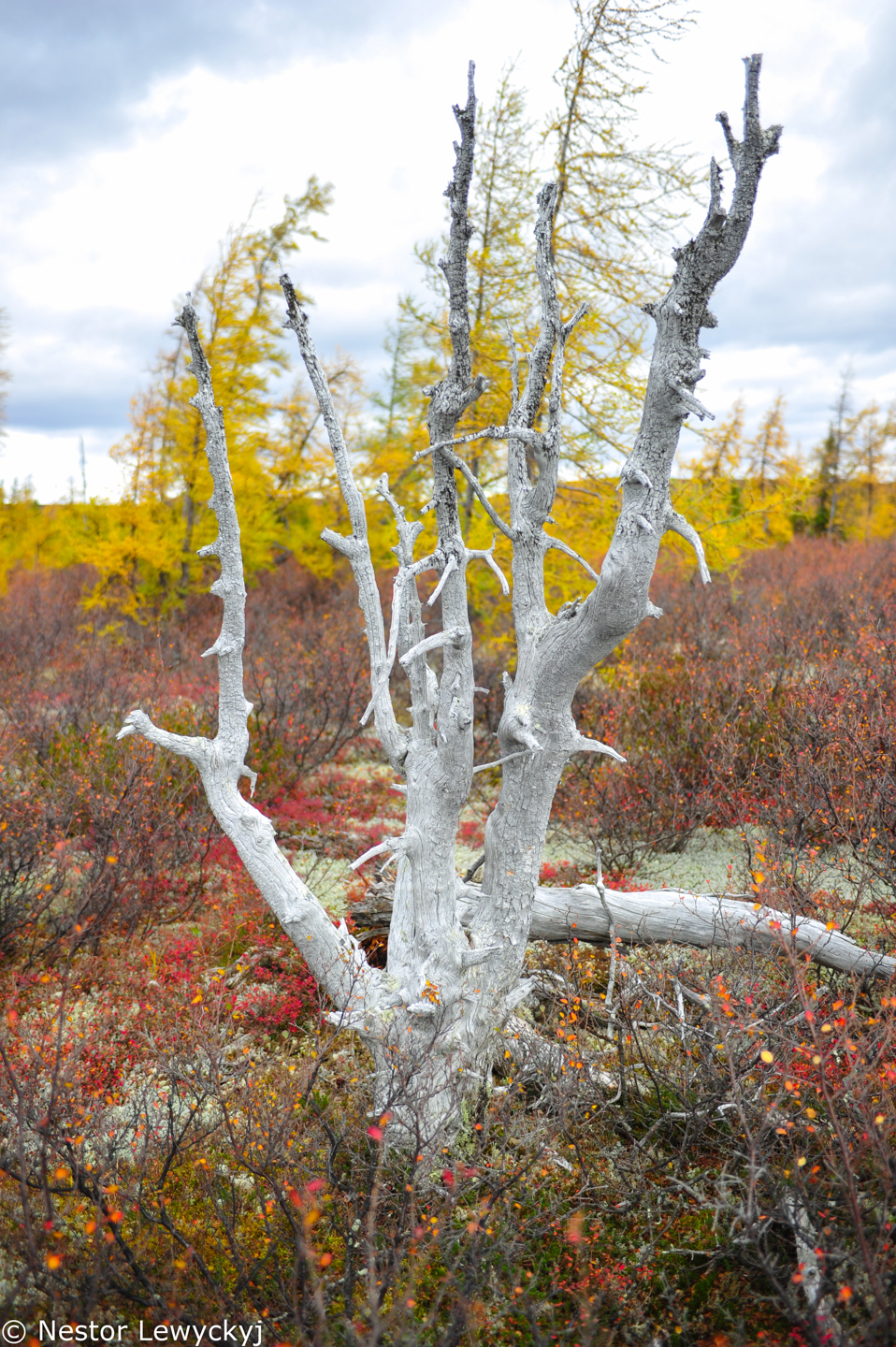 The dead tree stumps intrigued me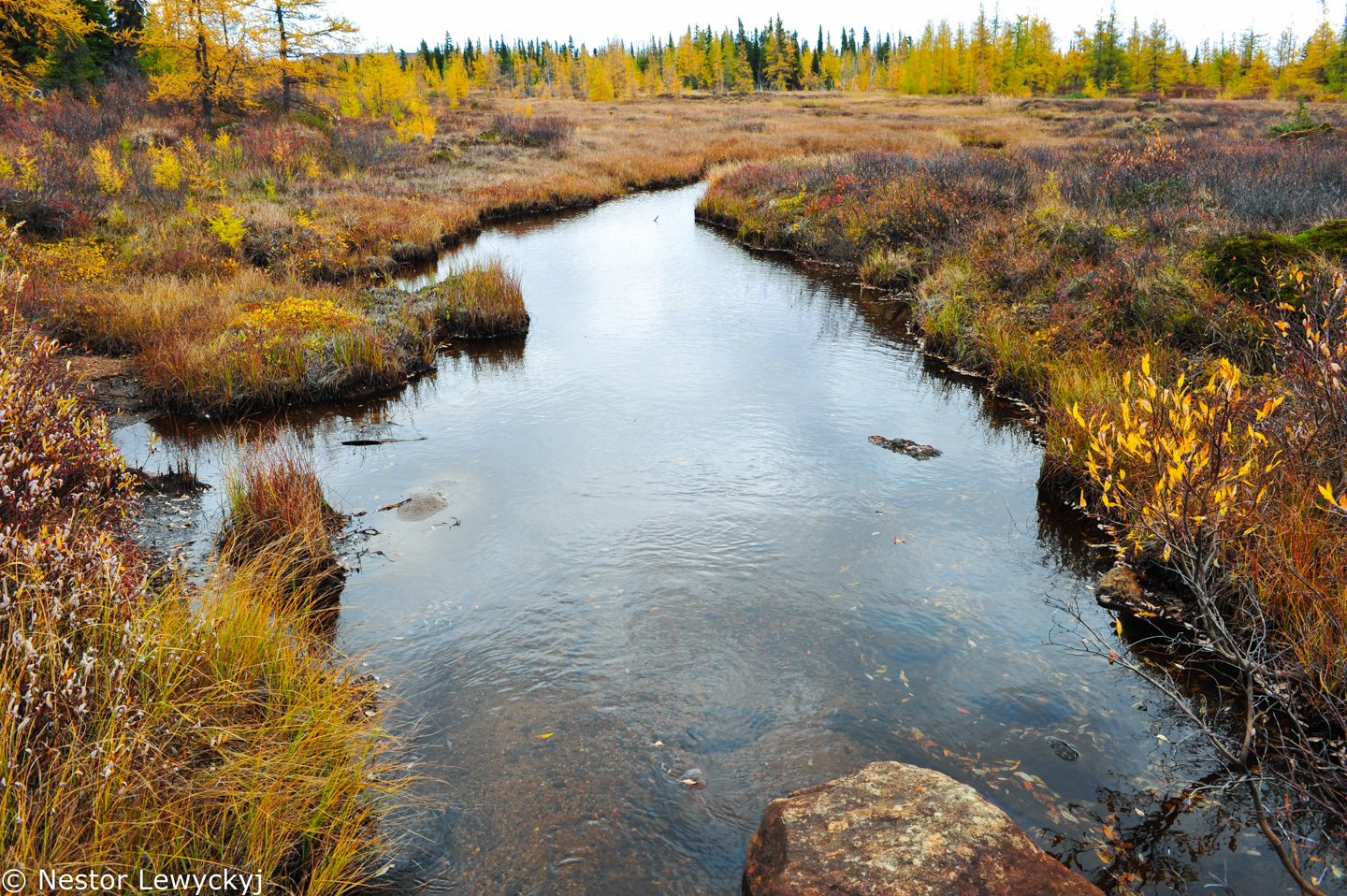 Although walking around was very easy, much easier than over true tundra further north, there were spots with plenty of water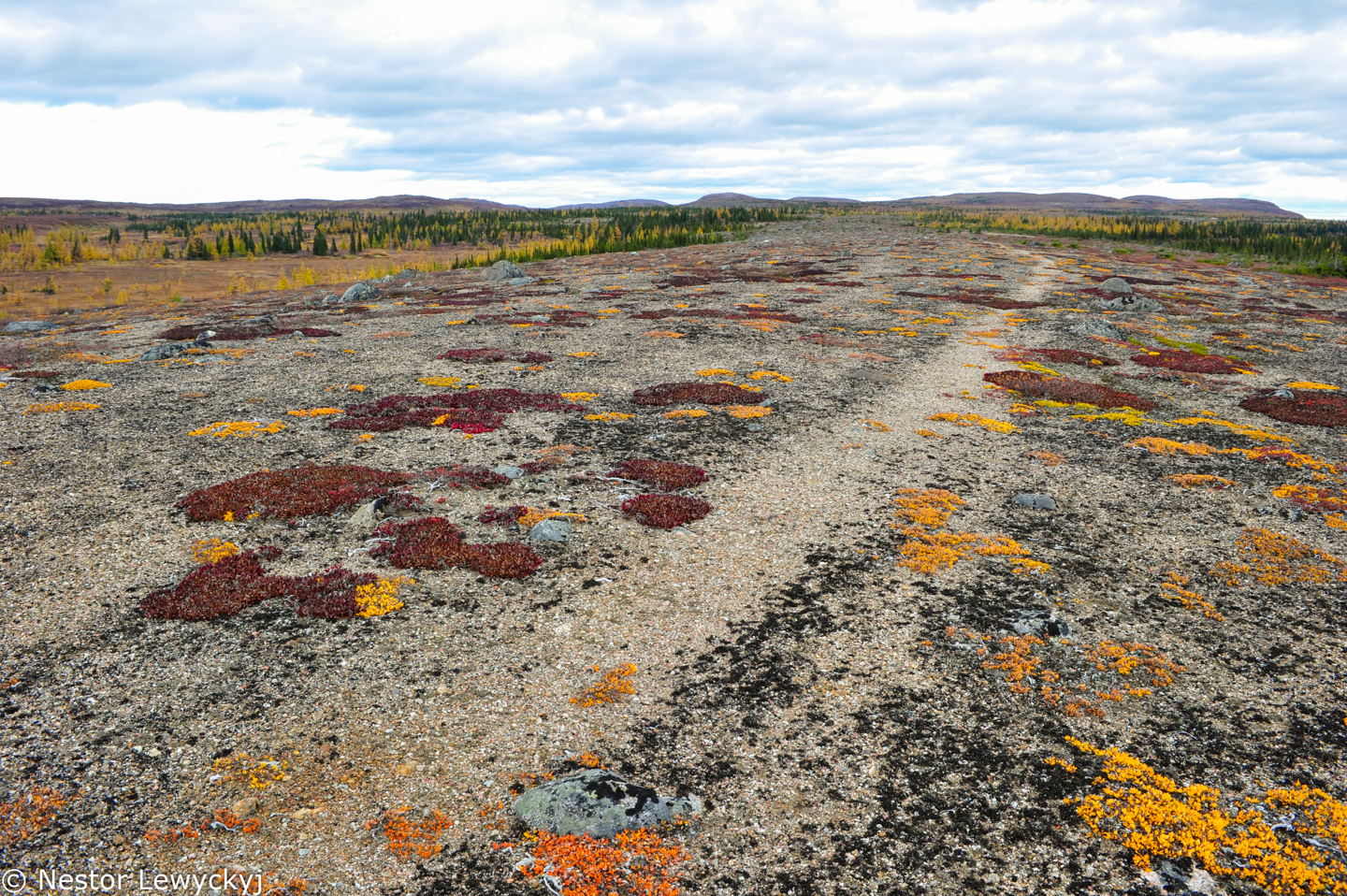 As I circled back I followed an esker for a long while with a very prominent caribou trail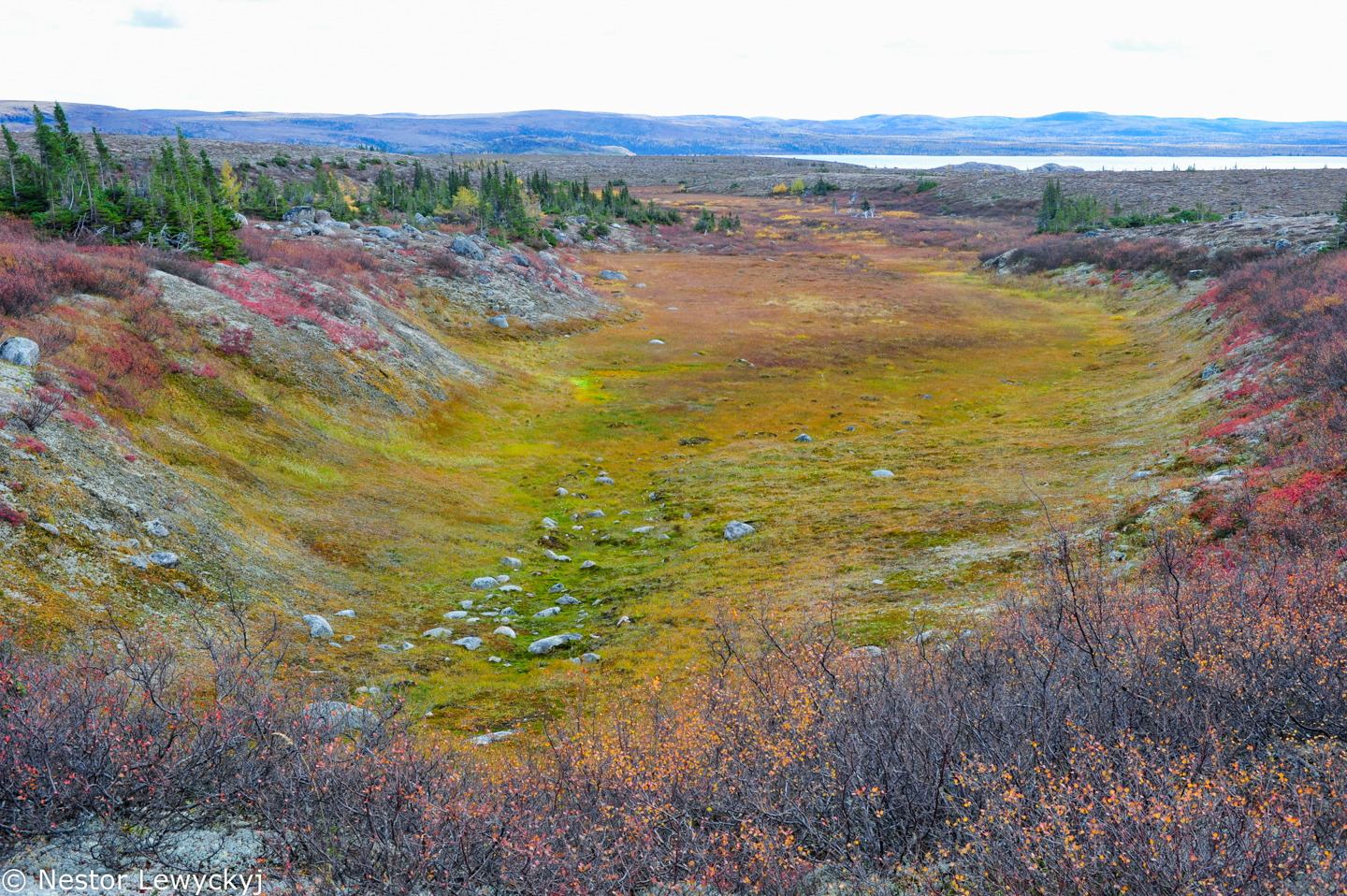 Some of the wet spots had some wonderfully subtle colours to them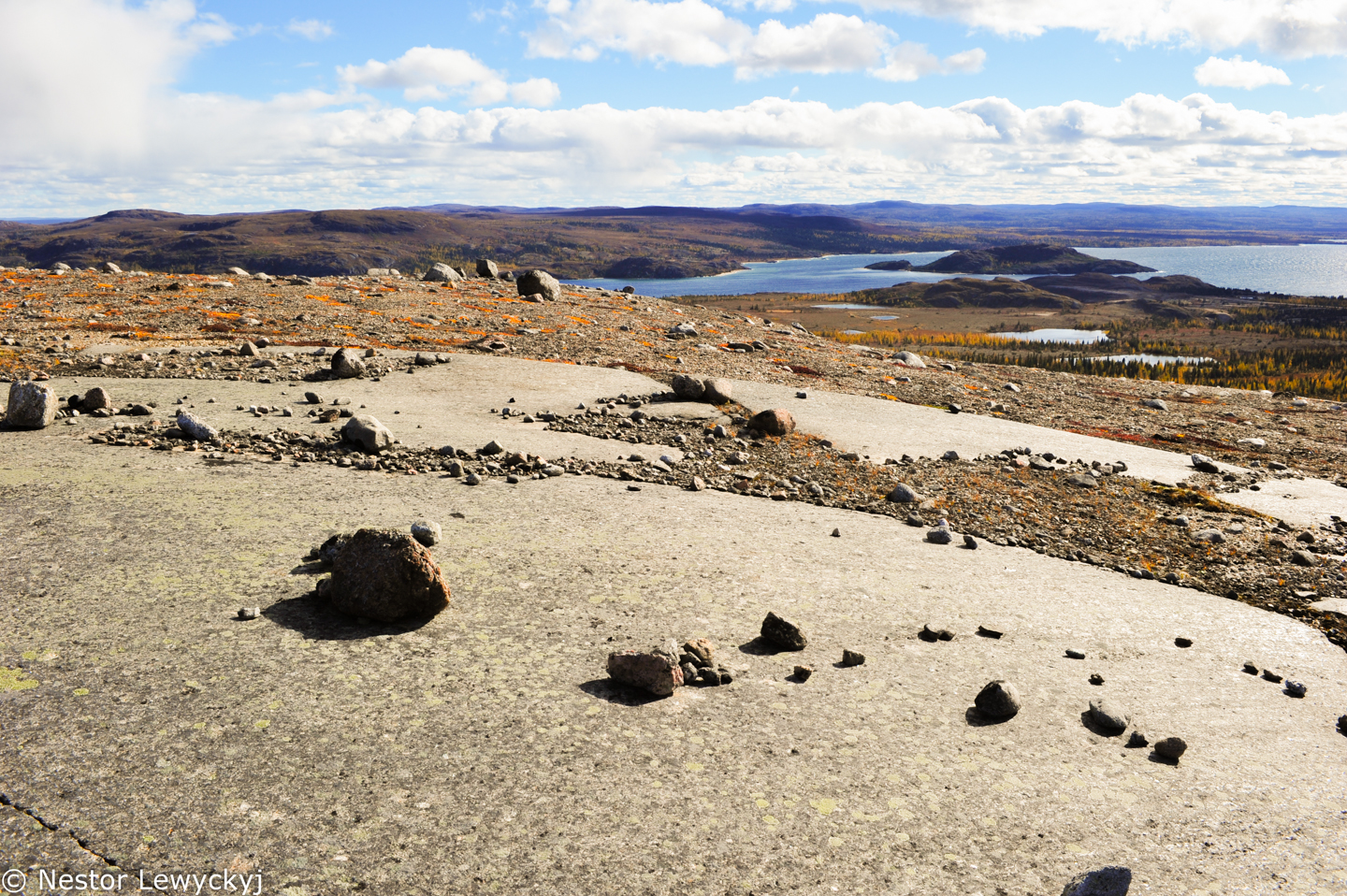 Rocks on rocks....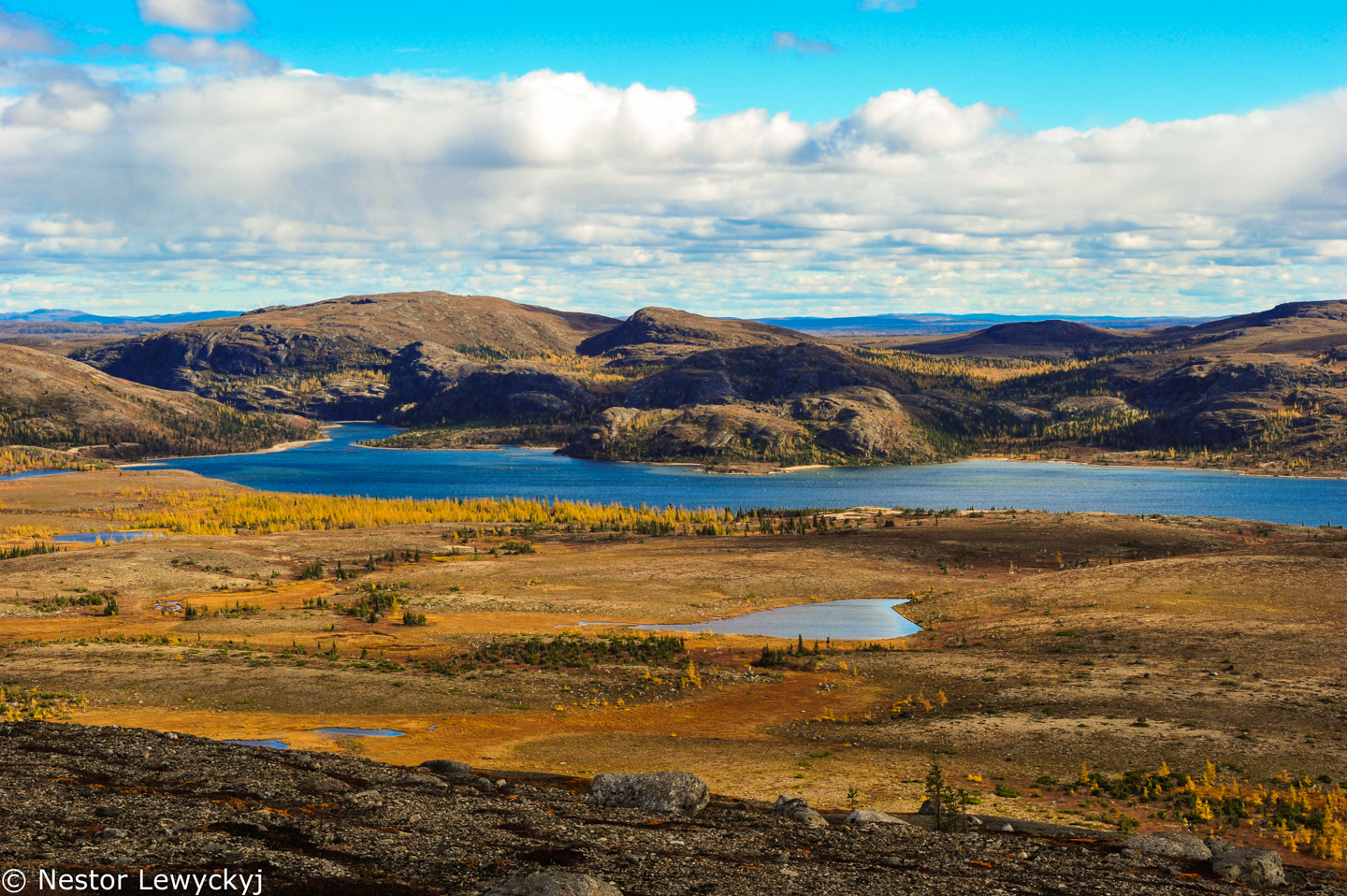 Afternoon light looking east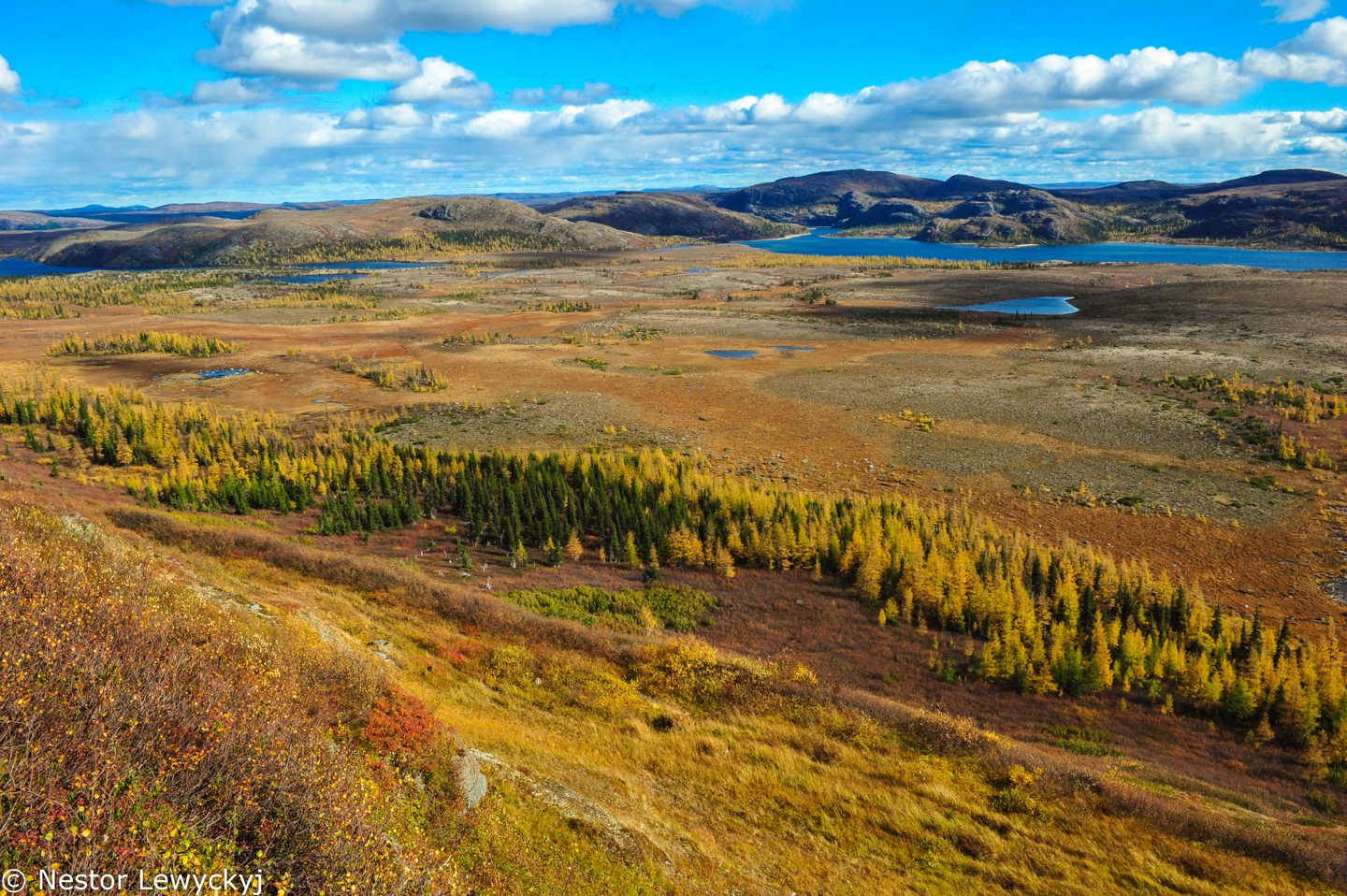 Unlike the barren lands of the Thelon watershed, Labrador's landscape is richer and much more complex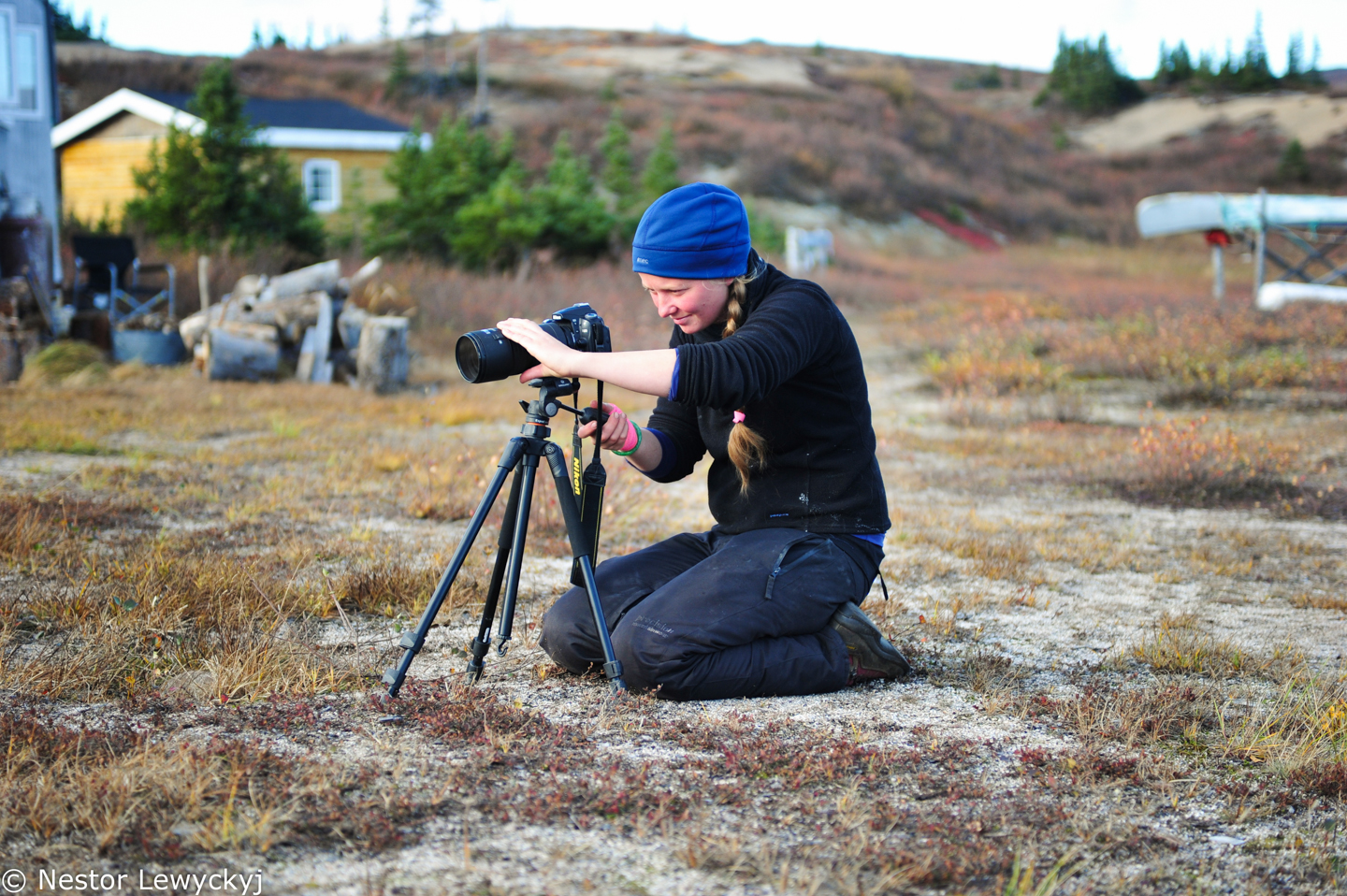 Adele photographing her favourite subject, Girlie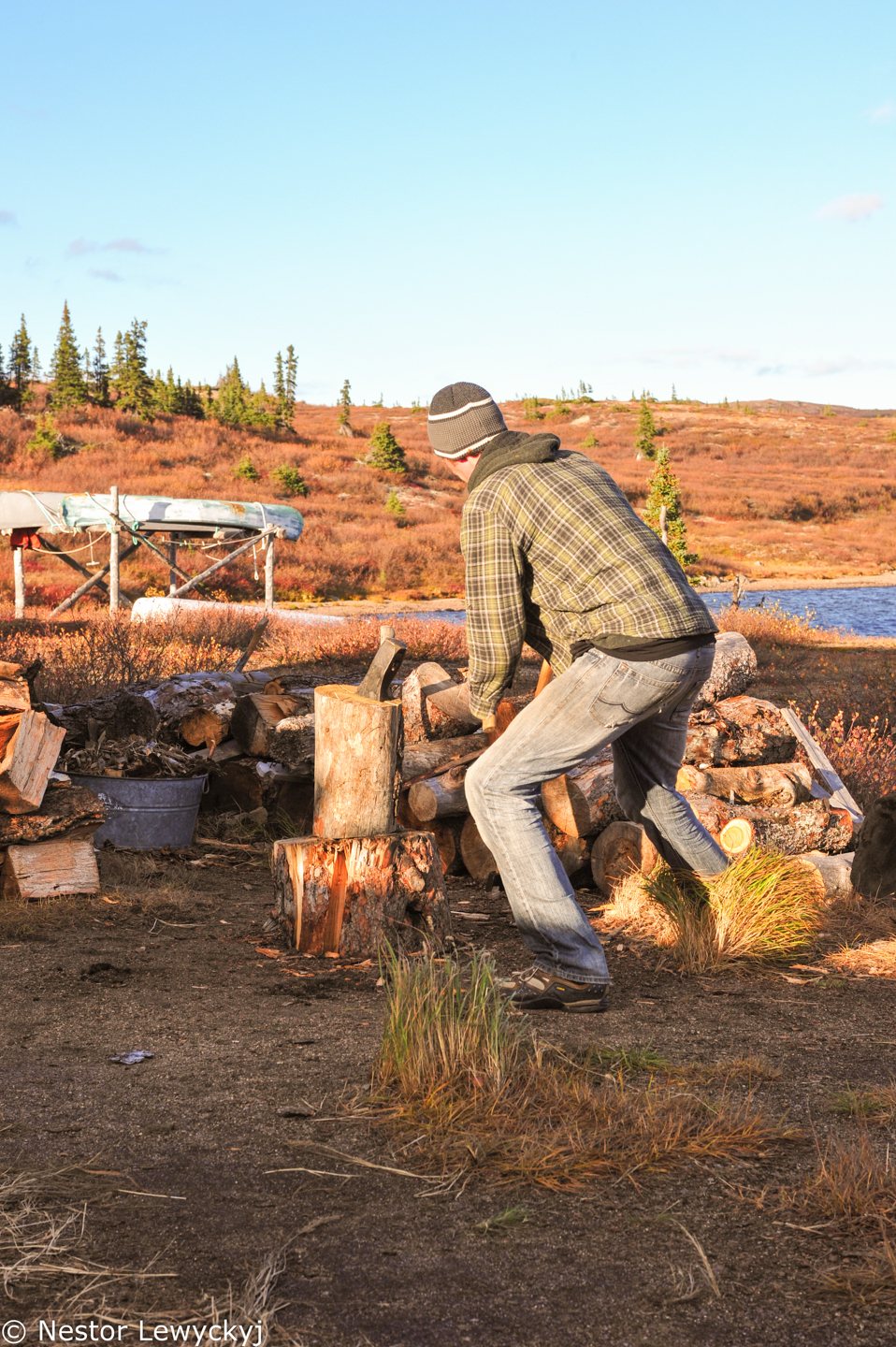 Dan chopping firewood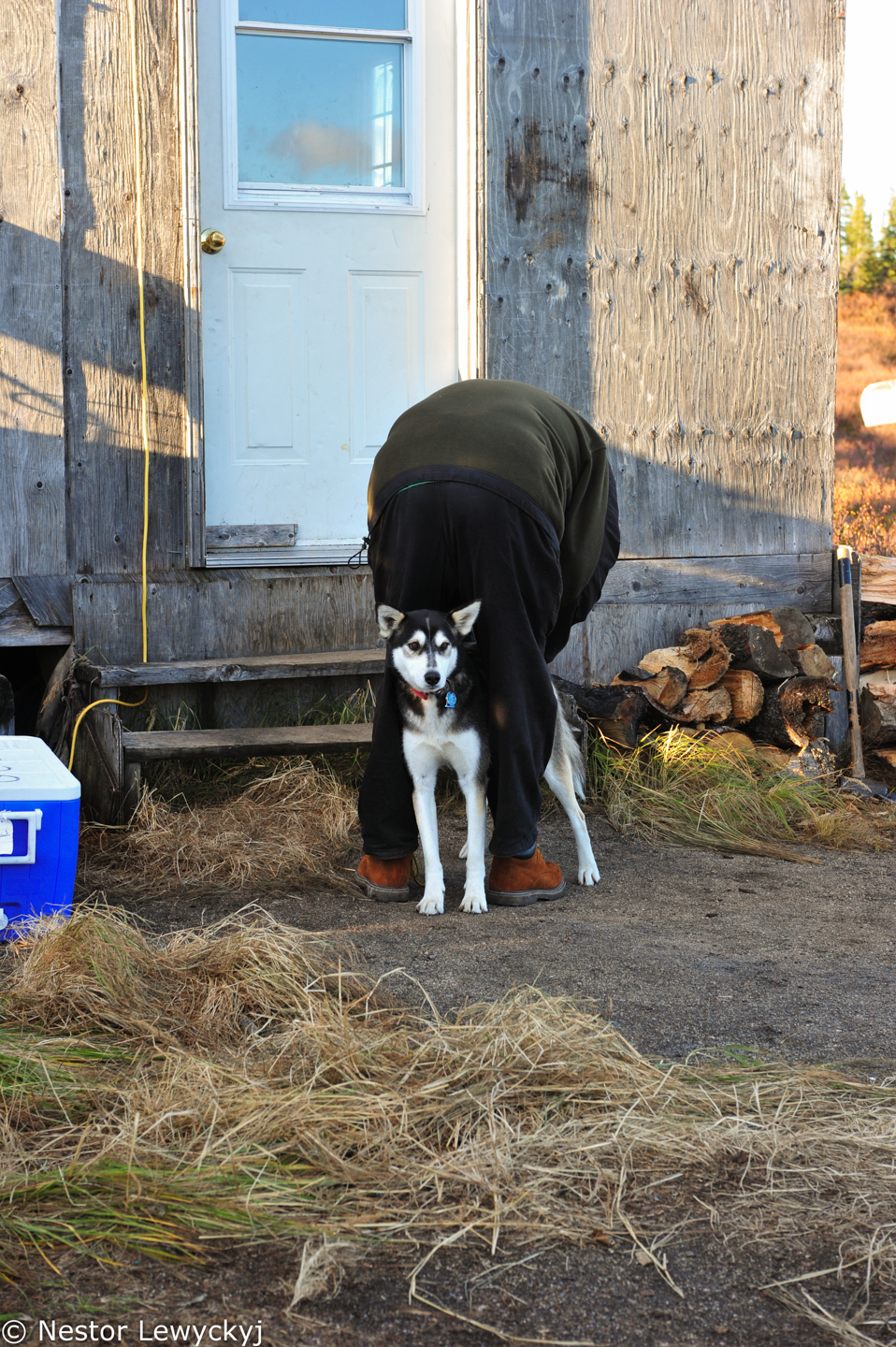 Tom showing off his better side...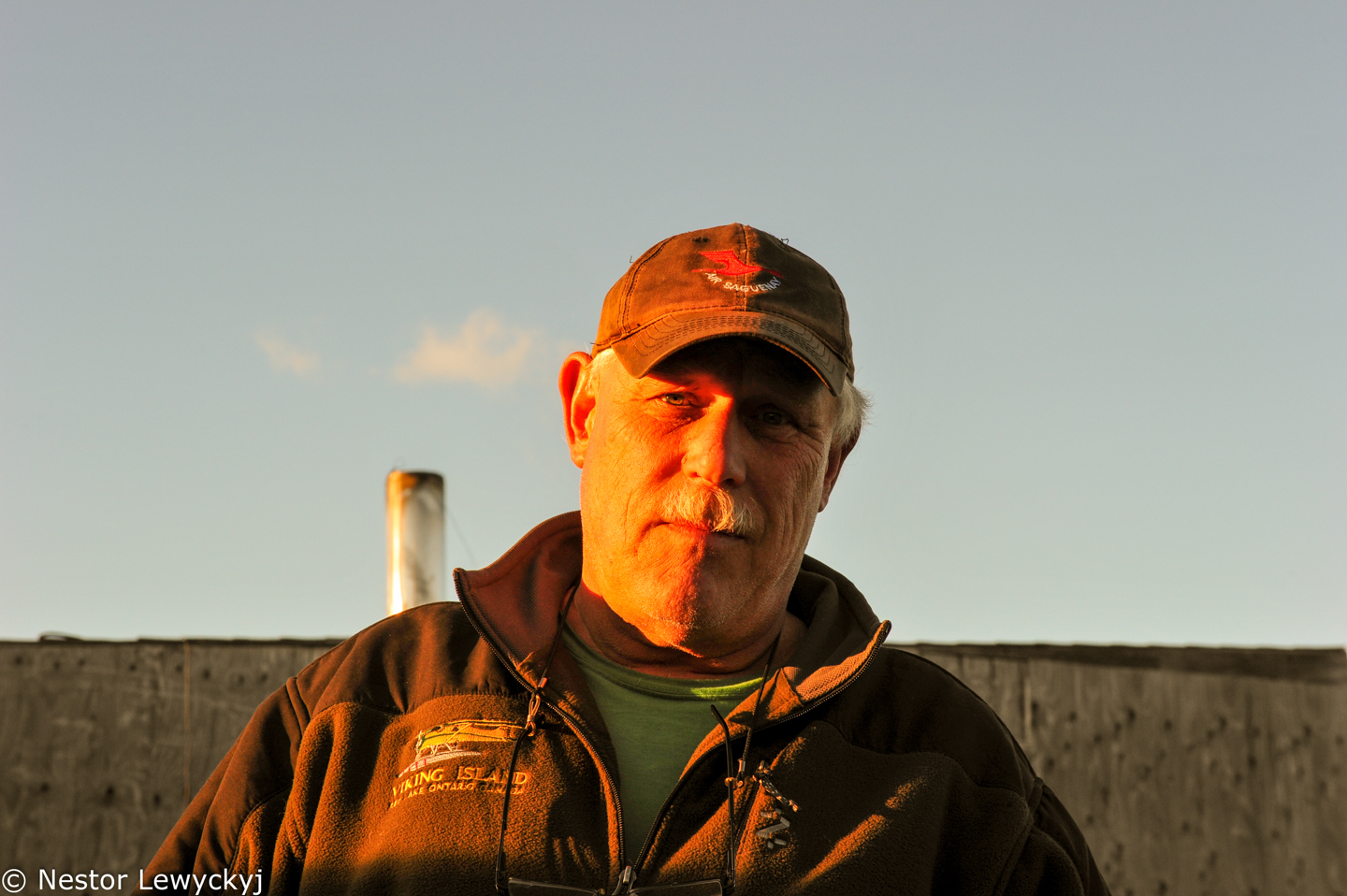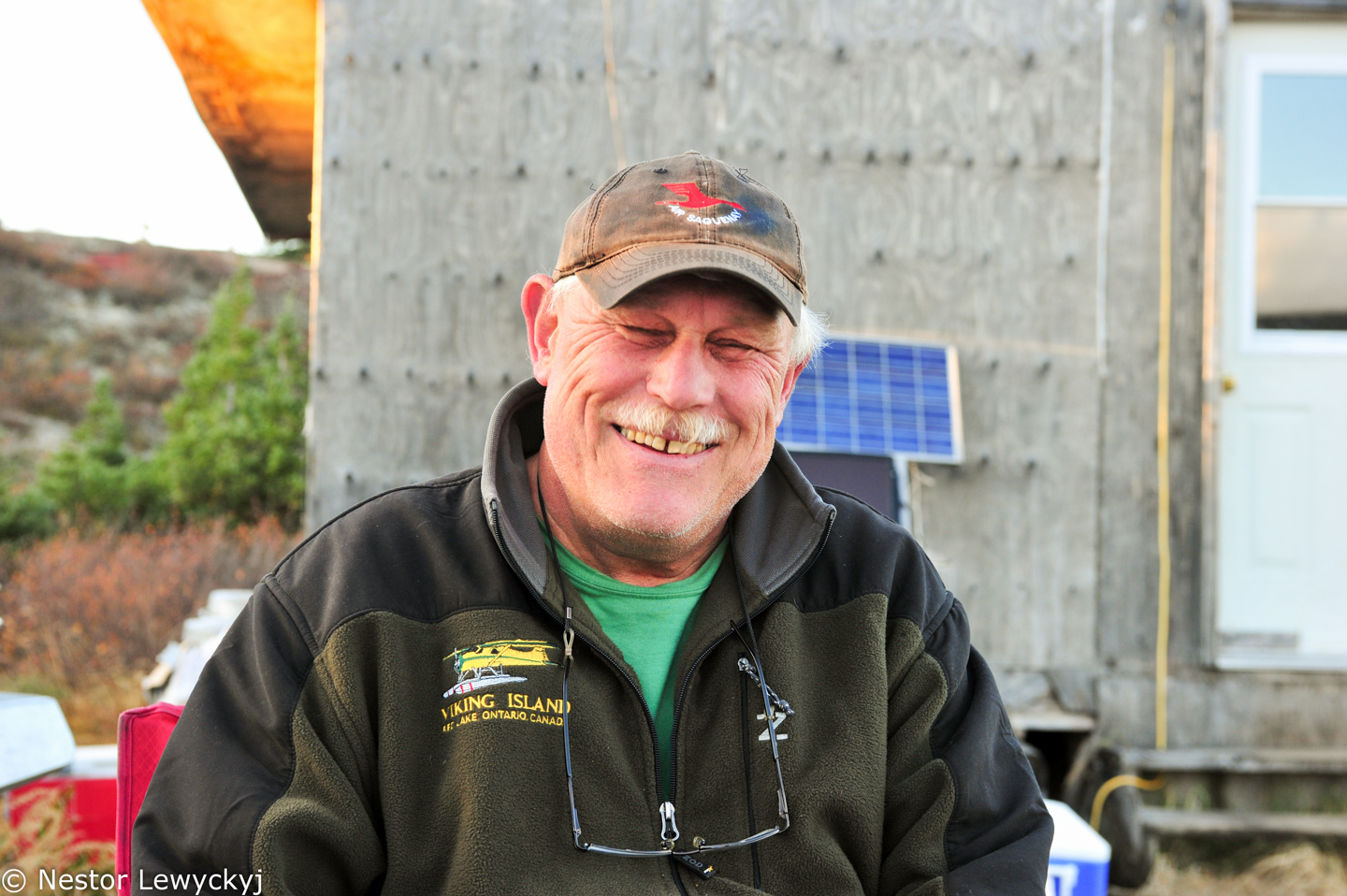 And Tom does like to laugh a lot. I don't think there is any place that he would rather be than out on the barren lands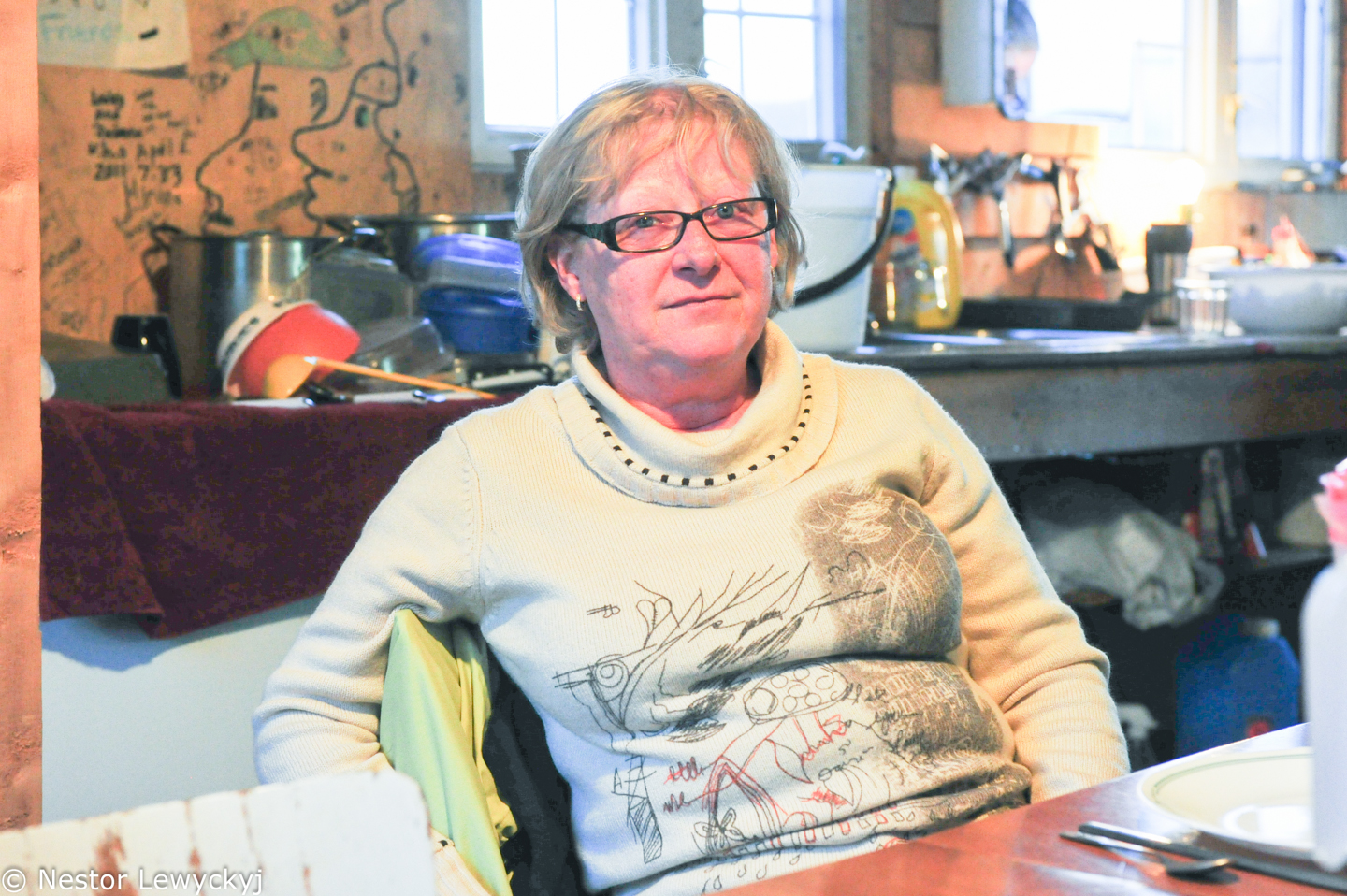 Denise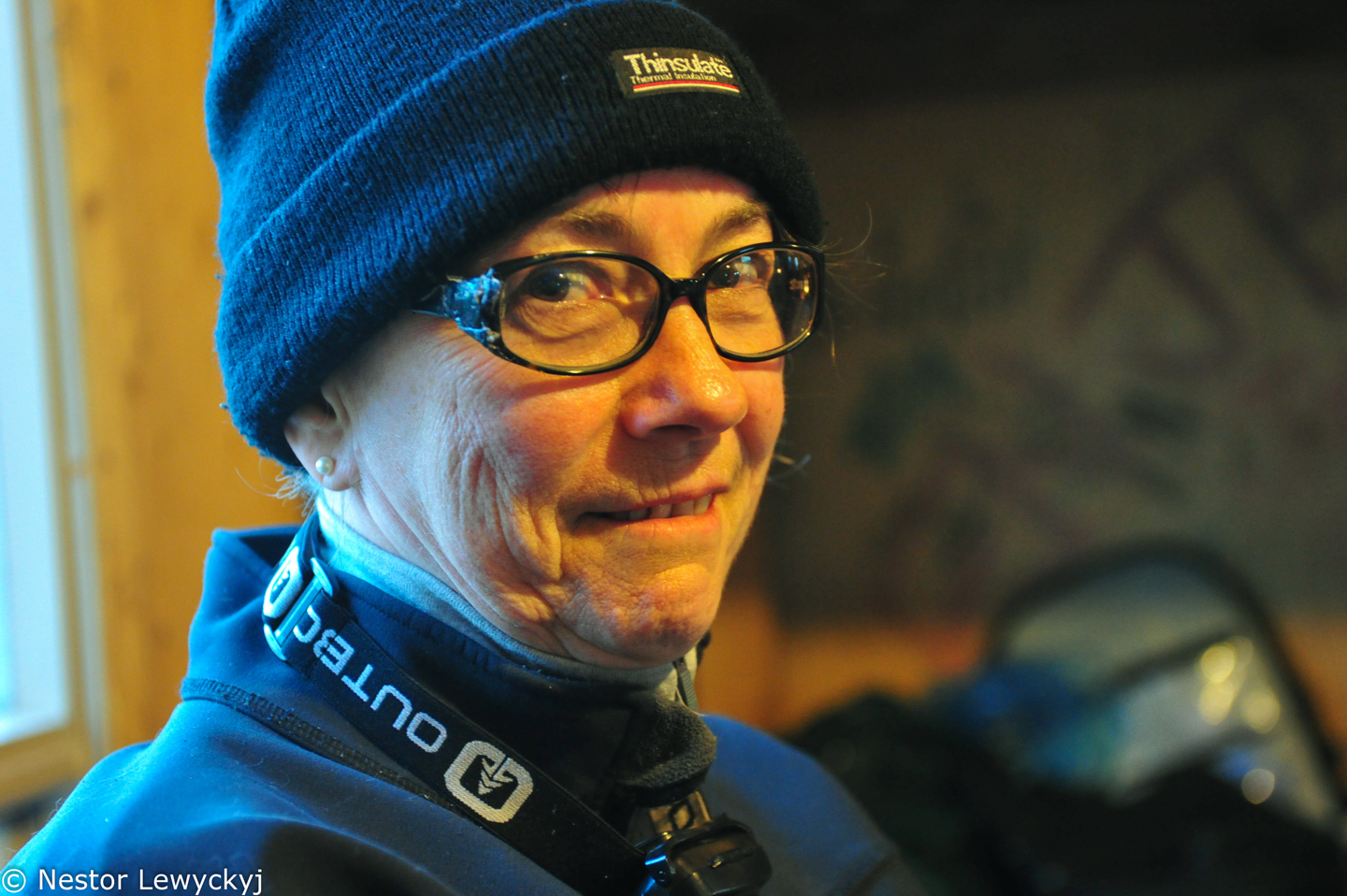 Margaret, born in Baker Lake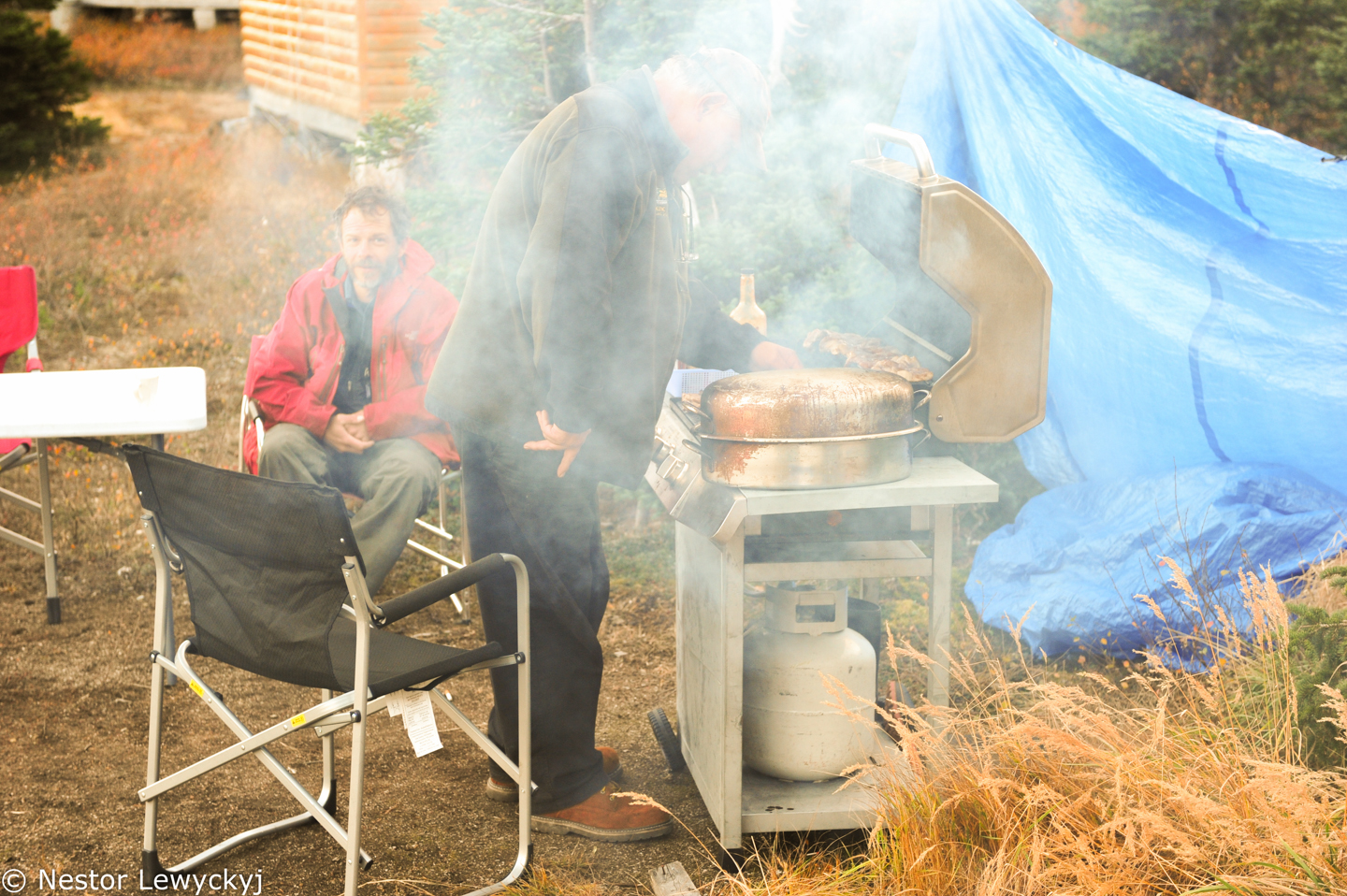 Barbecuing pork chops!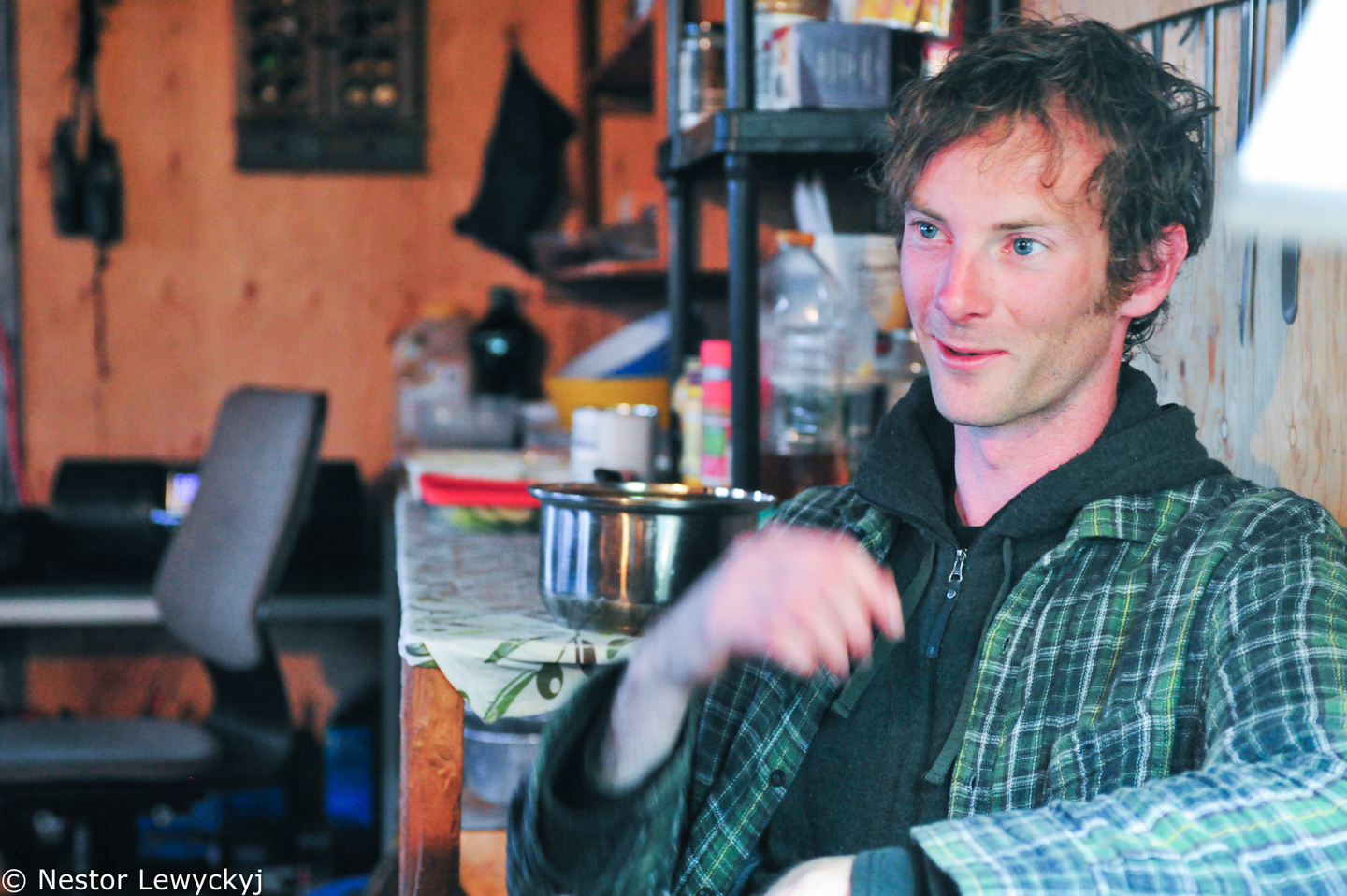 Dan going over the day's events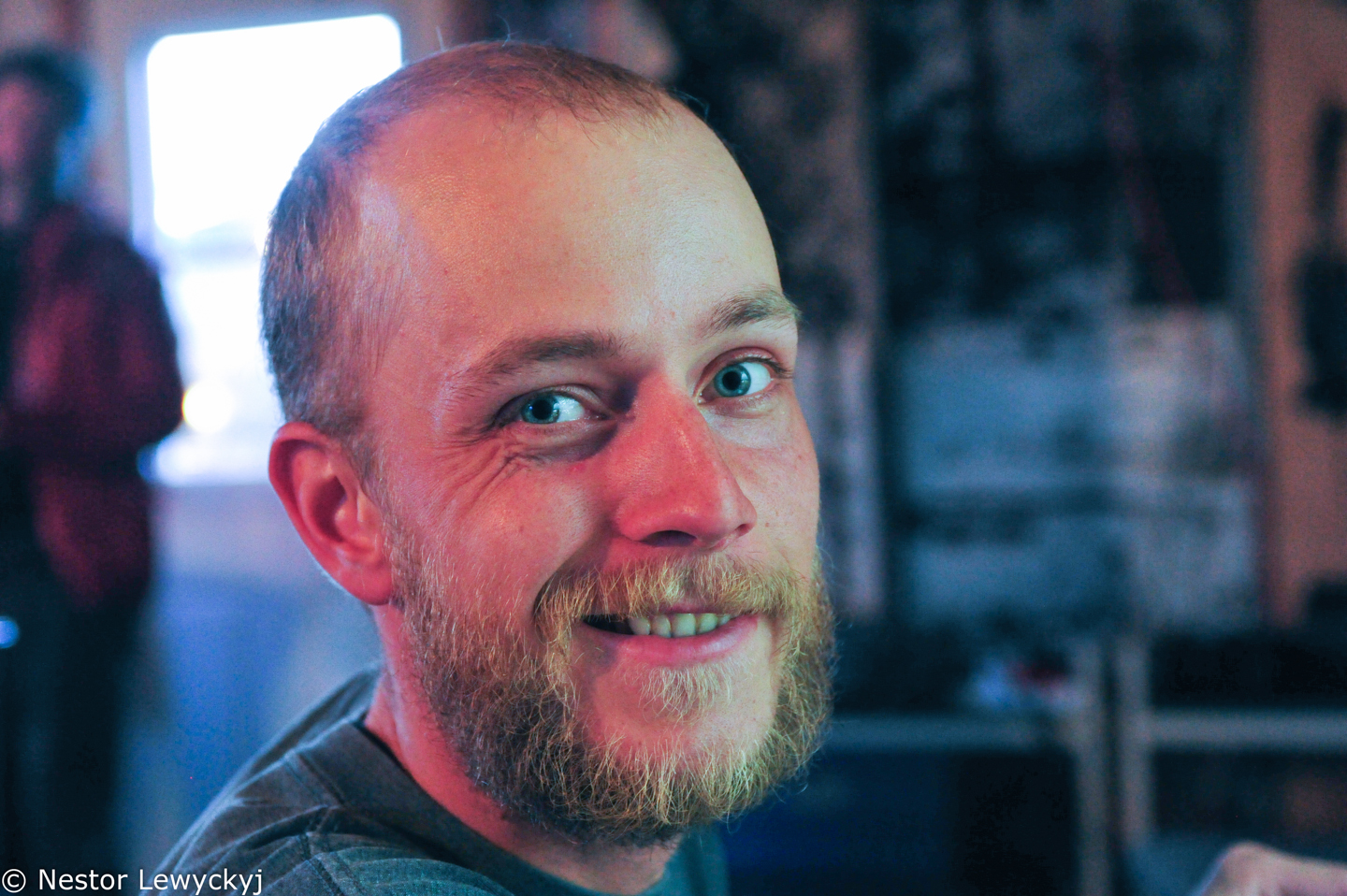 Graham always looked rather carefree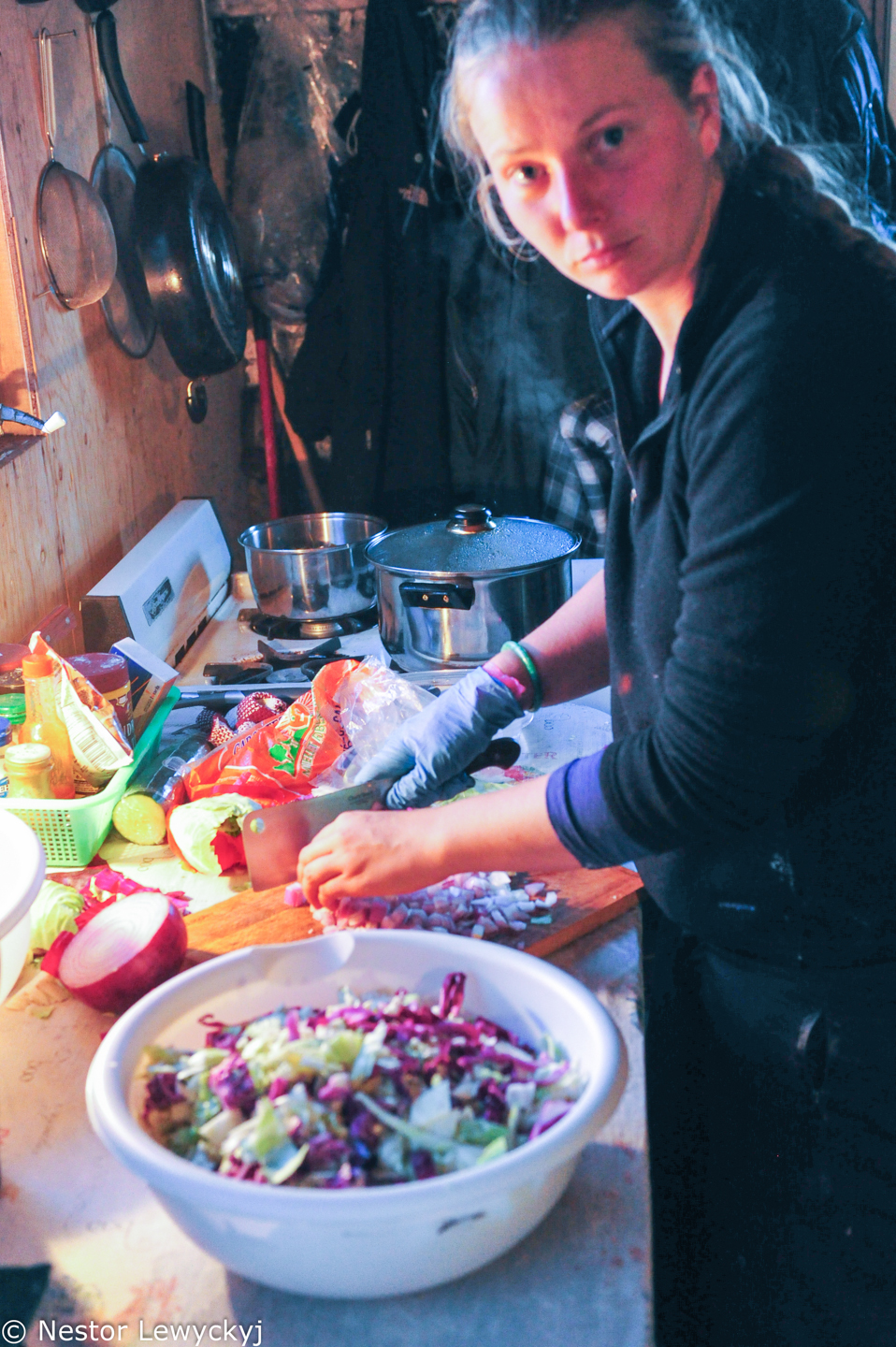 Adele, protecting a nasty burn on one hand, chopping the salad for dinner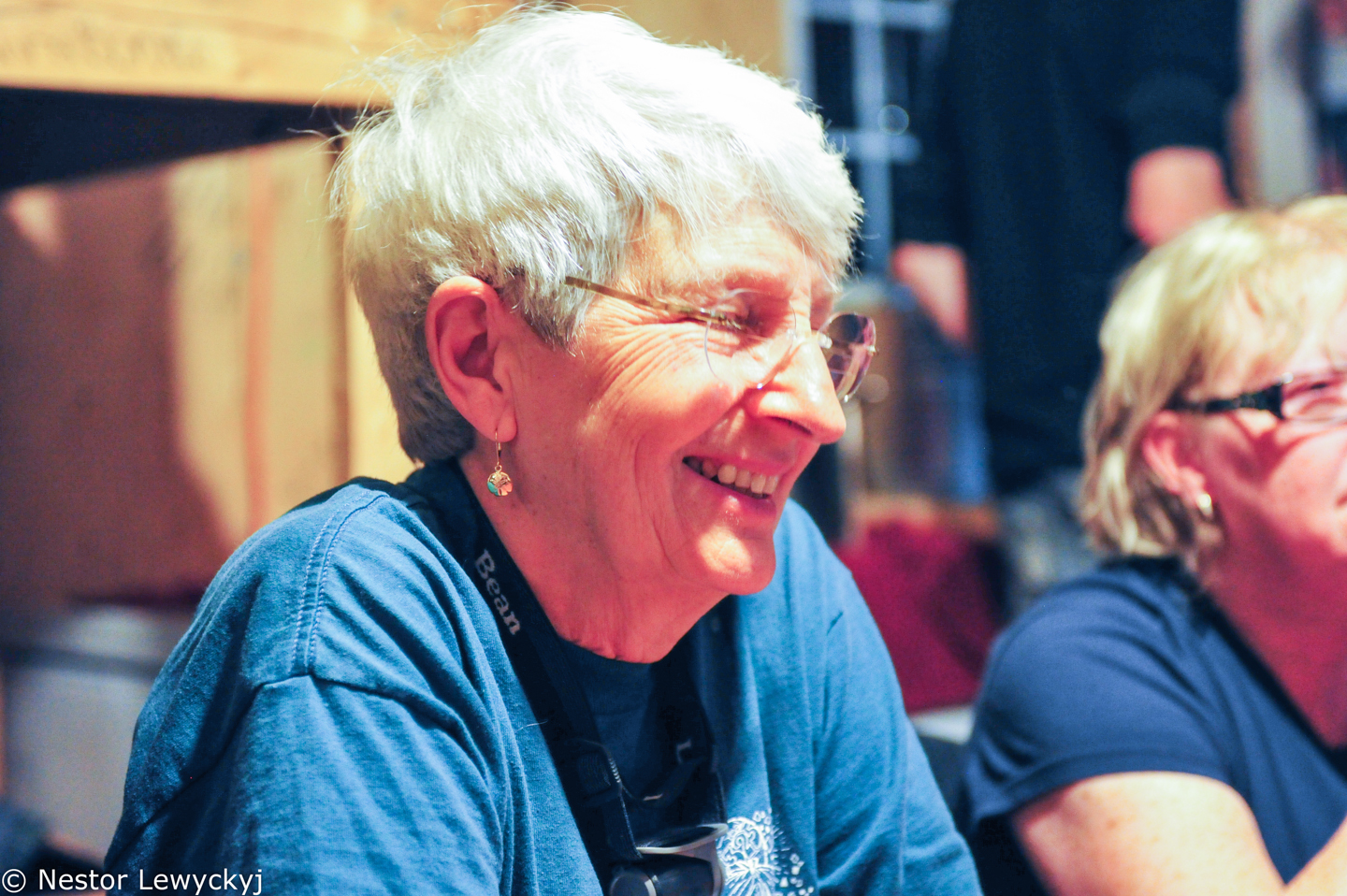 Sue, an academic from Long Island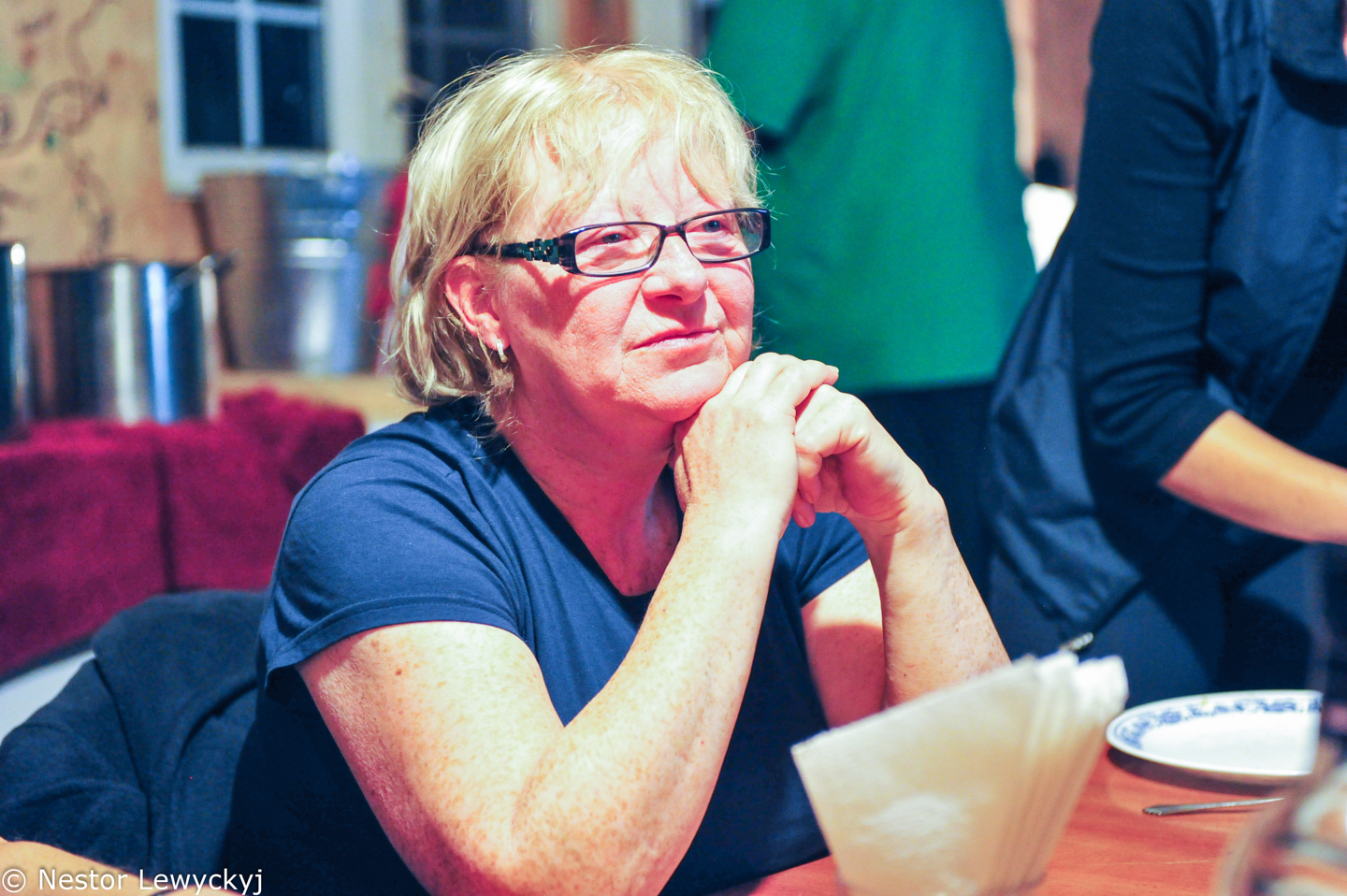 Denise, a long way from St-Bruno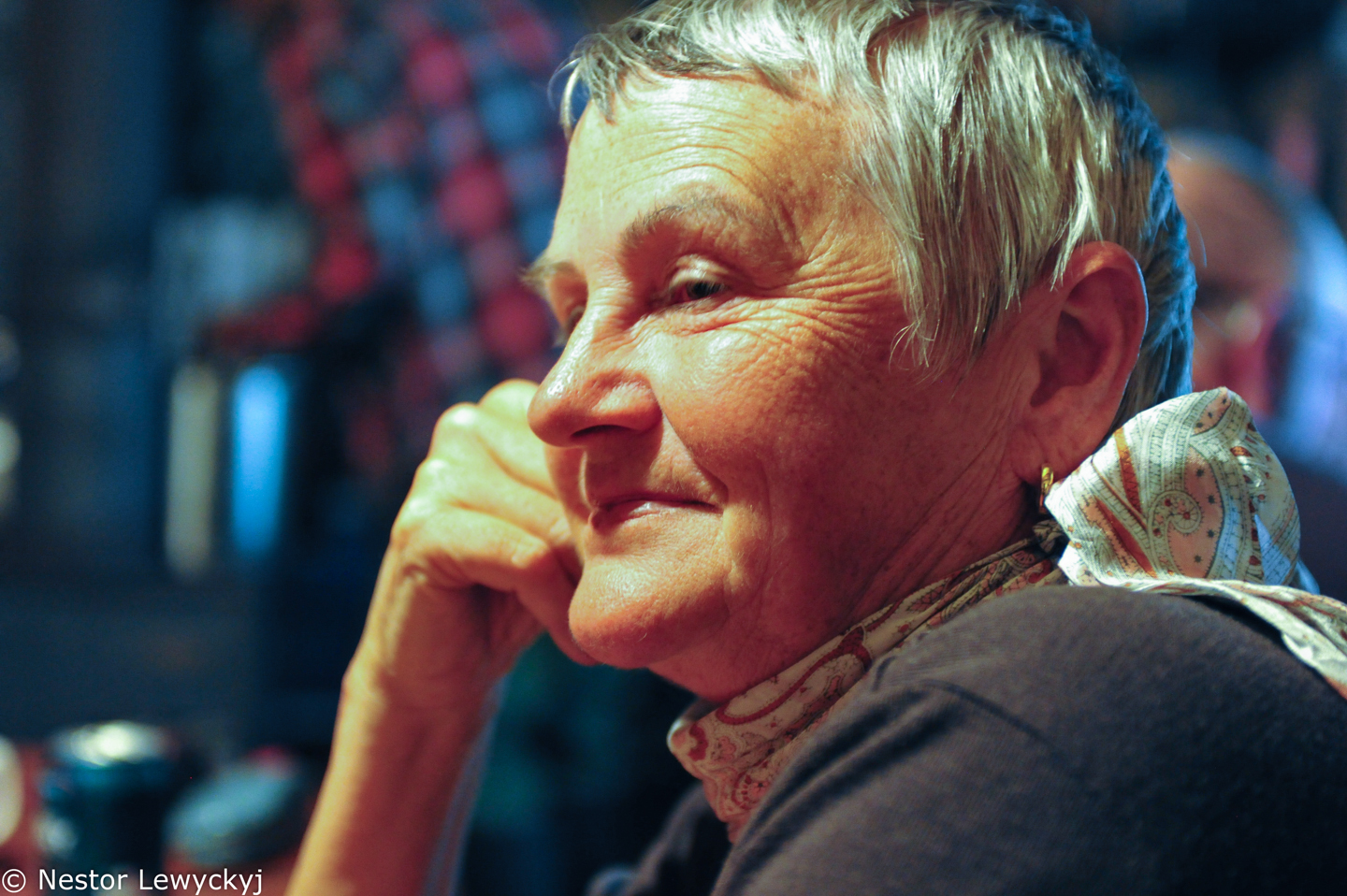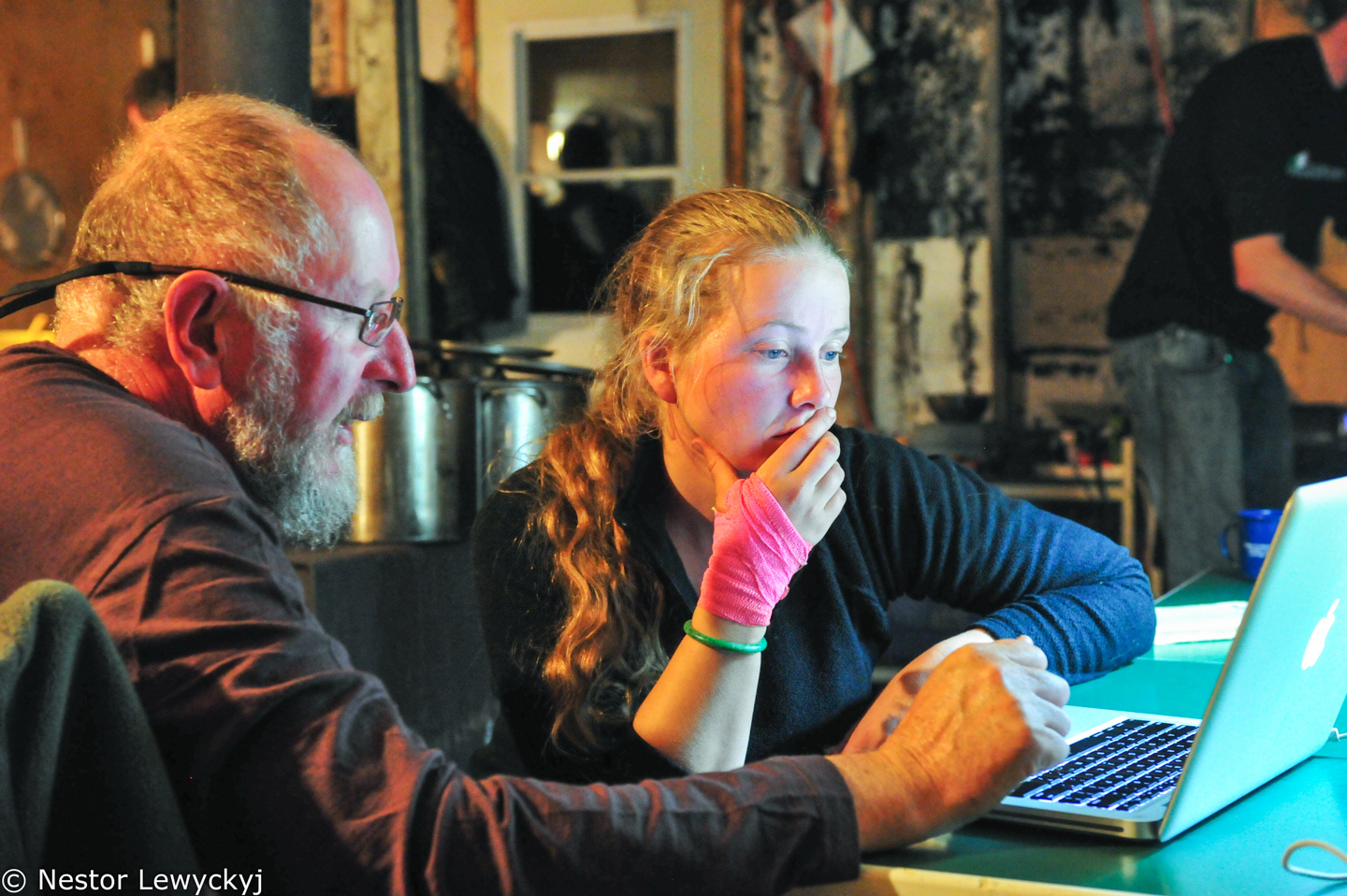 Warren reviewing Adele's shots of the day, coaching, encouraging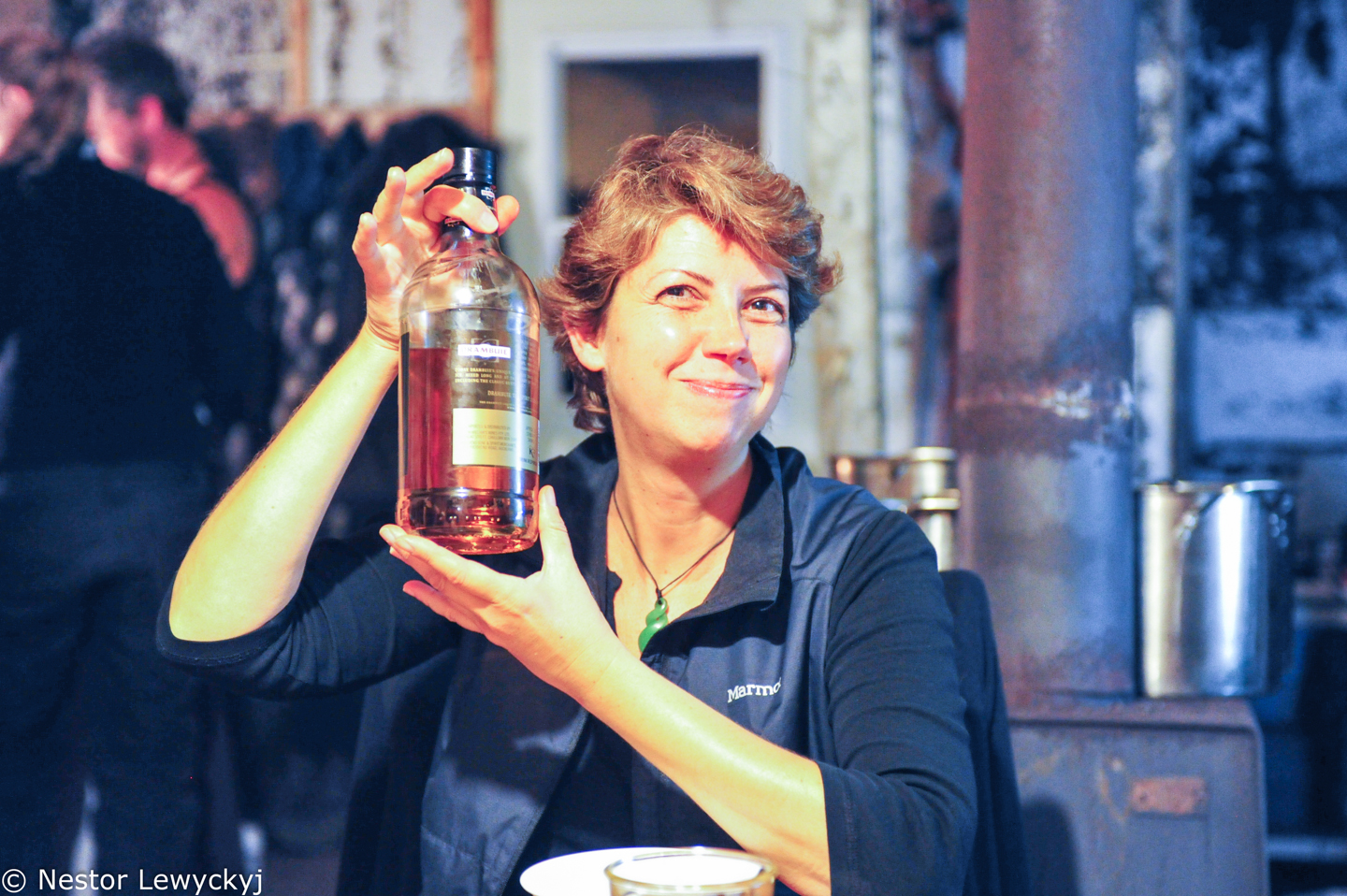 Sabine, an aspiring professional photographer and environmentalist from Paris, enjoying some Drambuie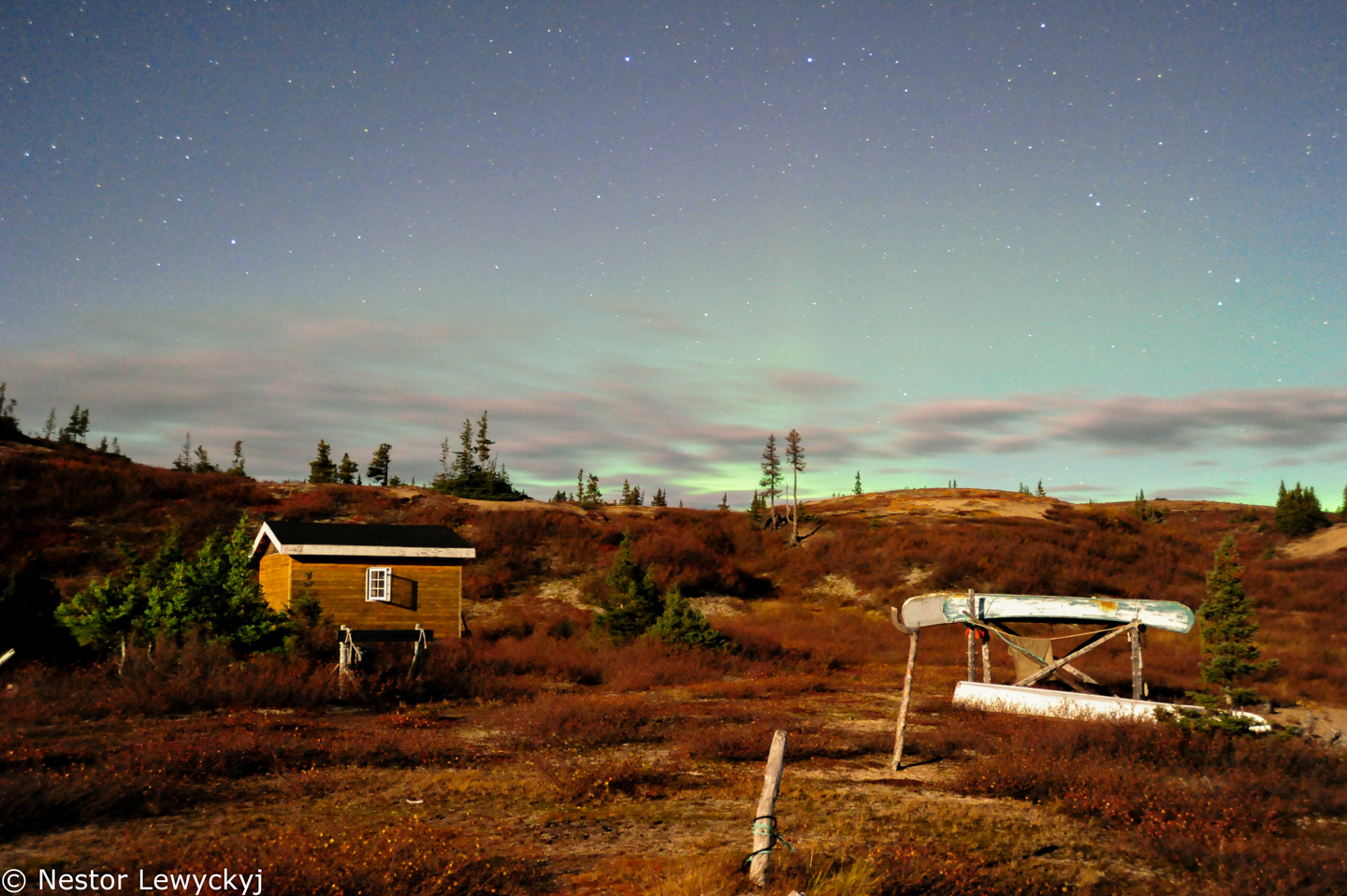 A moonlight shot with some Northern Lights peaking up over the horizon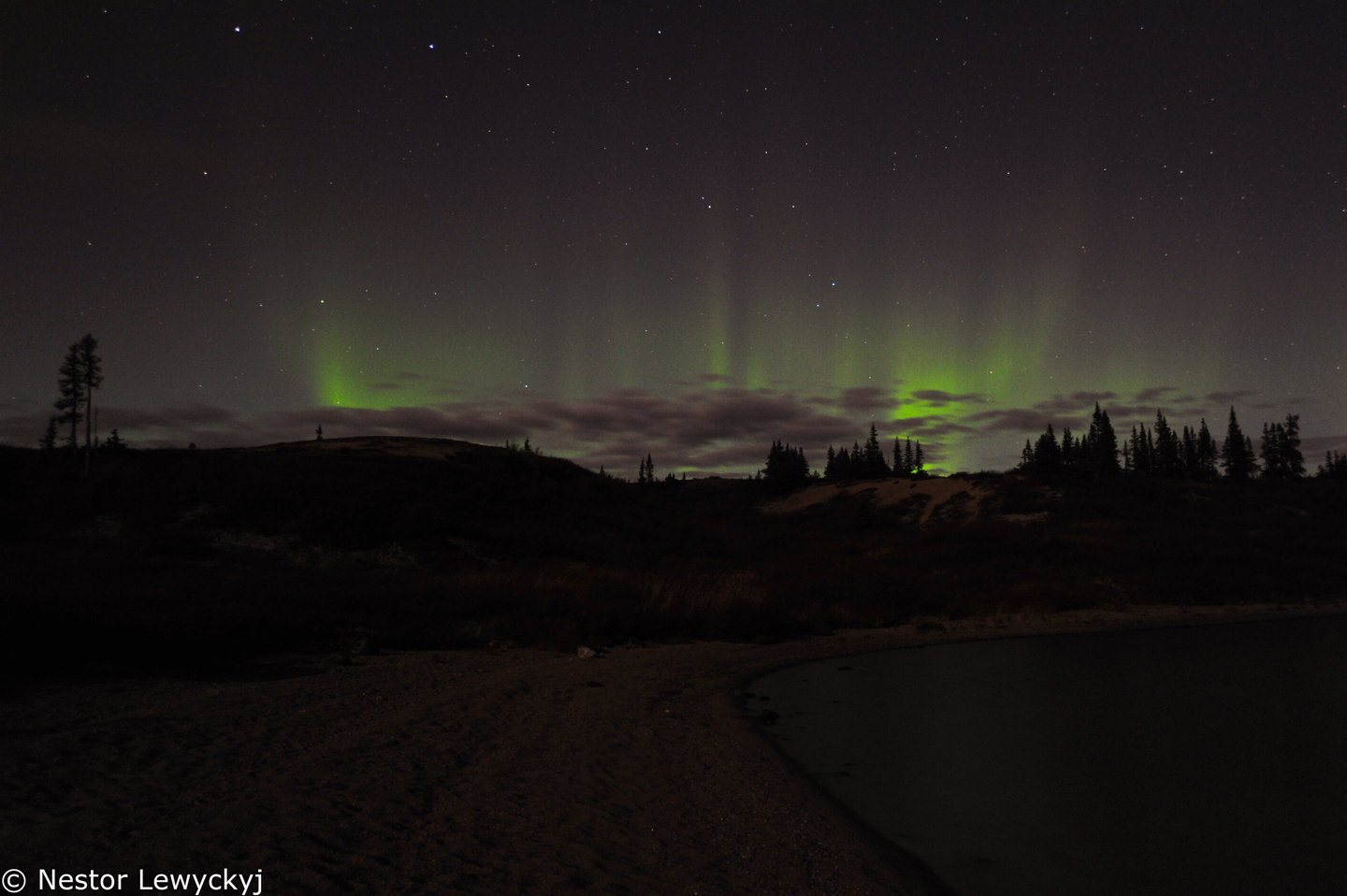 Which a lower exposure reveals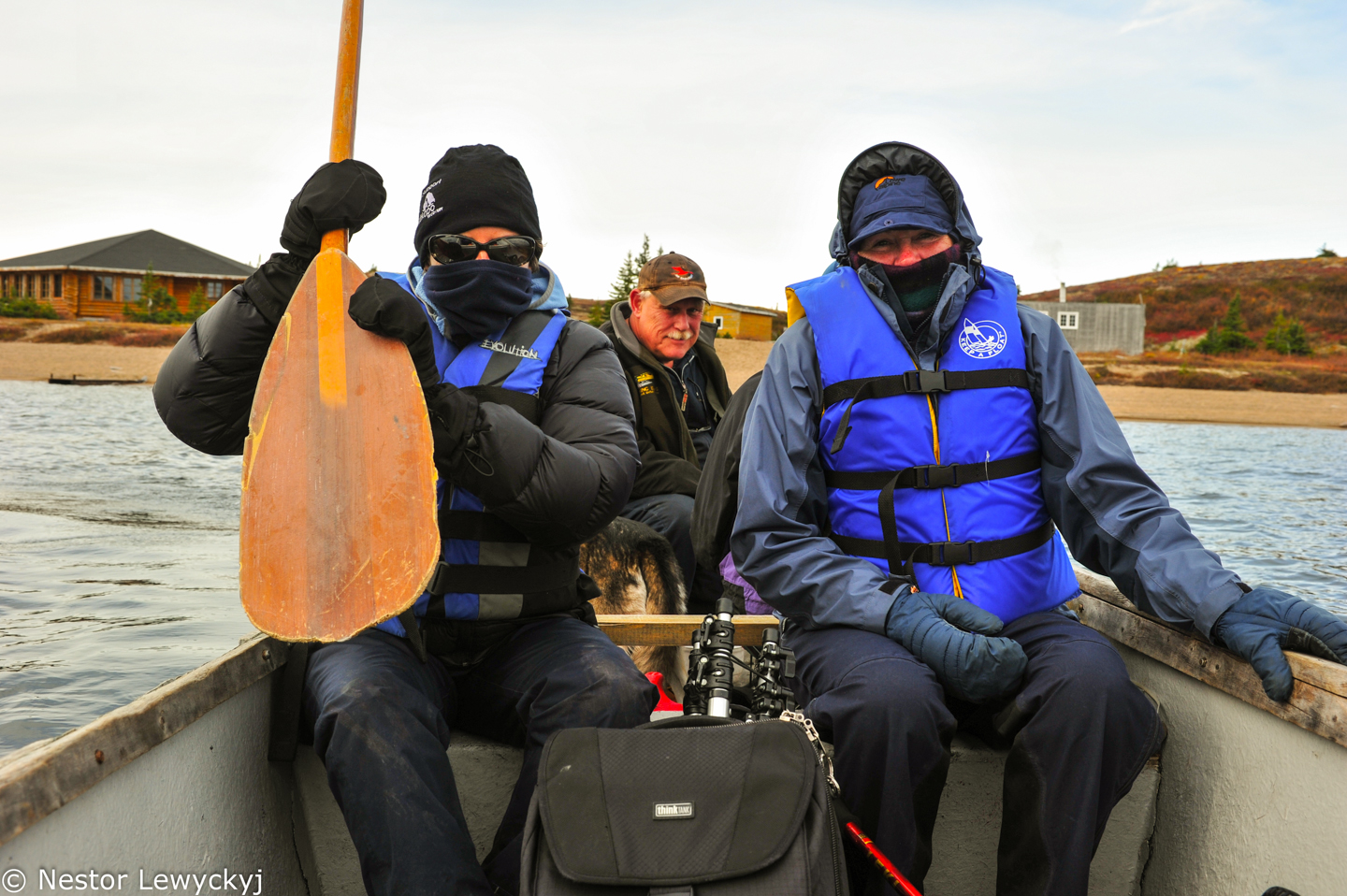 Another expedition to the other side of the lake in search of mega fauna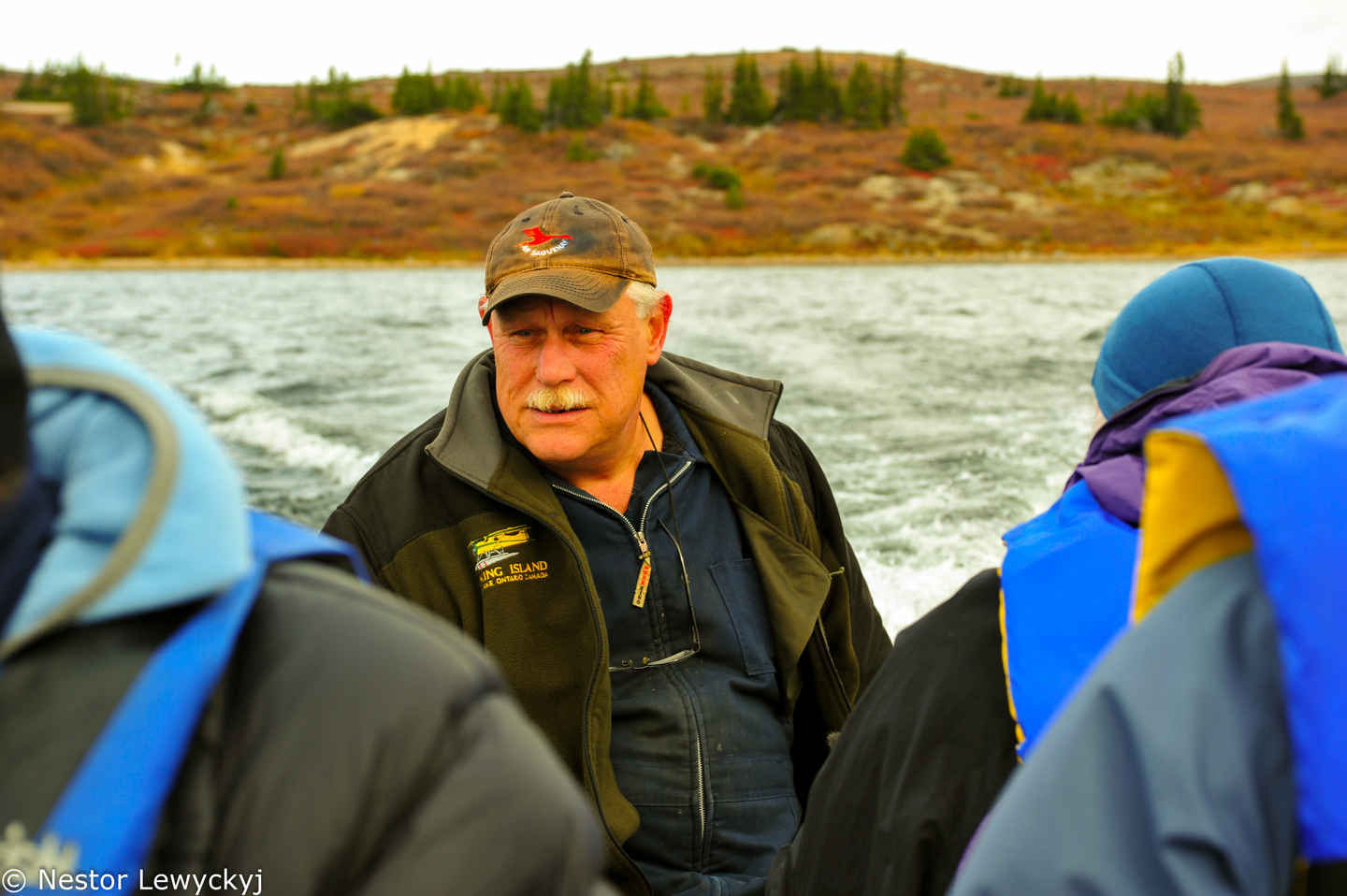 The steady hand on the motor...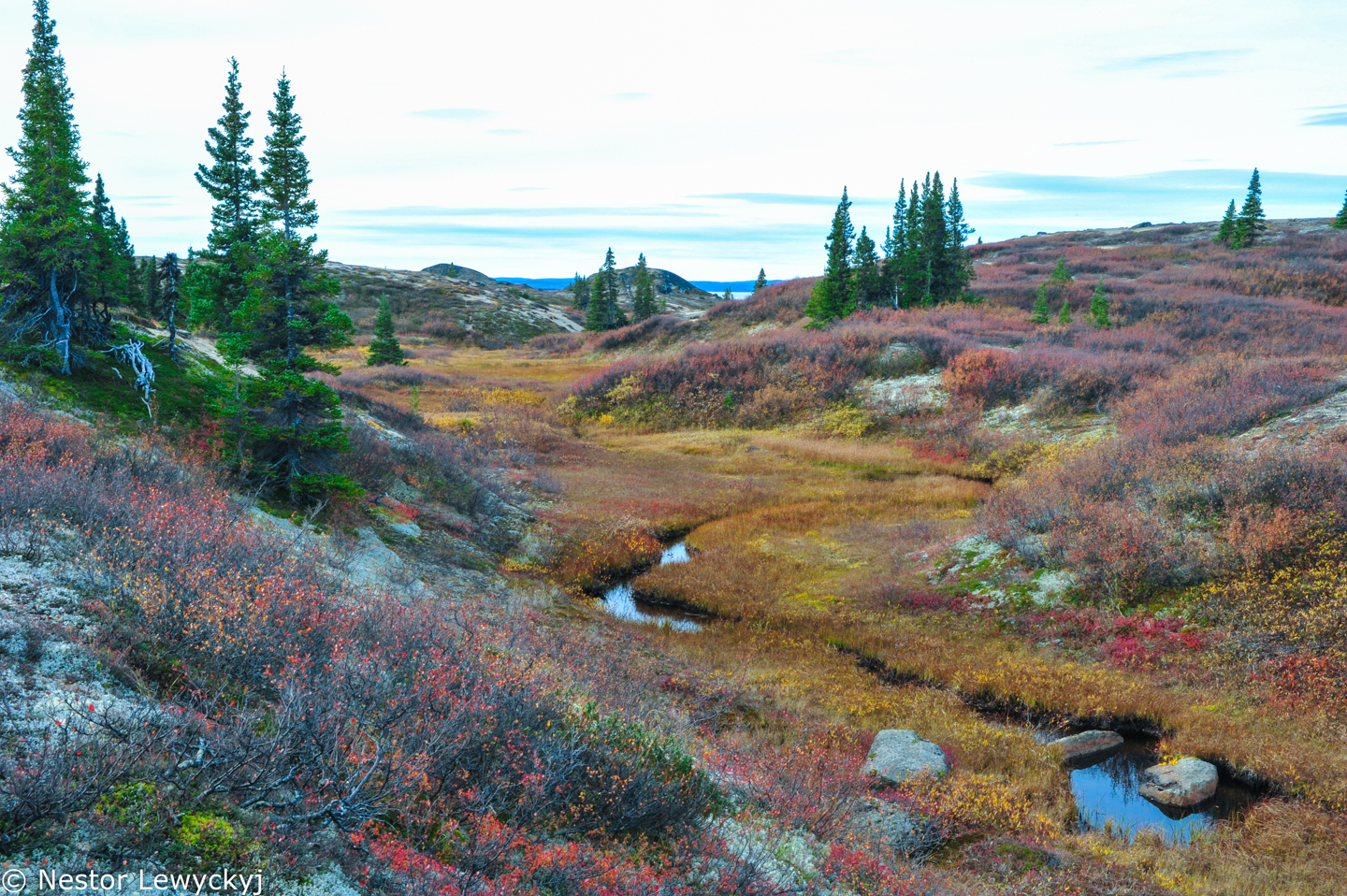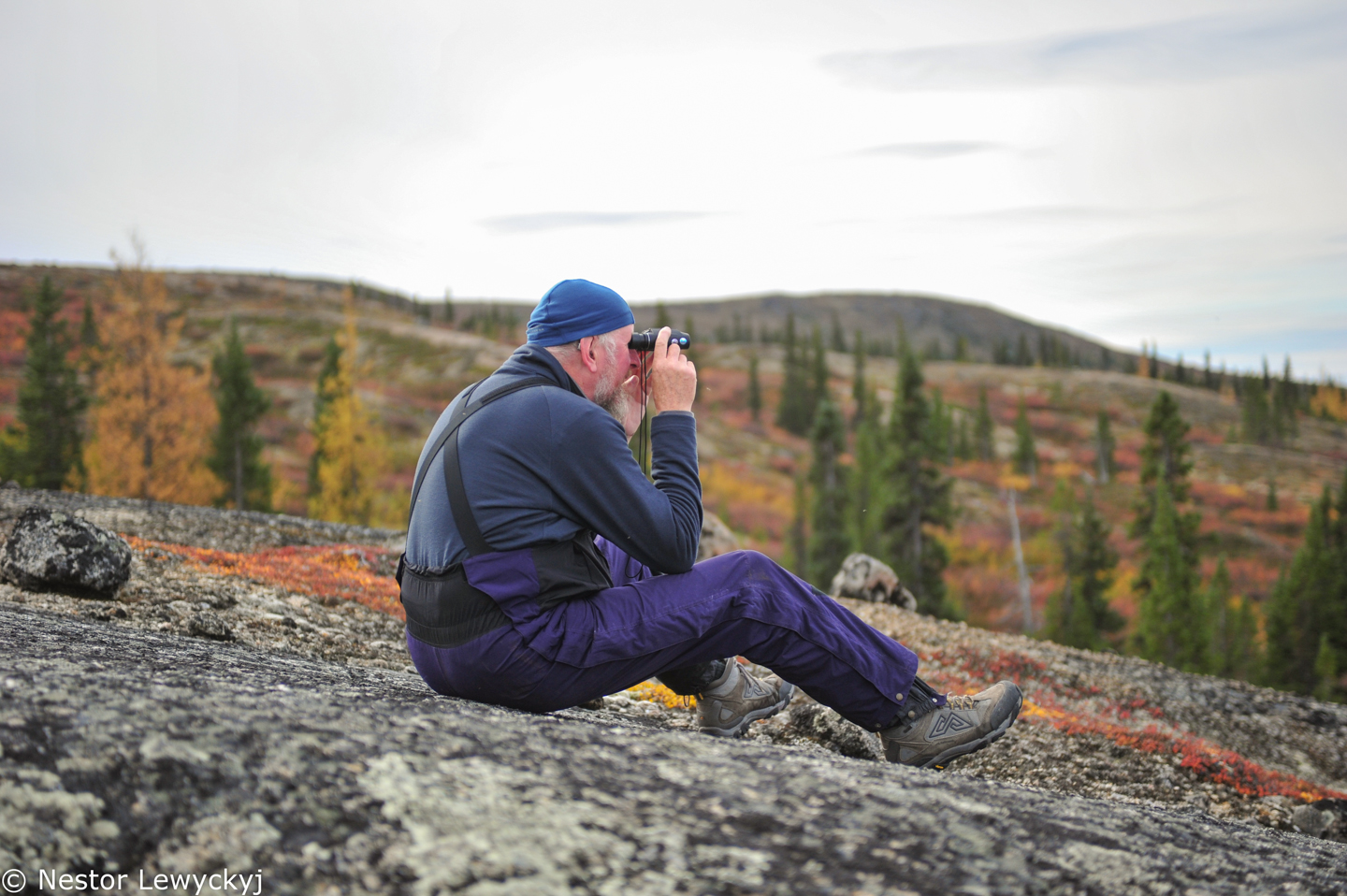 Looking, gazing, searching...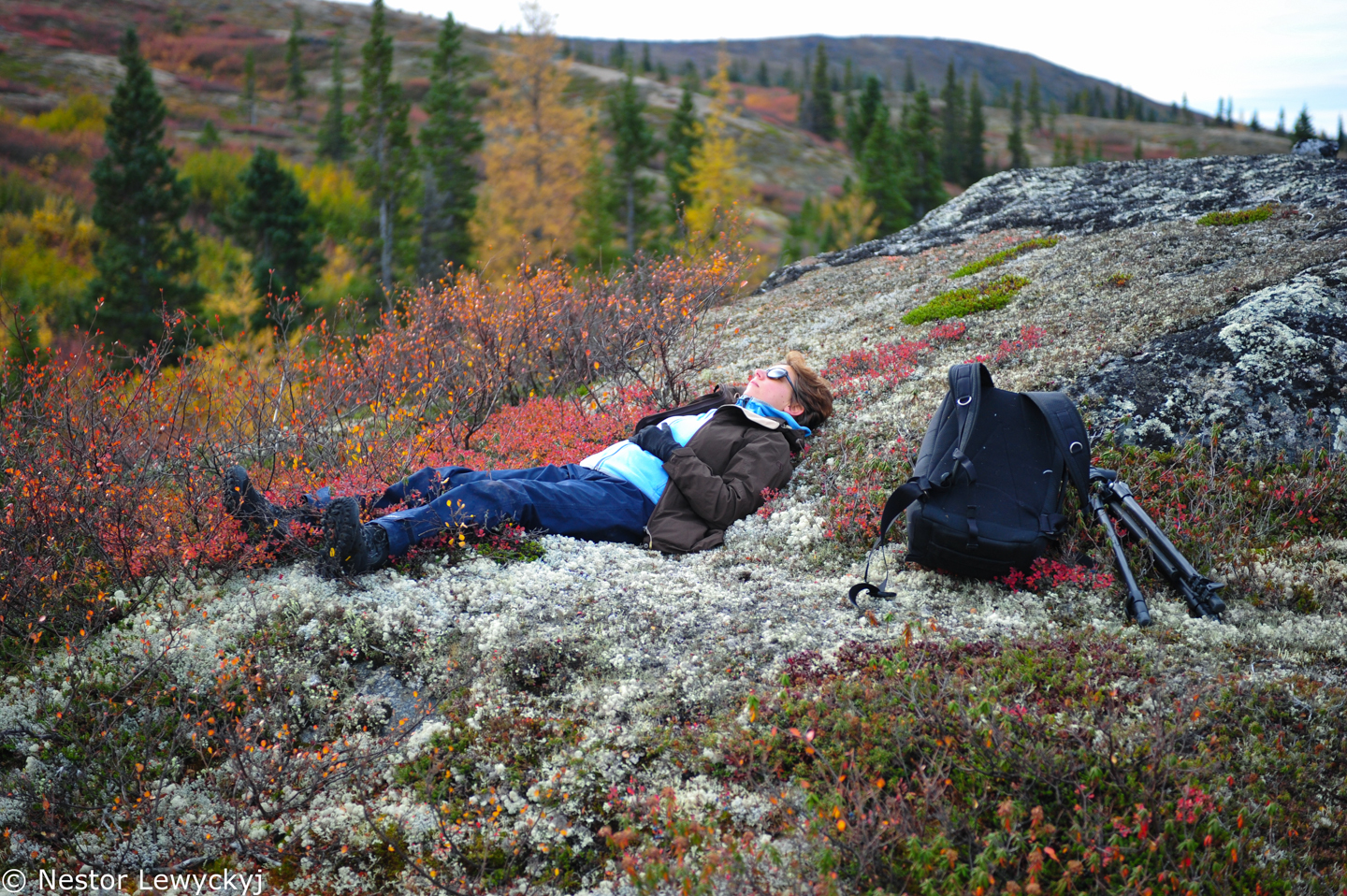 While Sabine took a short rest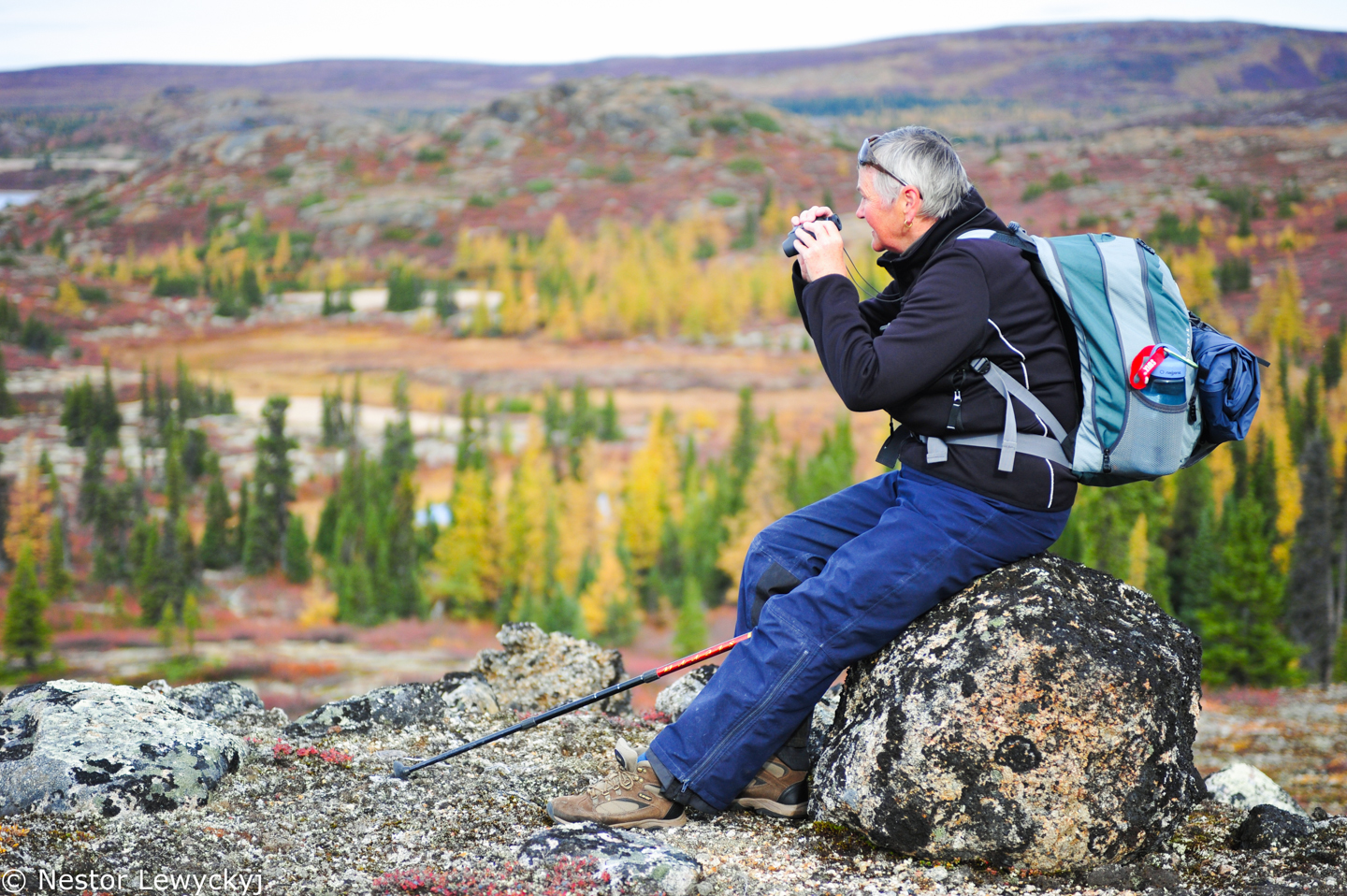 And Leonie kept watch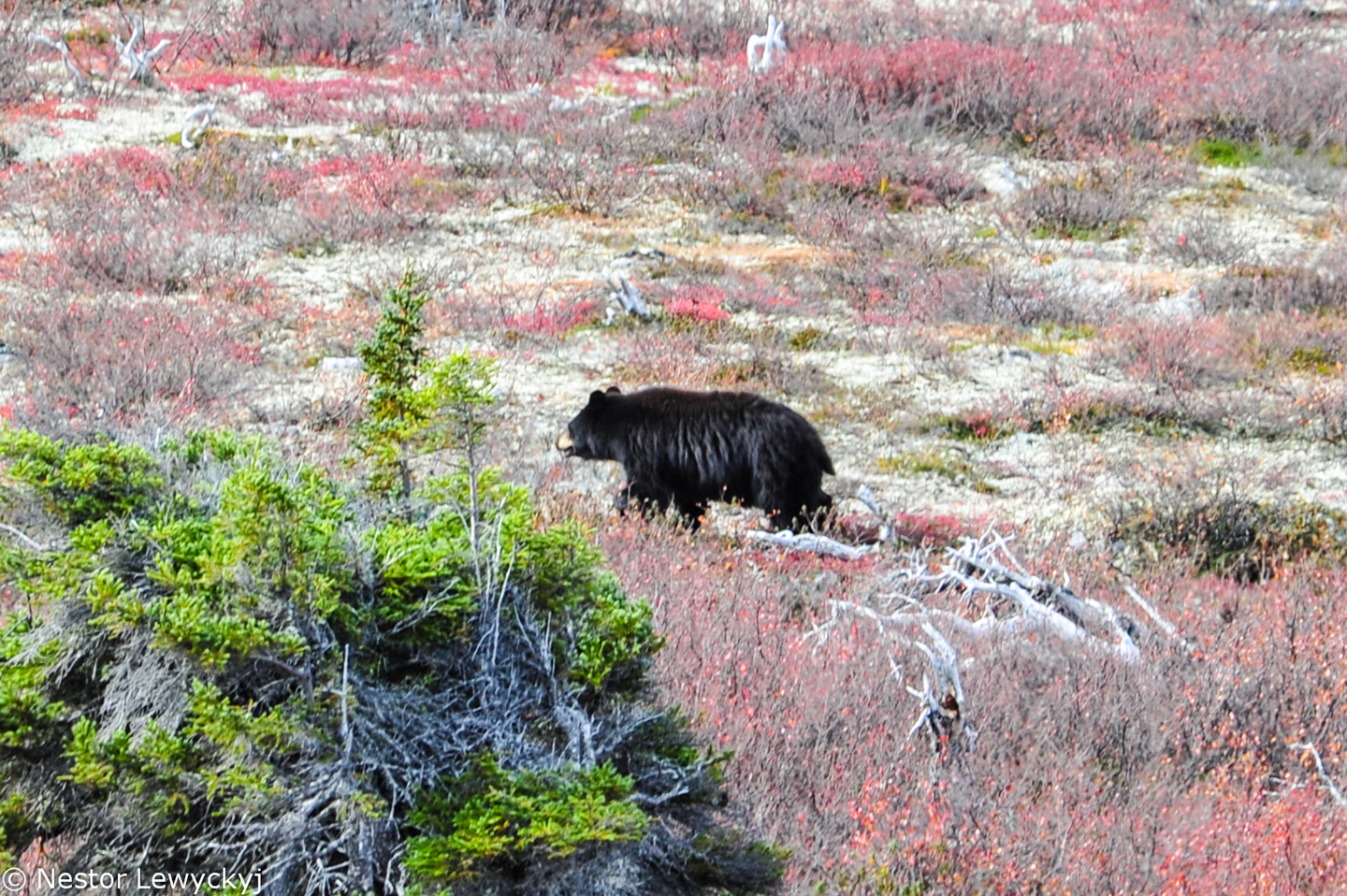 At this point I had split from the group and headed higher up the ridge. At one point, I noticed Warren down below waving to me and it took me a moment to realize he was signalling to me of game ahead. I circled the ridge changing lenses on the fly only to see this large female black bear starting to trot away. This was the only decent shot that I was able to get. She ran up the side of the ridge.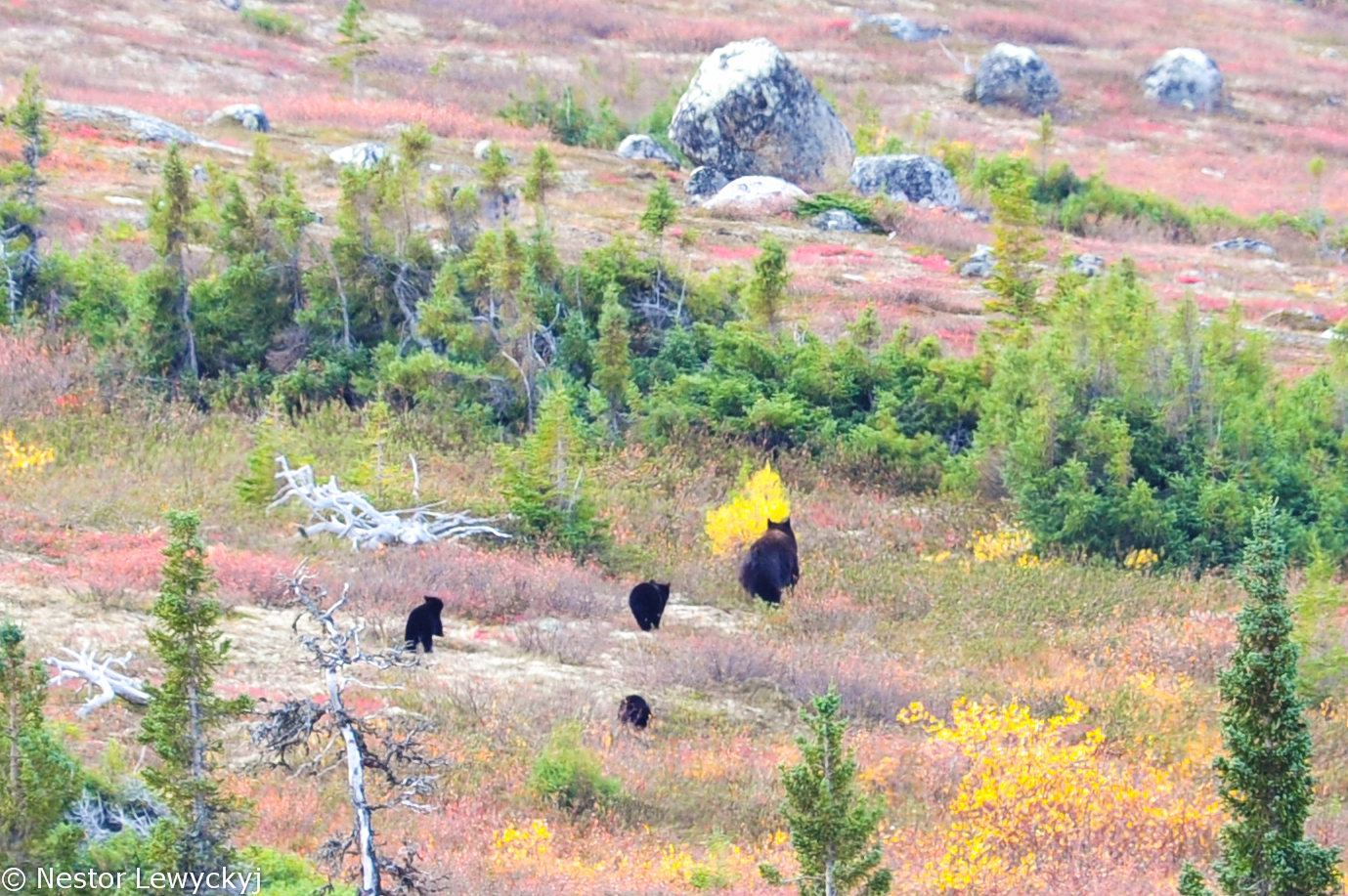 Little did I know that she had 3 cubs squirreled away up there!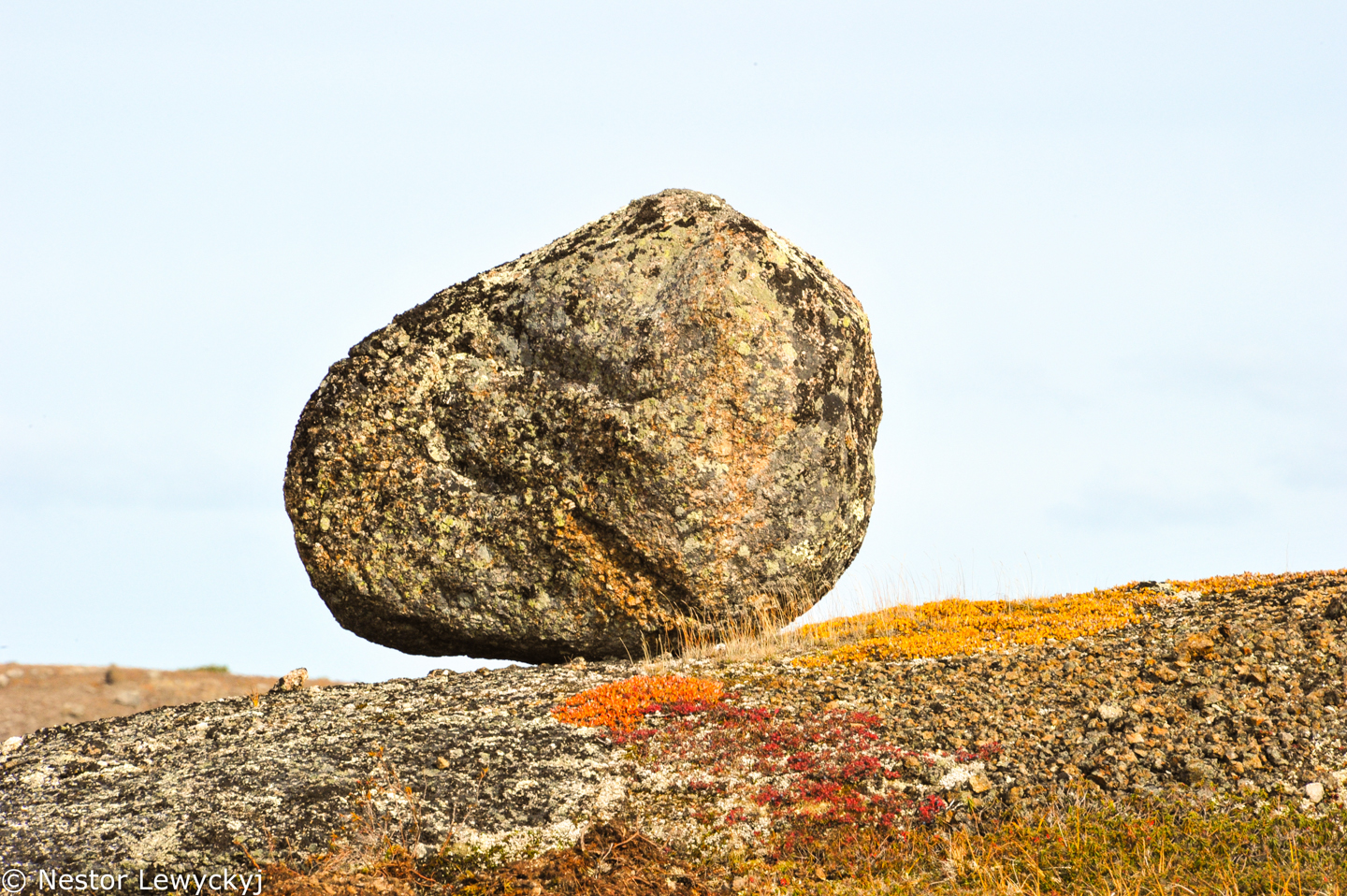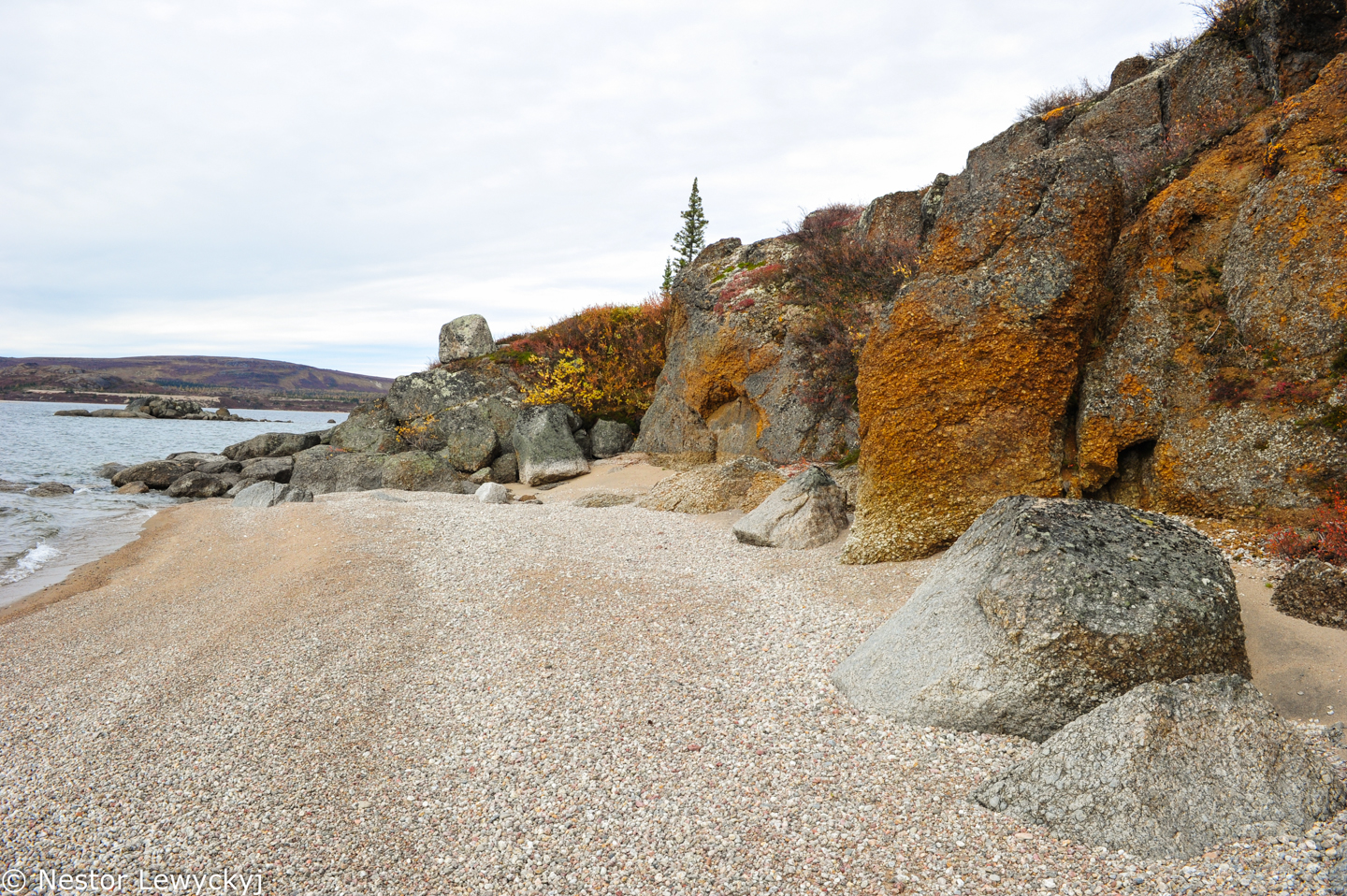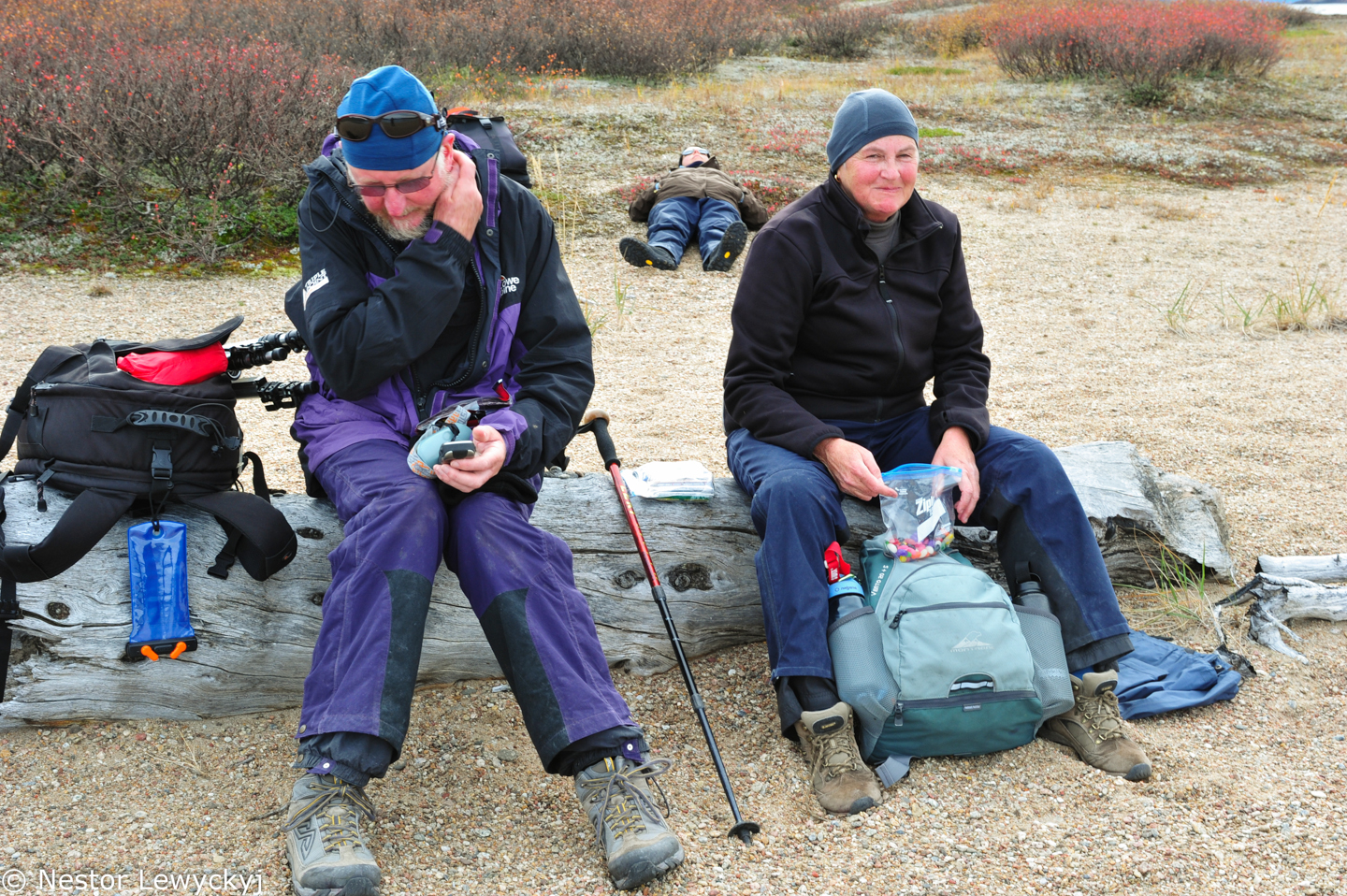 Waiting for Tom's pick up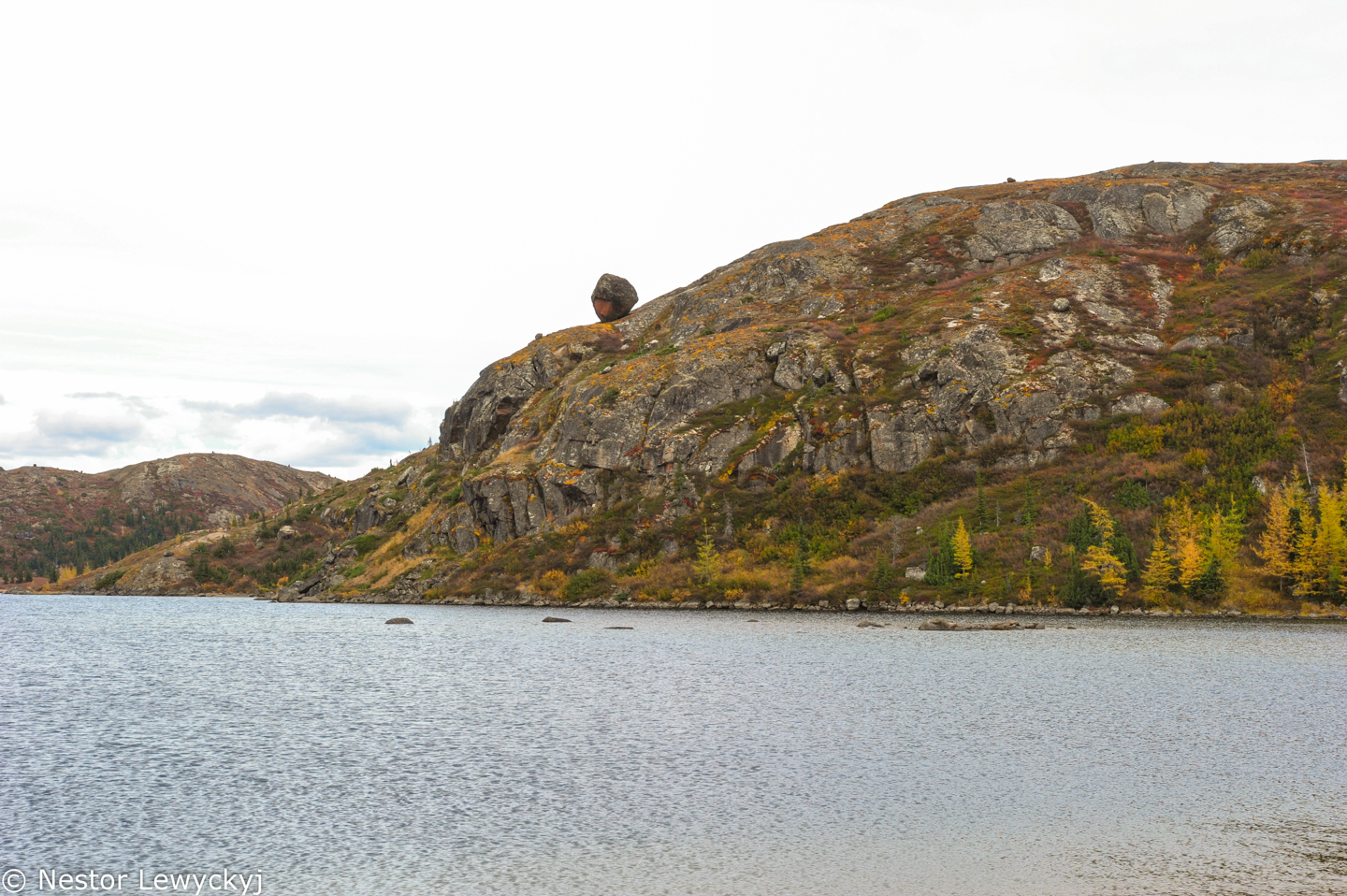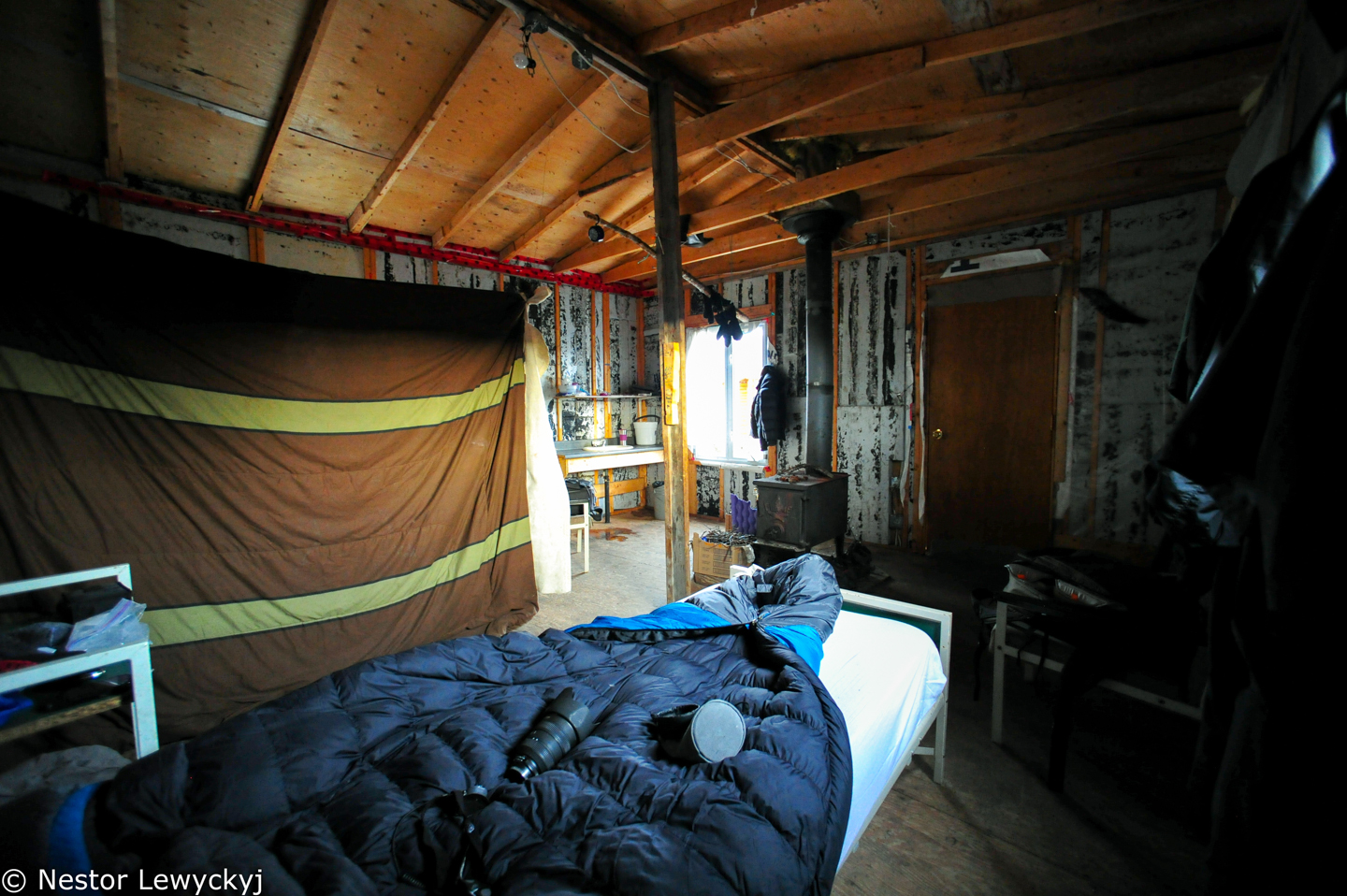 Our cabin. Sabine was there for 2 weeks and had constructed a room using blankets as walls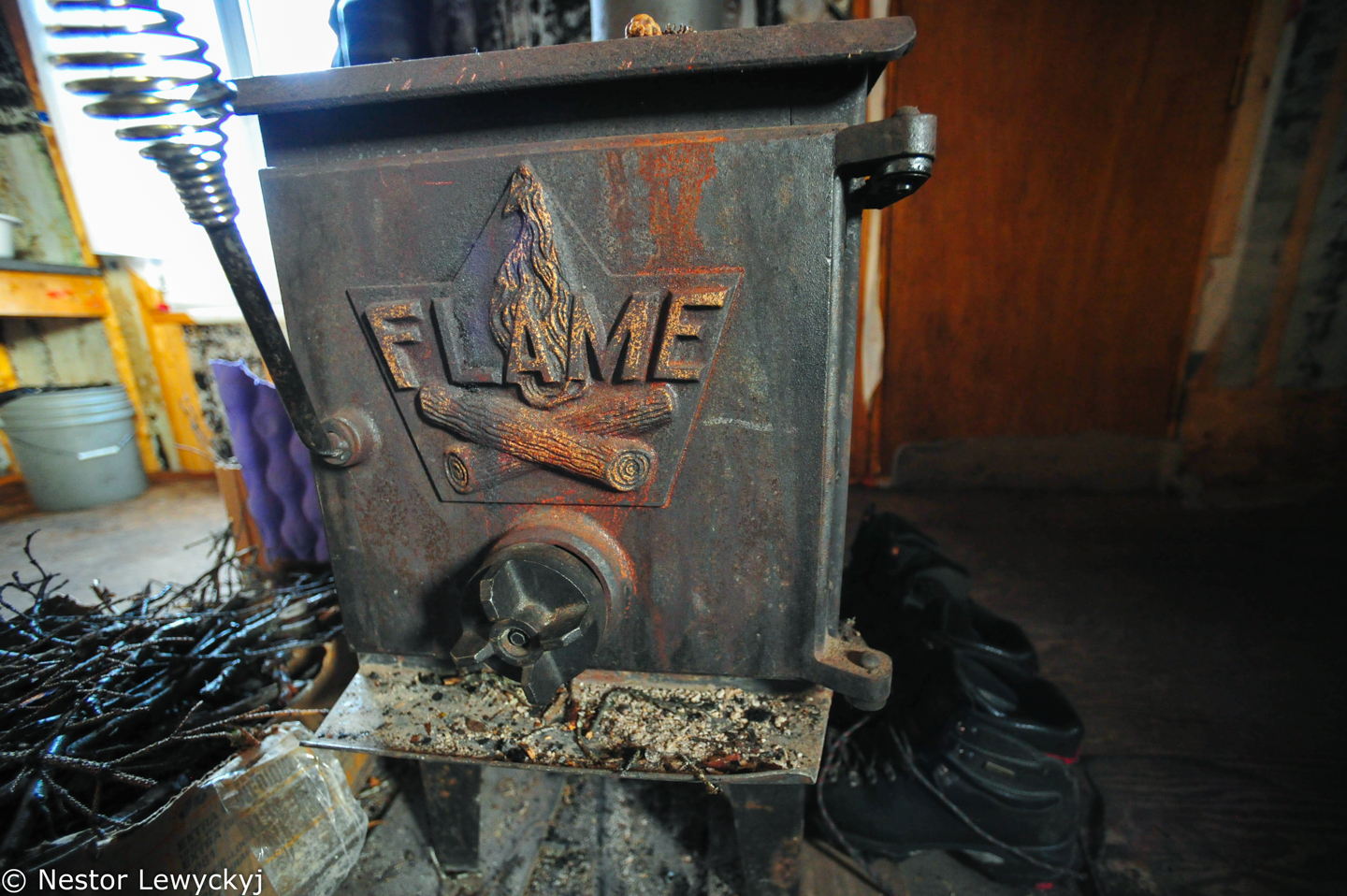 The wood burning stove kept us warm and dried out our boots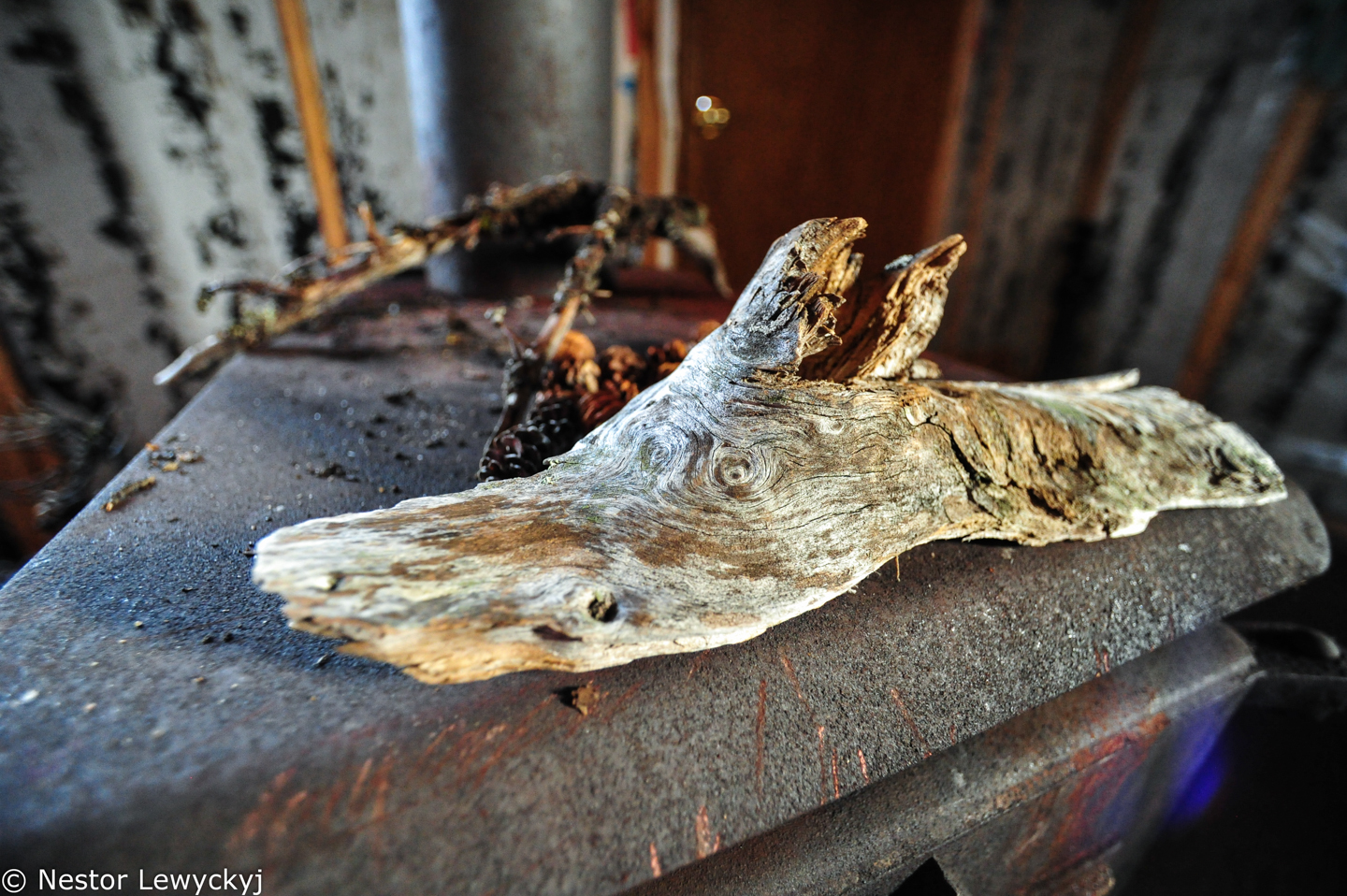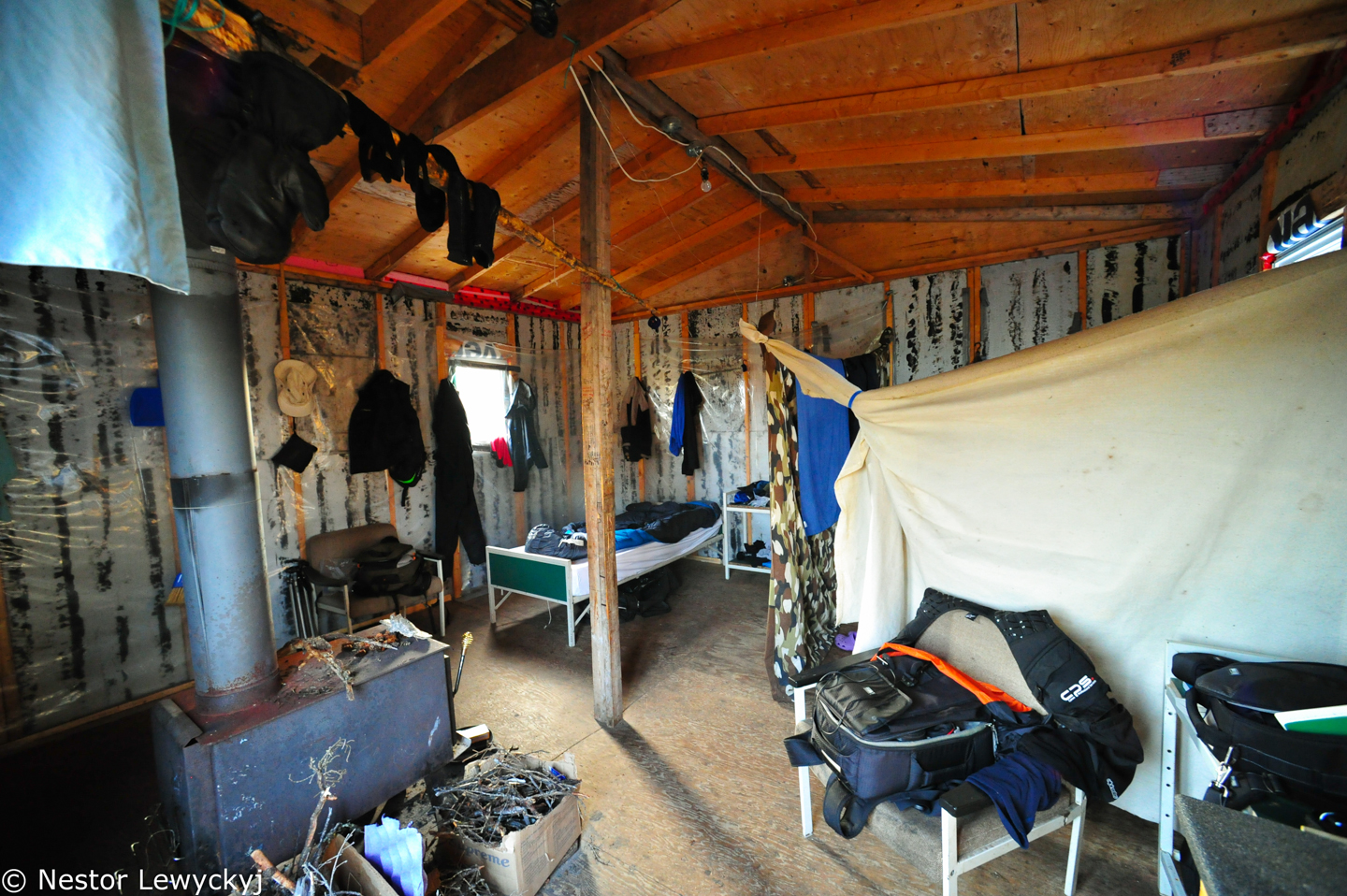 The Hilton it was not, but far, far better than a tent!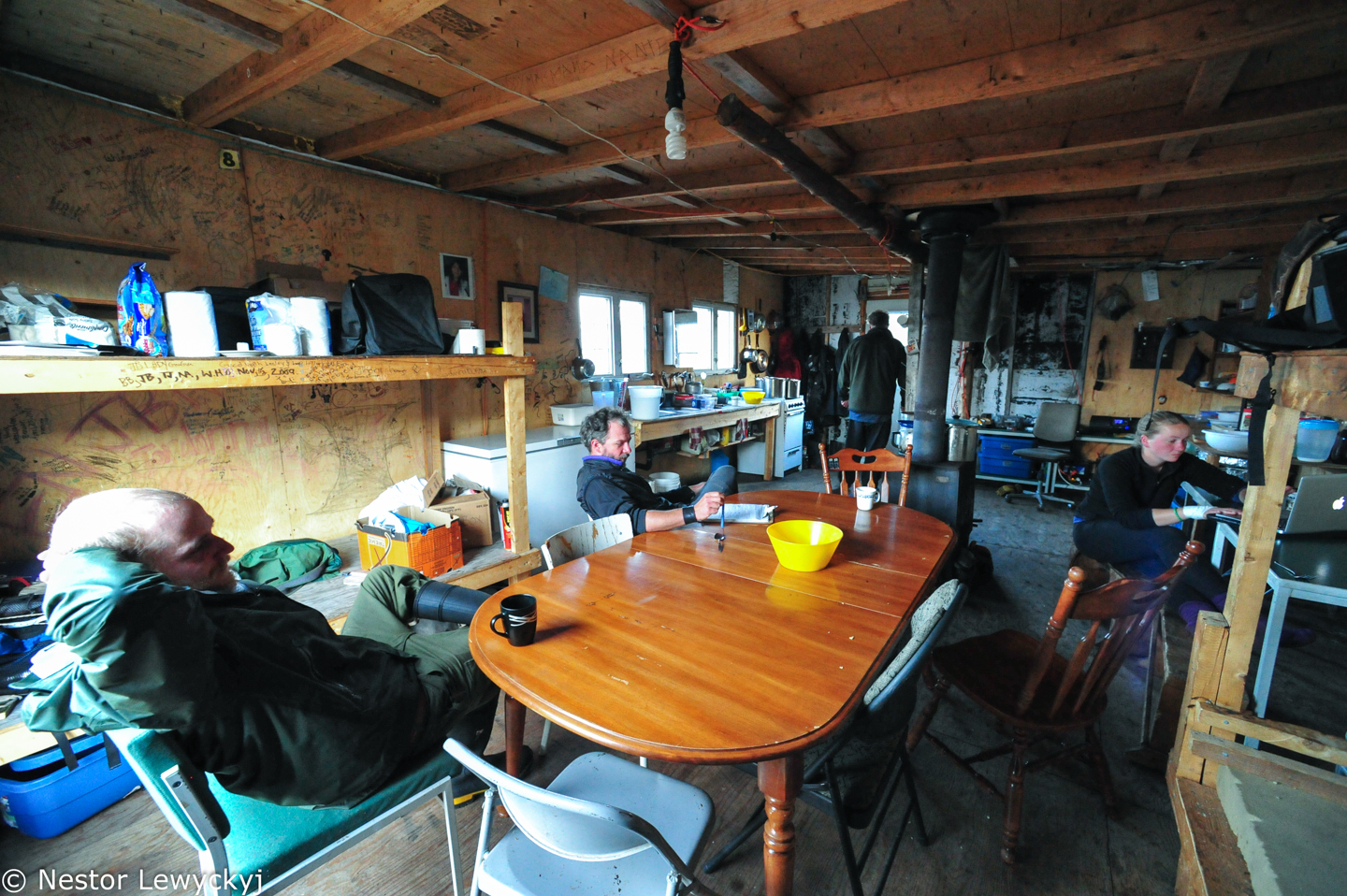 The crew reassembling in the late afternoon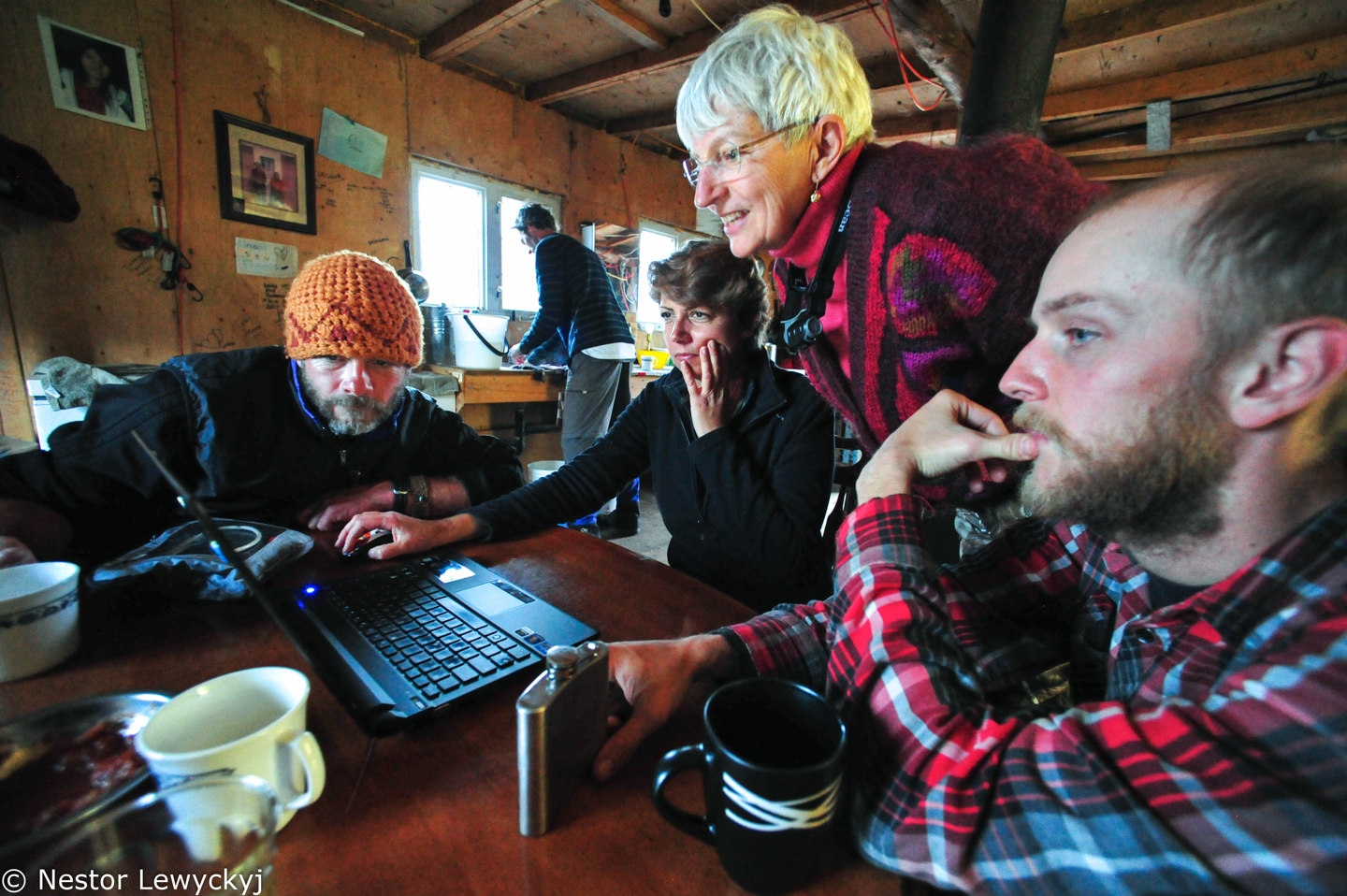 While the photo buffs gathered to look at Sabine's day's worth of shots. She had collected some wonderful shots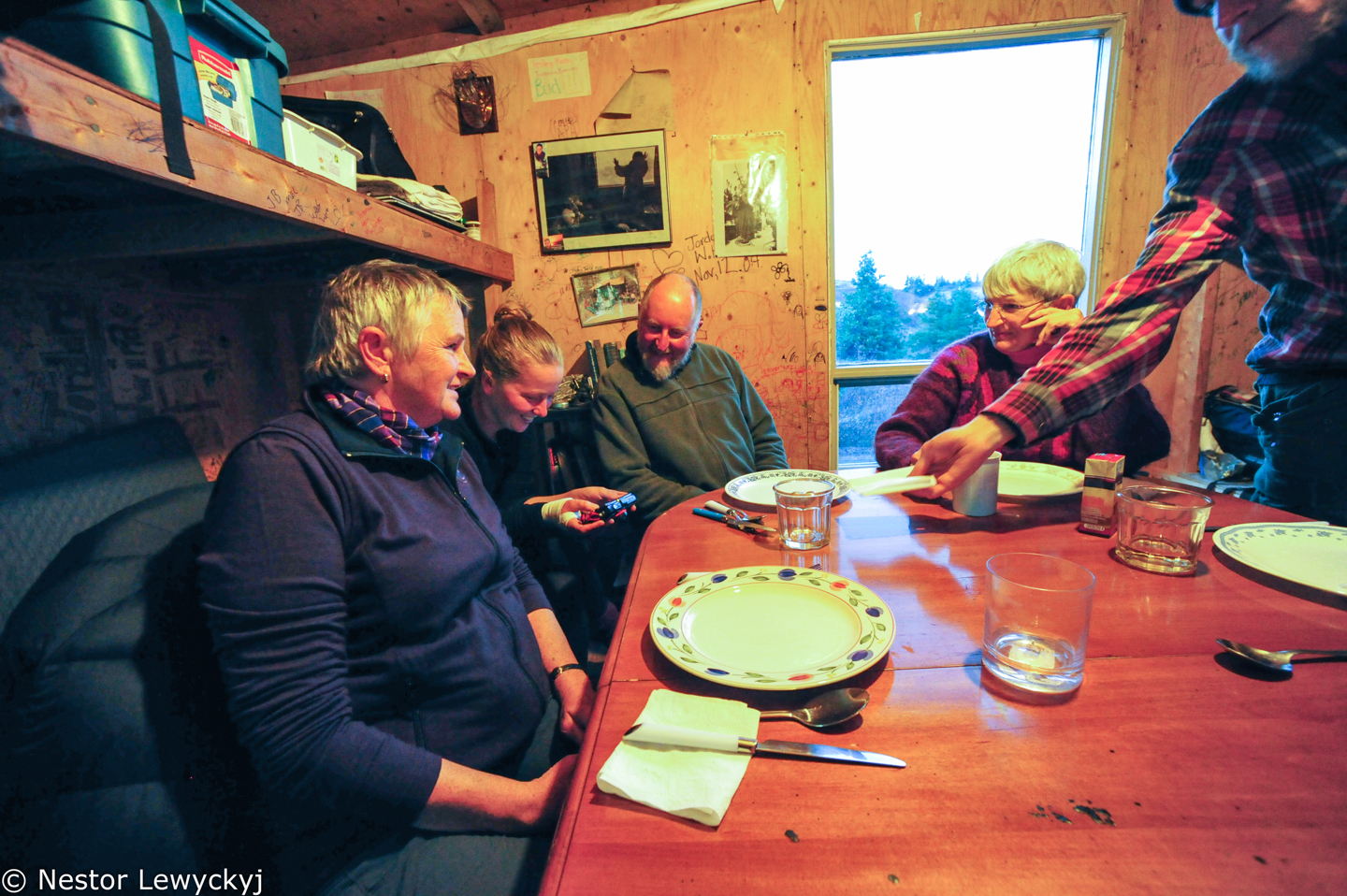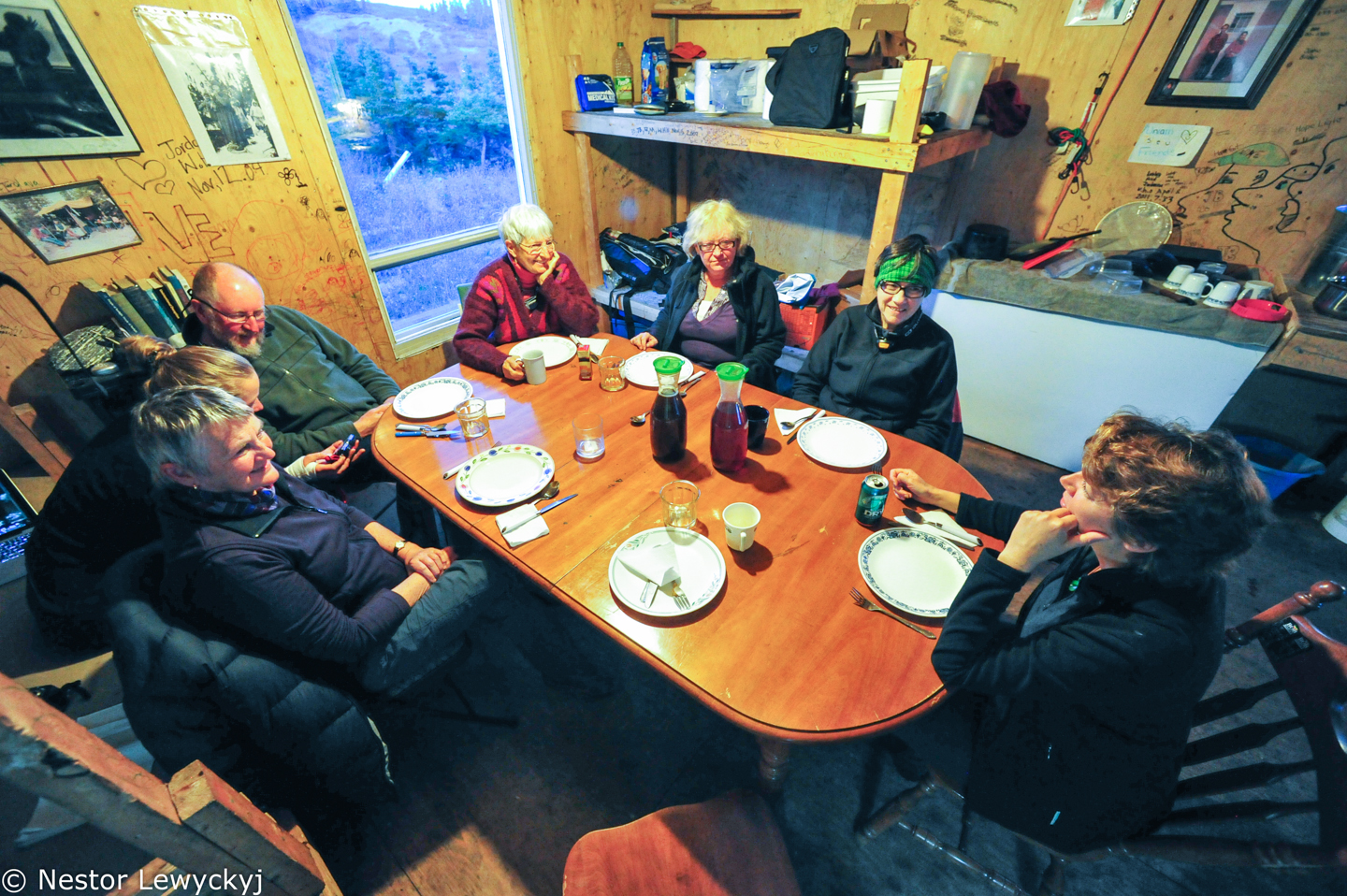 Recounting the day as we waited for supper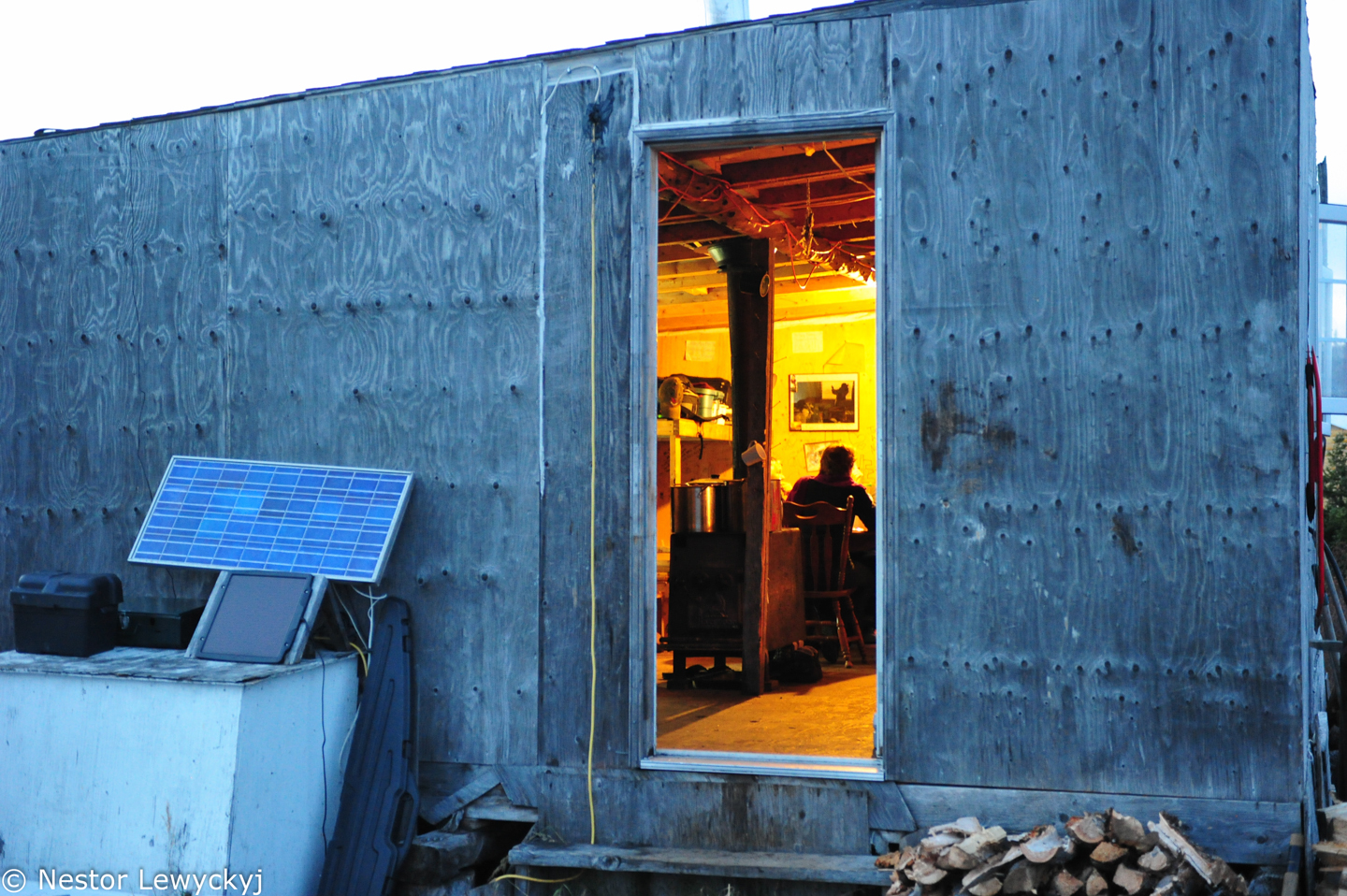 The kitchen/dining room hut was always a source of warmth, light, and conversation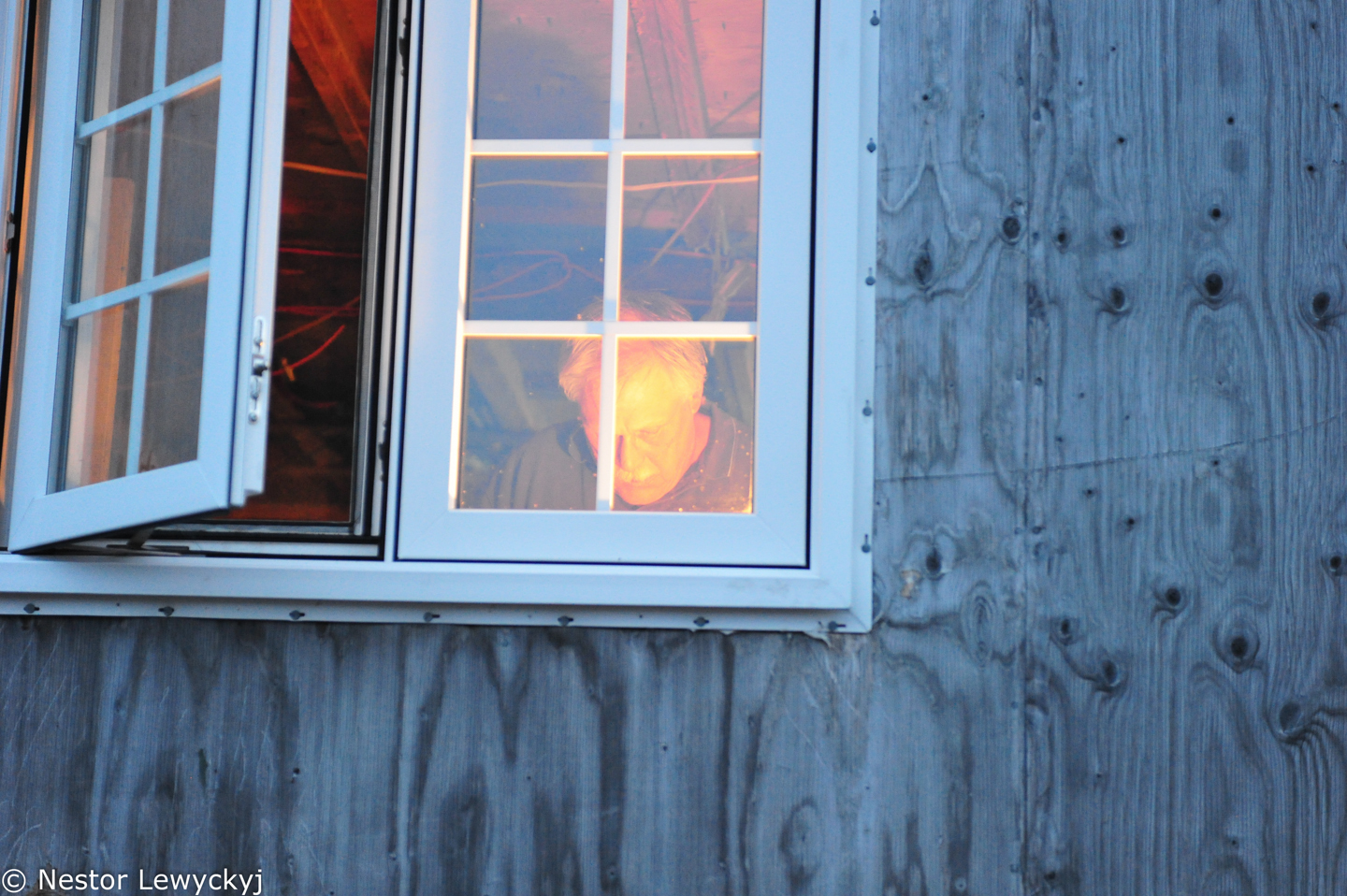 With Tom always working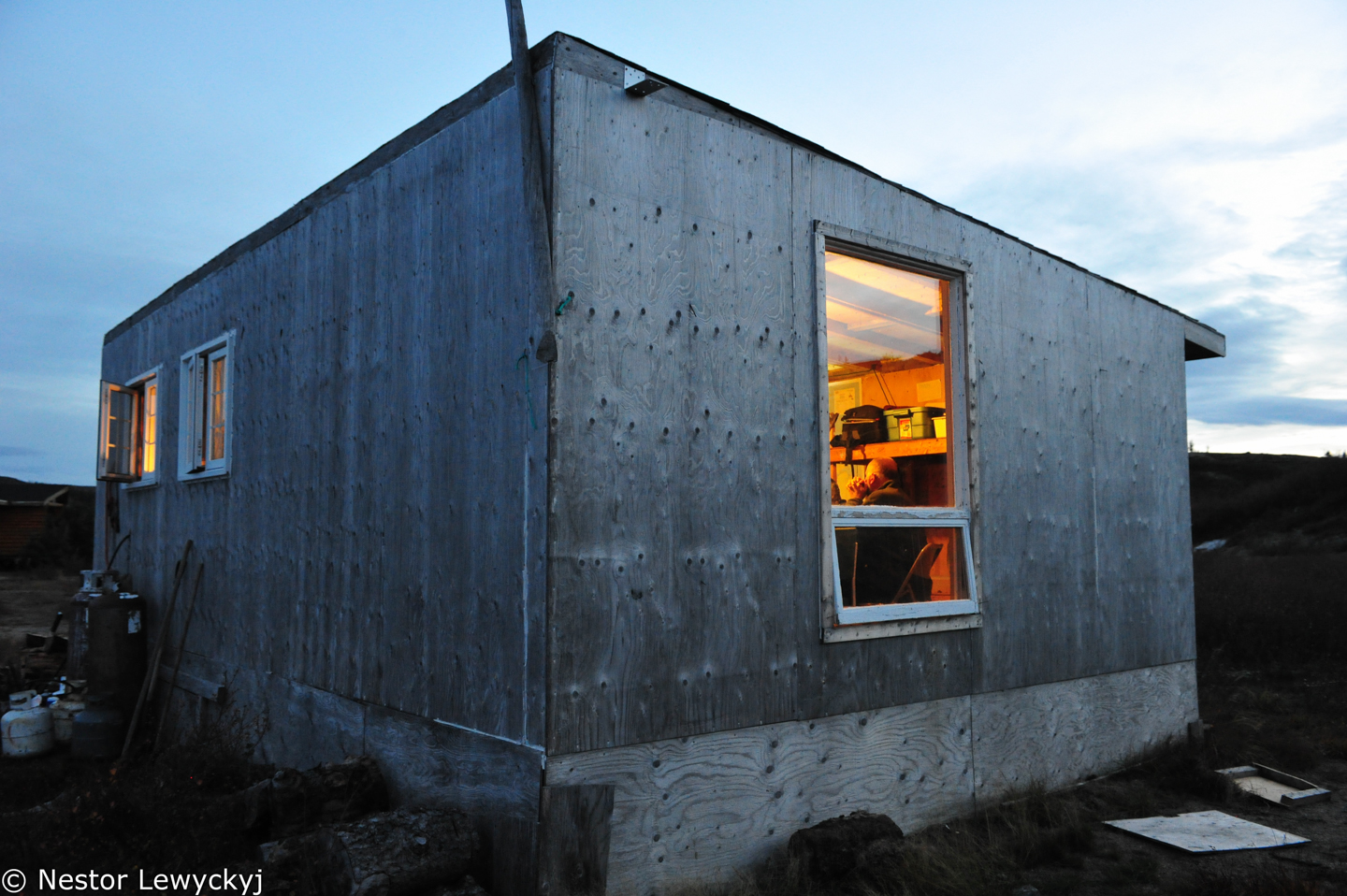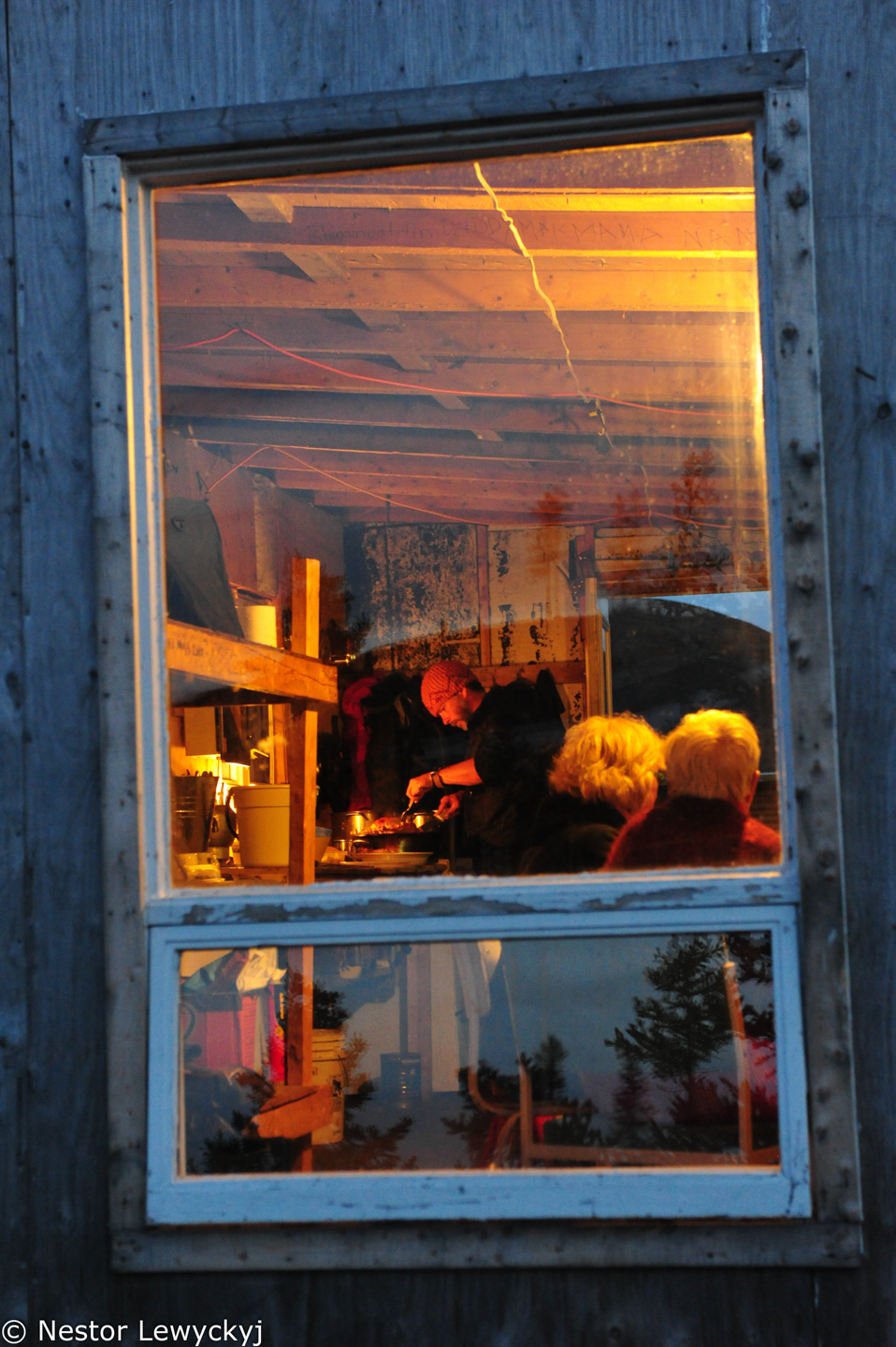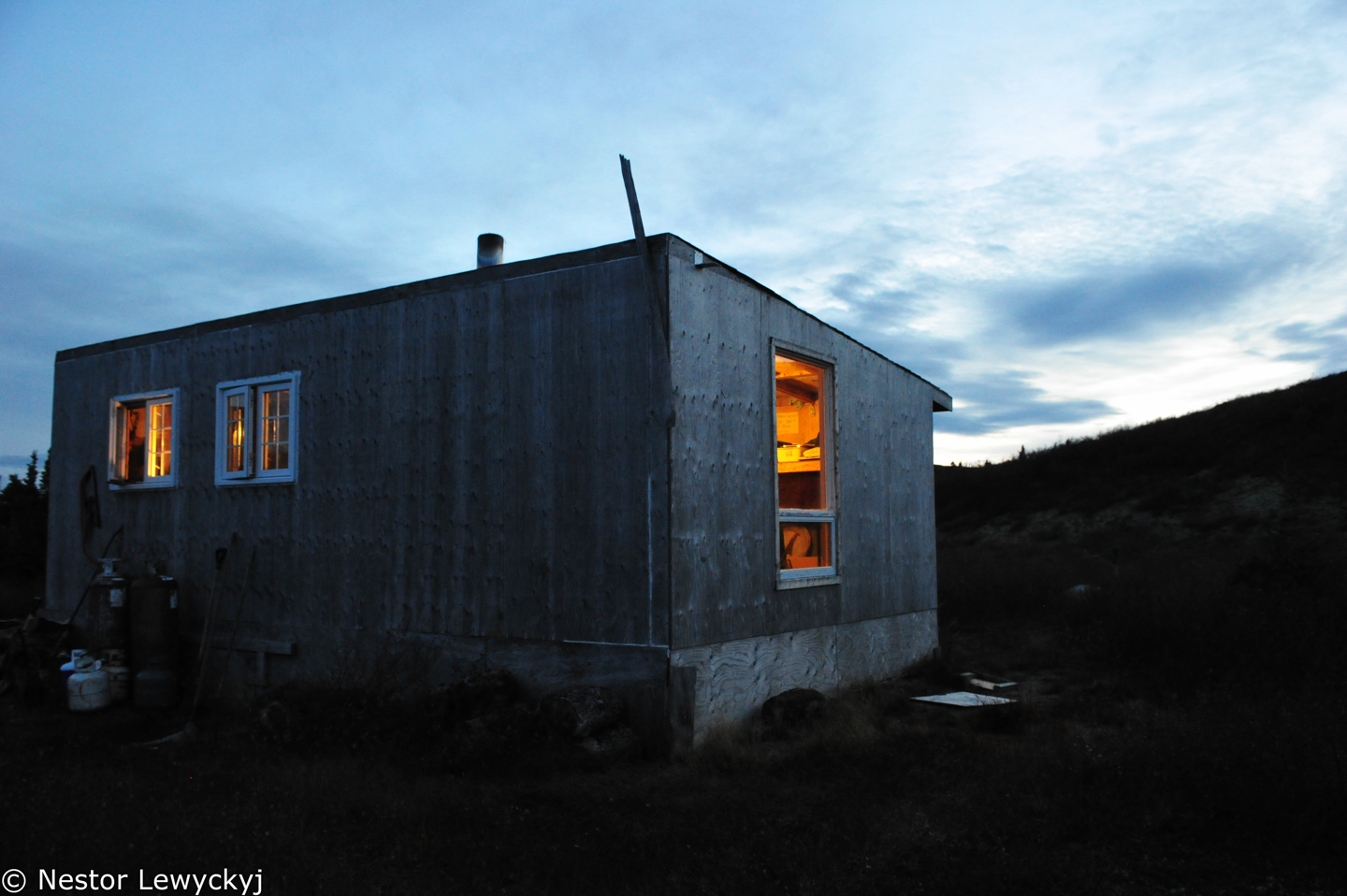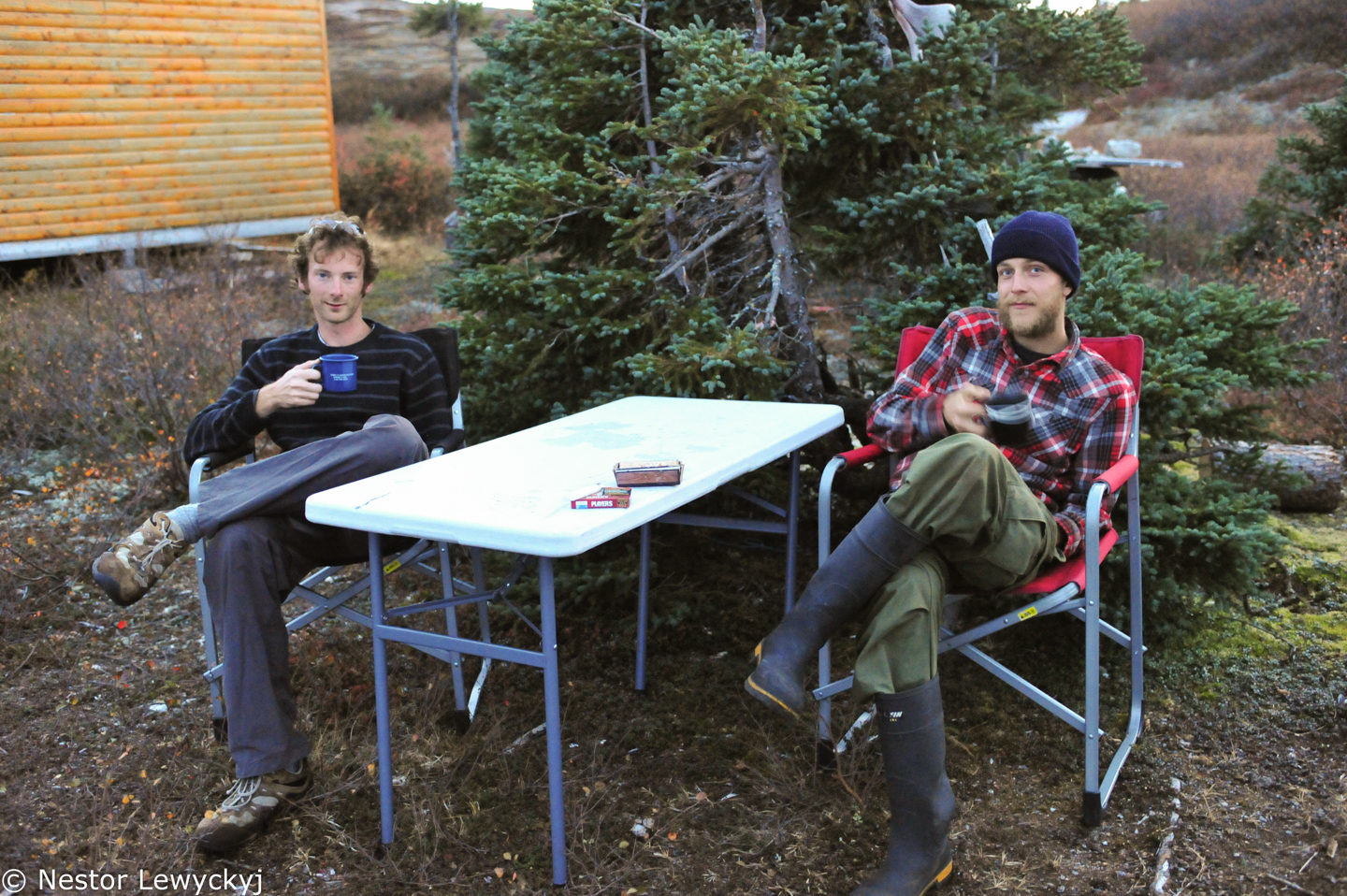 Chilling after supper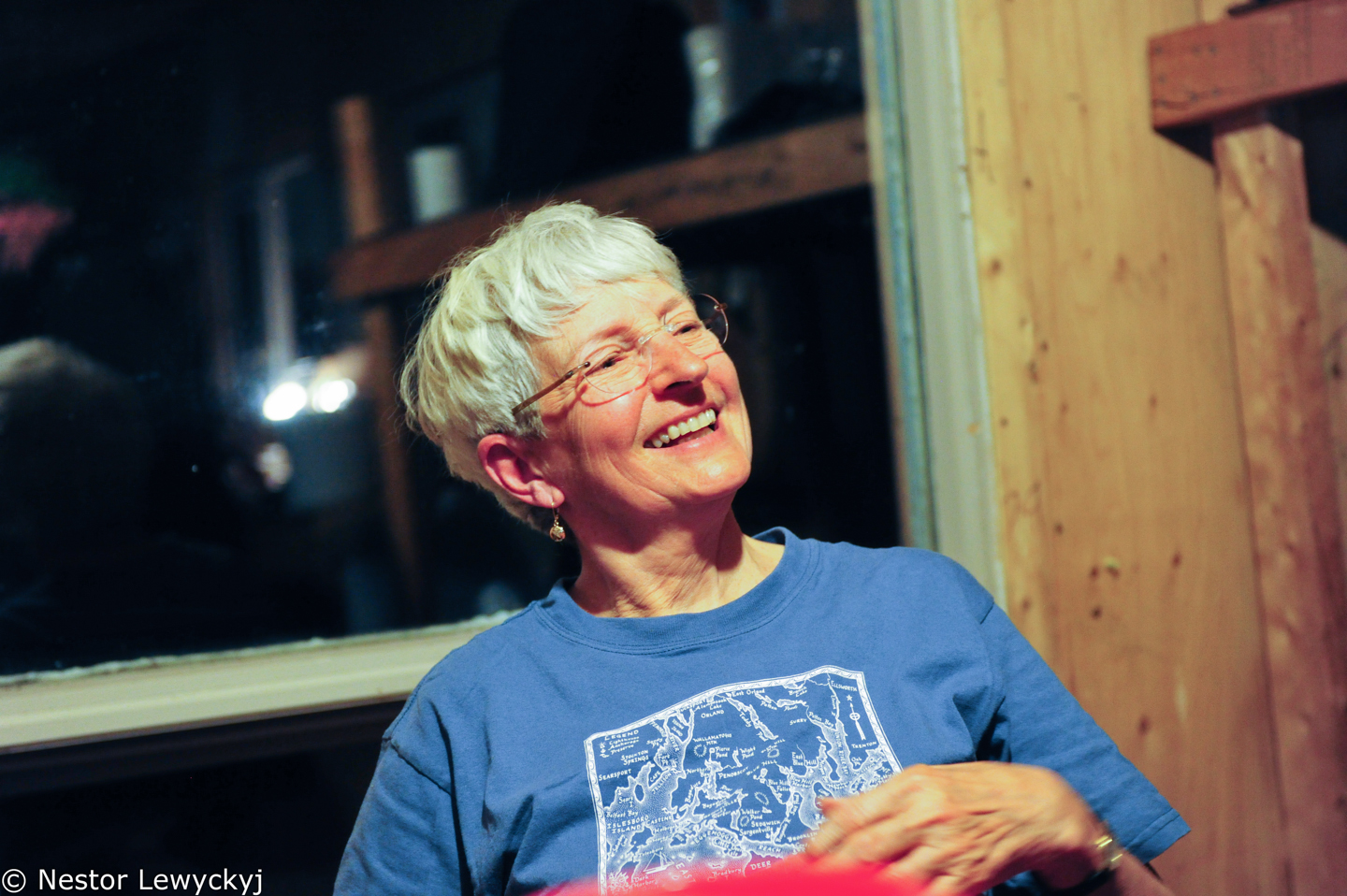 Sue was always in good spirits. She was always very inquisitive, always wanting to learn something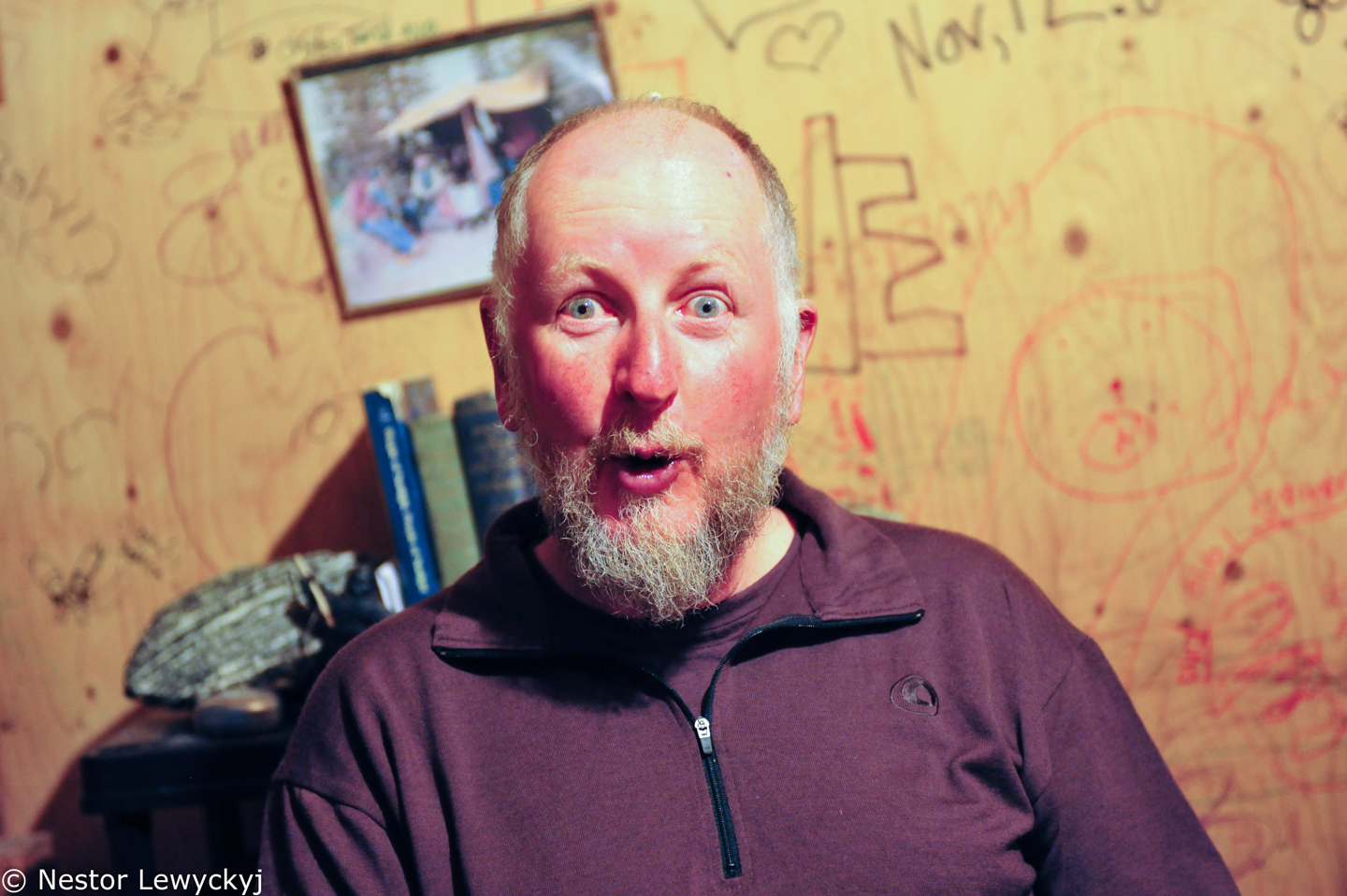 Warren was often like a kid in a candy store. He just wanted more of everything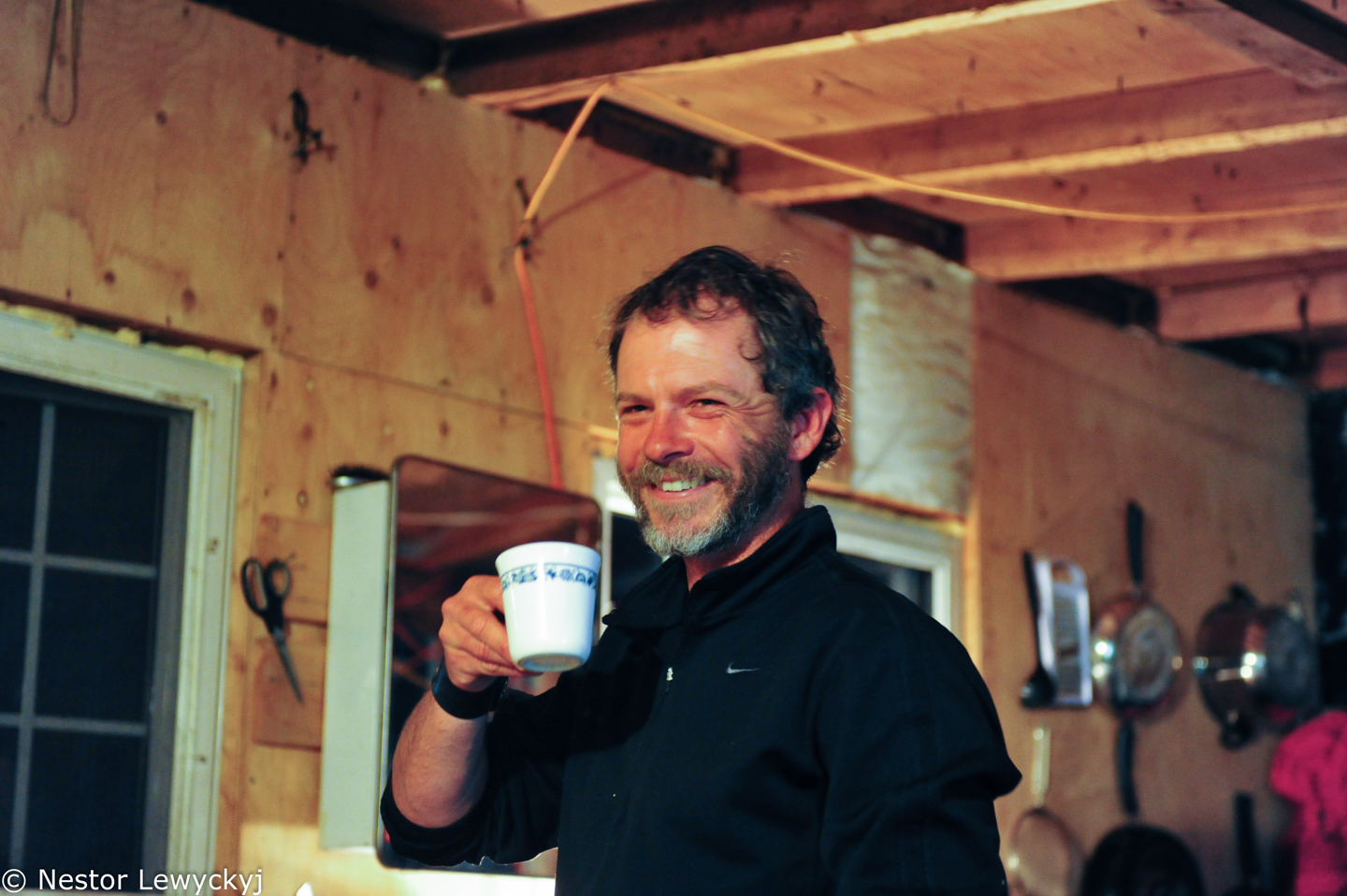 Jaime relaxing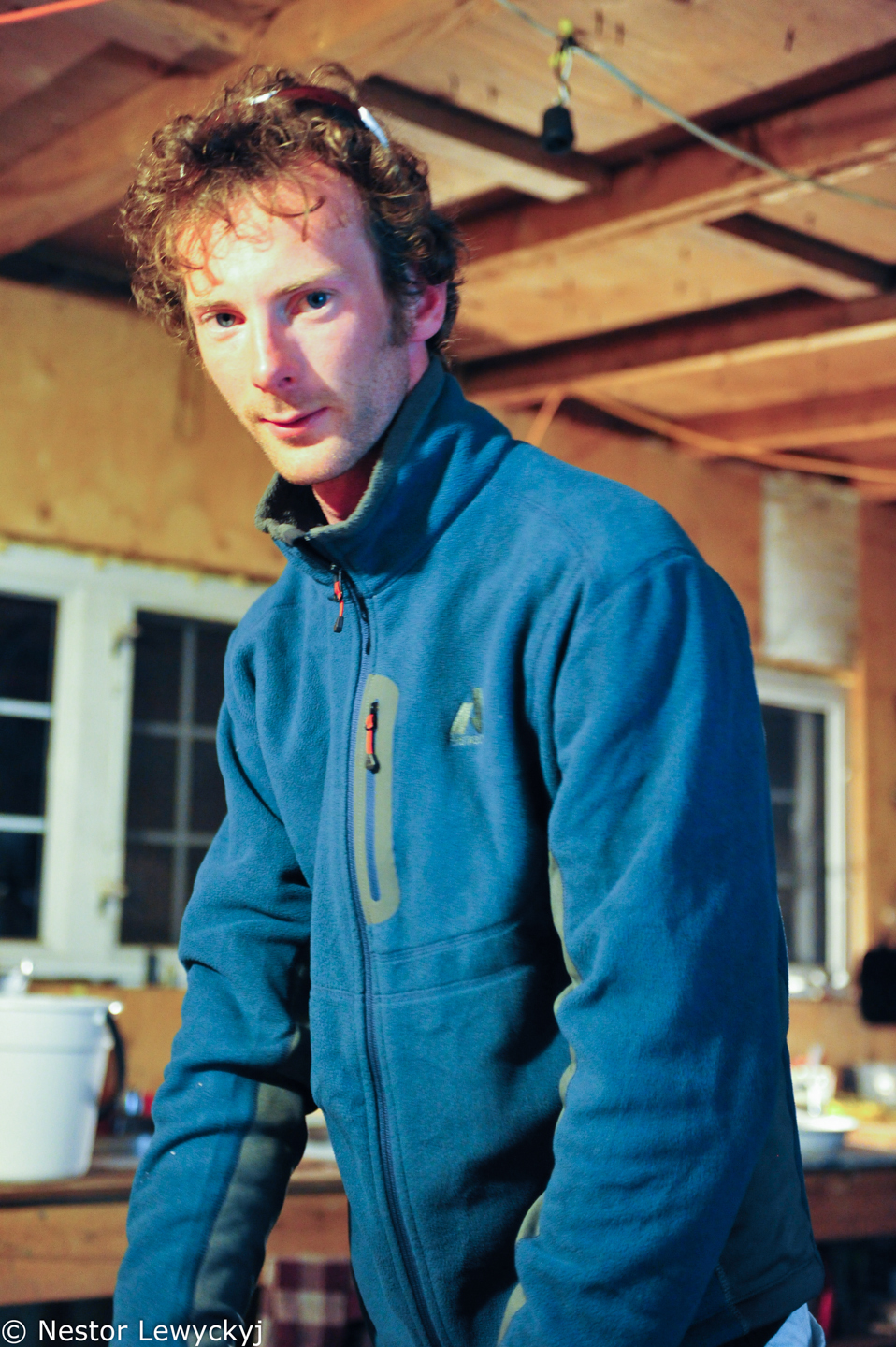 Dan, the habitat biologist from Cornerbrook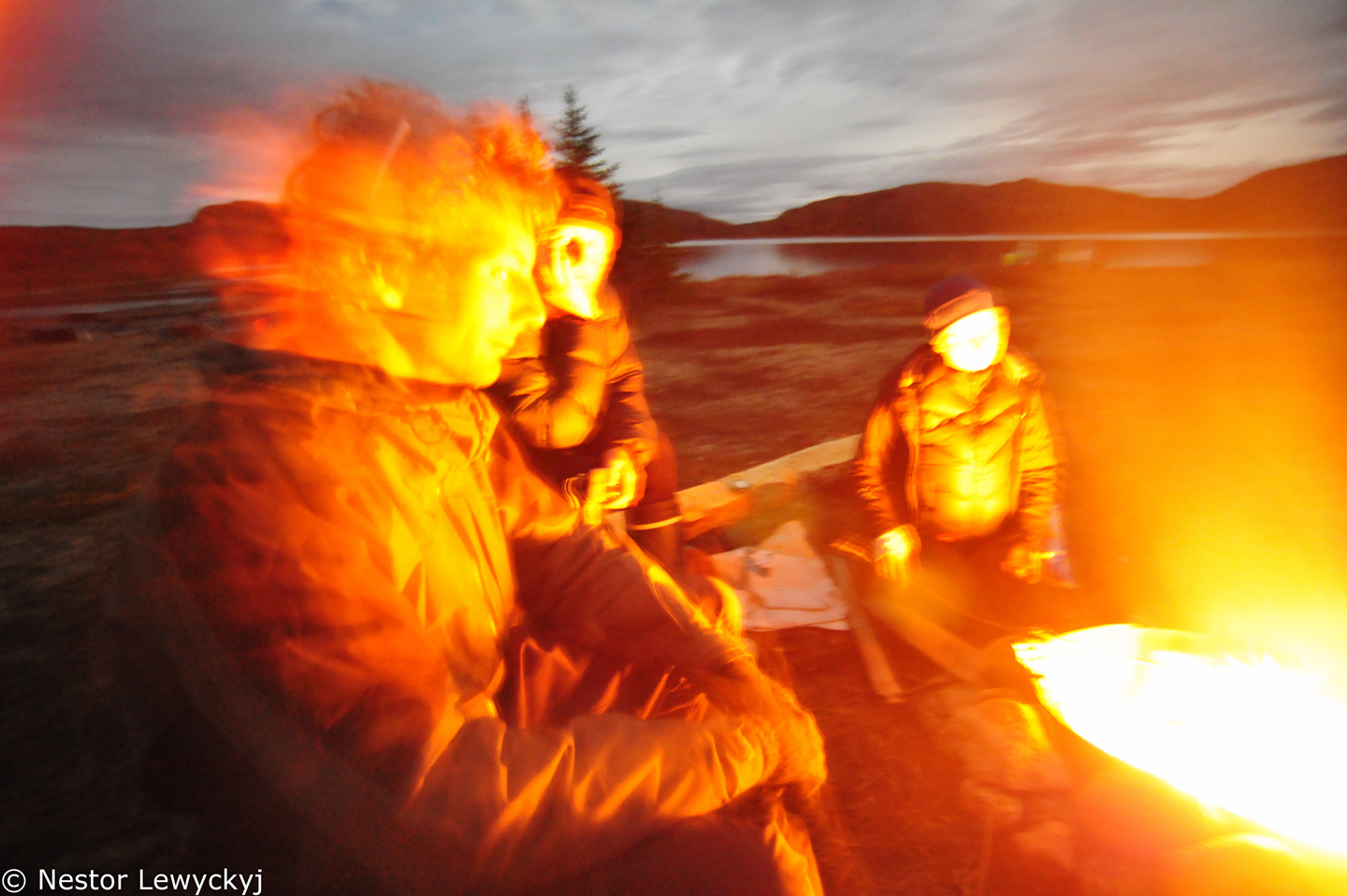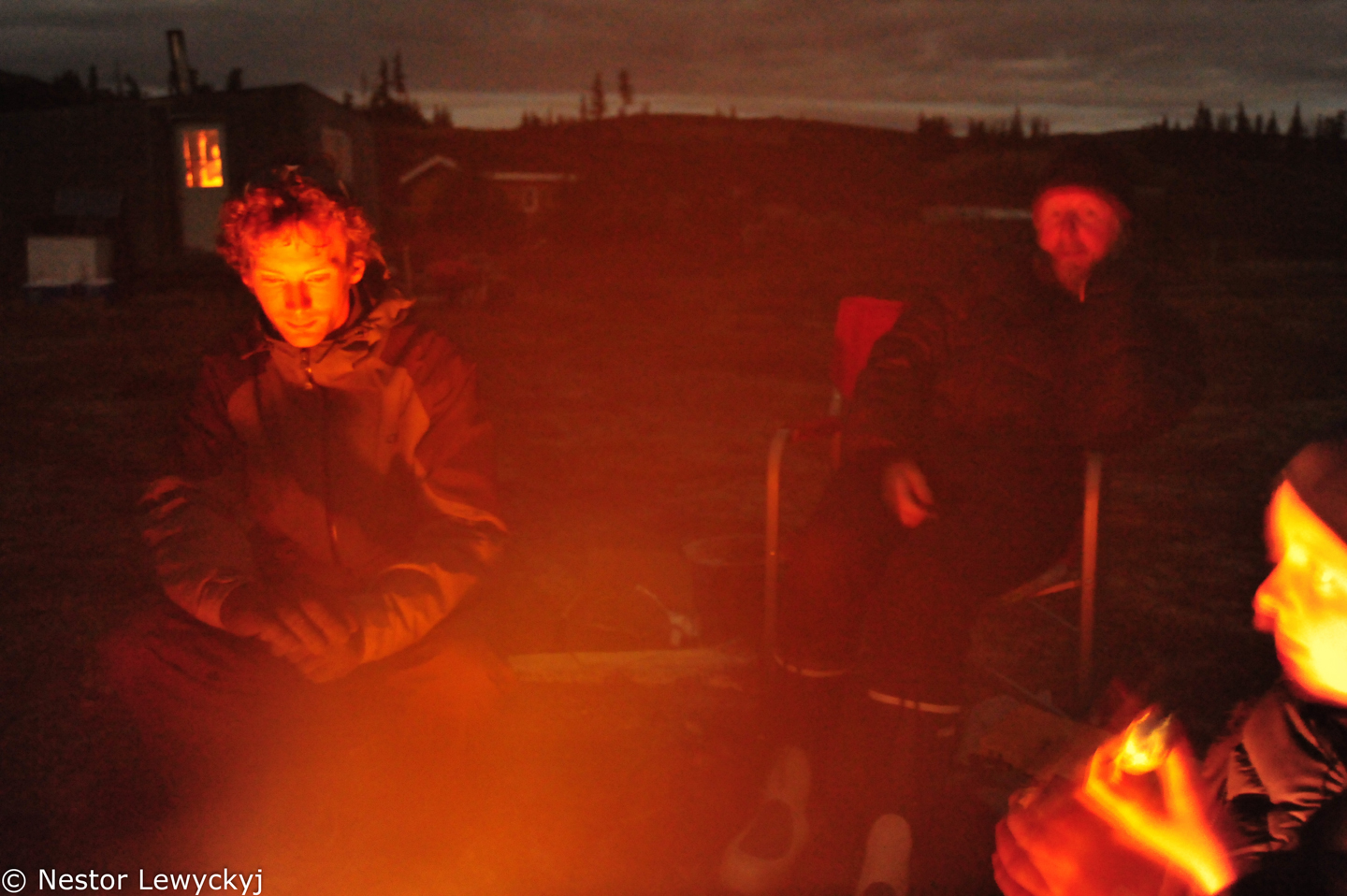 Our final campfire on that last night...always a bit sad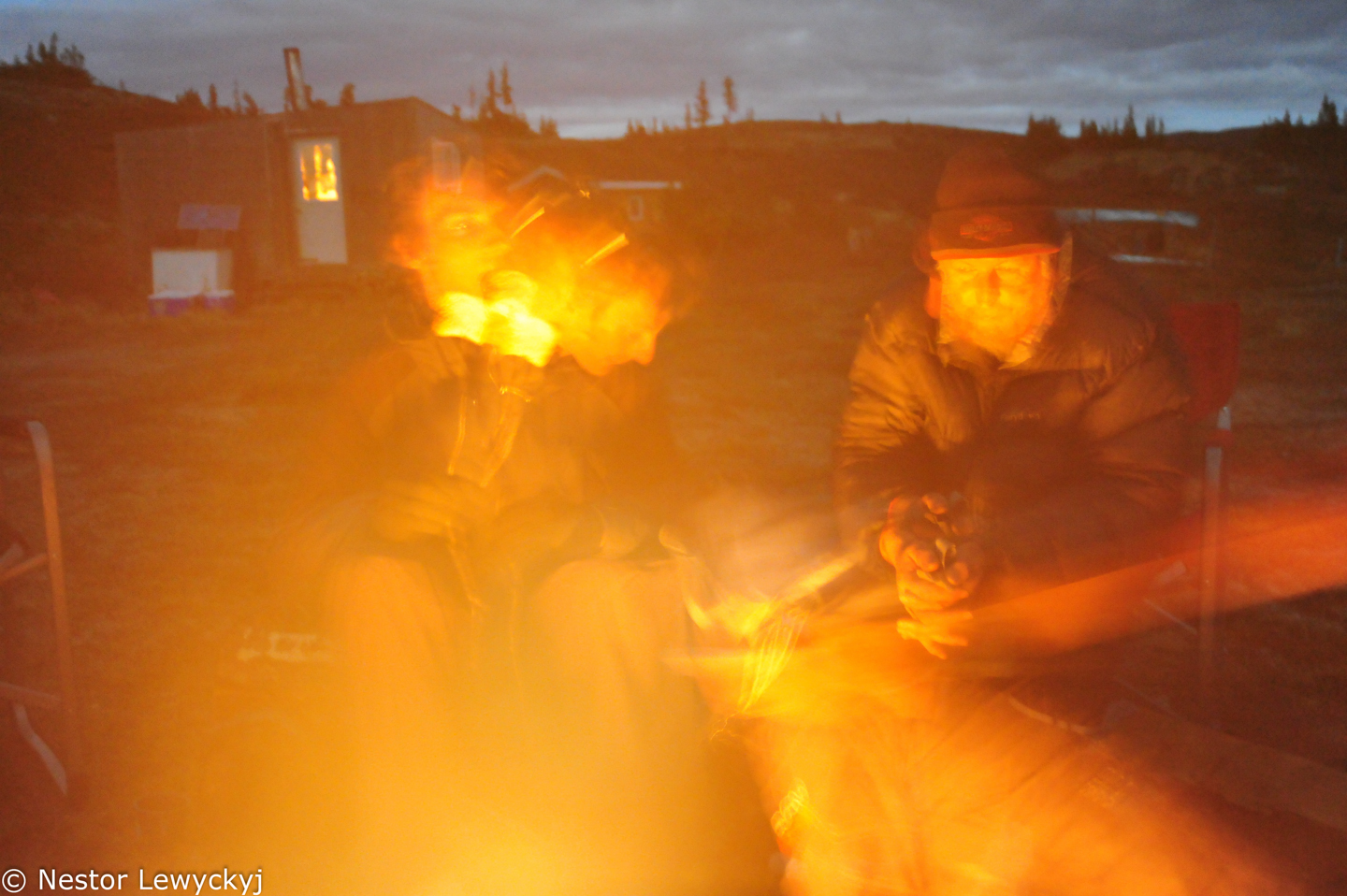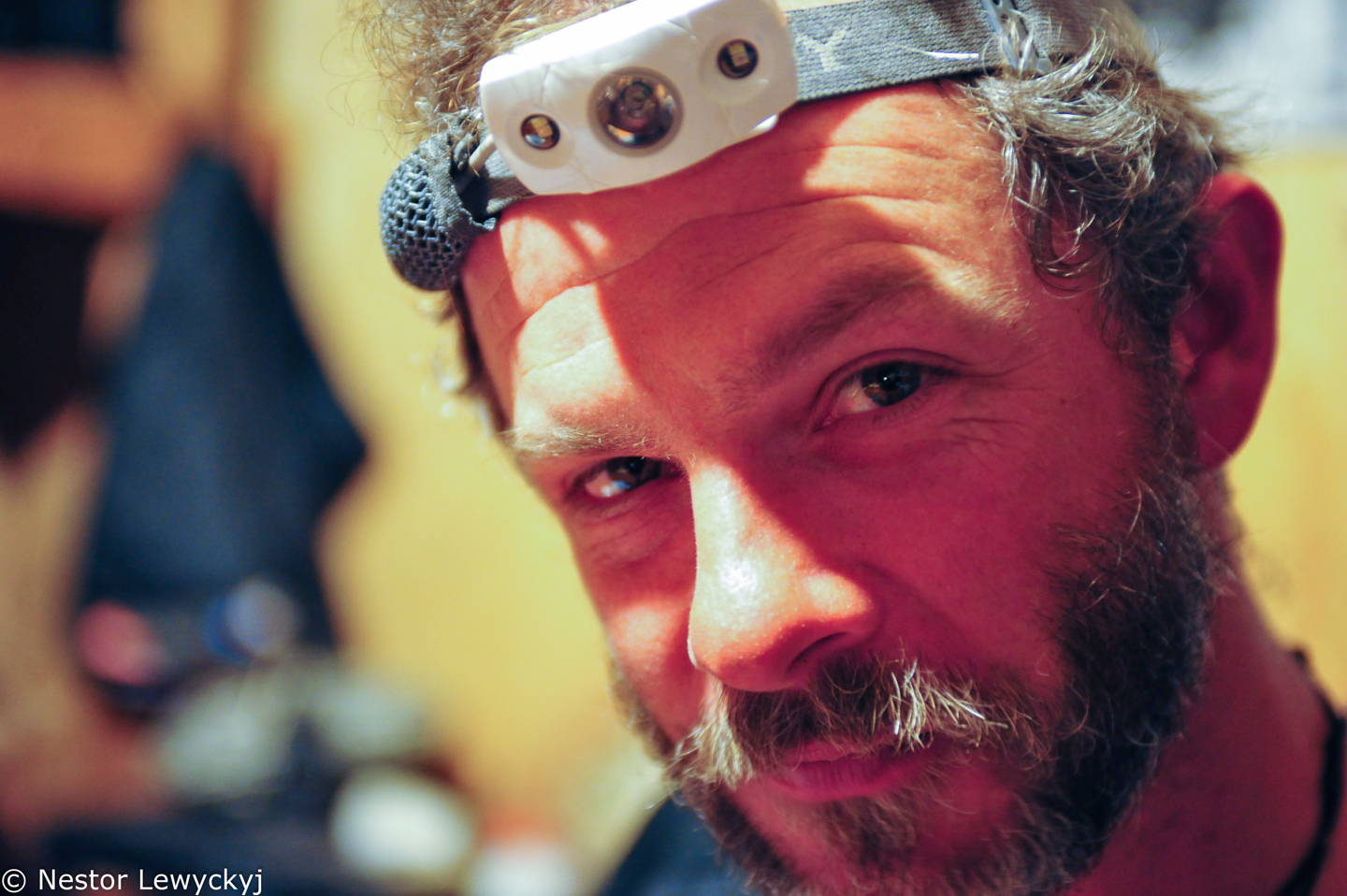 Jaime Sharp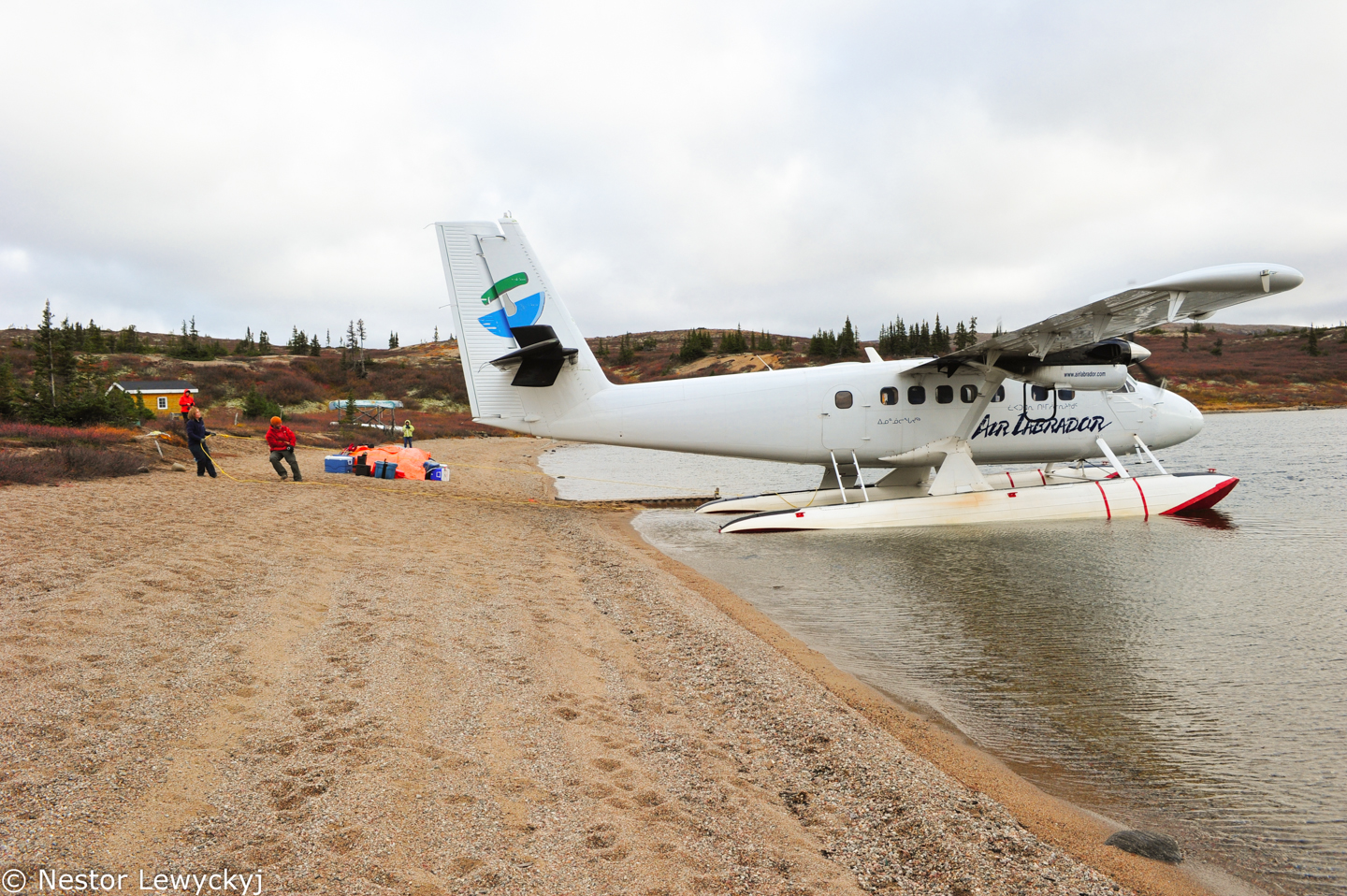 The Air Labrador Twin Otter on floats that was going to take us straight back to Goose Bay, bypassing Nain altogether. It saved us a whole day in our trips back south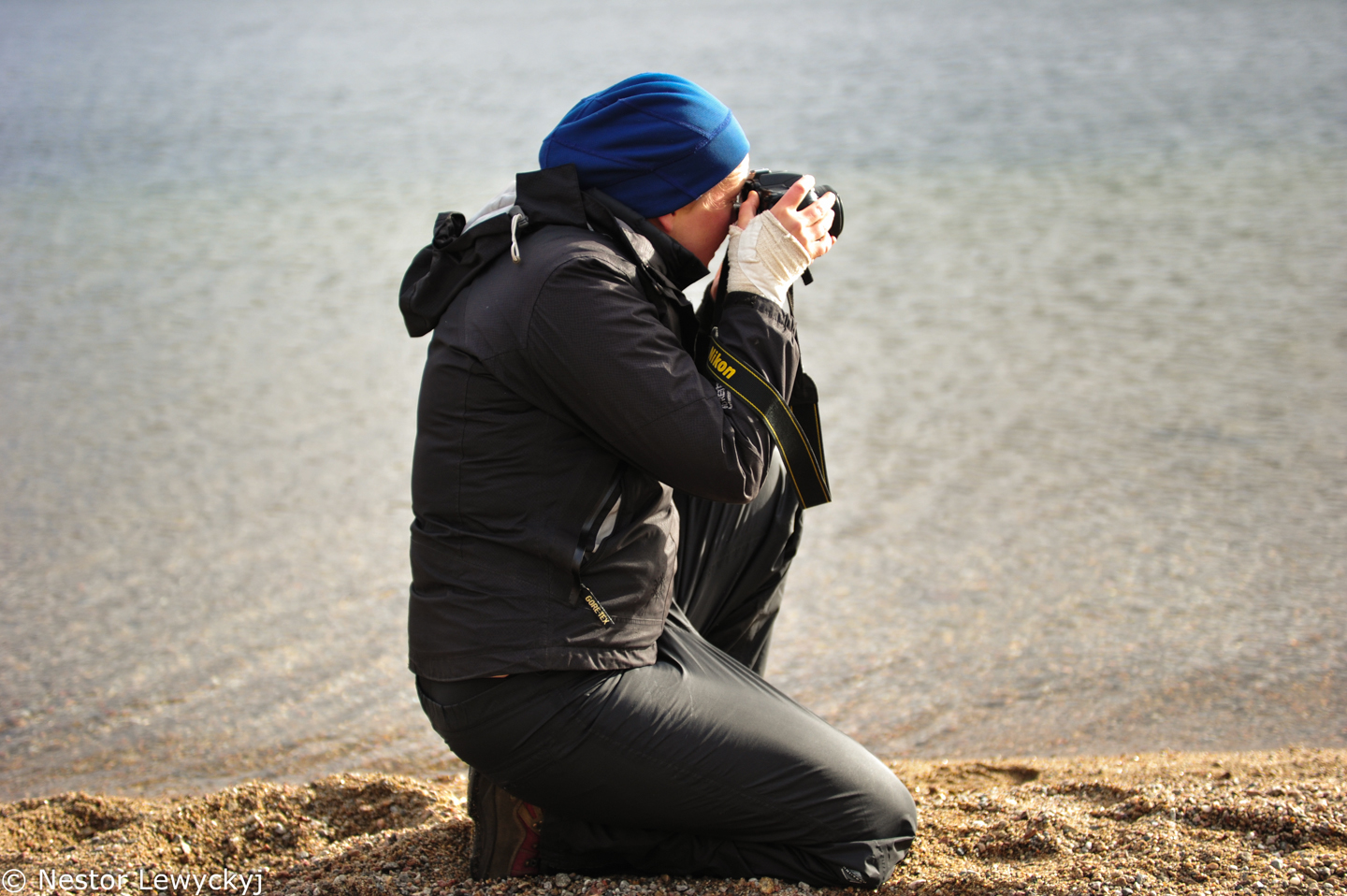 Adele was probably the most dedicated, persistent, and patient photographer of the entire group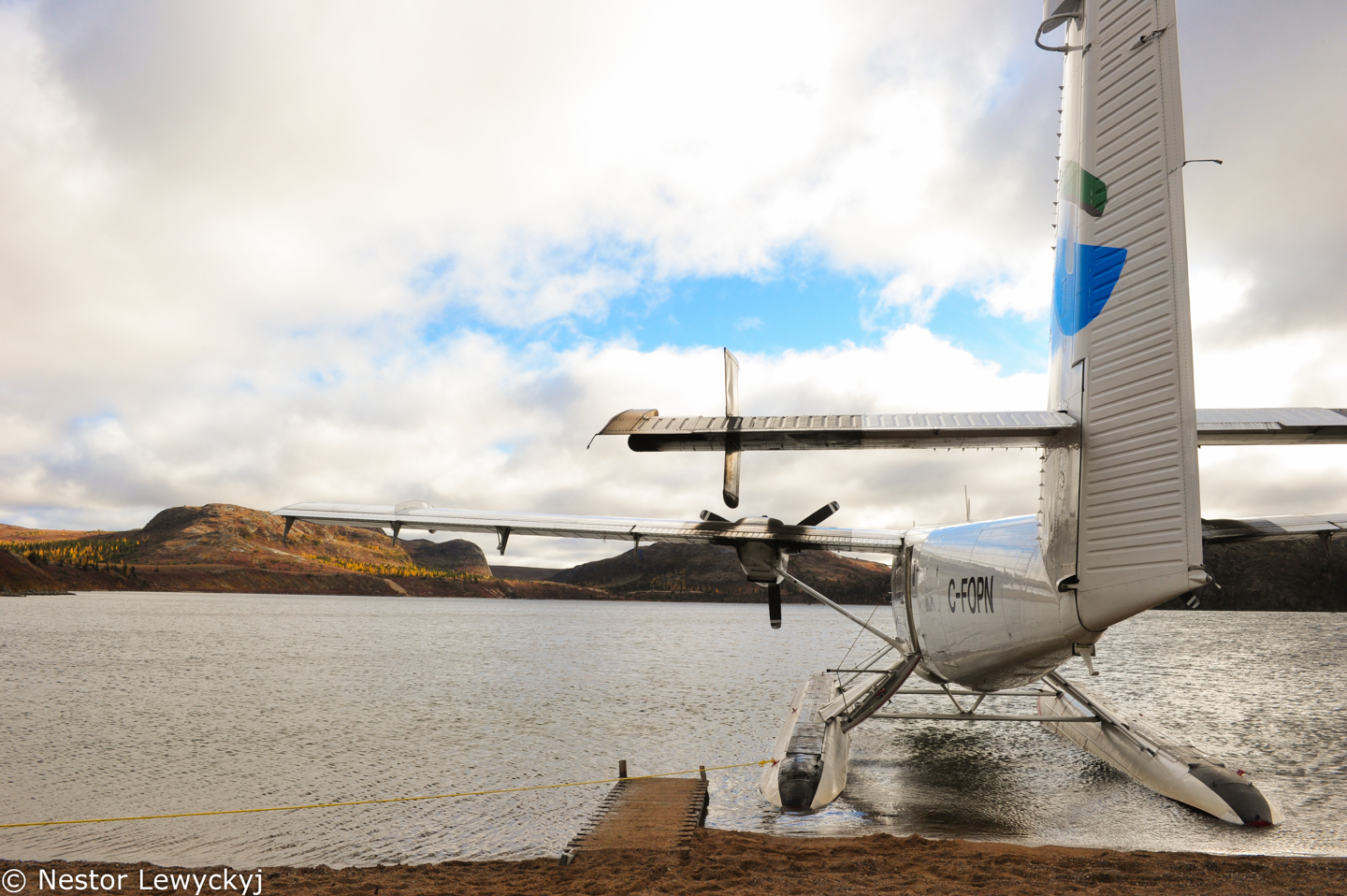 A final, plane's eye view, off of our beach on the eastern bay of Lake Mistastin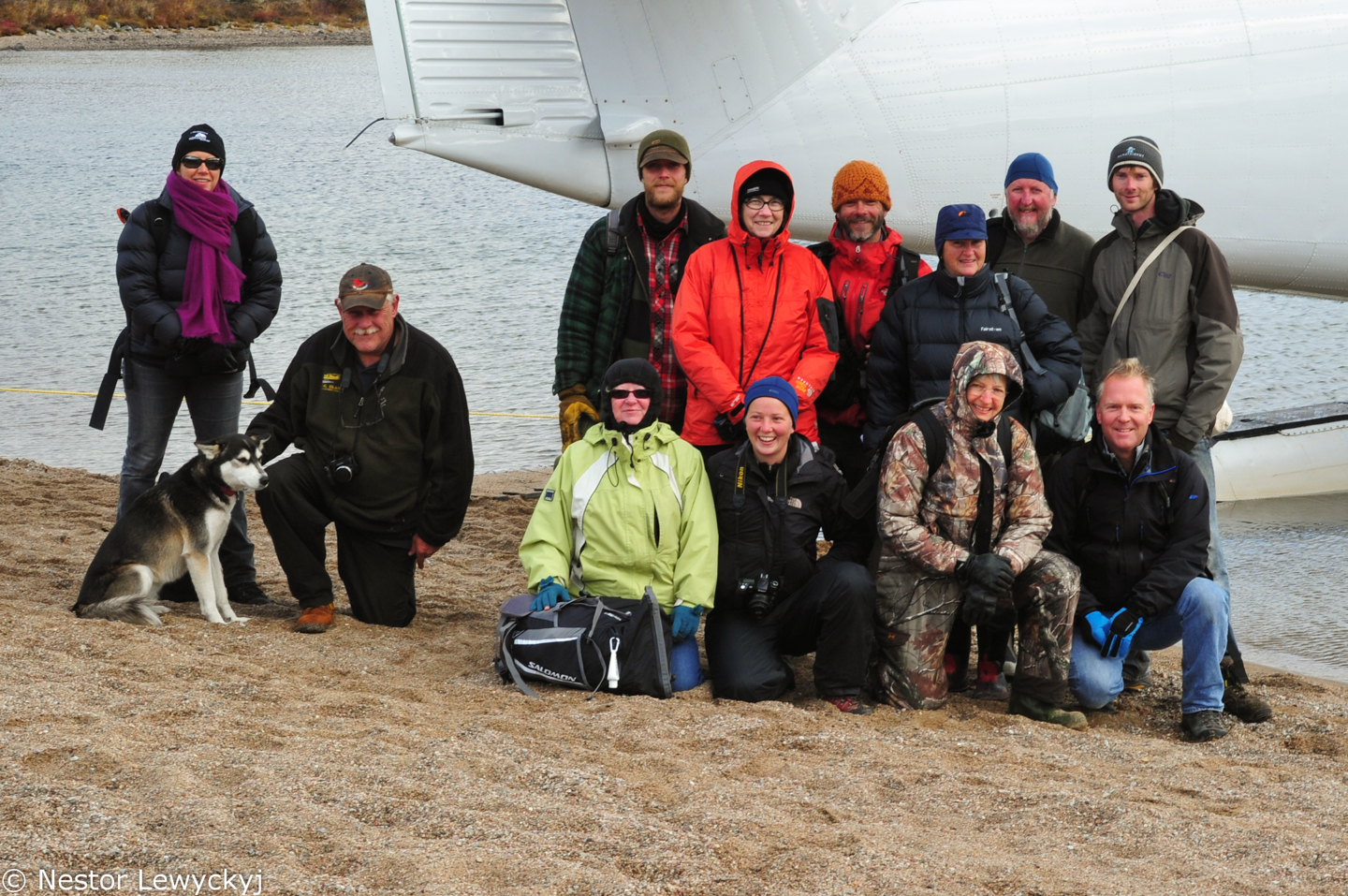 The entire group, minutes before departure. Fortunately the Twin Otter was able to take all of our gear, including Tom's generator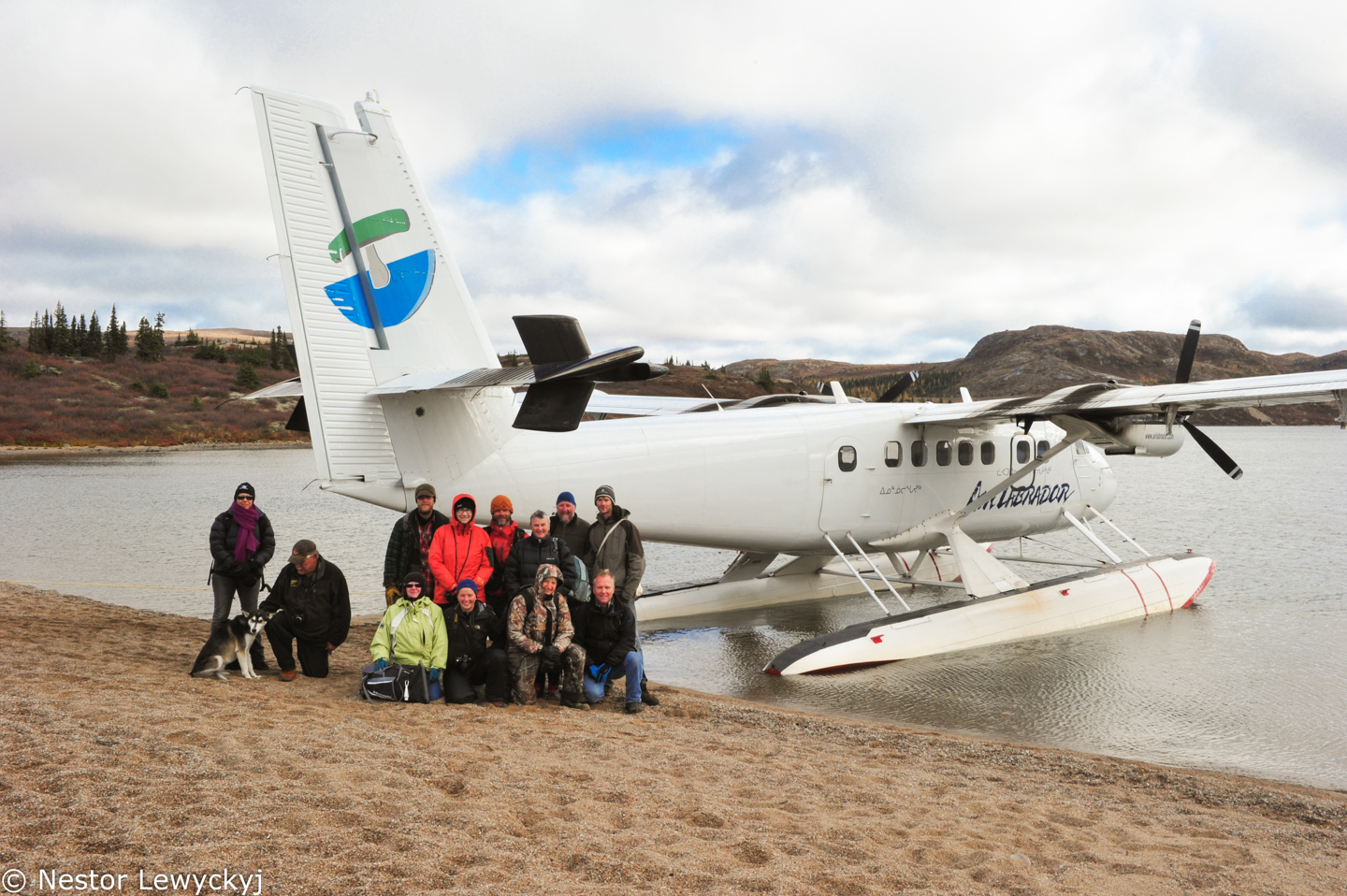 Float planes. The perfect way to travel in Canada's north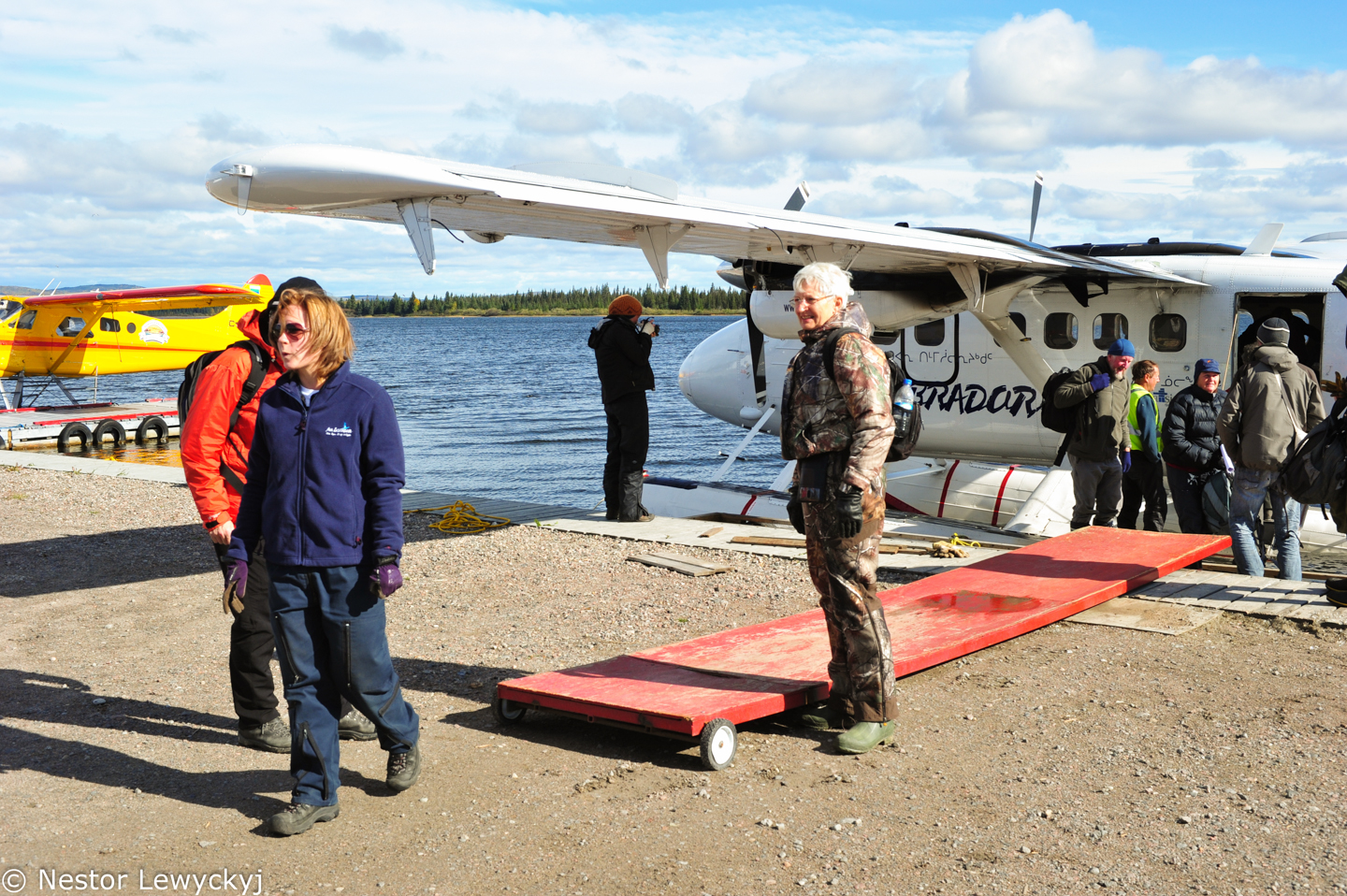 Arrival in Goose Bay. The young lady was the co-pilot and she landed the plane, beautifully!
Copyright Nestor Lewyckyj 2012